Lately, there have been a lot of questions about vertical striped wall designs. One of the most frequently asks is, "do vertical stripes make a room look bigger?"
That is why to clarify everything, you need to know some facts about the pinstriped wall first.
Unlike the horizontal pinstripes model, which will give your home a wider appearance, vertical striped wall designs certainly suitable for homes with low ceilings.
With its upright shape, this concept will make your palate looks higher than before.
After knowing this fact, you don't need to be confused anymore about choosing either horizontal or vertical stripes on the wall of your room.
Suppose you have a problem with a low ceiling, then implementing vertical striped wall paint ideas is the best solution.
Therefore, we've collected 23 vertical striped wall designs that can make your room look higher, new, and fresh. Without further ado, let's take a look at some recommendations that may inspire you!
1. Creamy Vertical Striped Wallpaper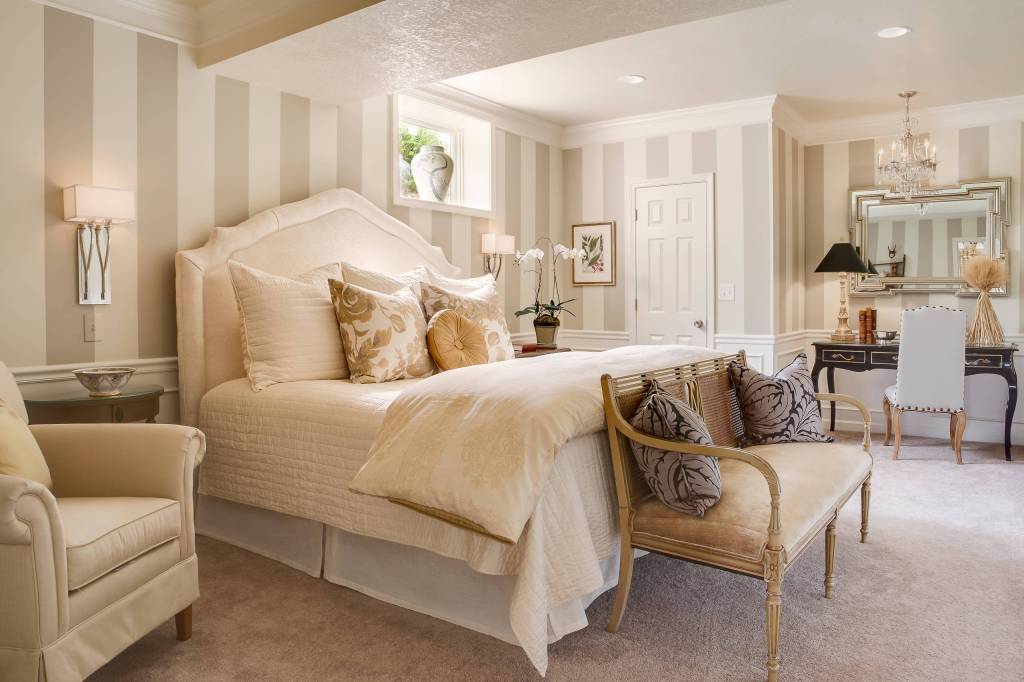 Deciding to decorate your master bedroom with a vertical striped wall paint design will never go wrong, especially if you choose the broad lines.
Apart from making your bedroom's ceiling look higher, it will also make the space cleaner and eye-catching.
For the color option, try to combine warm white with beige so that your personal space can feel brighter.
To enhance the elegant vibes, complete this master bedroom with furniture and bedding with matching colors like charcoal as well as gold.
2. Get the Shabby Chic Look with Lilac and Cream Stripes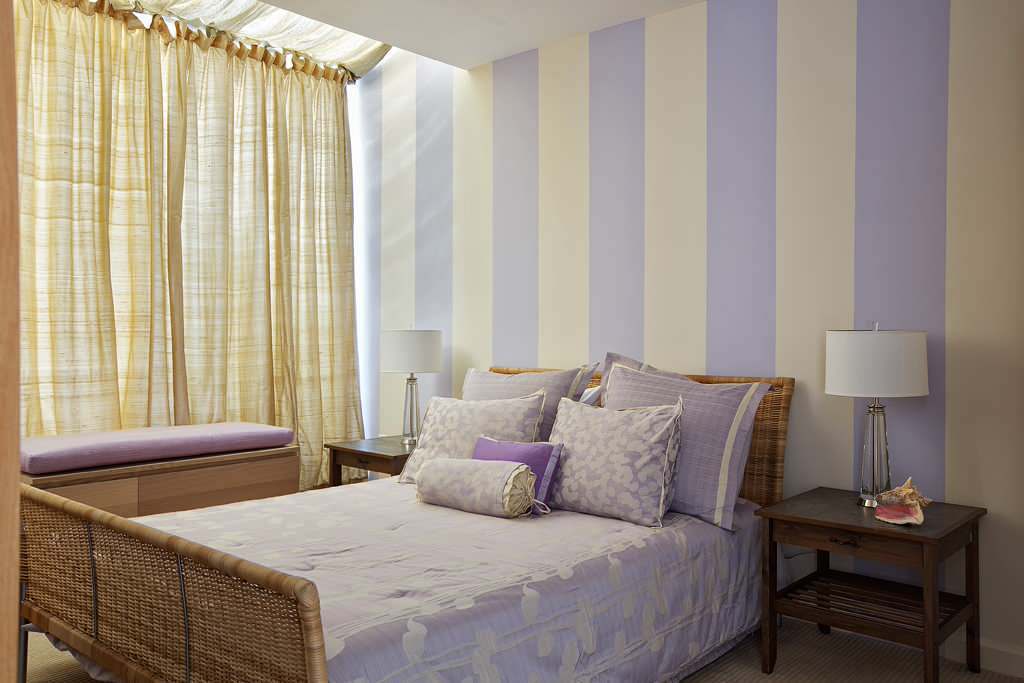 Who says vertical striped wall design doesn't match rooms with a farmhouse theme? On the contrary, this will give your personal space a warm but cheerful feel.
Firstly, try combining lilac with cream to realize it. Then complement it with a woven bed frame and linen bedding to further enhance the farmhouse vibe.
Generally, this interior design will suit your teenage girl's room perfectly.
3. Black and White Vertical Striped Accent Wall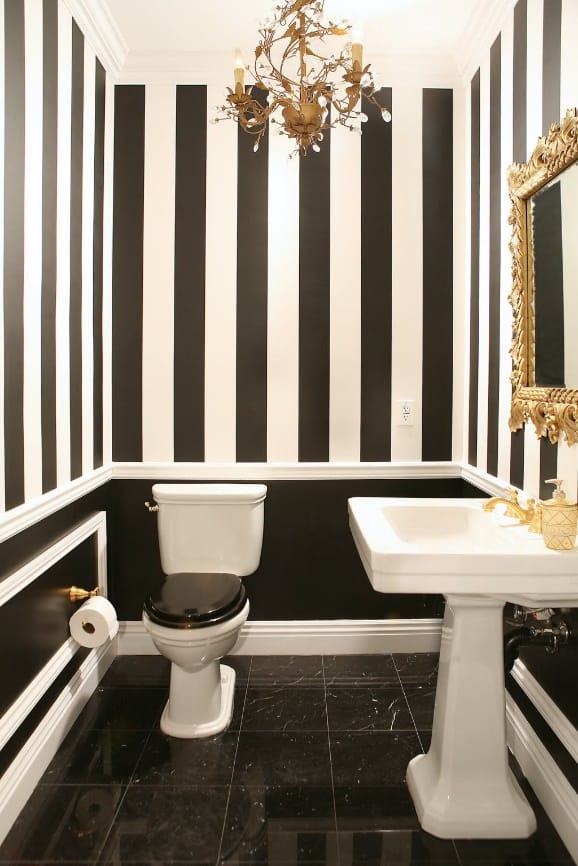 Besides being suitable for bedrooms, vertical striped wall covering is also suitable to be applied to your bathroom.
Firstly, paint your toilet walls a zebra color, setting the stripes to only 3/4 of your ceiling height. Then, for the bottom part, you can leave the wainscoting in full black and white trim.
In addition, if you want to get a luxurious impression, you can consider using a gold shade for the mirror, sink faucet, and light fixture.
4. Pastel Shades for Having a Bright Bathroom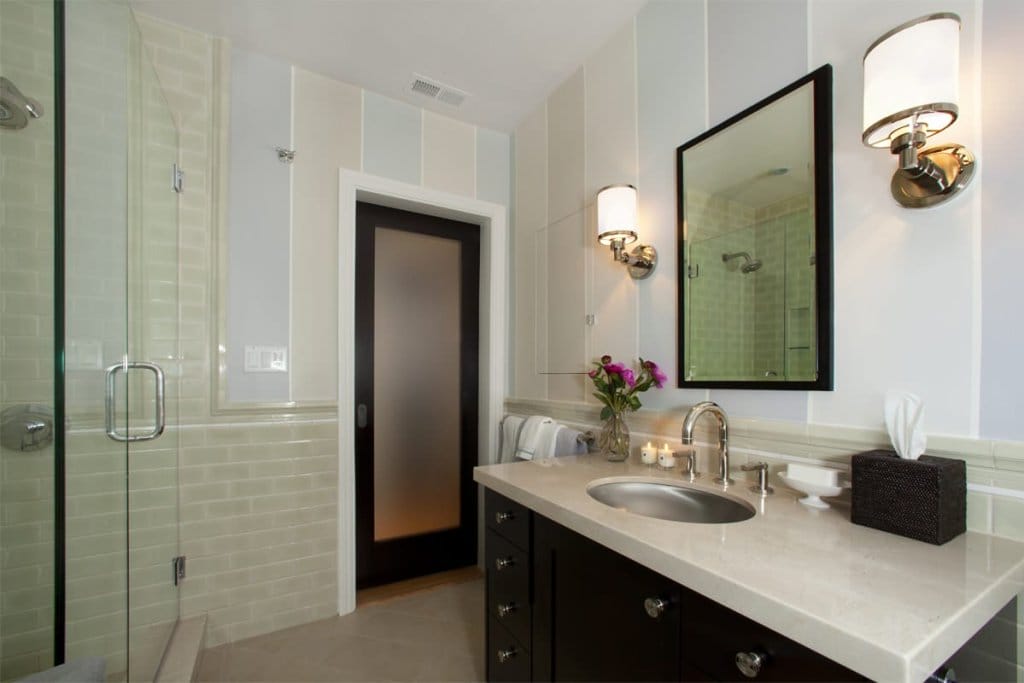 Besides painting, you can also consider installing vertical striped wallpaper in your bathroom. This method is known to be simpler because you only need to stick it to the wall.
However, you need to choose one that has good water resistance capability. Subsequently, it won't be easy to peel or damage.
In addition, out of the many variations on the vertical striped wall coverings, it is best to choose with pastel colors. Because it can make your bathroom look brighter than before.
5. One-Sided Multi-Color Vertical Striped Wall
Suppose you have a modern home theme and then you want to update your gathering room's look with a striped pattern. In that case, you can consider choosing a design with a multi-colored concept like the one above.
You can choose to either install wallpaper or paint it yourself. Just pick one that fits your needs as well as your budget.
For a unique and anti-mainstream look, installing the vertical striped wall design on just one side and then continued it on the ceiling would be the best idea to try.
Lastly, to get the perfect interior decor, you must complement it with geometric patterned curtains and zigzag-textured cushions with matching colors.
6. High Wall Fence with Evergreen Stripes
Is it okay to adopt the vertical striped wall concepts for exterior design?
Absolutely, yes! Instead of painting it, you can try decorating the fence with some evergreen succulents or any greeneries that have been set to resemble a stripe pattern.
Besides making your fence look fresh and higher, now, you no longer need to be afraid that your exterior design will be damaged due to significant weather changes.
7. Pastel Green and Beige Stripes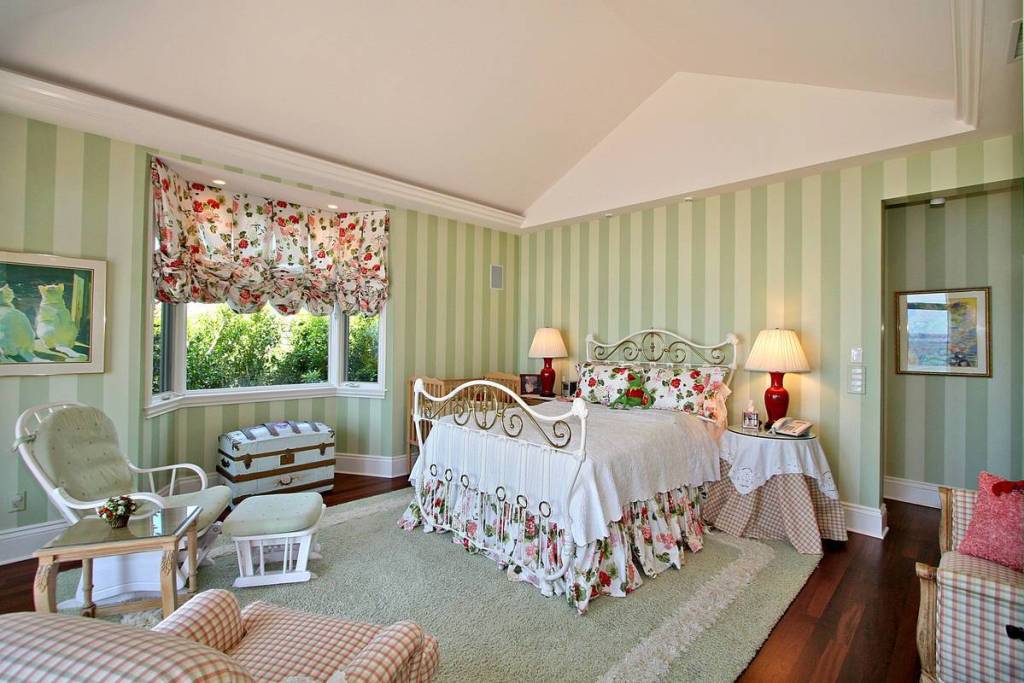 Suppose you are getting bored with the horizontal striped accent wall design in your bedroom. In that case, you need to try redecorating it with a vertical one.
Certainly, the combination of pastel green and beige is very suitable when combined with floral bedding and curtains with a similar pattern.
Furthermore, you can also equip it with an upholstered seat and tablecloth with a checkered pattern.
8. Striped Accent Wall with Checkered Flooring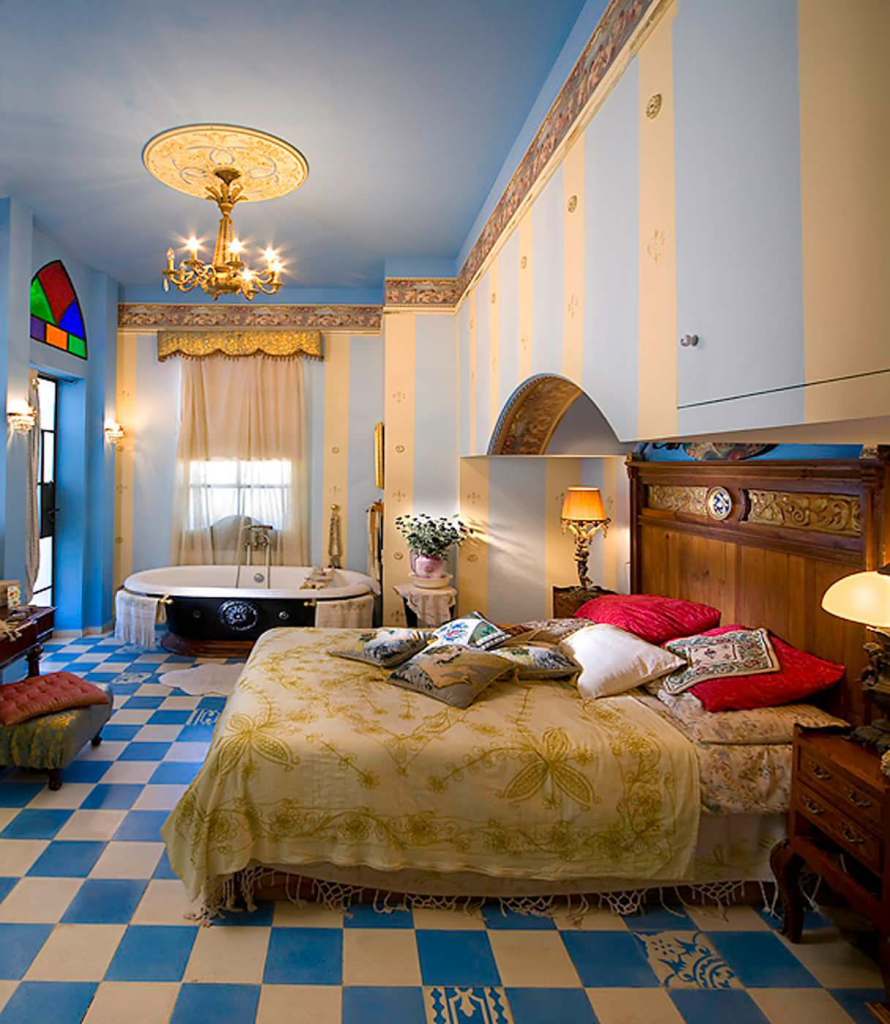 Most people think that combining patterns is a bad idea for room decoration. However, that is not entirely true.
The picture above illustrates that the combination of the vertical striped wall coupled with checkered flooring is excellent.
But, bear in mind that one way to keep things from looking over patterned is to adjust the color and size of the vertical stripes properly.
Also, it would be best to paint pinstripes wide and in pastel colors. As a result, your bedroom will free from clutter.
9. Colorful Striped Wall Painting for Kids Bedroom
Among many vertical striped wall ideas, the perfect concept for your little princess's bedroom is a colorful one, especially with a combination of purple, pink, green, blue, and yellow.
Instead of painting the entire room with stripes pattern, creating it on only one side will soon transform this spot into a fun and cheerful focal point.
10. Classy Denim Pinstriped Wall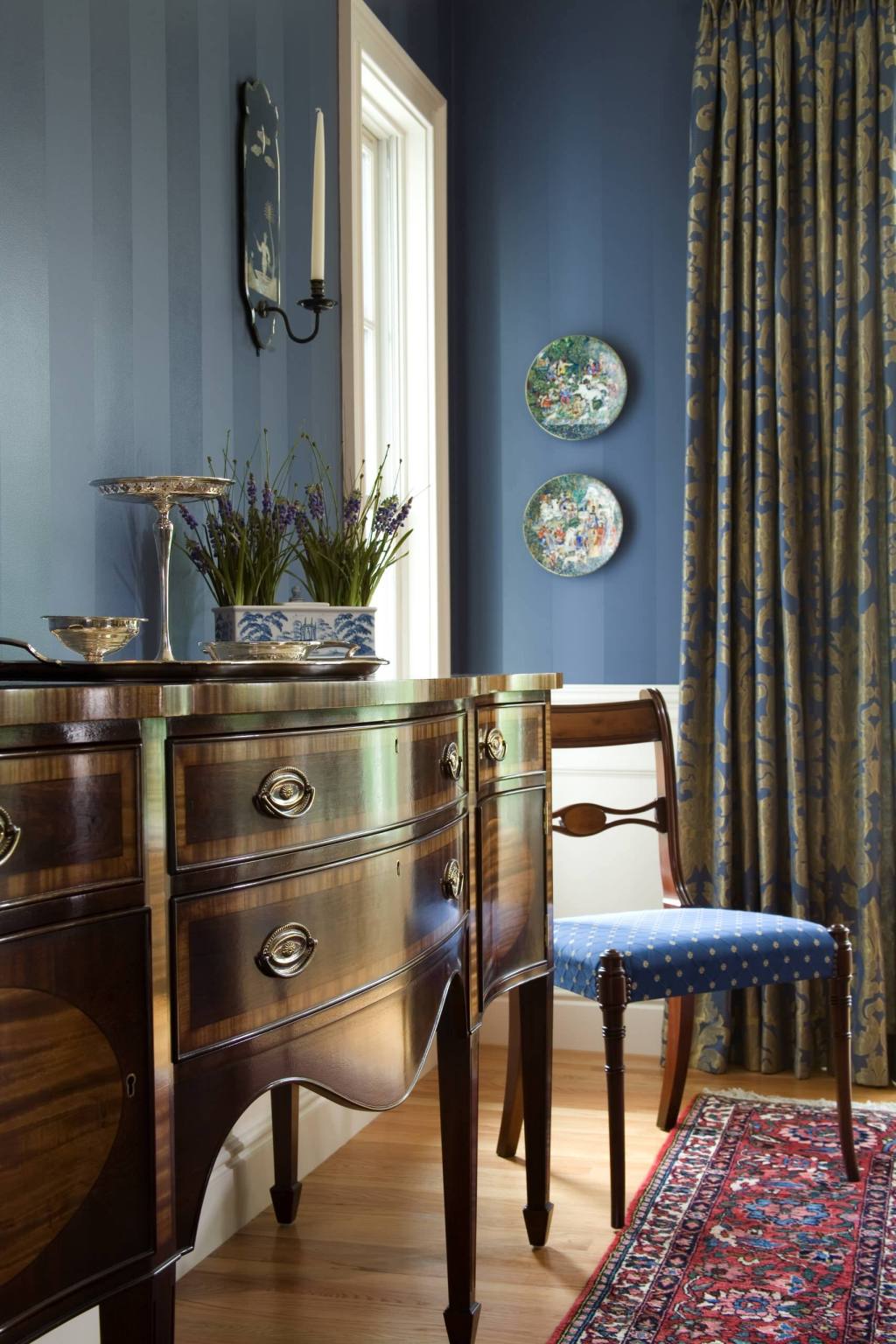 Who would have thought that the vertical striped wall design could also bring your entry hall to a classy atmosphere like the royal families' homes?
If you are still unsure about that, try it yourself by applying denim colors for your pinstriped wall.
Then, complete the interior design with embossed curtains and antique hanging platers. As a result, everything will be pleasing to the eyes.
11. Goes Bold for Strong Statement in Your Room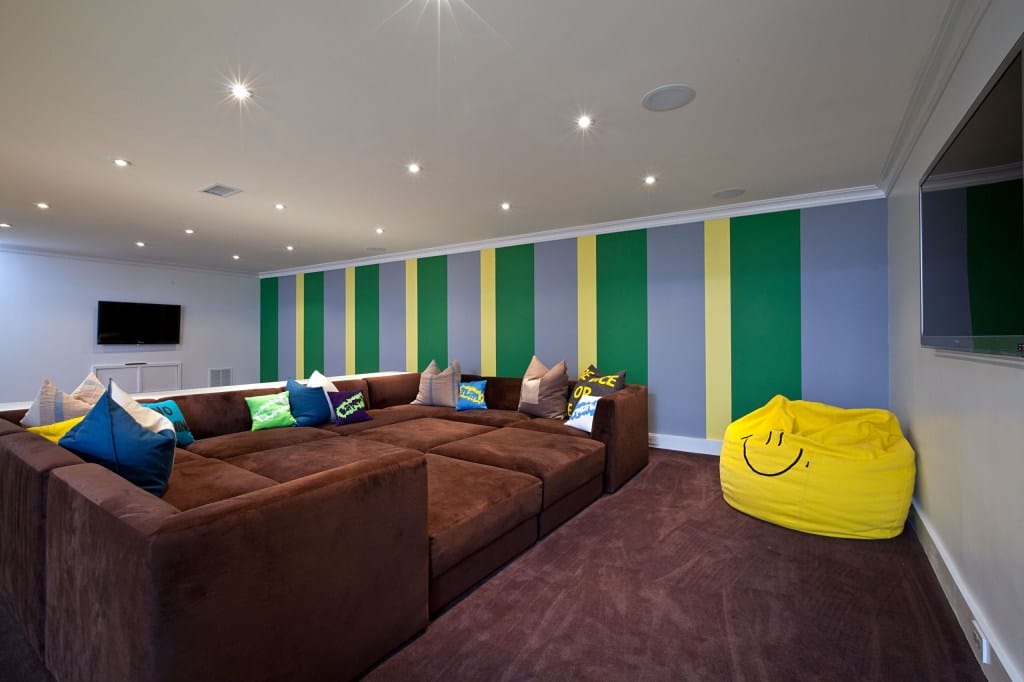 A striped wall is the best reflection of your creativity in decorating a room. Therefore, do not limit it too much with the rules in coloring. You can even go with bold colors like blue, yellow, as well as dark green.
Moreover, that kind of coloring will suit any personal space like your home theater or your bedroom. Indeed, it will look funky and fun!
12. Multi-Size Pink Vertical Striped Wall for Bathroom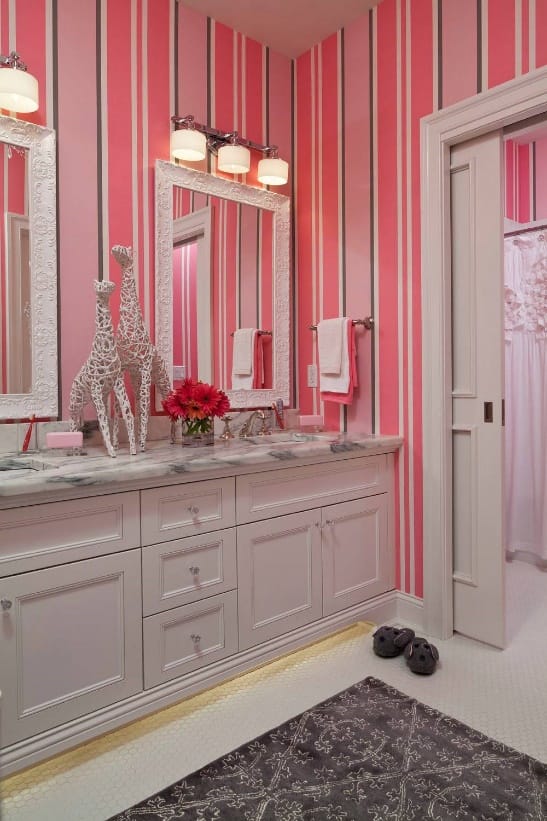 Many people are wondering how wide should vertical stripes on walls be? Well, the answer is that it can be customized according to your preferences.
Whether it is thin or wide, both of them will give different amazing effects to your room.
If you are confused about choosing between the two, you can also combine them by painting a pattern like the one in the picture above.
In addition, you can use guava shade for wider pinstripes. Meanwhile, dark gray and white for thinner patterns resemble the trim on each stripe.
13. Soft Tosca Green Striped Wall Paint Design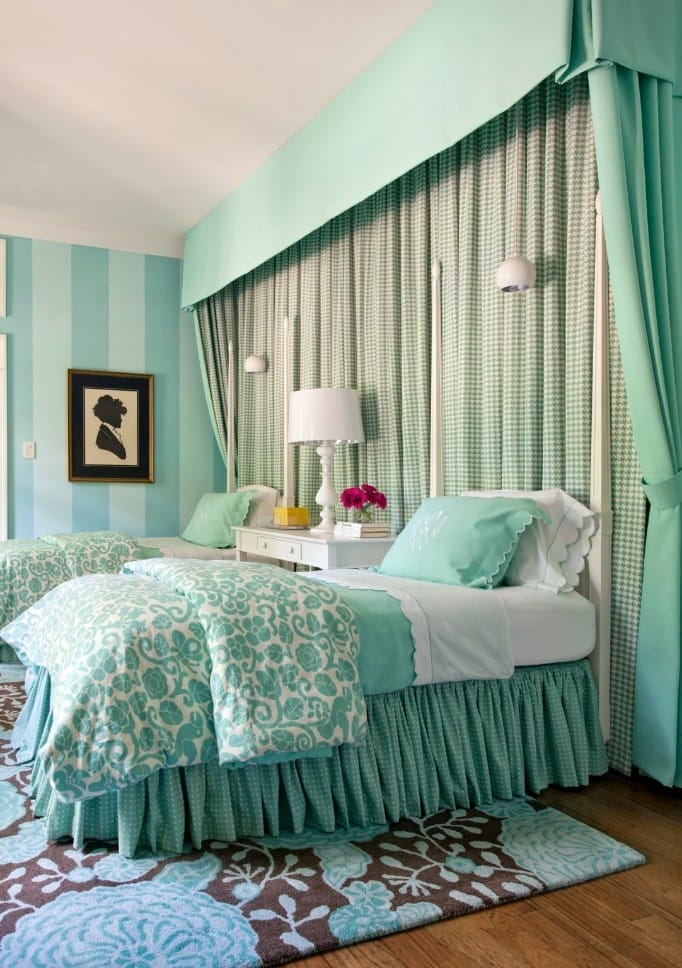 Suppose you want to get a more luxurious and cheerful farmhouse vibe in your bedroom to welcome the summer vacation. In that case, you might consider adopting Tosca green for your vertical striped wall design.
To achieve the best look, please complement it with a patterned ruffled bedding set. Moreover, you can also add textured rugs and curtains with matching colors to get perfection.
14. Striped Wall Accent with Vinyl Wall Decal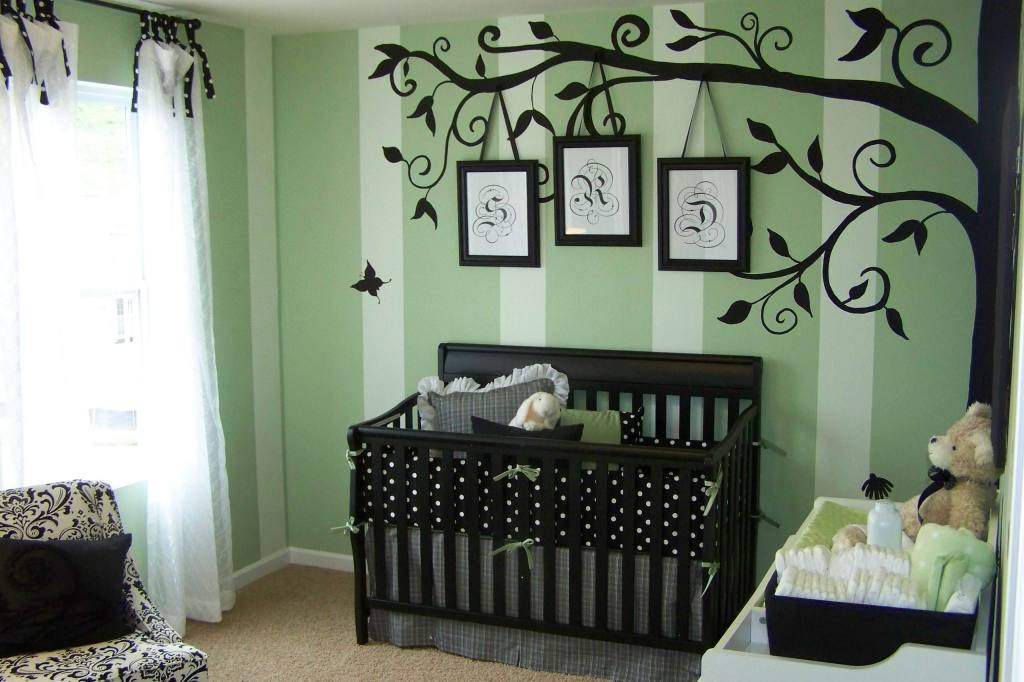 Besides horizontal striped walls, designs with vertical pinstripes are also great for your nursery room. If you want a neutral color that suits both your son and daughter, you can consider pastel green.
But, to avoid monotonous and boring, stick a vinyl wall decal over the striped patterns. Further, you can also hang some framed illustrations just above the crib.
15. Brown and Silver Pinstripes for Modern Vibe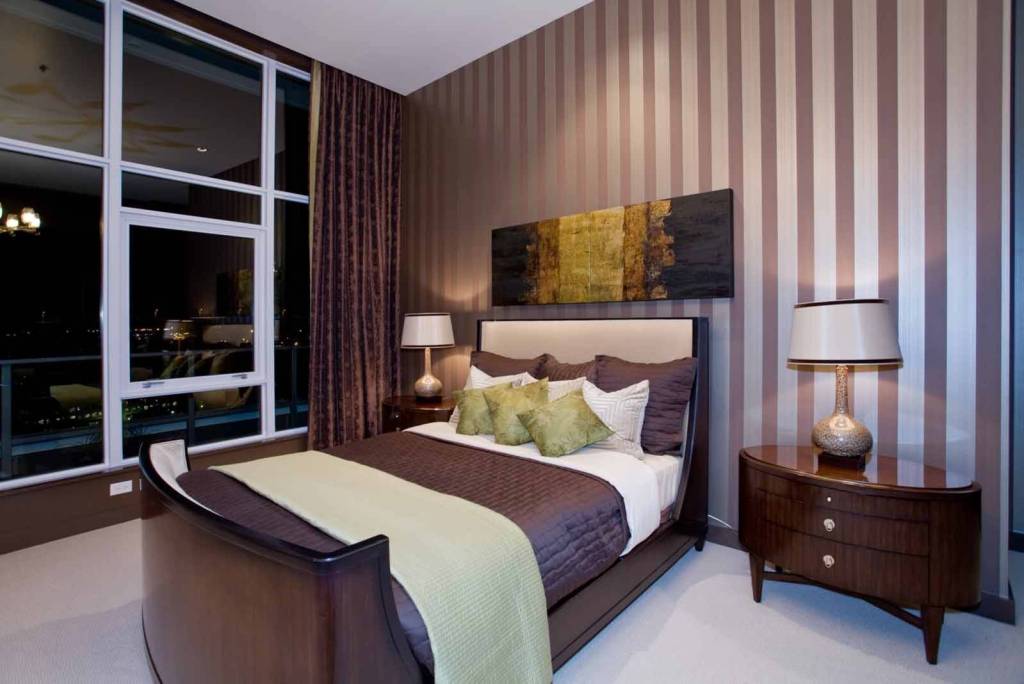 If you find out it's too complicated to paint the wall, then you can go with an alternative way by purchasing wallpaper with a vertical stripe pattern like the one above.
The combination of brown and silver colors will soon make your room look more modern and elegant.
16. Zebra-Styled Office Spot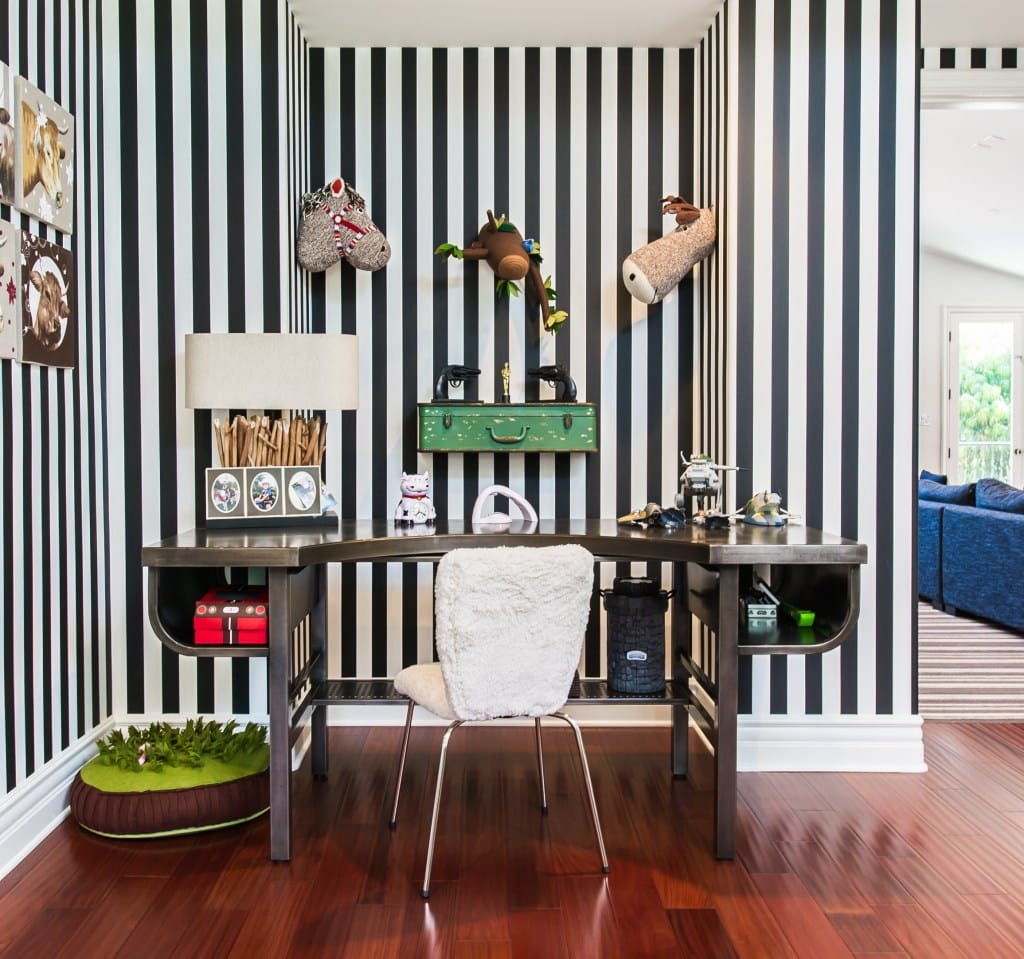 Besides the bedroom and bathroom, a spot that should not be missed to be redecorated is your office space.
With an attractive and neat appearance of the walls, it will further motivate you to finish your work quickly.
Try to give the wall a stripes design that resembles a zebra, then hang some ornaments such as some stuffed animal heads and a framed illustration to enhance its visual appeal.
17. Blush Pink Striped Wallpaper for Girl's Bedroom
Suppose your daughter feels bored with a bare pink concept in her wall bedroom. In that case, you can consider redecorating with the medium vertical striped accent like in the picture above.
It certainly doesn't take a lot of effort to make it stunning. Just complete it with all white furniture coupled with embossed blankets. As a result, this personal space will succeed in impressing many people. Let your daughter be a princess.
18. Minimalist Coffee Spot with Striped Wall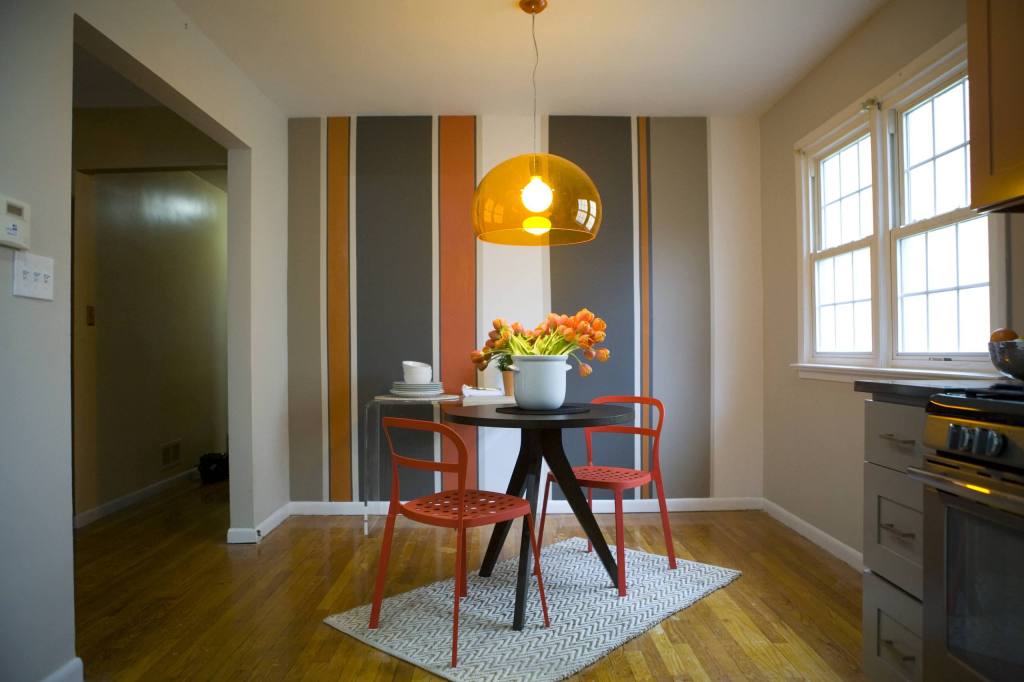 A coffee corner is one of the essential spots you must have in your home. Generally, this place is perfect for having a small chit-chat in either morning or evening.
Besides considering good sun lighting that enters through the window, the surrounding wall decorations must also strengthen the ambiance in this space so that your gathering time becomes more enjoyable.
For that reason, this vertical striped wall design comes to complete your decoration list. One recommendation that can upgrade your coffee corner is stripes accent with orange, gray, yellow, and white combination.
Coupled with chair sets with matching colors, now you have a modern, fresh, and fashionable coffee spot.
19. Deep Gray and Pastel Yellow Vertical Striped Wall Design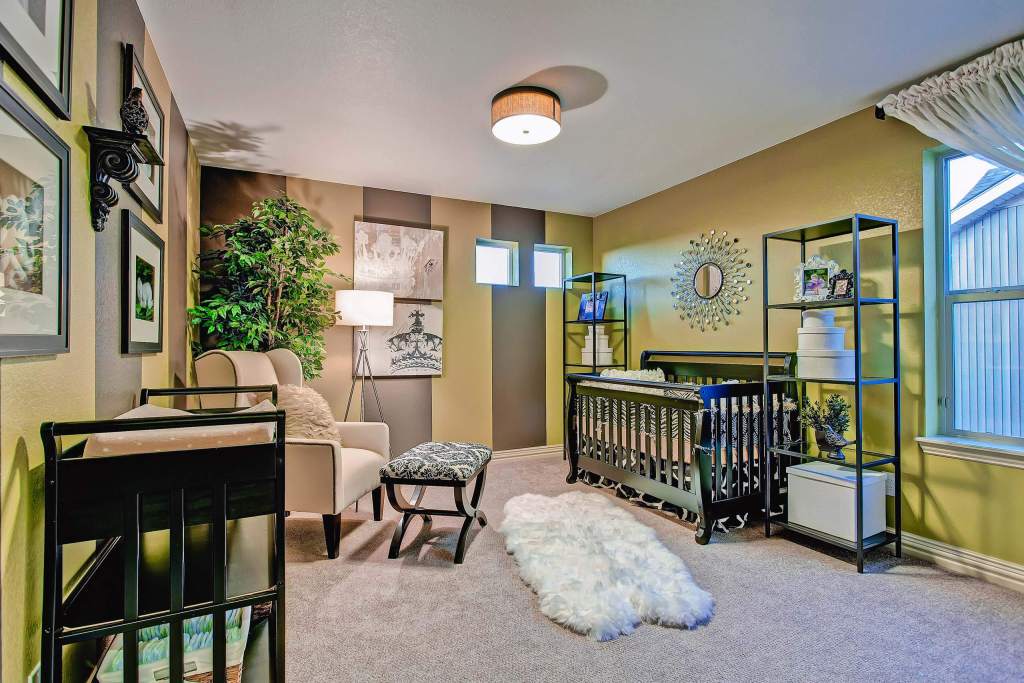 Another idea to redecorate your nursery room comes again with a brighter theme by applying pastel yellow and deep gray colors. Deciding to redecorate with this color design is not a wrong move, though.
On the contrary, it will give your room a brighter but still elegant impression, especially if it is equipped with a round sunburst mirror that hangs nicely above the crib.
Plus, a white faux fur rug that spreads across your floor and a patterned ottoman for your pretty footrests. Perfect!
20. Red, Gray, and White Looks Good Together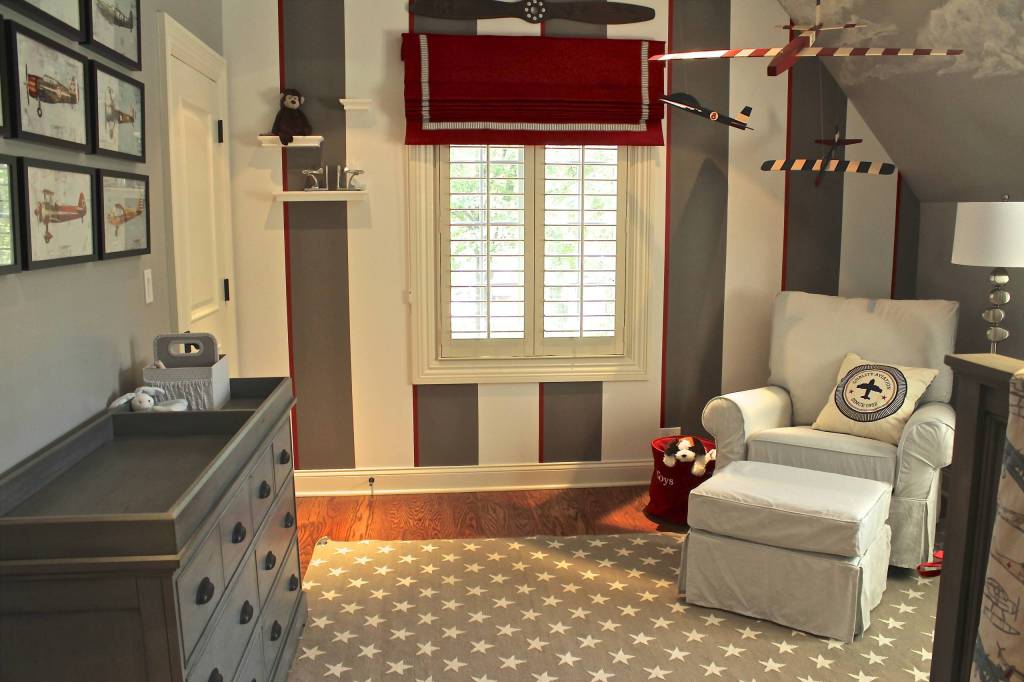 Once talking about bedroom decorations with a vertical striped wall theme, of course, there will be no end. There are many ways you can take to give your personal space an impressive look without being outdated.
One of them is by using this gray striped wall. You will find several thin red lines between the two broad gray and white stripes if you look it closely. Isn't this very interesting and detailed?
To make your interior decor looks more flexible and fun, you can also try to install a star-patterned rug with a matching color on your flooring.
21. Bright Yellow for Funky Vibes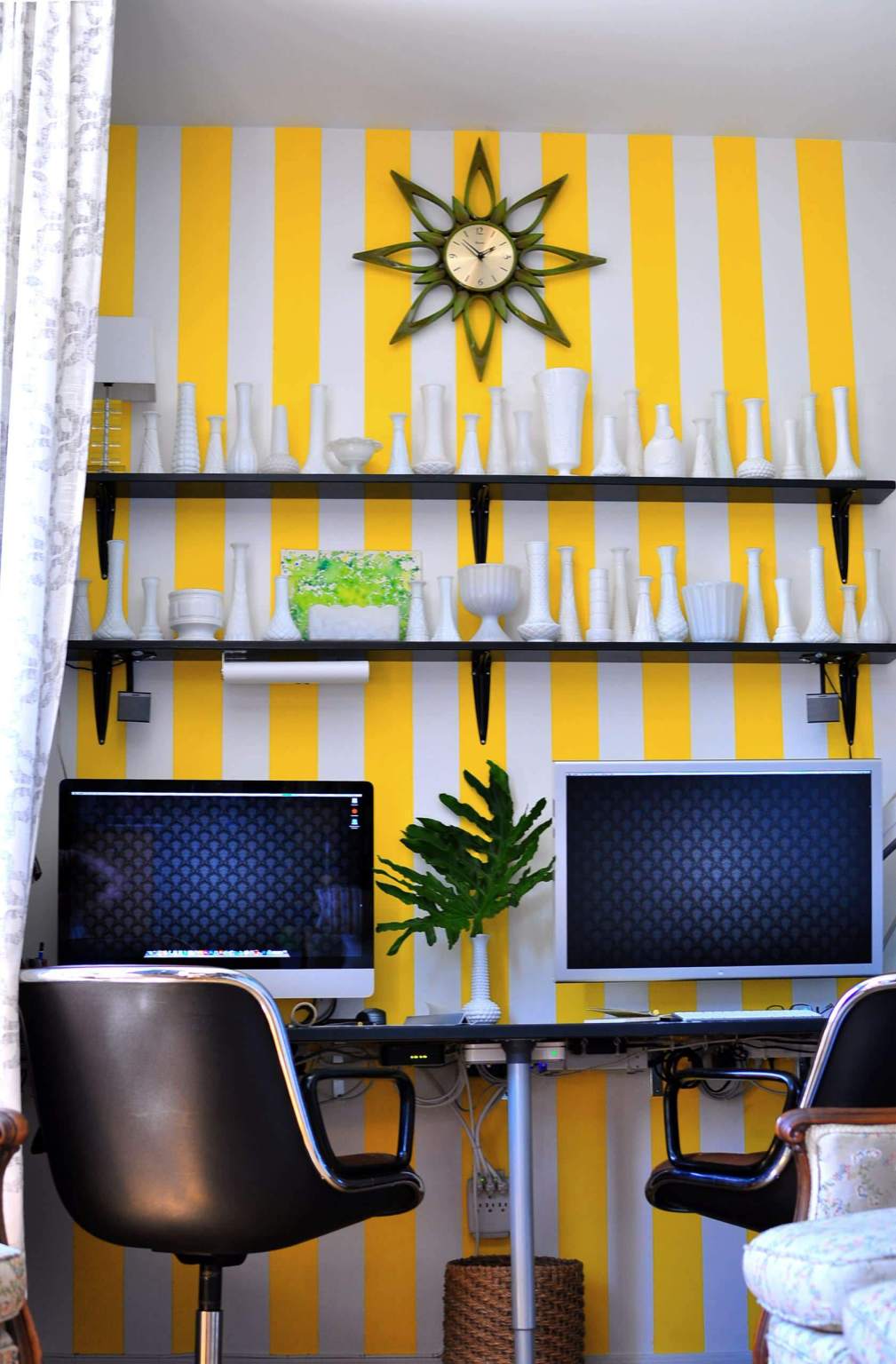 Who said a vertical striped wall in bright colors would hurt the eyes? Of course not. With a note that you apply this concept only in a small part of the room, such as in this office space.
The combination of electric yellow with white gives off a funky, timeless vibe. Plus, by installing several dark floating shelves with some decorative items that are all white, you now have a fresher and less boring workspace.
22. Stencil Stripes for Children Play Room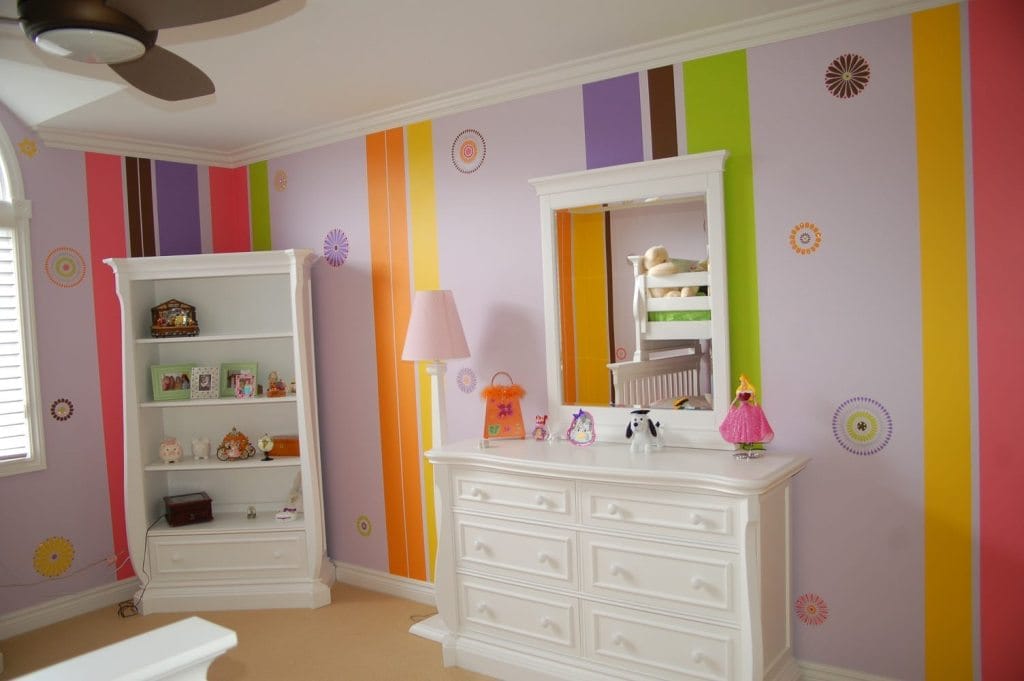 Go with a thin vertical striped wall design to decorate your child's playroom is, indeed, a creative decision.
Apart from giving it colorful shades of pinstripes, you can also try to attach some stencils to soften the atmosphere.
Combine all the colors that are your child's favorite for the walls, and choose white for the furniture to avoid the overpowering impression in your child's playroom.
23. Cute Pink Striped Wall with Monogram
The final design that adopts the vertical striped wall concept comes to give you another inspiration for redecorating your girl's bedroom.
Instead of letting it look monotonous by relying solely on striped patterns, you can also try to give it a sweet twist with a monogram that stands for the initial of your daughter's name.
Further, you can also consider complementing it with pink floral bedding and a bed netting in pastel green, as shown above. That way, you will get the best final result.
Those are the twenty-three vertical striped wall designs that you can apply to your home. After reading it from up to the end, which theme that caught your eye?