If you crave something sophisticated yet bold, look no further than black and white striped walls. Since monochromatic stripes develop a statement, they'll alter the appearance of the space for certain. Furthermore, they seem fabulous as well as spunky.
Black and white stripes can appear eclectic, classic, or modern. Not only are they astonishing but also confident. If you plan on refashioning or revamping your interior, let's take a gander at my spectacular examples below.
1. Muted Black and White Striped Wallpaper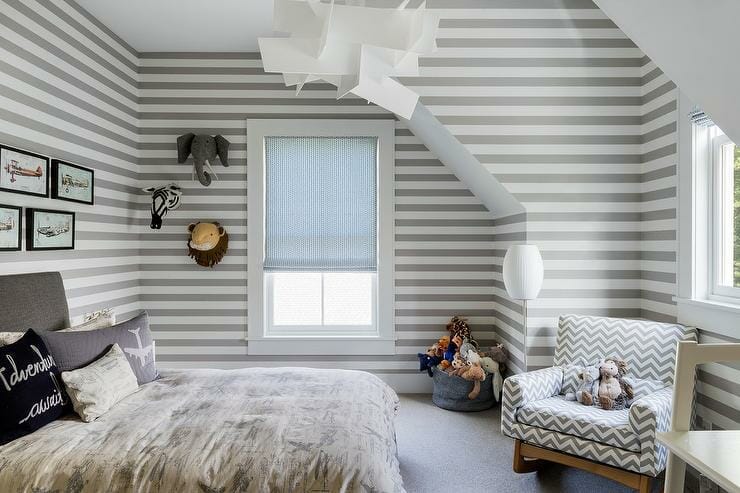 Muted black and white horizontal stripes make this kid's attic bedroom seem slightly wider. Moreover, they infuse some characters.
Instead of painting the walls, the homeowner used the striped wall covering for her child's attic bedroom. It's not difficult to apply as well as remove.
Wallpapers are suitable for flat surfaces. In addition, they effortlessly let you acquire the seamless bedroom's appearance.
Both thin horizontal stripes and chevron patterns carve a contemporary feel. Furthermore, white and taupe surfaces keep them from overpowering the kid's bedroom.
Muted black stripes lend the child's bedroom a tranquil mood. Meanwhile, windows happily welcome sunlight.
Since the bedroom belongs to an attic, the configuration is somewhat odd. Due to white and muted black striped walls, decorating gets easier.
The vintage airplane bedding complements the black-framed artworks. Furthermore, animal head decorations adorn the subdued backdrop. Also, you can spot stuffed toys on the upholstered chair and in the storage basket. They inject some playful energy.
2. Black and White Striped Wall for Bathrooms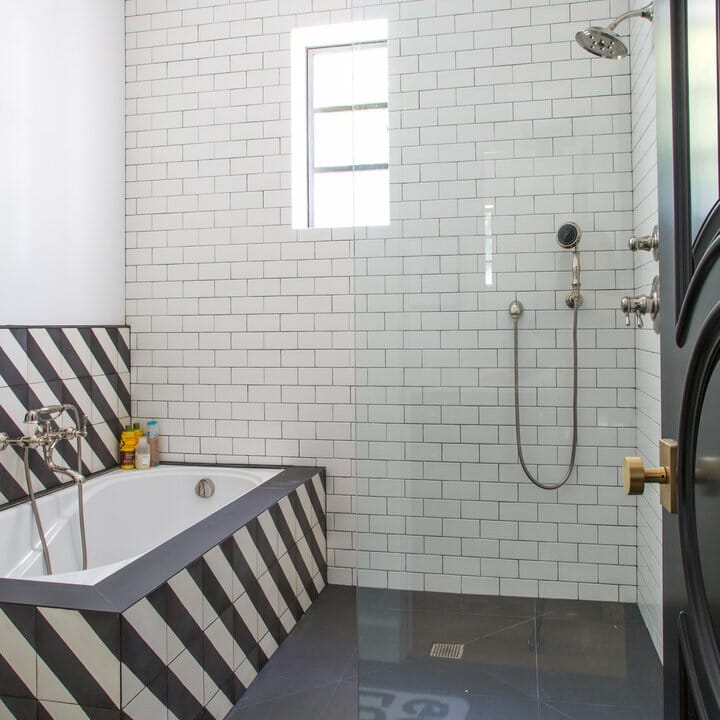 You cannot decide between wallpaper and paint. If that's the case, try this option. It's one of the marvelous black and white striped wall ideas.
This transitional bathroom, for example, employs square ceramic tiles. Furthermore, they supply black and soft white diagonal stripes.
Due to diagonal stripes on the wall and bathtub, the bathroom seems stylish. In addition, they contribute to the interior's unique appearance.
Here, the striped built-in bathtub and wall steal the show. Moreover, those statement items produce a graphic look in no time.
Warm white subway tiles offer a subtle aesthetic while giving off a calm vibe. The black door and dark gray floor ensure that the transitional bathroom gets enough visual drama.
The gold and silver hardware imparts a sumptuous feel. Moreover, the plain white wall and rectangular window maintain this transitional bathroom's airy ambiance.
3. Black and White Striped Home Decor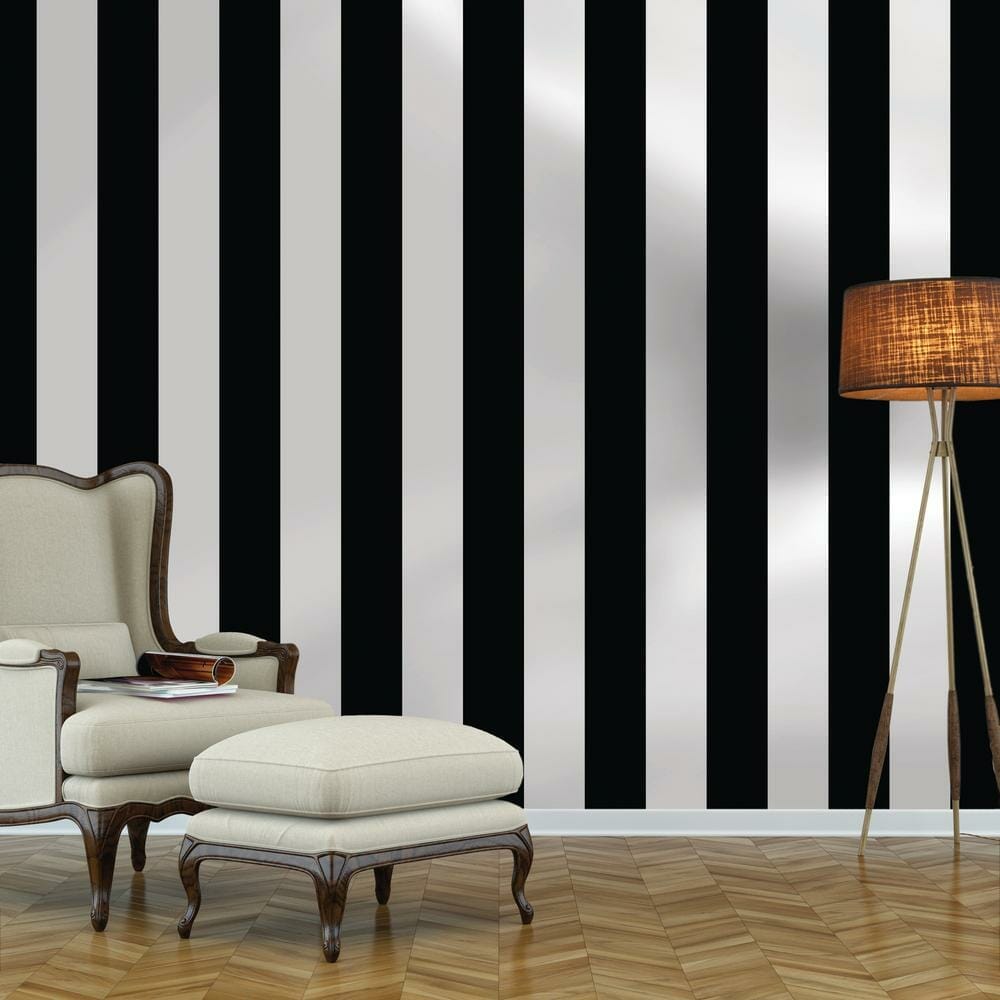 Speaking of black and white striped walls, you must know the direction of your stripes first. While vertical stripes make the room longer, the horizontal ones help enlarge the area.
As you see, black and white stripes run vertically. Moreover, they accentuate the area's height excellently.
Another thing to consider when picking the black and white scheme is the stripes' thickness. Here, fat white and black stripes update the room.
The striped accent wall provides a touch of boldness. Meanwhile, the wooden chevron-patterned flooring inspires natural warmth.
Black and white vertical stripes do not only seem elegant but also mesmerizing. Also, they pose as a cool backdrop for classic furniture items in this room.
The pale taupe stool and wingback chair inject some grandeur. Furthermore, the floor lamp comes with a burlap lampshade. It emits a relaxing glow while adding a welcoming texture.
4. Black and White Striped Wall Decor
Many homeowners want serene spaces. However, if you like something spunky and bold, consider going for black and white striped walls.
In this example, the stripes on the walls are thick. Moreover, they make the entire dining nook appear more trendy.
Subdued black and white stripes run horizontally in the dining area. Of course, they help emphasize the width of the space.
White and black stripes easily catch the eye. In addition, they quickly direct the eye to the gold ceiling light that generates an eclectic look.
Here, subdued black and pure white stripes make an eye-pleasing background for the colorful painting. Moreover, they let the forest green upholstered bench and orange blooms become centerpieces.
The wood floor injects serious warmth. It offsets the stark white pedestal dining table. Furthermore, acrylic armchairs provide an atmosphere of lightness. They also balance out the green chunky bench.
5. Contemporary Bedroom with Black and White Stripes
Speaking of black and white striped walls, you can use paint to create fabulous stripes. Consider painting the accent wall yourself since it's somewhat cheap.
This contemporary bedroom has oversized white and black stripes. Not only do they carve an impression but also highlight the area's width.
Black and white stripes allow metallic table lamps and nightstands to be more visible. Because of them, the bedroom becomes a showstopper.
The warm white floor tiles inspire softness and peacefulness. Moreover, black pillows on the bed infuse unparalleled drama and sophistication. Lastly, striped throw pillows complement the sofa chair while visually tying the bedroom together.
6. Modern Bathroom with Black and White Stripes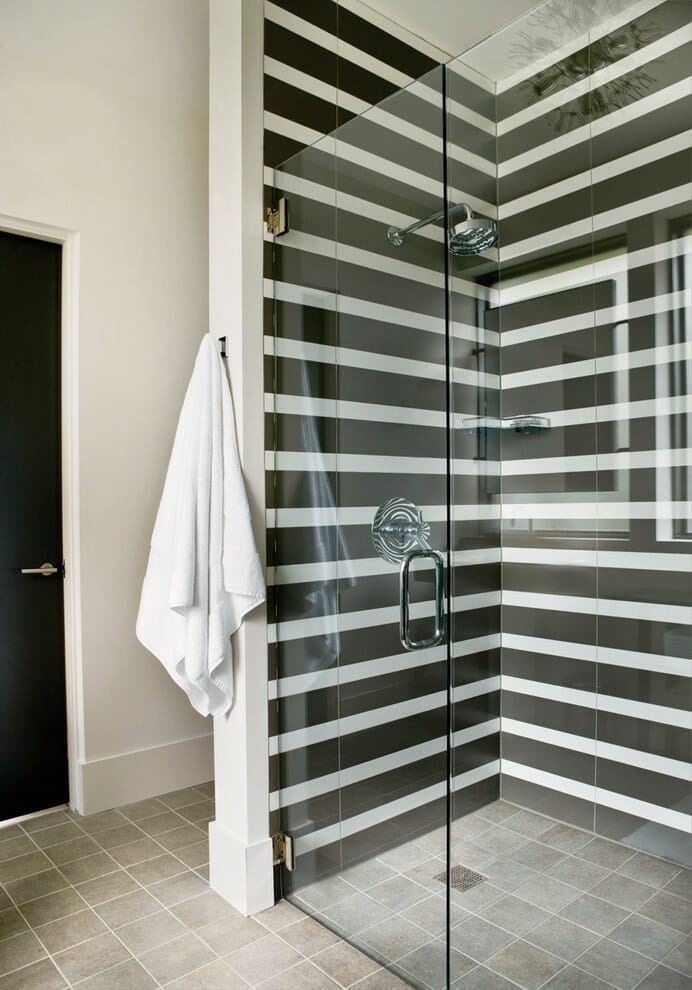 Just because your shower room is short on space doesn't mean it doesn't deserve any personality. This option proves the homeowner still has some fun with the decor.
Black and white tiles provide alternating thin and thick stripes. Apart from producing a graphic look, they make the shower room slightly more spacious.
White and black bathroom tiles let the dweller go bold. Also, they exude a sense of uniqueness suddenly.
The linoleum floor tiles develop visual continuity. Furthermore, the silver hardware, white walls, and glass shower doors lend the bathroom a brighter atmosphere.
7. Eclectic Yet Exquisite
This eclectic living room boasts black and white striped walls. Because of their horizontal orientation, the space seems wider than it is.
White and black horizontal stripes make the sitting area appear more modern. Also, they enable the rustic wall ornament to shine.
Due to the monochromatic striped wall, the muted green sofa becomes a focal point. Furthermore, gold and copper accents infuse unfussy lavishness.
The built-in vanity wears soft white for a relaxing mood. Moreover, the wooden furniture, cowhide rug, and blooms bring different outdoor elements indoors.
8. Black and White Stripes for Powder Rooms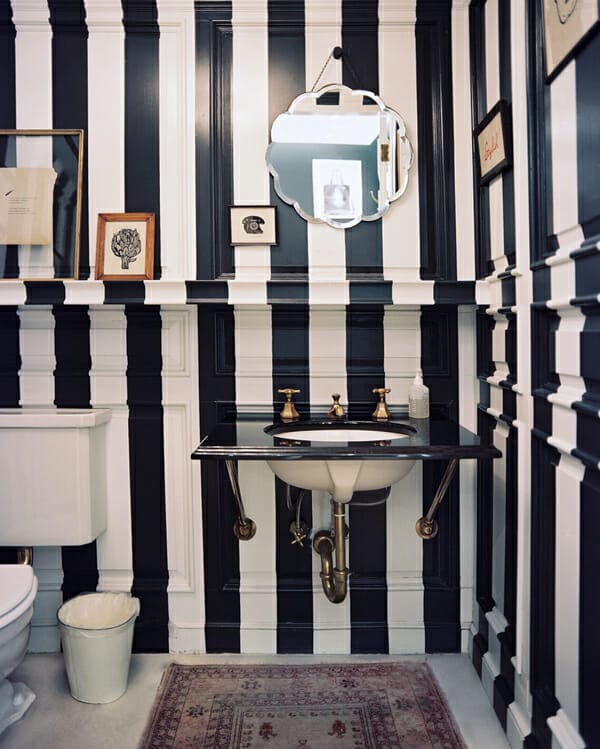 If you adore stripes, try using black and white striped wall paint. Furthermore, painting can be such a brilliant solution for uneven surfaces. I recommend doing it yourself to save some cash.
Here, vertical stripes sport white and black. Moreover, they lend the pint-sized powder room an instant graphic punch.
White and black striped walls accentuate the powder room's height. Also, the monochromatic stripes are both beautiful and bold.
Black and wooden artwork frames look fabulous on the striped backdrop. A chic mirror draws attention. In addition, gold accents provide stunning shine, while the rug jazzes the basic concrete floor up.
9. Graceful and Glorious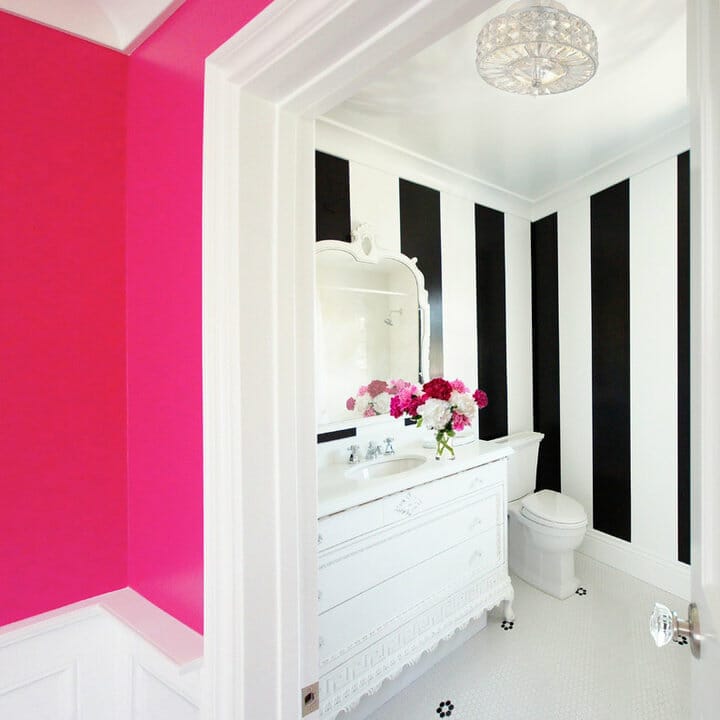 Speaking of black and white striped wall pictures, this one is my favorite. The white and black stripes run in vertical lines. Thanks to them, the powder room's ceiling appears higher.
Fairly fat stripes make the powder room seem more stylish. The ornate white mirror and vanity infuse a traditional aesthetic.
Hexagon mosaic tiles also sport white and black. In addition to generating interest, they lend this eclectic powder room a cohesive feel.
Since the stripes and floor tiles wear neutrals, the dweller painted other walls hot pink. They add some vibrancy, while gorgeous blooms impart a feminine appeal.
10. Elegant and Stunning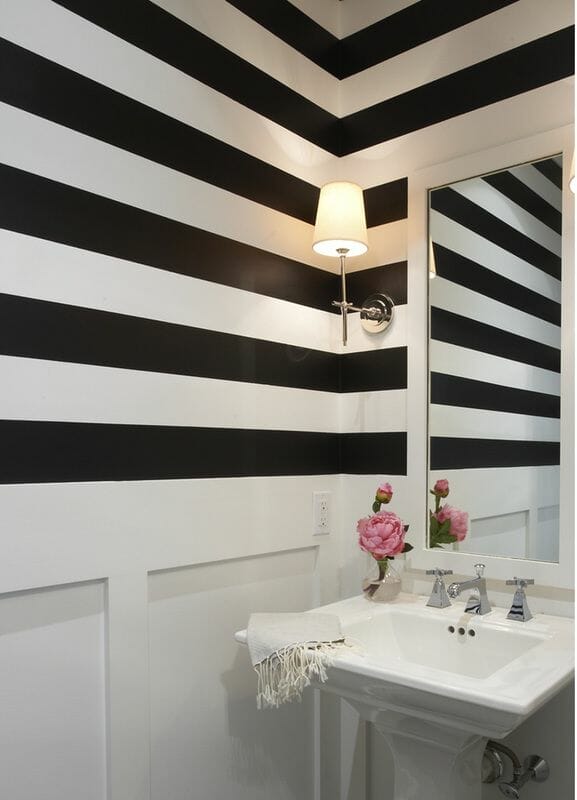 Black and white striped walls are a somewhat common choice for powder rooms. In this case, they make the space more attractive and unique.
Horizontal stripes excellently emphasize this powder room's width. Due to them, the area doesn't feel overly restrictive.
Pure white wall panels give the powder room dimension. Additionally, they prevent the stripes from making the already tiny space seem too busy.
The silver wall sconce instills a glamorous feel and a welcoming vibe. Moreover, pink blooms develop a feeling of softness. They turn the powder room from stark to striking, too.
11. Striped Accent Wall for Living Rooms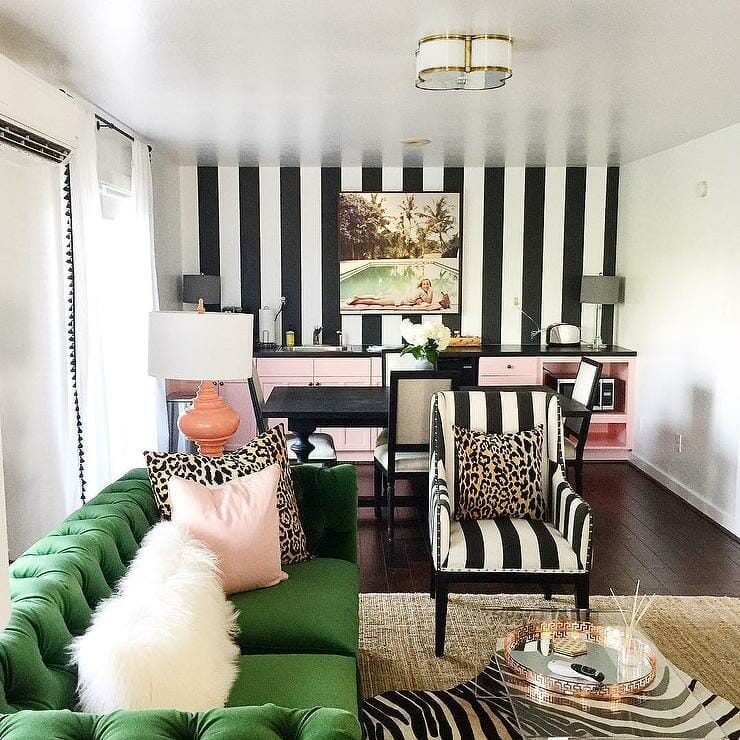 This open-concept space is nothing short of marvelous. The black and white striped wall transforms the entire area by making its ceiling higher. Furthermore, the upholstered armchair mimics it perfectly.
The jute rug and rich-toned wooden planks instill a homey ambiance. Moreover, hints of gold, silver, and copper represent unparalleled glamor.
There's an emerald green chesterfield sofa in the room. It gives the interior a touch of boldness. The zebra rug and cheetah throw pillows evoke wilderness vibes. Splashes of soft pink and peach soften the mood.
12. Study Room with Black and White Striped Walls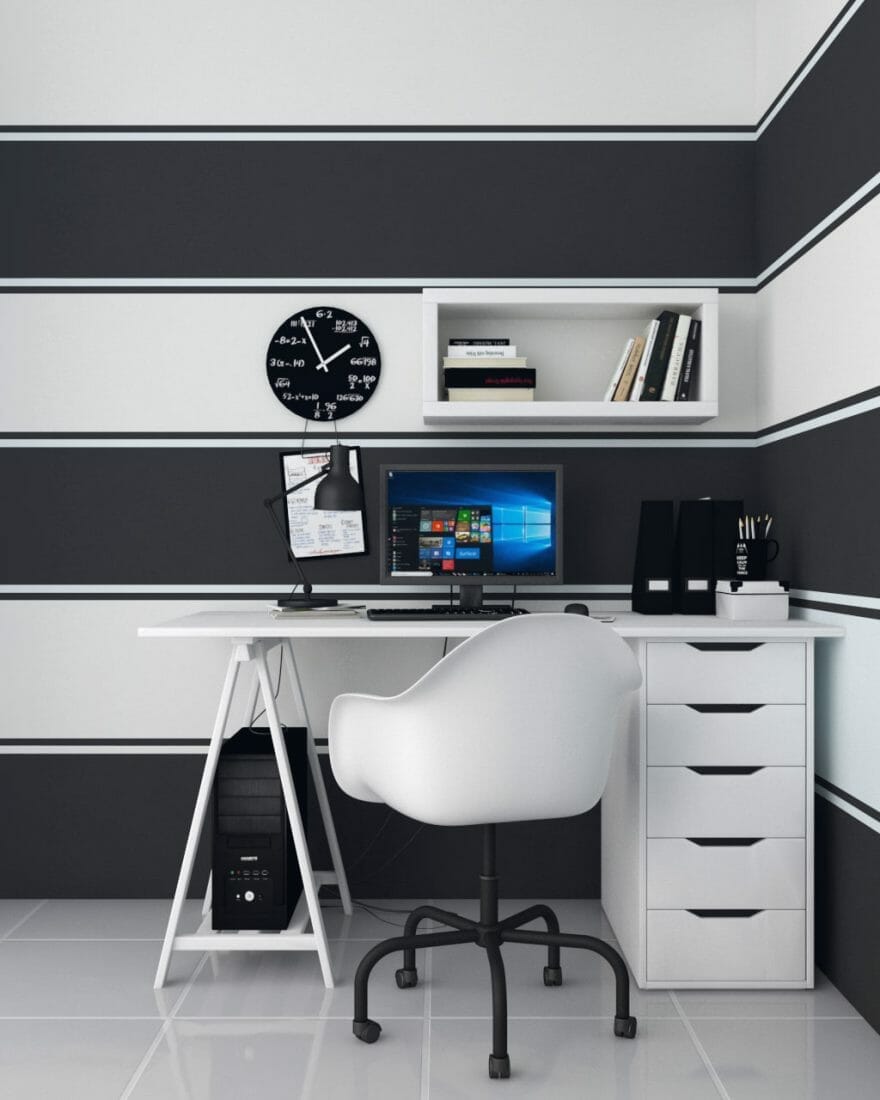 Before refashioning your space, you must choose the thickness of stripes. Take cues from the photo of a study room above.
As seen, the dweller used both thin and thick stripes in her son's study room. Not only do they widen the area visually but also develop so much interest.
The wall-mounted shelf and chair impart a modern feel. Meanwhile, the desk comes with several hardware-free drawers for knickknacks.
This study room boasts a black math wall clock. It clashes with the oversized white horizontal stripe. Below is an industrial-style table lamp.
13. Black and White Striped Walls for Kid's Bedrooms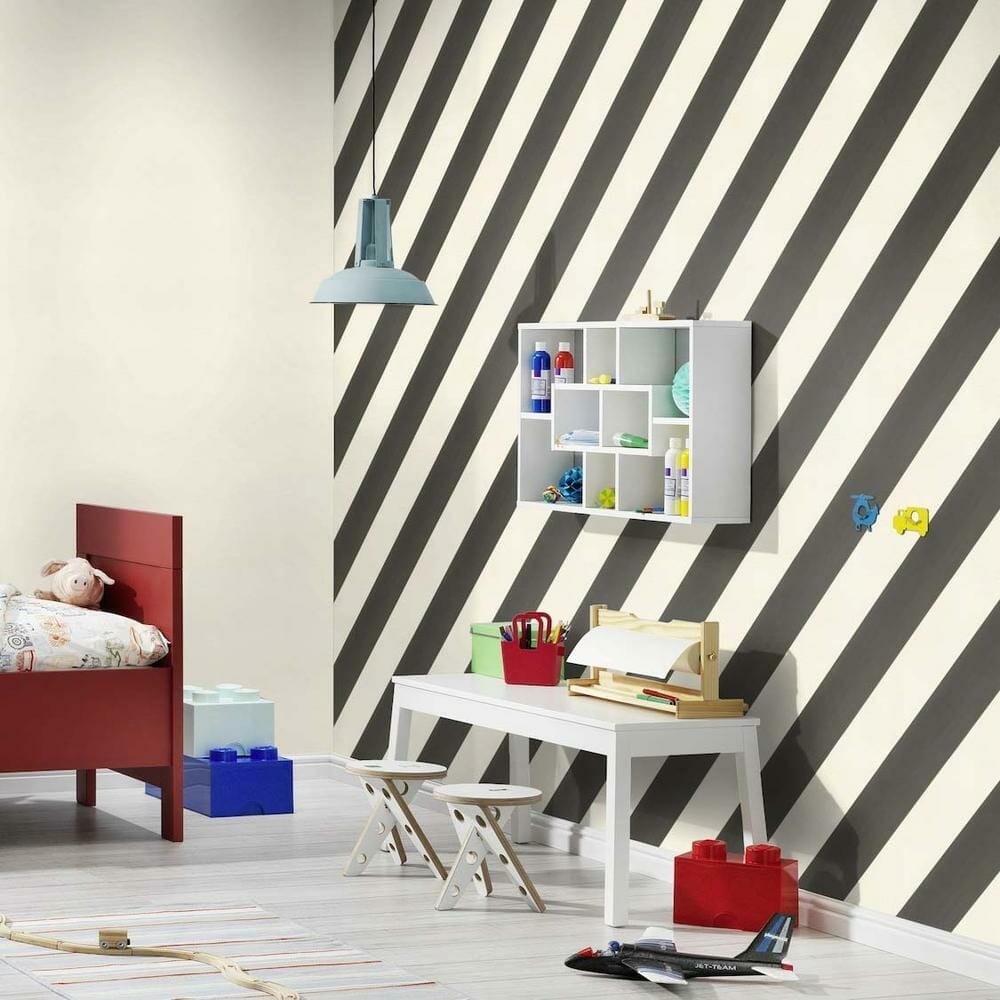 Get bored of vertical and horizontal stripes? If yes, consider using diagonal lines in your child's bedroom. They'll develop a dramatic and graphic look for sure.
The soft white and muted black diagonal striped wall serve as a spunky background.  Furthermore, it draws the eye to minimalist pure white furniture items.
In addition, the area rug, stuffed animal, and bedding impart a comfortable vibe. Moreover, the pale gray laminate flooring lightens the kid's bedroom.
Bursts of pastel and bright colors radiate happiness. Meanwhile, the giant Lego storage boxes accommodate child's toys while evoking playfulness.
14. Black and White Stripes with Gold Accents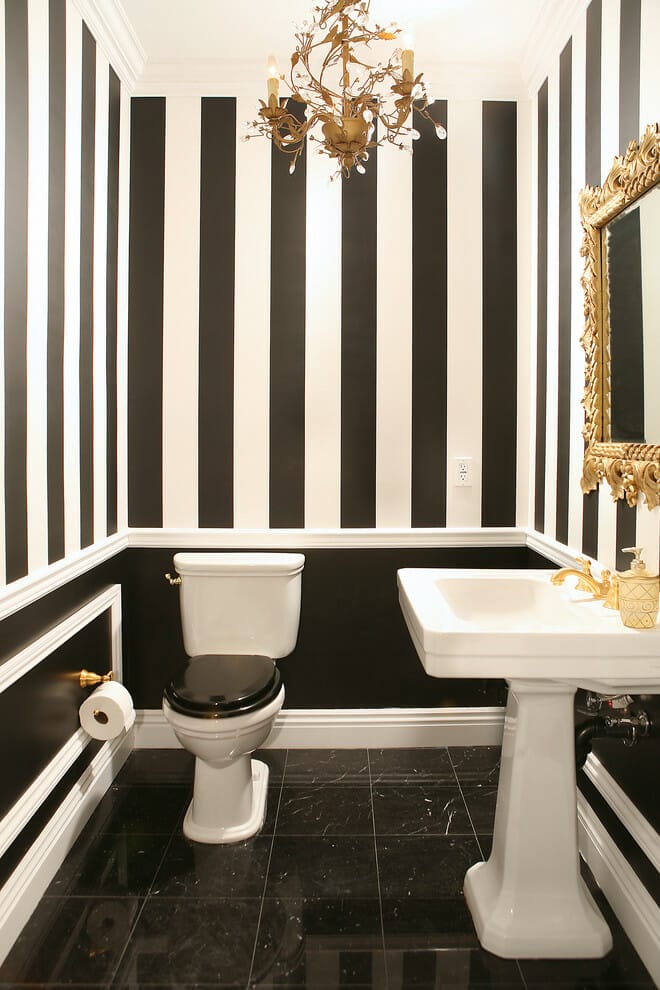 This powder room is super enchanting. Black and white striped walls steal the attention. In addition, they effortlessly update the space.
Vertical stripes perfectly highlight the height of the powder room. Moreover, black wall panels and white trim details offer visual depth.
The two-tone toilet makes the powder room feel cohesive. Additionally, black marble floor tiles imbue the area with luxury and beauty.
Gold accents appear on the intricate mirror, ceiling light, and hardware. Due to them, the tiny powder room seems brighter as well as more glamorous.
15. Black and White Stripes for Neutral Living Rooms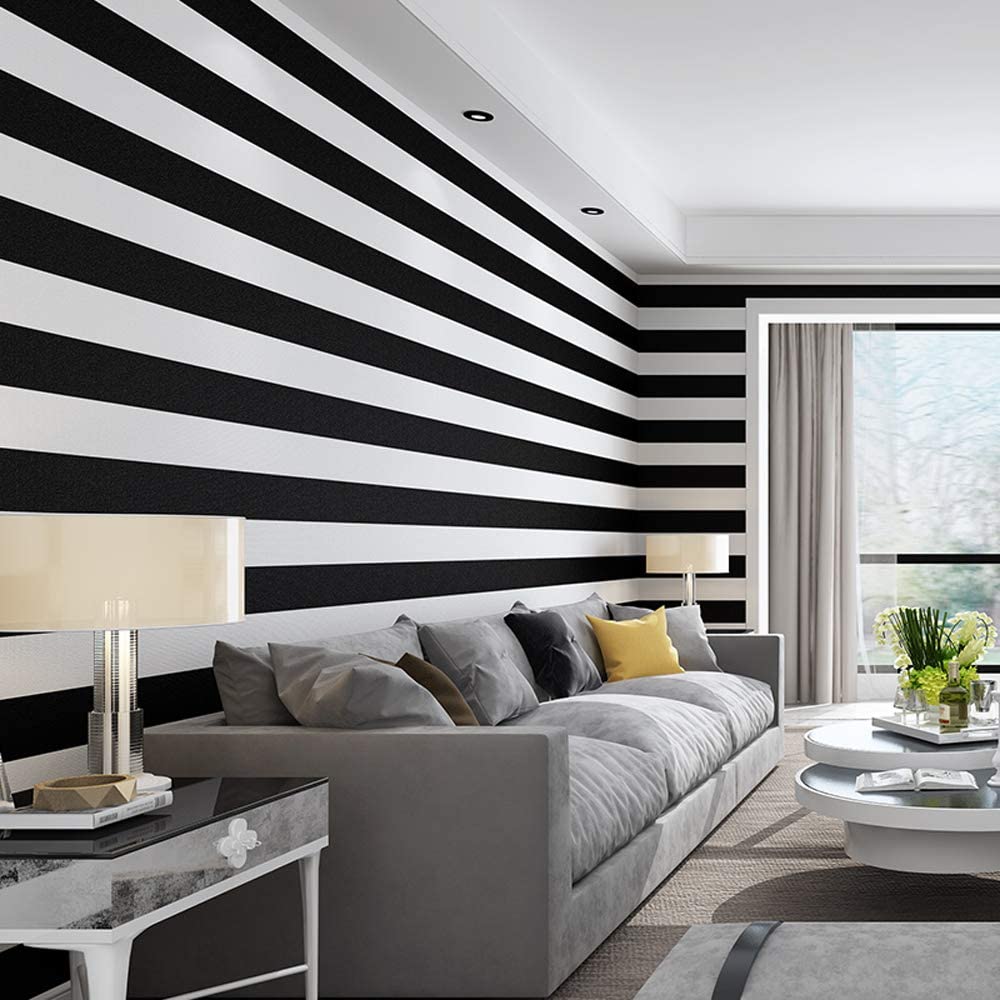 Black and white striped walls give this contemporary living room an eye-catching look. In addition, since they're somewhat thick, the space seems wider.
The horizontal striped backdrop accentuates the velvet gray sofa. Moreover, the taupe textured area rug makes the sitting area more serene and cozier.
I admire the arrangement of the sofa, table lamps, and side tables. As you see, they develop visual symmetry.
Because of the white ceiling and pale taupe curtains, this contemporary living room doesn't appear busy. Furthermore, the greenery and solid yellow throw pillow adorn the interior.
16. Striped Accent Wall for Girl's Study Rooms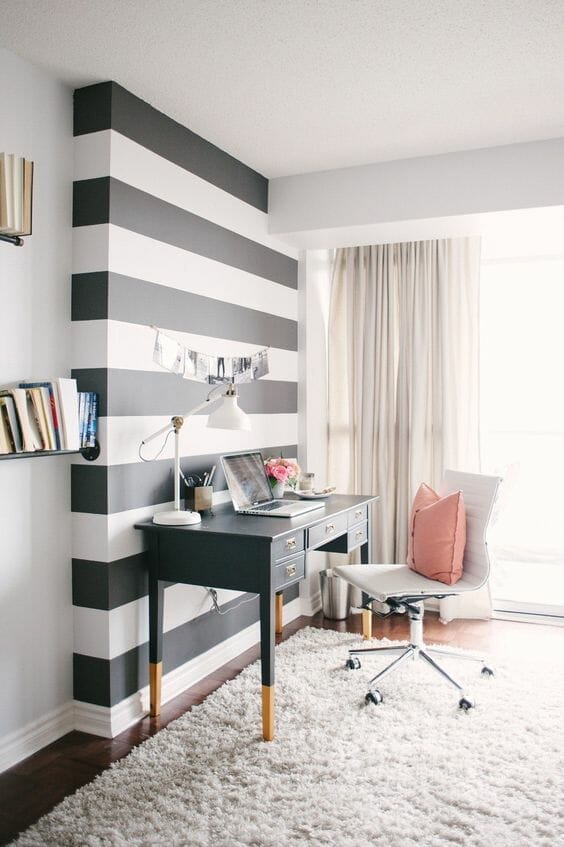 This study room employs a muted black and white striped wall. Furthermore, it steals the spotlight. However, the horizontal stripes do not overpower the area.
Thick horizontal stripes adorn the accent wall while offering a timeless spark. In addition, they make a delightful background for hanging photographs.
Wooden accents on the flooring and furniture legs embrace a toasty ambiance. Moreover, the desk chair and lamp introduce a retro flair.
The soft white shag rug and light taupe curtains bring comfort to the study room. Lastly, the pastel coral throw pillow and roses send out a feminine flavor.
17. Boy's Bedroom with Black and White Vertical Stripes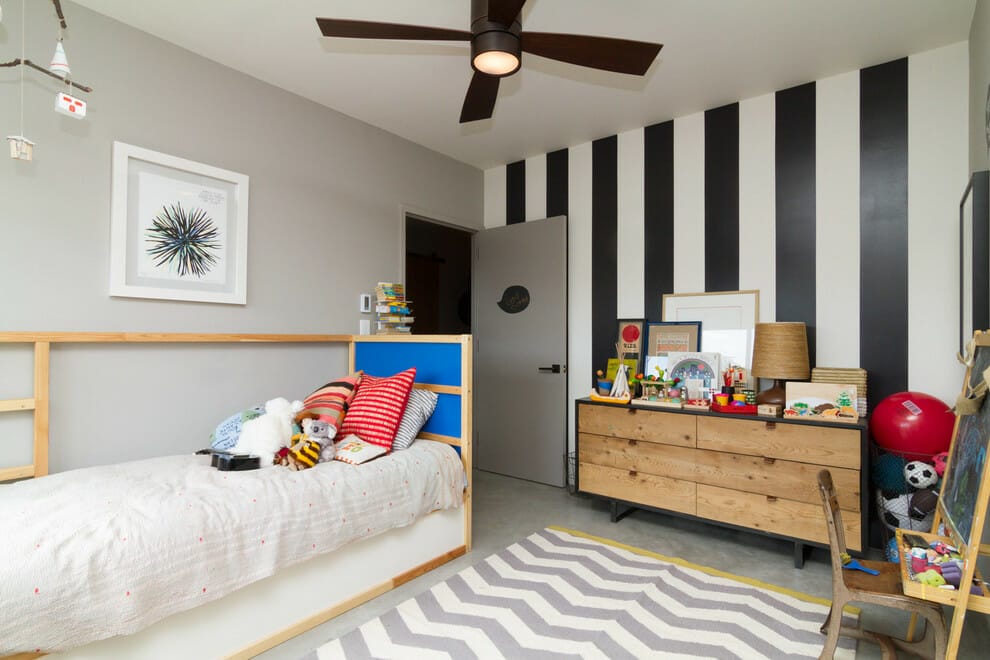 Black and stark white stripes embellish the accent wall in this boy's bedroom. Moreover, they're striking and trendy besides spunky.
Vertical stripes make the ceiling of the boy's sleeping area look higher. They sharply contrast with the brown lampshade and wooden dresser.
The striped accent wall gives the space a massive style. Furthermore, white and soft gray shades tone vibrant hues down.
Meanwhile, the area rug supplies white and gray chevron stripes. Additionally, the balls, stuffed animals, and other tiny toys introduce playful vibes. Also, the black ceiling fan adds drama while illuminating the boy's bedroom.
In conclusion, black and white striped walls are timeless. Furthermore, they are not only versatile and sophisticated but also create visual impact. With those examples, I believe you can create a drool-worthy space.