Stripes always become stunners. Apart from looking clean, they draw the eye instantly. Since gold is back, consider pairing this timeless hue with them. In this article, I'll be showing you 17 super impressive gold striped wall ideas.
Decorating the walls with gold stripes is easy. You can use them to beautify an accent wall or create a border by encircling the whole area with them. Regardless of your choice, they'll lend the interior a massive dose of wow for certain.
1. Muted Gold Striped Wallpaper for Bedrooms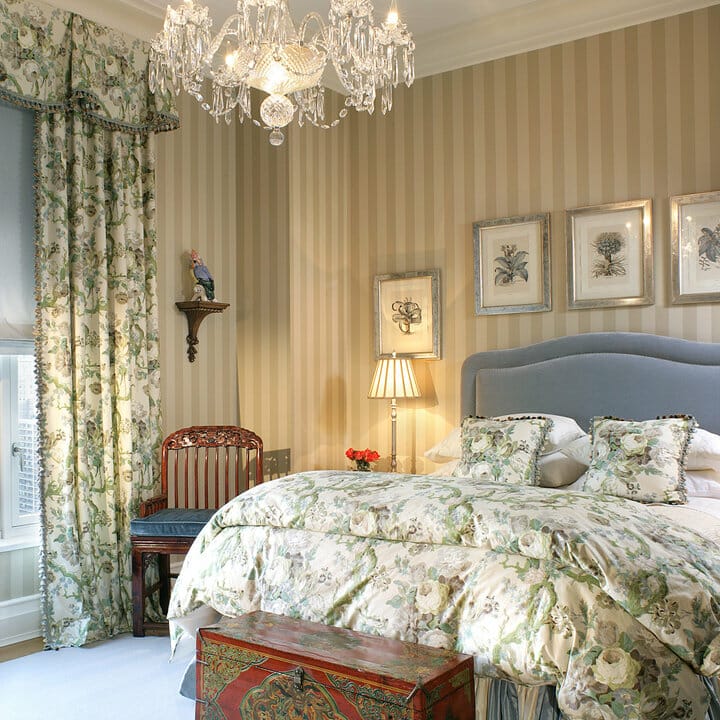 If you don't plan on using paint to adorn interior walls, consider covering them with a gold striped wallpaper. This wall covering is easy to use.
Here, vertical stripes prettify the bedroom walls. Furthermore, they wear two muted gold shades for a visual appeal. Also, they exude an ambiance of tranquility.
Thin vertical stripes make the low bedroom ceiling higher. Moreover, they clash with the pure white floor molding and ceiling fabulously.
Stripes are an integral part of several designs such as coastal, French country, and cottage. Here, they give the traditional sleeping space tons of interest.
Without a doubt, stripes and floral patterns are a perfect duo. This country bedroom says it all. Since the stripes sport soft gold shades, they lend the space a dreamy touch. The crystal chandelier and silver artwork frames provide unmatched luxury.
2. Golden Yellow and White Striped Walls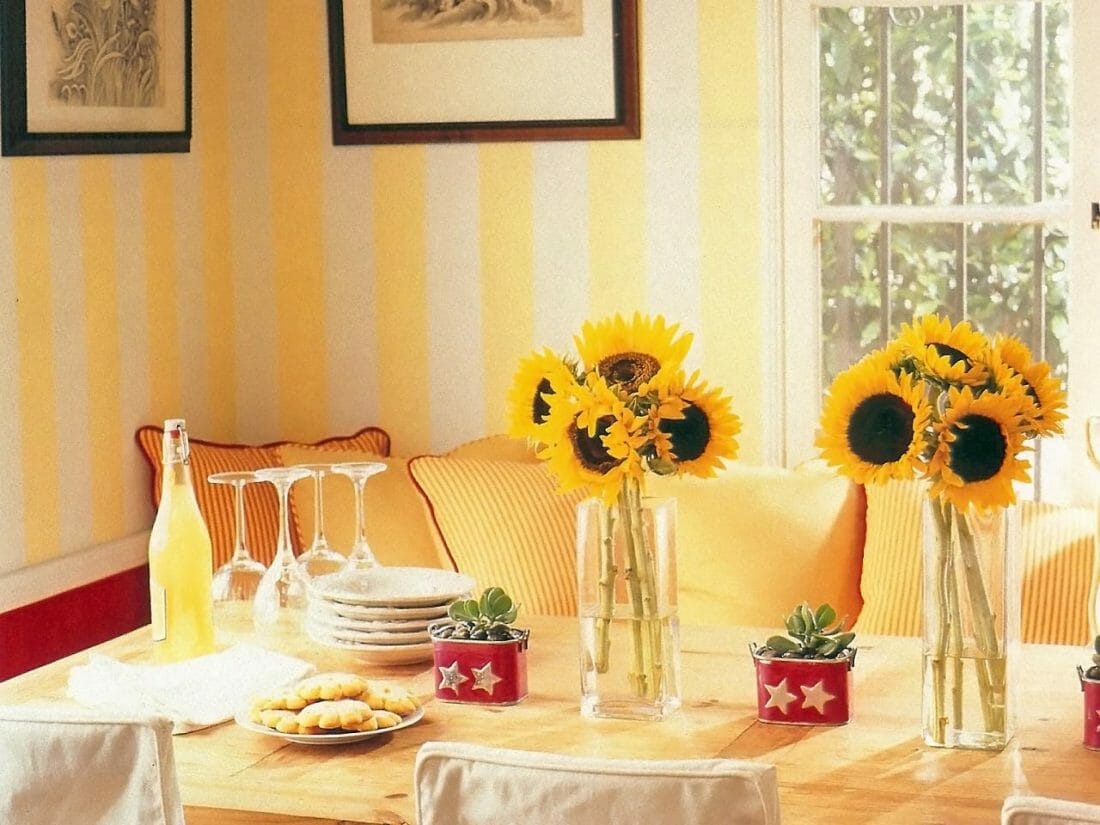 Need gold striped wall ideas? Apply this design. Instead of using horizontal stripes, you can choose the vertical ones to make your dining room ceiling appear higher.
Horizontal stripes generate an actual visual impact when somewhat thick. On the other hand, their vertical counterparts create a strong effect when fairly thin.
Golden yellow and warm white stripes bring a touch of cheerfulness to the dining area. Furthermore, black and brown artwork frames tone them down.
Punchy yellow vertical stripes accompany similar tones on the throw pillows and blooms. Moreover, the unpainted wooden dining table displays nature's understated beauty.
Throw pillows also feature vertical stripes, but they're thin. They generate visual interest without making the dining area feel busy.
The muted red wall panel and planters enhance the appetite. In addition, tiny succulents and fresh sunflowers infuse some life.
3. Striped Bathroom Wall with Gold Accents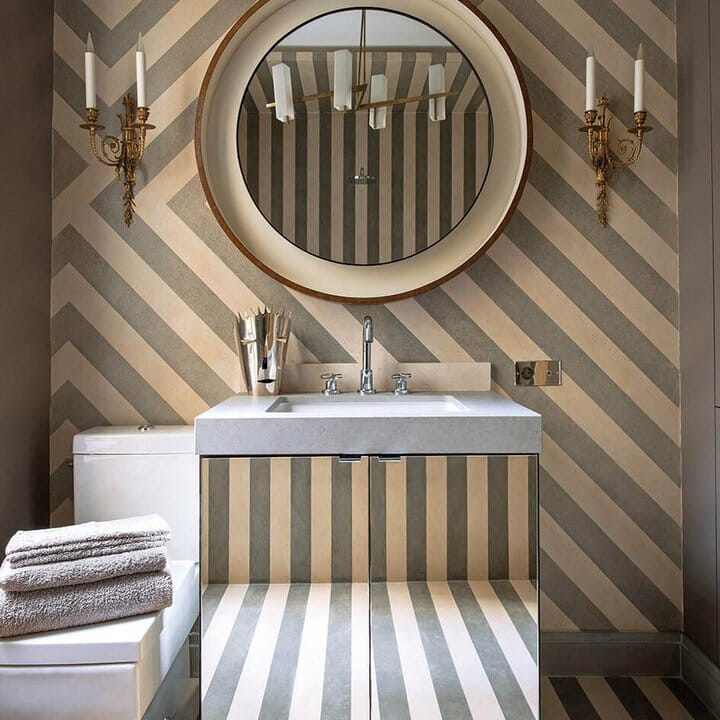 Horizontal is undoubtedly the most common stripe orientation. Moreover, painting parallel stripes is very easy. In addition, they make any space feel more massive.
If you get sick of horizontal stripes, then borrow this design. Furthermore, diagonal and chevron stripes prevent the neutral bathroom from being monotonous. They represent the modern style, too.
As you see, the chevron and diagonal stripes make for a striking backdrop. It accentuates the white and wooden round mirror.
Since stripes sport creamy-white and soft gray, they radiate serenity. Additionally, they ensure that the bathroom doesn't become dull.
The gold pendant lamp and wall candle holders lend the bathroom a decent dose of glamor. Meanwhile, the silver vase and hardware heighten the sumptuous feeling. Also, they carve a classic aesthetic.
This bathroom also boasts two-tone vertical and horizontal stripes. Moreover, they appear on the concrete floor, ceiling, and walls.
The mirrored vanity and large round mirror expand the bathroom. In addition, they develop a modern flair.
4. Vertical Yellow Striped Walls for Bedrooms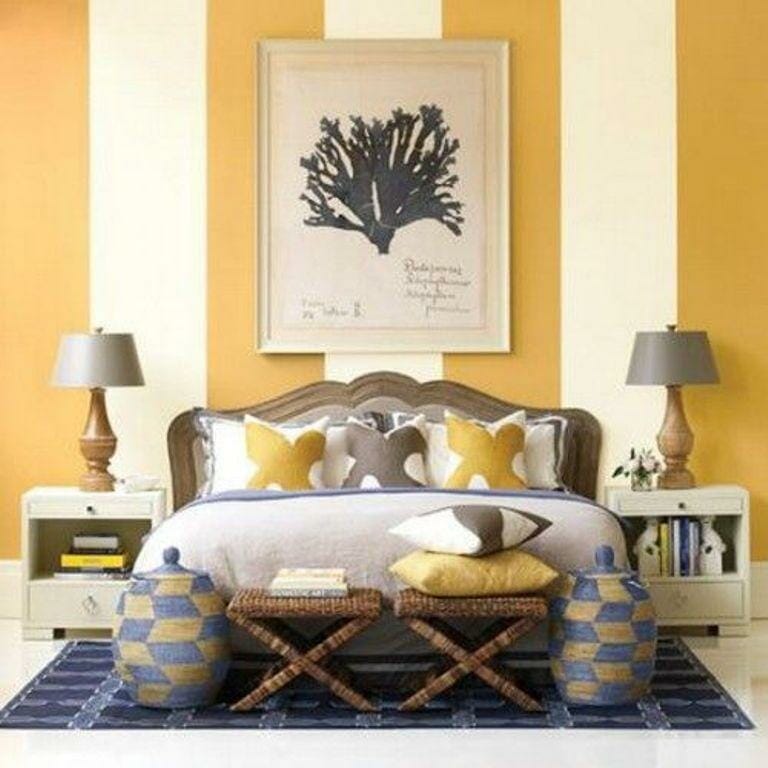 Speaking of gold striped wall ideas, try using oversized vertical stripes. They'll effortlessly develop a statement. Moreover, those units wake up the otherwise bland walls in your sleeping area.
Stripes become inseparable parts of cottage, seaside, and French country spaces. Here, they give the classic bedroom loads of visual interest.
Here, white and golden yellow vertical stripes offer a fun ambiance. In addition, they make the bedroom ceiling slightly higher.
Taupe table lamps and warm white nightstands flank the classic headboard elegantly. They produce appealing symmetry, too. Additionally, the navy patterned rug provides drama.
A couple of wicker stools supply cozy, natural textures. Furthermore, throw pillows and two-tone jugs generate visual cohesion. The simple artwork looks remarkable on the vertical striped backdrop.
5. Muted Gold Paint for Horizontal Stripes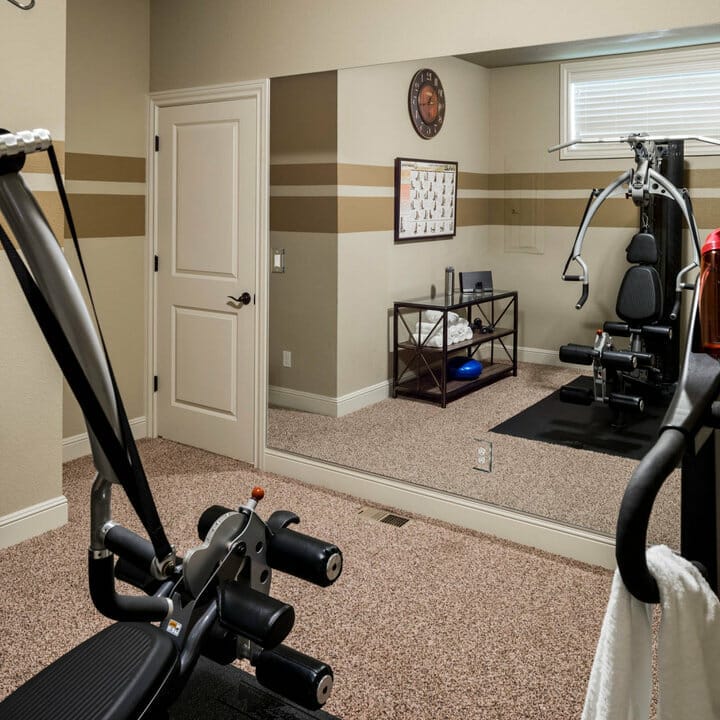 As I mentioned earlier, horizontal stripes aren't uncommon. You shouldn't hesitate to integrate them into your area. In addition to enlarging the space, they're also not difficult to paint.
This bedroom, for example, has two muted gold horizontal stripes. Furthermore, they generate a border around the workout room's walls.
Muted gold stripes clash with the soft white door delightfully. Also, they visually expand the tiny workout room while evoking warmth and glamor. Moreover, those units give the home gym personality.
Pale taupe walls meet muted gold horizontal stripes marvelously. The framed artwork and a shelving unit embrace a modern feel. Lastly, the tan carpet allows the homeowner's bare feet to get ultimate comfort.
6. Gold Striped Walls for Bathrooms
Talking about gold striped wall ideas, steal this one. Instead of creating stripes from the paint, the homeowner used subway tiles.
Here, the attic bathroom employs golden yellow subway tiles. Moreover, they make for super splendid and vibrant horizontal stripes.
In addition to visually expanding the attic bathroom, golden yellow horizontal stripes punch the area up. Also, they inject some cheerful energy.
Clean white subway tiles lend this attic bathroom an open atmosphere. Furthermore, marble accents exude unfussy lavishness. Lastly, the glass door and metallic hardware suddenly give the interior an urban aesthetic.
7. White and Gold Striped Wall for Bedrooms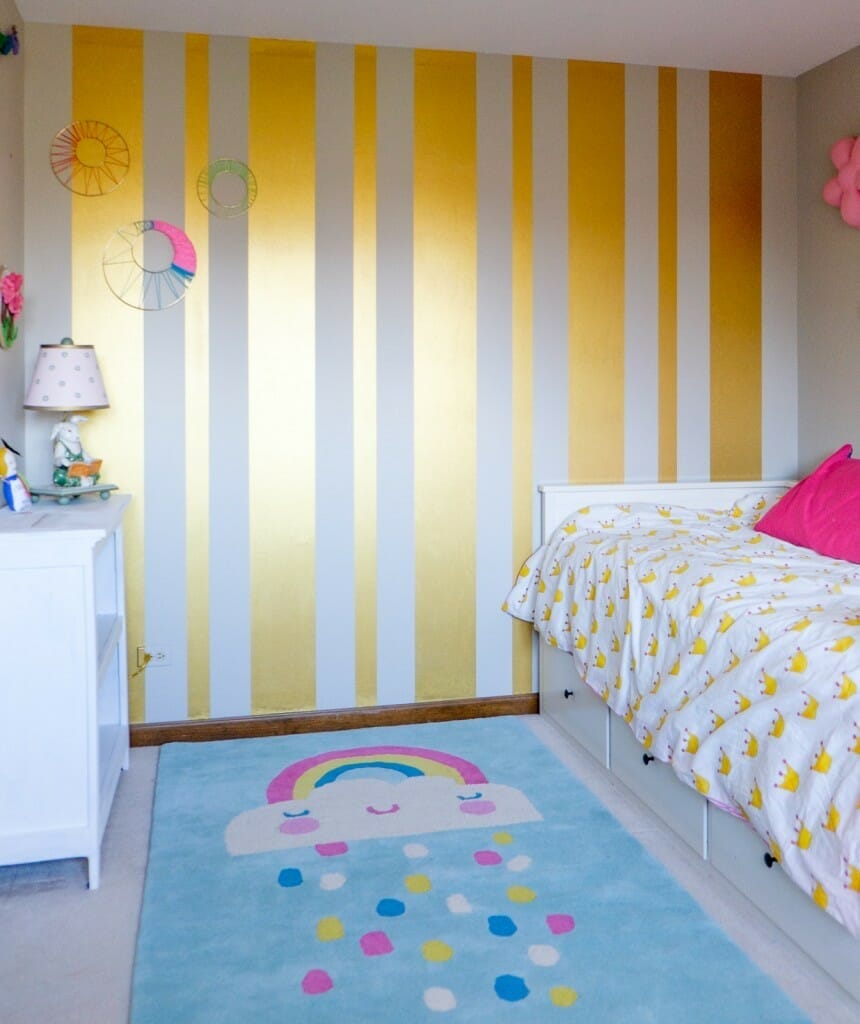 Speaking of gold striped wall ideas, try borrowing this design. Here, the teenage girl's bedroom is not only super inviting but also cheerful and gorgeous.
The bedroom features a gold striped accent wall. Apart from adding some shine, it also develops a bright look and luxurious vibe.
Alternating thin and thick golden stripes brighten the teen girl's bedroom up. When the sunlight hits them, they shine delightfully.
Due to clean white and golden stripes, this bedroom will grow with your daughter for certain. Moreover, the crown bedding, rainbow cloud rug, and wall ornaments evoke playfulness. The light gray floor and taupe walls tone exuberant hues down.
8. Large Golden Yellow Stripes for Walls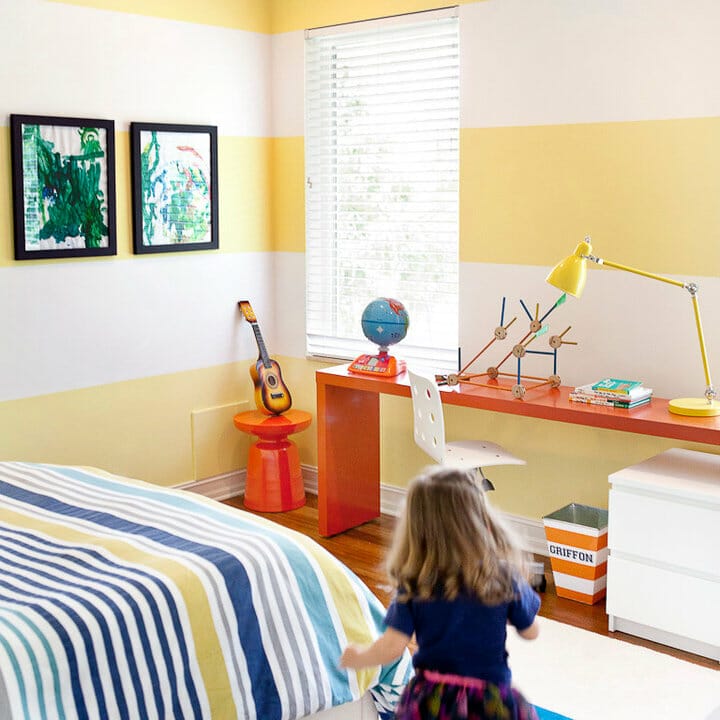 This is one of the brilliant gold-striped wall ideas. Because of oversized golden yellow and pure white stripes, the tiny bedroom feels more expansive.
Since horizontal stripes wear subdued golden yellow and crisp white, they highlight bright orange furniture units. Moreover, the striped walls introduce a statement.
The subdued yellow stripes inspire peacefulness as well as playfulness. Furthermore, the striped bedding develops a cohesive look. In addition, the wooden floor and white nightstand balance out vivid shades in the kid's bedroom.
9. Tone-On-Tone Gold Striped Walls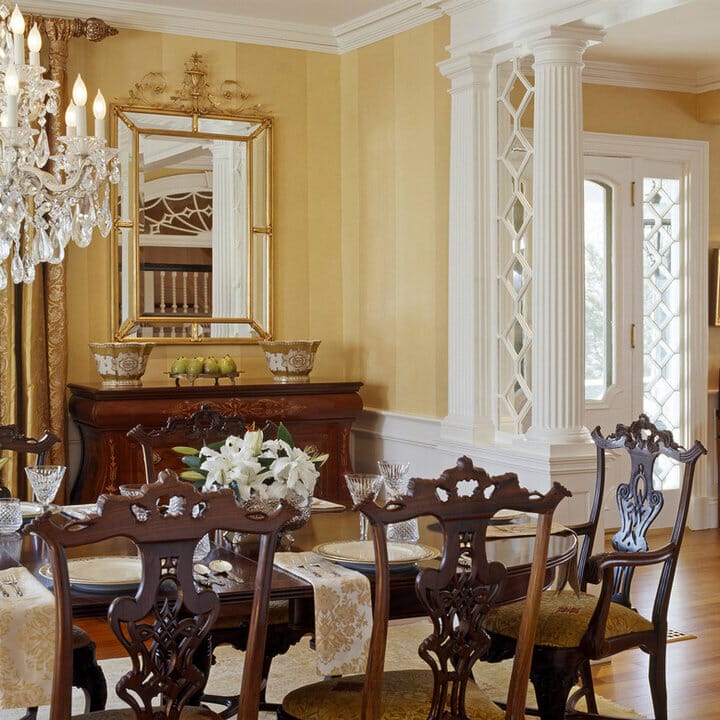 If you aren't into sharply contrasting stripes, this look deserves a try. In the picture above, the wallpapered walls display muted tone-on-tone gold stripes. They lend the lavish dining area a feeling of softness.
Although the vertical stripes are somewhat fat, they still make the ceiling of the culinary space slightly higher. Furthermore, they give the room tons of personality. Due to them, the dining area becomes a stunner.
The sideboard, mirror, and decorative vases provide timeless symmetry. Additionally, gold accents throughout the dining area inspire unfussy luxury. Moreover, medium- and rich-toned wooden surfaces balance the shine of gold units out.
10. Black and Gold Striped Walls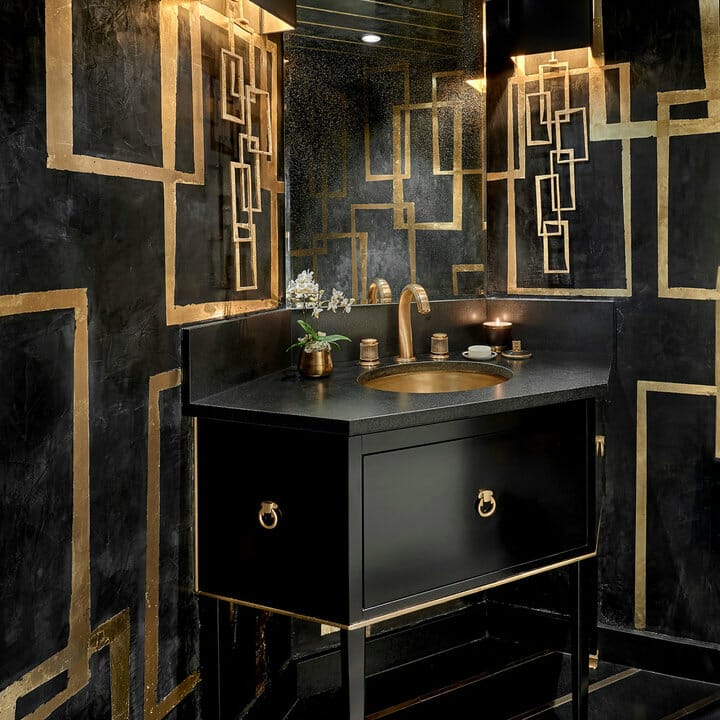 This art deco bathroom is nothing short of graceful. Gold horizontal and vertical lines make a glamorous wall decor. In addition, they inject a touch of minimalism while offering an unmatched character.
As you see, gold tones also appear on the hardware, trim, and table decorative items. Moreover, they quickly evoke a sense of visual continuity.
The black vanity and textured walls do not only produce visual depth but also present serious drama and elegance.
The downlights and gold accents keep gloominess at bay. Lastly, white blooms in a golden vase offer a natural touch.
11. Stylish Dining Room with A Gold Striped Wall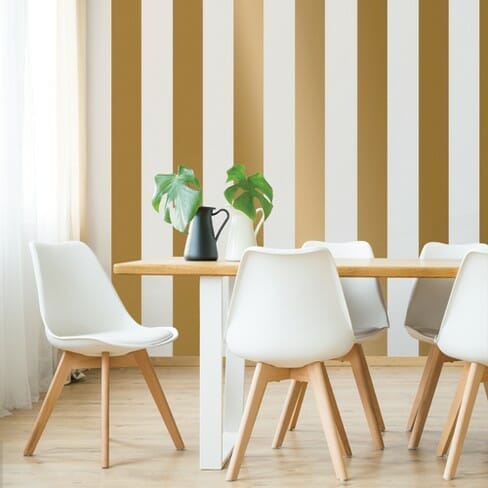 White is undoubtedly a classic hue for the dining area. However, it looks stark and lackluster sometimes. To keep the room from being pathetic, consider adding gold stripes.
Here, soft gold vertical stripes contrast with white lines and sheer curtains. Apart from adorning the dining area, they provide a sufficient dose of glamor.
Because of vertical stripes, the ceiling of the dining room seems a bit higher. Furthermore, the dweller kept the rest of his area pretty simple.
Plain white and wooden furniture pieces emanate a mid-century modern vibe. Moreover, tropical leaves lend the dining room a touch of paradise.
12. Glorious Gold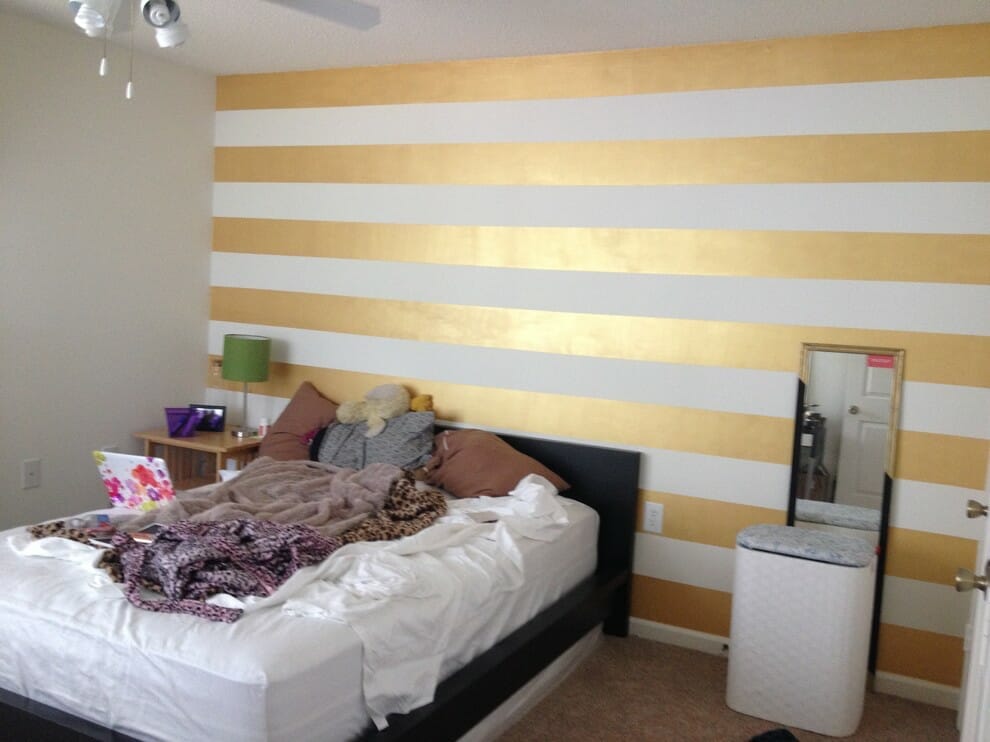 If you plan to jump on the gold stripe bandwagon, take cues from this photo. The gold striped wall infuses shimmery goodness into the bedroom.
Horizontal stripes make this sleeping area look slightly more spacious. Moreover, they're a mesmerizing contrast to the pale soft gray wall.
The striped wall acts as a stunning backdrop for the black-painted bed frame. In addition, the mirror invites light into the space.
Taupe and brown radiate warmth, while splashes of muted green, purple, yellow, pink, and red enliven the bedroom.
13. Soft Gold Striped Walls In A Country Bedroom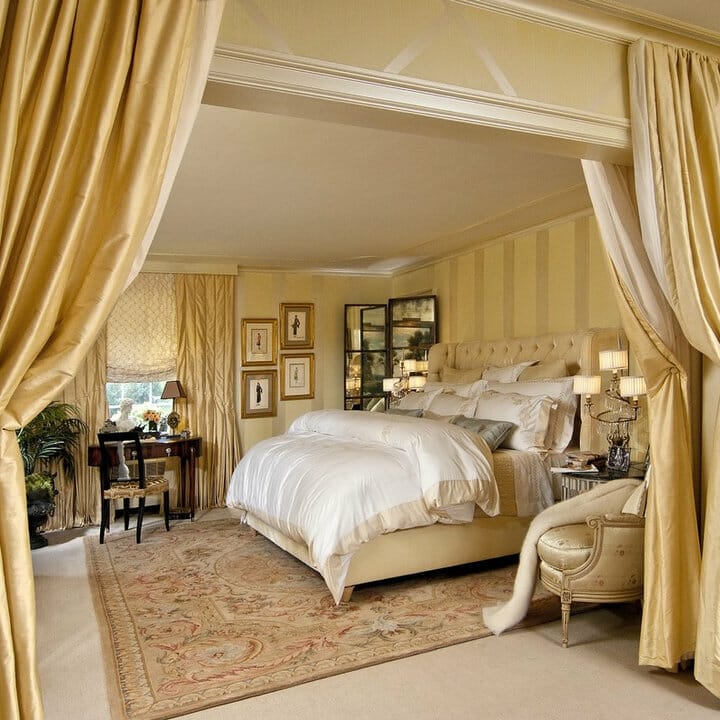 While parallel lines enlarge a tiny bedroom, vertical stripes visually make any low ceiling feel higher. Here, the dweller wanted them to delightfully alternate between thin and thick.
Gold stripes lend the sleeping area a touch of lavishness. Moreover, they coordinate with the muted yellow ones.
The golden bedding, curtains, artwork frames, and chairs heighten the glamorous feeling. Furthermore, the floral-themed rug and tiered table lamps produce a French country flair.
The pale taupe carpet and throw blanket present a comfortable vibe. Additionally, the wooden table and indoor palm trees carve an outdoorsy look.
14. Kid's Bedroom with Pale Gold Striped Walls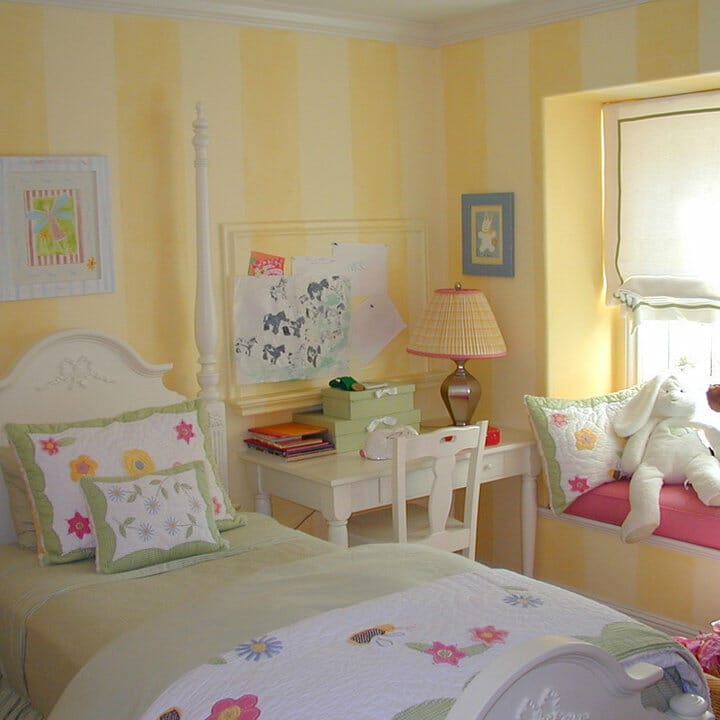 Pale gold stripes run vertically in this child's bedroom. Moreover, they evoke happiness while emanating a peaceful atmosphere.
Vertical stripes are not only pretty but also prevent the ceiling from appearing low. Furthermore, the warm white chair and a bed frame make the bedroom brighter. In addition, they develop a classic appeal.
Here, pale gold stripes generate a dreamy background for adorable artworks. Also, there are pastel colors and floral patterns that carve a girly touch.
The metallic table lamp exudes luxury. Furthermore, two sizes of pastel green storage boxes keep the kid's knickknacks organized.
15. Gold Striped Walls for Nurseries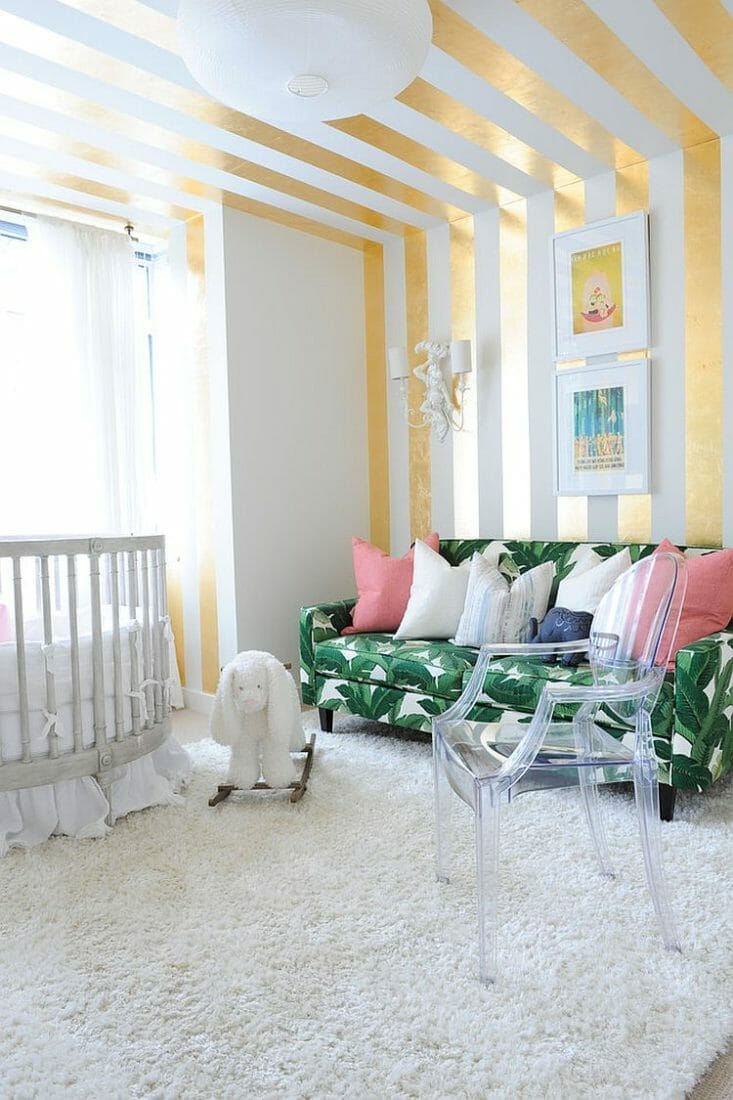 This gorgeous nursery employs both horizontal and vertical stripes. As the picture shows, they wear gold for a sumptuous look.
Due to vertical stripes on the walls, the ceiling doesn't seem low. Meanwhile, the horizontal gold stripes on the ceiling suddenly draw the eye upward.
On the other hand, the white shag rug and rocking chair inspire maximum comfort. Furthermore, the acrylic armchair and window create an atmosphere of lightness.
The artworks spice the striped backdrop up. Moreover, pastel pink throw pillows lend the nursery a feminine flavor. Lastly, the leaf-patterned sofa embraces a tropical ambiance.
16. Powder Room with Gold Stripes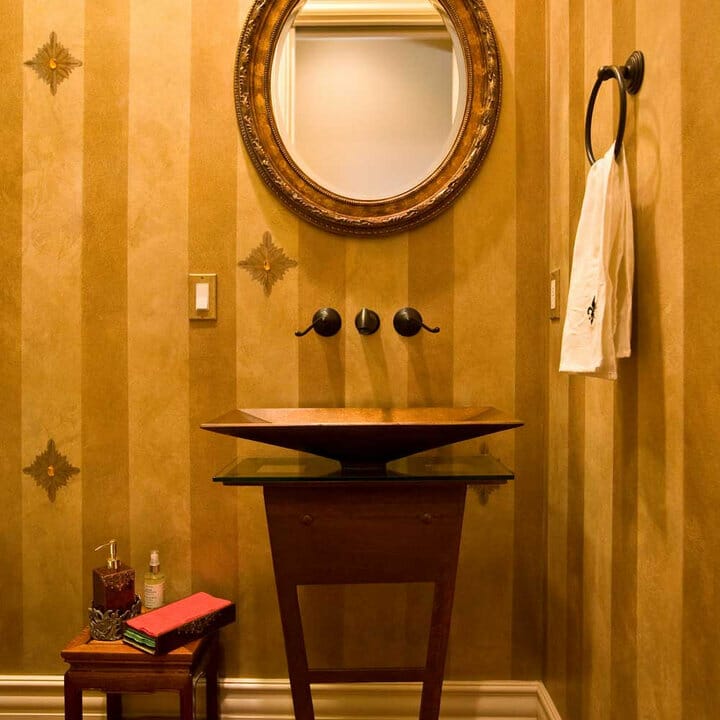 In this powder room, cream and muted gold stripes cover the walls. Apart from evoking lavishness, they instill a tranquil scene.
Decorative wall ornaments and metal accents accompany gold stripes well. Moreover, the classic oval mirror expands the powder room.
Because of the wooden vanity and table, the whole powder room seems welcoming. Also, there's a crisp white floor molding that generates a touch of airiness.
The red piece sits on the wooden table. Not only does it inspire warmth but also brings boldness into the powder room.
17. Gold Striped Walls for Entryways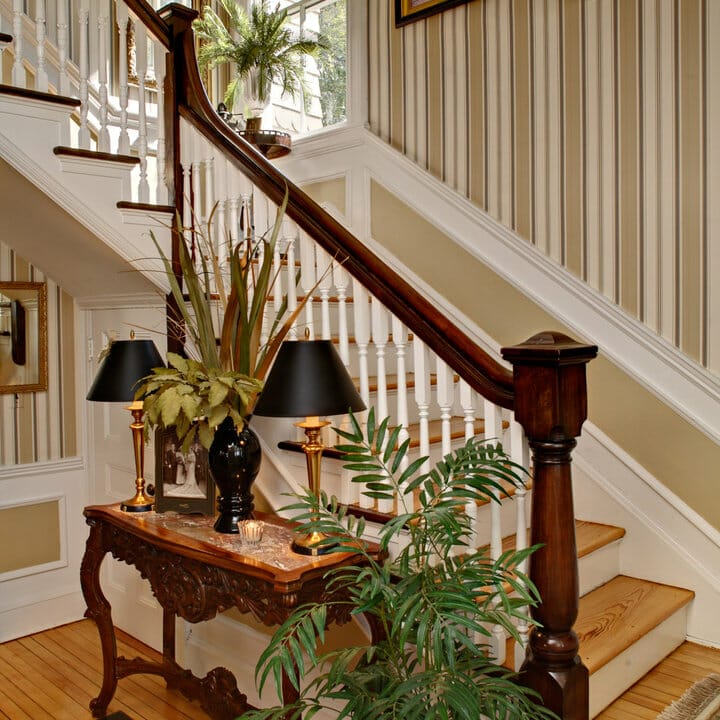 Here, the entranceway boasts vertical stripes that have different widths. Apart from making an impression, they keep the ceiling from seeming low.
As the picture shows, vertical stripes supply shades of pastel brown, muted gold, taupe, and soft white. Furthermore, they beautify the area without overwhelming it.
The white base molding, balusters, and risers balance the stripes out. Moreover, the black vase and lampshades inject pure sophistication.
The rich-toned wooden handrail and sideboard give off a homey vibe. Furthermore, the dried greenery and houseplant bring outdoor elements in, while windows welcome lots of natural light.
Without a doubt, the gold striped wall never gets out of trend. I hope those astonishing ideas above can inspire you to integrate stripes into your interior. Whether you pick a subdued hue or something shimmery, it will fascinate the guests.