Being around plants is surely beneficial for everyone's wellbeing. Not all people have massive backyard gardens. However, you can obtain the benefits. With these mesmerizing balcony garden ideas, creating an outdoor personal oasis is doable.
Currently, balcony gardening becomes a hot trend. Furthermore, it helps you establish a relaxing space to enjoy the magnificent outdoors. Apart from that, the activity allows people to sit and grow their food on their pint-sized balconies.
1. Minimalist Balcony Garden Ideas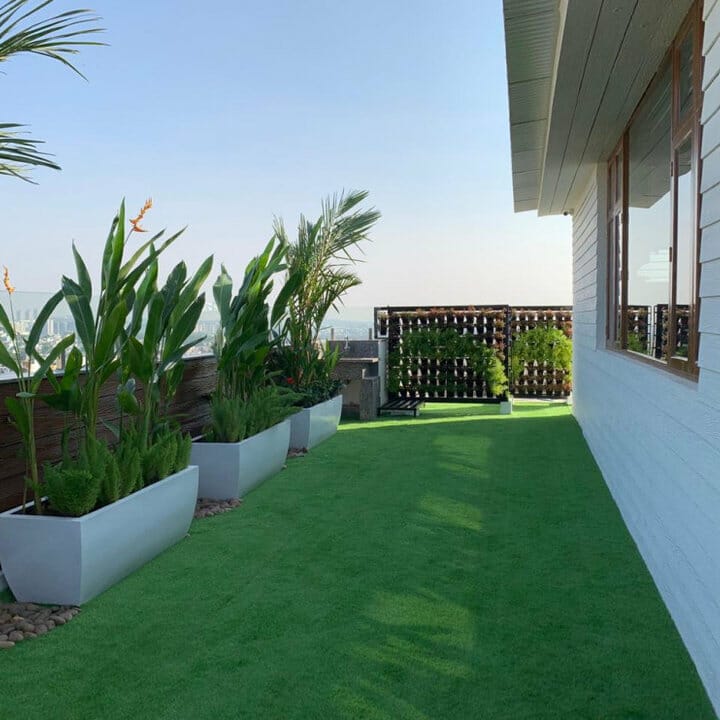 Speaking of balcony garden plants, you should think about your outdoor area's position. In addition, don't forget to consider the amount of sunlight it gets. These factors will determine what kinds of plants will thrive in the garden.
Shady spots are suitable for lush green plants like ferns. Meanwhile, warmer areas will accommodate the sun-loving ones such as bougainvillea, birds of paradise, and canna lily.
Here, the balcony garden features minimalist planters with dwarf shrubs, palm trees, and birds of paradise. Also, they lend the outdoor area vivid accents.
The lattice privacy screens conceal the balcony garden. In addition, they act as plant climbers. Also, the units let sunlight shine through.
2. DIY Balcony Garden Decor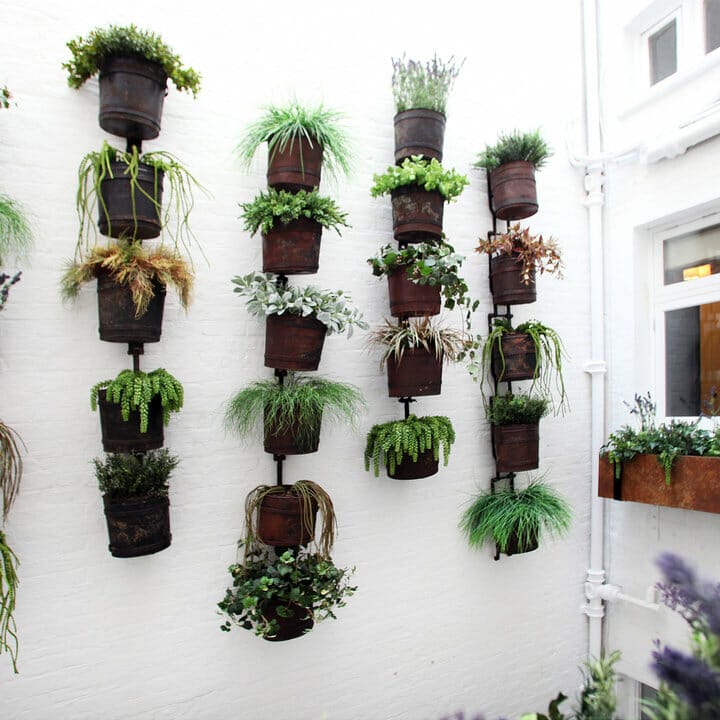 As you see, the balcony garden has crisp white textured walls. Moreover, they pose as a neutral yet incredible backdrop for hanging decorations.
Since the dweller wants a welcoming space for summer evenings, she gave her balcony garden crafty touches. Here, the old tin cans become rustic planters. Furthermore, they make the outdoor area more charming.
First, the dweller created drainage holes for her planters. Then, she mounted them on the wall using black metal hooks. Lastly, she filled the pieces with dirt and ornamental plants.
3. Balcony Garden Ideas with A Wildlife Oasis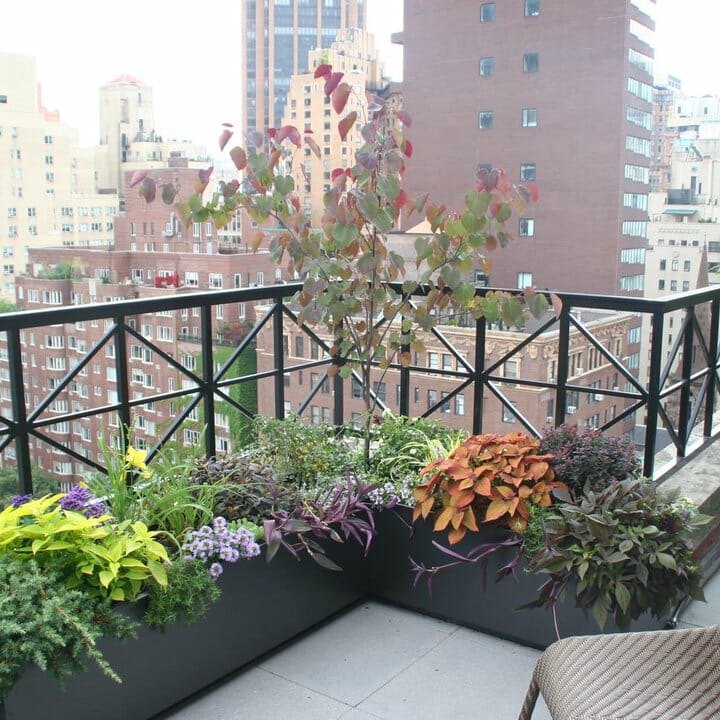 This balcony garden overlooks the cityscape. The geometric metal railings and sleek raised beds fit the modern apartment-style perfectly. Because of them, the outdoor space receives instant drama.
Gray concrete tiles accompany the black raised beds. In addition, they lend the balcony garden a modern industrial touch.
The garden also serves as a wildlife oasis. Furthermore, it boasts a range of blooming plants that easily attract birds, butterflies, and bees.
Plants enliven the balcony garden with splashes of purple, orange, yellow, green, and red. Due to them, the space doesn't look blah anymore.
4. Balcony Garden Ideas for Small Spaces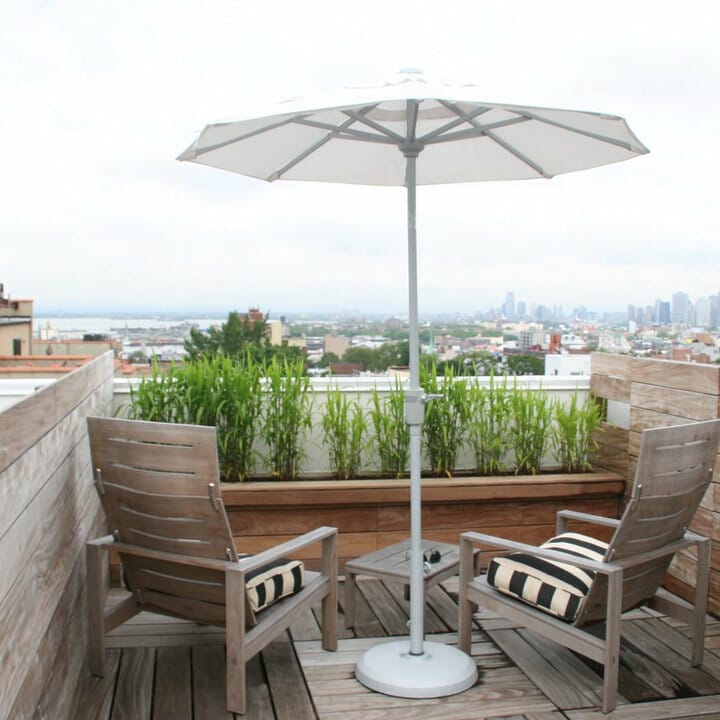 Do not overcrowd your balcony garden. By doing so, the already tiny outdoor space won't feel restrictive. This area, for example, boasts the right furniture pieces, so it becomes a fabulous lounging spot.
The untreated wood table and chairs offer a place for relaxing and dining. Moreover, due to some plants in the built-in raised bed, the dweller can turn her balcony into a lively urban garden space.
Wooden privacy screens impart rustic vibes. Furthermore, the patio umbrella offers outstanding sun protection, while two black and cream striped throw pillows are centerpieces.
5. Cozy Corner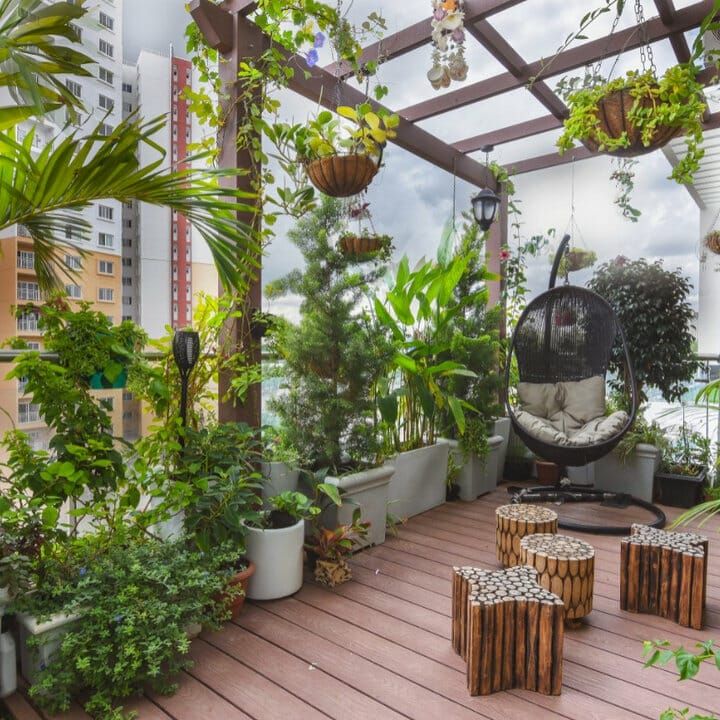 Talking about balcony garden ideas, this one is worth applying. The black egg chair features a light taupe seat cushion for a comfortable atmosphere. Additionally, planters help control the growth of the greenery.
Unpainted wooden stools lend the balcony garden a visual interest while oozing organic warmth. Additionally, they harmonize with the reddish-brown wood floor. Moreover, the metallic railings evoke urban vibes.
Since this balcony garden has a somewhat narrow space, the tall decorative plants suit it excellently. Also, they seem structurally graceful because the dweller grouped them in different heights.
The trellis bears hanging plants as well as climbing vines. Furthermore, the pendant lamp and solar-powered light fixture illuminate the balcony garden.
6. Balcony Garden with An Outdoor Living Room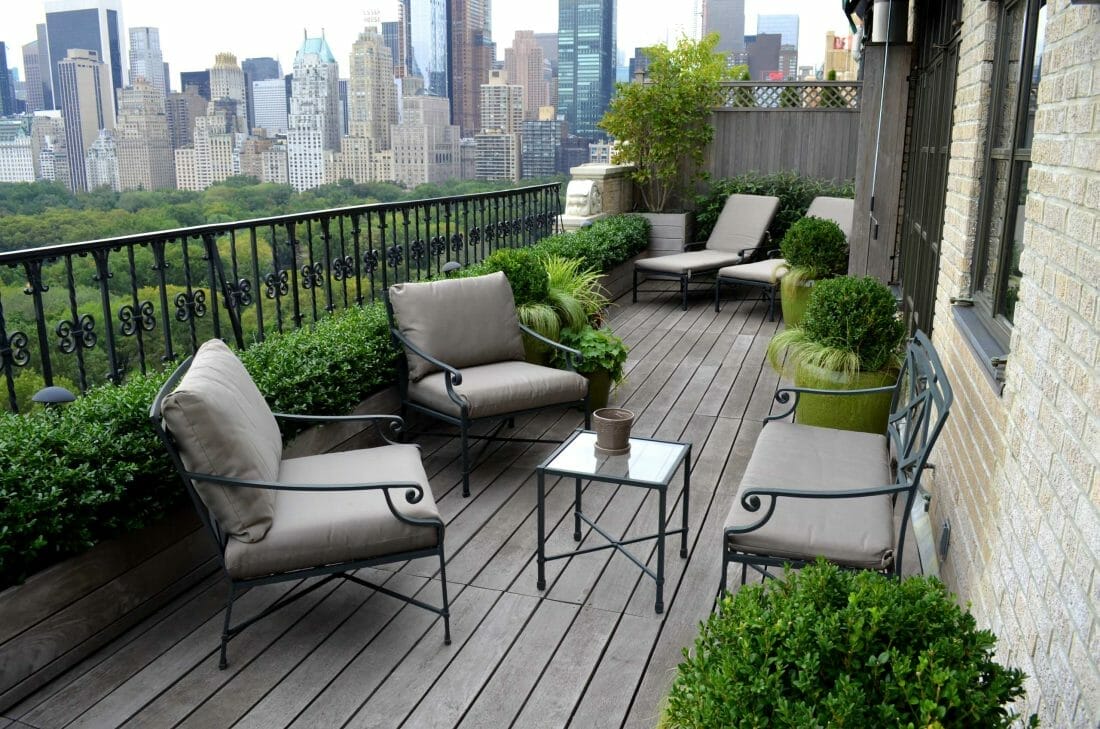 Speaking of balcony garden ideas, this option is truly worth copying. Moreover, the dweller brought the inside out by creating a classic outdoor living room.
In addition, the intricate wrought-iron details produce a timeless look. Furthermore, they infuse the balcony garden with elegance. Also, there are wooden planks that cover the floor and offer rustic visual features.
The ornamental grass and shrubs complement the natural feel of wooden planks. Large green planters blend with the adjacent greenery. Lastly, a couple of lounge chairs give the balcony garden a relaxing ambiance.
7. Modern Balcony Garden Ideas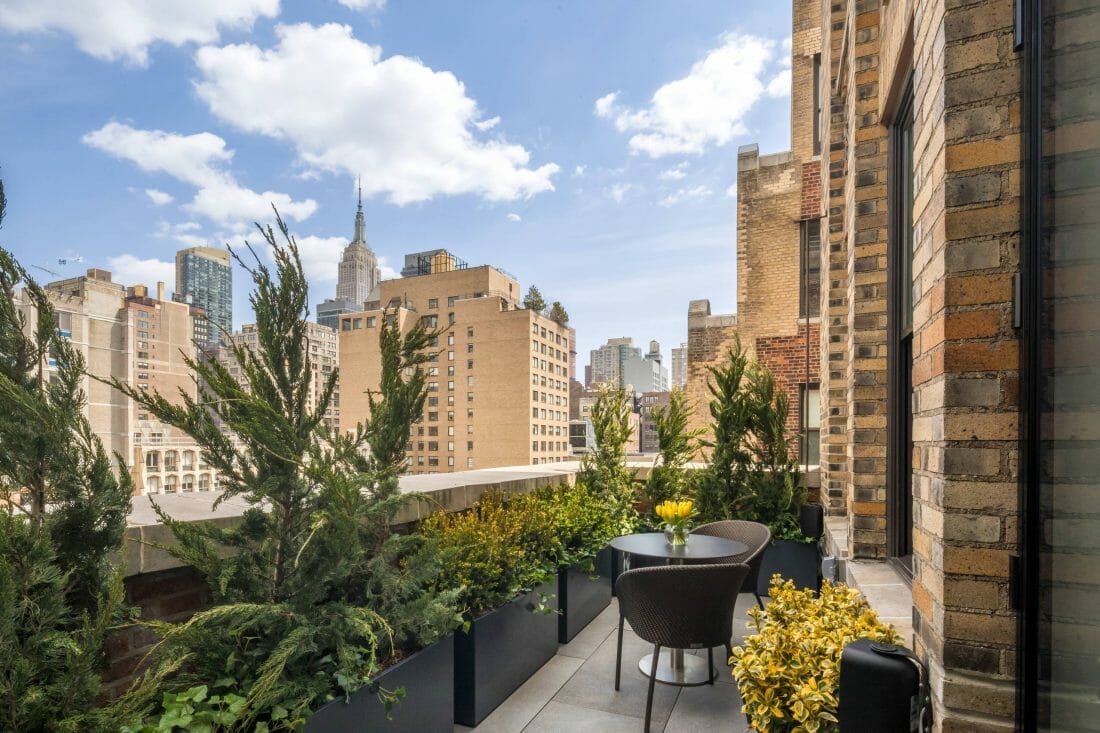 You shouldn't complicate the balcony garden decor. This will make your outdoor area feel more expansive visually.
As you see, this balcony becomes an extra living room all year round since it employs weather-resistant furniture items. Above the floor are a stainless steel table and two resin wicker curved back chairs.
The modular-shaped planters hold various plants. Apart from generating a statement, they also punch up the balcony garden in a natural way.
Concrete tiles top off the floor. They instill an industrial aesthetic, too. Pops of yellow inspire happiness, while the earth tones on the bricks tone them down.
8. Colorful Balcony Garden Accessories
Regardless of the size, there are numerous excellent uses for gardens on the balconies. This balcony isn't spacious, but it boasts a pint-sized garden full of pleasant aroma and energizing colors.
The yellow planter wall features raised beds. Furthermore, it emphasizes lush ornamental plants and maintains the dweller's privacy. Also, bright white pebbles provide a striking contrast.
Wooden planks evoke warmth while complementing the fake turf area rug. Moreover, bold green planters hang on the railings. The mini house, tiny bucket, and mushroom statues serve as garden accessories. Additionally, they supply invigorating splashes of blue, yellow, navy, and red.
9. Vertical Balcony Garden Ideas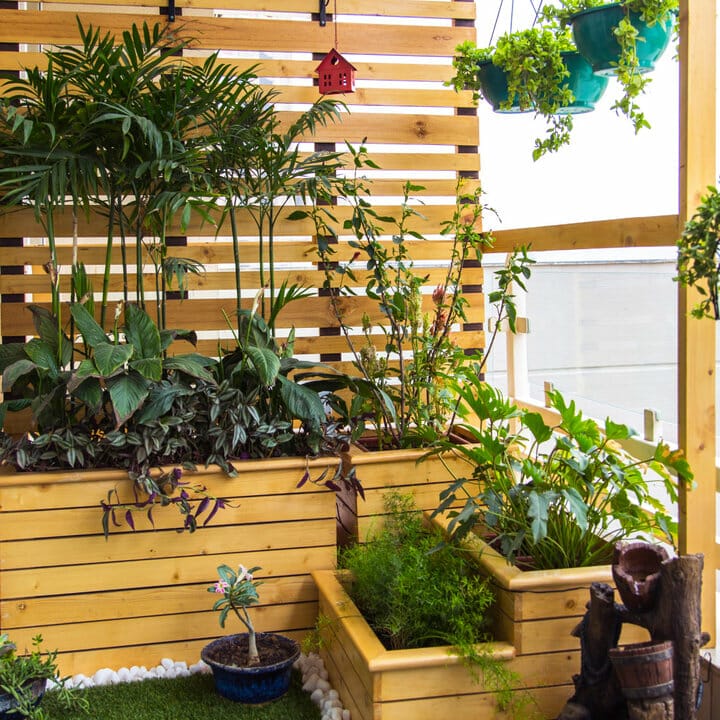 With loads of balcony garden ideas, your choices aren't limited for sure. Consider taking cues from the photo above. The outdoor space has a few warmer locations in direct sunlight. Furthermore, the sun-loving plants will surely do well in such areas.
Sunny yellow on the planter wall radiates cheerfulness. Additionally, whitewashed river rocks bring Mediterranean vibes to the tiny balcony garden.
The shiplap-raised beds accommodate dumb canes, parlor palms, wandering Jew, and other gorgeous plants. Furthermore, the navy planter holds the desert rose.
Hanging turquoise planters offer more vibrancy. Below is a rustic water feature. Apart from producing an inviting look, it embraces a soothing atmosphere.
10. Balcony Garden with Personal Touches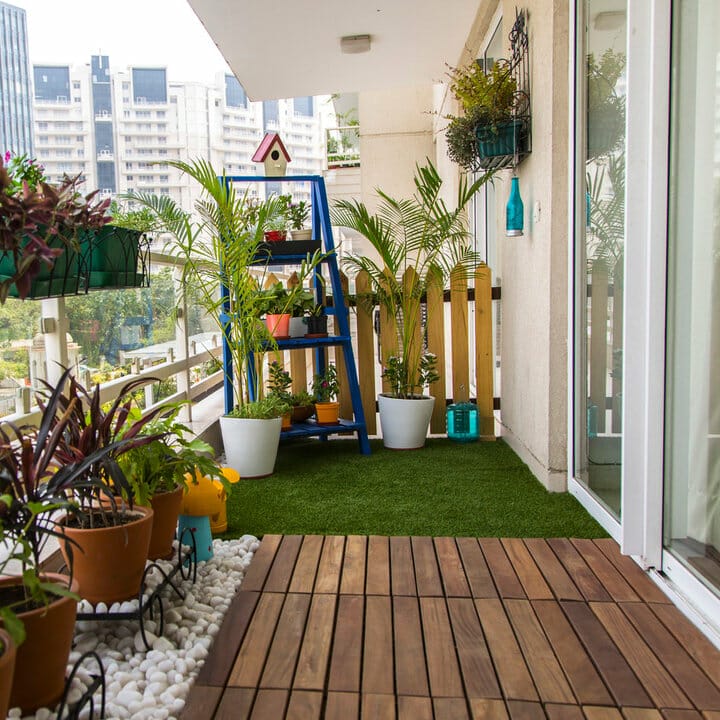 Searching for incredible DIY balcony garden ideas? If so, borrow the inspiration from this outdoor space. As you see, it has a teal bottle pendant lamp and a blue wooden ladder plant stand.
Exquisite wrought iron designs contribute to the balcony garden's elegant look. Furthermore, they clash with clean white pebbles.
The wooden floor provides a natural feel. Moreover, the white ceiling and planters ensure that the balcony garden is airy. Lastly, bursts of coral, blue, and yellow brighten things up.
11. Balcony Garden Ideas with A Living Wall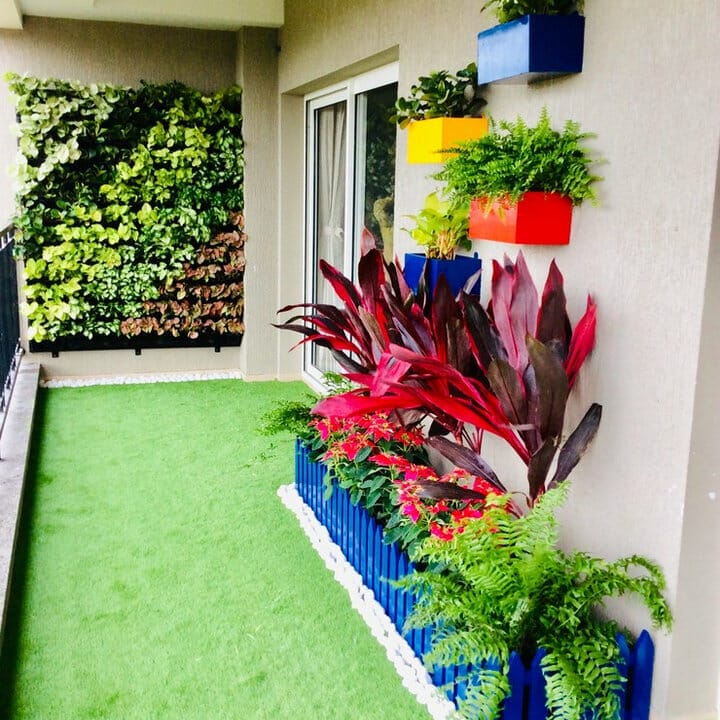 Nowadays, many dwellers create statement walls in their living quarters. So why not follow the brilliant idea, right? Instead of using quirky decorations or some vivid plants, fill the wall with real plants.
The dweller arranged the plants on the living wall diagonally. In addition to jazzing up the balcony garden, they generate a neat look.
Due to the pale gray backdrop, the blue, red, and yellow hanging planters become centerpieces. Furthermore, the picket fence directs the eye to the red cordylines and ferns. The fake turf rug and white pebbles complete the scene.
12. Chic and Charming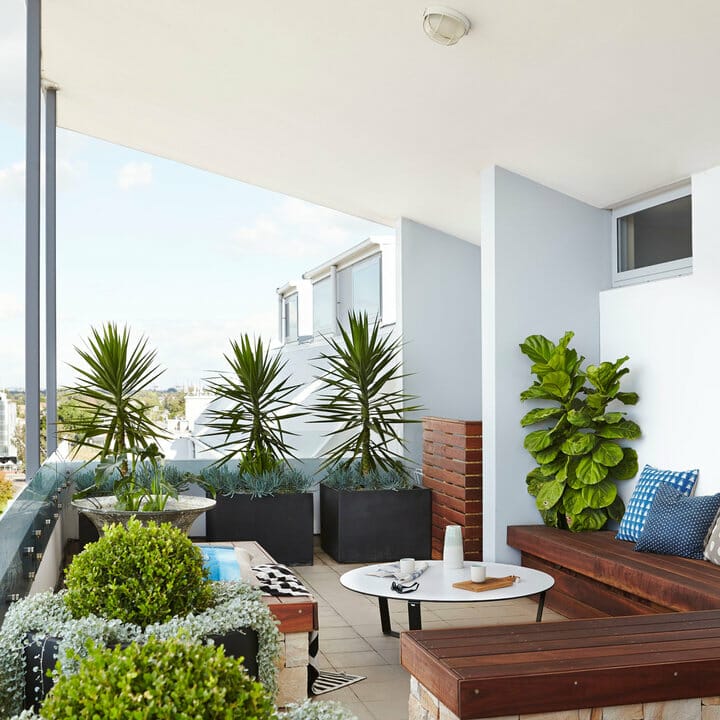 For sure, this is one of the balcony garden ideas to steal. Here, teak furniture pieces and wrought-iron planters come in modular shapes. Also, they complement the modern apartment delightfully.
Cream city bricks infuse a rustic feeling. Moreover, the table with a round glass top balances out the hard edges. In addition, statement plants and succulents offer a super chic appearance.
Underfoot are concrete floor tiles for an urban atmosphere. Furthermore, because of the patterned throw blanket and pillows, the balcony garden becomes more visually appealing.
13. Stylish Balcony Garden Ideas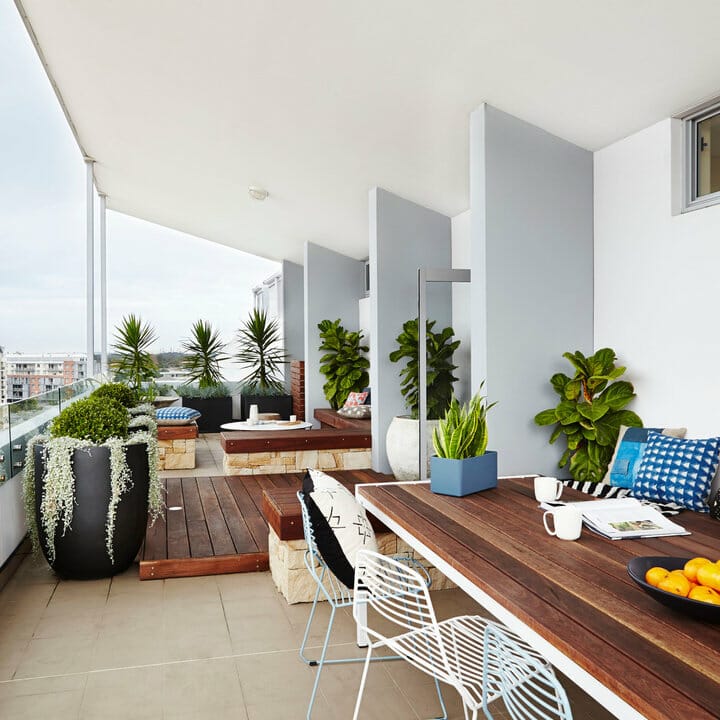 Since the balcony is somewhat spacious, the dweller divided it into an outdoor dining area and a living room. She also uses dark-toned wood to introduce outstanding visual features. The material boosts her area's functionality, too.
Rugged cream bricks accompany the teak wood's natural look. Furthermore, yucca plants, fiddle-leaf figs, and snake plants produce a green statement.
This balcony garden is an ideal space to relax as well as dine. Lastly, bursts of yellow and blue inspire happiness.
14. Balcony Garden with Terracotta Pots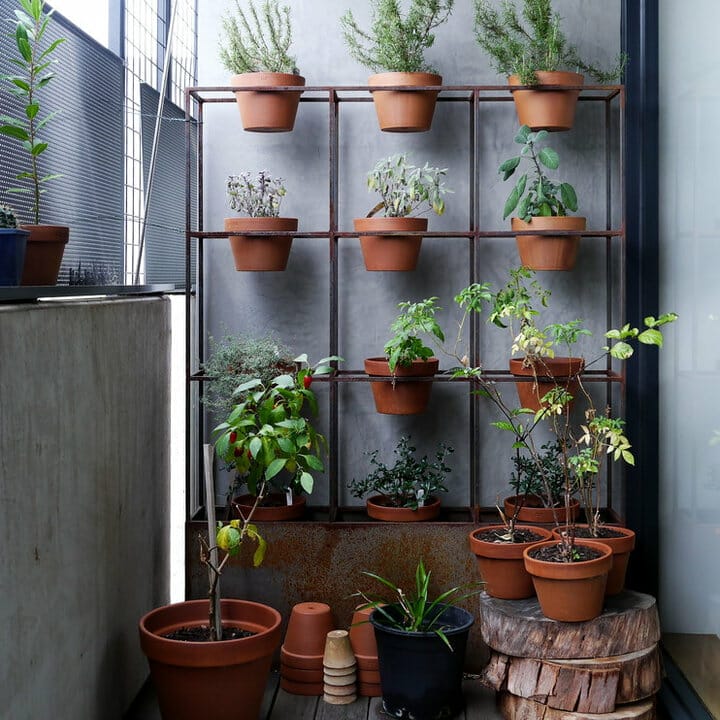 If you're a plant parent, this is one of the ingenious balcony garden ideas to implement. As the picture shows, the sheltered outdoor space makes for excellent growing spots.
The weathered metal trellis accommodates terracotta pots with a chili tree, rosemary, and ornamental plants. Furthermore, it optimizes the available space on the balcony.
Stacked wooden log slices become a plant stand. Additionally, it holds three terracotta pots while evoking a rustic ambiance.
15. Balcony Garden Ideas with a Sleek Trellis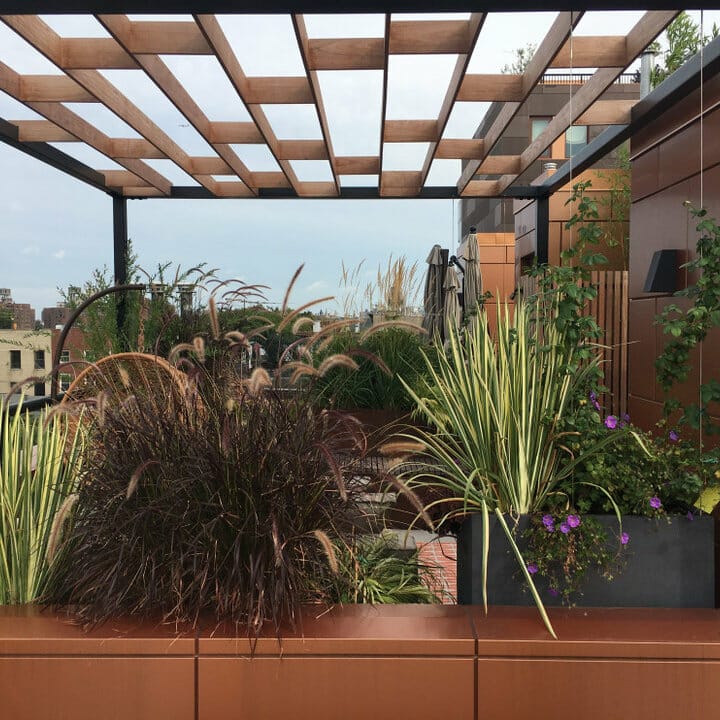 This balcony garden employs sleeks wooden details. Moreover, they appear on the pillars, trellis, and bench. In addition, those surfaces send out an inviting air.
Modular black planters bring drama to the balcony garden. In addition, they highlight purple flowering plants and ornamental grass.
The trellis suddenly draws the eye upward while producing a modern aesthetic. Also, the unit enables the dweller to train their creeping vines.
16. Rustic Balcony Garden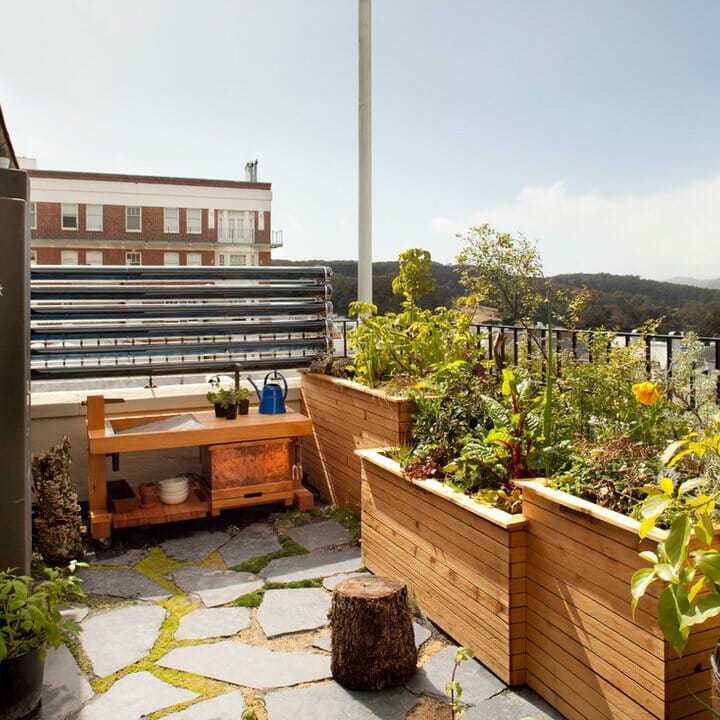 Since the dweller has a pint-sized balcony, she turned it into an impressive urban garden space. As the picture shows, the area features metal railings for a modern industrial touch.
The wooden raised beds offer a visual interest despite their bare look. Moreover, the flagstone paving heightens the rustic ambiance.
Apart from bare wood raised beds, the balcony garden boasts transparent PVC pipes to accommodate more plants. Furthermore, the tree stump doubles as a seat, while the watering can energize the area.
17. Balcony Garden with A Planter Wall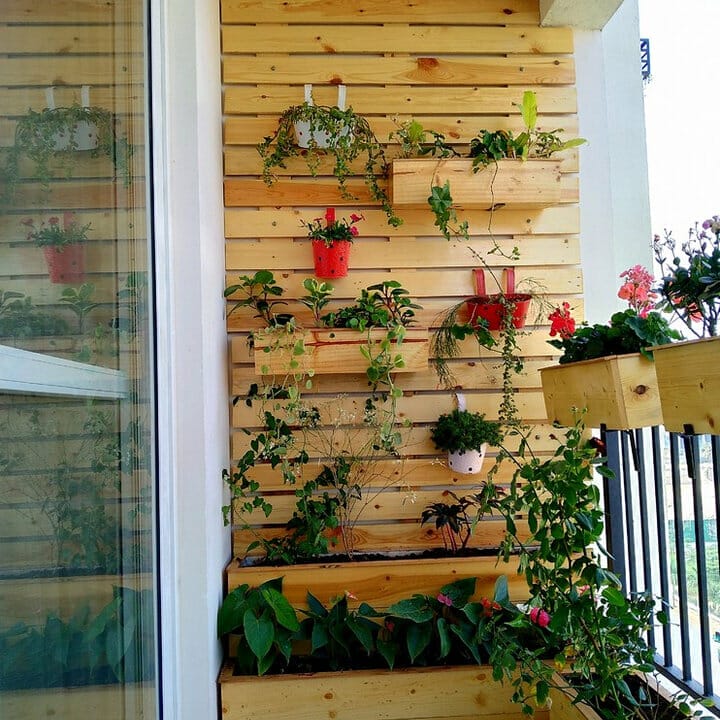 If your outdoor space is truly at a premium, consider using a floor-to-ceiling wooden planter wall on the balcony. Here, the dweller didn't paint it to create a rustic ambiance.
The blonde wood planter wall features hanging flower boxes and tiered raised beds. Furthermore, the metal buckets hold ornamental plants while providing touches of color.
Since the dweller wants to optimize the space in her balcony garden, she attached wooden planter boxes to the metal railings. In addition, they support gorgeous blooming plants.
18. Balcony Garden Ideas with An Eclectic Living Room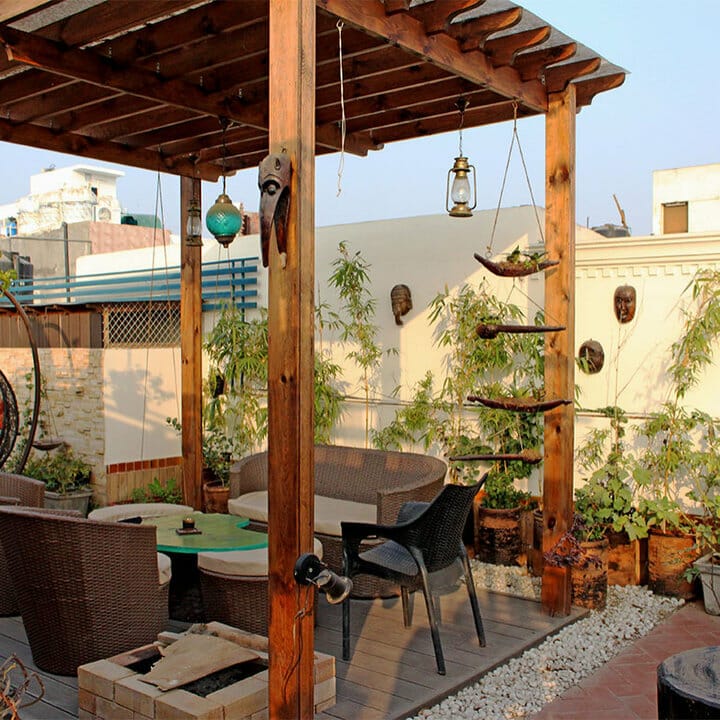 The dweller included different decorating styles in her outdoor living room. Moreover, the hanging lamps exude Moroccan vibes.
Potted plants and wooden mask wall decorations produce a tropical flair. Additionally, the outdoor living room furniture pieces embrace a contemporary aesthetic. Lastly, bricks and pebbles carve a rustic feel.
19. Basic Yet Bodacious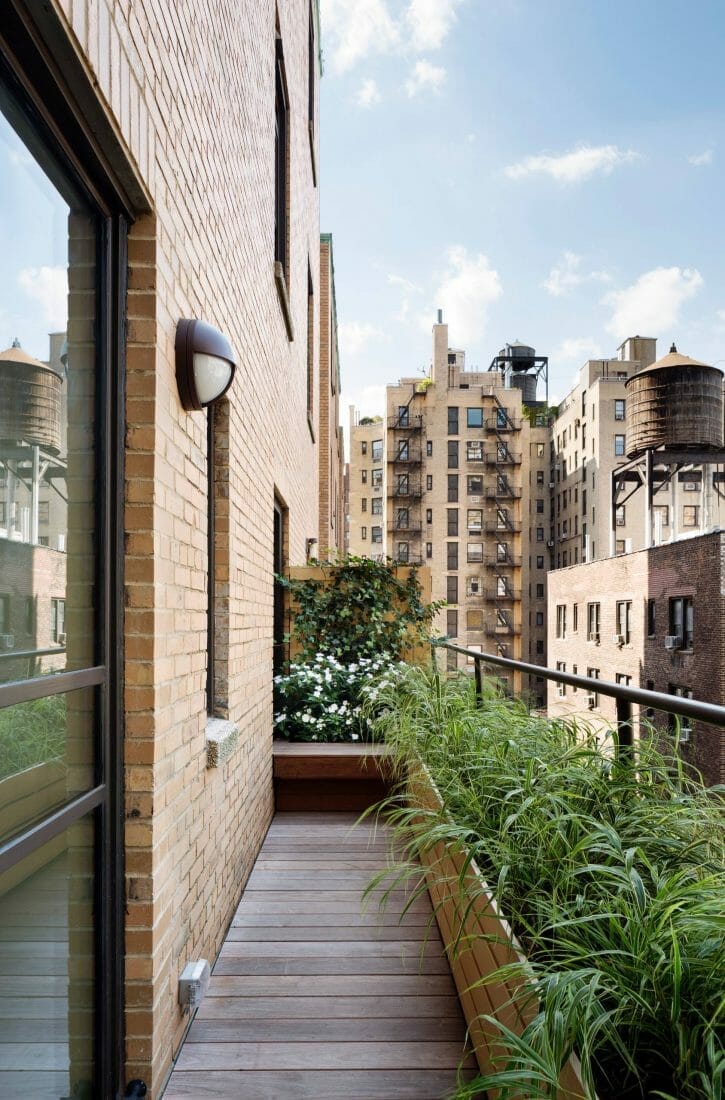 Speaking of balcony garden ideas, wrought iron and teak wood are your friends. This area, for example, looks chic due to the modular wooden raised beds and bench.
The brick wall and weathered wood floor lend the balcony garden a rustic appeal. Furthermore, there's a yellow privacy screen that also works as a trellis for vines. Moreover, fresh white blooms provide an elegant touch.
20. Graceful Balcony Garden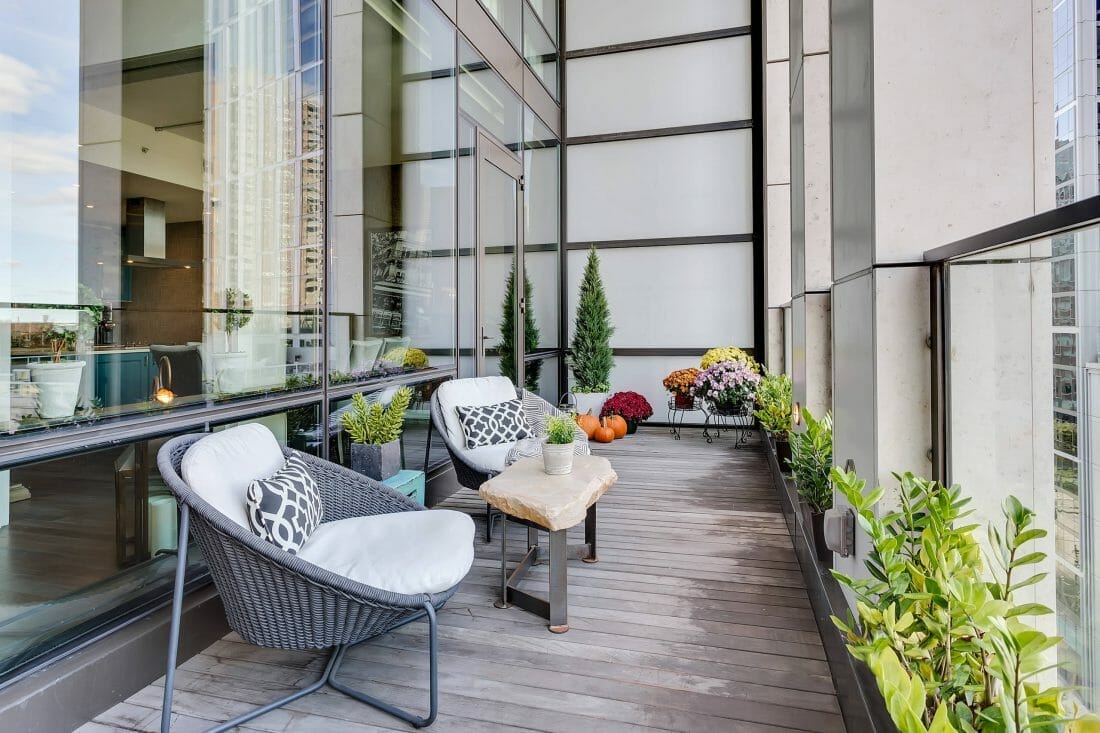 If your balcony garden is narrow, don't try complicating the decor. This area only has a table and two gray chairs that face the cityscape.
The wood planks and rugged natural stone welcome rustic vibes to the balcony garden. Moreover, the patterned throw pillows and white seat cushions embrace a Mediterranean appeal.
Wrought iron planters evoke timelessness. In addition, cheery blooms and tropical plants keep the balcony garden lively.
21. Energetic Balcony Garden Ideas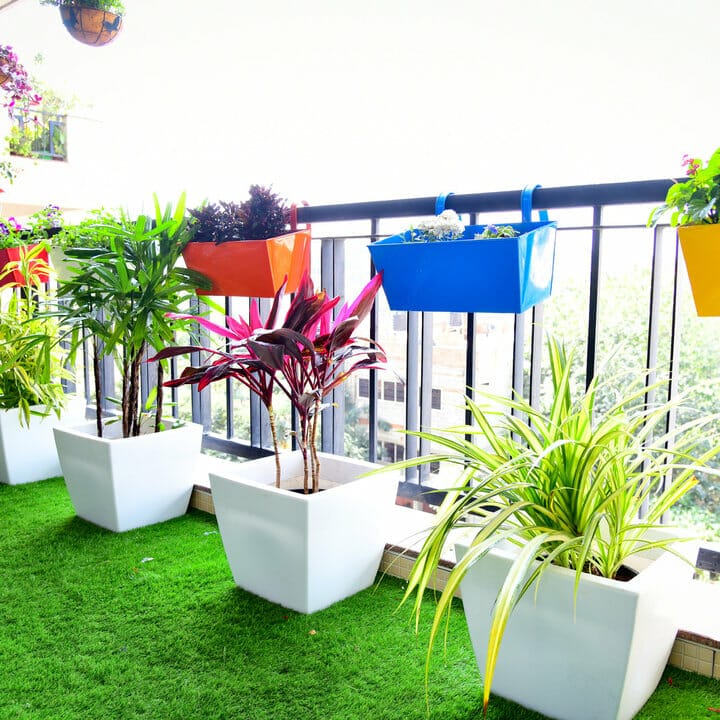 The crisp white plants make the balcony garden feel airy. Additionally, they clash with the fake turf rug and black metal railings splendidly.
As you see, the dweller gave the garden her eclectic mix. Moreover, the hanging planter boxes perk the outdoor area up with exuberant pops of color.
22. Tropical Balcony Garden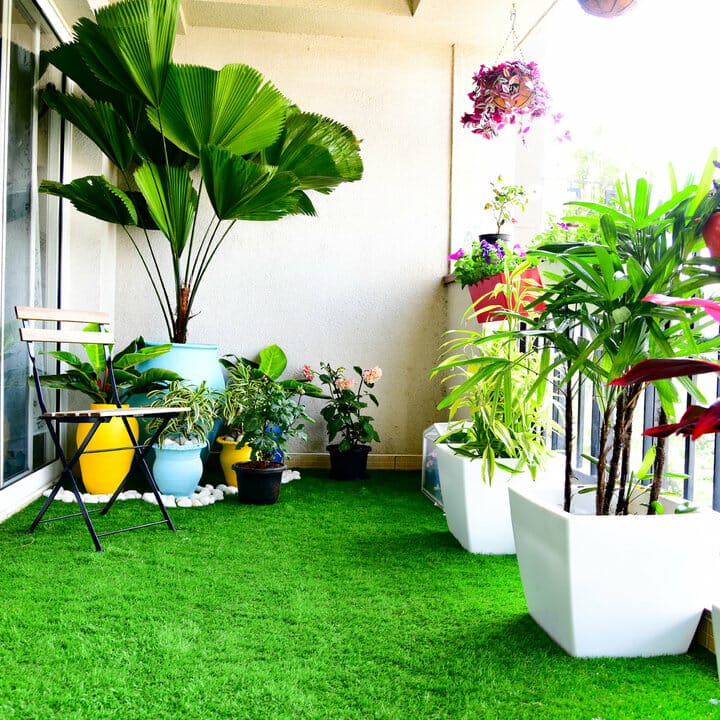 If you're a traveler, why not take inspiration from your travels? This outdoor space surely brings back memories of distant travel.
With just a few right elements, plants, and decorations, your oasis could be anywhere in the world. Just let the imagination take you.
Before becoming a tropical retreat, this space was a boring balcony. Apart from blooming plants, it boasts broadleaf lady and ruffled fan palms.
Those superb balcony garden ideas help dwellers convert her small outdoor areas into tiny horticultural havens. Also, they prove limited square footage can't stop people from gardening. Before creating your oasis, you must plan everything carefully.