Stripes are not only eye-pleasing but also truly versatile and clean. No surprise many homeowners use them to adorn their interior walls. If you love those basic patterns, read on to find some captivating grey striped wall ideas.
Without a doubt, stripes are one of the most popular patterns for walls. In addition, you can find them in mesmerizing variations. Also, the patterns typically come in the form of jagged stripes, vertical and horizontal.
You can use grey stripes to cover whole walls or decorate one accent wall. The choice is yours for certain. Furthermore, below are 20 rooms that involve them. I guarantee they'll beautify any space.
1. Warm White and Grey Striped Wall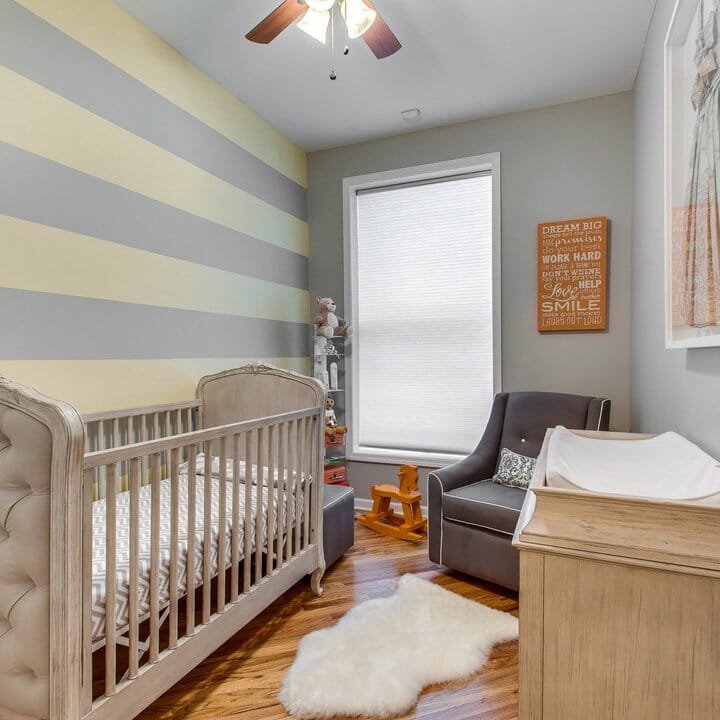 Horizontal is surely the most common stripe orientation. Moreover, painting horizontal stripes is a breeze. They make any area seem more spacious, too.
This nursery boasts an accent wall with horizontal stripes that wear pastel grey and creamy-white. Due to them, the room feels calm as well as extra cozy.
Stripes lend the nursery a fun ambiance. If you plan to incorporate the patterns into your baby's room, keep them between 5-10″ wide. By doing so, they will provide an impressive appearance.
Here, eye-catching stripes meet the light grey wall that becomes a backdrop for the muted orange artwork. Furthermore, the dark grey chair and stool inspire instant drama.
2. Brilliant Grey Striped Wall Ideas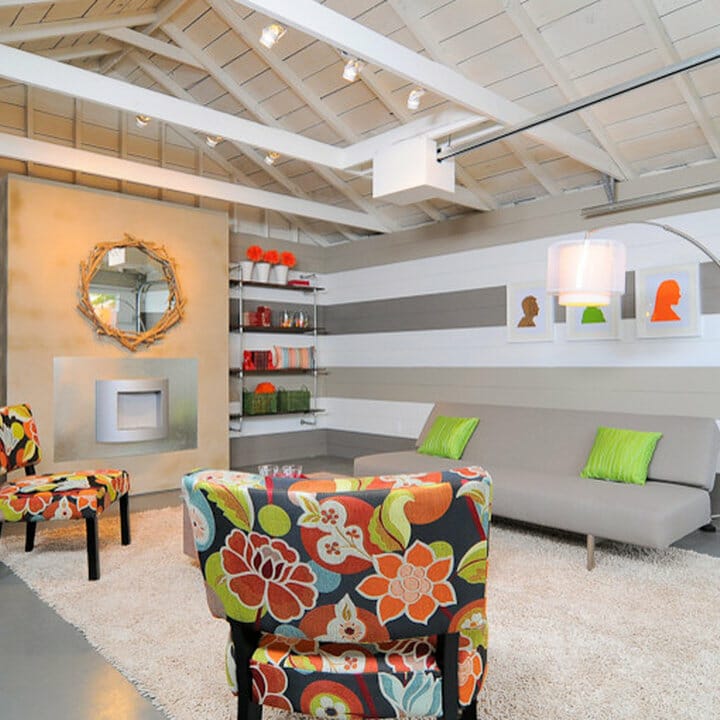 This is such a fantastic living room. Moreover, the grey and white striped wall visually expands the area while adding interest.
The horizontal stripes sport bright white and two different grey shades. Also, they make the living area more impressive without overcrowding it.
Normally, stripes offer a strong visual impact. However, in this living room, they act as a dreamy backdrop for exuberant shades and ornate patterns.
While grey is a classic neutral, it can look drab sometimes. That's why the homeowner installed bright white ceiling beams and added a beige area rug for a brighter atmosphere.
3. Striking Stripes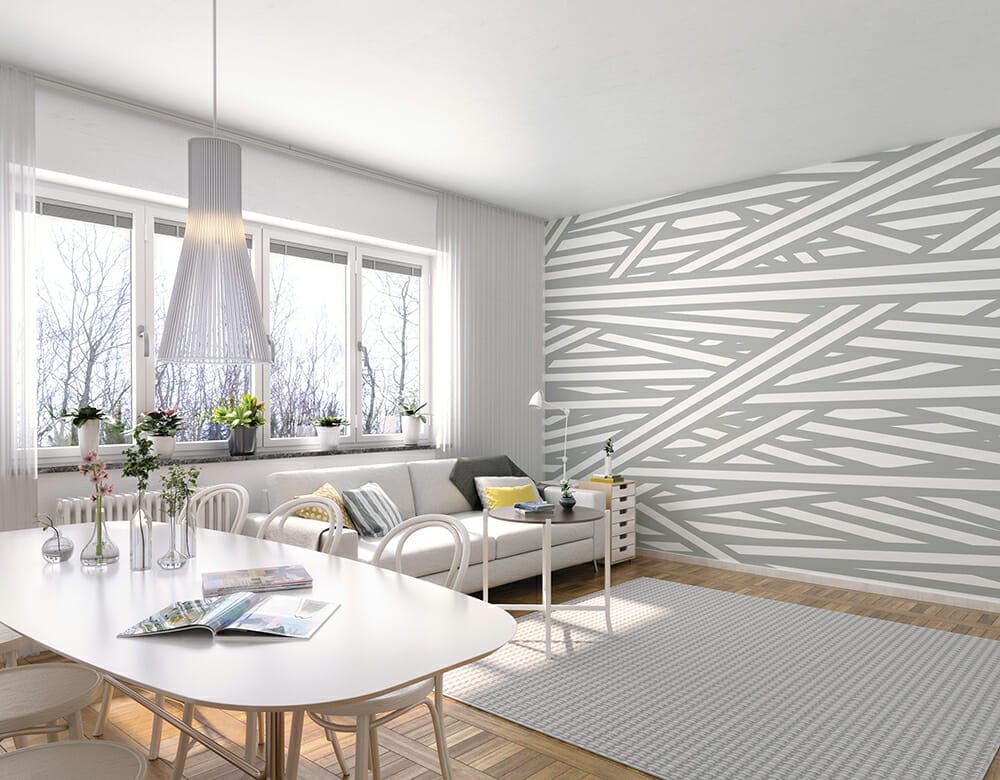 Lots of homeowners are into horizontal stripes. As the name implies, they run in parallel lines. However, that doesn't mean you cannot break them up.
This space, for example, seems more attractive because of the grey striped wallpaper. Apart from covering the accent wall, it infuses an unexpected touch.
Despite its neutral colors, the striped wallpaper enlivens the open-concept space. Furthermore, it adds style and embraces a modern flair.
The striped wallpaper brings the family room together while letting yellow accents pop. Moreover, the wooden surface keeps the room homey.
4. Grey Striped Walls for Home Offices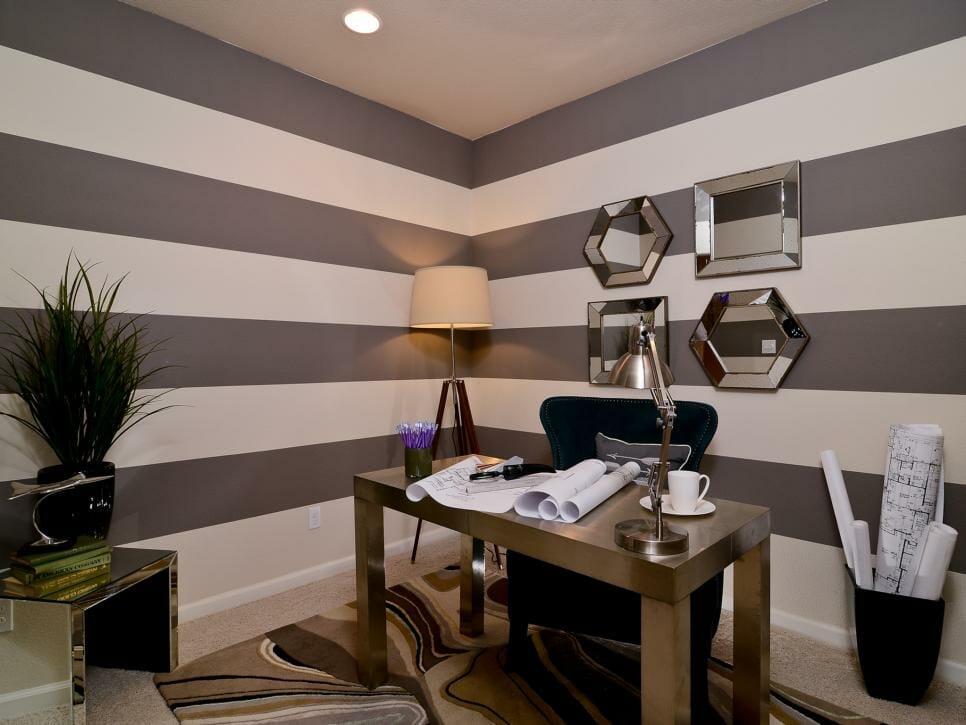 Just because your home office is tiny doesn't mean stripes aren't for it. Feel free to have some decor fun with them.
Here, horizontal warm white and dark grey stripes slightly enlarge the home office. Moreover, they aren't hard to paint.
Creamy-white stripes ensure that the entire home office looks inviting and cozy. Meanwhile, the deep grey ones provide unfussy elegance as well as pure sophistication.
Due to the white ceiling and geometric mirrors, the whole home office doesn't feel drab. Furthermore, metallic units inject instant glamour.
5. Nursery with A White and Grey Striped Wall
This attic nursery has a somewhat odd configuration. Because of pretty grey and white stripes, it doesn't seem awkward anymore. Moreover, they run horizontally on the accent wall.
Apart from lending the nursery a touch of fun, warm grey and bright white stripes also make the space visually bigger.
The warm grey stripes blend with the taupe wall while exuding tranquility. Meanwhile, the crisp white ones accompany curtains. In addition, they radiate airiness throughout the nursery.
Both grey and white stripes maintain the attic nursery's inviting mood. Also, they emphasize the colourful quilt and two-tone patterned rug.
6. Grey Striped Wall Tiles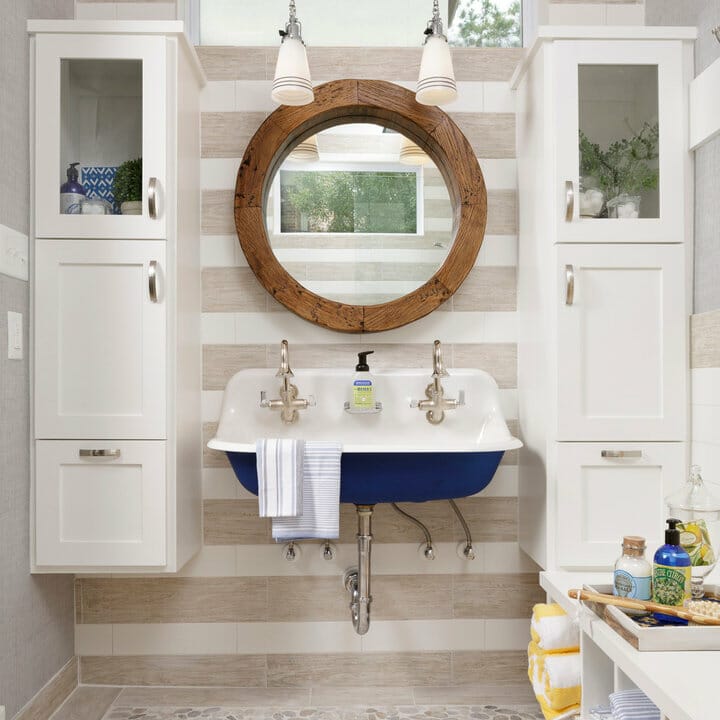 Stripes are synonymous with certain decorating styles such as coastal, cottage, and French country. Moreover, they lend any room so much visual interest.
This bathroom, for example, employs white and warm grey tiles that awesomely cover the accent wall. In addition to fooling the visitor's eye into thinking the area is bigger, they steal the spotlight.
Here, the grey and white tiles offer a relaxing backdrop for the hanging cabinetry. Furthermore, they direct the eye to the round wooden mirror.
The navy and white sink exude coastal vibes. Striped roll towels introduce a spalike ambiance. Wall sconces and sinks give the bathroom a classic vibe.
7. Serene and Splendid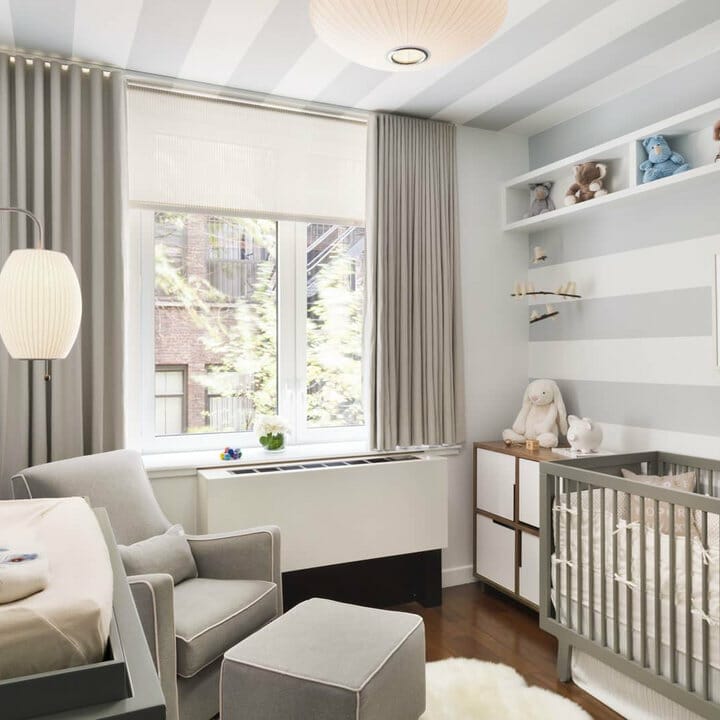 Who doesn't admire horizontal stripes, right? This contemporary nursery, for example, boasts them on the accent wall and ceiling.
As the picture shows, horizontal stripes wear bright white and light pastel grey. Furthermore, they expand the nursery visually while generating a statement.
Grey and white stripes infuse a playful ambiance. In addition, they become an exquisite backdrop for the pendant light and adorable stuffed animals. Lastly, the sheepskin rug, curtain, stool, throw pillow, and upholstered armchair lends the nursery an uber-cozy feeling.
8. Bathroom with Grey Hexagon Tiles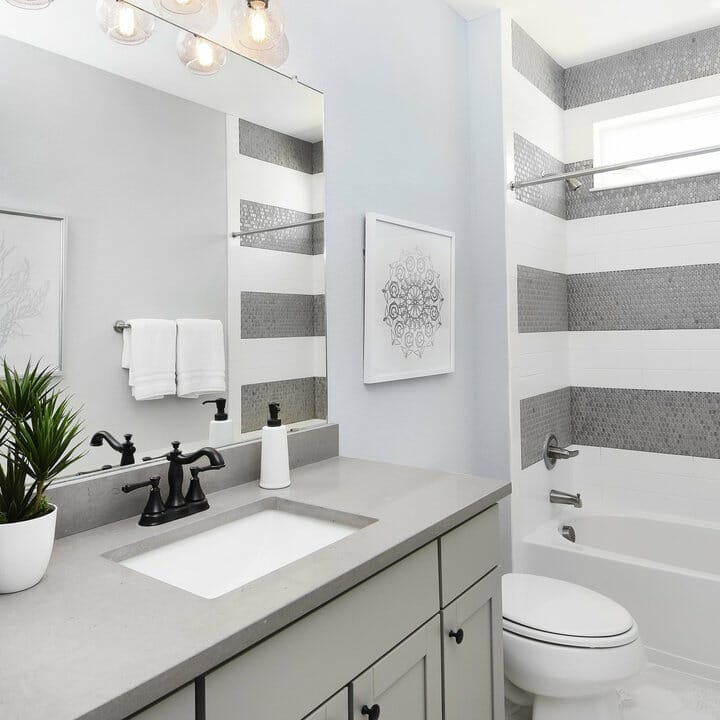 This bathroom sports grey tiles on the walls. Not only do they make outstanding stripes, but also provide visual interest.
As you see, the grey hexagon tiles offer a sophisticated ambiance. Moreover, the homeowner paired them with cool white subway tiles for a contemporary flair.
Because of the white and grey striped walls, the pint-sized bathroom seems larger. Additionally, they harmonize with the metallic hardware.
Hints of black introduce a slightly dramatic look. Furthermore, due to the houseplant, the tiny bathroom feels more energetic.
9. Teen Boy's Bedroom with A Grey Striped Wall
I can't help but admire the grey and white striped wall in this teenage boy's bedroom. Apart from generating a decor statement, it also enlarges the space.
While stripes normally create impact, they pose as a subtle backdrop for punchy furniture pieces in this sleeping area. Here, the pattern enables red sideboards to shine.
The black-framed navy and gold artwork leans against the grey and white striped accent wall. Furthermore, a chair and a shag rug exude serious coziness.
The wooden tabletop and bed frame balance cool grey as well as plain white out. Lastly, the bedding ensures that the teen's boy bedroom seems cohesive.
10. Grey Striped Walls for Entryways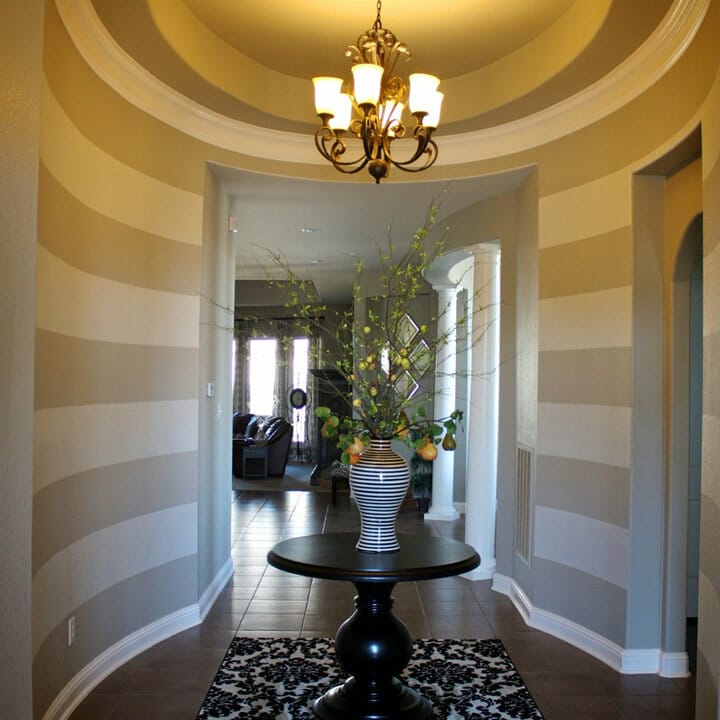 In several decorating styles, stripes are a must. This country entryway, for example, employs white and warm grey striped walls. Furthermore, they suddenly provide a visual appeal without overwhelming the area.
Because of the striped walls, the entryway looks slightly bigger than it is. Moreover, they generate a statement.
The chandelier and tray ceiling inspire glamour. Additionally, horizontal cool white and soft grey stripes heighten the upscale feeling.
Further, patterned rug and black entryway table lend the room a classic touch. In addition, the fake plant brightens the space up a little bit.
11. Entranceway with White and Grey Striped Wall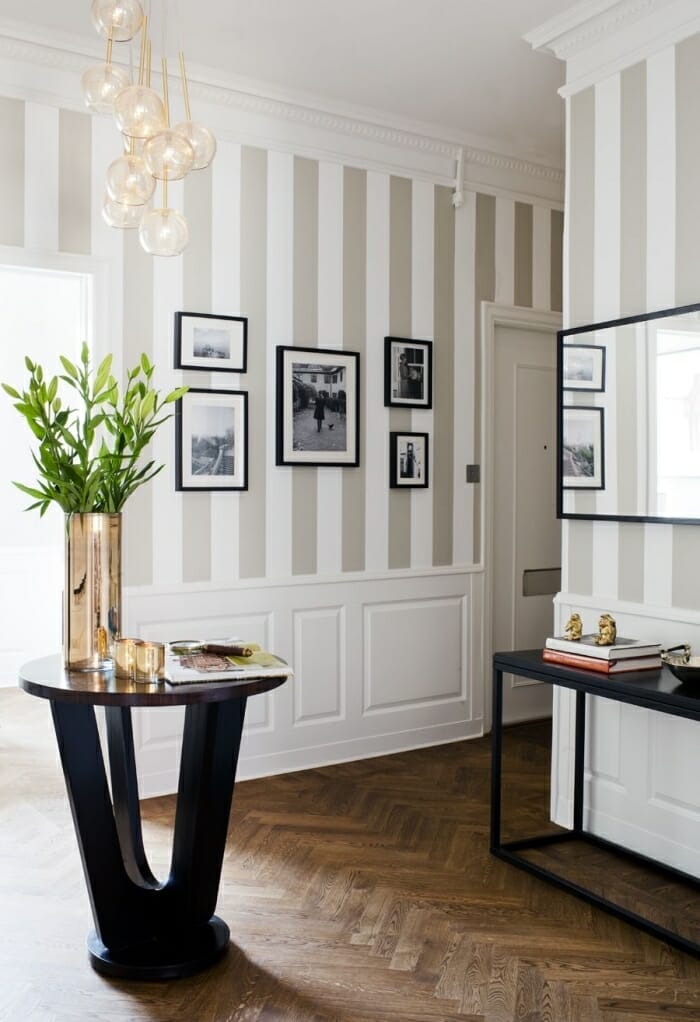 Most homeowners integrate horizontal stripes into their abode. However, if you're crazy about the vertical ones, then go for them.
This contemporary entryway, for example, boasts grey and white vertical striped walls. Due to them, the low ceiling appears higher.
White and grey make for a classic pairing. Here, they produce an elegant and sophisticated backdrop for monochromatic pictures.
The black console and round tables give the entryway visual depth. Moreover, the metallic pendant lamp, tiny candleholders, and vase add a touch of lavishness. The homeowner also installed the chevron-patterned wooden floor for a welcoming air.
12. Fun and Fabulous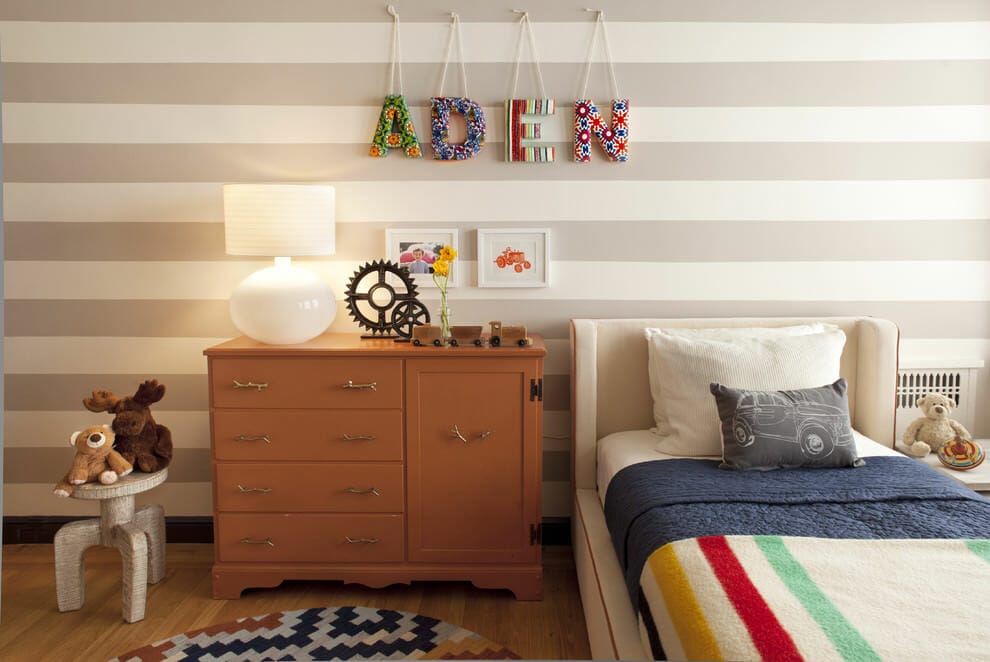 This teen boy's bedroom is surely drool-worthy. The horizontal stripes sport soft white and grey. Not only do they enlarge the sleeping area but also embrace a restful vibe.
The grey and white striped wall makes the wooden sideboard more visible. Additionally, they lend the teenage boy's bedroom lots of interest.
Here, horizontal white and grey stripes are easy on the eye. Moreover, they act as an ideal backdrop for geometric patterns and perky hues.
Both neutral and colourful stripes give the sleeping area a fun vibe. Lastly, the metal decorations next to the white table lamp nod to the steampunk style.
13. White and Grey Nursery
If you aren't into contrasting stripes, consider trying this option. Here, the nursery boasts striped walls that supply two shades of grey.
Grey striped walls make the tiny nursery more spacious. Moreover, they generate a wide and wonderful border around the interior walls.
The horizontal grey stripes accentuate animal decorations and artworks. In addition, they embrace a sense of playfulness. Chevron and geometric patterns accompany them while representing a modern aesthetic.
14. Grey Striped Wall Paint for Nurseries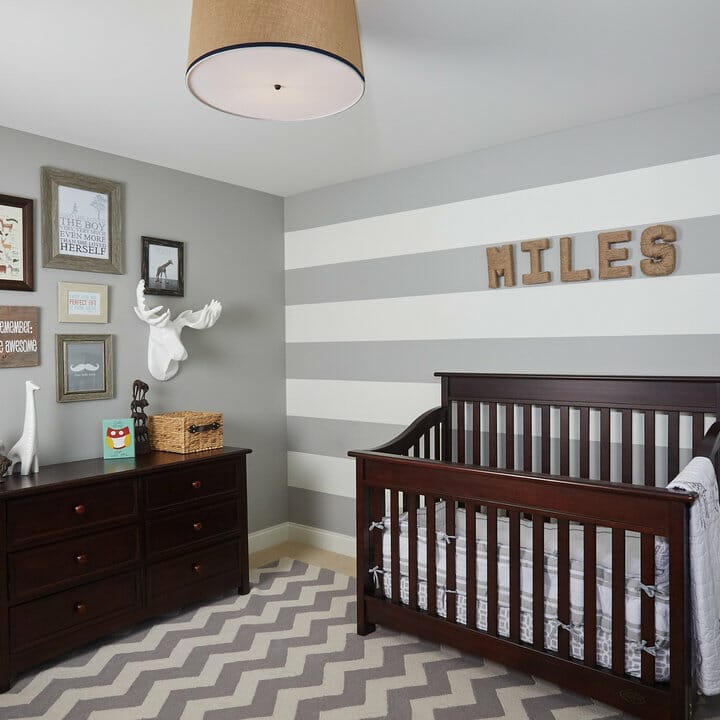 This is another nursery that employs a striped accent wall. Furthermore, horizontal white and grey stripes catch the eye without producing a jarring appearance.
Instead of making an impact, soft stripes highlight the deep brown wooden cot. Moreover, it calls attention to the gallery wall featuring pieces of art.
The white ceiling and striped wall keep the nursery from feeling restrictive. In addition, the name sign and wicker storage box provide pleasing textures.
There's also a freestanding decoration on the sideboard. It livens up the nursery with touches of red, turquoise, and yellow. Underfoot is a chevron-patterned rug that offers extra visual interest.
15. Hallway with White and Grey Striped Walls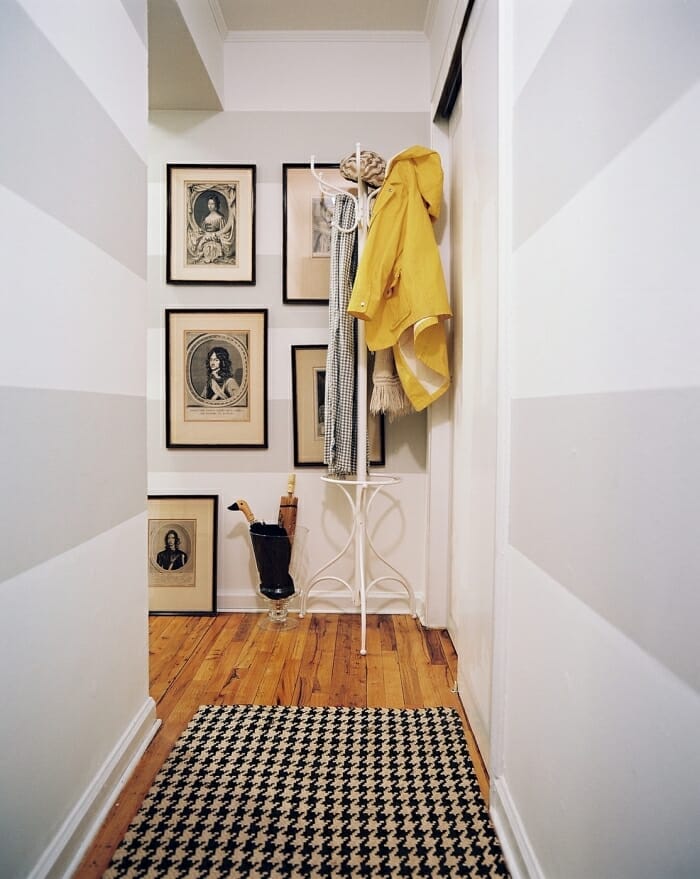 Have a narrow passageway? If so, horizontal stripes are your friends for sure. Moreover, they'll generate the most visual impact when somewhat fat.
As the photo shows, wide horizontal stripes wear crisp white and light soft grey. In addition to expanding the hallway, they lend the space a subtle design statement.
Massive stripes prevent the intricate patterns on the area rug from overwhelming the already tiny hallway. Because of them, the passageway has such a dreamy backdrop for ornaments.
The homeowner installed the bare wooden floor to brilliantly offset the cool tones. Furthermore, the yellow jacket punches up the room.
16. White and Grey Striped Walls for Living Rooms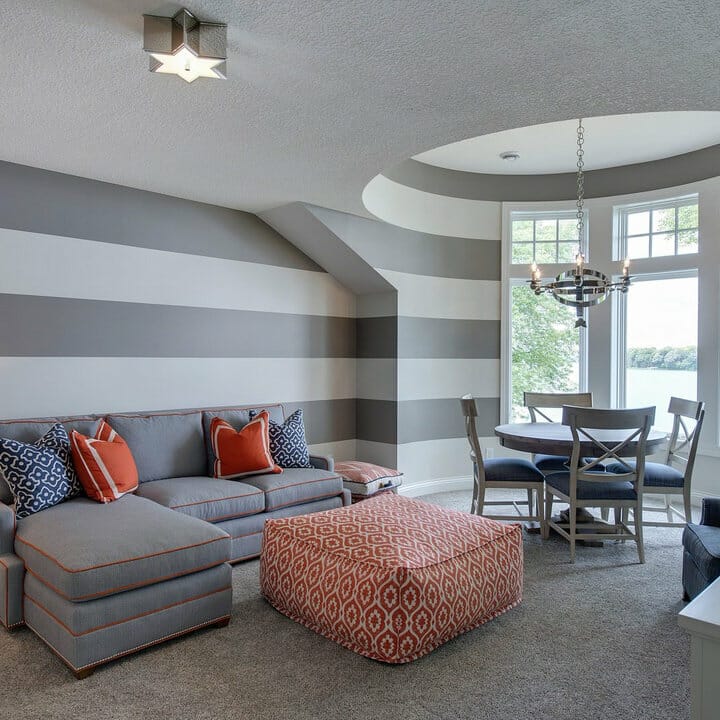 The awkward configuration can make the decorating job challenging. However, it doesn't apply to this contemporary living room.
Here, grey and white striped walls come to the rescue. Because of them, this living room seems more marvelous. Additionally, stripes generate a border around walls while infusing lots of styles.
Horizontal stripes become an incredible backdrop for bold hues as well as elaborate patterns. Dark grey seat cushions evoke pure sophistication, while metallic light fixtures double as showstoppers.
17. Craft Room with Vertical Grey Stripes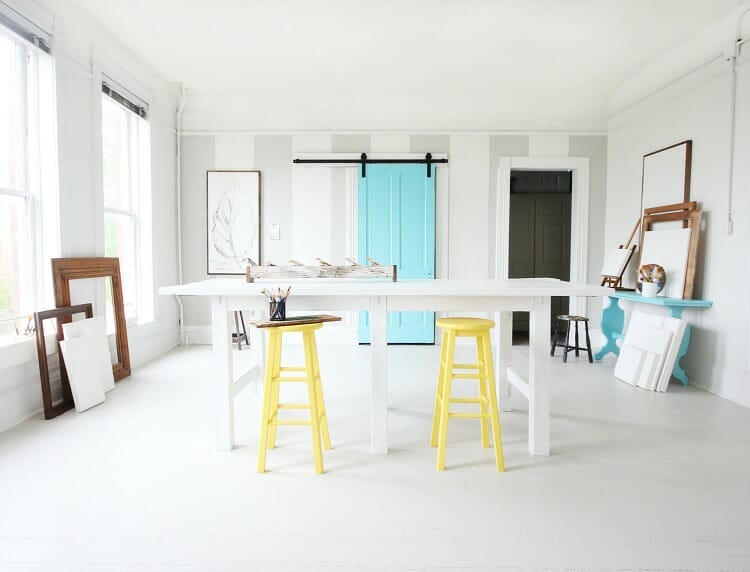 If you get bored of horizontal stripes, consider borrowing this idea. Here, the vertical white and grey stripes make the craft room suddenly feel stylish. Because of them, the otherwise low ceiling seems higher.
Since the vertical stripes wear light neutrals, they can emphasize the sliding door and artwork perfectly. Moreover, the white wall and pale gray-painted floor introduce a subtle contrast.
Although the craft room is predominantly neutral, it's far from dull. There are splashes of sky blue and sunny yellow. Not only do they ignite bright ideas but also inject happy energy.
18. Grey Striped Walls with A Decorative Mirror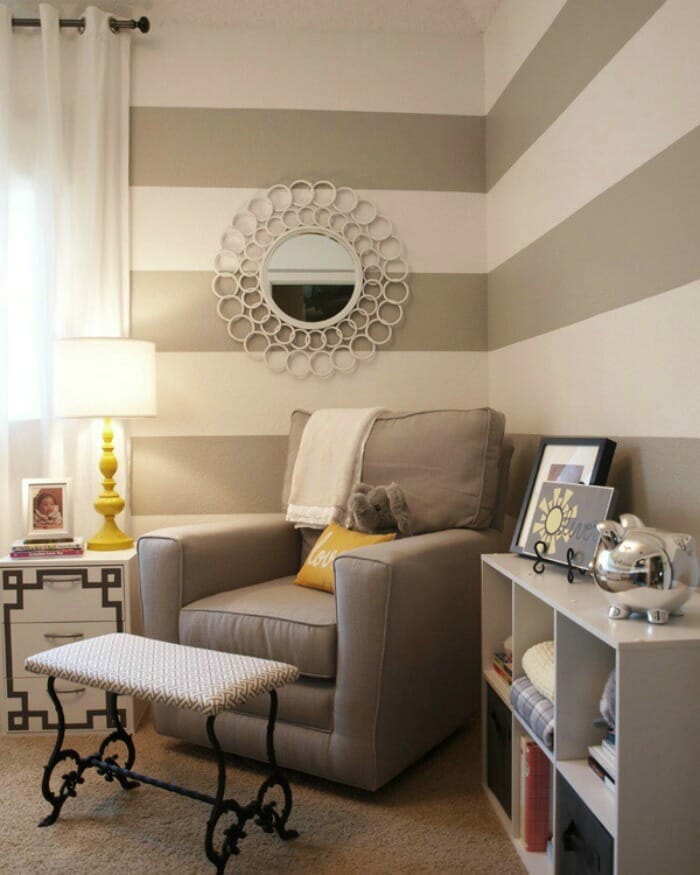 Painting horizontal stripes are a cinch, so why not include them in a nursery? Here, the tiny room doesn't become cramped due to grey and white striped walls.
White and grey stripes inject style as well as fun into the nursery instantly. In addition, they let the simple yet striking mirror take center stage.
The classic nightstand and stool introduce exquisite patterns. Horizontal stripes accompany them well. Lastly, bursts of yellow inspire youthfulness.
19. Cottage Dining Room with White and Grey Stripes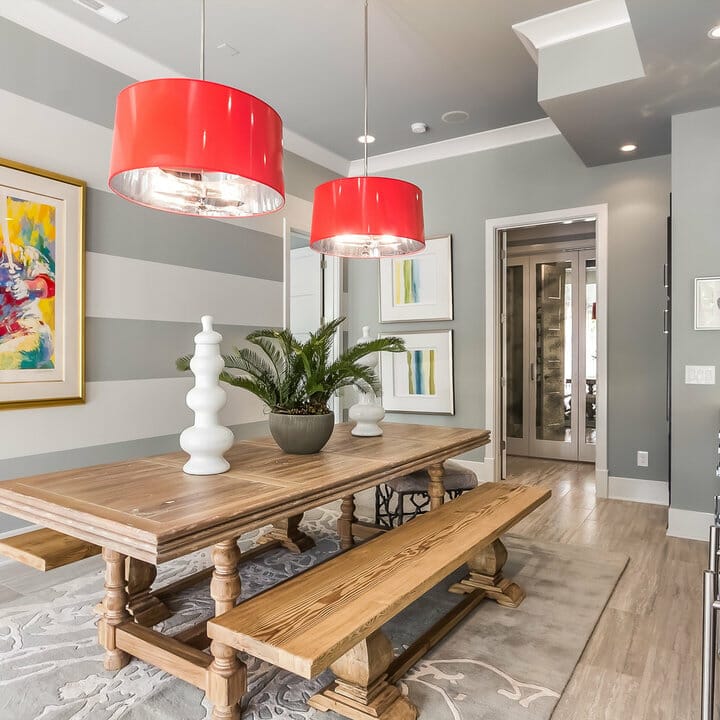 Speaking of grey striped wall ideas, try adding horizontal stripes to your cottage dining area. For an impactful visual effect, make sure that they're fairly fat.
Here, the striped accent wall accentuates the gold- and silver-framed colourful works of art. The bright red pendant lamps contribute to the dining room's perky look. Moreover, the natural elements inject outdoorsy vibes.
20. Kid's Bedroom with Striped Walls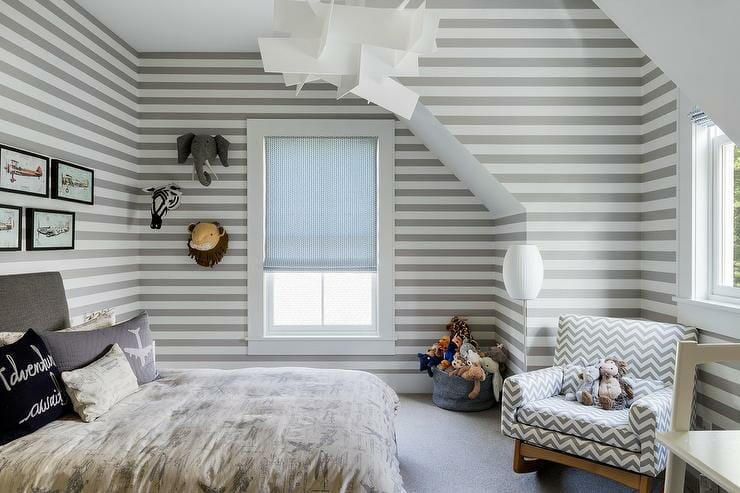 This contemporary child's bedroom boasts thin grey and white stripes. Moreover, they excellently highlight framed airplane prints as well as adorable felt animal head ornaments.
Thin stripes on the walls evoke a minimalist appeal while infusing personality. Without them, the sleeping area would otherwise be a snooze. Lastly, the rocking chevron upholstered chair draws the eye.
In short, stripes are infinitely variable and timeless. Furthermore, I hope my grey striped wall ideas above motivate you to integrate them into yours. So it's time to perk your abode up with any of those patterns.