Horizontal stripes are not tricky to paint. No surprise, they become one of the most common patterns in people's homes. If you're looking to embellish your walls with them, take a peek at my terrific horizontal striped wall paint ideas.
Painting horizontal stripes on interior walls are not difficult. First, you have to decide on their thickness. Next, delineate the borders using painter's tape. After that, use paint to fill those straight lines.
In this post, I'll present 29 rooms that employ outstanding horizontal stripes. Let's check my captivating collection out!
1. Single Horizontal Stripe on Wall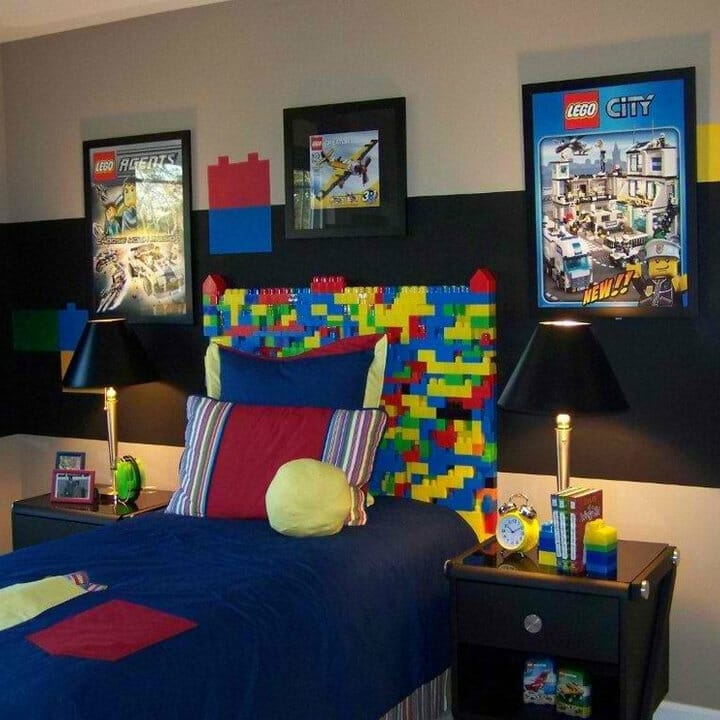 Here, the massive horizontal stripe perfectly wraps around the bedroom walls' center. Furthermore, it develops a statement effortlessly due to its boldness.
Apart from evoking drama, the oversize horizontal black stripe inspires sophistication. In addition, it complements nightstands with metallic accents.
The horizontal black stripe mingles spectacularly with gray walls. It provides a moody backdrop for the vivid lego headboard, bedding, artworks, and knickknacks.
2. Horizontal Blue Stripes for Bedrooms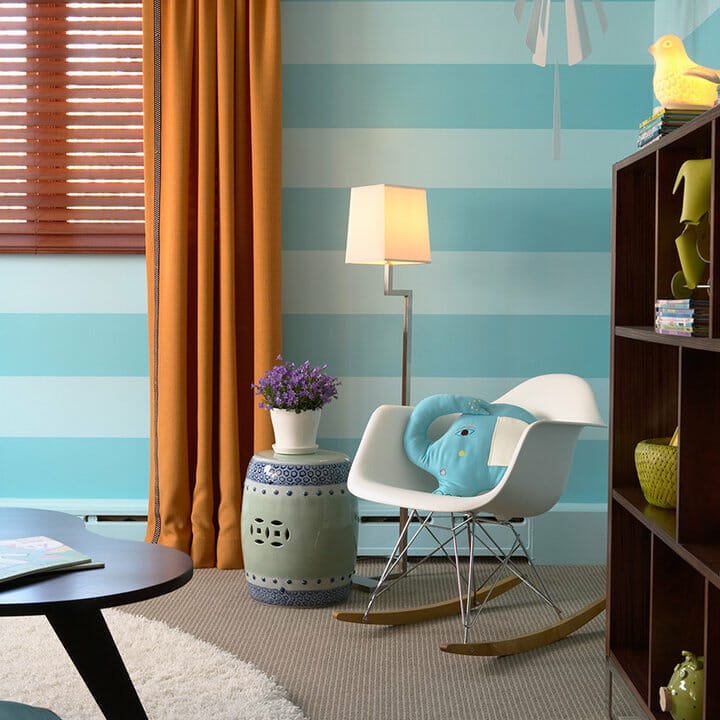 Speaking of horizontal striped wall paint ideas, borrow the look of this boy's bedroom. Here, horizontal stripes freshen up the interior.
As you see, stripes supply light sky blue and baby blue. In addition, they give the boy's bedroom a seamless feel.
Horizontal blue stripes infuse a fun touch. They offer a captivating backdrop for the ceramic drum stool, Scandinavian rocking chair, and floor lamp. Lastly, the wooden window blind and orange curtains absorb their coldness.
3. Horizontal Striped Wall Paint Ideas for Attic Bedrooms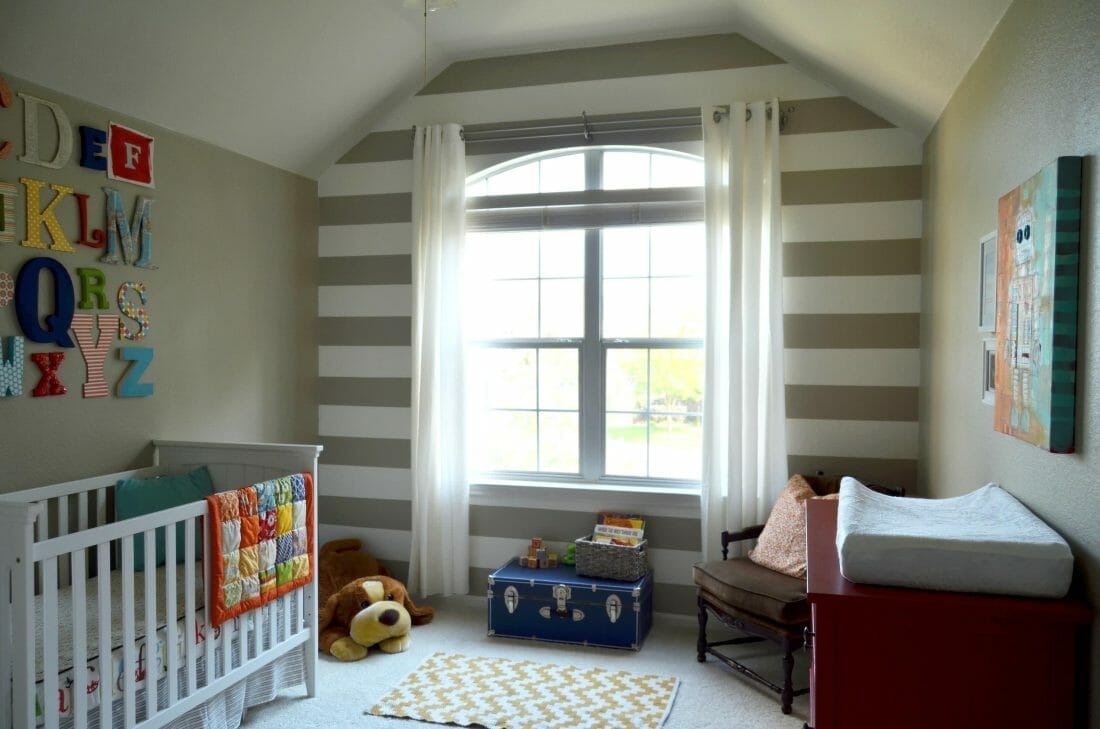 Attic sleeping spaces have odd configurations, and this baby boy's nursery is no exception. However, horizontal stripes beautify the interior.
Here, light khaki and white stripes create impact. Furthermore, they lend the attic nursery a cohesive look while making the sleeping space bigger.
The horizontal striped wall lives with elegant, soft white curtains peacefully. Moreover, it allows splendid patterns and exuberant hues to shine.
4. Horizontal Striped Accent Wall Ideas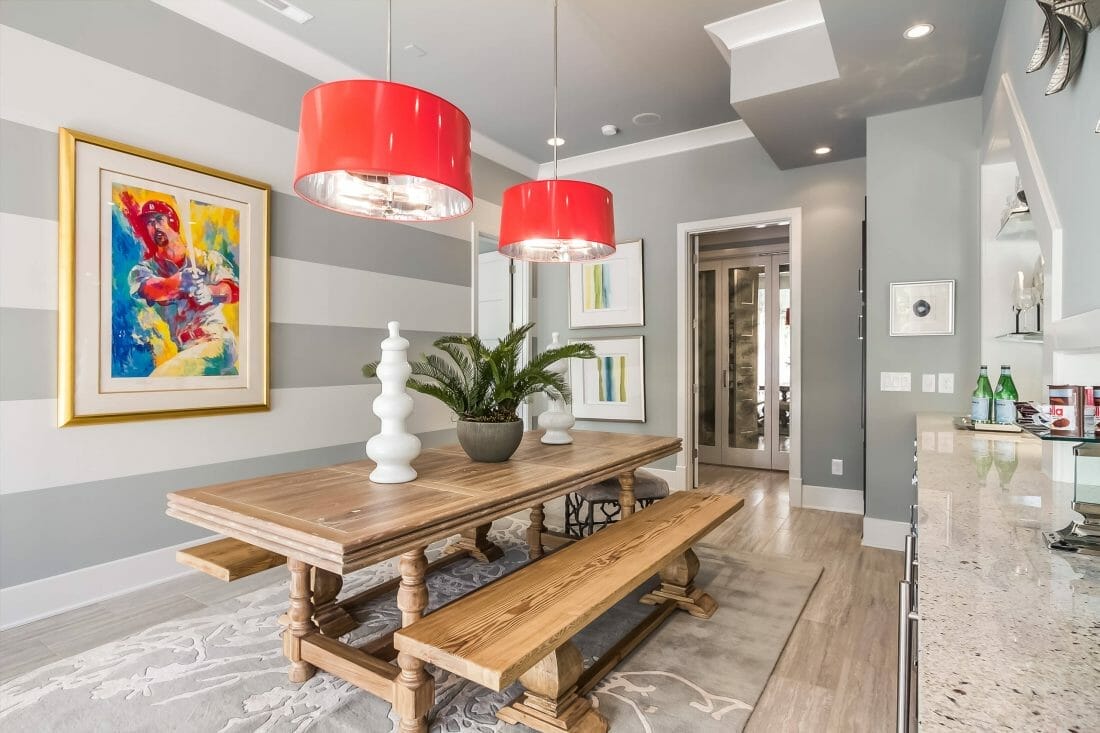 White and gray are a terrific and timeless combination. They also keep the entire space airy. Here, the accent wall of the dining area wears them excellently.
These horizontal stripes are thick. Moreover, they expand the dining room visually. Apart from making the interior seem larger, they draw the eye.
The white and gray striped accent wall behaves as a backdrop for the gold-framed painting. In addition, it balances out the intensity of candy apple red contemporary pendants.
5. Horizontal Striped Wall Paint Ideas for Boys' Bedrooms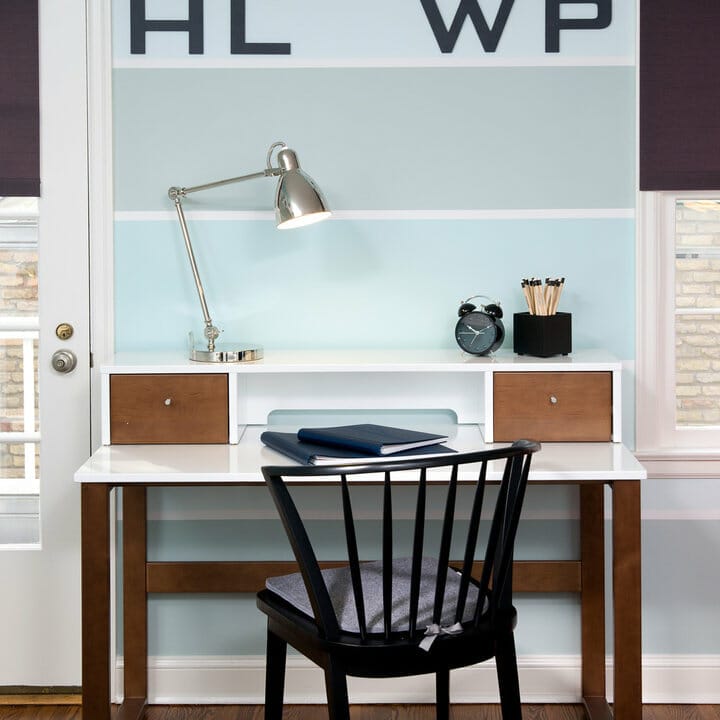 This boy's sleeping area has a striped accent wall. Moreover, horizontal stripes supply pale blue, baby blue, and gray-blue. In seconds, they steal the show without making the bedroom appear busy.
These stripes infuse fun and style into the boy's bedroom. Furthermore, thin, crisp white stripes act as separators for them while exuding a sense of elegance.
6. Horizontal Striped Walls for Bathrooms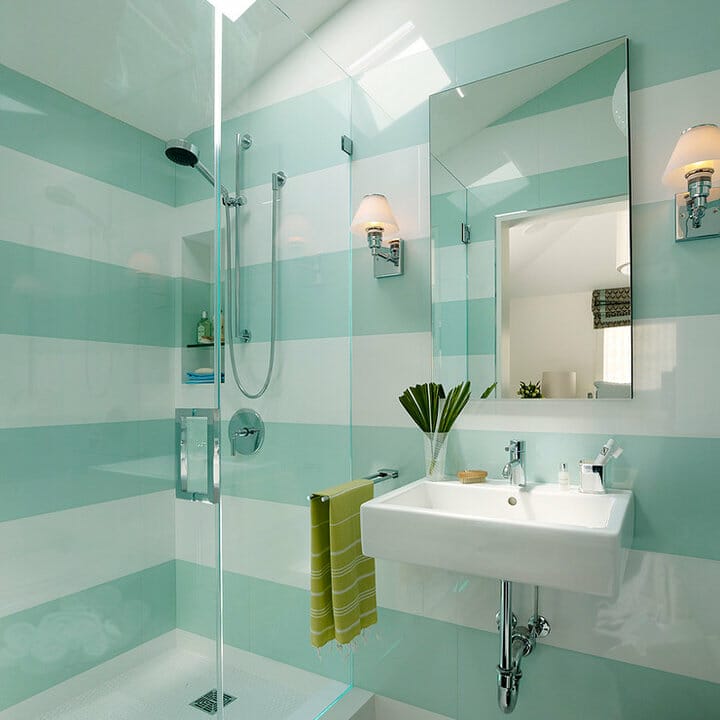 This contemporary attic bathroom is dreamy, airy, and sophisticated. Furthermore, horizontal white and pastel mint stripes provide a fresh appeal.
Due to two-tone horizontal stripes, this bathroom visually seems larger. Also, their clean lines complement the recessed shelf, mirror, and sink.
Here, the striped walls mingle with the lime green striped towel and dark green leaves. They draw attention to metallic wall sconces, too.
7. Contemporary Kids' Bedroom with Stripes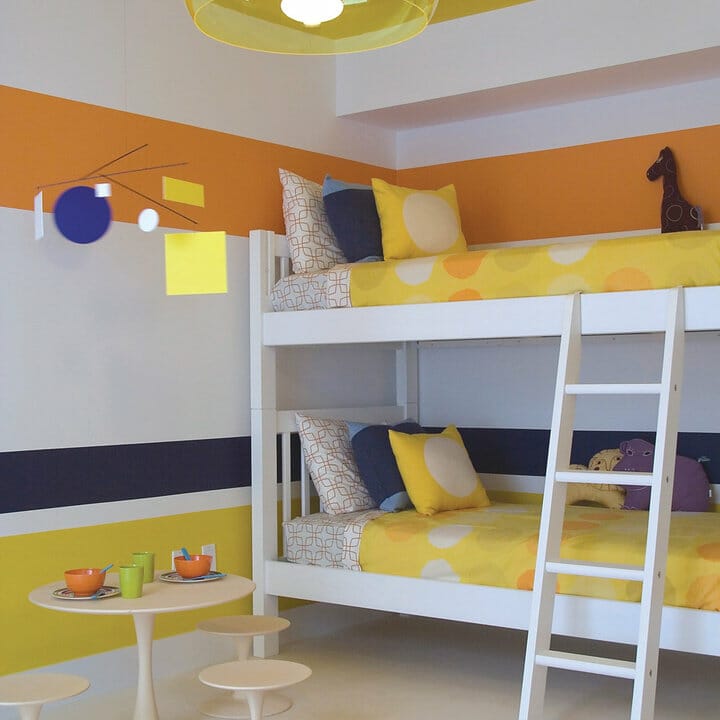 Need horizontal striped wall paint ideas? If so, apply this fascinating design. As you see, the boys' bedroom employs varying sizes of horizontal stripes, from thick to thin.
Horizontal stripes wear pure white, bright yellow, navy, and pastel orange. Moreover, they infuse an air of playfulness while generating interest.
Creative striped painted walls balance punchy tones of the bedding, tableware, and pendant lamp. In addition, the bunk bed, light fixture, and furniture impart a contemporary feel.
8. Horizontal Pastel Gray and White Stripes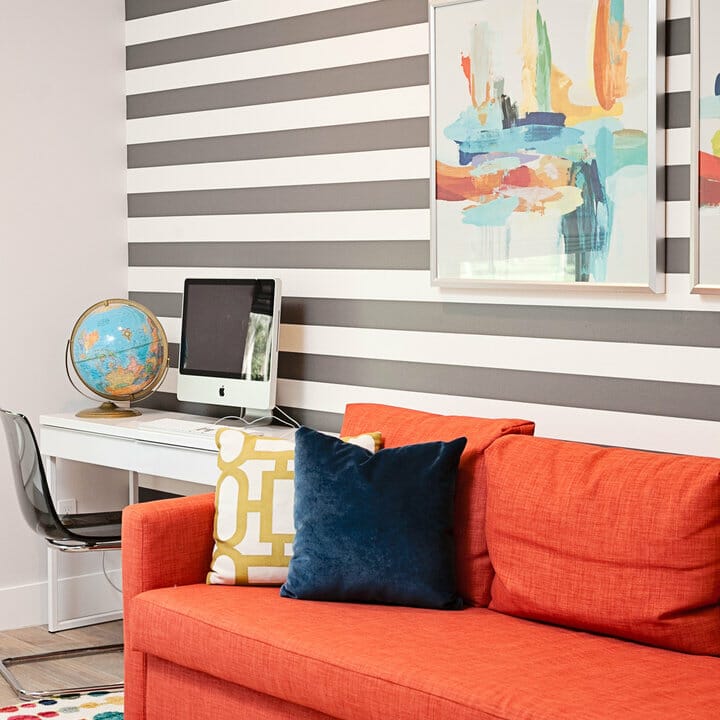 Speaking of horizontal striped wall paint ideas, this one is worth trying. Here, the accent wall displays white and gray stripes that run horizontally.
Because of fairly fat horizontal stripes, the room appears a little bit more expansive. Furthermore, they easily pose as a focal point.
People consider white and gray as classic neutrals. Moreover, they can be dull on their own. The homeowner hung colorful abstract paintings on the striped wall for a more cohesive and livelier interior.
9. Horizontal Striped Wall Paint Ideas for Shared Kids' Bedrooms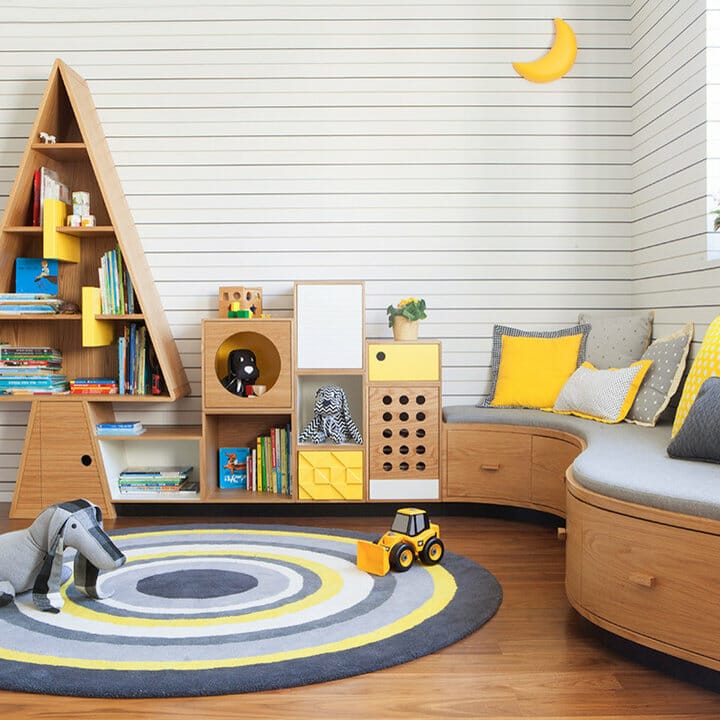 This shared children's bedroom is nothing short of impressive. Additionally, its walls feature horizontal stripes that wear pale gray, bright white, and warm gray.
Despite their simplicity, thin horizontal stripes lend the sleeping area personality. Moreover, they suit hard edges as well as clean lines of modern wooden furniture units.
Horizontal stripes allow vivacious accents of the shared kids' bedroom to sing. Meanwhile, the curvy wooden bench and round striped area rug effortlessly soften the sleeping area.
10. Gray and White Striped Painted Walls with Orange Accents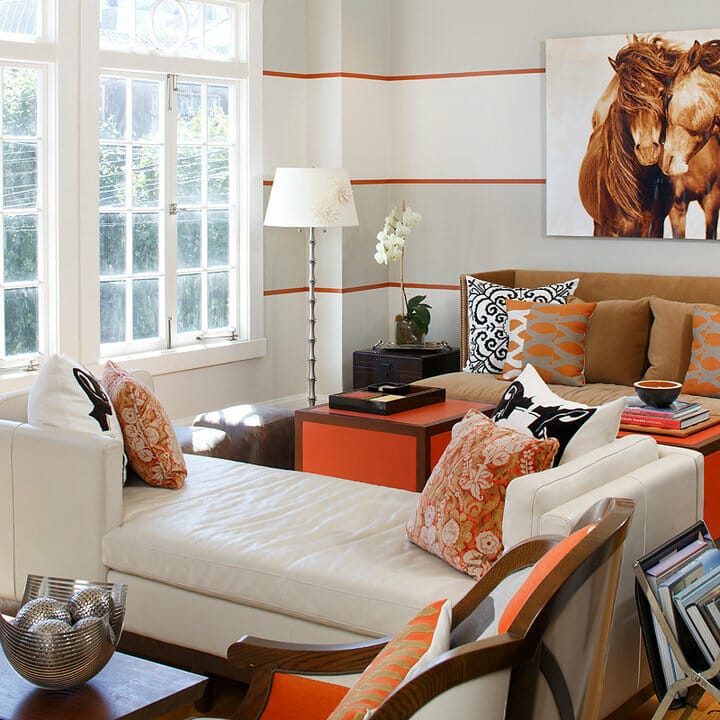 This seating space seems bigger with the help of wide horizontal stripes. Here, they supply pale gray as well as clean white. Due to them, the horse wall art becomes a centerpiece.
Thin orange lines separate wide horizontal white stripes from light gray ones. Furthermore, they spruce up striped walls while developing a sense of cohesion. Also, hints of silver radiate serious glamor.
11. Horizontal Striped Wall Paint Ideas for Girls' Bedrooms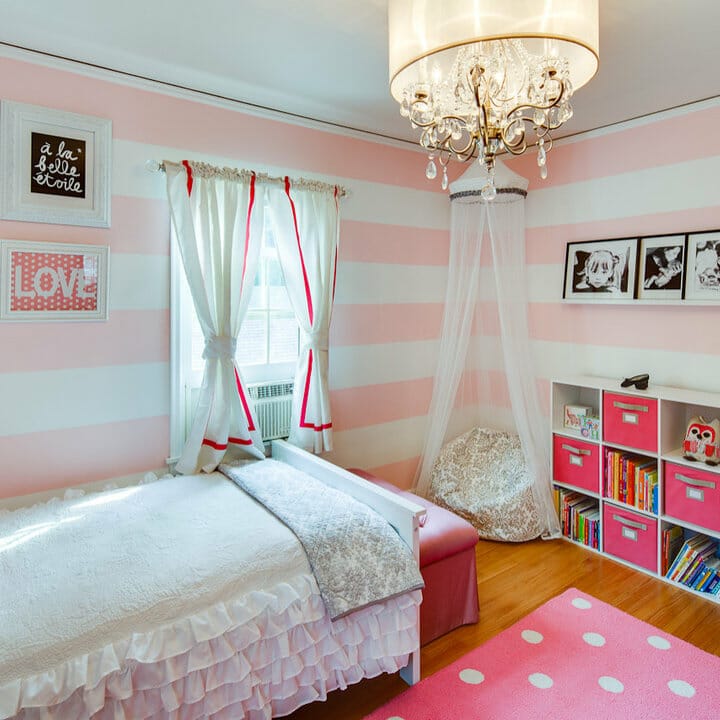 As you see, horizontal white and pink stripes suddenly infuse a feminine touch. In addition, they make the girl's sleeping area feel wider.
Lovely horizontal striped walls highlight the sheer canopy, artworks, striking curtains, and monochromatic photographs. They reinforce the fun ambiance, too, while the gradient ruffle bedding oozes elegance.
12. Horizontal Red and White Stripes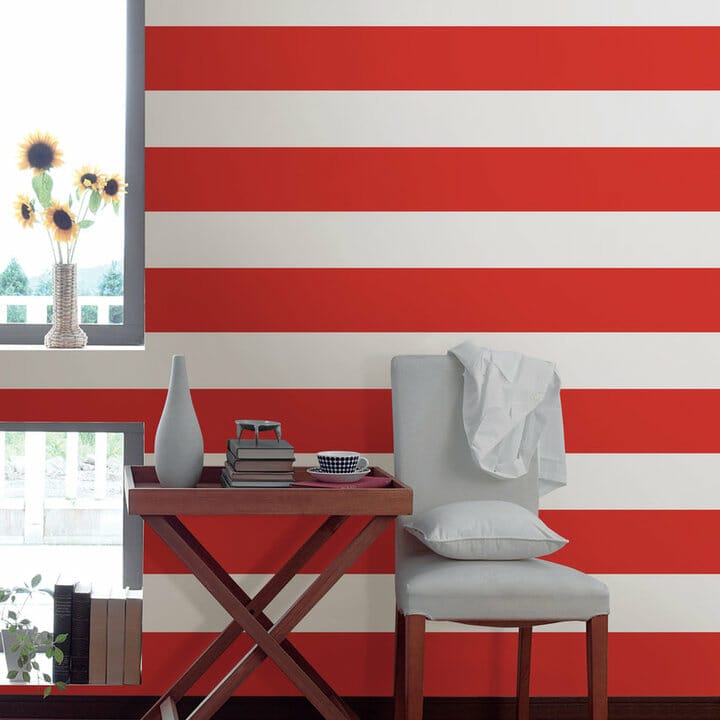 This room blends punchy red stripes with stark white ones. The combination generates a decor statement while expanding it visually.
Artificial sunflowers and horizontal red stripes lend the room an air of cheerfulness. Moreover, black, white, and gray balance out their vividness. Lastly, minimalist windows keep the scene bright.
13. Glamorous Room with Horizontal Stripes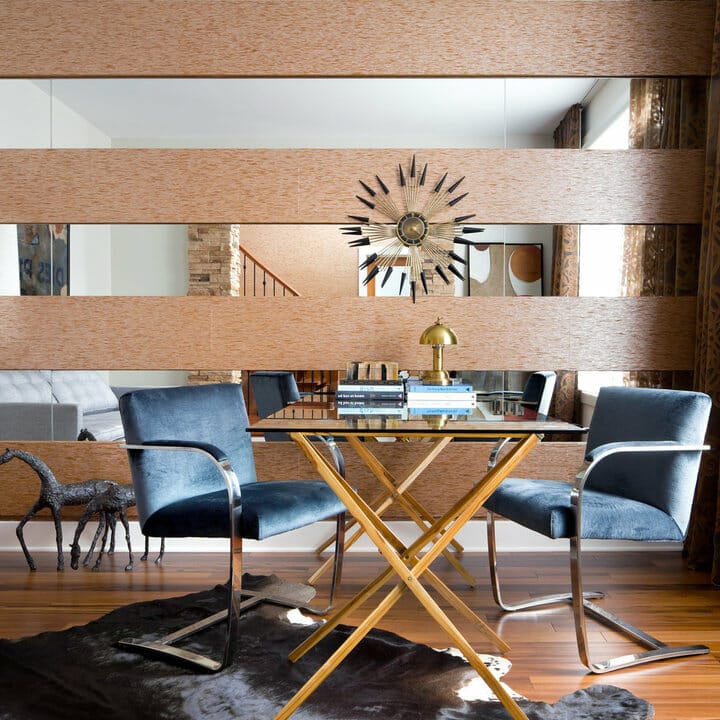 Need spectacular horizontal striped wall paint ideas? If so, this sitting area is worth duplicating. Here, the dweller layered beige wooden boards over massive mirrors.
Horizontal stained wooden boards and mirrors widen the room. They offer a one-of-a-kind backdrop for the luxurious wall clock.
Golden and silver touches inspire a sense of opulence. Meanwhile, the wooden flooring and cowhide rug create a cozy scene. Also, the dweller kept the rest of the seating space simply by adding a minimalist table with a glass top.
14. Horizontal Striped Wall Paint Ideas for Hallways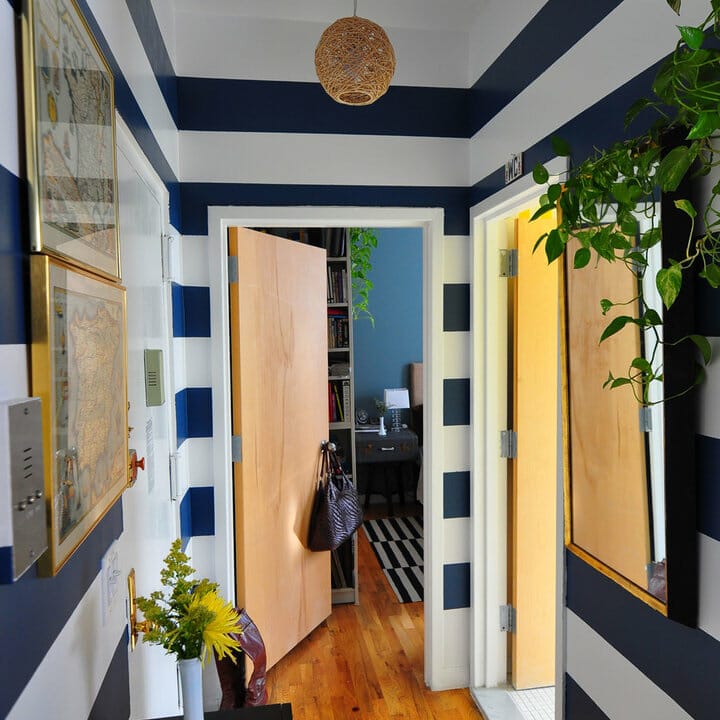 This is one of the splendid striped wall designs. Since the hallway nods to the nautical style, horizontal stripes don't seem out of place here.
Navy and bright white stripes run horizontally. Apart from instilling a nautical atmosphere, they give the hallway loads of interest.
The jute pendant lamp, plants, and wooden doors lend the hallway natural textures. Furthermore, golden pieces inspire serious lavishness.
15. Walls with Wide Horizontal Stripes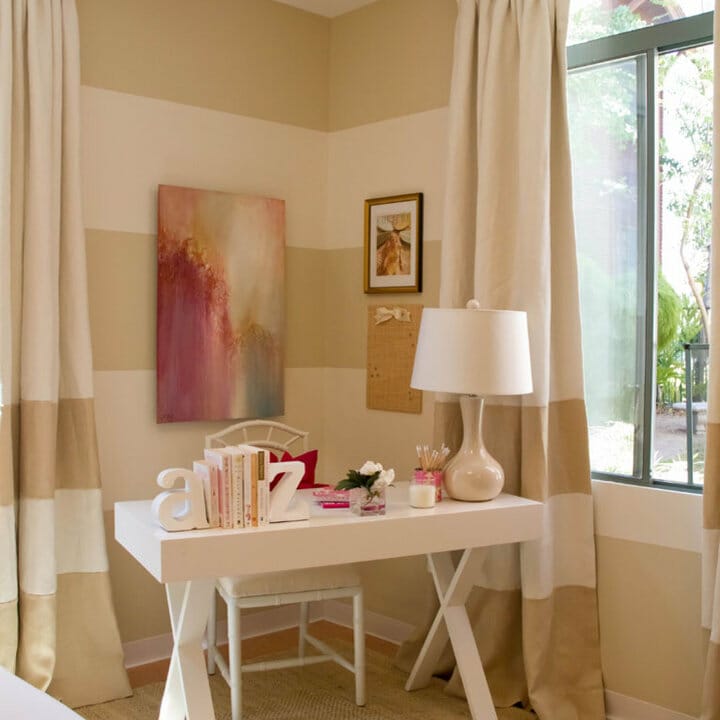 Speaking of horizontal striped wall paint ideas, wide stripes are your friends. Fat horizontal stripes generate a strong visual impact. Due to them, the teen girl's bedroom becomes visually more expansive.
Here, horizontal sand and white stripes excellently mimic striped ceiling-to-floor curtains. In addition, they carve a relaxing feeling.
Neutral striped walls perfectly accentuate the exquisite abstract painting, artwork, and burlap wall hanging. Hot pink accents wake up the teenage girl's bedroom. Moreover, they deliver a feminine touch.
16. Horizontal Striped Wall Paint Ideas for Playrooms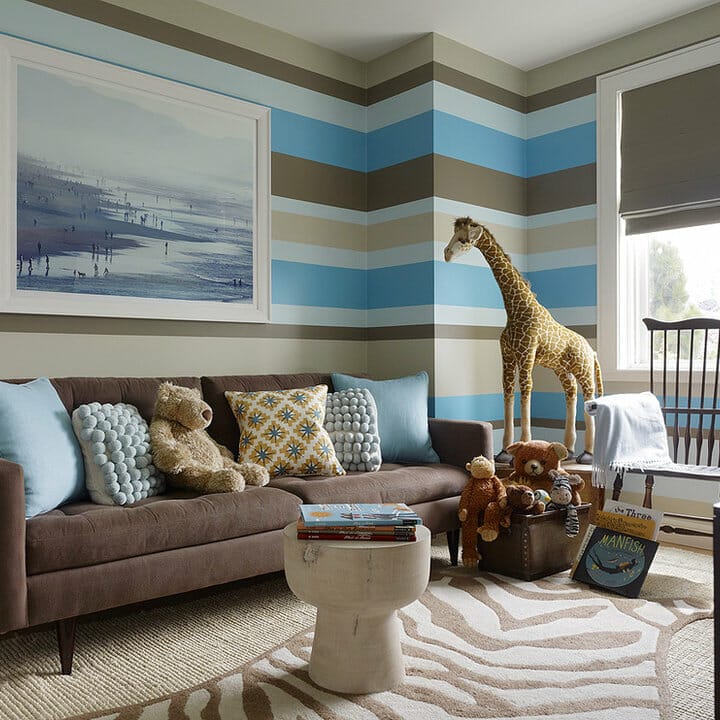 I can't help but love this playroom. Here, walls boast both wide and thin horizontal stripes. Furthermore, they wear different hues such as brown, taupe, white, cream, and pastel blue.
The mesmerizing mix of horizontal stripes gives off a playful atmosphere. Additionally, they mingle with the beach-themed wall art.
Here, the brown sofa and plush zebra rug lend the playroom optimum comfort. Meanwhile, the statement pillows and stuffed animals complete the look.
17. Coastal Bedroom with Horizontal Stripes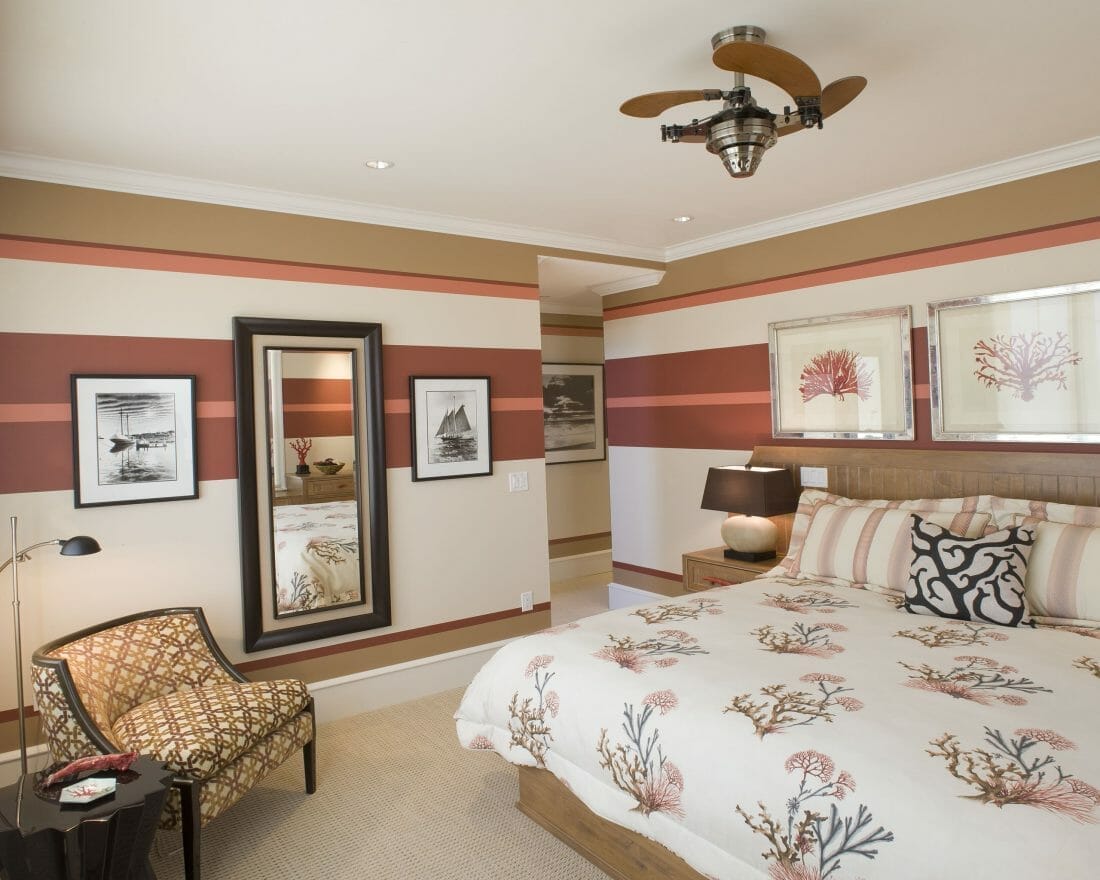 Who says stripes only wear two colors? If you plan on using different tones, replicate this bedroom's look.
Horizontal stripes have varying thicknesses, from super thin to very thick. Moreover, they supply muted red, pastel coral, stark white, and sand.
The multi-tonal striped walls call attention to the mirror and artworks. Lastly, the coral wall art and bedding embrace a coastal atmosphere.
18. Horizontal Striped Wall Paint Ideas for Dining Areas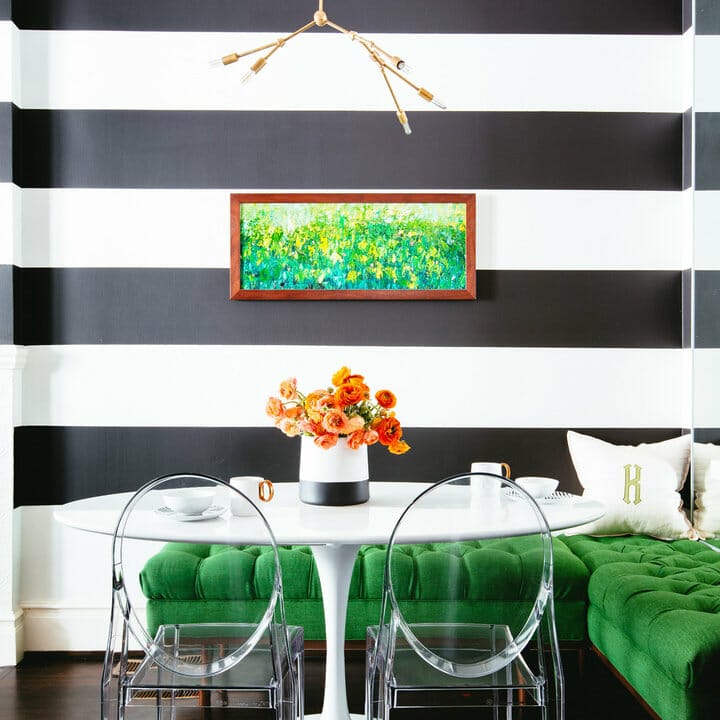 Talking about horizontal stripes, consider using white and black. Apart from becoming a classic pairing, they seem sophisticated and alluring.
Here, black and white stripes widen the dining space. Furthermore, they behave as an ideal backdrop for emerald green furniture, vivacious painting, and orange flowers. Also, the two-tone vase mimics them.
19. French Country Dining Room with Horizontal Stripes
This is one of the horizontal striped wall paint ideas for country dining rooms. As you see, horizontal pastel blue and white stripes enliven the interior.
Due to wide horizontal stripes, this dining area feels bigger. Additionally, they direct the eye to the mirror and French windows. Meanwhile, the side table, dining chairs, and iron chandeliers evoke drama.
20. Twin Girl's Bedroom with Horizontal Striped Walls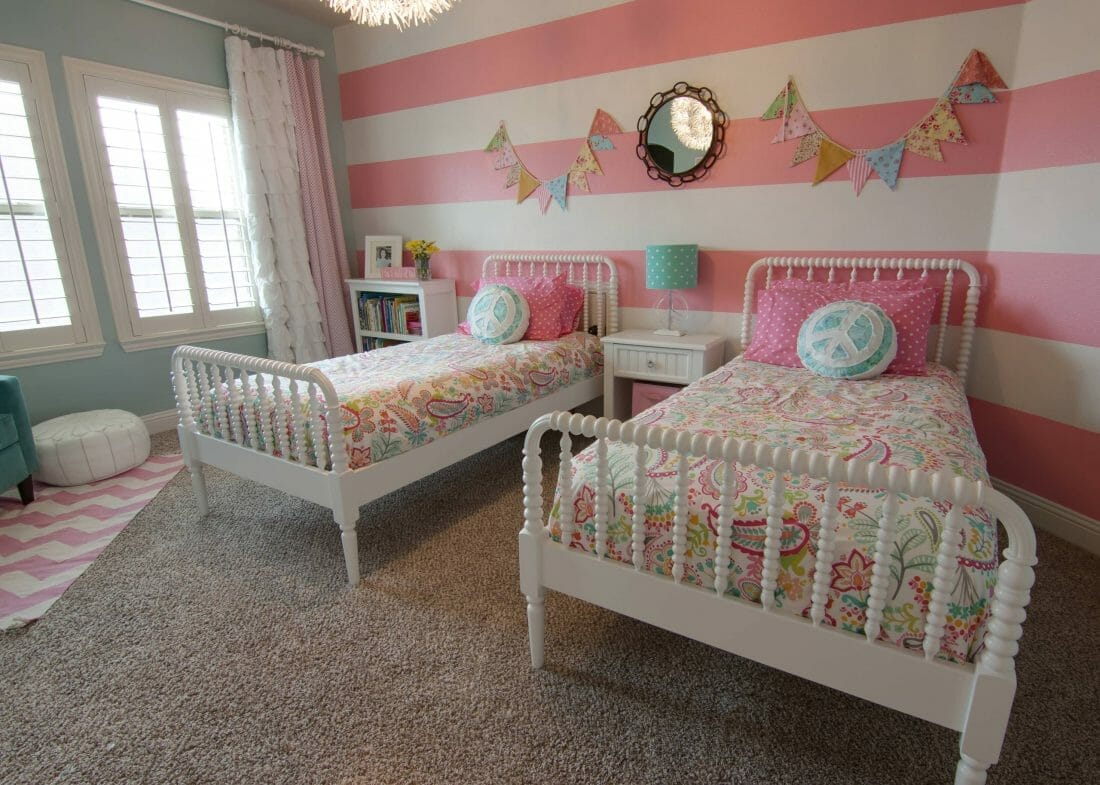 Horizontal pastel pink and white stripes prettify this twin girl's bedroom. Striped walls also fool the eye into thinking the sleeping area is larger.
White and pink stripes clash with the classic black mirror. Meanwhile, the chevron rug, patterned and bedding, paper garlands infuse extra fun touches.
21. Horizontal Striped Wall Paint Ideas for Bathrooms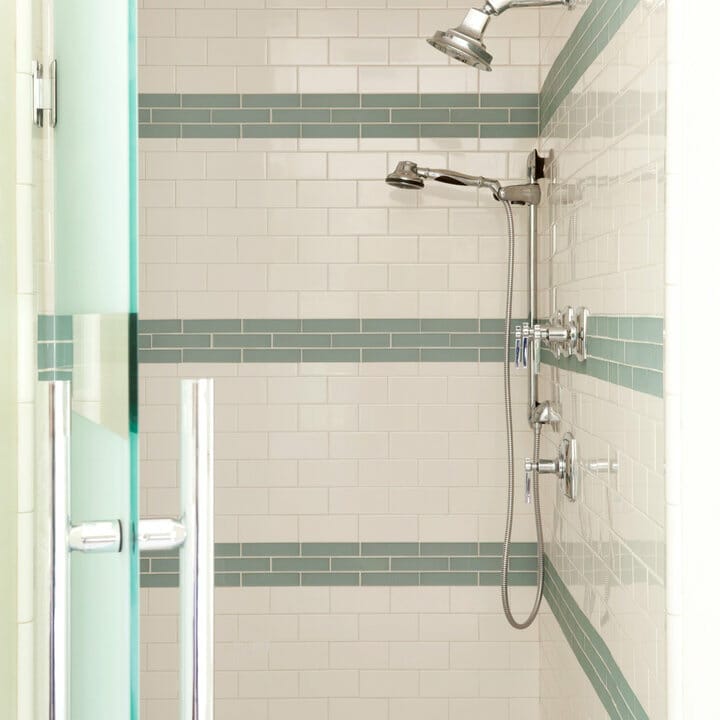 Here, horizontal white and gray stripes wrap around the bathroom's walls for a modern vibe. As you see, wide white stripes inspire cleanliness and spaciousness.
Horizontal gray stripes exude tranquility while adding sophistication. Moreover, metallic bathroom fittings and fixtures represent glamor.
22. Boy's Bedroom with Horizontal Multi-tonal Stripes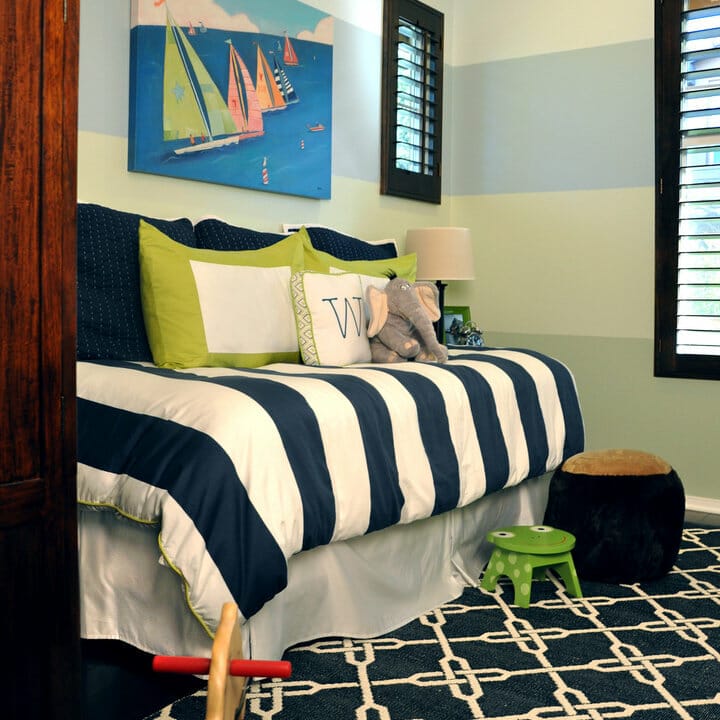 Fat horizontal stripes wear gray, ivory, light blue, and crisp white. Apart from generating a wide visual border, they enlarge the boy's sleeping area.
Navy and white stripes on the comforter complement striped walls. Furthermore, the patterned rug, ocean painting, and colorful units spruce this boy's bedroom up.
23. Horizontal Striped Wall Paint Ideas for Bonus Rooms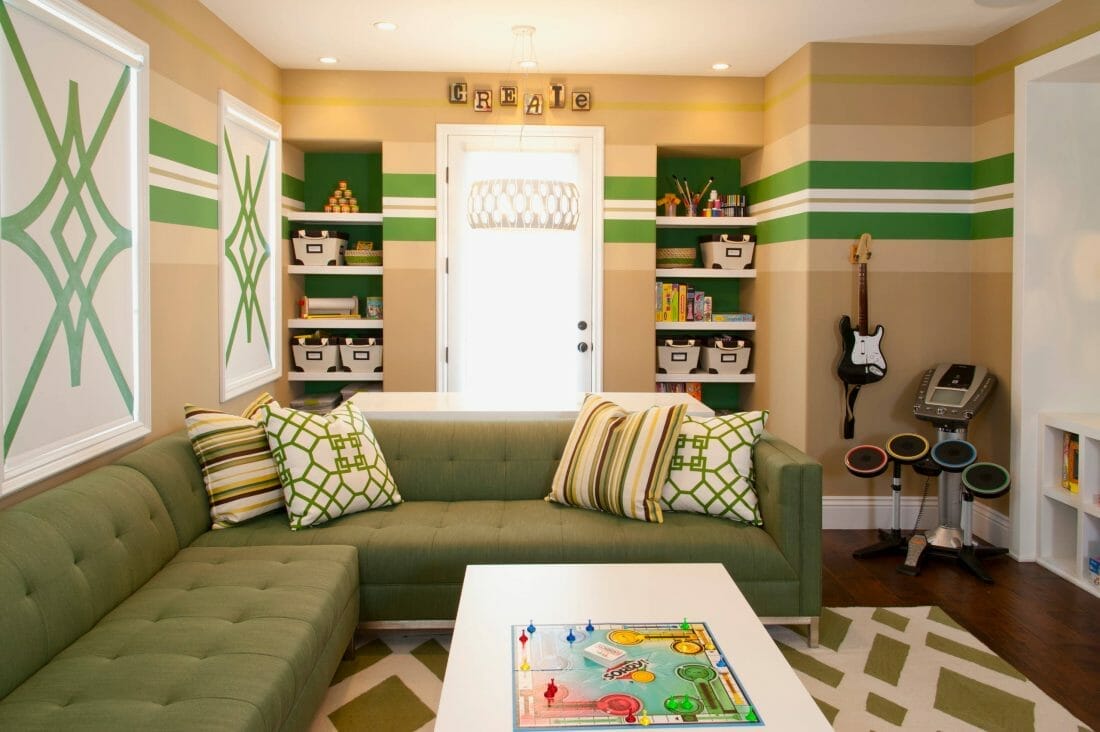 Here, earth tones dominate the bonus room. Moreover, the dweller created thin and thick horizontal stripes in the walls' upper areas.
Stripes supply emerald green, beige, tan, and lime green. They unify the bonus room, while other marvelous patterns make the scene seem more attractive.
24. Multi-tonal Striped Walls for Teenage Girl's Bedrooms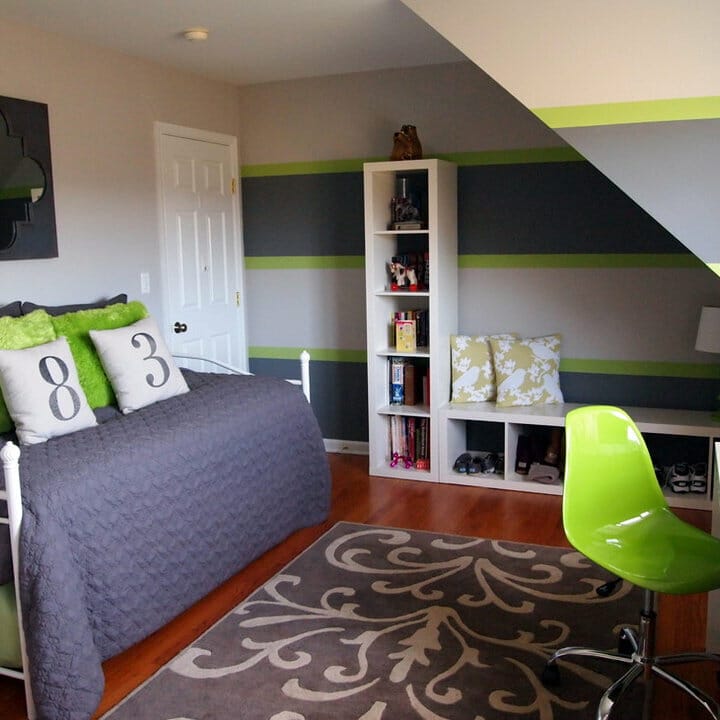 This teenage girl's attic bedroom looks eye-catching due to striped walls. Furthermore, horizontal pale gray and dark gray stripes tie the interior together.
Thin lime green stripes separate deep gray stripes from light-toned ones. Also, the floral rug and exquisite mirror represent elegance, while vibrant accents radiate an air of happiness.
25. Hallway with Cheerful Horizontal Stripes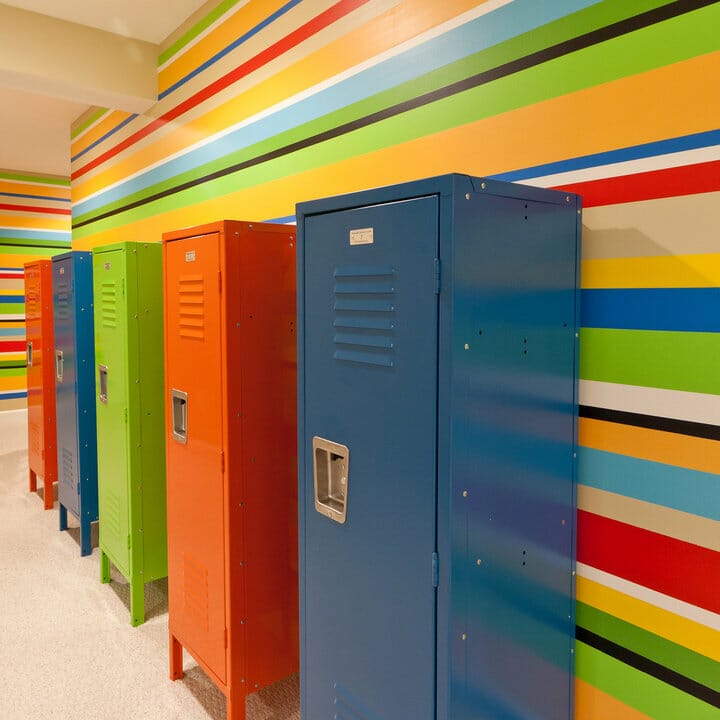 Here, the hallway boasts wide and thin horizontal stripes. Moreover, they lend the room bursts of green, blue, black, yellow, white, red, and sand.
Colorful stripes balance bold lockers. In addition, they punch the hallway up. Meanwhile, the white ceiling and beige carpet absorb the boldness of lockers and stripes.
26. Horizontal Striped Wall Paint Ideas for Powder Rooms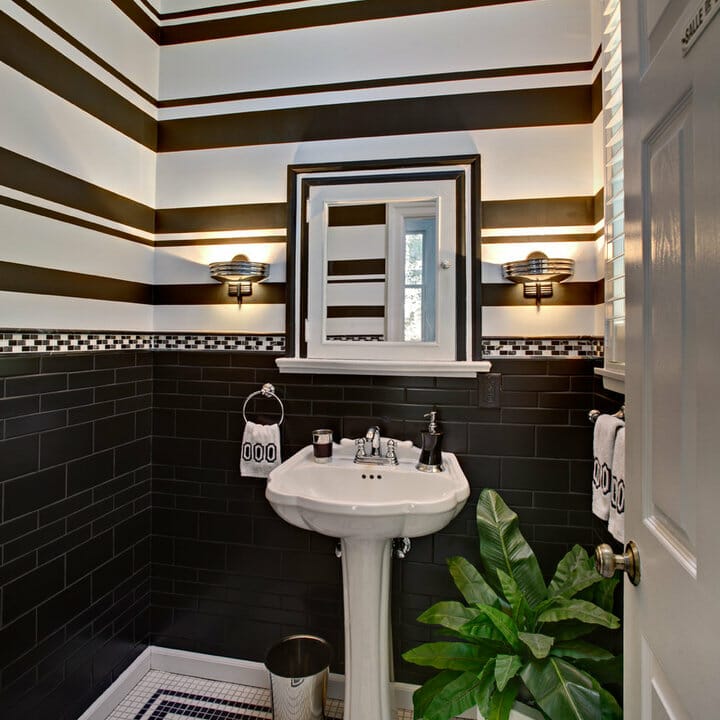 This powder room enjoys a contemporary flavor via wall sconces and subway tiles. The ceramic tulip pedestal sink and houseplant jazz it up.
Horizontal black and white stripes embellish the upper area of powder room walls. Furthermore, the monochromatic mirror and flooring unify the scene.
27. Apartment Living Room with Horizontal Stripes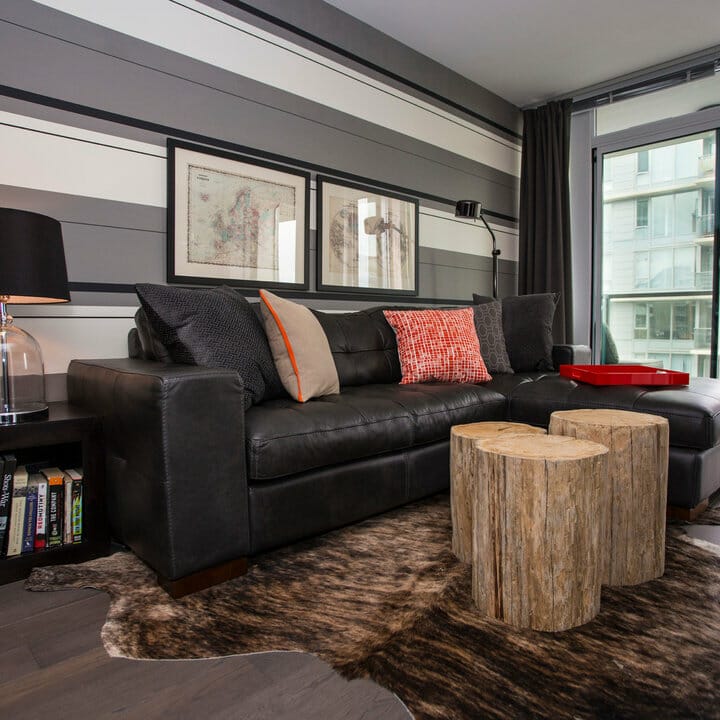 Since horizontal gray and white stripes are wide, this apartment living room feels bigger. Moreover, black lines and stripes add more interest.
The striped accent wall lets guests focus on artworks. Additionally, the animal hide rug, leather sofa, and tree stump tables bring the outdoors in.
28. Horizontal Stripes for Farmhouse Bedrooms
Need brilliant horizontal striped wall paint ideas? If yes, replicate this farmhouse bedroom's look. It feels airy because of the white and gray striped walls.
As you see, different sizes of horizontal stripes inject so much interest. Moreover, wall ornaments make the farmhouse bedroom cozier.
29. Eclectic Boys' Bedroom with Horizontal Stripes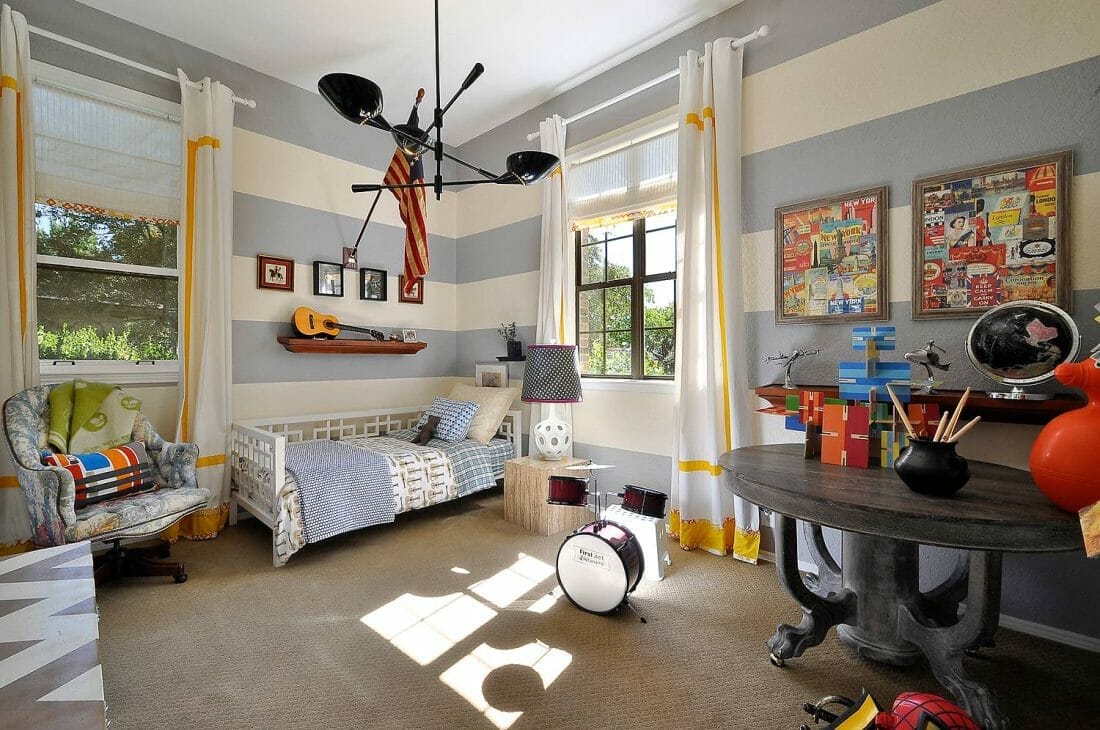 Striped walls supply pastel gray and soft white. In addition to enlarging the boy's bedroom, they please the eye in seconds.
Horizontal stripes adorn the wooden shelf, vintage American flag, and square artwork frames. They accentuate exuberant tones in the boy's bedroom, too.
Hopefully, those horizontal striped wall paint ideas leave you inspired. They enable you to decorate your interior cost-effectively and easily. Moreover, horizontal stripes provide fabulous versatility.