The bedroom is usually considered a sanctuary for you. Thus, you need to personalize it to make it as attractive and comfy as possible. If you are in quest of stunning girly rooms ideas, look no further. You can find them all here. So, keep scrolling!
1. Girly Rooms Ideas for a Baby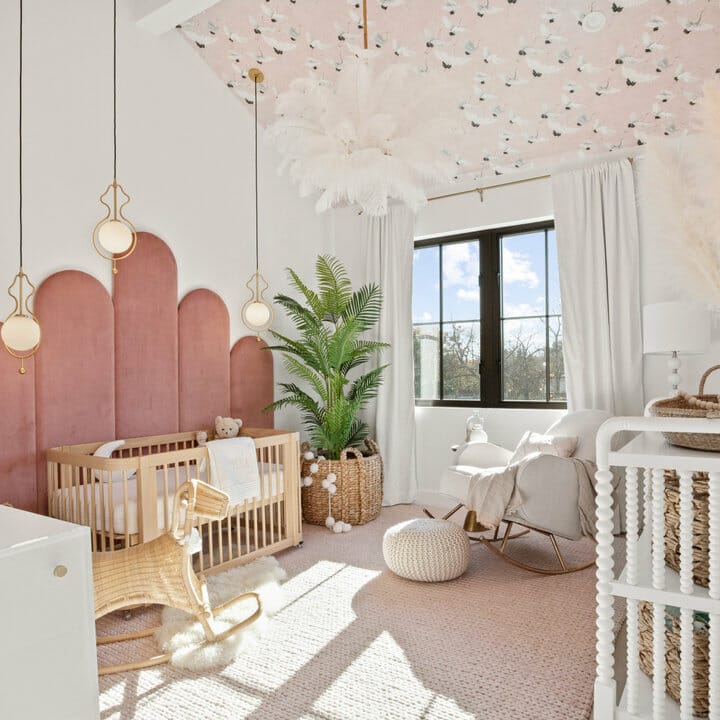 Pink is often synonymous with girly stuff. However, when it comes to decorating a nursery room, you had better opt for lighter shades like baby pink, coral, salmon, or peach.
This nursery room features a velvet headboard that has turned into an accent wall, which anchors the crib in place.
Next to the crib is a comfortable rocking chair and a woven ottoman that you can use to stretch your legs.
Add a bit of interest with chic pendant light and a playful ceiling. Finally, wrap it up with a pink oversized jute rug that soothes your bare feet nicely.
2. Girly Nursery Room Ideas in Beige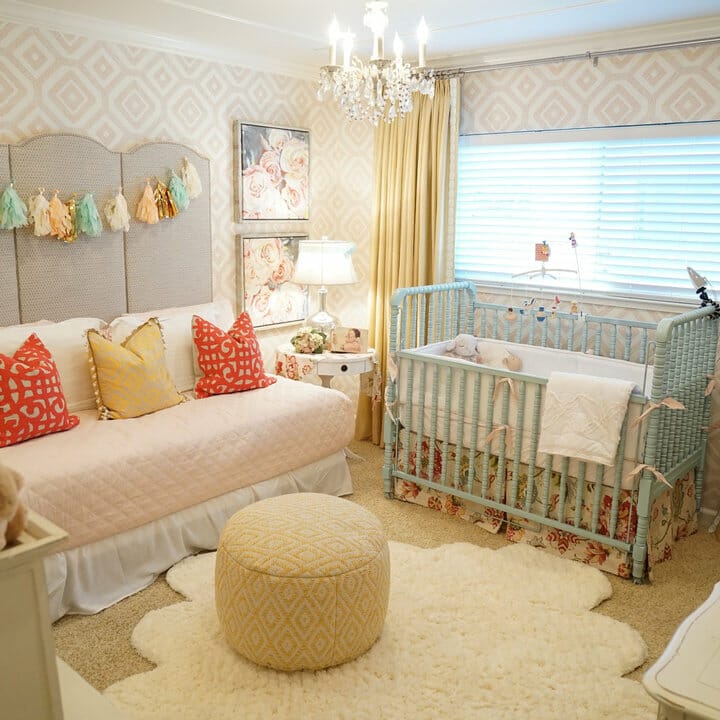 Girly room ideas are not always about pink accessories and walls. You can opt for a more earthy tone, like this beige bedroom.
Although this nursery room does not show any pinks, it still embodies the girly look, thanks to the pretty chandeliers hanging from the ceiling.
Another hallmark of a girly room is floral accessories. Thus, you can just hang flower paintings to boost the feminine look.
3. Purple Girly Rooms Ideas with High Ceiling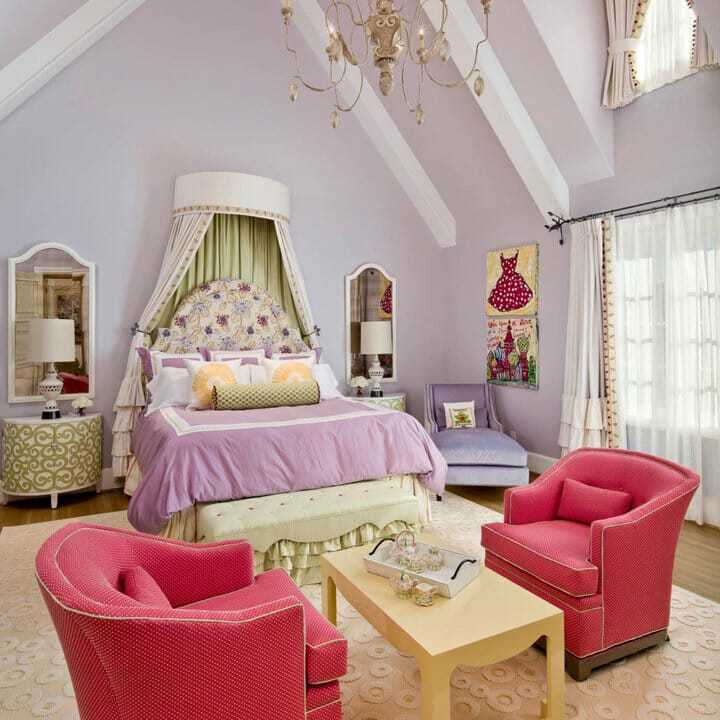 Aside from pink, purple is also a common color scheme in a girl's room. When fused with the proper complements, it can make the bedroom look mesmerizing.
This bedroom features purple walls as the base. It also has a high ceiling that can be discouraging for a few people. To alleviate the intimidating look, you can install white beams.
A chamber with a high roof should have a pendant light. Since you want it to look girly, you had better opt for chandeliers.
You can also add some girly stuff like a canopy, bed skirt, and floral pattern to make the bedroom prettier.
4. Luxurious Girly Room in White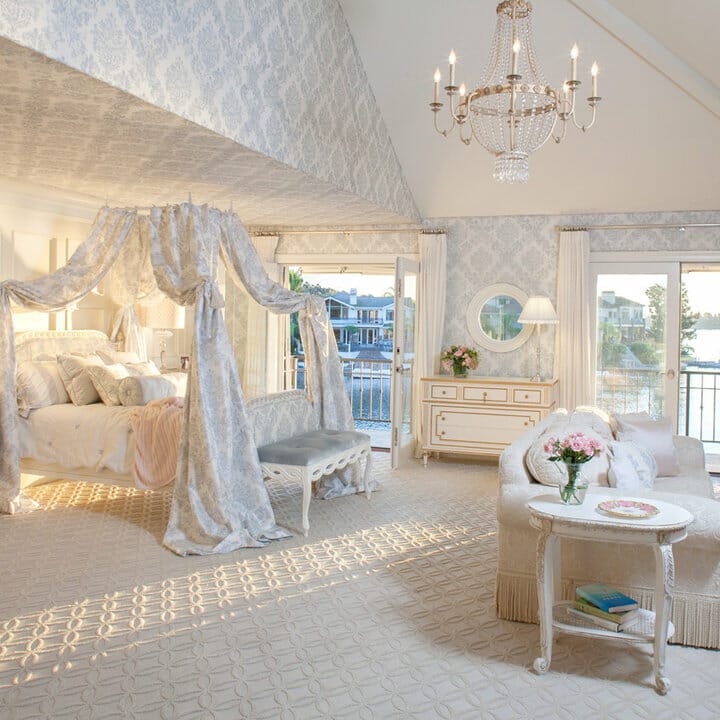 This one is another girly room idea that excludes pink color schemes from the list. It goes for white instead, which makes it look luxurious.
The bed features a canopy with patterned curtains that match the wallpaper immensely. Beautiful chandeliers hanging in the middle of the room enhance the elegance.
For the final touch, lay a wall-to-wall carpet that incorporates a bit of textural element into the space.
5. Small Bedroom Ideas for Girls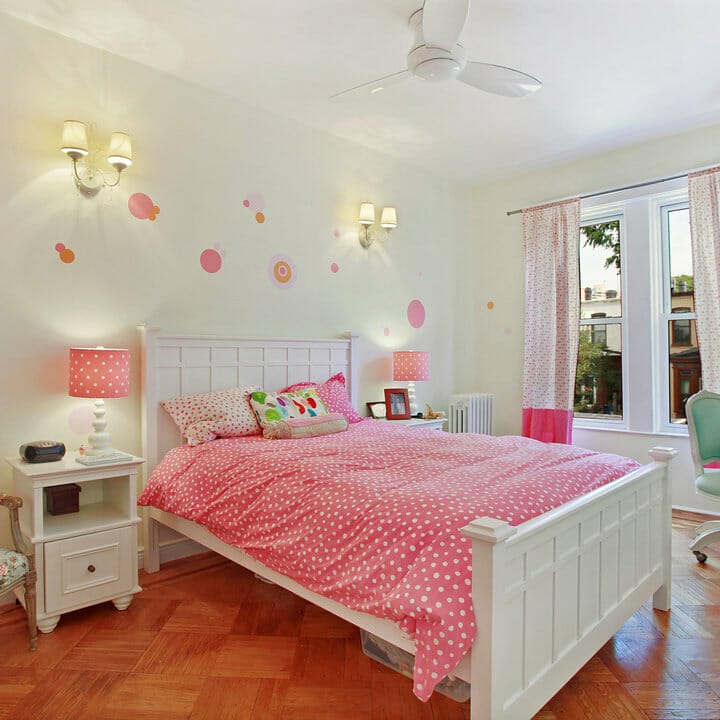 Although it is not as spacious as the aforementioned bedroom, this room still offers interest and comfort.
Since the area is narrow, you ought to maintain the furniture down to a minimum. A full bed with two nightstands flanking on both sides is enough.
You can work on the bedding and accent wall for visual appeal. Topping the bed with a pink polka-dot duvet is an instant move to add interest.
Consider investing in lampshades with similar colors and patterns to create balance. Then, jazz up the room with a wall decal and sconces.
6. When Pink Meets Green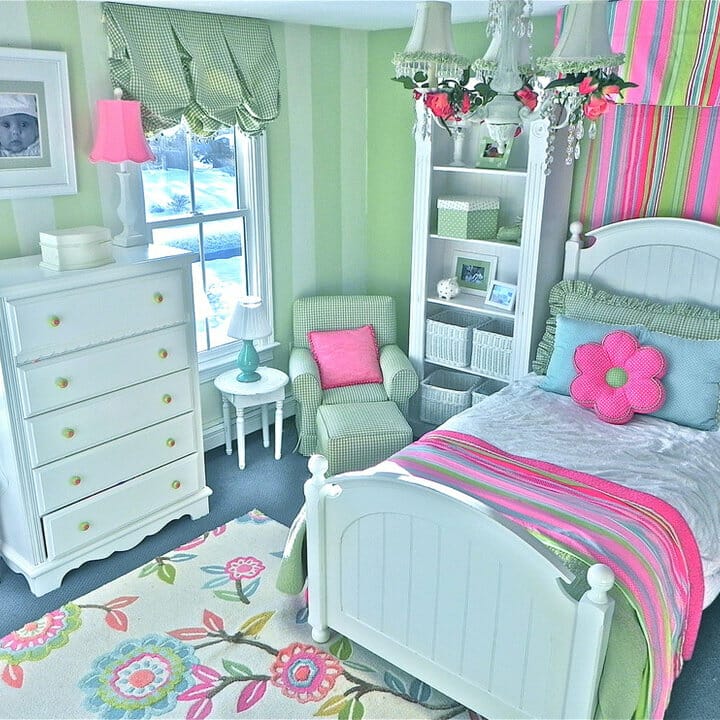 Fuchsia and Magenta are vivid. It may be a bit tricky to pair them with another color. Thus, white is your go-to hue. However, it can be dull sometimes.
Have you tried to pair fuchsia with green? You will be surprised to see the harmony that they can create.
Since fuchsia is a vibrant shade, consider choosing lighter hues of green like mint. This combination will not give you an eyesore. Do not forget to add floral elements for a girly look.
7. Elegant Shabby Chic Bedroom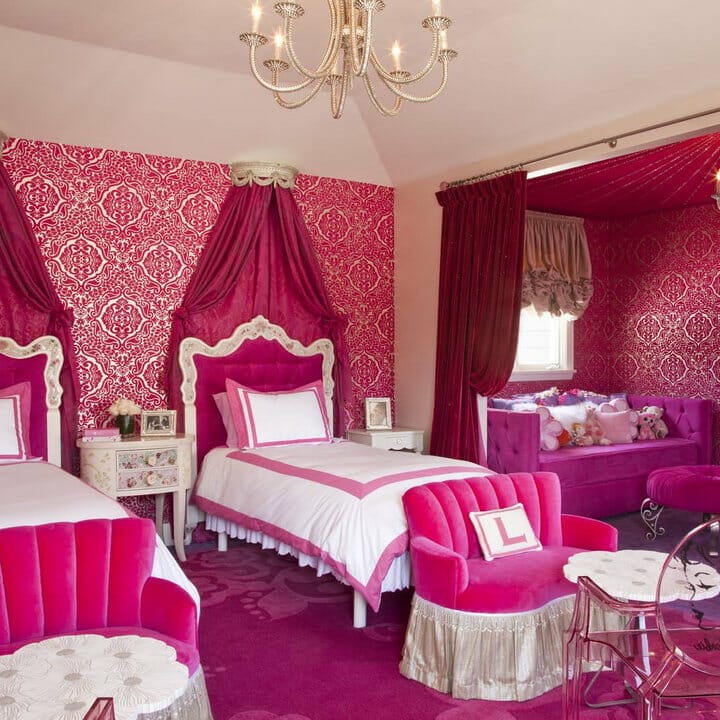 The shabby chic style pays tribute to the past without leaving out the modern elements. It also features curvy furniture with carved accents that accentuate elegance immensely.
Sometimes shabby chic style has shiny details like gold accents or crystal chandeliers to incorporate glamor into the space, just like what you can see in this girly room idea.
8. Minimalist Girly Rooms Ideas
Many people think that girly rooms ideas are always about several accessories. The more, the merrier. Well, nothing could be further from the truth.
This bedroom, for example, looks fabulous although it does not have many accessories. You can just find a small round white side table used to set down a vase and clock, and a gray suitcase.
The combination of charcoal gray and baby pink is just perfect. It creates a soothing ambiance that helps you get a good night's sleep.
9. Spruce It Up with Wallpaper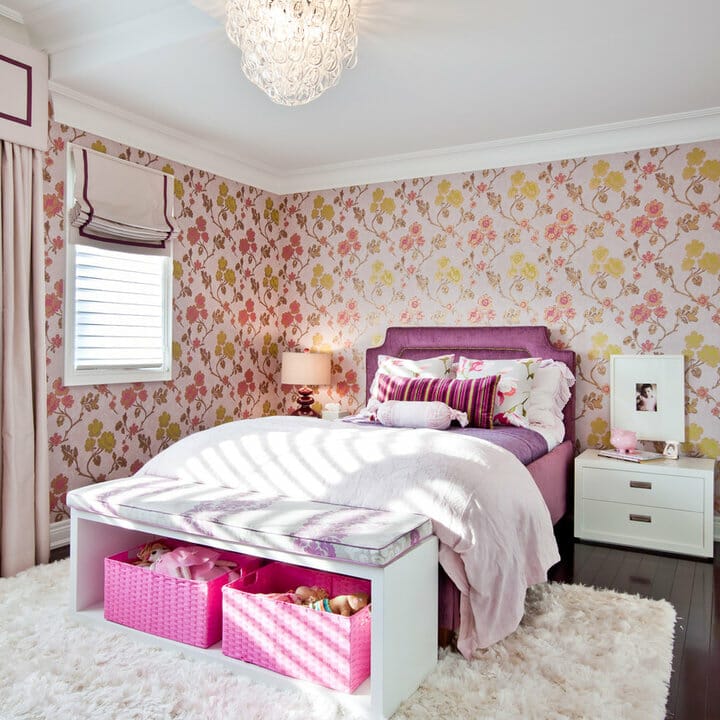 You can do many things to perk up your bedroom. Nevertheless, the most suitable and inexpensive way to overhaul your room is by hanging wallpaper.
Wallpaper comes in various colors, textures, and patterns, making it extremely easy to carve out the style that you always want.
If you want a girly bedroom, you can just hang floral wallpaper. This is an instant way to create the style. You can accentuate it by adding some pink stuff like a cushion, throw, or baskets.
10. Girly Bedroom Pink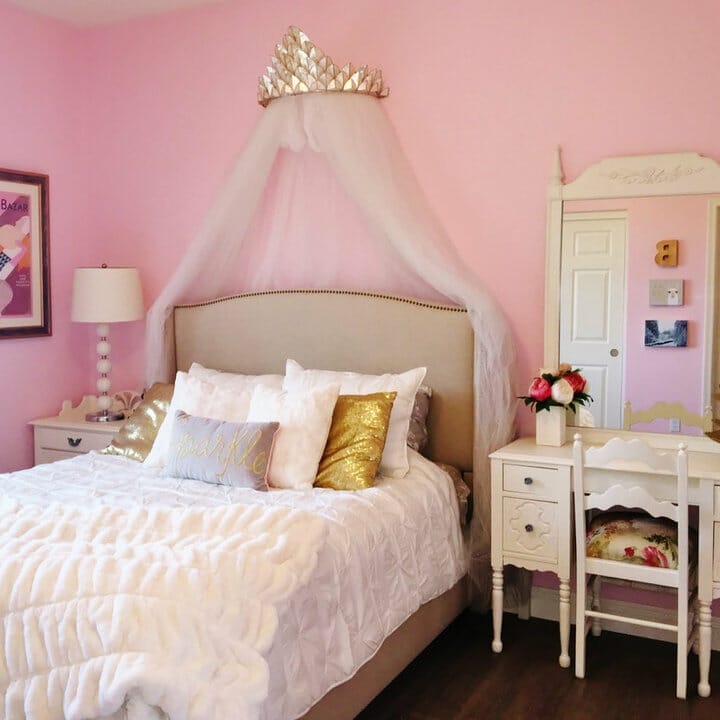 Every girl dreams about being a princess. It is quite unlikely, though. Still, you can make it tangible with this girly room idea.
This pink bedroom has a unique canopy that looks like a gold crown. The white bedding matches the dressing table and curtain nicely. Then, add two gold cushions to round out the style.
11. Modern Bedroom for Girls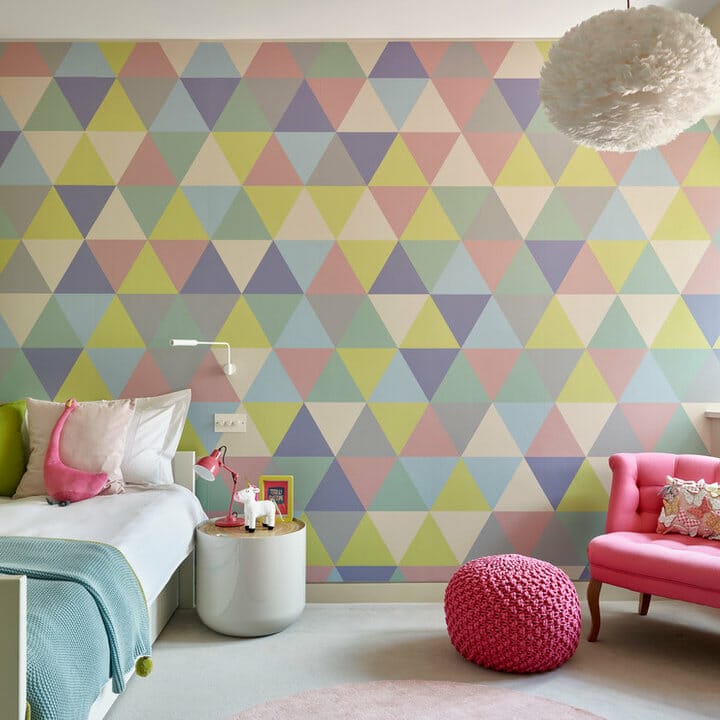 The intriguing accent wall can draw the eyes instantly. Next to the bed is a minimalist nightstand that carves out the modern style.
Place a fuchsia chair and an ottoman to beef up the bedroom while ensuring your comfort. You can also install a cloud-like pendant light for a more feminine look.
12. It is Time for Tea Party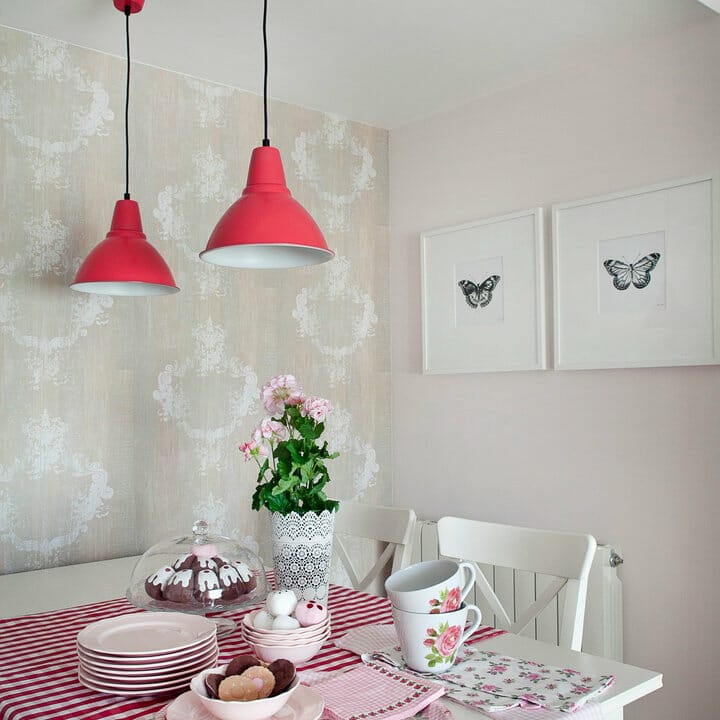 A girly room idea is not always about adding a feminine touch to a bedroom. You can carve out this style in the dining room.
An instant way to create a girly look is by incorporating more pinks or reds in the dining room. You can achieve this goal by laying a red striped table cloth and topping it with beautiful flowers.
13. The Fewer, The Prettier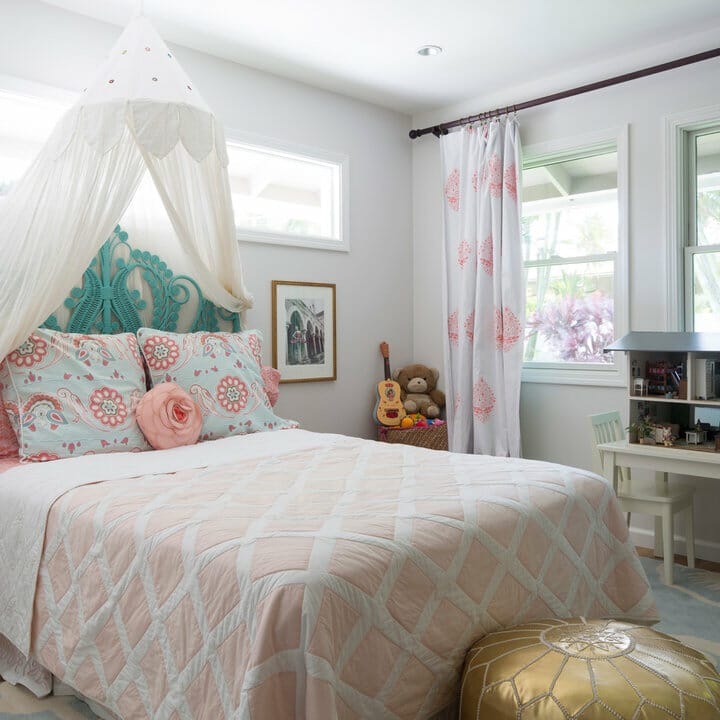 You may come up with a lot of ideas in your mind. As a result, you tend to toss as many accessories as you like, which can end up in a haphazard look.
A chic girl room idea does not always require several accessories. In fact, a beautiful canopy and headboard with a few floral accents would be enough.
14. Be Pretty in Petite Space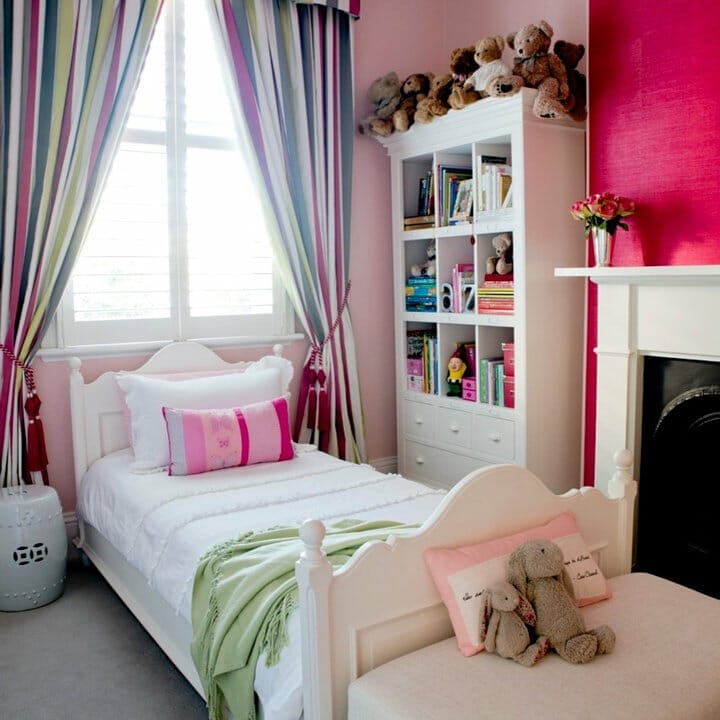 You might think that a small bedroom is a dead end because you do not have many available options. Well, that is not necessarily true.
In fact, you can still implement girly rooms ideas despite the small space, just like this bedroom.
This cute bedroom sticks to white furniture and trims to make the small space appear larger. Clutter is a common problem in a petite room. Therefore, you can shove shelves in the corner to organize things.
To make this room look girly, simply add some hints of pink. Be careful! Make sure you pick lighter hues because intense colors can overwhelm tiny space.
15. Room Decor for Teenage Girl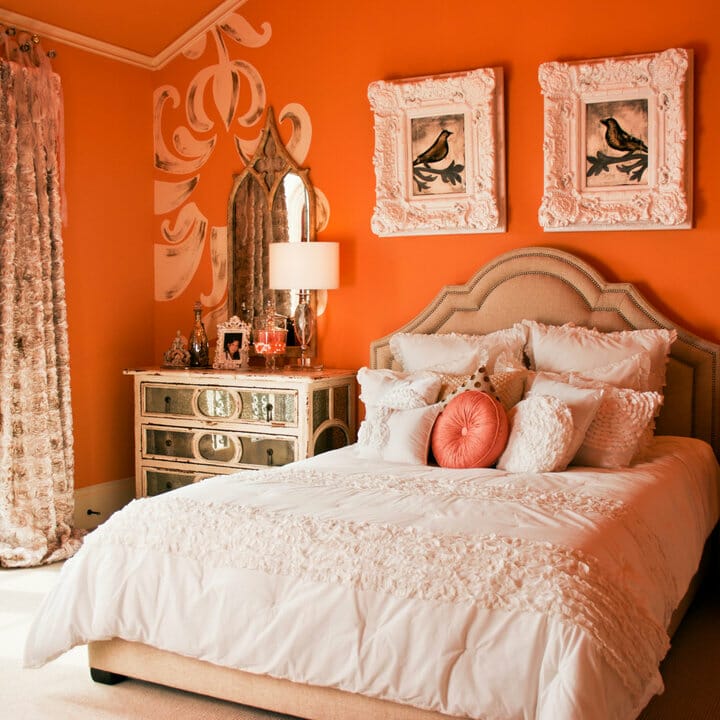 A teenage girl has decided to leave her dream of becoming a princess behind because she realizes that it is pie in the sky. Thus, you need to exclude royal elements when decorating her bedroom.
This girl would rather have something comfortable and chic, like a soft bed with many pillows, wall art, and a multipurpose dressing table.
16. Girly Bedroom Furniture Ideas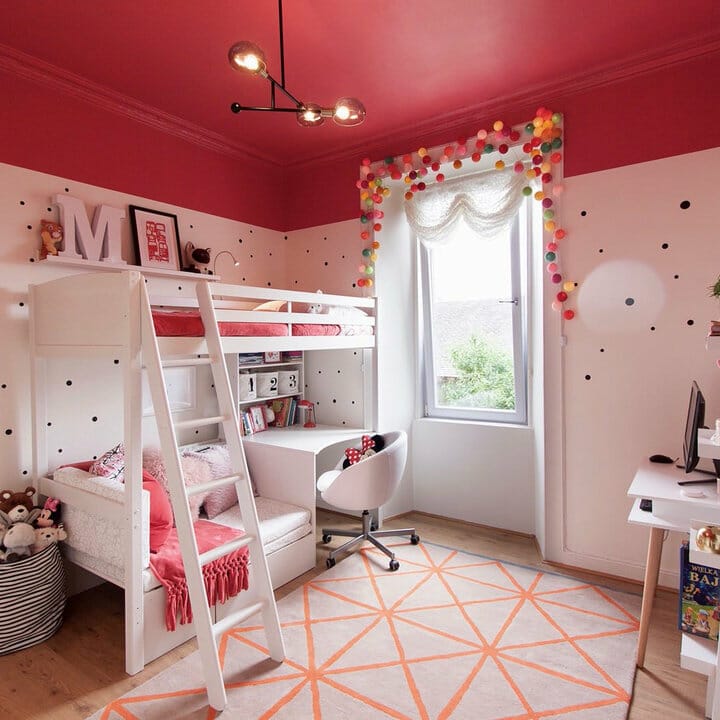 These are superb girly rooms ideas. Your daughter can get all she needs within one spot, thanks to the bunk bed.
You raise the bed a few feet off the ground, and you will get a reading nook, a place to do the homework, or even a walk-in closet. You name it!
17. How to Tackle Limited Space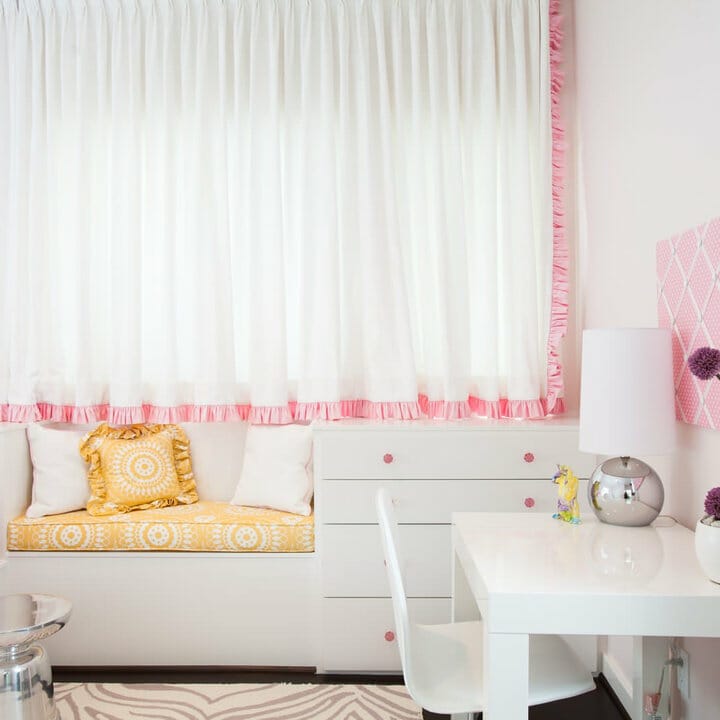 As a good rule of thumb, white is your go-to color when it comes to embellishing a small bedroom.
Then, you can add some hints of pink to create a girly room. But it is unnecessary to go overboard, though. A white sheer curtain with pink self-ruffles and drawer pulls will do.
18. Contemporary Girly Rooms Ideas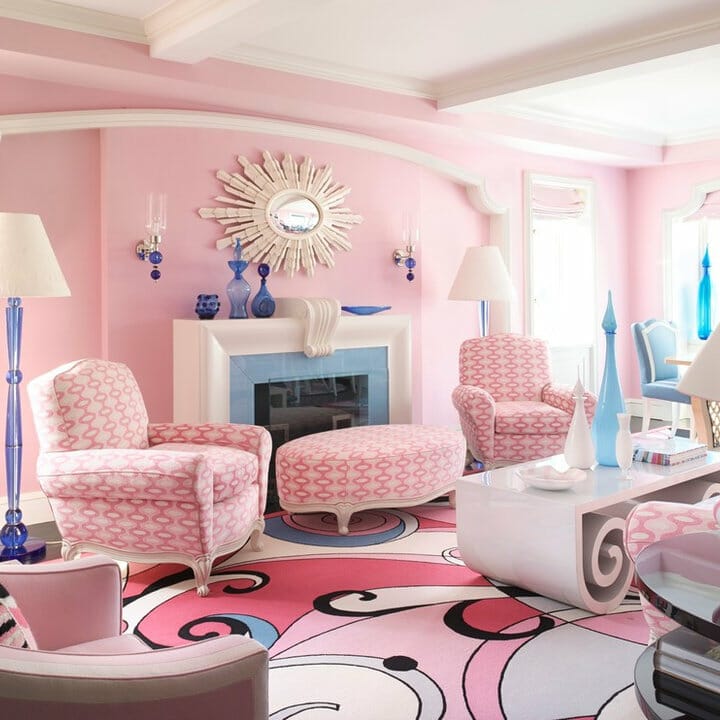 If you want to take girly rooms ideas to the next level, try this living room.
Begin with soft pink hues and white trim for the base. Then, invest in furniture that carries the hints of the color base.
You can decorate it with other color hues. However, do not exaggerate it. Stick to blue, for example, can be your safe bet. Finally, anchor all the elements with an oversized rug.
19. Play with Textures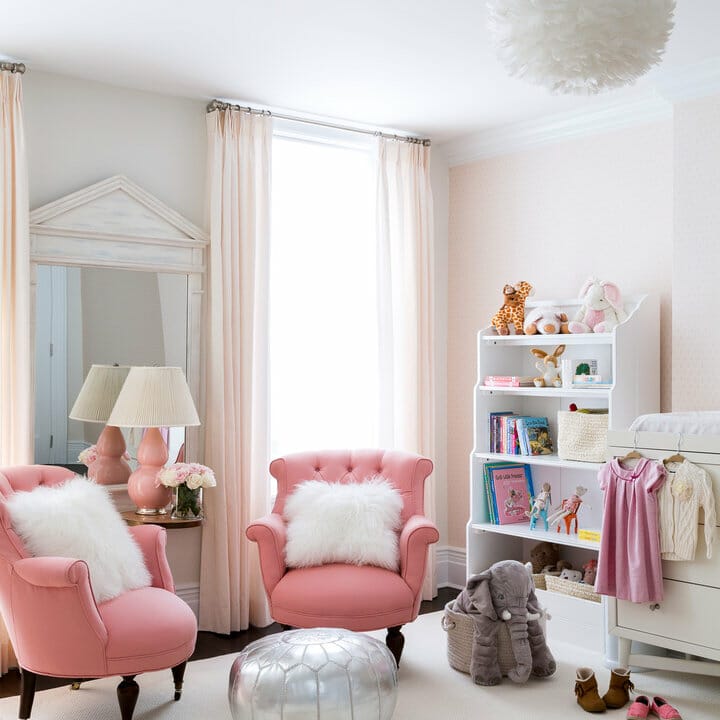 Playing with colors, especially pink, is convenient in girly rooms ideas. In addition to a color scheme, you can add textural elements to enrich the look.
This bedroom looks pretty with coral armchairs, and pastel walls and curtains. White furry cushions and pendant light lend a visual appeal and texture to the space.
20. Let Nature Be Your Guest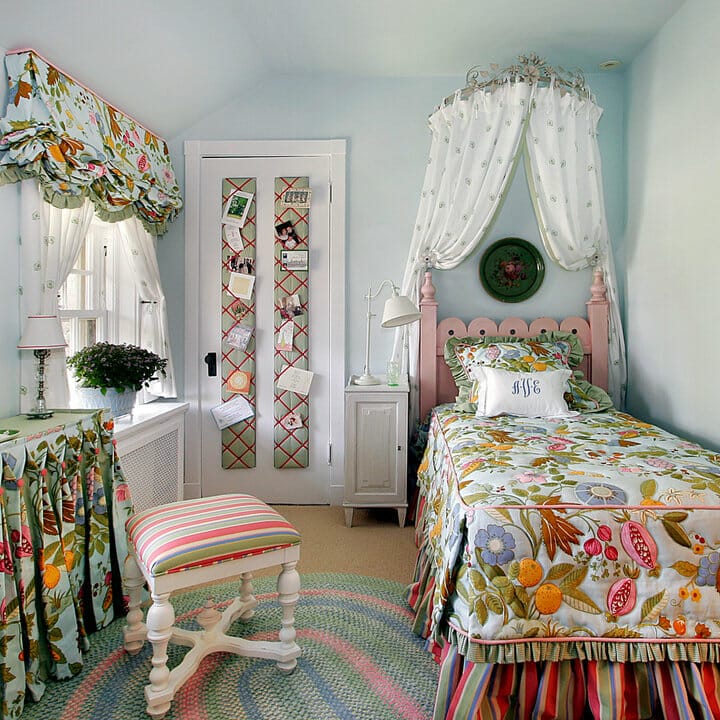 A girl's bedroom does not have to be pink. A nature-themed room can be worth the try.
This bedroom lends the charm of nature with floral bedding and skirting. The vintage furniture incorporates shabby chic into the space.
The most amazing thing is the DIY noteholders behind the door. You can use them to store photos, postcards, or even memos.
21. Good Bye Clutter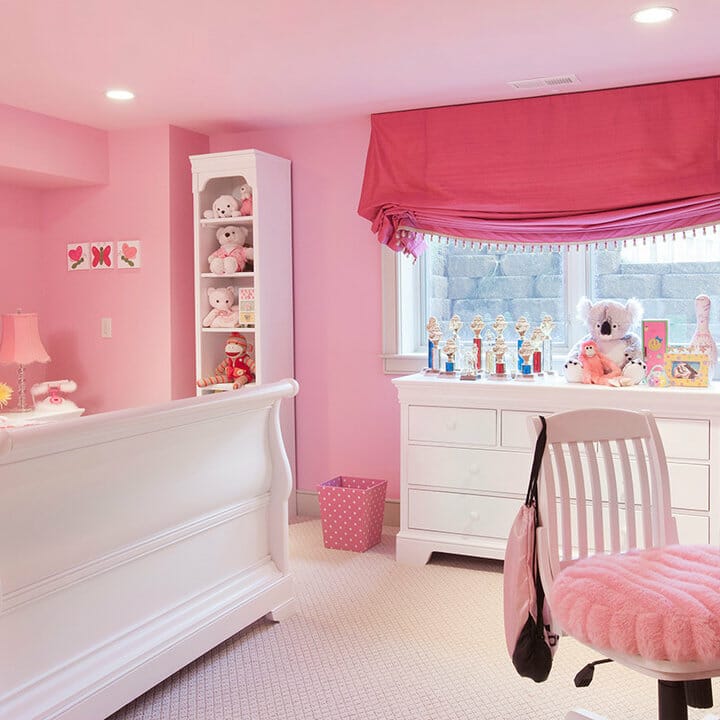 Earning comfort and style is about not only painting the room pink and hanging wall art. It is also about getting rid of clutter efficiently. Thus, investing in a lot of storage like shelves and dressers is necessary.
22. Anchor It with a Polka Dots Rug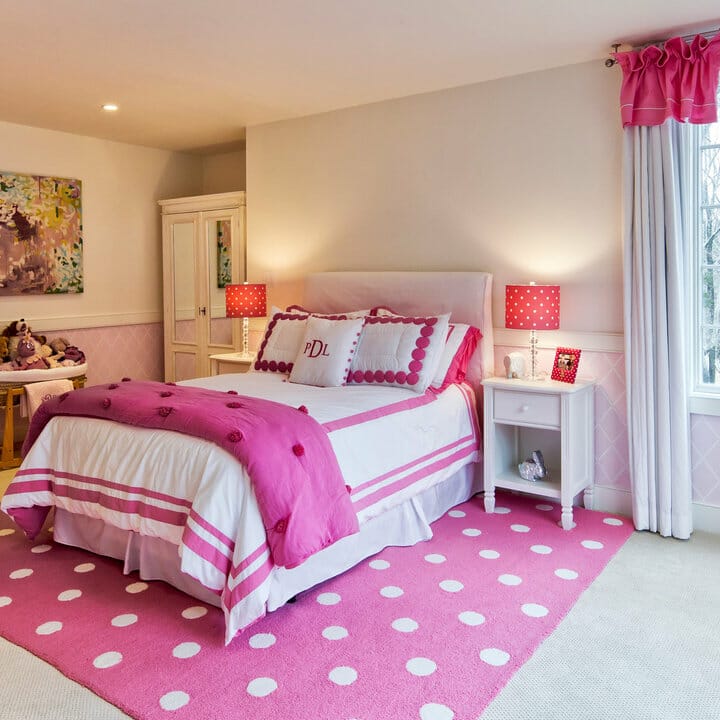 An oversized rug plays a crucial role in girly rooms ideas. It not only soothes your bare feet in the freezing morning but also infuses some sort of style. More importantly, it unites the essential furniture in your bedroom.
23. Sleep in Flowers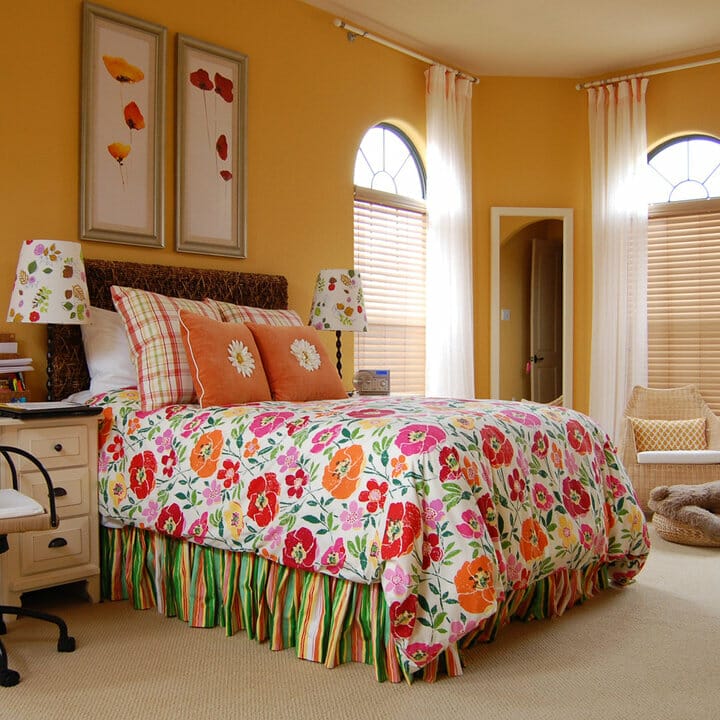 The idea of sleeping in flowers is always fascinating. However, scattering real plants on the bed may be messy. Thus, you can opt for flower bedding, instead.
Although it will feel a bit different, it still accomplishes in a bit.
24. Girly Rooms Ideas for Adults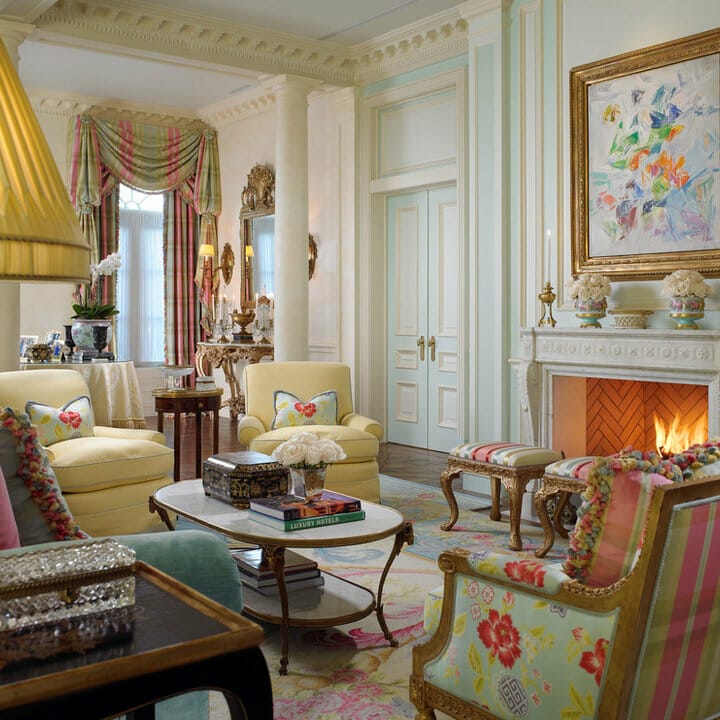 Girly rooms ideas are not only for kids. Apparently, adults also deserve it.
Since it is an adult's room, you need to exclude playful and cute things like dolls and stuffed animals from the list. You had better be creative with colors and patterns, instead.
Foolproof tip: Floral patterns will always work like a charm.
25. Mix and Match the Decor
Mixing and matching have always been a great idea to carve out harmony.
This bedroom, for example, comes in pink and white bedding and pillows that match the walls and ceiling. You can also find intriguing floral patterns on the flooring and window shutter.
26. Be Bold with Black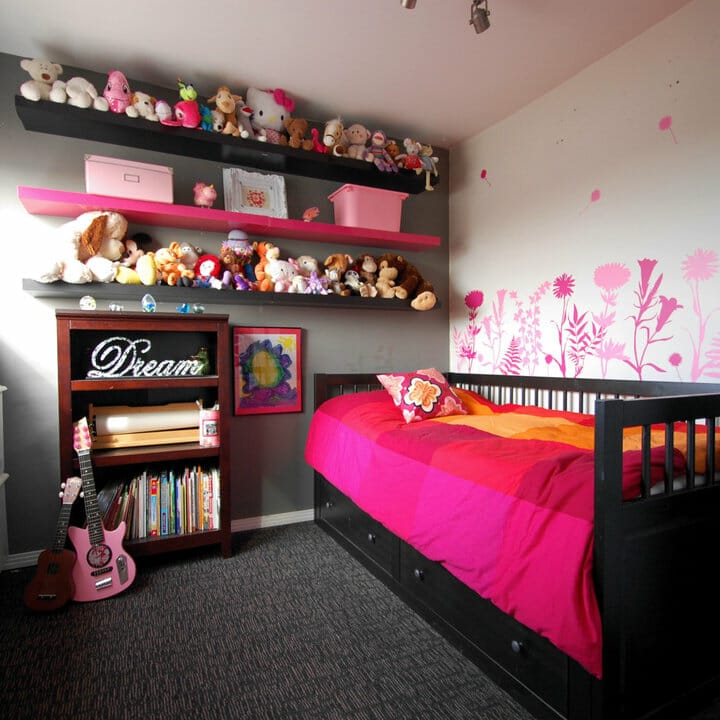 Who says that black does not belong to a girl. It turns out that this bold color can make a great girly room when combined with fuchsia or magenta.
27. Bedroom and Game Room Combo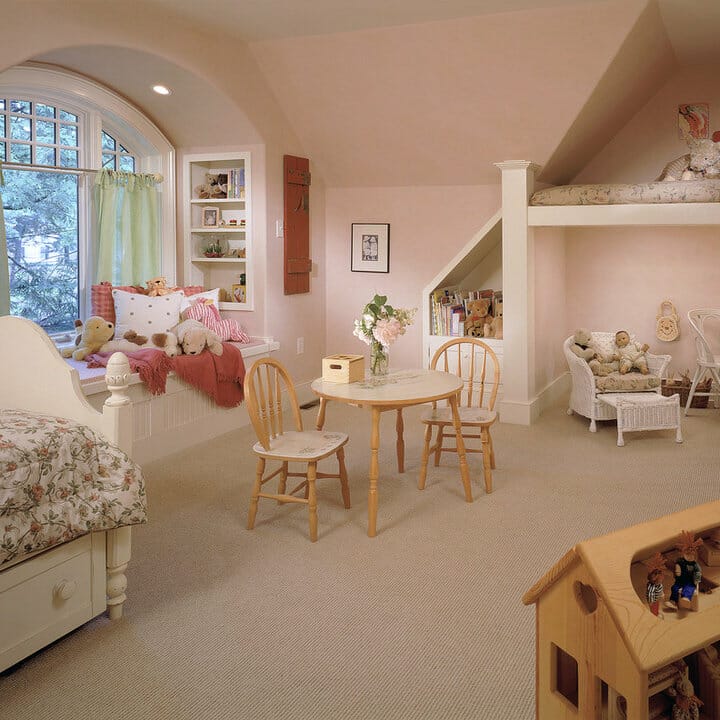 These girly room ideas pack a lot of fun. It has a small table and chairs in the middle that your daughter can use to drink some tea with her dolls.
You can also find a window seat that she can use to relax while enjoying the landscaping. More importantly, it has hidden storage to stash away clutter.
28. Add Something Fun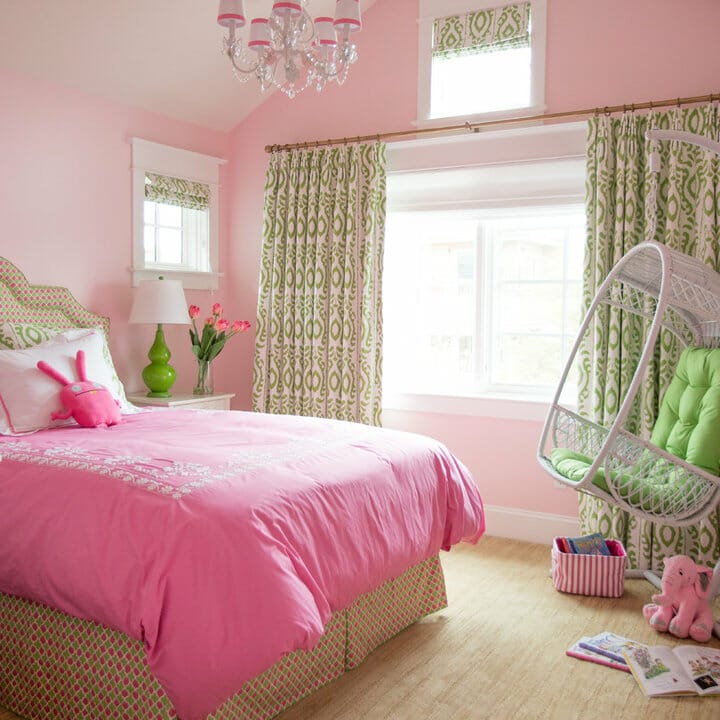 A hanging chair is a great addition to this bedroom. It not only offers comfort but also styles in no time.
29. Girly Room Decor DIY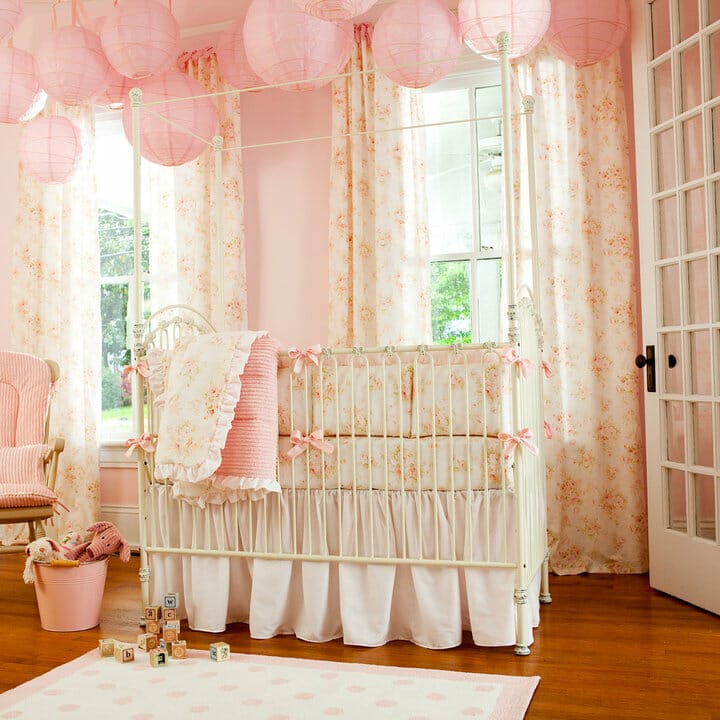 This girly nursery room looks fabulous with a floral pattern and many hanging Chinese lanterns above the crib. The best thing is you can DIY them all to salt away some money.
30. Fun Bunk Bed for Girls Rooms Ideas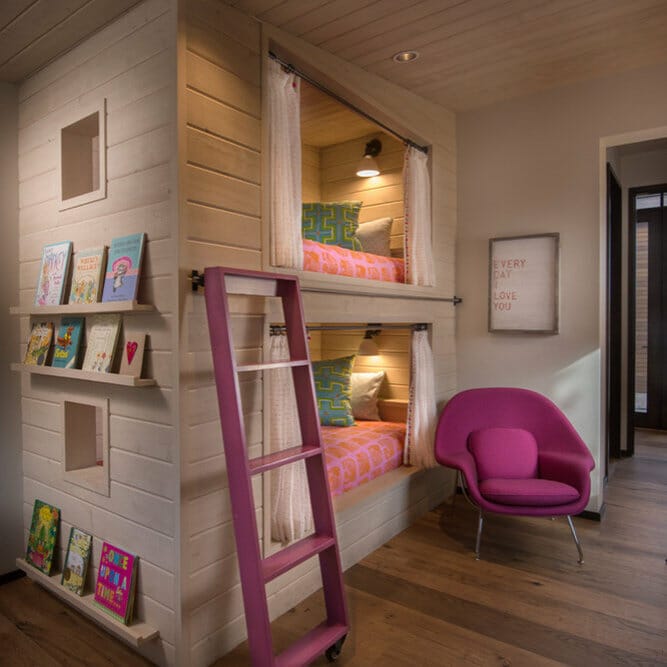 When your daughters have to share a room, this bunk bed can be a smart solution. It not only features two twin beds but also built-in shelves.
The ladders can slide, thanks to the casters and rod. This way, your kid can get easy access to the bed.
31. Girly Room with Vintage Furniture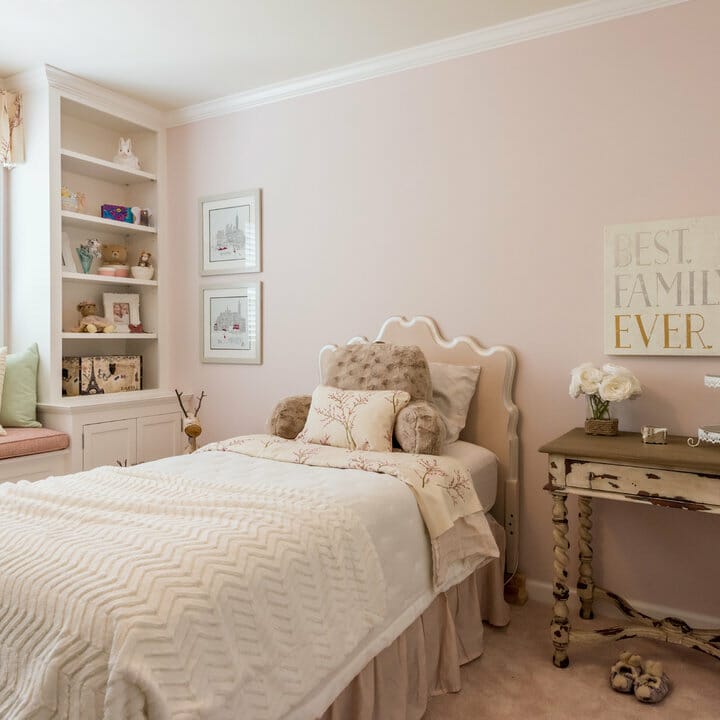 Vintage furniture is the hallmark of a shabby chic bedroom, just like this table. You can get it from a flea market and apply a distressed finish to get a well-worn look.
These girly rooms ideas not only offer visual interest but also the ultimate comfort. Therefore, they will be a perfect gift for your little princess.