Nowadays, many people inhabit tiny homes and city apartments. Therefore they have no space for any bulky furniture. If you're one of them, consider using corner shelves as your display area. Moreover, in this post, I've collected 24 drool-worthy corner shelf ideas.
Apart from offering extra storage space, corner shelves lend the interior a sense of character. Furthermore, they aren't tricky to install. Also, the units fit any room, from the kitchen to the dining area.
With numerous finish options and styles, I believe you'll find remarkable shelves for your precious, empty corners. So let's browse through my suggestions below.
1. White Wall-Mounted Corner Shelf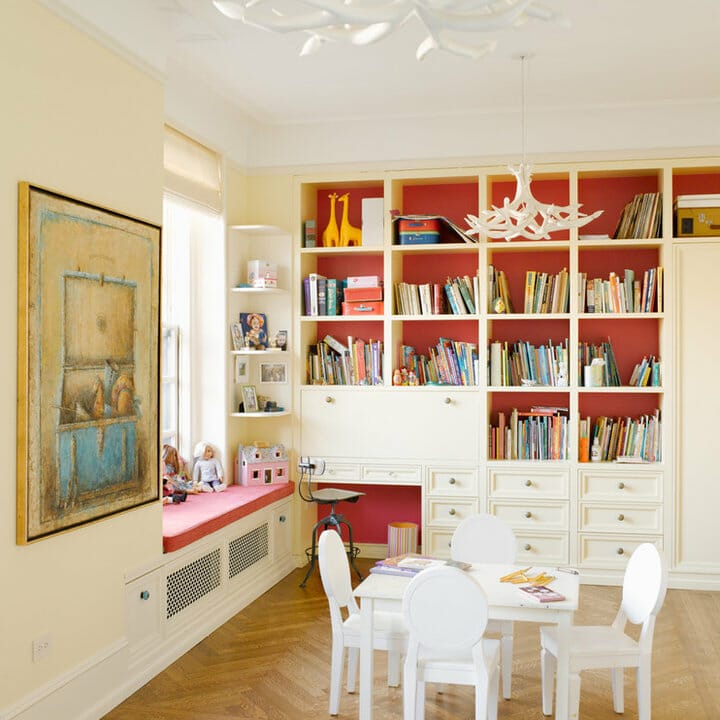 Here, the wall-hung corner shelf keeps corners of the kid's playroom from going unused. Moreover, it absorbs the boldness of yellow, red, blue, and pink.
Since this wall-mounted corner shelf comes in soft white, it mingles delightfully with the built-in bookcase and cream walls. The unit gives the child's playroom a modern touch due to its clean lines.
As you see, the 4-tier corner shelf houses adorable family pictures and accessories. Furthermore, its rounded front makes sharp edges softer.
2. Triangular Floating Shelves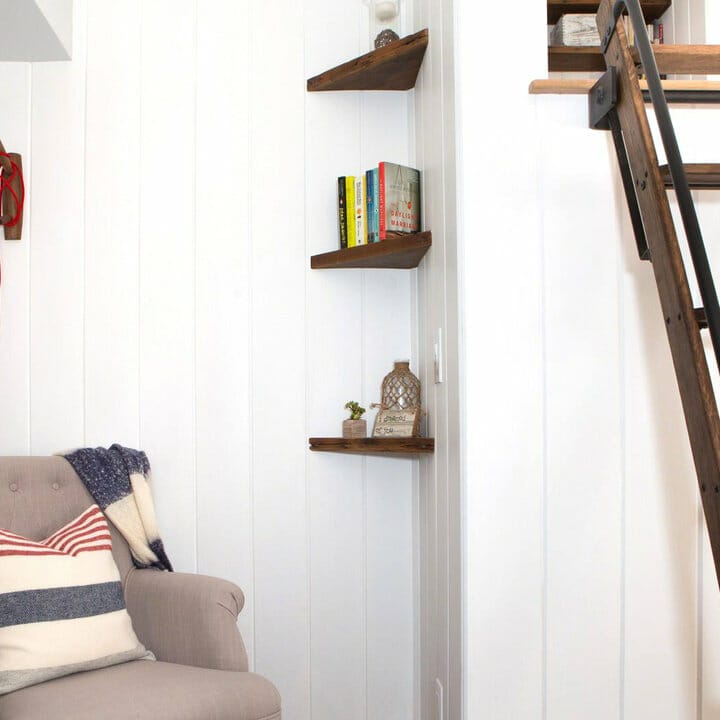 Need floating corner shelf ideas? If so, try purchasing these rich wood triangular corner shelves. Apart from being incredibly stylish, they keep the room toasty and inviting.
These gorgeous wooden floating shelves let the dweller put the otherwise overlooked corner to great use. Furthermore, because of their strict lines, the interior feels modern.
Here, dark wood corner shelves clash with crisp white vertical paneled walls. In addition, the jute-covered vase and jute ball adorn them while developing a nautical ambiance.
3. Freestanding Corner Shelf Ideas for Powder Rooms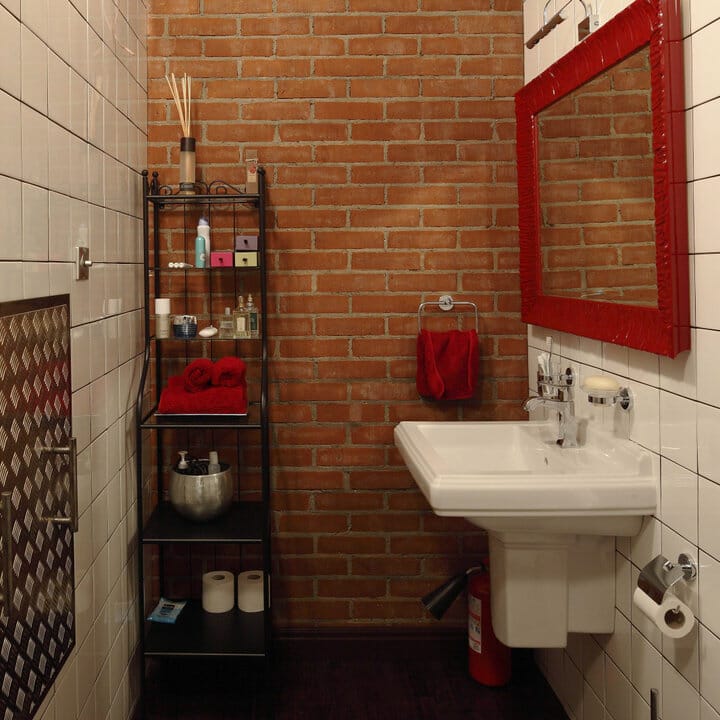 I love this exquisite freestanding iron corner shelf. Moreover, it's such an incredible display solution for a pint-sized powder room. The unit includes tiers of glass and metal, too.
As the photo shows, the metal corner shelf holds toilet paper rolls, red rolled towels, and self-care products. Additionally, the ornate details lend it an air of classic elegance.
This black freestanding corner shelf imbues the powder room with drama. Furthermore, the exposed orange brick wall poses as a cool yet rustic backdrop for it.
4. Handmade Floating Corner Shelves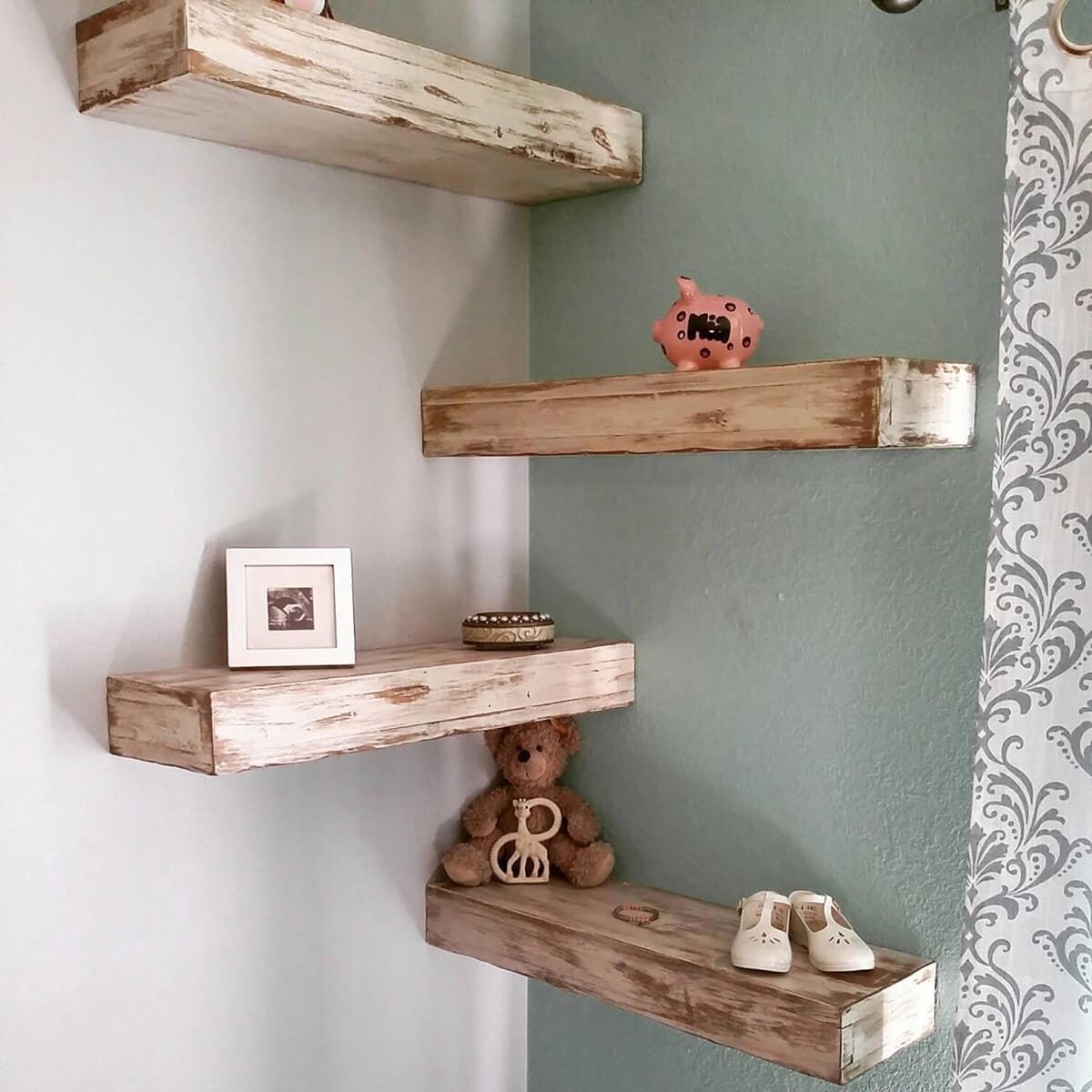 The homeowner made these floating reclaimed wood shelves herself. Also, she gave them a distressed finish for a rustic atmosphere.
Here, the dweller mounted her DIY corner shelves to the walls in an alternating manner. They keep the room appealing and airy, too. In addition, the pieces inject a shabby chic flavor into the interior in seconds.
Rustic corner shelves display cute decorations such as a piggy bank, stuffed animal, a photograph, and baby's shoes. Moreover, pastel gray and pure white walls accentuate them well.
5. Curved Ladder-Style Corner Shelf Ideas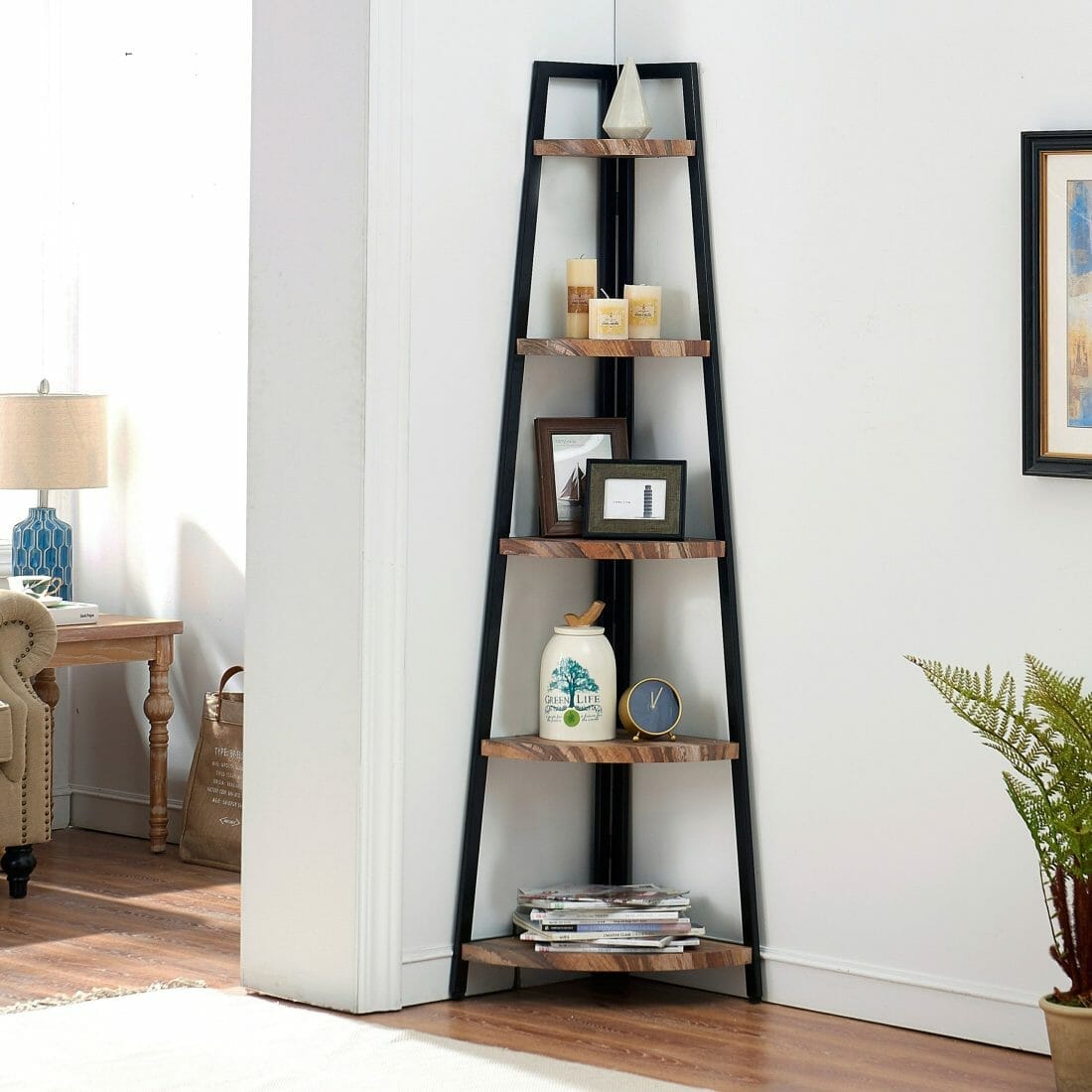 Speaking of modern corner shelf designs, give this furniture unit a chance. As you see, it appears very sophisticated.
Varying sizes of tiers provide splendid wood grains. The iron frame lets the ladder-inspired corner shelf fit into different styling options, from industrial to modern.
This 5-tier freestanding corner shelf is surely a fabulous DIY solution since you can assemble it with ease.
Since the corner shelf's feet are easy to adjust, it's suitable for unlevel floors. Due to its fantastic sturdiness, the unit can excellently showcase a golden alarm clock, a white jar, candles, framed artworks, and treasured books.
6. Sleek Metal Corner Shelf
Talking about corner shelf ideas, this piece deserves a try. Here, the simple steel corner shelf makes the most of the pint-sized apartment bedroom.
The metal wall-hung corner shelf employs clean lines and hard edges for an urban feel. Furthermore, it's an ideal complement to any modern industrial bedroom for sure.
Due to white walls, the steel corner shelf seems more visible. Moreover, it holds a vintage amplifier and streamlined storage boxes. The red chair and rich wood desk absorb the unit's coldness.
7. L-Shaped Corner Shelf Ideas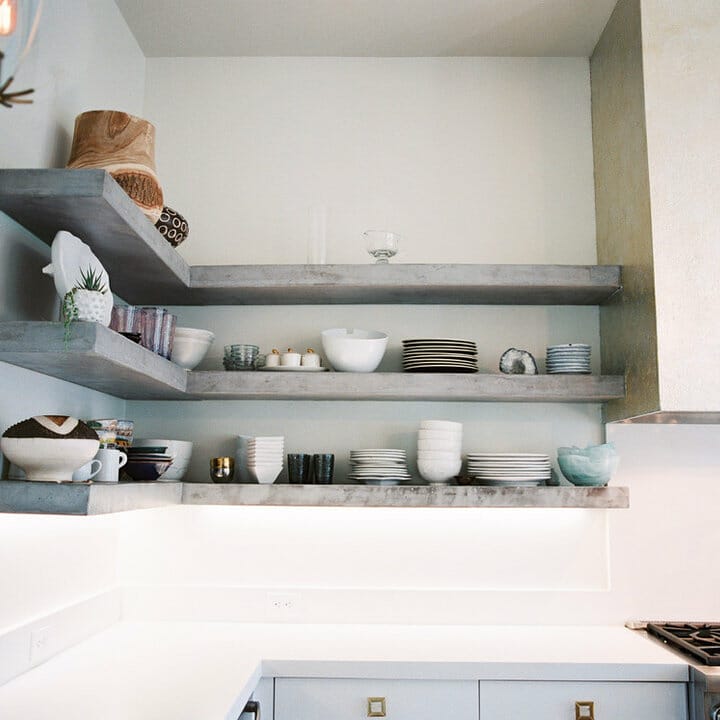 Need corner shelf ideas for kitchens? If yes, copy this cooking area's look. Here, polished concrete L-shaped shelves keep the corner from becoming neglected. In addition, they infuse an  urban touch into the interior.
These L-shaped floating corner shelves maintain the kitchen's airiness. Apart from delivering personality, they let you create crucial storage space. Moreover, bright white walls call attention to them.
As the picture shows, L-shaped corner shelves house drinking glasses, stacked dinner plates, and bowls. Also, metallic and soft blue accents spruce them up. Meanwhile, the tiny plant makes the cooking space seem a bit lively.
8. Built-In Corner Shelves for Kitchens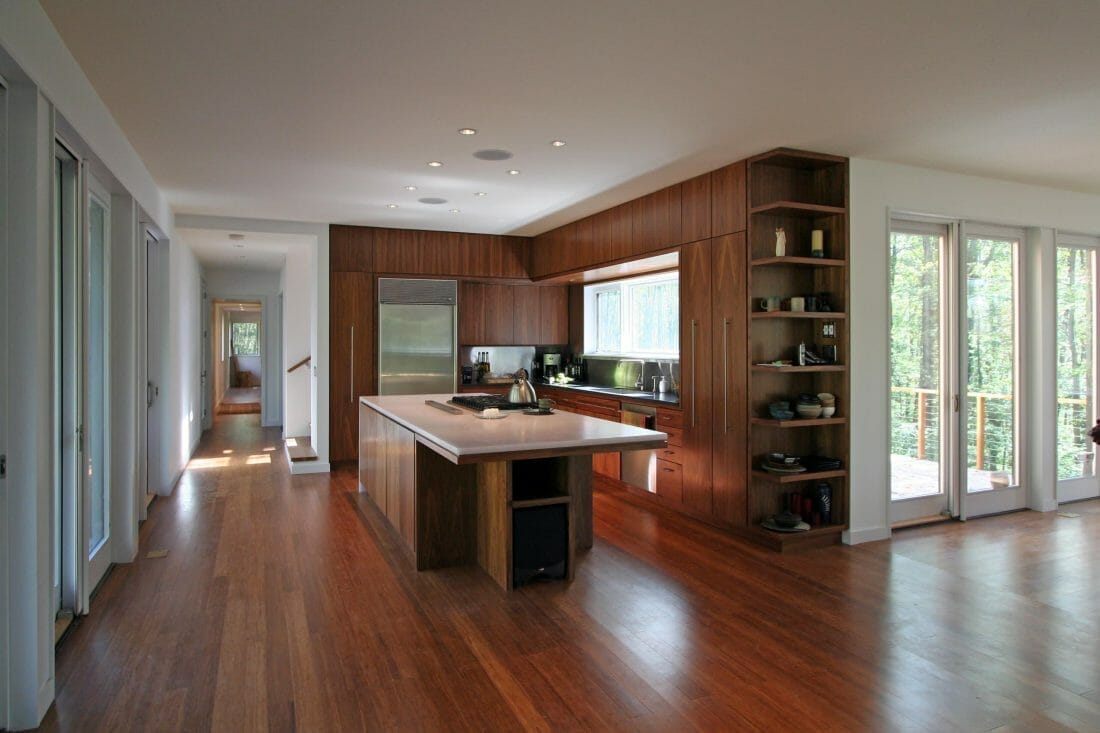 Talking about corner shelf ideas, try implementing this mesmerizing design. Built-in wooden shelves blend seamlessly with streamlined cabinets.
Due to open corner shelves, the culinary space gets more trendy. Furthermore, they give the kitchen personality and organic warmth.
Here, sleek wooden corner shelves contrast with the white paint. In addition to displaying small ornaments, they keep the kitchen from feeling too heavy. Because of them, the interior seems toasty.
9. Corner Shelf Stand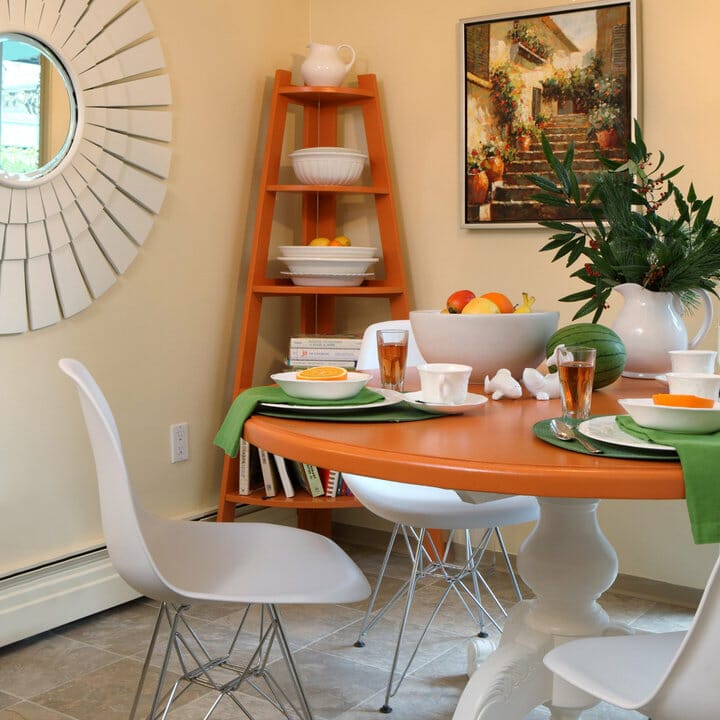 Don't you swoon over this freestanding corner bookshelf? Moreover, it boasts 5 tiers in varying sizes with curved fronts.
The corner shelf stand embraces a modern aesthetic. In addition, the piece perfectly accommodates the dwellers' clean white tableware and books.
This freestanding bright orange bookshelf accompanies the round tabletop. Furthermore, it injects some cheer while being a focal point due to the cream backdrop. Additionally, the unit directs the eye to the bodacious painting.
10. Blonde Wooden Corner Shelf Ideas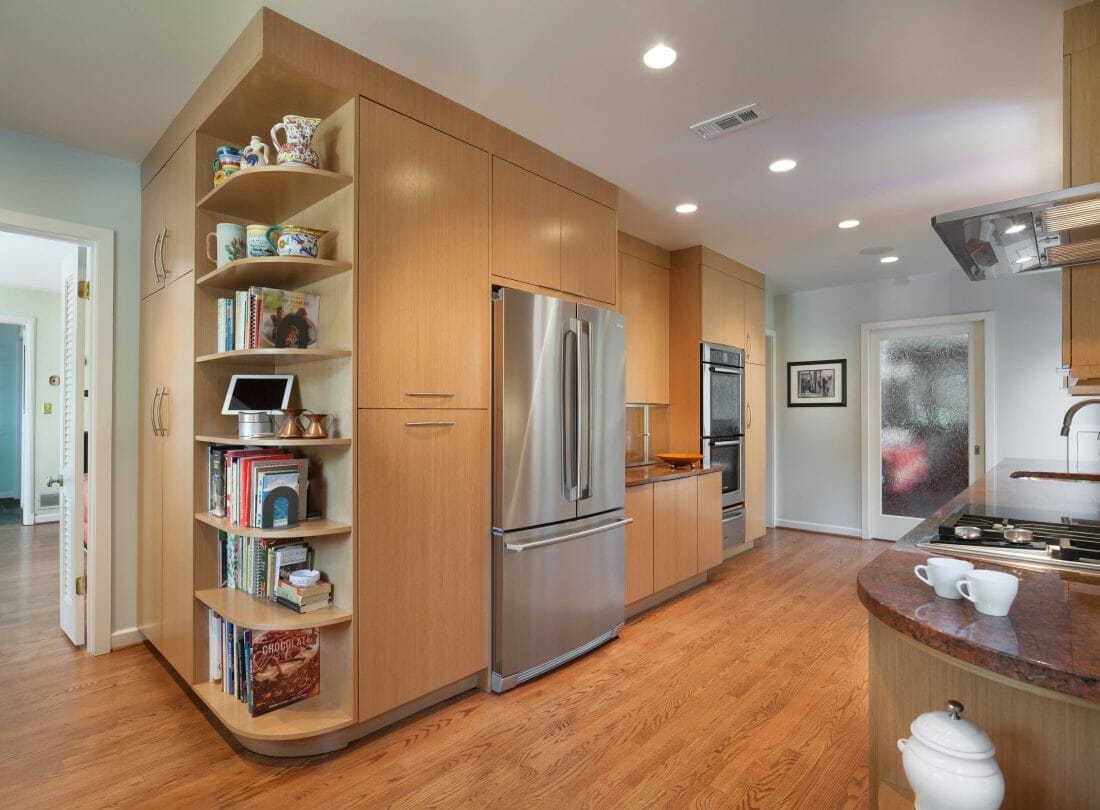 This rounded corner shelf offers a super stylish look. In addition, it softens the kitchen with lots of strict lines as well as sharp edges from the cabinetry and appliances.
Apart from becoming marvelous, this ceiling-to-floor corner shelf is an astonishing complement to contemporary and modern kitchens. It includes 7 chic tiers, too.
The built-in blonde wooden corner shelf absorbs silver stainless steels' coldness. Moreover, it holds copper ornaments, books, and striking jugs.
11. Corner Shelf Ideas for Dining Rooms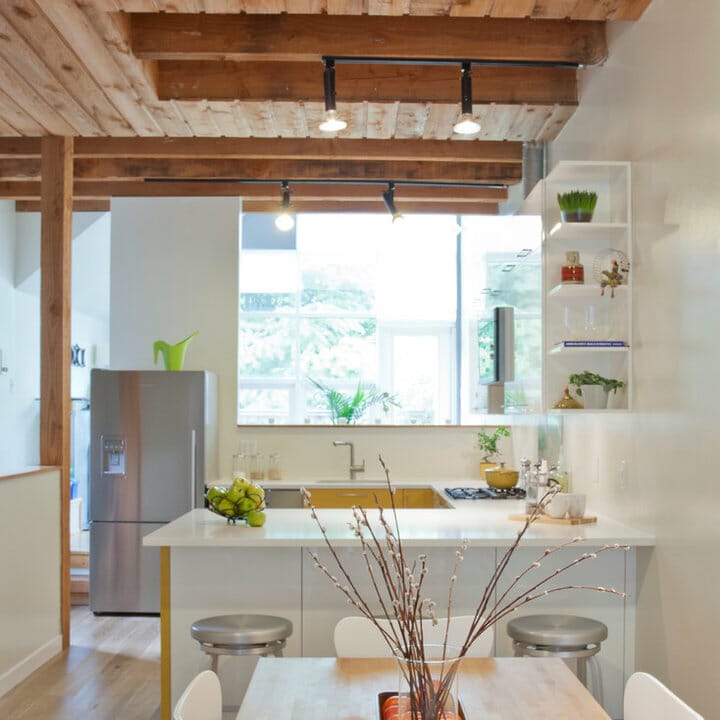 I love this crisp white corner shelf. The homeowner attached it to the side of the upper cabinetry. Furthermore, the unit is ideal for both display and storage purposes.
The corner shelf employs 5 tiers. Due to its clean white color, the piece mingles with the kitchen wall and countertop seamlessly.
Because of its sleek lines, this wall-mounted corner shelf gives the whole kitchen a modern aesthetic. Moreover, it enables the accessories to sing. Meanwhile, wooden and yellow surfaces balance the unit's coldness out.
12. White and Wood Corner Bookshelf Ideas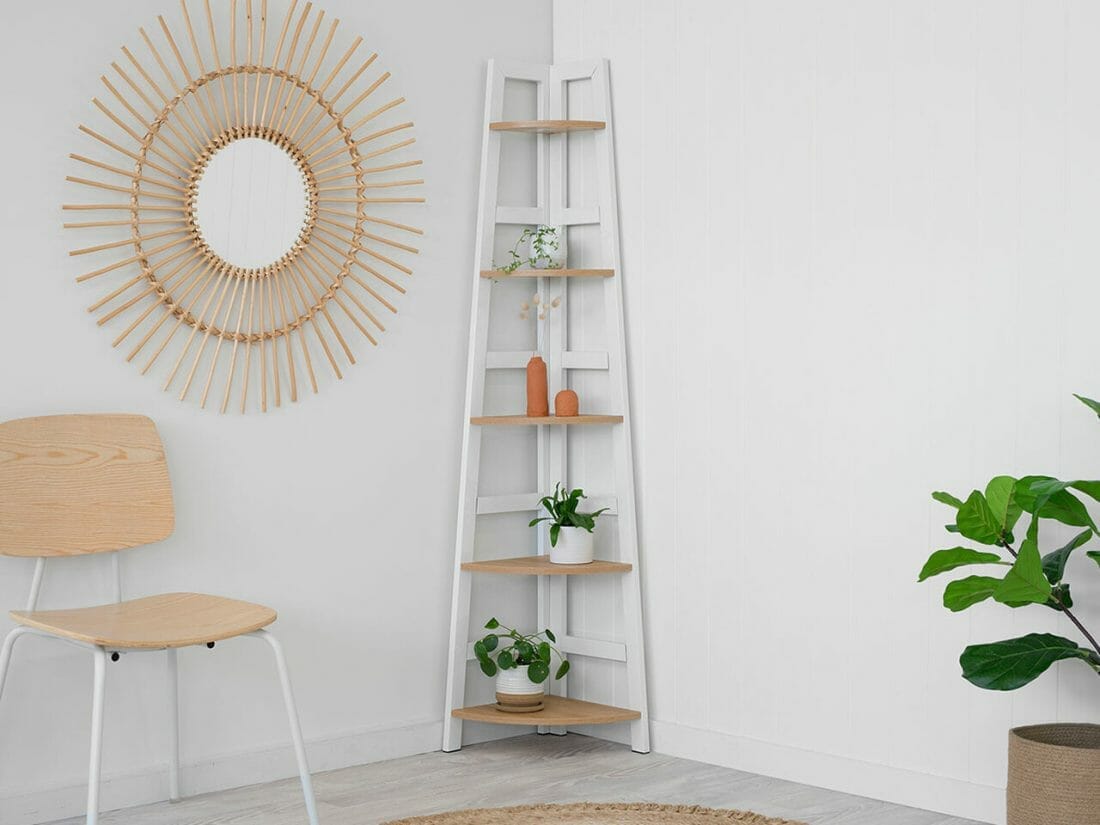 I can't help but want this ladder corner bookshelf. Not only does it inspire openness but also develops a seamless look due to the stark white paint.
Natural wooden tiers lend the corner bookshelf a modern boho vibe and an elegant touch. Moreover, their curved front offers a modern atmosphere.
Here, the corner bookshelf displays minimalist terracotta ornaments and potted houseplants. Furthermore, it accompanies the bohemian bamboo mirror and two-tone chair.
13. Rich Wood Wall-Hung Corner Shelf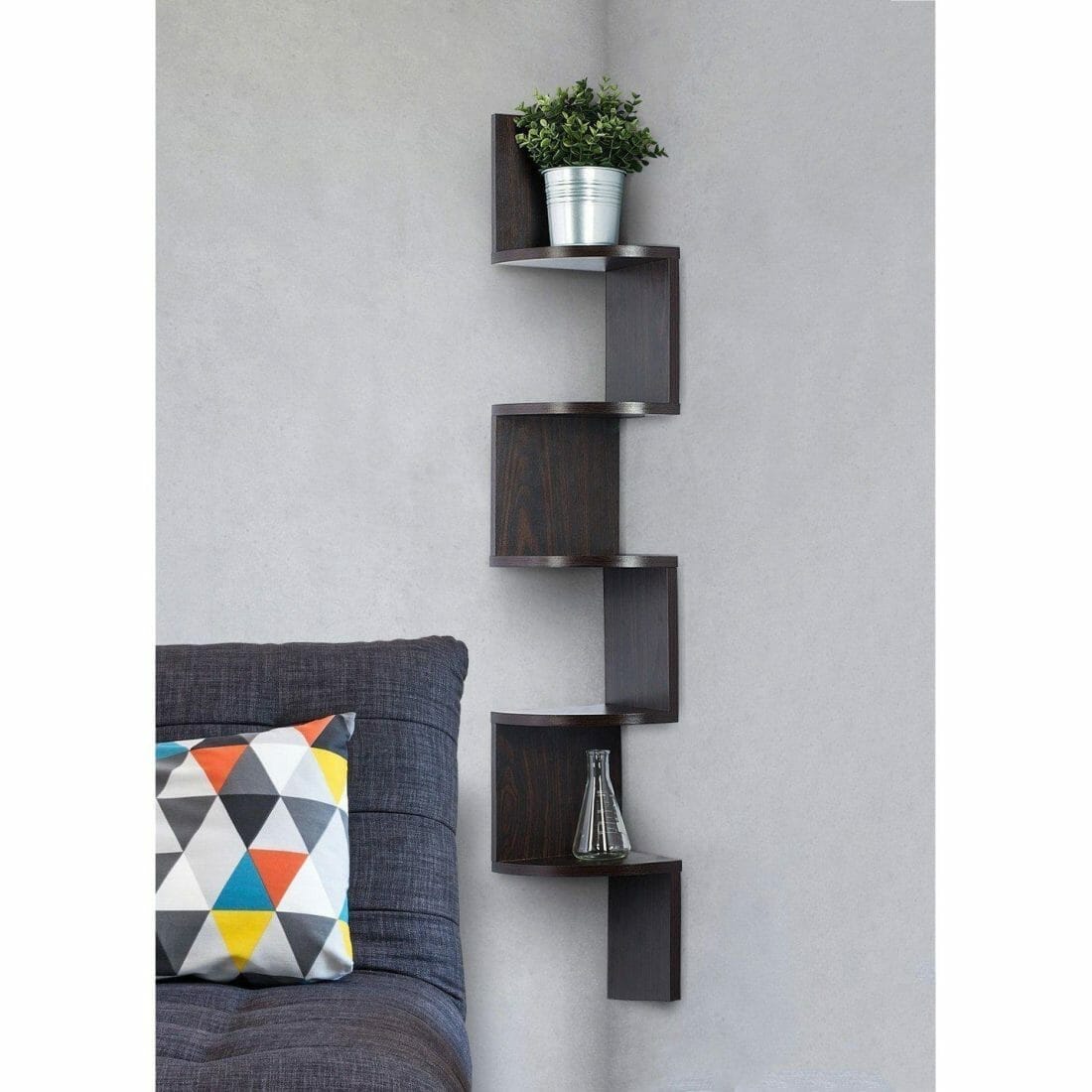 This dark-toned wooden corner shelf is simply superb. Despite its rich tone, it still displays terrific wood grains really well. Just use removable hanging strips to mount the unit.
The installation of this corner bookshelf is easy. Furthermore, it's suitable for accommodating lightweight decorations. Also, the piece features 5 tiers that offer numerous styling options.
Apart from introducing visual interest, the wall-mounted corner bookshelf carves a dramatic statement. The galvanized metal planter and glass lab sit on its tiers. In addition, they generate an urban farmhouse feel.
14. Classic Floating Corner Shelves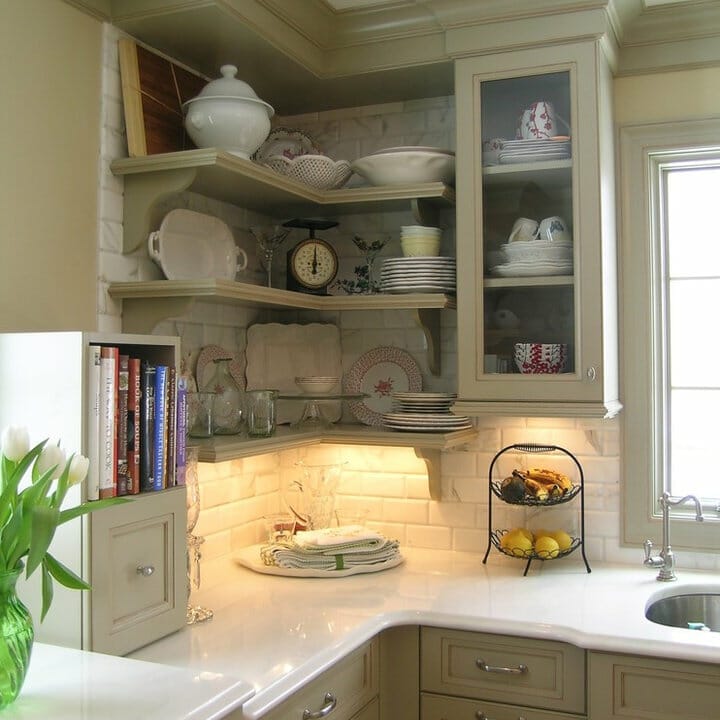 Marble subway tiles inject some timeless glamor. Furthermore, they live peacefully with the white curvy countertop while accentuating muted yellow L-shaped corner shelves.
These corner shelves heighten the kitchen's country flavor. In addition, they ooze an air of old-world elegance. The pieces complement existing cabinets, too.
L-shaped floating corner shelves hold stacks of classic bowls and plates. Also, there are a dessert stand, an antique kitchen scale, and drinking glasses. Lastly, the accent lighting infuses a tranquil vibe due to its soft glow.
15. Diamond-Inspired Corner Shelf Ideas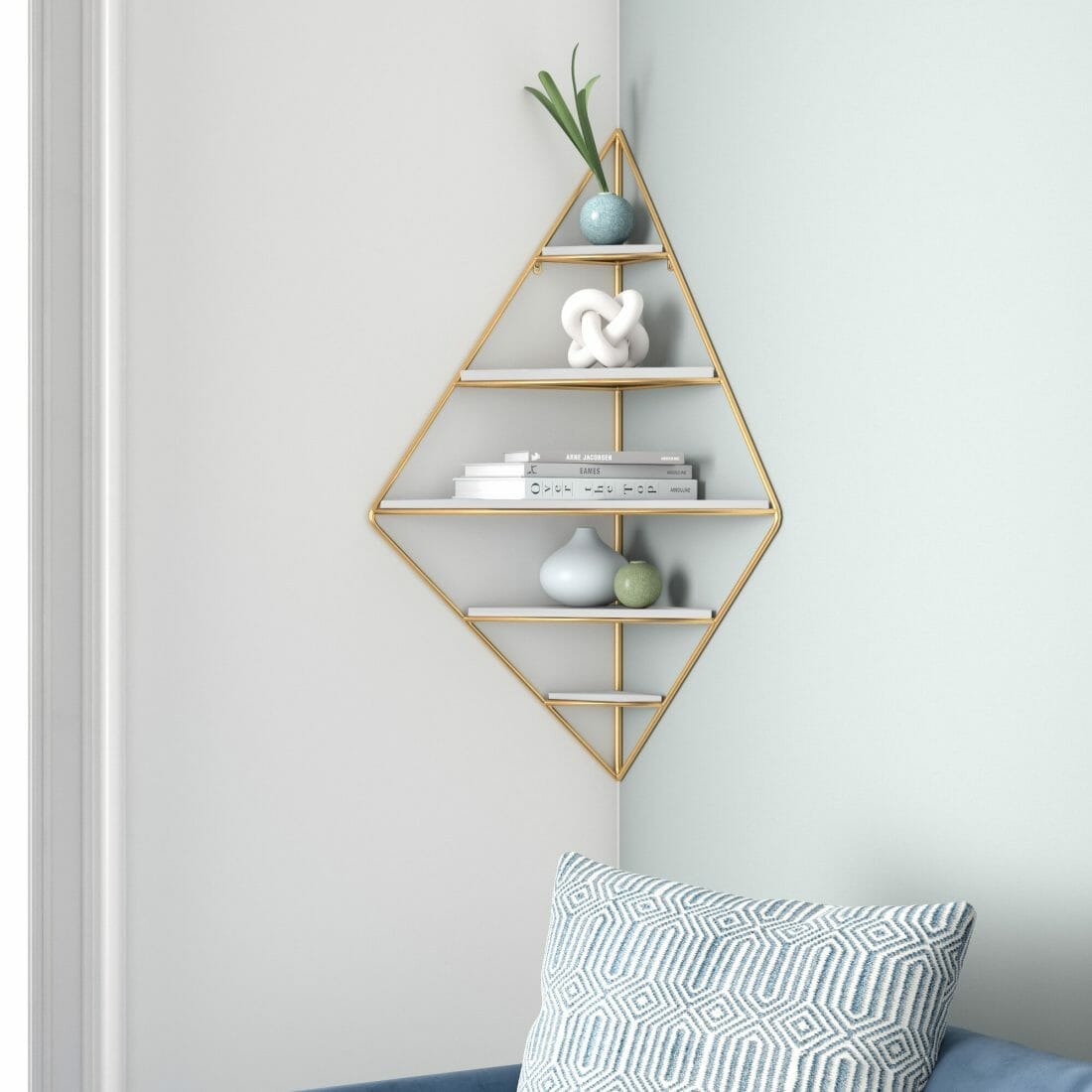 Need impressive corner shelf ideas? Give this decorative shelf a chance. Moreover, the graduated unit reminds me of a diamond.
I truly admire the unusual and spectacular design of this corner shelf. Additionally, it employs a polished golden metal frame for an elegant and lavish look.
This wall-hung corner shelf has straight lines that evoke a mid-century modern atmosphere. It displays books and simple ornaments in pastel hues, too.
16. Built-In Rustic Corner Shelf Ideas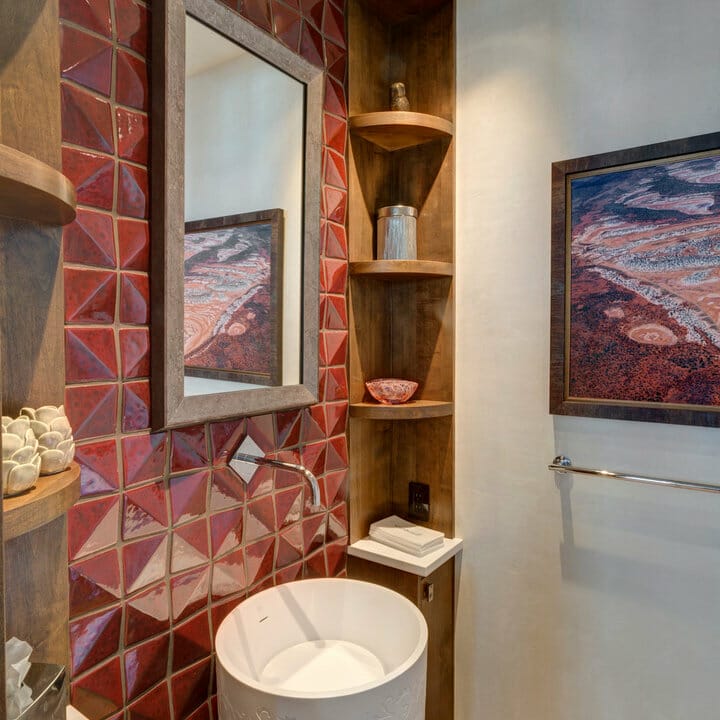 This powder room seems welcoming because of the painting and textured red backsplash. Also, the mirror with a weathered frame makes it bigger.
The space boasts a couple of wooden built-in corner shelves. Moreover, they introduce a rustic look while providing a timeless charm and reliable durability.
These sleek corner shelves combine rectangular shapes and radial curves. In addition, they suit modern and rustic powder rooms.
17. L-Shaped Corner Shelves for Kitchens
Talking about corner shelf ideas, these pieces are worth purchasing. Here, blonde wooden floating shelves keep the contemporary kitchen's corner from being unused.
Apart from being durable, raw wooden corner shelves imbue the cooking area with a rustic appeal. In addition, they house decorative plants, vases, and tableware units.
Monochromatic geometric tiles develop a statement while highlighting raw wooden corner shelves. Lastly, brass and silver accents contribute to the kitchen's sumptuous look.
18. Kitchen Pantry with Corner Shelves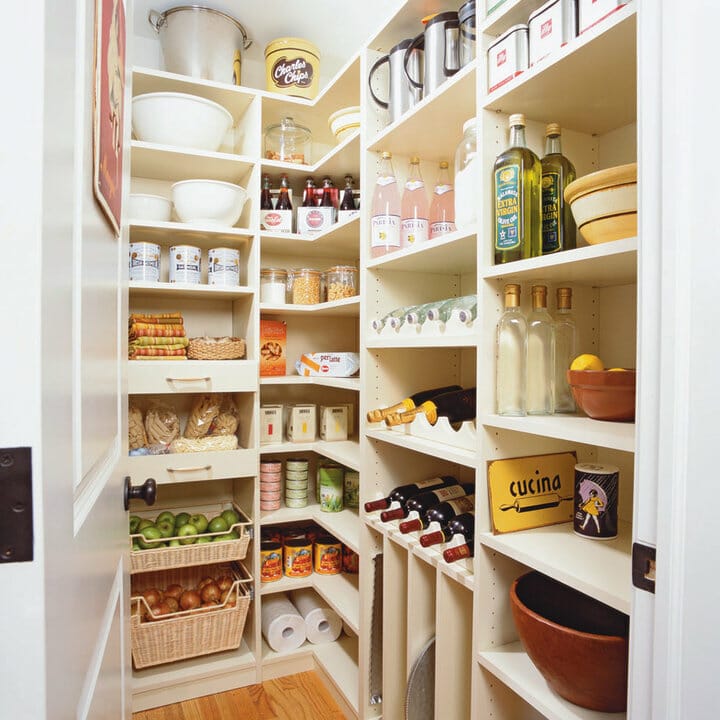 The dweller knows how to optimize her limited space. She furnished it with an almost ceiling-to-floor kitchen pantry with corner shelves. Moreover, the laminate finish carves a sense of glamor effortlessly.
Here, the creamy-white pantry boasts a sleek design. Furthermore, curved drawer pulls make strict lines seem softer. Also, the unit houses a vintage sign, food containers, wicker storage baskets, bottles, and kitchen paper rolls.
19. Wooden Closet with Built-In Corner Shelves
I adore this minimalist but magnificent closet. In addition, it employs white walls and sleek, blonde wooden corner shelves.
Natural wooden corner shelves lend any room both function and style. Furthermore, simple lines and sharp edges maintain their sleek appeal.
These corner shelves look marvelous in any urban or rustic setting. Not only do they provide extra storage space but also contribute to the room's peaceful vibe.
20. Corner Shelf Ideas for Bedrooms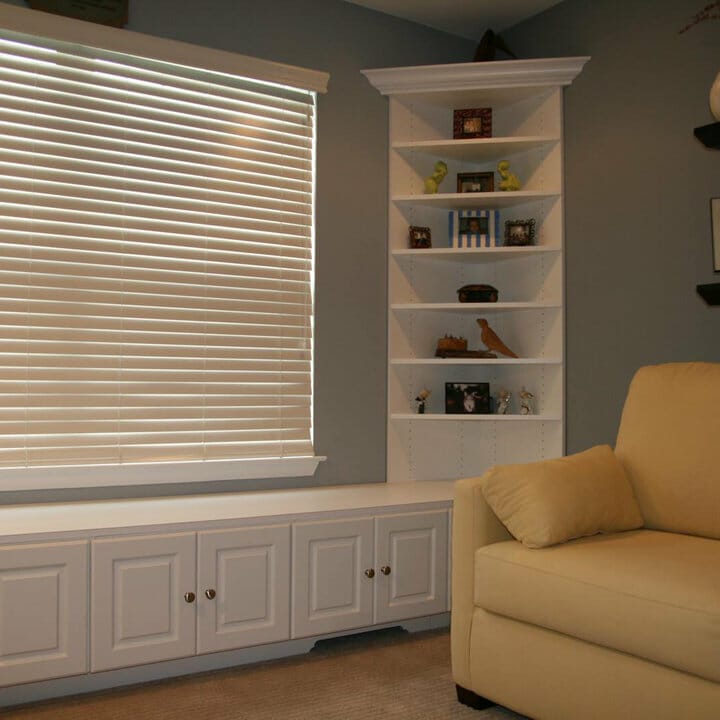 Speaking of corner shelf ideas, you won't go wrong with crisp white paint. Here, the white corner shelf, cabinetry, and trim make the bedroom appear larger and brighter.
These shelves lend the bedroom a custom look. Moreover, the molding element produces a visual interest while generating a classic flair.
Triangular tiers offer a modern appeal. In addition, they accommodate small framed photographs and cute accessories.
21. Black Freestanding Corner Shelf Ideas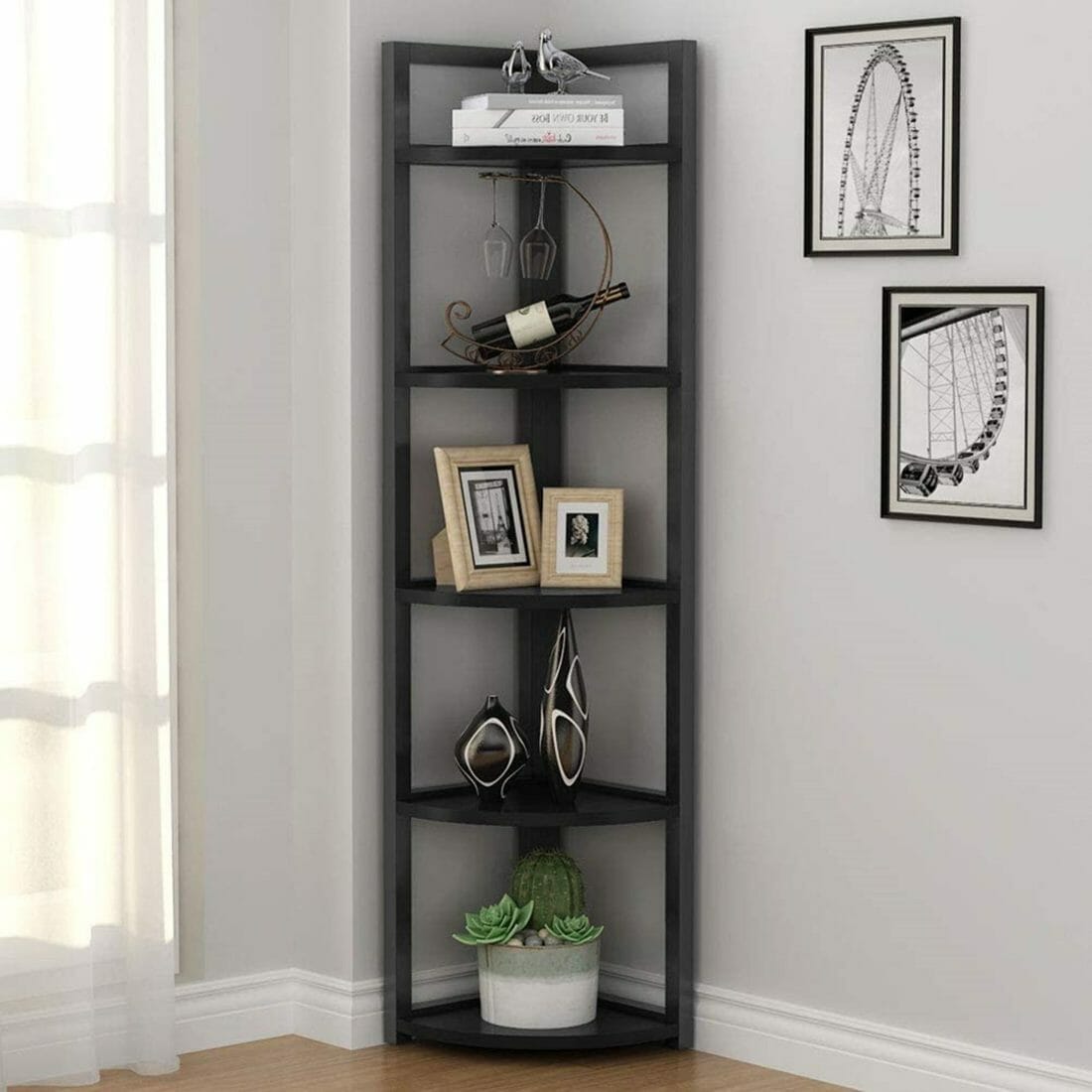 This metal freestanding corner shelf is super chic. Furthermore, it's an outstanding complement to minimalist, modern, and industrial interiors. Also, the curved front lends the unit a sleek aesthetic.
The black corner shelf injects some visual depth into the neutral room. Moreover, five triangular tiers display a potted faux plant, a classic drinking glass holder, stacked books, artworks, and tiny ornaments.
22. Corner Shelf Ideas for Farmhouse Kitchens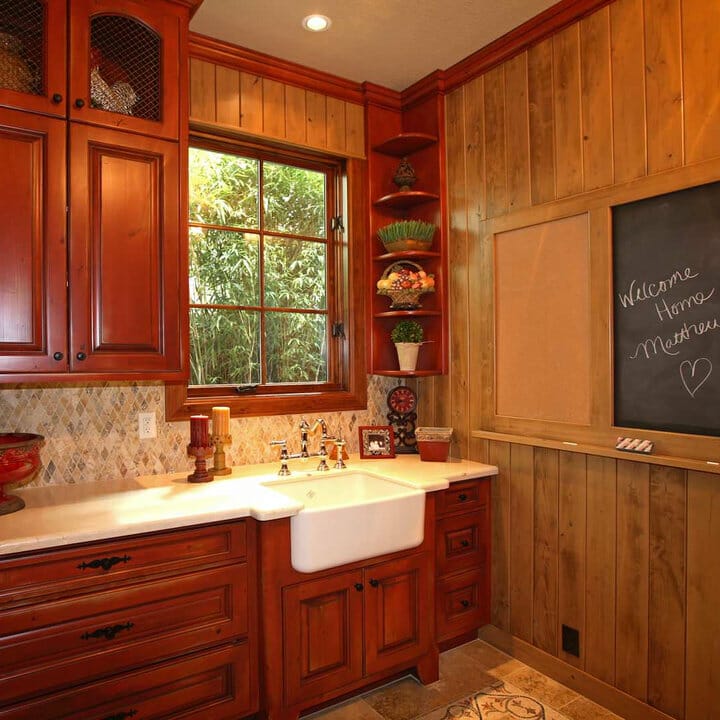 This farmhouse cooking area is welcoming. Additionally, limestone floor tiles and vertical wood planks imbue the space with a natural ambiance.
The homeowner painted her wall-hung corner shelf reddish-brown for a cohesive look. Also, it clashes with the textured white ceiling.
Apart from featuring a molding element, the corner shelf boasts 5 triangular tiers. Moreover, they enable brightly colored decorative pieces to shine.
23. Iron Tiered Corner Shelf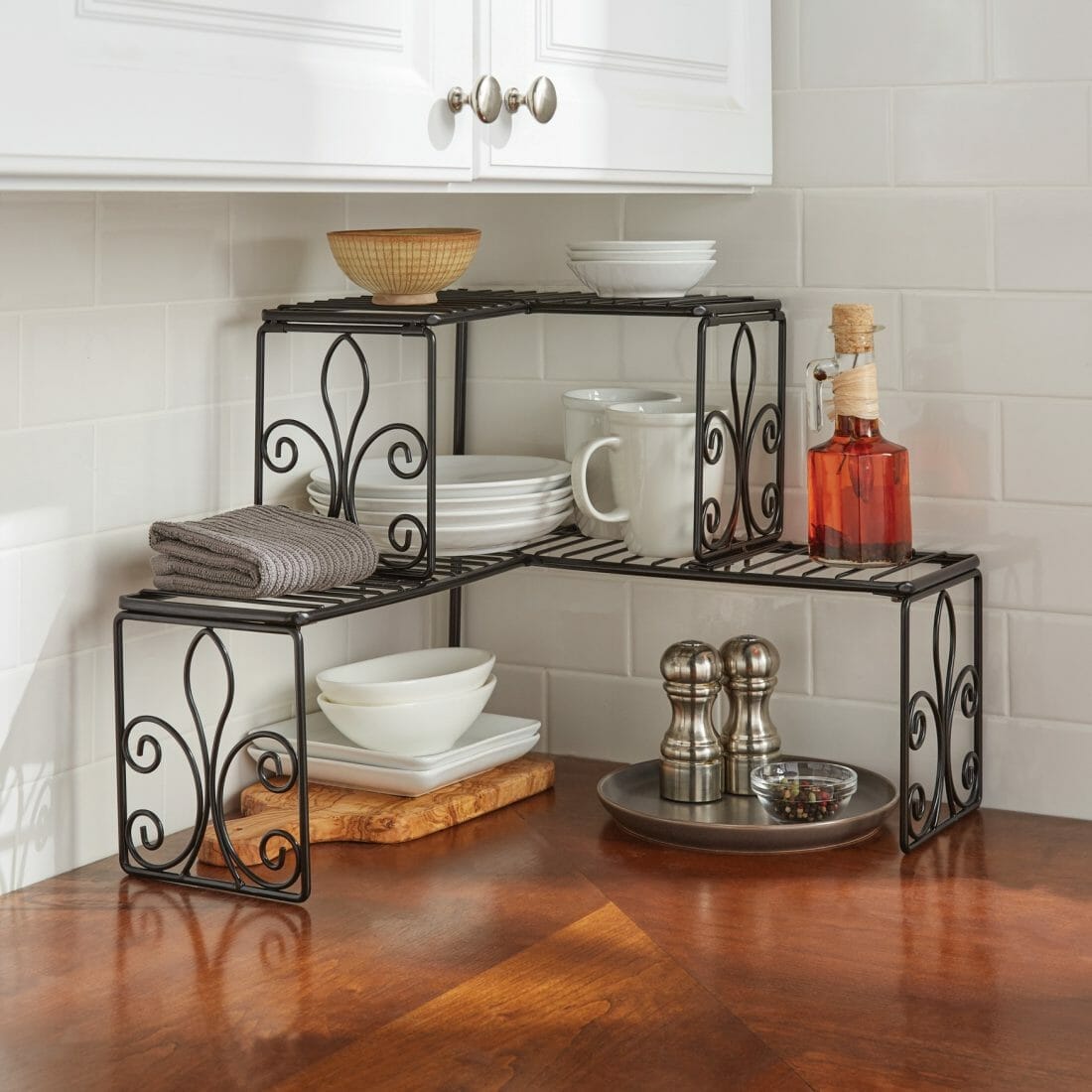 The white grout and subway tiles give the cooking space a seamless and airy look. Due to the rich wood countertop, the otherwise cold kitchen becomes inviting.
There's a wrought-iron tiered corner shelf that contrasts with subway tiles. It gorgeously fills in the visual gaps between the countertop and the top cabinetry. Also, exquisite details lend the kitchen a classic zest.
24. Bedroom Corner Shelves
This teen boy's sleeping space is super airy. Moreover, stark white and blue elements generate a splendid juxtaposition. Additionally, they maintain the room's fresh ambiance.
The brown freestanding corner shelf employs a drawer and a molding element. It holds a few teenage boy toys, too. Furthermore, unpainted wooden tiers and square surfaces offer a rustic feel.
Those corner shelf ideas allow dwellers to utilize their neglected corner wall areas. Moreover, they show that people's imagination is the only limitation. With such abundant options, there must be one idea you can implement.