Many people admire industrial-style sleeping areas due to their sleek aesthetic. Furthermore, they are not only for city apartments and lofts but also homes. If you love something urban and trendy, have a peek at these modern industrial bedroom ideas.
The industrial decor takes cues from warehouse lofts as well as old factories. Moreover, the design normally combines minimalist furnishings with raw materials. In addition, when decorating your bedroom, it should appear airy, cozy, and stylish.
1. Industrial Loft Bedroom with Brick Walls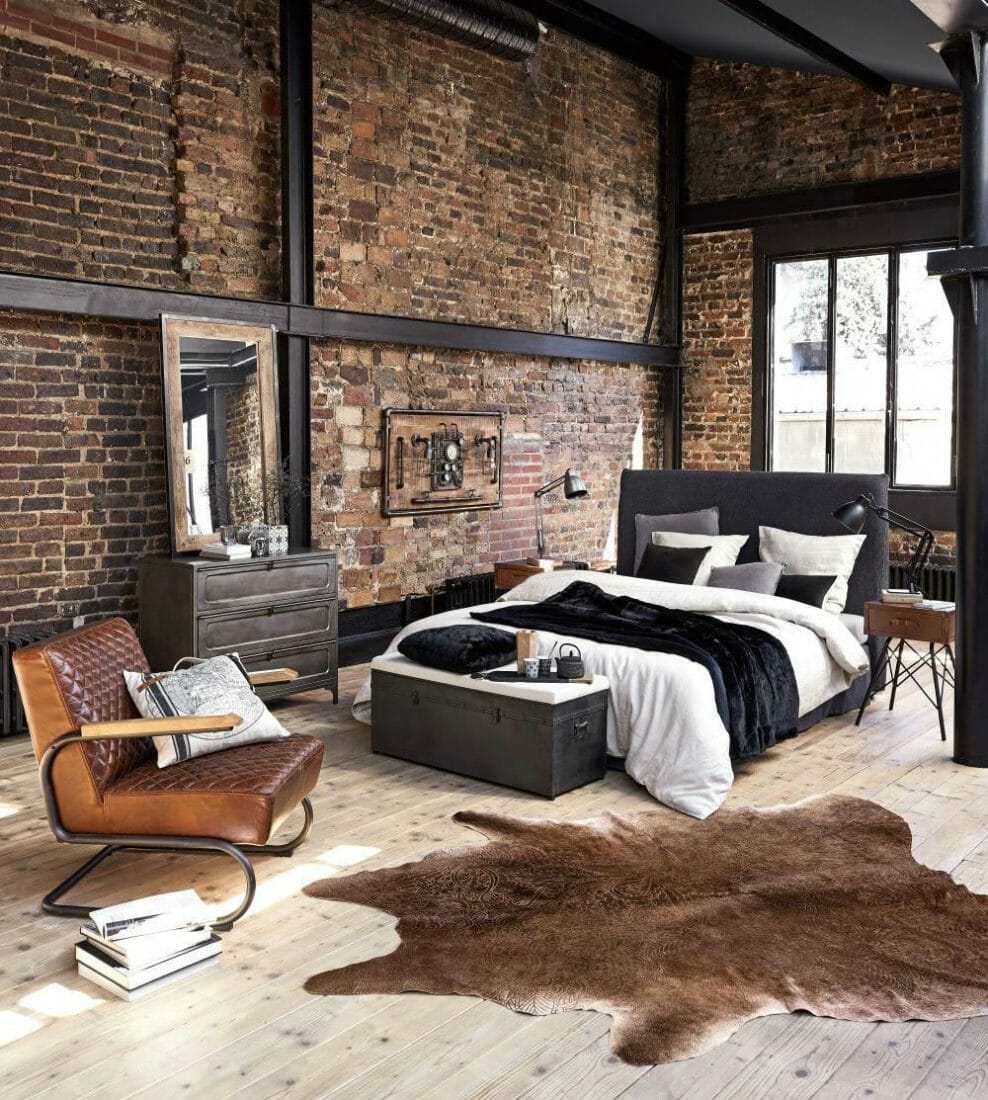 Industrial bedrooms typically show off architectural bones. This sleepy space, for example, employs visible ductwork, ceiling beams, and unpainted brick walls.
The black trim, table lamp, blanket, pillows, and furniture pieces carve an edgy look. Also, the wooden flooring and mirror frame infuse a rustic vibe.
Gray and metal units balance out the warmth of exposed bricks. The industrial bedroom seems airy due to the mirror, stark white bedding, and windows. Moreover, the cowhide rug and geometric leather armchair exude utmost coziness as well as masculinity.
2. Cozy Modern Industrial Bedroom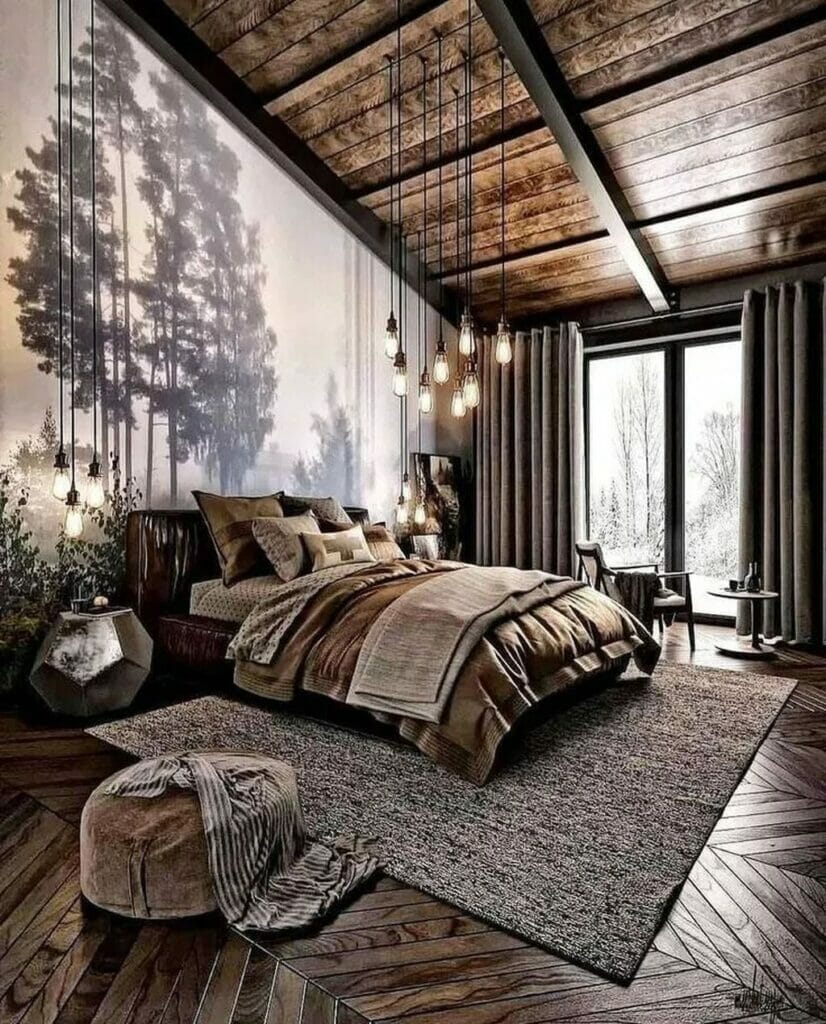 Need modern industrial bedroom ideas? If so, copy the look of this space. The hardwood flooring and wooden ceiling planks lend the interior warmth.
The deep brown leather bed, area rug, and layered bedding produce a comfortable environment. Furthermore, the geometric concrete side table and gray curtains give the sleeping space a visual balance.
Here, the misty woodland mural behaves as a focal point. Moreover, the full-length mirror, armchair, and tiered table embrace a modern appeal. Lastly, string lights carve an industrial look while emitting a serene glow.
3. Modern Industrial Bedroom Furniture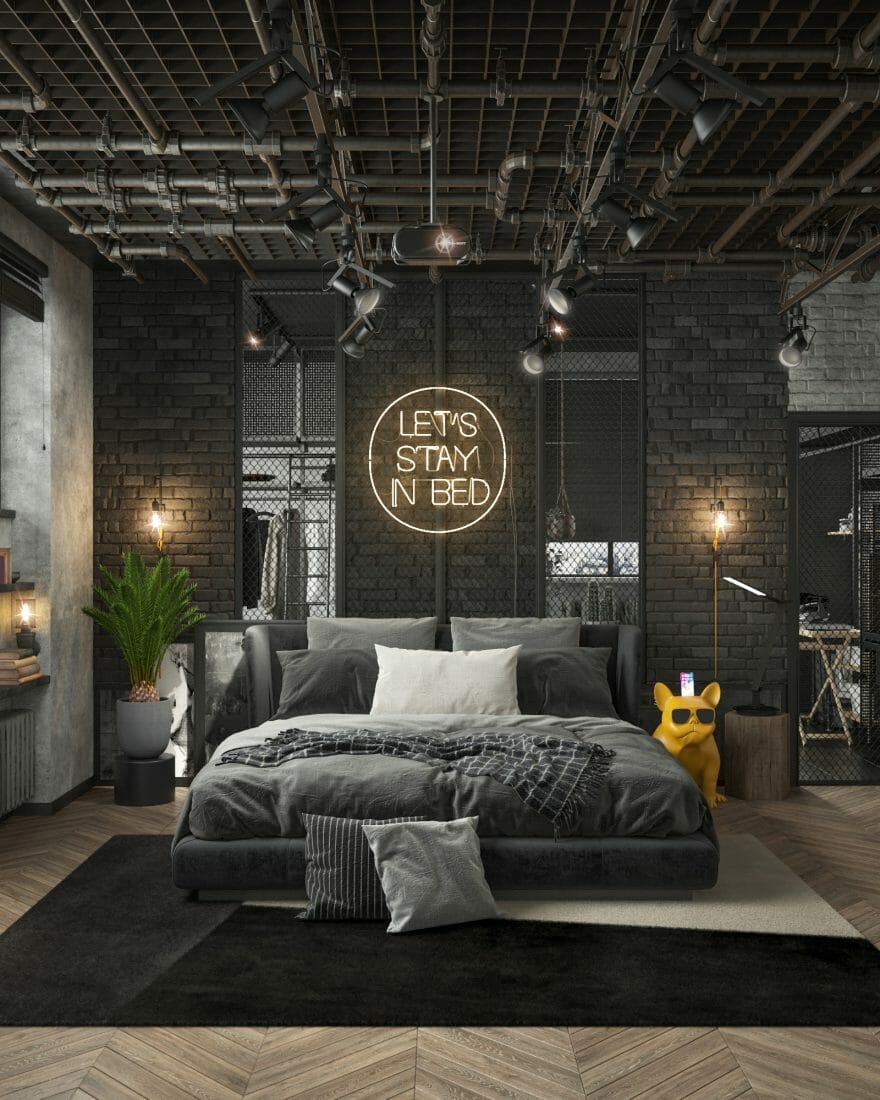 The black brick accent wall inspires visual drama. Moreover, it accentuates the neon sign and sleek floor lamps. Furthermore, the pared-down, comfy bed accommodates a blanket and pillows that supply varying gray shades.
This modern bedroom also employs a concrete planter and wall. In addition, they effortlessly produce an industrial flair.
Books nestle on gray wall-mounted shelves. Furthermore, weathered metal pipes and light fixtures reinforce the industrial flavor. Also, the greenery and yellow Bluetooth bulldog speaker enliven the interior.
4. Modern Industrial Bedroom with A Fireplace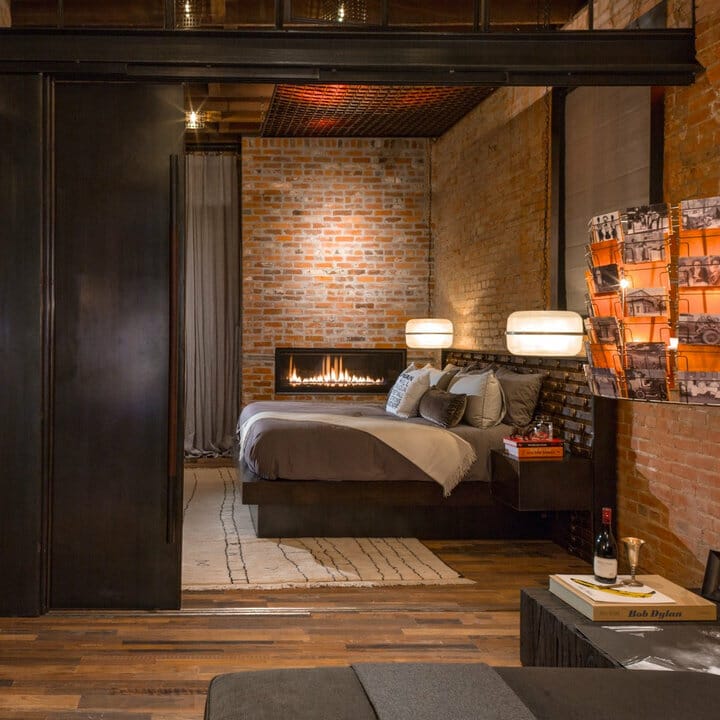 This modern bedroom seems trendy because of the black sliding door, bed, and electric fireplace. In addition, exposed beams and unpainted bricks instill an industrial vibe.
Different widths and tones of wooden planks make a rustic yet flooring. Moreover, the gray bedding, throw blanket, and curtains keep things balanced.
Wall and ceiling lights infuse a soothing glow. Furthermore, the simple rug gives some comfort and warmth underfoot.
The metal photo holder accommodates monochromatic family pictures. Meanwhile, orange accents evoke an air of cheerfulness.
5. Rustic Industrial Bedroom with Modern Touches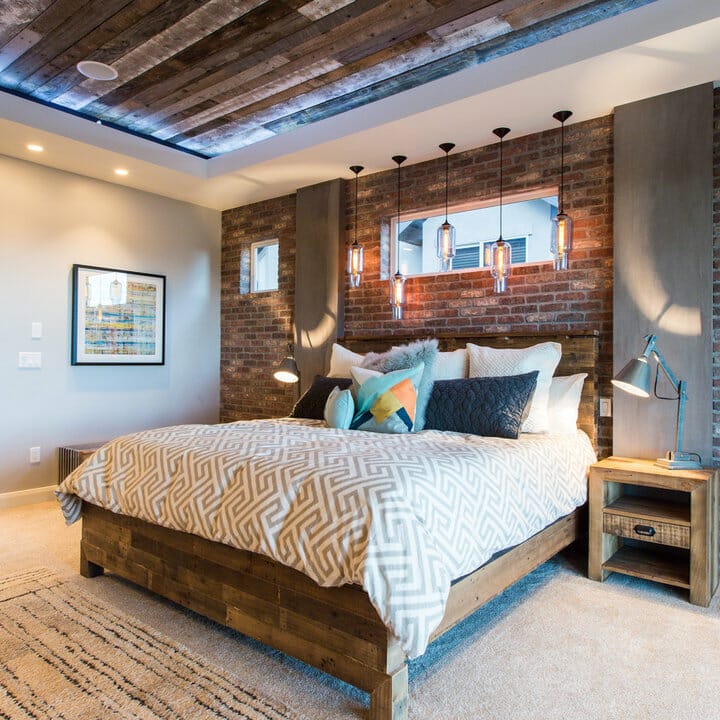 Since there are a pure white ceiling, minimalist windows, and gray walls, this bedroom feels airy. Due to untreated wooden furniture pieces, the interior becomes snuggly.
Overhead is a sleek tray ceiling with reclaimed wood planks. Moreover, varying heights of glass and iron light fixtures lend the bedroom illumination. Also, downlights and metal table lamps provide extra lighting.
The artwork behaves as a showstopper. Furthermore, the gray carpet, patterned comforter, monochromatic rug, and various pillows produce a feeling of coziness.
6. Modern Industrial Bedroom with Book Shelves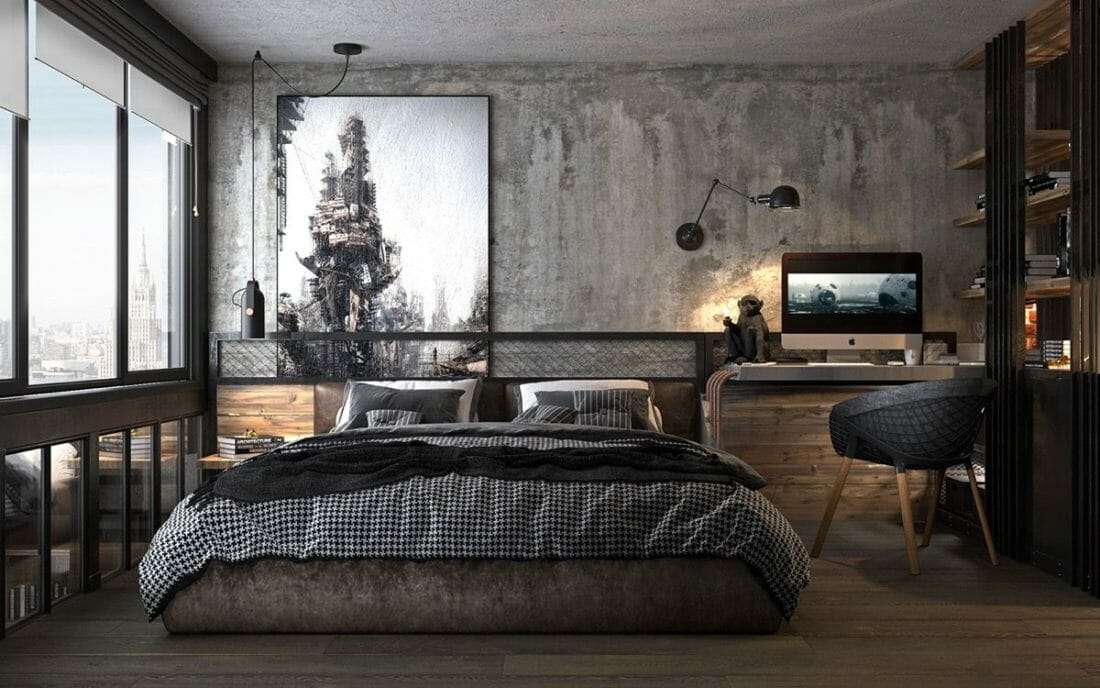 I admire this modern industrial master bedroom. In addition to appearing sophisticated, it seems restful as well as cozy. Also, there's an oversized artwork that catches the eye.
The concrete wall and ceiling lend the sleeping space an urban appeal. Furthermore, the wooden panel and flooring excellently mingle with the rich brown leather headboard.
Iron light fixtures and window frames give off a dramatic statement. Moreover, the patterned monochromatic bedding adds interest while fitting with industrial-style pieces.
The curved armchair boasts wooden legs for a balanced look. Lastly, floating shelves hold the dweller's books.
7. Industrial Style Interior Design for Bedrooms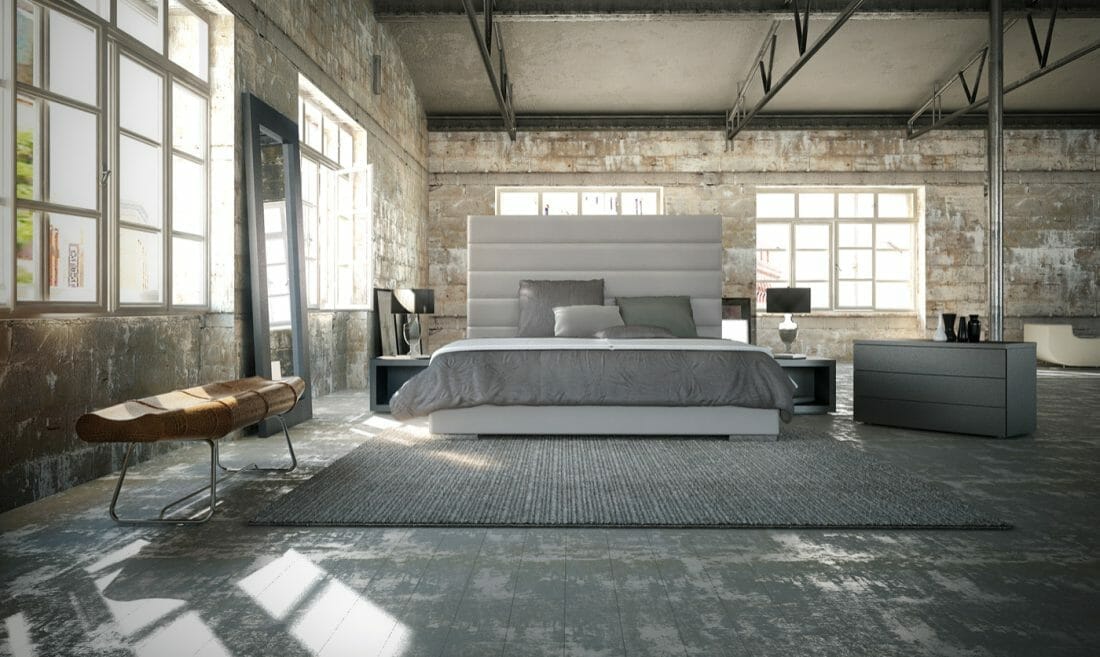 This modern sleeping area is not only expansive but also airy and chic. Moreover, exposed steel beams and weathered stone bricks contribute to its industrial flair.
The streamlined bed, dresser, and nightstands boast strict lines for an air of stylishness. Because of varying gray tones, the sleeping space doesn't become monotonous.
Windows and different sizes of mirrors keep gloominess at bay. Furthermore, black lampshades and accessories inject visual depth. Meanwhile, the brown leather bench absorbs the gray-painted wooden flooring's coldness.
8. Refined Retreat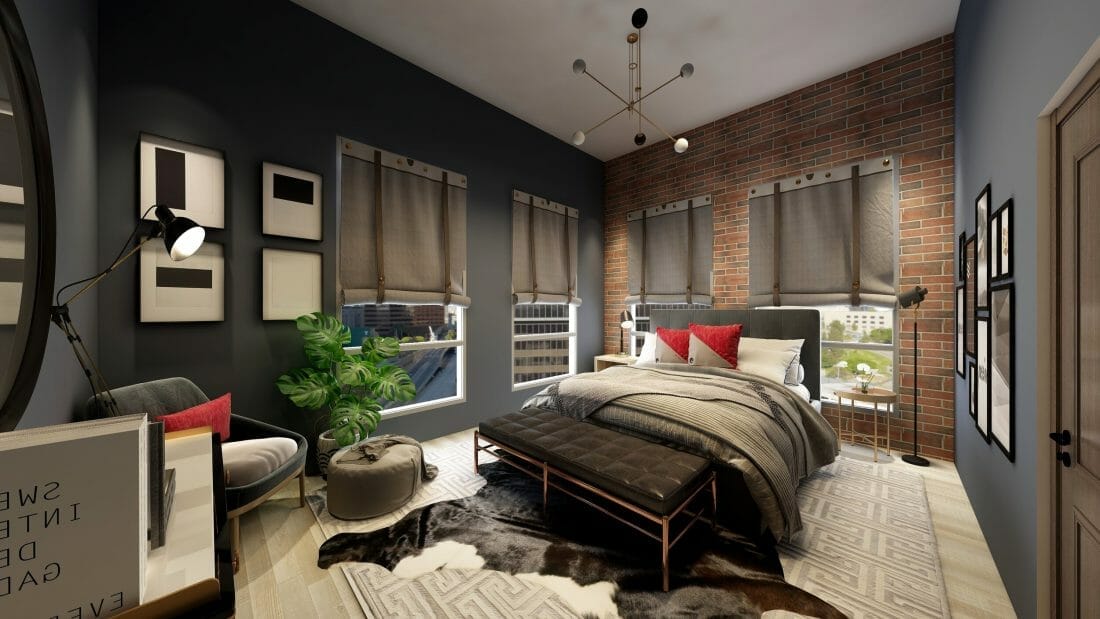 Who doesn't drool over this modern industrial bedroom? The dark gray headboard and walls maintain the interior's sophisticated ambiance.
The brick wallpaper steals the spotlight. Furthermore, linen and leather window shades give the modern sleeping area cozy vibes.
Minimalist artworks employ black frames for a touch of drama. In addition, cowhide and modern Chinese rugs create maximum comfort.
The potted monstera plant oozes fresh energy while softening the sleeping space. Lastly, due to bright red pillows, this industrial-themed bedroom doesn't turn chilly.
9. Cool Modern Industrial Bedroom Design
This sleeping area employs metallic ductwork installations, window frames, and table legs. Apart from infusing some shine, they transport you to the warehouse.
The gray armchair, bedding, shaggy stool, and floor lamp live harmoniously with silver units. Moreover, textured abstract paintings keep solid walls from feeling stark.
Thanks to the wooden ceiling, sliding door, and flooring, this sleeping area becomes homey. Furthermore, the electric fireplace, beige rug, and dried cotton branches complete the industrial look.
10. Industrial Bedroom with A Freestanding Mirror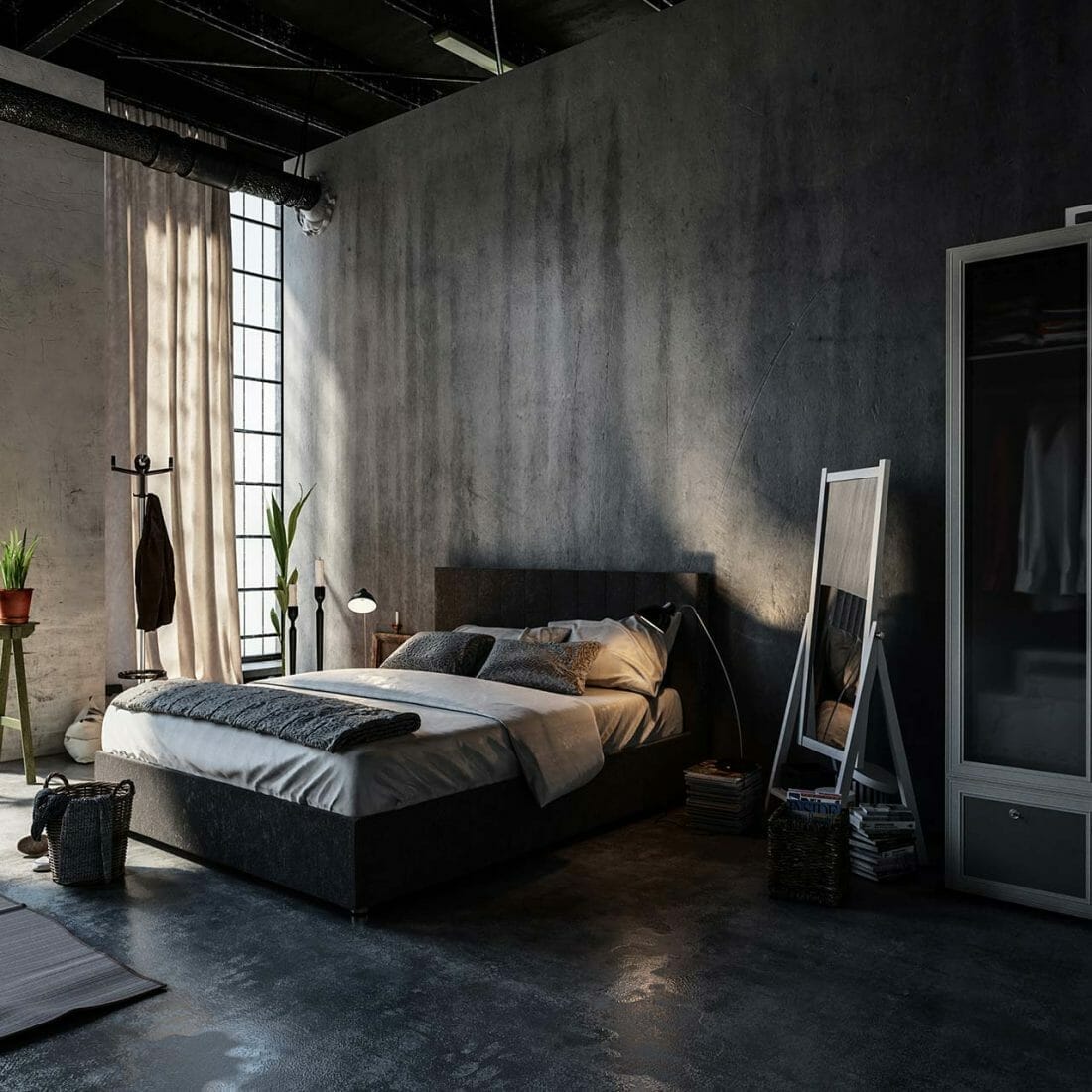 I can't say no to this industrial-style bedroom. Furthermore, the exposed pipe, wires, and concrete surfaces send out an urban aesthetic. Meanwhile, black table lamps carve a soothing atmosphere.
The black bed, coat rack, and candle holders inspire visual depth. Additionally, the freestanding mirror, pale gray bedding, and tall windows keep the industrial bedroom from falling dingy.
The raw wooden plant stand, indoor greenery, and wicker basket deliver natural textures to the urban bedroom. They impart a cozy and lively ambiance, too.
11. Small Industrial Bedroom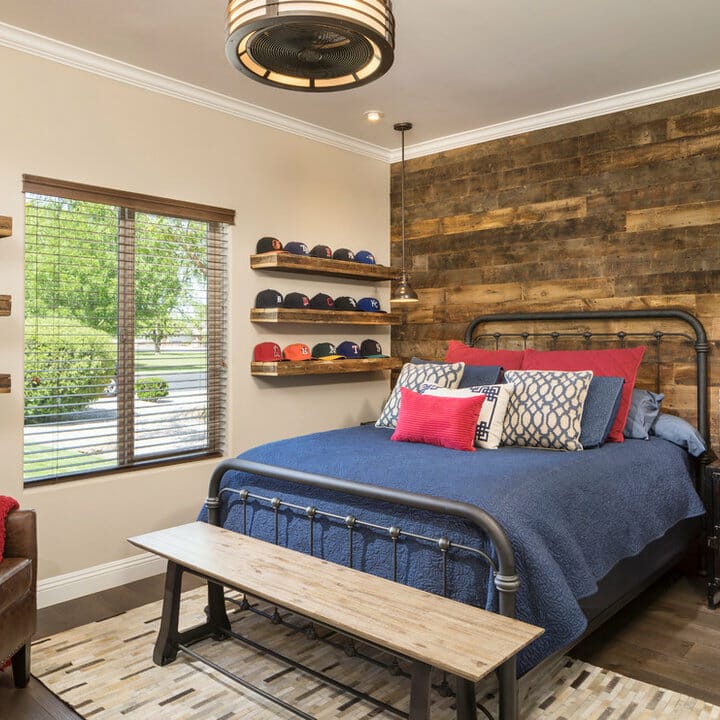 Who says industrial sleeping spaces are always dark? This interior says the opposite. Apart from being open, it's also super airy due to light-toned surfaces and windows.
The feature wall displays repurposed wood planks. Moreover, they clash with the metal pipe bed frame and ceiling light in a fascinating manner.
Muted blue and red accents perk the industrial bedroom up. The area rug mimics the accent wall, while rustic open shelves house the dweller's caps.
12. Modern Industrial Bedroom with Concrete Ceiling Beams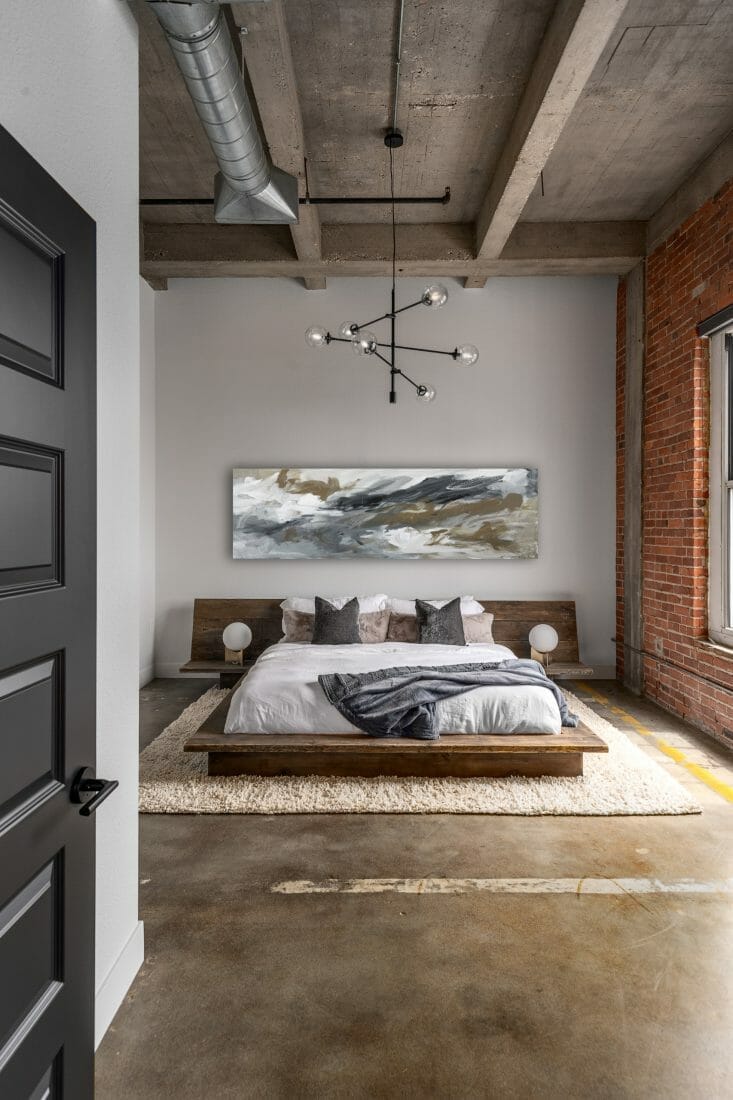 Talking about modern industrial bedrooms, consider pared-down wooden furniture units. Not only do they introduce a rustic ambiance, but also provide a clutter-free aesthetic.
The polished concrete flooring seems cozier due to the beige textured rug. Meanwhile, the black iron ceiling light, visible ductwork, and concrete ceiling beams develop an urban feel.
Red bricks always generate a toasty nuance. Furthermore, the full-width abstract painting lends the interior an artistic touch while exuding cohesion.
13. Industrial Bedroom with A Boho Touch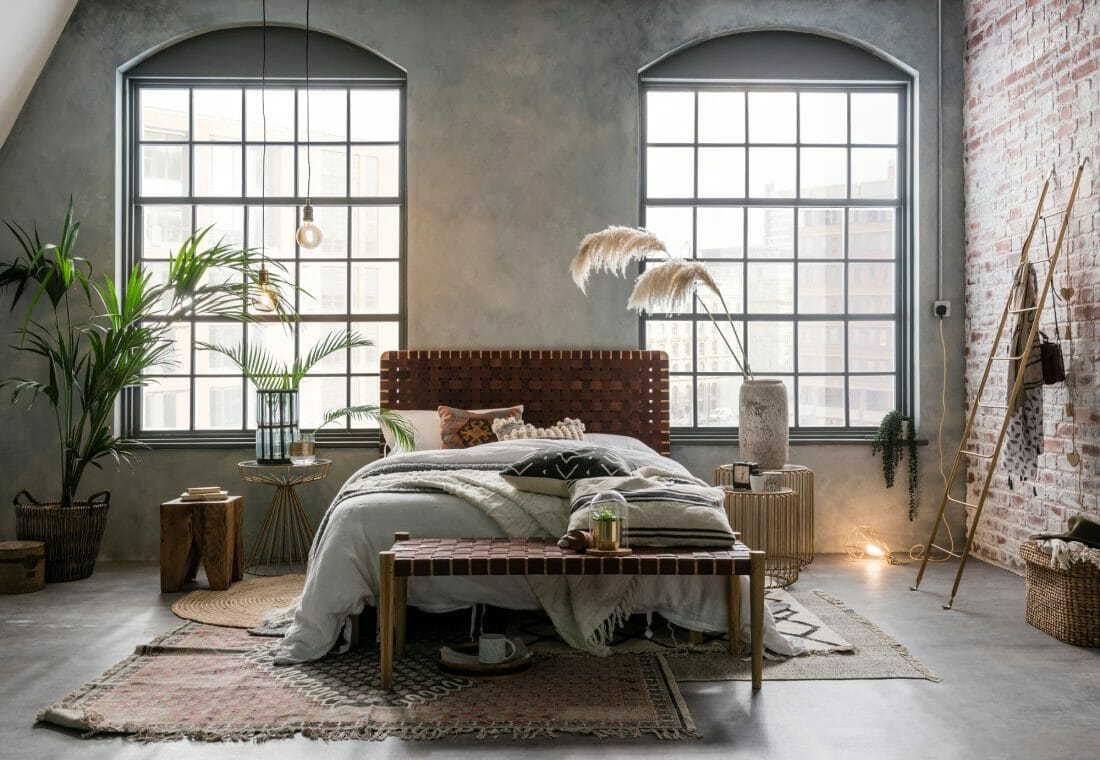 Speaking of modern industrial bedrooms, take inspiration from this urban oasis. The polished, concrete flooring, squared windows, and walls carve an air of sleekness. Moreover, rattan and wicker pieces instill a bohemian flavor.
The woven leather headboard and bench represent glamour. Furthermore, the slim ladder excellently accommodates scarves. Rugs and ostrich feathers soften clean lines. Lastly, palm trees keep the whole scene from appearing lackluster.
14. Industrial Bachelor Bedroom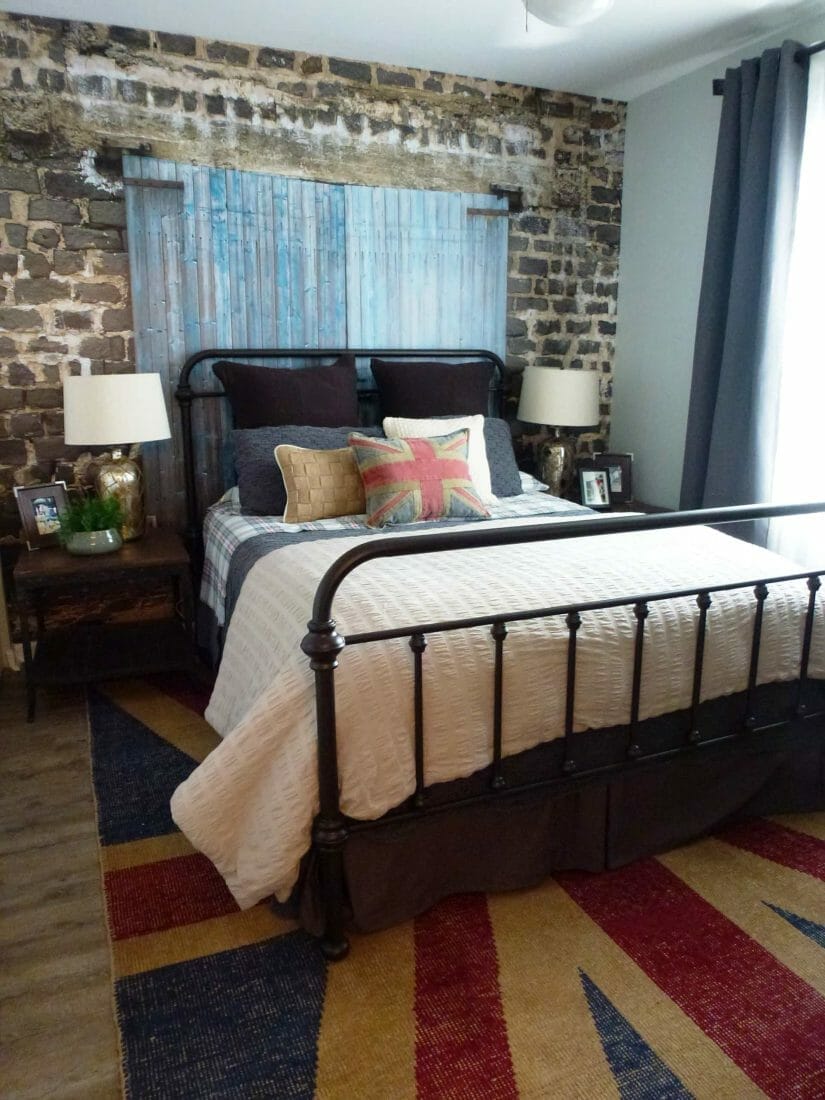 The rugged brick accent wall and weathered wood nightstands give the scene a masculine flair. Furthermore, they ooze a rustic industrial charm.
Because of the iron bed and black pillows, the space obtains visual depth. Additionally, the houseplant and curvy contemporary table lamps offset sharp edges.
The two-tone wood plank headboard, gray wall, and crisp white ceiling brighten the bachelor bedroom up. Meanwhile, the British flag pillow and area rug capture the attention.
15. Modern Industrial Bedroom with Earth Tones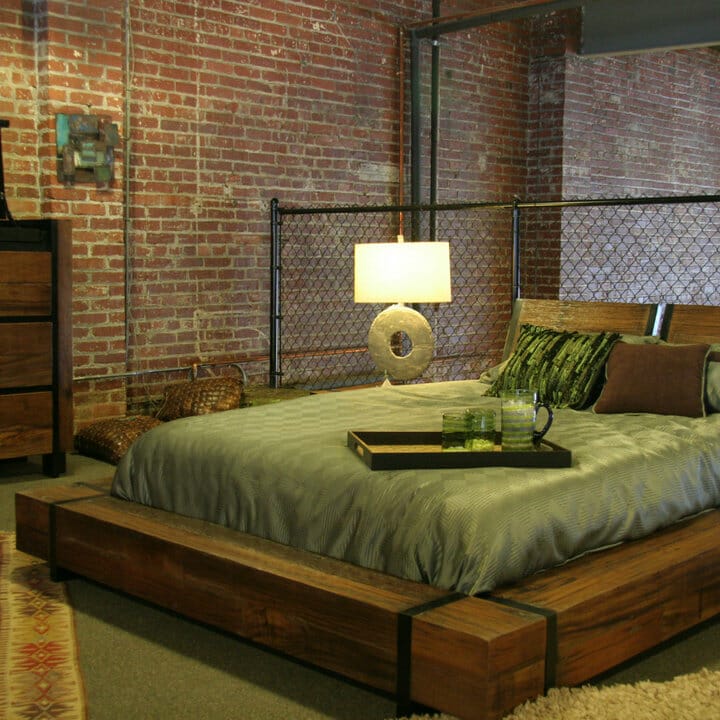 Here, raw brick walls mingle with the iron railing panel perfectly. In addition, they lend this modern sleeping space an industrial appeal.
The platform bed and wooden dresser proudly show off their well-defined lines. Also, they fit excellently into the modern decor. Moreover, the concrete table lamp makes them appear softer, while earth tones on the rug and bedding evoke calmness.
16. Industrial Apartment Bedroom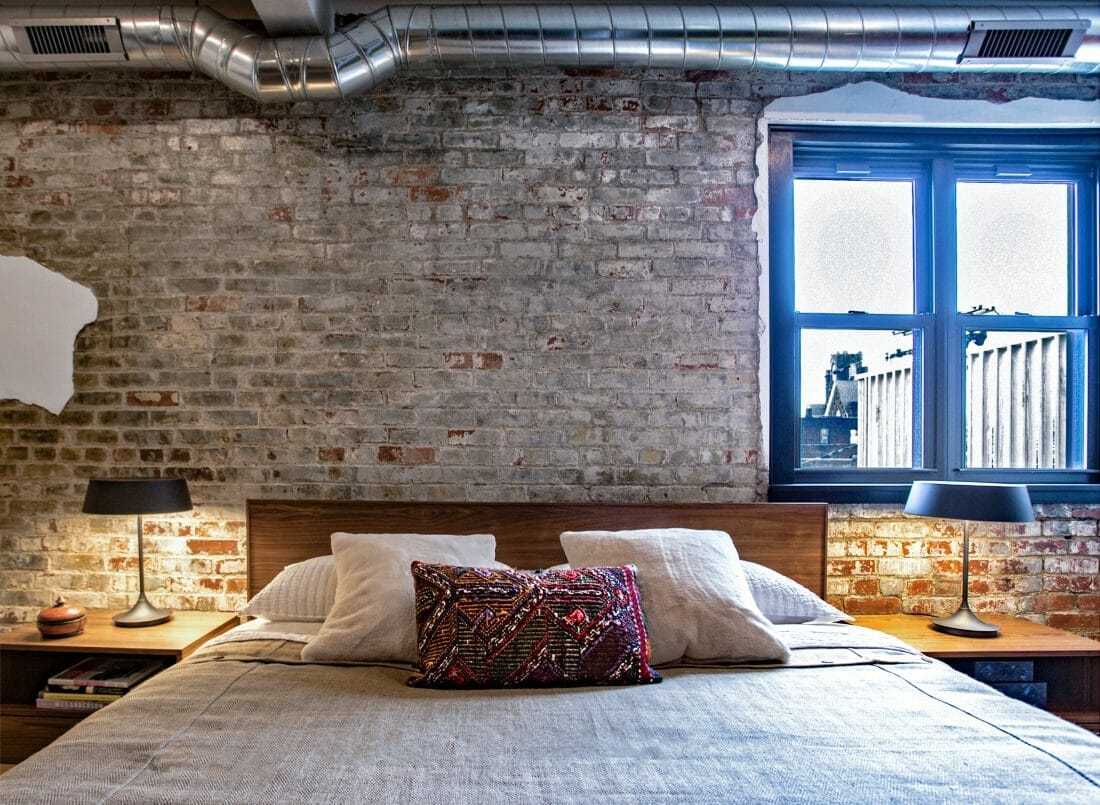 This modern industrial bedroom seems marvelous in the apartment. The visible metallic ductwork and whitewashed bricks remind the dweller of a warehouse loft.
The streamlined bed and table lamps give the interior an urban aesthetic. Moreover, sleek wooden nightstands hold knickknacks as well as books. Lastly, the statement pillow delivers comfort while taking center stage.
17. Industrial Bedroom with A Workspace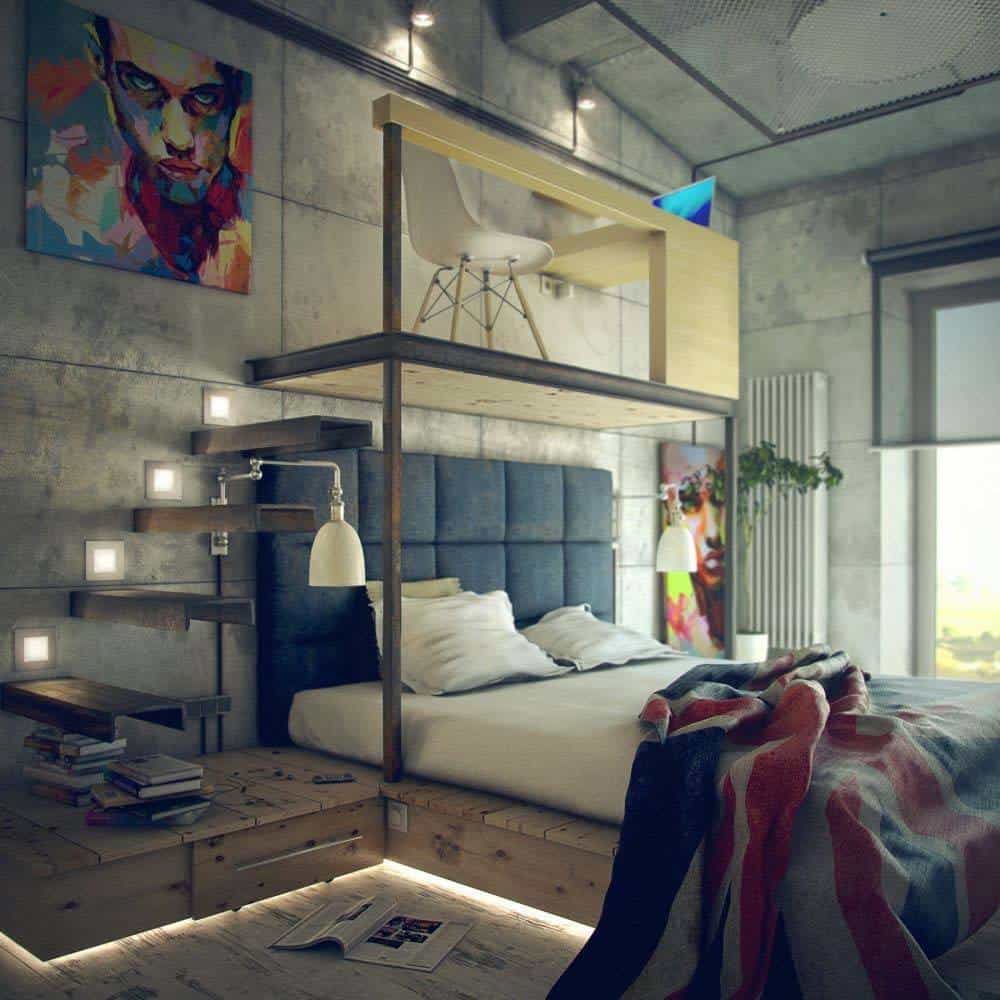 As you see, the industrial sleeping space boasts a workspace. Moreover, it employs a Scandinavian chair and sleek desk. Meanwhile, recessed wall lights mimic the floating staircase.
The gray upholstered headboard clashes with the bedding and blonde wooden platform bed. Furthermore, silver pipe lamps and concrete walls infuse industrial touches.
Two oversized abstract face paintings pose as centerpieces. In addition, the British flag blanket lends the industrial bedroom a vintage zest. Also, the plant exudes a sense of liveliness.
18. Modern Industrial Bedroom with Vintage Elements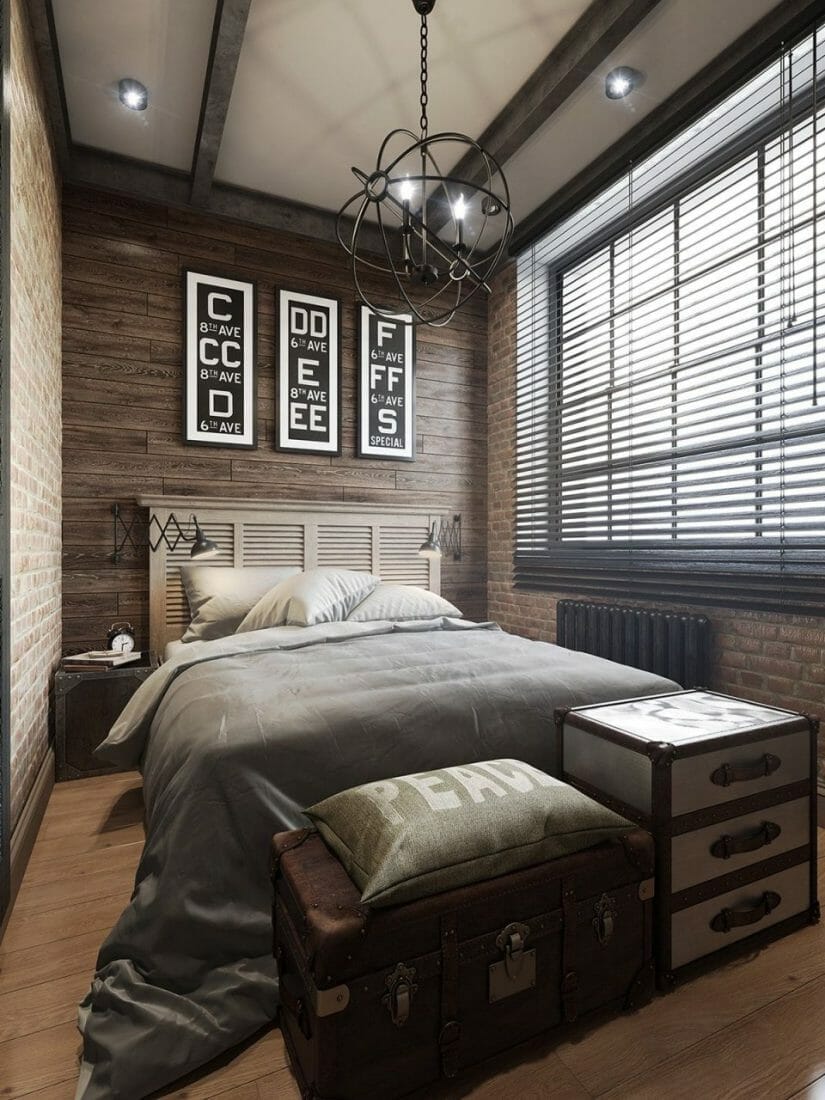 Here, the stained wood accent wall harmonizes with the salvaged shutter headboard and bricks. Furthermore, the clean white ceiling highlights exposed metal beams.
The suitcase, dresser, light fixtures, and bedside tables lend this industrial bedroom a vintage appeal. Moreover, the gray bedding and blonde wooden planks develop a visual balance. Lastly, framed wall hangings complete the sleeping space.
19. Minimalist Industrial Loft Bedroom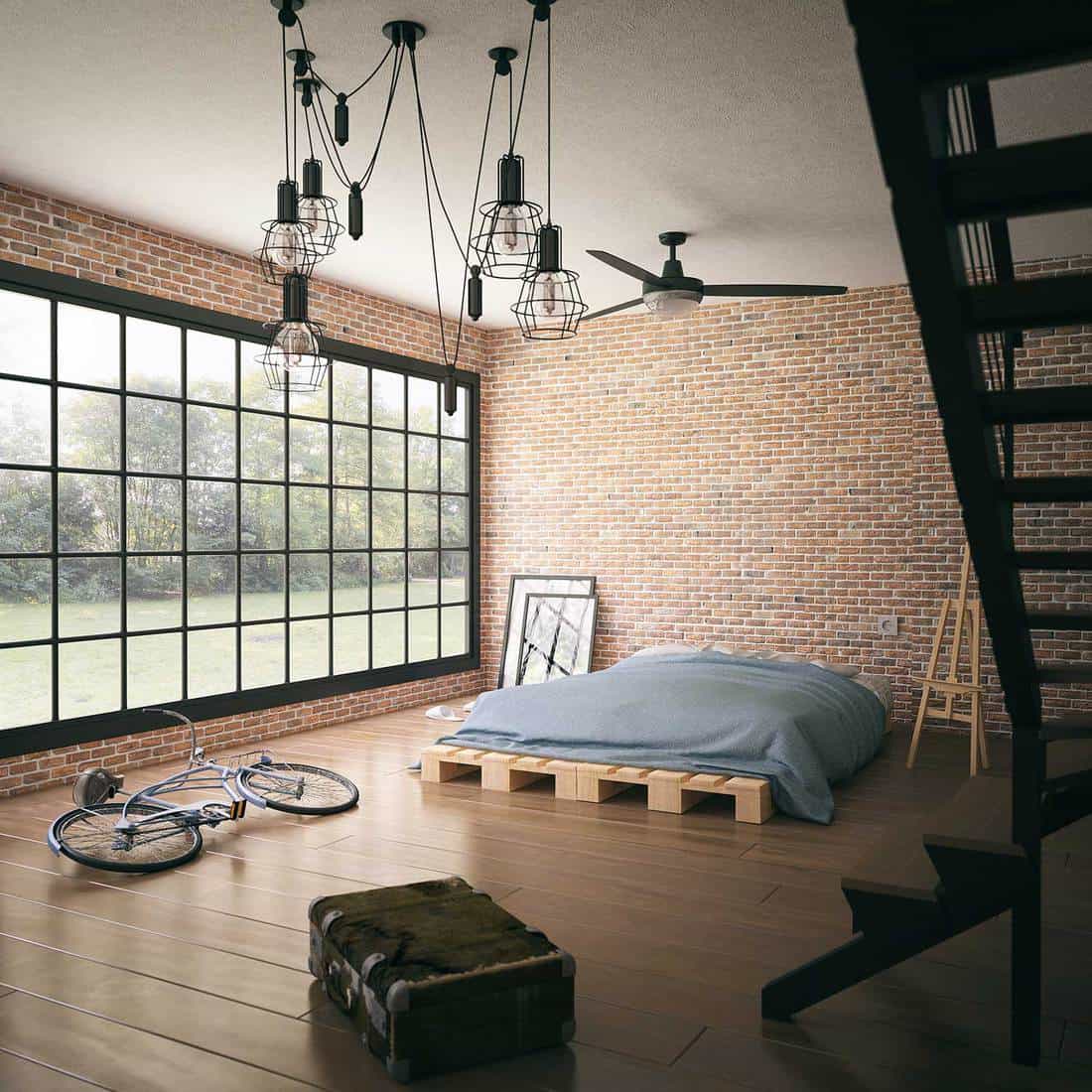 In this industrial sleeping area, the white ceiling meets exposed brick walls in a remarkable manner. Meanwhile, the pallet bed and canvas holder lighten the bedroom. Also, they introduce a minimalist look.
Black-framed mirrors and windows evoke sophistication. They keep the industrial bedroom airy, too. Furthermore, the bicycle, suitcase, and cage pendant lamps send out vintage vibes.
20. Minimalist Artwork for Modern Industrial Bedrooms
This open-concept bedroom appears chic due to the sleek headboard and metal wall panels. In addition, the wooden flooring and platform bed contrast with concrete walls.
The simple work of art inspires minimalism. Furthermore, the textured rug, accent lighting, and layered bedding embrace a cozy feel. Lastly, a pair of wall lamps lend the industrial bedroom formal symmetry.
21. Industrial Bedroom with A Feminine Touch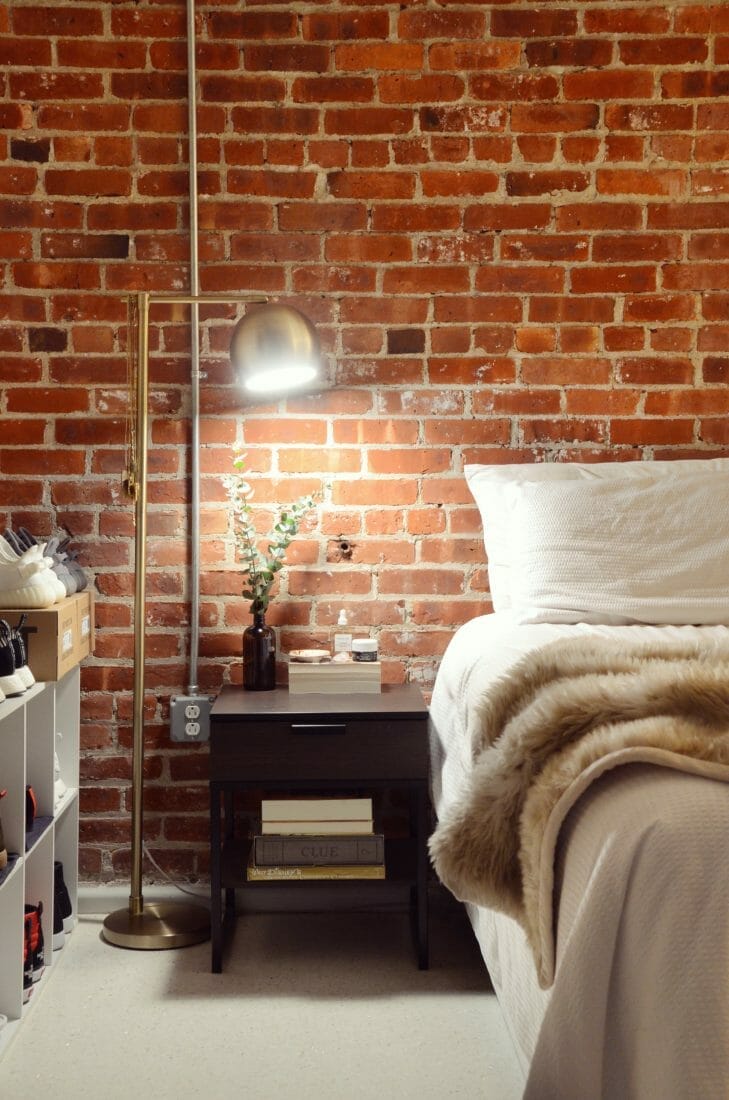 Many people typically find industrial bedrooms masculine. However, the dweller gave his sleeping area a feminine appeal via the soft blanket and greenery.
The visible red brick backdrop delivers rustic warmth to this modern industrial bedroom. Moreover, silver and gold metallic accents provide a dose of opulence.
22. Industrial Chic Bedroom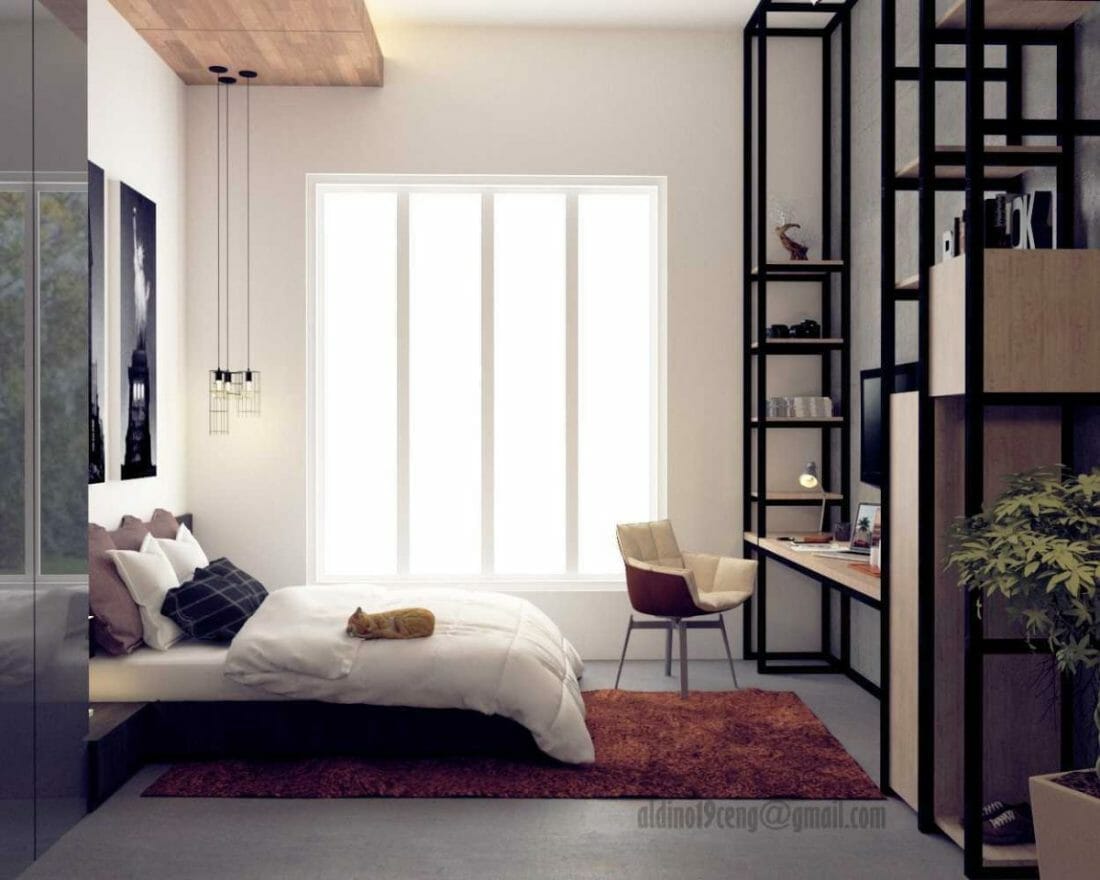 The floating bed, concrete planter, and pendant lights carve a sleek industrial look. Due to the plain white ceiling, bedding, windows, and walls, the interior feels airy.
Ceiling-to-floor iron shelving units accommodate minimalist accessories. Lastly, because of muted red and brown pieces, the bedroom doesn't become cold.
23. Expansive Modern Industrial Bedroom
This industrial bedroom enjoys the rough texture via the exposed ductwork and brick feature wall. Moreover, the plain wooden bed, ceiling, and nightstand inspire primitive warmth.
The striped bedding catches the eye in seconds. Furthermore, potted indoor plants and botanical artworks over the headboard develop an outdoorsy feel.
24. Industrial Townhouse Bedroom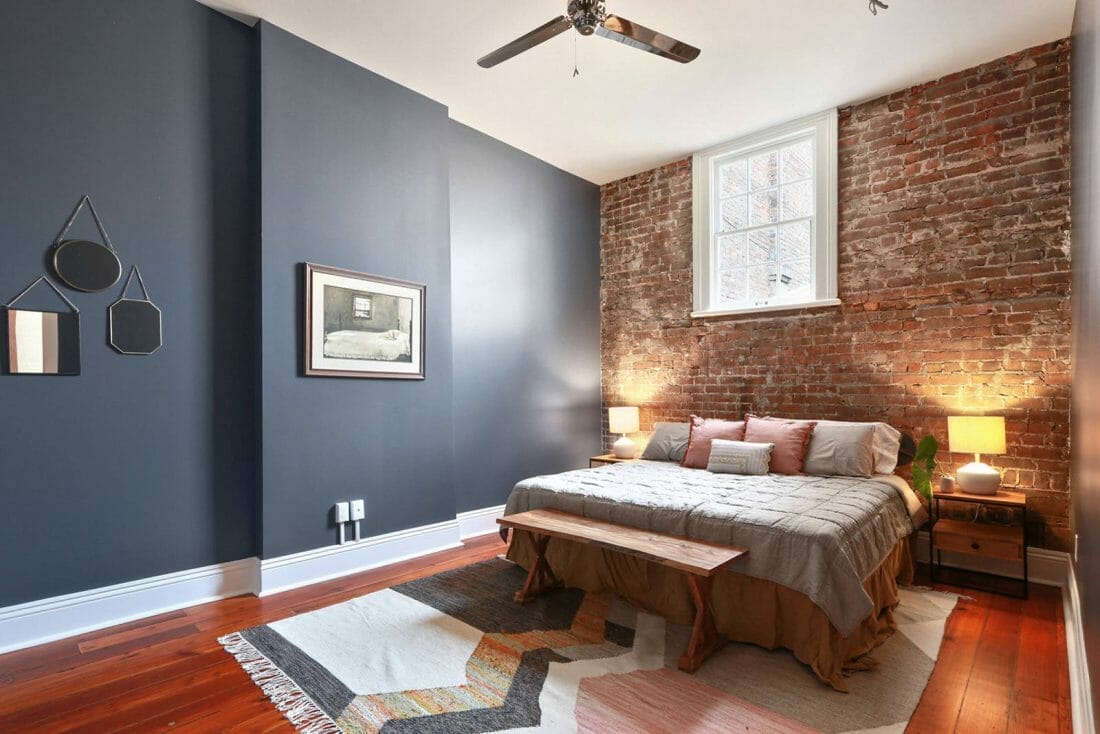 The wooden table, raw bricks, and reddish-brown wood planks create a snuggly mood. Furthermore, the deep gray wall and silver accents evoke industrial vibes.
Pastel pink pillows lend the industrial bedroom feminine touches. Meanwhile, the artwork and geometric mirrors act as centerpieces.
25. Massive and Marvelous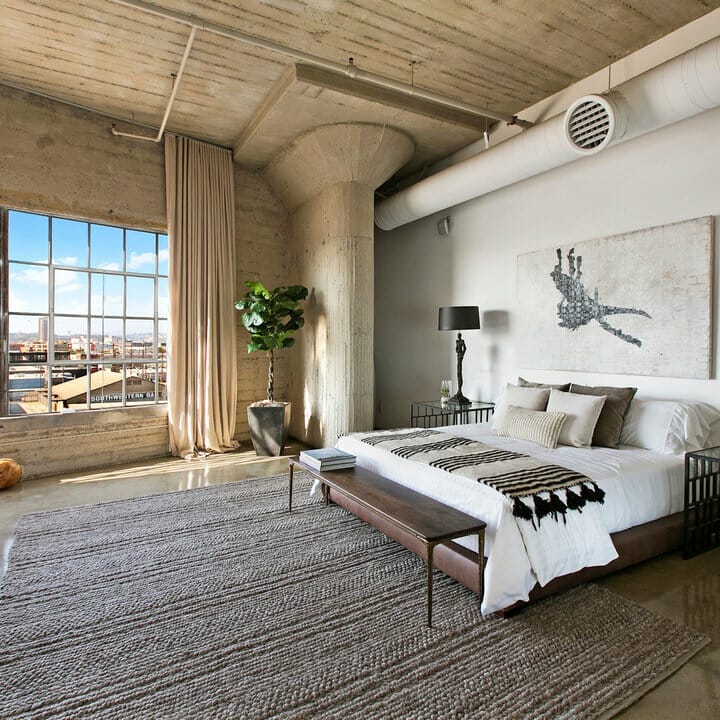 This is one of the fascinating modern industrial bedrooms. The white-painted ductwork blends with the feature wall seamlessly. Also, the artistic table lamp and oversized artwork develop a statement.
Tall, beige curtains balance out the ceiling and walls' roughness. In addition, the patterned pillow, blanket, rug, and fiddle-leaf fig complete the scene.
26. Urban Loft Bedroom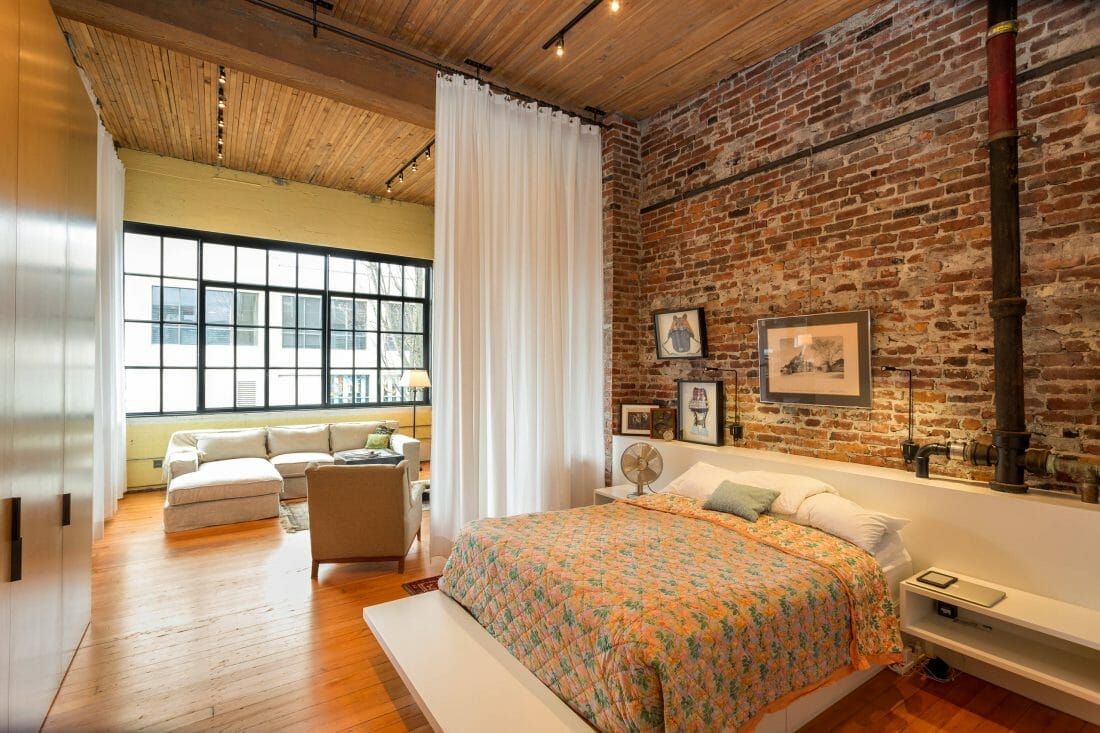 The brick wall, wooden ceiling cladding, and exposed metal pipe give off an industrial flair. Furthermore, stark white furniture units and pillows open the space up.
Because of the industrial track lighting and wall lamps, this bedroom doesn't turn dingy at night. Lastly, the cheerful bedding enlivens the sleeping area.
27. Trendy Bachelor Pad Bedroom
Black metal and gray units imbue the bedroom with an air of masculinity. Moreover, wooden surfaces and exposed bricks offer some rustic warmth.
The vintage British flag tapestry steals the spotlight. Also, framed monochromatic artworks and photographs embellish brick walls.
Hopefully, those incredible modern industrial bedroom ideas have changed your mind. They prove urban-style sleeping spaces aren't overly dingy and rough. So don't hesitate to create your own sexy and sleek interior.