There are many reasons to replace sliding closet doors with curtains. And currently, it turns out to be a trend among many homeowners. No wonder, apart from securing your room from chaos, closet door curtain ideas can also give an intriguing personality.
Moreover, you can freely change it because curtains come in many choices. Either in terms of fabric types, motifs, colors, and sizes.
So, never worry about adopting closet door curtain ideas anymore. And let's join the trend with others.
Apart from all its aesthetic values, installing a curtain instead of a closet door will make you more practical in doing everything.
Below are 27 lists of closet door curtain ideas that can trigger your interest in redecorating. I hope it inspires you!
1. Closet Door Curtain Ideas in Teal Blue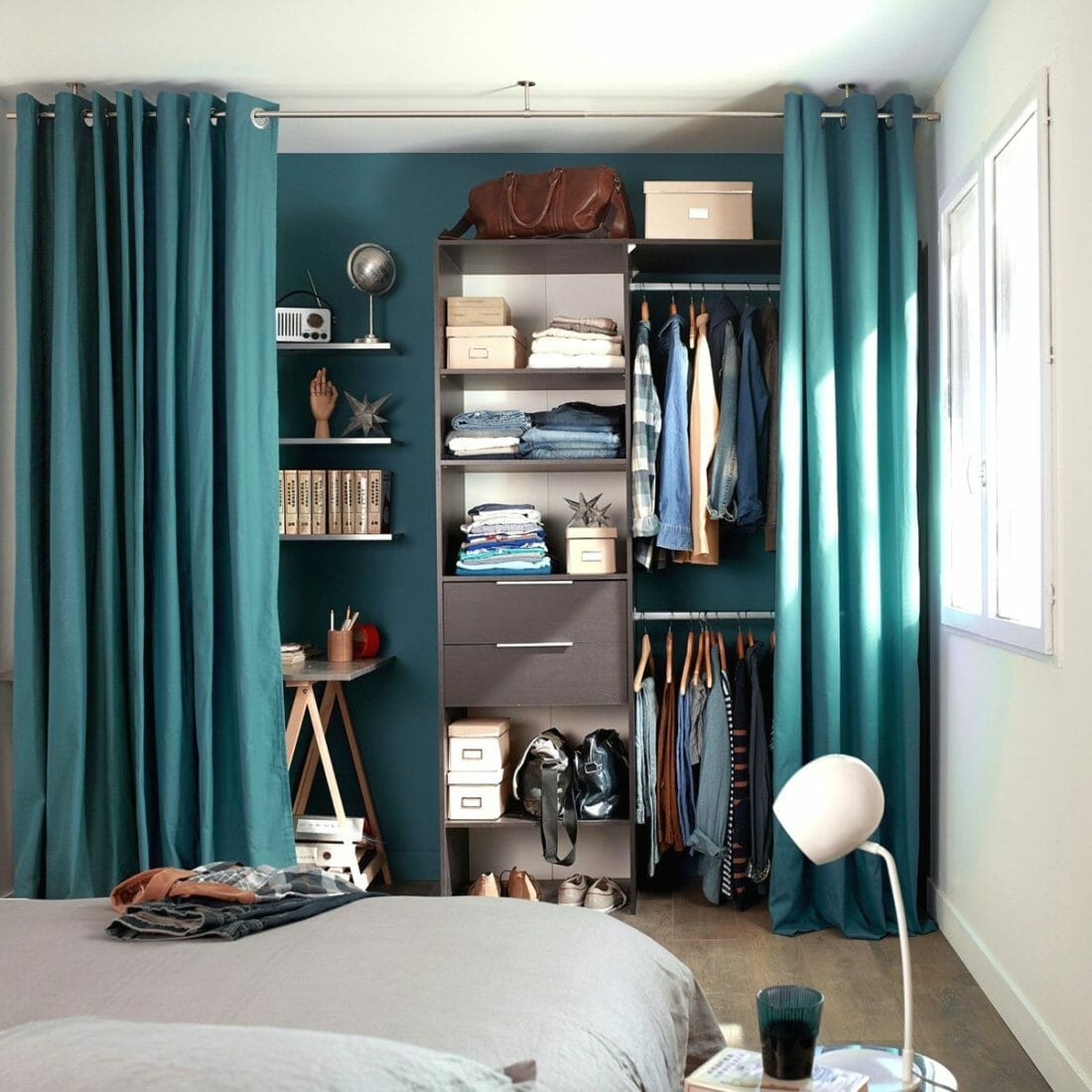 The first idea came up with a curtain set that has a bold color. Teal blue will match your modern or coastal room no matter what.
Of the many colors, teal will deliver energy to your closet. And it will be even more vital when you also paint the wall behind with the same color.
But remember to repaint only one side of the wall. Then leave the rest in white to highlight the presence of your closet better.
2. Elegant Earthy Vibe with Dark Brown Drapery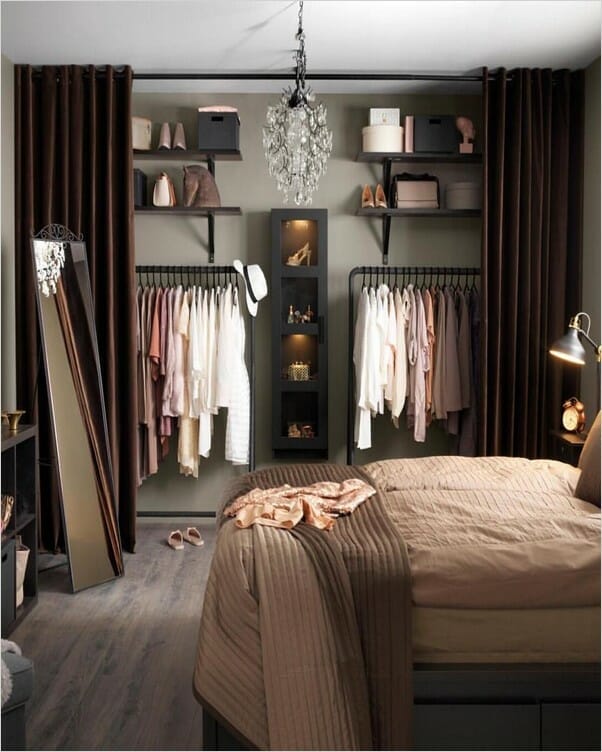 After coming up with flashy colors, now is the time to adopt curtains with softer hues. Earthy tones will always succeed in making your interior look welcoming and cozy.
With a set of dark brown curtains as a substitute for your closet door, you have now succeeded in making everything even more elegant.
Install furniture in darker colors such as black or charcoal to better display your wardrobe. Don't forget the glass chandelier lodged right in front of the closet as a final touch. And voila! Everything looks perfect.
3. Stripes Curtain to Add More Drama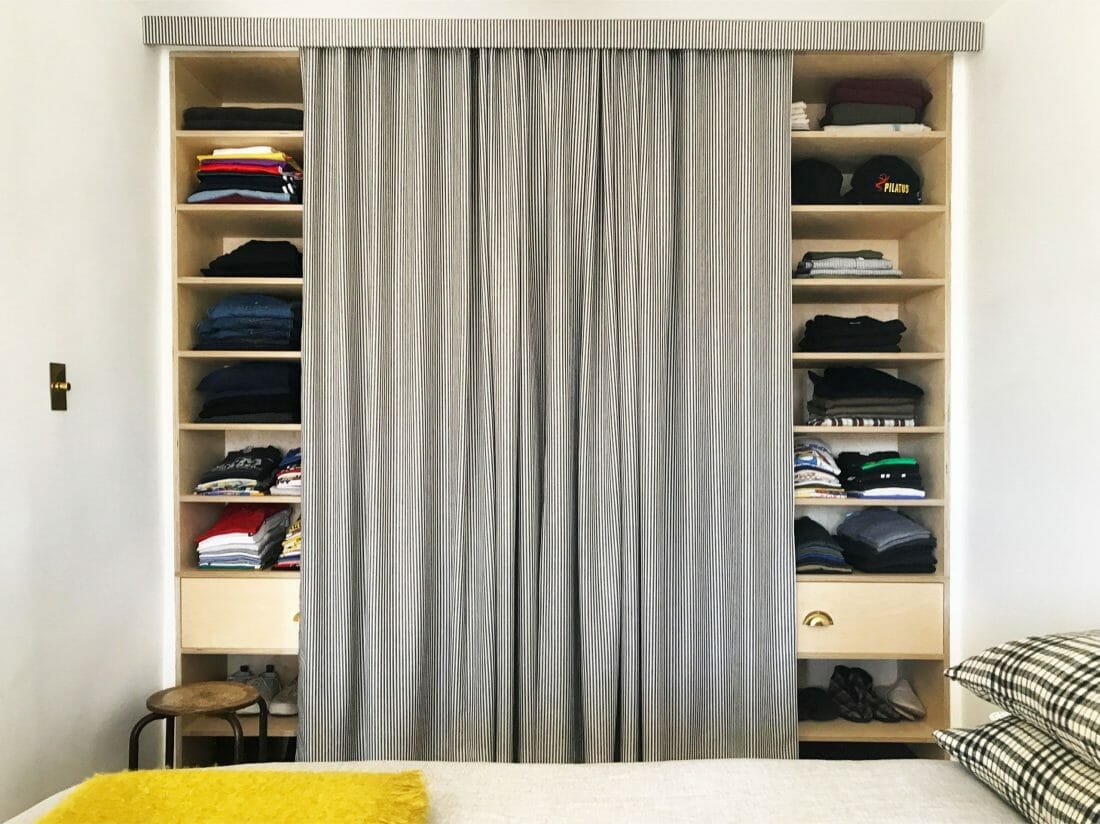 A built-in closet in light tones and surrounded by white walls will look pale and empty. Therefore, you need to adopt more eccentric closet door curtain ideas. For example, by installing stripes patterned drapes.
There are many color restorations that you can take. However, if you are more comfortable with primary colors, put your choice on the black and white stripes curtains like the photo above.
4. Golden Rod with Drop Cloth Curtain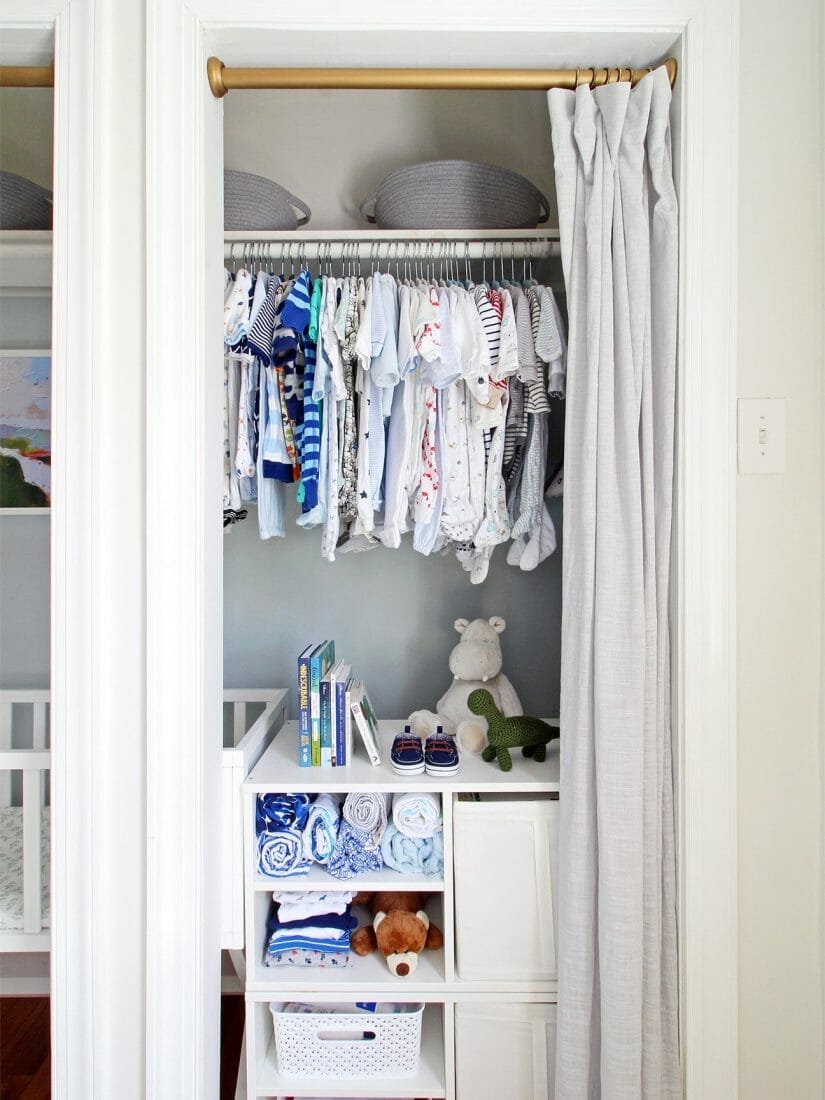 The following closet door curtain ideas invite you to use the drop cloth ones. The simplicity emitted by this type of curtain requires you to at least give it a striking touch yet let it still be elegant.
Instead of using standard curtain railings, you are better off going with a gold rod.
Whether you're going to close the curtains or open them later, this gold bar will exude its charm well.
5. Blackout Curtain for Both Closet Door and Window Treatment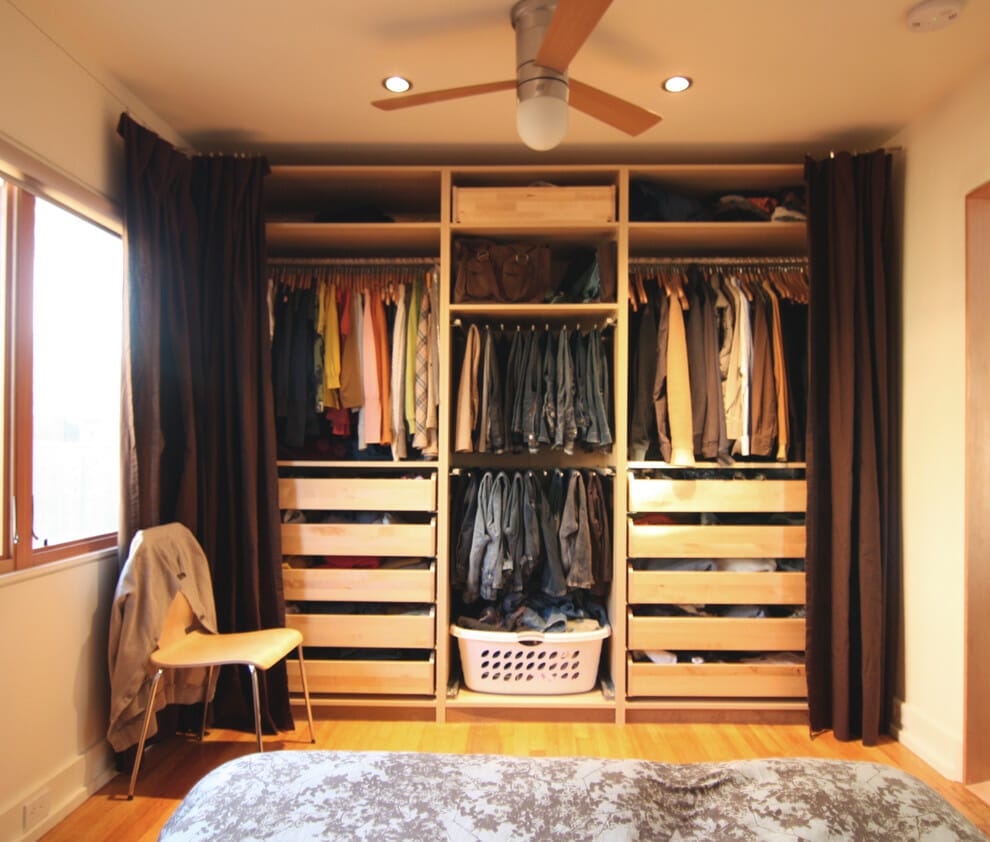 Who doesn't fall in love with multifunctional items? We know that everyone likes this one better.
And to bring it to your room is not difficult. You can start by installing curtains that can also be used as window treatments and closet covers.
A set with a wide size is undoubtedly highly recommended in this condition. But don't forget to choose a calm tone so it will not harm your eyes.
Or merely uniform it with a bed cover or the theme of your room.
6. Cheerful Closet Door Curtain Ideas for Children's Room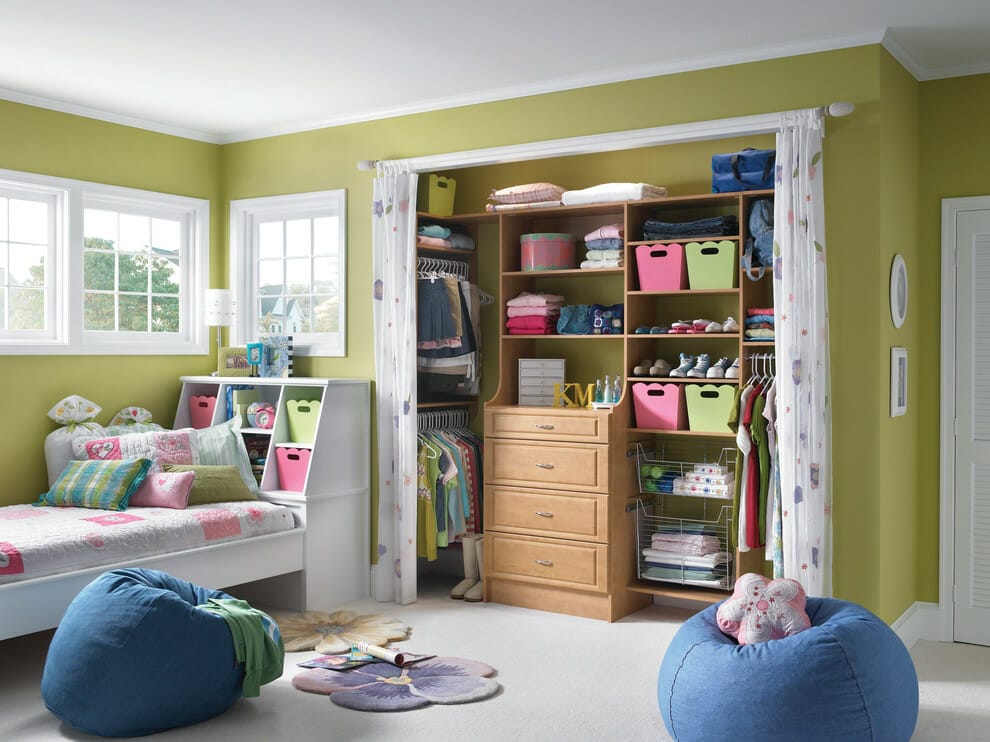 Children's bedrooms often come with bright wall colors, for example, green, pink, yellow, and so on. Thus, you need to install closet curtains with a more neutral tone to lessen this flashy color, such as white.
Instead of taking the plain ones, you are better off choosing the curtains with cute characters to give your child's room personality.
7. DIY Closet Curtain with Paddle Rod
Suppose you have planned to decorate your room with a pirate theme. In that case, you don't have to think complicated about what kind of colors or motifs to choose for the closet curtains.
You will even still succeed in making your closet more characterful with just white drop cloths.
However, don't forget to install a curtain rod resembling a paddle to make your interior look unique.
8. Light Cream Closet Curtains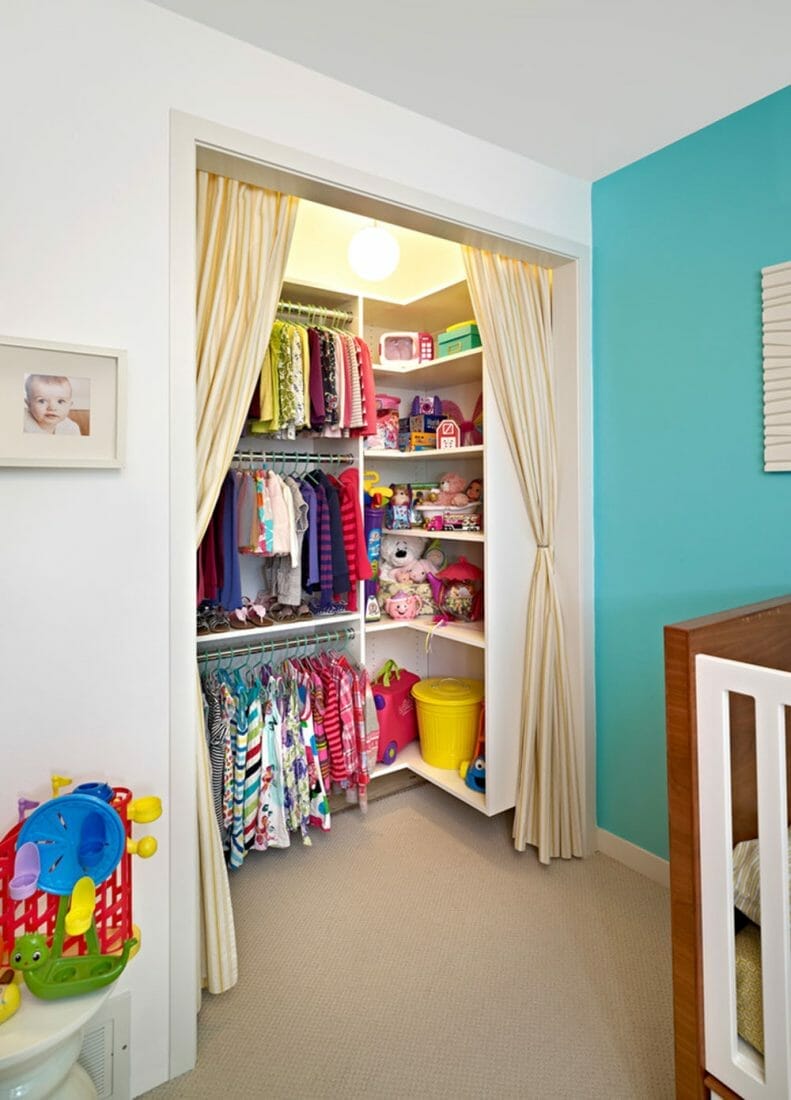 Here are conventional closet door curtain ideas that suit everyone's taste. Why is it said so? Of course, as it comes with drapes in neutral colors that match all interior decors.
With all its simplicity, the light cream curtain can still highlight the existence of your small closet. It will work best if you also install a light fixture that emits a similar illumination, such as warm white or yellow.
Indeed, you don't need to add extra effort to achieve this look.
9. Deep Gray Blackout Curtains to Hide Storages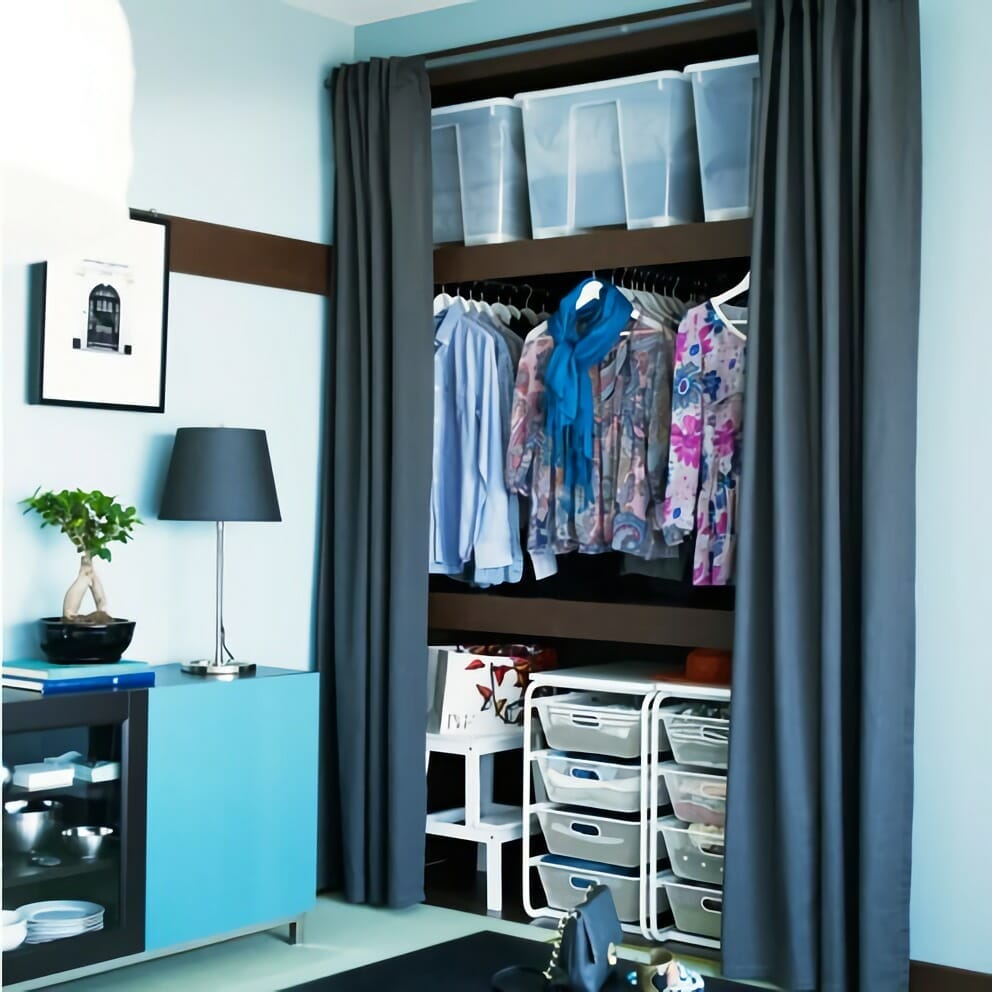 Are closet curtains tacky? The answer is, of course not. As long as you bring drapes that match your interior theme, all will be fine.
The application of a curtain instead of a closet door will make your room look modern. Certainly, this is with some requirements. One of them is to choose a basic colored curtain such as deep gray.
To avoid the closet from all the clutter, it's a good idea to provide storage boxes, portable drawers, and hanging rods at the same time.
10. Light Gray Curtains for More Subtle Look
There are no special rules for adopting closet door curtain ideas in your bedroom. The most significant thing is that it can hide all the clutter in your closet. It will be more suitable if it is aesthetic and pleasing to the eyes, too.
You only need to install drapes in light gray color to make this happen. Its subtle tones give off a classy vibe that not everyone has. Especially if it's accompanied by furry rugs and extra storage of identical colors.
11. Sheers Surrounds the Closet and Accent Lighting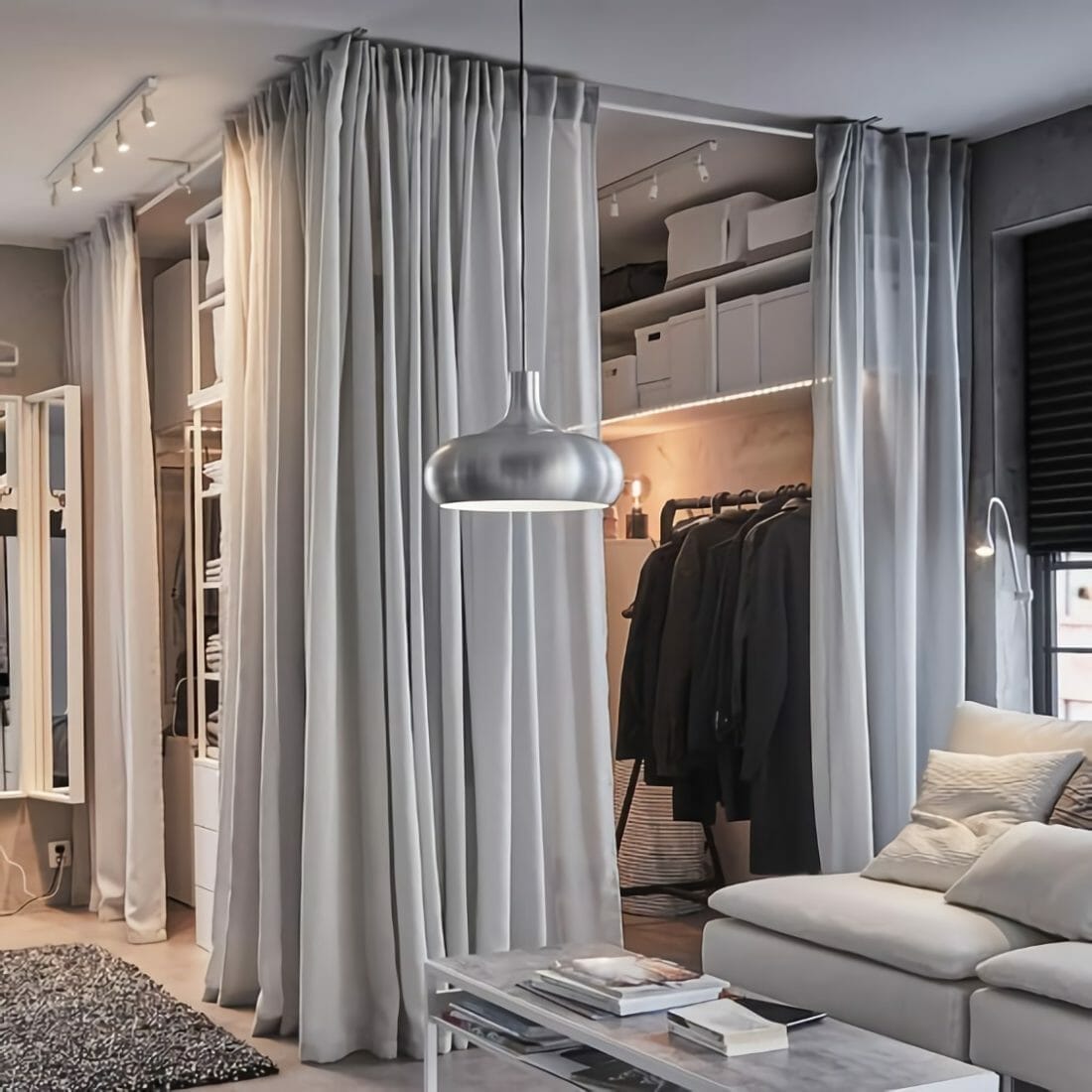 In addition to drapes, you can also cover your closet with sheers. Its semi-transparent design will provide an aesthetic silhouette in your walk-in closet.
It will be even more stunning if you also provide accent lighting in warm white at the same time.
By choosing white sheers, your room arrangement will look cleaner and sleeker.
12. Black and White Closet Door Curtain Ideas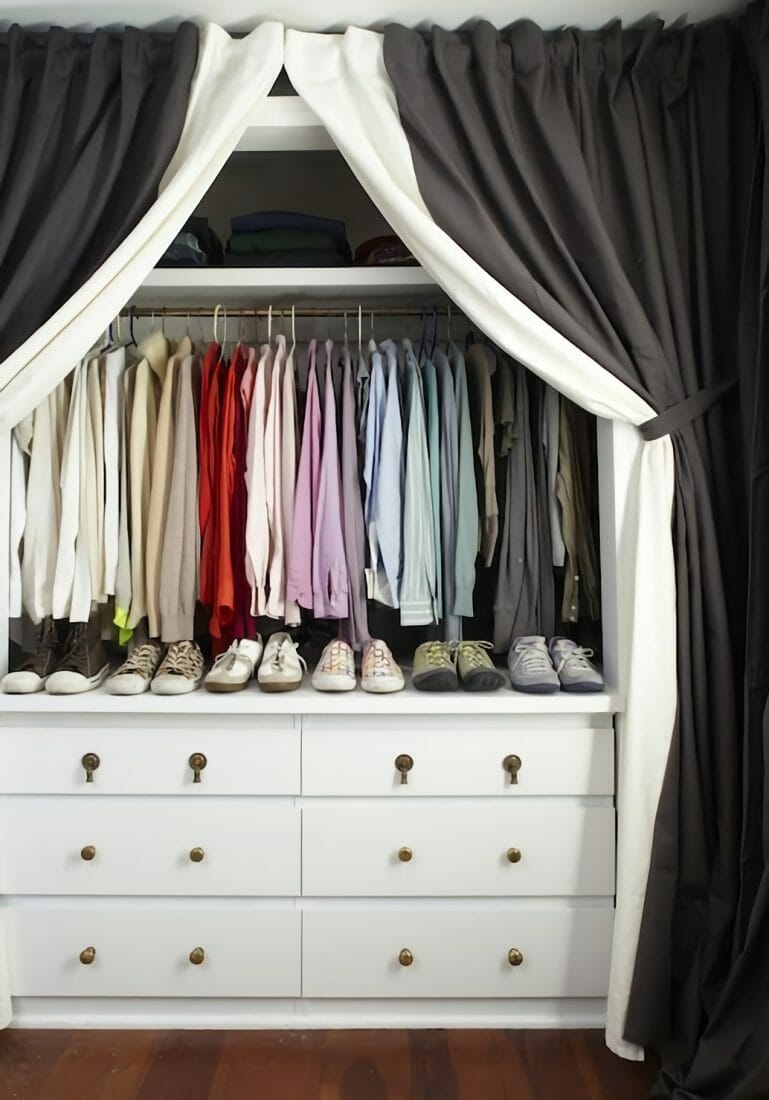 Who says closet curtains are only meant for women's rooms. It proves that this model is suitable for men's rooms, too.
Choosing a curtain design with primary colors such as black and white will appear more masculine.
So, don't think that giving curtains to men's wardrobes will look weird. Because it's all about style, which isn't limited to gender.
13. Sheer Curtains in Black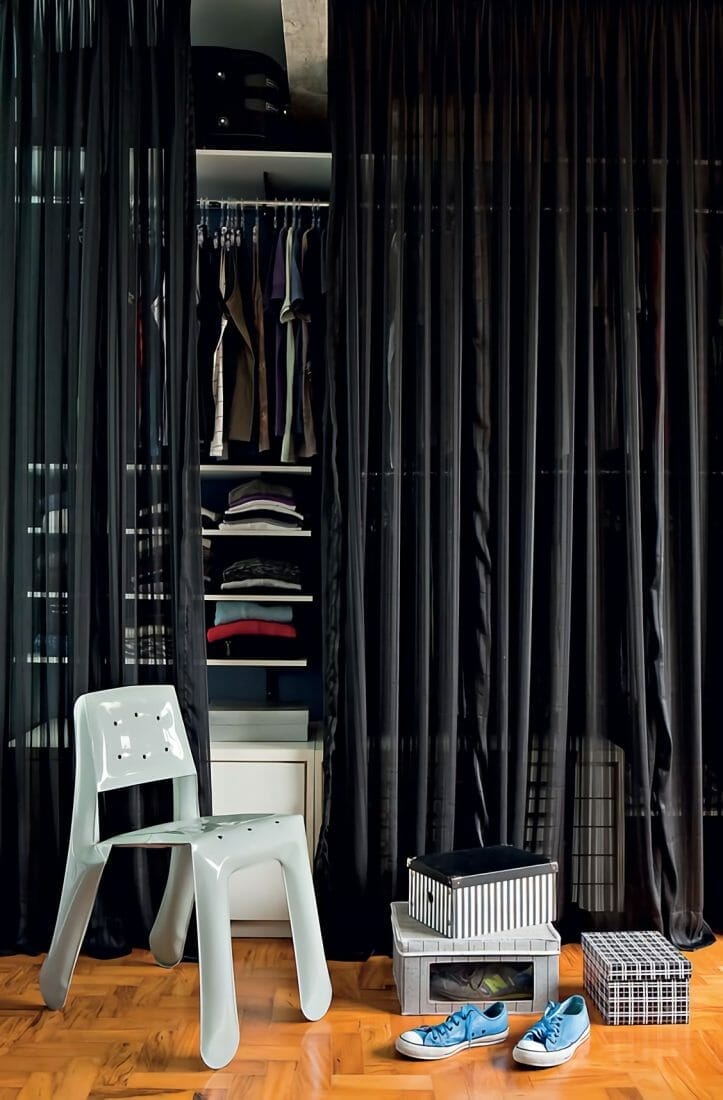 Sheers come with several color options. The one in black will give a more manly vibe than the white tone.
Its transparent surface indicates you can't completely hide what's in the closet. Therefore, if you plan to go with this material, make sure your wardrobe is well organized. Otherwise, your room will only look more cluttered.
Apart from that, black sheers will succeed in providing an aesthetic decoration for your interior, especially with those that have ruffles.
14. Raised Broken White Curtains to Showcase the Stuff
The presence of closet door curtain ideas does not only aim to display an aesthetic or unique cover. More than that, it also serves to showcase everything inside the wardrobe.
Instead of hiding the clutter, it would be great if your closet was well-organized with color arrangements. So you only need to provide white raised curtains that will help display the eye-catching colorful stuff inside.
15. Bohemian Closet Door Curtain Ideas with Macramé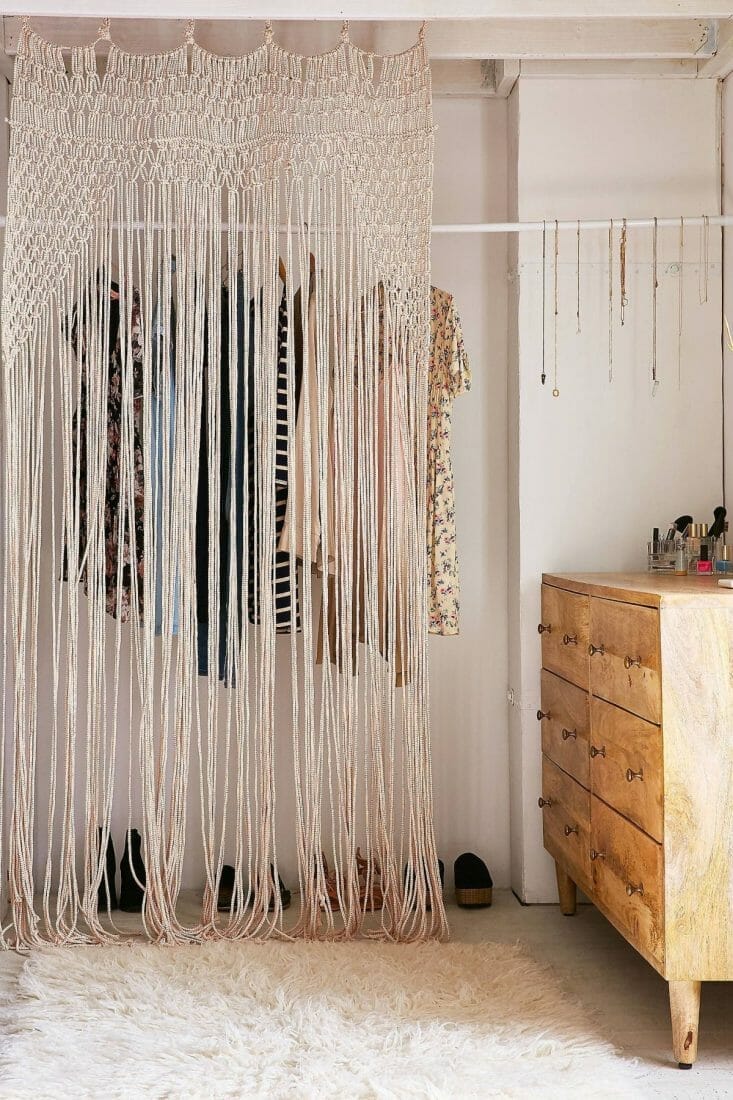 Indeed, macramé curtains will not completely keep you from a messy closet. But more than that, this item is more focused on making your room look more aesthetic.
Especially when you decide to decorate your bedroom in a boho style, macramé curtains are definitely the best option you should take.
The pattern that is neatly knitted on the top and ends with strands of fine knitting yarn makes this curtain catch the attention of anyone who enters your room.
16. Pure White Curtains and Closet Frame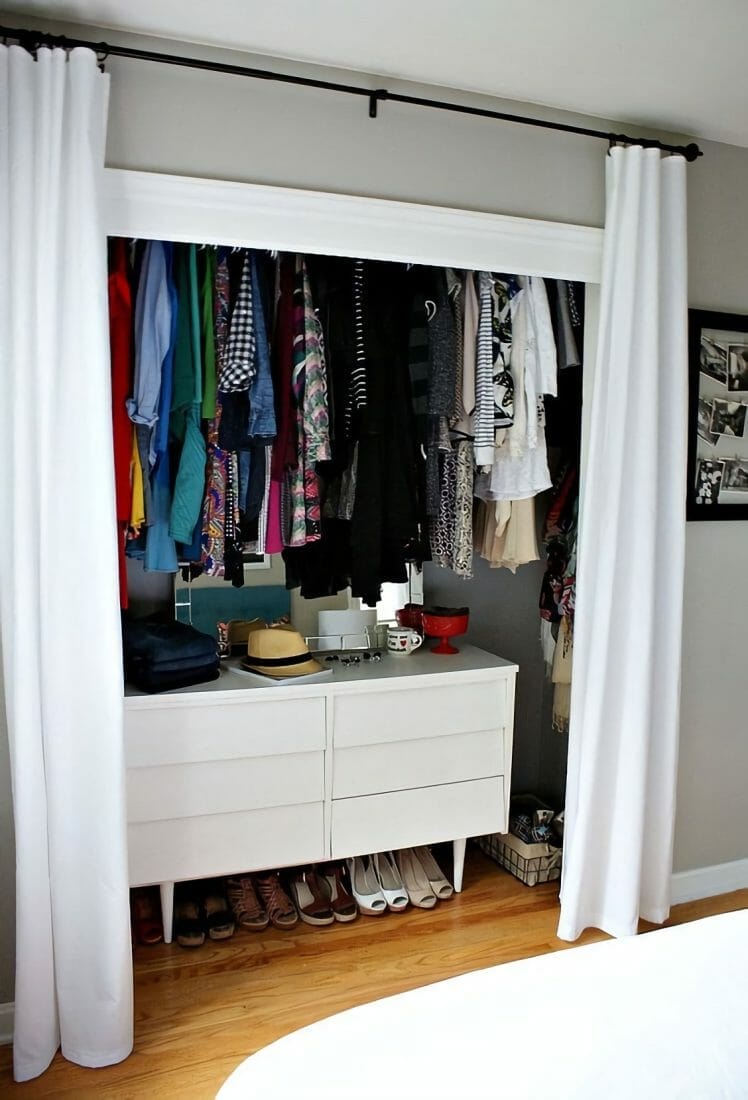 Closet door curtain ideas in this section do not only focus on choosing colors and motifs of the drapes. But also by suggesting installing a frame surrounding the closet to add drama.
It is essential that when you decide to set the curtain open, the closet still has an interesting structure and is not dull.
Even choosing pure white curtains for this design will not be a problem. It's better to go with a rod in black too, to give a strong statement.
17. Linen Curtains in Beige and Wicker Baskets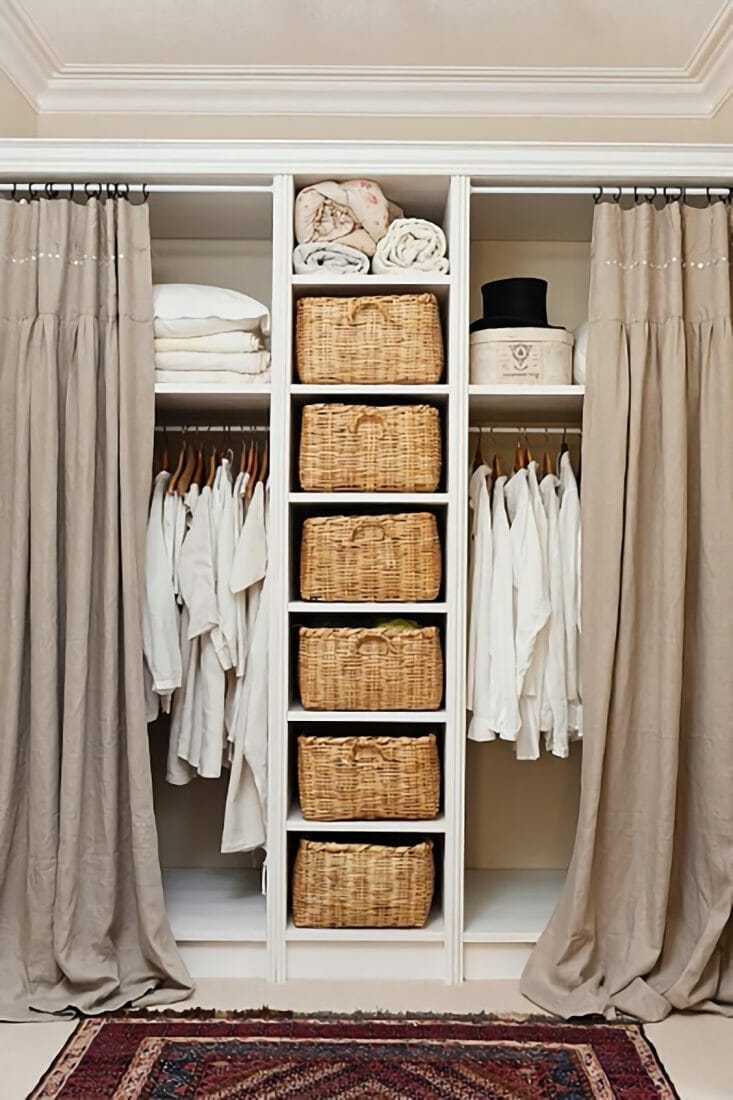 In a modern farmhouse-style space, prioritizing installing curtains for closet cover is the best step you've ever taken.
Especially if you choose linen curtains in beige color, without any doubt, the warm and cozy vibe will waft through the entire room.
You can store stuff in wicker baskets to make it more aesthetic.
18. Embossed Drapery Set up to The Ceiling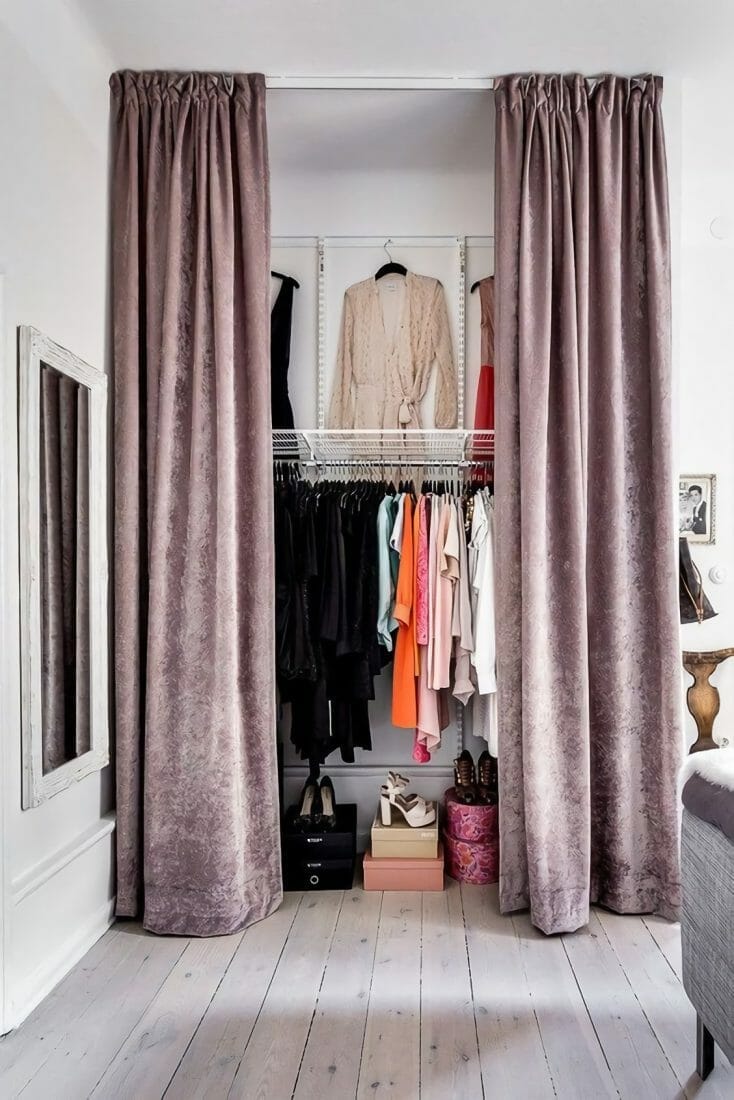 Giving texture to a plain room will be convenient by installing closet door curtain ideas.
Don't be afraid to overcrowd your room because certain tricks will make the space appear taller. One ultimate step is to set curtains up to the ceiling as above.
Pick a set of drapers with an embossed warm color to give your all-white room personality.
19. Corner Closet with White Curtains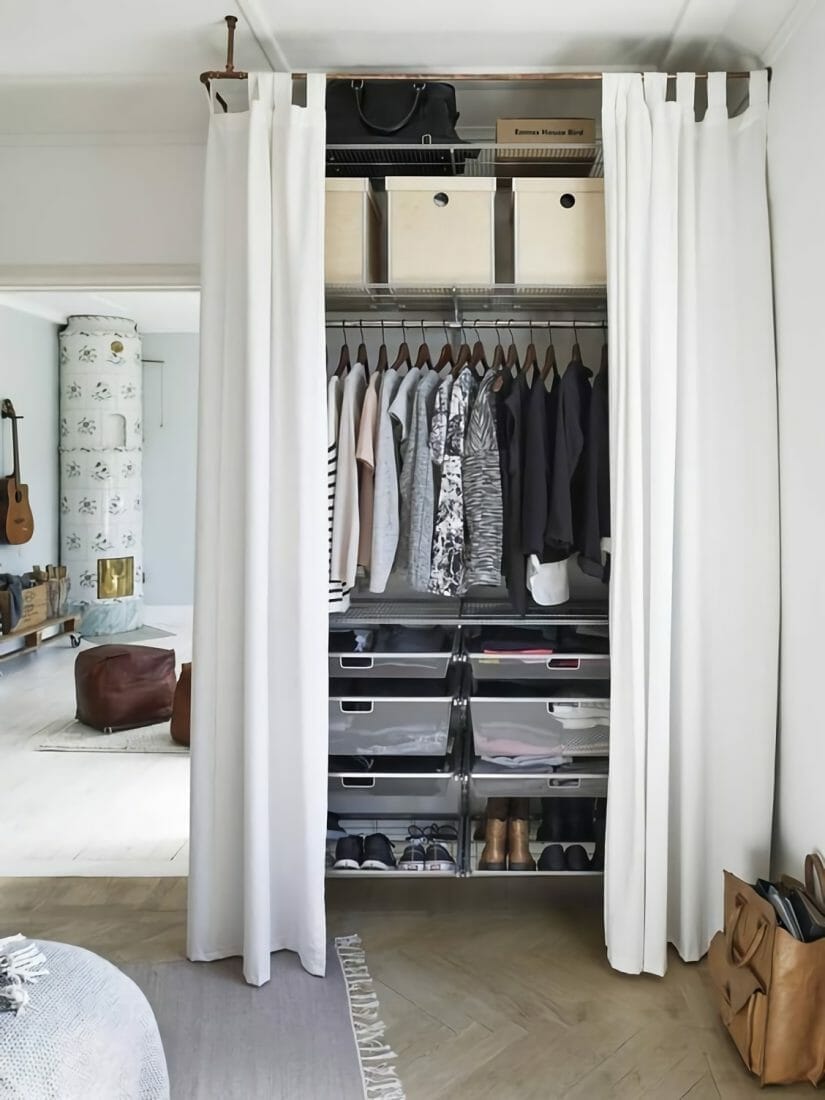 Who says you can't use curtains to cover your corner closet? Now, there are many rod models that you can choose from in a home depot. Bring one with a rectangular shape as above. Then set it in the corner of the room.
After that, merely put a white curtain around your closet like an enclosure. And everything is clear.
20. Hide the Curtain Rod Behind the Closet Frame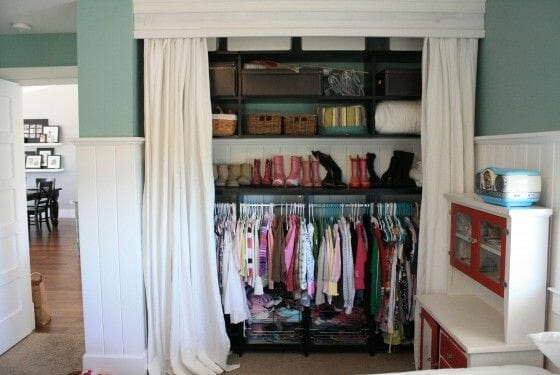 One crucial step of the many closet door curtain ideas is to make sure the drapes rods are attractive. At least, if it's not aesthetically pleasing, hide it behind the frame of your wardrobe.
Installing curtains with this method will make your space sleeker. Especially if you come with a drop cloth set that matches all your interior decorations.
21. Sleek Closet Door Curtain Ideas in The Attic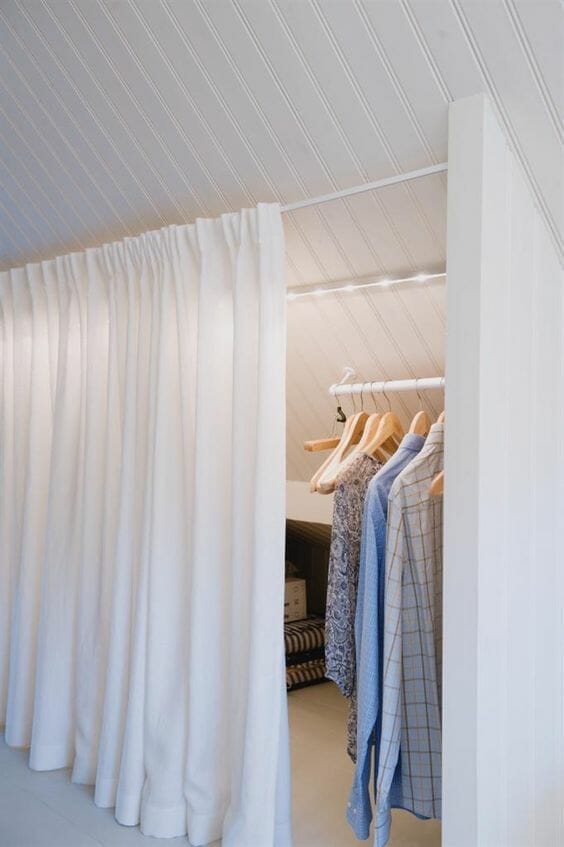 White curtains are never wrong in giving characteristics to the closet. For a moment, it did look pale. But by setting everything in white, your attic closet will undoubtedly become a one of a kind that many people will admire.
Moreover, it is, indeed, to make the room look tidy and clean.
22. Patterned Curtains in Similar Tone with The Bed Cover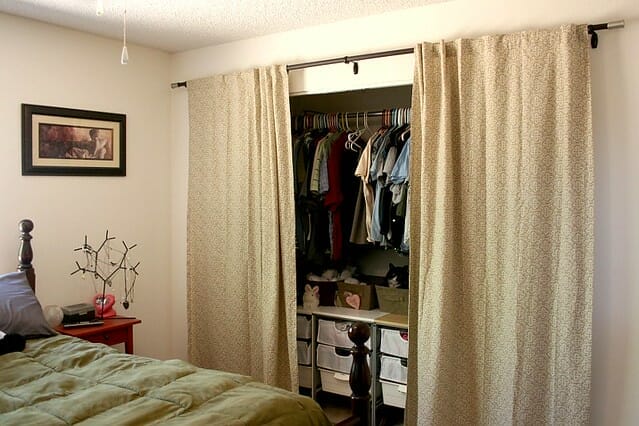 There's nothing better than making your closet curtains look stylish by making them uniform with your bed cover.
This strategy does not require you to present the identical material or motif. It merely needs to appear in the same tone to make it look more harmonious.
Apart from that, you are still allowed to be creative with many colors. Even when you decide to give a pop-up color, it doesn't matter. It all depends on your taste.
23. Twin Mini Closets with Cute Curtains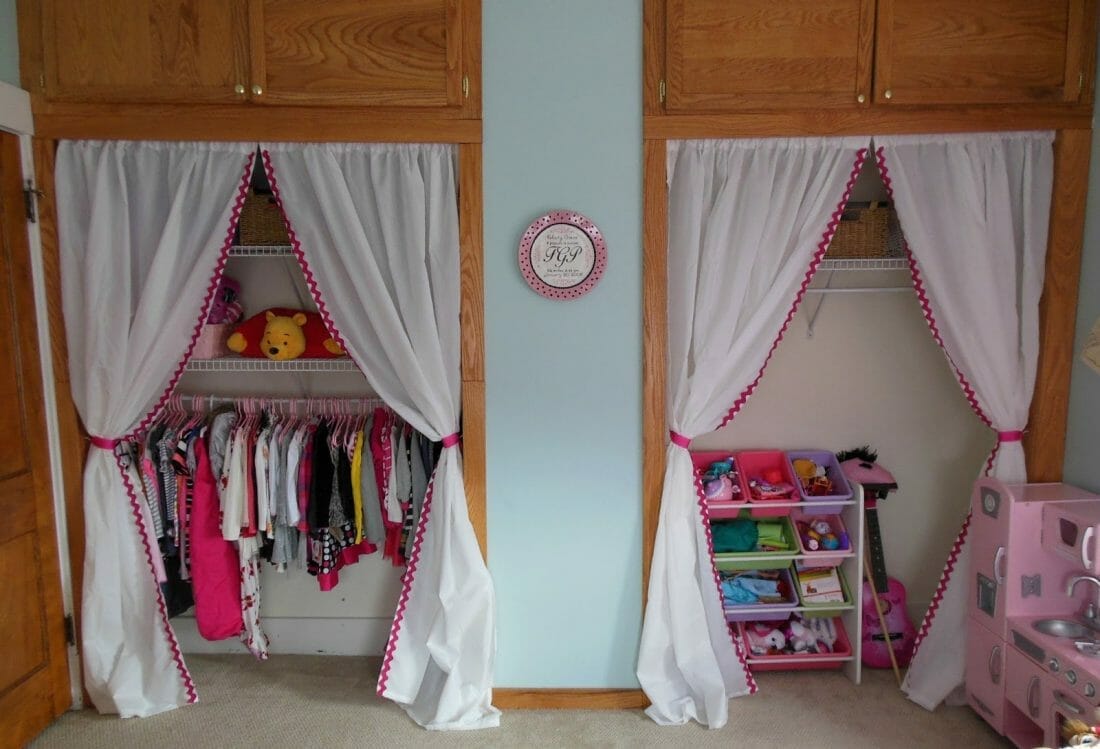 Are you looking for the proper closet door curtain ideas for your twins' room? If so, then try this double mini cabinet. Without any door, it will be effortless for your youngsters to reach the items inside.
Give the closet a set of white curtains with pink tassels to make it more adorable.
24. Brighten the Space with Mustard Curtain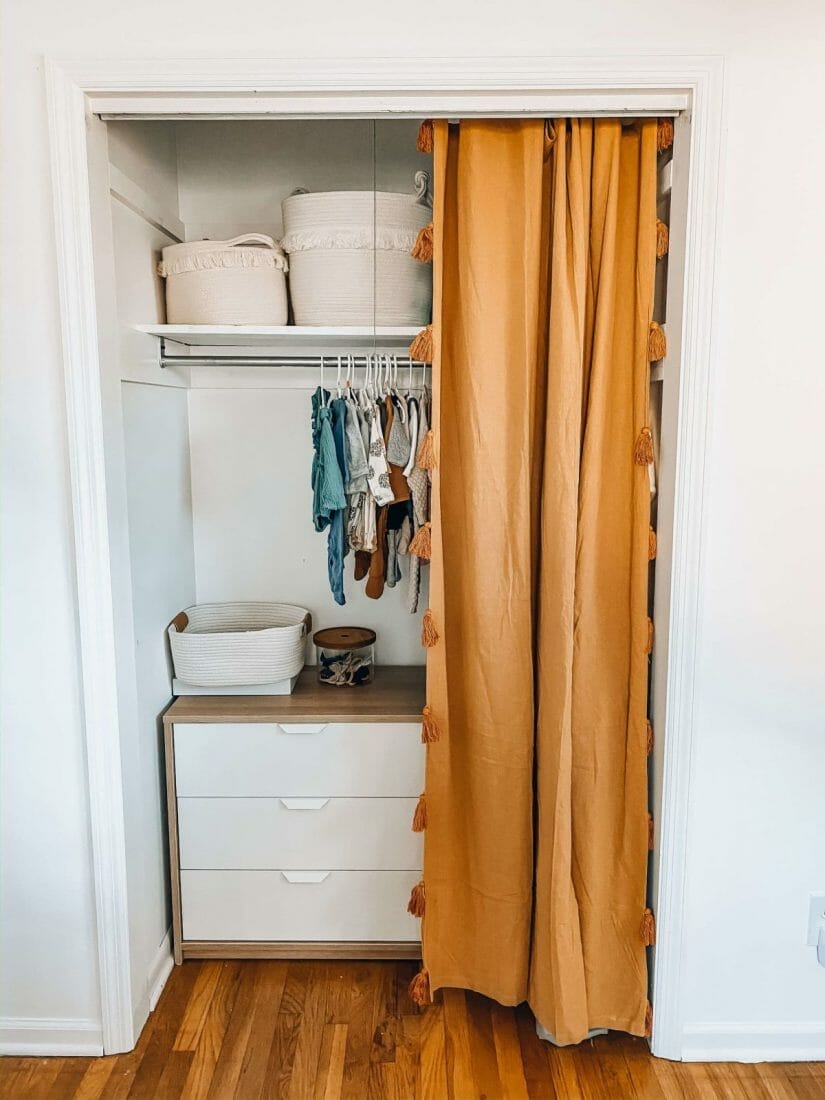 Single curtains with bright colors never fail to make your room look more cheerful. Not only for children's rooms, but this drape also turns out to be perfect for teens to adults.
Choosing mustard or yellow color is best, especially since it goes well with your light tone panel flooring.
25. Pastel Pink Curtains for Walk-In Closet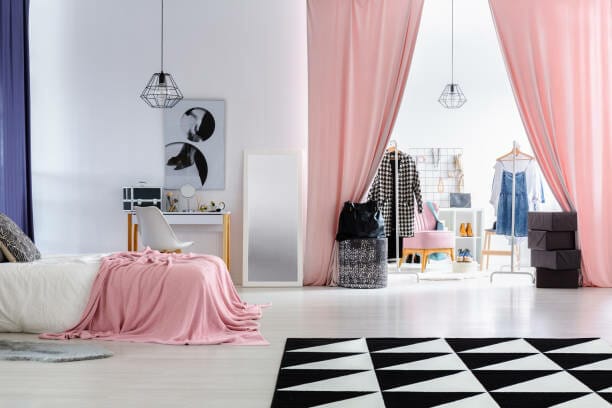 There's nothing more feminine than adopting closet door curtain ideas in pink. And one with a pastel tone will make your modern-themed walk-in closet more spotlighted and brighter.
Making sure it's uniform with your blanket and seat makes your bedroom look stylish and timeless.
26. Make Everything in Harmony in Purple Theme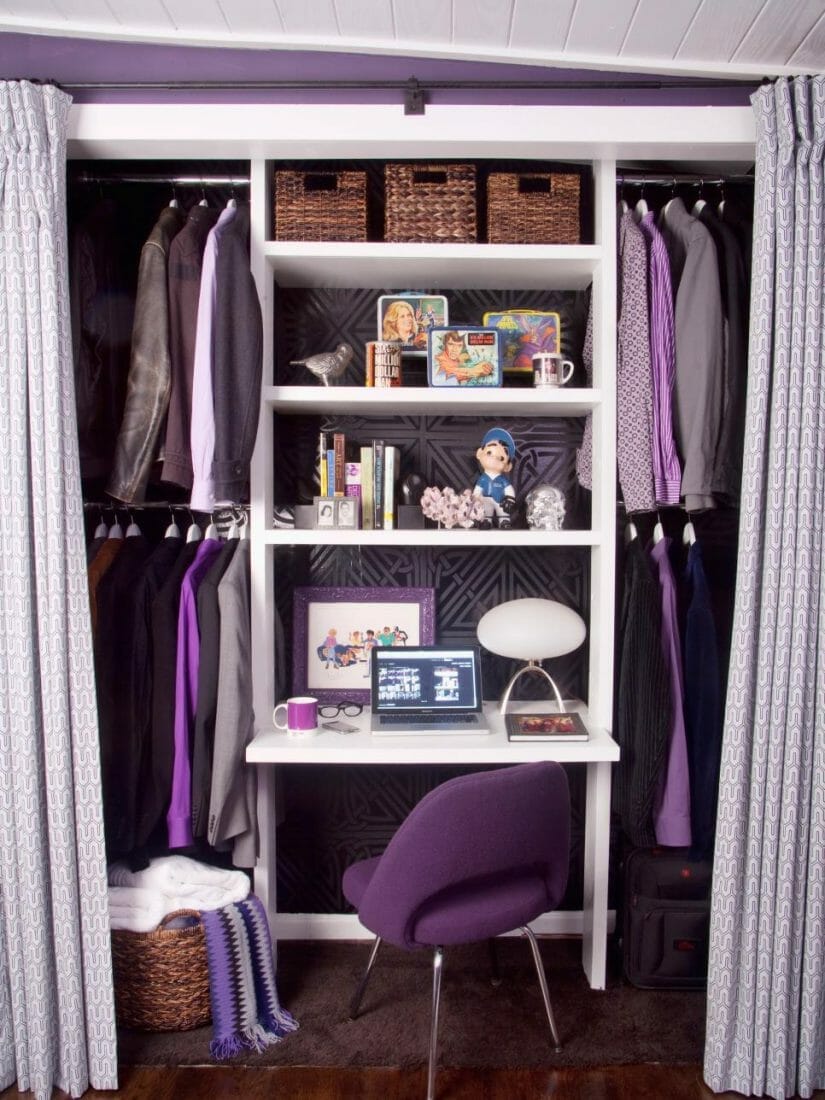 Purple is often symbolized luxuriousness. And you can, of course, apply this concept to your closet curtain. For a better option, it's good to go with patterned drapes in lilac.
Then, leave your wardrobe frame in white with a dark motif background to balance the look.
27. Warm and Cozy Closet Door Curtain Ideas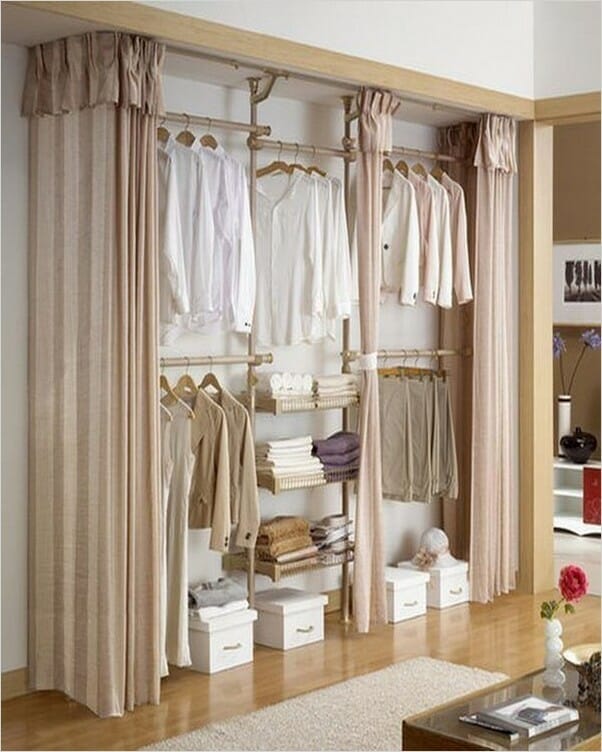 Finally, here is the last option for you. There's not much to show except the harmony that makes your bedroom calmer and more comfortable.
And, suppose you already have a built-in closet with a medium tone. In that case, you only need to install curtains in light beige. Be sure to choose full-length ones to leave no gaps and hide all the clutter in your closet nicely.
The closet door curtain ideas above will fit any interior theme and everyone's taste. Thus, better hurry to redecorate your room. Indeed, choosing one of the best to bring uniqueness to your chamber is worth trying.