Talking about bedrooms with fireplaces ideas will never end. It is because new trends will continue to emerge. And bring a fresh, eye-catching, and aesthetic style over and over.
Moreover, currently, fireplaces appear in many types, ranging from traditional to modern. Some use gas, and some are electric.
That's why we have come up with many designs for styling fireplaces in your room. So that you always find inspiration when you want to make improvements or redecoration.
Additionally, you no longer need to feel that the presence of a fireplace will only give a weird impression. Instead, it is essential to provide warmth at night and in winter.
The best parts are bedrooms with fireplaces ideas that also make this spot look even better and more attractive.
To further meet the designs, here are thirty bedrooms with fireplaces ideas that might suit your tastes.
1. Bedroom with Fireplace and TV in The Corner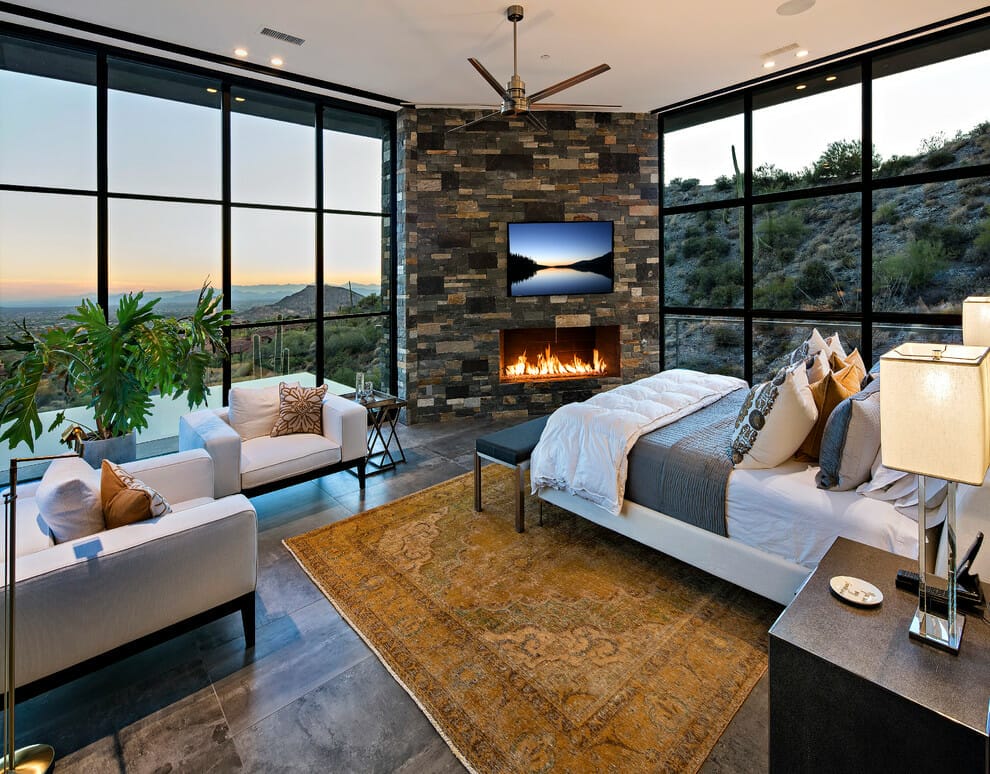 The easiest way to style the fireplace in your personal space is to install a wall-mounted TV.
Along with the times, flat-screen TVs with a lighter weight make it easier for you to put this device anywhere, including mounting it on the wall.
It is, indeed, space-savvy and suitable to fill the space above the fireplace.
In addition to the TV, you can also make different accents on the wall where the fireplace is set. One of them is by presenting the stone veneer as above. Then, replace the rest of the walls with entire glass partitions.
2. Victorian Bedroom Fireplace Ideas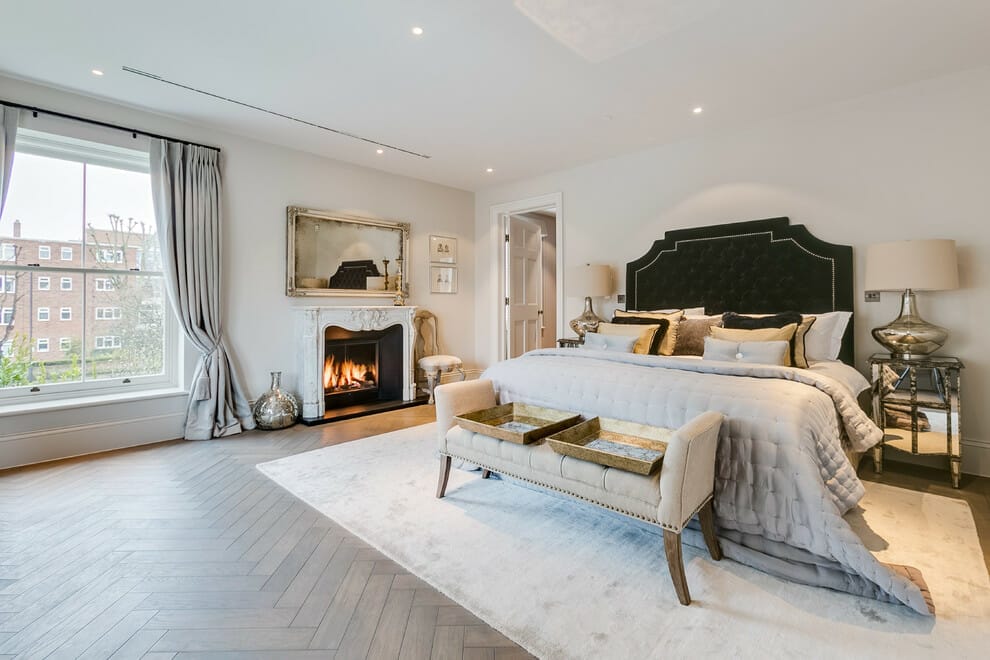 Bedrooms with fireplaces ideas that adopt the Victorian style often show the personality with carvings. And that's what the fireplace surround and mantel shelf are currently displaying.
Even though it comes in white, the carvings around the fireplace can give a unique charm. Moreover, as it comes with a vintage mirror in a similar style, it's clear that your fireplace has already become an attractive focal point from now on.
3. State a Modern Fireplace with Wooden Floating Shelves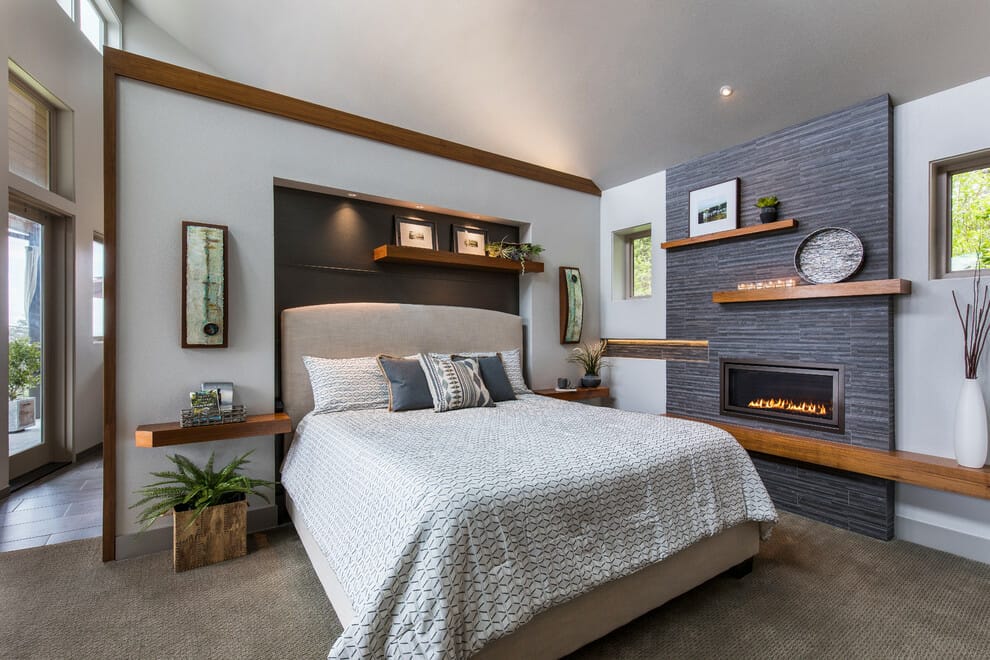 Next, bedrooms with fireplaces ideas also suggest installing leveled floating shelves like in the picture above.
Indeed, you can go with any material. However, to get a modern style finish, it's good to choose one with polished wood. Next, you merely have to fill it with some art decor that can level up your fireplace area.
4. Eclectic Bedrooms with Fireplaces Ideas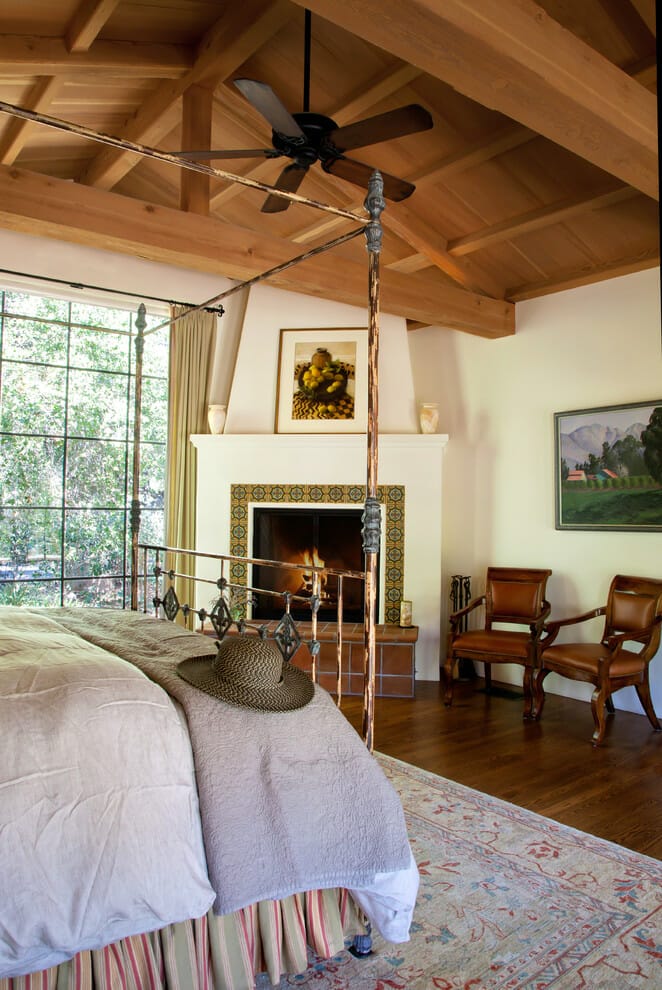 The eclectic interior design allows you to play with many colors, motifs, and materials. Moreover, no rule comes with it.
Thus, you can explore your creativity freely, including giving your fireplace a frame of Moroccan tiles. Without a doubt, it will work to add drama to your space no matter what.
5. Give Texture to The White Wall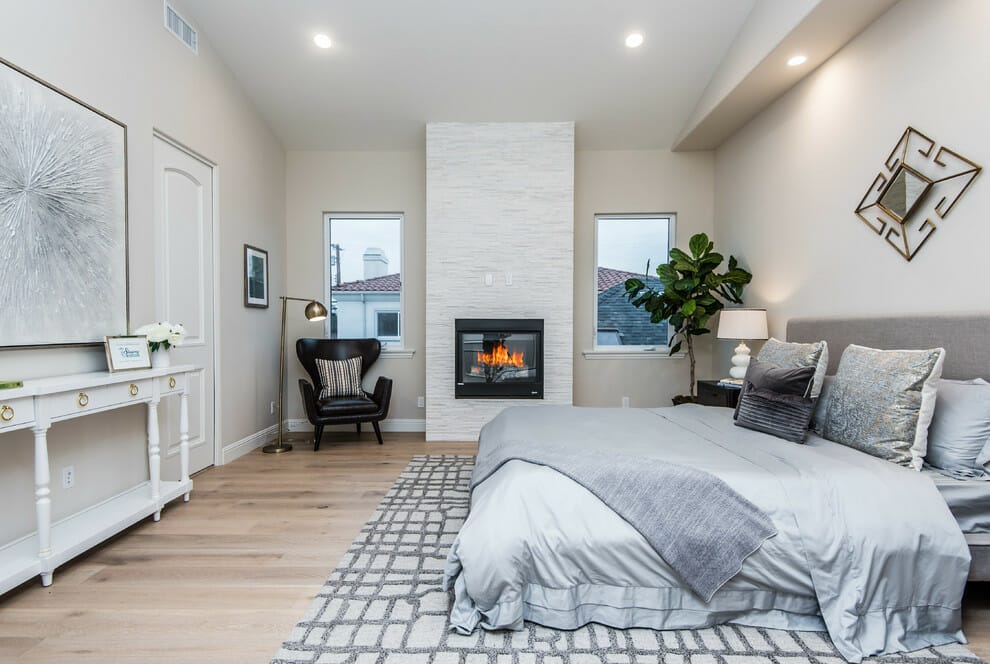 Suppose you prefer a neutral tone in your private room. In that case, you can increase the aesthetic value of your fireplace by providing a textured wall.
You can take many ways, from installing white natural stone walls to accent tiles. You merely need to adjust it to your taste, and all will look fine with your modern fireplace.
6. Hang A Masterpiece Over the Fireplace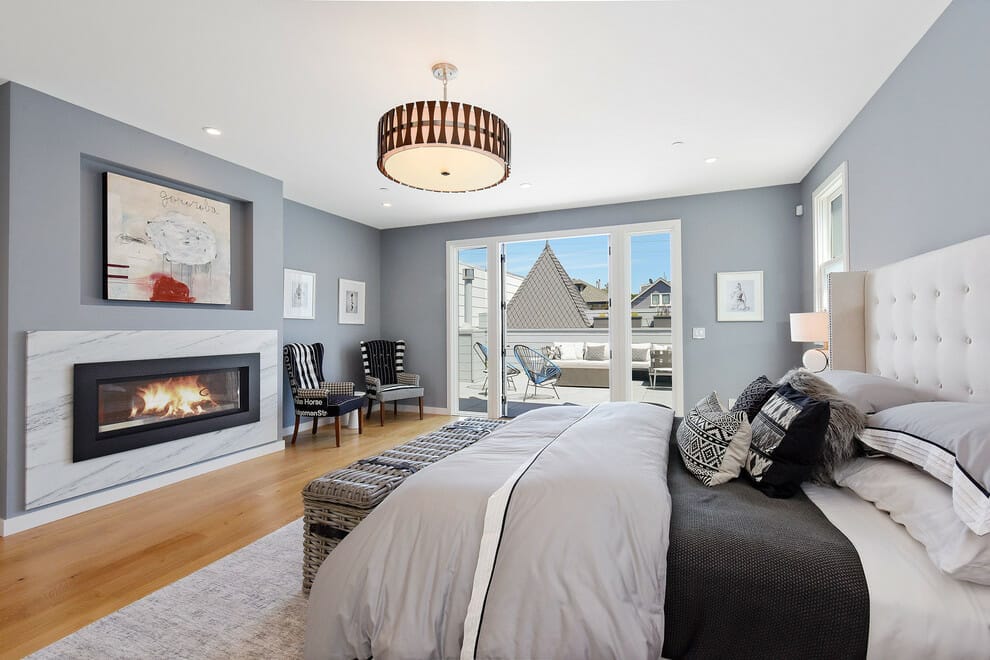 There is nothing more worth doing than adopting bedrooms with fireplaces ideas that maximize the usefulness of a masterpiece.
A wall art, of course, is an essential element that you can immediately showcase right above your fireplace.
You have now made your fireplace far from boring without spending a lot of energy and money.
7. Repaint the Stone Frame and Mantel in Distressed Gold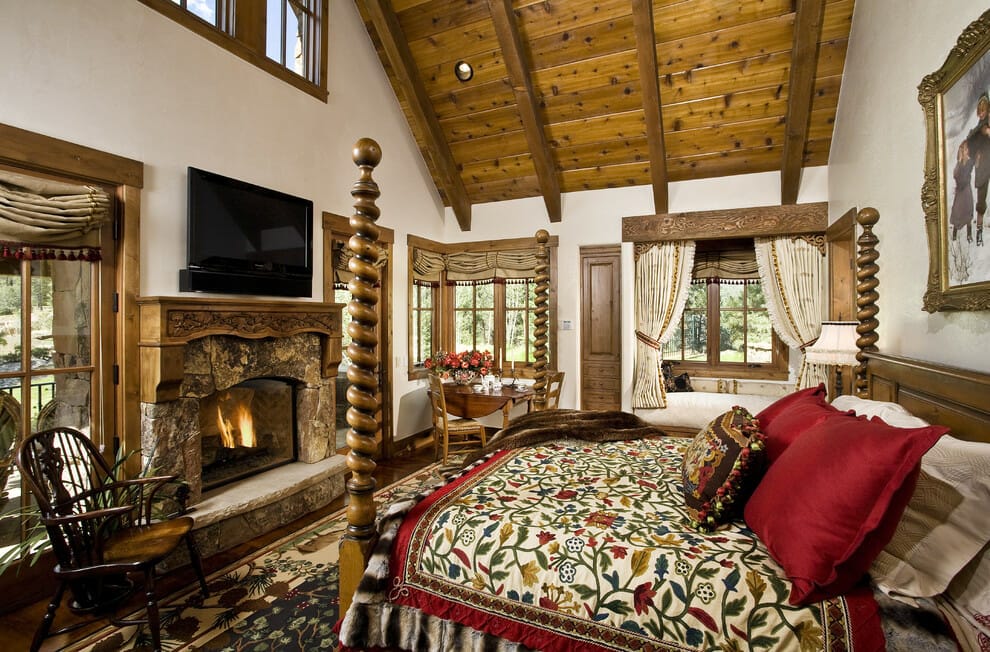 The classic style might be full of gold. For that, suppose you plan to redecorate your fireplace with this theme. Then all you need to do is repaint the surroundings in golden color.
Make sure to add some distress to some parts, especially the stone surrounds. It aims to state the existence of a fireplace nicely.
8. Minimalist Bedrooms with Fireplaces Ideas
Minimalism is a style that will suit everyone's taste. All the elements present do not give a quirky impression yet still amaze with their simplicity.
One way to style and showcase your fireplace through this concept is to add a faux concrete wall like the one above. Even if you choose not to go with any wall art decor, this concept will make the fireplace look appealing.
9. Enhance the Fireplace Spot with Accent Wall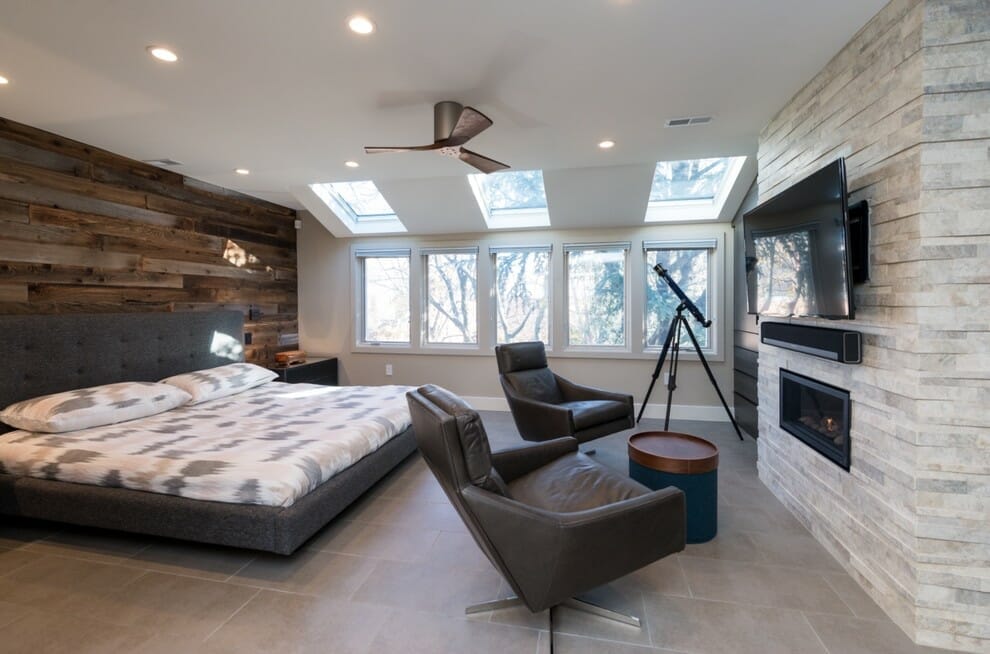 Accent walls are the most suitable strategy to highlight the existence of your fireplace. Either later you will go with the traditional or the modern one. It is indeed an excellent choice.
And, because contemporary style is popular today, it never hurts to simultaneously give two different designs on two opposite walls.
Suppose you decide to give the wall above your headboard a wooden pallet. Then you can set a lighter color with a rougher texture like stone veneer for the fireplace surround.
10. Strong Rustic Feel with Stone Wall and Mantel Shelf
The ruggedness of the rustic style defines the authentic, unique charm that you can display around your traditional fireplace.
No need to venture out. Merely go with a large stone wall and art decor with a deer's head illustration. And you can now present a stunning look for your fireplace area.
11. Beige Mantel and Built-in Shelves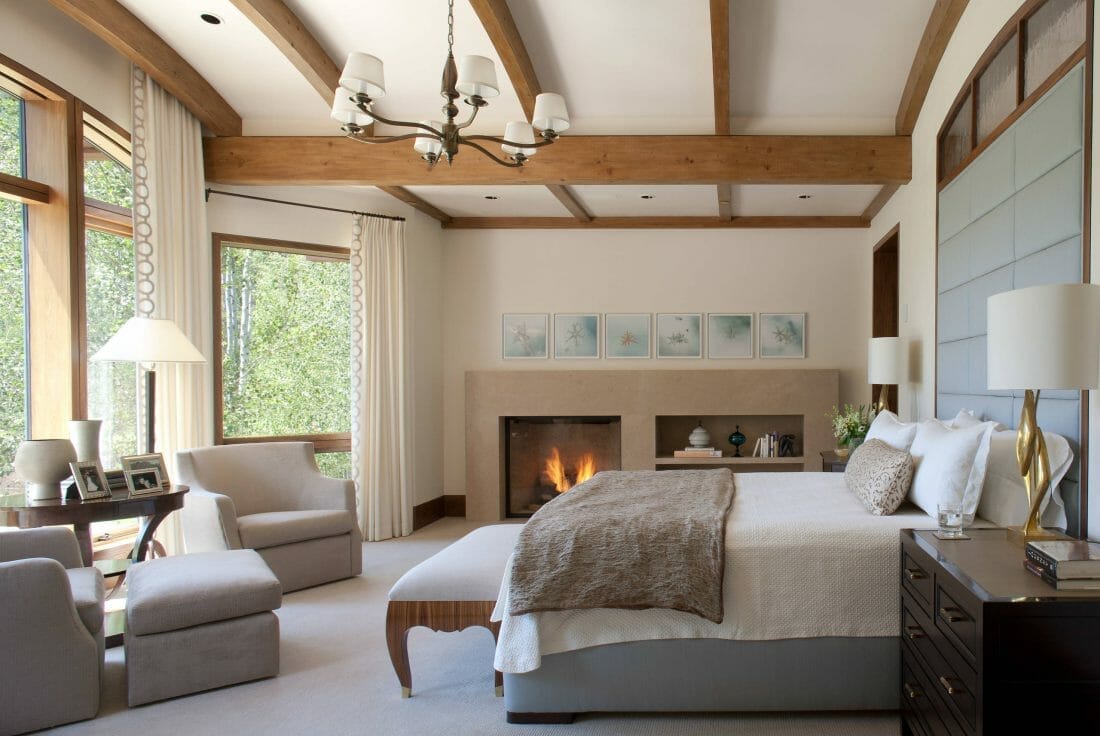 The following bedrooms with fireplaces ideas are about bringing an earthy farmhouse style into your intimate room.
Primarily on giving earthy colors around the fireplace. Let's say beige, cream, and the like. Apart from being eye-friendly, these tones also provide an inviting and comfortable warmth into the space.
You can also set up built-in shelves parallel to the firebox to further style the fireplace.
Last, beautify it with a line of wall art decors that hang just above the mantel shelf.
12. Camouflage in Black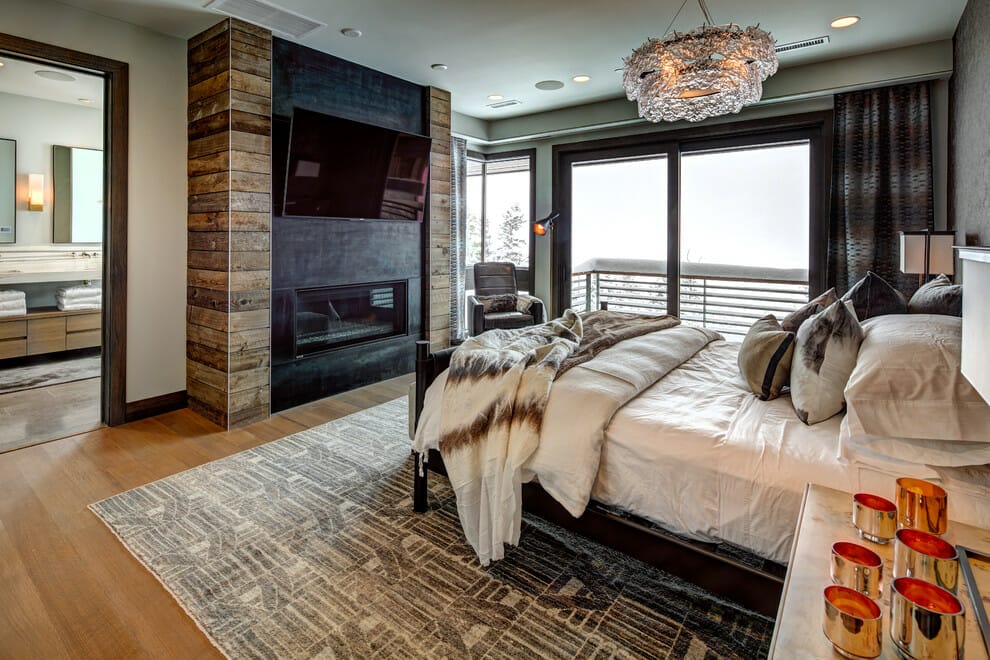 In addition to showcasing, bedrooms with fireplaces ideas also come with a camouflage strategy to the existing walls.
Most modern fireplaces come with black frames. Therefore, you can repaint or install tiles with dark colors on the walls around your fireplace.
It can be plain black or charcoal for a better option. Next, you have to arrange the stone tiles on both sides to add drama.
13. Spotlight the Fireplace with White Frame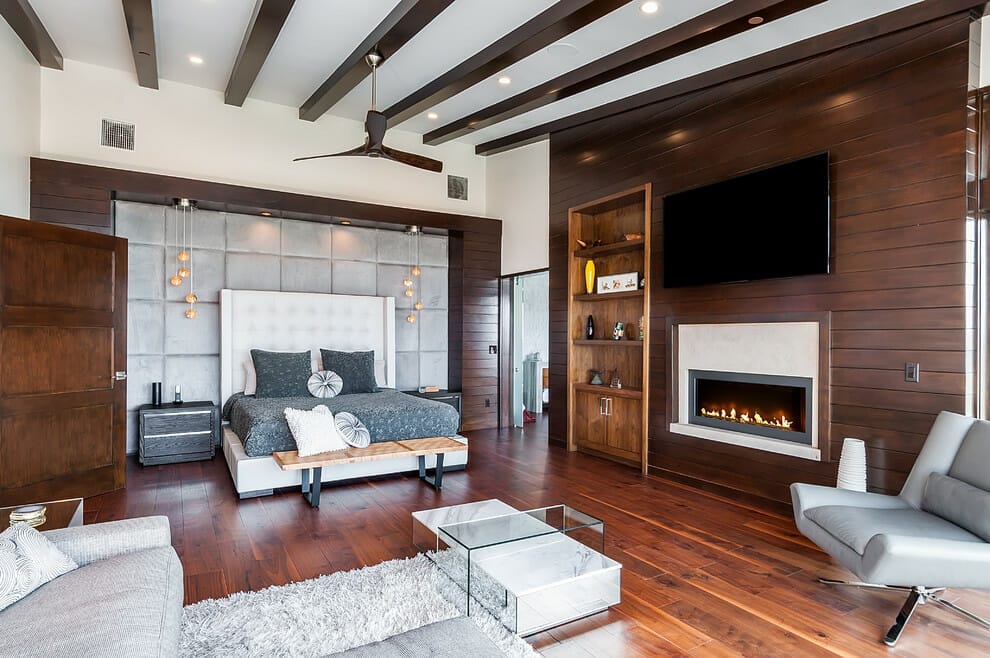 Interior designs with a traditional vibe often come with the wood's original color. And it would seem redundant if there wasn't a significant color difference in some of the furniture.
It would be better to bring up the fireplace in your room in white and an additional plain gray frame. That way, your space no longer looks dark and dull.
14. Large Monochrome Portrait Above the Electric Fireplace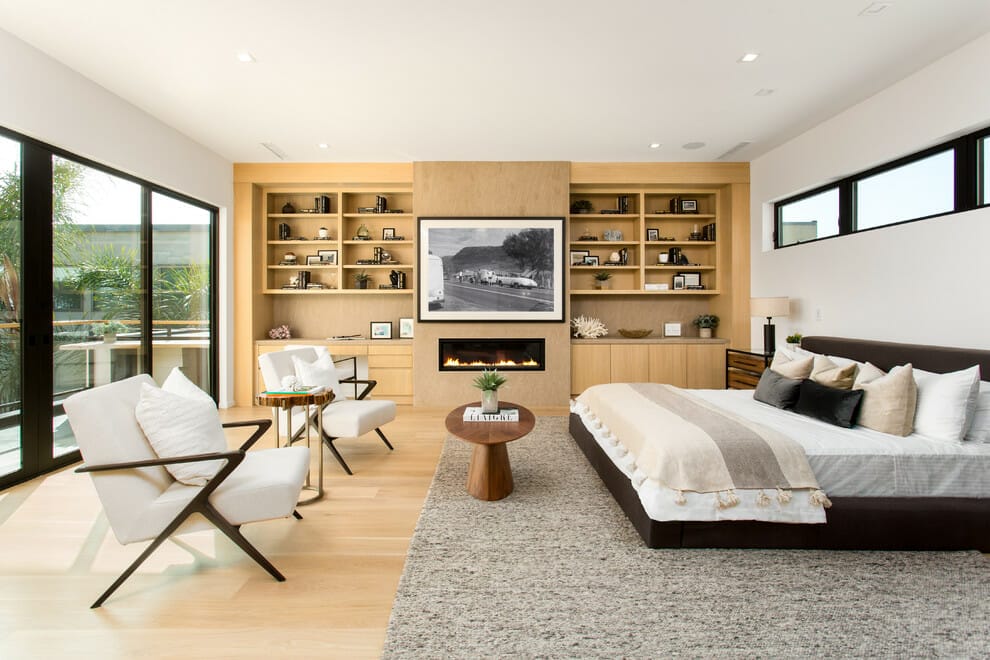 Unlike the traditional fireplace, the modern one generally has a slimmer size. So, it is possible to have quite a vast blank space over it.
But don't worry as there are many bedrooms with fireplaces ideas you can adopt. And one of them is by hanging a large monochrome portrait as above.
On top of that, you can also equip it with full built-in shelves on both sides.
15. 3D Ornament in Pop-up Color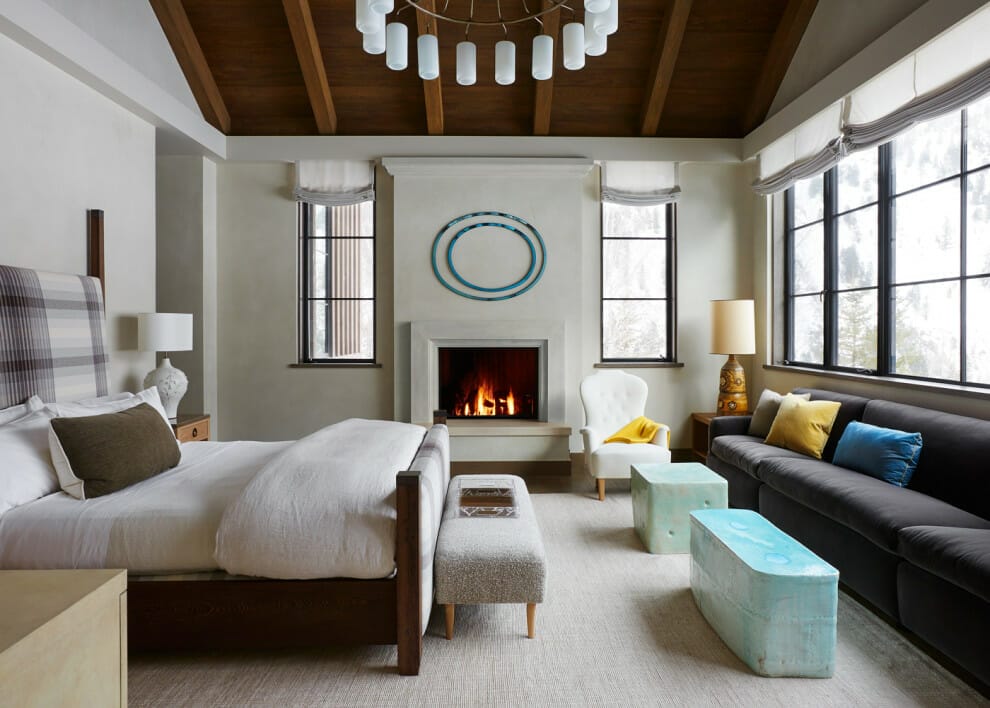 There will be no bedrooms with fireplaces ideas that are burdensome for you, both in energy and expenditure. Even in this option, you can spruce up your firebox by only adding a 3D wall decor above.
Giving personality is not always by making massive changes. Instead, even the tiny things turn out to have the power to make an appealing final result.
16. All Gray with Barn Wood Mantel and Wicker Baskets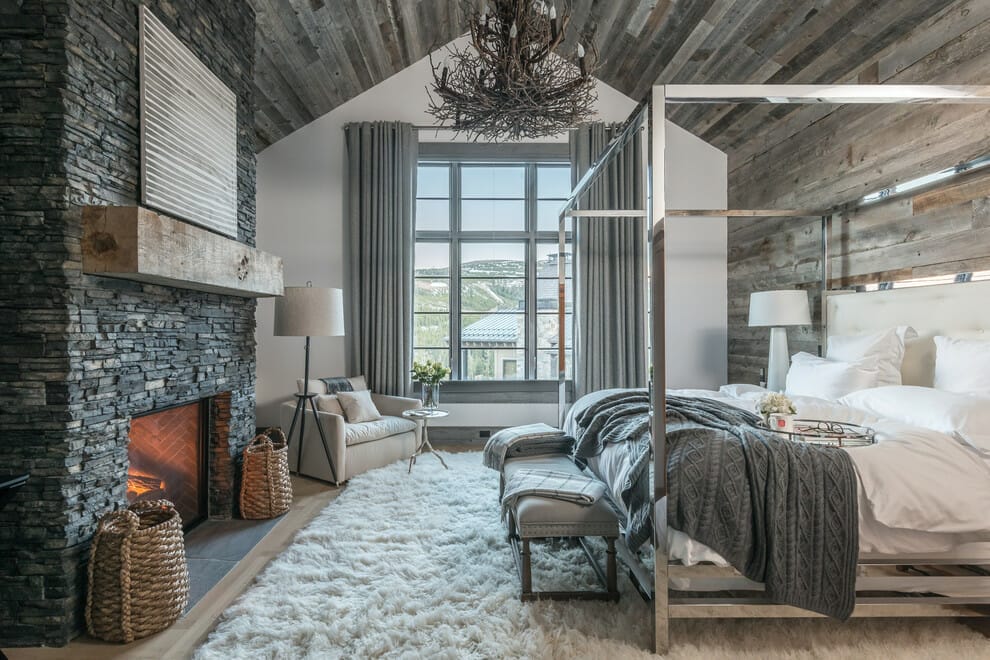 The main bedroom with a contemporary all-gray theme will be monotonous if other elements with brighter shades do not accompany it.
And as you decide to bring a traditional fireplace, the rustic objects will suit it better.
For example, you can set wicker baskets on both sides of the firebox. Furthermore, you can also present a mantel of sturdy barn wood.
17. Contemporary Bedrooms with Fireplaces Ideas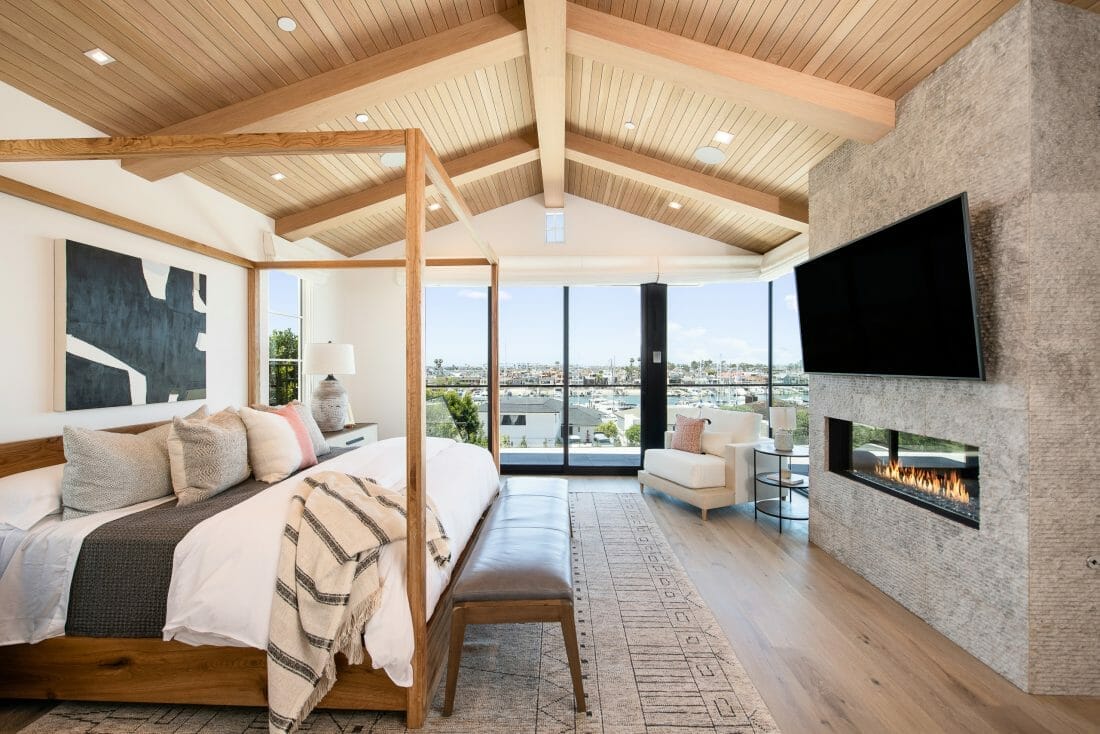 Nothing prevents you from having marble walls. Moreover, this will suit your primary bedroom with a contemporary theme perfectly.
Instead of arranging them throughout the room, installing marble tiles on only one side is better, precisely around the fireplace. Trust me. It will make your warm spot look more elegant.
18. Bright Theme with Semicircle Fireplace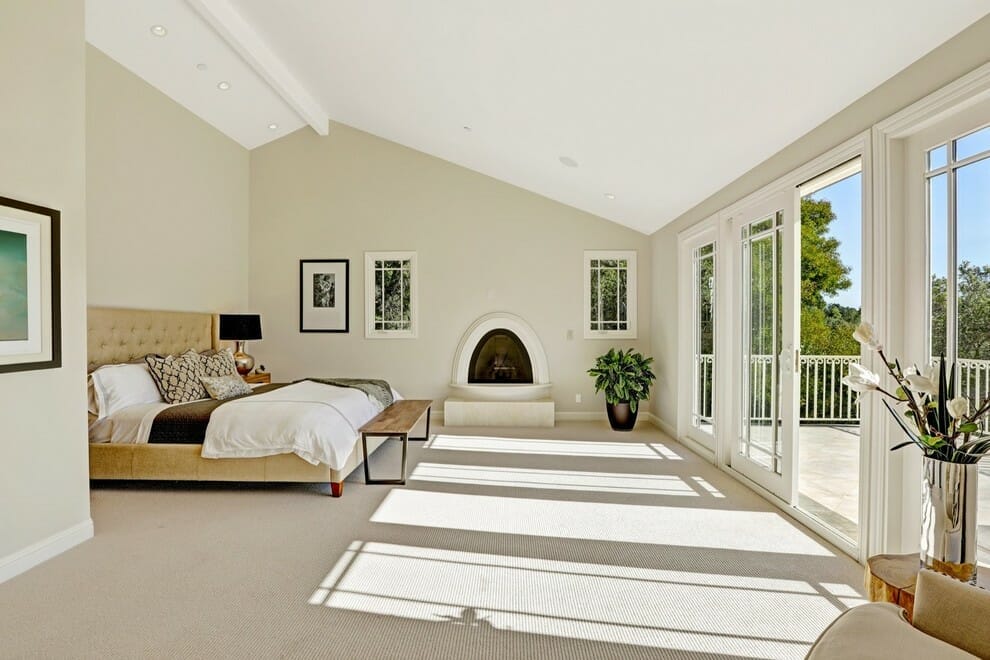 Juggling fireplaces to be more interesting is not always done by presenting supporting elements such as wall art or textured walls. However, it can also be about the shape of the fireplace itself.
Suppose you don't mind making improvements to your room. In that case, you can choose to set up a traditional fireplace with a semi-circle shape.
This fireplace will look more naturally attractive and match the earthy-themed interior.
19. Coastal Style in Blue and Cool White Paint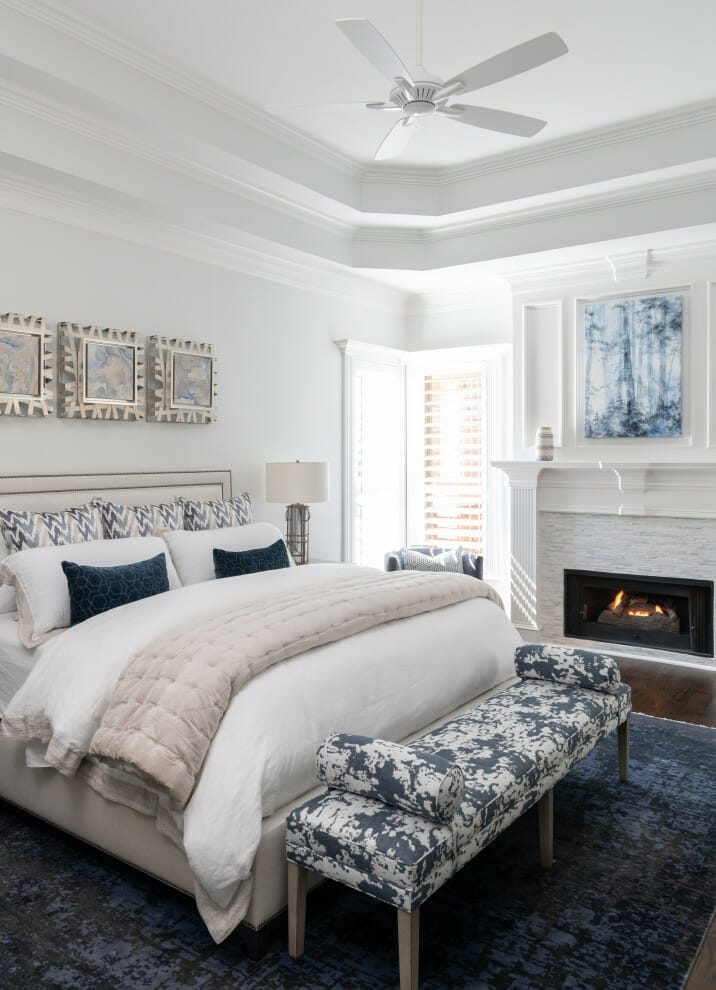 Creating bedrooms with fireplaces ideas in a coastal theme is not challenging, though. Either when you decide to use one with gas or electric.
It would be best if you painted around the fireplace in pure white. Then give a little touch of blue to some elements in the room.
Don't forget to hang the abstract wall art in a similar color over the mantel as a final touch.
20. Sleek Floating Shelf and Knick-Knacks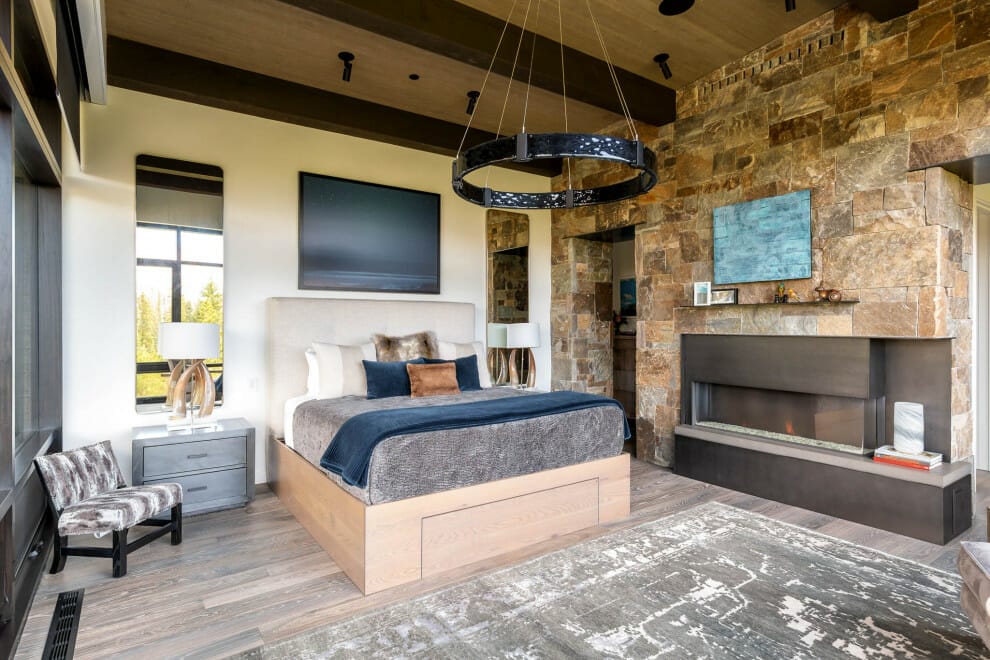 In some cases, the electric fireplace may come without a mantle. And this makes your warming area a more minor character.
You can at least provide a sleek floating shelf above the fireplace to get around that. Then fill it with various ornamental objects or knick-knacks.
21. Classic Mantel Shelf and Crown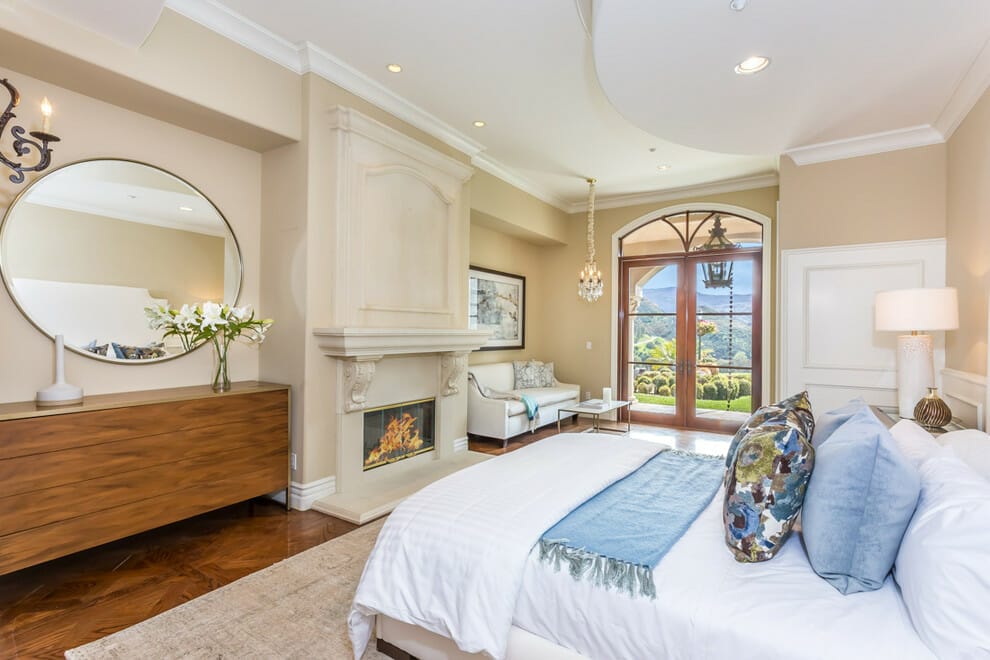 No one can deny the charm of bedrooms with fireplaces ideas in a classic concept. We can say that this theme is quite timeless with its identical mantel and crown.
Generally, this complex fireplace design will suit a spacious main bedroom.
Also, it's better to bring a frameless round mirror to compensate for the stiffness that comes from the classic fireplace.
22. Black Wallpaper with Abstract Pattern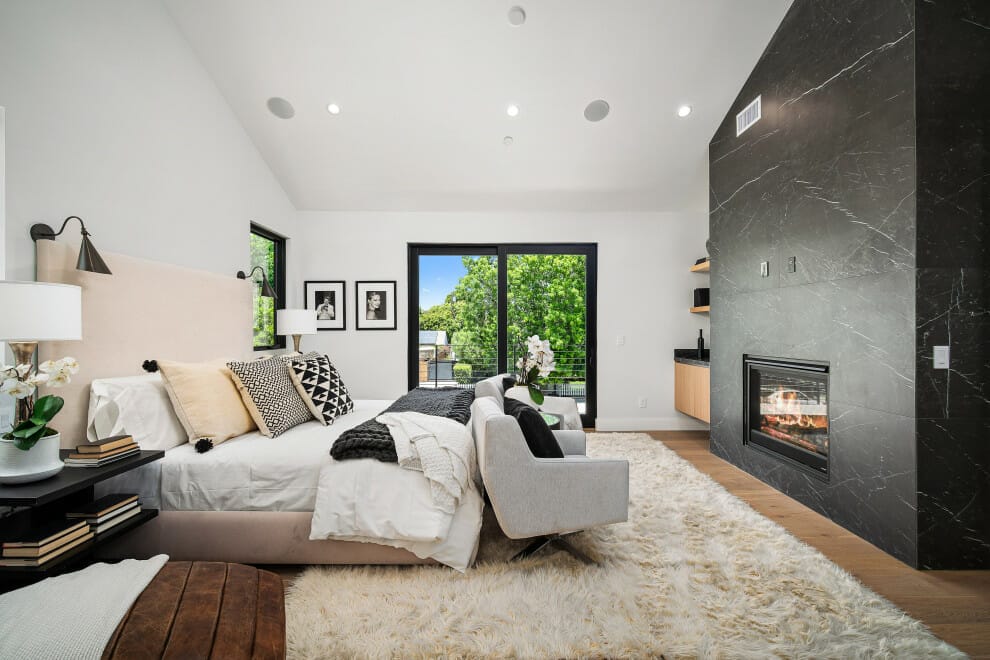 There are times when making significant improvements to the fireplace spot is not a viable step.
To be more practical, you can consider going with wallpaper to elevate the area around your fireplace.
Moreover, many wallpapers resemble the original marble tiles. So you can redecorate the walls around your fireplace quickly any time you want.
23. Vertical Shelves Beside the Fireplace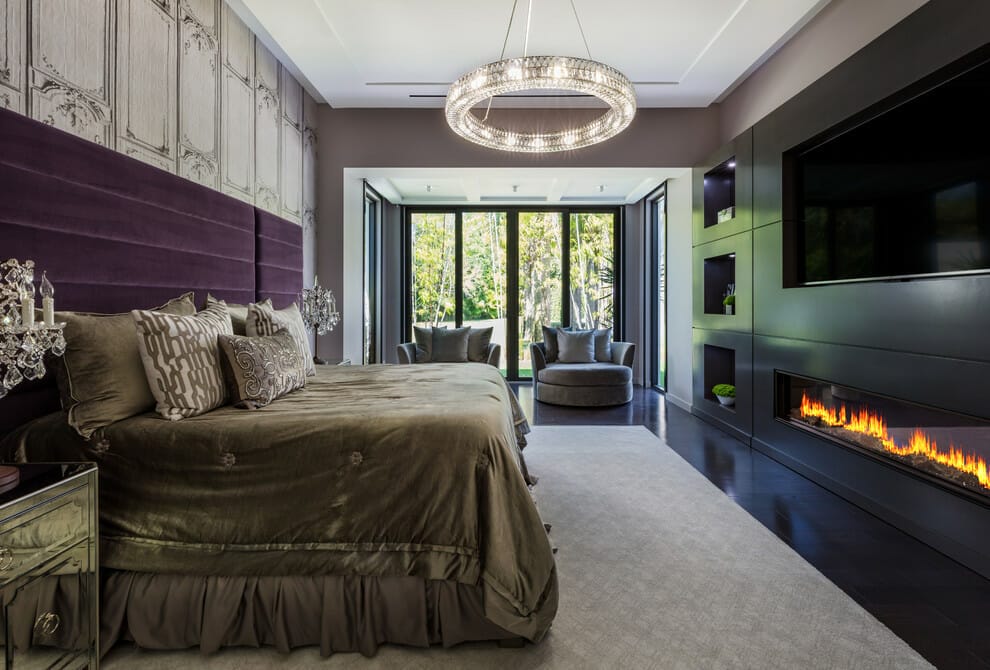 As previously mentioned in bedrooms with fireplaces ideas above, built-in shelves have a significant role in giving style to the fireplace.
After several ideas suggested with the horizontal ones, now is the time to explore more with the vertical shelves.
The presence of shelves next to the fireplace is quite functional. You can display anything there, including books and greenery.
24. Black Accent Wall Among the Whites
Shiplap or accent walls are the following options in a bedroom with fireplace ideas. And suppose you've already given the entire room a white wallpaper with a blurry pattern. You are better off repainting the accent wall in the fireplace area in black.
Everyone knows that a black and white theme will never fail in any decor. So, what do you wait for? It is perfect for stating the existence of your fireplace without much effort.
25. Set A Reading Space Near The Fireplace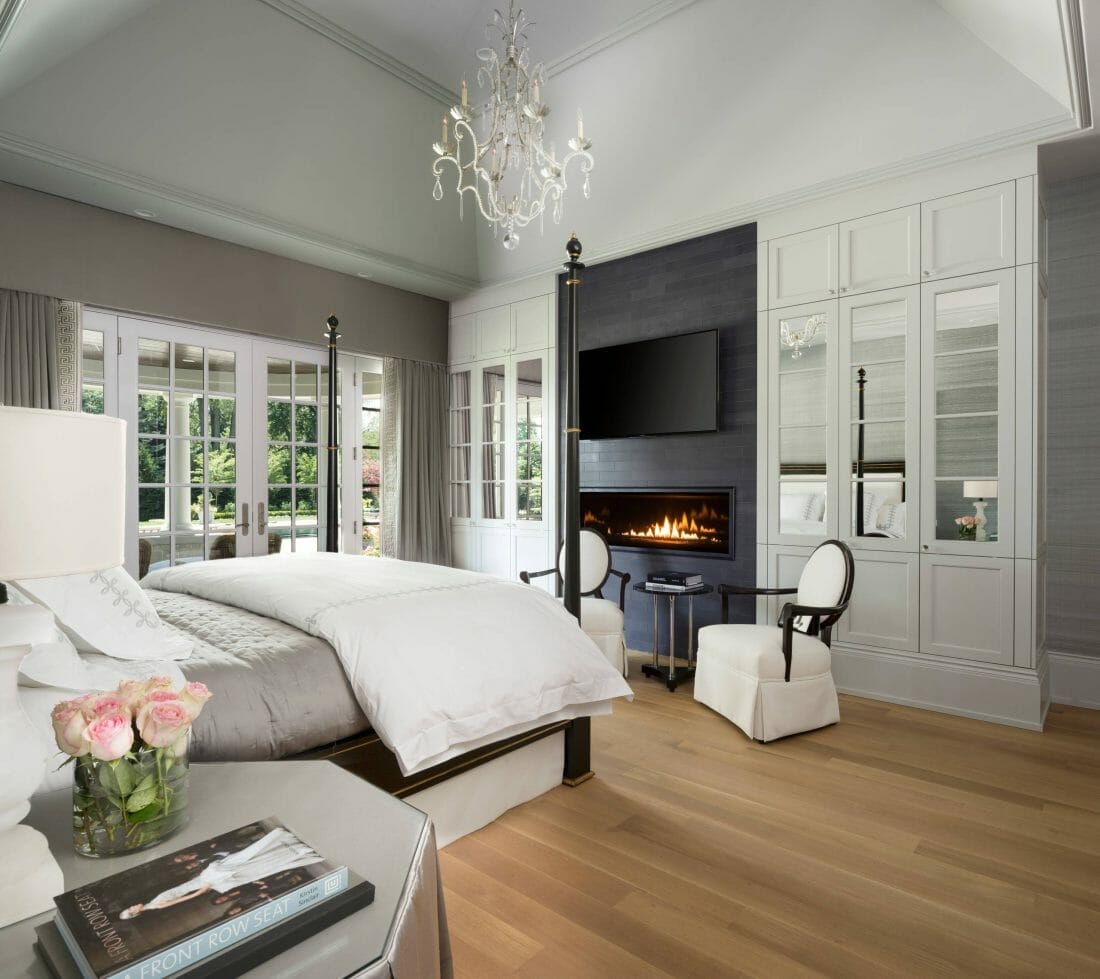 After finishing with the wall decorations around the fireplace, now is the time to arrange a comfortable seat in front of it.
Giving warmth to homeowners is undoubtedly the primary goal of the fireplace. So it's not wrong to set up the reading spot close to the firebox.
Indeed, it is enough to state the existence of a fireplace in your room.
26. Fireplace Between Two Windows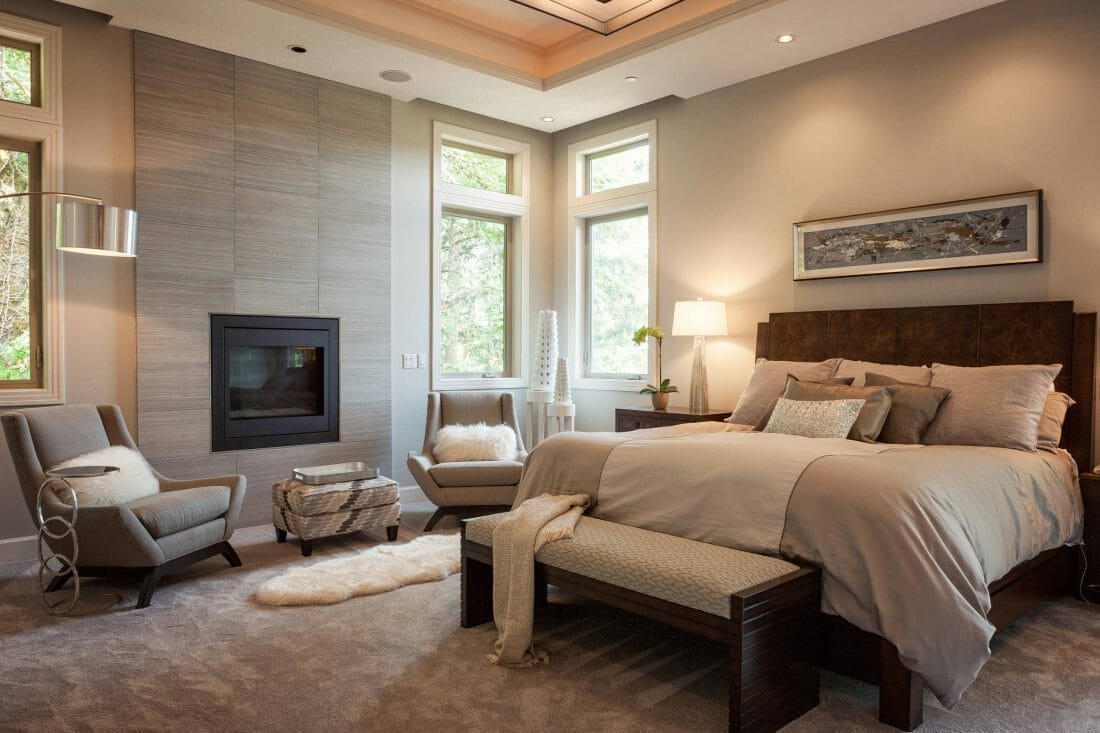 There's nothing wrong with setting a fireplace between two windows.
Instead, it is the best implementation of bedrooms with fireplaces ideas you've ever taken. It is said so because obviously, this will help you highlight the fireplace's presence correctly.
Moreover, it provides access to additional natural light, which is essential for you who have a reading space near the fireplace.
27. Eccentric Bedrooms with Fireplaces Ideas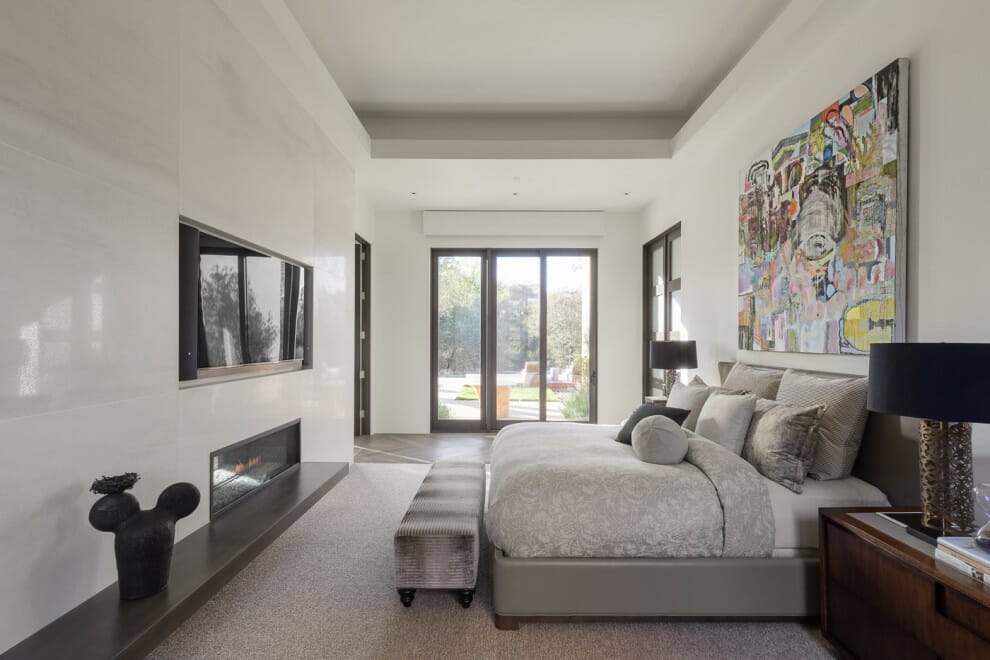 There's not much you can do in a bedroom with a predominantly white theme and a modern black fireplace.
Some of the best strategies you can adopt are to give your fireplace a raised heart and set a unique standing sculpture. Further, you can also hang wall art doodles as above.
Although it looks simple, this decoration is quite characterful.
28. Elegant Design in Earthy Tone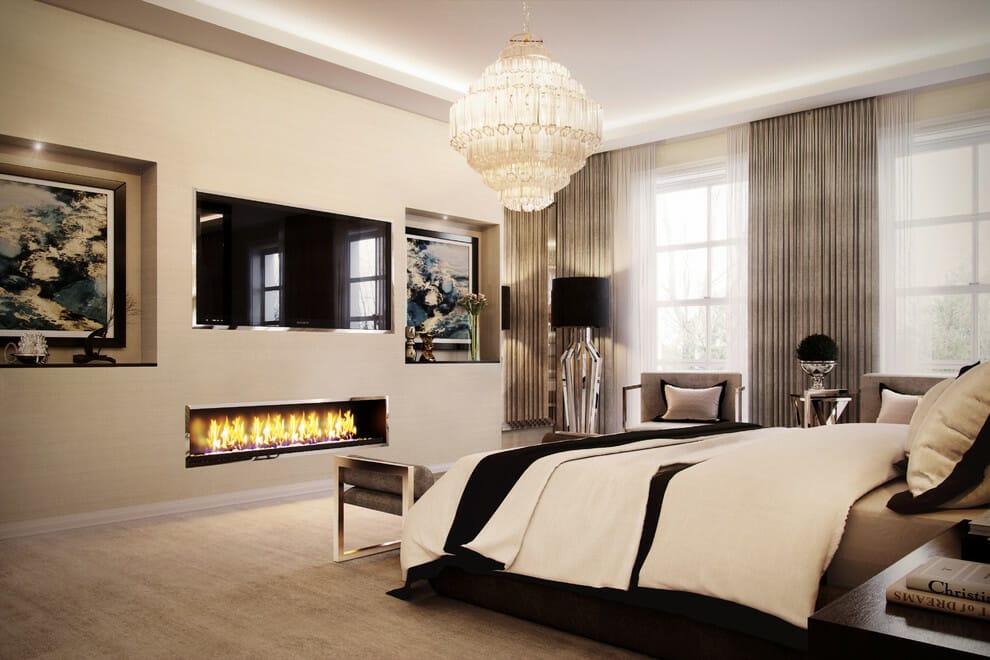 Try to simultaneously showcase many elements on one side of the wall only, precisely at the fireplace spot.
You can simultaneously hang wall arts and also mount the TV there. So, a blank space above your fireplace will no longer experience a terrible void.
29. Fireplace with Landscape Behind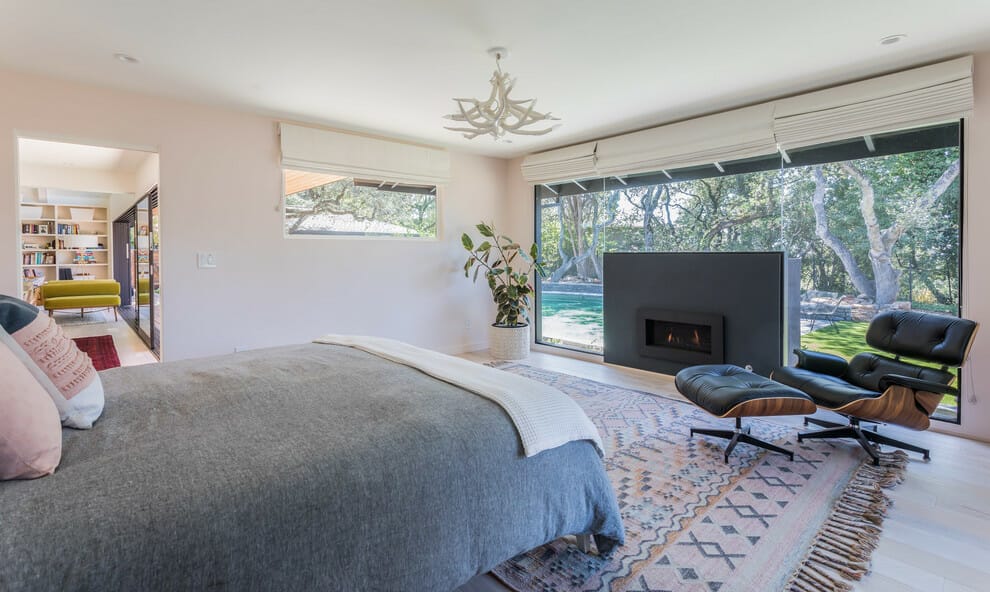 In the previous bedrooms with fireplaces ideas, you always found a firebox that people built on the wall, and now is the time to achieve something newer. Namely by setting up your fireplace in a glass partition.
And of course, this concept is the ultimate way to increase the aesthetic value of your fireplace. You know that it presents a natural landscape that many homeowners desire.
30. Small Bedroom with Fireplace
In presenting a fireplace in a small room, the primary key is "make it simple."
It would be better not to put a mantle or crown over the fireplace. Instead, you can give a different wall pattern from the rest to add personality.
And prioritize choosing neutral and bright colors like white and gray.
You know that no one will resist the warmth of a fireplace, even when it comes with a traditional style.
Therefore, you only need to elevate its aesthetic value by adopting one of the multiple bedrooms with fireplaces ideas above. Giving a touch of personality to the room will help you sleep soundly tonight.