A mirror can give your bathing area a feeling of spaciousness. It also reflects natural light and offers character. Moreover, it adds the final addition to the space. If you plan to redecorate yours, explore these lovely bathroom mirror ideas.
Regardless of the size and style of your bathroom, you must find something desirable here. So, let us have a look at these stunning mirrors.
1. Bathroom Mirrors with Lights Built In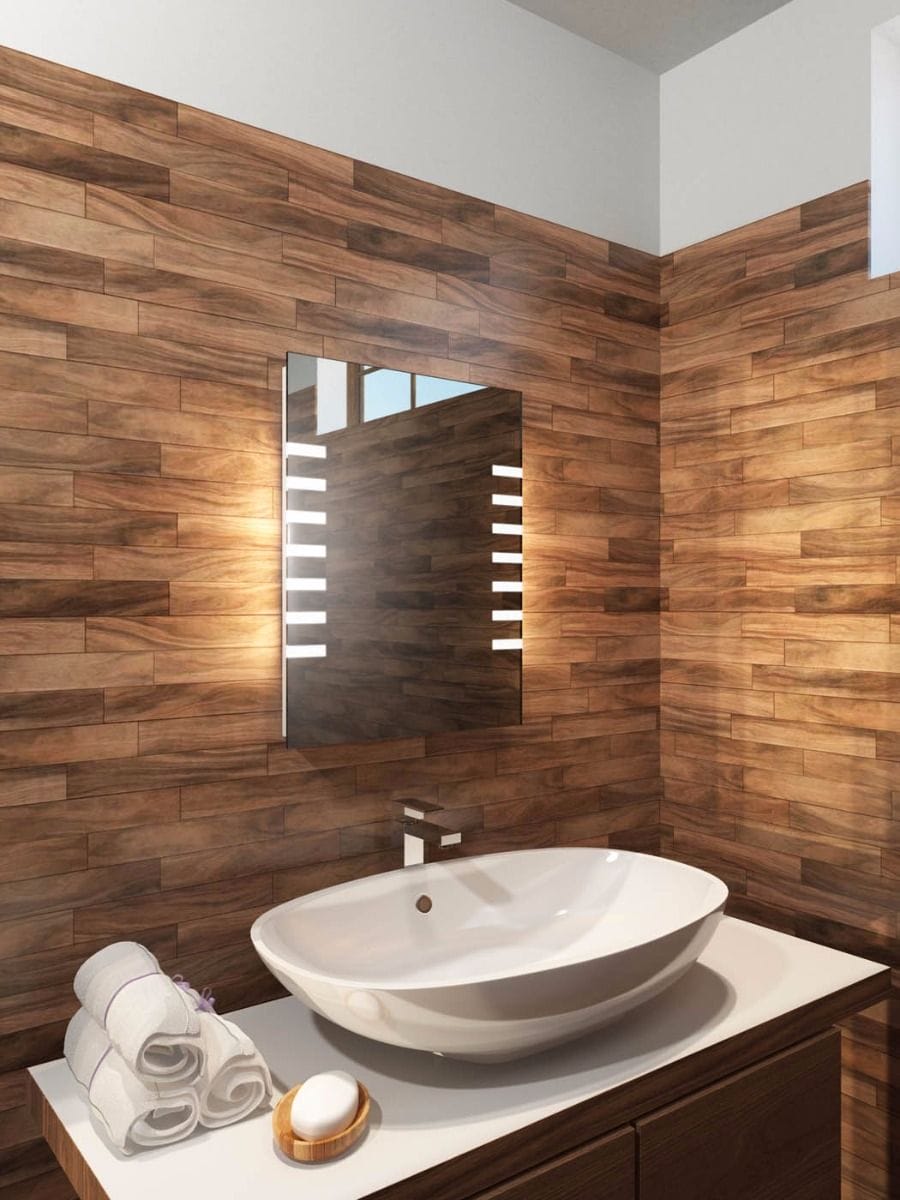 Whites and woods come together in this bathroom. They set a clean environment and a warm atmosphere at once.
The mirror features built-in lights. Those pieces cast a soft glow for tasks like nighttime grooming and tooth brushing.
2. LED Bathroom Mirror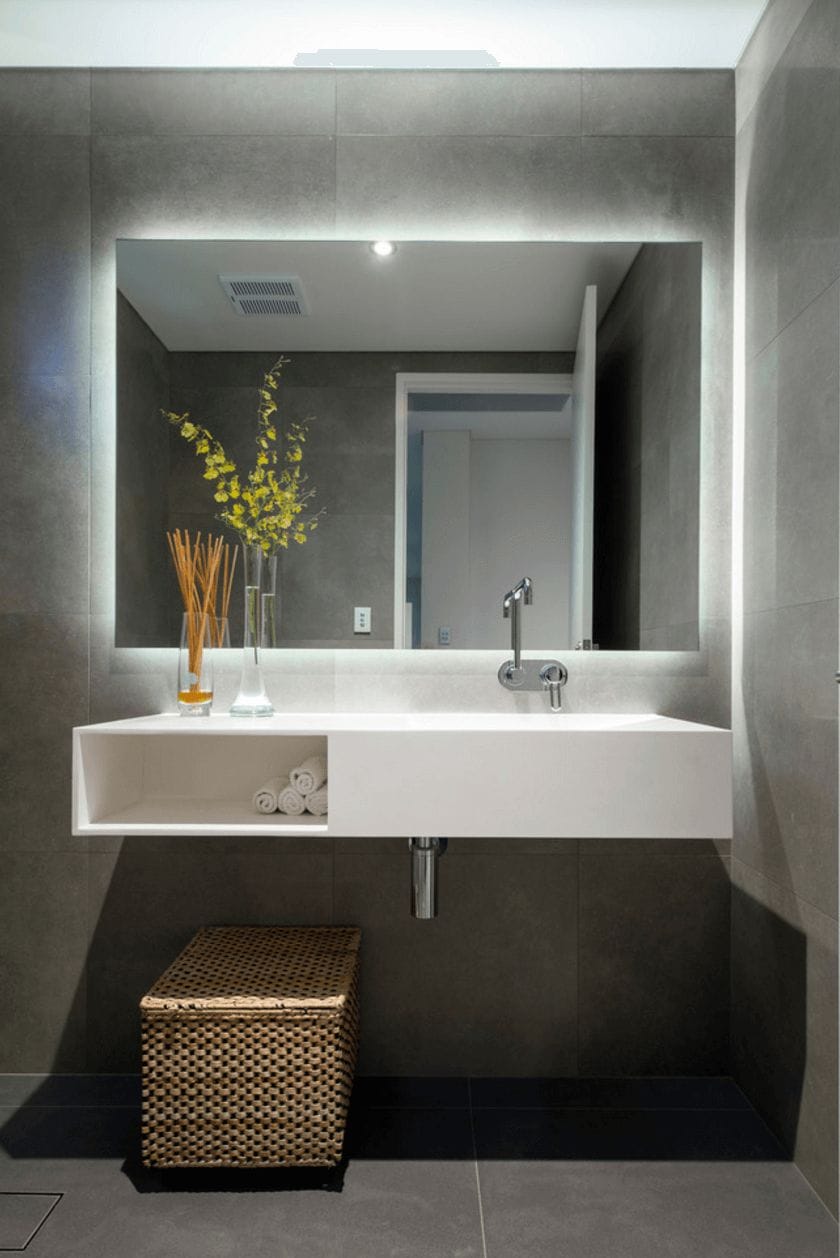 Above is a modern bathroom with the LED-backlit mirror. It provides bright light and stylish appearance.
Moreover, the mirror helps the homeowner apply makeup. She can see her face in a detailed way despite the low natural light.
3. DIY Mirror Frames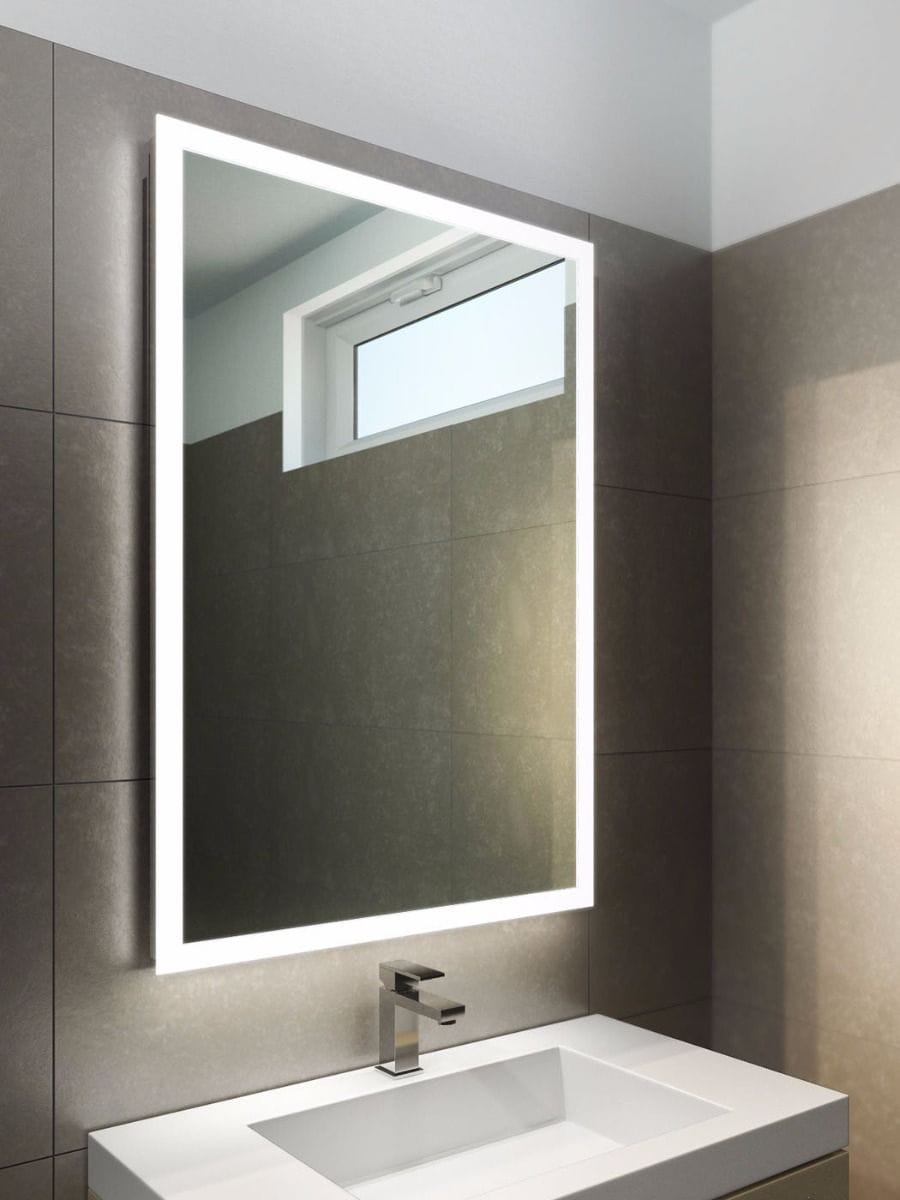 As you can see, the DIY LED-framed mirror brightens up the vanity area. The polished concrete backdrop allows it to stand out.
The lighted mirror carries functionality as well as minimalist appeal to the bathroom. It visually expands the space too.
4. Master Bathroom Mirror Ideas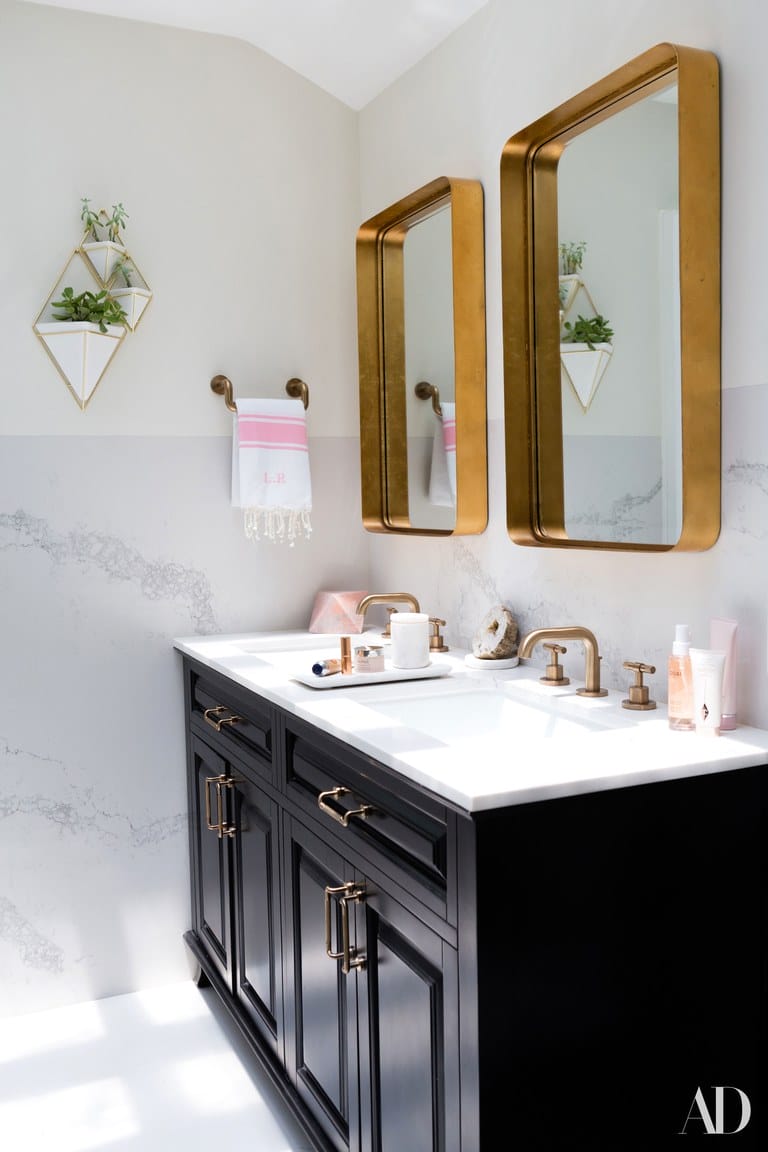 Two gold-framed mirrors pop against the stark backdrop. Those pieces instantly glamify the bathroom.
Not to mention, the mirrors create the impression of a bigger space. A gold bar towel, faucets, and fittings raise the luxurious vibe.
5. Single Vanity Bathroom Mirror Ideas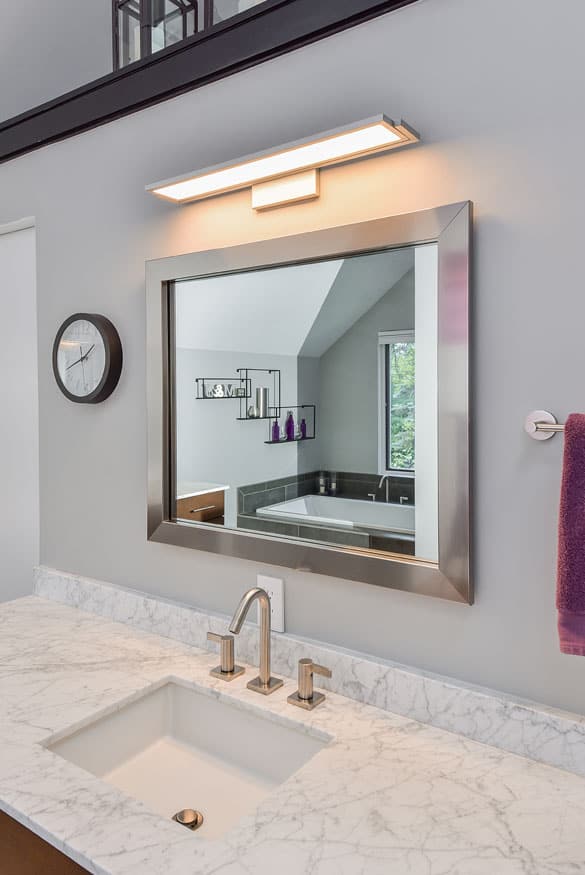 Here, a stainless steel framed mirror lends the bathing space a pop of polish. It also infuses industrial charm into the room. The wall light over the mirror provides extra illumination.
6. Bathroom Mirror Ideas for Single Sink
The taupe wall carves a tranquil scene. Meanwhile, black vanity gives the bathroom some depth.
A lighted mirror makes grooming and makeup application easier. It radiates a crisp light for a brighter space.
7. Bathroom Mirror with Shelf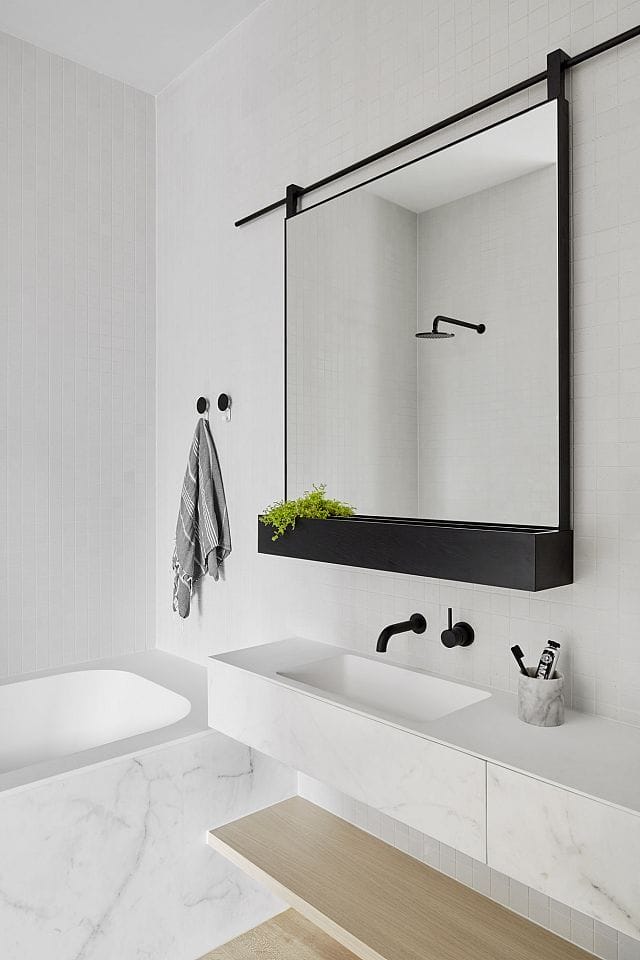 The sliding barn door mirror comes in black. It delivers a high contrast to the predominantly white bathroom. Moreover, it employs a shelf for holding an indoor plant.
8. Wood Bathroom Mirror Frames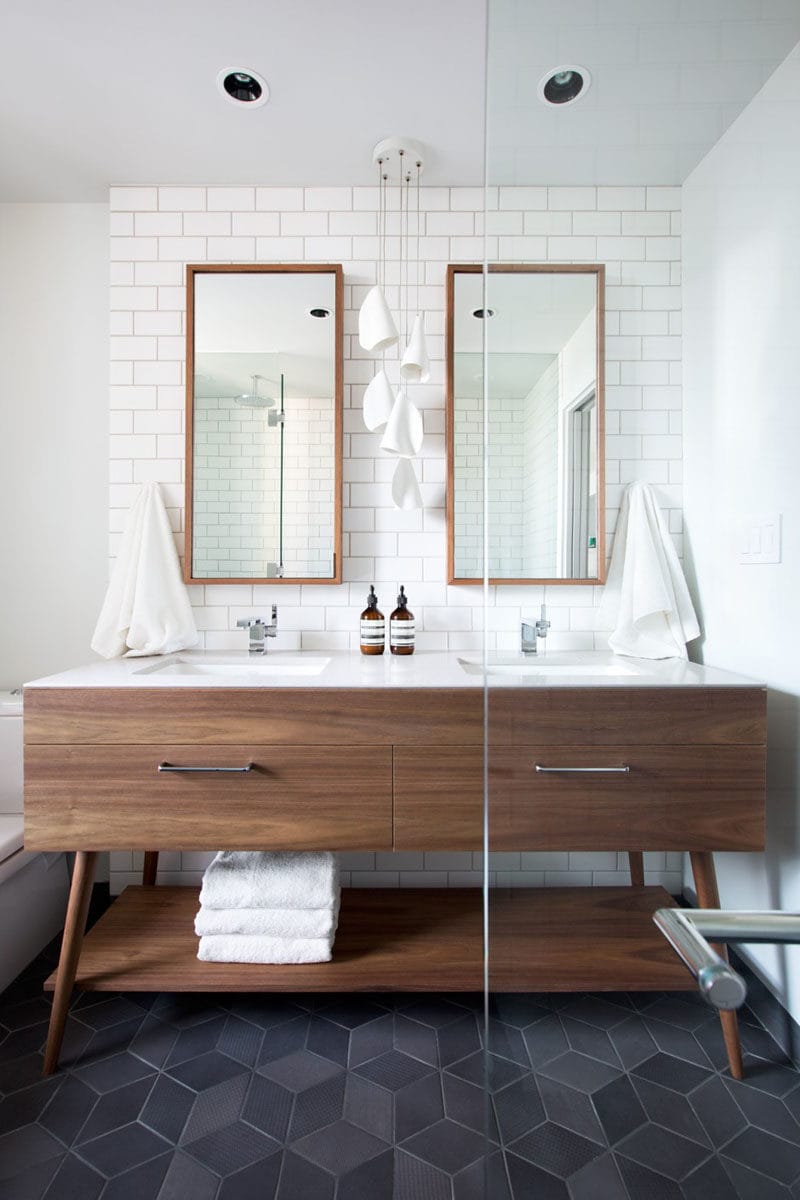 This bathroom includes two wood-framed mirrors. Do they not only ooze unmatched warmth but also develop a gorgeous symmetry. Floor and wall tiles steal the show.
9. Bathroom Mirror Ideas with Lights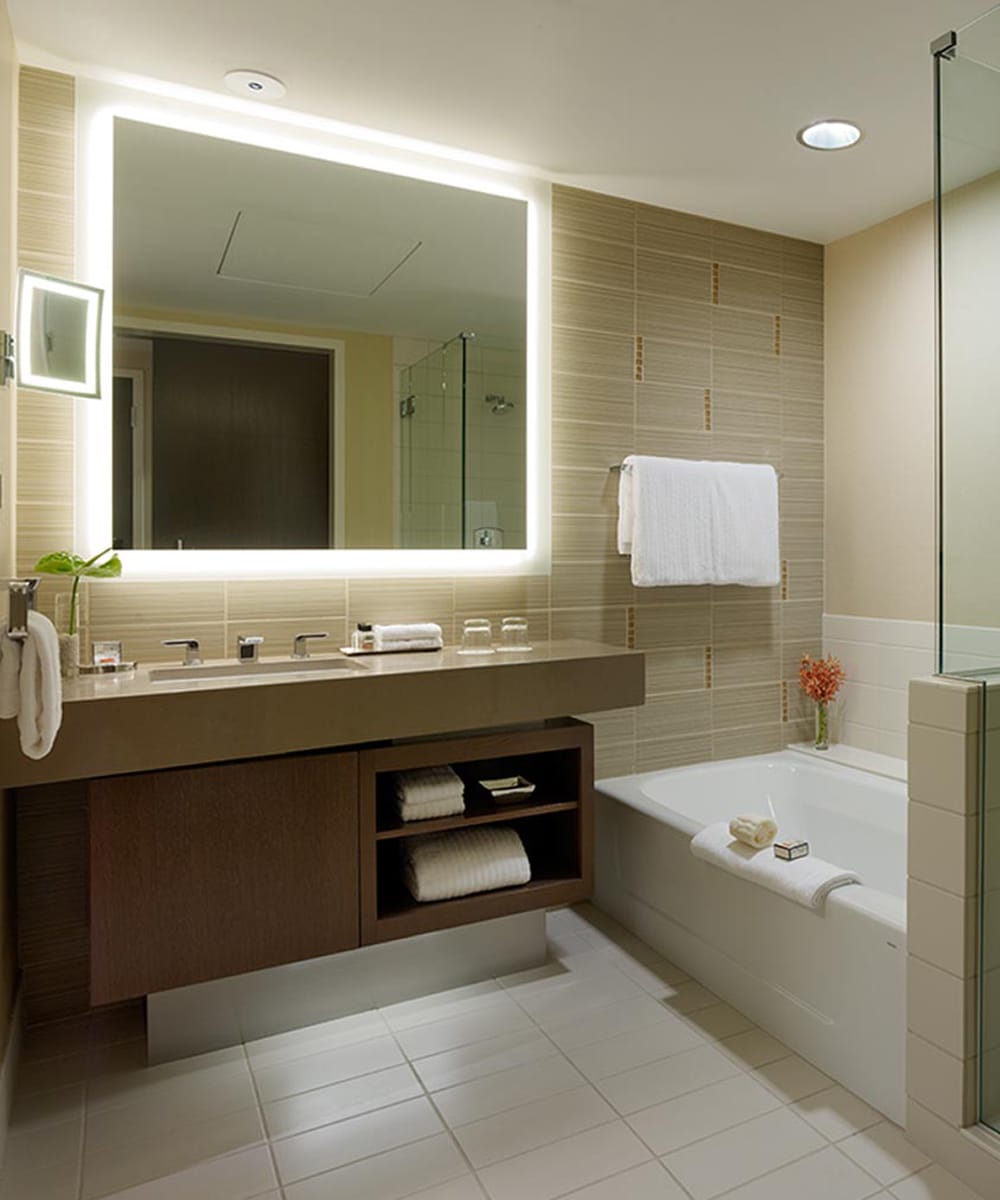 This large mirror is framed with LED lights. They help illuminate the room without making the homeowner screw up her eyes. Moreover, they take the mirror from simple to unforgettable.
10. Lowes Bathroom Mirrors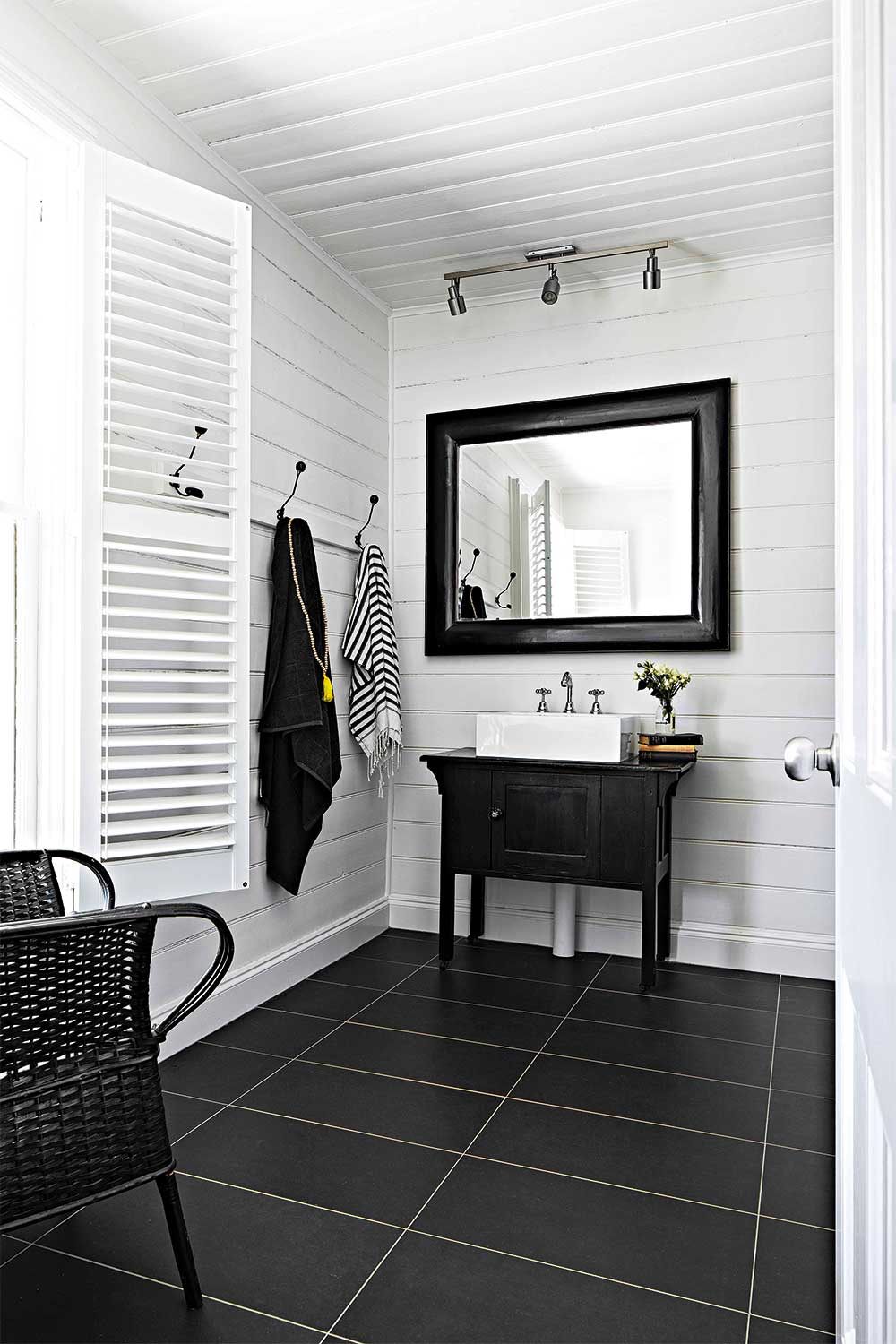 White shiplap ceiling and walls lead to a modern farmhouse bathroom. The mirror picks up the inky shade used throughout the space from rattan armchair to towel. It also matches the shape of the floor tile.
11. Rustic Bathroom Mirror Ideas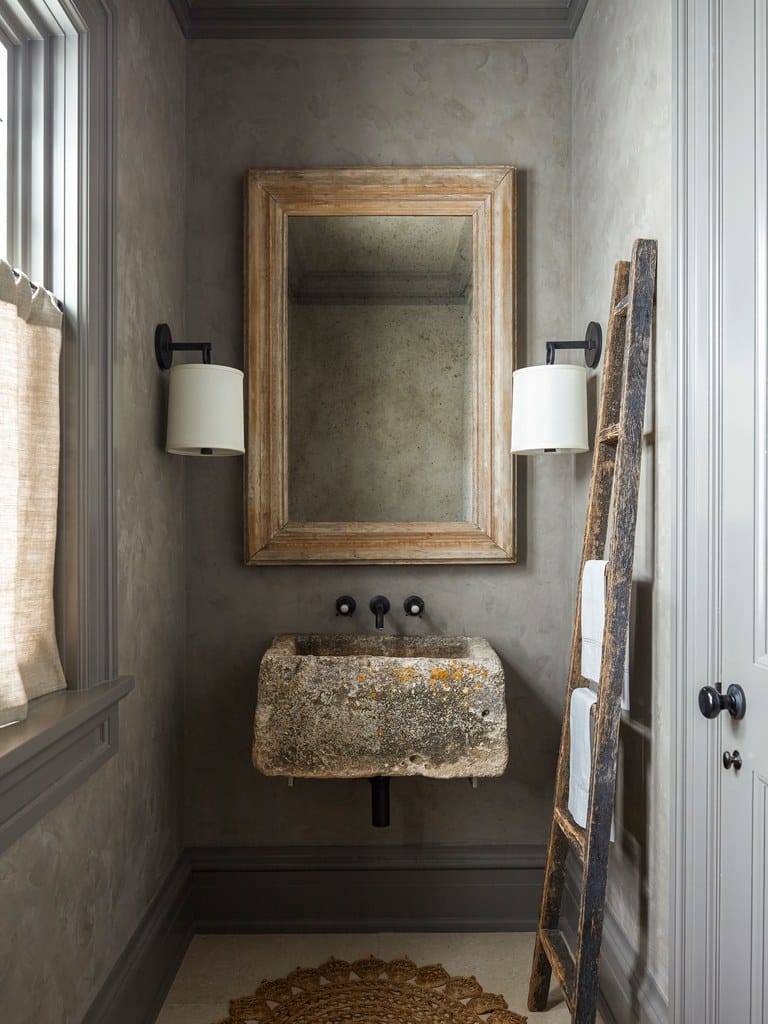 In this half bathroom, the distressed wood framed mirror perfectly teams with old ladder and weathered stone sink. It brings the rustic feel to the interior. Two vintage wall sconces light up the mirror and vanity.
12. Large Bathroom Mirror Ideas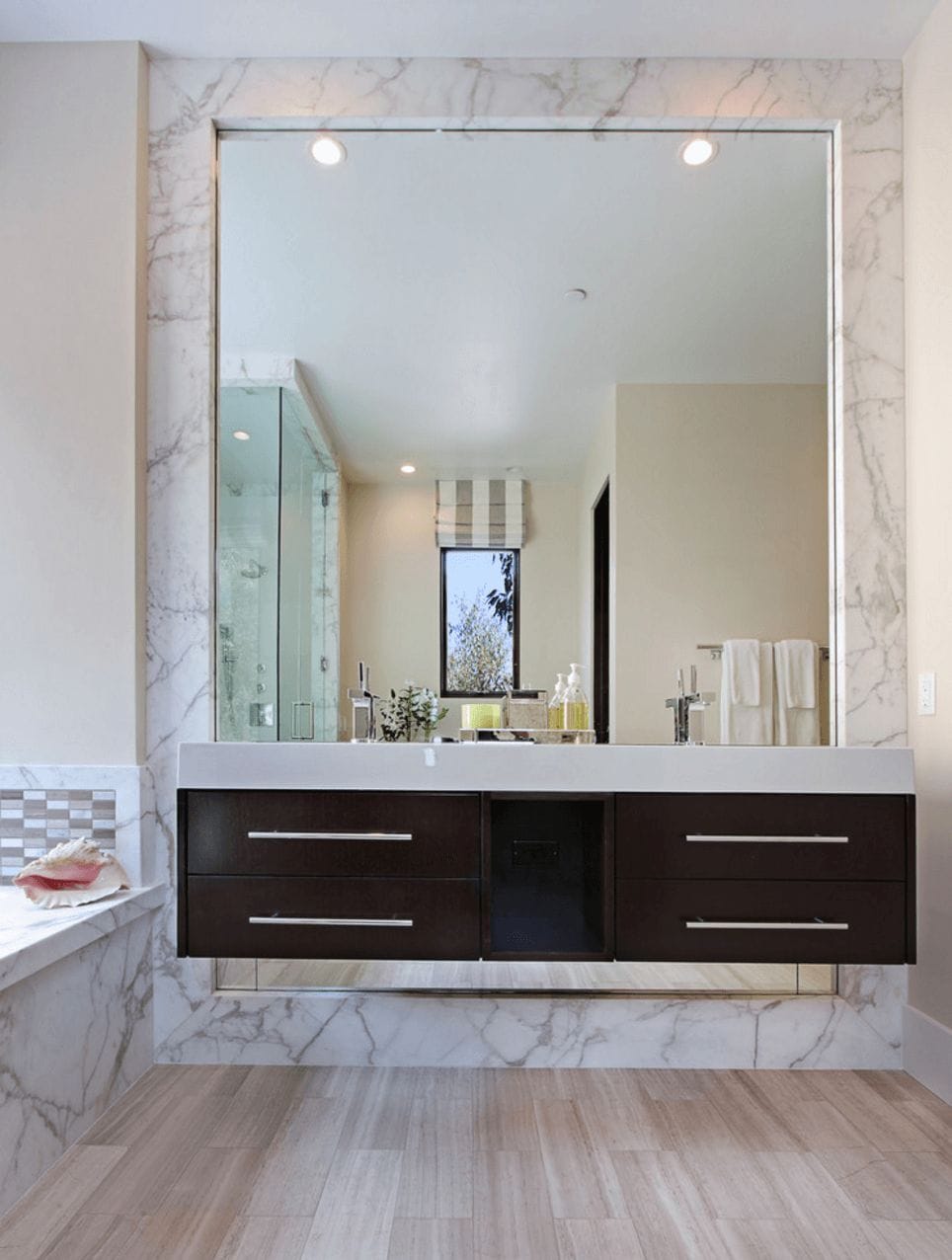 A floor-to-ceiling mirror has a marble frame. The unit sets a lavish setting and creates an impressive appearance at once. Not to mention, it offers a much-needed dimension.
13. Trendy Bathroom Mirrors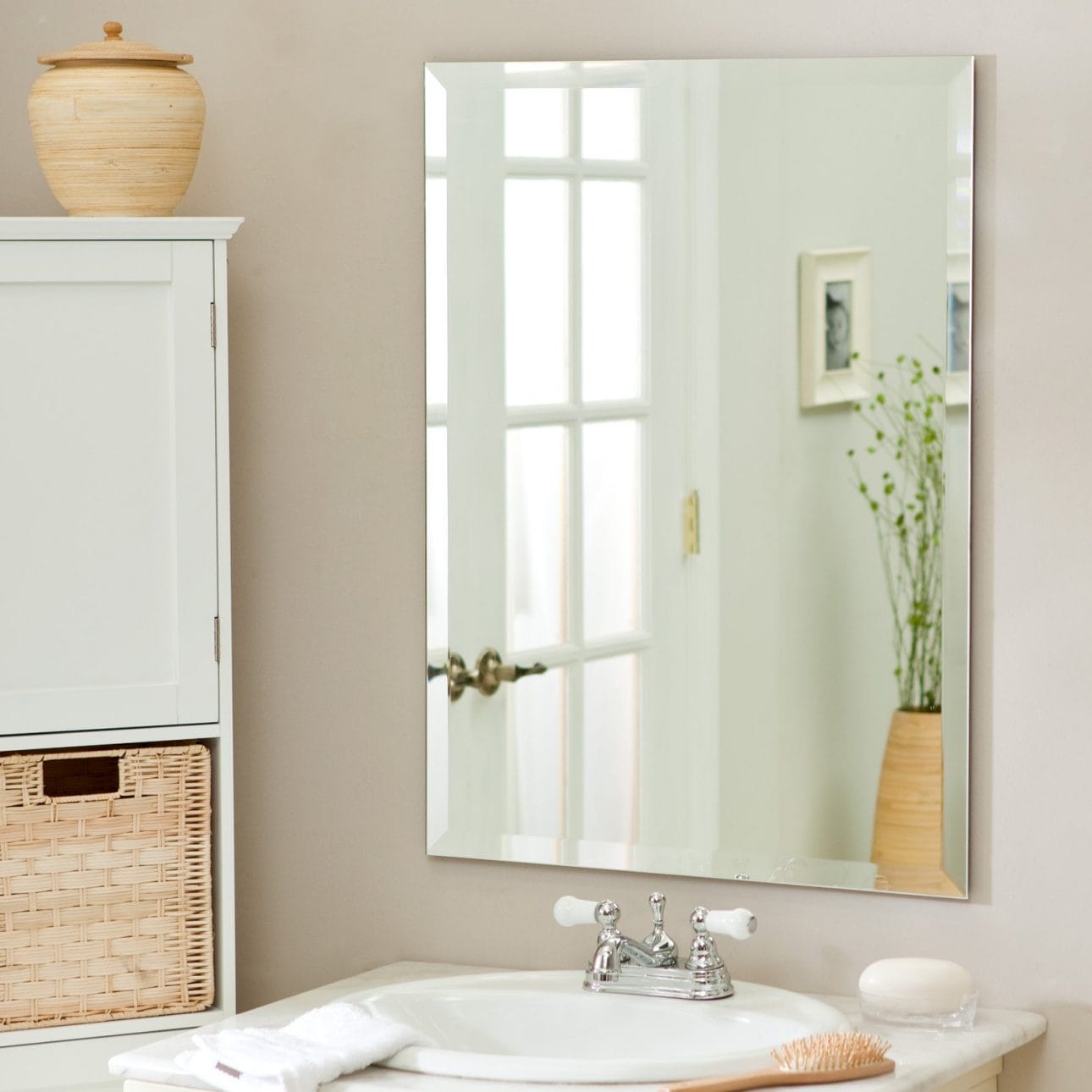 In the image above, the mirror utilizes a mirrored frame. In a moment, it delivers intrigue as well as depth to the scene. It looks trendy and attractive against muted taupe backdrop.
14. Unique Bathroom Mirrors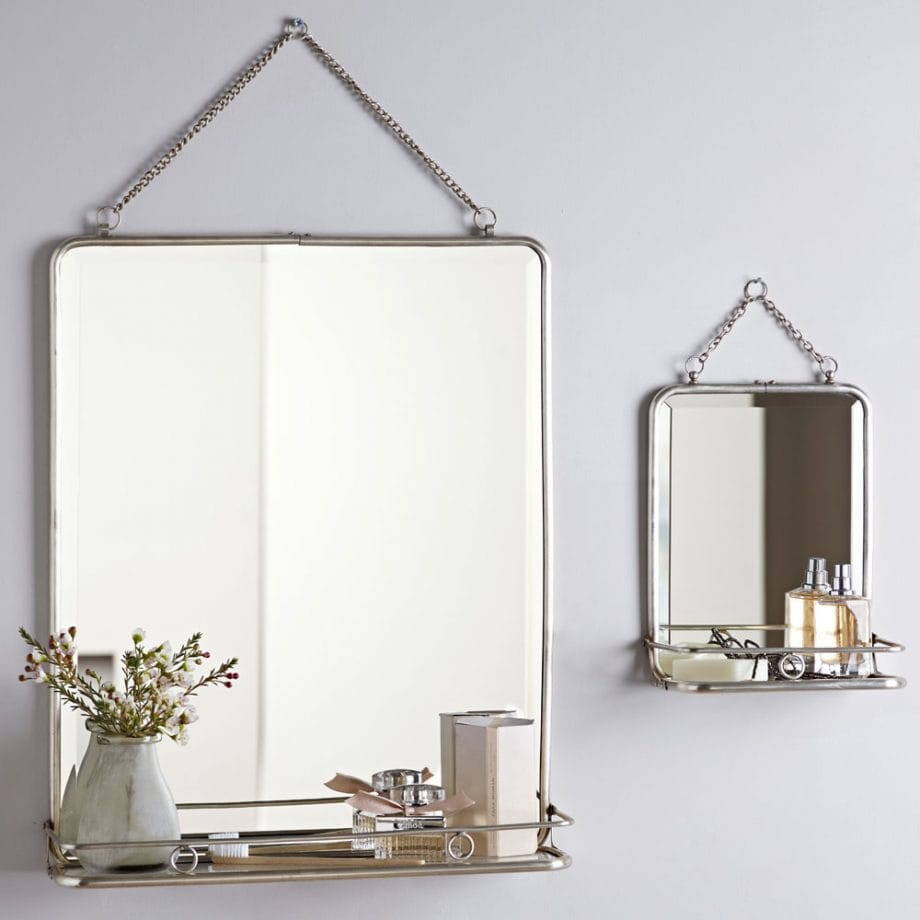 Here, the antique brass chains are used to suspend the mirrors. Even though the mirrors come in different sizes, they complement each other. Their shelves are the homes for flowers in vase, perfume, and eyeglasses.
15. Wall Mirrors for Small Bathroom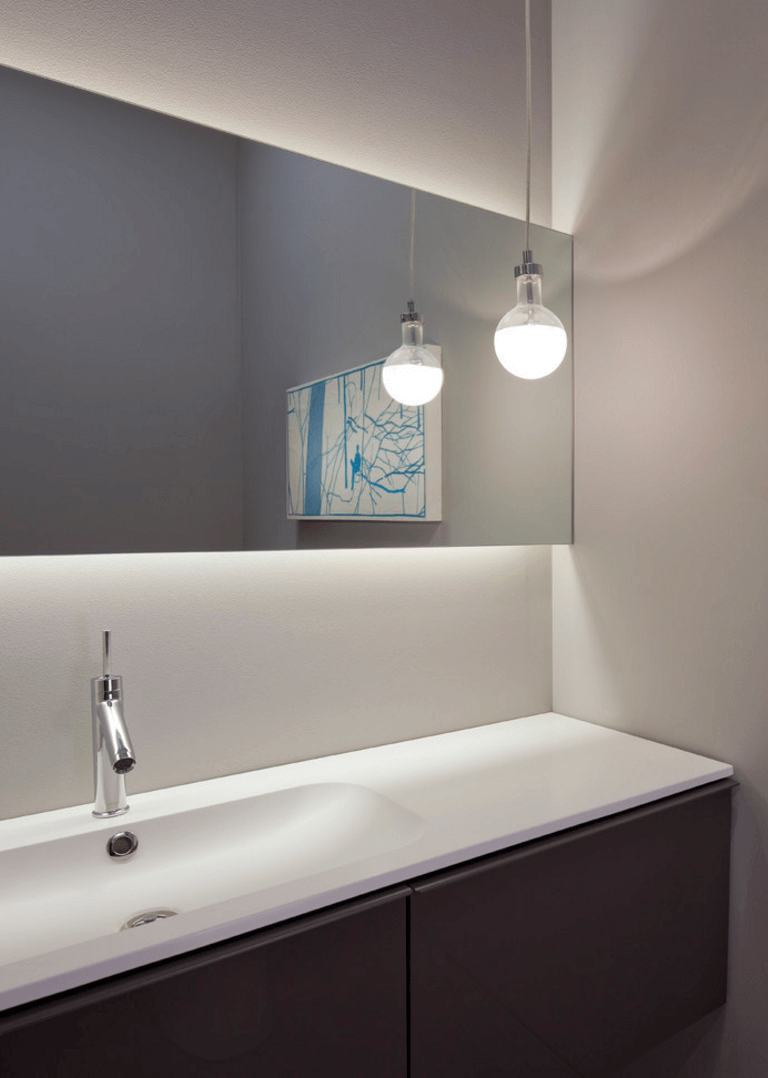 White vanity top and pale gray walls lighten up the tiny bathroom. The sideways rectangular mirror spans the whole wall.
Both illuminated mirror and bulb pendant light keeps the space from feeling gloomy. The artwork adds a splash of color to the room.
16. Designer Bathroom Mirrors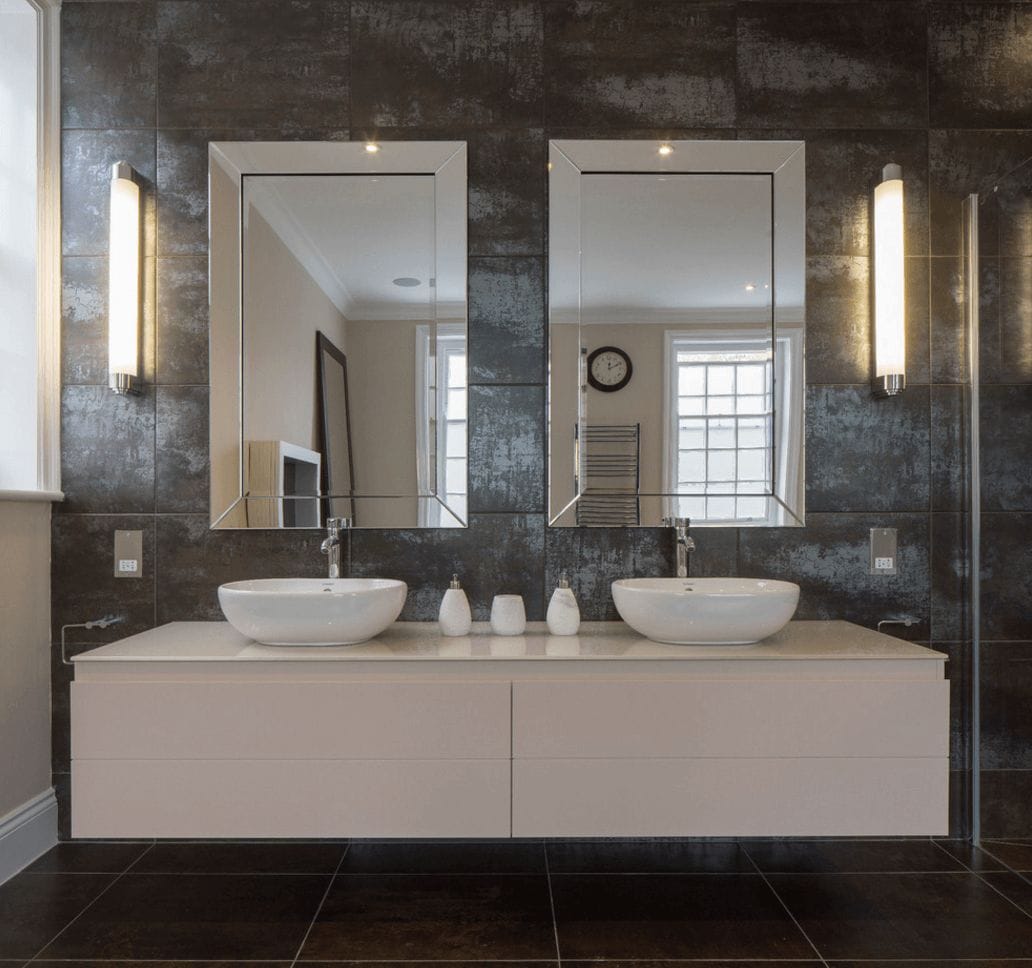 If your bathroom craves a visual balance, this idea is obviously for you. The mirrors with mirrored frames and saber wall sconces introduce a symmetrical appeal.
White vanity and sinks seemingly float in the air because of dark backdrop. Chrome details infuse a dash of opulence into the scheme.
17. Modern Bathroom Mirror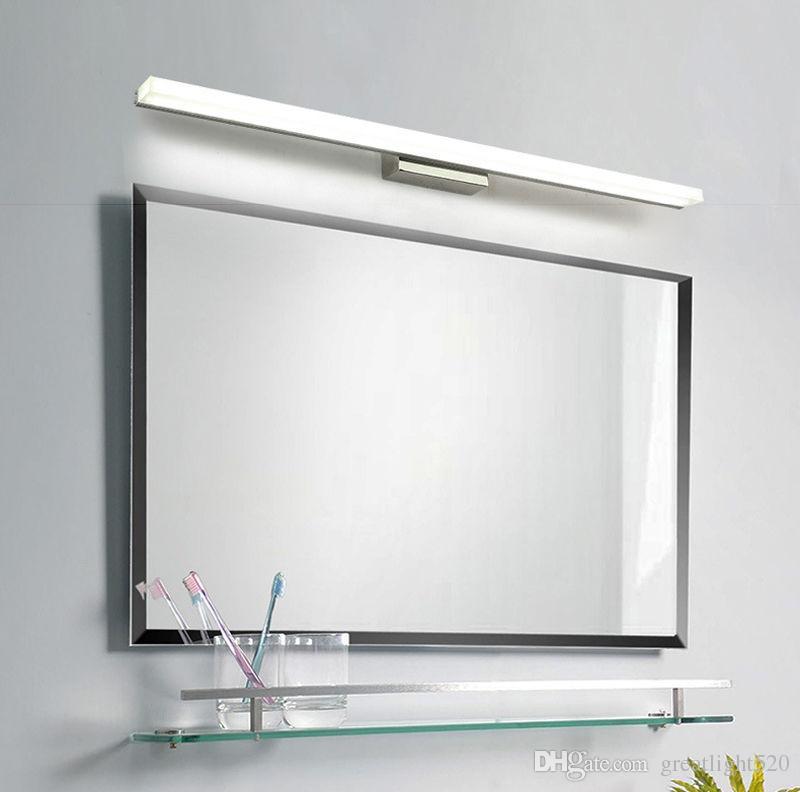 The pure white wall makes a crisp backdrop. Meanwhile, a black-framed rectangular mirror produces an edgy look and a modern feel.
A wall light over the mirror continues the straight lines of the bathroom. It provides seamless illumination. Lastly, a glass shelf accommodates toothbrush holders.
18. Frameless Bathroom Mirrors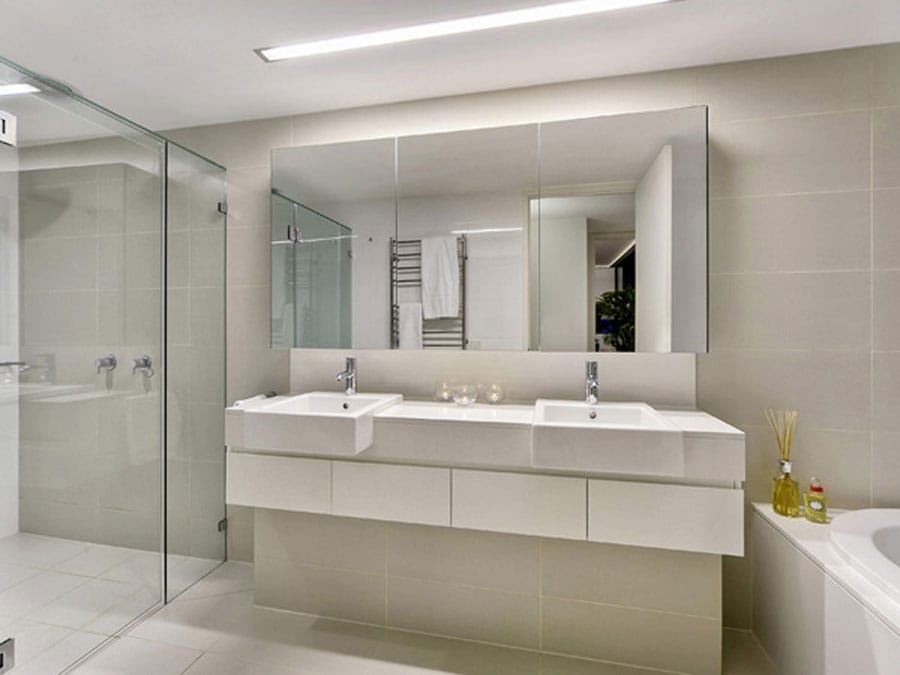 Double sinks do not always call for double mirrors. This bathroom boasts a single frameless mirror. It nicely spans from one sink to the next.
The mirror, vanity, and linear ceiling light stamp modern style. An oval soaking tub balances out well-defined lines and sharp edges.
19. Bathroom Mirrors with Storage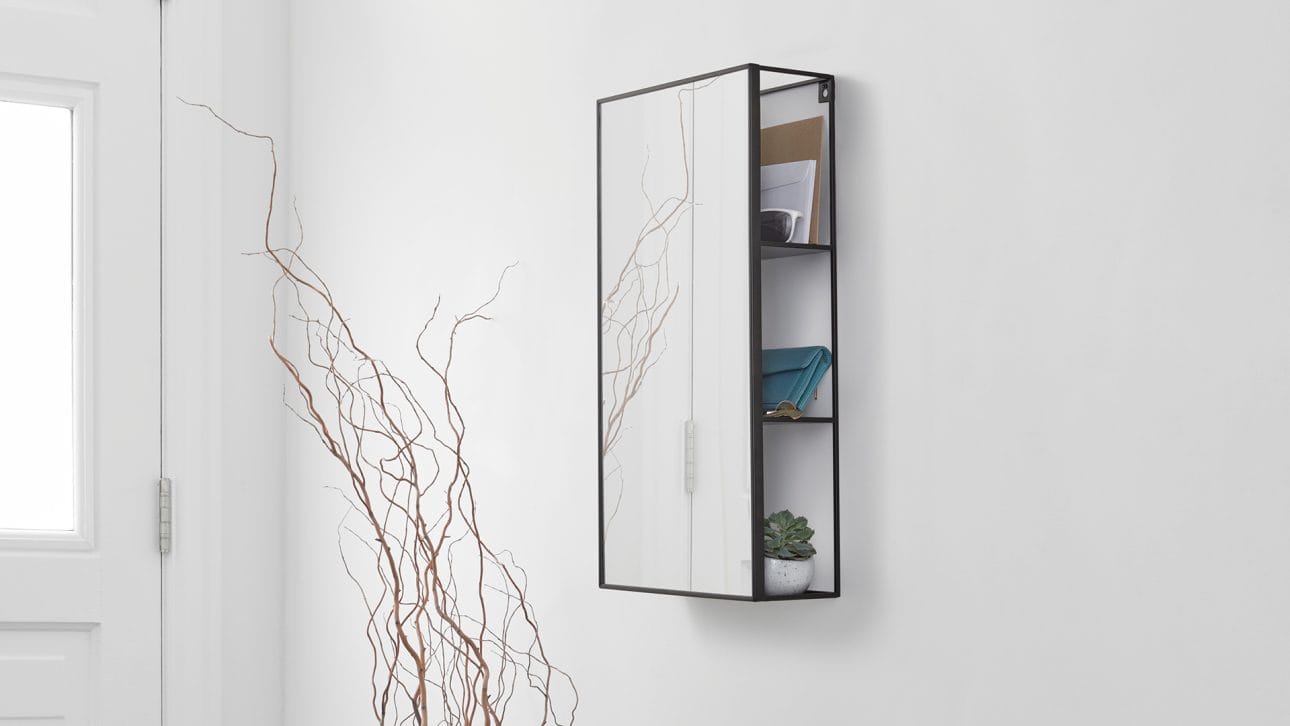 Are you short on space? Steal this idea. Paint your walls and door pure white. They make your bathroom feel bigger than it truly is.
Then, install a narrow vertical mirror. The open shelves behind the mirror house potted plant and personal items. A black mirror frame and shelves lend the space a touch of eccentricity.
20. Bathroom Mirrors Walmart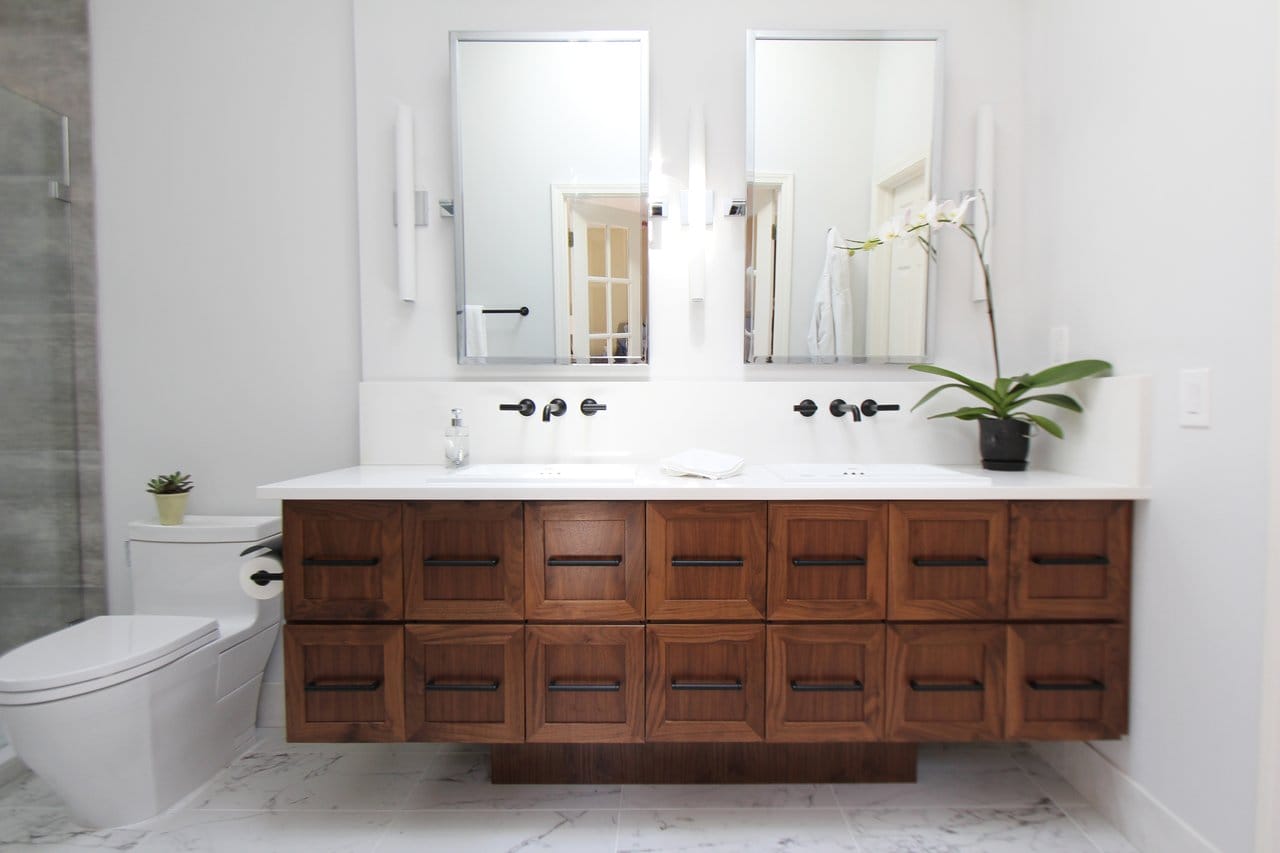 Two angular mirrors have stainless steel frames. Undeniably, they celebrate industrial flair. Moreover, they trick the eye into seeing a more spacious bathroom.
White saber wall sconces blend in seamlessly with the walls. Wooden vanity warms up the area dominated by cool tones.
21. Framed Bathroom Mirror Ideas
The full-width mirror is framed with dark wood. It fits perfectly in the small space between towel bar and framed artwork. Additionally, it elevates the decor and exhibits a welcoming air.
Vintage wall lights emit a romantic glow. Towels, potted plants, and a scented diffuser transform the bathroom into a tranquil spa.
22. Bathroom Mirror Ideas for Double Vanity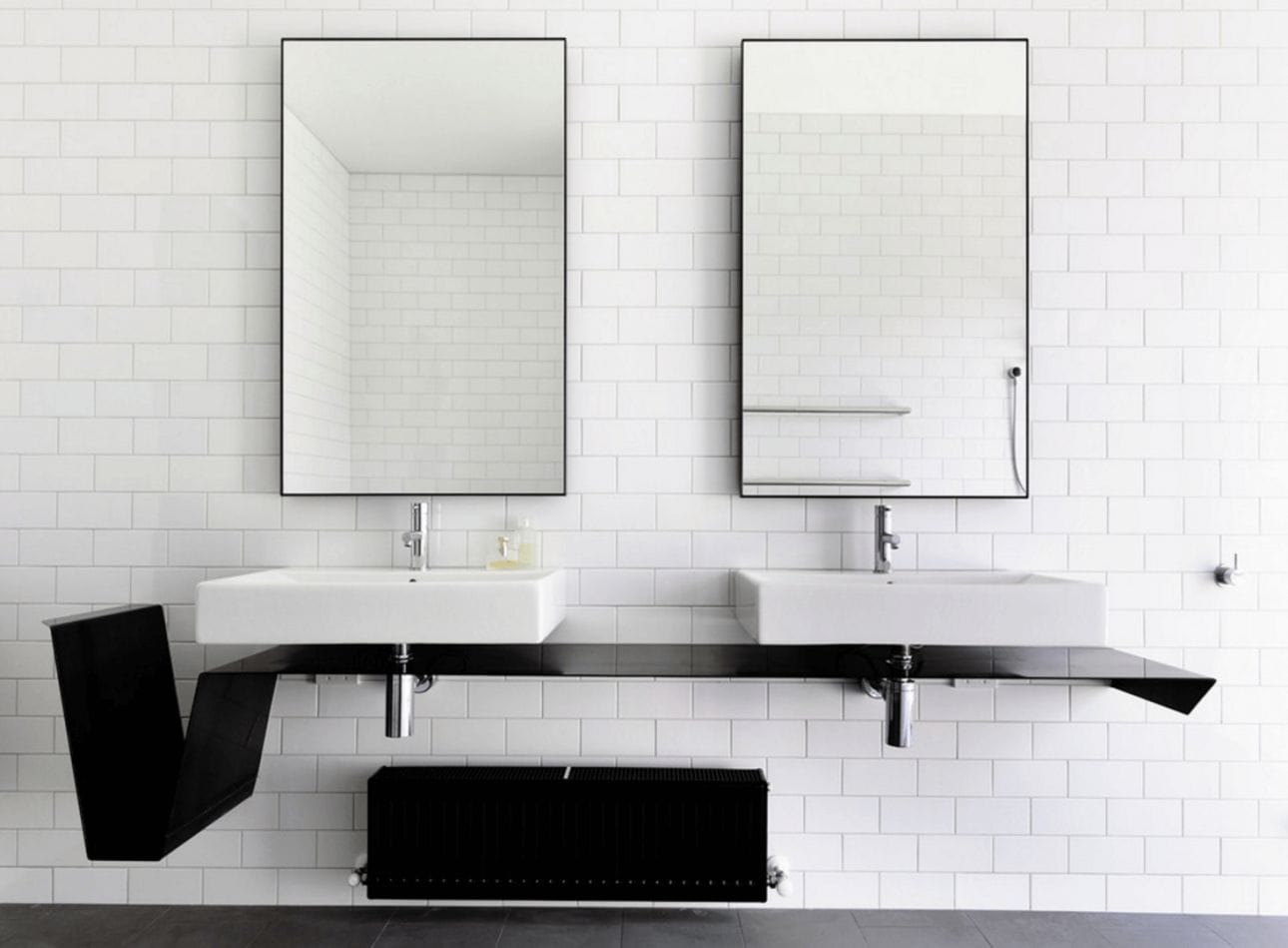 White subway tiled backsplash offers mesmerizing details to the bathroom. Double black-framed mirrors over white sinks command attention. They introduce an alluring contrast and a modern appeal.
23. Bathroom Mirror Ideas 2019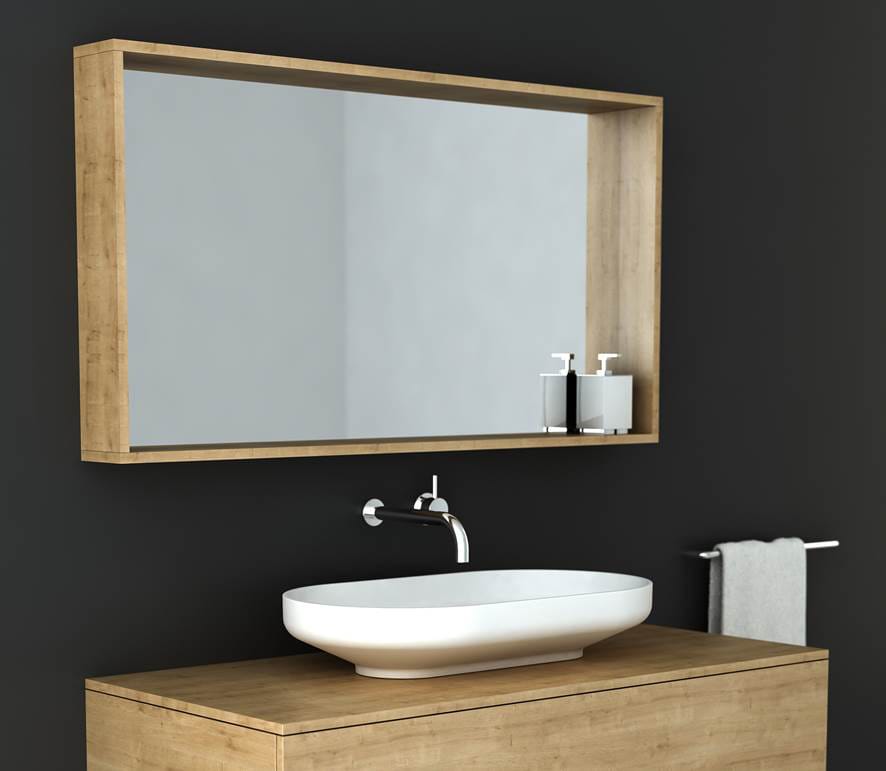 The black wall brings definition and a masculine feel to the bathroom. Meanwhile, the unpainted wood-framed rectangular mirror pops against the backdrop and generates rustic charm. It also includes a shelf for storing perfume.
Whether you want a small update or total makeover, those bathroom mirror ideas are worth to steal. Replace your old mirrors with the new ones, and you will see yourself differently.