The key to a livable bathroom is proper illumination. Not only does it keeps your bathing space from becoming gloomy, but it also makes grooming and makeup easier. That is why I present you with these cool bathroom lighting ideas.
In this article, you will find a huge selection of light fixtures for your bathroom. From vintage chandelier to modern vanity lights, one detail must leave you spellbound.
1. Bathroom Lighting Ideas Pinterest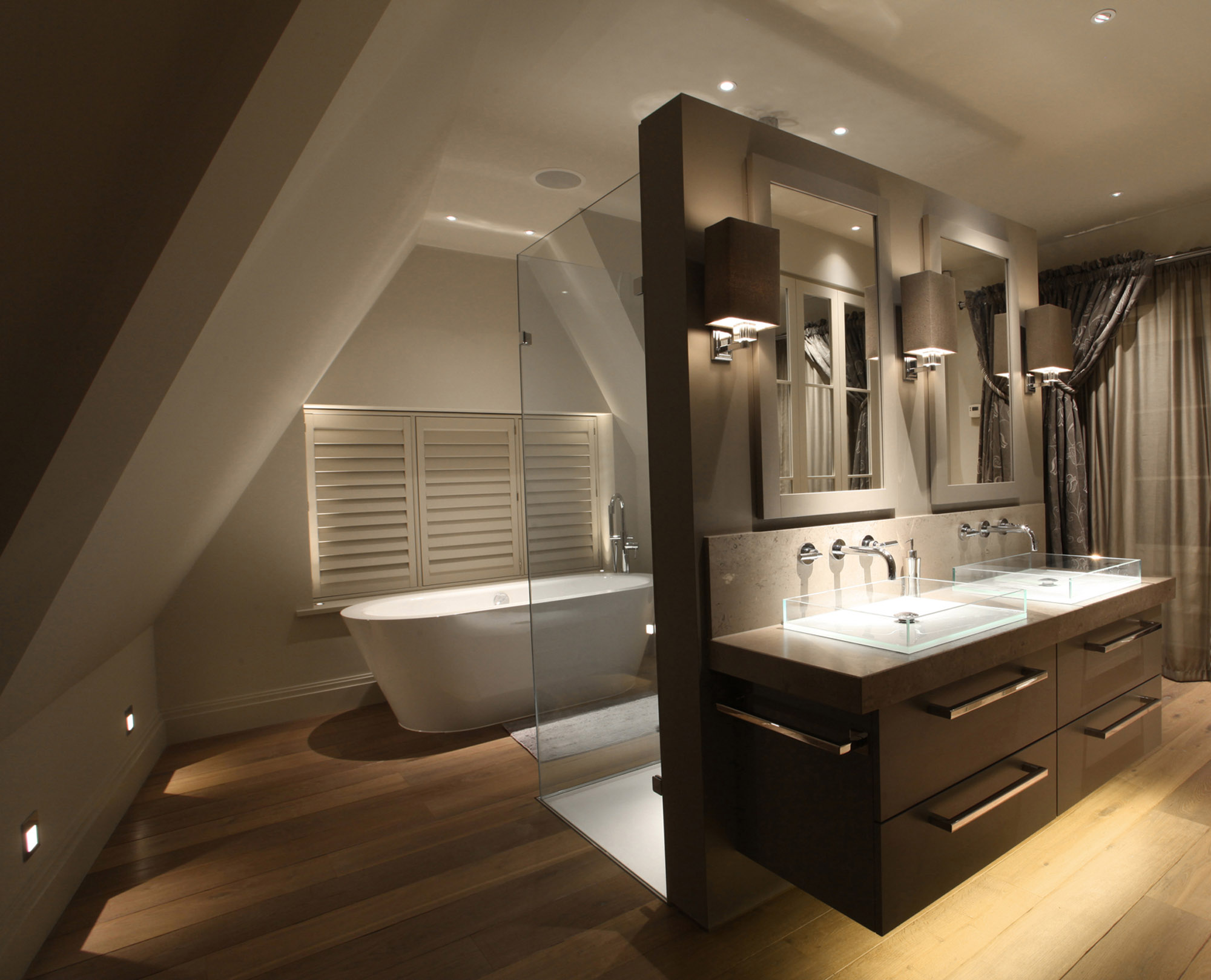 Do you have an attic bathroom? If yes, install different types of lighting as done by the homeowner in her bathing area. The recessed ceiling lights brighten up the whole space.
Moreover, contemporary vanity lights offer extra illumination for teeth brushing. The built-in lights around an oval bathtub set a spa-like atmosphere.
2. Chrome Bathroom Lighting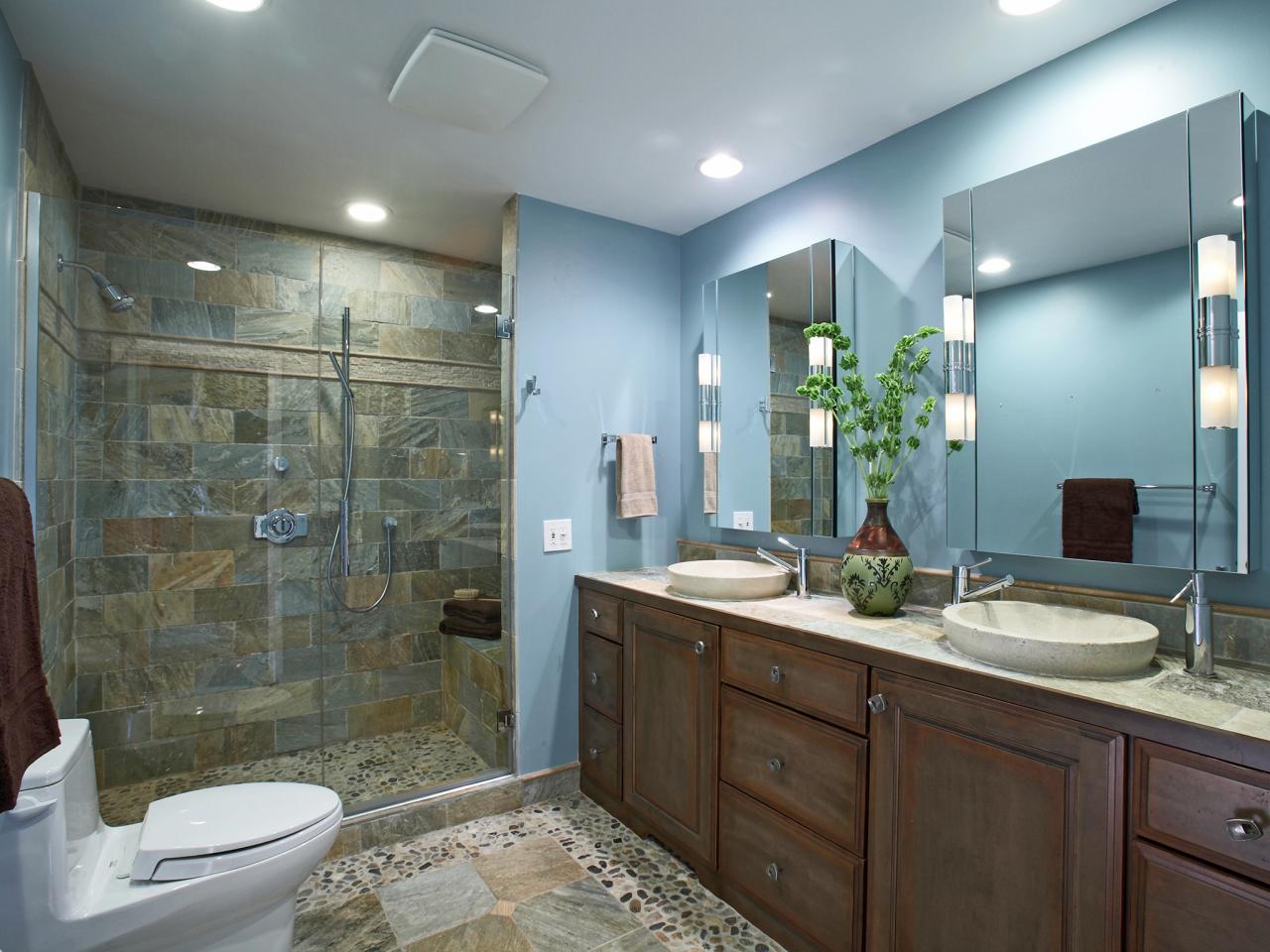 As you can see, this rustic-inspired bathroom is nicely lit by downlights. They are scattered throughout the space.
Moreover, there are chrome vanity lights on both sides of the mirrors. Those light fixtures complement blue walls and dark-toned woods.
3. Unusual Bathroom Lighting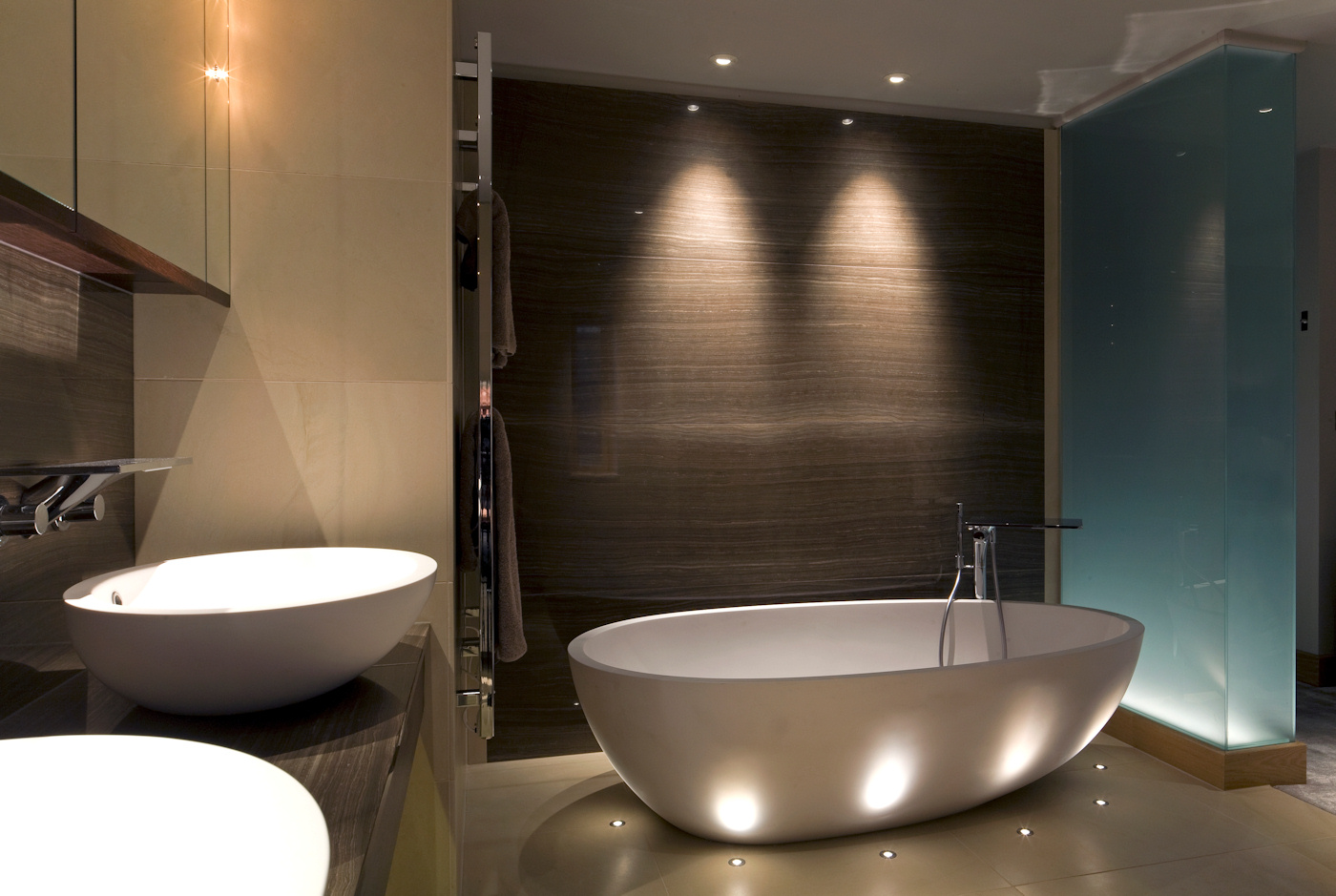 Rich-toned wood accent wall, floating vanity, and backsplash create a cozy feel. The wall light casts a soothing glow.
Furthermore, recessed lights prevent the bathing area from appearing dreary. LED built-in lights surround the white bathtub. They introduce a modern aesthetic.
4. Modern Bathroom Wall Lights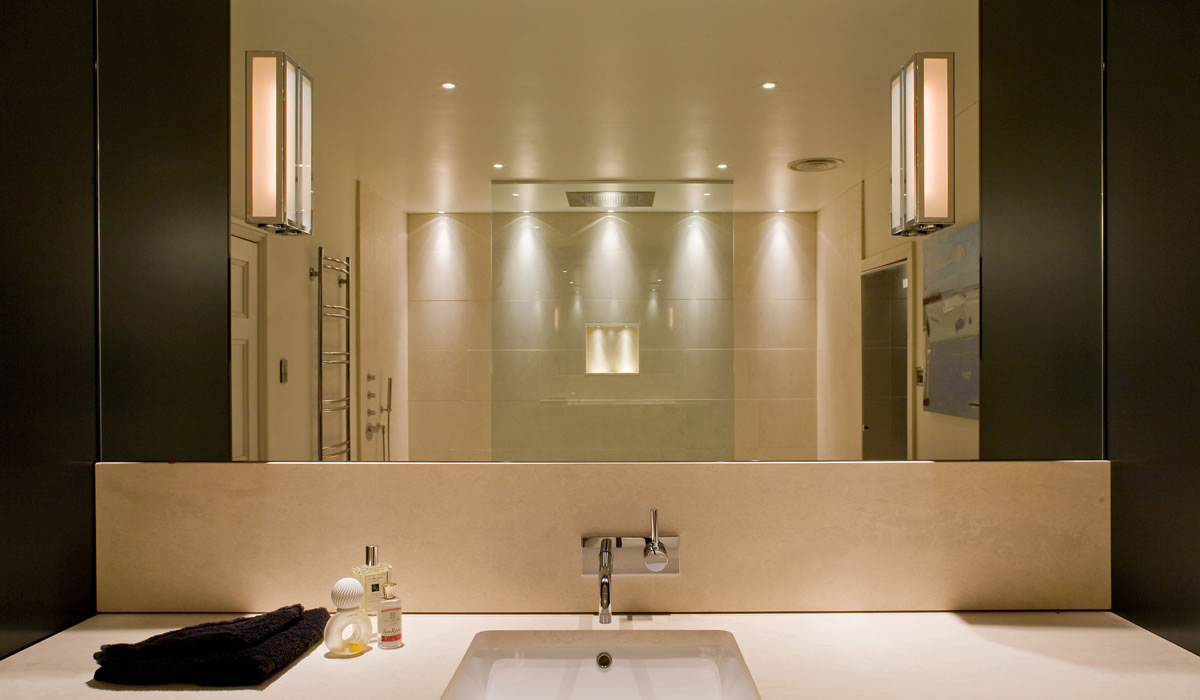 This bathing space is small, but the mirror tricks the eye into seeing it is larger. Black walls and towels give the room some depth.
Two modern wall lights provide even illumination. Recessed lights are installed for the toiletry shelf and shower ceiling.
5. Bathroom Light Fixtures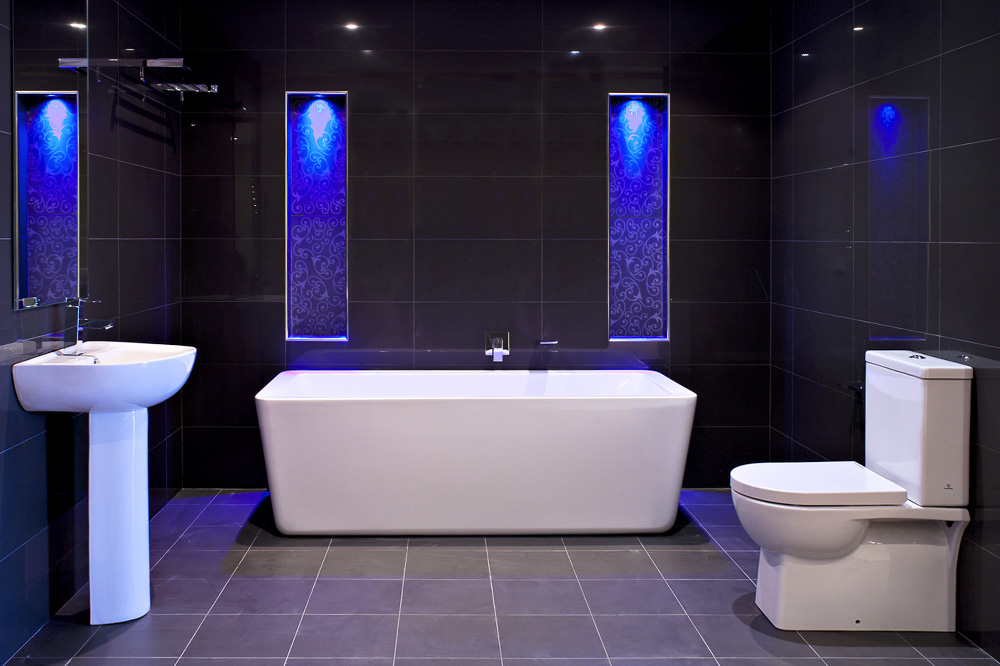 Charcoal tiles exude a sense of moodiness. The white toilet, pedestal sink, and rectangular soaking tub pop against them.
Downlights emit bright light, so the room is not reinsured with a gothic feel. Blue LED lights take the area from predictable to incredible.
6. Bathroom Vanity Lights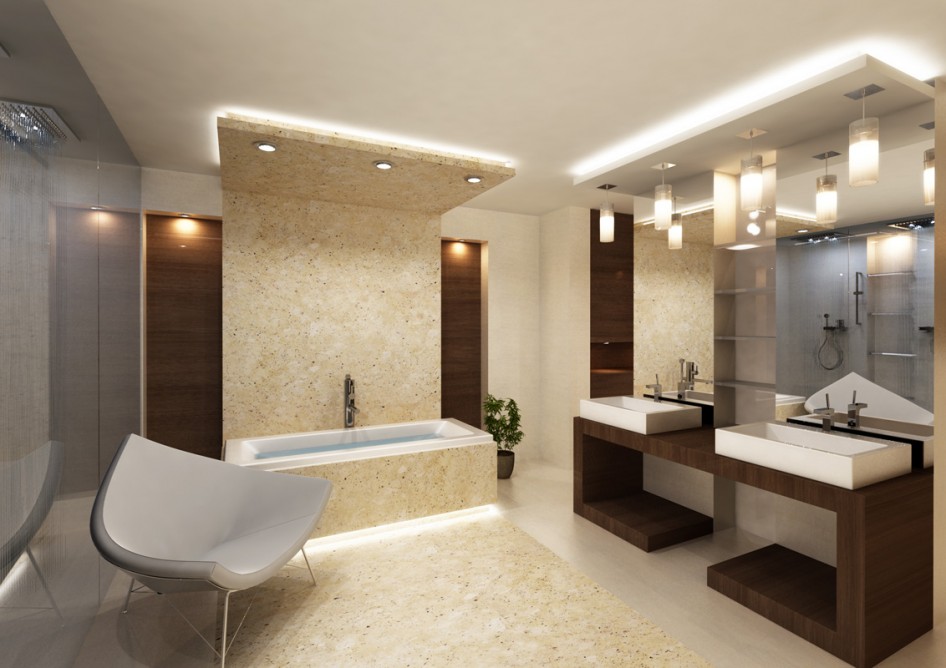 As the image shows, this bathroom features symmetrical lighting. The tub area is brightened up by five downlights.
The LED lights along the false ceilings and tub carve a relaxing ambiance. Over two vanities are glass-cylinder pendant lights.
7. Black Bathroom Ceiling Light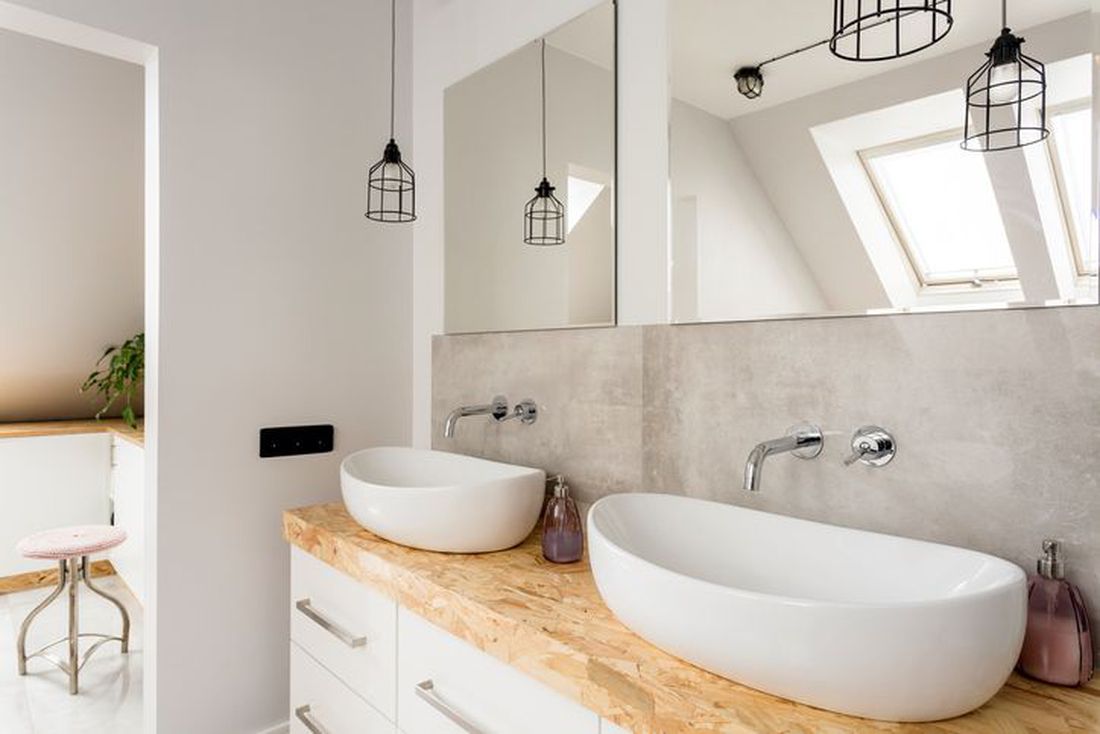 Here is another attic bathroom. The white color scheme generates a clean feel and an open environment.
Black flush mount ceiling light and cage pendant lights bring industrial charm to the space. They also offer a divine contrast.
8. Luxury Bathroom Wall Lights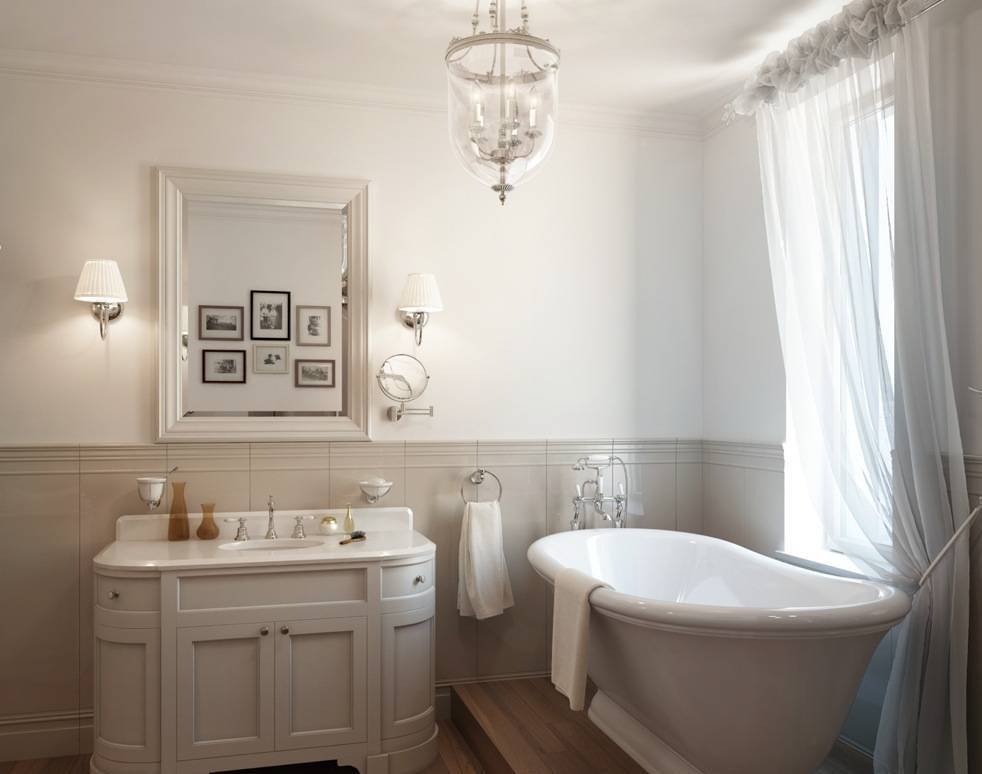 This classic bathroom is topped off with a silver chandelier. It quickly evokes an air of opulence.
Two shade sconces on either side of the mirror provide extra lighting. Clawfoot tub and sheer white curtain boost the room's elegance.
9. Bathroom Lighting Home Depot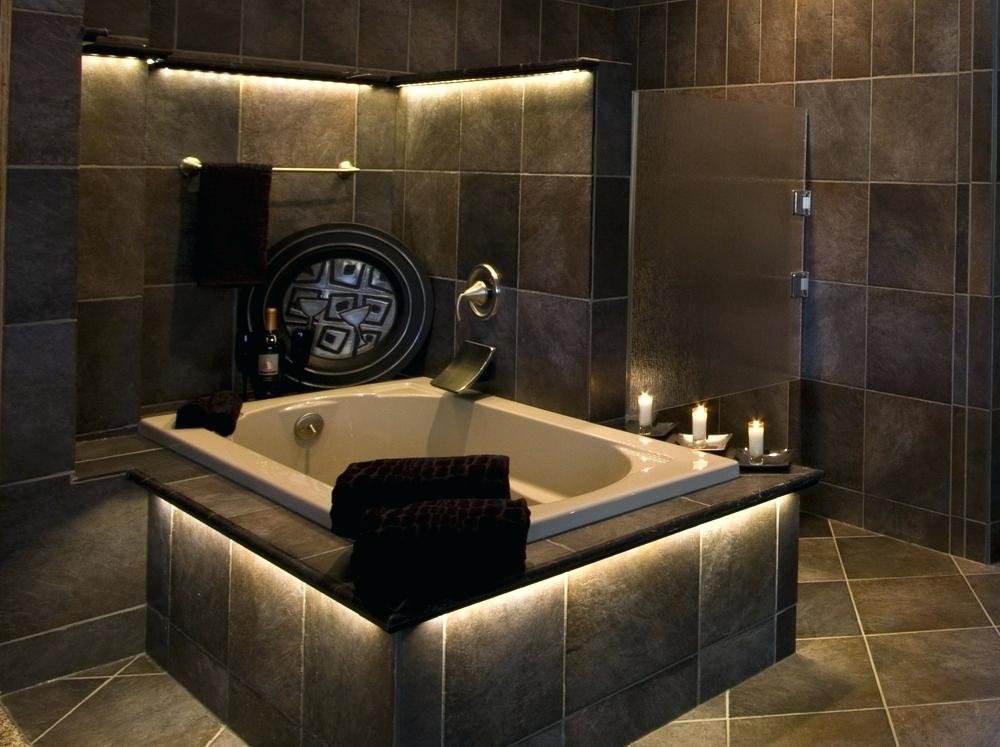 Well, this bathing space is perfect spot to unwind your restless mind. The dark-hued natural stone tiles emanate a serene setting.
The LED strip lights transport you to a spa. Meanwhile, candles inject a relaxation vibe into the room.
10. Using Pendant Light in Bathroom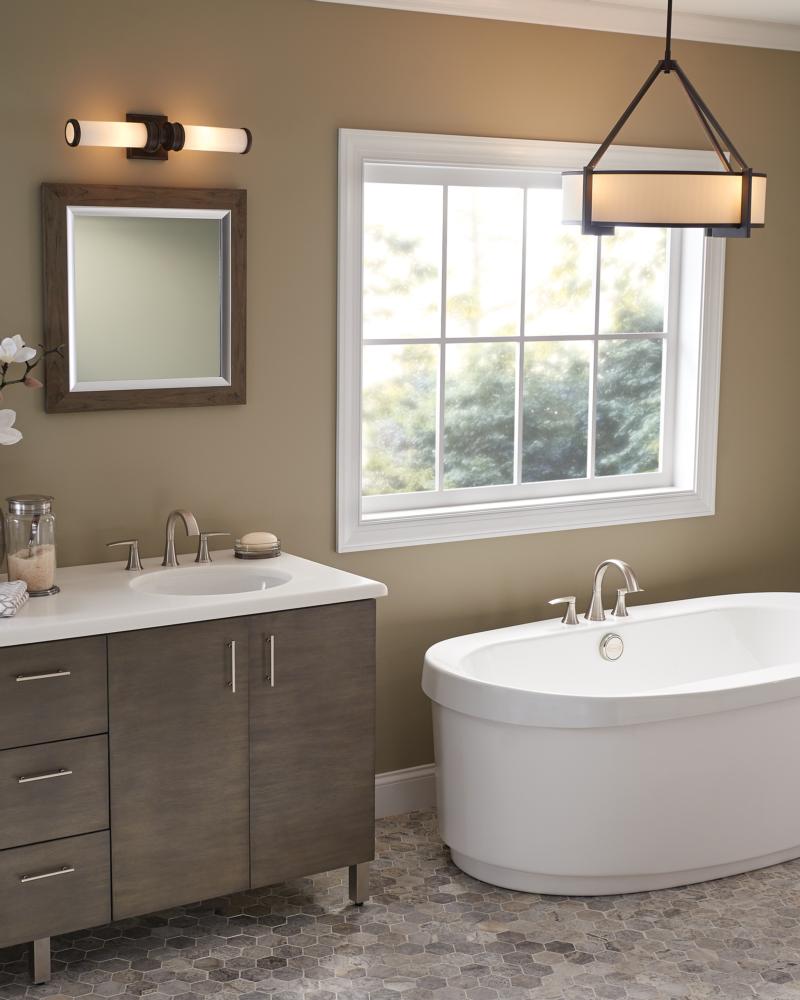 Hexagon floor tiles in various shades add visual interest to the bathroom. A contemporary drum pendant light is positioned over the tub.
Saber wall sconce accompanies the pendant light. It allows the homeowner to do makeup comfortably too.
11. Bathroom Lighting Ideas Over Mirror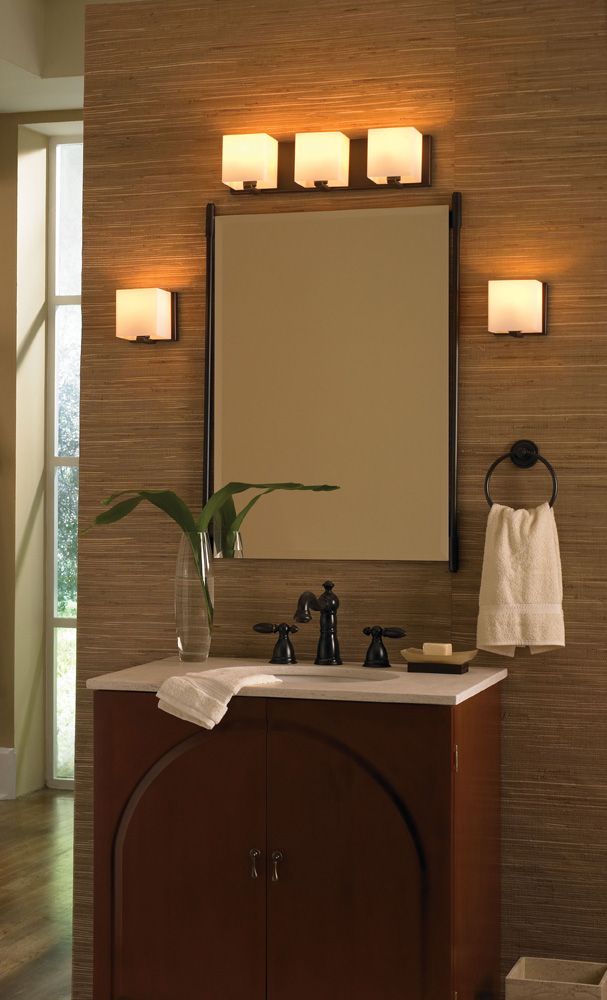 Medium and dark woods make the bathroom welcoming. The mirror creates the perception of a bigger space.
Three wall sconces are installed directly over the mirror. There are also wall lights on each side of the mirror.
12. Bathroom Lighting Ideas for Small Bathrooms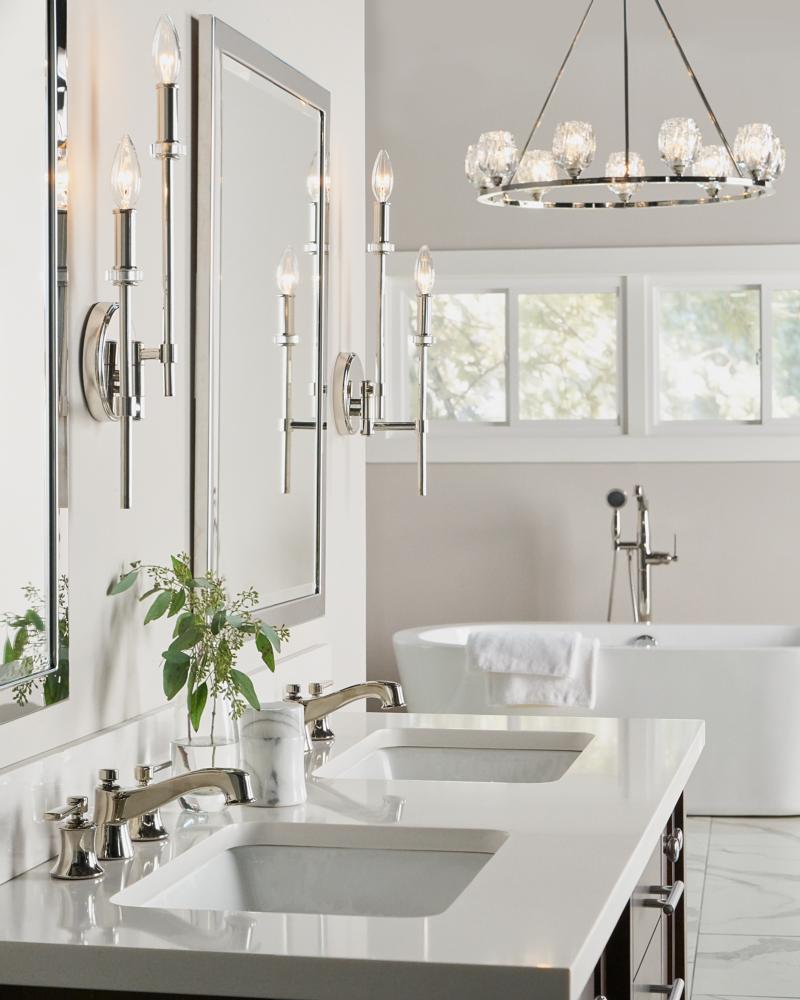 White and pale gray keep this small bathing space light. Marble floor and toothbrush holder ooze timeless luxury.
The chandelier, as well as wall sconces, are made out of nickel and crystal. They magnificently light up the walkway and vanity.
13. LED Bathroom Lighting Home Depot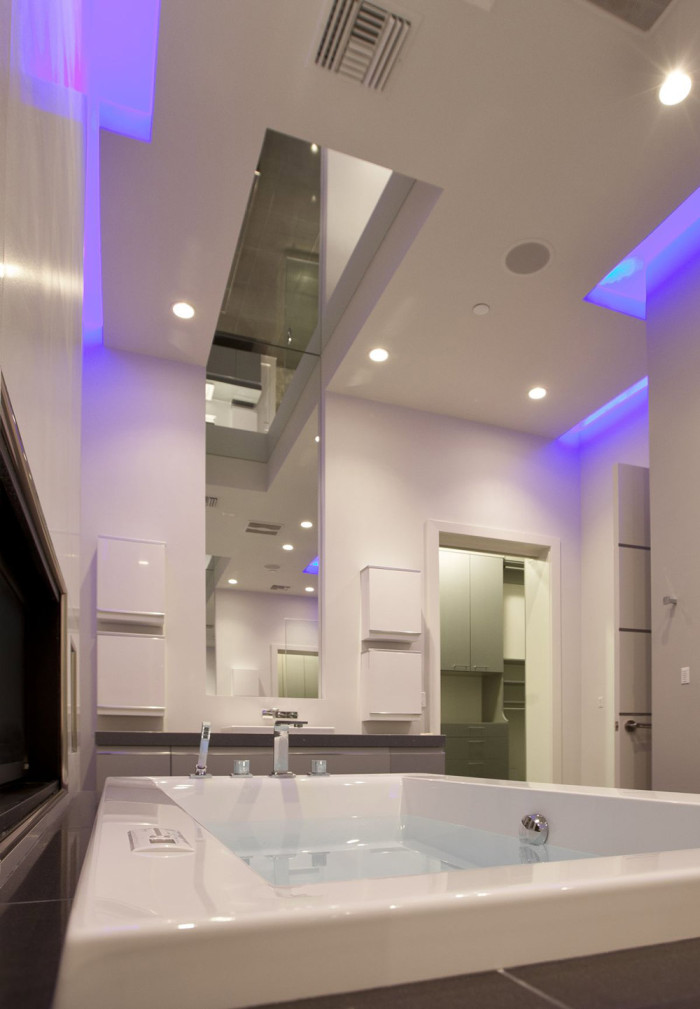 This bathroom appears bigger than it is, thanks to white color palette and oversized mirrors. A Jacuzzi tub promises ultimate relaxation.
Downlights illuminate the entire area. Blue LED strip lights along the border of the ceiling add a wow factor to the space.
14. Bathroom Vanity Lighting Ideas and Pictures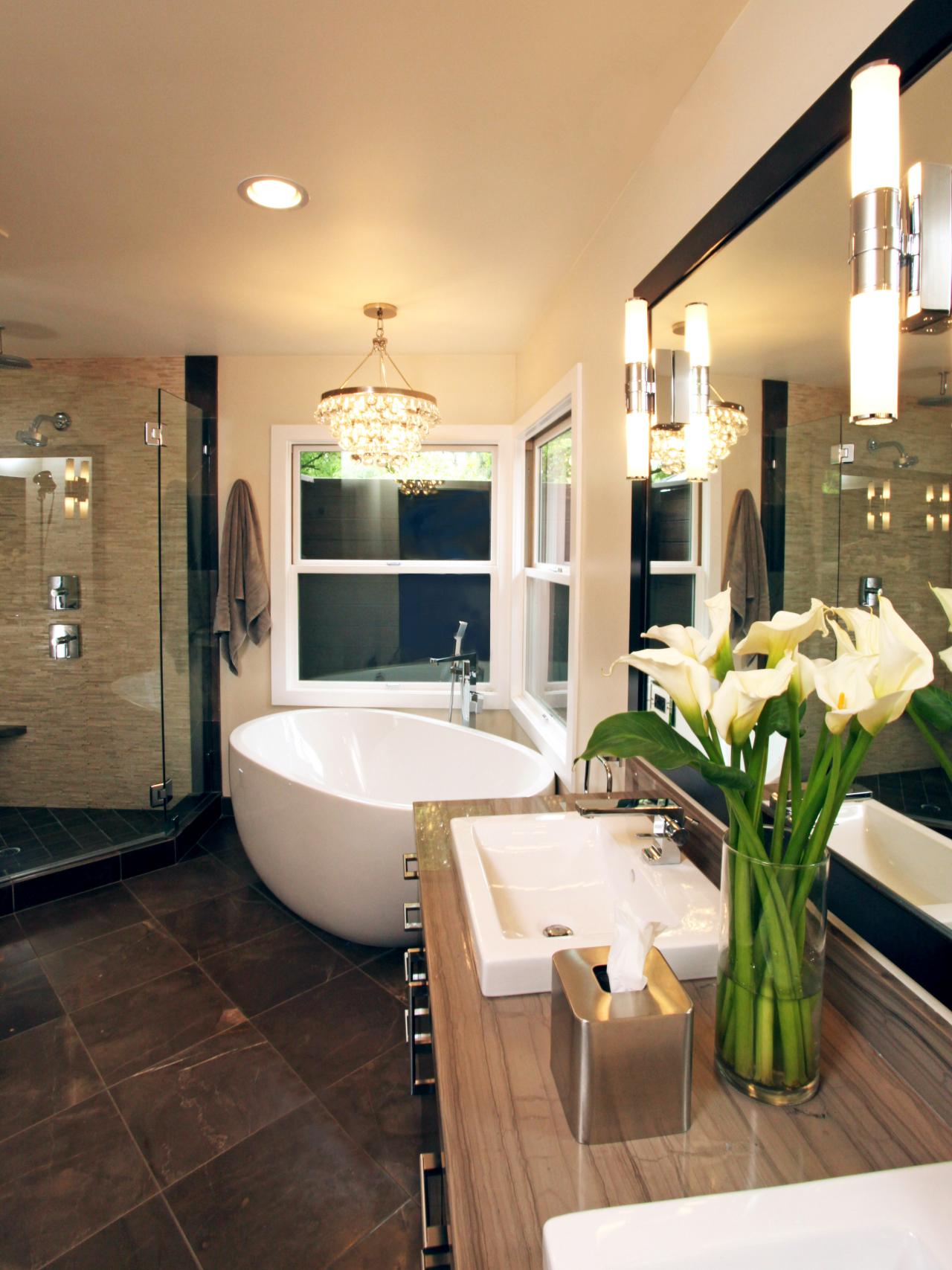 Here, you can spot three light sources in this bathroom. Downlights lend the space general lighting.
A crystal chandelier illuminates the tub area, while nickel and glass wall sconces provide brightness for the night routine.
15. Transitional Bathroom Lighting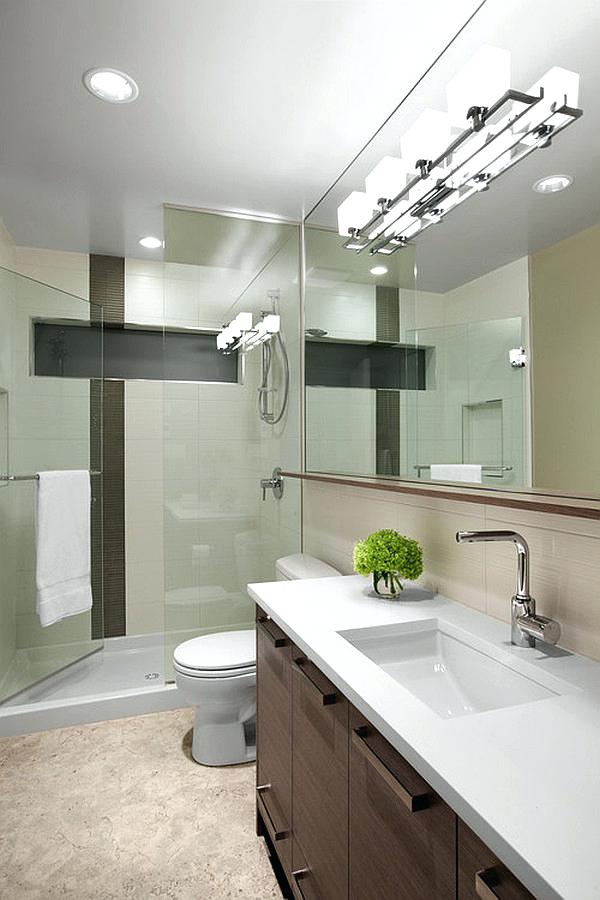 White and glass elements convey a feeling of airiness. Downlights make the shower area and walkway bright. Lastly, transitional vanity lights set an old-timey vibe.
16. Wayfair Bathroom Lighting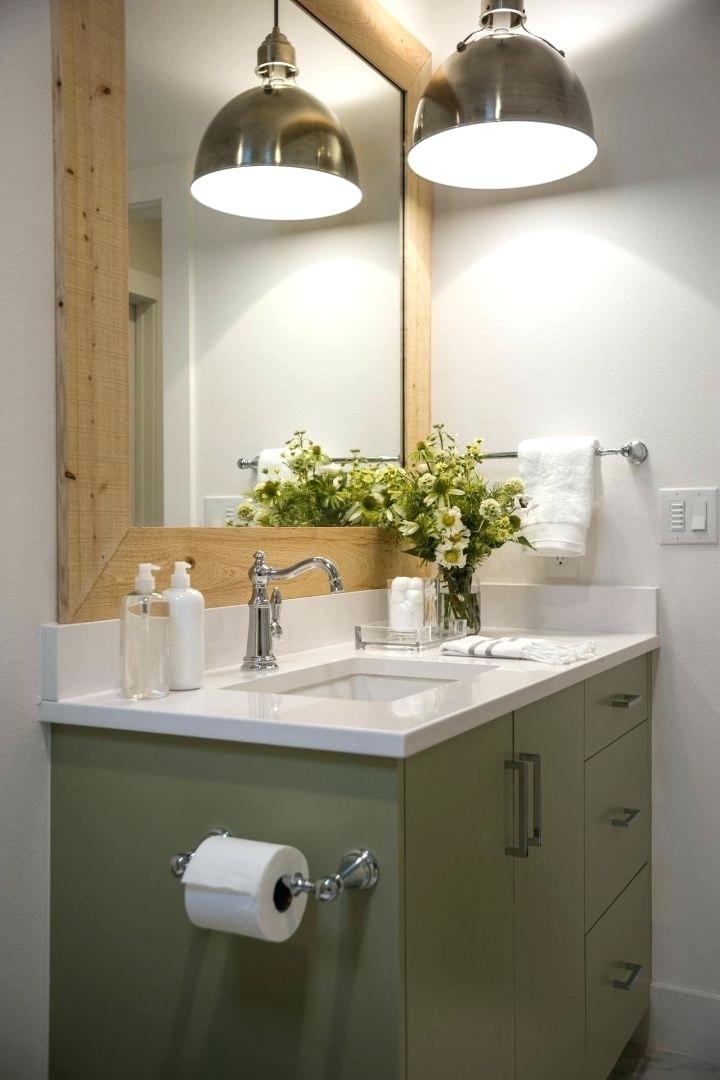 Pictured here is a modern farmhouse bathroom. A metal retro pendant light properly lights it. That light fixture delivers industrial flavor to the space. Meanwhile, flowers and wood-framed mirrors embrace nature's beauty.
17. Vintage Bathroom Wall Lights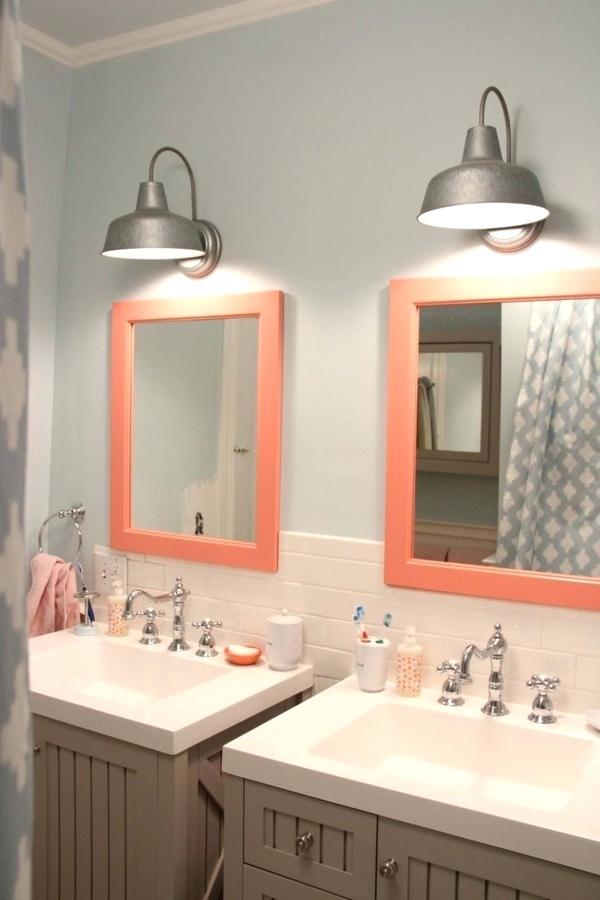 Patterned curtain and orange-framed mirrors fill this kid's bathroom with a happy atmosphere. Two vintage wall lights in matt-brushed pewter finish exude industrial appeal and a bit of maturity.
18. Bathroom Ceiling Lights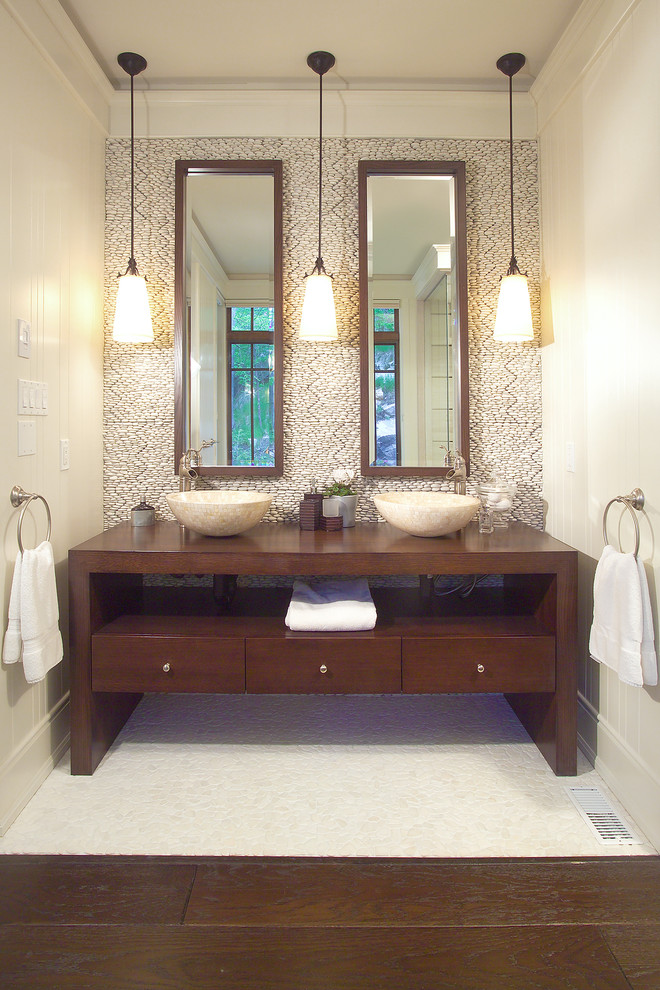 Wooden framed mirrors, vanity, and floor conjure a homey environment. The metallic accent wall becomes the focus of the room. Three low-hanging ceiling lights give the space a visual balance.
19. Edwardian Bathroom Lighting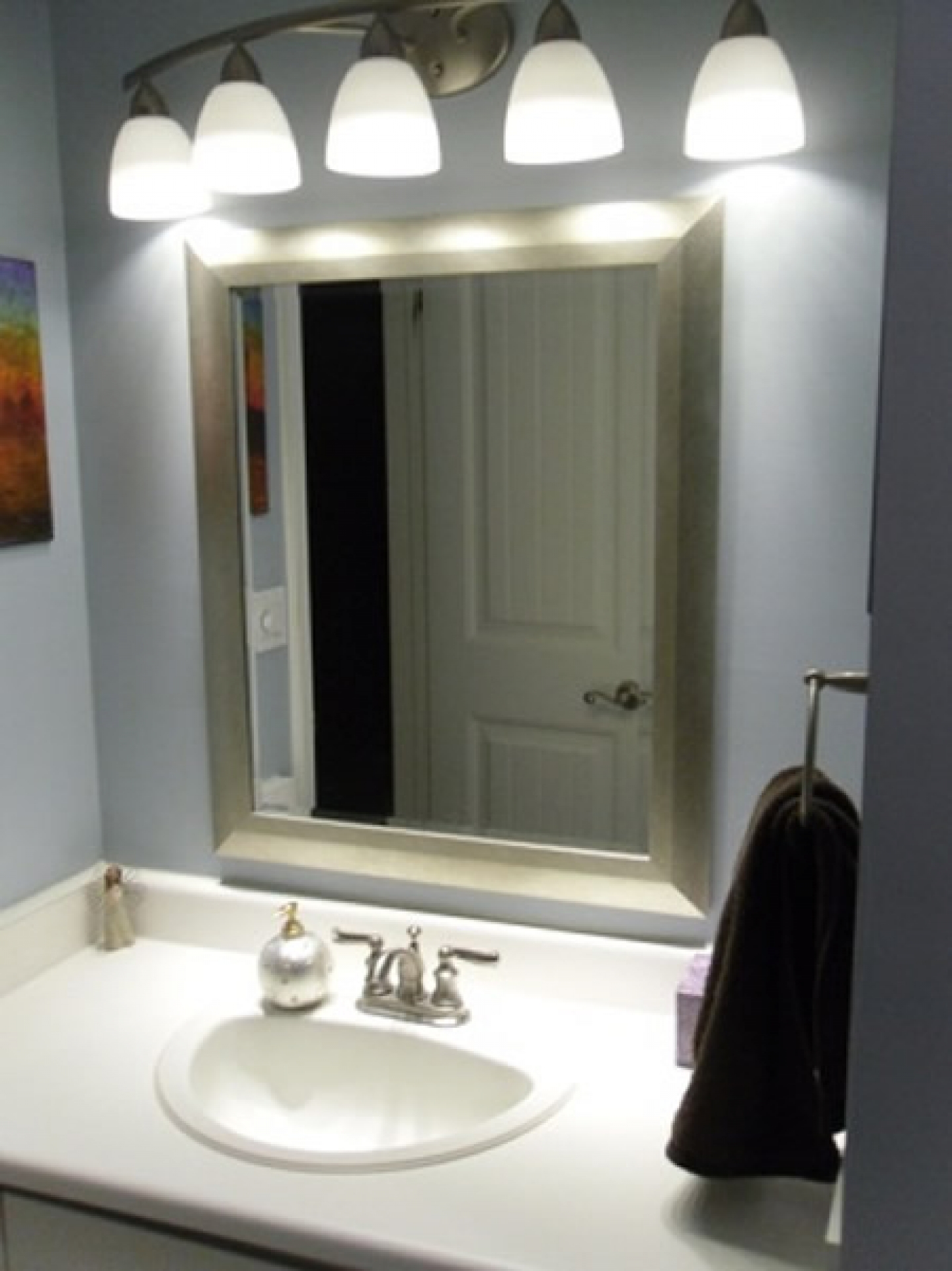 Light blue wall and white vanity develop a fresh look. The Edwardian wall lights over the mirror keep the half bathroom from being dim. They pick up the silvery tones used throughout the area from door handle to mirror frame.
20. Master Bathroom Lighting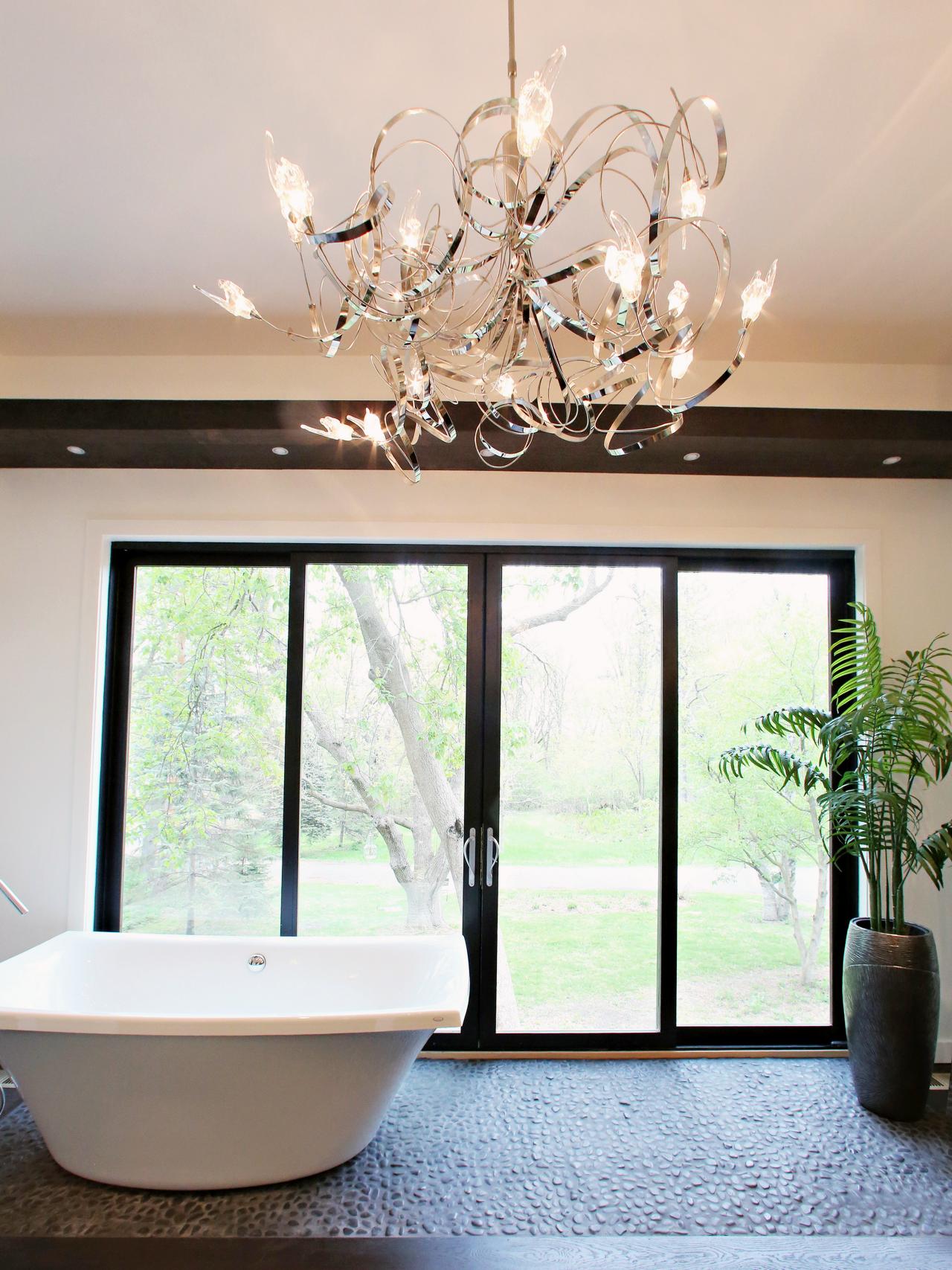 The white soaking tub fabulously sits beneath a metallic chandelier. In a snap, it draws the eye upward. River rocks and potted plants carry a Zen-like ambiance to the bathroom.
21. Modern Bathroom Lighting Ideas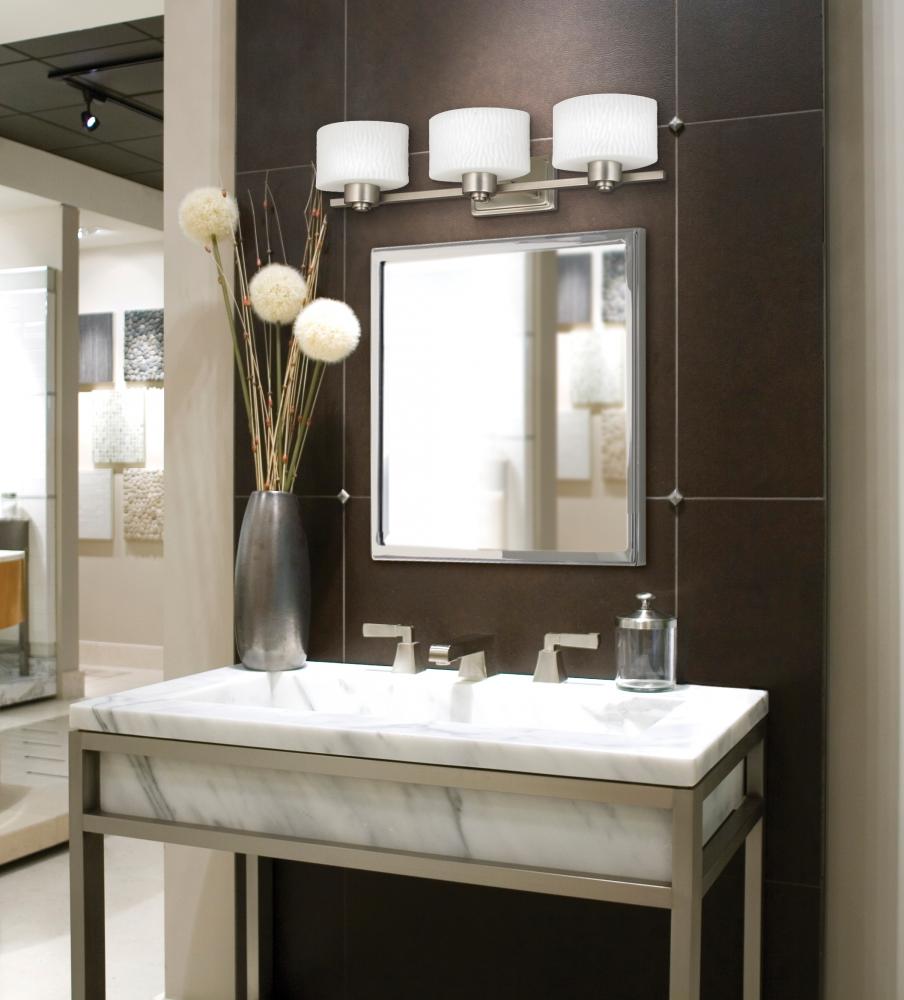 White marble sink infuses a dash of luxury into the space. The charcoal accent wall allows brushed nickel sconces to take center stage. Along with metallic vase and faucet, they celebrate industrial flair.
22. Bathroom Lighting Ideas Ceiling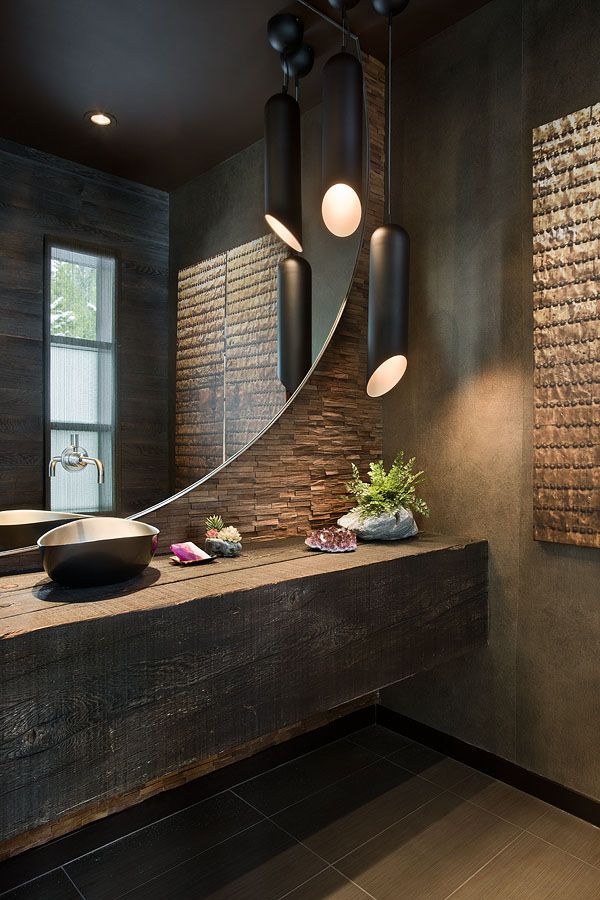 This bathroom employs reclaimed wood vanity and accent wall. They deliver a rustic feel to the area.
Black staggered ceiling lights and concrete pieces offer an industrial touch. A larger-than-life mirror creates the illusion of more space.
23. Bathroom Lamp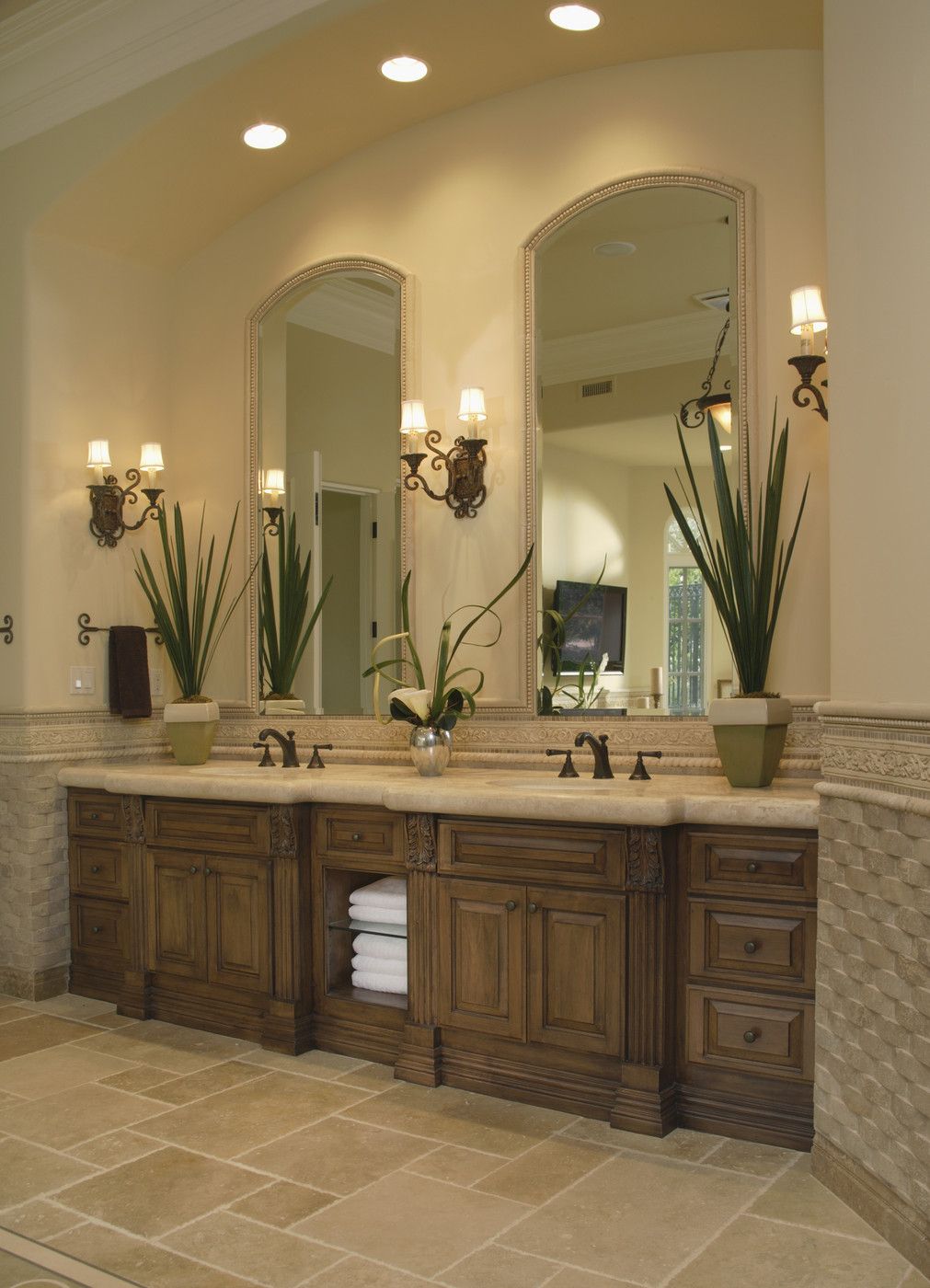 Downlights illuminate the whole bathroom. The antique wall lamps work as stunning task light fixtures. They also cast a romantic glow. Wooden vanity and houseplants bring the outdoors in.
Those bathroom lighting ideas definitely can help you accomplish your next project. Choose the light fixtures that suit your bathroom design, personal taste, and budget.