Farmhouse-inspired bathing space is popular for its homey ambiance. Not to mention, it does not break the bank since it employs repurposed items. If you love the cozy feel it provides, explore my farmhouse bathroom ideas.
This article covers everything from modern to classic farmhouse bathroom. I guarantee you will be swooning over these farmhouse sanctuaries soon.
1. Farmhouse Bathroom Shelf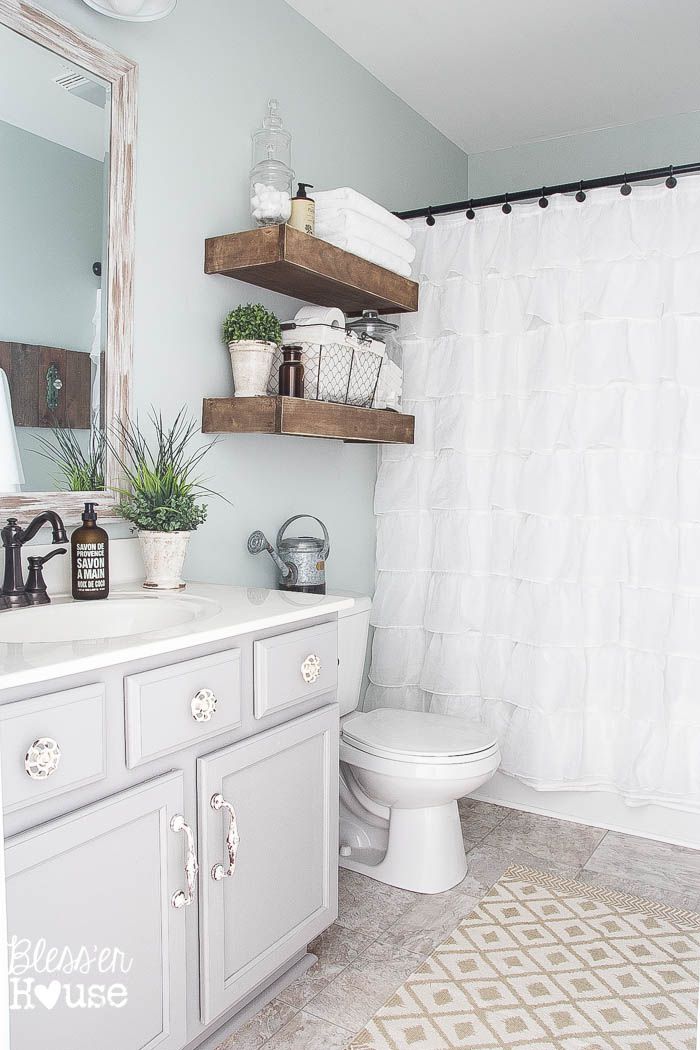 Reclaimed wood shelves are mounted on the light gray walls. Those pieces hold a potted plant, extra towels, and toilet papers.
Whitewashed mirror and distressed cabinet handles lend the bathroom shabby chic style. A two-tone geometric rug modernizes the space.
2. Farmhouse Bathroom Shower Curtain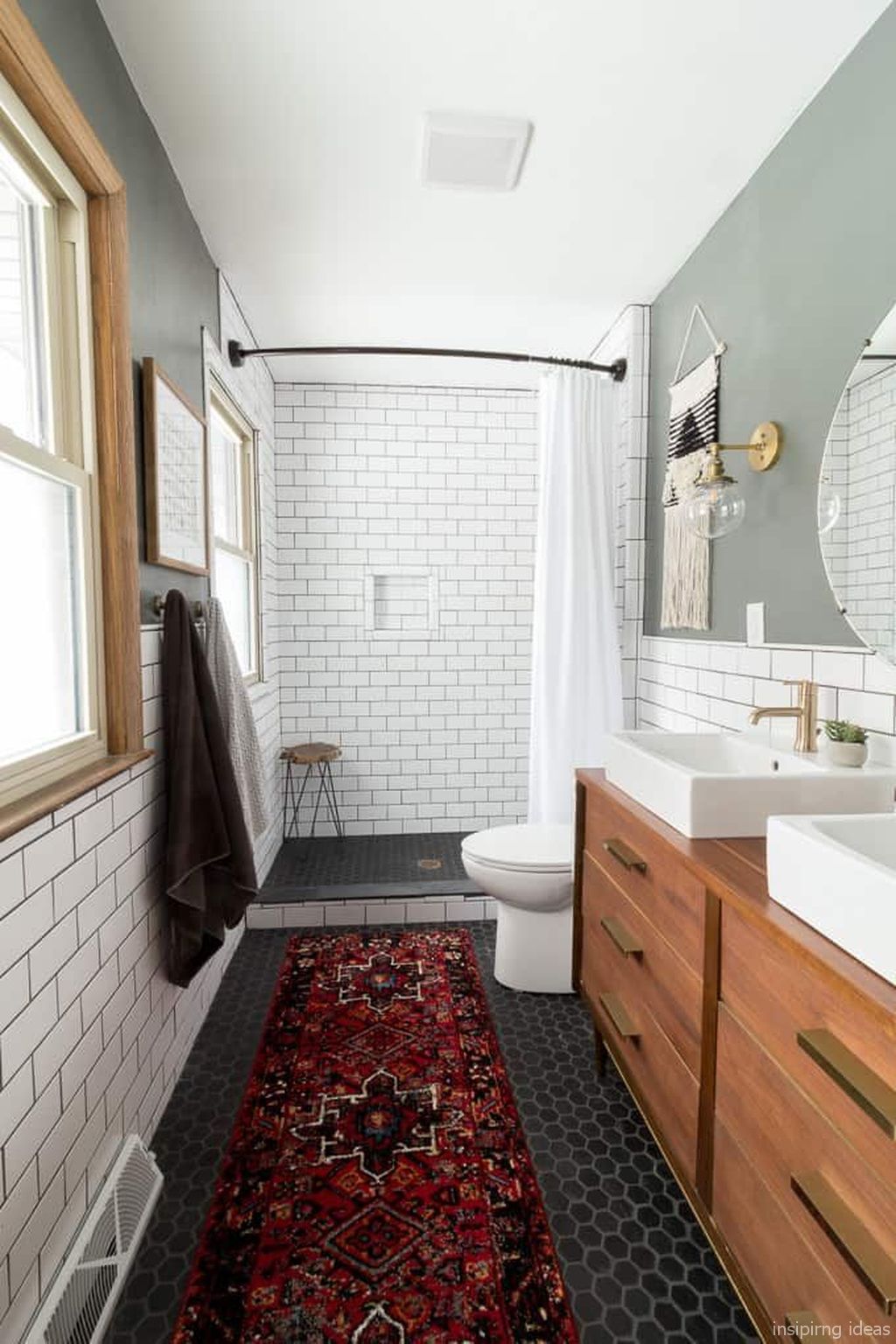 This bathroom is brimming with a ton of personality, thanks to subway and hexagon tiles. French country rug and macramé wall hanging catch the eye.
White block out curtain ensures complete privacy. It strikingly contrasts with a wrought iron rod. Wood vanity and window trim inject unmissable warmth into the area.
3. DIY Farmhouse Bathroom Vanity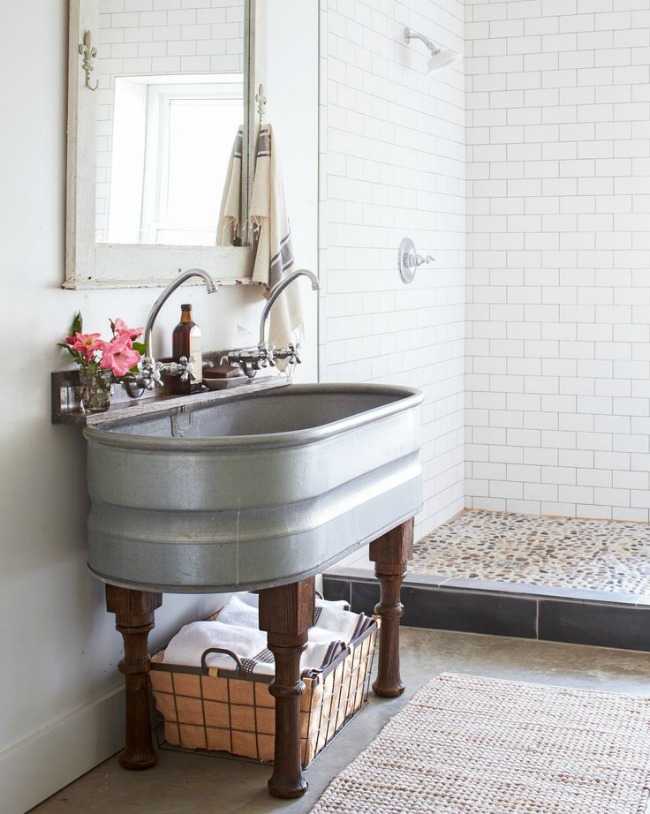 White subway tiles make the shower room bright and airy. River rocks and braided sisal rug offer rustic textures.
Galvanized metal tub and wooden legs have been turned into a statement vanity. Wire mesh basket under vanity houses towels, while flowers adorn the zone.
4. Vintage Farmhouse Bathroom Accessories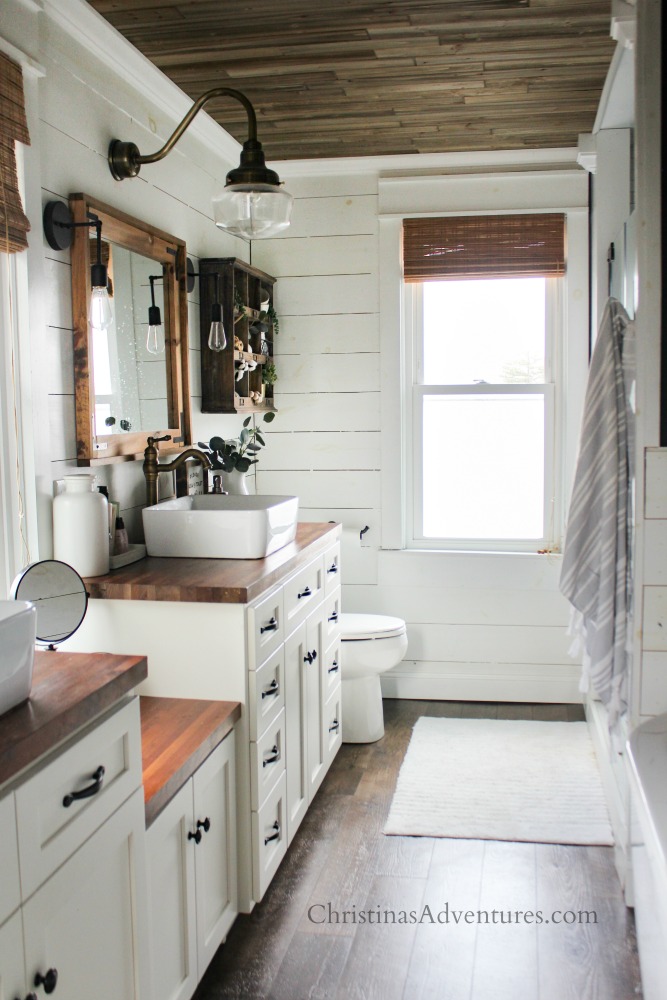 The shiplap walls and cabinets are painted white. They effortlessly exude a feeling of openness.
Vintage vanity lights double as bathroom accessories. Meanwhile, wooden elements set a welcoming scene. The greenery spruces up the space.
5. Farmhouse Bathroom Pictures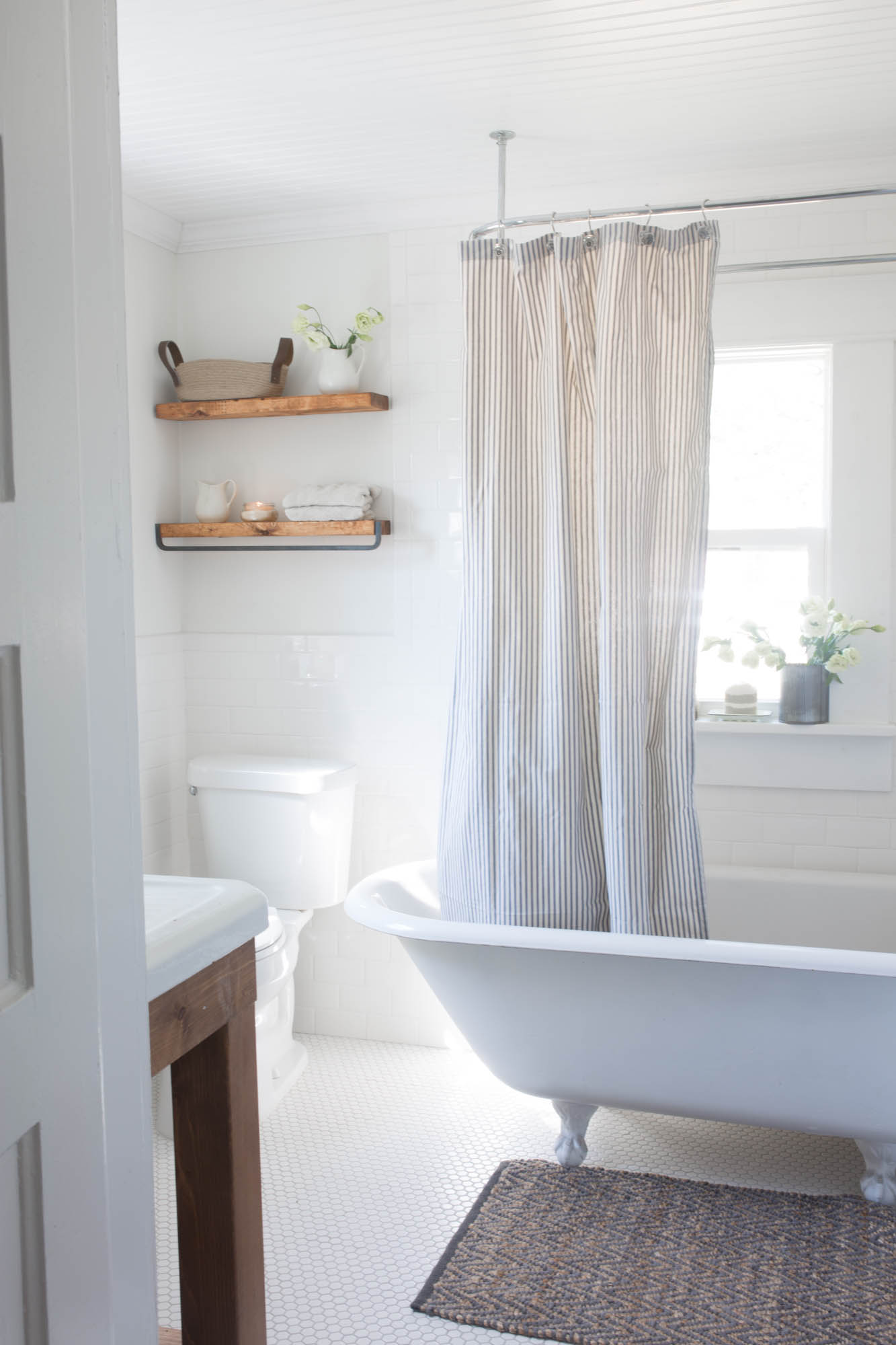 Above is a stylish farmhouse bathroom. The white color palette enlarges and lightens up the space at the same time.
The unfinished wood vanity and floating shelves bring rustic charm to the area. A striped curtain poses a focal point and maintains the bather's privacy.
6. Farmhouse Bathroom Ceiling Lighting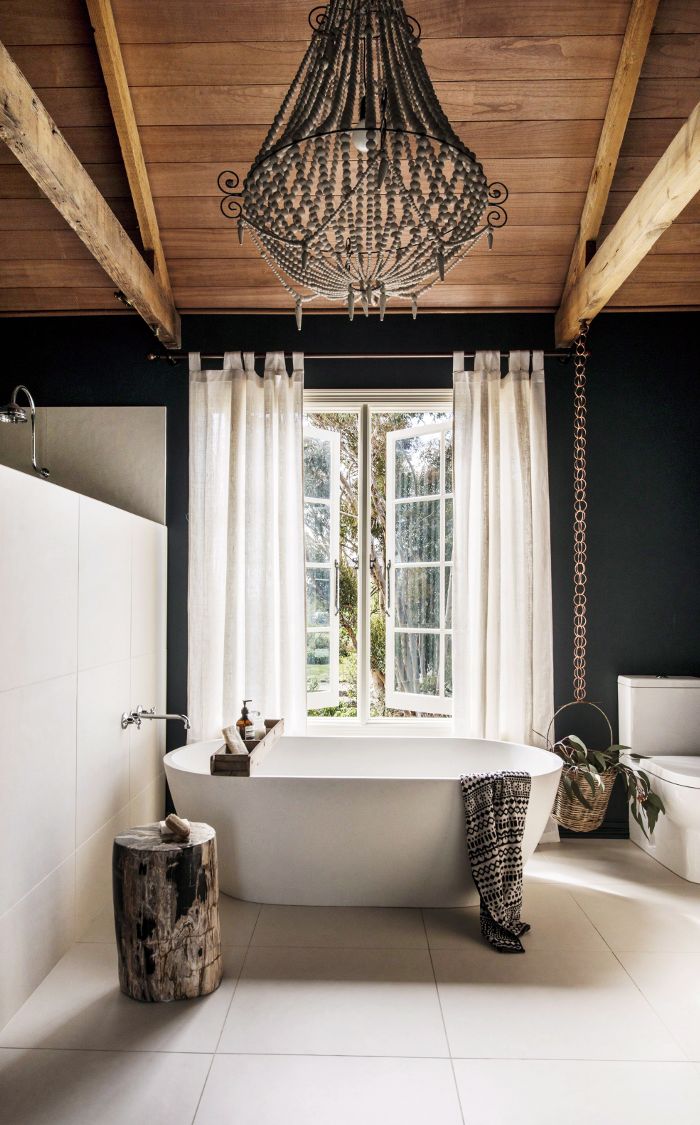 Large-format square tiles come in pure white. In a flash, they offer a widening effect and modern appeal to the space.
Black walls instill a sense of drama. Weathered wood stump stool, ceiling, and exposed beams result in a lived-in feel. The beaded chandelier illuminates the entire room.
7. Farmhouse Half Bath Decor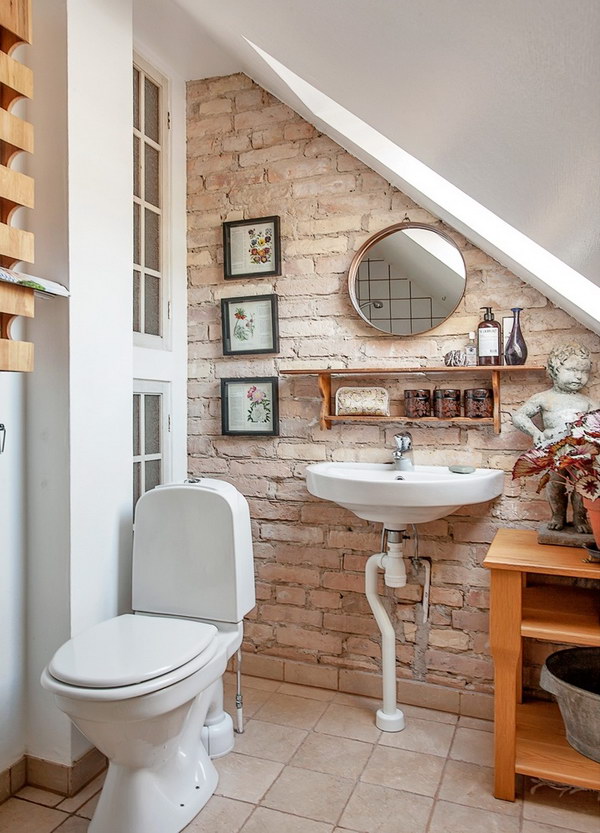 The skylight and plenty of white keep this attic half bath from being cramped. Wooden units warm up the zone.
Brick accent wall fills the space with character and cozy ambiance. A round mirror and black-framed artworks finish off the scheme.
8. Farmhouse Shower Ideas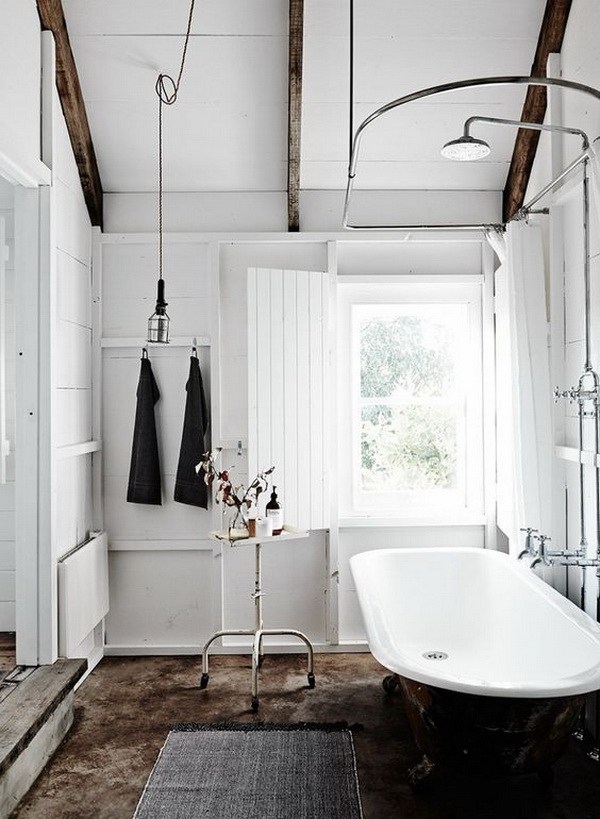 Since this bathroom is mostly white, it seems spotlessly clean and open. Reclaimed wood beams are a welcomed contrast to the vaulted ceiling.
The shower fixtures add functionality to the room. Gray rug and brown wool carpet give comfort underfoot. Cotton stems in vase serve as a centerpiece.
9. Farmhouse Bathroom Vanity Cheap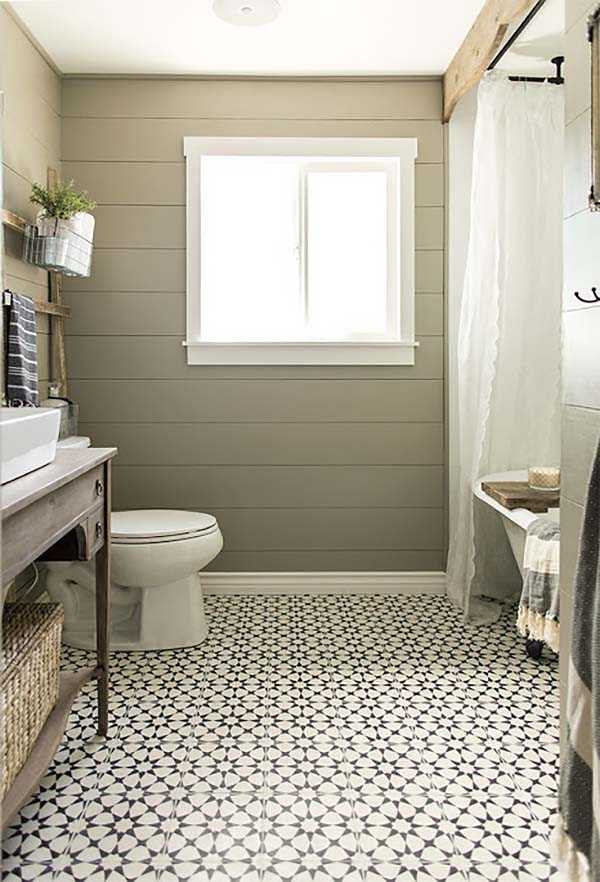 Farmhouse bathrooms are always associated with all-white spaces. Here, khaki shiplap walls update the vibe of the area.
Patterned floor tiles and striped towels make the room more appealing. Repurposed wood vanity features an open shelf. Wicker basket and ladder shelf work as storage pieces.
10. Farmhouse Bathroom Mirror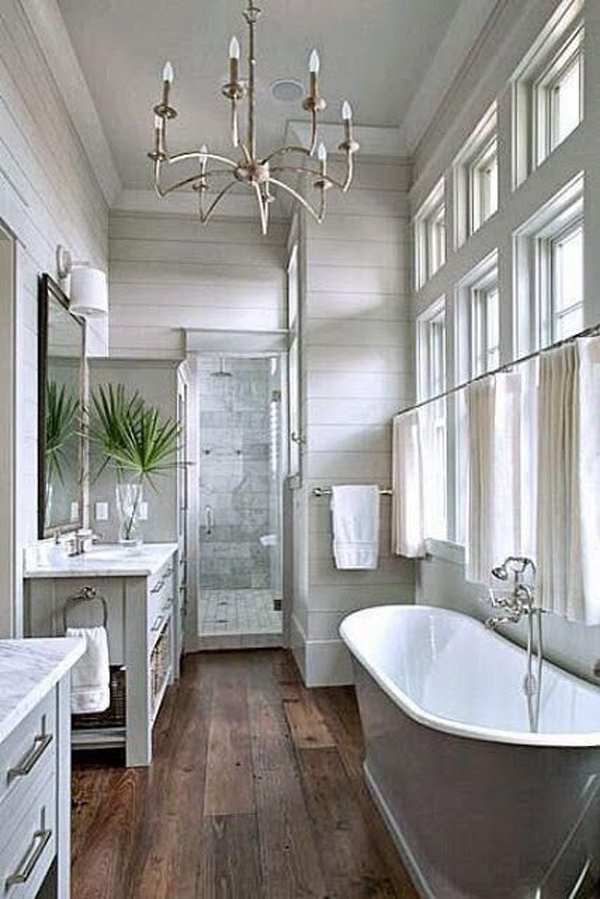 Light taupe ceiling, vanities, and walls emanate an air of tranquility. Marble countertops contribute to the bathroom's upscale setting.
Weathered wood mirror and floor balance out cool-toned elements. Some greenery brings life to the space.
11. Farmhouse Bathroom Signs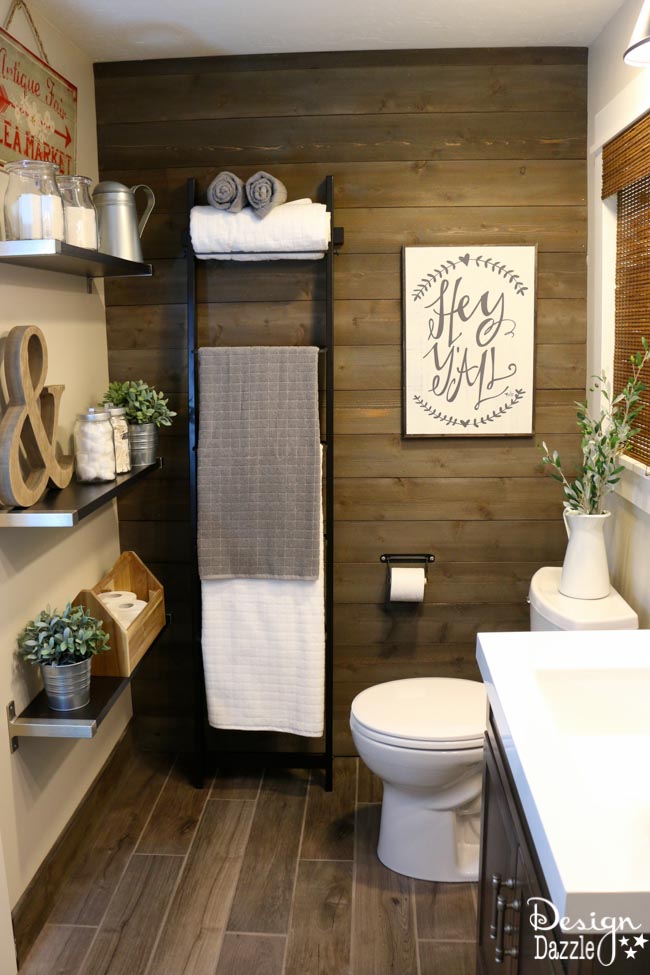 In this half bath, the accent wall is made up of reclaimed wood planks. Along with woven wood shade, oak laminate floor, and cream wall, they warm up the scene.
The industrial farmhouse shelves support potted plants and decorative units. Both modern and vintage signs complete the look.
12. Modern Farmhouse Bathroom Vanity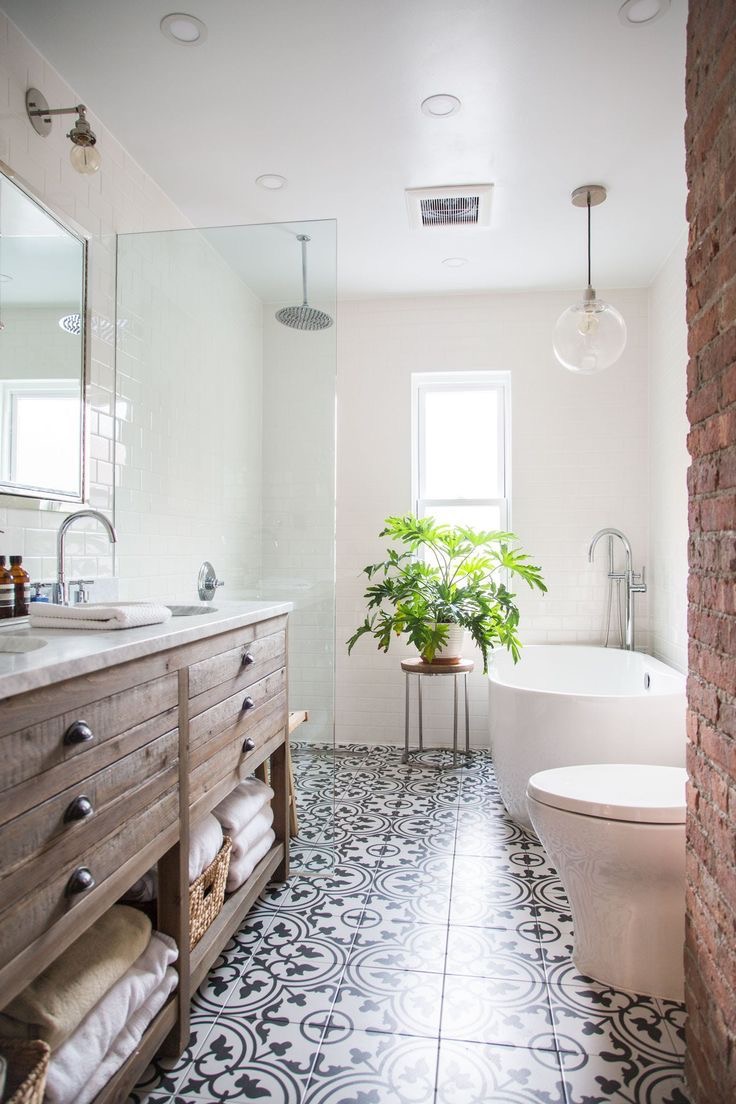 The white color scheme allows the patterned floor tiles to shine. The houseplant elicits a sense of vitality. Glass panel and rectangular mirror scream modern farmhouse.
The raw wood dresser has been transformed into a cool vanity. Its open shelves are used to store folded towels and wicker baskets.
13. Modern Farmhouse Powder Room Ideas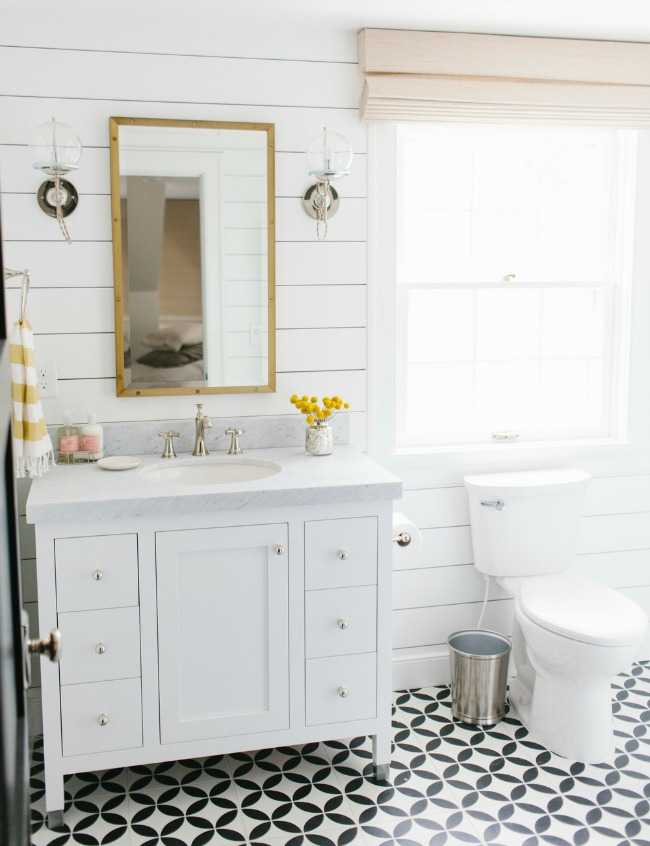 Monochrome geometric floor tiles lend this powder room a modern visual appeal. White shiplap walls and vanity open up the space. Brass accent, splashes of yellow and pastel orange let the area take a break from white dominance.
14. Industrial Farmhouse Bathroom Vanity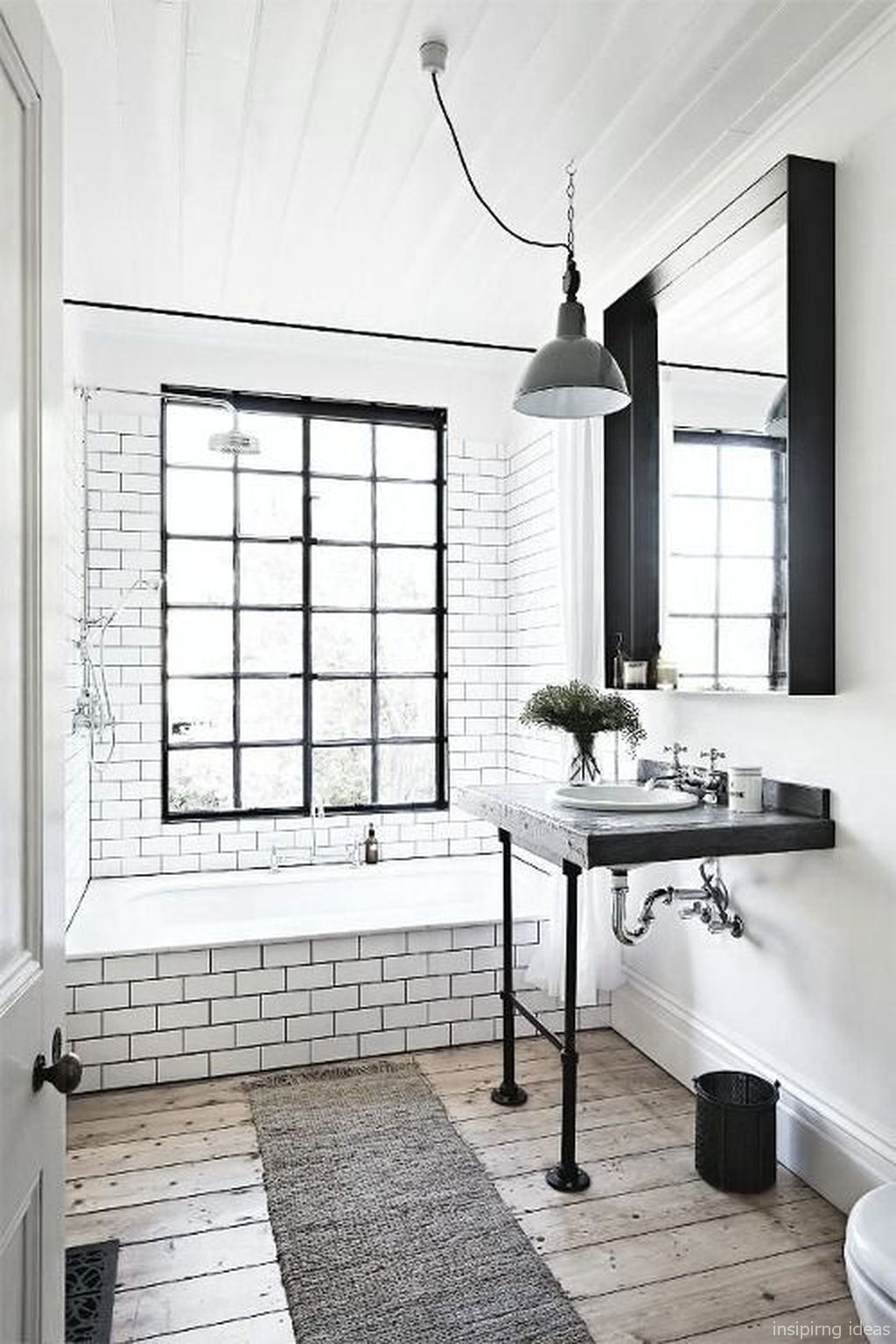 This stylish bathroom boasts white subway tiles and a weathered wood floor. Black metal vanity, mirror, pendant light, and window frames infuse industrial touches to the area. Flowers keep the space gender-neutral.
15. Farmhouse Apron Sink Bathroom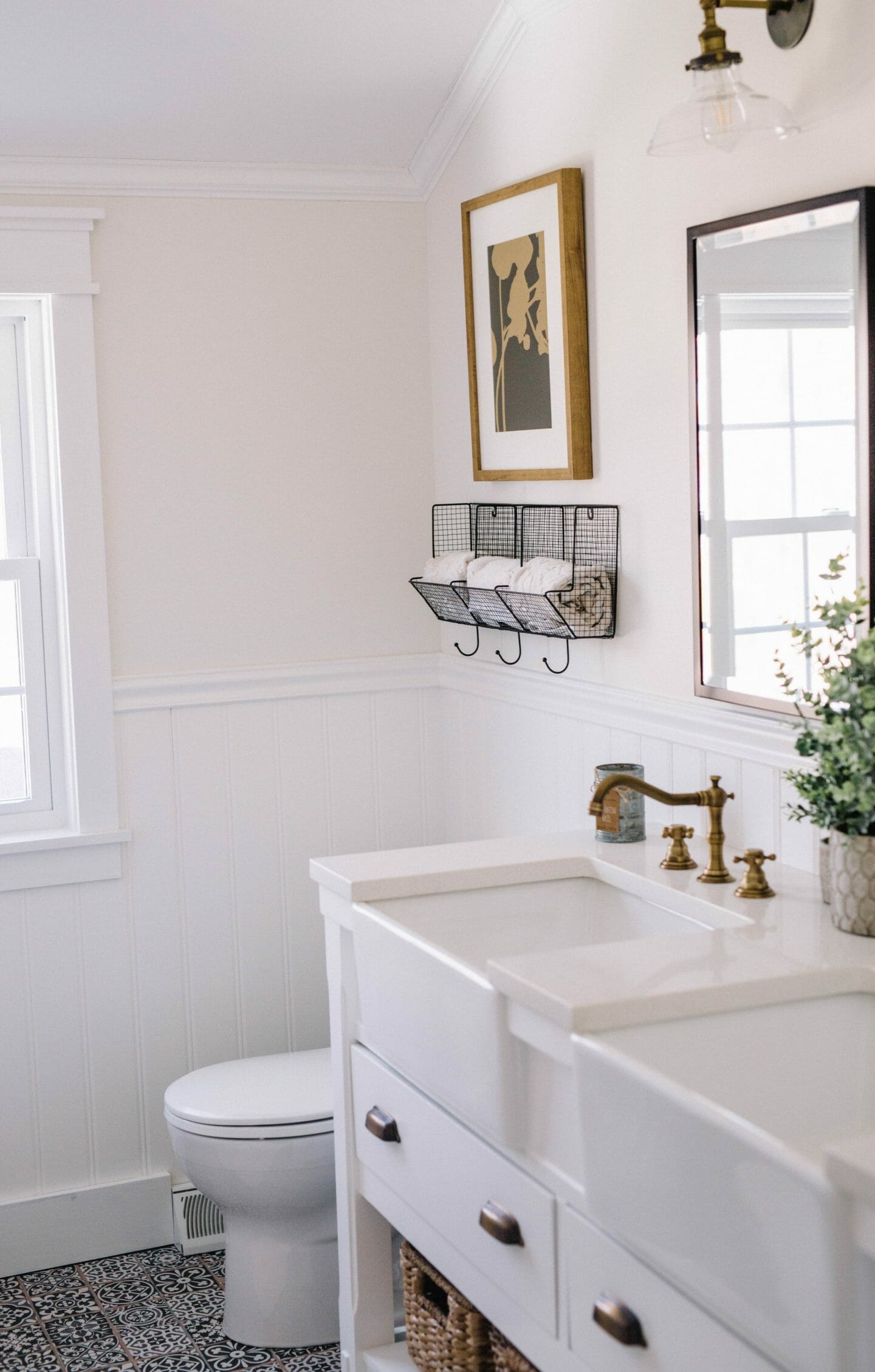 Lots of whites develop a clean and bright bathroom. The apron-front sink and antique brass details stamp farmhouse aesthetic. Wooden framed artwork, patterned rug, and potted plant evade a basic look.
16. Farmhouse Bathroom Sink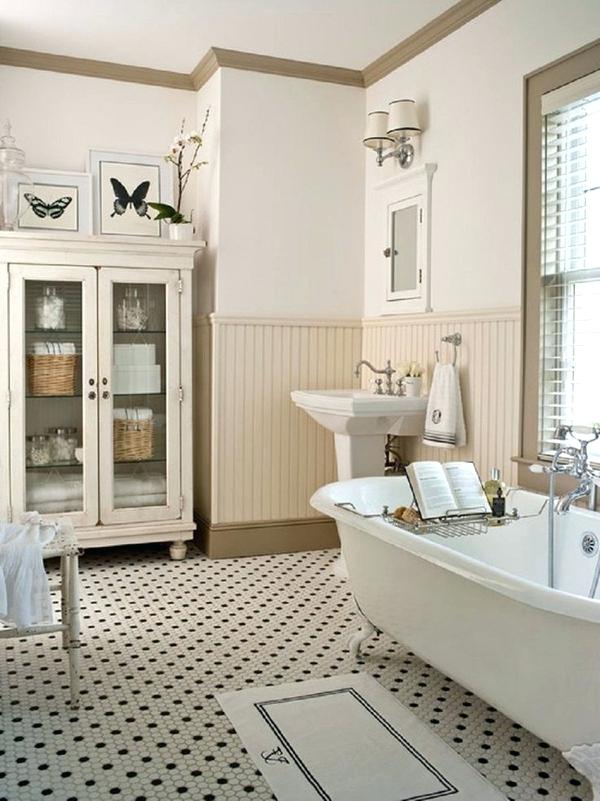 Black and white hexagon floor tiles imbue bathroom with character. Cream-painted wainscoting panels and khaki moldings calm the senses.
Butterfly arts of work on top of freestanding cabinet are leaning against the wall. Pedestal sink adds a modern farmhouse feel to the space.
17. Cast Iron Farmhouse Sink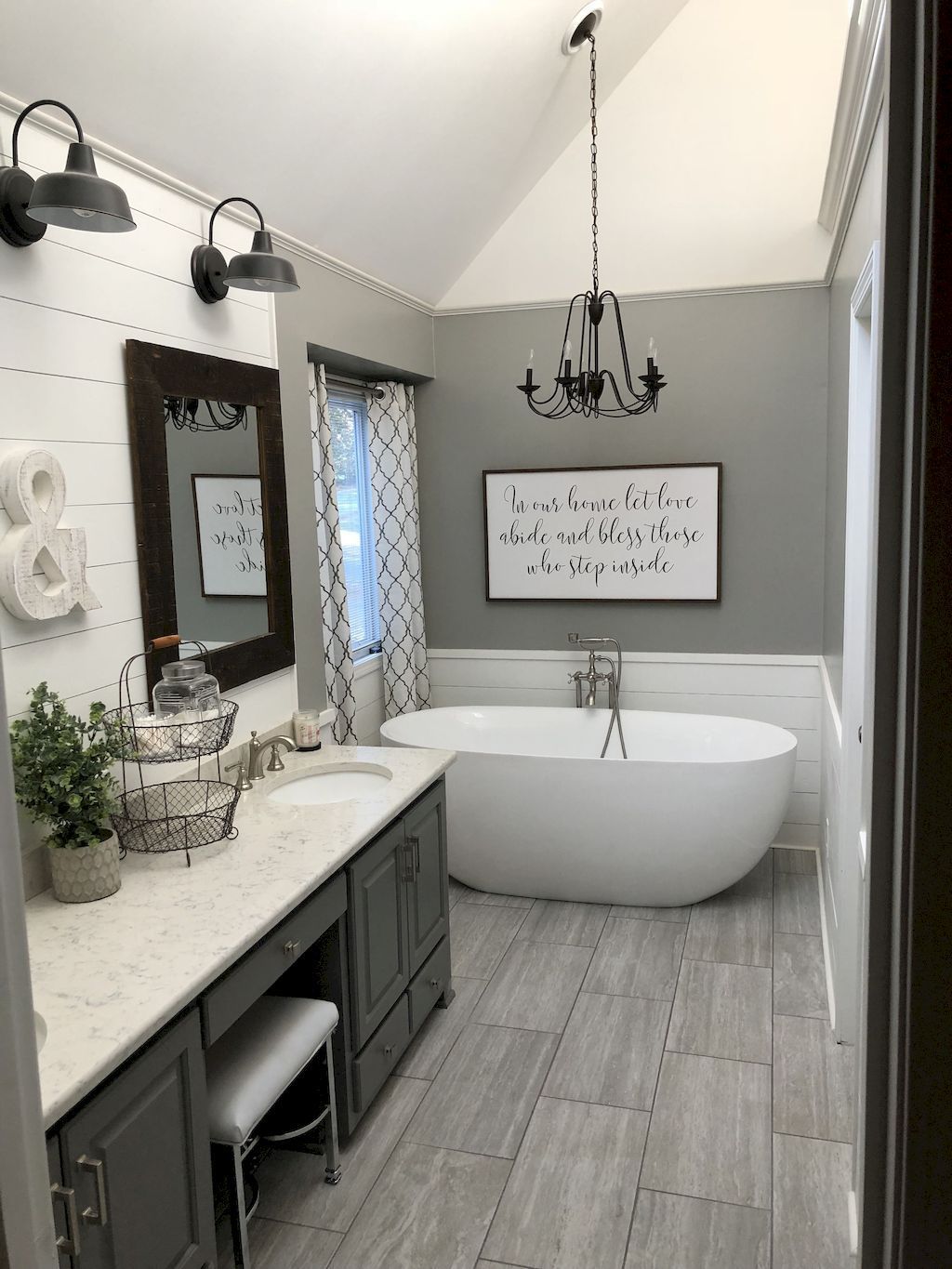 White shiplap wall, undermount cast iron sink, wire mesh baskets, and wood-look ceramic tiles carve an industrial farmhouse vibe.
Vintage chandelier and wall sconces light up the space. Framed quote, distressed wood symbol, and Arabesque curtains round out the interior.
18. Farmhouse Chic Bathroom Ideas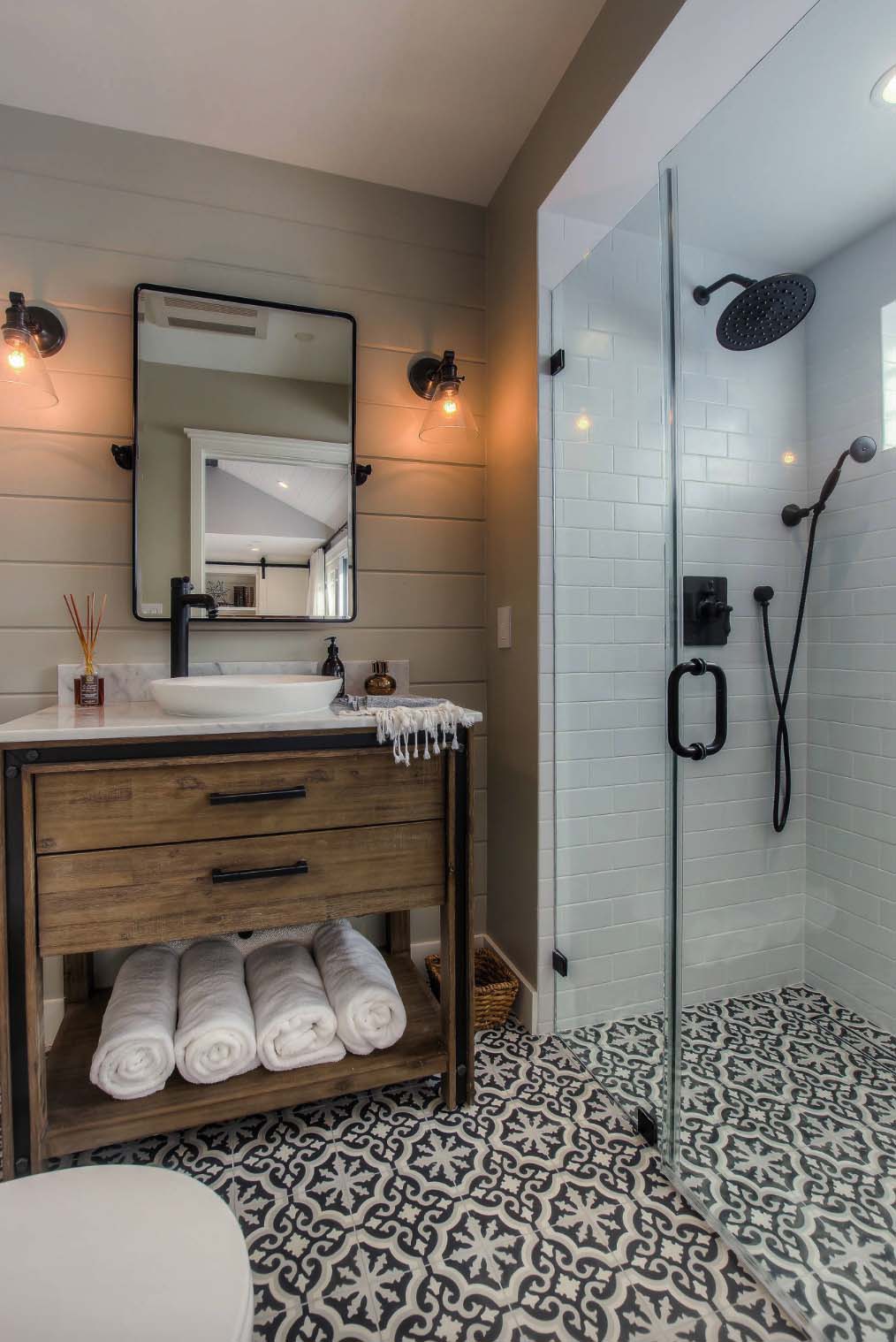 Frameless glass shower doors evoke a sense of chicness. Patterned floor tiles draw the eye.
Weathered wood boasts an open shelf that accommodates rolled towels. Glass wall sconces give off a warm glow.
19. Tiny Farmhouse Bathroom Ideas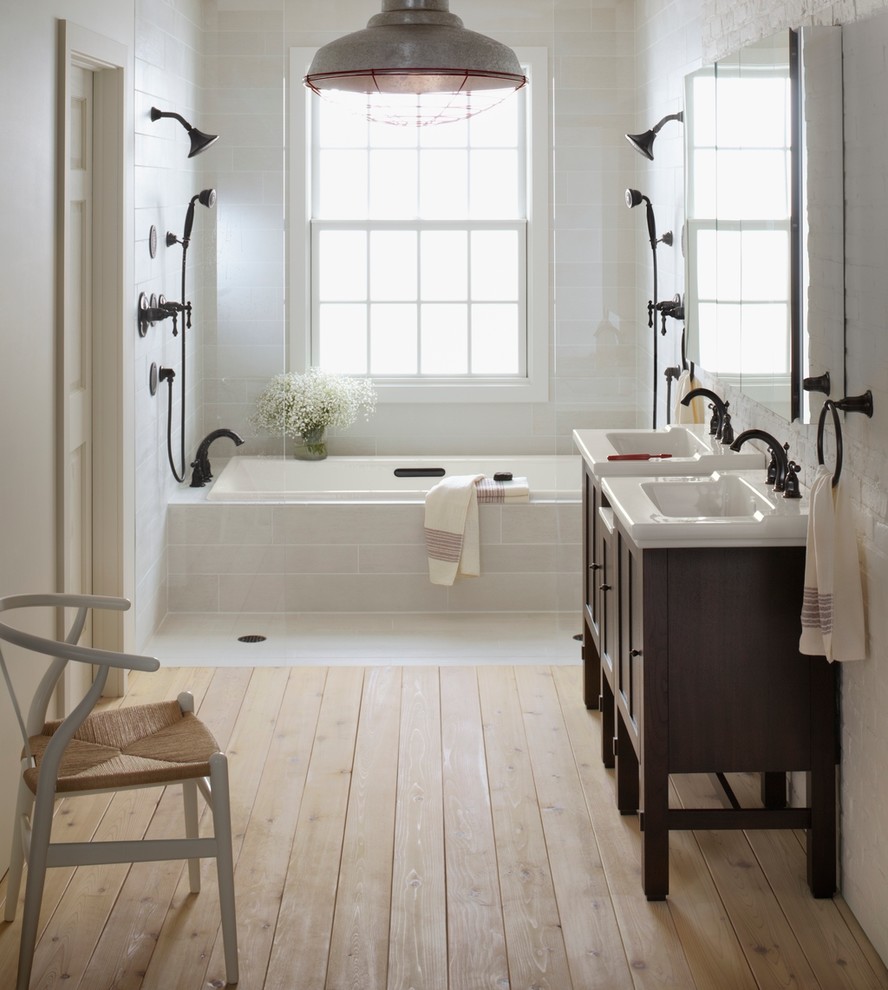 Pale gray floor, built-in tub, and walls along with windows help allow in more light. The mirror expands the space visually. Naked wood floor, galvanized pendant light, and iron shower fixtures exude industrial farmhouse charm.
20. Rustic Bathroom Ideas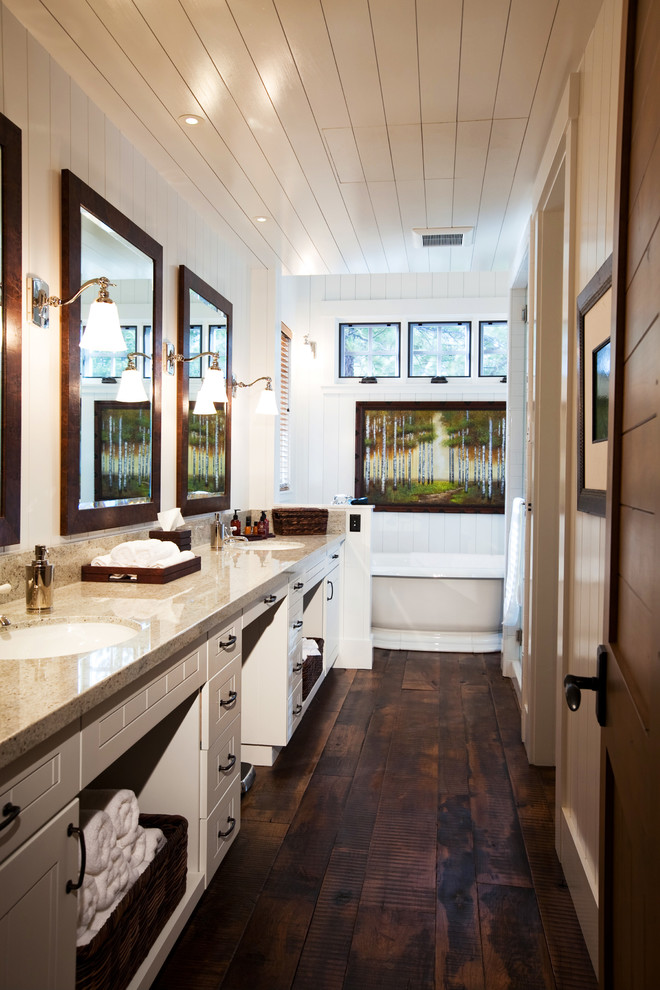 Shiplap ceiling, wall sconces, and cabinets introduce the ravishing symmetry. Freestanding tub, painting, windows, and wood-framed mirror cement modern flair. Reclaimed wood floor oozes rustic grandeur.
21. Modern Farmhouse Bathroom Lighting Ideas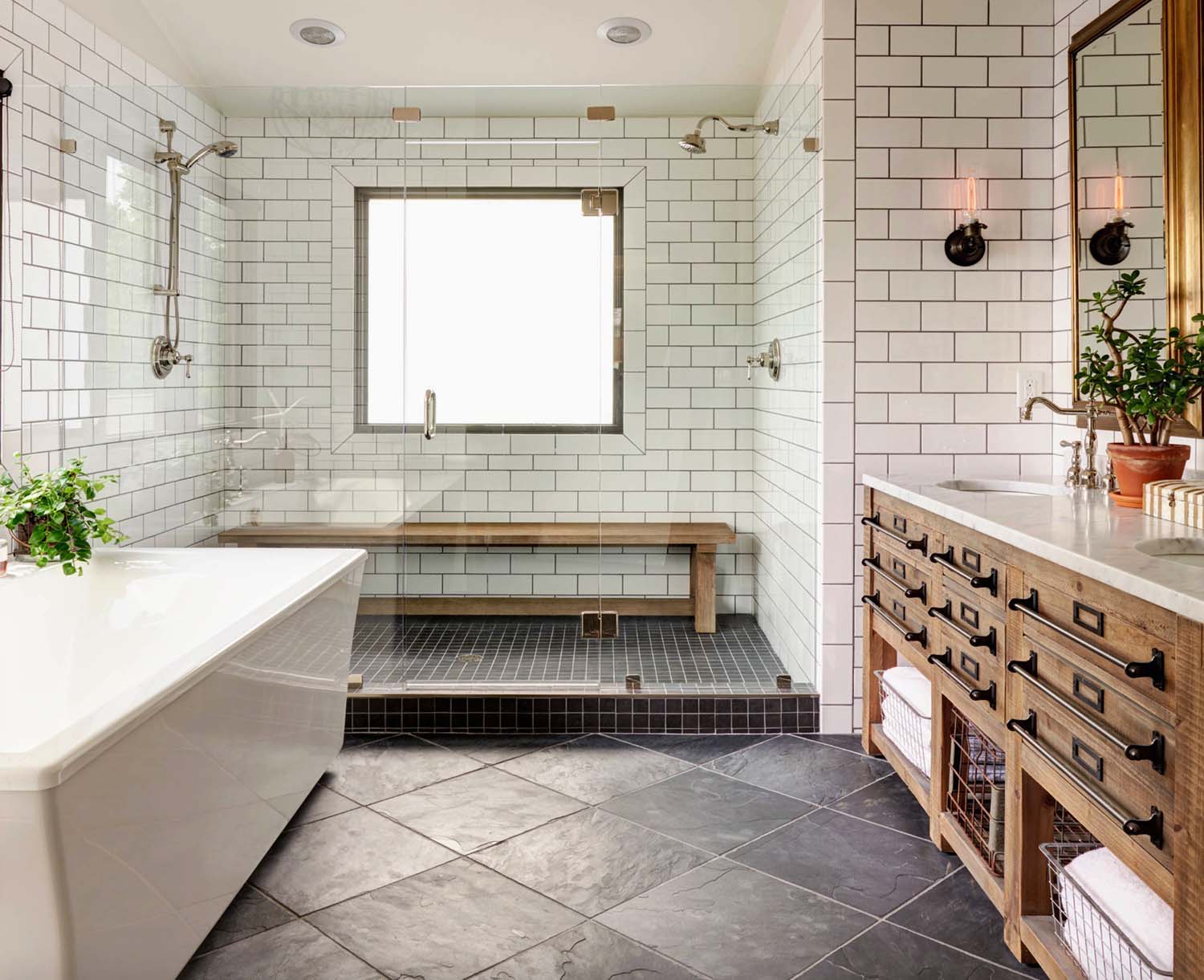 Black ceramic and slate tiles deliver some depth as well as instant drama to the space. White tub and subway tiles keep the bathroom from feeling drab. The space is nicely lit by downlights and modern wall sconce.
22. Farmhouse Bathroom Wall Art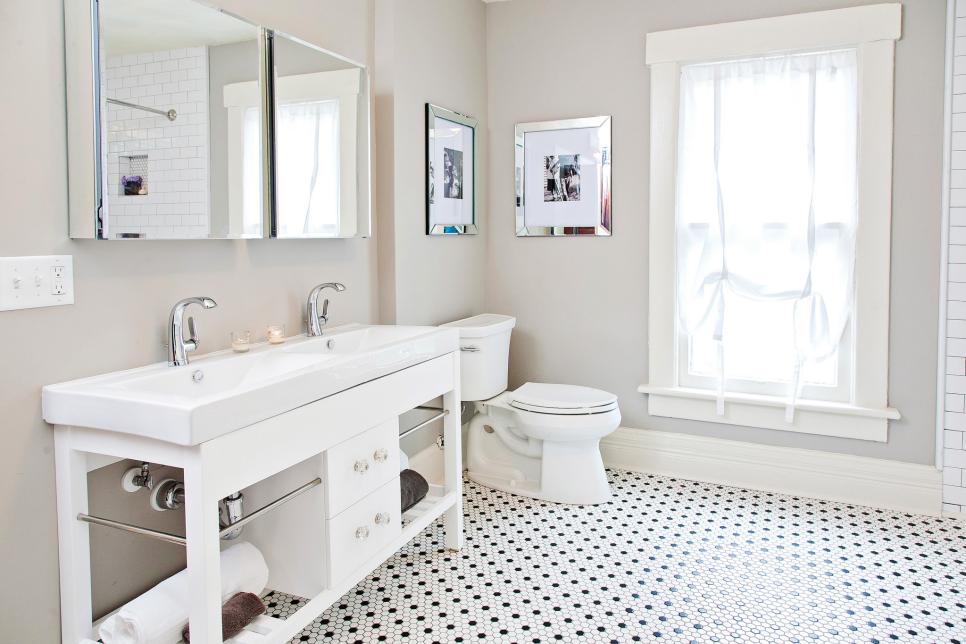 Light taupe walls let black and white penny floor tiles sing out. White vanity and mirrored cabinet house bath essentials. Two mirror-framed works of art reflect the light and titivate the otherwise blank wall.
In conclusion, you can turn your dream farmhouse retreat into reality with modern practicalities. Some of today's units maybe look retro, but they are functional. Anyway, will you be implementing any of those farmhouse bathroom ideas?