No matter how small your bathing space is, there must be a designated spot to hold spare towels, beauty products, and toiletries. If you are searching for brilliant bathroom shelf ideas, you have landed at the right place.
These storage solutions will help you turn a messy bathroom into an inviting retreat. Other than that, you can optimize your wall space and display pretty items.
1. Bathroom Shelving Units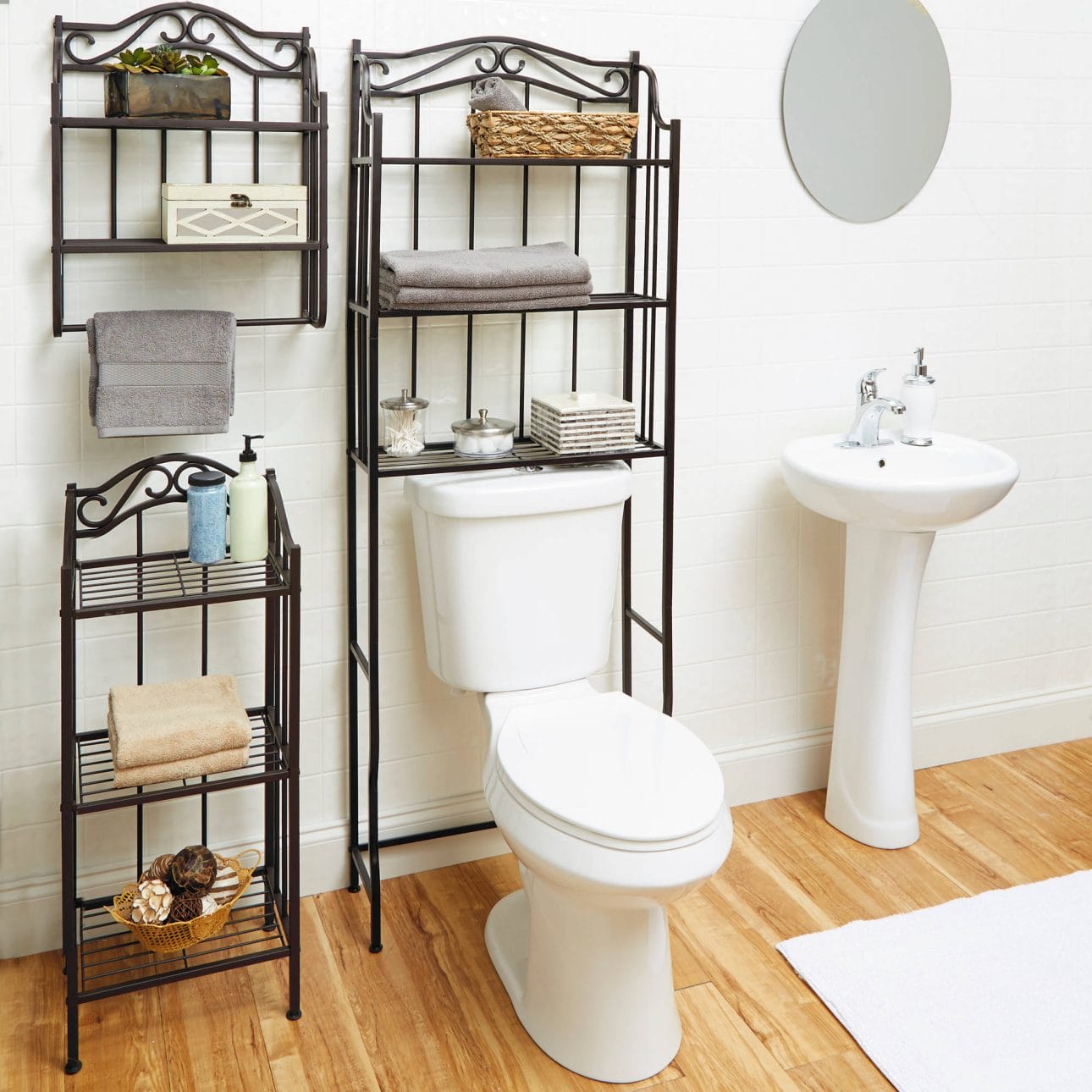 White pedestal sink, toilet, rug, base molding, and shiplap walls open up the room. The tall metal étagère straddles the toilet. There are also smaller and wall-mounted etageres. They all celebrate traditional flair.
2. DIY Bathroom Shelf Ideas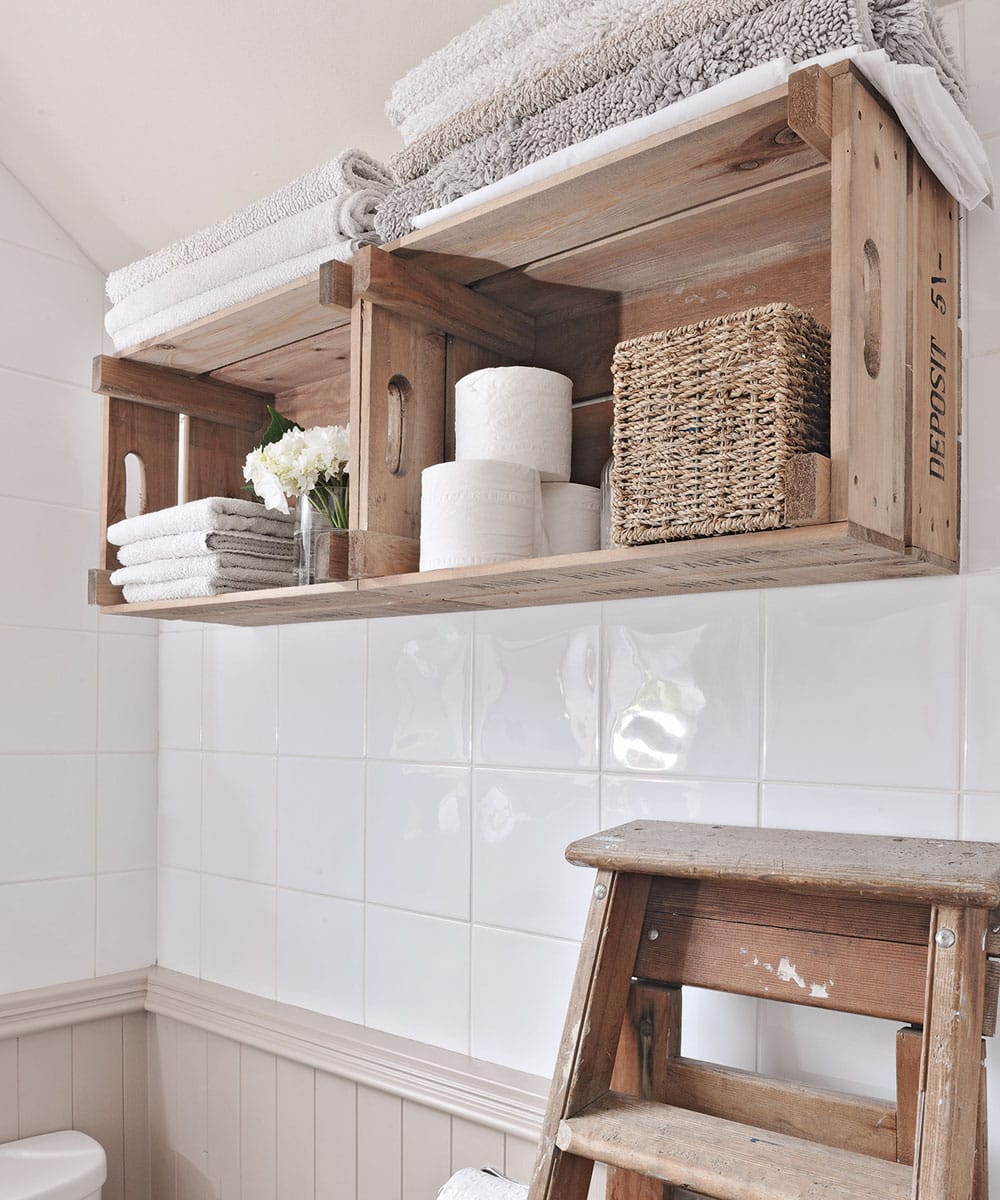 Build bathroom shelves out of unfinished wood crates. They accommodate tissue paper rolls, wicker baskets, flowers in vase, and towels. For easy access to your stuff, use a wooden ladder.
3. Bathroom Open Shelves Ideas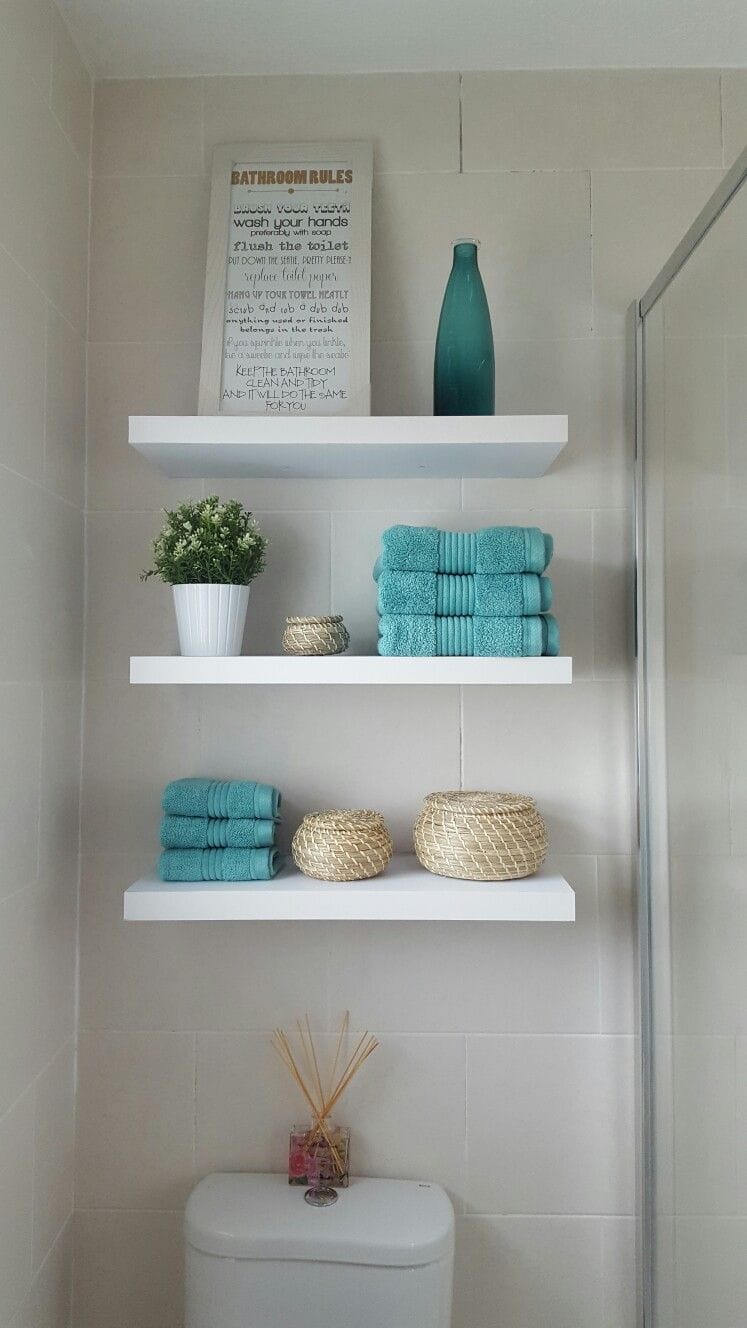 The homeowner utilizes the awkward wall space above her toilet for open shelves. They display artificial flowers, bamboo baskets, framed artwork, astonishing towels, and vase. The scented diffuser exhibits spa-like vibes.
4. Shelves for Small Bathroom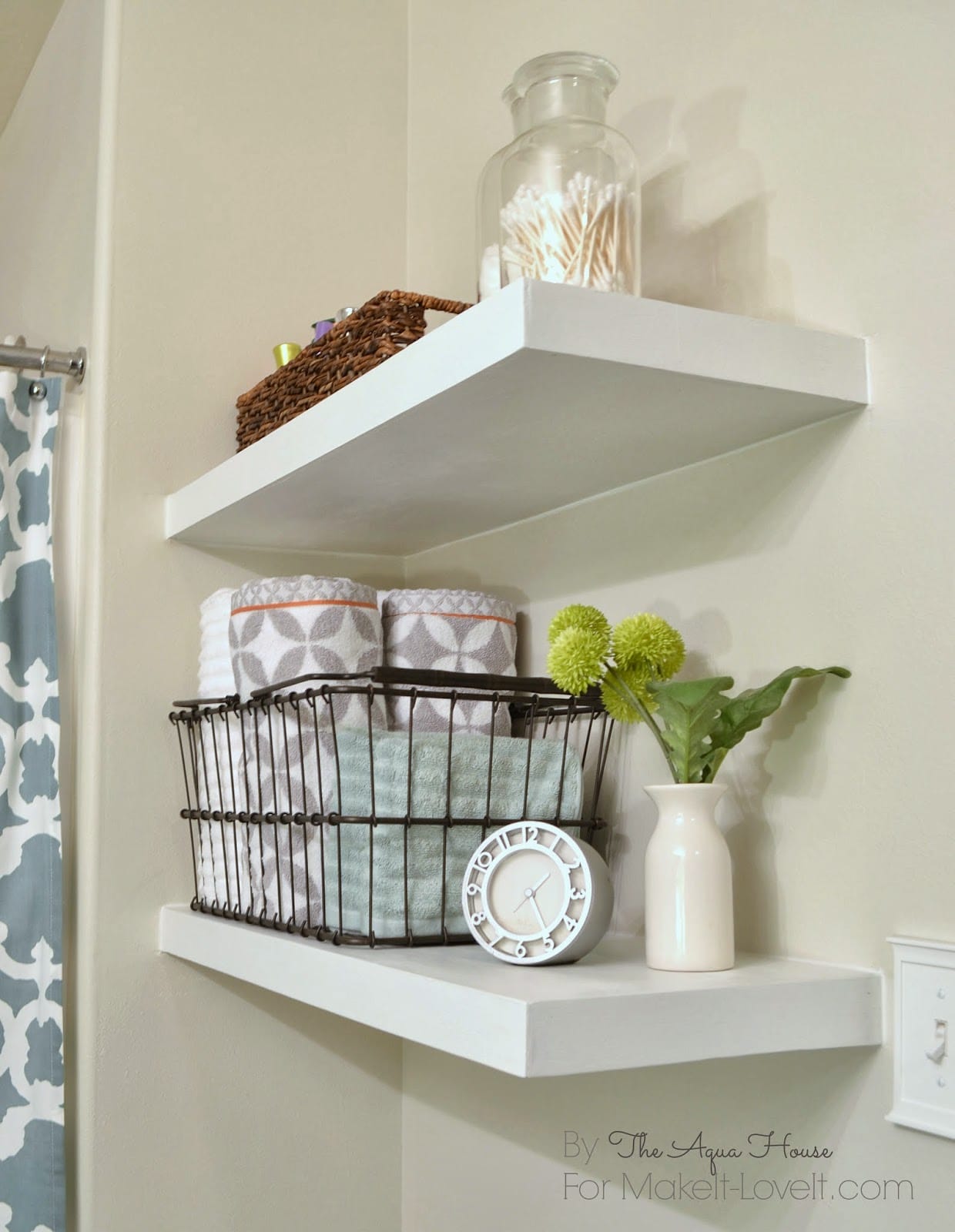 Here, two pure white floating shelves fit into the corner of the bathroom. The walls and shelves create a seamless look. Metal and rattan baskets help declutter the space.
5. Styling Bathroom Shelves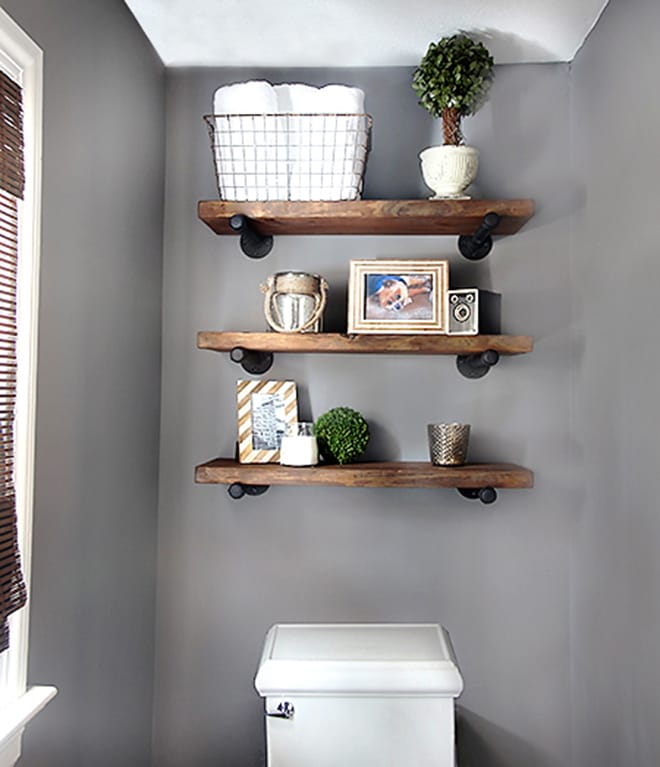 Over the toilet are reclaimed wood shelves. The black iron pipes sturdily support them. Those open shelves carry farmhouse charm and rustic vibe to the interior. Greenery, vintage finds, and framed pictures complement the shelves.
6. Recessed Bathroom Shelves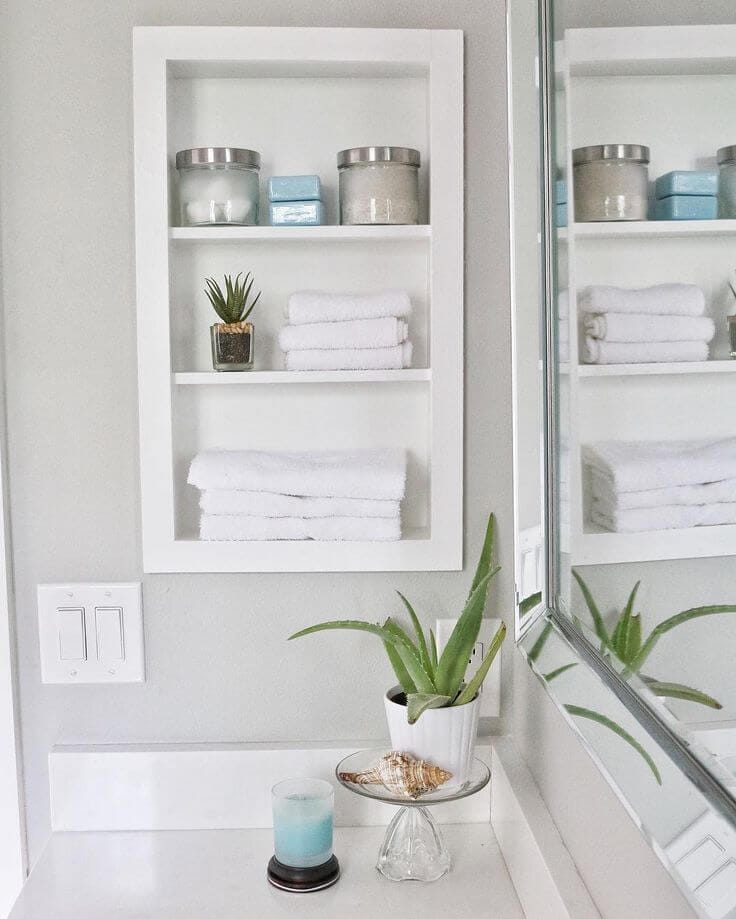 Candle and a potted plant brighten up the area. The built-in shelves maximize every square inch of the tiny bathroom. They also encourage the homeowner to keep her knick-knacks and towels tidy.
7. Bathroom Shelving Ideas over Toilet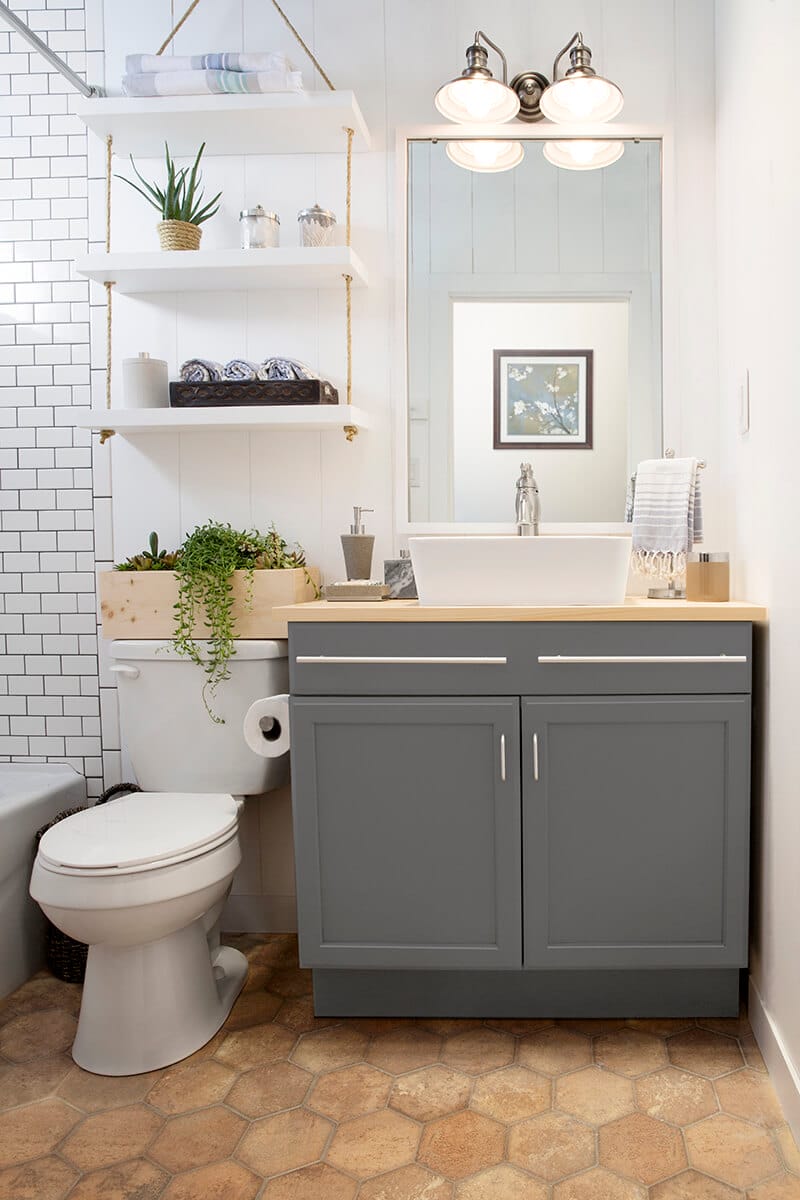 Hexagon and subway tiles add visual appeal to this modern farmhouse bathroom. Thick nautical ropes suspend white shelves above the toilet. Those units match well with the overall bathroom design.
8. Bathroom Shelf Decor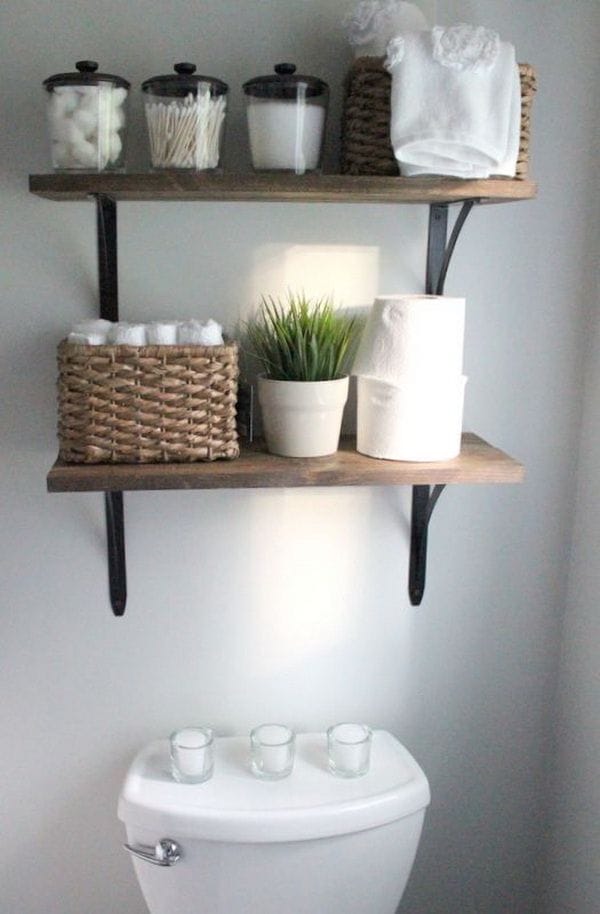 Reclaimed wood boards and metal brackets lead to farmhouse-inspired shelves. They handle wicker baskets and bathroom necessities. White backdrop allows the rustic shelves to stand out. A potted indoor plant decorates the space.
9. Bathroom Shelf Ideas Pinterest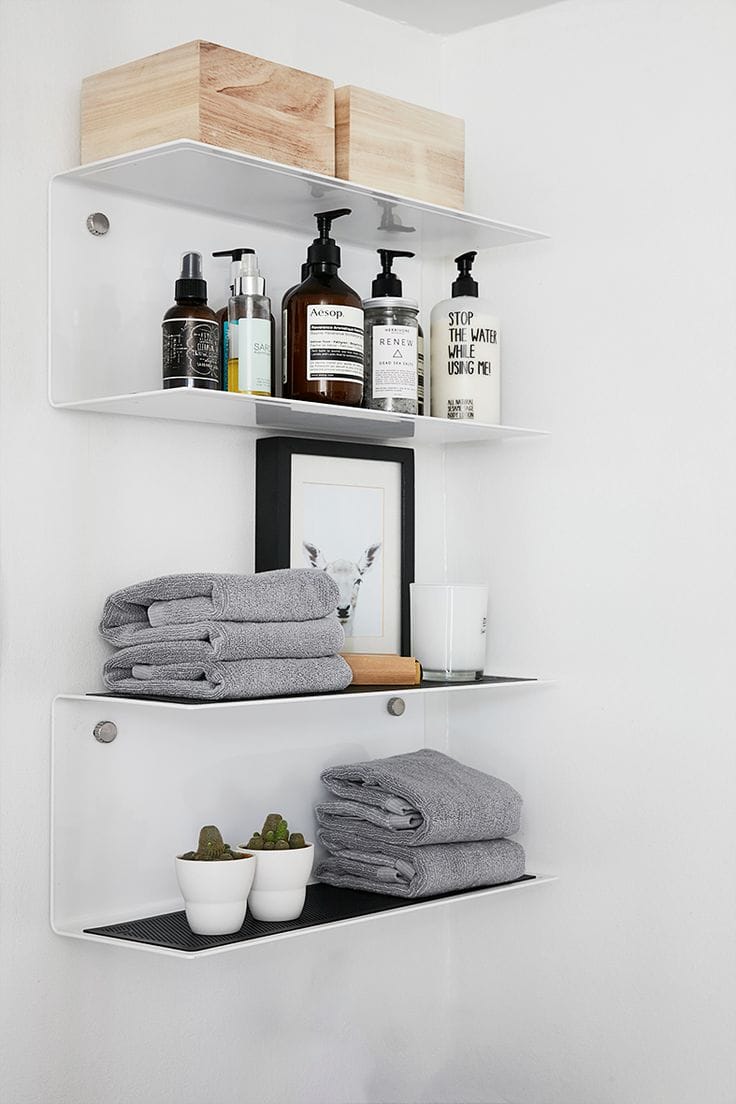 The white painted walls stretch the bathroom. Monochrome wall-mounted shelves offer minimalist aesthetic. They let gray towels, raw wood boxes, body washes, and potted plants catch the attention.
10. Bathroom Shelves Home Depot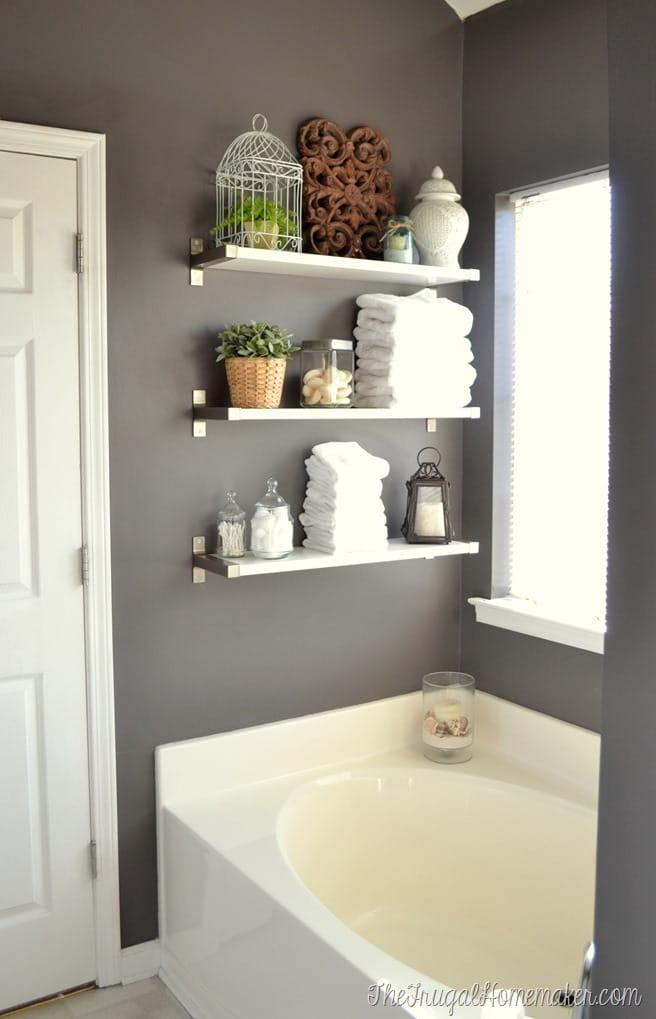 White open shelves with stainless-steel brackets look awesome against a gray backdrop. They carve an industrial feel. Vintage lantern, ceramic jar, and birdcage sit elegantly on the shelves.
11. Wooden Bathroom Shelves
Dark-toned repurposed wood shelves display towels, perfumes, and bath essentials. They warm up the space too, while stainless steel hooks keep towels off the floor.
12. Decorative Bathroom Shelving Ideas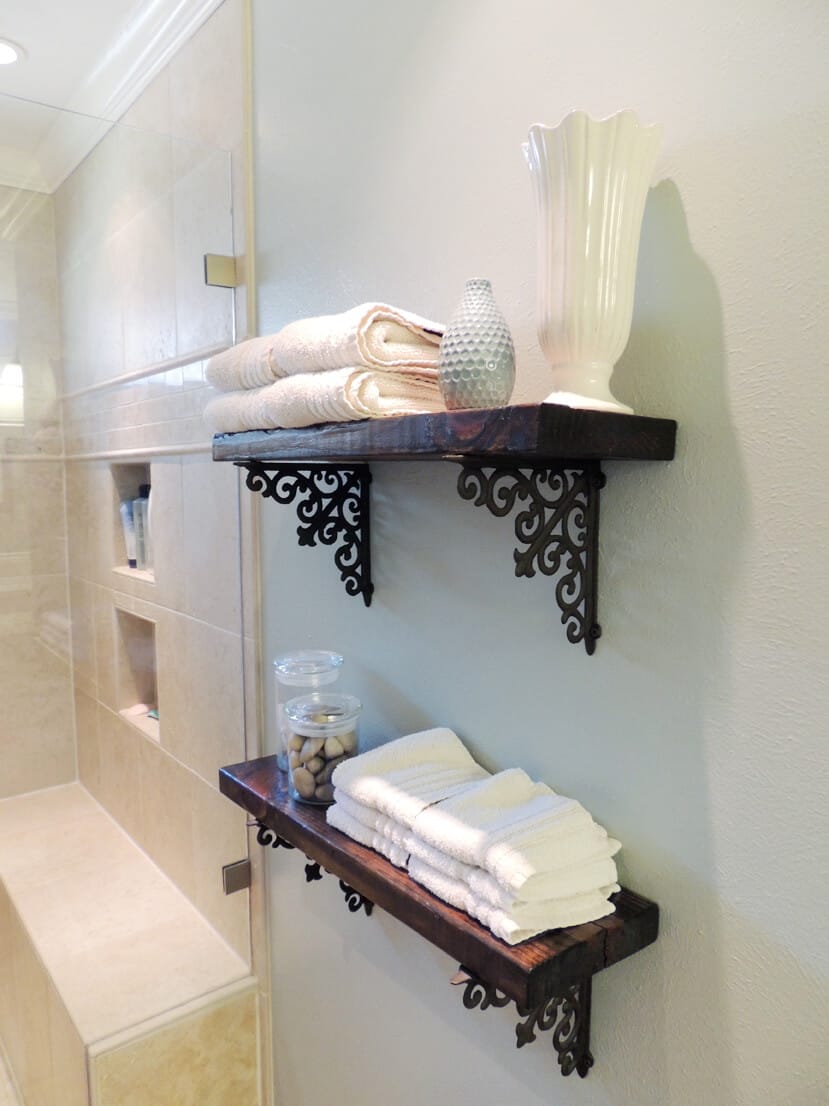 Light gray, cream and white soothe the mind. Rich-toned wood open shelves set a homey scene. Meanwhile, the intricately stunning metal brackets steal the spotlight.
13. Narrow Bathroom Ladder Shelf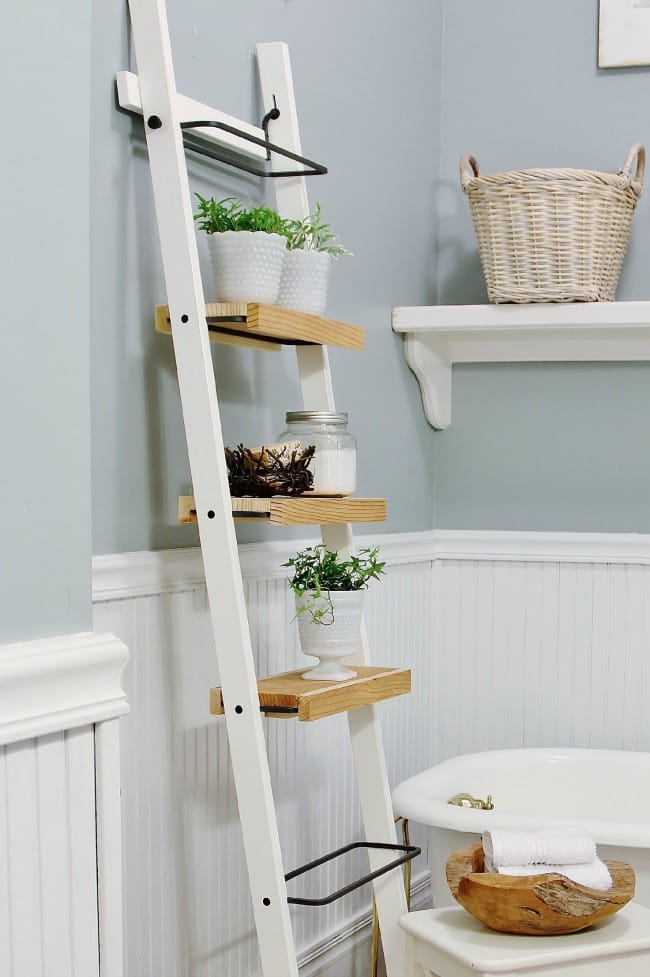 This pocketsize bathroom features a stool and a single shelf. The white, metal, and wood ladder shelf leans against two-tone wall. It houses cleaning products and houseplants.
14. Glass Bathroom Shelves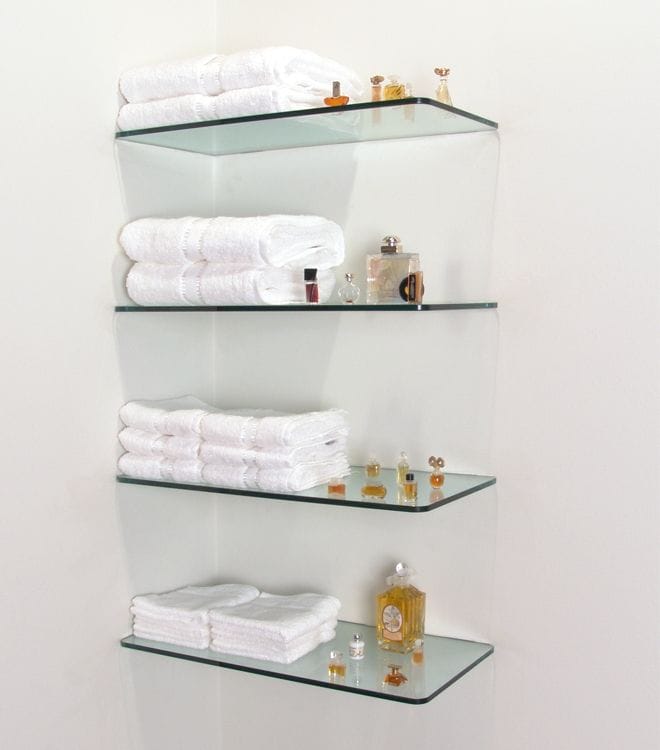 As you can see, the glass floating shelves hug the corner of the bathing space. Do they not only hold towels and fancy perfumes but also exude an airy atmosphere.
15. Brushed Nickel Bathroom Shelving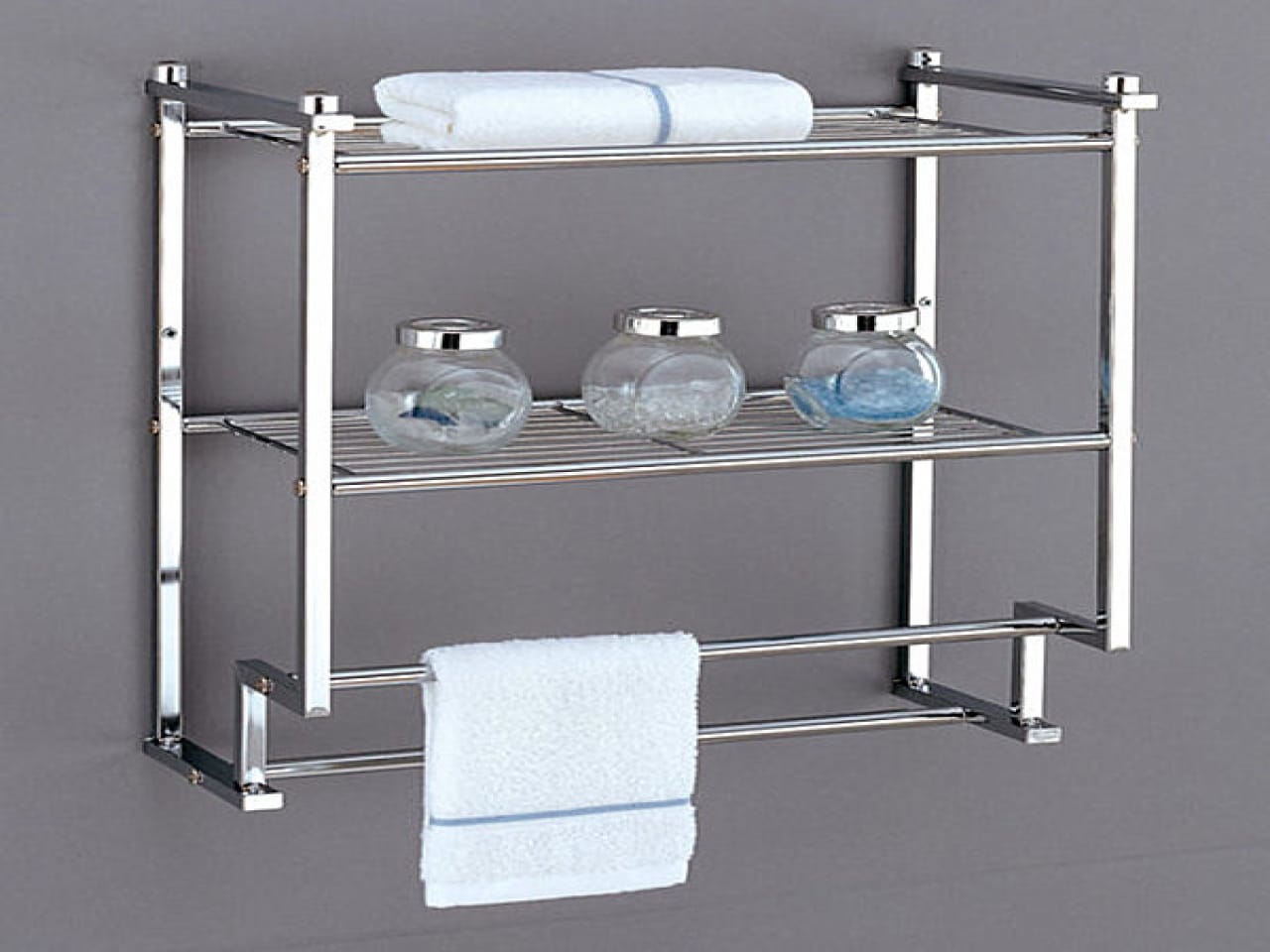 Gray backdrop allows brushed nickel shelves to take center stage. They display some items and ooze industrial charm at the same time.
16. Bathroom Shelves Walmart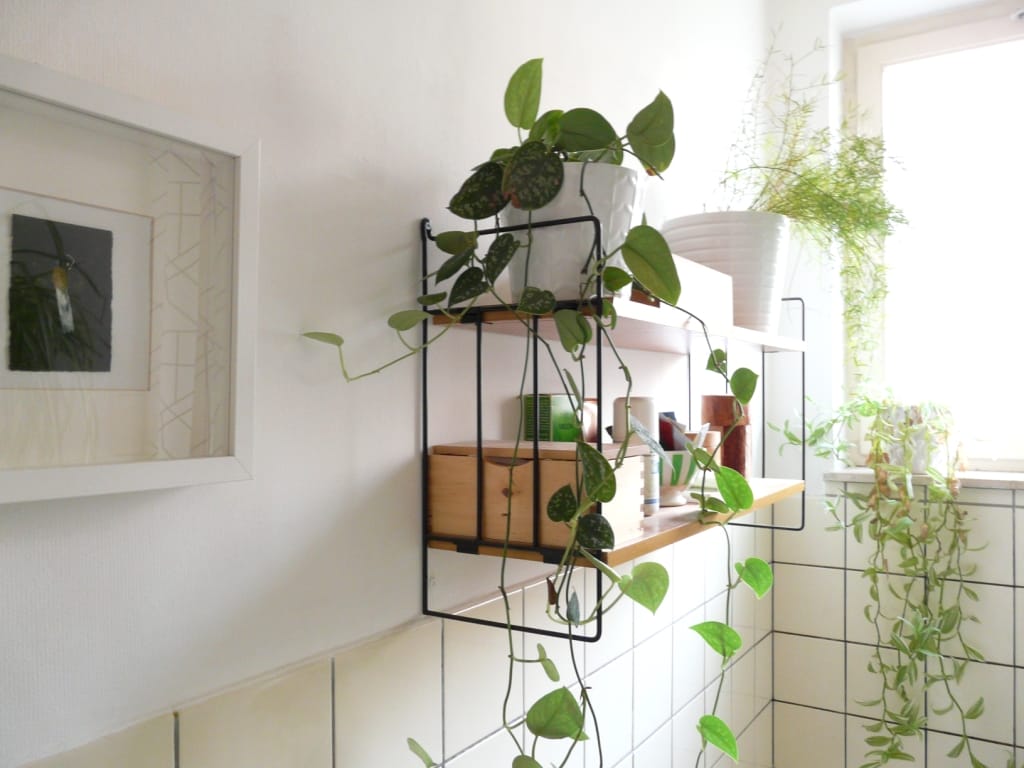 Window and neutral shades generate a sunny setting. Black metal details on both sides of raw wood shelves add a fabulous contrast to the bathroom. Meanwhile, potted indoor plants breathe life into the space.
17. Shower Shelf Ideas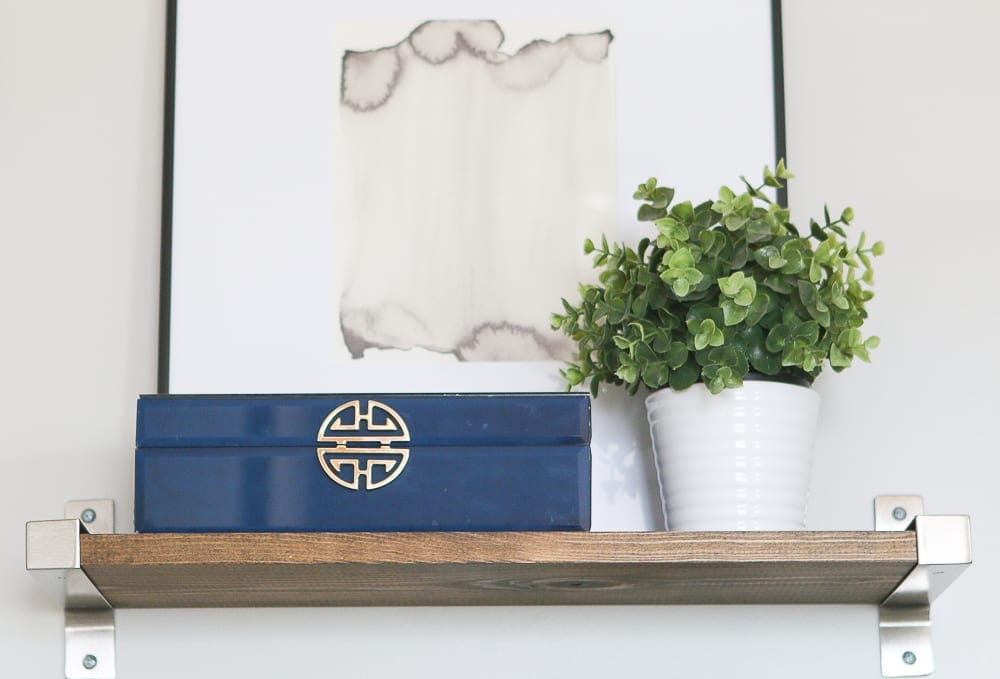 Above is a single reclaimed wood shelf with stainless steel brackets. It provides enough space for a blue storage box, greenery, and black-framed artwork.
18. Bathroom Shelves Design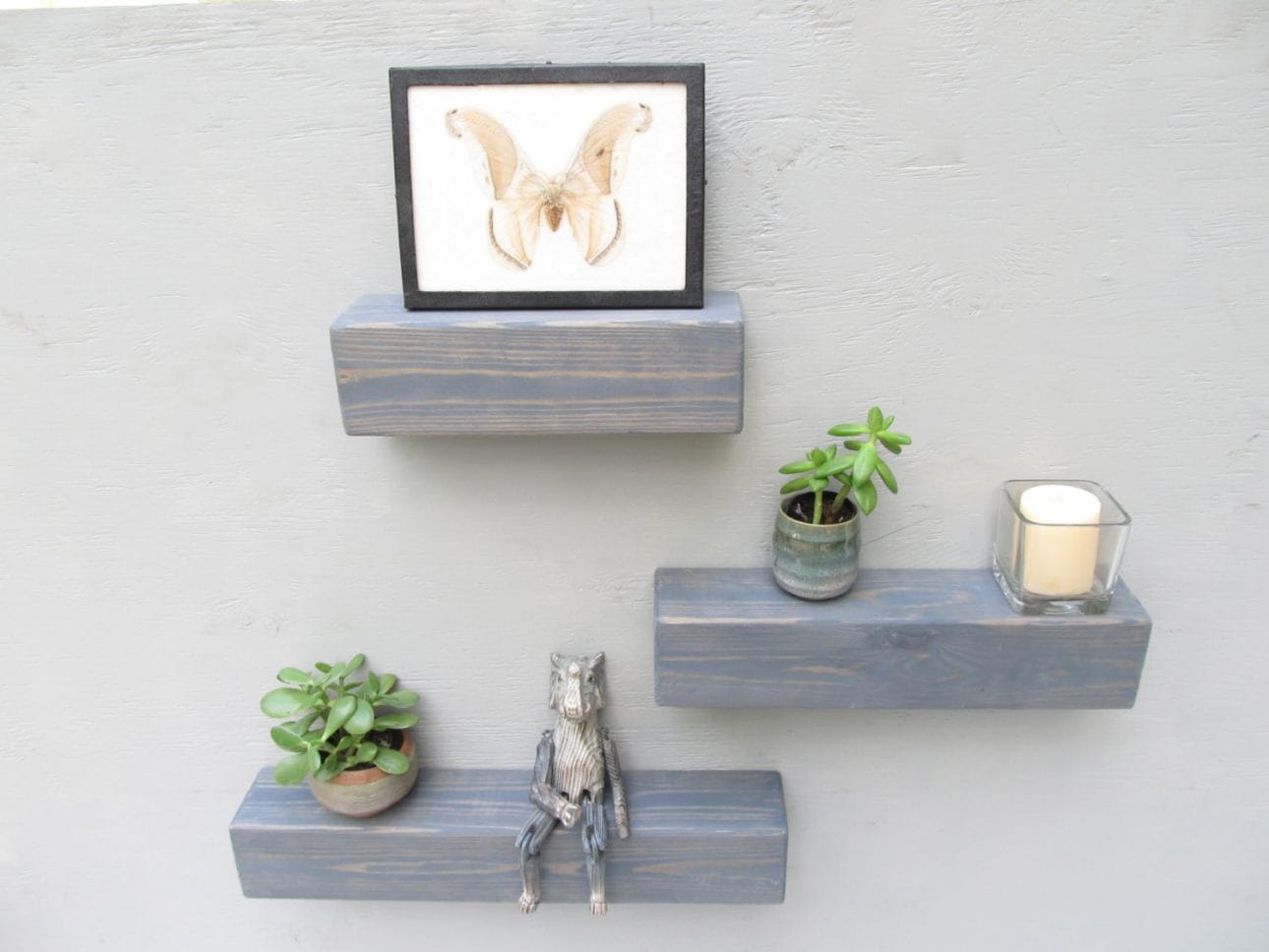 Those blue-painted wood open shelves are simple in design. However, they amazingly can house black framed wall artwork, potted succulents, an ornamental piece, and candle.
19. Shower Shelf with Hooks
Black wire basket shelves carry industrial flavor to the bathroom. They pop against pale blue backdrop.
Moreover, the hooks accommodate a yellow towel and fashion necklaces. The gold accents infuse a glamorous air into the scheme.
20. Bathroom Wall Shelf Unit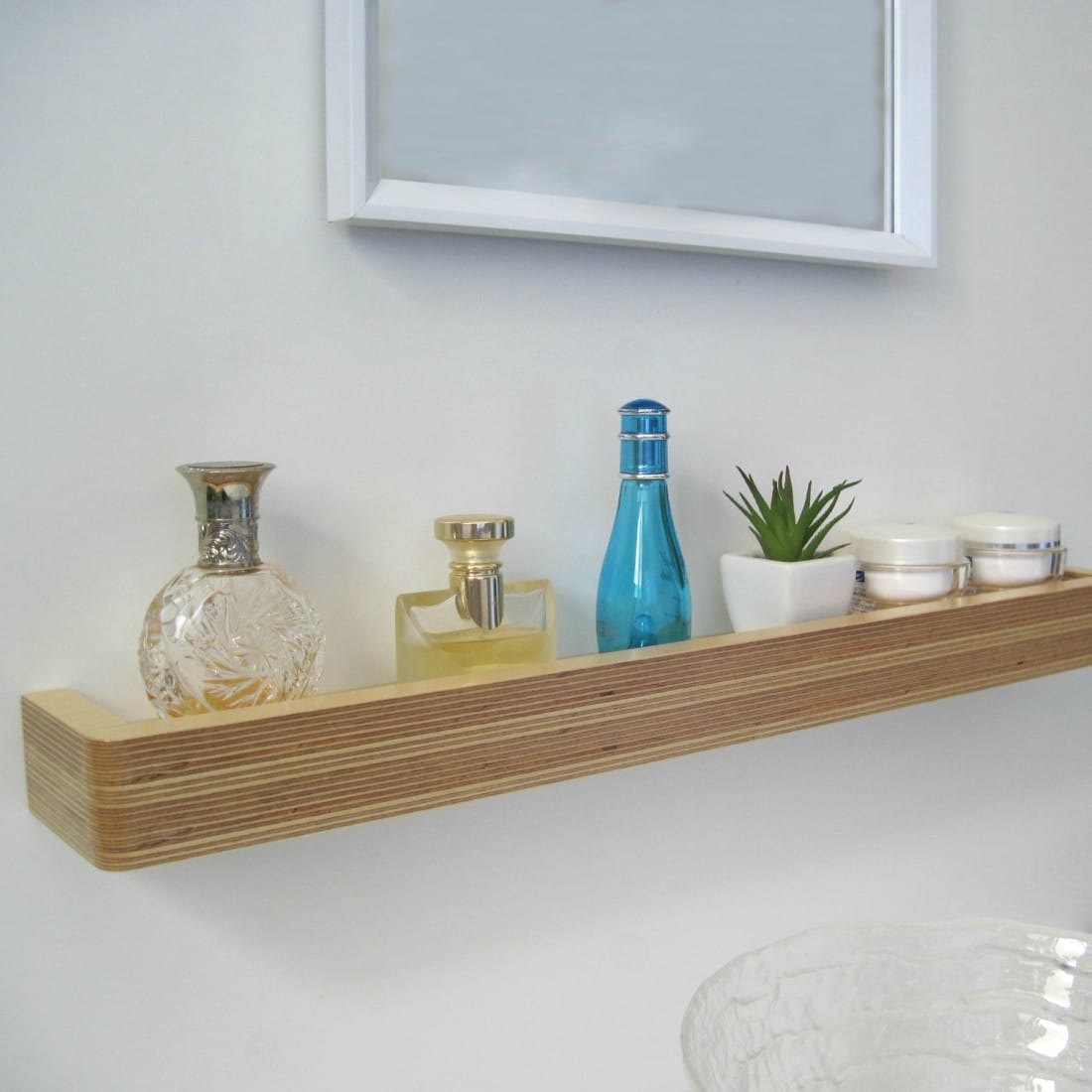 Whitewall is such an ideal backdrop since it lets a single wooden shelf sing out. It lends the bathroom unparalleled warmth and functionality too.
Perfumes, mini potted houseplant, and jarred cleaning products are left out on the shelf. They give the bathing space shots of color.
21. Bathroom Wall Shelf with Baskets
Pale gray backdrop conveys a feeling of serenity. It subtly contrasts with the off-white wall shelf.
Moreover, the shelf boasts black faucet hooks. Wicker baskets keep the small items out of sight. Decorative wooden balls and gold towel ring round out the room.
22. Bathroom Shelf Ideas above Toilet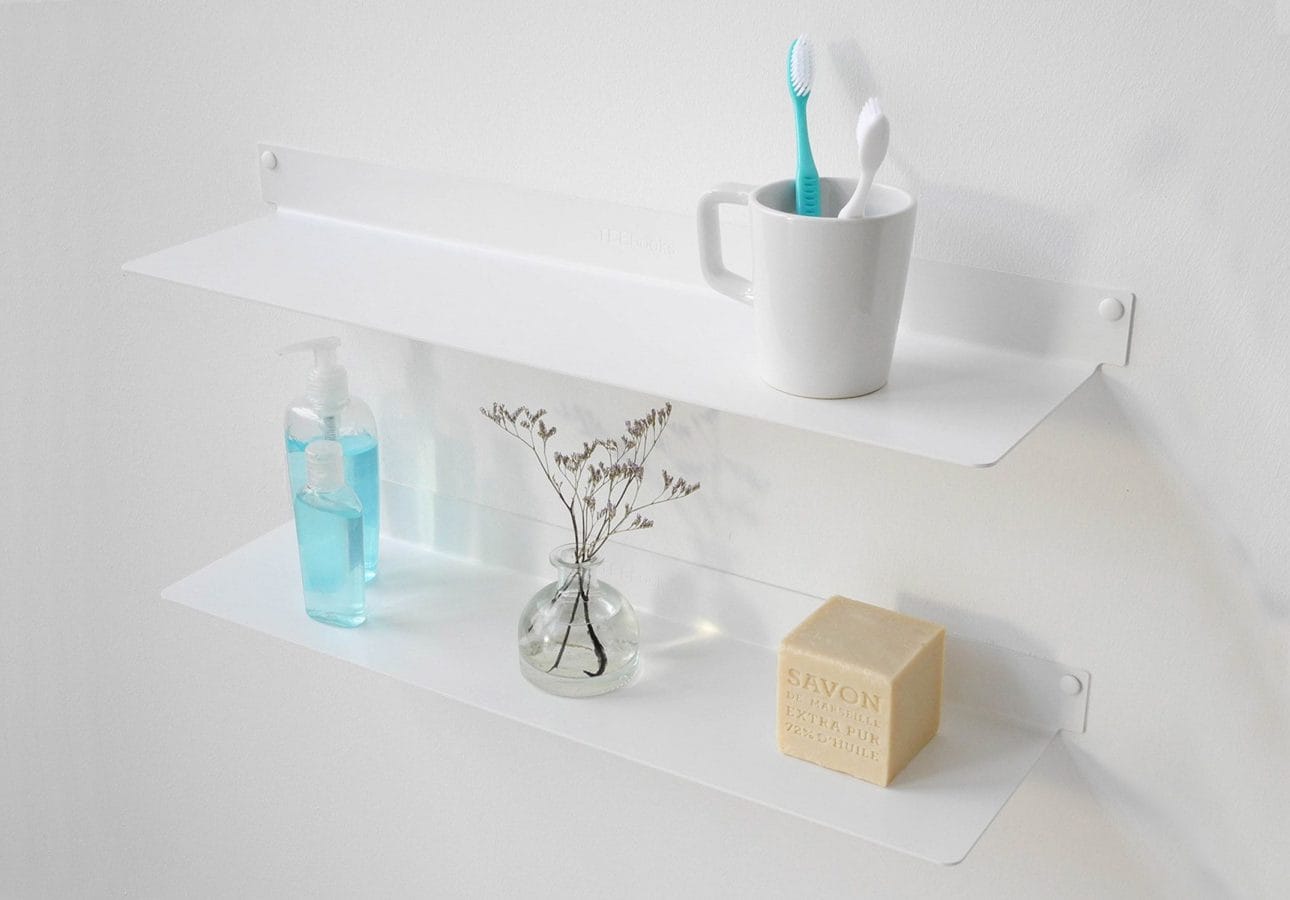 Here, two open shelves have the same color as the backdrop. They produce a cohesive look and exude a sense of spaciousness. Blue toothbrush, cream soap, and liquid hand washes appear to be floating in the air.
23. Rustic Wooden Shelves for Bathroom
Stainless steel cable suspends distressed painted wood shelves. Those storage units invite a rustic vibe into the bathroom. There is a metallic towel bar under the wall shelves as well.
24. Industrial Shelf with Towel Bar
Light gray wall poses as a nice backdrop. Black, stainless steel, and glass shelves look excellent against it. Purple towels and bath necessities sit on them. The chrome towel bar provides extra storage space.
25. Small Bathroom Shelf Ideas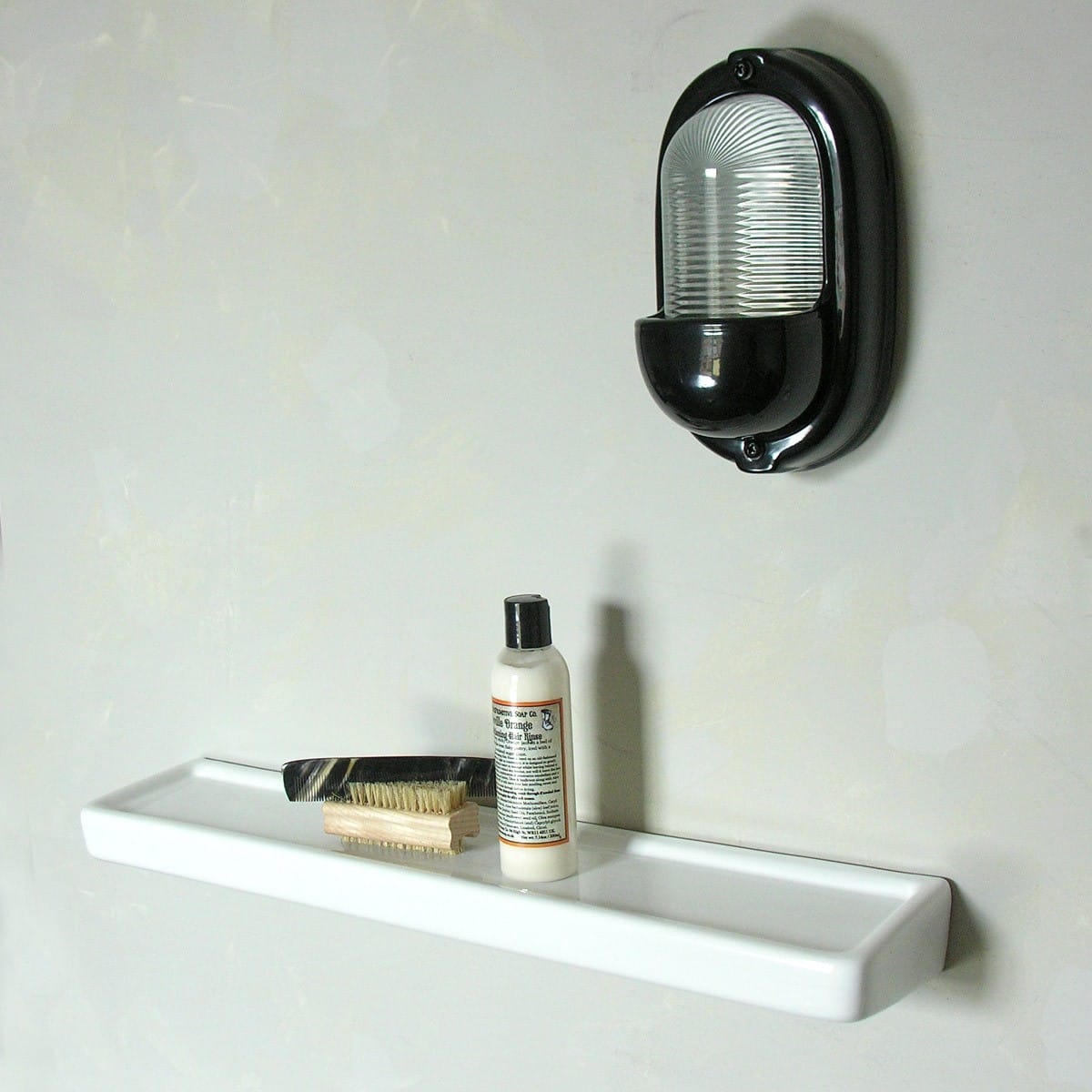 A narrow rectangular shelf comes in white. It is delightfully attached to the white wall. Moreover, it highlights a few cleaning products. Both the shelf and backdrop make the bathroom feel larger.
26. Bathroom Wall Shelves Ideas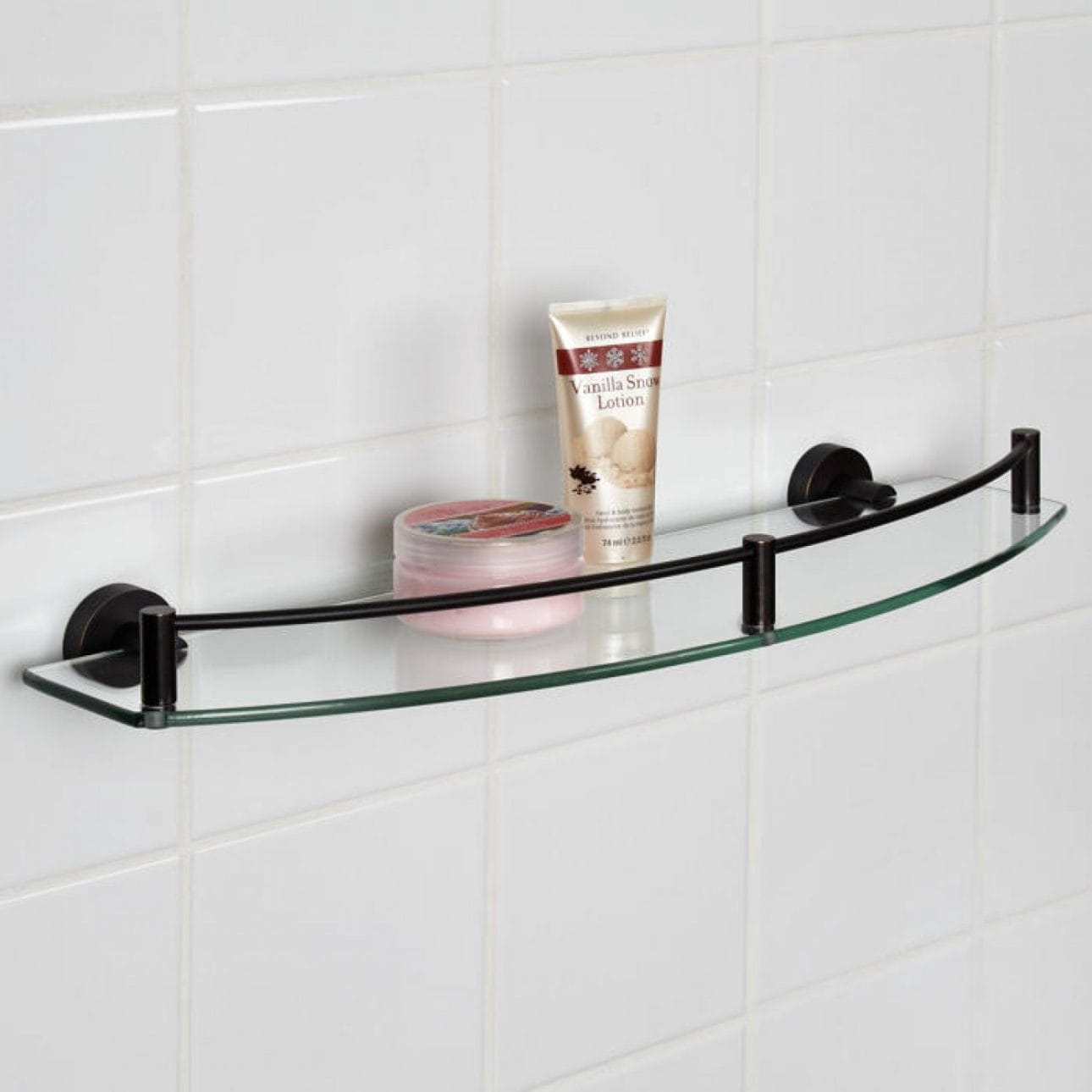 The white square tiled wall serves as a crisp background. It allows the metal-and-glass shelf to be noticeable. The clear wall shelf keeps your beauty essentials within arm's reach.
27. Bathroom Shelves for Towels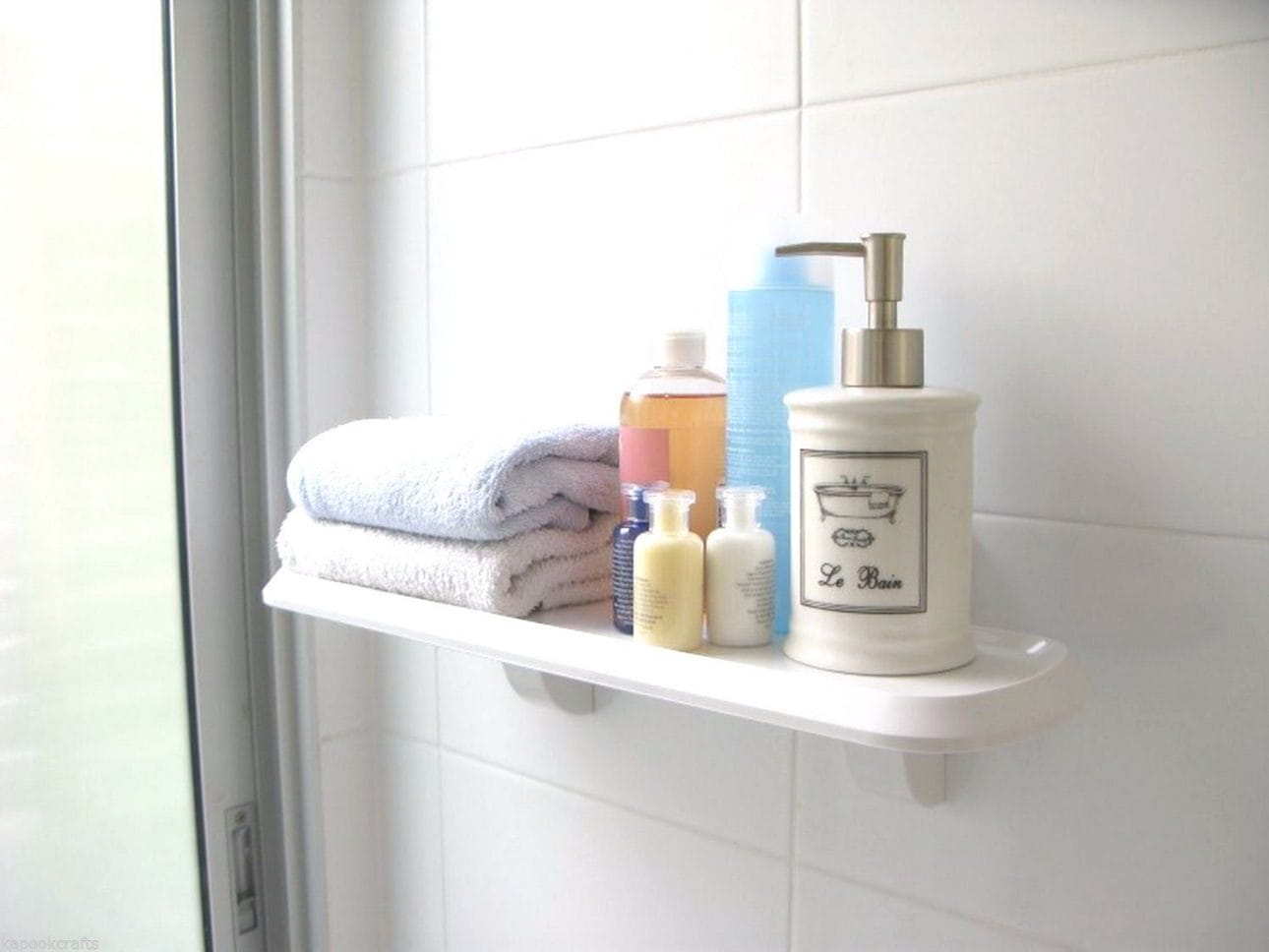 White single wall shelf and brackets do not overwhelm the space. Along with the bathroom door and backdrop, they enlarge the small bathroom. The open shelf itself enables the homeowner to grab her towels and bath necessities with ease.
Those bathroom shelf ideas help to get your creative juices flowing for sure. Implement any of them in your bathroom. I guarantee it becomes organized, chic, and appealing.
28. Wall Shelves Above the
Bathroom Door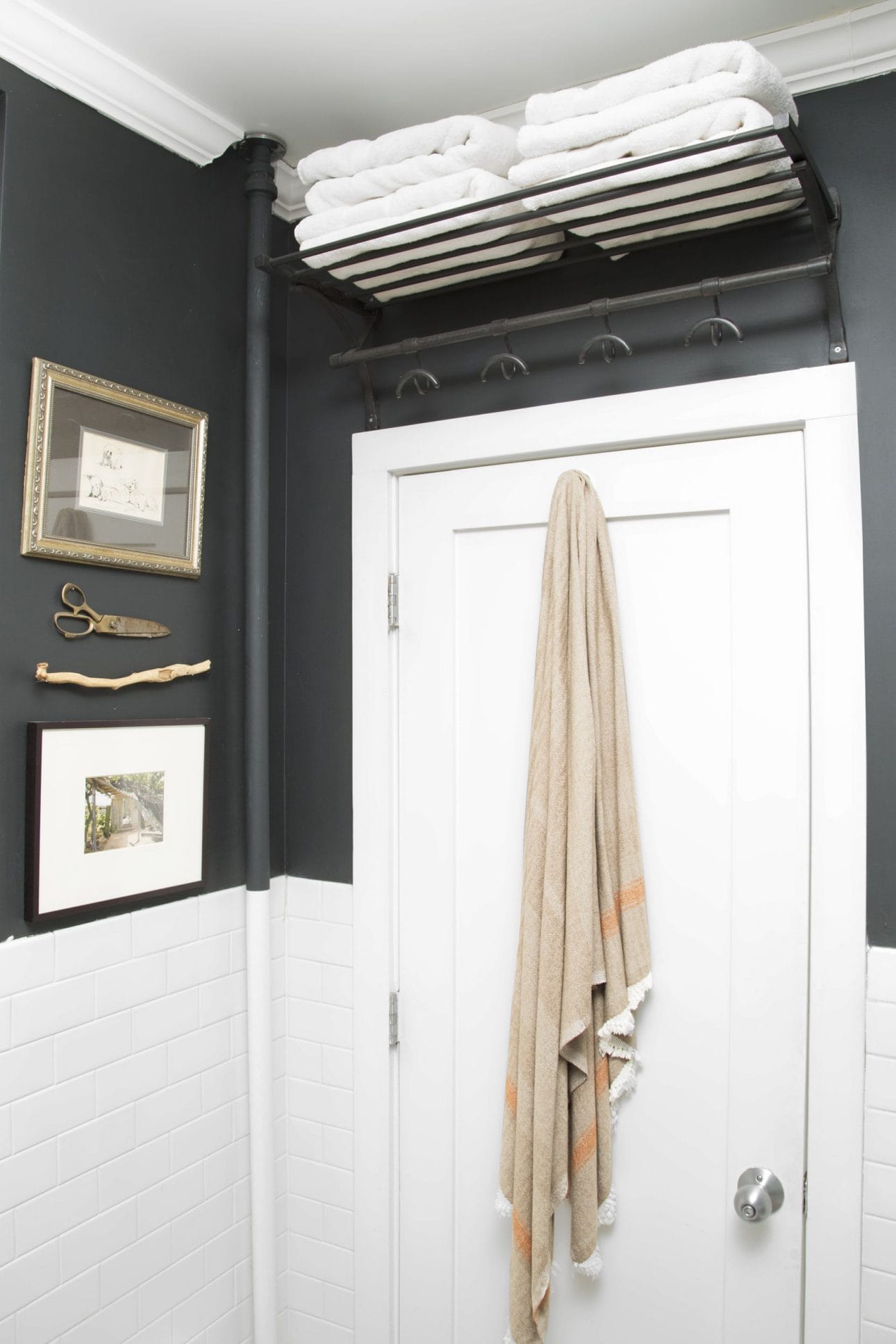 Life is full of little conveniences, like step stools to reach higher places and shelves above doors. Even though I know these things exist for a reason, it's so easy to forget about them!
One day while looking around my home trying unsuccessfully to find where an extra set of sheets were hiding from me (I swear they're all in the linen closet!), it occurred that there was no need when you have such simple household solutions at your fingertips.
All one needs are some brackets or screws with which hang hooks on top of their doorframe – voila! You now have storage space right over your front door without taking up any floorspace inside the house or having guests see something unsightly every time they come by during daylight hours.
29. Clear Floating Wall Shelves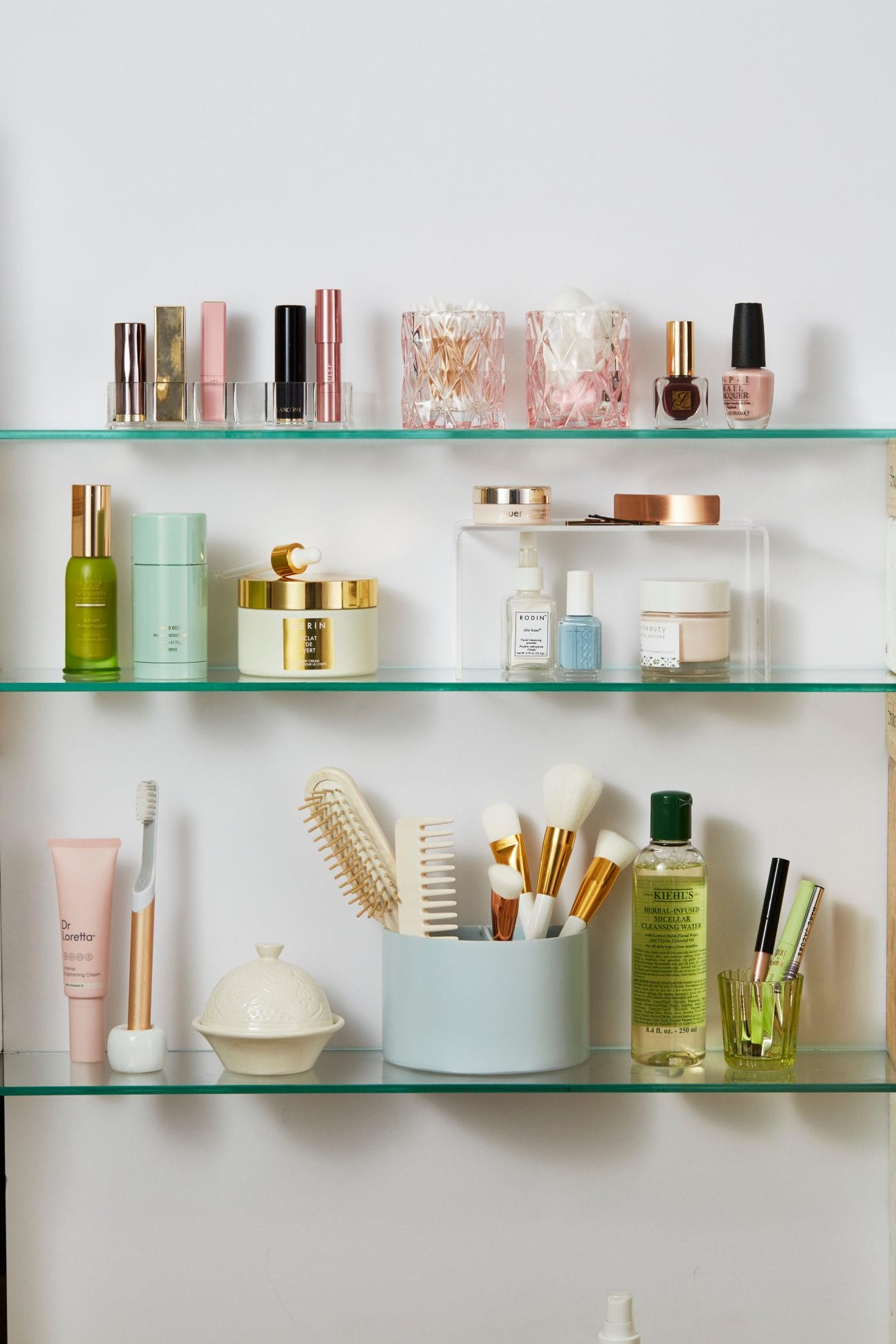 Clear floating shelves are a great way to show off your most prized possessions while maintaining an orderly look. They can be just as functional and practical for makeup storage, jewelry boxes, or any other small items you need on-hand but don't want cluttering up the rest of your space.
30. Bathroom Wall Shelves Above The Toilet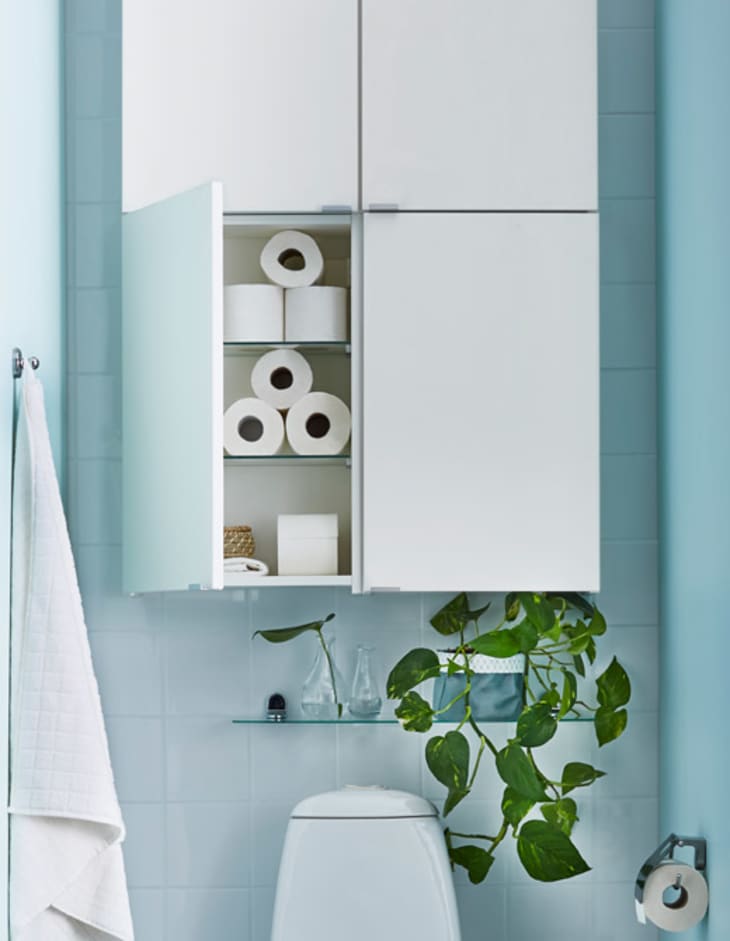 The toilet provides a perfect spot for extra storage as well. The shelves above the loo are not only great space savers, but they also make your bathroom look stylish and modern!
31. Open Bathroom Shelves
Bathroom shelves in the open position allow you to keep your toiletries and towels neat, organized, and out of sight.
No longer do you need to worry about stepping on spilled shampoo or dropping a bottle onto ceramic tiles during your morning routine – just slide them off the shelf when it's time for cleanup!
32. Industrial Pipe Bathroom Wall Shelves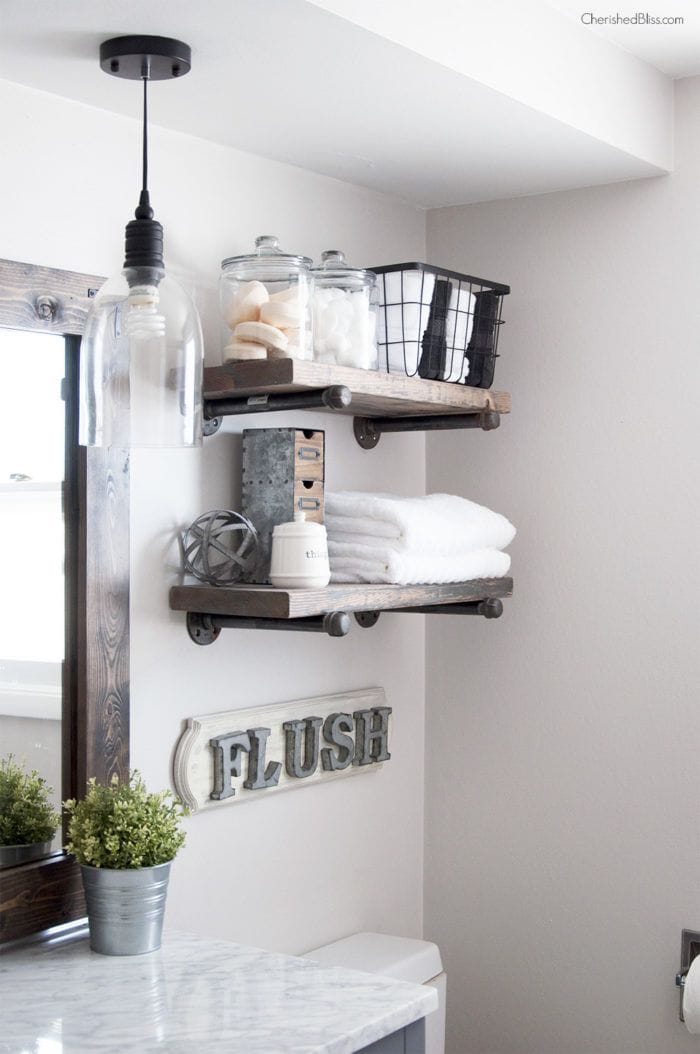 These bathroom wall shelves are perfect for your farmhouse-inspired design. They combine dark wood and industrial pipes to give the room a rustic feel that's both strong and sturdy.
33. Clever Nooks Wall Shelves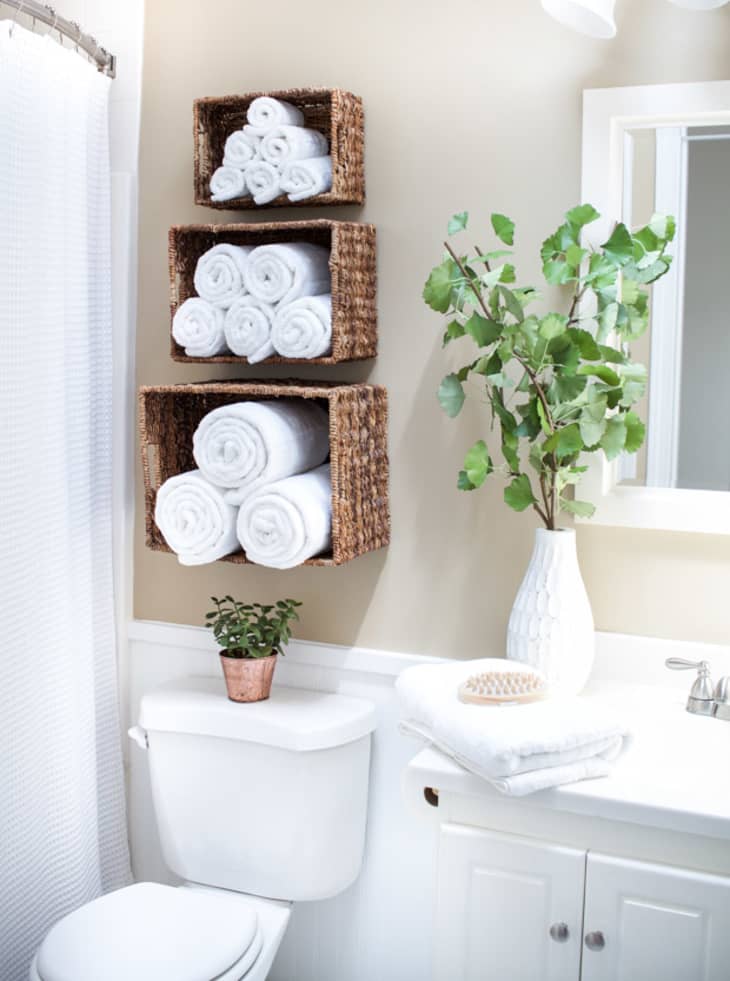 These clever shelves can be installed in your toilet to hold all the necessary supplies. They're not only a space-saving solution, but they'll keep you from ever running out of toilet paper again!
34. Unique Ladder Towel Rack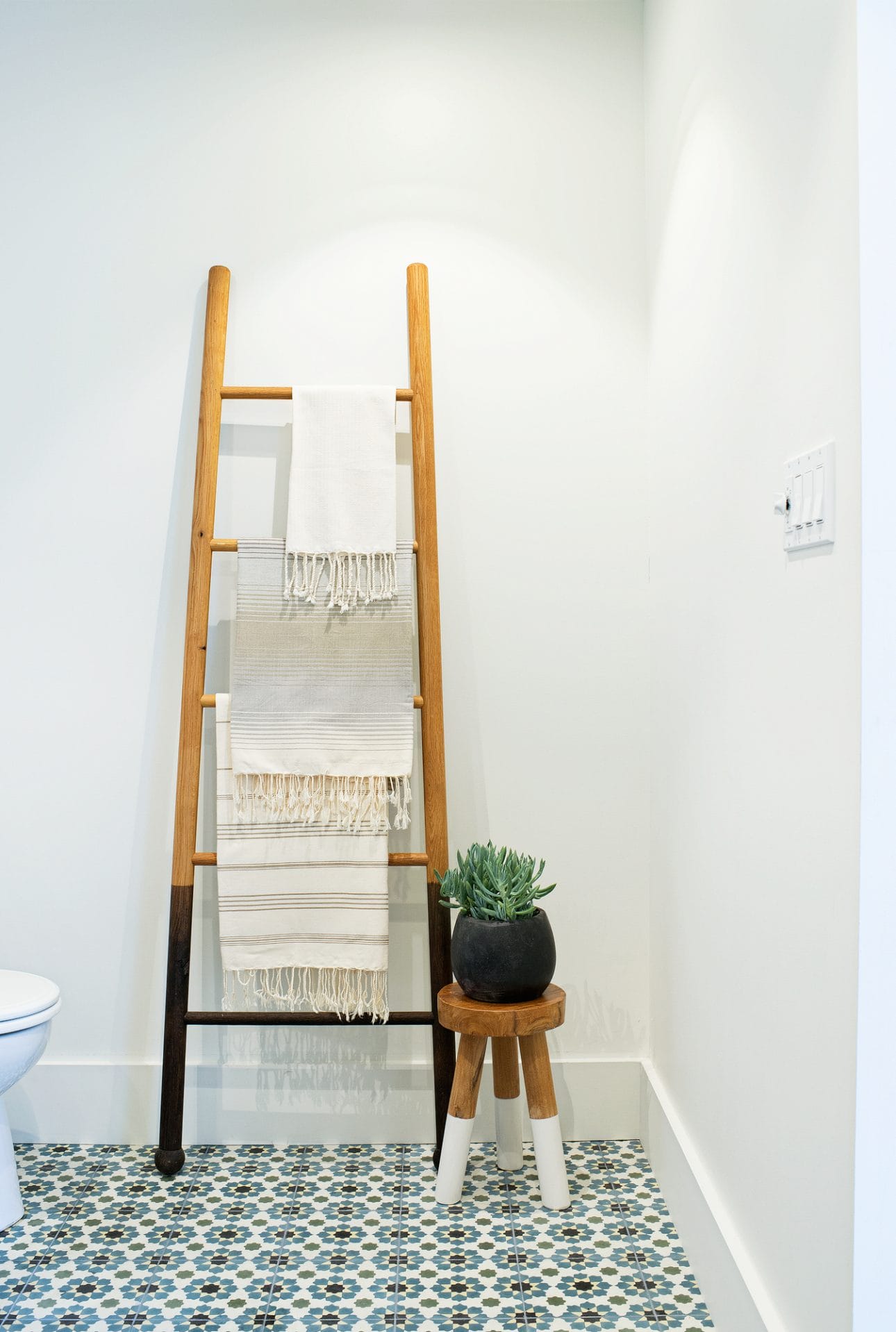 Utilizing the wall to hang towels is an unexpected way for you use more space in your bathroom. This bath-friendly ladder doesn't take up a lot of room, and adds an interesting boho element that will quickly become one of your favorite tricks!
35. Under-the-Sink Shelf
With floating sinks, we are left with a space that is both useful for storage and decorative. Floating shelves can be used to hold your toiletries or other bathroom necessities while the sink becomes more of an accent piece in the room than anything else!