Many people usually neglect their bathrooms. If you are one of them, it's the right time to decorate your bathing space. Here, we have selected some fabulous bathroom sign ideas.
This list covers various decorating schemes, too. Furthermore, fun signs lend your space a ton of personality.
Adding a sign or two only takes a few minutes. However, it makes a massive impact. The item also could give visitors a giggle while spicing the bathroom up.
When it comes to bathroom signs, consider buying them from Etsy. They are not only handmade but also have high quality.
In addition, the pieces will make yours look unique. This helps support talented artists out there, too.
1. Rustic Bathroom Sign Ideas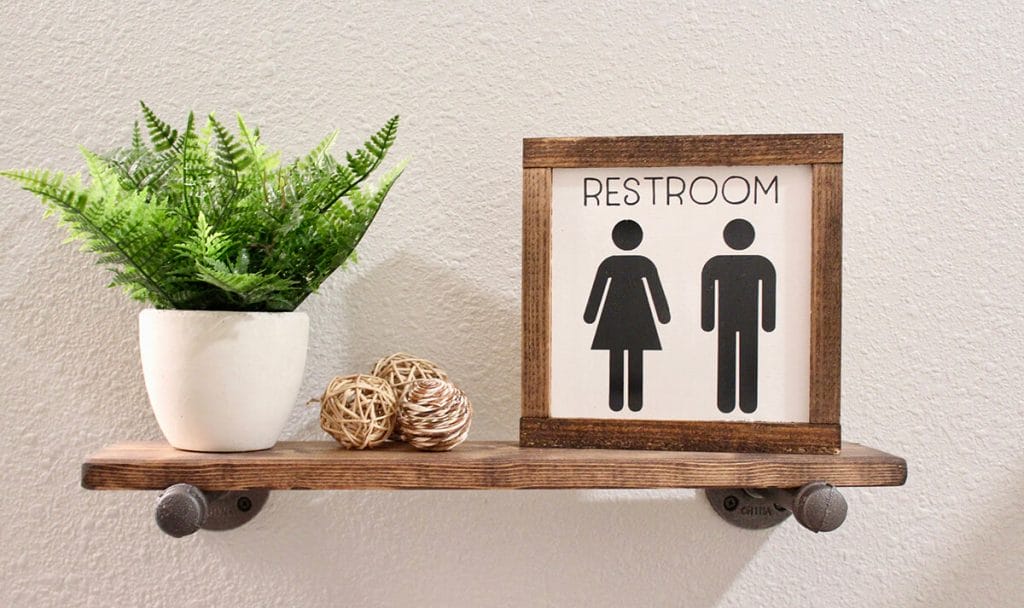 If you are searching for classic bathroom sign ideas, give this unit a shot. It boasts tiny figures. Moreover, the sturdy wood construction will reinsure the space with rustic farmhouse charm.
Since this bathroom sign is handmade, it adds a unique touch to the interior. Furthermore, the item comes in various sizes and color combinations. Choose the one that fits your personal style.
2. Wood Step Stool with Bathroom Sign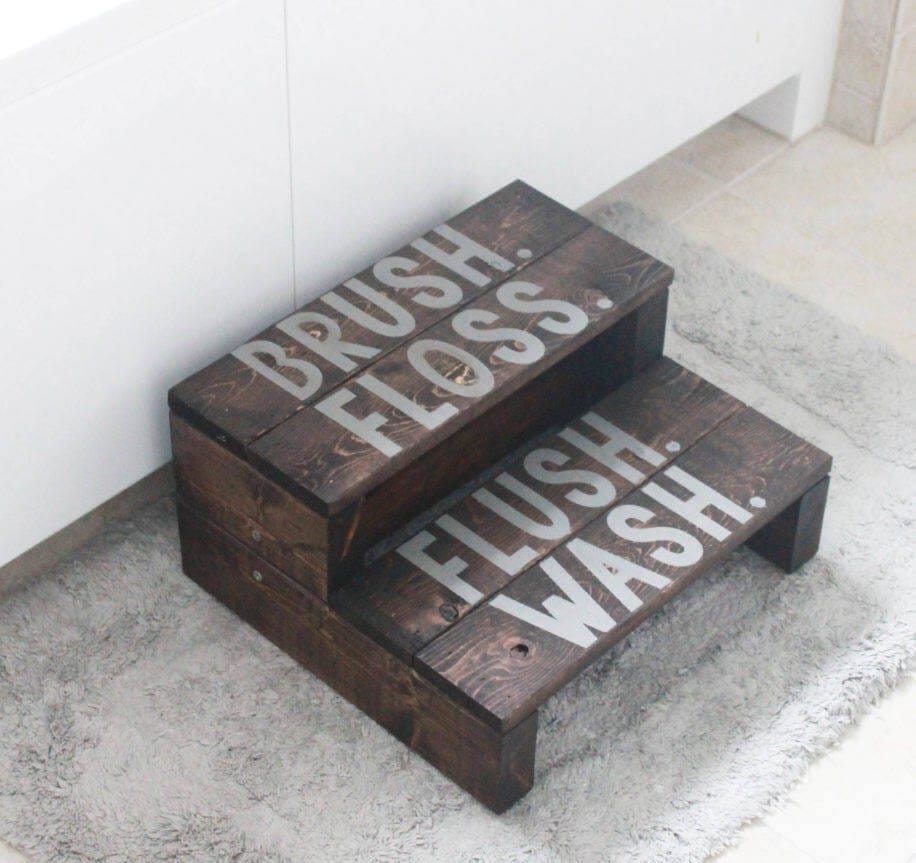 Do you have small children? If so, we suggest incorporating this decorative piece into your bathroom. It is certainly a perfect complement to any bathing space.
The wooden step stool lets your kids reach the bathroom sink safely. It also doubles as a sign, reminding them to do their daily manners. This is definitely a must-have furniture item.
3. Best Bathroom Sign Ideas with Wooden Wall Hooks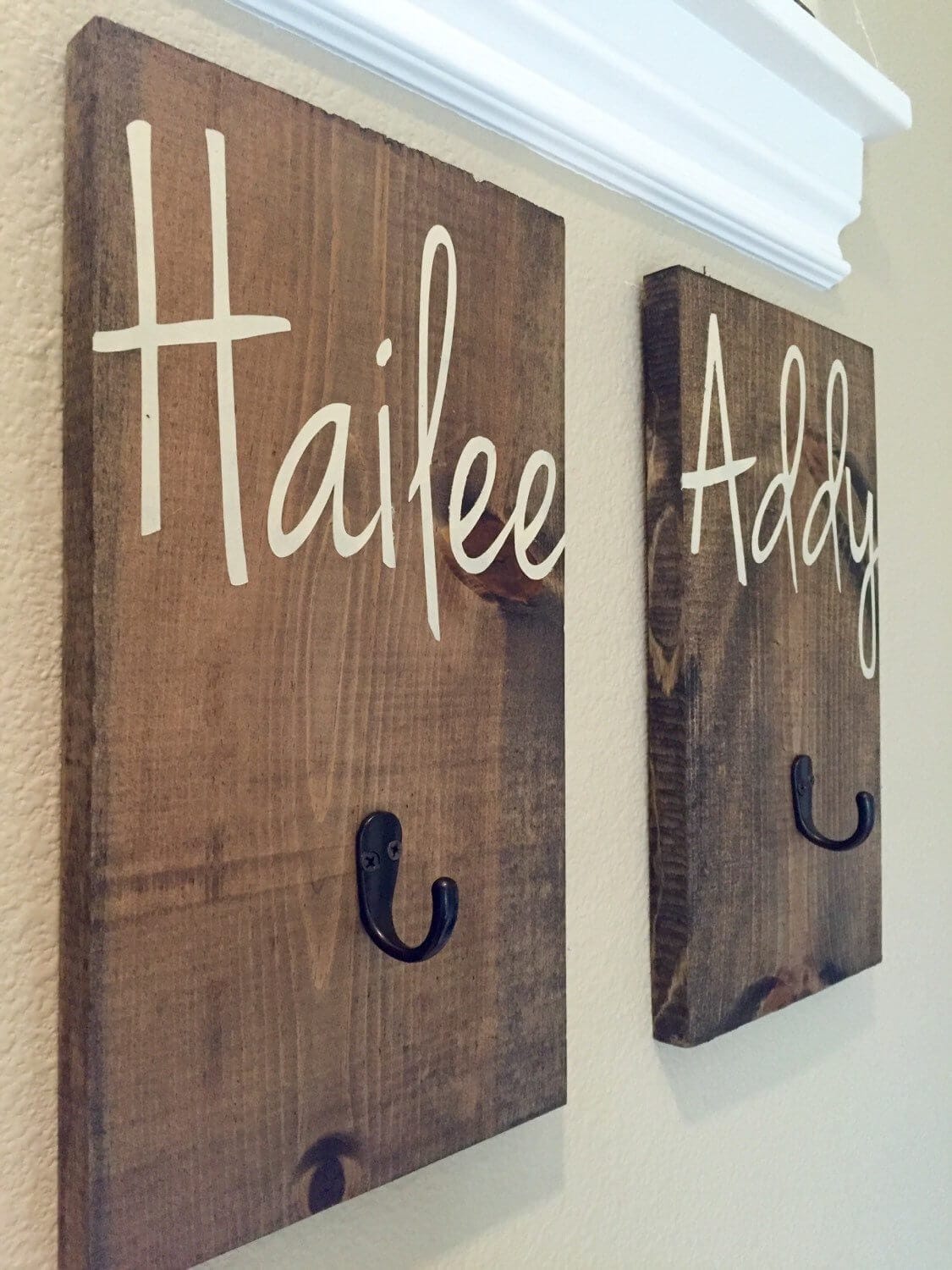 These wood wall hooks personalize the bathroom effortlessly. They are not only practical but also pleasing to the eye. You could mount them on the wall above the toilet.
Furthermore, the natural wood custom signs feature stunning white lettering. In no time, they deliver some rustic appeal to the bathroom. The pieces work as towel hangers too. Purchase one for every family member.
4. Word Search Sign for Bathroom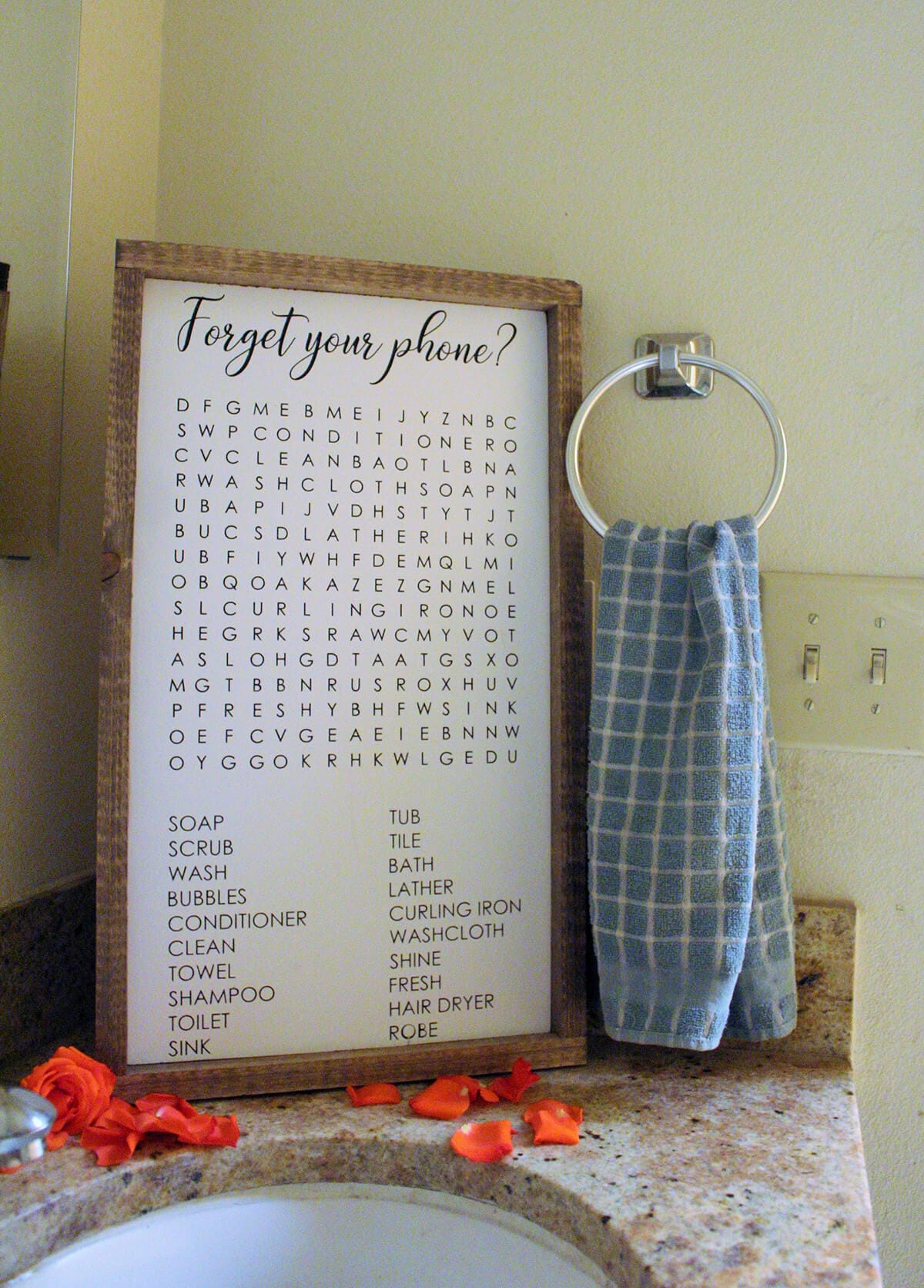 Some people like to check social media in the bathroom. However, they run out of battery or forget their phones sometimes. This word search sign will let them spend time on the john in a fun way.
Moreover, this sign gives your family or friends something to stare at. It looks wonderful on the granite vanity top. The unfinished wood frame lends the bathroom a rustic flavor.
5. Hanging Bathroom Sign Ideas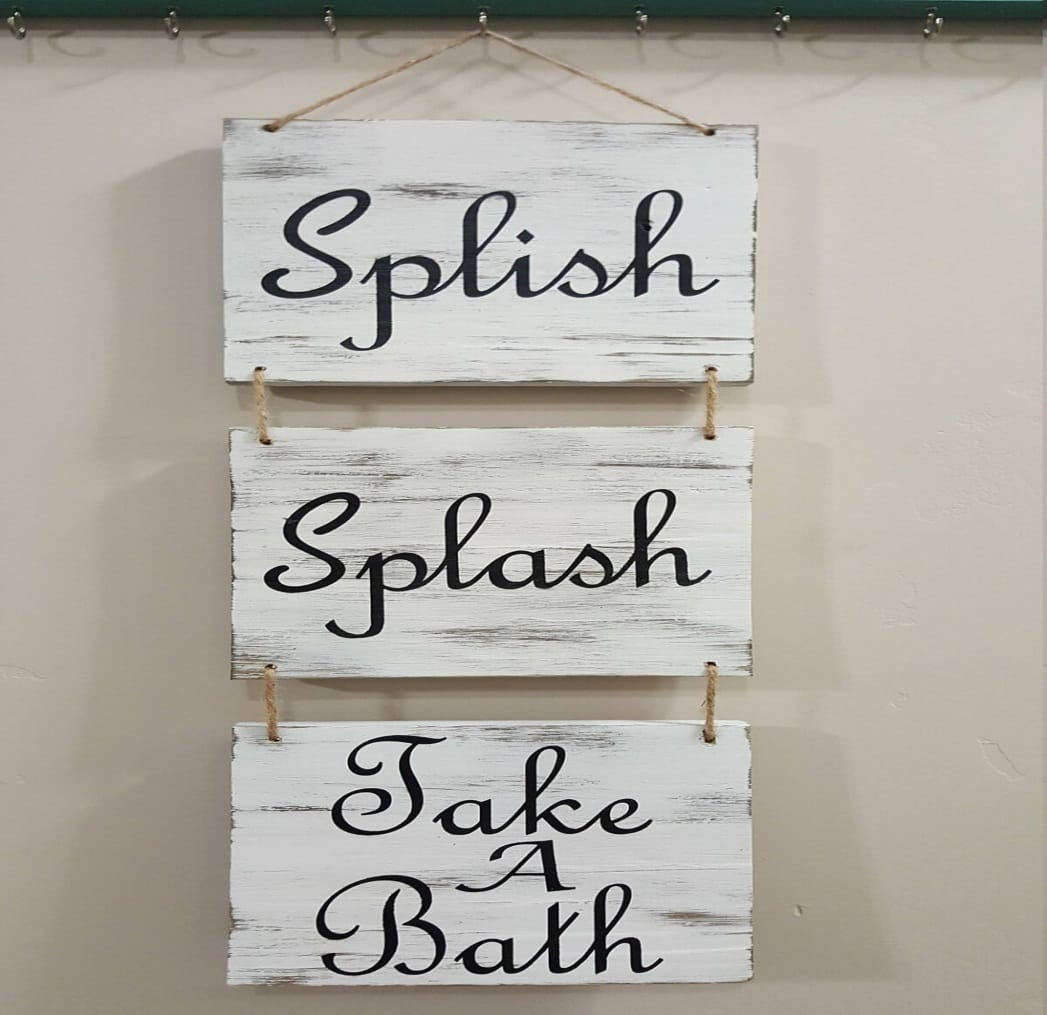 This hanging decor consists of three wooden signs that read "splish, splash, and take a bath". It sports pretty black lettering and distressed white background. The item will add a shabby chic feel to your bathroom.
Since the sign has a lovely rhyme, it is suitable for a children's bathroom. However, the decor piece is also fancy for any grown-up. Furthermore, the rope hanger enables you to display the item in seconds.
6. French Country Bathroom Sign Ideas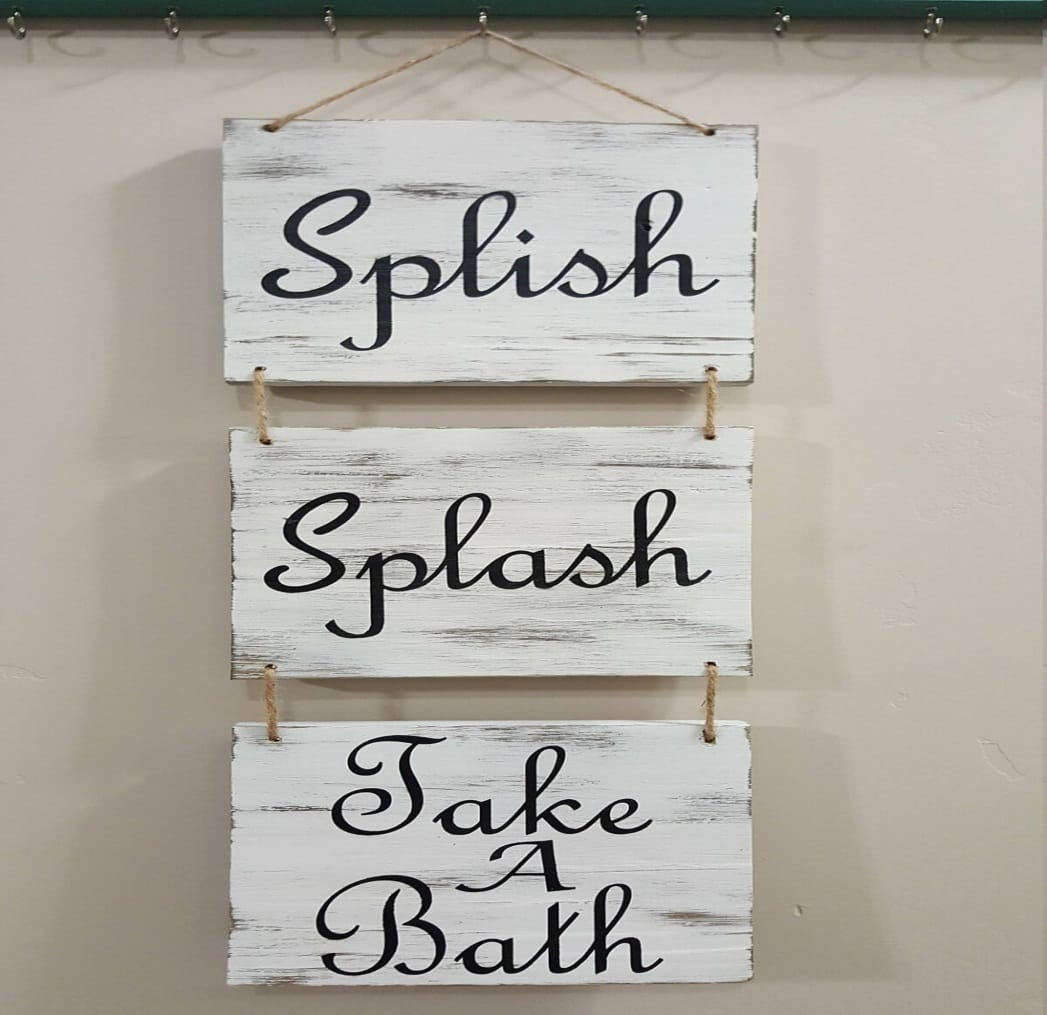 Without a doubt, this sign is an excellent decor piece. It delivers a French country flair to the bathing space instantly, too. The item will make your visitors feel like they are in the bathroom in Lyon or Paris.
Moreover, the hanging sign combines a chic monochrome color palette and an ornate metal bracket with classy lettering. Additionally, distressed white paint contributes to its cozy and elegant look.
7. Romantic Bathroom Sign Ideas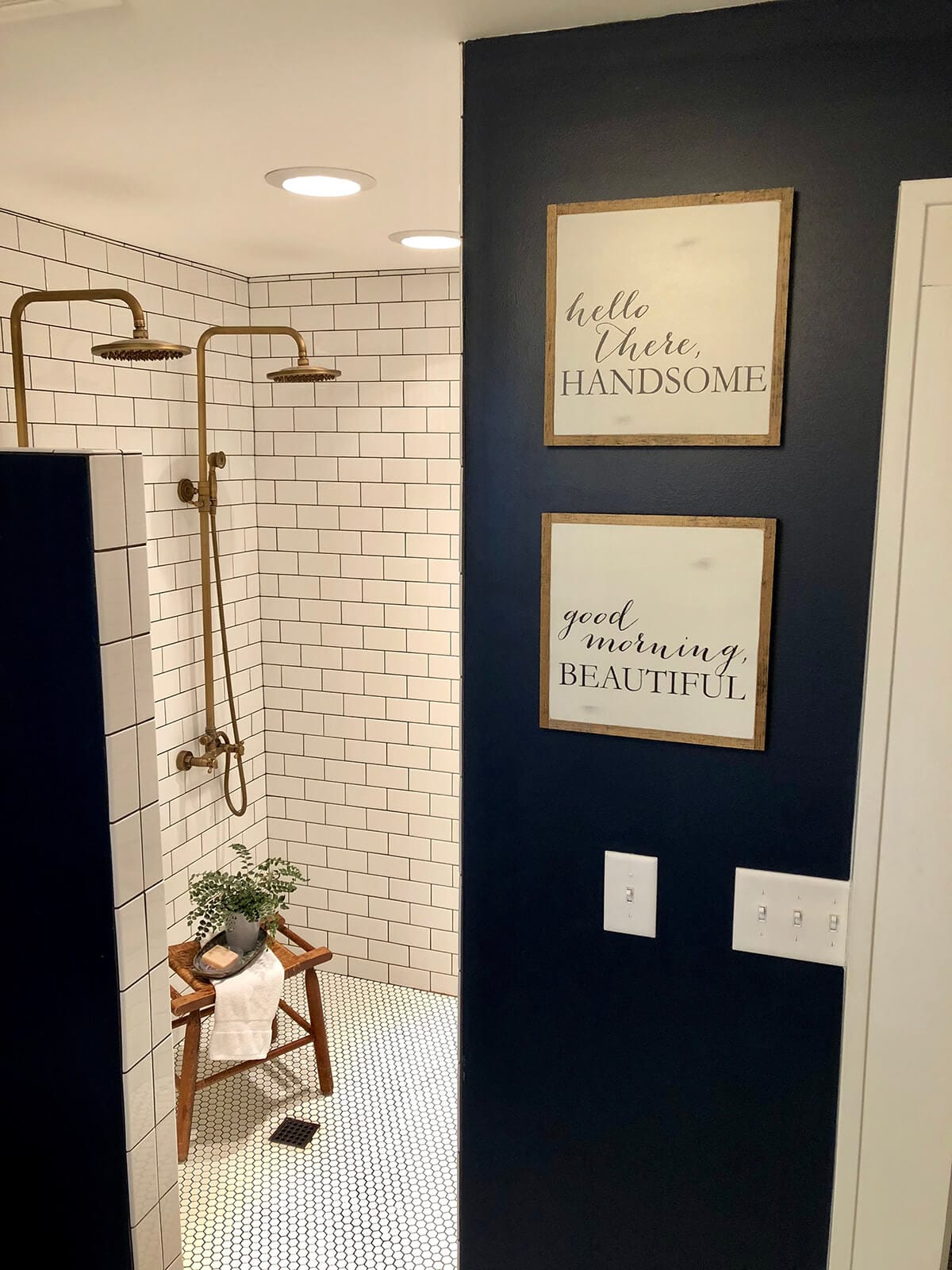 Nothing is better than receiving a sincere compliment from your spouse. This fabulous bathroom sign set shows that she or he means the world to you. The signs say "hello there handsome and good morning beautiful".
Furthermore, the gorgeous script contrasts against the natural wood frame. This creates a simple yet striking appearance. The signs would make an awesome wedding gift as well.
8. Black and White Wall Sign for Bathroom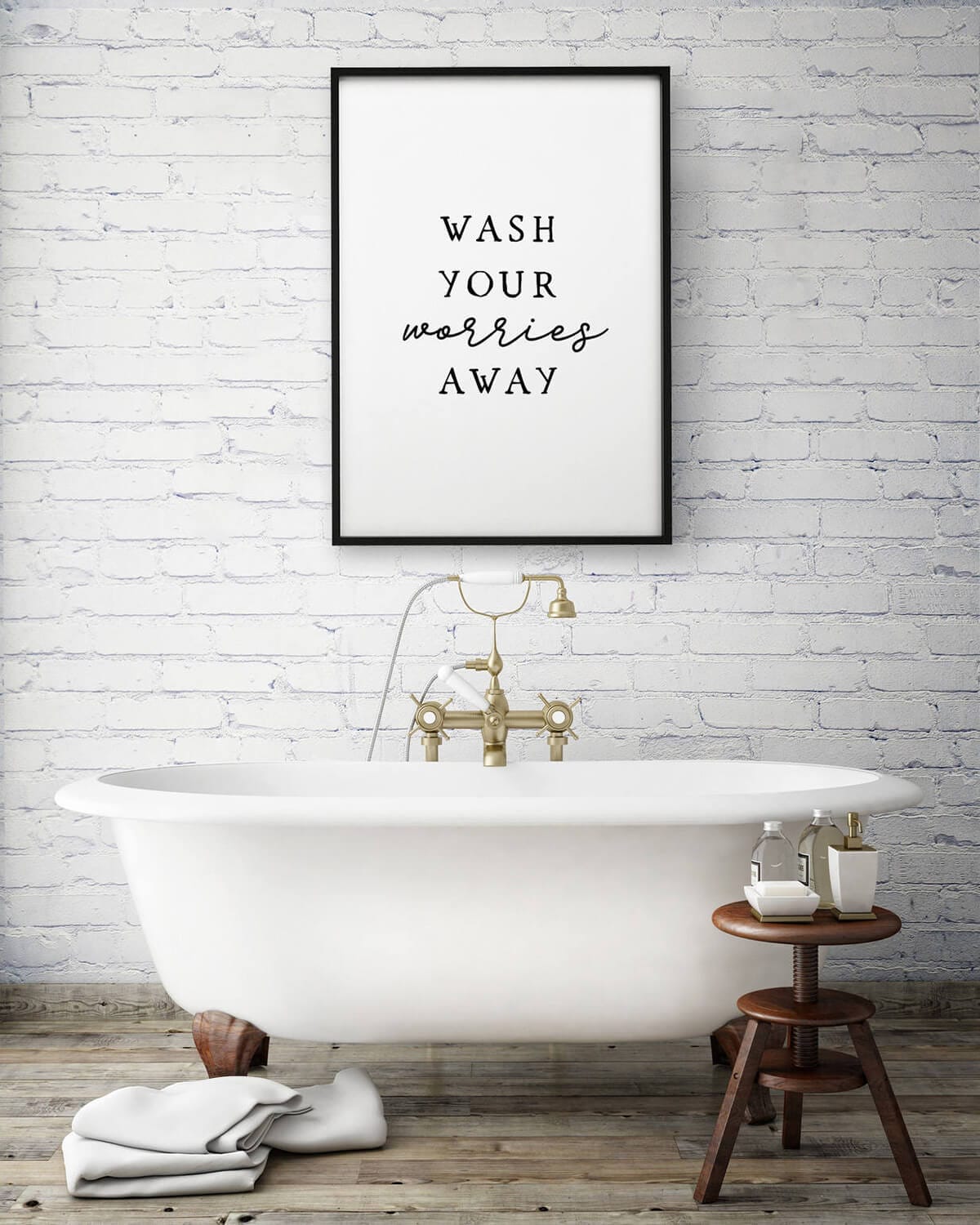 Speaking of modern bathroom sign ideas, consider this cool decor piece. It encourages you to have a long soak in your bath after a rough day. The unit helps transform the space into a personal retreat too.
This minimalist wall sign injects a serene atmosphere into the bathroom. Furthermore, it looks so chic thanks to the white background and black text. Meanwhile, different fonts give the item a lot of personalities.
9. Pink Canvas Art As Bathroom Sign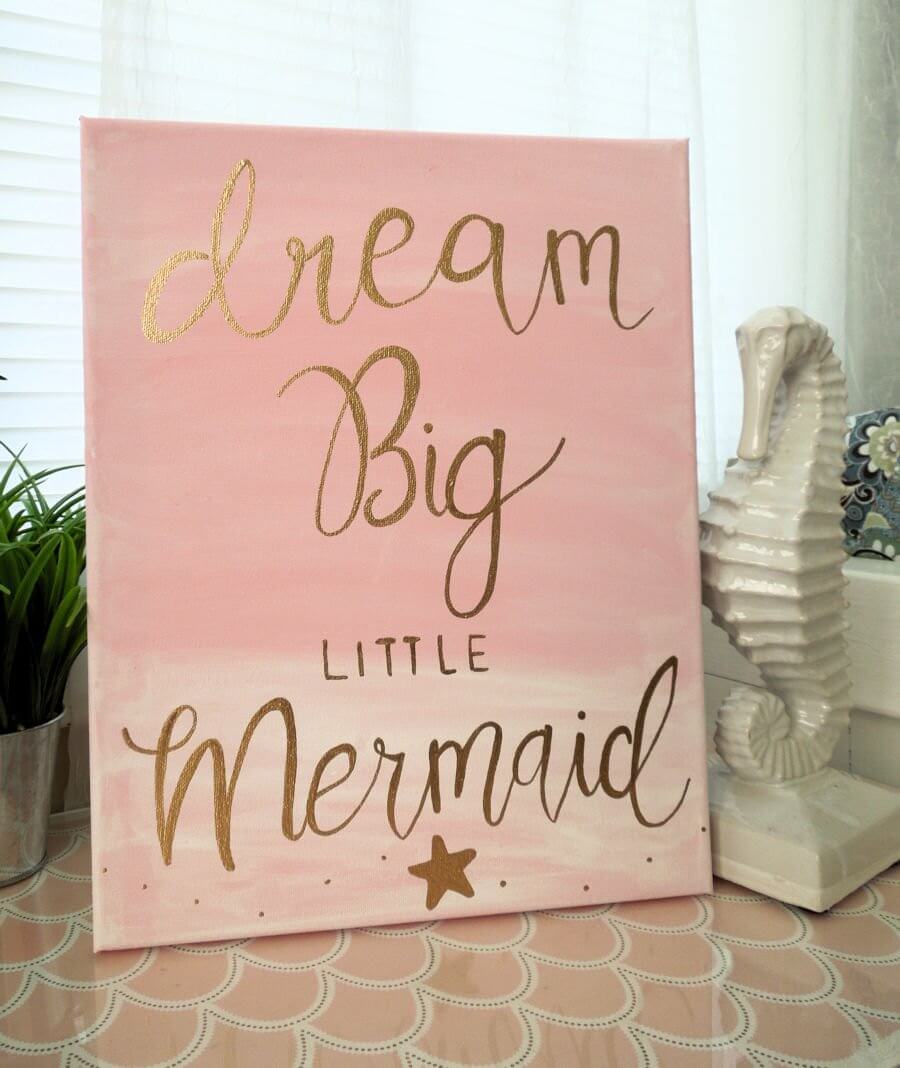 Any little mermaids definitely can't say no to this eye-catching canvas art. It is such a marvelous addition to their bathing space. Moreover, the bathroom decor boasts shiny gold lettering and pink ombre background.
Furthermore, this stunning sign reads "dream big little mermaid". The unit is sturdy and easy to mount because of the heavy canvas.
We suggest incorporating the item into the nautical-themed kid's bedroom or bathroom.
10. Wooden Block Art for Bathroom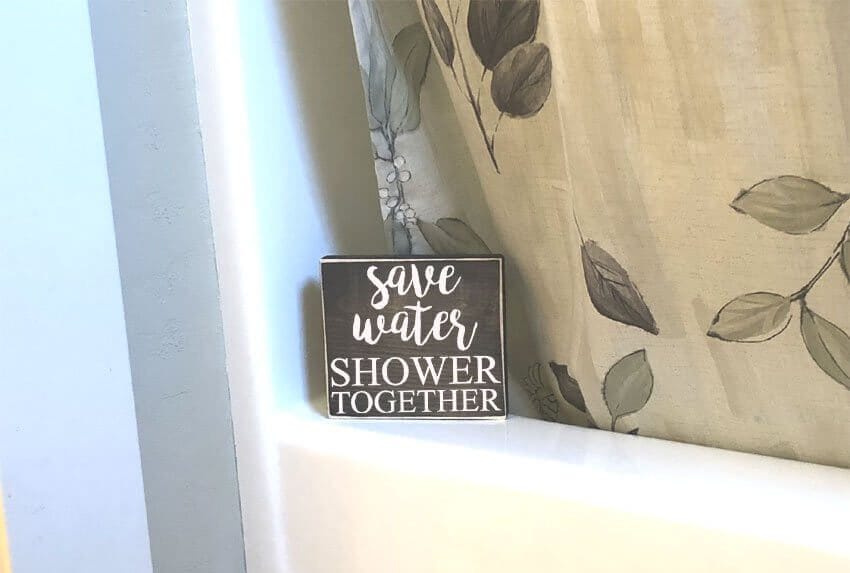 This wooden block art is super cute. It quickly brings a rustic flavor to the interior as well. In addition, you can display the chunky bathroom sign on the vanity top, bathtub ledge, or floating shelf.
The tiny wooden sign says "save water shower together". There is a huge array of lettering and distressed paint color combinations to select from. That means you can customize the block art to your personal style.
11. Funny Bathroom Sign Ideas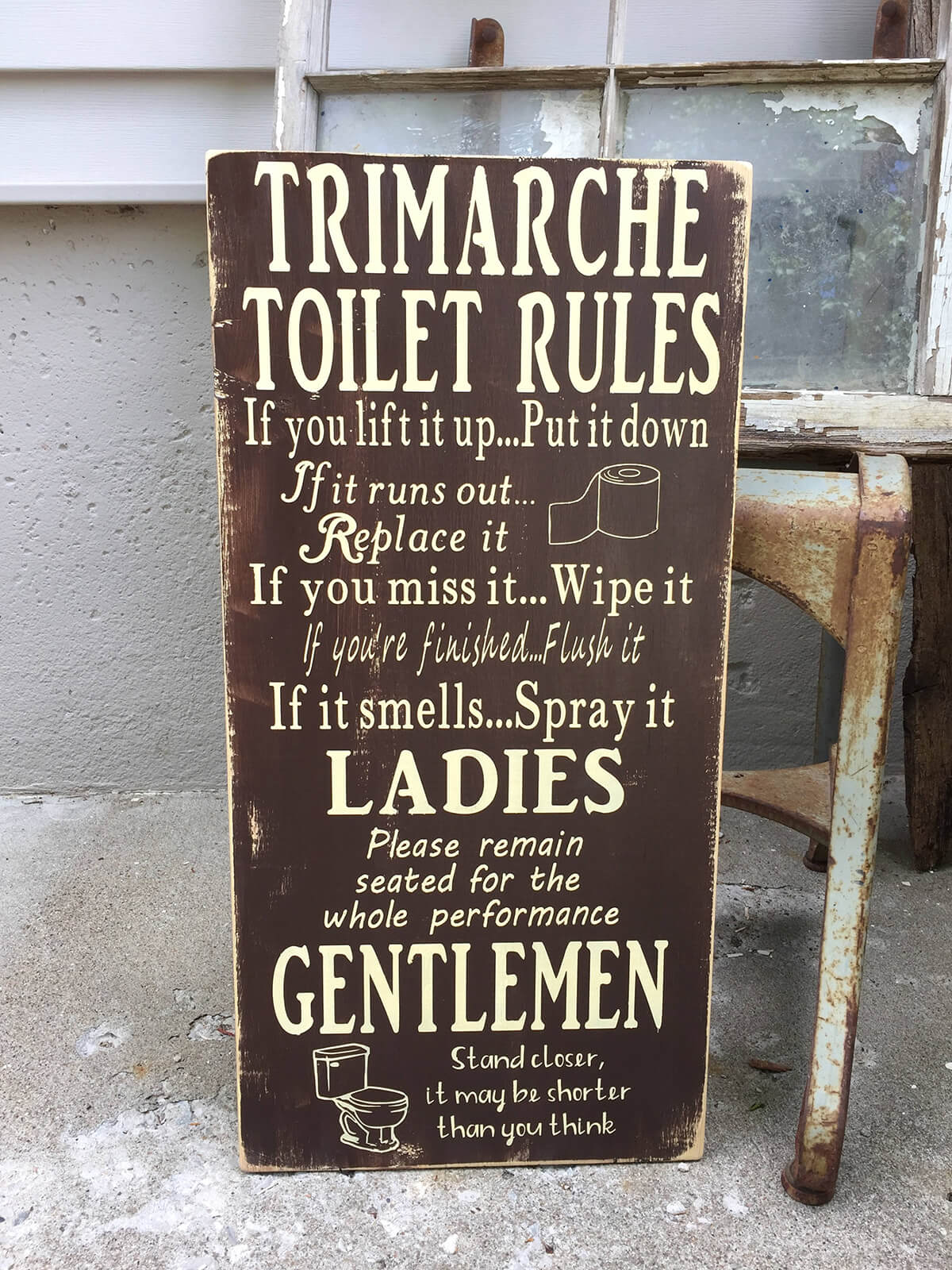 Well, this large personalized sign couldn't be funnier. Moreover, it allows your visitors to know the toilet rules of the bathroom.
This hilarious wooden sign wears distressed black paint. It quickly carries a rustic ambiance to your bathroom. Meanwhile, the script will make the occupants laugh.
Furthermore, you could personalize this wooden sign with your name. It will certainly give the space a custom-made feel.
12. Chalkboard Bathroom Sign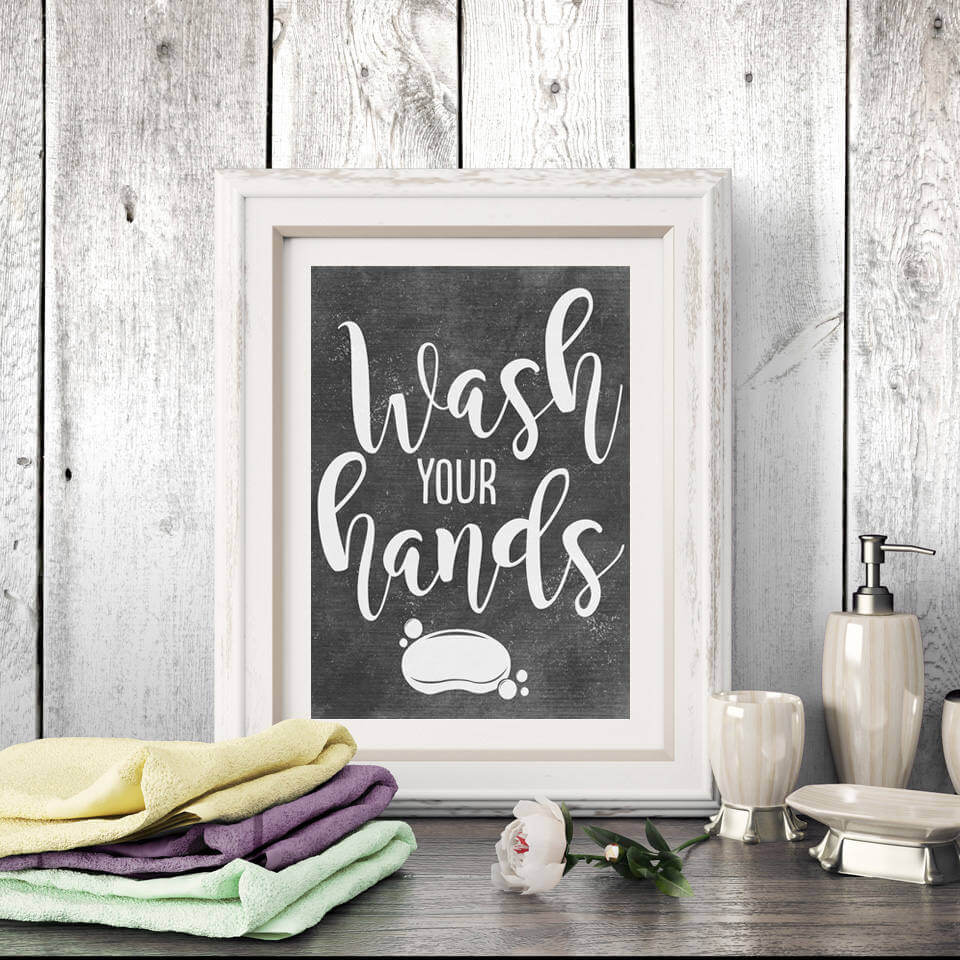 This adorable sign lends a sense of country sophistication to your bathing space. The white lettering and black background give it a chalkboard appearance. Additionally, the decor looks both welcoming and charming.
Moreover, the chalkboard sign features a cute soap illustration. We suggest mounting it over the sink. That way, your children can remember their daily routines easily.
13. Bathroom Sign Ideas with Wall Decal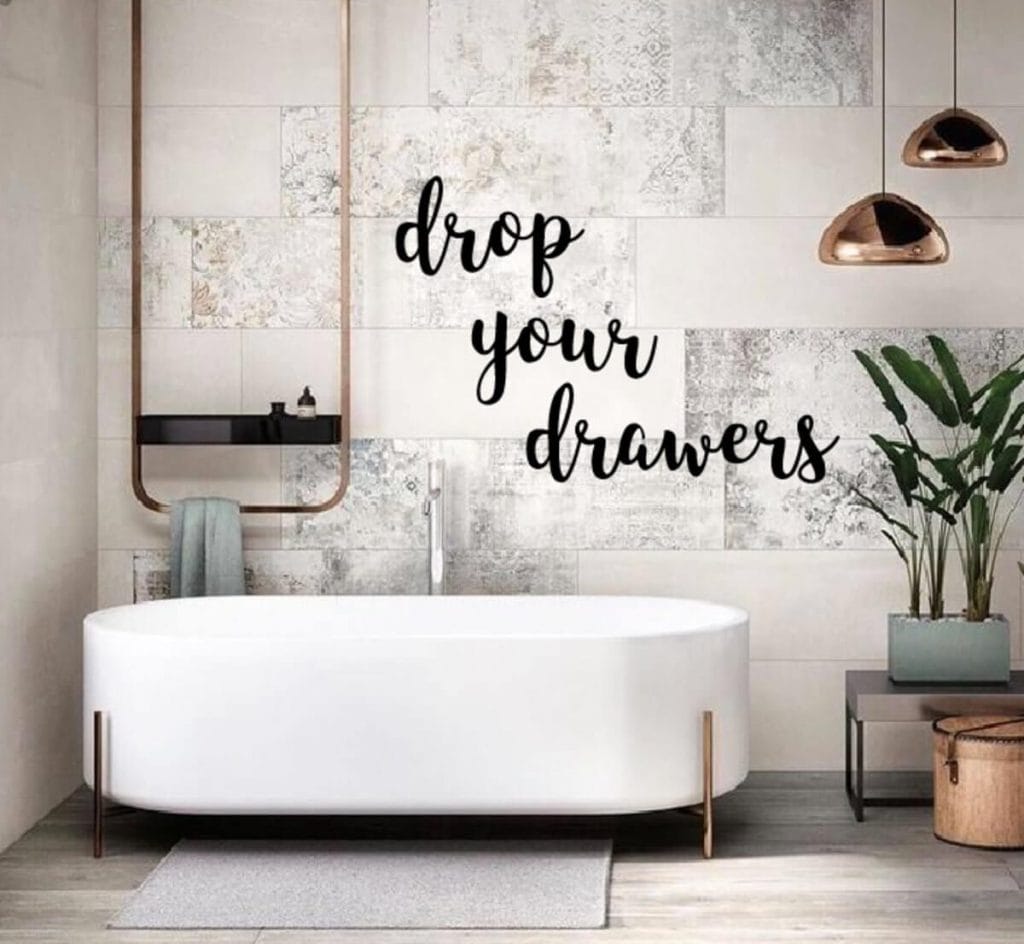 If you have a goofy side, don't hesitate to integrate this creative wall decal into the bathroom. It is also both fun and fabulous.
Most bathroom activities require users to pull down their panties. That's why anyone will laugh after seeing this "drop your drawers" decal.
Furthermore, this wall decal doubles as a lovely wall sign. It also lets you infuse some good humor into the bathroom in minutes. Additionally, the item is very easy to install.
14. Hers and His Humorous Bathroom Sign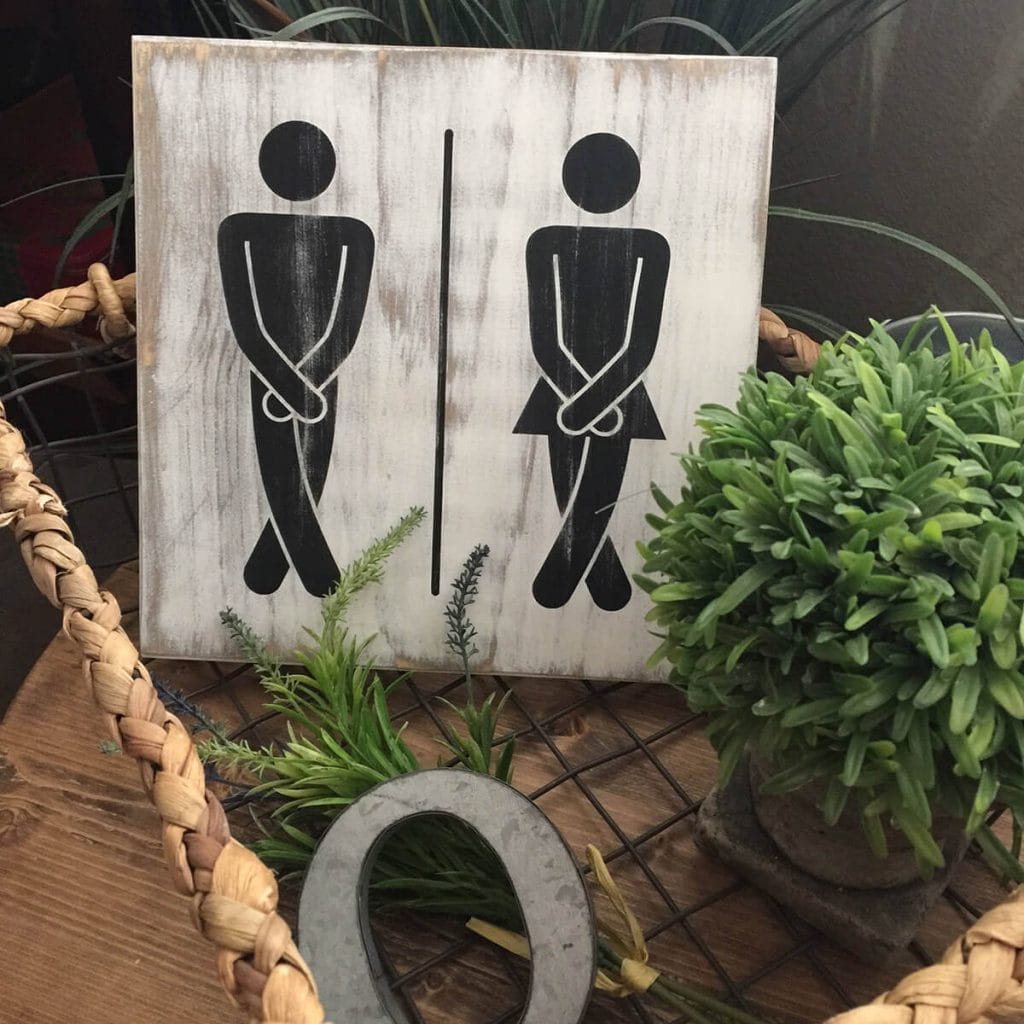 Searching for funny bathroom sign ideas? If so, give this decorative item a go. It is not only adorable but also lends a whimsical touch to the bathing space.
This handmade wooden sign features two small people icons. They show that your visitors must hold their pee sometimes.
Furthermore, the distressed wood sign's look carves a rustic farmhouse feel effortless. If you love something more classic, opt for solid bright white paint.
15. Pirate and Mermaid Themed Bathroom Sign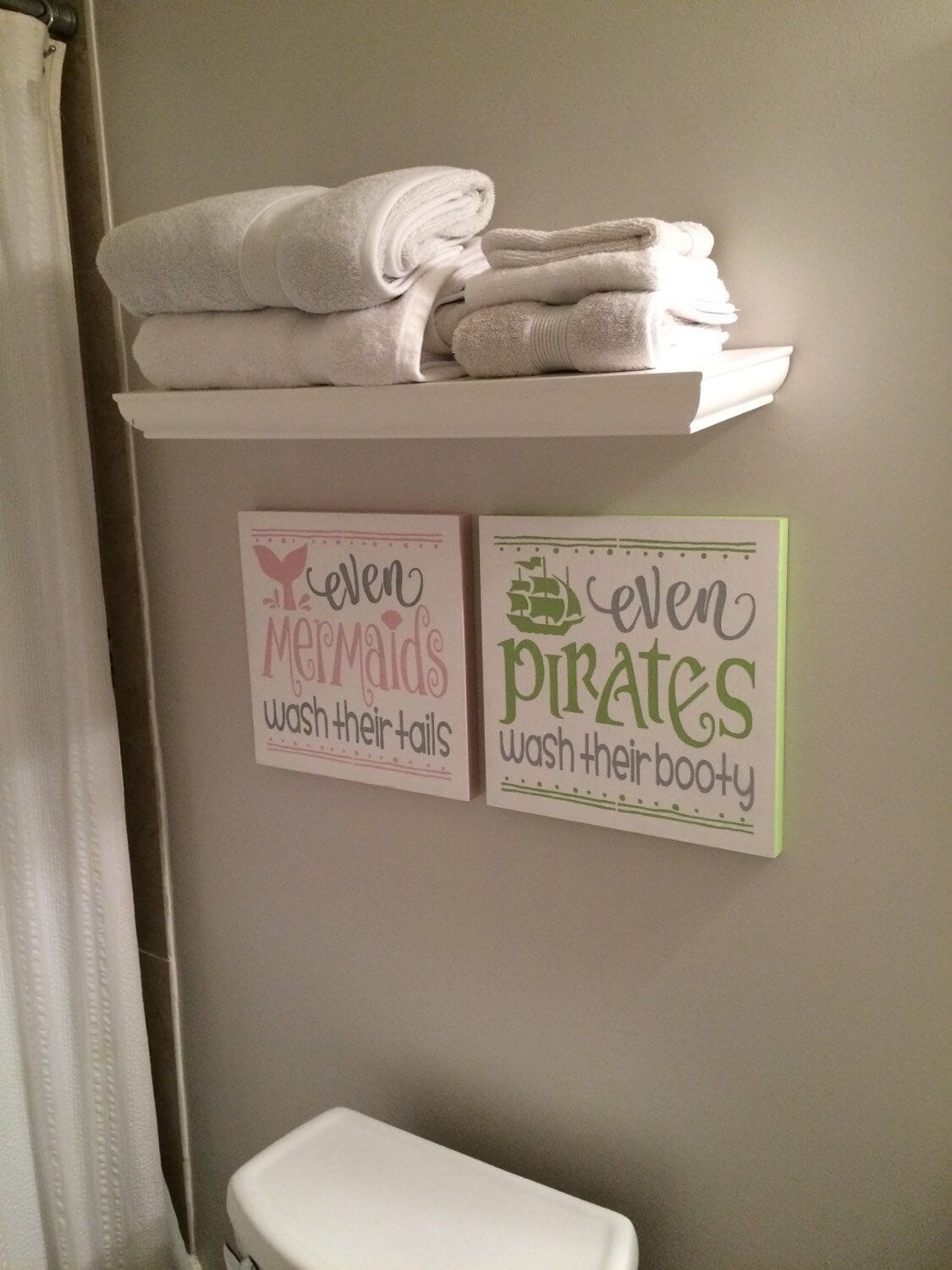 This is surely one of the cute bathroom sign ideas to try. Moreover, the wall signs are pretty, adorable, and practical all at once.
These wall decorations will look great in the children's bathroom. They also motivate your kiddos to enjoy their bath time.
Furthermore, the nautical characters give the space a touch of fantasy. Meanwhile, the colorful texts develop a fun atmosphere.
16. Hilarious Bathroom Sign Ideas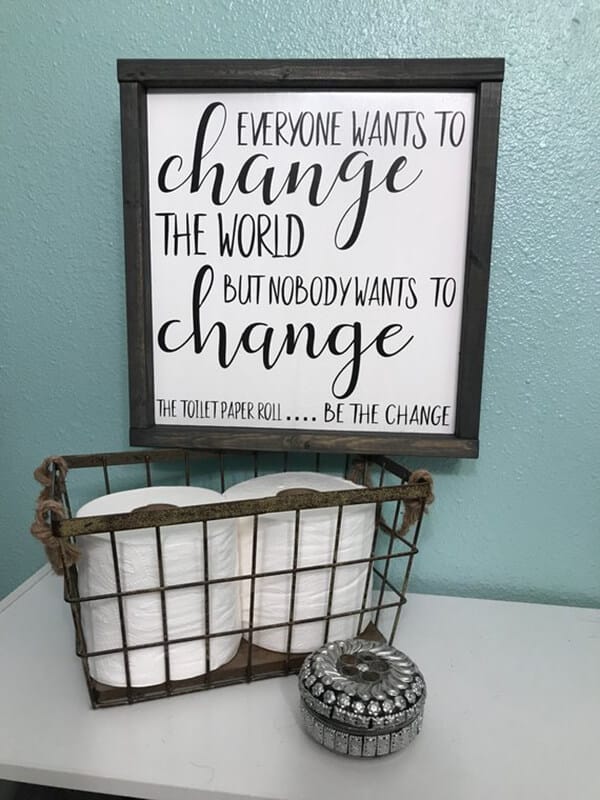 You always find tissue rolls empty. We know how frustrating it is. Add this funny wall art to your bathroom. That way, all family members can do their part.
Moreover, this hand-crafted sign is beautifully rustic. The black wood frame lends the bathroom a cozy ambiance and charming look.
There is a wide selection of paint and stain colors to select from. Pick the design that fits really well into your bathroom.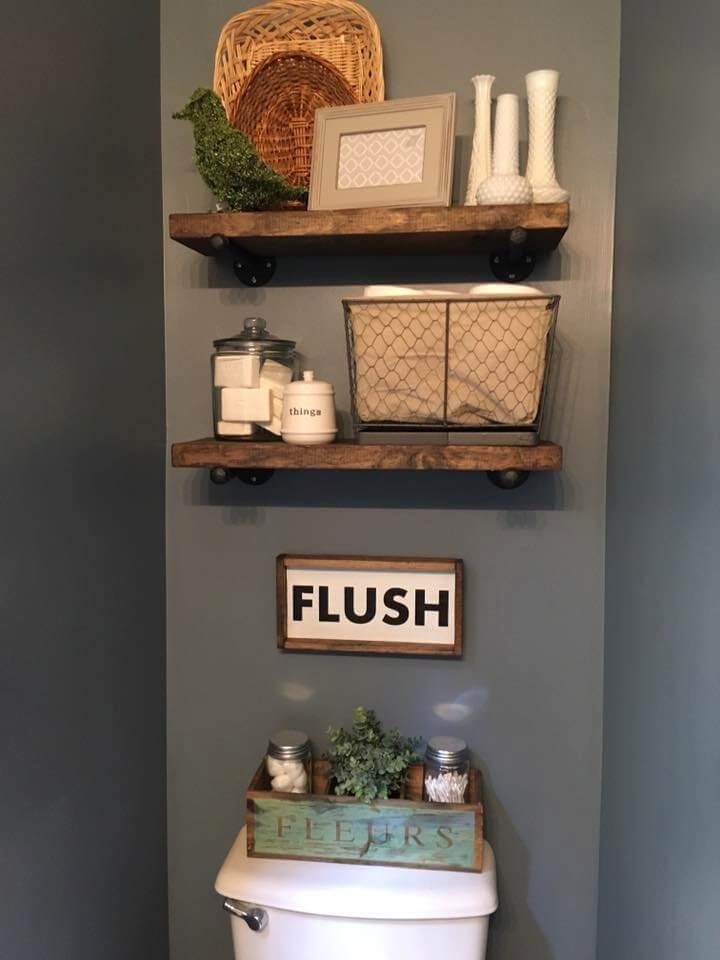 This "flush" bathroom sign is so straightforward. We love its simple design as well. It reminds your forgetful spouse or kid to do his or her part. The unit will assist you keep the bathing space in great shape.
Moreover, the wall art features a monochrome color scheme. The high-quality primitive wood makes it perfect for your farmhouse style bathroom.
18. Humorous Wooden Block Bathroom Signs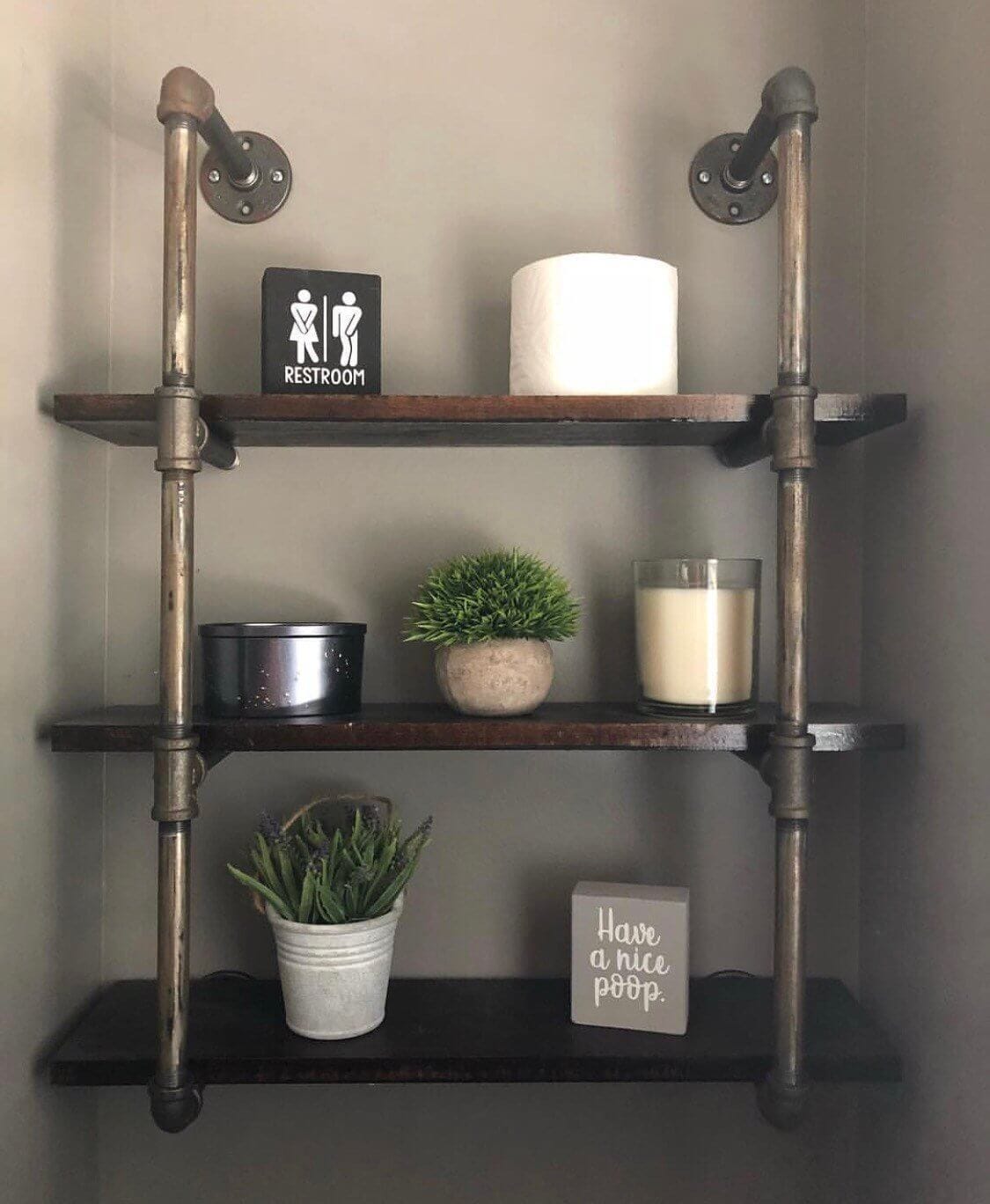 These wooden block signs allow you to unleash your inner silly. Since the pieces are small, we recommend adding both of them into the bathroom.
One boasts the classic people icons. However, they have a humorous "gotta go" stance.
Furthermore, the wall sign on the lower shelf wishes bathroom occupants in a goofy manner. It says "have a nice poop". Undoubtedly, these decor items will make your visitors laugh heartily.
19. Hand Lettered Bathroom Sign Ideas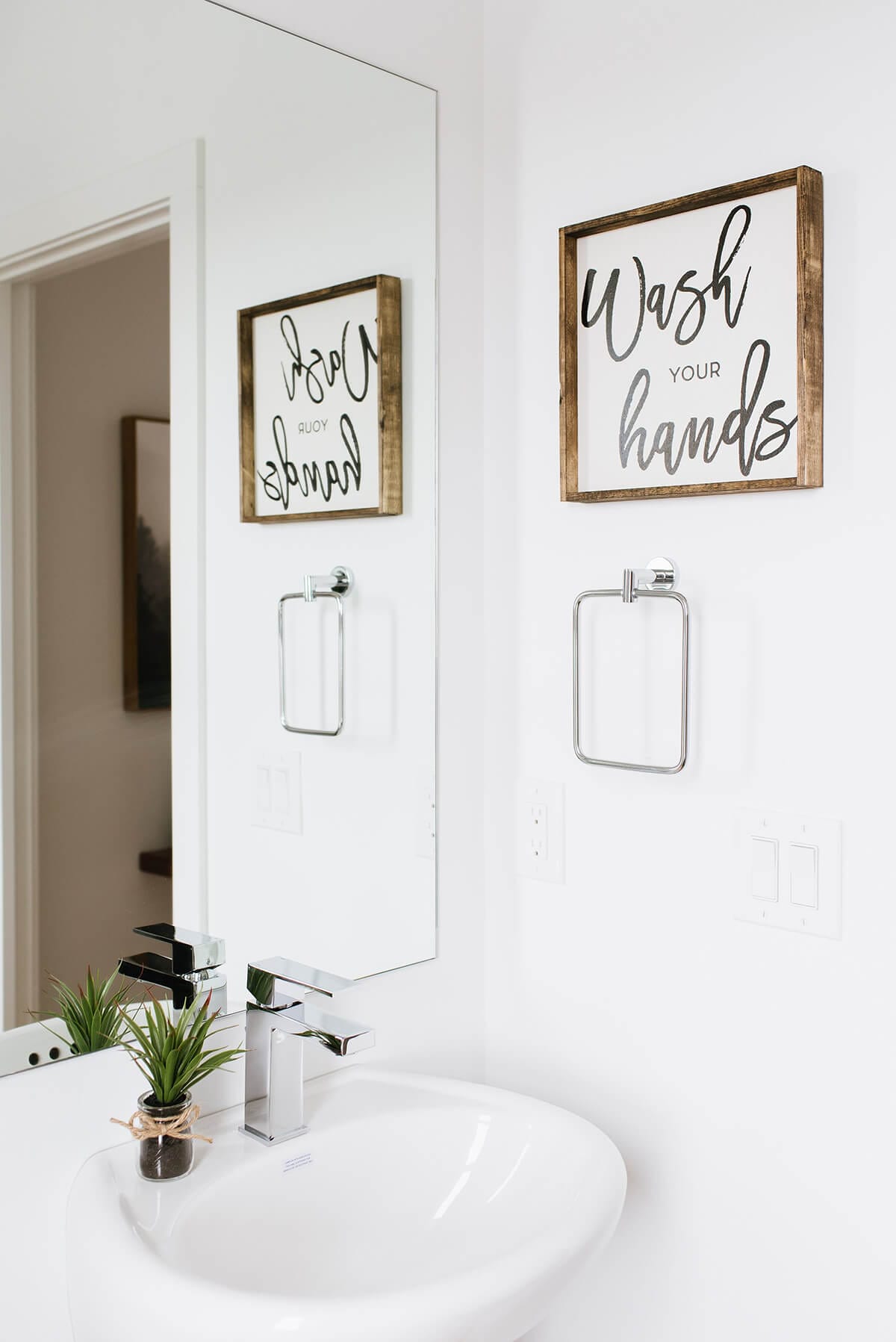 Don't you love this handcrafted wooden bathroom sign? It reads "wash your hands". Furthermore, the decor piece will deliver some character and warmth to space.
The sign sports a primitive pine frame and ornate hand lettering. They make it stunningly different for sure.
Moreover, this hand-lettered sign encourages both your family and visitors to always maintain good hygiene. It looks really pretty as well. A combination of modern and rustic, the unit works nicely in any bathroom.
20. Wood Block Wall Signs for Bathroom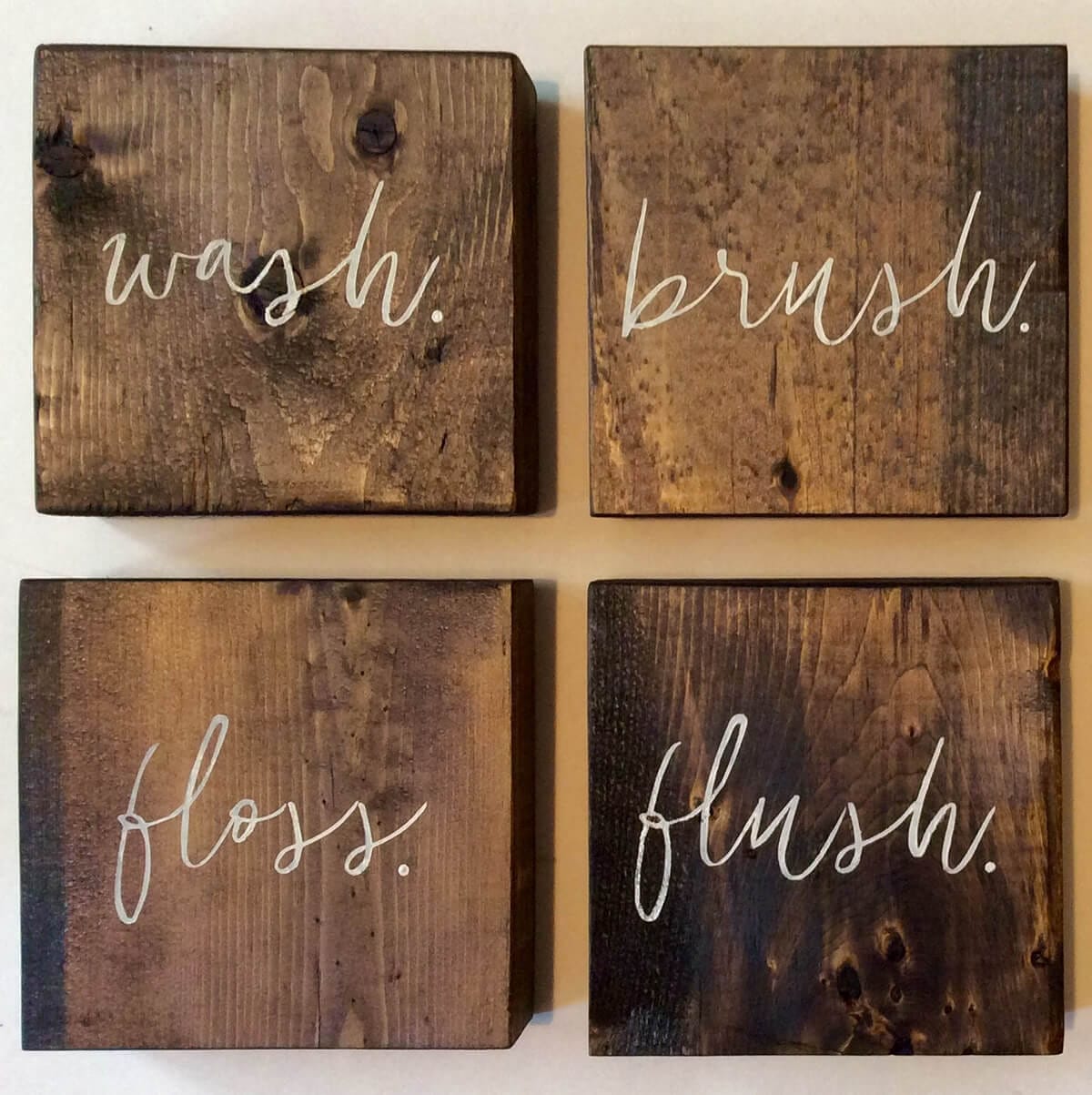 We do adore these wooden block bathroom signs. They generate a comfortable ambiance and an outdoorsy vibe. You can hang the sign set above the toilet if your space is limited.
Pure white text on the unpainted wooden blocks gives the signs a minimalist chic look. These decorations will make any bathroom Insta-worthy.
Moreover, they offer a bonus. The pieces remind everyone to brush, flush, wash and floss.
21. Sign Set for Farmhouse Bathroom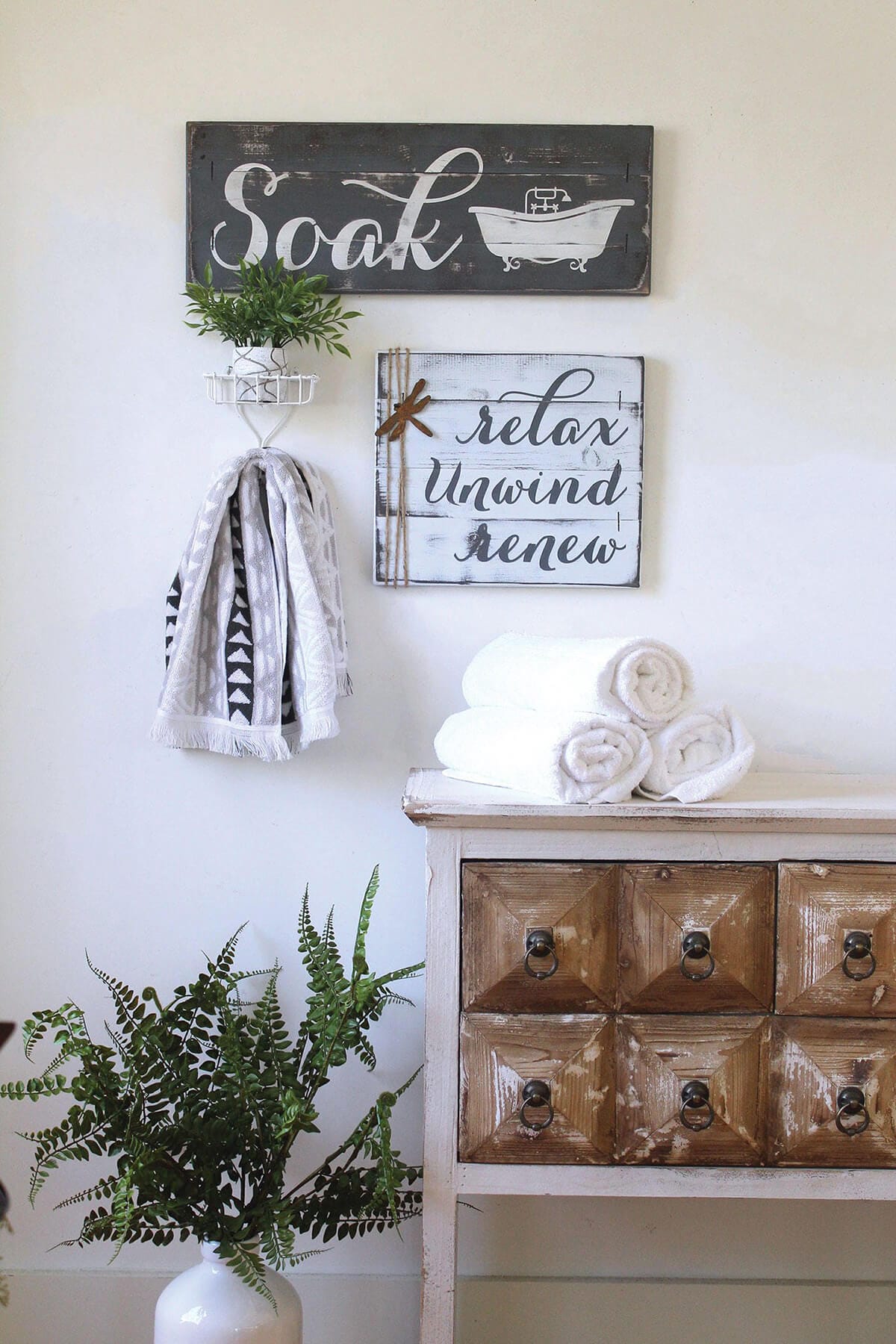 This is one of the most charming bathroom sign ideas indeed. These two rustic wall signs will infuse a farmhouse vibe into the interior quickly.
They are stunning and inviting, thanks to jute accents, wooden slats, and distressed paint.
There are various color combinations, so buy one that matches the decor of your bathing space. These signs are not only high quality but also easy to mount. Having this set is a must for certain.
22. Bathroom Door Sign Ideas
You often have company, so why not display this sign? It certainly looks amazing on the bathroom door. With the unit, your guests won't wonder if they went to the right place.
This bathroom sign is super chic. It lends the home an elegant look too. Furthermore, its oblong shape makes the item feel unique. Meanwhile, the black text contrasts delightfully against the white background.
23. Humorous Wooden Box As Bathroom Sign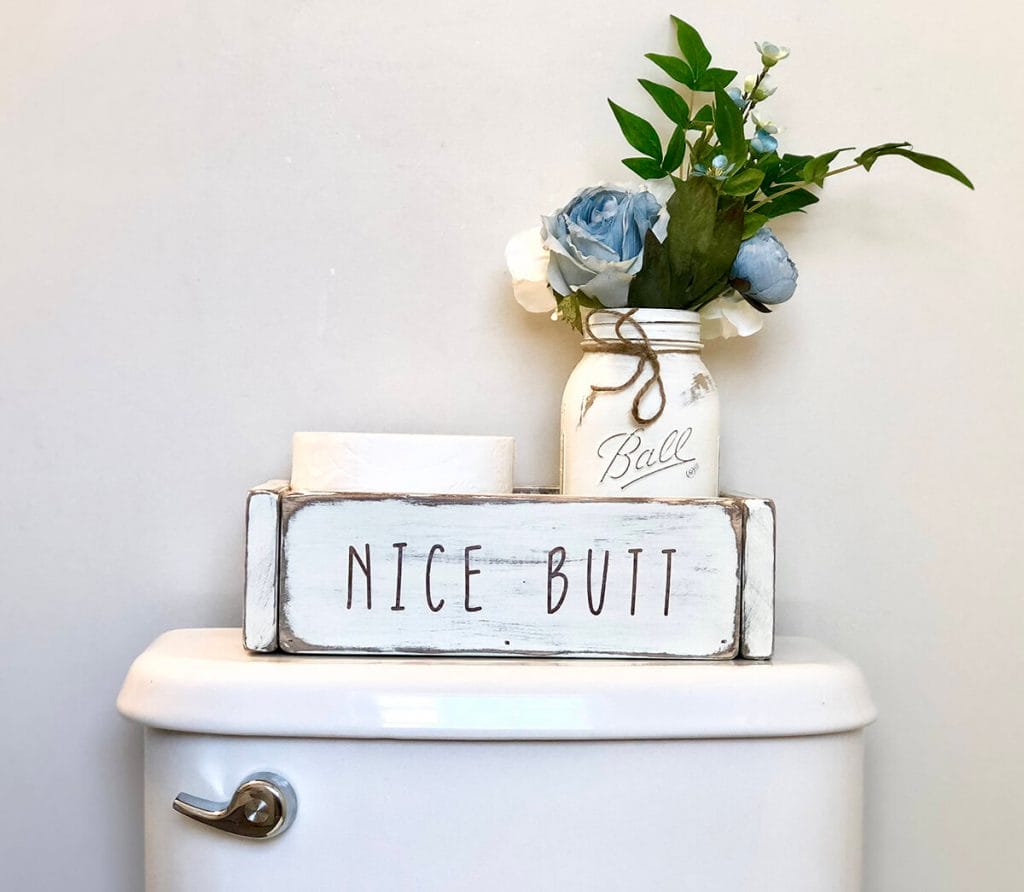 If you want to embrace your goofy side, give this poplar wood bathroom box a shot. As the image shows, it looks so hilarious. Furthermore, the unit is great for accommodating small bath products.
Your visitors will laugh when they get this unexpected compliment from the wood box. In addition, distressed paint makes it perfect for a farmhouse or shabby chic style bathroom.
24. Fresh Soap Sign for Bathroom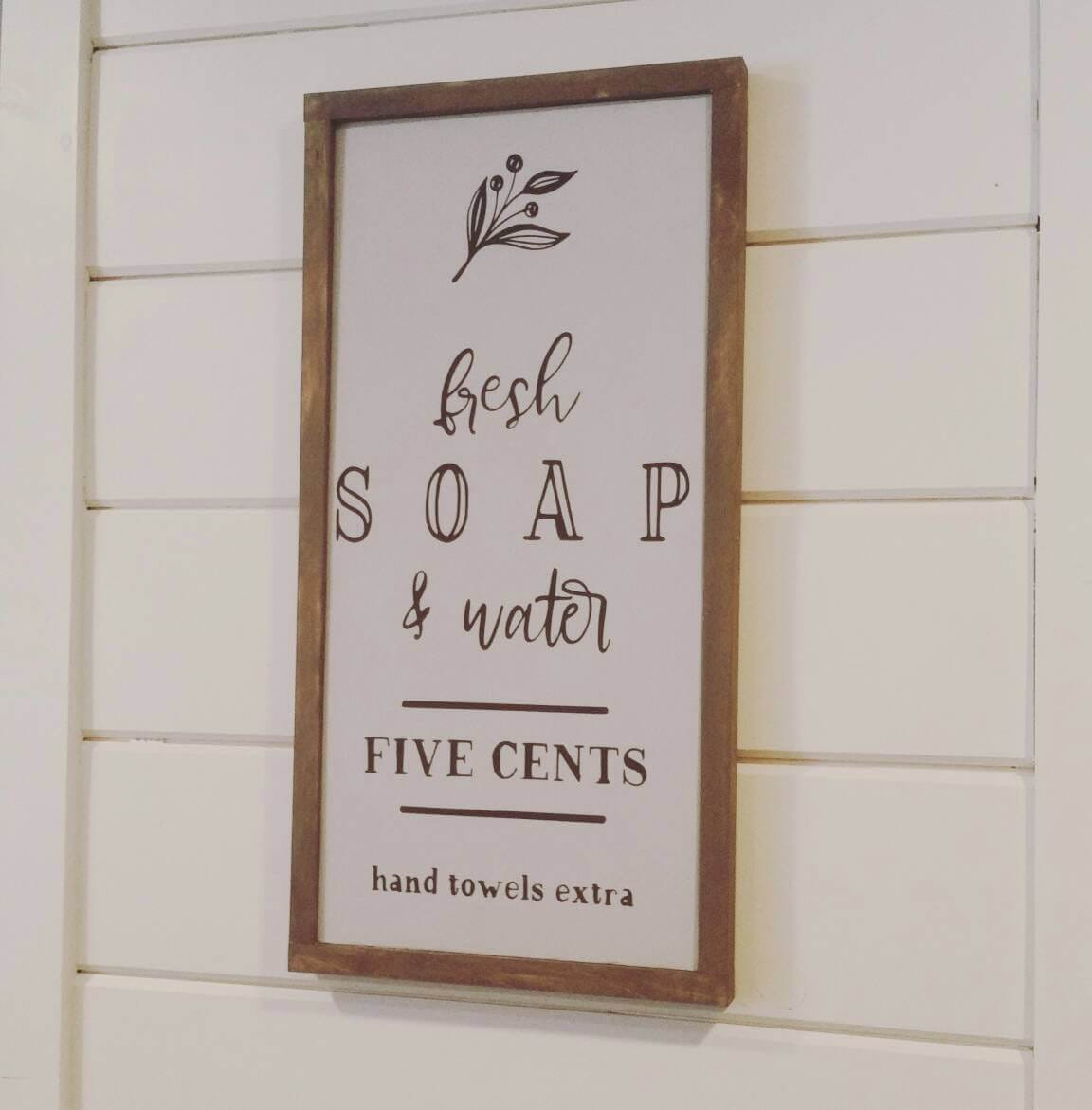 Searching for delightful farmhouse bathroom sign ideas? If so, then purchase this wall decor. Despite looking simple, it brings a cozy vibe to your interior.
The item evokes a sense of nostalgia. It will make the occupants feel welcome as well. Furthermore, the lovely leaf detail and classic lettering give this sign some visual appeal.
25. Vinyl Wall Decal As Bathroom Sign
Needless to say, this is one of the most brilliant bathroom sign ideas. The vinyl wall decal can improve your mood even on gloomy days. You can hang it in minutes too.
This wall decal reads "wear a smile". We suggest including it in the children's bathroom. The unit helps you show your loved ones how big your love is.
Displaying this decal in your master bathroom is a great choice. It will make you feel happier instantly.
26. Outkast Inspired Bathroom Sign Ideas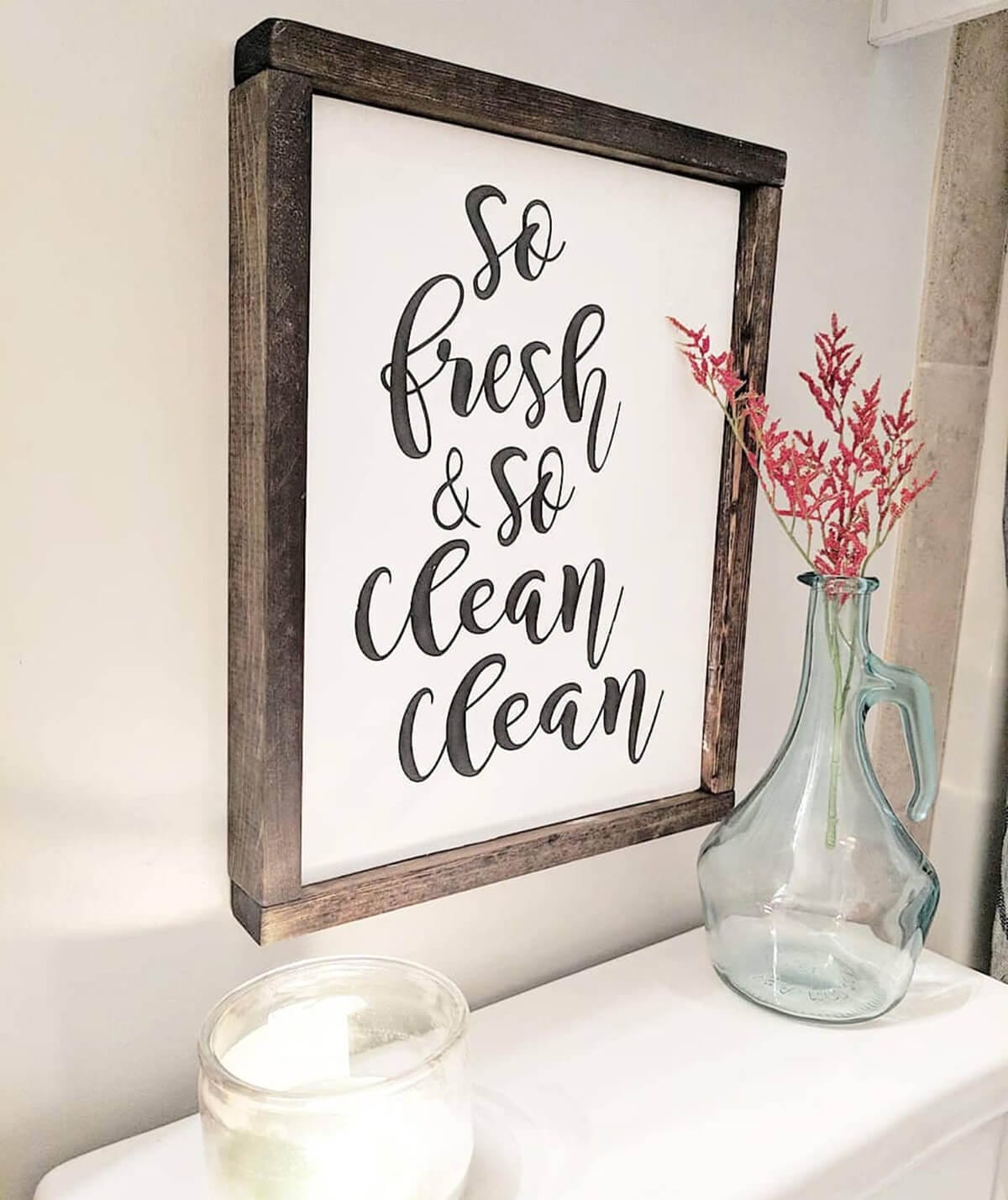 If you really love old school jams, then buy this wall art. It features the lyric of  the Outkast song. The sign does not only fit well into space but also will lend the bathroom personality.
Furthermore, this wall design boasts a natural wood frame and clean monochrome color palette. It will instantly carve a homey atmosphere.
With those captivating bathroom sign ideas, you can take the space from blah to beautiful. Moreover, there are different decorating schemes.
Choose one from these bathroom sign ideas that completely suits your style, budget, and of course, home decor.