When it comes to decorating a bathing space, many people only focus on sanitary facilities. But, towels also deserve a proper home. To decluttering them, take a gander at our clever bathroom towel storage ideas.
Bathroom towels are one of the most crucial things in people's daily lives. However, they could inhibit the interior's flow. Fear not, you can integrate them into yours without making the space feel cluttered and uninviting.
Without great organization, the bathroom definitely won't be functional and stunning. Today, we show you some incredibly chic and practical ways to display your towels. Let's scroll through these wonderful examples!
1. Unique Bathroom Towel Storage Ideas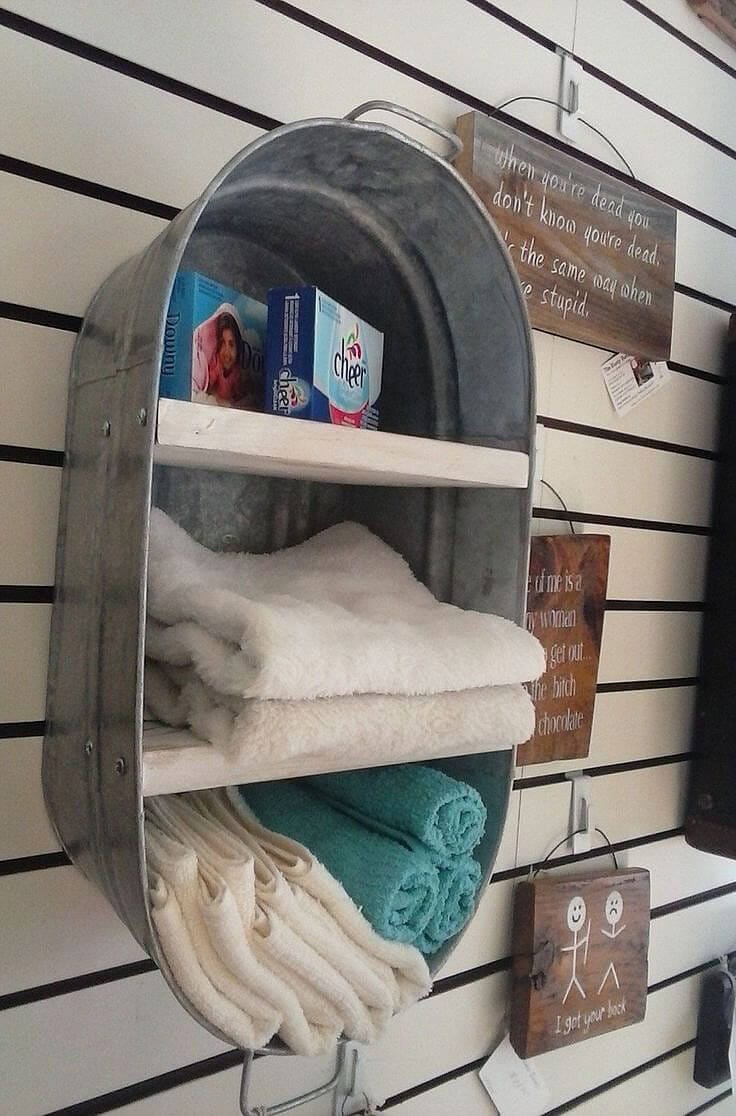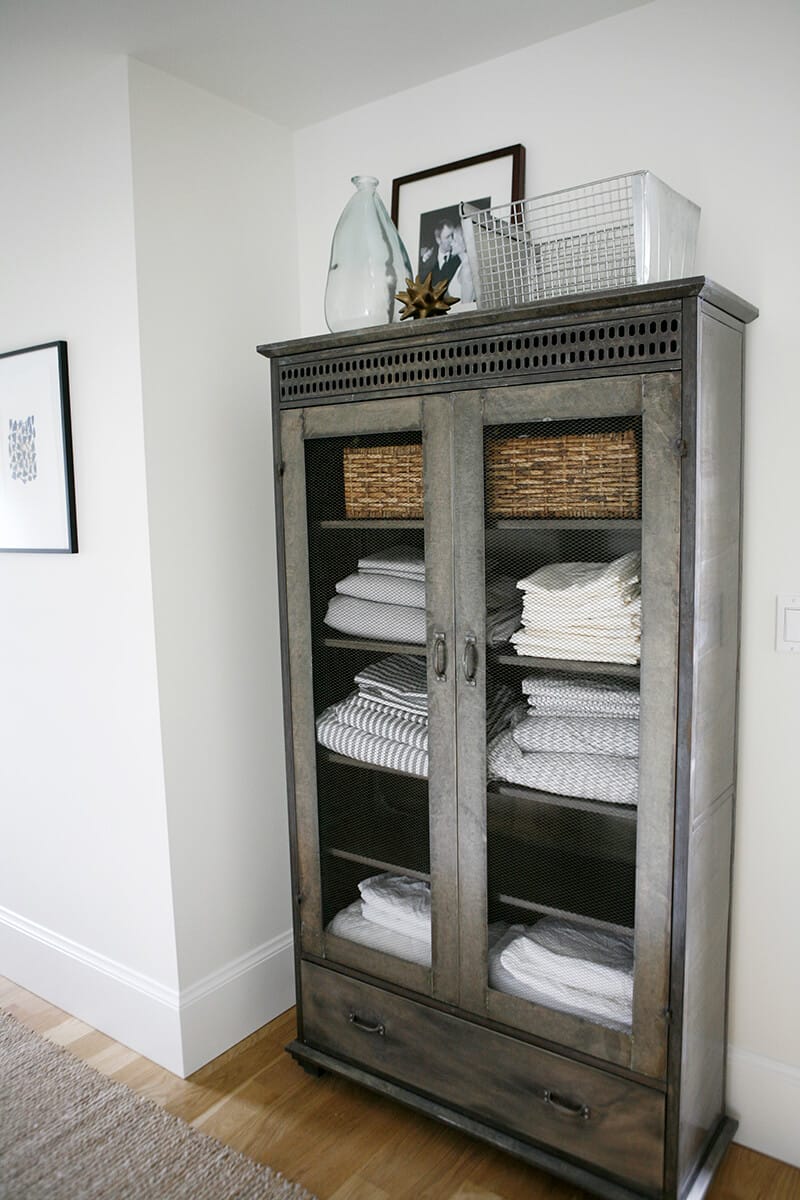 There is an old open metal wardrobe in your home. Why not giving it a second life? The unit certainly makes an excellent linen and towel holder. Upcycling existing objects helps you save some money too.
You can include a few wicker storage baskets. Moreover, we suggest placing family pictures and decorative items on top of the wardrobe. They will bring a ton of personality to your bathroom.
3. Barber's Cabinet for Storing Towels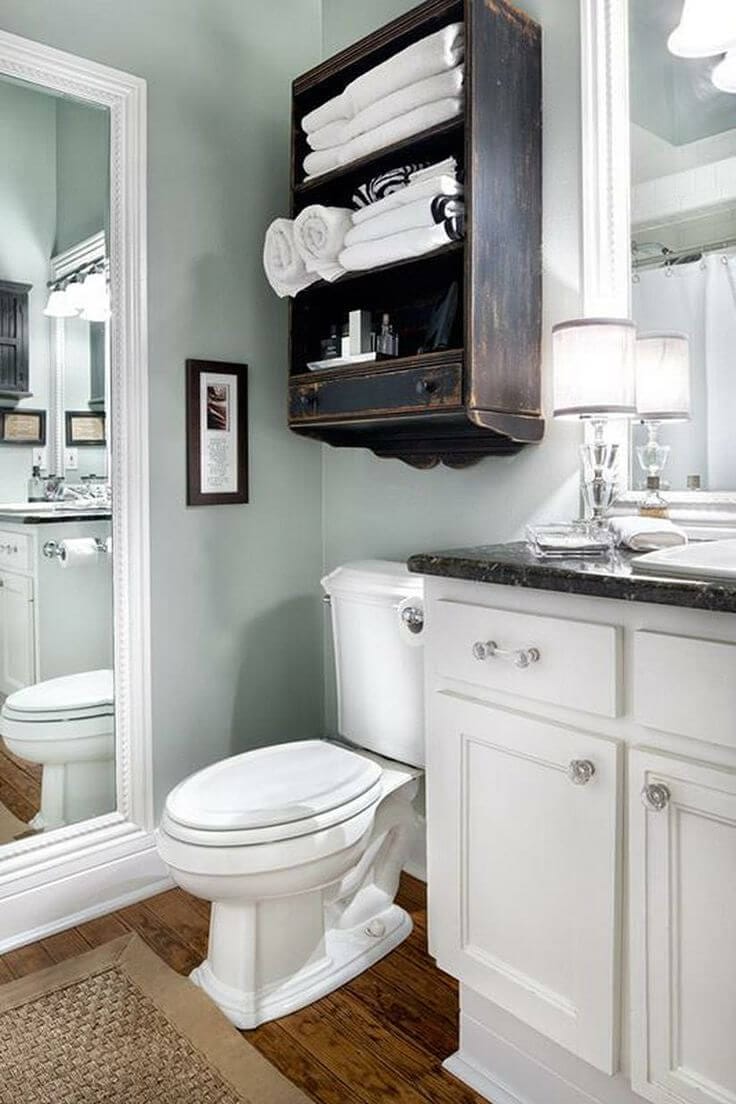 This black barber's cabinet serves as a towel holder. It hangs on the wall above the toilet to maximize bathroom space. Two open shelves accommodate both folded and rolled towels.
Furthermore, the black cabinet features a small drawer for storing tiny items. It delivers a vintage feel and dramatic effect to the interior at once. Well, this is one of the best bathroom towel cabinet ideas.
4. Bathroom Towel Organization Ideas with Bicycle Basket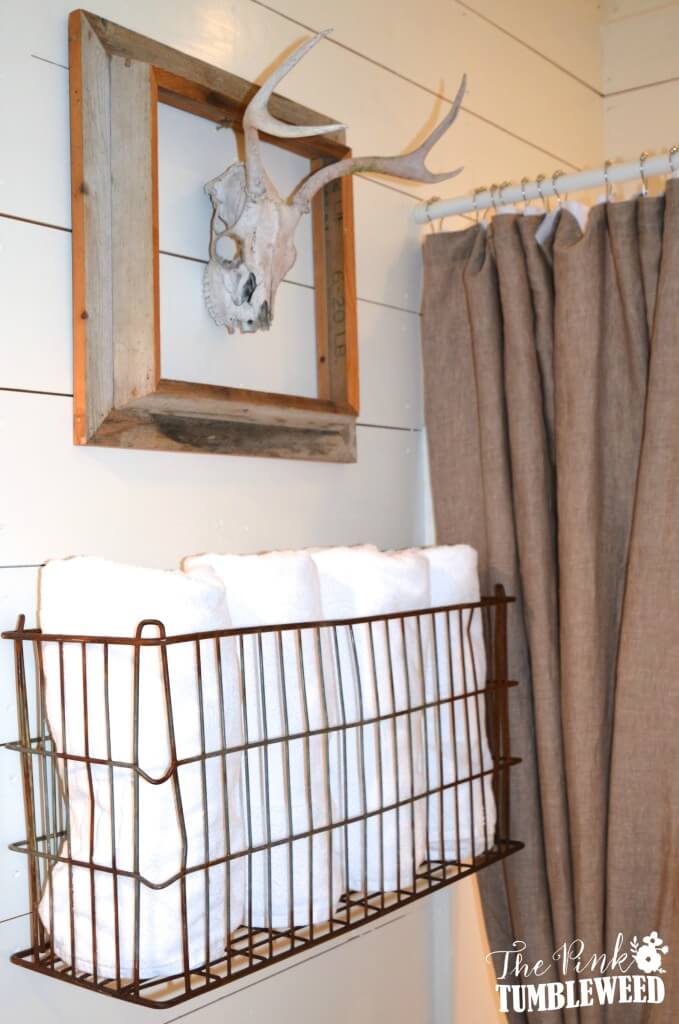 The homeowner converted her weathered metal bicycle basket into a hanging towel holder. It tastefully holds rolled towels. Moreover, the item looks interesting against the white shiplap wall.
This bicycle basket is one of the great bathroom towel storage ideas. Not only is it budget-friendly and space-saving, but also lends a rustic charm to space.
5. Hanging Wicker Towel Baskets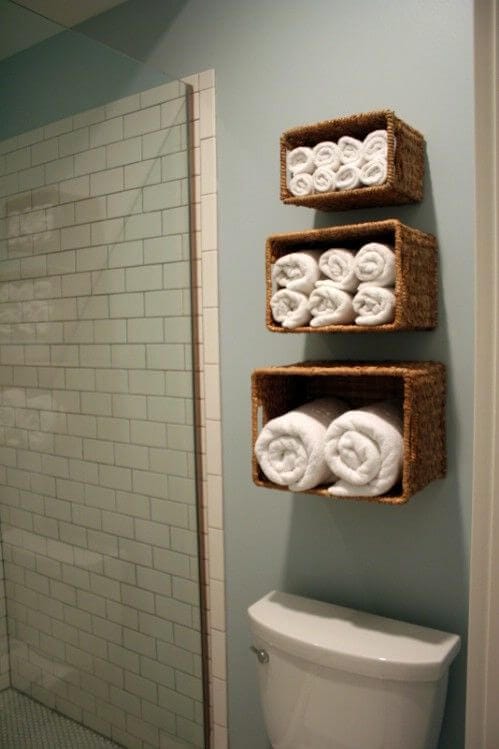 Whether your home is small or not, this towel storage hack will come in handy. Here, the bathroom boasts three wicker baskets. They mount on the wall above the toilet in ascending order.
These tiered wicker baskets neatly handle rolled towels in different sizes. Furthermore, they give the bathing space a farmhouse feel instantly.
6. Bathroom Towel Rack Ideas with Wooden Ladder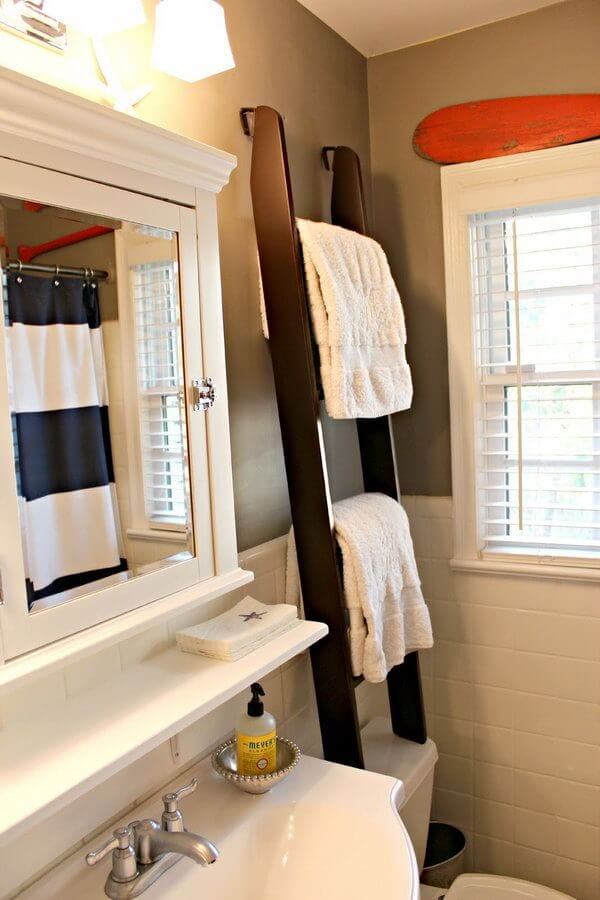 If you have a wooden workman's ladder, turn it into a charming towel rack. In this case, the unit sits on the toilet tank. Furthermore, the item leans against the gray wall in an elegant manner.
This dark-toned ladder towel rack holds bulky towels without consuming floor space. It carves a welcoming mood as well.
7. Recessed Bathroom Towel Niche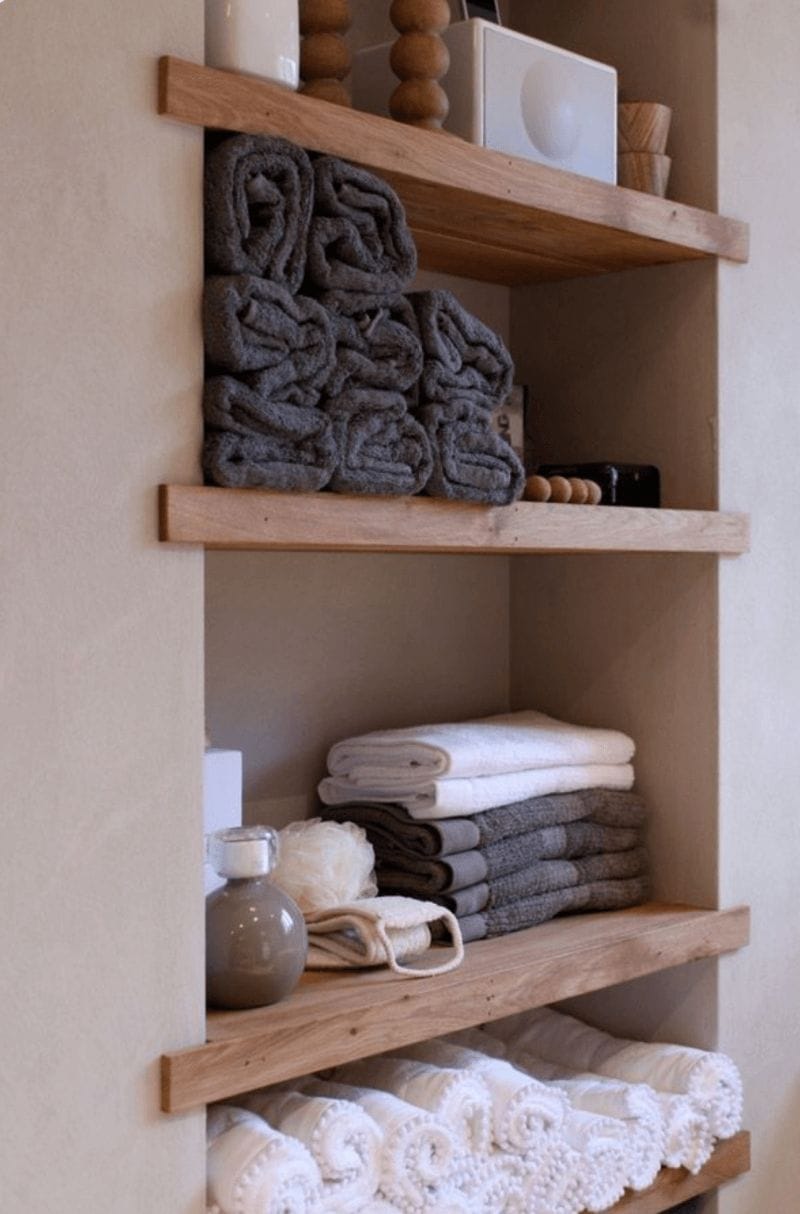 When thinking of small bathroom towel storage ideas, consider building a recessed niche. It does not only offer a stylish look but also saves some valuable floor space.
The bathroom niche boasts unfinished wood shelves. They display ornamental pieces and towels. Additionally, the units reinsure the space with an outdoorsy vibe and inviting ambiance.
8. Brown Bathroom Towel Storage Ideas
This bathroom features a lovely woven wicker basket. It magnificently sits on the floor next to the toilet. The item poses as a home for brown and white rolled towels as well.
Furthermore, this basket of wicker carries a French provincial charm to the bathroom quickly. It makes the bathing space functional and gorgeous. The unit fills the interior with a natural element too.
9. Hand Towel Storage Ideas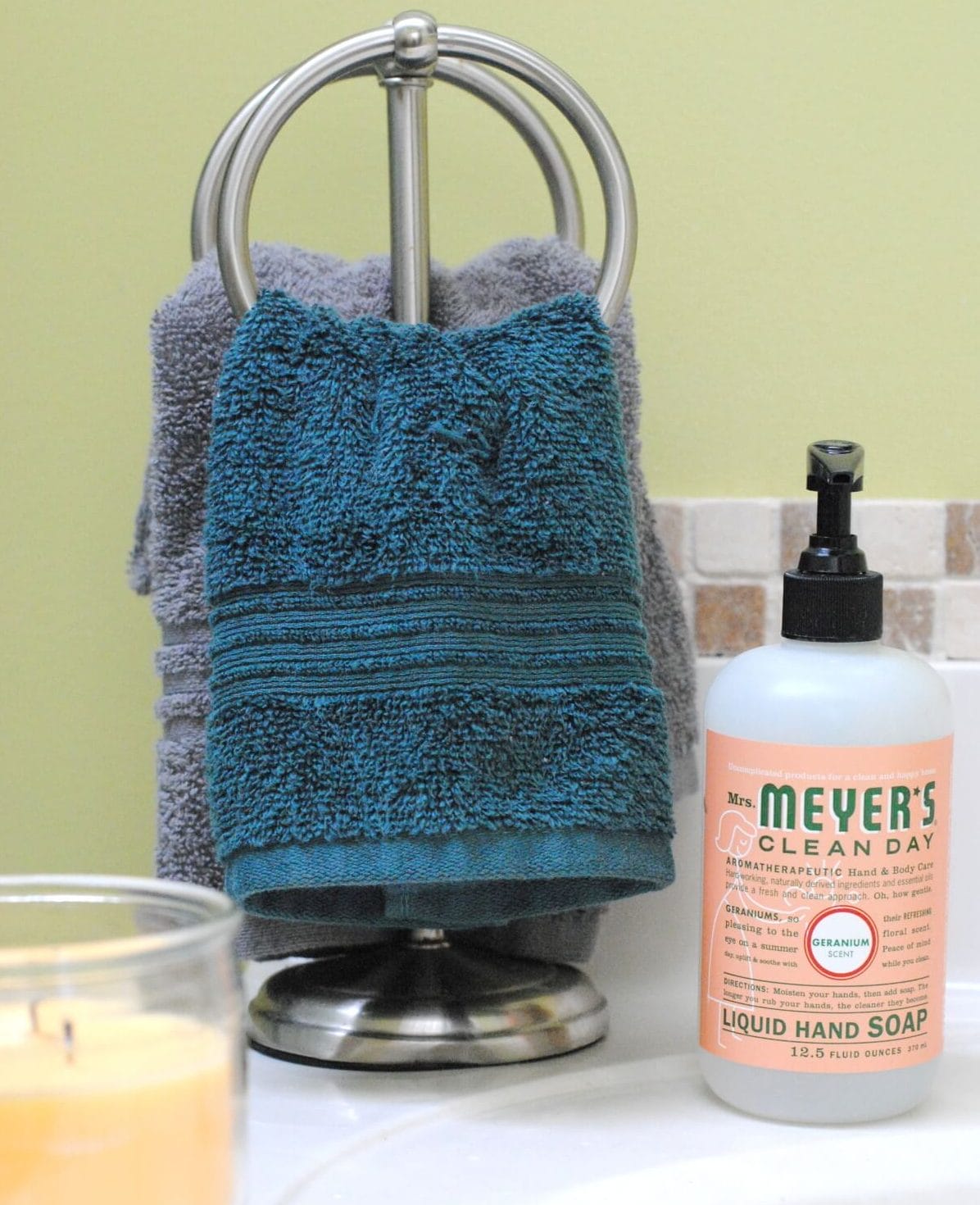 Do you need storage space for your hand towels? If so, take inspiration from this bathroom at Manhattan hotel. Here, the metal towel stand adds a modern industrial flavor to the interior.
Moreover, the metallic stand can handle two hand towels. It also looks terrific on the bathroom vanity top. Additionally, this stainless steel item makes space feel more comfortable and spacious.
10. Repurposed Window Towel Rack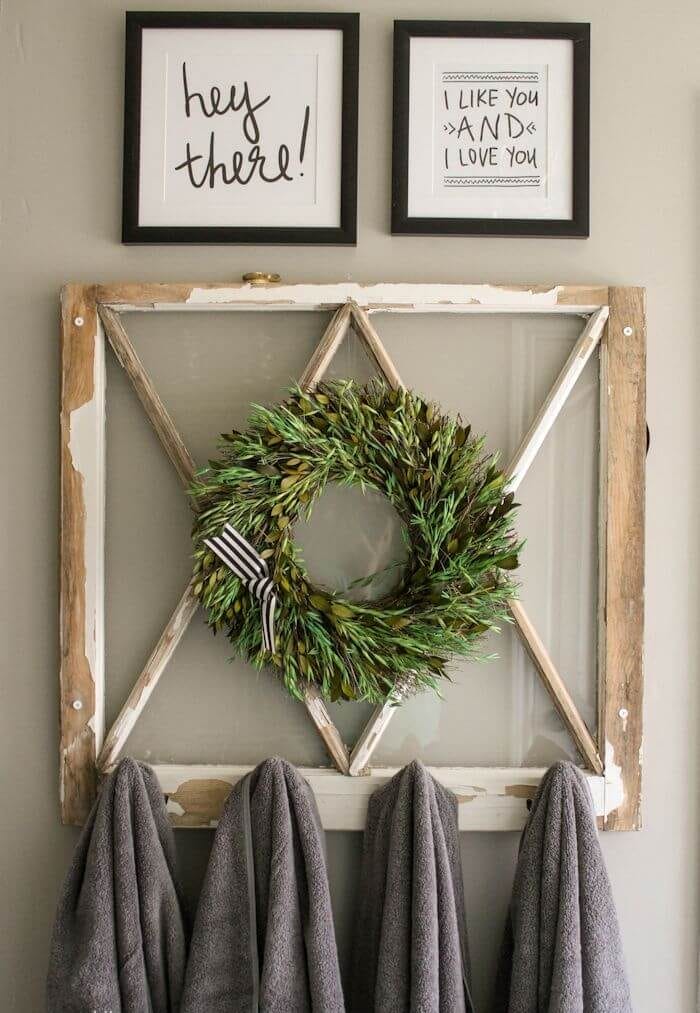 This is one of the marvelous tiny bathroom towel storage ideas. The homeowner upcycled her country window into a shabby chic rack. It can accommodate up to four large towels.
The old window towel rack saves the floor space. Meanwhile, faux greenery wreath and striped ribbon instantly spice it up. Two black framed wall hangings round out the bathroom.
11. Built-In Bathroom Towel Holders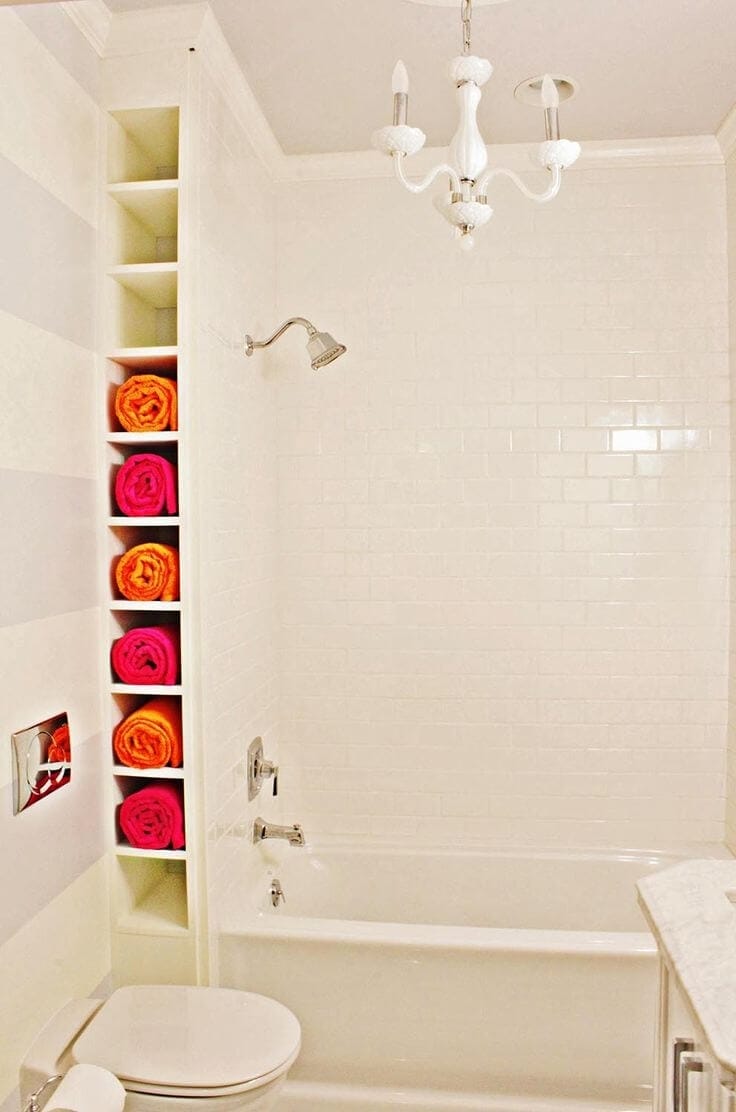 Undoubtedly, this towel storage solution works great for a small bathroom. The white wall niche boasts ten open shelves. Furthermore, they showcase your rolled towels in style.
These recessed towel shelves allow vibrant towels to steal the show. They maintain the bathroom's light and airy feeling as well. More importantly, the wall niche helps optimize the available space.
12. Bathroom Towel Storage Ideas with Office Baskets
We really love this bathroom. It is luxurious and full of personality. The dark-toned wooden ladder and multi-sized office baskets make for an awesome towel stand. The unit only takes up little floor space.
Moreover, the metal baskets give the bathroom a vintage flair. They pair well with the antique gold mirror above the marble vanity top. The white towels are a lovely contrast to them.
13. Bathroom Towel Storage Ideas with Railway Crates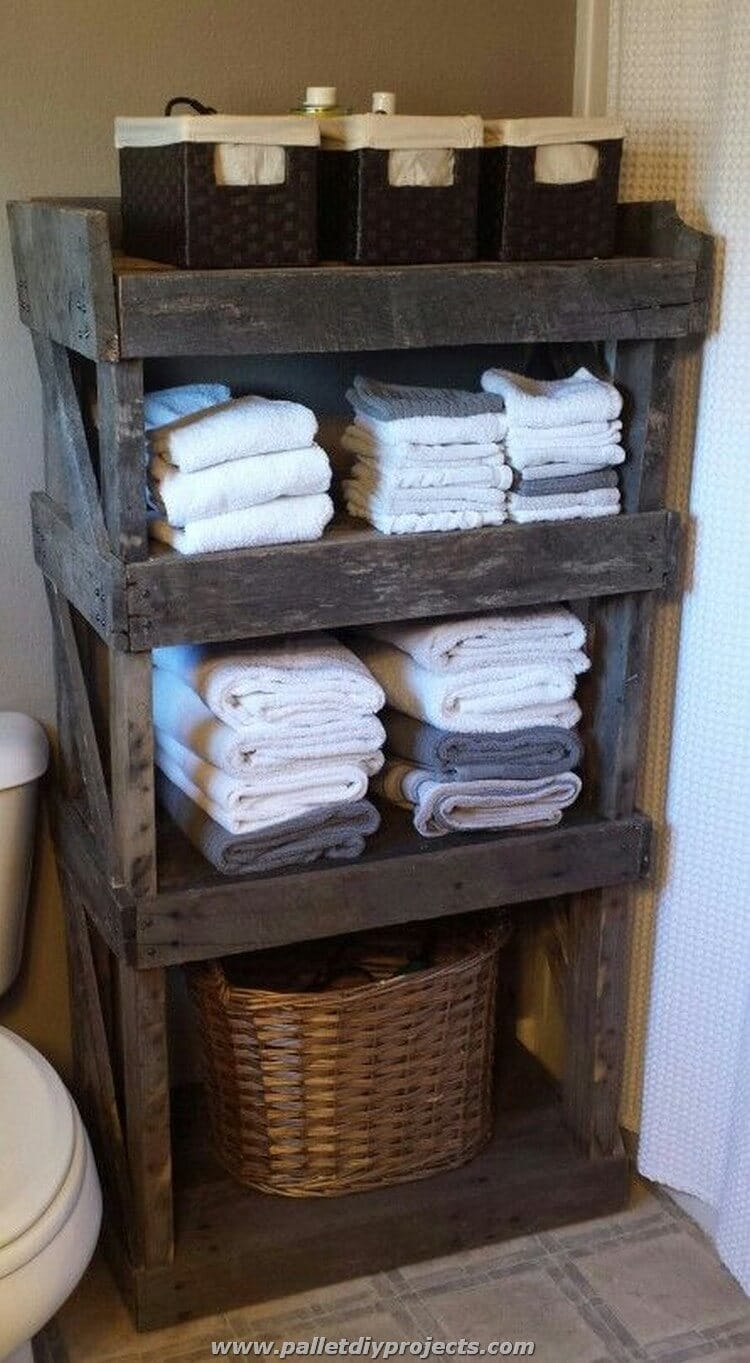 In this example, the homeowner recycled a few railway poultry crates into a freestanding shelving unit. It effortlessly delivers a homey atmosphere and rustic feel to the bathing space.
Two upper shelves of this handmade shelving unit display white and gray folded towels. Meanwhile, the wicker basket nestles on the bottom shelf. There are also three storage bins for storing bath products.
14. French Country Style Towel Rack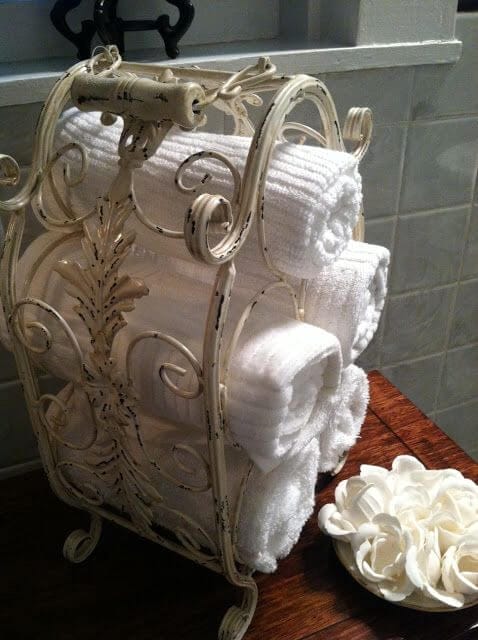 Speaking of beautiful and affordable bathroom towel storage ideas, consider adding this small rack into your bathing space. It does not only sport ornate scrollwork but also keeps rolled towels organized.
Furthermore, the towel rack carries a shabby chic flavor to the bathroom. This vintage find compliments the decor. You can place it on the floating wooden shelf or vanity top.
15. Ship's Deck Block Inspired Towel Shelves
If you love rustic pieces, this is one of the bathroom towel storage ideas to apply.
These ship's deck block inspired shelves to hold the patterned box, towels, glass jars, and decorative items. It is a narrow but highly functional piece.
Moreover, the wooden shelves let towels and other pieces shine. This clever stand sits in the corner of the bathroom.
It maximizes the space as well as brings the outdoors in. The white beadboard wall panels contrast with the unit nicely.
16. Wood and Rope Towel Display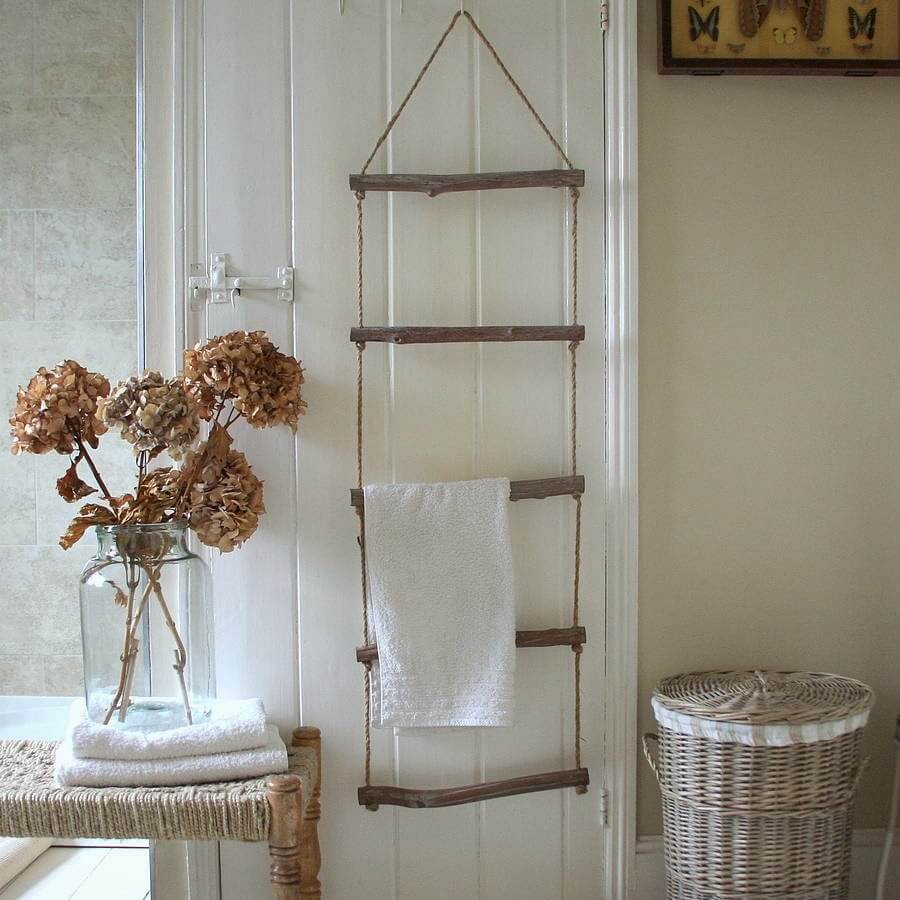 This hanging towel rack reminds us of the treehouse ladder. Since the unit hangs on the bathroom door, it saves your precious floor space.
Moreover, you can make this towel display yourself using natural jute rope and tree branches or wooden sticks. No worries, it is really easy to assemble.
In this case, the treehouse ladder inspired towel rack handles 5 towels. It makes the bathroom visually pleasing and functional at once.
17. Bathroom Towel Storage Ideas with Old Chair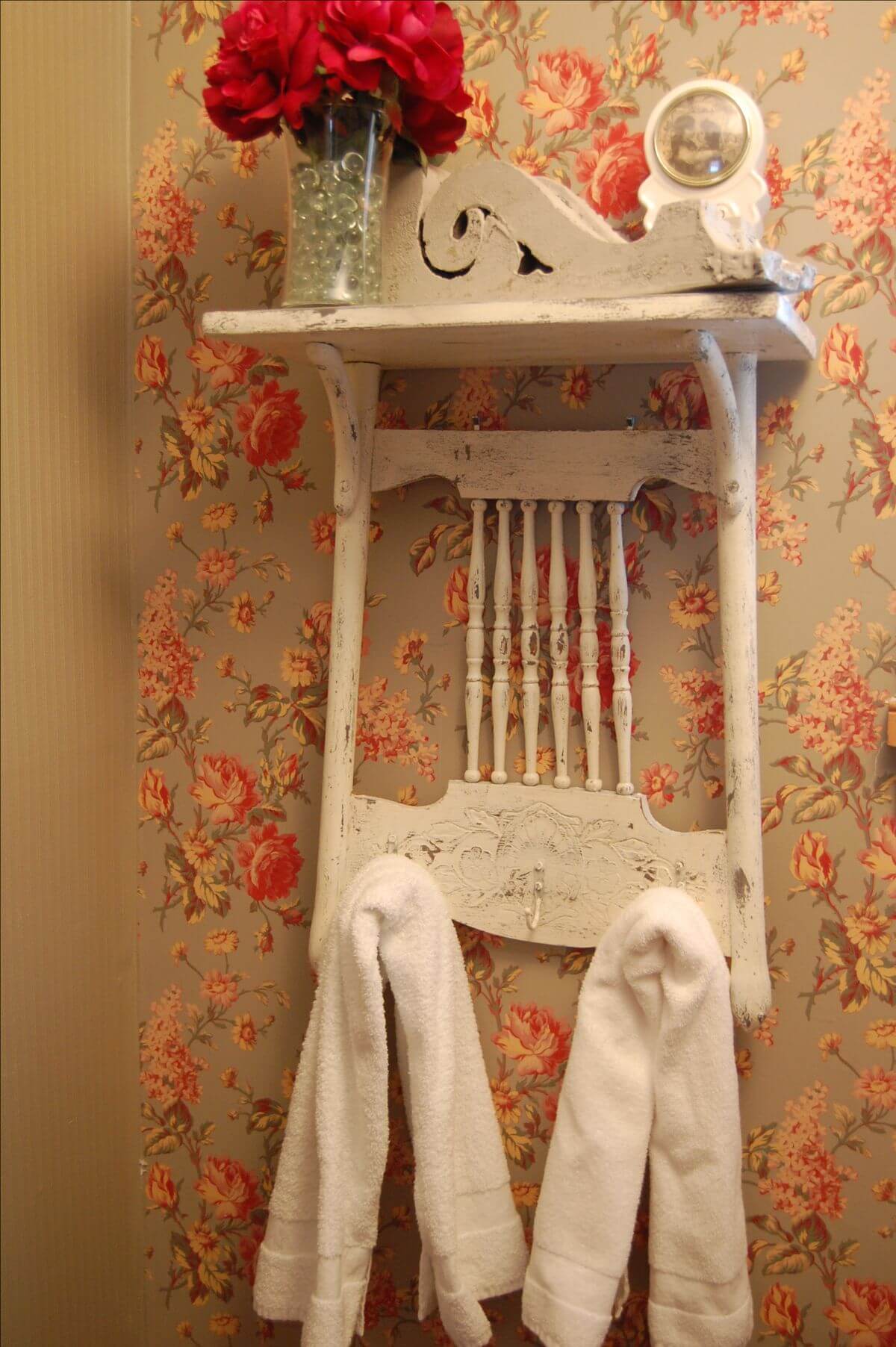 The homeowner brilliantly recycled her French country dining chair into a charming towel holder. She added three hooks to it for hanging the towels. Furthermore, the unit oozes timeless elegance.
This whitewashed chair towel hanger mounts perfectly on the wall. It looks mesmerizing against the floral background. The red faux flowers in the vase lend the bathroom a vivid splash of color quickly.
18. Wooden Wash Basket Towel Organizer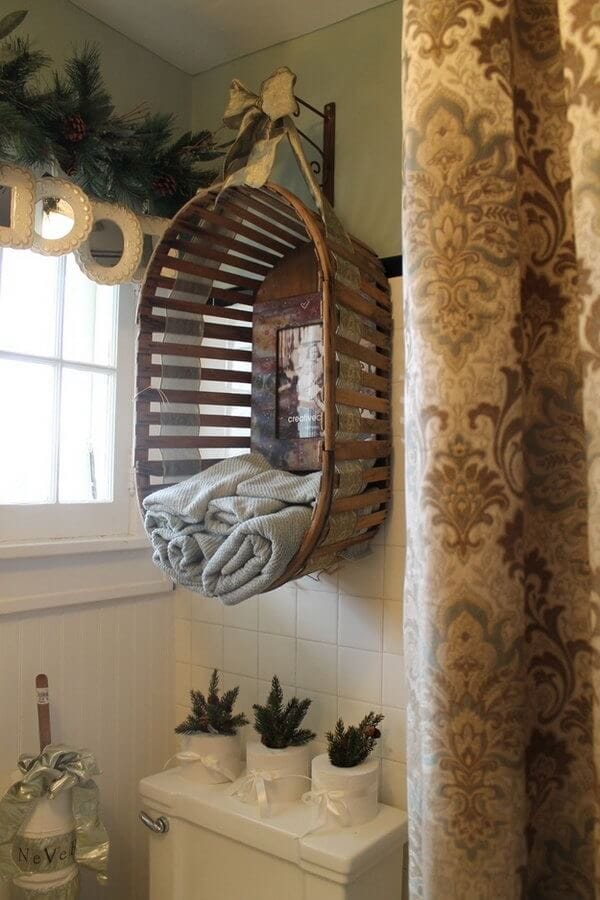 You can certainly save some money by transforming an old Western-style wash basket into a towel organizer. Moreover, since the unit is large enough, it holds bulky bathroom pillows really well.
Furthermore, this wash basket towel holder injects a rustic charm into the bathing space. The photo and large ribbon adorn it tastefully.
Meanwhile, white ribbons and faux small plants titivate tissue rolls. They nestle on the toilet tank.
19. Bathroom Towel Storage Ideas with Open Shelving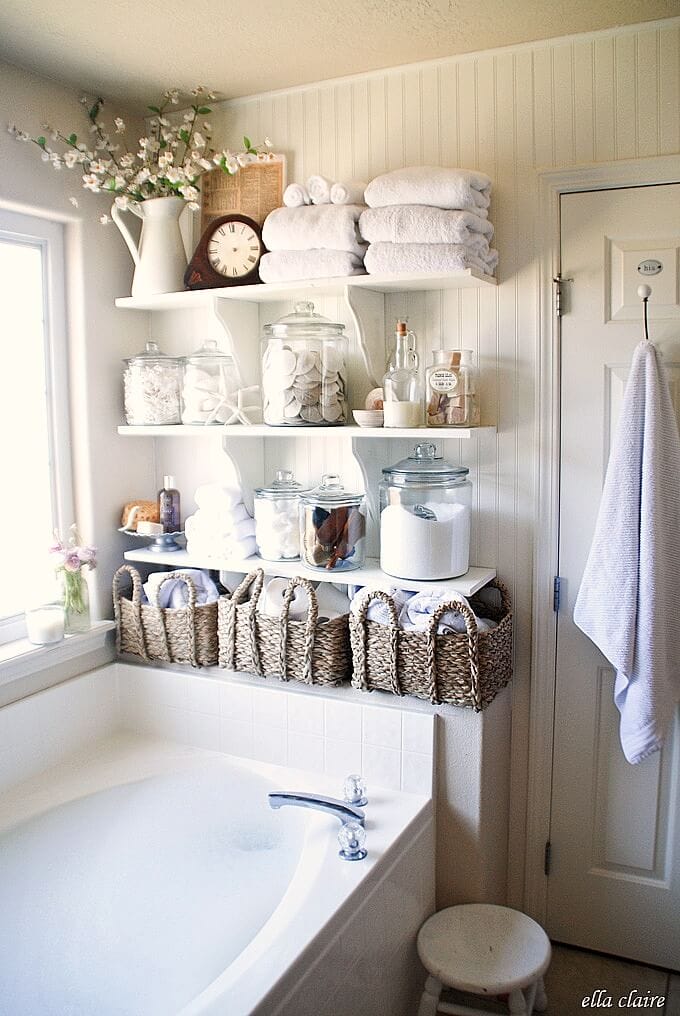 Do you live in a small house? If yes, give this bathroom towel storage solution a shot. The pantry-style open shelves come in white. They make the space feel more trendy, comfortable, and spacious.
Moreover, the open shelves fit nicely into the farmhouse bathroom. In addition, they mount on the white shiplap wall right above the bathtub.
The pieces accommodate towels, glass containers, wicker baskets, and decorations.
20. Classic Bathroom Towel Storage Ideas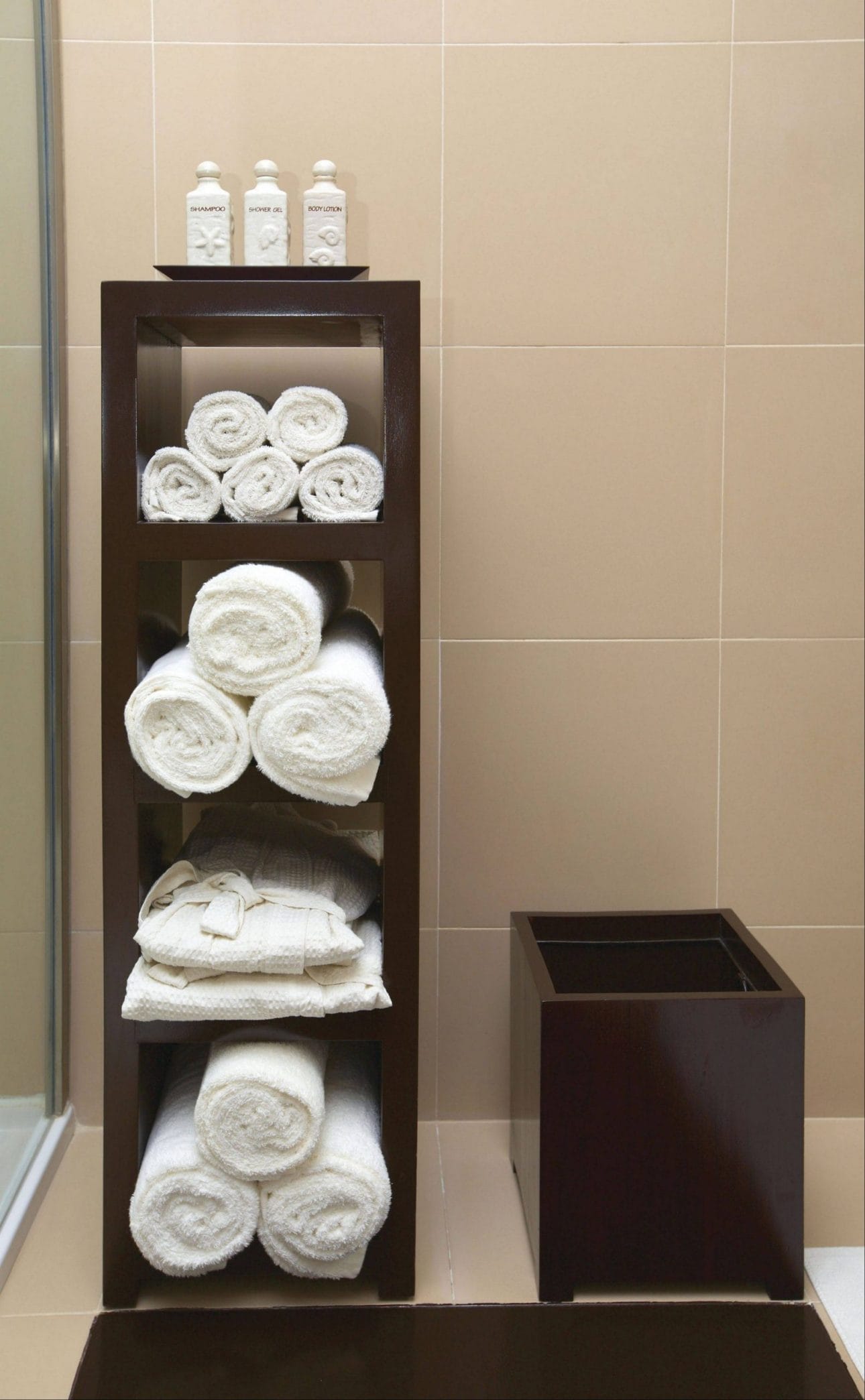 This dark wood shelving unit makes an affordable yet impressive bathroom accent. The open shelves display both folded and rolled white towels.
Furthermore, this uptown classic shelving unit sports sharp edges as well as clean lines. It is definitely appropriate for modern and contemporary bathrooms.
The shelving unit is tall and narrow. It holds a lot of items without eating up too much floor space. Meanwhile, the rectangular tray houses coastal themed small containers.
21. Wood and Metal Towel Bar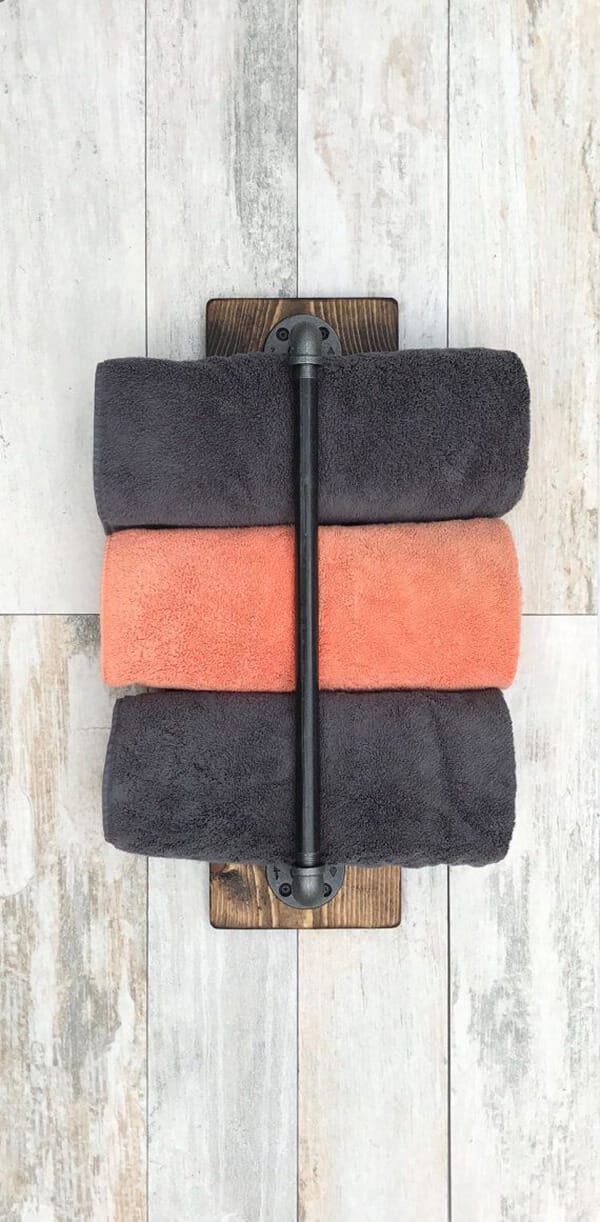 Without a doubt, this vertical towel bar works for apartments and small homes. Even though the unit is tiny, it can hold up to three rolled towels. The piece truly keeps visual clutter at bay.
This towel bar consists of wooden plank and metal plumbing parts. It carries an industrial vibe to the bathroom. Moreover, the unit produces an antique feel.
22. Seaside Bathroom Towel Storage Ideas

This is one of fabulous bathroom towel storage ideas for coastal homes. As you see, the shelving unit features white-painted wire shelves. They accommodate linens, bath products, tissue rolls, and folded towels.
White and blue towels exude a breezy appeal. The storage baskets sit on the bottom shelf for keeping knick-knacks in place. They tie the whole bathroom together too.
23. Bookshelf Inspired Wooden Towel Rack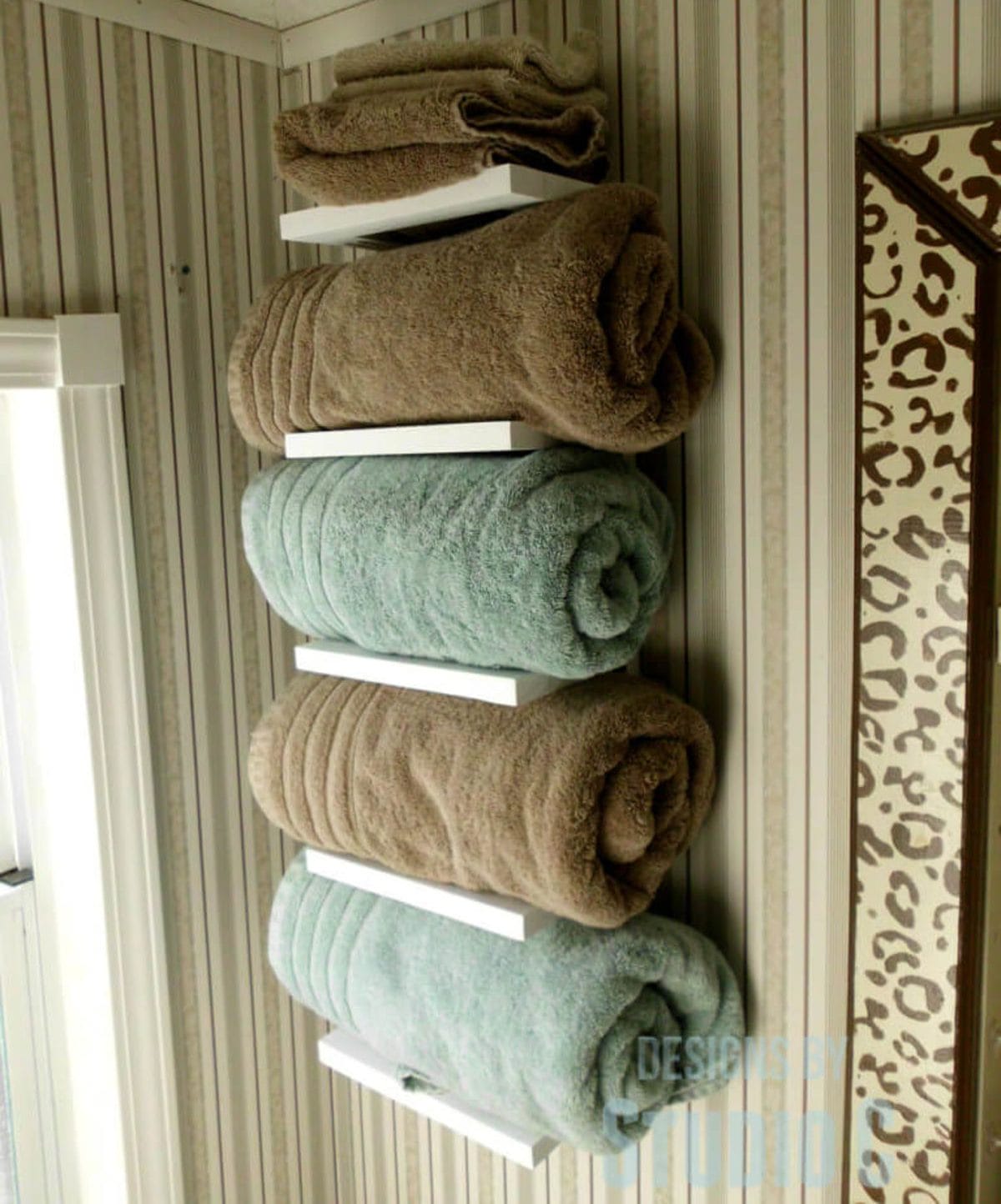 We adore this horizontal bookshelf inspired towel rack. Despite its simple design, it can house both small and bulky towels neatly. Furthermore, you can mount the shelves over the toilet to free up bathroom floor space.
This towel rack employs five white-painted wood shelves. They look great against the patterned wallpapered background. Meanwhile, blue and light brown towels evoke a seaside ambiance quickly.
24. Individual Wooden Crate Shelves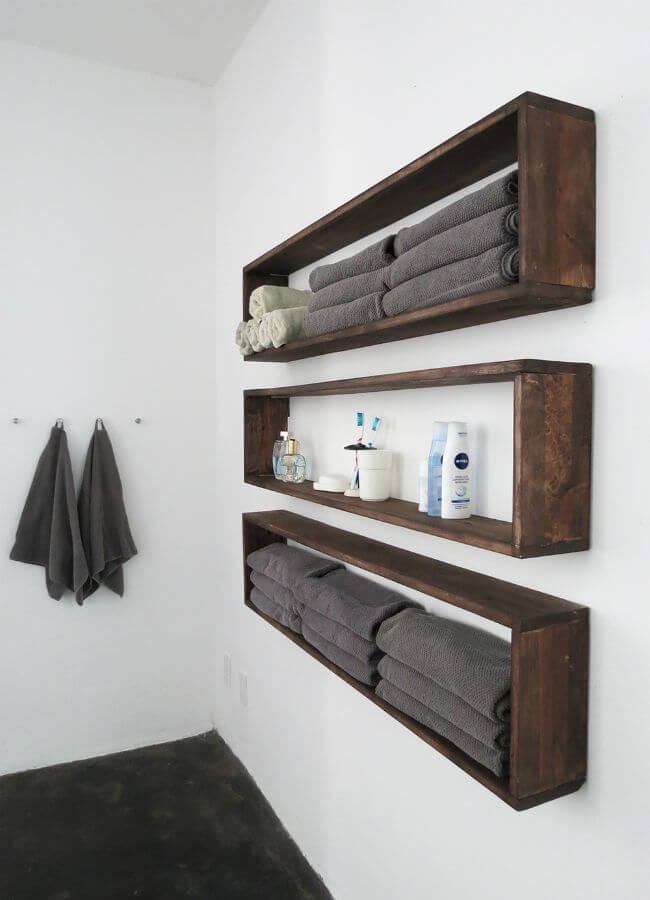 Using wooden crate shelves in your bathroom is definitely an excellent choice. They ooze rustic charm as well as warmth. In this case, the dark-toned pieces and white wall produce an outstanding contrast.
These simple individual units showcase bath products and towels in shades of gray and off white.
The stainless steel towel holders accompany them really well. Meanwhile, the black floor lends the bathroom a masculine feel and drama.
25. Toiletries and Towel Display Rack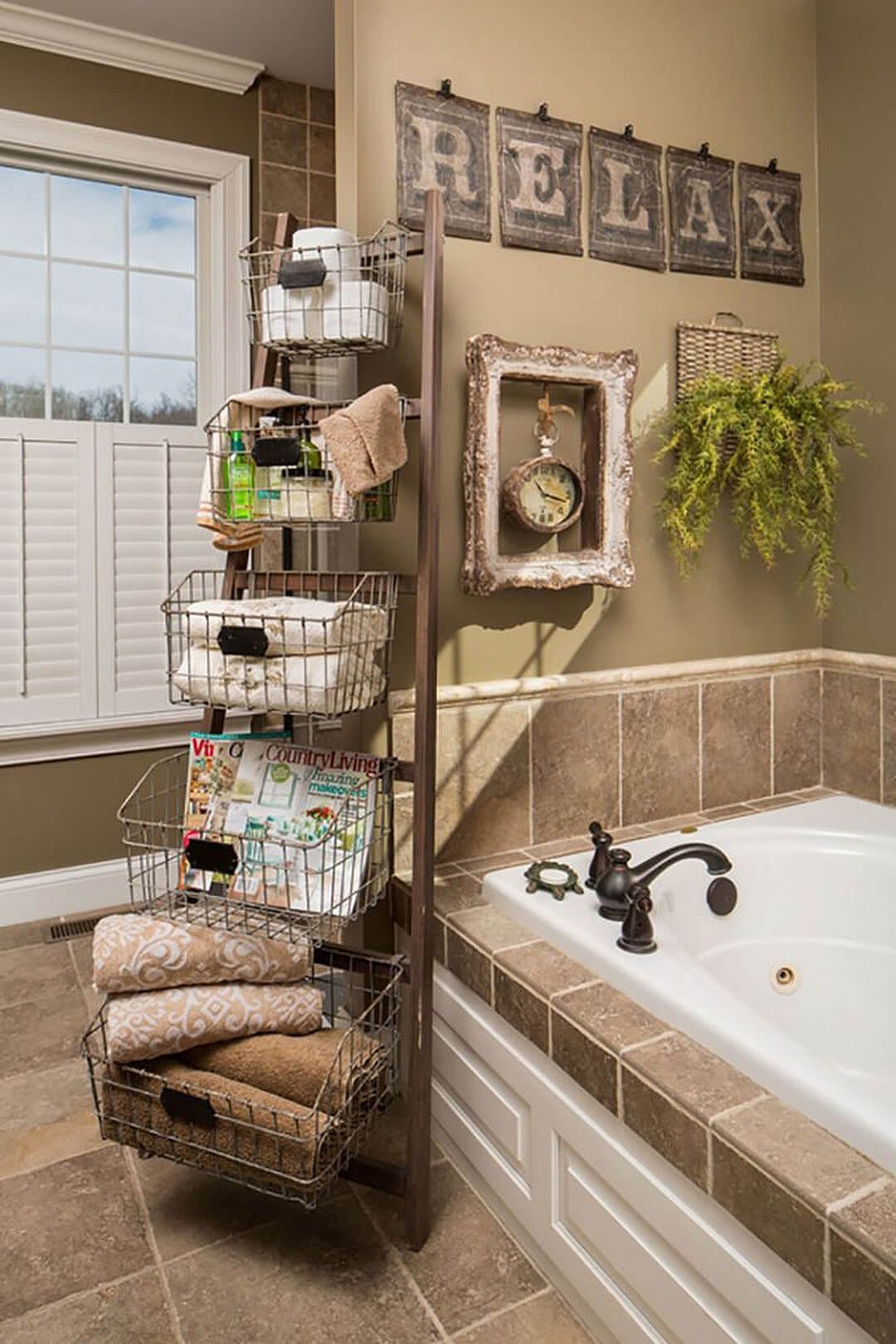 You have weathered metal baskets and an old wooden ladder. Why not upcycle them into a one-of-a-kind rack? It carries personality to your bathroom without consuming too much precious floor space.
Moreover, this rack leans against the brown painted wall. Additionally, it utilizes baskets in different sizes. They hold towels, bath products, magazines, and tissue rolls.
The rustic display rack matches with a wicker plant holder and shabby chic picture frame. Meanwhile, the sign reminds you that the bathroom is a perfect place to relax.
26. Bathroom Towel Storage Ideas with Golden Racks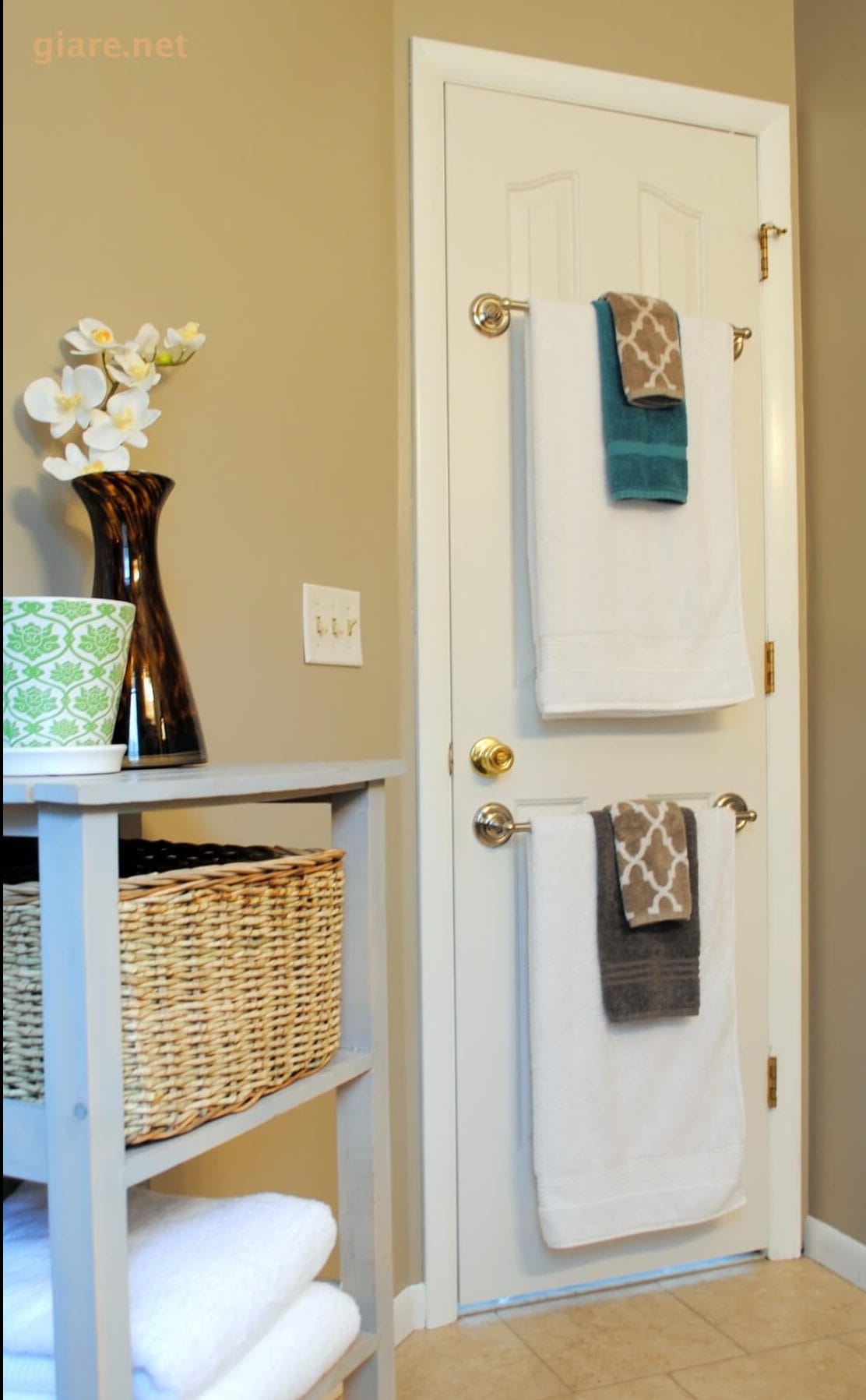 Since your bathroom is small, you should organize it. That way, the bathing space feels welcoming, expansive, and comfortable.
In this example, two metallic towel bars hang perfectly on the door's back. They keep towels off the floor and generate a sumptuous ambiance at once.
The gray painted shelving unit near the door accommodates wicker basket, towels, and decorative items. It ensures that the coastal bathroom is tidy and inviting.
27. Master Bathroom Towel Storage Ideas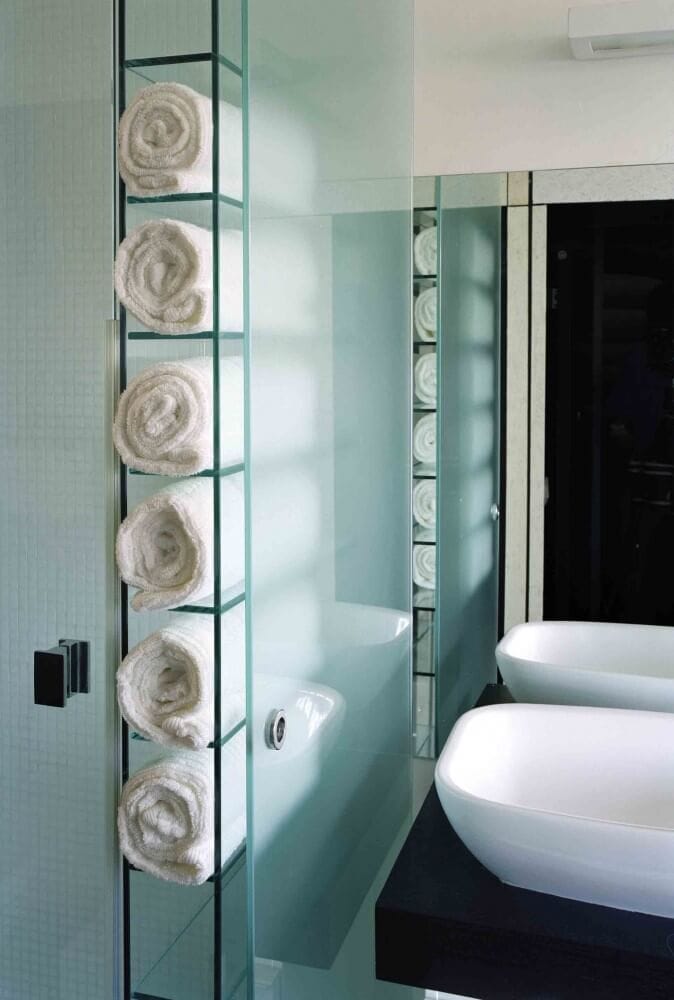 These glass towel bars truly maximize space in your small bathroom. They can hold lots of white towels. Moreover, the items carve an airy feeling.
28. Ladder Shelves Bathroom Towel Storage Space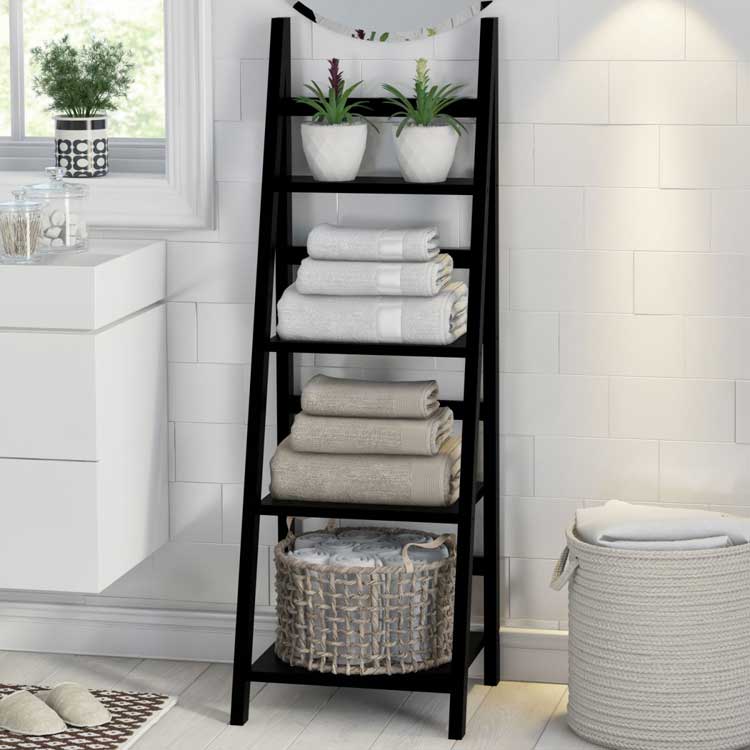 Ladder shelves allow you to store items in a space-efficient fashion, while still maintaining the luxurious feel of an uncluttered bathroom. Ladder shelving is typically designed with two types of shelf widths – one for larger objects like towels and other bulky materials that are best stored on the bottom level where they can be easily accessed; thinner top shelves perfect for storing hand towels or decorative accents such as candles or vases or anything else small enough!
29. Etageres Open Towel and Linen Storage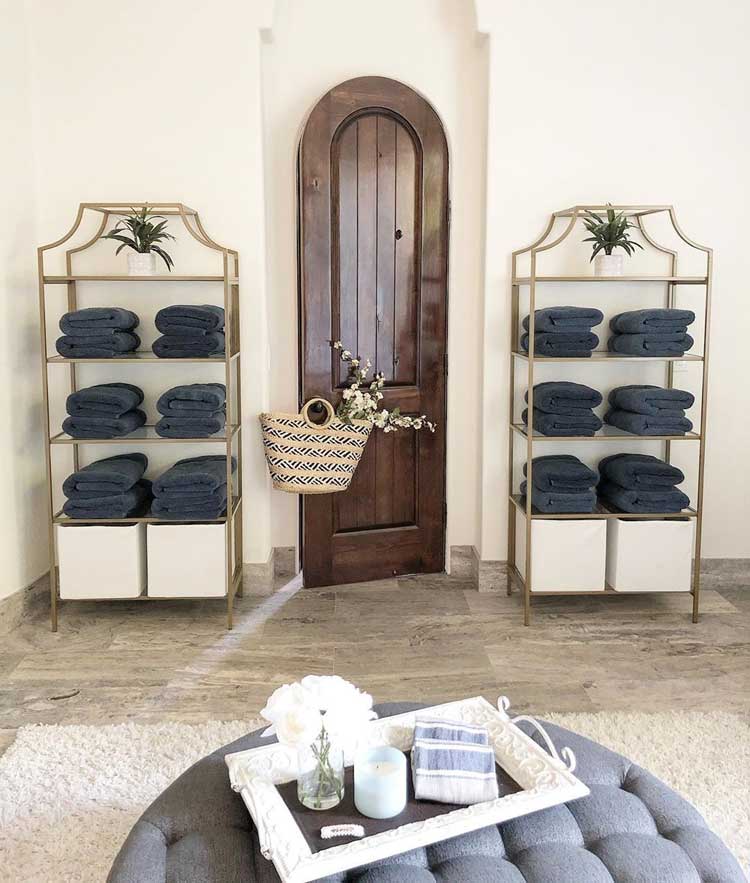 Open shelves are a great way to store towels and extra sheets in the bathroom. Towels can be stored neatly folded on one shelf and fresh linens on another, with plenty of room left for shower shaving gear or other essentials like soap dishes. Another idea is stacking baskets next to each other so that you're able keep everything together without it looking cluttered when viewed from afar.
30. Open Vanity and Shelving Creates Space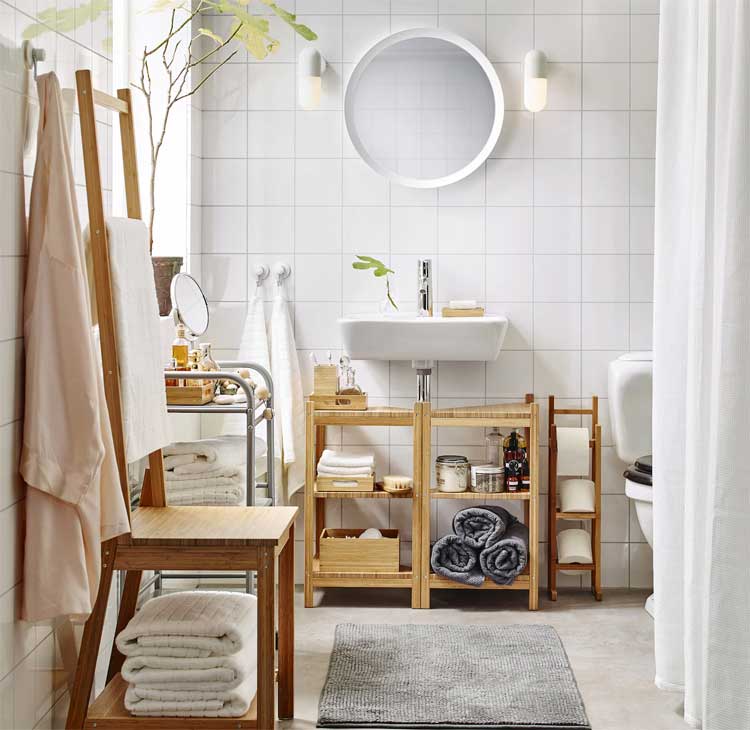 For a room with no storage, the open shelving and ladder shelf give you all of the space that your heart desires. The sink is built right into one wall so there's plenty of floor to work with too.
31. Maximize Space with Corner Shelves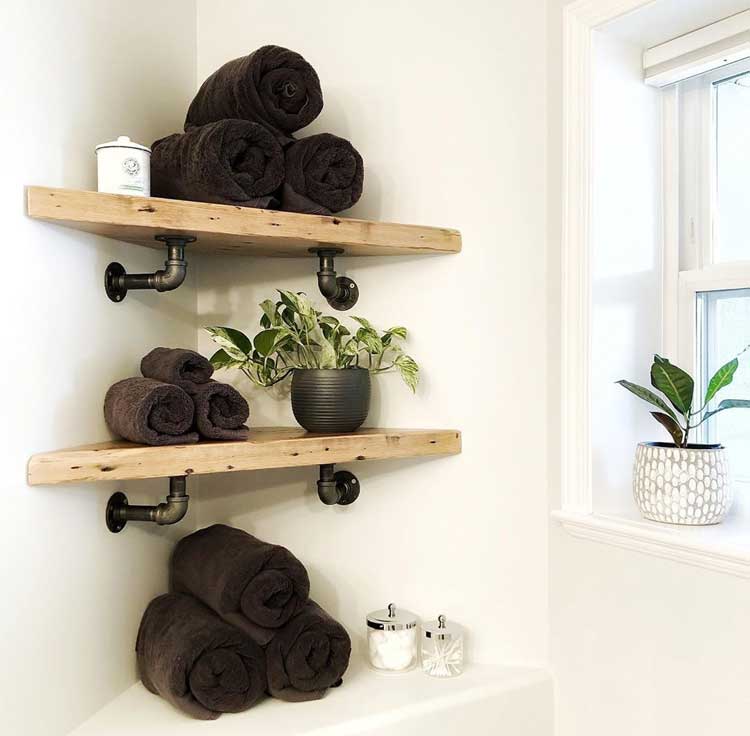 Corners can be some of the most awkward spaces in a room. Corner shelves are one way to add functionality and style for those spots without having to buy an entirely new piece of furniture or wall art. It's amazing how something as simple as reclaimed pipes could make such a bold statement that is so perfect for our bathroom!
***
Furthermore, the towel cubbies emphasize the bathroom's modern design. With them, your bathing space will appear organized and spacious.
The rolled towels bring a touch of spa sophistication to the bathroom. They also develop a clean look and a relaxed atmosphere.
Those bathroom towel storage ideas are really worth trying. It's time to turn yours into a personal sanctuary. Whether you choose tiered baskets or hanging displays, be sure they suit the bathing space well.