If you plan on doing a home makeover, have a gander at our industrial rustic decor ideas. They help create a more trendy upstate look.
The style itself boasts exposed piping, cracked paint, rustic wood, earthy finishes, and brick walls.
With simple planning, you can create a nice visual balance of wrought iron doors and wooden furniture units in the home.
Some people find industrial style cold. Include rustic farmhouse pieces in your decor for cozy and homey vibes.
When combining industrial decor and rustic farmhouse design, you should incorporate items like reclaimed wood, metals, and leather. These pieces will maintain their overall aesthetics.
Moreover, you could try several DIY projects to achieve an industrial look while keeping things stylish and liveable.
We also suggest adding statement pieces like brass hardware, metal light fixtures, and vintage accessories into the decor.
Let's browse through these industrial rustic decor projects. They will certainly give your home personality and style.
1. Industrial Rustic Decorations with Metal Wall Sconces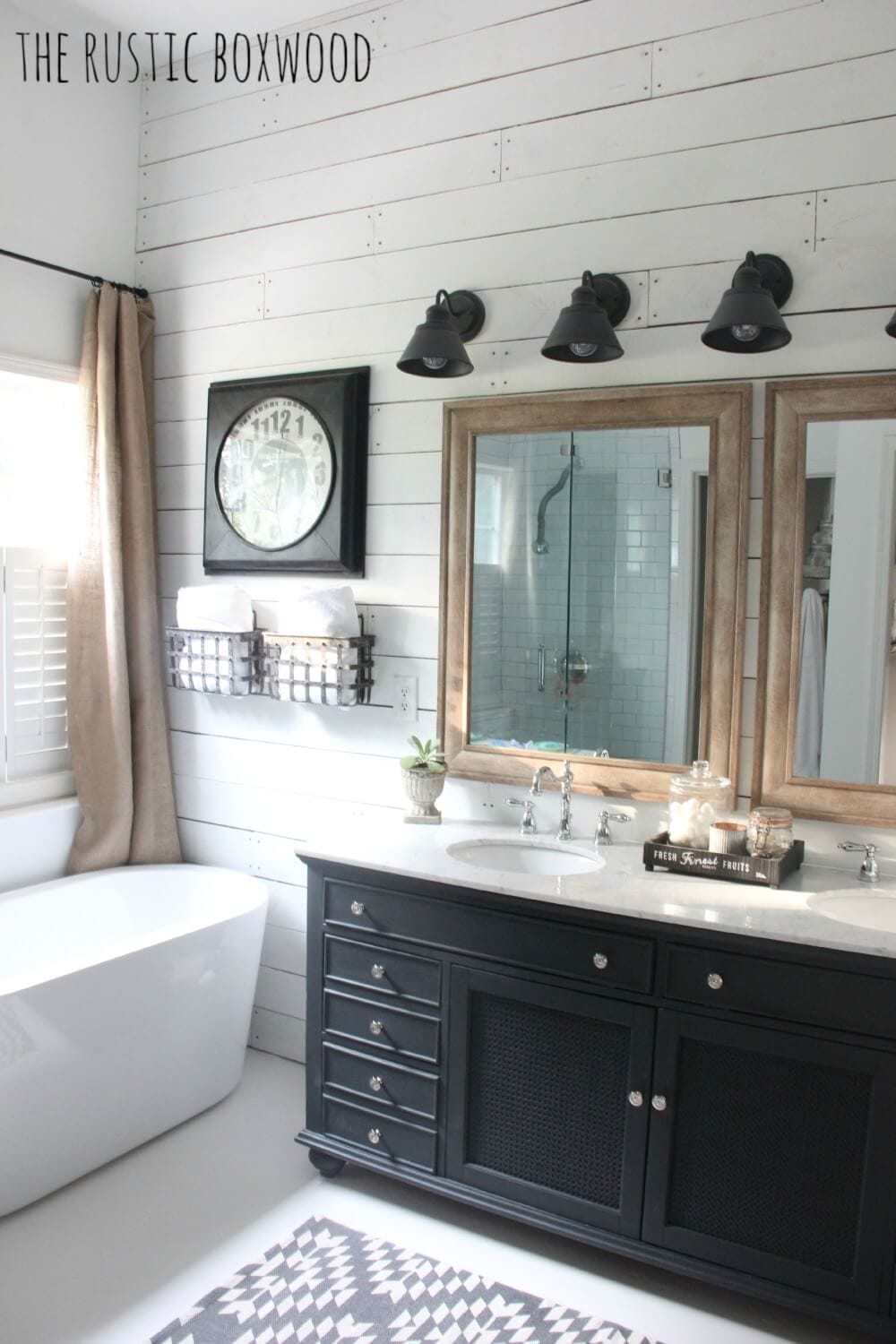 These black vintage sconces delightfully complement this bathroom. Furthermore, the shape and metal framework of the light fixtures exude a farmhouse vibe. However, they still produce an unrefined, utilitarian look.
Moreover, the vanity lights make the bathroom more charming. You could recreate the look easily by recycling your old wrought iron light fixtures.
2. Industrial Rustic Decor Ideas with Pipe Candle Holders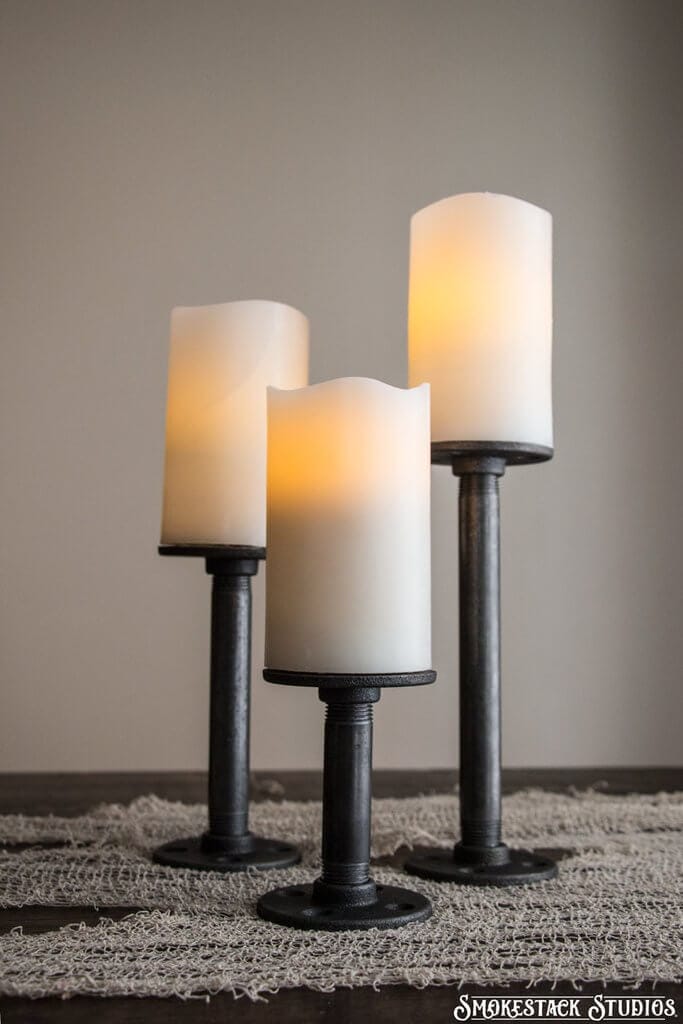 Here, the metal pillar candle holders lend the home decor a trendy as well as a unique accent. In addition, they sport industrial chic pipe detailing and a simple silhouette.
The pipe candle holders would be ideal for flameless candles. They also look great on a fireplace mantel, side table, or tabletop as decorative pieces.
These will bring visual dimension to any space because of their different heights.
3. Rustic Industrial Farmhouse Decor with Wooden Crate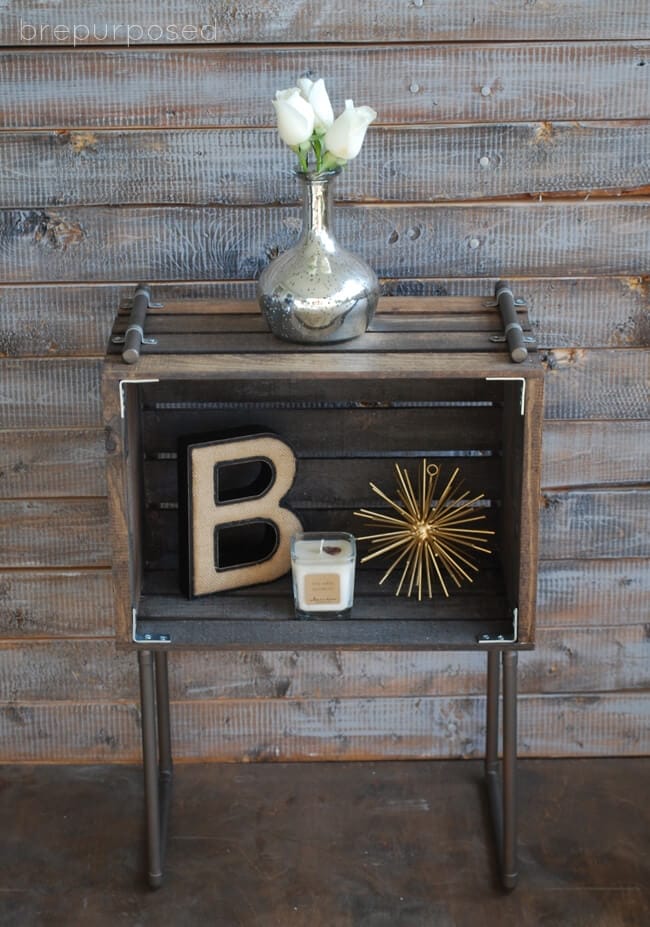 You can find wooden crates pretty easily. Working with them is really fun as well. We recommend transforming the crate into a furniture unit.
In this case, the homeowner converted her wooden crate into a little end table. It has a matte wood finish and provides s. The piece features pipe detailing for the tabletop accent as well as legs.
4. DIY Jewelry Display Ideas with Piping and Wood
Searching for fabulous industrial rustic decor ideas? If so, try making this jewelry display yourself using metal pipes and wood. It adds a rustic glamorous touch between the piping and luxurious jewelry.
The jewelry stand is so striking. Furthermore, the small salvaged wood piece in a beautiful Danish oil finish offers a sleek design. This is certainly a cool way to showcase your precious jewelry.
5. Industrial Rustic Decor Ideas for Bedroom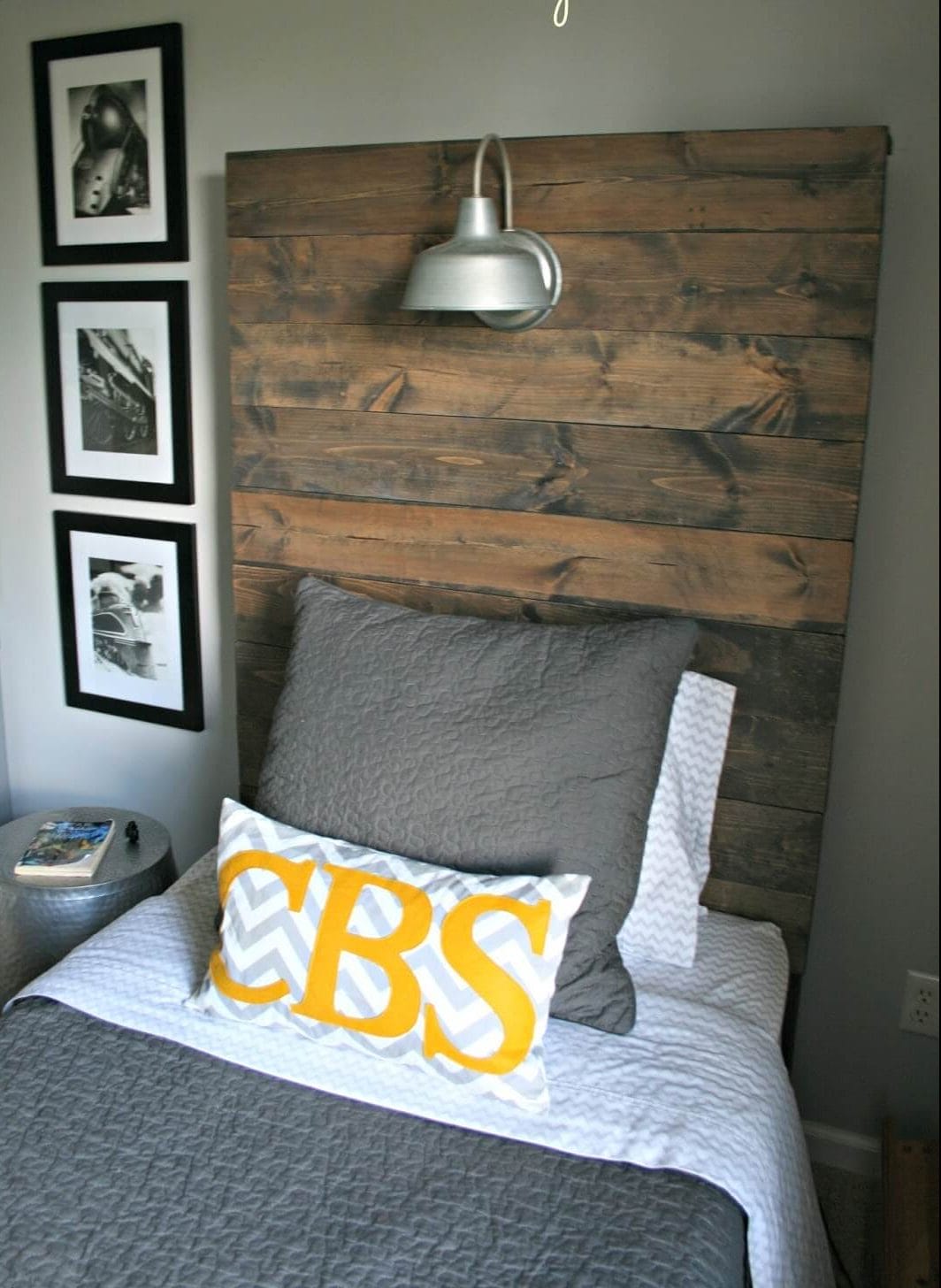 Speaking of industrial rustic decor for bedroom, give this wooden headboard project a go. It will surely keep you busy this weekend.
From modern tufted headboards to rustic distressed ones, crafting your headboard is a great choice. It helps you save some cash, too.
This headboard employs a metallic light fixture. It completely transforms the bedroom. The unit also offers a focal point and brings out the wood's natural beauty.
6. Industrial Rustic Decor Ideas with Wooden Ladder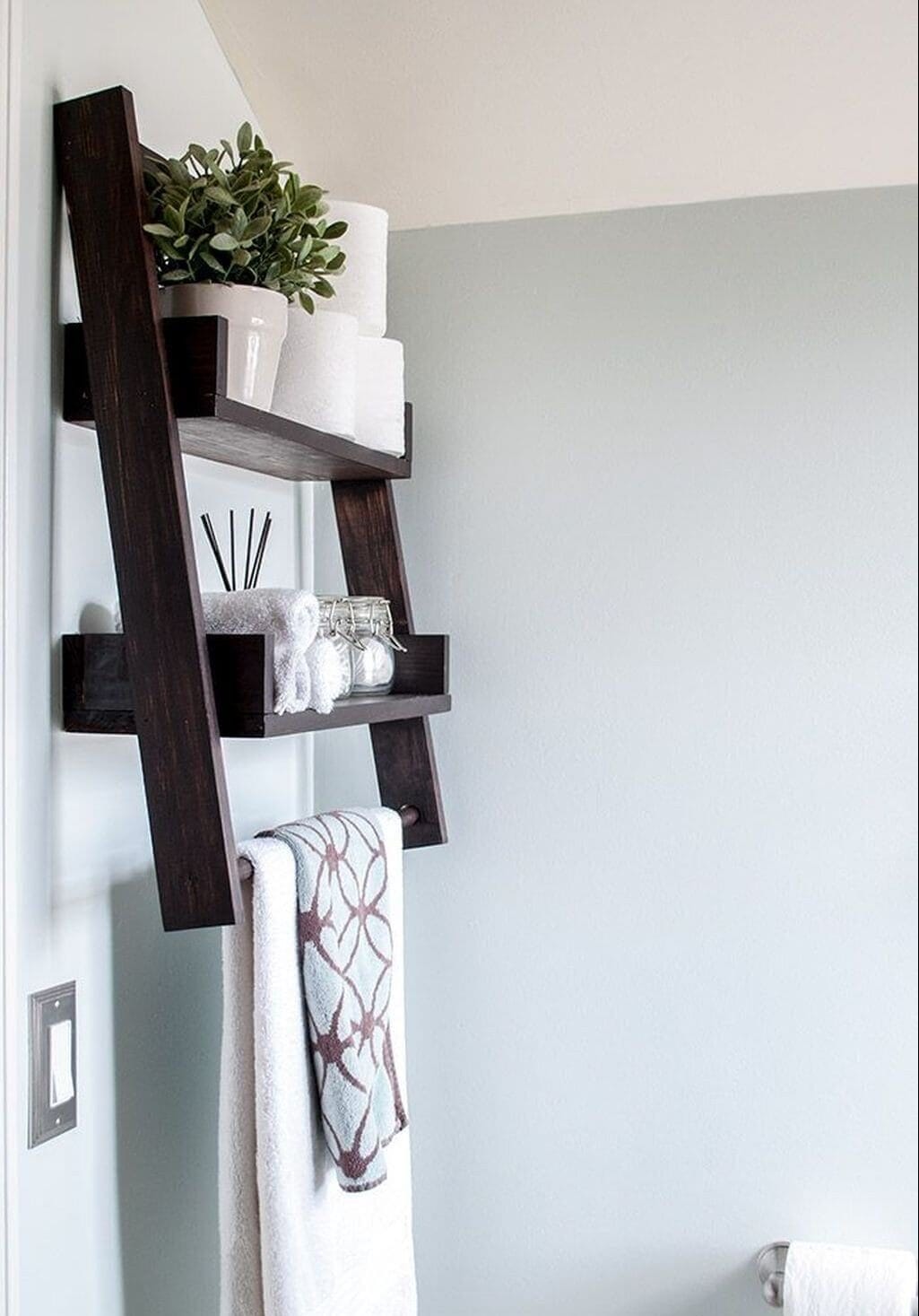 This wooden shelving delivers a rustic feel and country appeal to space. You can integrate it into any room in the house while keeping things simple.
Moreover, this wood floating ladder shelf can accommodate towels, flowers, glass canisters, and even books. With these open shelves, the styling options are limitless.
7. Rustic Industrial Wall Decor Ideas
When it comes to adorning your home, we suggest personalizing the living space. The galvanized metal sign shows that you're a family-oriented person. Meanwhile, the wall clock is an attention-grabbing decor piece.
Contemporary ranch home typically has raw elements. These wall decorations are a wonderful complement to it for certain. They are practical as well.
8. Industrial Rustic Decor Ideas with Monogram
It is quite interesting how a touch of paint can completely change the item's look. Moreover, this project is both budget-friendly and very easy.
Here, this wooden monogram evokes a rustic vibe in an instant. The copper paint makes the unit look like metal. Additionally, the drip blue painting pops against the metallic background and produces a bold statement.
9. Brilliant Firewood Holder using Plumbing Pipes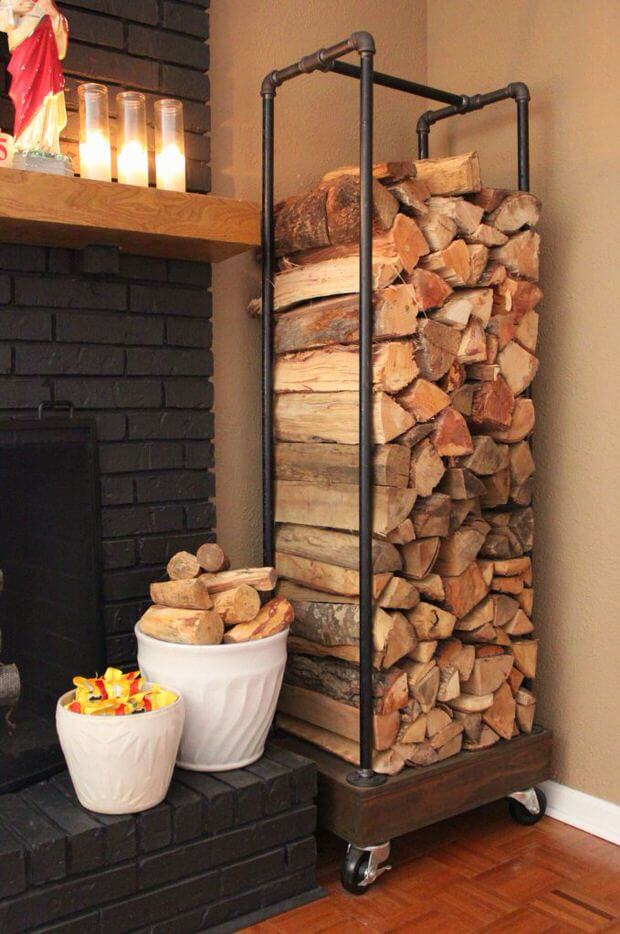 This is undoubtedly one of the most inventive industrial rustic decor ideas. The homeowner recycled his plumbing pipes into a firewood holder.
You can pick scrap lumber or reclaimed wood for the log holder. Either way, it is an incredible addition to any room.
We recommend adding wheels to the fireplace holder's base. That way, you can move it to the front door for quick and easy loading.
10. Industrial Rustic Decor Ideas with Chicken Wire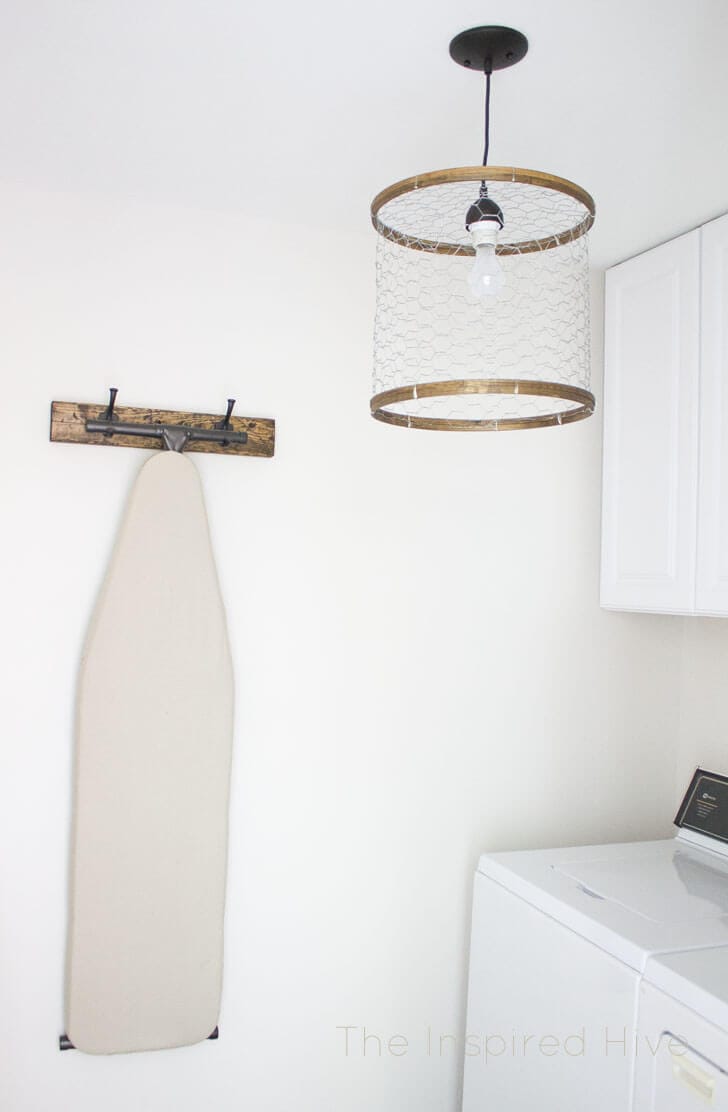 Your current hanging light fixture looks plain. Fear not, just spruce it up by applying this easy and affordable project. You can convert yours into a marvelous work of art using only a few supplies.
This chicken wire pendant lamp infuses a unique touch into your space. Moreover, it combines both metal and wood. Those two materials generate a farmhouse vintage feel quickly.
11. Rustic Wooden Sign with Metal Bike Baskets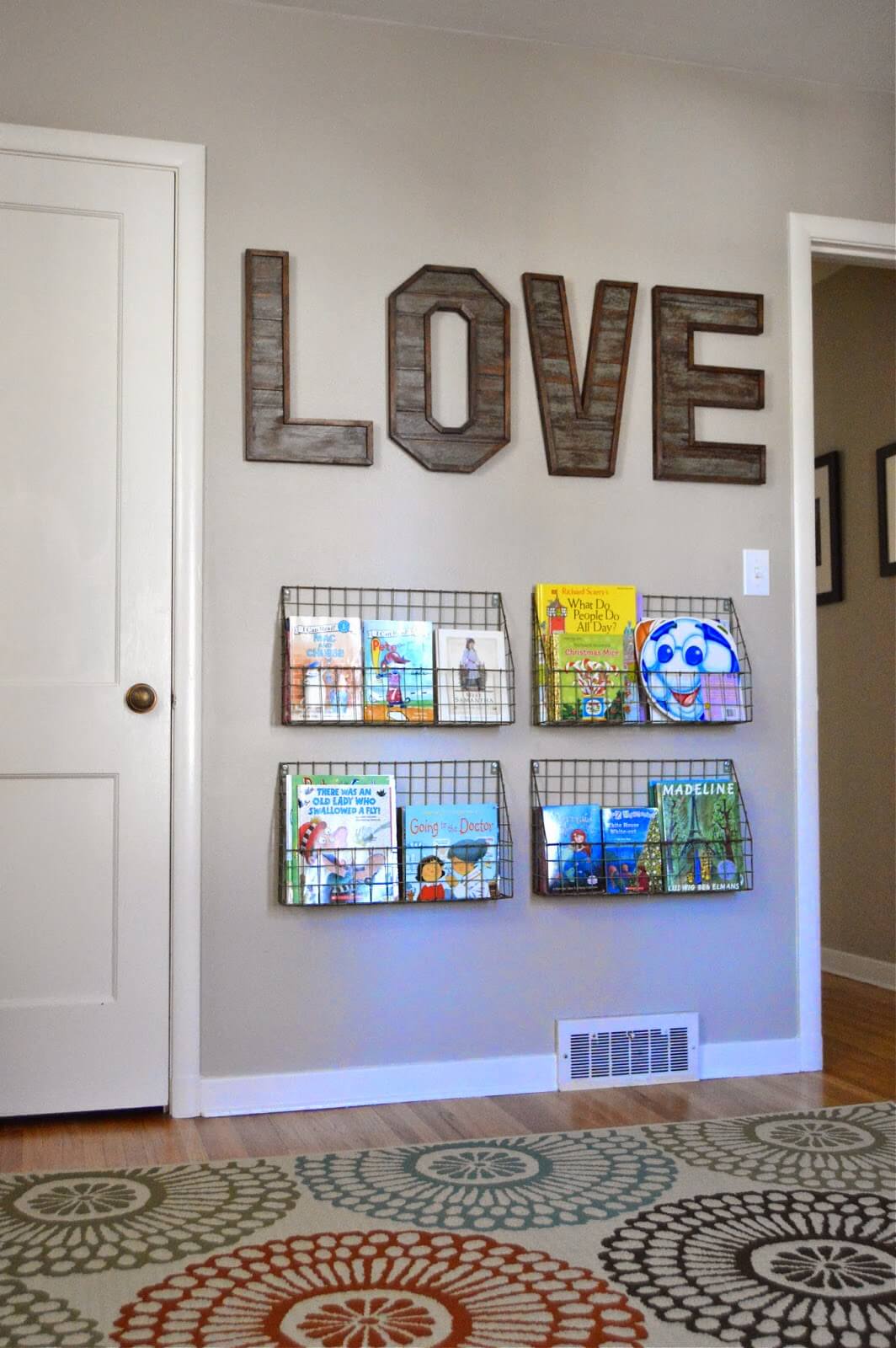 Do you have a blank wall in the home? If so, this is one of the terrific industrial rustic decor ideas to try.
Here, the wooden love letters are not only stunning but also speaks volume. Additionally, the project utilizes old wood pieces.
Moreover, you could distress the wooden pieces and refinish them. Another option is leaving the wood raw. This modern country style concept helps emphasize your space. The old bike baskets hold children's books.
12. Wood Laundry Sign As Rustic Decor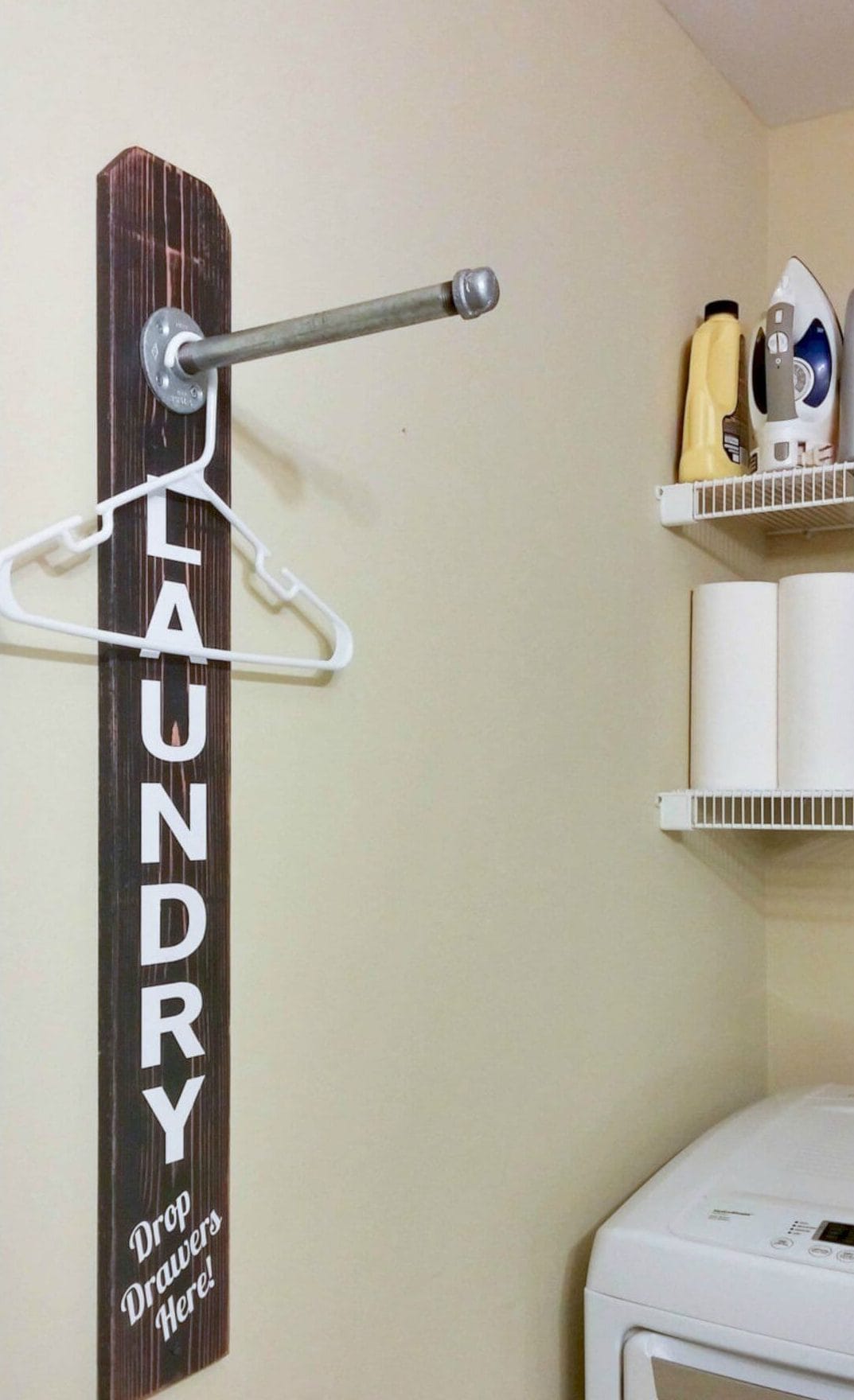 Talking about decorating a laundry room, try applying this idea. The wooden sign gives the space both function and style, so it's surely a complete win.
The sign says "drop drawers here". Furthermore, the black distressed wood finish contrasts amazingly with the white lettering. Meanwhile, the metal pipe arm handles clothes hangers.
Moreover, this wooden sign would be an excellent project for your entryway, too. It enables your visitors to hang their jackets or coats as they step inside.
13. Custom-Made and Multifunctional Shelf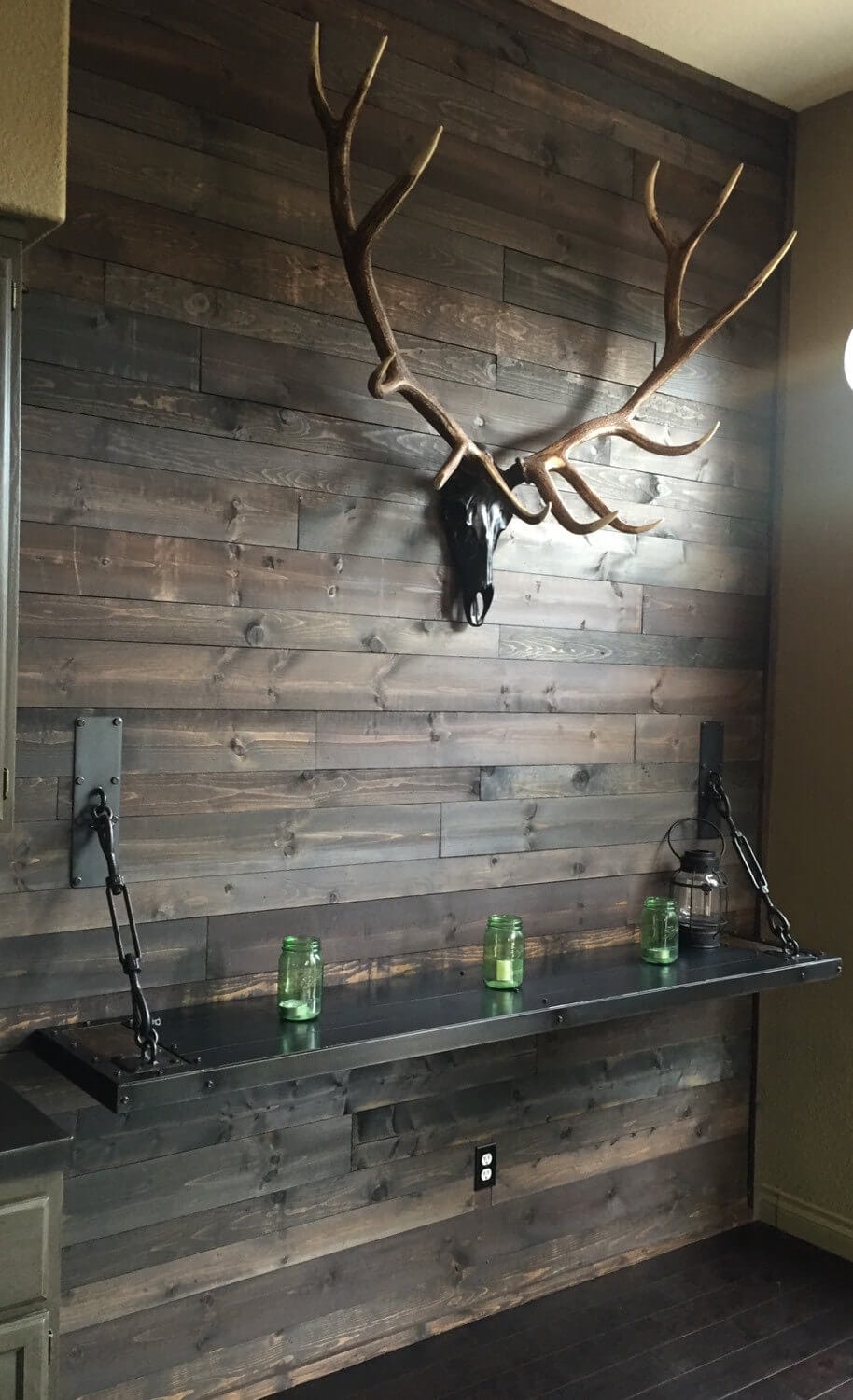 Looking for cool industrial rustic decor ideas? If yes, you should build this Pendleton shelf yourself. It looks so unique. The chain, black metal detailing, and steel top hold the unit together.
You can use this shelf in various ways. It works as a mantel, desk, and dining table as well. Moreover, the item lends the room a sleek touch and modern vibe.
The Pendleton shelf lets you enjoy its ornate beauty. Furthermore, it carries a vintage industrial appeal to your space.
14. Wall Light Using Industrial Pipes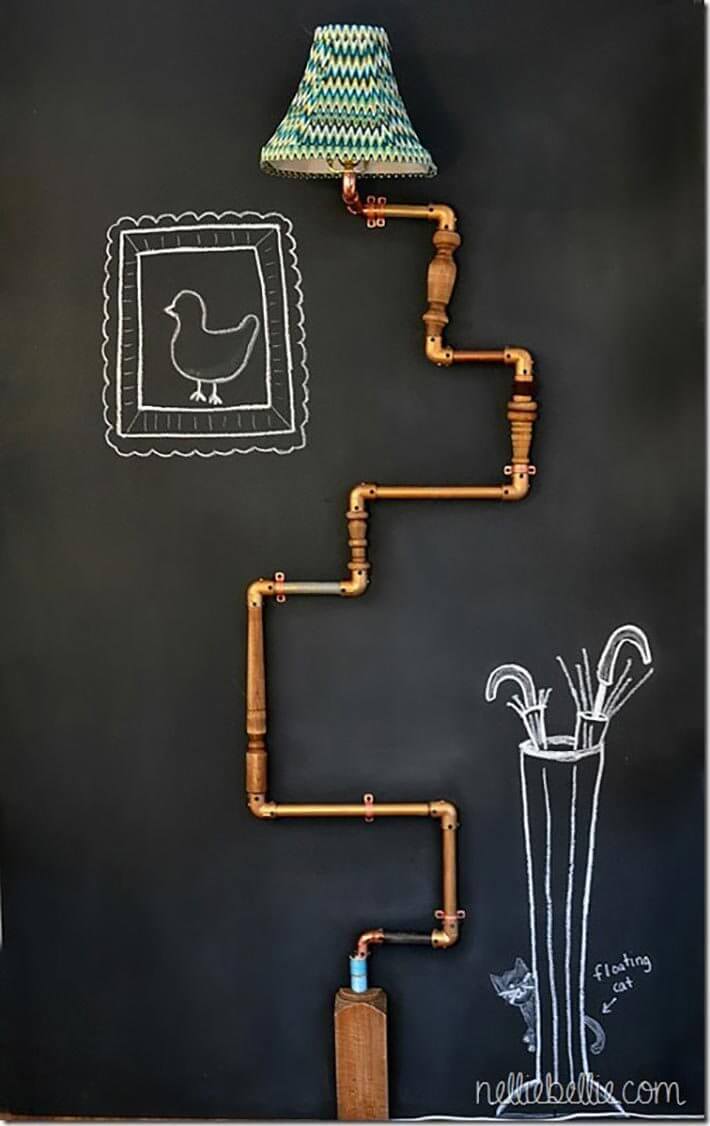 This is one of the magnificent industrial rustic decor ideas. The handmade pipe lamp has amazing details. It quickly lends the bedroom an urban feel.
Moreover, this is such an ingenious way to recycle the old things you already own for serving new functions. The decorating style also still maintains rustic fundamentals.
Furthermore, this light fixture boasts an attractive small lampshade and different pipe sizes. It gives so much texture and personality to the wall, too.
15. Ombre Metal and Wood Sign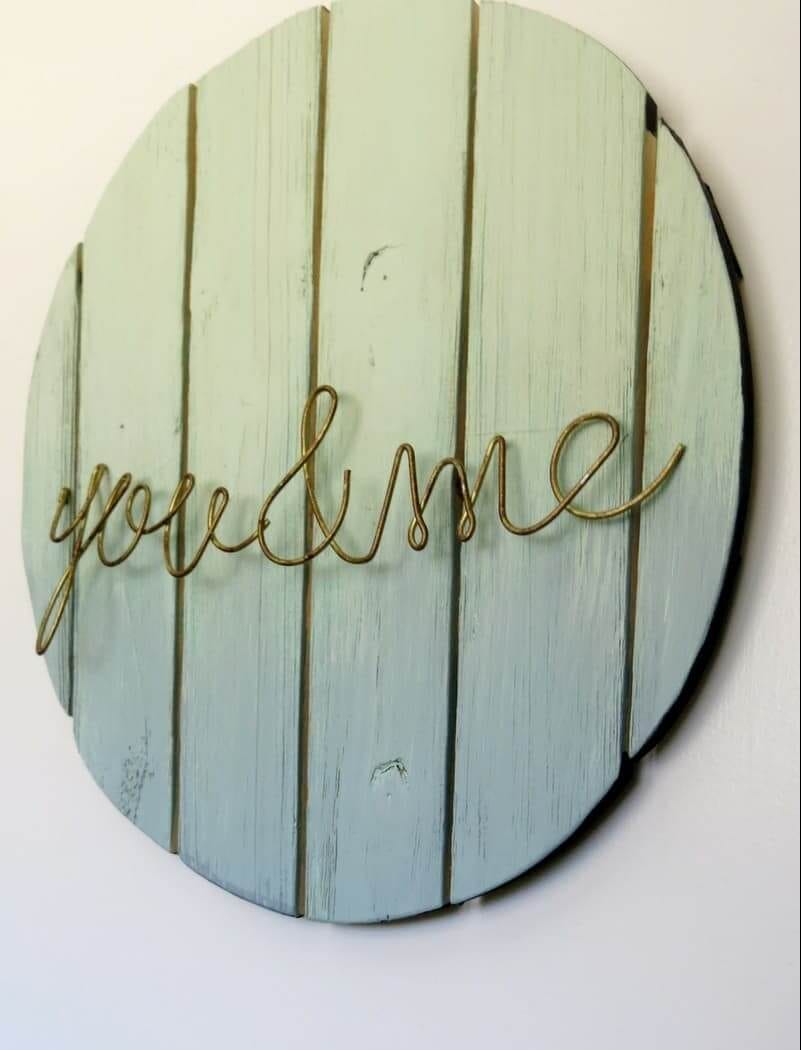 The ombre trend actually appeared in the 2000s. However, it is still popular these days. That's why you should give this idea a go.
This ombre wooden wall sign creates a major statement. Just take a look at those wire words. They are so lovely.
Moreover, this signage allows for personalization. This ensures that it suits your personality and decorating style. You could use other phrases or words for visual interest.
16. Industrial Rustic Decor Ideas for Bathroom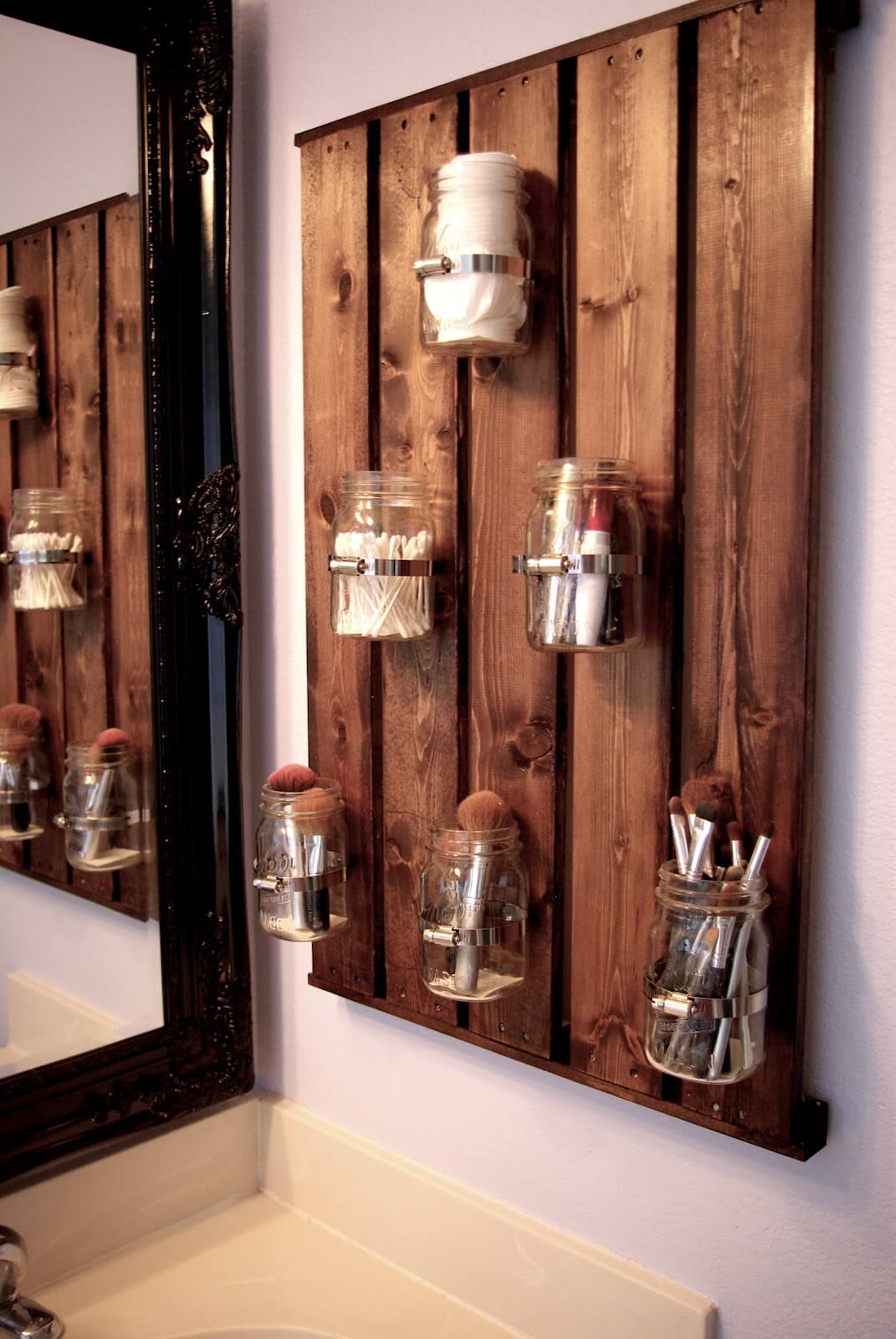 Upcycle the items you have in your home into something functional. In this case, the industrial pipe fittings hold up the glass mason jars. They offer a practical storage solution in the bathroom.
Here, the mason jars house personal hygiene products, lipsticks, and makeup brushes. This storage system keeps your daily items within arm's reach. It also declutters the bathroom countertop.
17. Industrial Rustic Decor Ideas with Photo Frames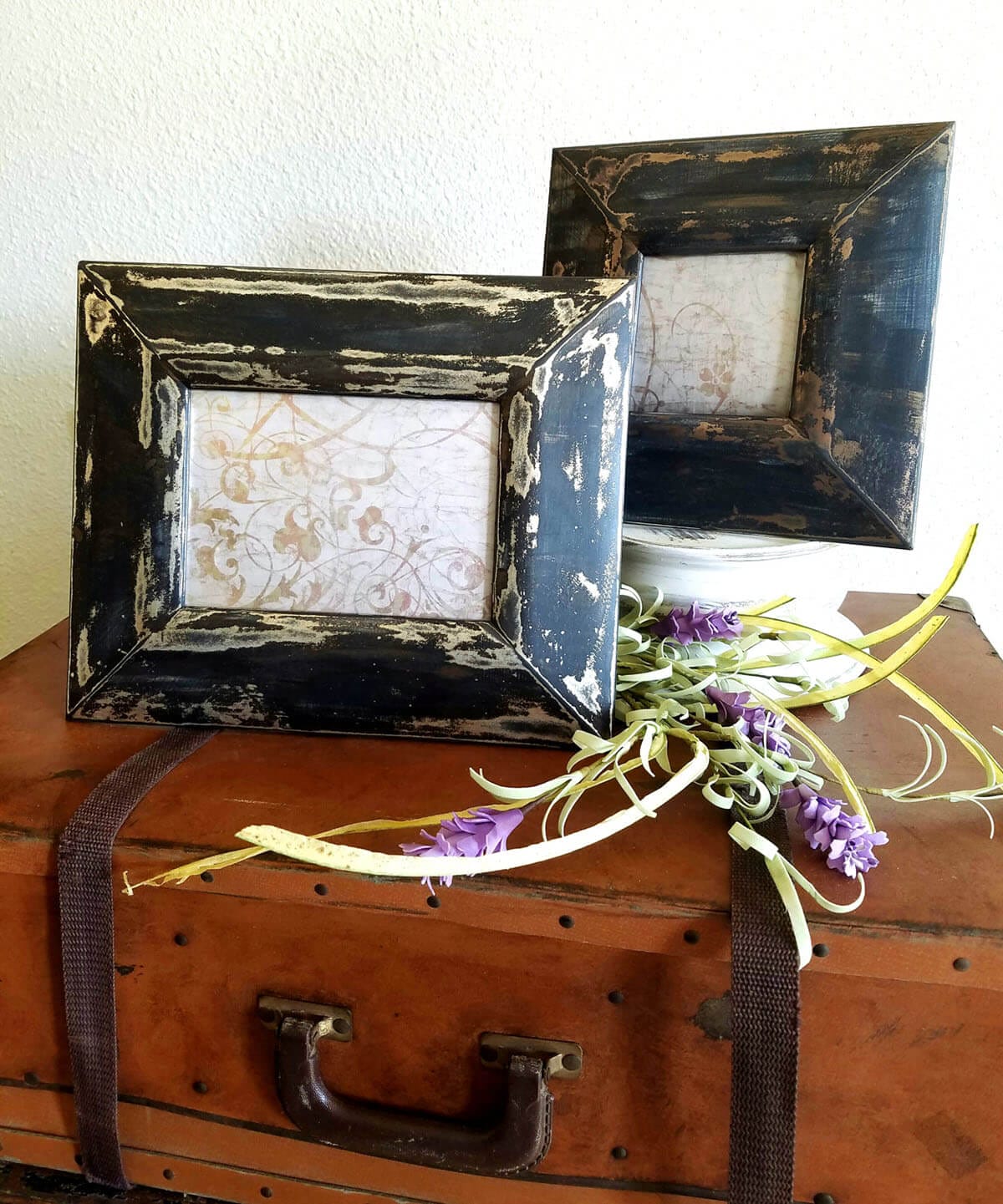 Talking about industrial rustic decor ideas, we suggest bringing the old picture frames back to life. Paint them black with your hand. They inject personalization and style into the interior.
There are various frame styles to select from. However, these chunky distressed picture frames carve a rustic masculine vibe. They fit the current trend really well.
Moreover, the metal undertones and chipped paint will nicely compliment the interior. They also generate a rustic charm.
18. Live Edge Dining Table with Steel Base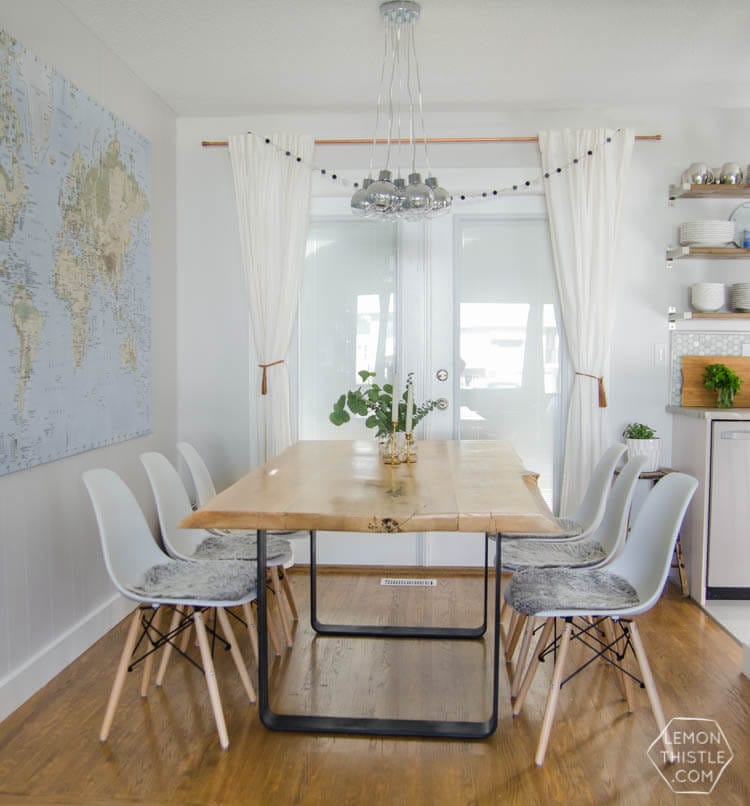 This is one of the fantastic industrial rustic decor ideas. The striking dining table combines the two best materials.
As you see, the live edge tabletop matches perfectly with the black metal legs. They tastefully complement one another.
Furthermore, this table adds raw farmhouse elements to the dining room in a flash. The live edge tabletop's imperfections lend the area visual interest and character.
19. Shoe Rack Using Wood and Industrial Piping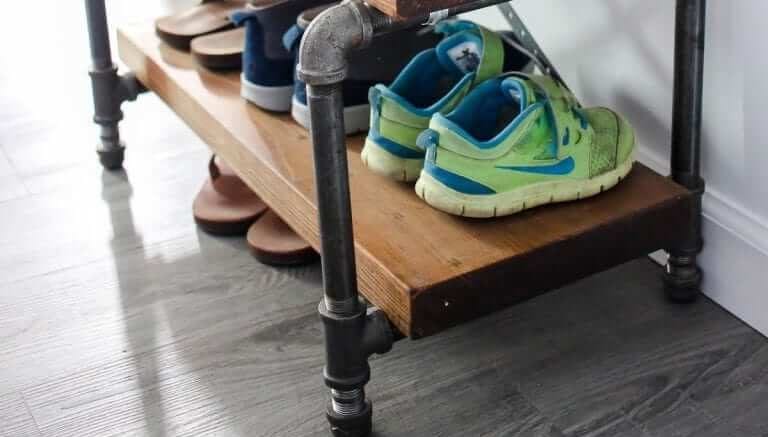 If you don't have any shoe closets, this is one of the industrial rustic decor ideas to steal. The wrought iron and wood rack provide an excellent storage solution. It also stylishly displays your shoes.
The simple shoe rack employs black metal piping and wooden boards. It keeps your shoes in place while complementing the home decor. Another option is using the reclaimed wood piece for a more rustic appearance.
20. Industrial Rustic Decor Ideas with Wooden Mirror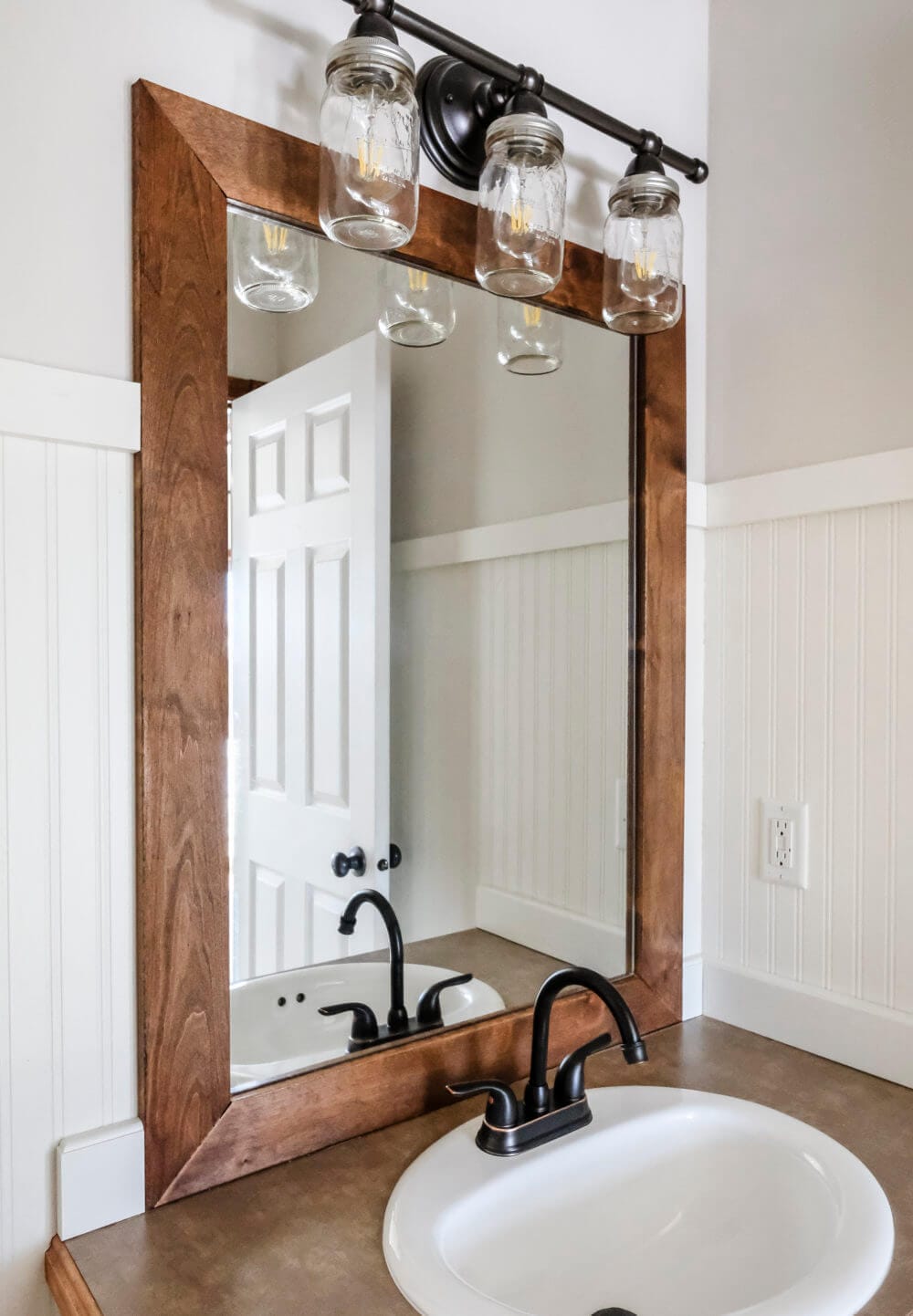 Have a small budget? If yes, give this DIY project a shot.
Moreover, the handmade wooden-framed mirrors work great in modern farmhouses or loft-style homes. With only a few wooden pieces, you can update the bathroom vanity.
Furthermore, the styling opportunities are limitless. You can either keep the design simple with a polished wooden frame or make the free-edge one.
21. Wood and Metal Blanket Ladder
When thinking of modern industrial rustic decor ideas, consider building blanket ladders. They are such a creative way to display your blankets. Additionally, the units lend the space a cozy ambiance.
These wooden ladders are easy to build. You can use them in various ways, too. Furthermore, they inject an urban feel and character into the bedroom.
This one boasts galvanized end caps as well as pipes for a rustic, cohesive look.
22. Wood Floating Nightstand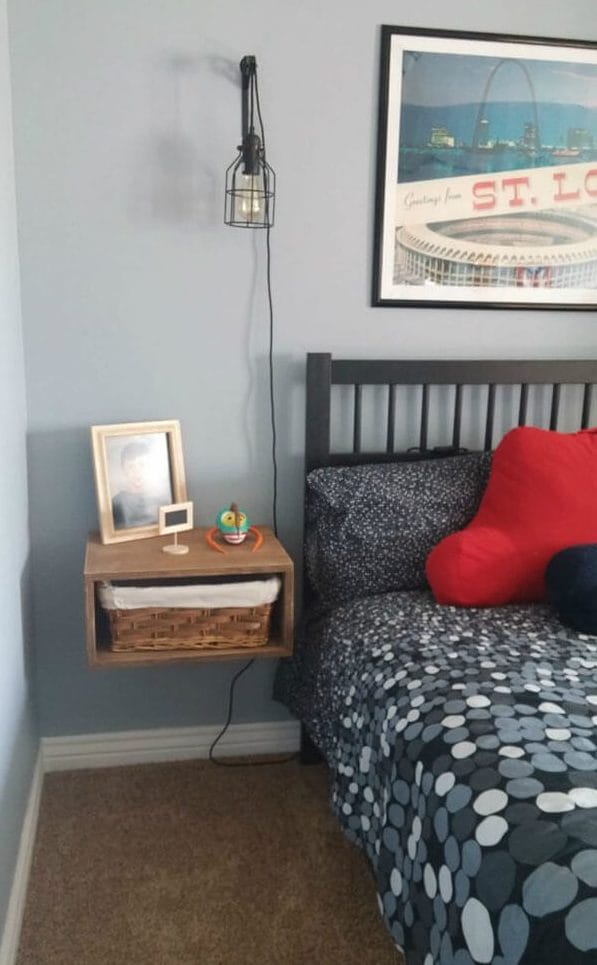 Floating nightstands are such minimalistic furniture to incorporate into any space of the home. They are not only inexpensive but also allow for easy installation. You could use them in different ways, too.
This wooden floating nightstand makes your small bedroom feel like a neat palace. It can hold vases, candles, or framed pictures. The item carries an artistic flair to your space as well.
23. DIY Wall Sconce Using Mason Jar
DIY projects with mason jars have been popular over the years. They are a simple way of adding decor to the living space. You can use them for candle holders or storage.
Another great choice is using mason jars for lighting. You could paint and display them on seasonal occasions.
This project is easy with just a few steps. However, it can transform an old sconce into a cool rustic light fixture.
24. Industrial Rustic Decor Ideas with Edison Bulbs and Ladder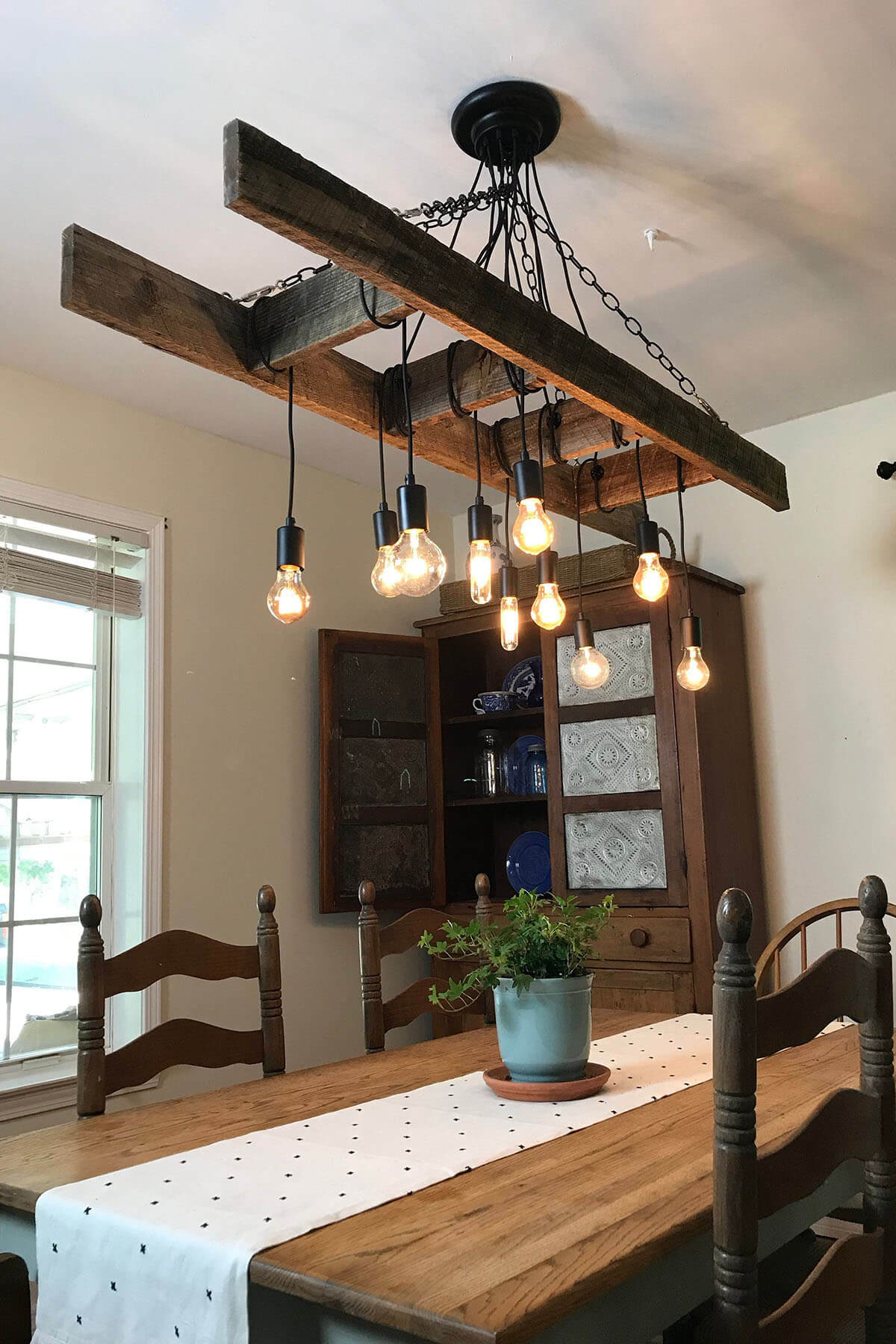 This vintage farmhouse style ladder chandelier sits magnificently overhead. It features Edison bulbs and exposed electrical wires.
Furthermore, this rustic chandelier provides an outstanding view. You can enjoy it while having a chit-chat with your family and cozying up to the dining table.
We also love how this ladder chandelier can decorate your space each season. You could add string lights or horizontal wreath to the unit during the holidays.
25. Industrial Rustic Decor Ideas with Old Glass Bottle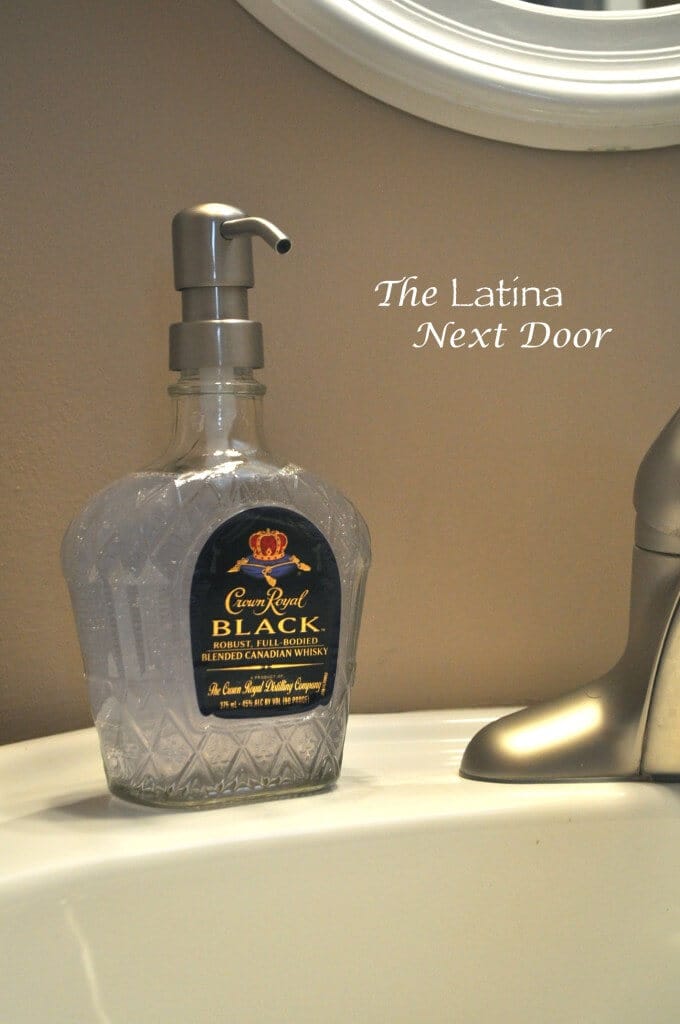 Do you have a limited bathing space? If so, integrate statement items that effortlessly stand out. This recycled soap dispenser would be a lovely bathroom accessory. Moreover, the diamond pattern lends it a classy feel.
Upcycling your glass bottle into something functional is a brilliant option. This repurposed soap dispenser features an industrial-style pump top. It is surely a fun and incredible way to personalize your tiny bathroom.
We really hope our list comes in handy. With these industrial rustic decor ideas, you can create a home that is inviting and full of style. Moreover, they provide the best of both worlds. Happy decorating!