It is no surprise that a lot of people love rustic design. This style gives any home inimitable warmth and timeless charm. All family members feel welcome when they gather in the rustic living room.
If rustic interior design is right up your alley, you are in the right place. I've collected some of the exceptional ideas to help you design your rustic sanctuary. Without further ado, let's dive into these!
1. Rustic Living Room Furniture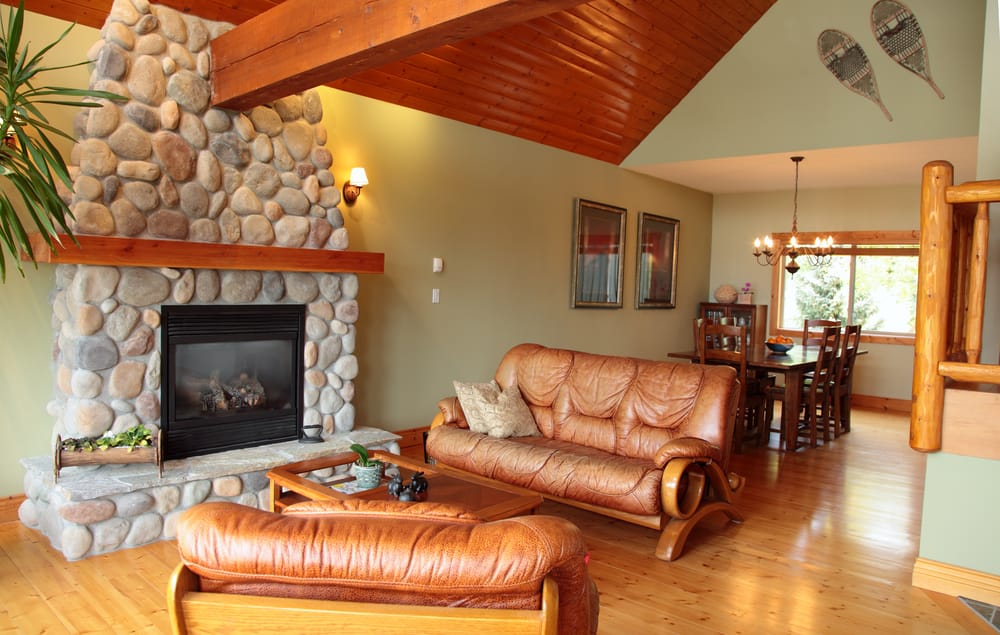 This living room is such a welcoming family gathering spot. Neutral tones keep the entire area homey. Brown leather sofa and armchair are not just high-quality furniture units, but also offer a rustic character.
The wooden coffee table exhibits nature's beauty. River rock fireplace adds visual interest to space.
2. Transitional Rustic Living Room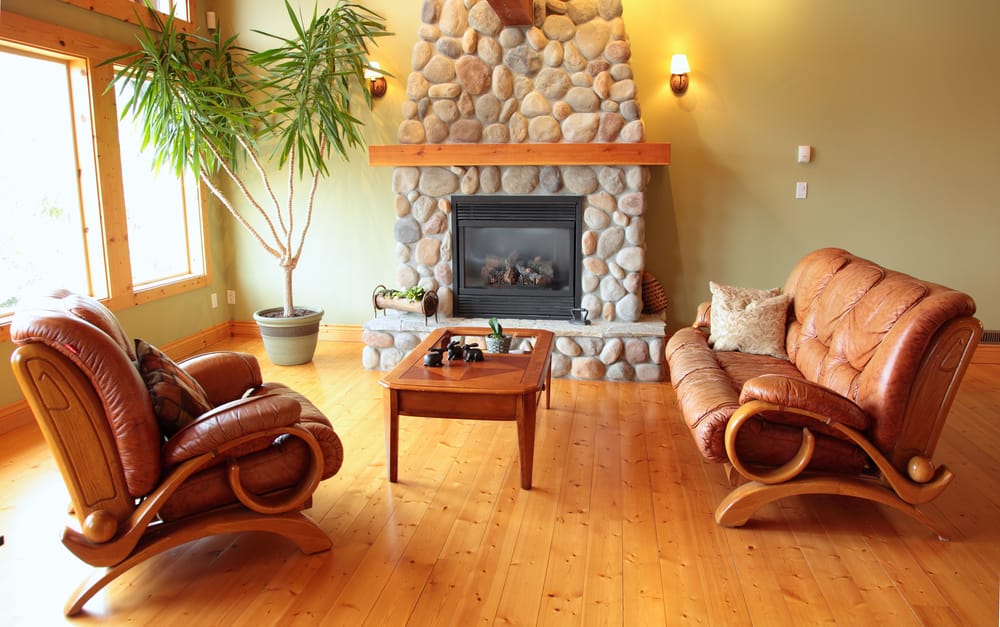 As shown in the picture, this sitting area embraces comfort and modernism at the same time. Those two things lead to a transitional design.
Wooden floor, river rock fireplace, and leather furniture lend the area rich textures. Tall potted houseplant fills a dead corner.
3. Large Rustic Wall Decor for Living Room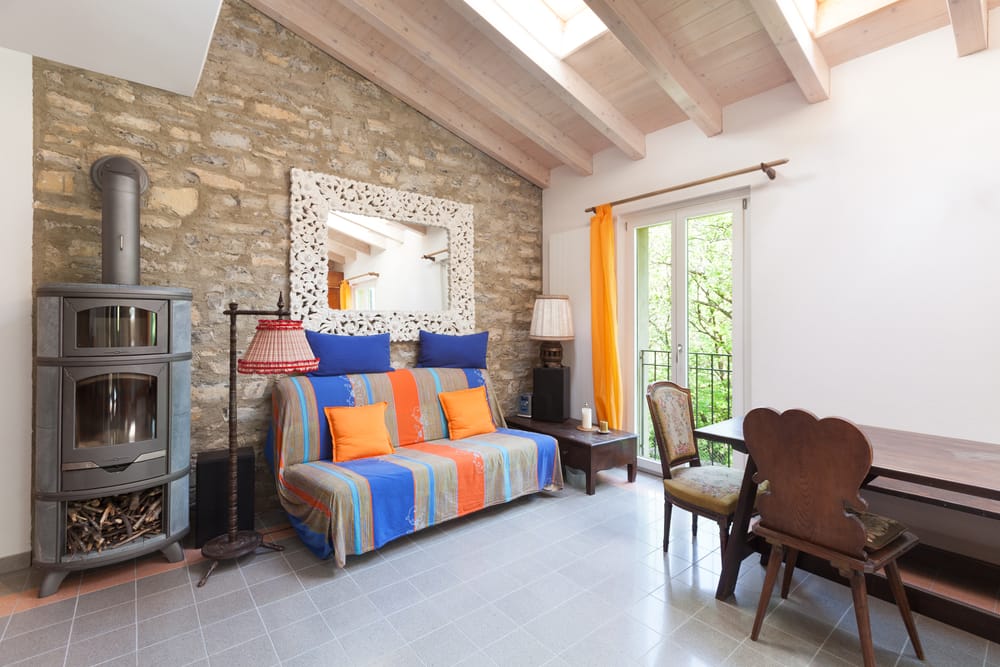 White walls and ceiling beams evoke a sense of cleanliness. Classic metal fireplace and gray floor tiles carve an industrial edge.
The rugged stone wall allows colorful couch cover and throw pillows to steal the attention. Meanwhile, white carved mirror decorates the room.
4. Country Living Room Furniture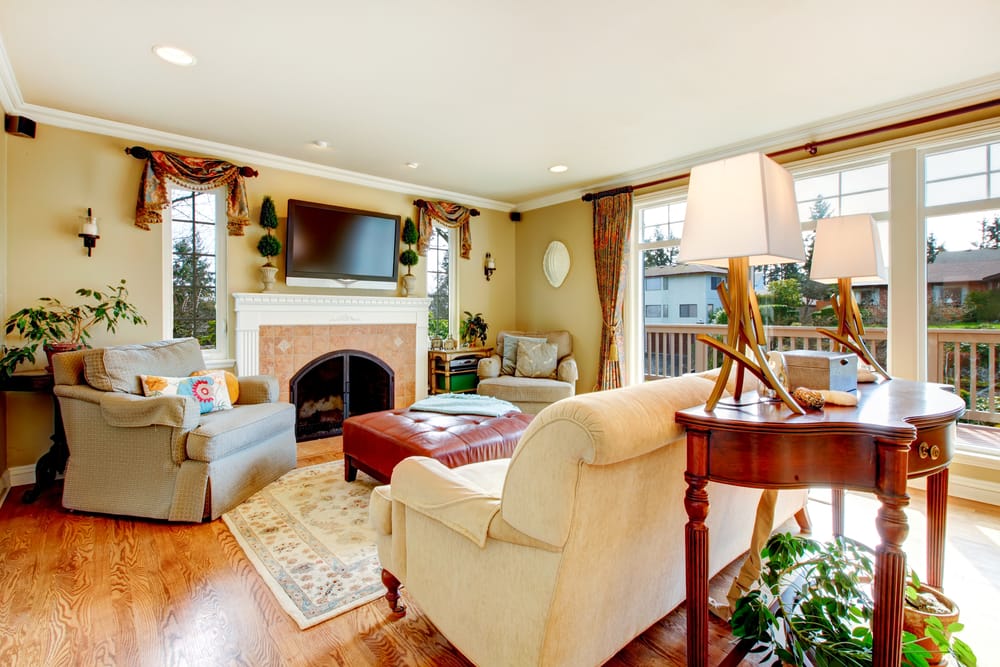 You don't have to dwell in the countryside cottage to duplicate this room. Just incorporate traditional sofa and armchairs into your space.
Ottoman coffee table and French country rug radiate an air of elegance. Floor-to-ceiling windows let the sunlight in.
5. Rustic Lighting Ideas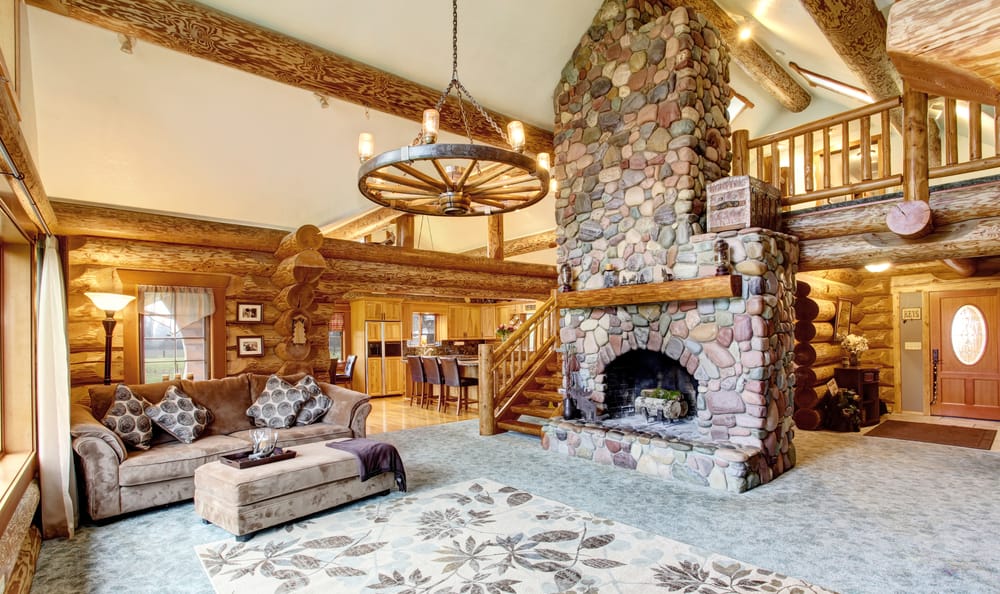 This cabin house seems so serene and charming. Exposed wooden beams bring a nature-inspired aesthetic to the scene.
Patterned throw pillows and stone fireplace produce a coordinated look. Plus, standing up light and vintage wrought iron chandelier brighten the space.
6. Rustic Colors for Living Room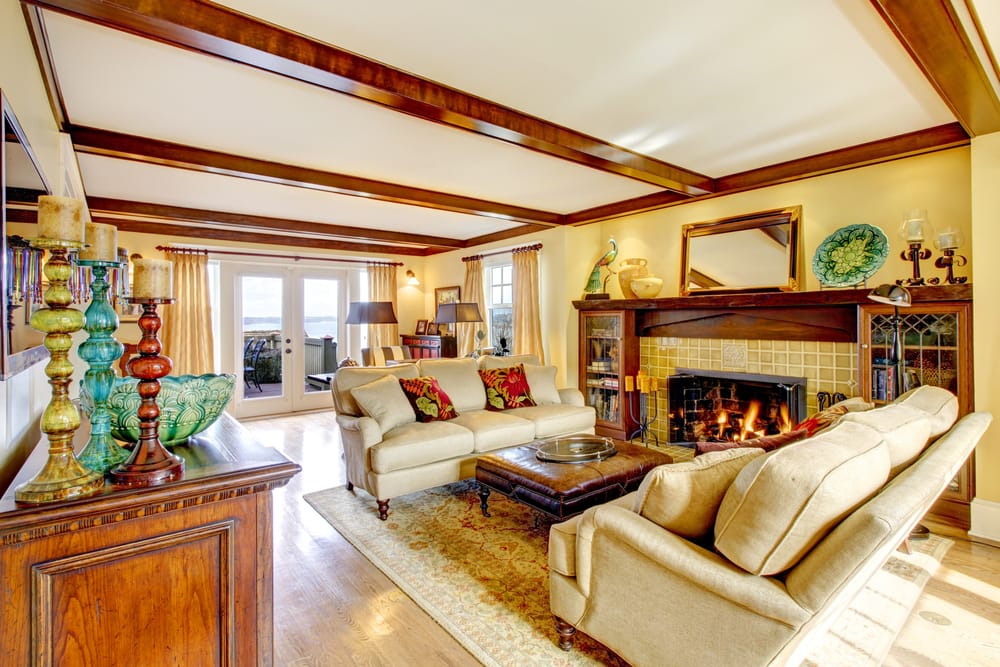 Here, the homeowner used brown, green, beige, muted oyster white and dusty turquoise throughout the room. These earth tones result in a cozy sitting area.
Sofas face each other which give the zone a sense of formality. Mirror on fireplace mantel adds dimension, while candleholders tie the room together.
7. Modern Rustic Living Room Ideas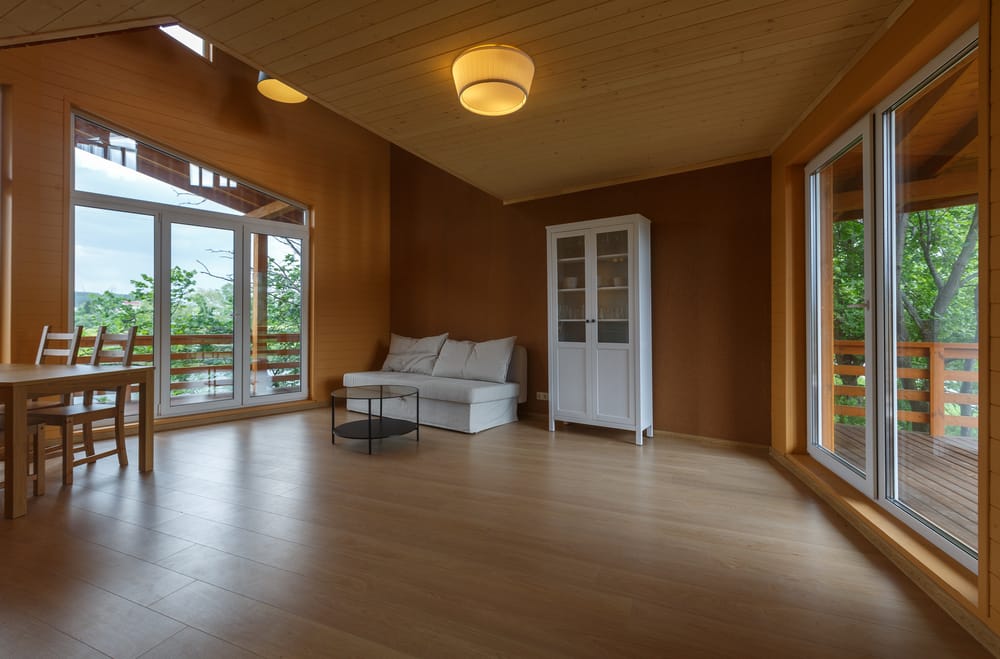 What's not to love about this modern sitting room? It is clutter-free and trendy. Wood ceiling, floor, and walls convey tranquility.
White sofa and display cabinet are the center of attention. Giant glass windows allow for idyllic exterior views.
8. Traditional Rustic Living Room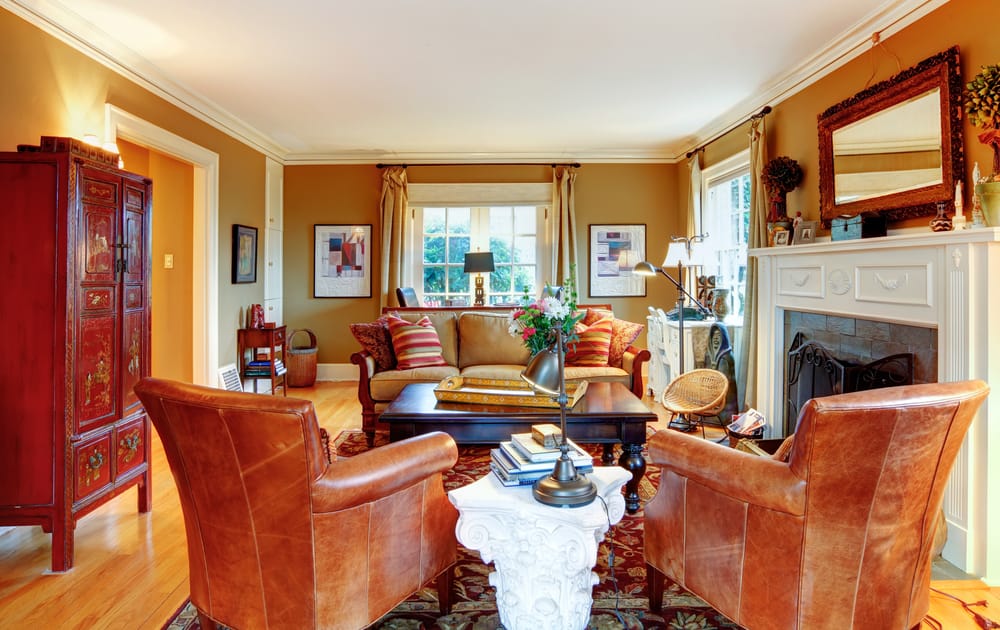 This family room is outfitted with brown leather sofa chairs, marble table, and a stone fireplace. They deliver a classic appeal.
Mirror evokes a sense of depth. Wood pieces and caramel-painted walls contribute to the room's irreplaceable warmth. Fresh flowers in vase liven up the indoor space.
9. Plant Decoration in Rustic Living Room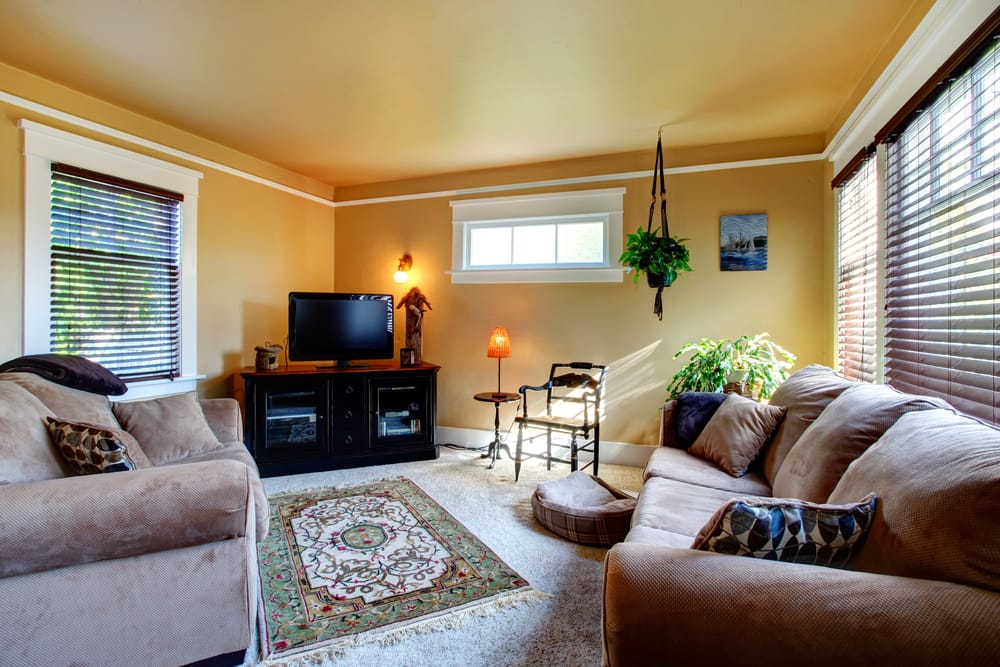 Here, the ceiling and walls are painted camel. They introduce clean and intimate social space. Yellow floor lamp and wall sconce boost up the coziness.
Taupe velvet sofa and chair offer a soft touch. The exquisite rug on shag carpet draws the eye. Meanwhile, the hanging plant acts as living decor.
10. Rustic Living Room Tables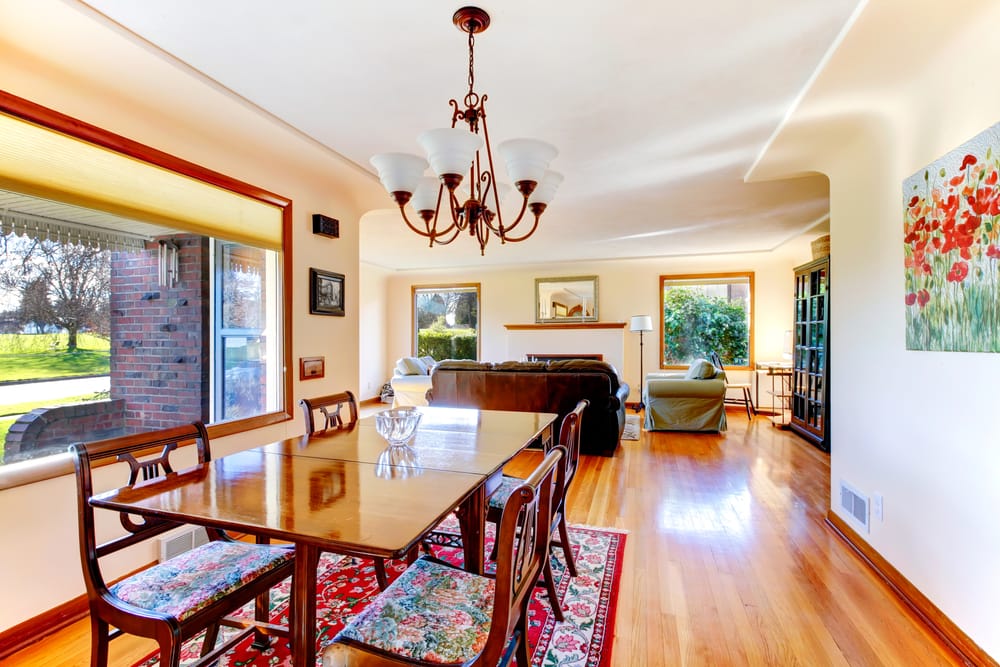 You can spot living room with separate dining area in this house. Glass windows amp up sunlight and keep the area breezy.
Wooden tables are rustic but in a more refined way. Antique chandelier and floor lamp light up the area. Floral rug, wall ornament, and dining chairs unify the zone.
11. Brown Rustic Living Room Decor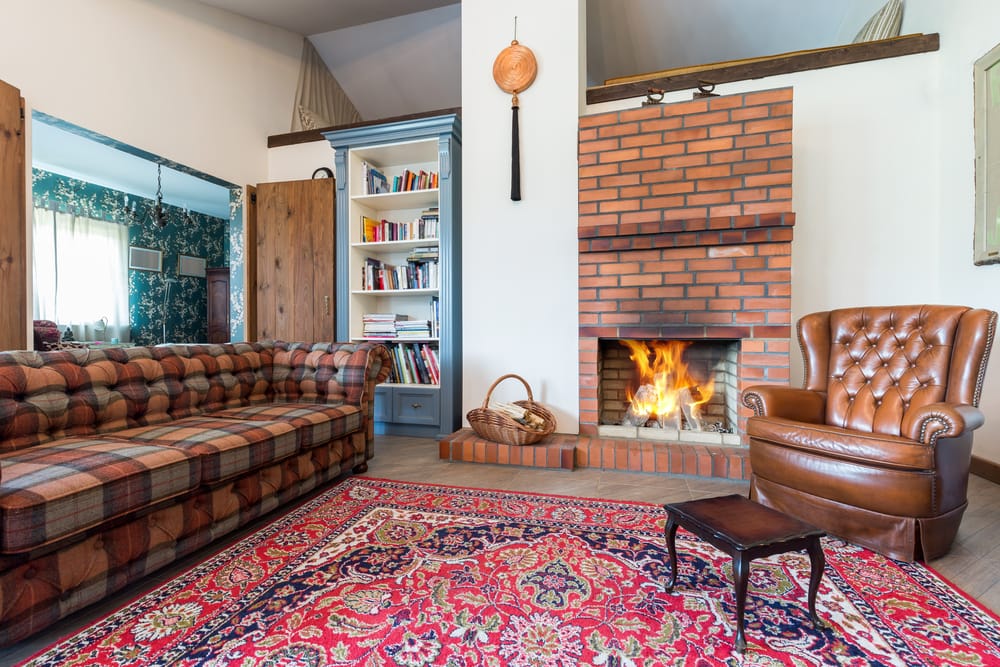 The white foundation makes the space feel open and flawlessly clean. It also lets the other elements more noticeable.
Plaid sofa and floral patterned rug add bursts of colors to the space. Tufted wingback chair, brick fireplace, and brown wall decor set a warm atmosphere.
12. Farmhouse Living Room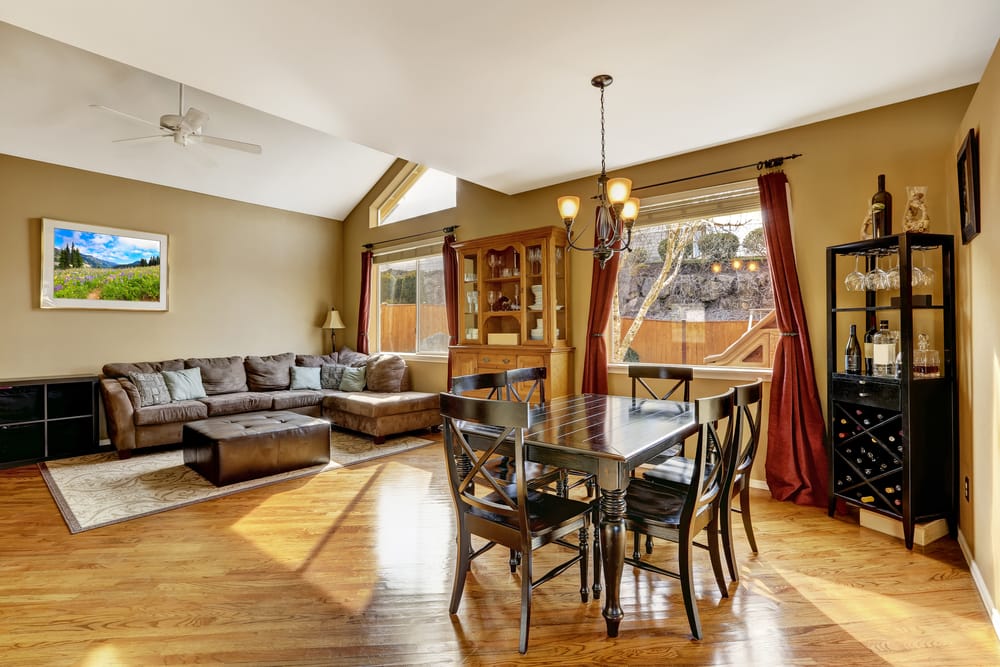 I fall for the stunning contrast between white ceiling and caramel walls in this multifunctional room. Red curtains bring passion and energy to the scene.
Taupe sectional sofa and tufted ottoman match with black farmhouse-style dining set. Meanwhile, painting titivates the area.
13. Rustic Bohemian Rugs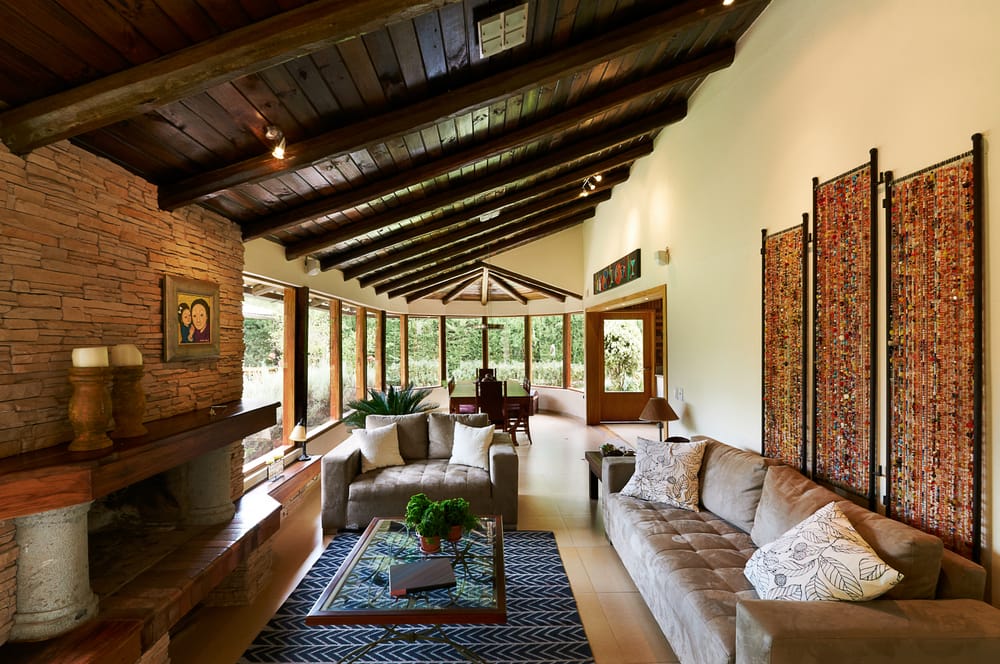 In the photo above, beige floor tiles and cream walls soothe the space. Stacked stone fireplace and wooden ceiling beams exhibit natural textures.
Boho chevron rug comes in navy blue. It pops on neutral base. Houseplants add some life to the area.
14. Rustic Blackout Curtains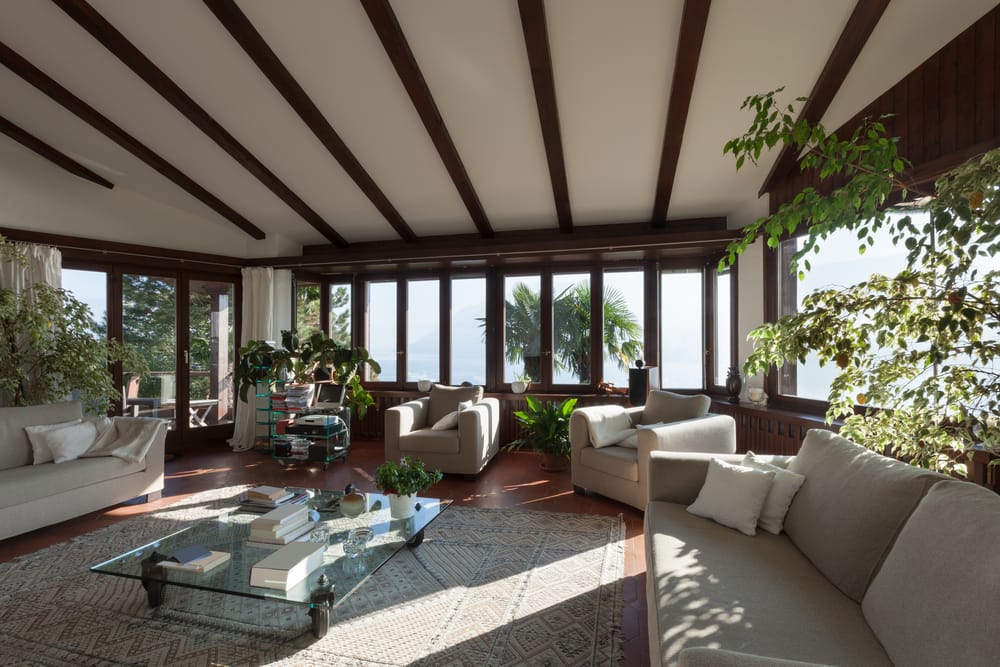 This sitting area looks so stylish, thanks to clean lines and sharp edges. Dark wood floor and ceiling beams provide an air of intimacy.
Textured rug, blackout curtain, and linen throw pillows cozy up the indoor space. Lots of greenery revitalizes the room.
15. DIY Rustic Lighting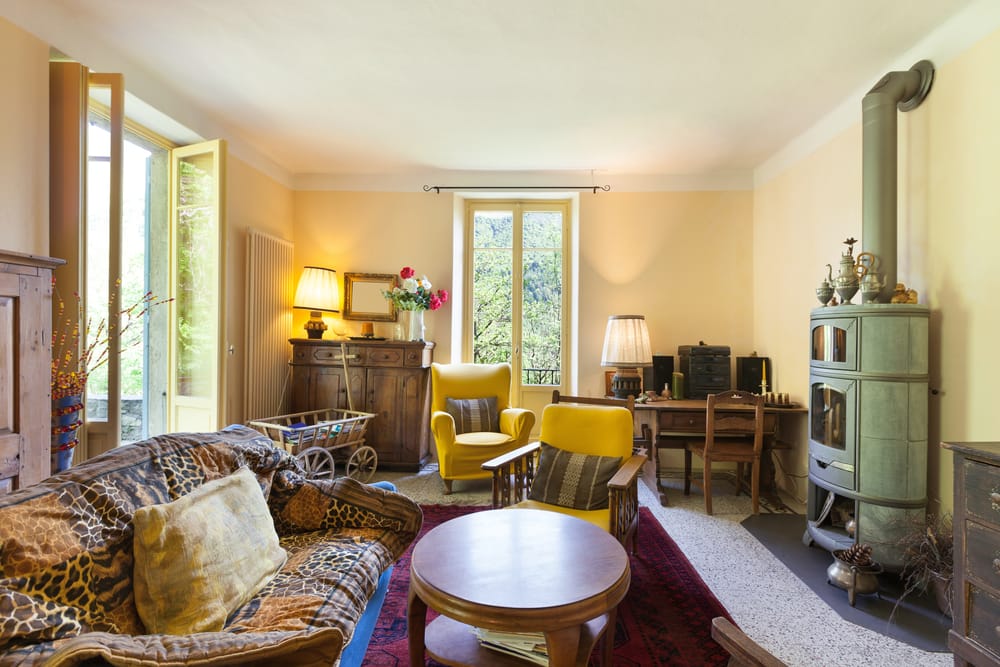 Here, white ceiling harmoniously meets cream-painted walls. The doors and glass windows bring more daylight into the room. DIY table lamps cast a soft glow during nighttime.
Leopard print sofa cover shows nature's wilderness. Antique pieces lend the space a sense of heritage. Yellow armchair and fresh flowers perk up the area.
16. Rustic Living Room Lighting

In this log cabin home, the dweller installed pot lights to make the area adequately lit after dark. Brown leather sofa and chair ooze luxury.
Unfinished wooden table produces a rustic feel. Rug on blue carpet screams cowboy style. Deer antlers create an eclectic retreat.
17. Rustic Log Cabin Interiors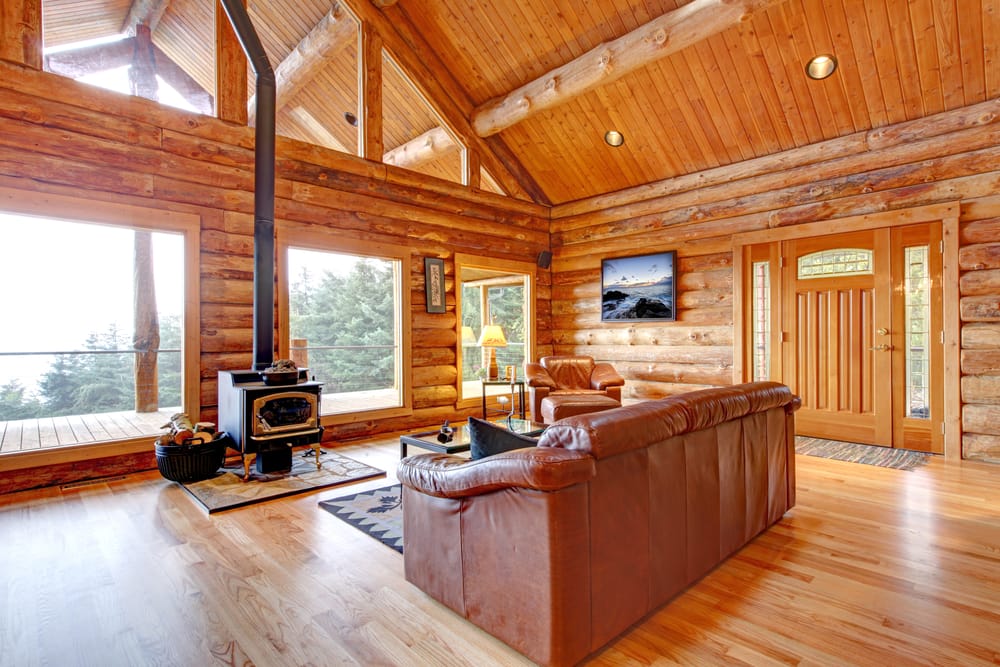 Not only is this sitting room minimally cluttered, but also looks so inviting. Vaulted wood-beamed ceiling is relic of the medieval days.
Black metal fireplace introduces drama and boldness. Patterned area rug impressively tops the wooden floor.
18. Rustic Living Room Ideas on a Budget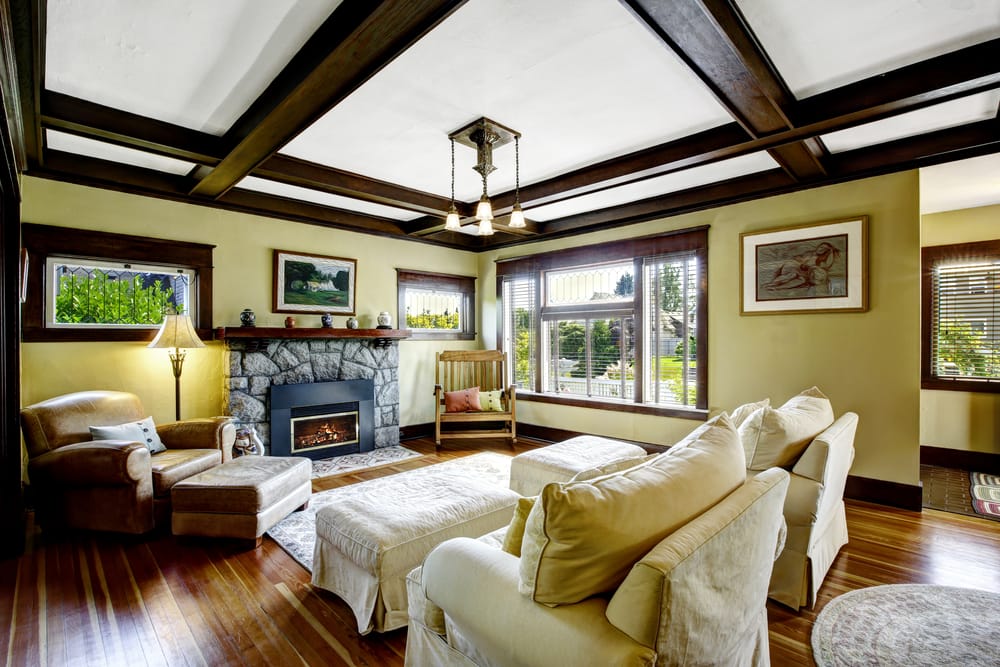 If you want to minimize your budget, give this idea a chance. Fill your living room with bonded leather and burlap sofas.
Display your decorations on the mantel of stone trim fireplace. Install vintage brass ceiling light to emphasize conversation area.
19. Gray Rustic Living Room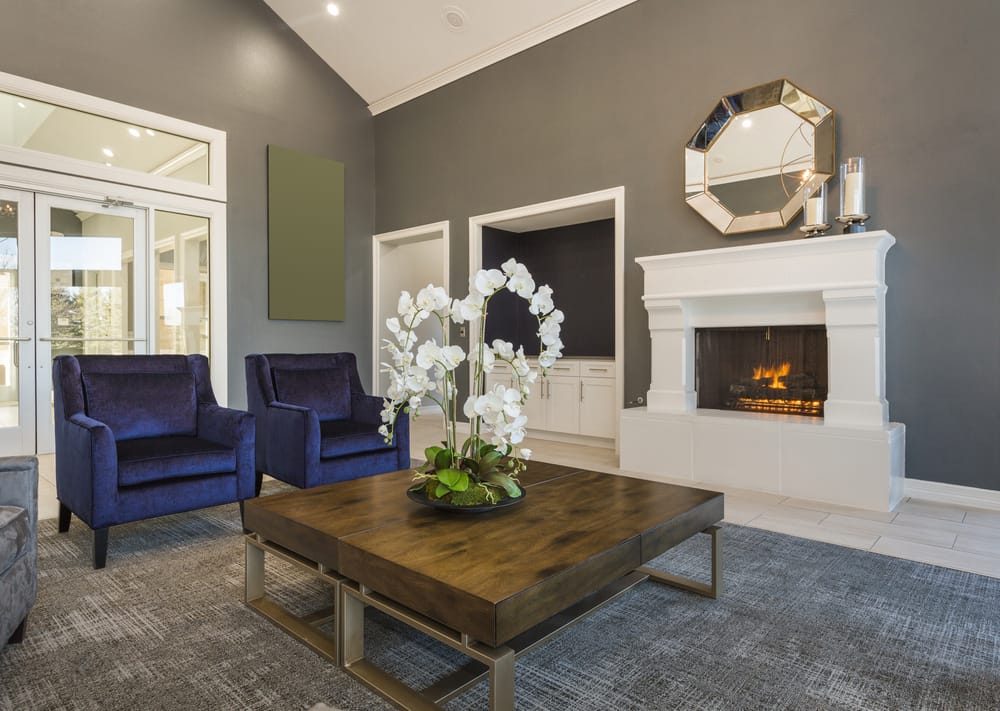 Gray and white work together in this living space. These neutrals promote a sense of modernity.
Dark blue velvet sofa chairs are the epitome of rustic opulence. White flowers spruce up the whole zone.
20. Log Cabin Living Room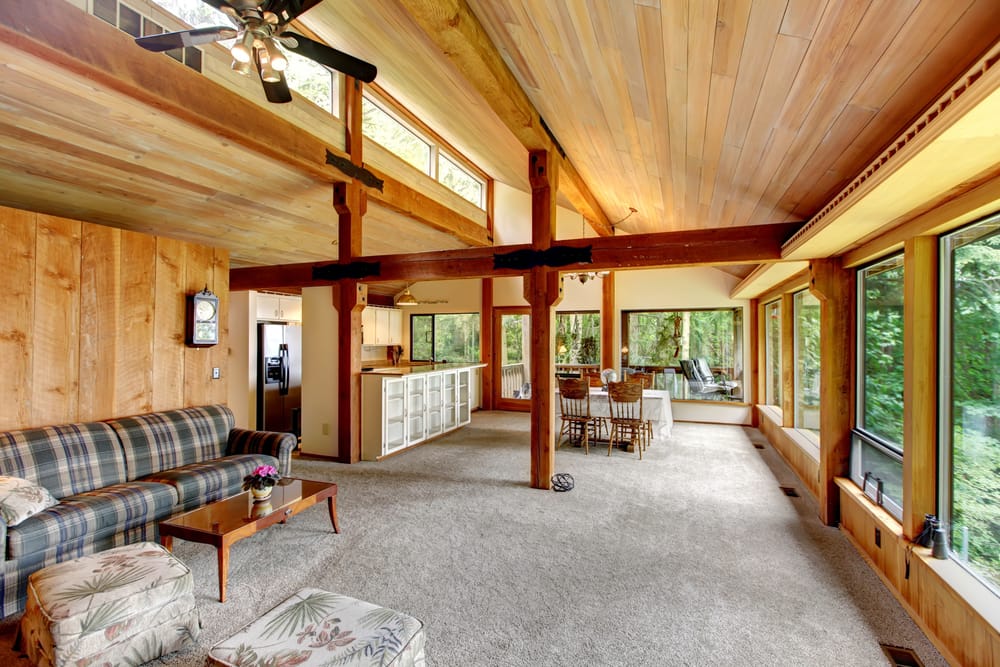 Natural materials meet plaid and floral patterns. They form a visual balance of country and rustic.
Panel windows let the room connect with Mother Nature. They also bring ample sunlight into the area.
With those rustic living room ideas in hand, now you know where to start. Feel free to put your own spin on the project. So, you can make your dream rustic oasis come true.