Many people transform their plain basements into entertainment areas. They also add a small kitchen to the underground room. If you plan on building one, have a look at our fabulous basement kitchenette ideas.
Since the basement kitchenette is extra, it gives the homeowners more flexibility.
Whether you want to create a media room, build an underground apartment, or incorporate a food prep station, the design options are limitless.
We suggest planning things out thoroughly in advance. That way, you can calculate the budget and estimate the project's work effort. For some awesome inspiration, scroll through these photos of basement kitchenettes.
1. Basement Kitchenette Ideas with Plenty of Lights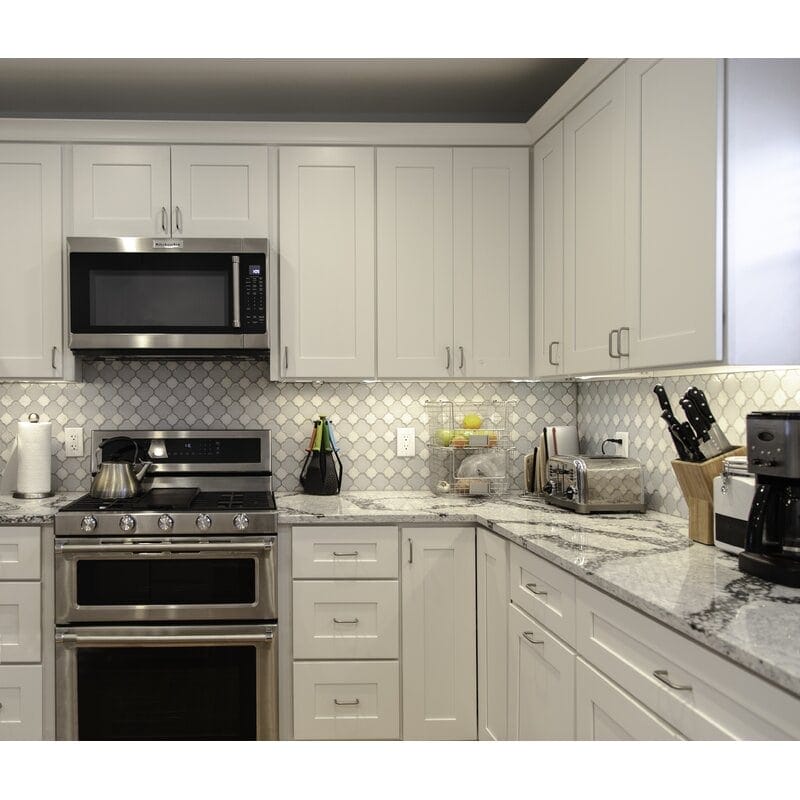 If your basement has a low ceiling, you should try this underground kitchenette idea. Needless to say, basements are lacking in sunlight. As a result, they usually do not have proper lighting.
You have to include lots of lights in your basement kitchenette. They keep the culinary space from being dimly lit. Furthermore, we recommend installing some light fixtures underneath the cabinets.
The light fixtures keep the space looking bright. With great lighting, you can see things clearly and prepare your meals in the basement kitchenette safely. Meanwhile, pops of color give off a cheerful vibe.
2. Basement Kitchenette Bar Ideas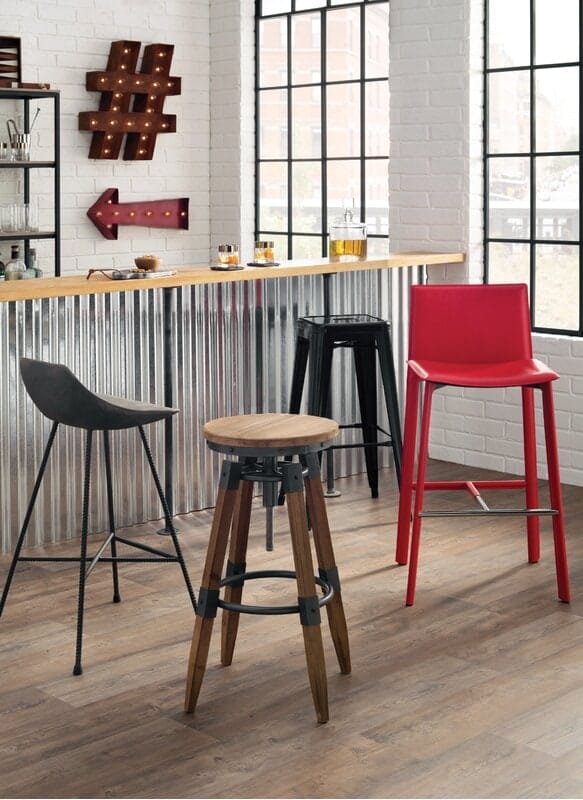 This basement kitchenette boasts a cozy bar. The communal space allows the homeowner to have his friends or family over. They can sit comfortably in a semicircle as well.
Furthermore, this idea is great for those who don't like formal hosting space. The bar is an excellent alternative to the dining area. While the wood counter is quite large. It can accommodate different types of refreshments.
Moreover, the bar is a perfect complement to the basement kitchenette. Unlike a full kitchen, it doesn't require a lot of space. Just integrate stools and drinks into space.
3. Tiny Basement Kitchenette Ideas with Mini Appliances
Searching for small basement kitchenette ideas? If yes, take inspiration from your college dorm.
Back in those days, you surely had to deal with very limited space. That is exactly where a mini microwave/fridge combo became really useful.
Moreover, the mini-fridge and microwave save some space in the small basement kitchenette. Remember, kitchenettes are not an ideal place for hosting a dinner party or making big-batch meals.
The microwave and fridge can hold drinks as well as snacks. Additionally, this combo allows you to grab your favorite beverage and pop some tasty popcorn.
4. Simple Basement Kitchenette with Wooden Countertop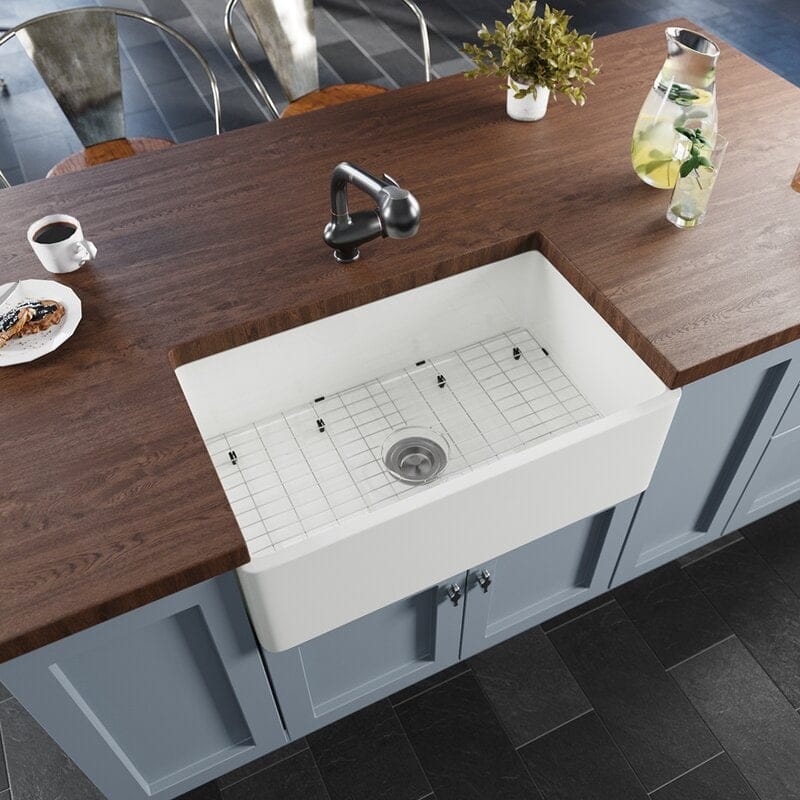 Speaking of basement kitchenette ideas, you should not forget about the visual aesthetics. Pulling off an industrial-chic look is very easy. Just install a wooden countertop and white sink with stainless steel fixtures.
Moreover, the wooden countertops bring softness and warmth to the otherwise cold basement kitchenettes. They are ideal for entertaining areas as well.
The wood and metal chairs sit in front of the kitchen island. They do not only develop a unified feel but also infuse a masculine flair into the interior.
Meanwhile, the plant on the wooden countertop enlivens the scene.
5. Corner Cabinet for Small Basement Kitchenette
When it comes to basement kitchenette ideas, you should be creative. If your space is not large, we suggest including this dark-toned cabinet in it. The unit nestles perfectly into the awkward corner.
The cabinet lets you have a practical and welcoming basement kitchenette. It also keeps your precious corner space from going to waste. Moreover, the piece contrasts elegantly with the white walls.
Furthermore, this cabinet proves that you don't need a large basement space for an entertaining area. It can hold your dinnerware, microwave, and glasses. Meanwhile, the open shelves display dried foods like cereals.
6. Inexpensive Basement Kitchenette Ideas with Wire Baskets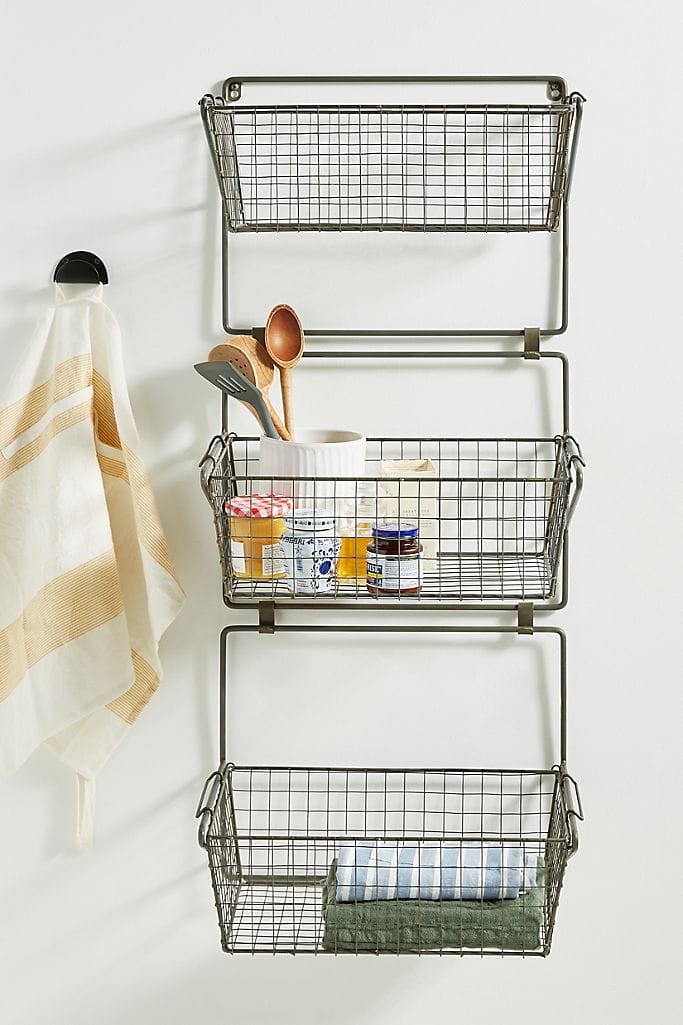 If your basement is not spacious, building out a nice kitchenette with proper cabinet space might be hard. That's the reason you should try any of the fabulous alternatives to regular cabinets instead.
You could hang open shelves on the wall or use a bookcase. Another fantastic idea is installing hanging wire baskets. For a more budget-friendly option, buying some from your local thrift stores.
Hanging baskets are certainly great for holding your snacks. They can keep jarred foods, kitchen towels, and cooking utensils close at hand. Moreover, the pieces deliver a rustic appeal to the kitchenette, too.
7. Basement Kitchenette Ideas with Dining Area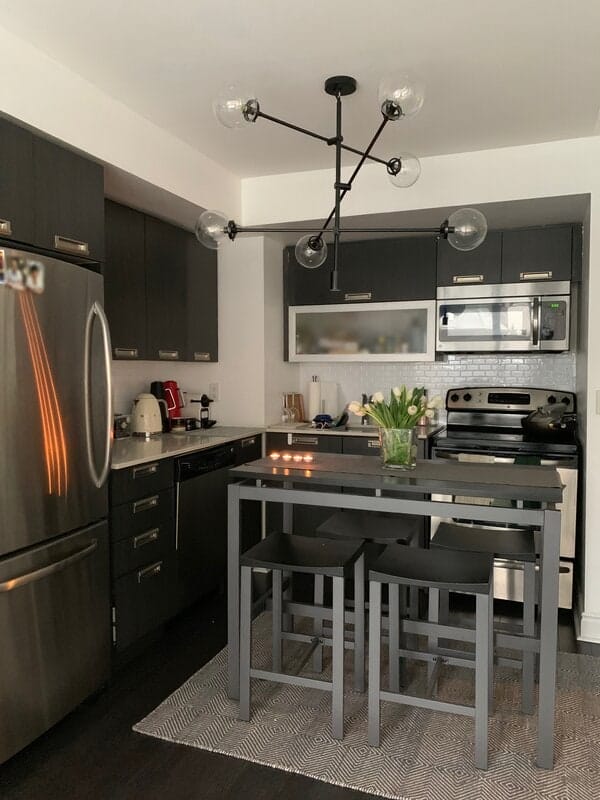 If the size of your basement permits, consider adding a cozy dining area right next to the kitchenette. This lets you and your family have a more casual gathering space.
Furthermore, it can work as a great alternative for entertaining. This basement kitchenette also features a small bistro set.
The furniture pieces nicely replace the island. Moreover, the dining area is a cozy space to eat with either family or friends.
In case you have a larger space, do not hesitate to go big. Incorporate a complete dining set. It will definitely make the basement kitchenette feel homey.
8. Modern Basement Kitchenette with Striking Backsplash
Your basement kitchenette does not have to be neutral warm hues or white. Try infusing pops of color for a cheerier and more appealing culinary space.
To make the kitchenette pop, you could install a patterned backsplash. Another brilliant idea is hanging bright decorations above your kitchen cabinets.
If your kitchen on the main level is serious and impressive, then you can use this basement kitchenette to reflect some personality. Stark white cabinetry and wood countertop let the patterned backsplash draw the eye.
9. Kitchen Island with Open Shelves for Basement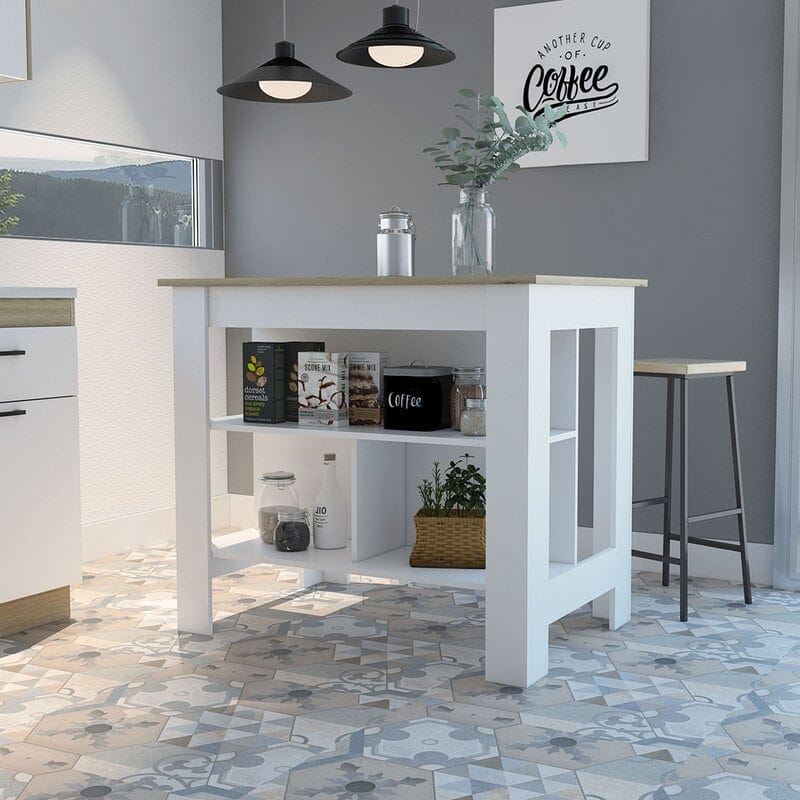 Speaking of basement kitchenette ideas, you can't go wrong with a kitchen island. It is perfect for entertaining as well as prepping some meals. The unit offers extra storage, too.
Moreover, the island serves various purposes. It provides space for your stools to put away under it.
In addition, the item makes eating and meal prep more enjoyable. The open shelves let you find food jars and cookbooks with ease.
The island matches the basement kitchenette's color scheme well. Meanwhile, two black pendant lights emphasize it. Lastly, greenery and wood accents deliver natural elements to space.
10. Basement Kitchenette Ideas without Structural Changes
Your basement has some weird angles and different ceiling levels. However, you shouldn't make any major structural changes. Streamlining the structures would be very costly. That's why we recommend skipping it.
As you see, this basement kitchenette boasts an angled ceiling. Instead of the big renovation, the homeowner didn't hang upper cabinets. She mounts trendy open shelves on the wall instead.
Remember, building a basement kitchenette is not cheap. That's why you must say no to drastic structural changes. This will save your money for certain.
11. Basement Kitchenette with Lots of Bar Elements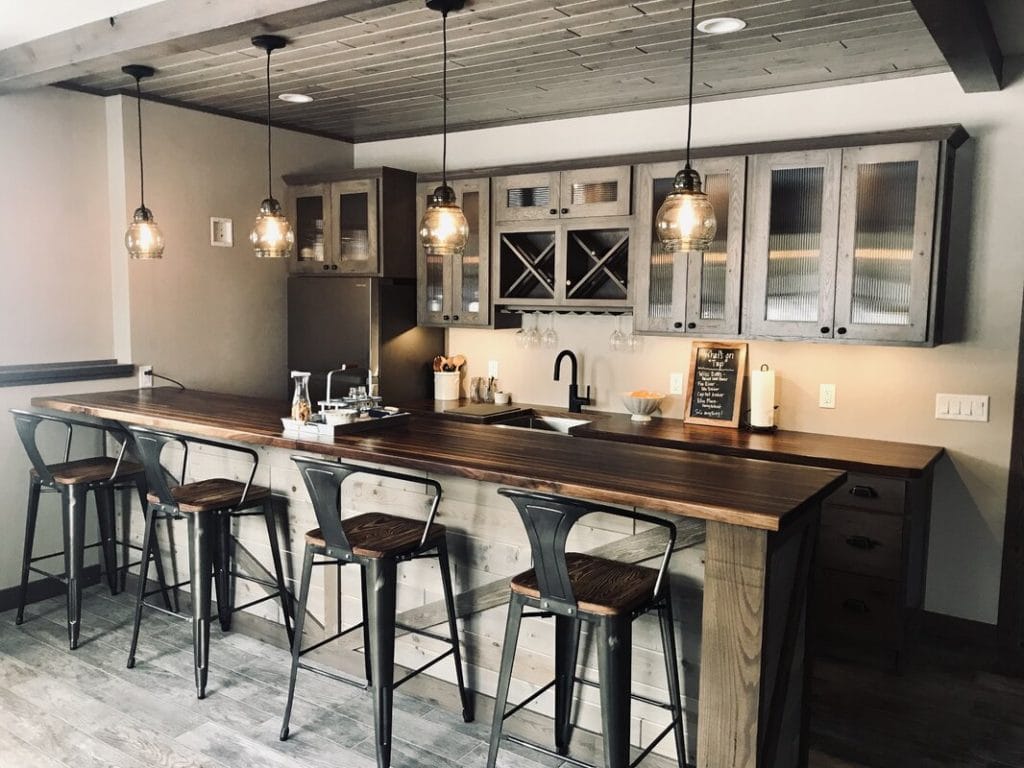 Talking about basement kitchenette ideas, some people turn the basements into entertaining areas. If you plan on doing the same, don't forget to focus on your breakfast bars elements like fridge and bottle racks.
Creating a kitchenette in your basement offers lots of benefits. The space is suitable for building a full underground apartment or entertaining your guests.
In this example, the basement kitchenette features a long island and black metal chairs. Four industrial pendant lamps brighten the bar at night. Gray wood floor and silvery kitchen cabinets lend the space a masculine flavor.
12. Dine-In Kitchenette Ideas for Basement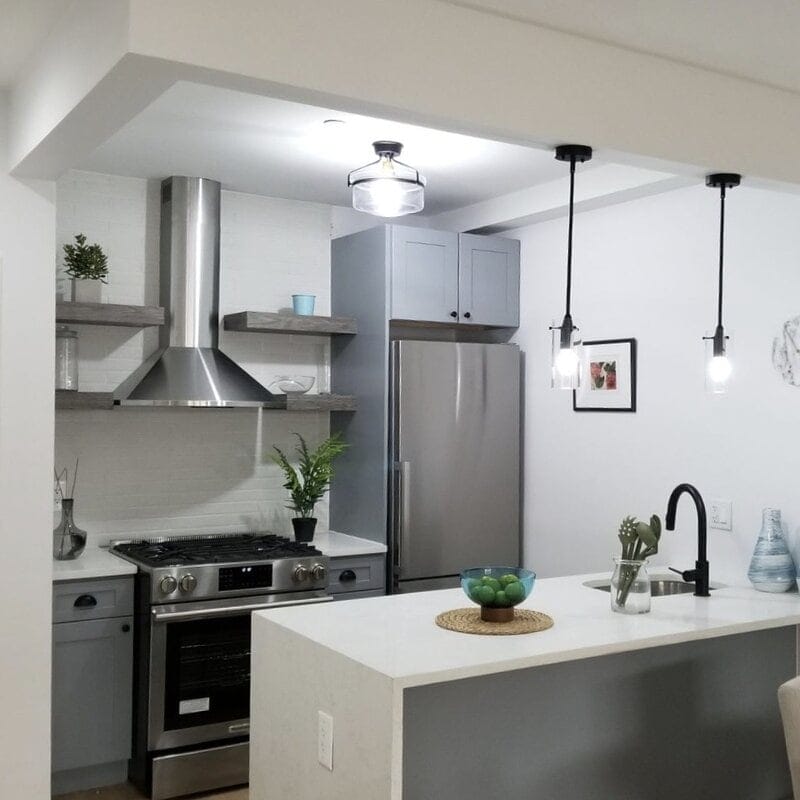 This is one of the white basement kitchenette ideas you should implement. The color scheme and open shelving keep the room feeling open as well as airy.
Furthermore, the eat-in kitchen adds function to the underground space.
Some basement kitchenette ideas combine the kitchen with the dining area. This helps you to make smart use of the available space. Furthermore, your guests only need to pull up the high stools and dine together.
The spacious island boasts a stainless steel sink with a black faucet. Blue glass fruit bowl livens it up, while the industrial pendant lights illuminate the whole dining area.
13. Basement Kitchenette Ideas with Compact Essentials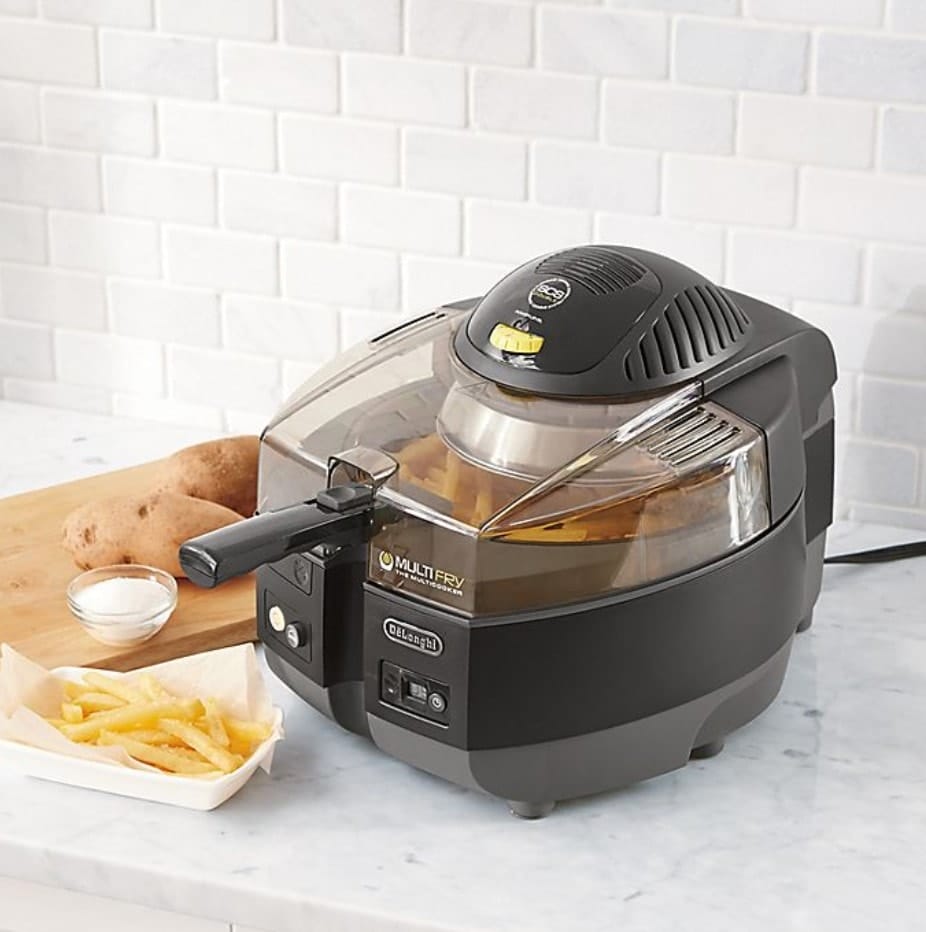 Do you plan on making simple food in the basement kitchenette? If yes, we recommend purchasing some small kitchen appliances.
Bear in mind that small appliances consume a lot of storage space. That's why you should buy their compact versions.
Here, the basement kitchenette features a compact air fryer on the marble countertop. The appliance cannot make a lot of food at once. However, you can stow it easily without eating up much storage space.
14. Basement Kitchenette Ideas with Creative Storage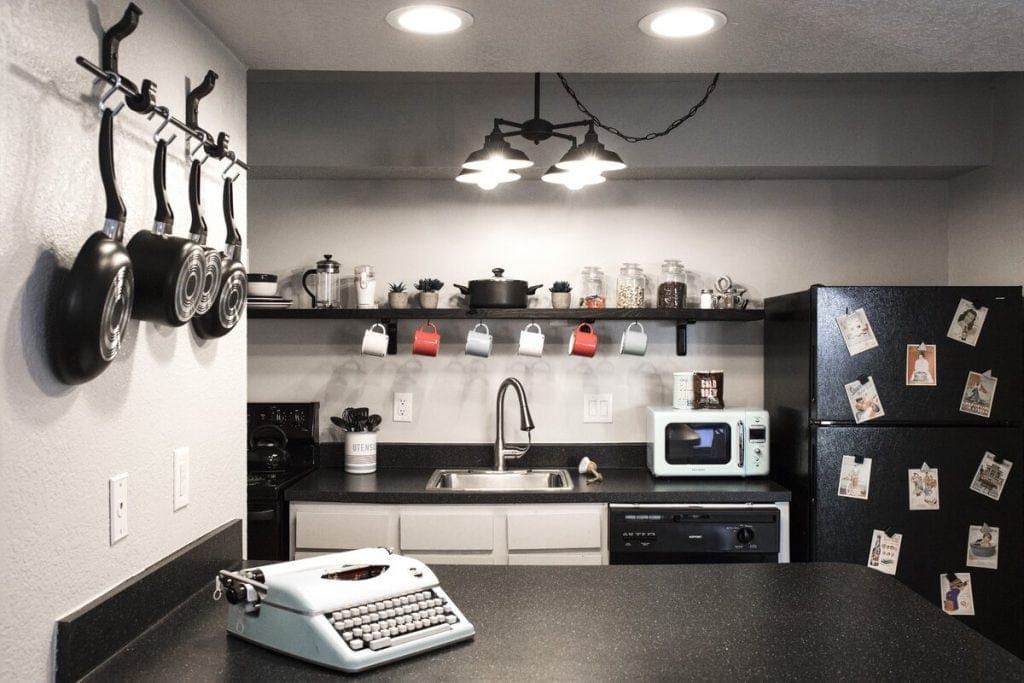 When it comes to storage for the basement kitchenette, you must think creatively. The underground room is already dark. If your space is limited, incorporating too many cabinets would make it feel cramped and dingy.
For a brighter and airier kitchenette, do not hang the upper cabinets on the basement wall. You should choose a brilliant organization instead.
This basement kitchenette shows you a few clever storage tricks. The homeowner mounted his pans on the white wall.
Metal hooks under open shelving hold coffee mugs, while the floating shelf houses decorative food containers.
15. Hutch for Basement Kitchenette Storage
You want to have built-in cabinets in your basement kitchenette. If that seems impossible, just integrate a hutch into it. The unit will work as cabinet space.
Furthermore, the storage chests come in various designs. Some of them even feature a small counter space if the homeowner needs it.
The hutch is an easy yet unique way to stash your things away without committing to a major basement renovation. Meanwhile, black and wood chairs flank the unit.
16. Brick Backsplash in Cooking Area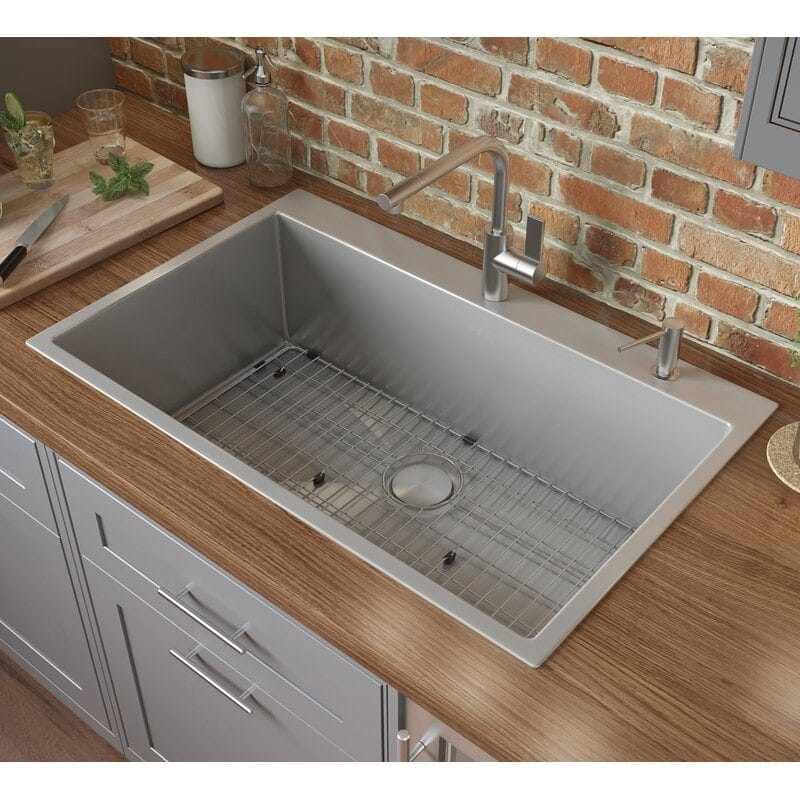 Basements normally boast brick walls. If you have them in your underground room, we suggest keeping them exposed.
In this case, the exposed brick backsplash carries an industrial warehouse flair to the basement kitchenette. It partners with the wooden countertop really well.
Moreover, the brick backsplash provides a wonderful backdrop for gray cabinetry and metal fixtures. Additionally, it emanates a masculine feel.
17. Basement Kitchenette Ideas with Stovetop
Before planning out any basement kitchenette design, put kitchen appliances and tools into your consideration. Add the units you'll need most to space and forget the infrequently used ones.
In this example, the homeowner kept the stovetop and skipped the oven. Simply, she doesn't plan on baking a lot in her basement kitchenette.
Since there's no oven in the kitchenette, sure the homeowner won't be able to reheat the frozen pizza. However, she can order it from home on her phone.
18. Optimize Your Cabinet Space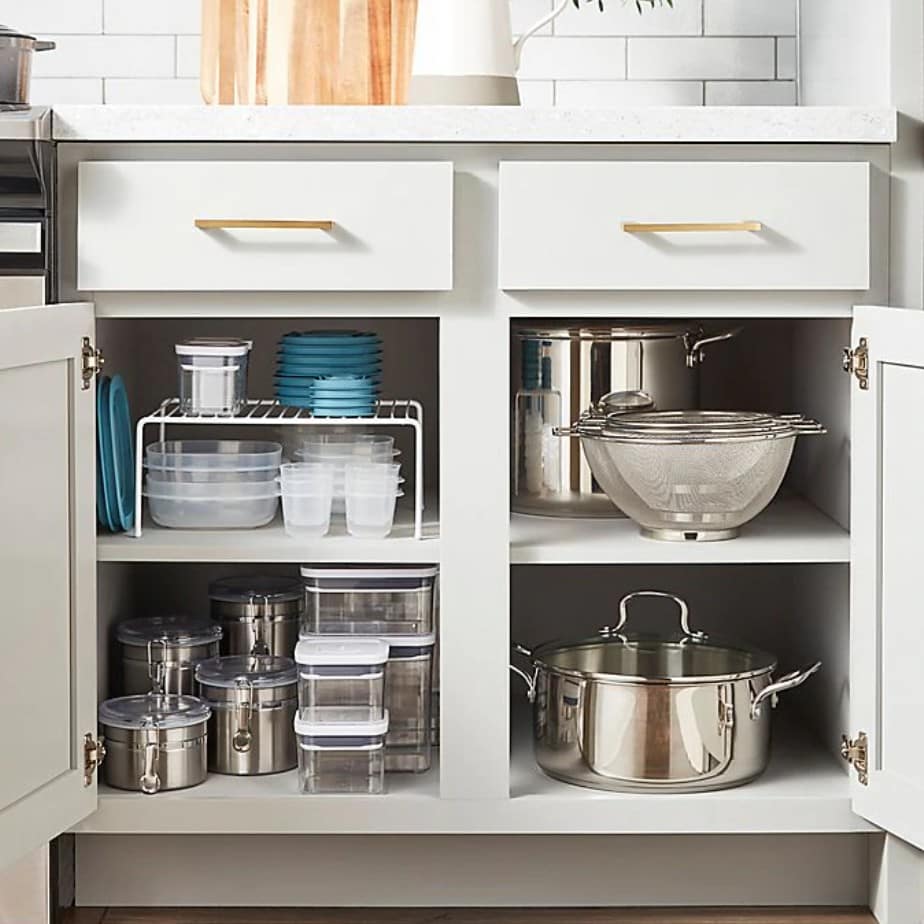 With great cabinet organization, you certainly can maximize the available space. Furthermore, it makes the most of your tiny basement kitchenette.
The vertical space in your kitchen cabinet can go unused. That's why you have to plan everything outright.
You could incorporate built-in shelving within your cabinets. Another smart idea is adding wire racks in. They can hold the kitchen essentials neatly.
19.  Designing with Hardwood Flooring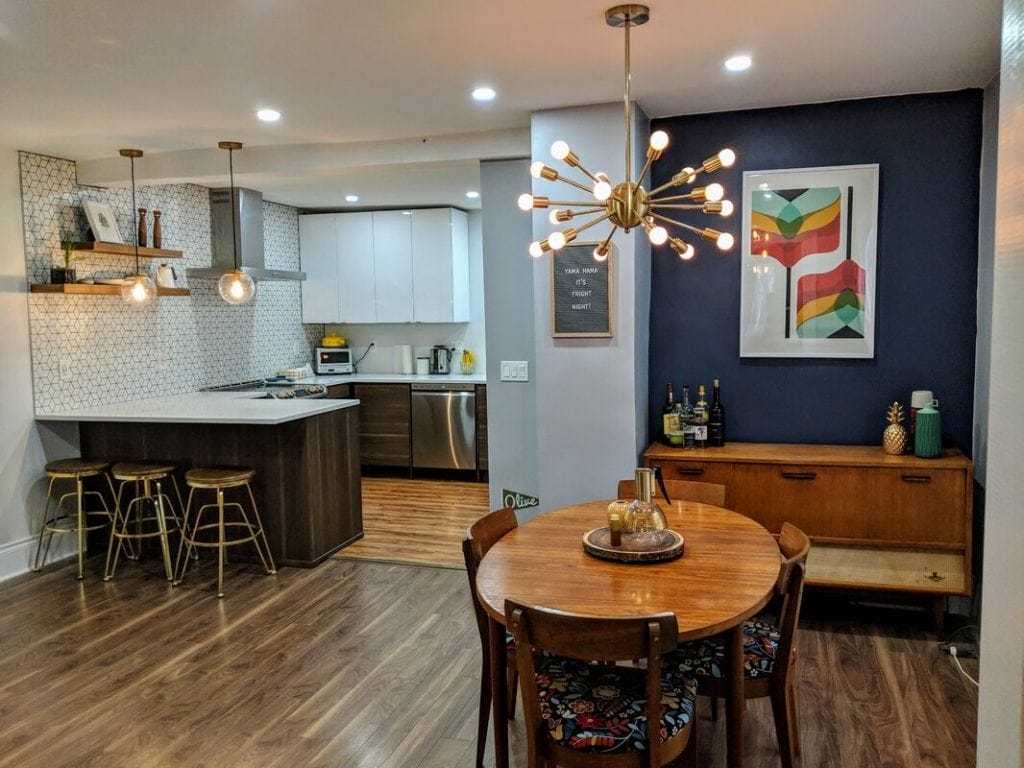 Typically, the floors of basements are linoleum, tiles, or carpets. To jazz up your kitchenette, you should install hardwood flooring. It makes the underground culinary space more welcoming and upscale.
If you are looking to build a full basement apartment with a small kitchenette, consider hardwood flooring. For certain, your space will look more livable and attractive.
20. Mini Fridge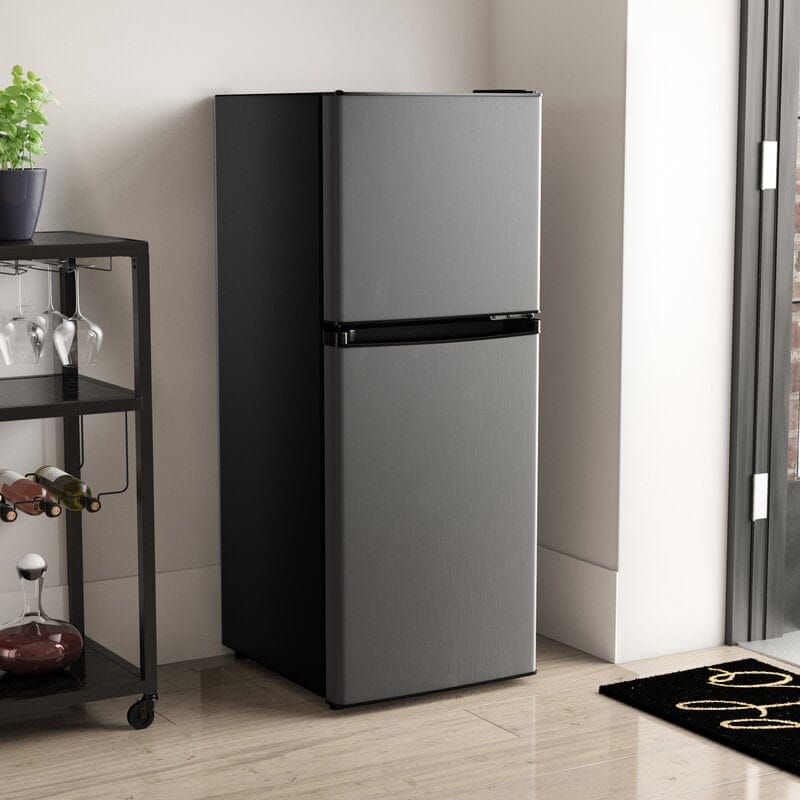 Talking about basement kitchenette ideas, do not forget the crucial element. For instance, you could integrate a mini fridge into space.
If your kitchenette doesn't fully function, then this mini fridge allows you to store some drinks. Unlike a typical refrigerator, it doesn't require much floor space.
Moreover, the mini-fridge is an amazing complement to the basement kitchenette with a low ceiling. Getting a large one into space certainly doesn't seem doable.
21. Adding Light Hues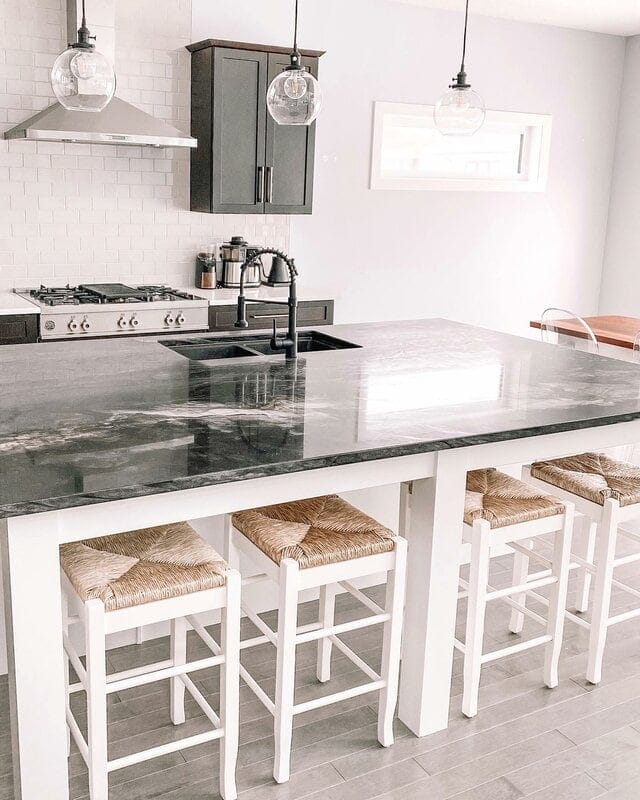 Basements typically do not receive much daylight. This kitchenette has a tiny rectangular window. However, it doesn't bring lots of sunlight into the underground room.
The cabinetry, countertop, backsplash, and dining stools wear light colors. They effortlessly brighten the basement kitchenette up.
Furthermore, the units keep the culinary space from looking dingy, while the marble island glorifies the scene.
When thinking of underground kitchenettes, people often assume that they need large spaces for both entertainment and dining areas. Those basement kitchenette ideas prove them wrong. Let's create one in yours!