No doubt, single-wall kitchen design is making a huge comeback. Not only does it offer more cooking space, but also keeps you from breaking up an open kitchen layout. If you are into it, take a gander at my one wall kitchen ideas below.
Here, I have rounded up some kitchens boasting only one wall. Their styles vary greatly from rustic to minimalist. Let us find out what single wall kitchen layout you love the most.
1. One Wall Kitchen with Large Island
Limited cooking space? Don't despair! Try this single-wall kitchen design. The concept works well with a small space because it only sticks to one linear wall. It also conserves space for a social zone and breakfast nook.
The white background forms a fresh atmosphere. They allow oak wood cabinets, flooring, and countertop to be the focus of attention as well. Meanwhile, blue and yellow accents keep that one wall kitchen designs from becoming lifeless.
26. Kitchen with Black Wood Flooring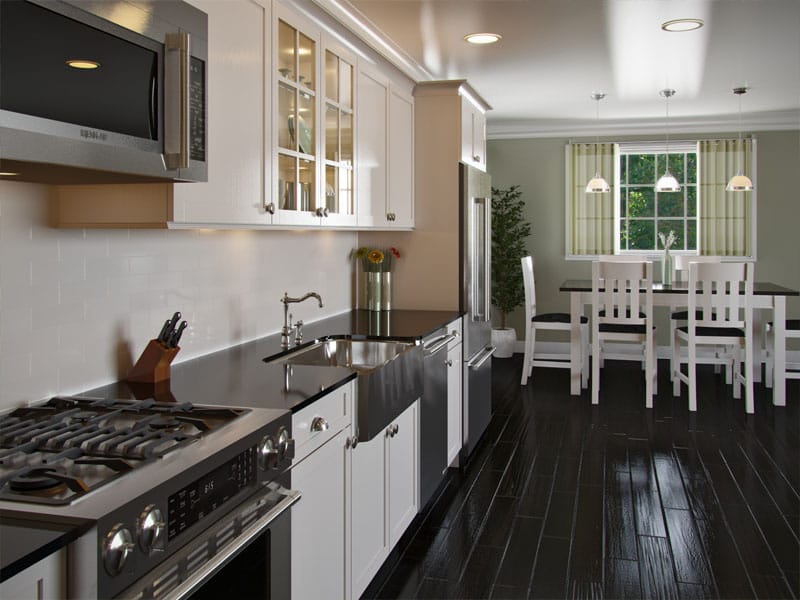 As shown in the picture, this space employs a single-wall kitchen and dining area. The kitchen itself uses a monochromatic color scheme. White is utilized for the low ceiling. In no time, it makes the ceiling appear higher.
There are also white-painted lower and upper cabinets. They produce an airy setting. It is such a brilliant decision to install black wood flooring. The dark color offers visual depth and fabulously contrasts with white.
27. Vibrant Red Single-Wall Kitchen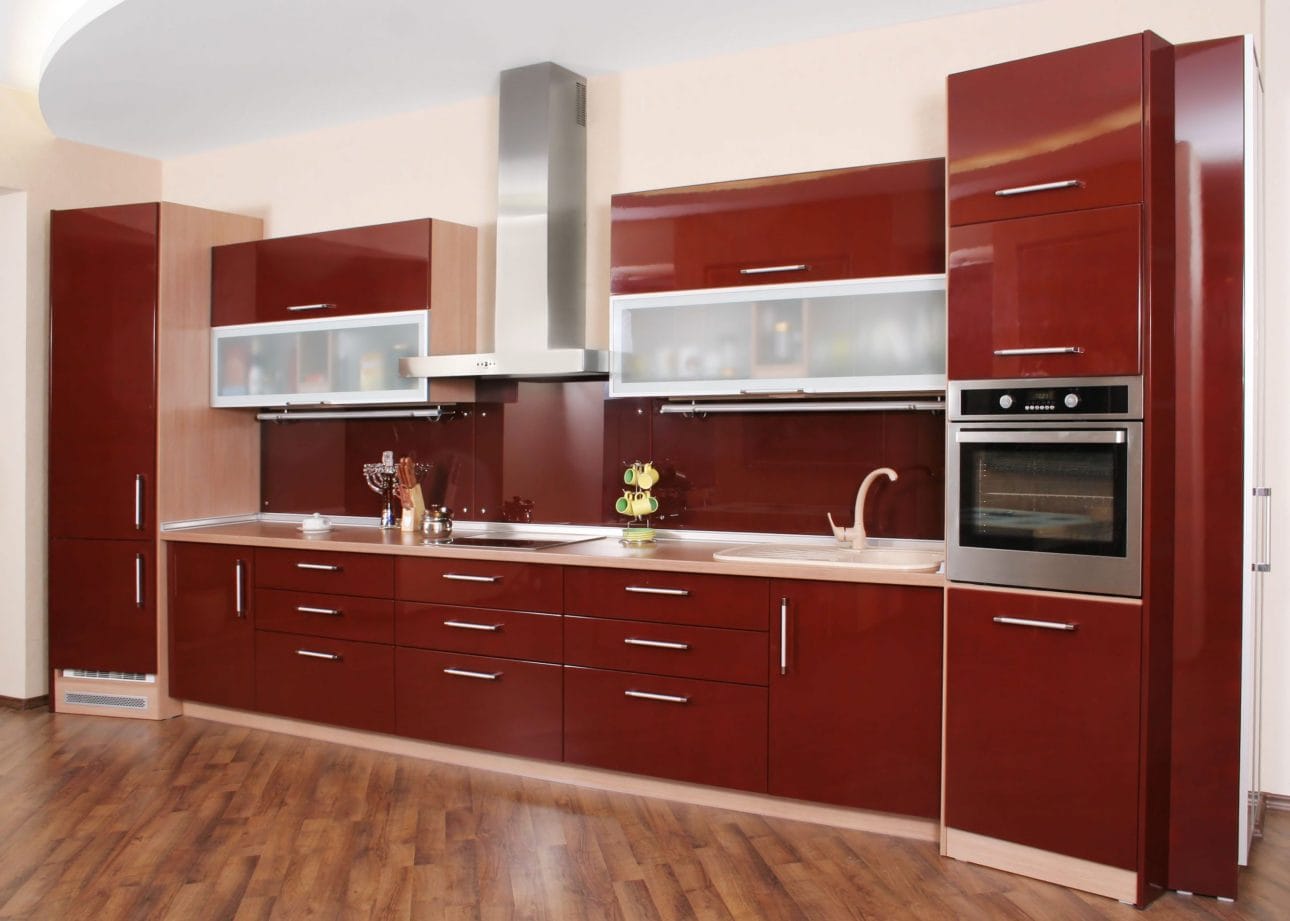 Without a doubt, red is such a bold color. Not only is it intense, but also enchanting. Moreover, one wall kitchen designs are truly suitable for a large cooking area since it includes complete hardware.
This kitchen boasts a refrigerator, sink, oven, dishwasher, and range hood. Both overhead cabinets and drawers provide ample storage space. Meanwhile, the medium-toned wood flooring balances out the reds and sets a warm feeling.
28. One Wall Kitchen Designs with Window
Strong hues instantly generate a cheerful atmosphere as the homeowner steps into the kitchen. This room smartly utilizes yellow, green, and turquoise as the accent colors. They keep the culinary space from being too clinical.
The minimalist dining table gives the homeowner an extra working surface for preparing meals. Two stools were incorporated into the room to create a compact breakfast nook.
Hexagon shaped upper cabinets and backsplash tiles lend the one wall kitchen a modern flair. A window lets natural light shine through.
29. Gray One Wall Kitchen Designs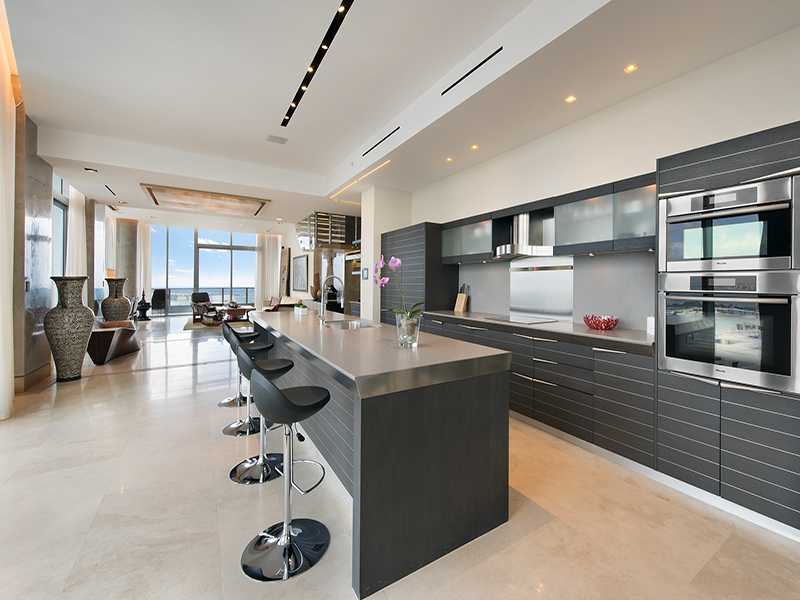 As the picture shows, the whole space has a pleasing open floor plan, from a living room to the kitchen. Those stools with the kitchen island serve as a room divider. They introduce a narrow separation between two areas.
This dark gray island, chairs, and cabinets draw the eye. In a flash, they develop a sophisticated appearance and a masculine feel. Meanwhile, a red bowl and purple flowers spruce up the entire room.
30. Mediterranean Style Kitchen on Single Wall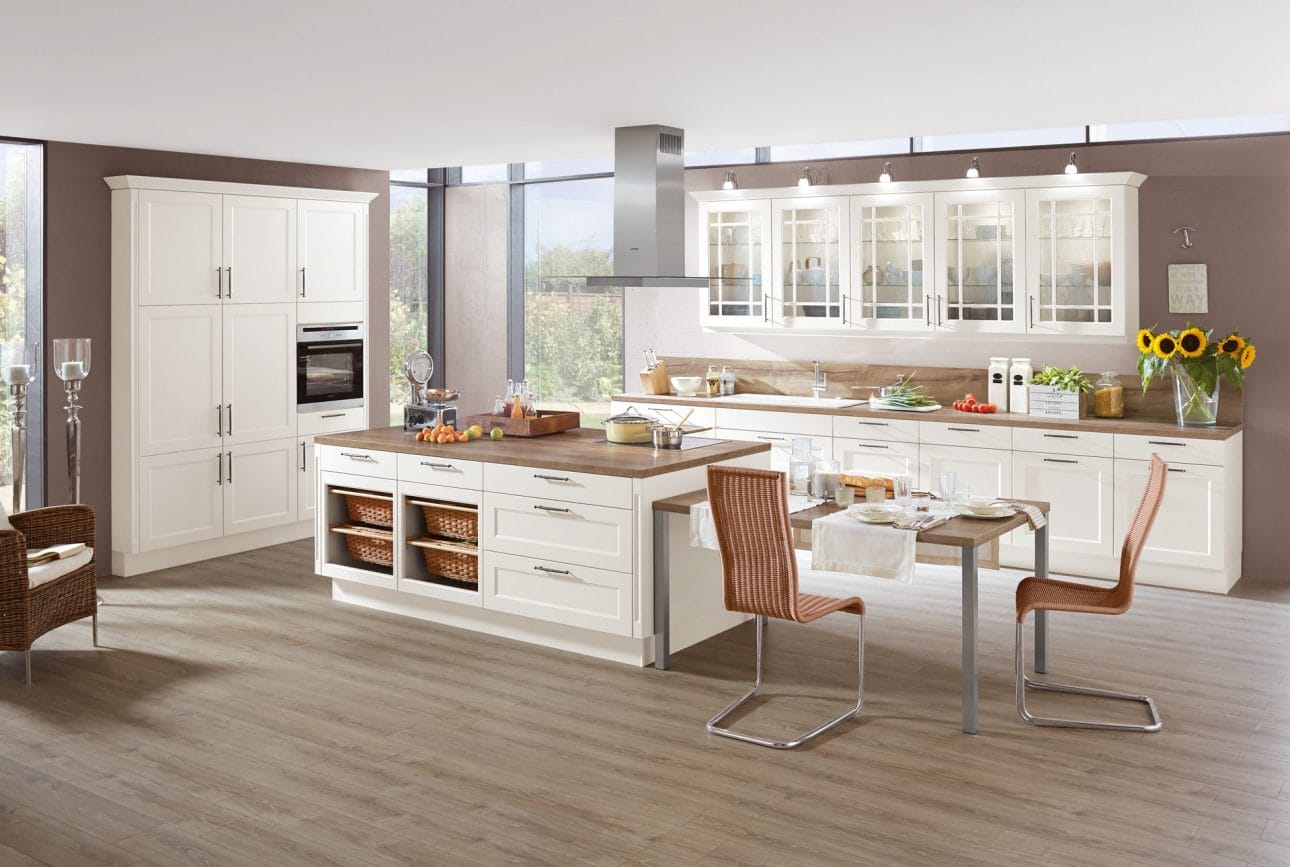 Neutral colors lend an inviting atmosphere and a light feeling to this spacious one wall kitchen design. The room includes a kitchen island and dining table. They offer additional work surfaces for cutting fresh produce.
Curvy chairs soften the look of the kitchen dominated by sharp edges and straight lines. The cabinets come with see-through glass inserts. Wood flooring and countertops emanate a relaxing atmosphere as well as a welcoming ambiance.
31. Country One Wall Kitchen Design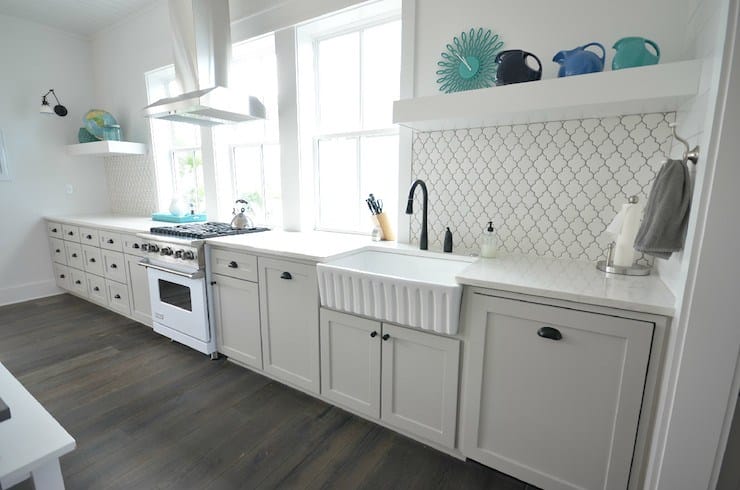 Who states one wall kitchen design is only for modern homes? You can also implement the concept in your country style cooking space. Here, the kitchen is simple but splendid.
Unlike previous designs, this one has no overhead cabinets. It just features an apron-front sink and two open shelves. That is a nice idea since the ceiling is pretty low.
Pale gray cabinets and white walls evoke a sense of cleanliness. The dark-toned wood flooring adds warmth and depth to the interior.
32. One Wall Kitchen Ideas with Cool Industrial Backsplash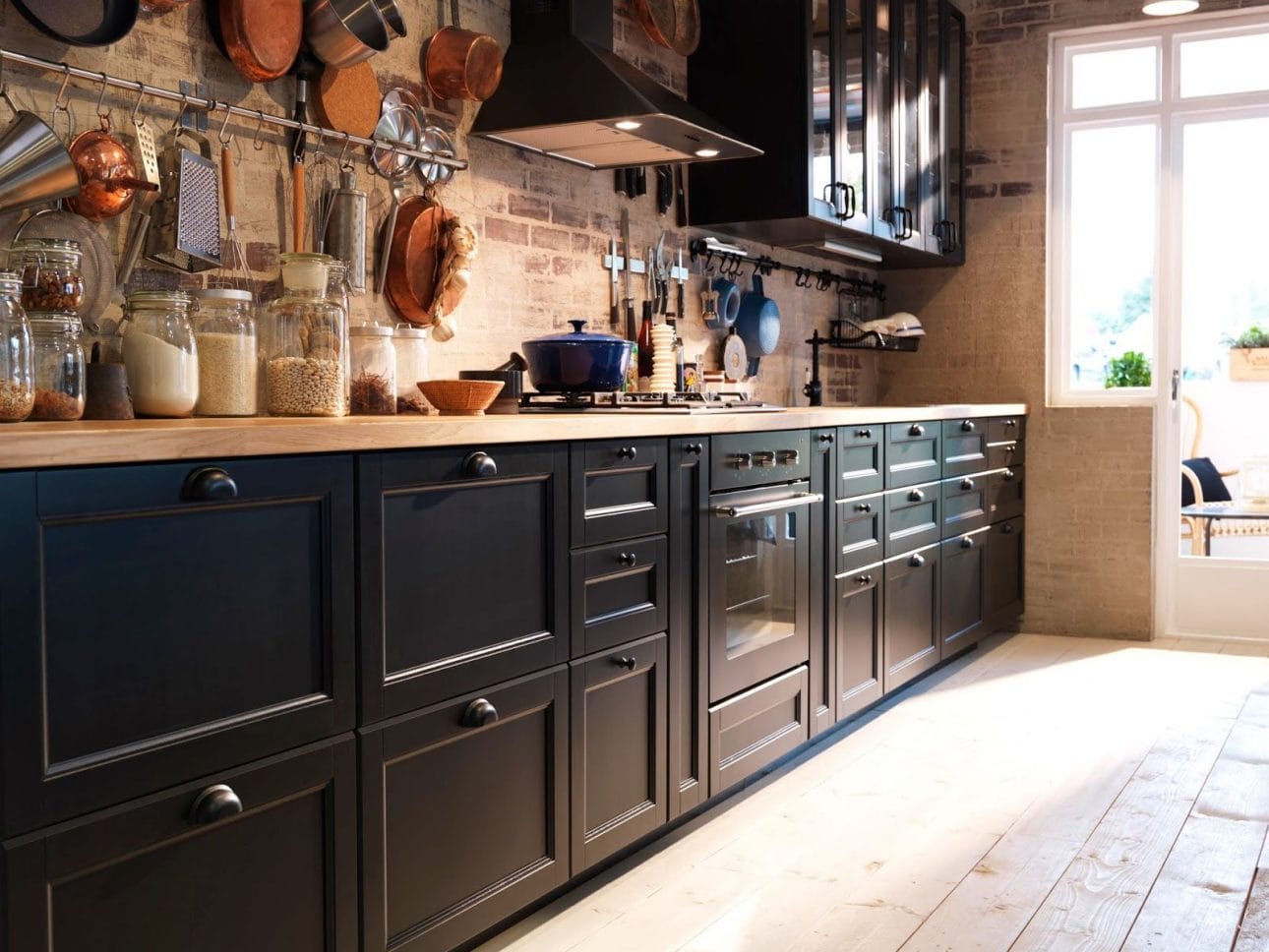 You cannot install a kitchen countertop without backsplash. They are inseparable from each other for certain.
In case you need an impressive example of a visual balance, steal this kitchen's look. The room boasts black cabinets. Blonde wood countertop prevents them from overwhelming the area.
Whitewashed exposed brick backsplash oozes rustic charm. It enhances the room's modern feel as well.
33. Chic One Wall Kitchen Designs
Speaking of neutral color palette, you can't go wrong with pure white. This cool neutral will make your one wall kitchen bright and open in an instant. The hardware-free cabinets generate an updated feel.
This trendy single-wall kitchen was outfitted with black metal stools. They are such a dramatic contrast to the predominantly white room.
Furthermore, marble backsplash and pendant lamps infuse the space with elegance. Meanwhile, calm tones overlooked the whole kitchen flooring.
34. Monochromatic One Wall Kitchen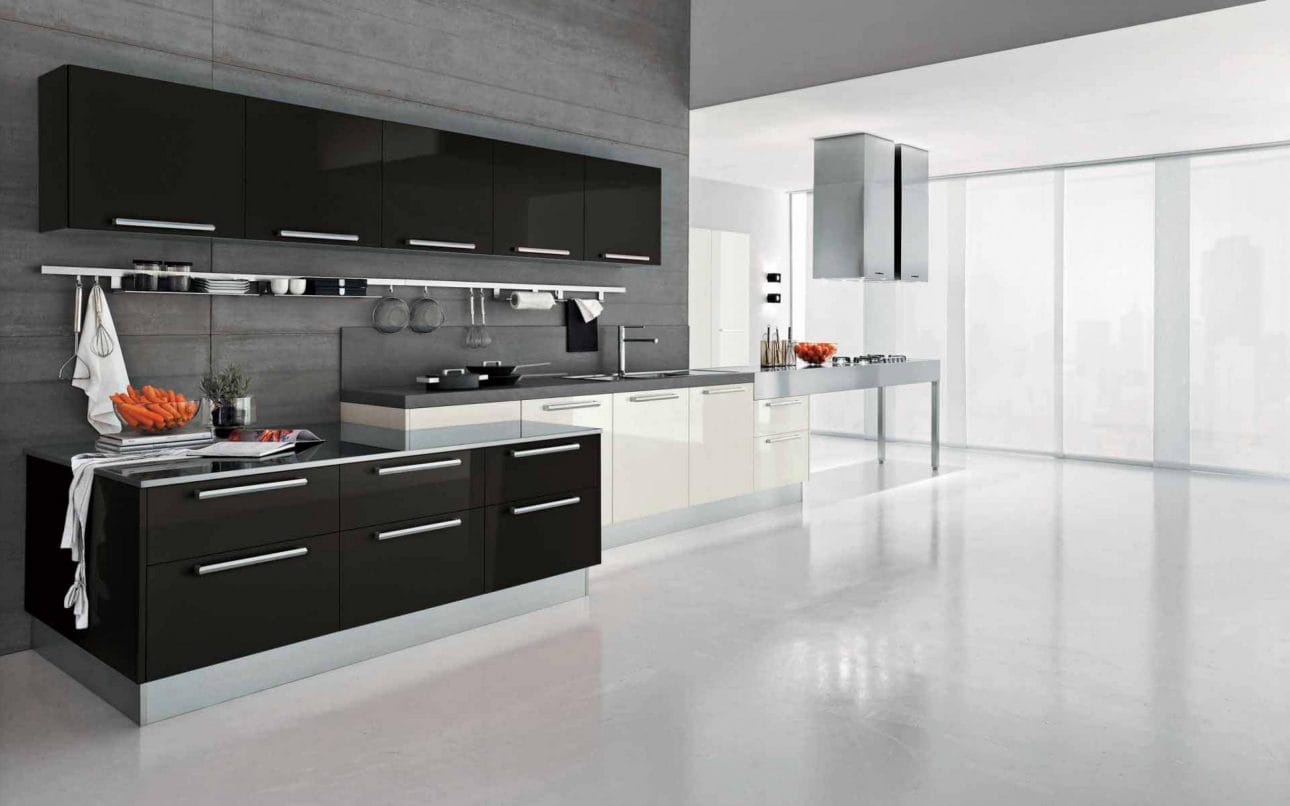 Many homeowners desire a stylish and clean-looking culinary space these days. If you are one of them, give this idea a shot. Here, the gray background carves a modern vibe.
Polished concrete flooring and metallic appliances lend an industrial flair to the single-wall kitchen. White cabinets evoke a feeling of airiness.
Moreover, black cabinets inject drama into space. Red and orange accents bring this one wall kitchen to life.
35. Restaurant-Inspired One Wall Kitchen Designs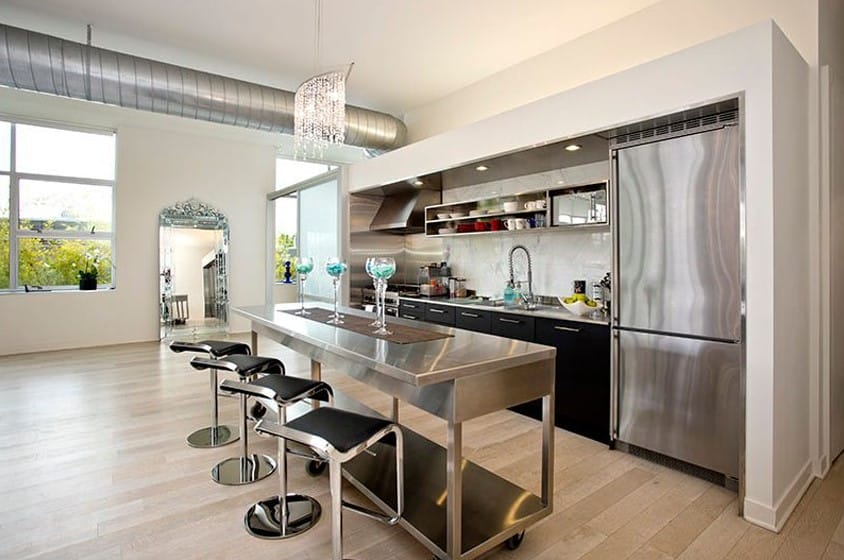 Needless to say, this single-wall kitchen is futuristic and appealing. Crisp white ceiling and walls exhibit a modern ambiance as well as an open setting.
Stainless steel furniture units, appliances, and countertops add shine to the kitchen. Then, they also make the room brighter.
Vintage mirror and crystal chandelier lend a touch of glamor to the area. Wood flooring and vibrant red accents keep the space from becoming too cold. The windows let you enjoy a breathtaking view of the outside scenery.
36. One Wall Kitchen Studio Apartments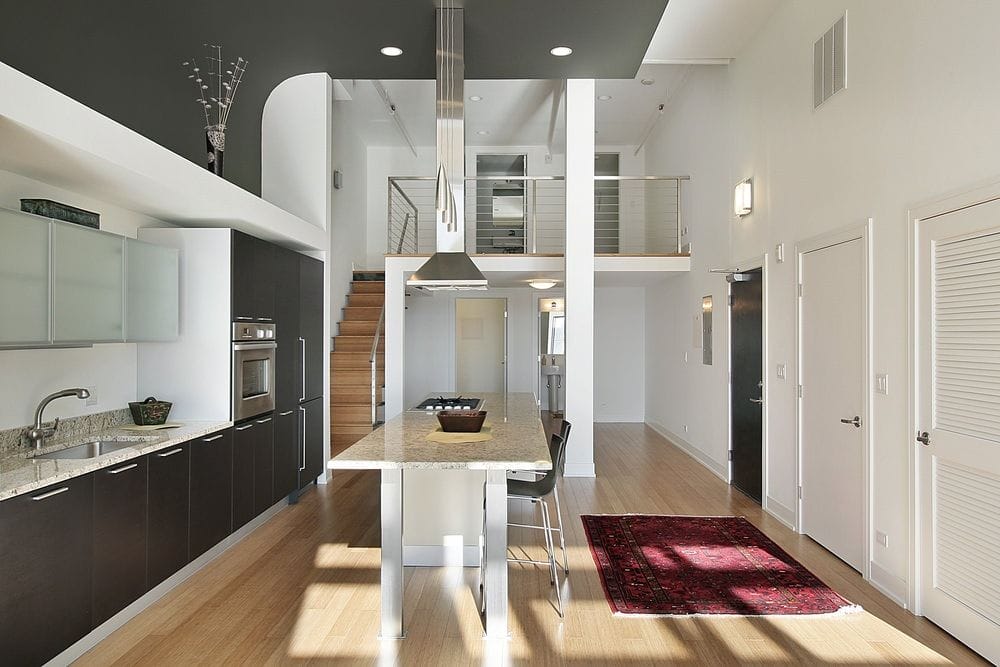 Are you a true minimalist? If yes, implement this one wall kitchen design for a studio apartment. Here, black lower cabinets offer a sleek look. The light-colored granite countertop tops them and introduces a terrific contrast.
The upper cabinets come with frosted glass doors. They allow you to see your dinnerware collection. A simple island and high chairs make for a cozy breakfast nook. Moreover, wood flooring and red patterned carpet jazz up the room.
37. All-White Single-Wall Kitchen Cabinets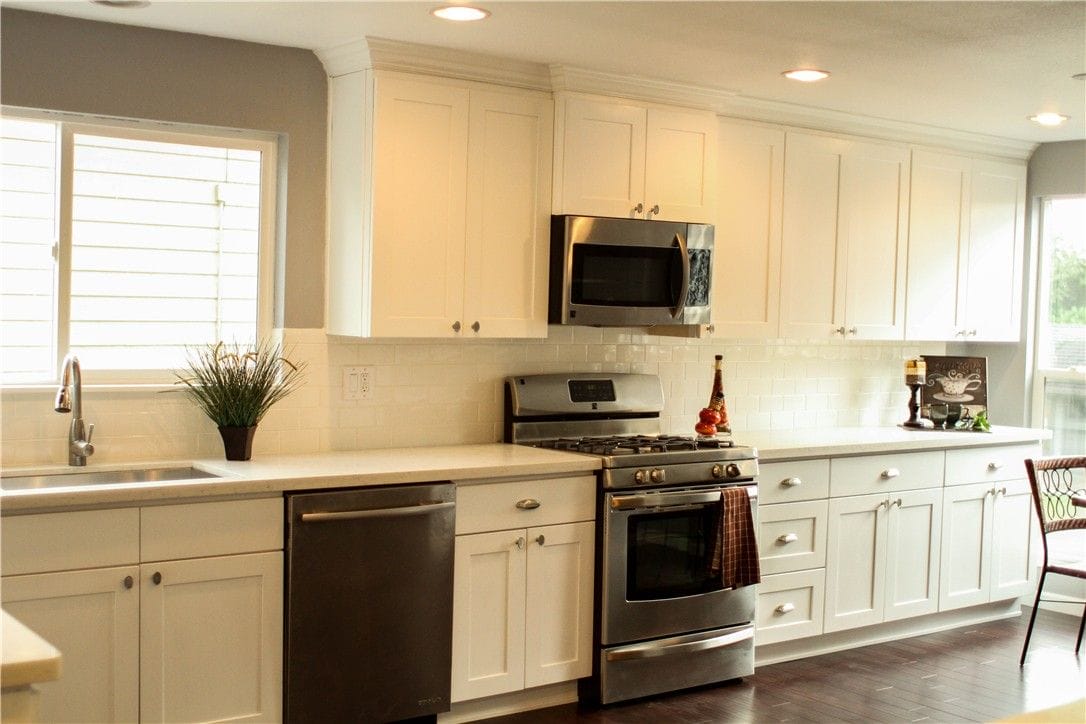 Whether you live in a small or big house, the airiness of a room becomes a crucial aspect of your house for sure. Then,  a one-wall kitchen concept will help you build an open and comfortable culinary space.
Swap out the outdated L-shaped kitchen layout for this one. It doesn't take up too much space. The all-white cabinetry, ceiling, backsplash, and countertop develop a seamless appearance. Dark wood flooring keeps monotony at bay.
38. Single-Wall Kitchen Design with Big Island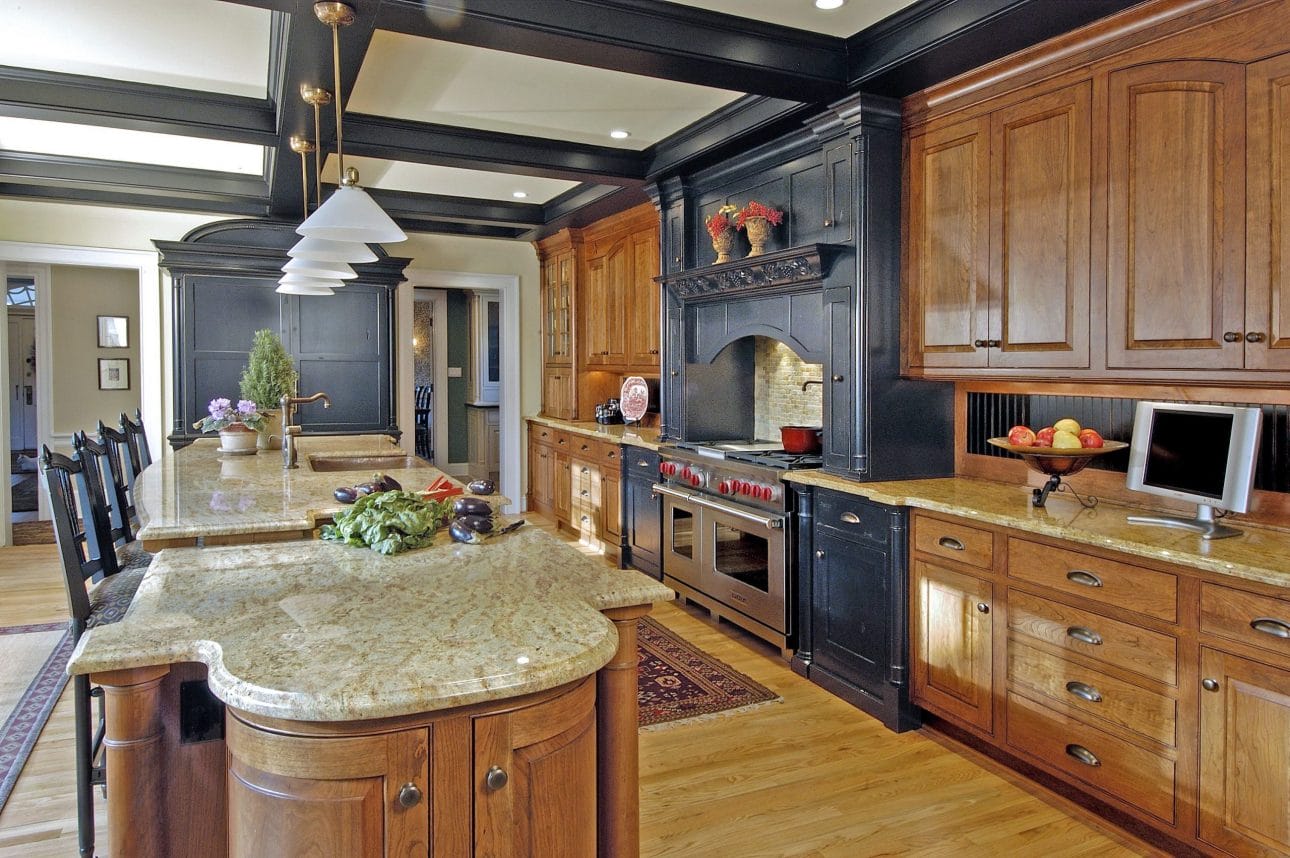 As you see, this culinary space is large. The single-wall kitchen layout provides ample room for grand cabinets and appliances.
The kitchen was outfitted with caramel-colored wooden furniture. Granite countertops and patterned area rug generate visual interest. White-and-gold triangular pendant lamps highlight the island.
Furthermore, the vent above the stove and oven was framed with black-painted wood. It lends the space a dramatic interior touch. Pops of color invigorate the scene. The massive kitchen island serves as a breakfast bar.
39. One Wall Kitchen Design with Exposed Beams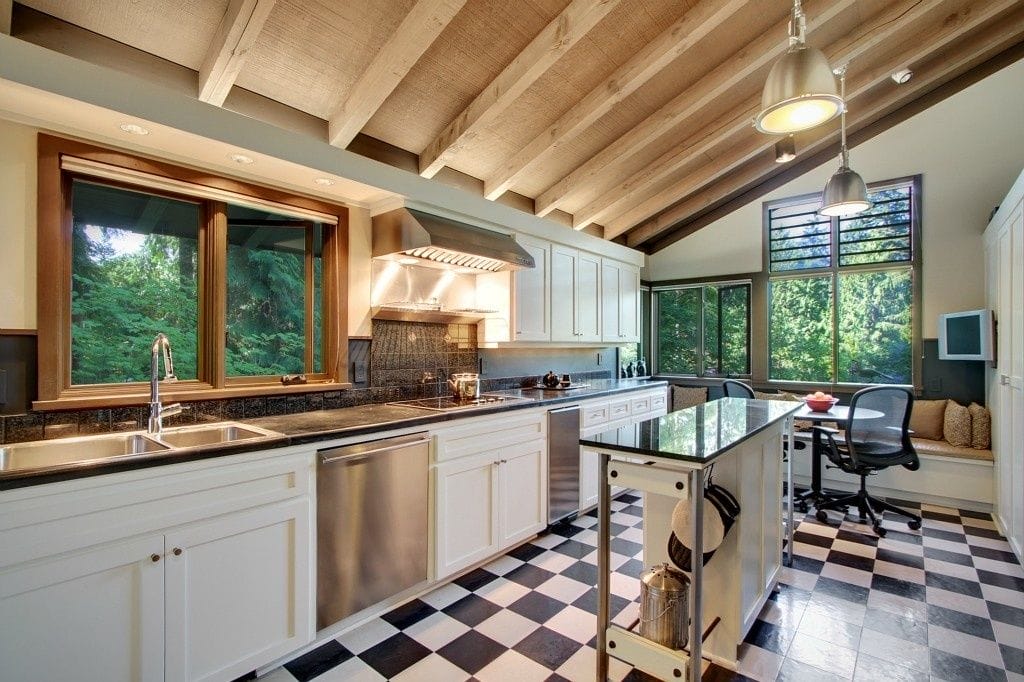 If you are obsessed with an updated cabin-inspired kitchen, this idea undoubtedly wins your heart. The exposed wood ceiling beams add some rustic appeal to the culinary space.
Streamlined cabinets and drawers were painted off-white. The black countertops wonderfully contrast with them. Shiny metal pendant lamps produce a vintage flair and a sumptuous air.
The kitchen also employs a narrow, rolling island. Although the unit is skinny, it provides an extra surface for chopping ingredients.
To explore more remarkable ceiling designs for the kitchen, you can read it here.
40. Single-Wall Design with Marble Countertops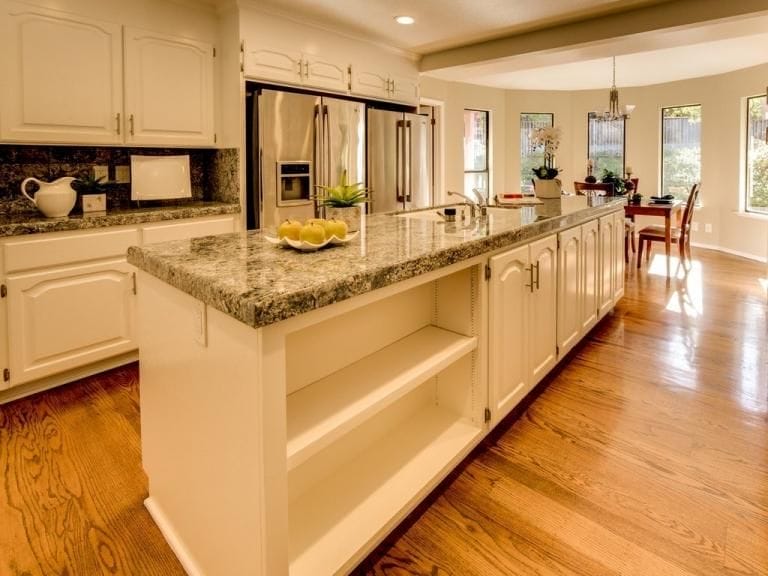 When it comes to decorating one wall kitchen, you never go wrong with a white color scheme. This neutral develops an airy feeling and a clean look. Here, white can be spotted almost everywhere.
Marble countertops team perfectly with white cabinetry and island. They infuse timeless elegance and unrivaled beauty into the area.
Wood flooring has a caramel brown stain. As a result, it sends out a homey vibe and adds a lovely contrast to the entire space.
41. Contemporary-Style For Cooking Space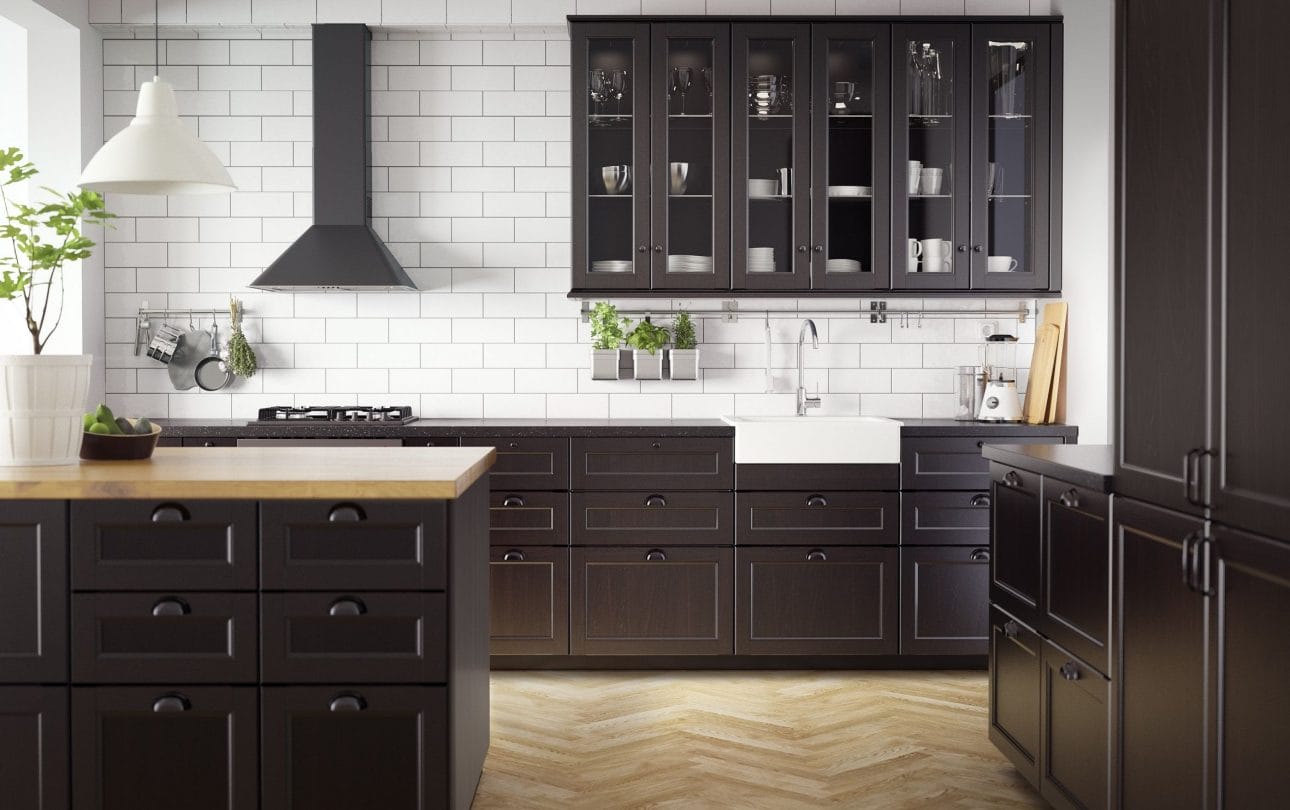 Firstly, black and white are an enduring color pairing. Secondly, this one wall kitchen is a marvelous example of the combination.
The backsplash was clad in crisp white subway tiles. They imbue the room with contemporary appeal. In addition, The homeowner opted for black overhead and base cabinets to offset them.
Wood flooring, island top, and cutting boards celebrate nature's rawness. Potted indoor plants bring a breath of fresh air to the interior.
42. Open Concept Single-Wall Kitchen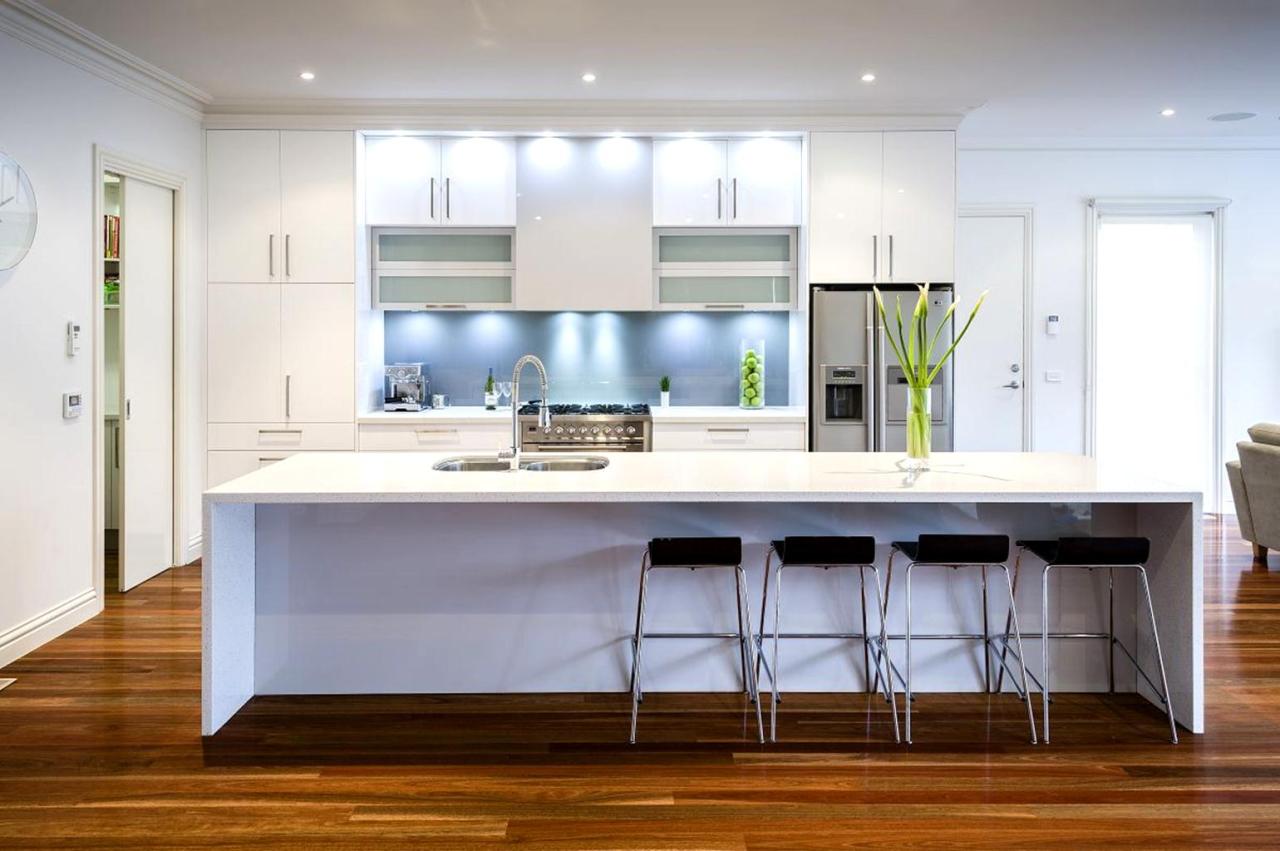 As the picture shows, this trendy one wall kitchen was decorated in an all-white color palette. Moreover, the white is utilized on everything, except the flooring.
In this example, island, ceiling, cabinets, walls, and countertops were built in pure white. They make the area seem wider.
The wood flooring features various brown hues. It prevents the area from becoming too plain and splashes of green energize the kitchen.
43. Cottage Style Ideas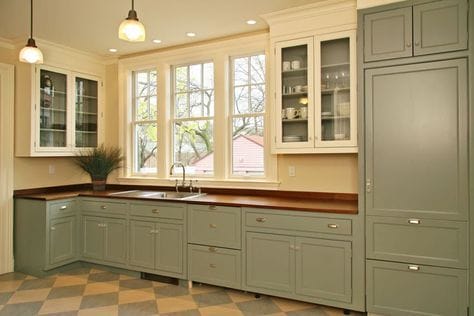 This cottage-style one wall kitchen has a simple but graceful design. It proves that simplicity is certainly the most excellent policy. Downlights and pendant lamps offer proper illumination after dark.
Checkered floor tiles draw the eye in a flash. They have creamy brown and pastel blue shades. Both cabinets and walls continue the room's color scheme which emanates a calm atmosphere.
The potted houseplant was put on top of a wood countertop. It carves a more lively setting. The windows between cabinetry allow the resident to enjoy gorgeous outdoor views while inside.
44. Retro Single-Wall Kitchen Ideas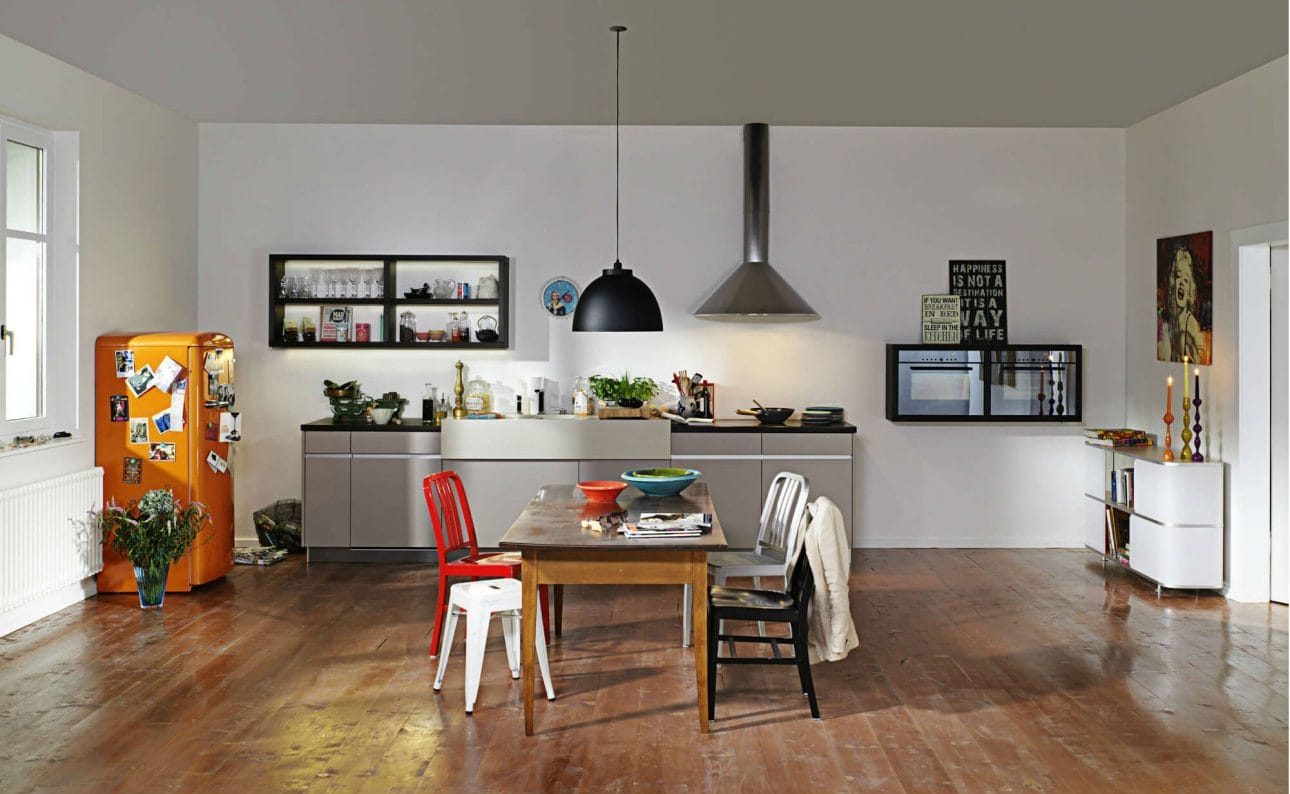 I love this charming interior design. Its white ceiling and walls open up the one wall culinary space. The streamlined kitchen counter may appear simple. However, it is large enough to accommodate the sink and stove.
The black built-in shelves house spices and they are a drastic contrast to the white background as well.
An orange refrigerator was placed near the dining area and counter. It exudes a cheerful ambiance. Moreover, Pendant lamps, chairs, and wall decorations deliver some retro aesthetic to the room.
45. Single-Wall Kitchen Layout with Brick Frame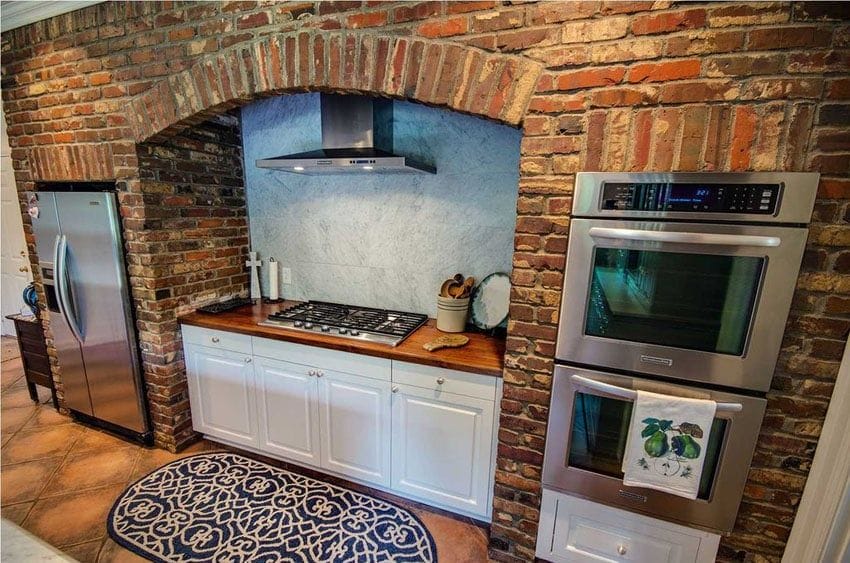 This one wall kitchen includes an unpretentious frame. It is constructed of bricks for a rustic feel. The exposed brick surround makes the interior pleasing and unique at the same time.
White base cabinets add an airy atmosphere to the room. Marble backsplash, wood countertop, and limestone flooring lend the kitchen rich textures. Meanwhile, two-tone patterned rug steals the spotlight in a jiffy.
46. Integrated Kitchen Cabinets
The interior design for culinary space is continuously evolving. Contemporary, rustic, modern, and traditional are popular styles. However, every individual always wants something new and uncommon.
This single-wall kitchen has a futuristic appeal. The invisible cabinets showcase a smooth surface and create an updated look.
Metallic appliances, chairs, and light fixtures carry sophistication to the area. Light wood flooring warms up the otherwise stiff-looking kitchen. Moreover, the indoor plants imbue the space with life.
47. Contemporary Kitchen with Movable Island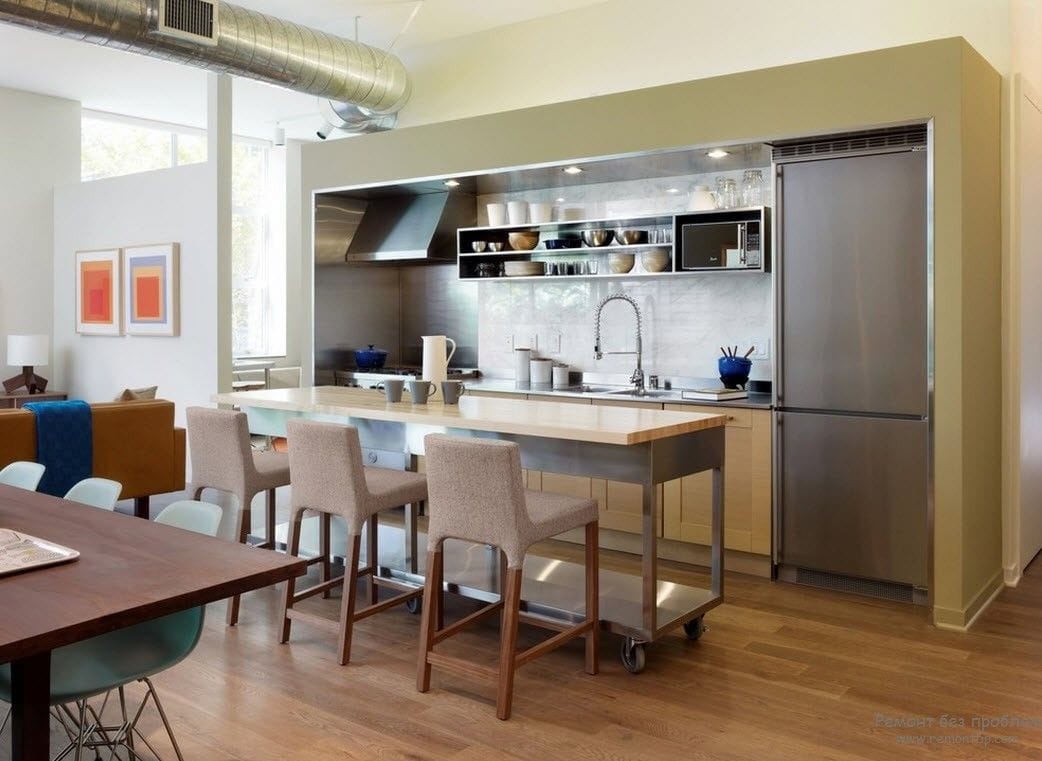 The ultimate purpose of the one wall kitchen is to maximize available space for performing different tasks. That's the reason it typically features compact appliances such as sink, stove, refrigerator, range hood, and oven.
Here, moss green-painted structure magnificently frames both appliances and hardware. White backsplash, cream cabinetry, and taupe chairs send out a relaxing ambiance. The portable island doubles as a kitchen breakfast bar.
48. Rustic One Wall Kitchen Design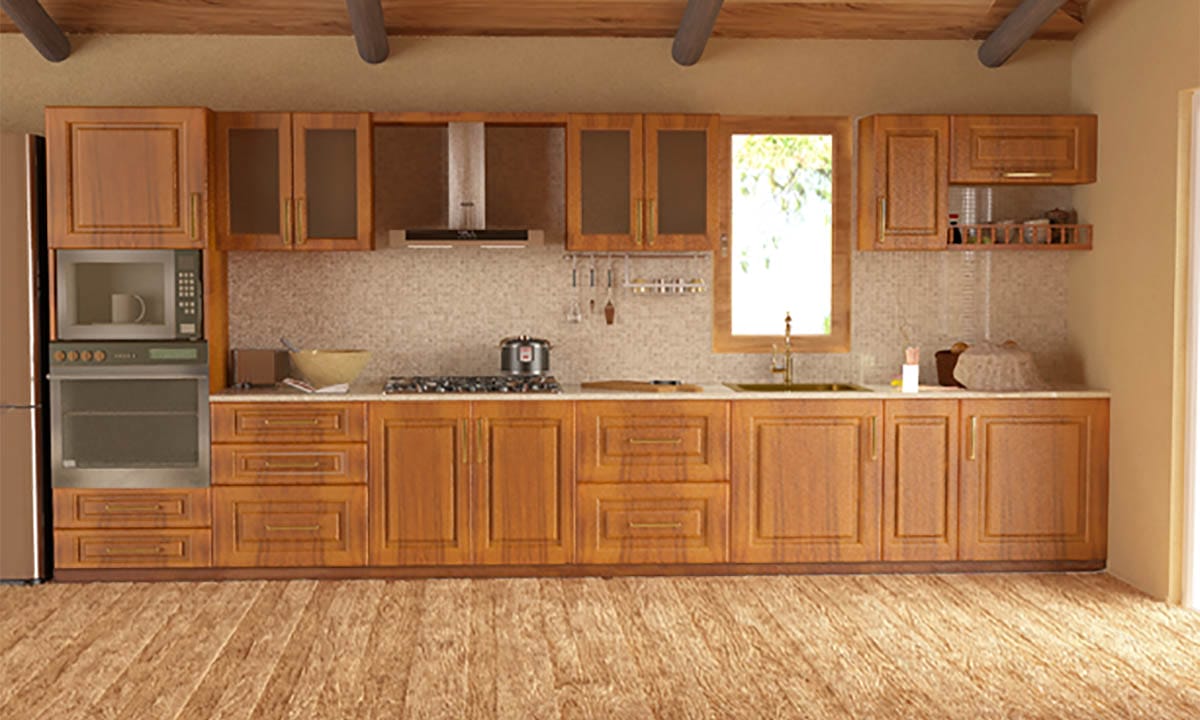 Do you love craftsman style kitchen? If yes, steal this idea. Here, the single-wall cooking area boasts crafted wood ceiling, flooring, base cabinets, and drawers. Those aspects reinsure the room with a welcoming air and rustic charm.
In between flooring and ceiling, you can spot beige backsplash as well as overhead cabinetry with frosted glass inserts. A window lets in natural light and allows for scenic outside views. Metallic accents add a stylish touch to the area.
These one wall kitchen designs are making vast improvement. They only occupy single walls and offer some real benefits. In conclusion, Whether you are space challenged or not, give any of those ideas a chance.