No doubt, single-wall kitchen design is making a huge comeback. Not only does it offer more cooking space, but also keeps you from breaking up an open kitchen layout. If you are into it, take a gander at my one wall kitchen ideas below.
Here, I have rounded up some kitchens boasting only one wall. Their styles vary greatly from rustic to minimalist. Let us find out what single wall kitchen layout you love the most.
1. One Wall Kitchen with Large Island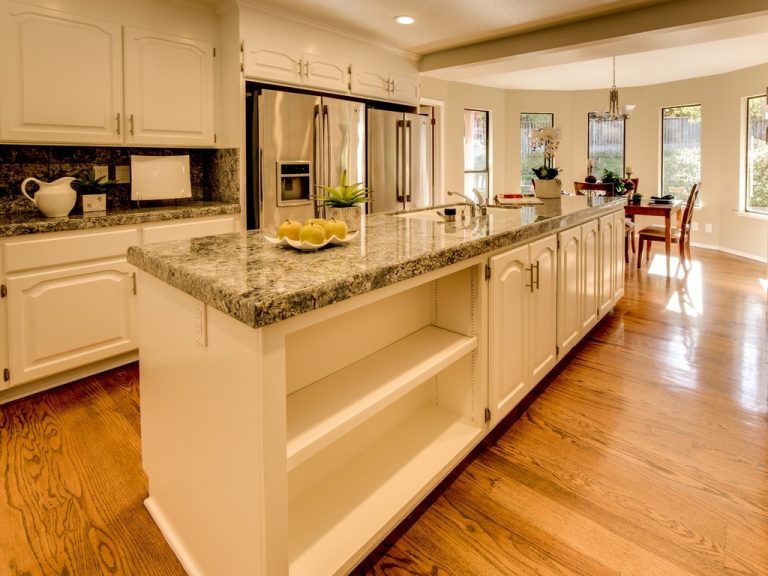 The white color scheme dominates this kitchen. As a result, the space appears more expansive than it truly is. Both large island and cabinets are topped with marble countertops for a luxurious air. Lastly, the wood floor oozes unmatched warmth.
2. One Wall Kitchen with Window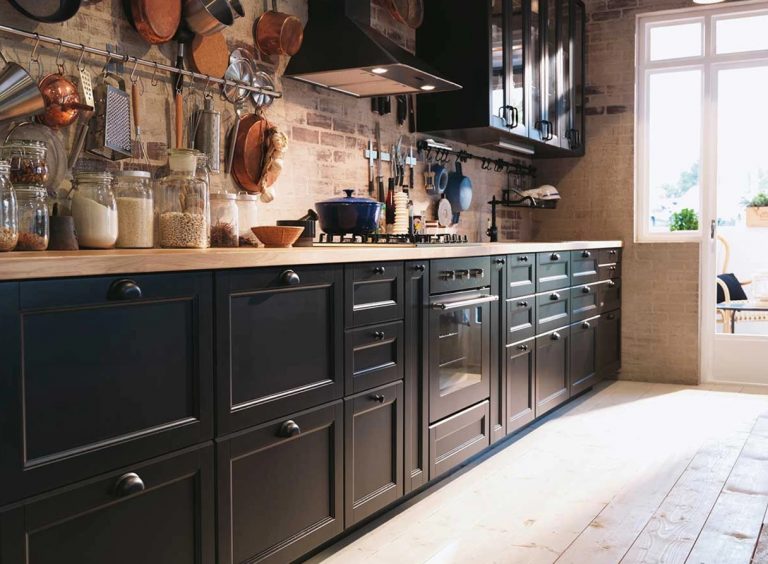 This single wall culinary space is outfitted with black cabinets. Those furniture units give it a modern feel.
The whitewashed brick backsplash generates an industrial look, while the glass window and door prevent the room from becoming dreary.
3. One Wall Kitchen with Peninsula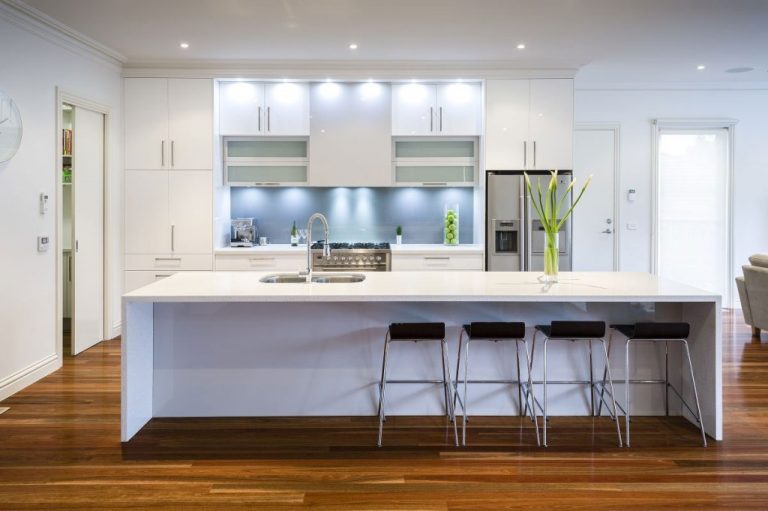 As the image shows, the homeowner used plenty of white in her kitchen from ceiling to peninsula. That neutral color sets an open and airy atmosphere. Varying shades of brown on the floor carve a welcoming vibe.
4. One Kitchen Wall Designs Photos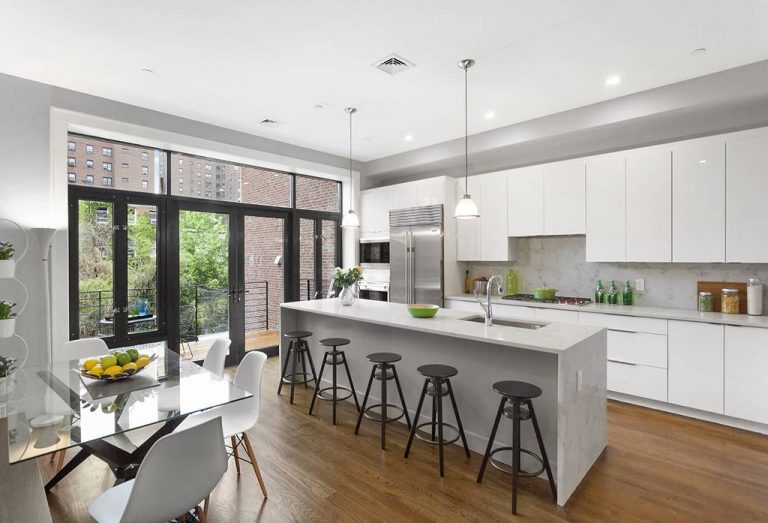 Here, the kitchen features a breakfast bar and dining area. The white color palette sends out a clean feel. The black metal accents add a touch of stylishness to the space. Lastly, the wood floor delivers warmth to the kitchen dominated by cool tones.
5. One Wall Kitchen Dimensions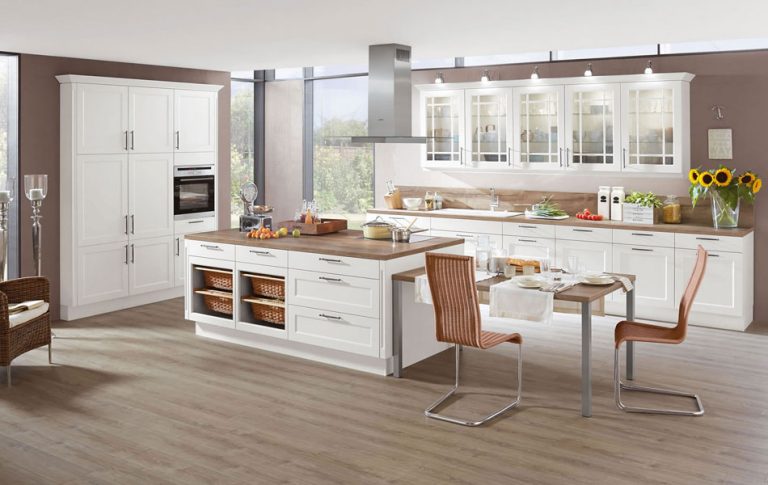 Taupe and white is a perfect combo. It makes the Mediterranean kitchen look open and inviting. The glass-front cabinets allow you to see your dishware collection. Meanwhile, the island provides extra storage.
6. Small Kitchen Layout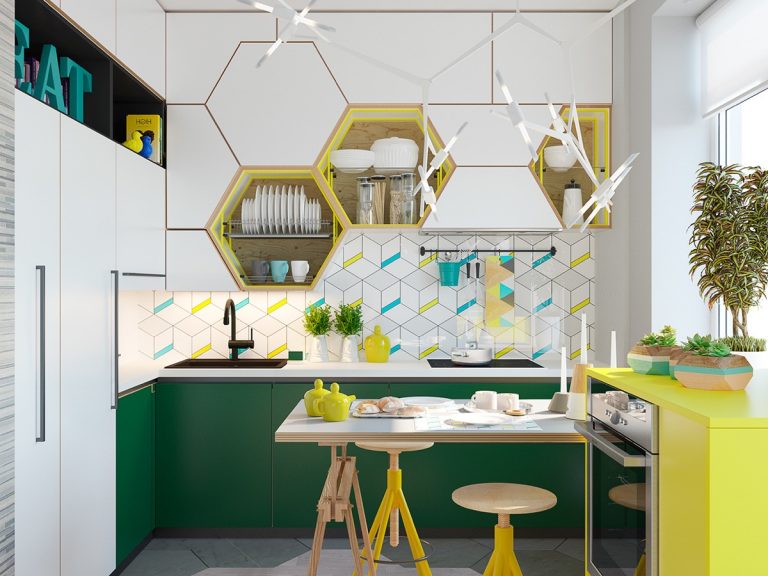 Are you dealing with a small space? It is no worries. Take inspiration from this single-wall kitchen. The geometric backsplash and upper cabinets grab the attention in a moment. Pops of yellow, green, and turquoise lend the room cheerfulness.
7. Single Wall Kitchen with Island
In this contemporary kitchen, cream cabinets and open racks hug the single wall. They keep cooking utensils and dishes in place. The movable kitchen island and high chairs create a cozy dining area.
8. Kitchen with Monochromatic Single Wall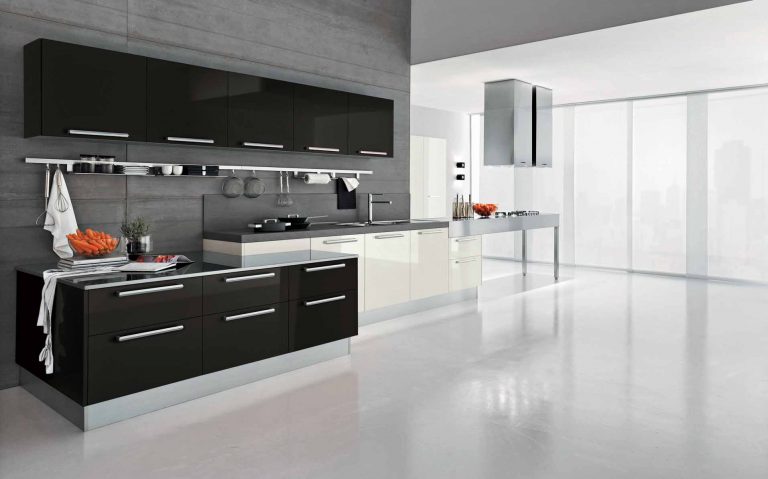 The gray-painted wall provides a nice background for black and white cabinets. Along with stainless-steel accents, it elicits a state of sophistication. Floor-to-ceiling frosted windows and light gray floors make the kitchen feel spacious.
9. Small One Wall Kitchen Design Ideas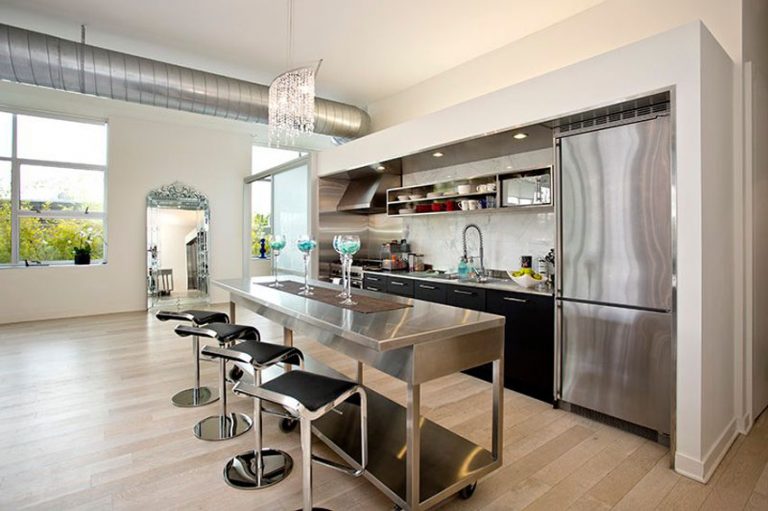 Do you love something futuristic? Fill your compact one wall cooking space with stainless-steel furniture units and appliances.
The stunning mirror leans against the wall. It adds dimension to the area. Meanwhile, the wood floor takes the chill off metallic surfaces.
10. One Wall Kitchen Floor Plans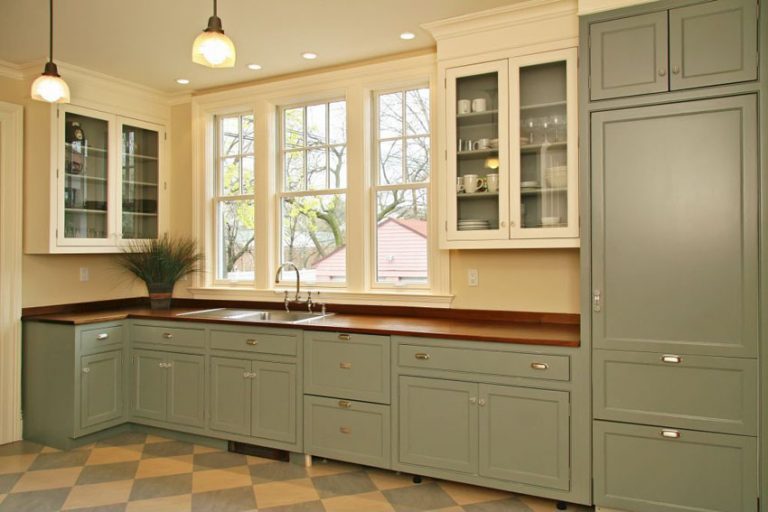 The off white and sage green cabinets inject a cottage feel into the kitchen. Moreover, diagonal checkered tiles bring a focal point to the space. Lastly, the windows let you enjoy an enthralling outdoor view.
11. Storage Ideas for Kitchens without Upper Cabinets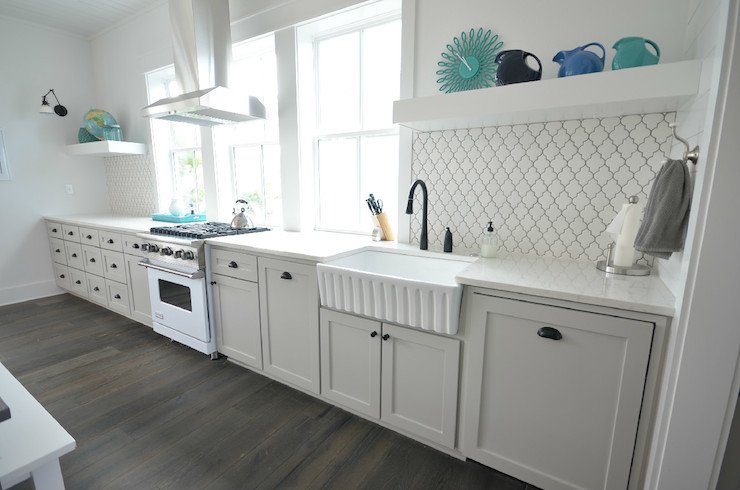 This white country kitchen does not look boring at all, thanks to Arabesque backsplash tiles and splashes of color. The upper cabinets are replaced with two floating shelves for an airy setting.
12. Kitchen with Island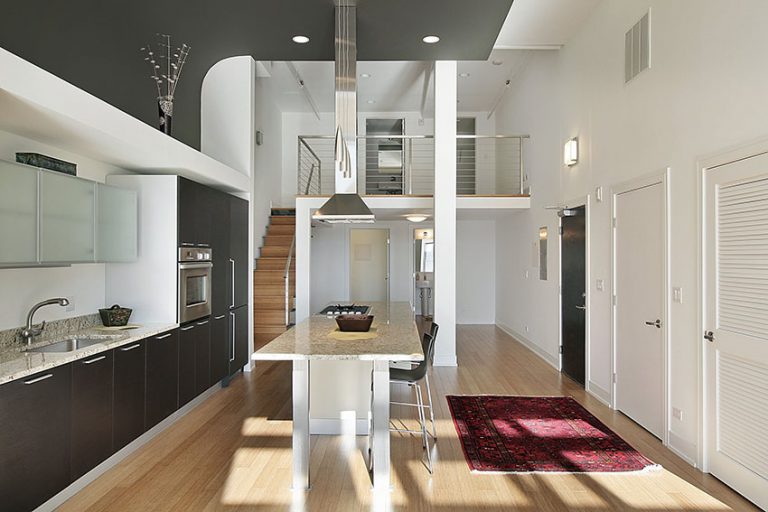 Do you admire this minimalist kitchen? I do, too. The see-through cabinets and granite countertops balance out the black units. A red French country rug keeps the kitchen from being too stark.
13. One Wall Layout Dimensions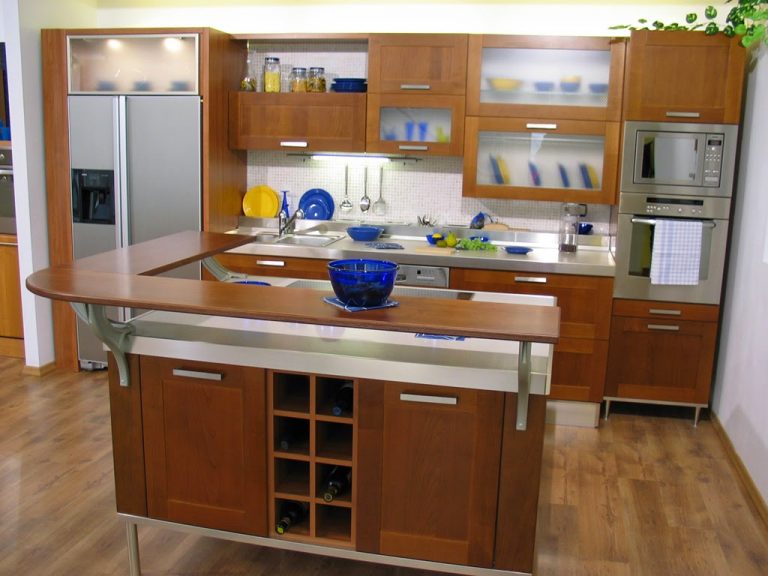 Above is a single wall kitchen with stained wood island and cabinets. They deliver a touch of class to the room. Shots of blue and yellow brighten up the otherwise neutral kitchen.
14. One Wall Kitchen Plan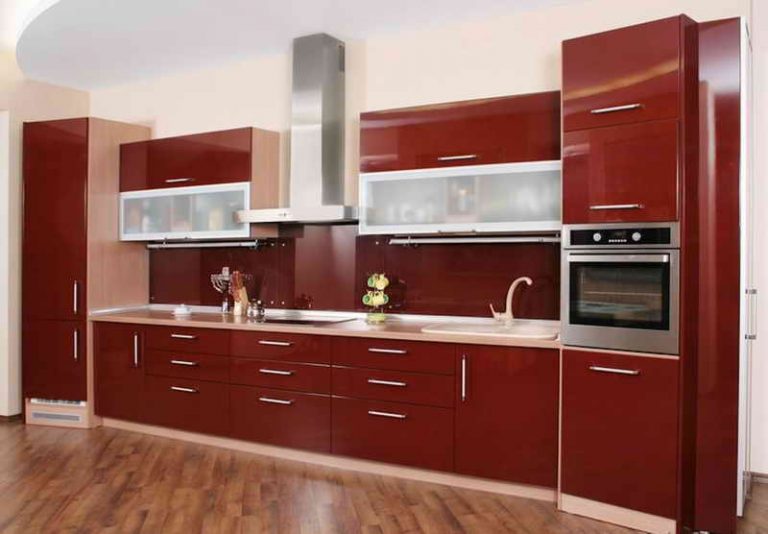 If your favorite color is red, this single wall culinary space is definitely for you. The deep red backsplash and cabinets bring energy to the room, while the wood floor sets an intimate scene.
15. Kitchen Wall Designs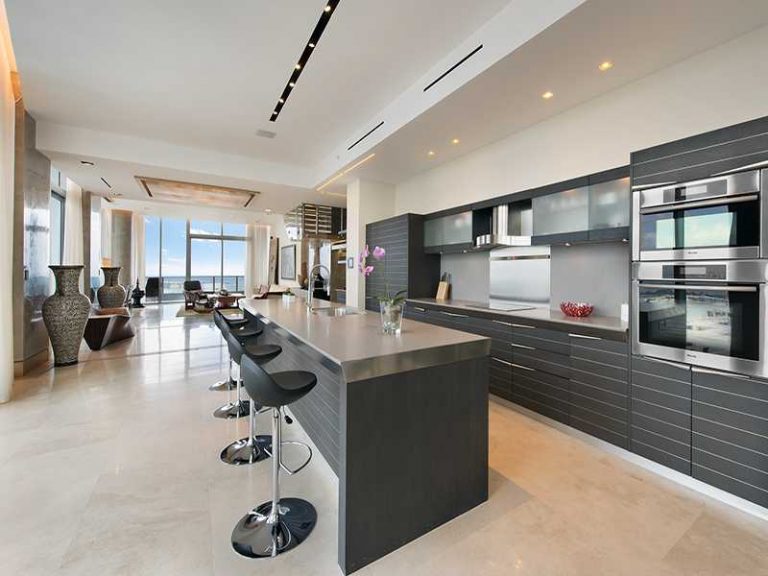 Dark gray cabinets, breakfast bar stools, and island evoke the feelings of masculinity as well as modernity. Stainless steel countertops and appliances lift the kitchen's glamorous vibe.
16. IKEA One Wall Kitchen
This kitchen is furnished with clean-cut cabinets. Since those furniture pieces come in pure white, they make the kitchen appear wider. Wood countertops, walls, and floor prevent the space from being too sterile.
17. Contemporary Single Wall Kitchen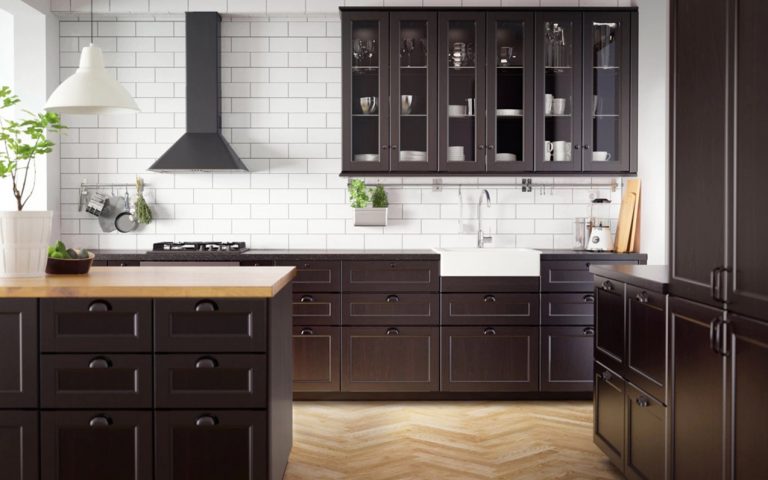 The countertop-to-ceiling backsplash is clad in white subway tiles. They produce a contemporary flavor. The black range hood and cabinets lend the single wall kitchen an instant drama.
18. Kitchen with Dining Table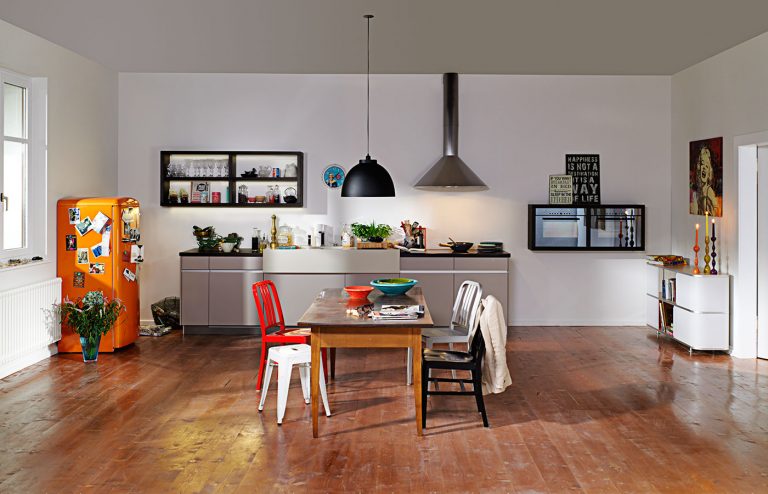 White ceiling and walls carve a clean environment. The refrigerator, pendant lamp, and chairs represent retro style. Wood dining table and floor warm up the kitchen in a split second.
19. Modern Farmhouse Kitchen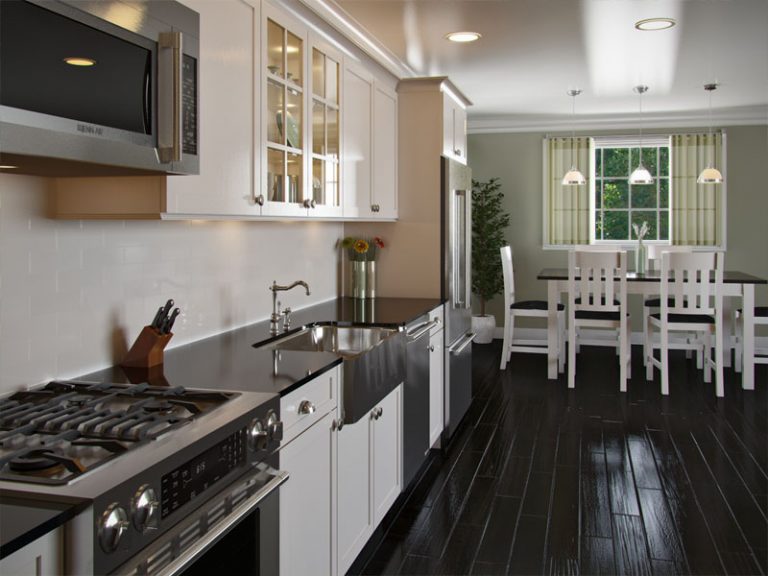 The neutral colors come together in this single-wall kitchen. They impart a calming ambiance. Black-painted wood floor is a hot contrast to the off-white lower cabinets and dining chairs.
20. Getting Rid of Upper Kitchen Cabinets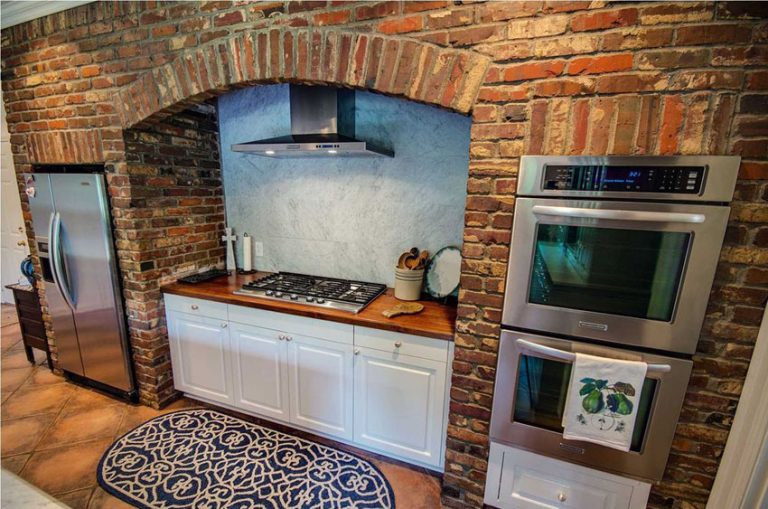 The single wall of the kitchen is constructed from bricks. Along with terracotta floor tiles, they infuse rustic charm into the room. A blue patterned rug steals the spotlight in no time.
21. Tiny One Wall Kitchen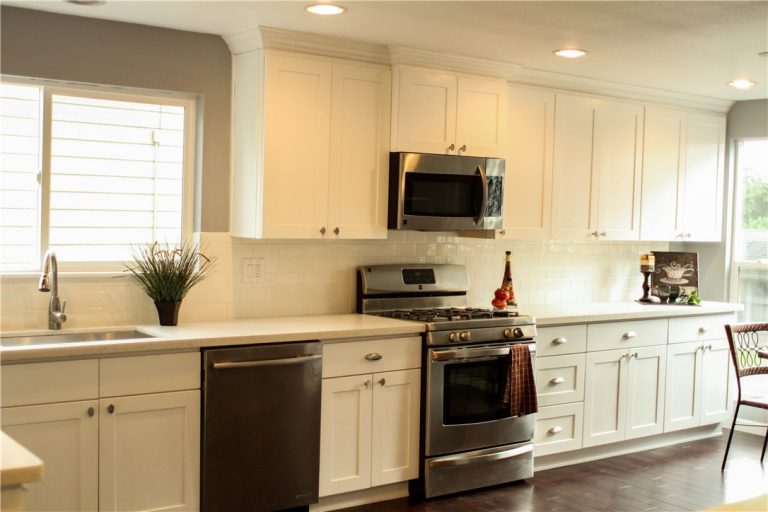 Have you been dreaming of a gorgeous kitchen? Steal this idea then. Use lots of white in your culinary space. Incorporate metallic accents to make the space feel updated. Install doors and windows to let in natural light.
22. One Wall Layout Measurement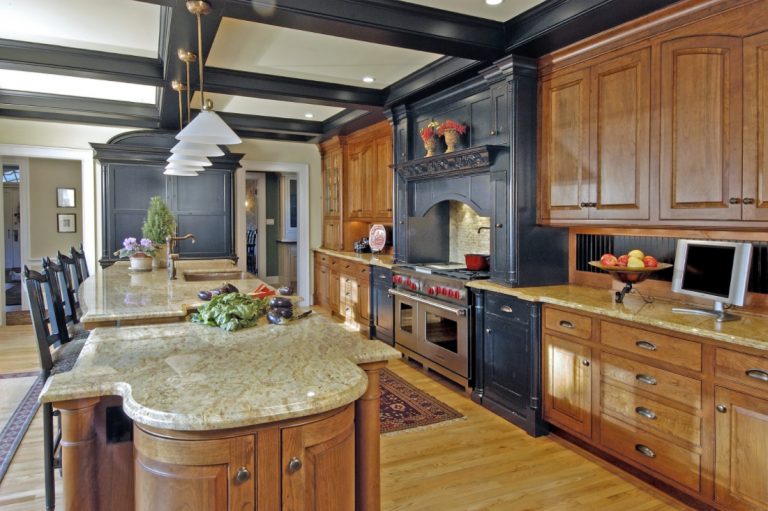 Do you fall in love with a country kitchen? Give this idea a chance. The kitchen involves massive island, wood cabinets, and triangular ceiling lights. Meanwhile, the rug provides comfort underfoot.
23. Rustic Single Wall Kitchen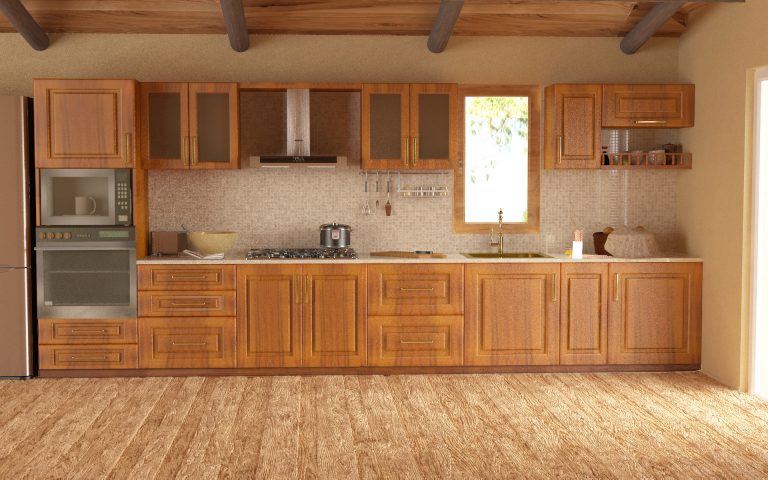 Pictured above is a cabin-style kitchen. The wood ceiling, floor, and cabinets imbue the space with a welcoming air. In addition, cream backsplash and walls elicit a moment of tranquility.
24. Single Wall Kitchen with Rustic and Retro Touches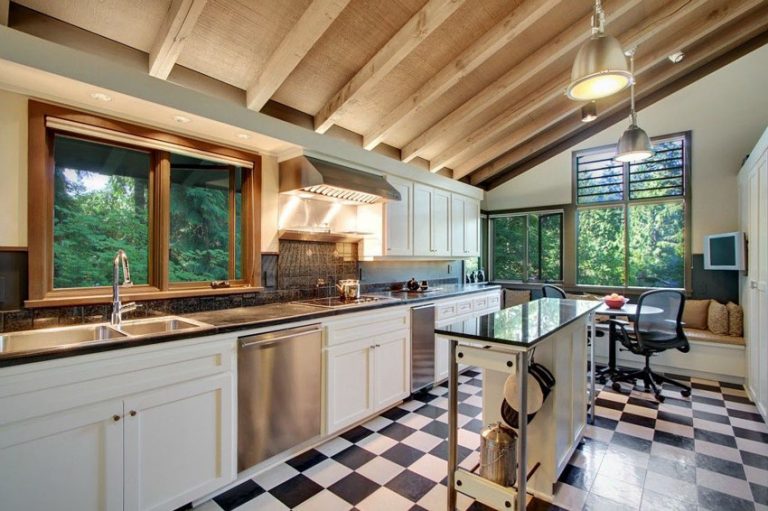 The exposed wood ceiling and beams bring rustic chic to the one wall cooking space. Moreover, checkerboard floor tiles catch the eye.
White countertop, portable island, and cabinets exude a touch of cleanliness. Two metallic pendant lights illuminate the kitchen in a retro style.
Generally, one wall kitchen is encountered in an apartment and a small home. However, it works perfectly with a large dwelling too. So, pick one single wall kitchen idea that truly suits your needs, budget, and environment.