Before decorating a home, consider many important things. For instance, you need to discover amazing dining room signs available.
Moreover, the interior design style reflects your future vision, values, and personal interest.
You can show your preference for a home in various ways. The flooring and color scheme frame the room's character.
The fixtures and furniture take space from country to contemporary. Curtains, plants, and decorations complete the look.
The pantry and dining place are the hubs of the home. People share meals andt plan dreams in these gathering spaces. They also provide a nice canvas for showcasing your decor as well as an individual style.
When homeowners entertain visitors with meals, they have a chance to reveal their characters without saying a word.
Whether charming or smart, the wall signs in dining rooms convey blessing and hope messages to anyone who reads them.
Many signs for culinary spaces come directly from the artists that make them through online marketplaces or festivals. Keep reading to know marvelous sign ideas.
1. Modern Farmhouse Dining Room Signs
This 3D wall sign combines sleek modern and rough rustic styles nicely. Moreover, metal and wood develop an attractive design. It is great for the family room, dining area, or kitchen.
The crossed geometric wooden planks create visual depth behind the simplistic script. In addition, the sign encourages both your family and visitors to gather.
Furthermore, this handmade farmhouse sign is the focal point of the dining room. It features different colors and materials. The unit comes with flower wall sconces. They complement the gorgeous sentiment perfectly.
2. Eat Framed Dining Room Signs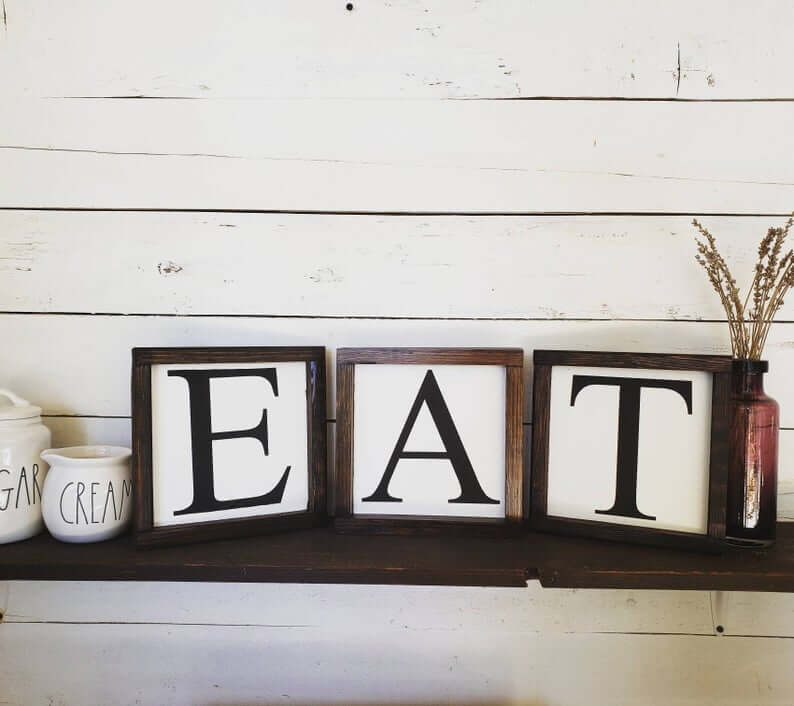 Searching for cute dining room signs? If so, give these "eat" signs a go. The decorations boast square solid wood frames. They highlight the letters really well.
There's a wide selection of finishes to select from. Choose the one that truly fits your current decor. Like any other wooden products, these signs provide grain variations and ooze rustic charm.
Display these "eat" signs to complement your farmhouse home. You can both dangle the items on the dining place wall or showcase them on a shelf. Moreover, arrange those letters diagonally, vertically, or horizontally.
3. Vertical Dining Room Signs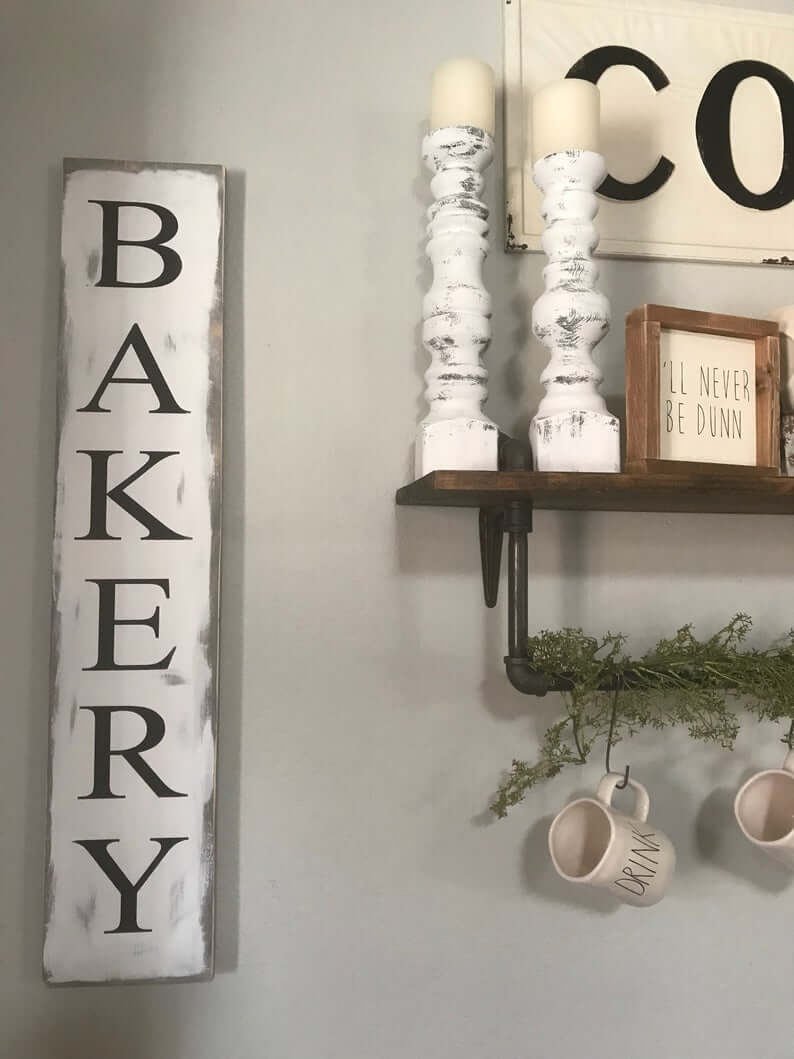 This farmhouse vertical sign is definitely a perfect solution for tricky and narrow wall space. You can give it to the baker either in your intimate circle or relatives.
The country-style wall sign showcases black text and a rustic white background. Since the item has a gray base, it will fit awesomely into any home decor.
This sign allows everyone to know where they should go when your oven opens as well as delivers tasty baked goods.
You can buy one for yourself. It would additionally make an astounding gift for the housewarming party or Mother's Day.
4. Bon Appetit Wall Decal for Dining Room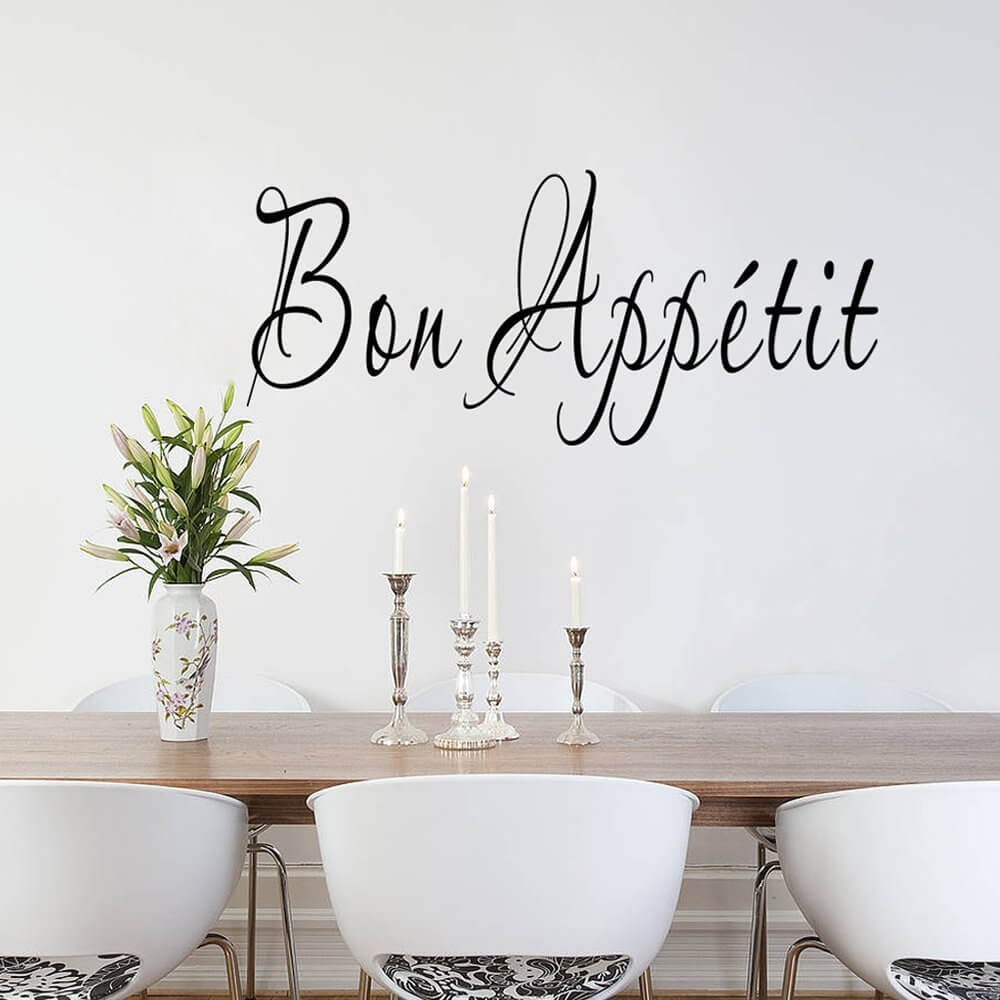 Undoubtedly, this is one of the fabulous dining room signs. Here, the decal adorns the wall and makes the visitors feel welcome.
Furthermore, the wall decal serves as an excellent invitation. It invites your guests to enjoy congenial conversation and great food. The decor sports a French phrase. It lends any meal an elegant touch.
Moreover, this bon appetit wall decal is not only reusable but also easy to remove. It is such a wonderful idea to manage your costs when the interior design styles change.
5. Kitchen Rules Dining Room Wall Decal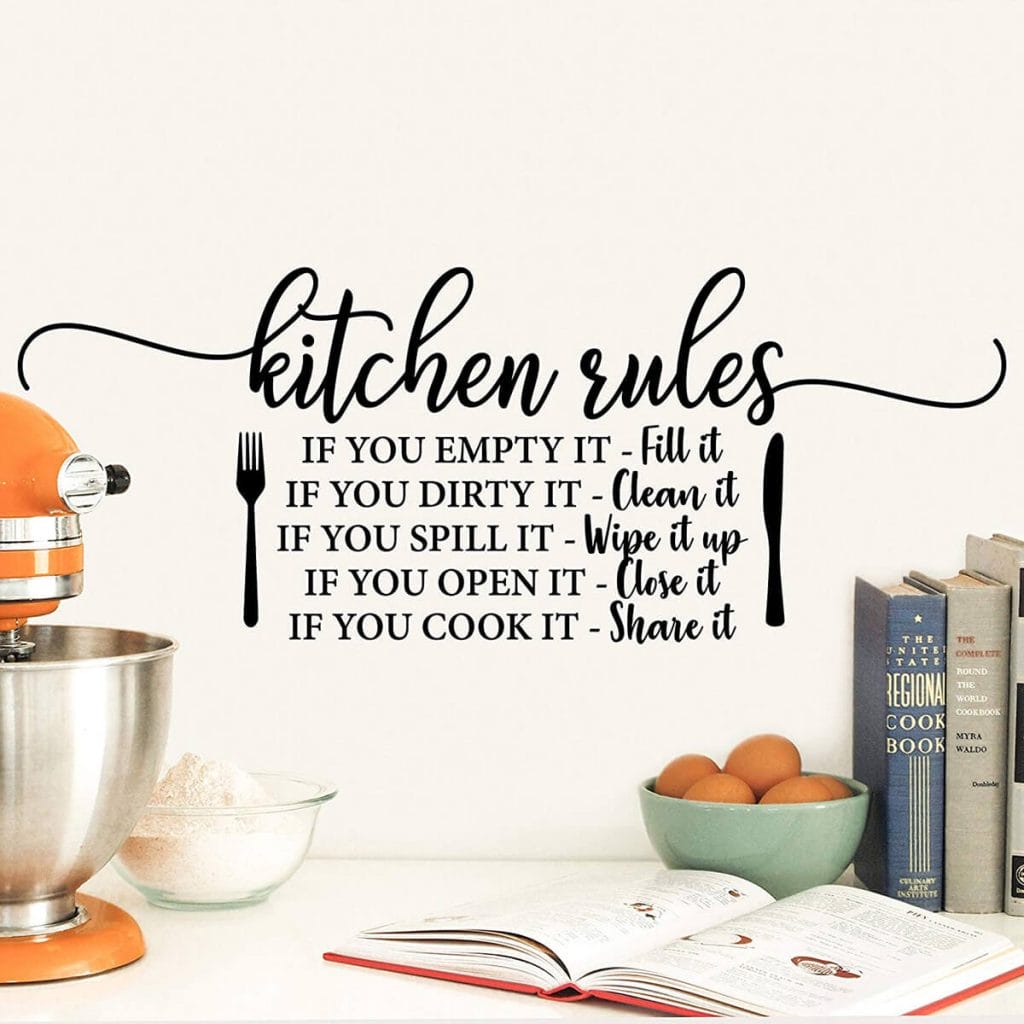 With this vinyl decal, you can allow visitors to know your kitchen rules. Furthermore, crisp edges, as well as a matte finish, give it the look of the artist's artwork.
Moreover, this decal removes easily. You can update the design style when your tastes change. It won't damage the kitchen wall, too.
The decal's message is both adorable and heartwarming. It also informs the kitchen visitors of their responsibilities. You could decide the consequences when the guests break your rules.
6. Wood Framed Dining Room Signs
Matching your dining room sign to the existing home's decor is easy with this monochrome wall hanging. Furthermore, this wood item sends a message of creating fond memories over the meal.
Black lettering is both sharp and precise. Meanwhile, the wood frame ensures great durability. Moreover, the frames come in four colors.
They offer wonderful flexibility as well. The pieces go well with the current decorations in the room.
This welcoming dining room sign ensures that you have lovely memories of the visitors around the table. Additionally, the maker provides quick delivery and superior quality.
7. Wood Grain Dining Room Signs
This sign features an inspirational message. It reminds you and your guests of the daily blessings in life. Moreover, the item boasts a white script and narrow walnut board. The unit would look incredible with any rustic decor.
Furthermore, this vertical wood sign anchors the kitchen or dining room wall. The sawtooth hanger allows you to hang it up easily. Additionally, the item comes in various colors and grains.
This wood grain sign lends the space a one-of-a-kind personality. Its natural beauty certainly will set a grin on anyone's face who read it.
8. Metal Dining Room Signs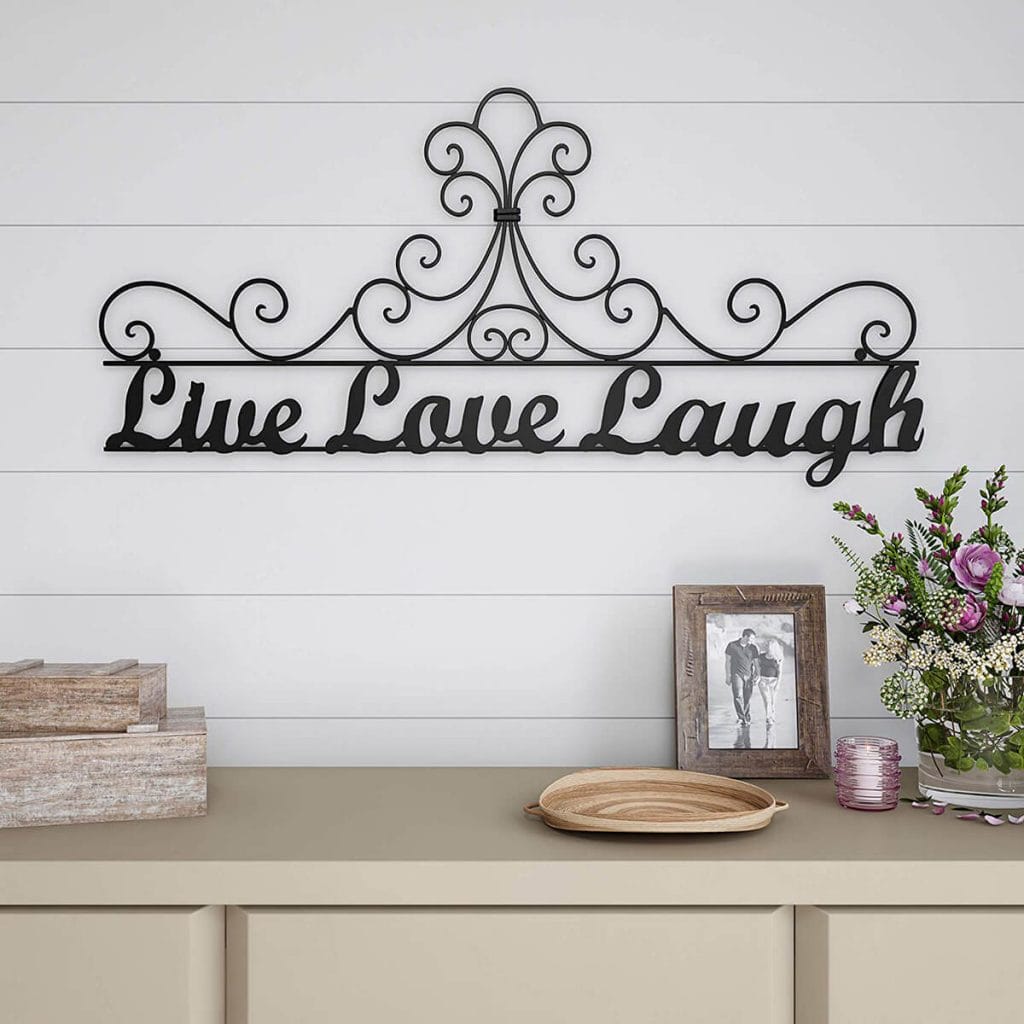 If the rectangle kitchen sign is not your thing, opt for this 3D artwork. Furthermore, it boasts laser-cut iron in a black finish. The scrollwork pairs with almost any home decor style.
The good life's inspiring message will definitely encourage everyone to enjoy their days. This metal artwork looks magnificent on the kitchen or dining room wall.
This metal sign is long-lasting. It comes with discreet hanging holes for easier display over your window, sideboard, or stove.
Place this wall hanging wherever you really need a good reminder to stop and count daily life's joys.
9. Homemade Dining Room Signs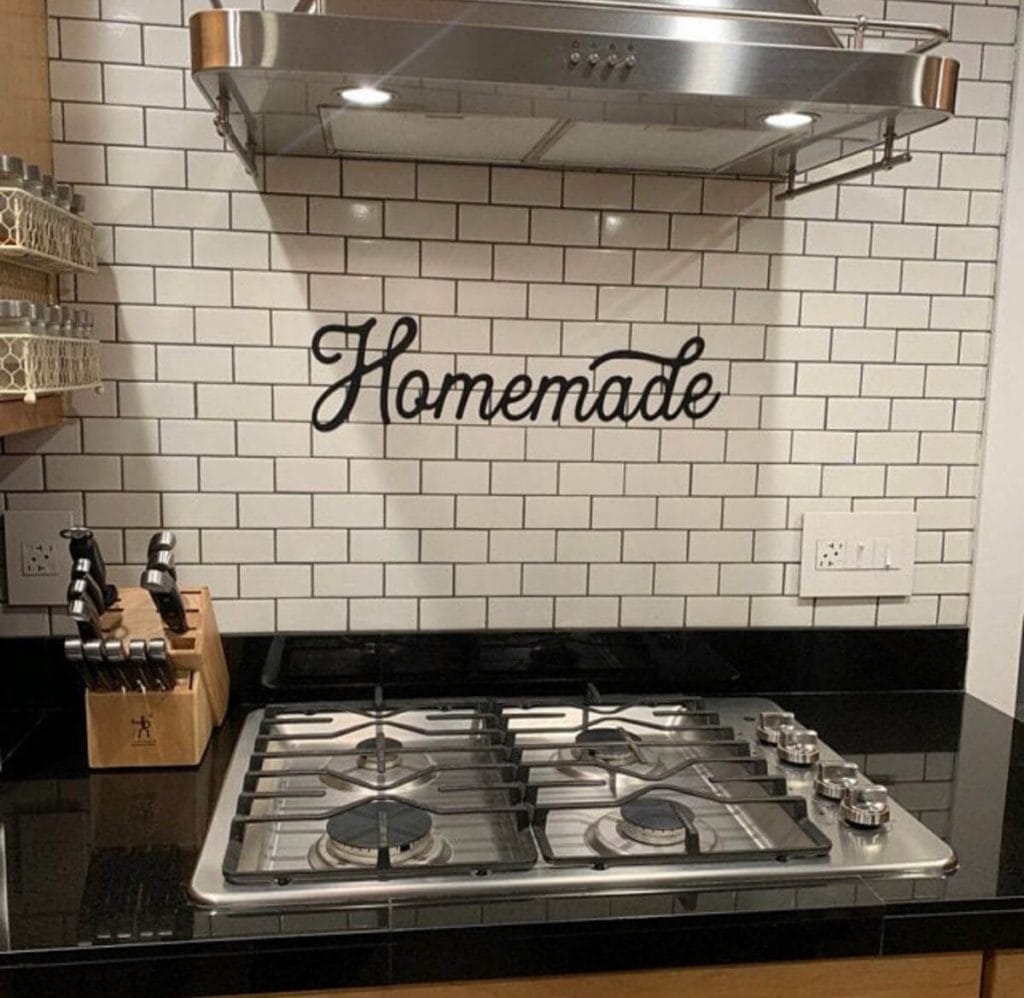 We love this handmade steel statement wall sign. It is one of the captivating dining room signs. The powder-coated metal artwork shows that your meals are homemade.
This kitchen sign is available in various colors and sizes. The maker separates the capital H from the other letters. That means the decor allows you to give it a unique twist.
Here, this steel sign looks awesome on the subway tiled backsplash behind the kitchen range. The adhesive stripes provide a great option for hanging whether on drywall or stone.
10. Vintage Dining Room Signs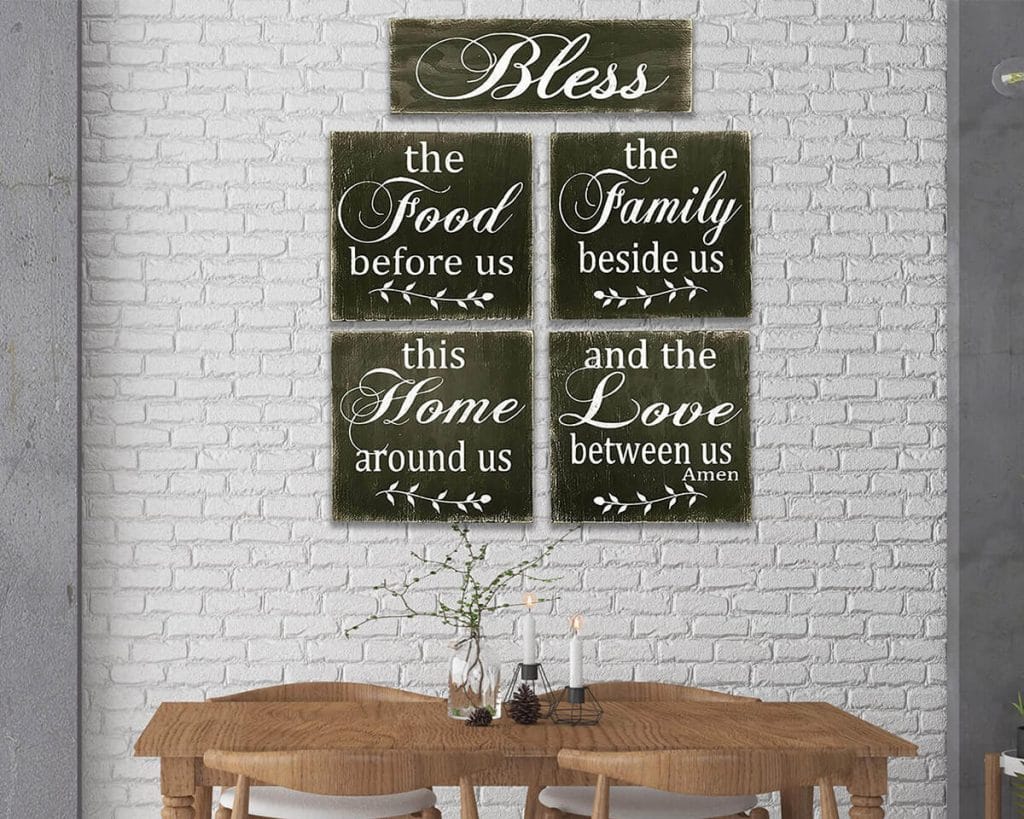 This decor consists of five blessing signs. You can display them either in the kitchen or dining room. Whether your wall area is long or tall, these farmhouse style pieces will match the living space.
The artist sanded these signs by hand. This produces a vintage aesthetic. The decorations allow for easy installation. You can mount them on any surface to spice your room up.
Moreover, these signs make guests truly feel welcome. Additionally, they invite your visitors to the dining table with a mealtime blessing. The pieces let you remember true gifts such as warm love, family, food, and home.
11. Personalized Wall Decal As Dining Room Sign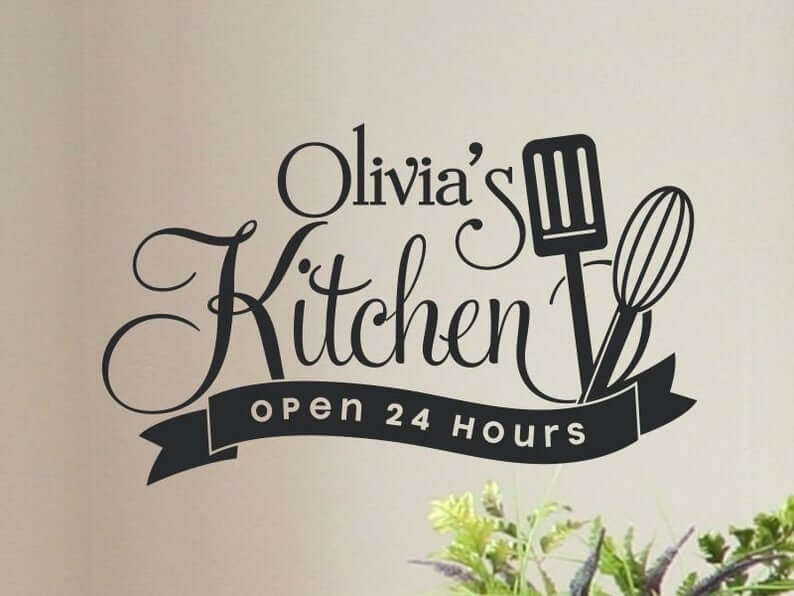 Talking about delightful dining room signs, give this personalized decal a shot. As you see, it showcases some baking tools like a whisk and pancake turner. The decor brilliantly declares the kitchen's keeper, too.
Moreover, the sign comes in 42 different colors. Pick the one that goes well with your current color palette. The vinyl itself holds strong.
However, it removes very easily when you want to change the decor pieces and kitchen signs.
Compared to other dining room signs, this one is wittier for sure. It claims that the homeowner's kitchen operates 24 hours every day.
You could embody the adorable phrase by showing your hospitality for a conversation as well.
12. Horizontal Dining Room Signs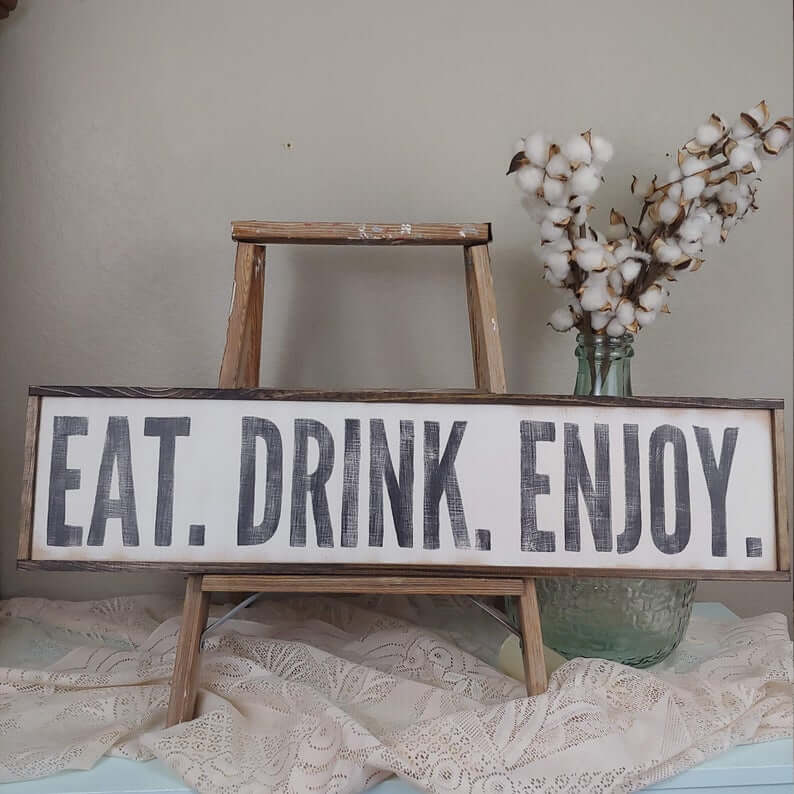 This horizontal plaque is ideal for displaying over the doorway or window. It lends the dining room a touch of whimsy. The decor allows your guests to eat, drink, and enjoy a gathering.
The neutral colored background lets the simple words steal the show. Furthermore, the dark walnut wood evokes a traditional vintage farmhouse feel. In addition, you can easily hang the piece, thanks to sawtooth hangers.
The construction is durable. Furthermore, the sign sports protective shipping materials. We guarantee your visitors will appreciate its inviting sentiment and rustic charm.
13. Dining Room Signs for Cottage Homes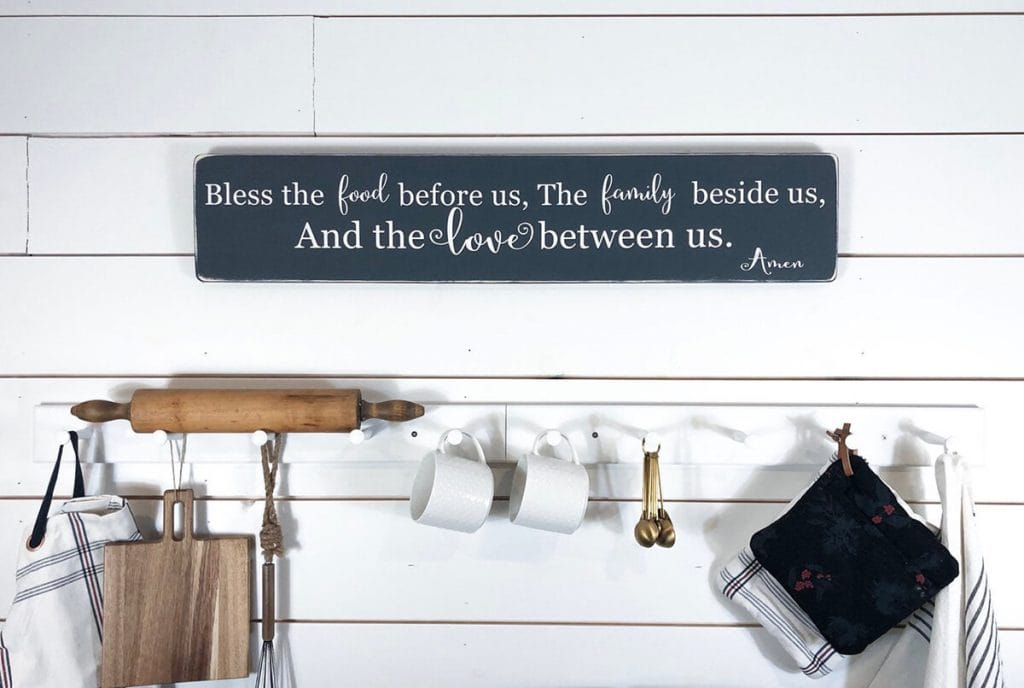 If you like something subtler, choose this horizontal pine wood sign. It carries a message of blessing as well.
This sign wears faded edges, cool neutral hues, and rounded corners. Moreover, it delivers a weathered air to the vacation cottage or beach house. You can install the decor easily using a nail.
There's a tremendous diversity of shades and texts to select from. Pick the one that goes with other ornaments.
14. Julia Child Inspired Dining Room Signs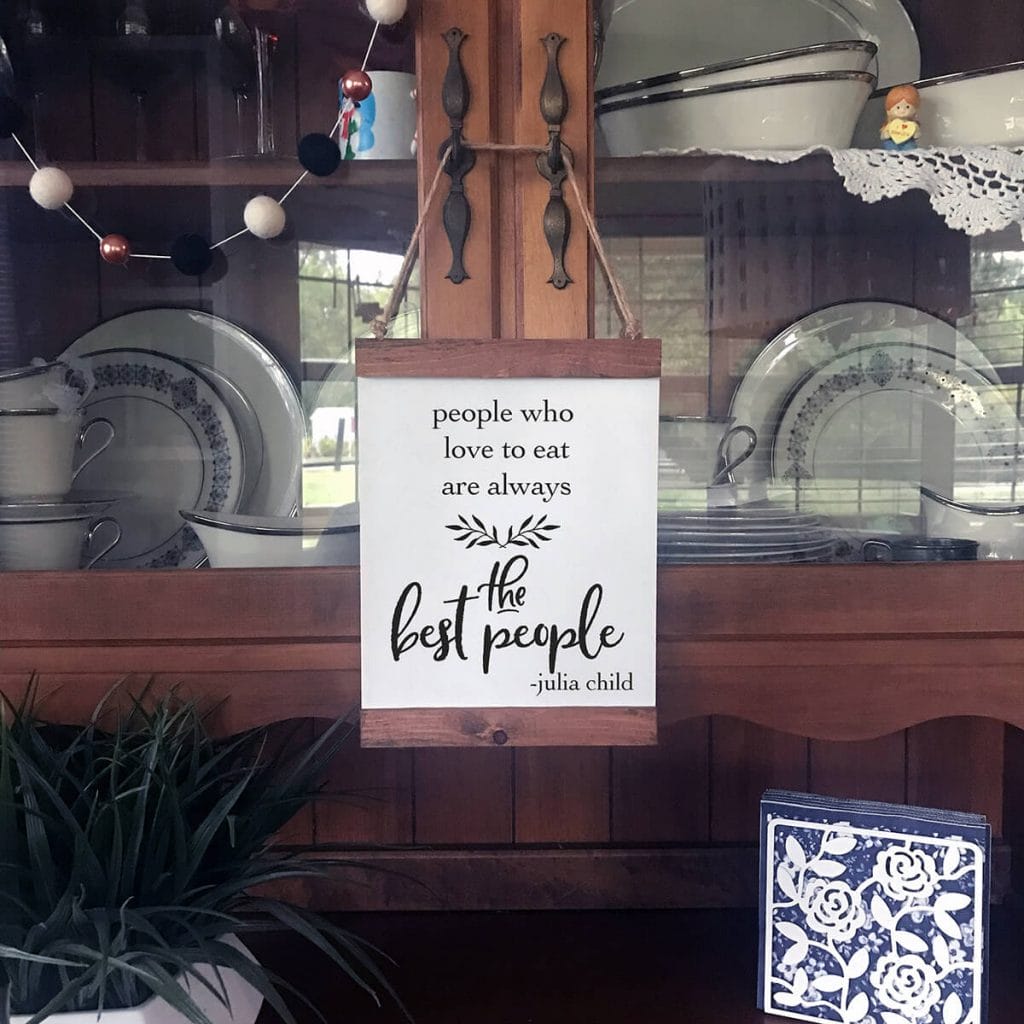 Uncertain that you invited the best people to your home? Make sure they love to eat, according to an American celebrity chef, Julia Child.
The phrase on the vertical sign offers a casual wit spot. Furthermore, the jute rope lends a farmhouse flair to it. You can display the decor in your dining area or kitchen.
There are more than 250 text color and wood stain combinations. That's why this sign can fit well into any home.
15. Dining Room Signs with Vinyl Lettering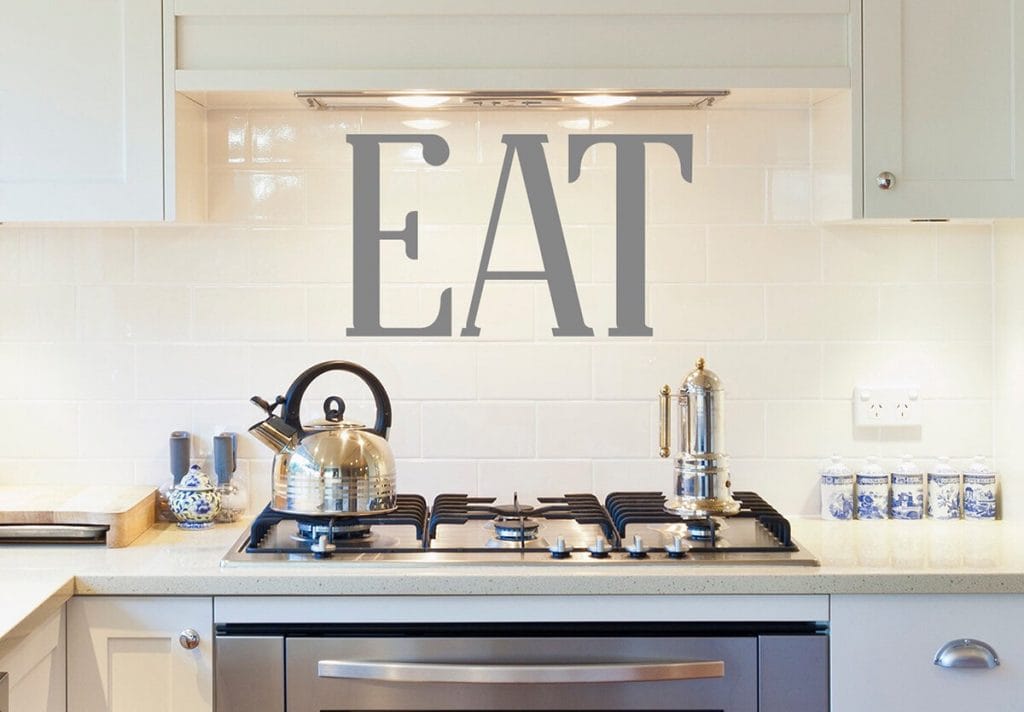 This sign keeps anyone from feeling confused about what they should do in your culinary space. The large vinyl lettering makes a really bold impression.
Furthermore, this matte vinyl decal is truly durable. These signs are available in more than 40 colors for an appealing focal point or a subtle decor.
The size varies widely from a foot high to 24 inches tall. Moreover, the decals are really easy to remove whenever the boredoms kick in.
16. Vertical Rustic Kitchen Sign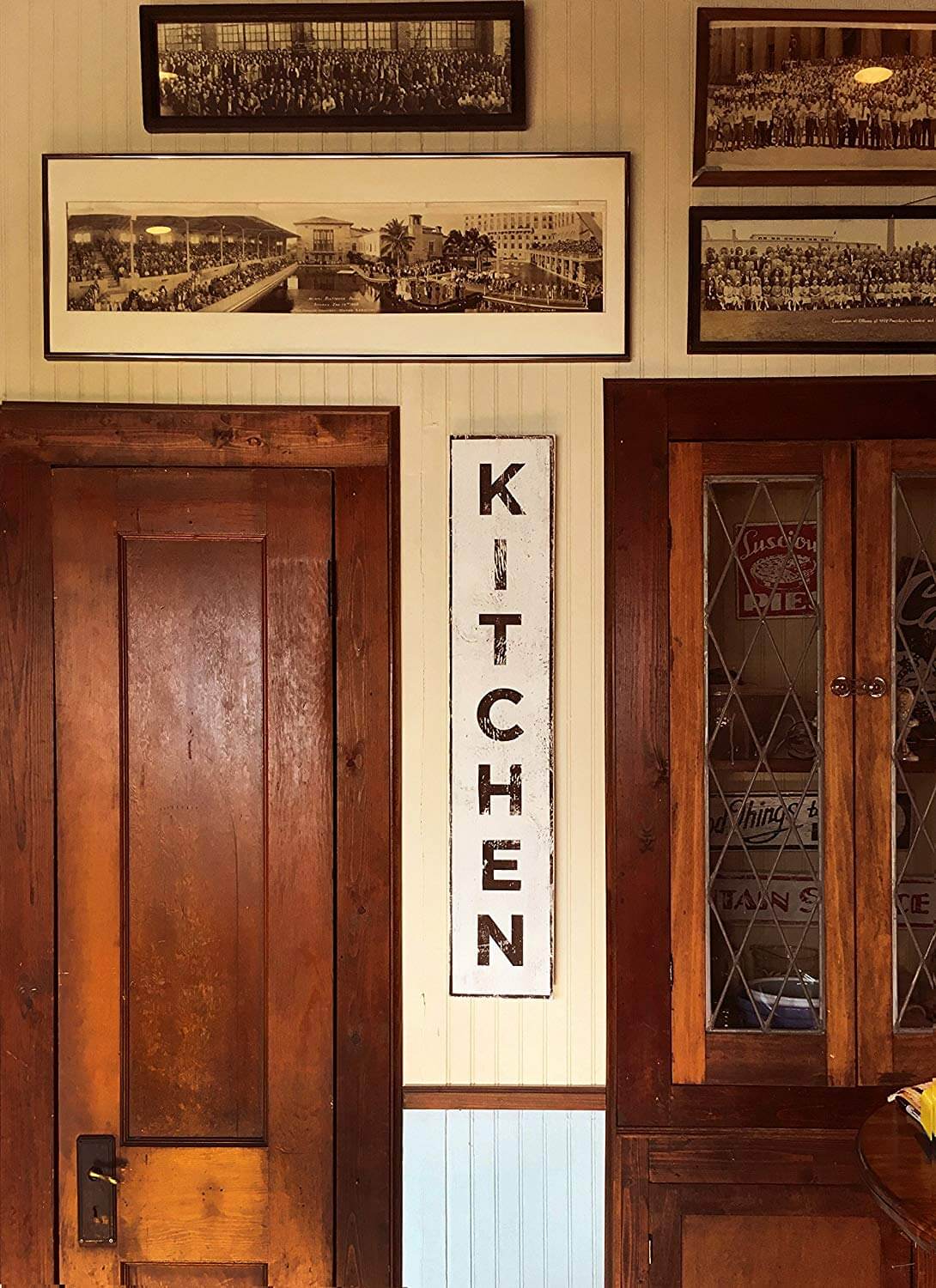 Talking about rustic dining room signs, give this vertical decor a try. It quickly spruces the narrow wall space up.
The black script on the off-white background produces a straightforward message. Moreover, this solid wood sign shows everyone the location where daily meal magic happens.
This rustic sign is compact. It is appropriate for breakfast nooks or small kitchens. The decor would work great for tight wall areas, too.
17. Personalized Bakery Wall Sign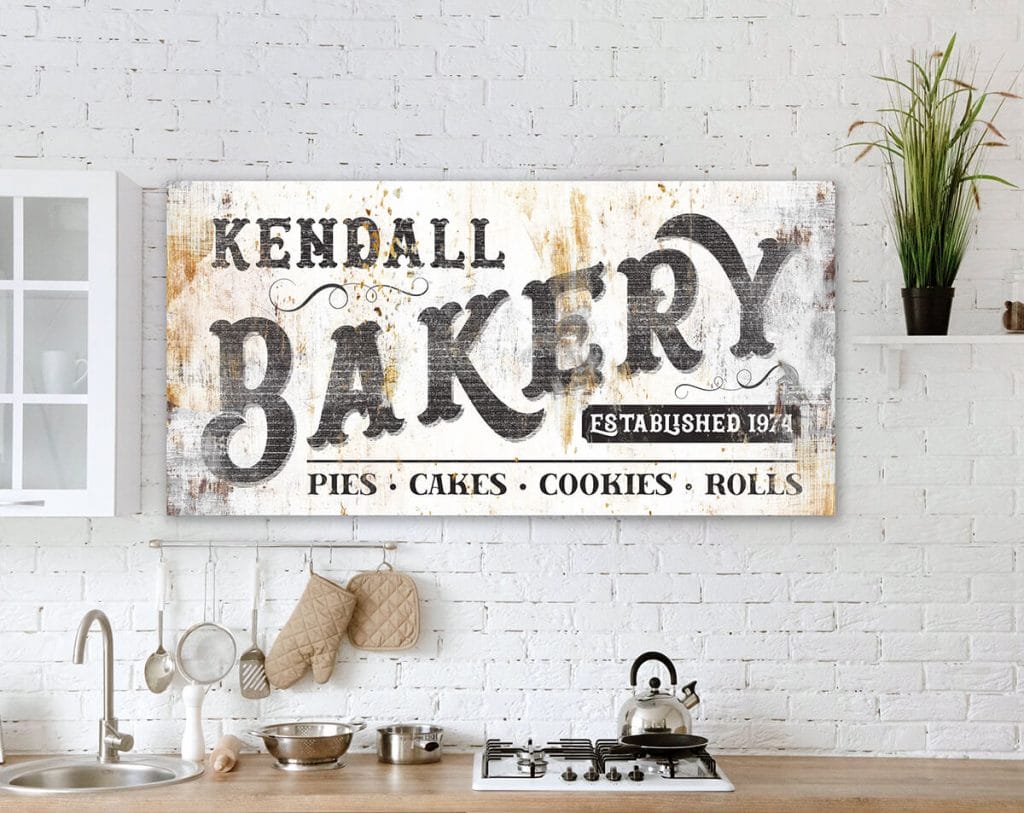 Love vintage advertisement's aesthetic? Seek no farther than this personalized patisserie sign. It is an amazing compliment to your older home's decor.
This antique stretched canvas sign showcases the old-style script and unique rusty metal's look. It may seem to be weathered. However, the acid-free decor materials ensure that the item won't discolor over the years.
You can customize the establishment year and your family name. This distinctive sign will certainly leave the visitors in awe.
18. Dining Room Signs with Metal Scrollwork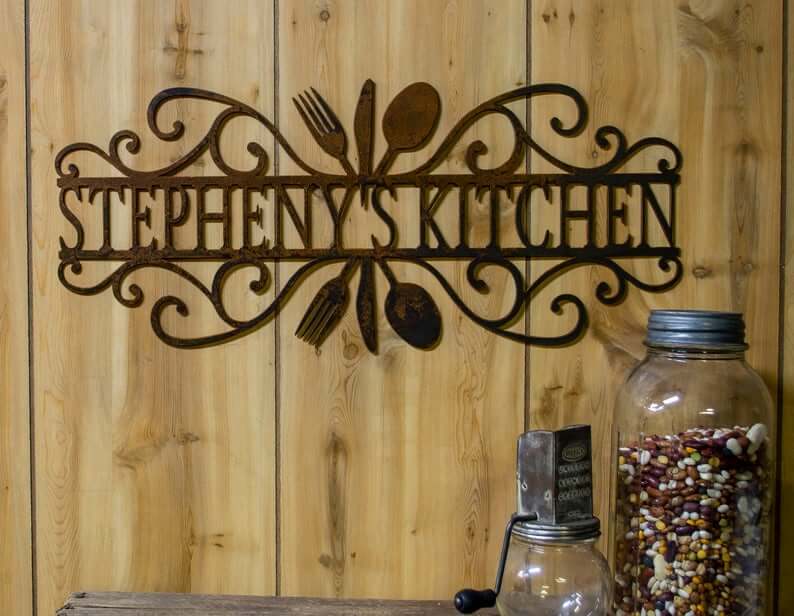 This metal scrollwork sign won't obscure your dining room wall. It is not only charming but also exudes an airy feeling.
Furthermore, the ornamental scrollwork beautifully offsets the motif of eating utensils. You can customize the message on your dining room sign with a description and name.
There are a dozen color choices available including rustic weathered finish and raw steel. This piece would become an ideal present for those who want to personalize their dining rooms.
19. Trio Wall Decor for Dining Room
We love this trio wall decor. It comes to the buyer in a digital form. The unit lets you pick text colors, frame style, and background. Make sure your option matches the interior perfectly, whether eye-catching or subtle.
You can either display the signs in a row or hang them vertically. Either way, the pieces remind everyone of good memories when they gather over meals.
20. Gather Dining Room Signs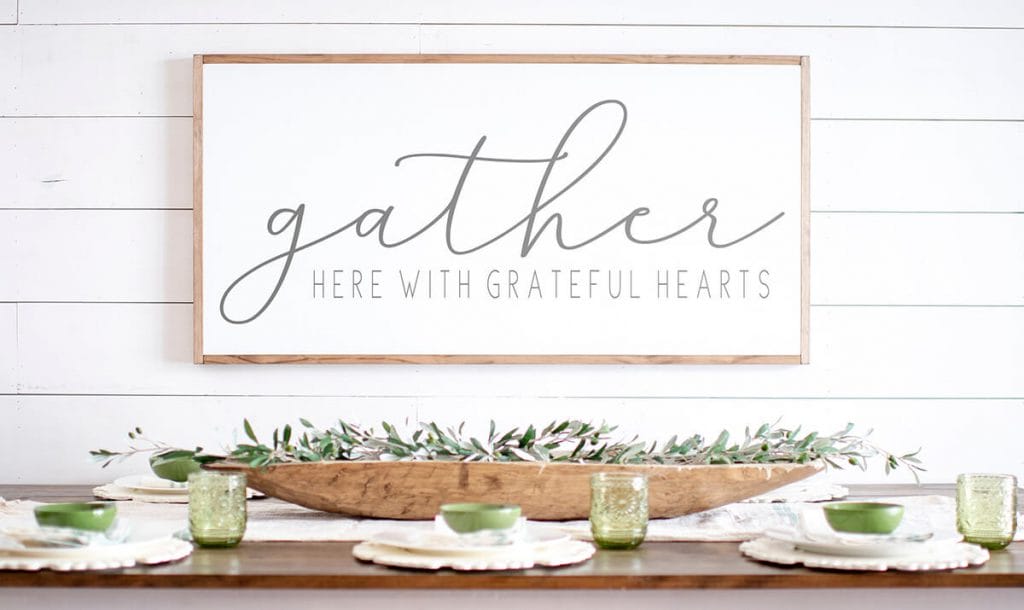 This wood sign lends the dining room a polished but rustic focal point. Moreover, the script encourages family and friends to gather and feel the home's warmth.
The lettering and frame's color are customizable. Since the sign comes in various sizes, it lets small abodes enjoy this excellent decor. Furthermore, the item fits well into a dine-in kitchen or farmhouse style dining room.
21. Blessing Decals for Dining Room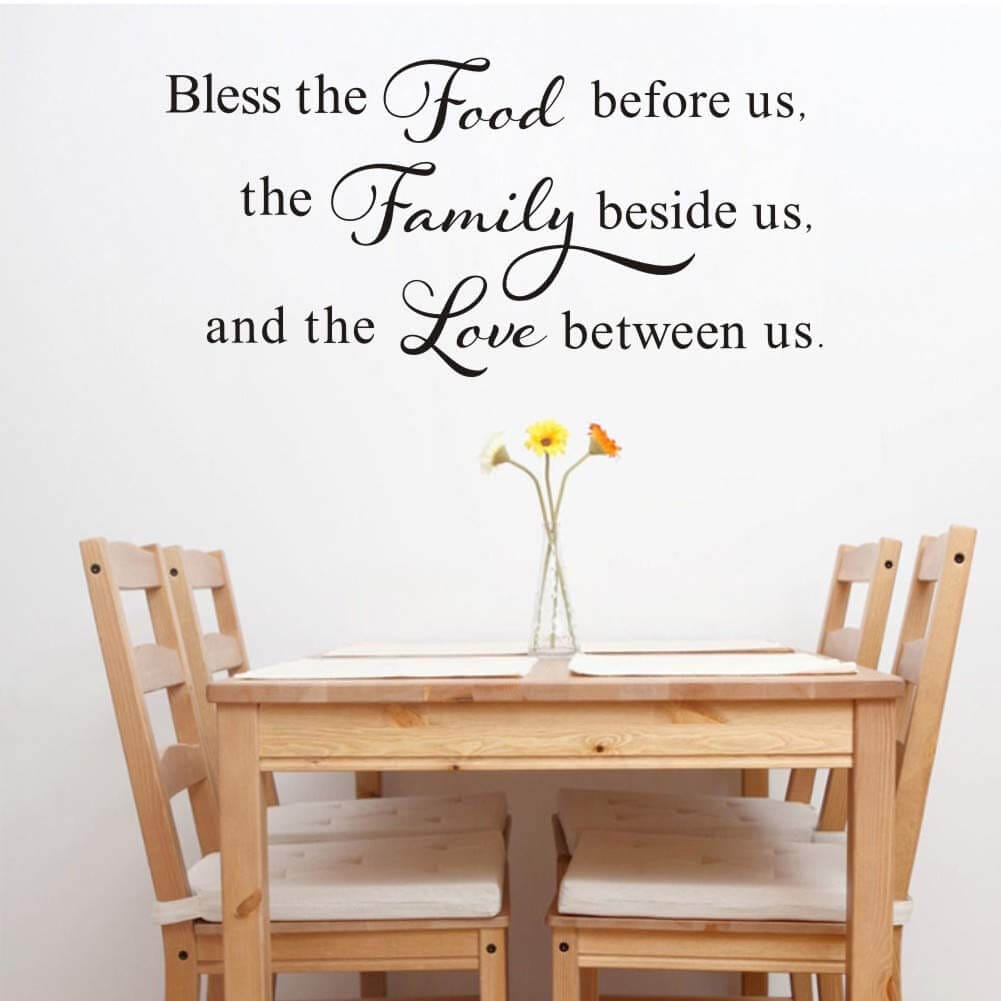 Not only does this vinyl sticker adorn the wall, but also reminds the visitors of the hospitality source. That's why they can start their meals with grateful hearts.
This decor allows for customization. Furthermore, you can display it in portrait or landscape. Its positive sentiment will certainly get compliments from the visitors.
In short, dining room signs can turn any house into a lovely home. Unlike large appliances or built-in cabinets, they don't require lots of money. Pick one to personalize your culinary space and welcome the visitors.