If you want to spruce up your space, look no further than floral displays. They inject elegance and charm into any area. For some fresh inspiration, have a gander at these creative farmhouse flower ideas.
The farmhouse-inspired flower arrangements are rustic, adorable, and stylish.
Moreover, they usually feature lovely elements like twine, mason jars, burlap, wooden boards, wagon wheel, and sola wood.
Interestingly, these farmhouse floral decorations look great both indoors and out.
You can either place them on the tabletops or hang the pieces on your bedroom doors. However, they work well on garden furniture and patio banisters too.
Furthermore, farmhouse-style floral displays fit in nicely at any weddings, family celebrations, and outdoor parties. Without further ado, let's scroll through these country chic decorative pieces.
1. Heart-Shaped Wreath with Dried Flowers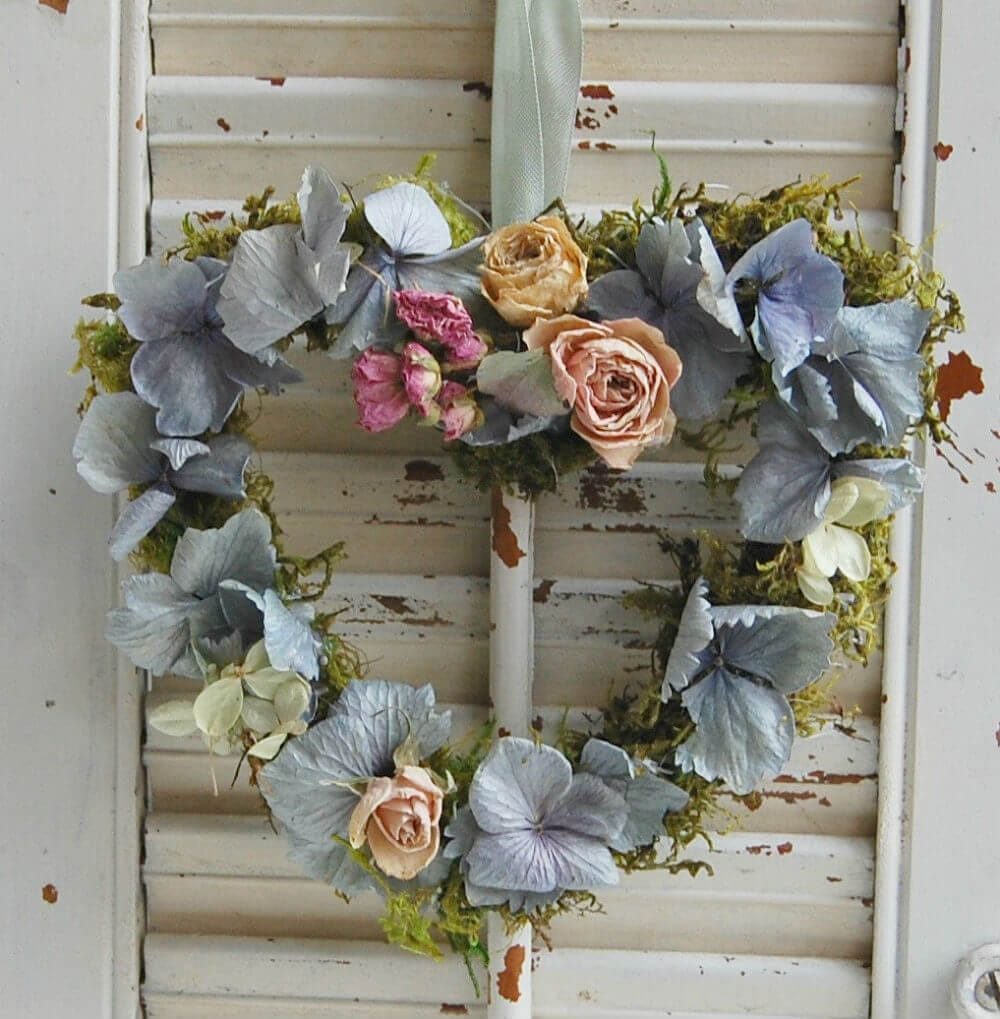 Searching for unique farmhouse flower ideas? Give this floral heart wreath a go. The unit is so sweet and charming. It will definitely make your abode feel like a beautiful country cottage.
Moreover, this heart-shaped wreath boasts dried blooms and greenery. It also looks wonderful against a distressed shutter.
Without a doubt, this farmhouse floral heart wreath brings a romantic atmosphere to any space. In addition, it strikes a balance between elegance and simplicity.
2. Hanging Farmhouse Flower Box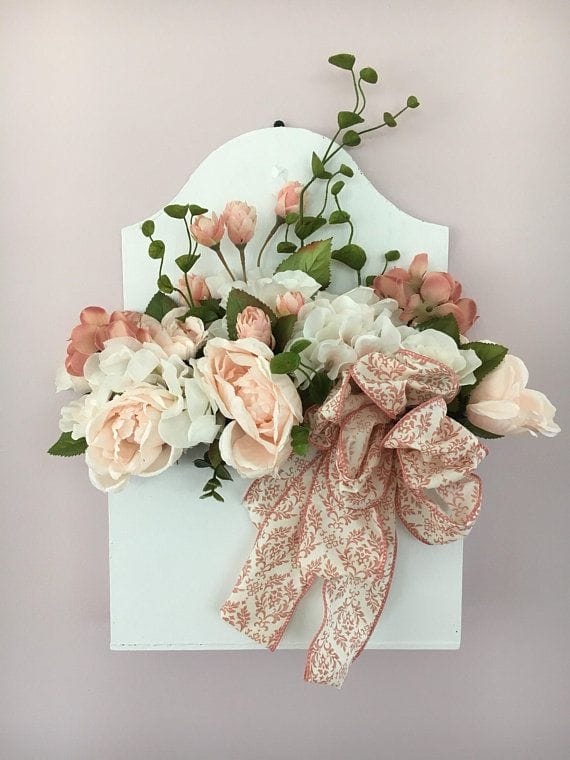 Speaking of farmhouse flower ideas, they don't always center around rustic or distressed pieces. This floral box comes with soft silk flowers. However, it still embodies the country aesthetic.
The farmhouse-themed bouquet includes warm peaches and subtle pinks. They will lend any space a touch of sweetness.
Furthermore, the pure white box works as a perfect background for the flower arrangement. Meanwhile, silk roses and peonies along with a floral bow will delightfully accompany any farmhouse home decor.
3.  Farmhouse Flower Ideas with Chicken Wire and Metal Vase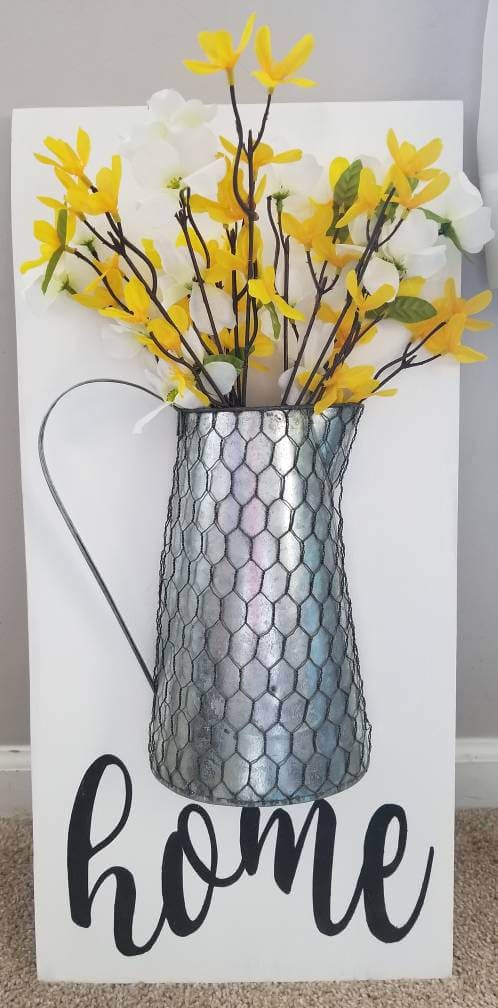 This is one of the farmhouse flower decorating ideas for kitchen you should try. As the image shows, the metal watering can mounts perfectly on the white board. Moreover, it works as a vase.
The metal vase can hold faux or fresh flowers. In addition, the unit allows you to rotate the blooms to match each season.
Meanwhile, chicken wire covers the metal watering can. It also infuses a farmhouse feel into the kitchen.
4. Farmhouse Floral Display with An Old Drawer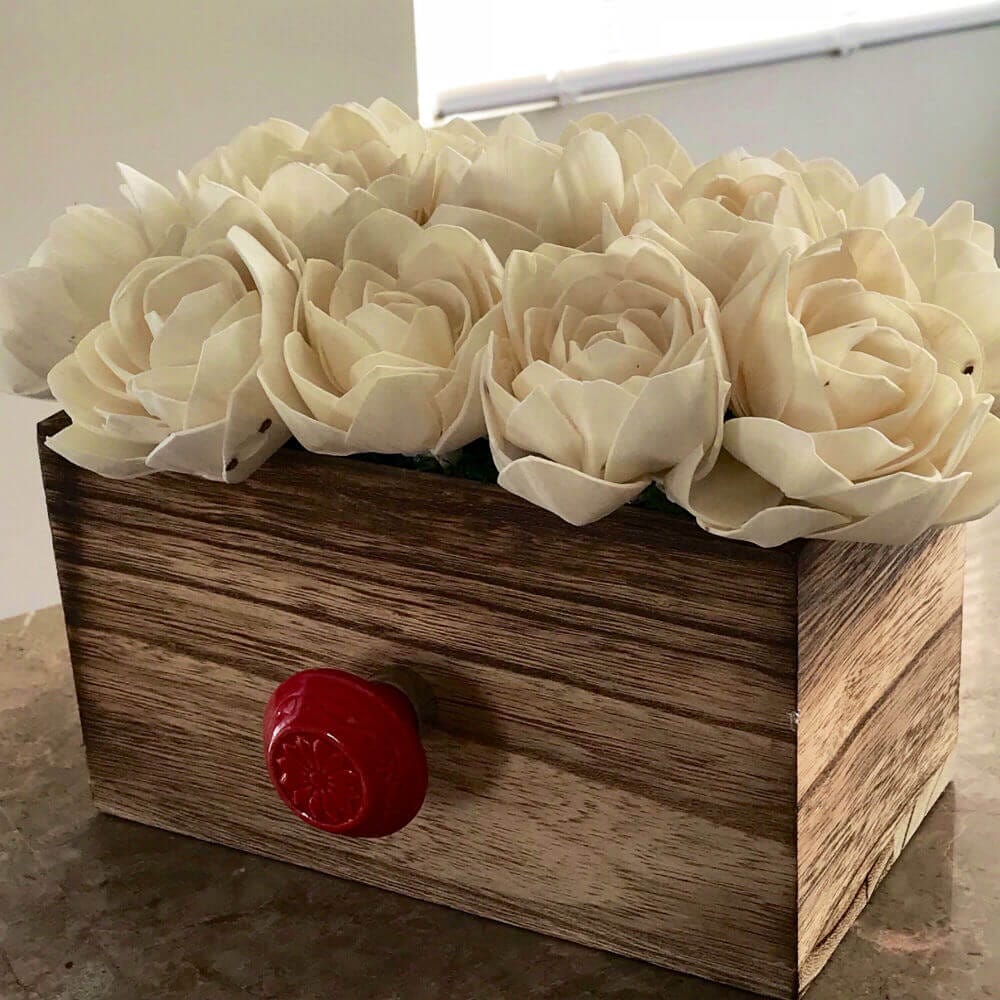 Do you have an old wooden drawer? If so, convert it into a stunning farmhouse floral centerpiece. In this example, the unit accommodates delicate sola wood flowers.
The wood flowers are both durable and biodegradable. Those floral elements evoke a sense of grace as well.
Moreover, the drawer's straight lines contrast magnificently with the fine edges of sola wood flowers.
Meanwhile, the red knob gives the centerpiece a dash of fun. This flower display would look excellent at the wedding or on a workstation.
5. Mason Jar and Cotton Centerpieces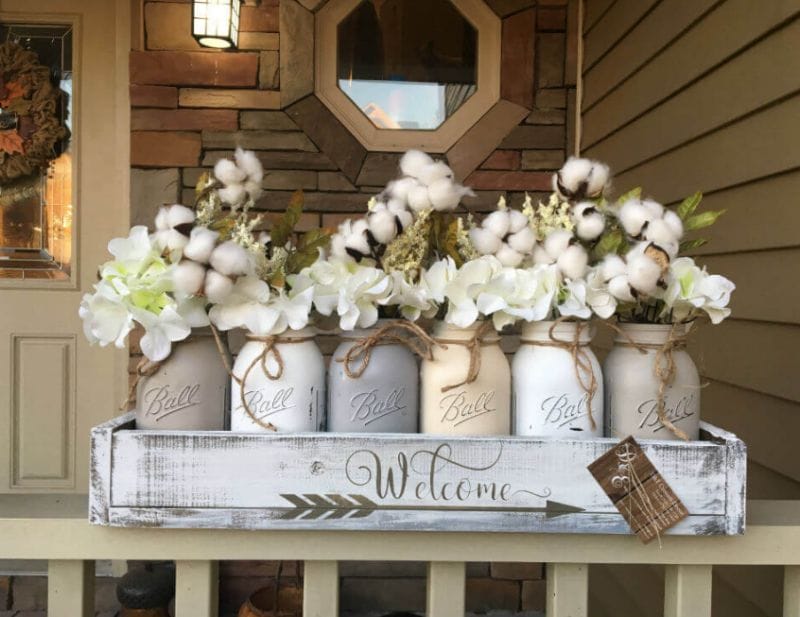 These centerpieces are pleasing to the eye. They feature modest but mesmerizing elements such as dried cotton stalks, flowers, and Ball mason jars. The units will surely make your guests feel completely welcome.
The whitewashed wooden box holds a mason jar and white cotton centerpieces. It delivers a rustic charm and cozy ambiance to any space too.
This floral display is undoubtedly a perfect addition to your country home. Furthermore, it acts as a great substitute for the wooden window planter box.
6. Farmhouse Flower Ideas with Galvanized Bucket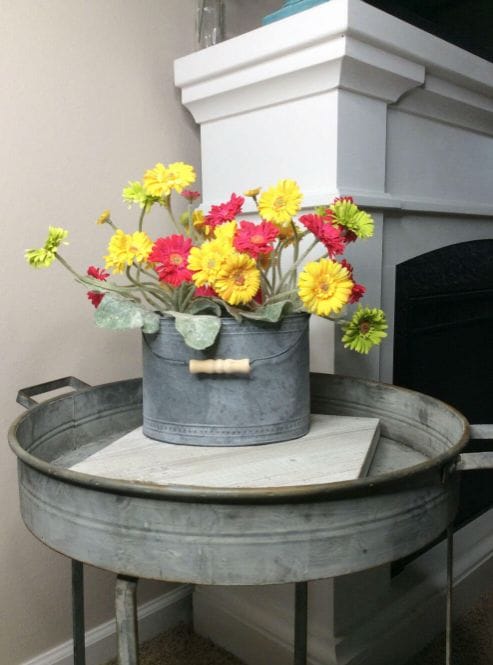 Talking about farmhouse flower ideas, it's crucial to bear in mind a good balance of rustic chic and color. This metal bucket bouquet on the galvanized planter stand is both striking and stylish.
You can put fresh or silk flowers in the galvanized bucket. The bright blooms reinsure any room with summer vibes.
In this case, vibrant daisies beautifully offset the galvanized metal bucket. Moreover, they will liven up your patio or living room.
7.  Farmhouse Floral Arrangement Ideas for Front Doors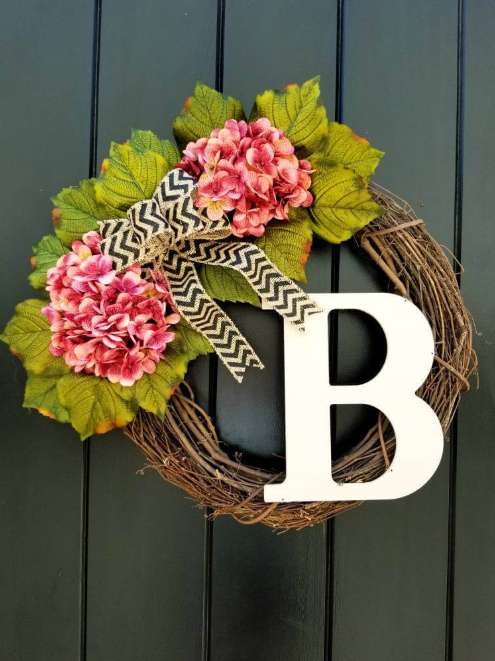 This handcrafted flower wreath is captivating and sweet. It will perk up any entrance. Furthermore, the floral display employs a bow, a monogram, delicate hydrangeas, and rustic twigs. What more could you ask for?
Undoubtedly, this summery floral arrangement poses as a great farmhouse welcome wreath. It will put smiles on your guests' faces before stepping into your abode.
The warm twigs let springy greenery and bright flowers draw the attention. Meanwhile, the chevron bow tops the wreath off. This item gives your farmhouse decor a nice opening touch.
8. Handmade Flower Wreath with Wagon Wheel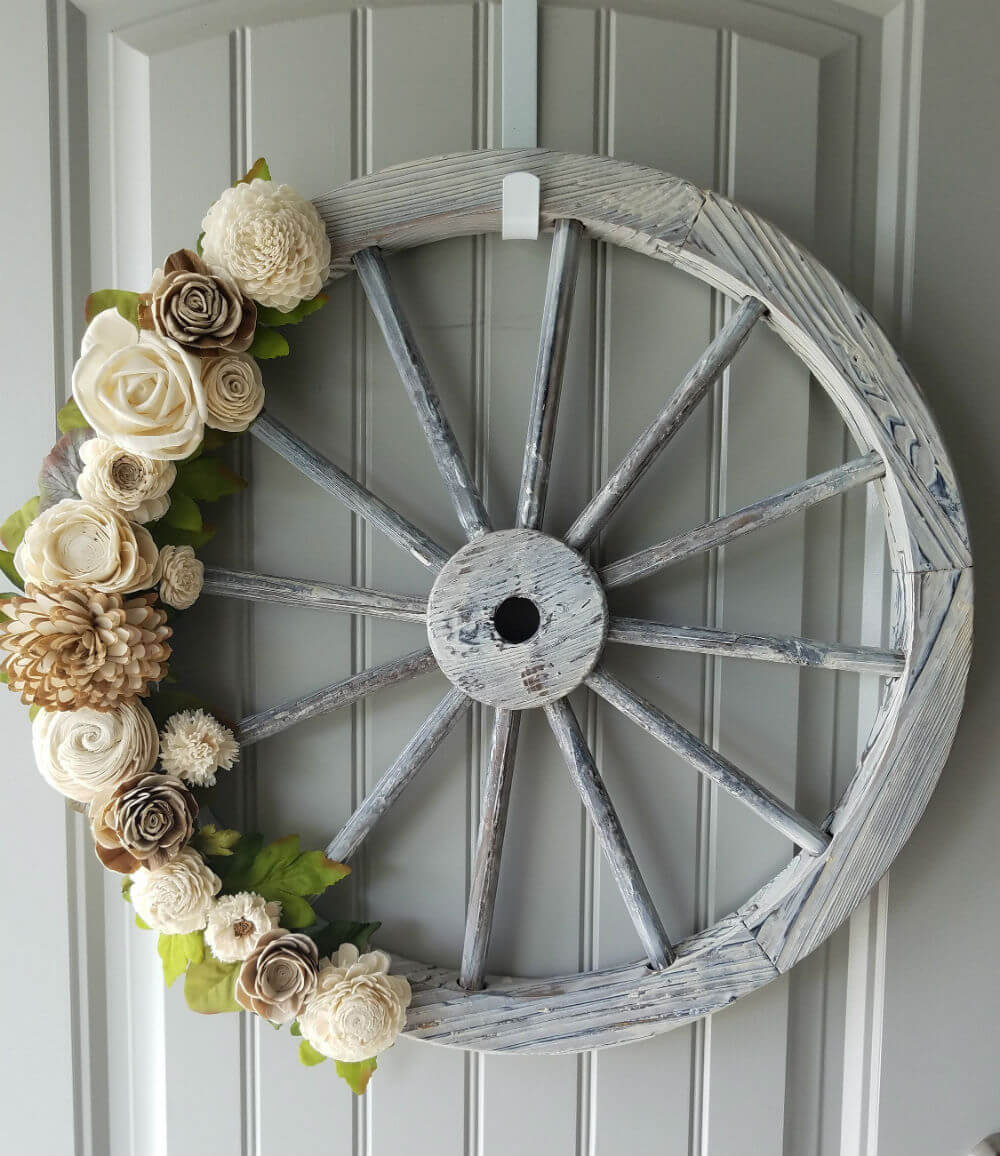 Looking for farmhouse flower decorating ideas for bedroom? This floral wreath certainly deserves a try. You even can make it yourself at home. The project won't break your bank too.
Sola wood flowers are so dreamy. They make for a terrific farmhouse home decor. Moreover, the pieces offer a romantic element of real blooms but will last a lifetime.
The white-washed wooden wagon wheel is simple yet splendid. It also allows sola wood flowers and greenery to stand out.
9. Farmhouse Flower Ideas with Wooden Buckets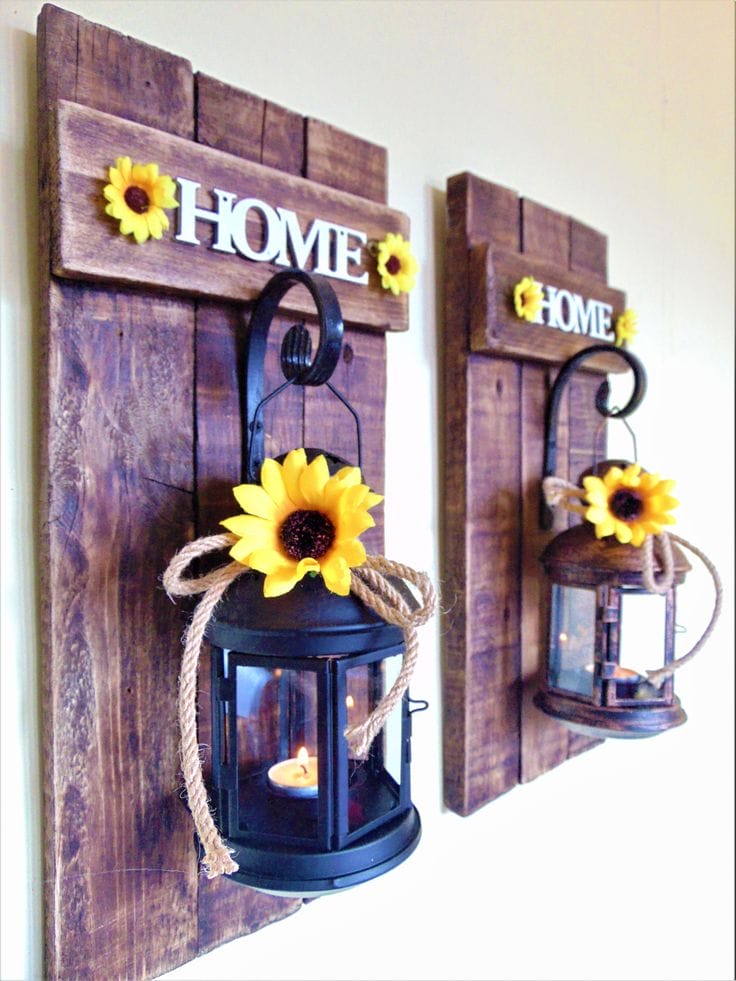 These dark-toned wooden wall sconces carry a rustic feel to any space. They provide a perfect background for flowers. In this example, the hanging buckets hold artificial blooms.
You could rotate the flowers out. Incorporate a bright floral arrangement for summer or spring. Then, add darker colors into the buckets for winter. Another option is mounting lanterns on the wooden wall sconces.
We find these floral displays creative. They will give your space a farmhouse flair and romance as well. Meanwhile, the burlap ropes offer an extra rustic element.
10. French Farmhouse Flower Ideas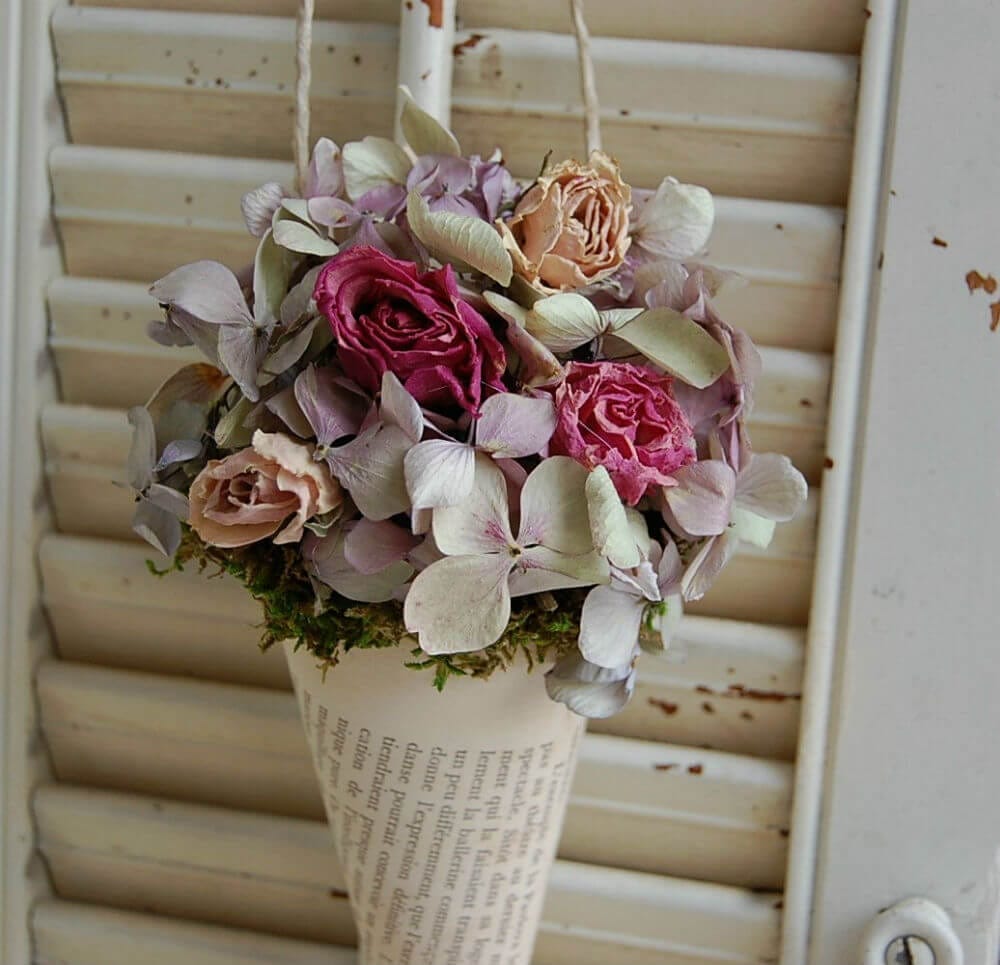 When it comes to farmhouse flower ideas, you can't forget French villages with delightful blooms. Then why not stealing the inspiration from them?
Here, the flower bouquet is petite yet pretty. The French prose wraps it nicely. You can hang this decorative piece on your door or wall.
Moreover, this floral display plays with greens, yellows, and pinks to create a fabulous bouquet. It elicits a sense of romance and oozes country chic at the same time.
The twisted burlap twine lends the arrangement an additional touch of rustic charm. Your guests will definitely think that this bouquet comes from a French cottage.
11. Farmhouse Flower Ideas with Daisy and Pennycress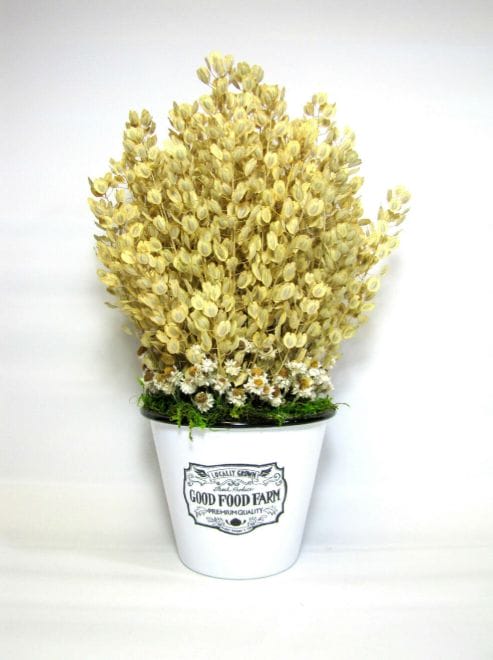 We really admire this floral arrangement. Although the unit looks simple, it will steal everyone's attention instantly. The dried golden yellow pennycress adds a splash of color to any room.
Furthermore, this decorative piece certainly reminds you of Southern farms. The bouquet will deliver a cheerful atmosphere to your space too.
The floral arrangement captures the farmhouse aesthetic. It also boasts dried moss and daisies at the bottom. They work to create a balance between golden pennycress and white vintage vase.
12. Custom-Made Wood Flower and Artificial Succulent Box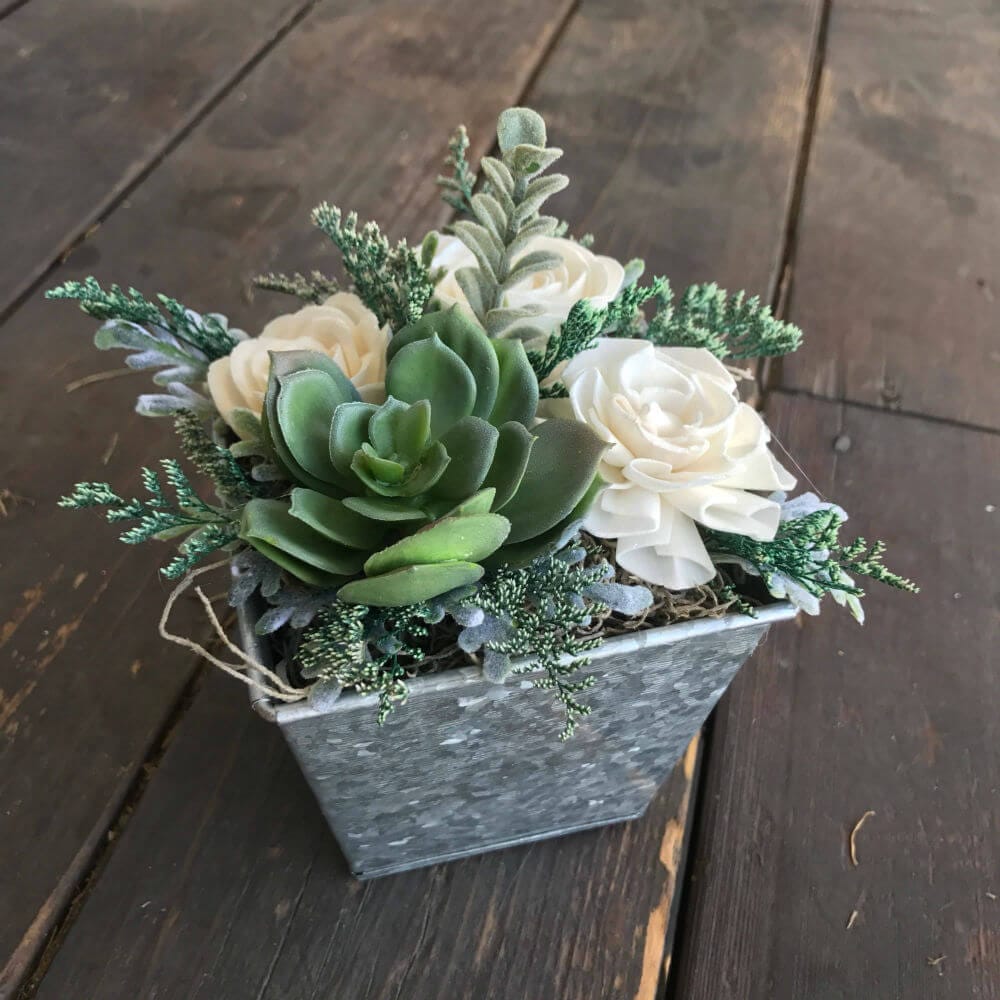 This is undoubtedly one of the most affordable farmhouse flower ideas. The unit is customizable too. As you see, it features delicate sola wood flowers, faux succulents, and greenery.
Moreover, this cute arrangement can last forever. The handmade sola wood roses gently offset artificial succulents. Meanwhile, the galvanized metal vase injects a farmhouse flavor into the room.
You do not need to water the flowers and succulents since they will stay fresh all year round. Consider using this arrangement as an accent in the bedroom or as a centerpiece for any outdoor event.
13. Farmhouse Flower Ideas with Garden Hat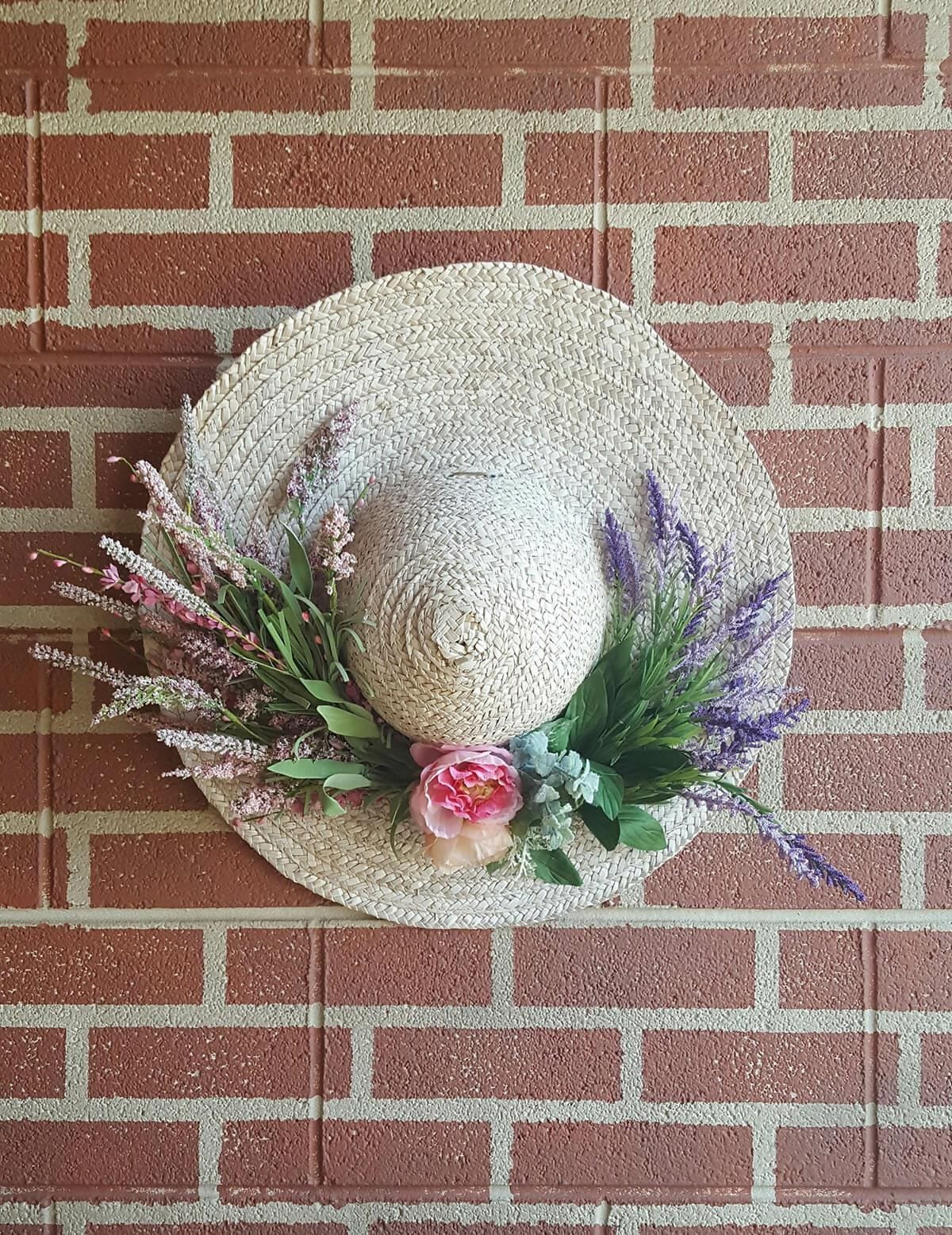 As the image shows, this floral arrangement is such a sweet addition to any entrance. It also lends the space a shabby chic flair. Moreover, the piece makes your guests think that you have just done your gardening work.
You could hang this adorable farmhouse hat on the exterior wall. Since the item includes bright flowers, it can give your garden or kitchen a homey vibe and a warm atmosphere.
Moreover, this floral display makes for an excellent springtime welcome wreath. In no time, it carries a little country to your space. The unit is both trendy and terrific. What more could you want?
14. Farmhouse-Inspired Wood and Burlap Forever Flowers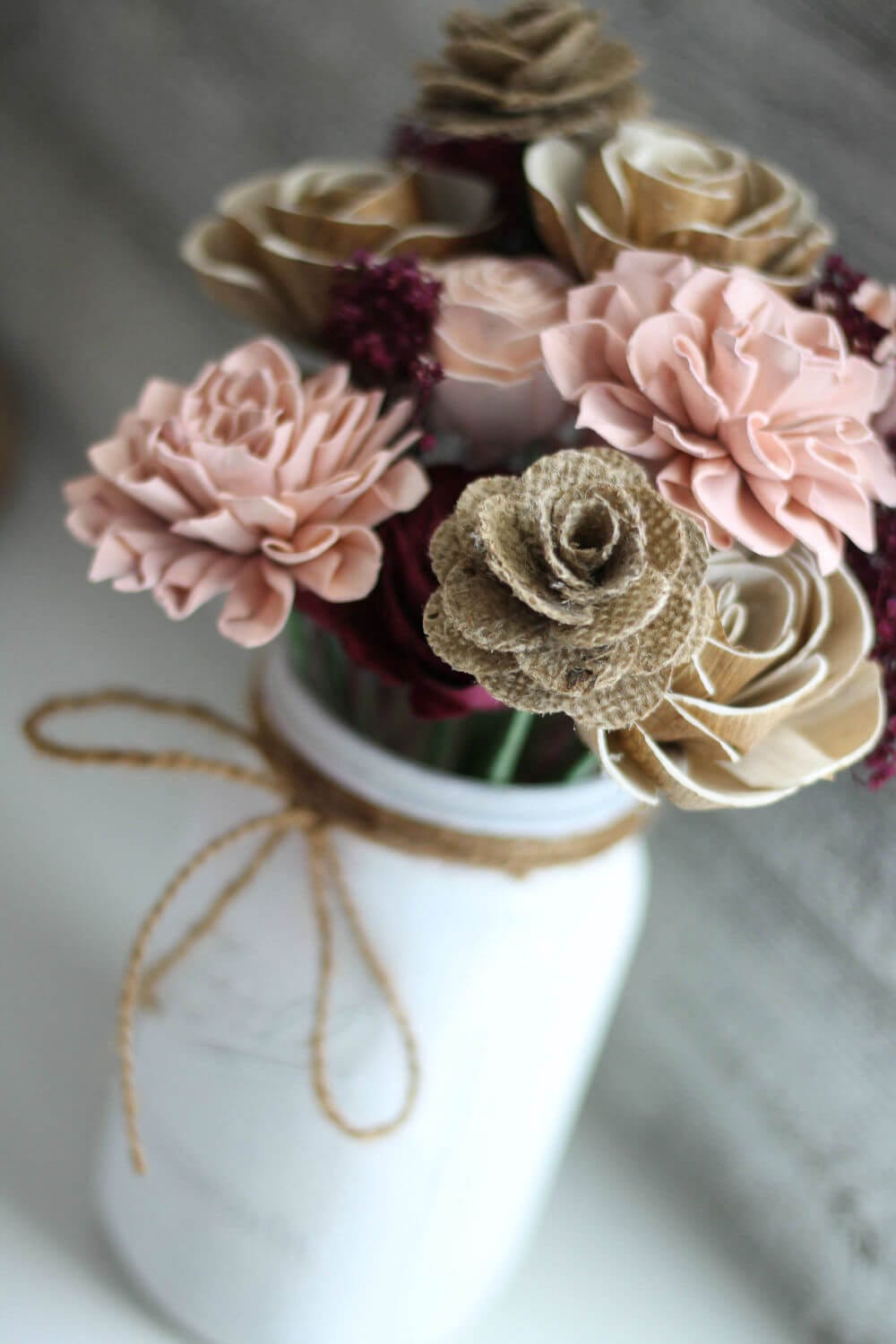 You love fresh roses, but they can't last forever for certain. That's why we recommend buying sola wood and burlap flowers. Then, put them in a white-painted mason jar.
This floral arrangement is perfect as a housewarming gift or for farmhouse home decor. It also makes a remarkable wedding bouquet. The combination of dried, burlap and sola wood flowers generates a great whimsical blend.
Furthermore, the colors of the flowers are completely customizable. The twine stunningly wraps around the mason jar's neck. It also exudes a rustic charm in a split second.
15. Farmhouse Flower Ideas with Glass Vases and Faux Flowers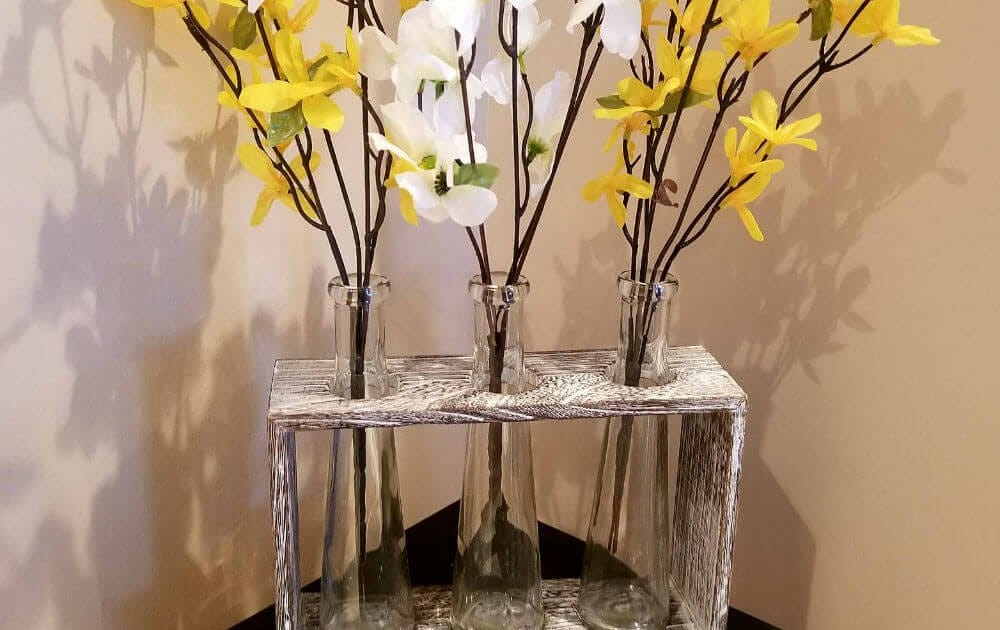 We can't take our eyes off this centerpiece. As the picture shows, the floral arrangement mixes a whitewashed wooden holder with glass vases. They serve as an excellent medium for any artificial flowers.
This is certainly one of the most marvelous farmhouse flower ideas. The floral display screams grace and romance. Furthermore, you could fill the vases with cotton, artificial long-stem flowers, or branches.
Without a doubt, this floral arrangement will definitely emphasize the farmhouse aesthetic. The bright yellow flowers themselves brighten up your dull space, while the whitewashed box evokes a rustic feel.
16. Vibrant Bouquet in A Galvanized Milk Can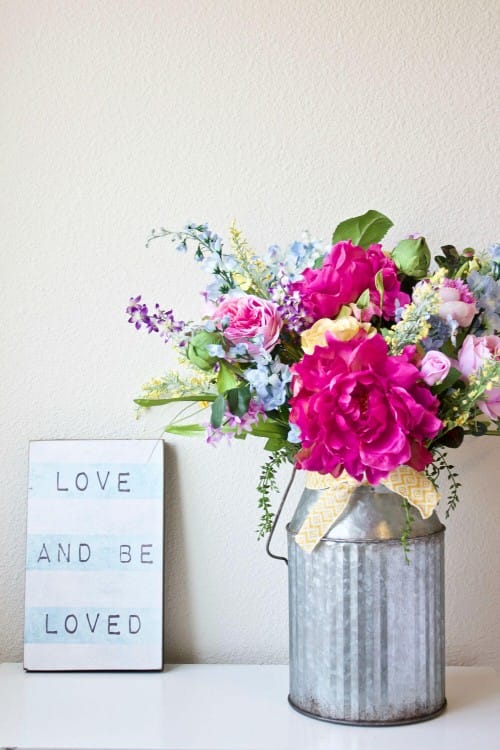 Searching for farmhouse flower decorating ideas for living room? If yes, you have come to the right place. In this case, vintage milk can work as a medium for bright summer flowers.
The galvanized milk can will surely carry a farmhouse charm to your living space. Meanwhile, the pretty summer bouquet softens the look. Those elements partner together in rustic harmony.
Moreover, the floral arrangement poses as a centerpiece. You could also place it on the side table. This is certainly one of the best farmhouse flower ideas.
17. Farmhouse Flower Garden Ideas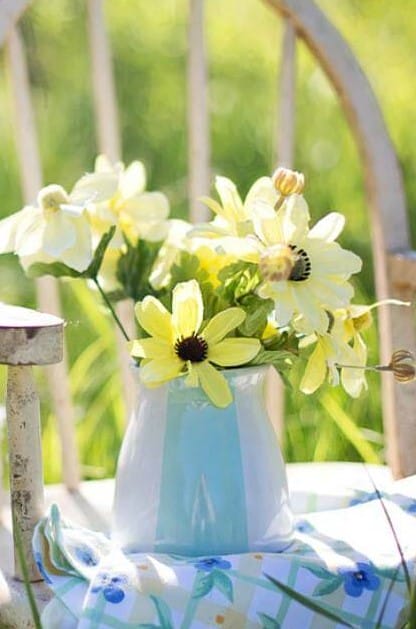 Looking for awesome farmhouse flower ideas? If yes, then you should give this floral display a chance. The custom-made birch vase gives the arrangement of natural continuity.
Furthermore, the farmhouse garden-themed birch vase will definitely complement any twigs, plants, branches, or flowers. In addition, you can use the centerpiece as a gift, at home, or in your backyard.
The birch vase itself brings charm and warm hominess to any space. Meanwhile, pale yellow flowers set a romantic ambiance and enliven the scene.
18. Bohemian Farmhouse Floral Display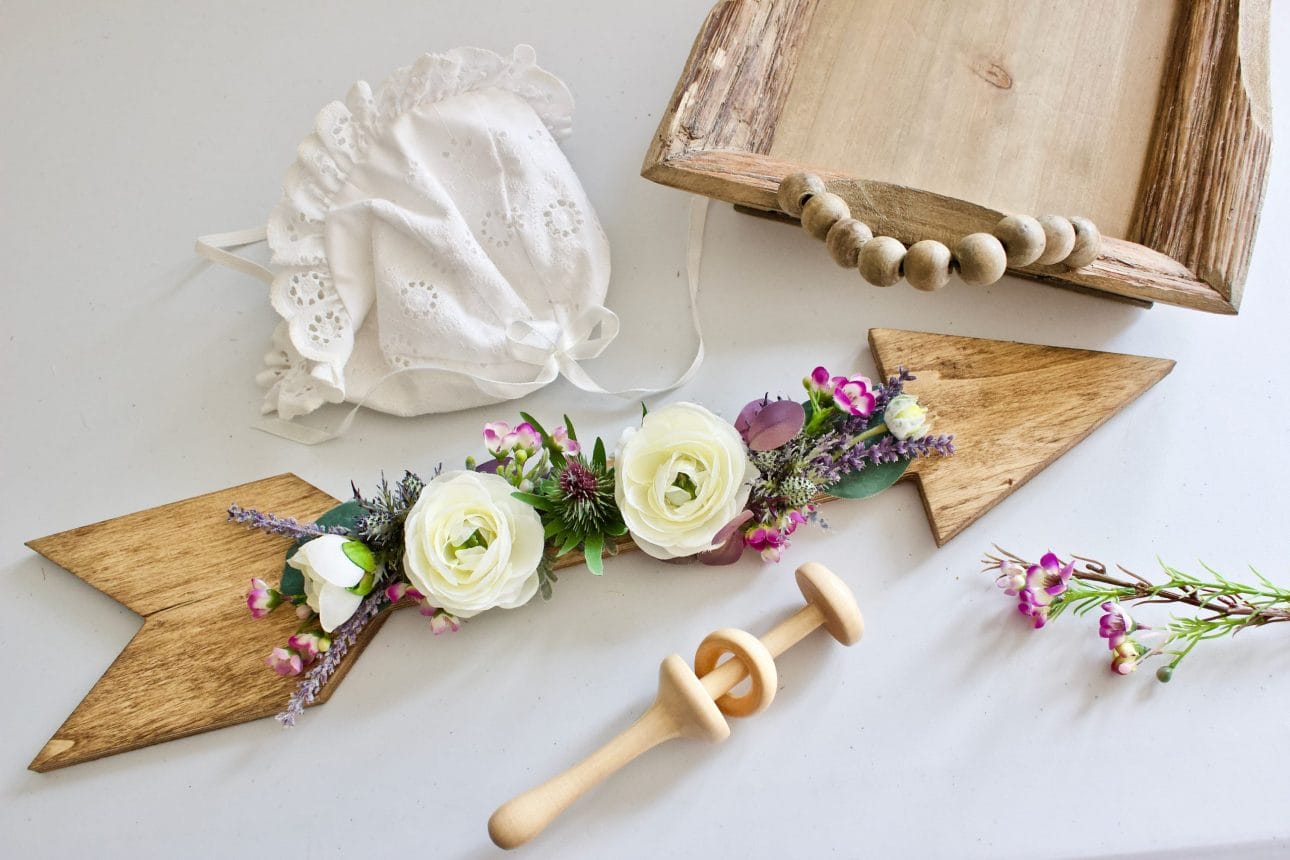 If you really love all things boho, we suggest purchasing this wall decoration. The hand-stained wooden arrow oozes rustic charm. Moreover, the greenery, thistles, and silk flowers cover it beautifully.
This wooden arrow makes a perfect baby shower gift and serves as nice nursery decor. It also helps point the way magnificently. In addition, the gorgeous arrangement of the flowers softens the unit.
19. Snow White's Cottage-Inspired Floral Arrangement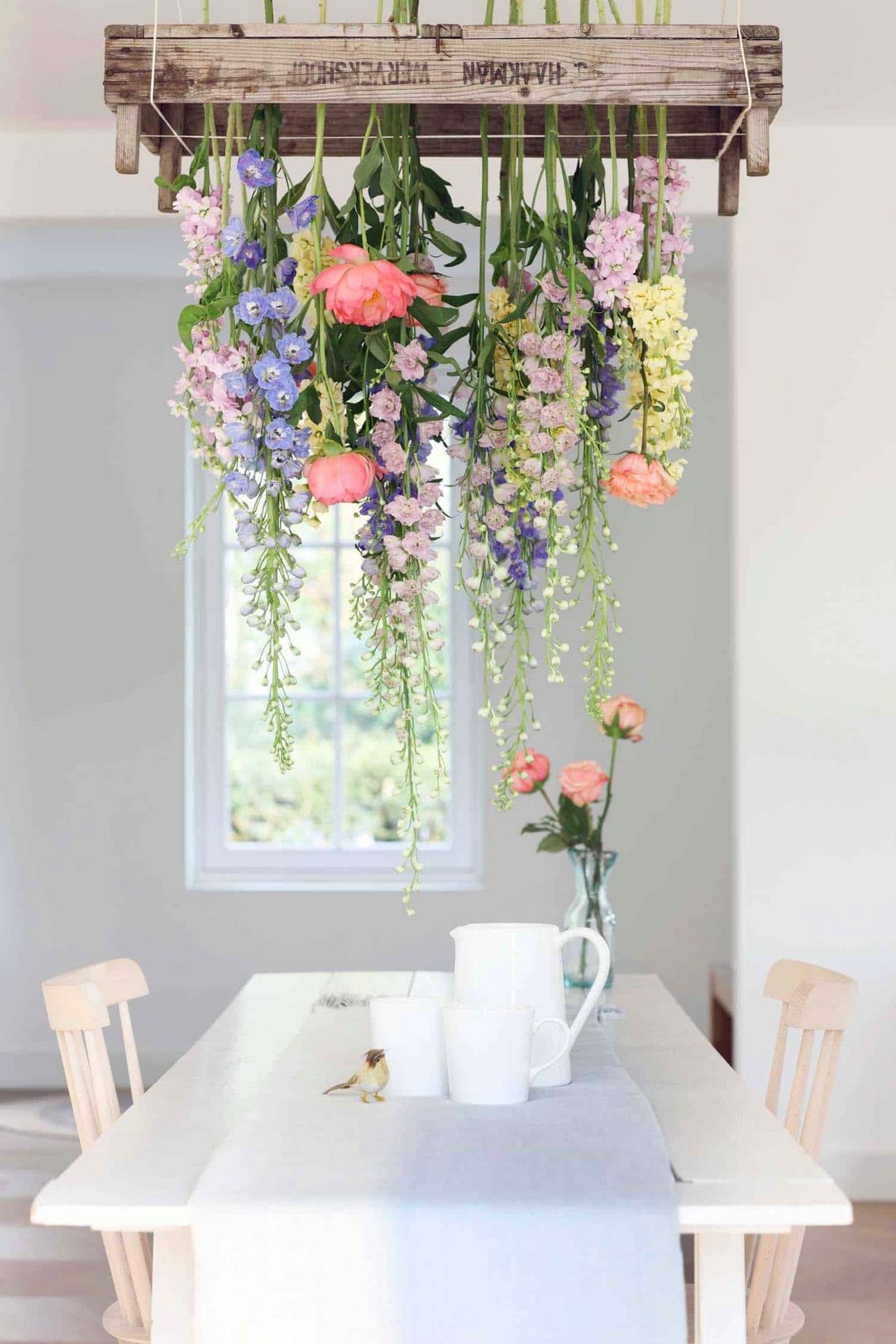 Undoubtedly, this lovely dried floral display seems like the unit would be perfect in a fairytale cottage home. It will instantly draw the eye upward as well.
The bright spring colors lend the room instant cheer. Meanwhile, twine and unpainted wooden holder add a rustic flair to the arrangement.
This is one of the most enchanting farmhouse flower decorating ideas for dining room. When the dried blooms fade, use your seasonal favorites to replace them.
20. Farmhouse Flower Ideas with Mason Jars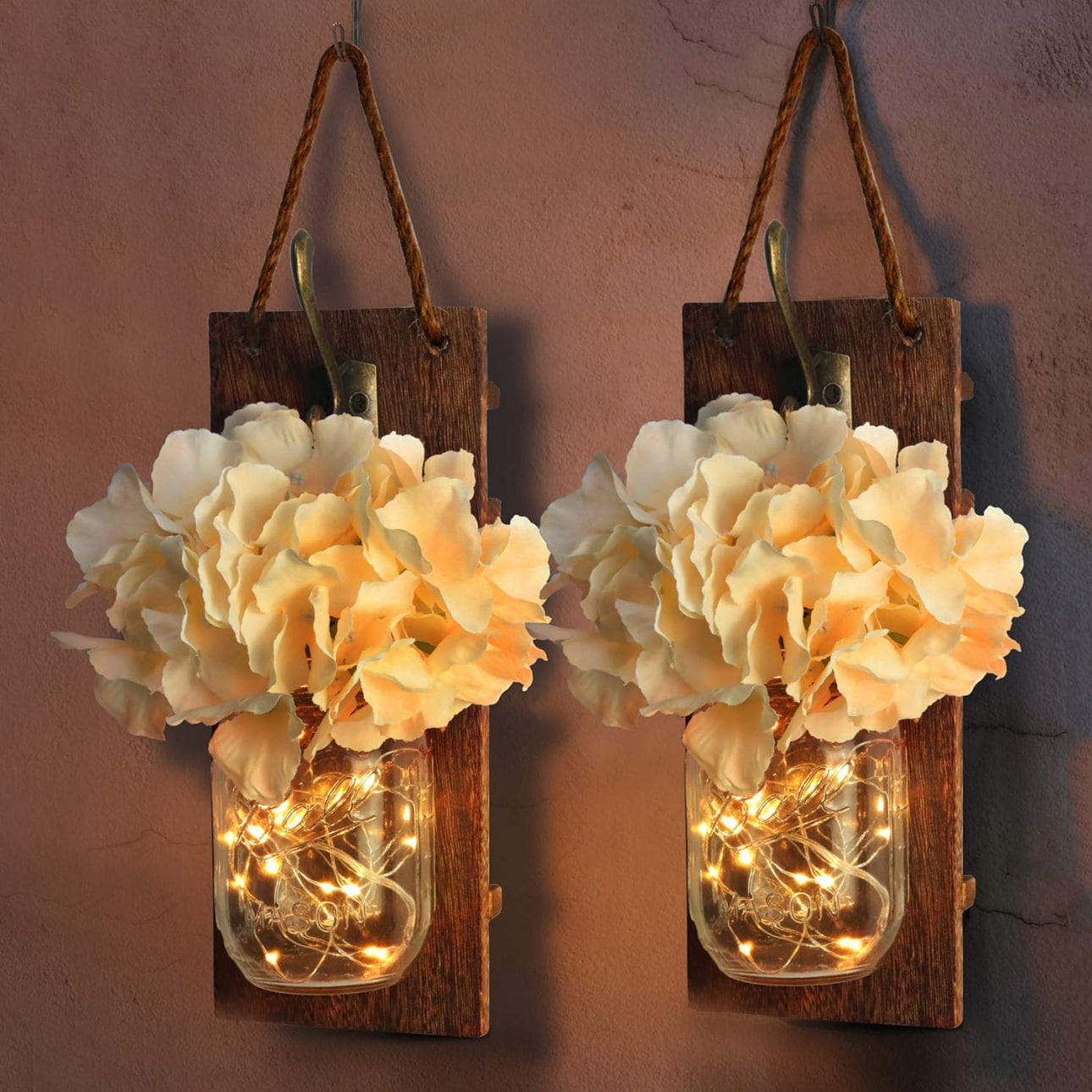 These customizable farmhouse-themed mason jar wall sconces deliver romance, warmth, and whimsy to any space. They are both beautiful and practical too.
Moreover, the battery-powered string lights in the mason jars make the room inviting and cozy. The bouquets and wooden wall sconces can offset bigger pieces.
The burlap ropes imbue any room with a rustic flavor. These farmhouse mason jar sconces are a wonderful addition to your kitchen or entryway.
21. Farmhouse Milk Jug with Cotton and Flowers
Speaking of stylish farmhouse flower ideas, you should consider this floral arrangement. Here, the white ceramic milk jug is overflowing with lavender stalks, dried cotton, and greenery.
Furthermore, lavender stalks lend the room vibrancy and subtle beauty. White milk jug allows greenery and flowers to steal the show, while burlap twine gives the arrangement a perfect finishing touch.
Hopefully, our farmhouse flower ideas left you inspired. Implement any of them to update your home decor. We guarantee those country chic items will reinsure the space with romance and elegance.