A cozy kitchen is the heart of the home. You use this space for cooking, serving scrumptious foods, and even having friendly discussions. If you want to make everyone feel welcome, look no further than a farmhouse kitchen.
Moreover, farmhouse interior design prioritizes comfort. However, it does not overlook the aesthetic of the kitchen. Here are some magnificent ideas to get you started. I believe you can pull off the countryside vibe with ease.
1. Rustic Farmhouse Kitchen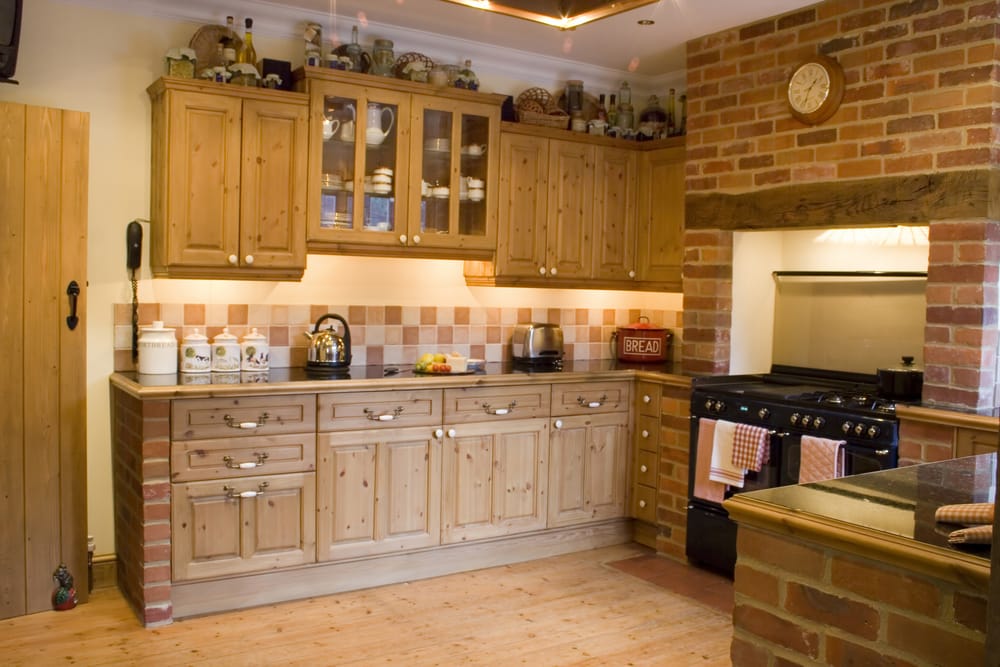 As shown in the picture, this kitchenette employs unfinished wood floor and cabinets. They bring a touch of nature to the cooking area.
The exposed brick range hood and kitchen island add rough texture. The neutrals on backsplash tiles keep the room serene. Black range cooker conveys depth and drama.
2. Farmhouse Kitchen Ideas on a Budget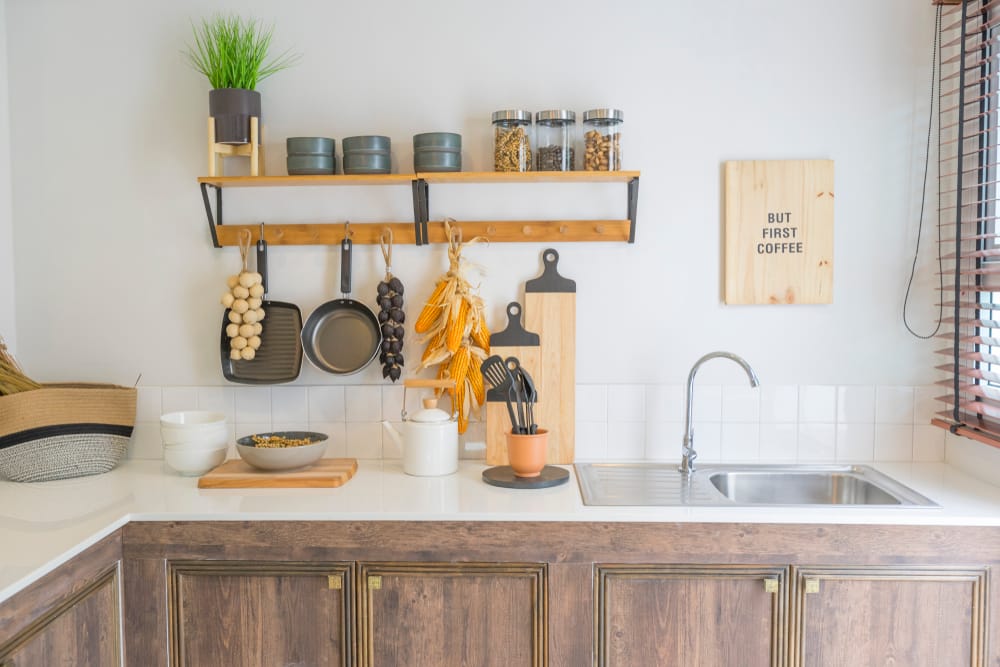 This culinary space may be small, but it looks so lovely. The wood lower cabinet is a gorgeous contrast to white countertop and wall.
Sun-drying autumn harvest products are on display. They decorate the area in a cheap way. Coffee sign gives the kitchen the raw beauty.
3. Under-Mount Sink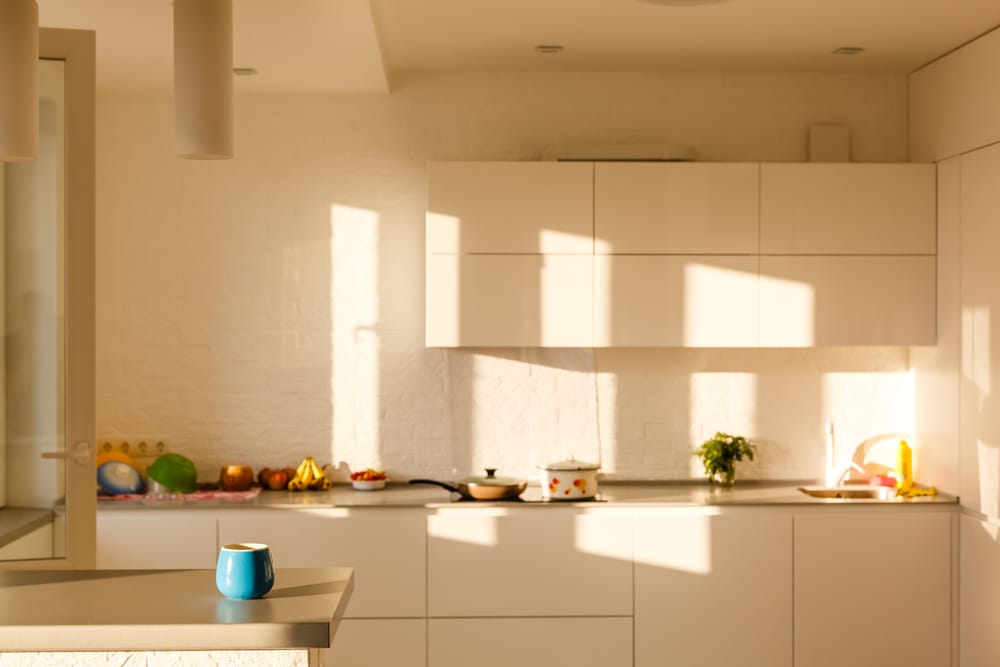 If you are obsessed with minimalist design, this idea is obviously for you. The streamlined cabinetry generates a stylish cooking area.
White-painted brick backsplash lends the space a rugged appeal. The under-mount sink heightens the farmhouse feel. Tableware, houseplant, and fruits infuse splash of colors.
4. Farmhouse Kitchen Cabinets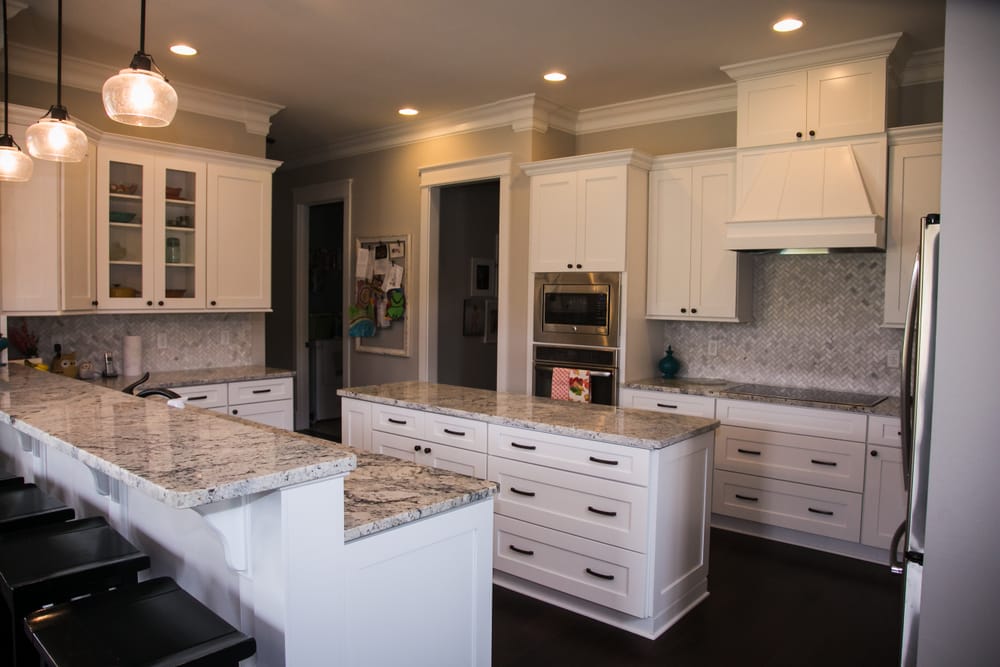 White and gray come together in this contemporary kitchen. The cabinets are painted pure white and paired with wrought iron drawer pulls.
Granite countertops and slim mosaic backsplash tiles steal the attention. Meanwhile, the ambient light fixtures brighten the whole space.
5. Industrial Farmhouse Kitchen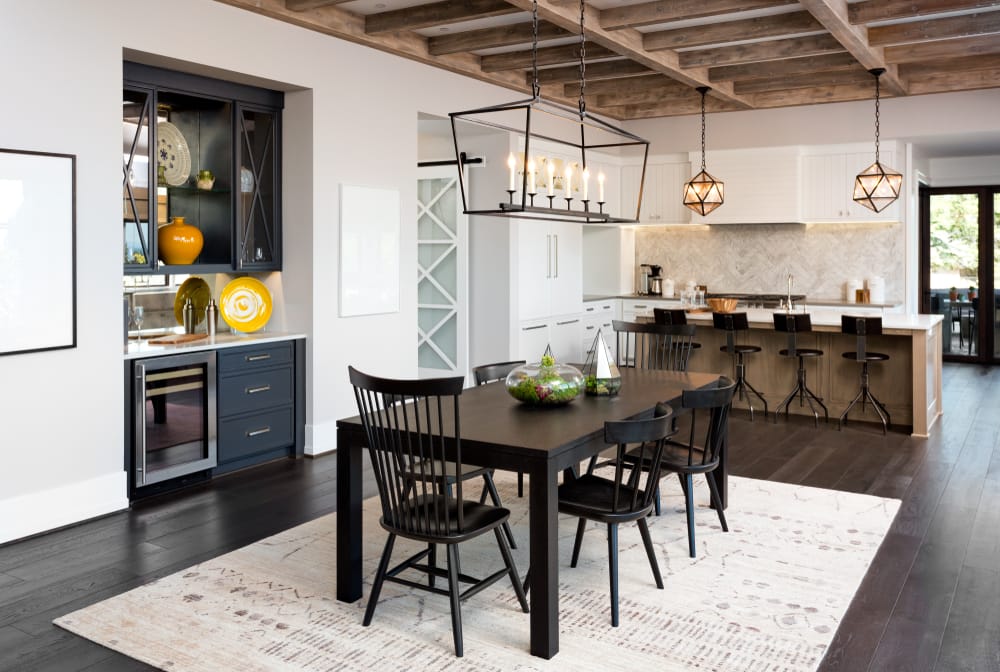 Here, white walls and exposed wooden beams open up the culinary space. The metal chairs and antique pendant lights provide industrial charm.
Faded white rug contrasts gorgeously with dark wood floor and black dining set. Yellow ornamental pieces exhibit a cheery environment.
6. Farmhouse Kitchen Decorating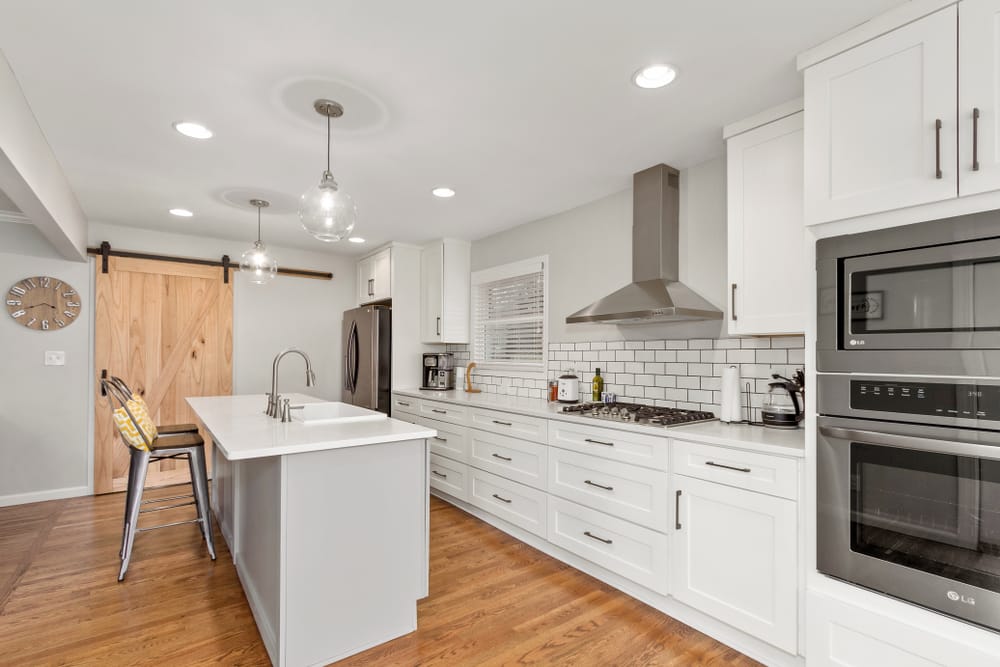 Pale gray and white make the cooking zone airy. Metallic units ooze the industrial chicness and a level of masculinity.
Barn-style sliding door and wood floor take the chill off the stainless steel elements. Rustic wall clock adds strong personality to the zone.
7. Modern Country Kitchen Ideas

This cooking area seems trendy with the presence of well-defined lines and sharp edges. Lots of curves emanate a homey atmosphere.
Wood floor effectively warms up the entire kitchen. Patterned throw pillows on gray metal dining chairs grab everybody's attention in a flash.
8. Traditional Farmhouse Kitchens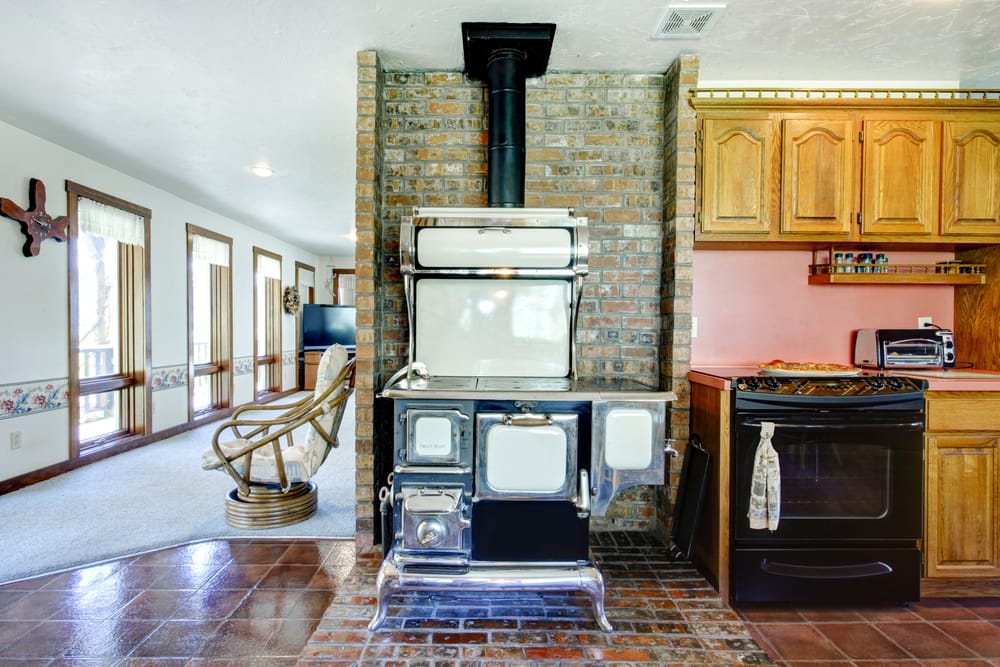 The backsplash is painted pastel pink. It delivers an aura of femininity to the room. Black range cooker and restored vintage stove introduce a traditional flair.
Brick wall and wooden cabinetry add more texture to the space. Lastly, ceramic floor tiles offer comfort underfoot.
9. Farmhouse Open Kitchen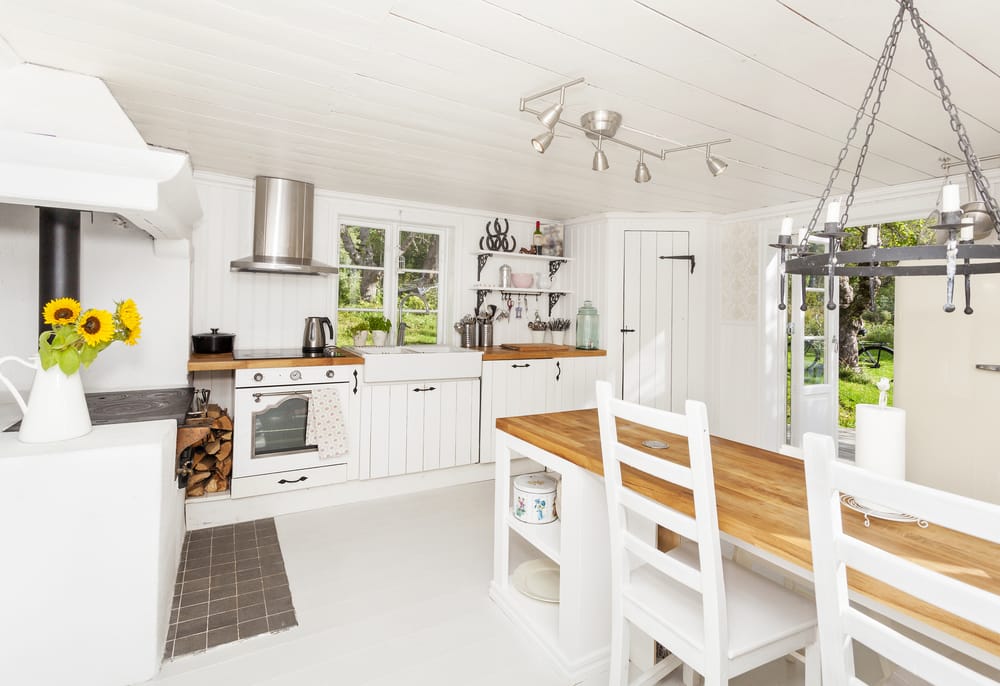 The crisp white ceiling, floor, and shiplap walls exude a sense of openness as well as cleanliness. Plus, they accentuate butcher block island and countertop.
Industrial track light and wrought iron chandelier illuminate the room during evening hours. Sunflowers in an antique water jug revive the kitchen.
10. Farmhouse Dining Chairs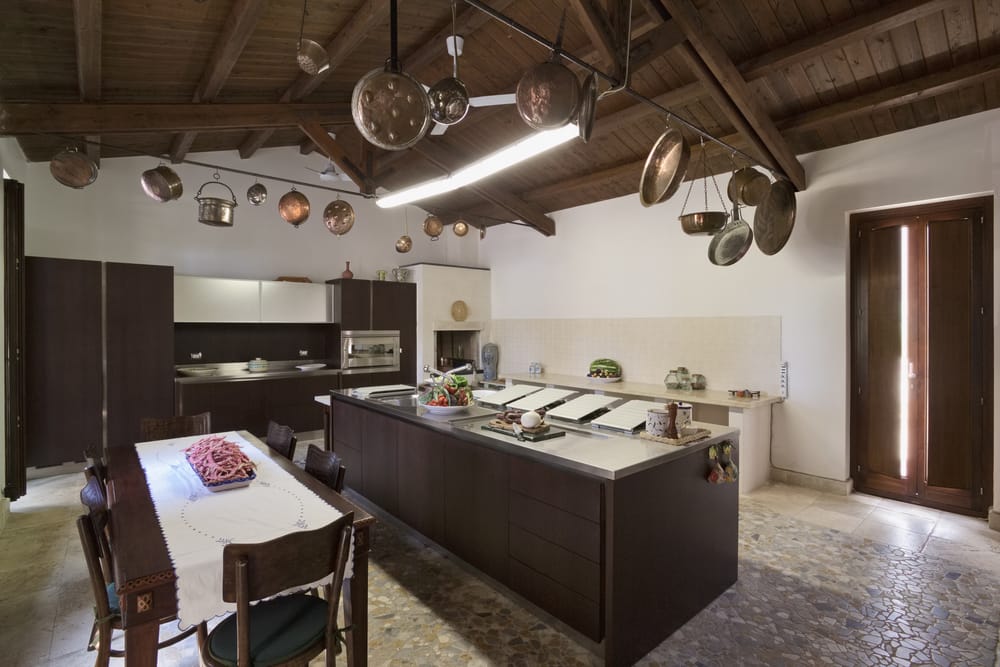 This classic kitchen surely enchants you. Dark brown and white form a mesmerizing contrast. Copper and metal cookwares are hung from industrial-style ceiling racks.
Exposed wooden beams draw the eye up. Curvy dining chairs promote a casual ambience. Broken stone tiles bring the outdoors in.
11. Farmhouse Kitchen Island with Sink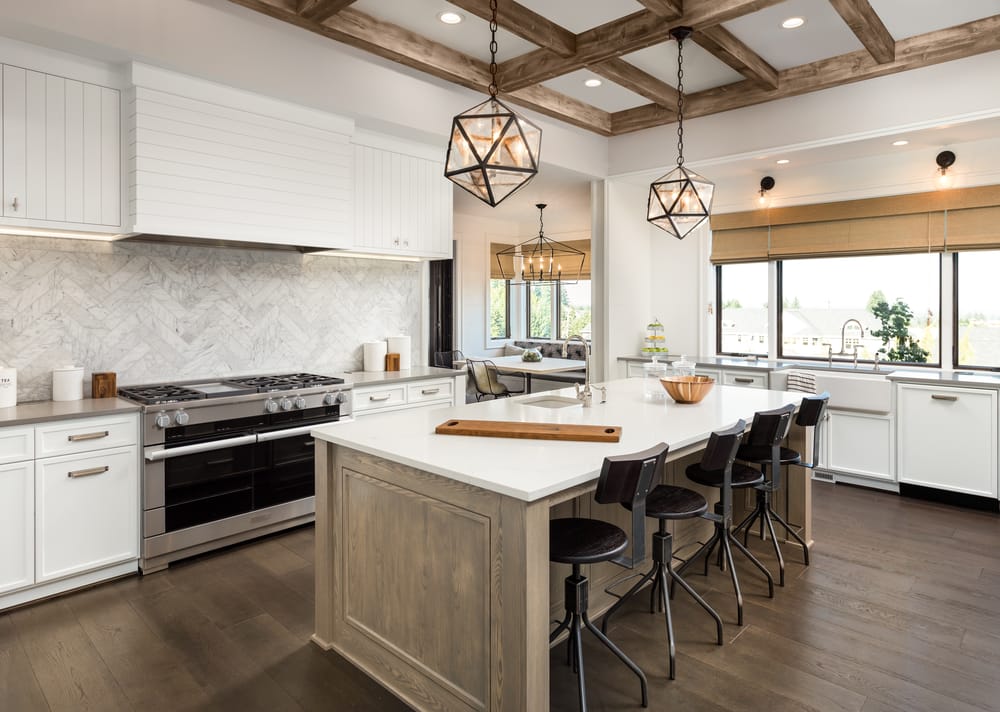 White countertops, cabinets, and walls expand the culinary space. Herringbone marble backsplash creates a focal point.
Rustic coffered ceiling evokes a sense of formality and luxury at the same time. A couple of geometric pendant lights emphasize kitchen island and under-mount sink.
12. Rustic Oak Kitchen Island

If you love something unpretentious, duplicate this look. Whitewashed cabinets give the cooking area some shabby chic.
Blue-painted repurposed shutters are juxtaposed with cream backsplash. Floral blind and chandelier enhance the room's splendor. Potted indoor plants enliven the kitchenette.
13. Farmhouse Ceiling Ideas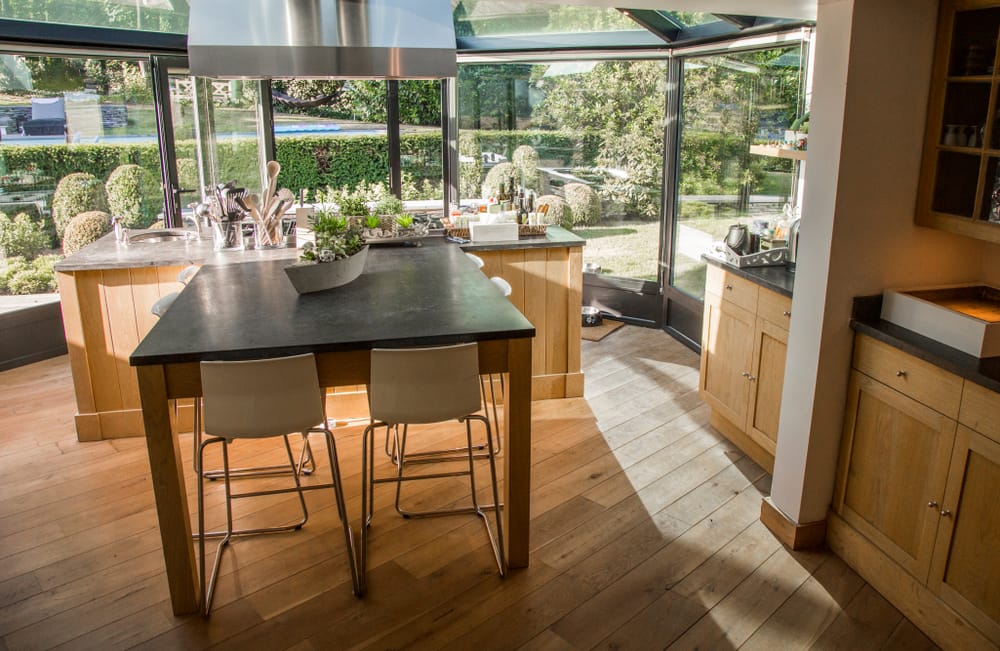 This kitchen makes you feel like you are cooking in an open space. Both windowed ceiling and walls bring plenty of sunlight into the room.
Black concrete countertops elicit drama and sophistication. Meanwhile, natural materials prevent the kitchen from feeling cold.
14. Tiny Farmhouse Kitchen Ideas

Working with tiny kitchen? Use this idea as your inspiration. The skylights keep the culinary space from being dingy and cramped.
Open wooden shelves house mini potted plants and wall decor. Stainless steel appliances and unfinished wood cabinets carve a modern farmhouse flavor.
15. Farmhouse Kitchen Table Sets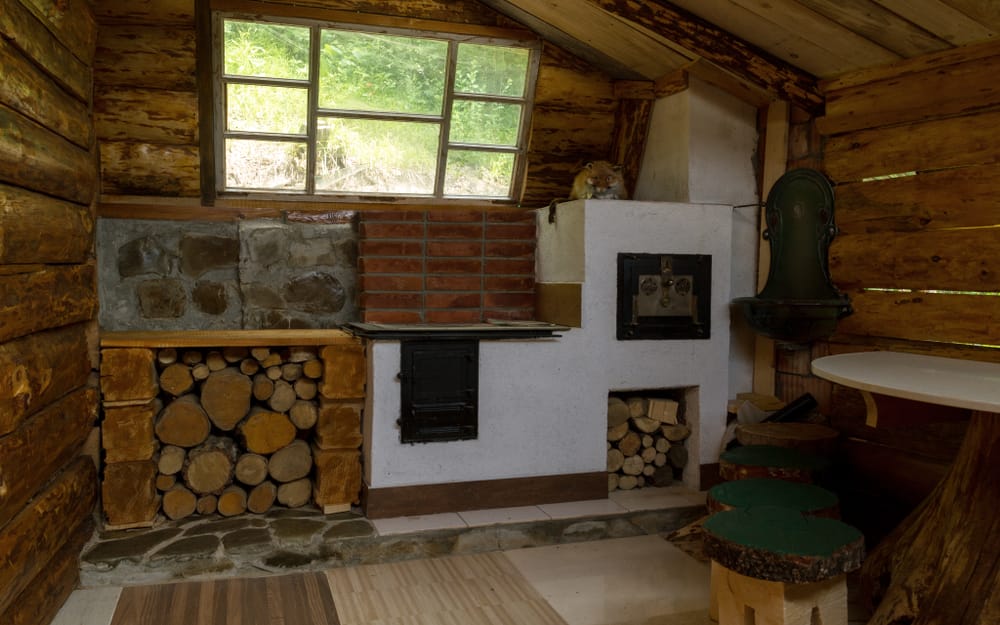 Log cabin walls and exposed kitchen ceiling beams provide layers of warmth. Flagstones and bricks are also featured to get a rustic aesthetic.
Wall-mounted dining table and log slice stool result in an intimate breakfast nook. Large window lets the daylight in.
16. Modern Farmhouse Kitchen Colors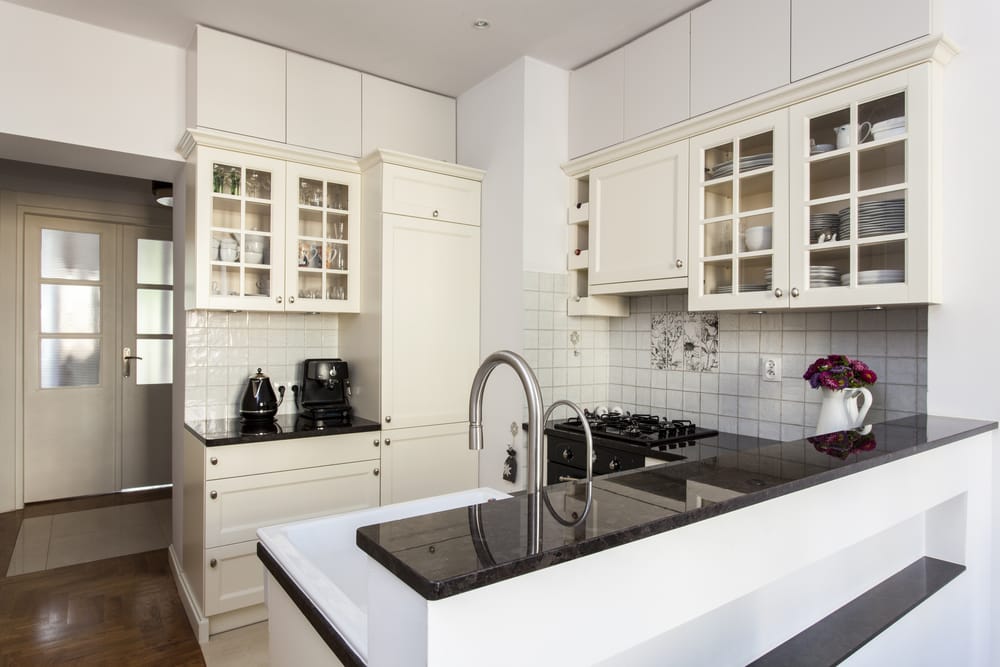 Stark and off whites soothe the kitchen. Sharp edges and clean lines contribute to the room's modern style.
Black countertops and cooking appliances inject dimension into the space. Lastly, under-mount sink and vintage water jug scream the farmhouse flair.
17. Old Farmhouse Kitchen Pictures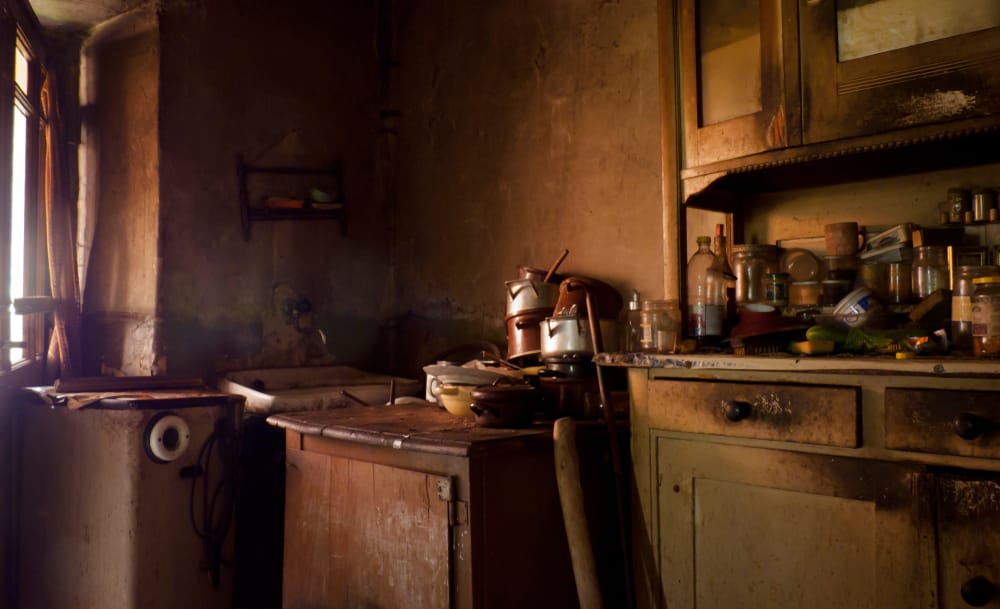 As you can see, the earth tones warm up this culinary space. It is filled with roughly hewn cabinetry and table.
The window allows the natural light to shine into the room. Wall-mounted sink and stainless steel faucet are such a classic addition.
18. White Farmhouse Kitchen Islands

Marble countertops and traditional range hood make this an example of a lavish farmhouse kitchenette.
Off-white cabinetry and kitchen island keep the cooking space bright. Herringbone backsplash and cylinder glass pendant lights are the stars of the room.
19. Vintage Farmhouse Sink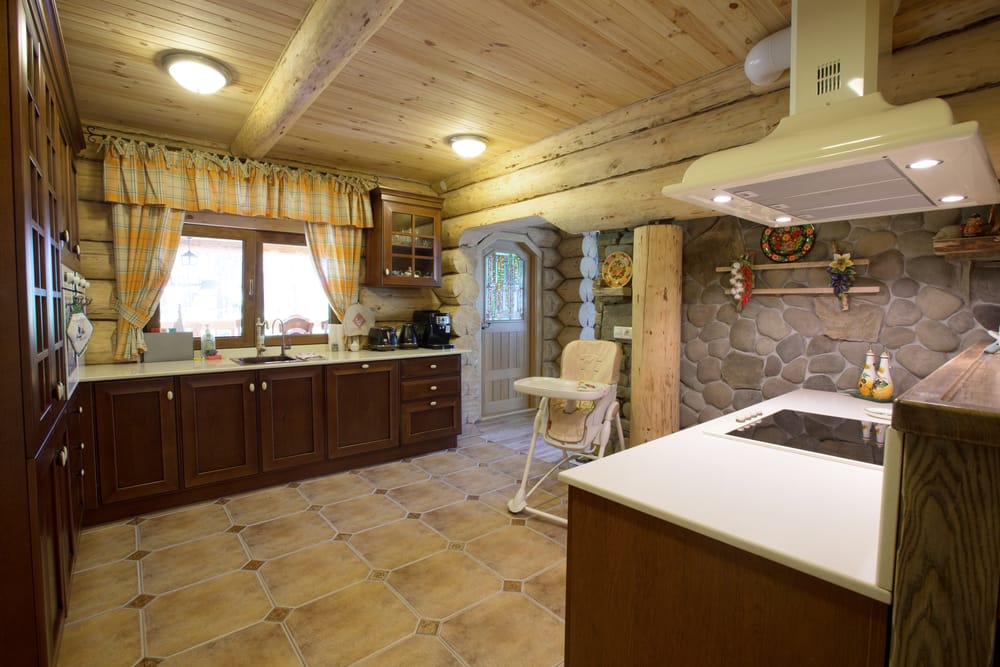 The dweller of this wooden house combined raw wood ceiling with natural rock accent wall. They are undeniably rustic.
Dark wood cabinets and white countertops develop a ravishing contrast. Plaid window curtains and under-mount sink amp up the farmhouse vibe.
20. Rustic Farmhouse Kitchen Sink

This kitchen is coupled with butcher block countertop and unfinished wood cabinet. The open shelves add a casual aura.
Black concrete apron front sink and rugged stone wall radiate rustic charm. Hot pink chair, footstool, and rug pop on gray carpet. Flower wreath and plants beautify the scene.
Whether you live in an apartment or countryside log cabin, building farmhouse kitchen is such a good decision. Implement one of those ideas at home and put your own spin on the farmhouse look.