Pantry is such a crucial yet often-forgotten space in the kitchen. It houses the food items, utensils, and dishes. If you find your cooking area cluttered and plain, it is time to think about having a kitchen pantry.
Here, I present some pantry ideas to motivate you upgrading your kitchen. Whether you would like to renovate the kitchen or just swoon over stunning storage spaces, take a gander at these.
1. Old-Fashioned Butler's Pantry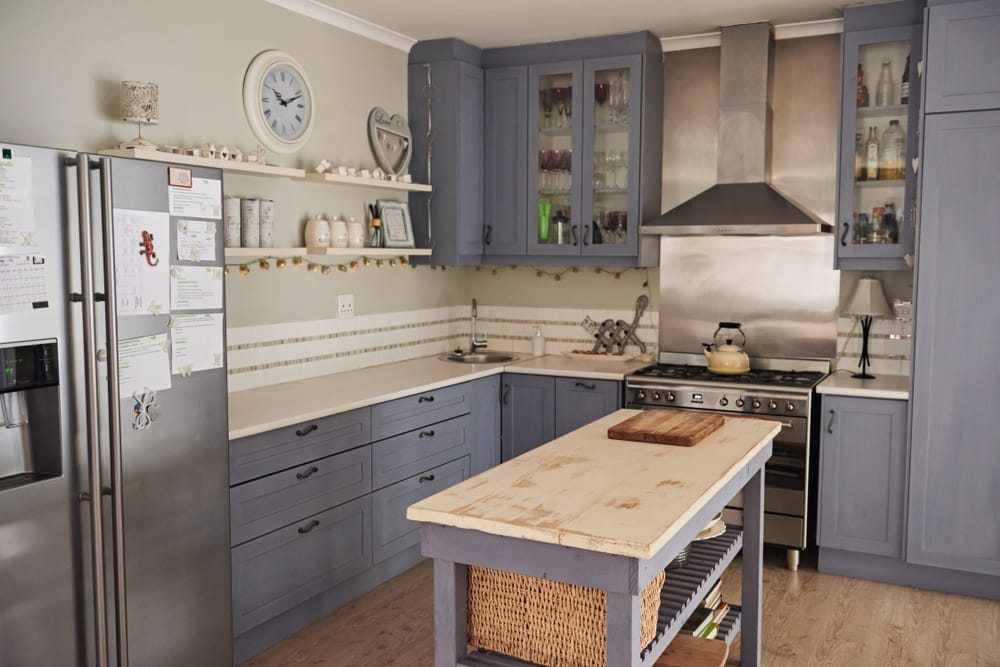 This country kitchen mainly serves as a food preparation area. There are pastel blue-painted cabinets that store drinking glasses, tableware, and linen.
The unfinished wood floating shelves showcase ornamental pieces and introduce rustic aesthetic. Rattan basket and wood floor bring more texture to the room. Stainless-steel appliances are a modern take on a classic design.
2. Kitchen Pantry Designs Pictures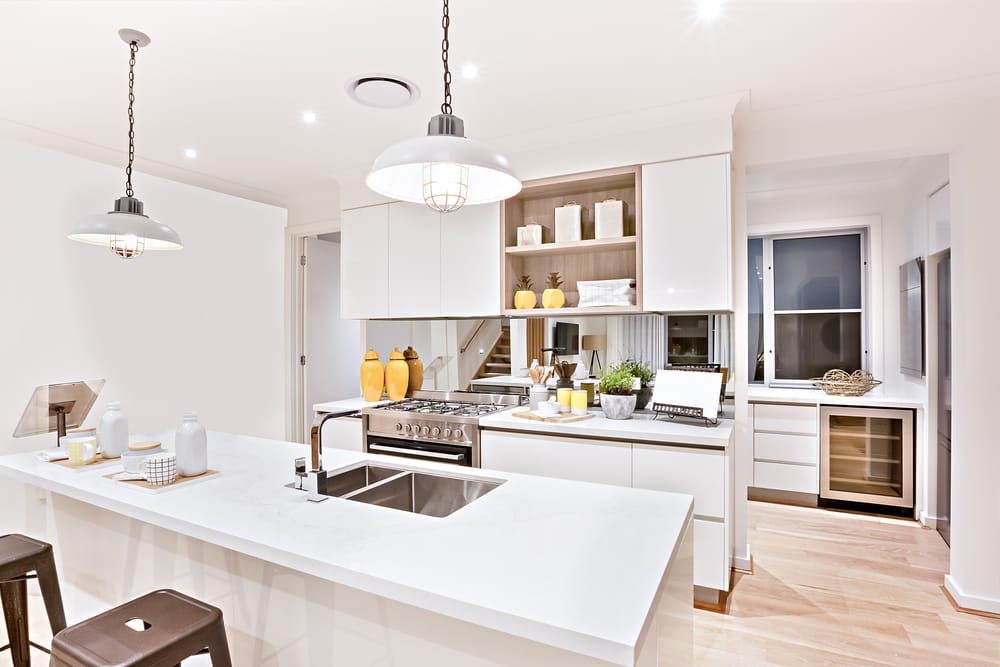 Your kitchen is not so large? Paint the ceiling and walls white. Then, outfit the space with white furniture units. They make the kitchen feel more expansive.
To keep the dried goods in place, hang sliding door upper cabinets. Their clean lines complement the minimalist modern kitchen's interior. Raw wood floor creates a stylish look.
3. Open Pantry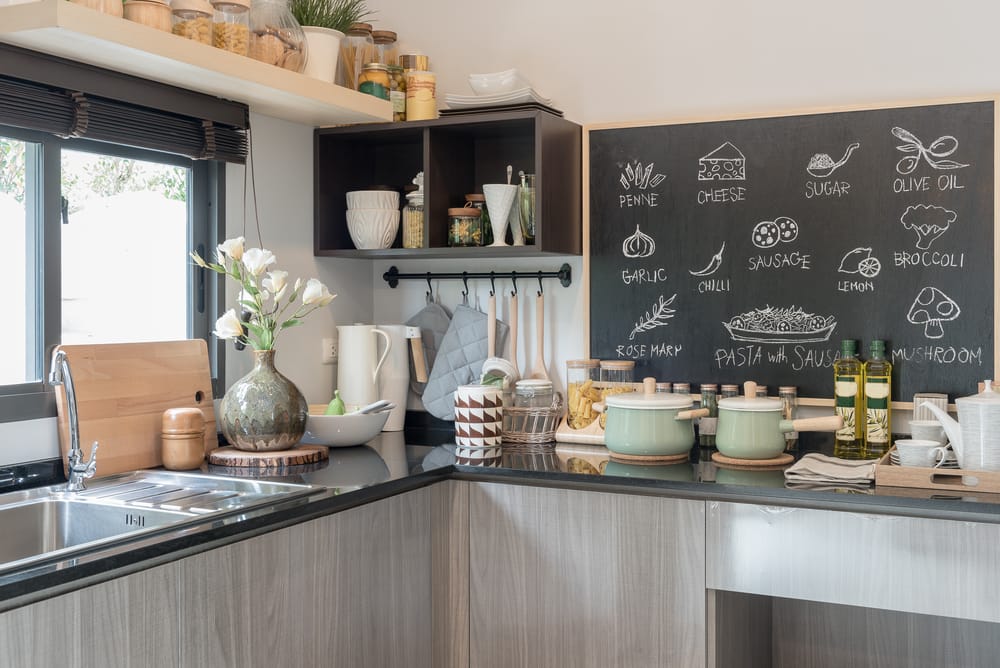 In this picture, glass jars and canisters sit on the concrete open shelf. Meanwhile, the dinnerware set is put in the metal hanging cabinet. An iron wall-mounted utensil rack produces vintage industrial charm.
The chalkboard decorates the room. It also allows you to write down the family dinner menu and ingredients. Potted plant and flowers in vase refresh the zone.
4. Kitchen Pantry Furniture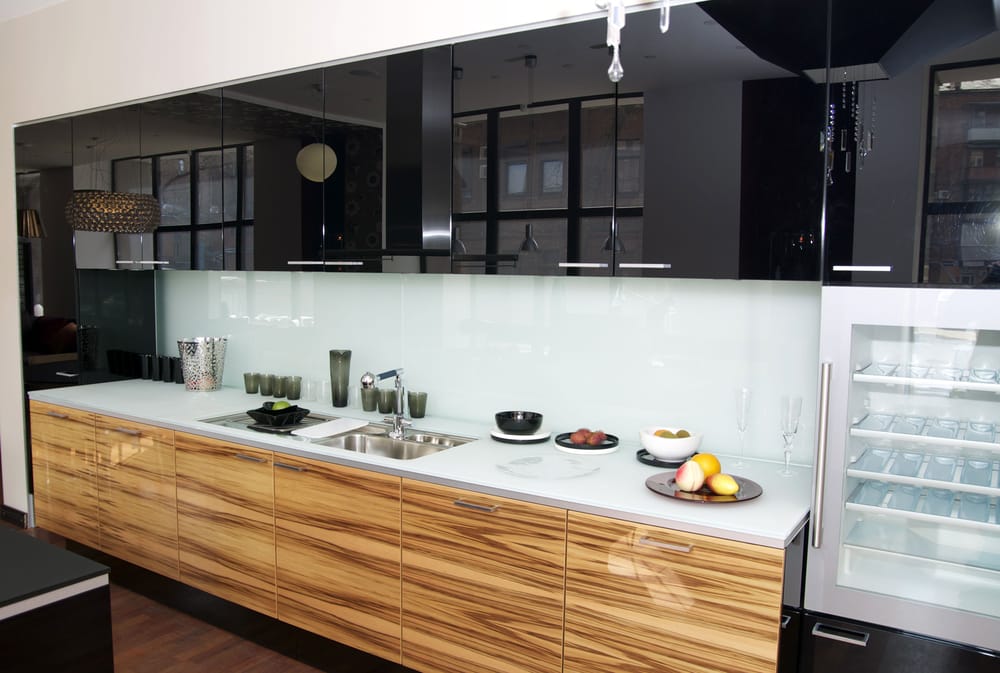 Glass-faced black cabinets offer an abundance of storage space for kitchen necessities. Along with white countertop and backsplash, they generate high contrast. Black island and dinnerware evoke a sense of cohesiveness.
Dark wood floor conveys warmth and intimacy. The raised lower cabinets show off their striking grain and act as a focal point.
5. What Color to Paint Pantry Walls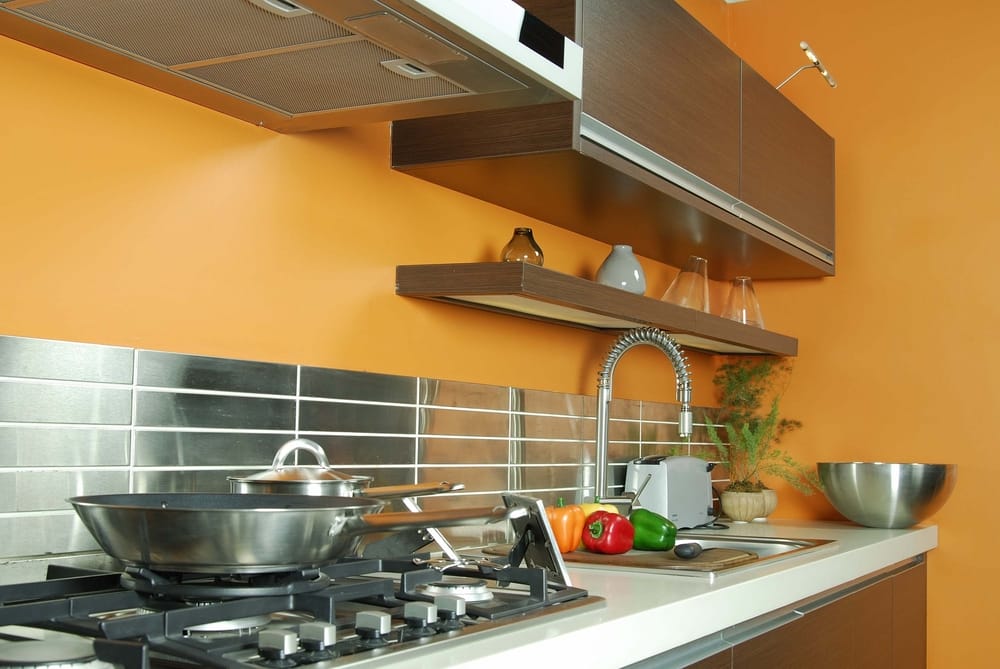 Your kitchen deserves to get a splash of fun color. You can paint the walls orange. Not only do they make a bold impression, but also let stainless-steel appliances stand out.
Streamlined cabinetry is the home for pantry staples. Meanwhile, an open shelf displays decorative items.
6. Minimalist Food Pantry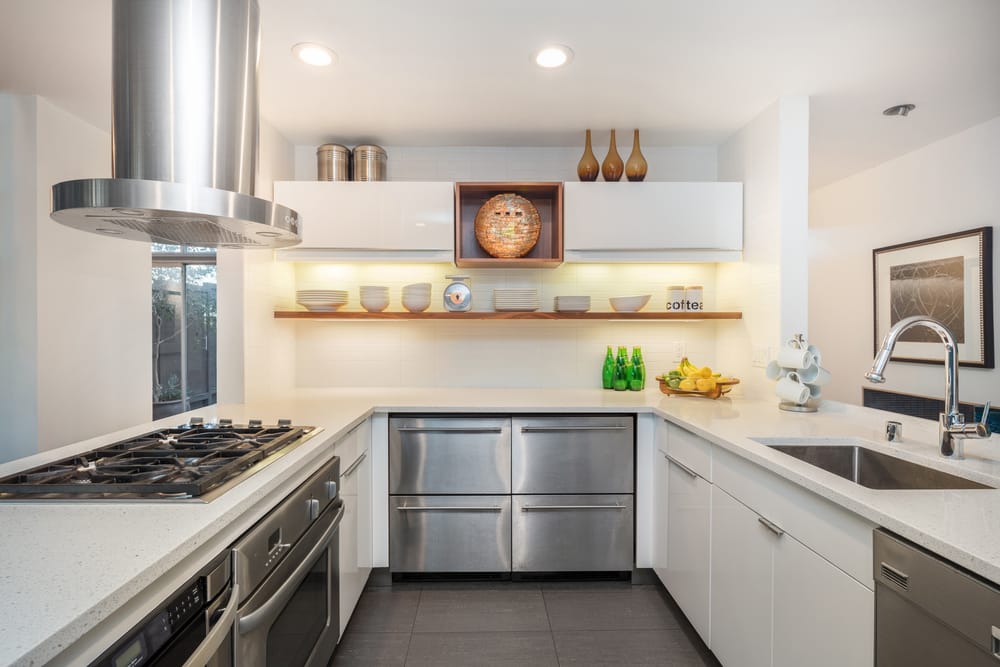 Seriously, I'm drooling over this simple but chic pantry. With the help of its doors, it can hide the unwanted mess. Under the cabinet pantry, there is a wooden floating shelf.
Stainless-steel units bounce the light back into the kitchen. Pops of green and yellow infuse an instant cheer.
7. Kitchen Pantry Shelving


This kitchen undeniably embraces contemporary design. Take a look at clean lines, sexy curves, and neutral color palette.
White and wooden open shelves are a great spot for drinkware, dried spices, and cookbooks. They match with appliances and furniture perfectly. Natural light streams into the cooking area through a large window.
8. Kitchen Pantry Unit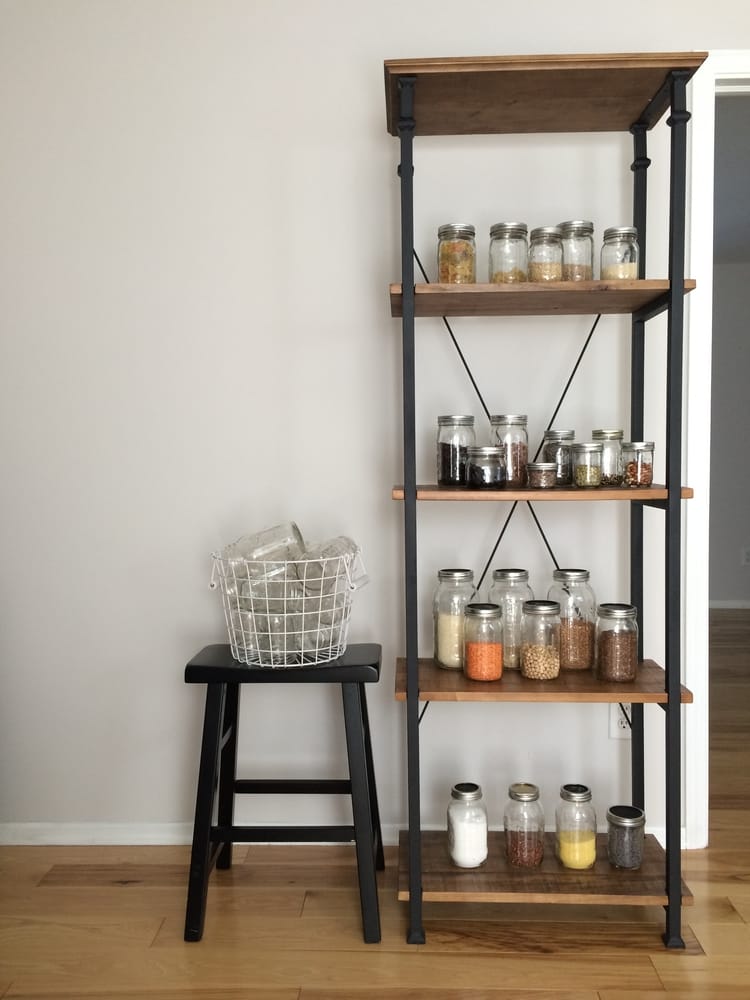 Well, this wood-and-iron shelving unit looks so charming. It serves as an awesome place to store different sized jars filled with spices and baking essentials.
Black stool, wood floor, and white wire mesh basket develop a unified feel. Bursts of colors brighten up the otherwise neutral room.
9. Kitchen Pantry Cabinet IKEA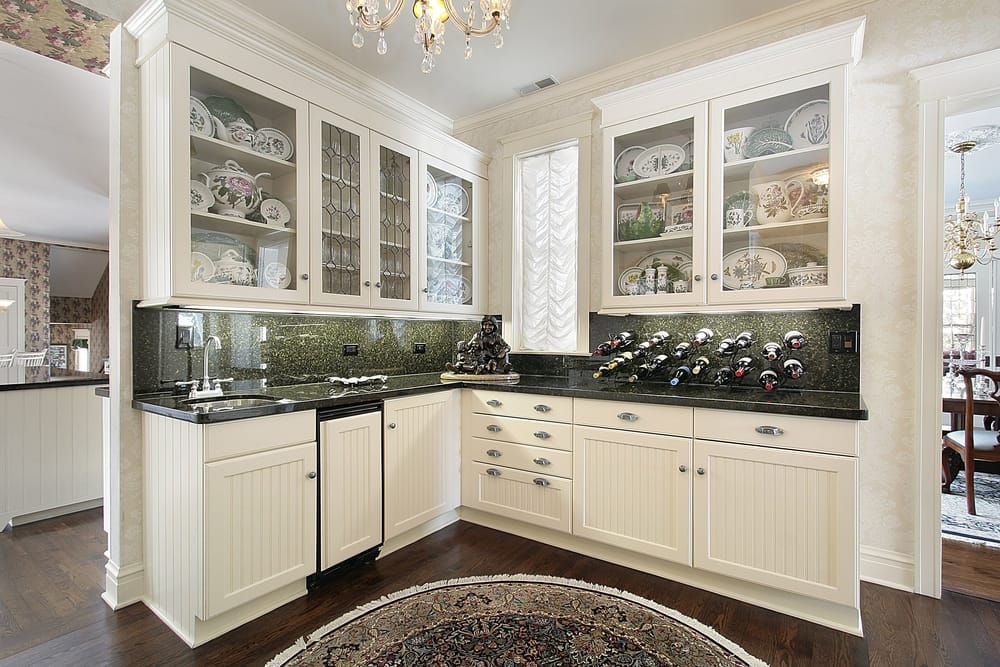 As shown in the picture above, the culinary space boasts white cabinets with glass-front doors. They allow you to see a huge collection of antique tableware inside. That means: the pantry will save you your time.
An exquisite golden chandelier is suspended from ceiling. It provides glitzy glam lighting and promotes a sumptuous air. French country round rug magnificently tops dark wood floor.
10. Kitchen Pantry Ideas for Small Spaces

You never go wrong with wood & white because it is such a mesmerizing combo. In this example, white base and wood accents lead to farmhouse aesthetic as well as cozy atmosphere.
Drawers, open shelves, and corner wall cabinets offer ample storage space. Houseplant, potted Christmas tree, wreath, pine cones, and strings of light embellish the area.
11. Pantry Organization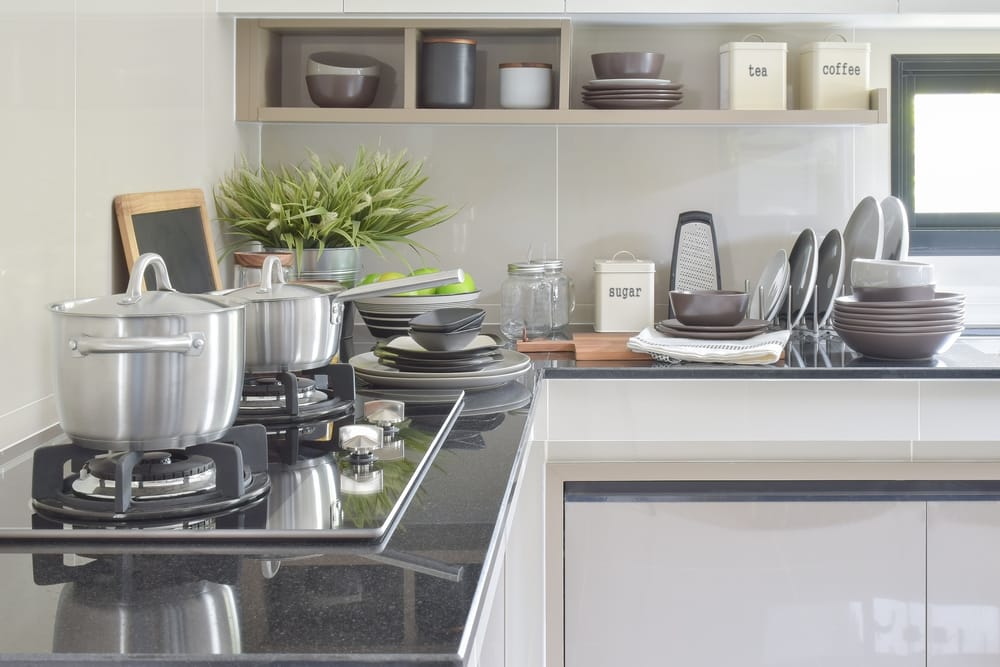 Do you love this pantry's organization? I do, too. It is highly efficient. The cream-colored tea, coffee, and sugar containers have black labels. They prevent you from grabbing the wrong stuff.
Stacked saucers and bowls are stored on the wall-mounted shelf. Houseplant brings a breath of fresh air to the area. Galvanized metal planter produces timeless appeal, while polished granite countertop lends the room a glamorous shine.
12. Custom Pantry Shelving System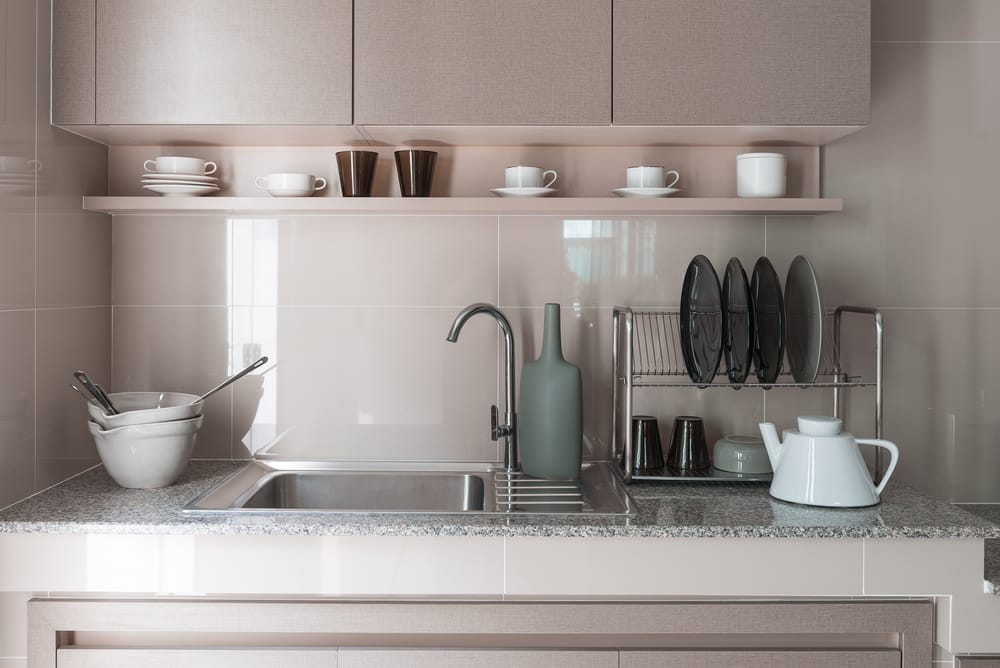 Pale taupe is the dominant player in this modern cooking area. This neutral shade conveys a feeling of elegance and softness. Granite countertop adds visual interest and texture to the room.
Gray and black pieces look fabulous against the gleaming taupe backsplash tiles. Custom-made cabinet pantry discretely keeps store-bought foods. Meanwhile, the tableware set is arranged on an open shelf underneath the cabinetry.
13. Corner Pantry Ideas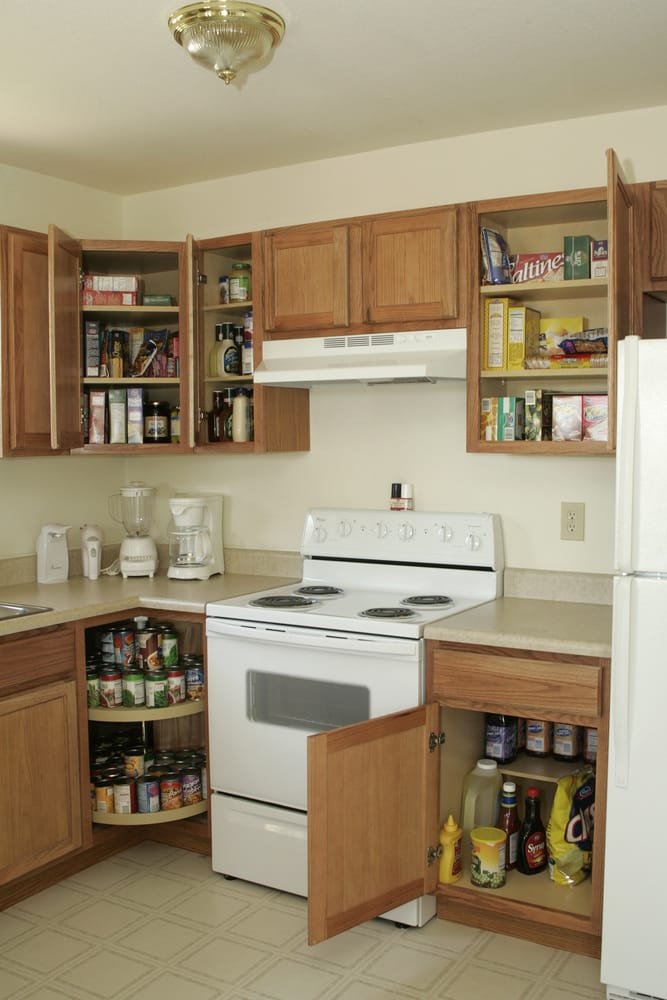 Cream ceiling, countertop, floor tiles, and walls quiet down the kitchen. Other than that, they let pure white units steal the spotlight. Golden flush ceiling light draws the eye upward due to its classy look.
Wood cabinets and rounded corner shelves make the most out of space. They are a lovely spot for lots of pantry staples. What a well-stocked kitchen!
14. Modern Walk-In Pantry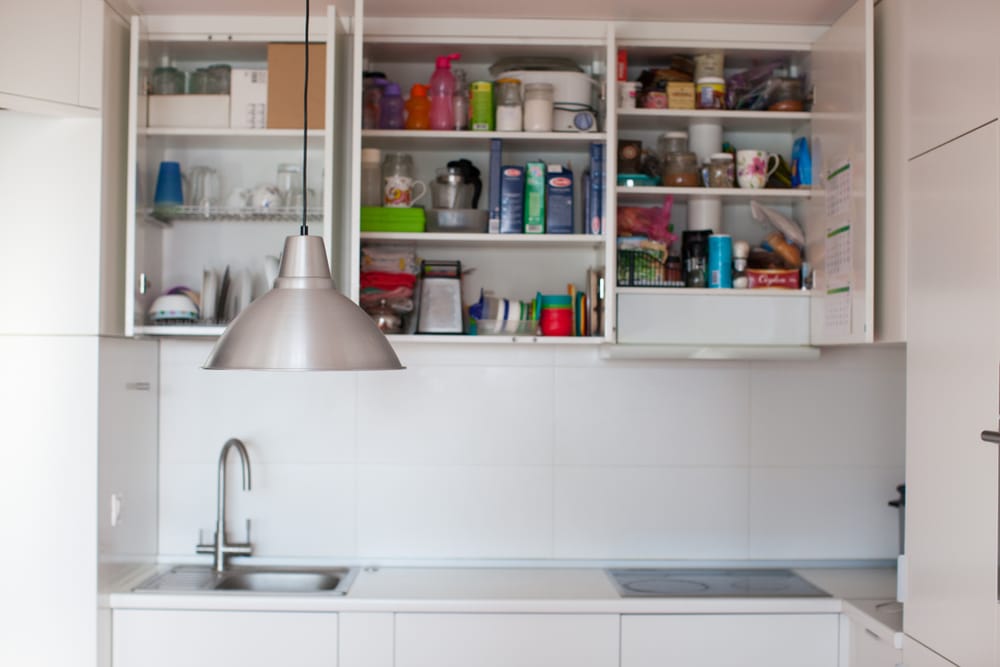 This kitchen is small in size, but white color scheme and furniture units create the perception of bigger space. The metallic pendant light carves industrial appeal. Under-mount sink, faucet, and stove add greater functionality to the area.
Walk-in pantry includes wall-mounted cabinets showcasing tableware, baking and kitchen essentials. One central location helps to maintain a convenient pantry. Pops of vivid colors elicit an aura of playfulness.
15. Large Kitchen Pantry Cabinet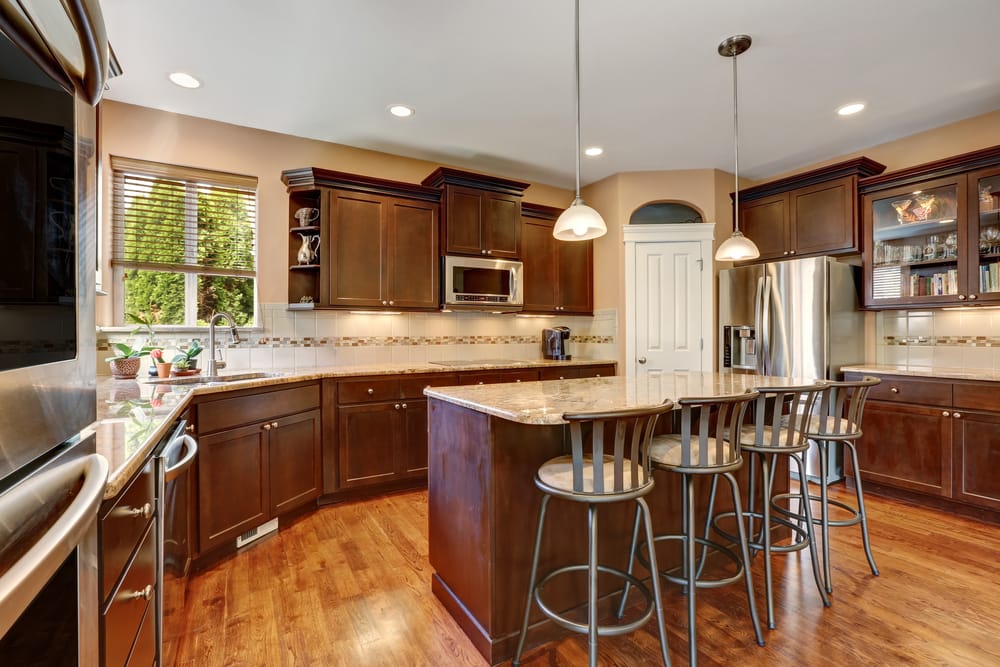 Glass window emanates an airy, open setting. It also connects your indoor space with the enticing outdoors. A couple of modern retro pendant lights over an island pose as showstoppers. Vintage metal stools round out the casual dining area.
Dark wood pantry cabinets provide ample food storage and exude a sense of equanimity. Meanwhile, the glass-faced ones display tableware collection and cookbooks. This remodeled kitchen is such a home paradise.
The pictures of kitchens above prove that pantry doesn't have to be messy and boring. As long as you organize the things well, the pantry will add efficiency and clarity to your kitchen life. Which one is your favorite kitchen pantry?