It is no surprise that farmhouse design gains wide popularity in the world. There are reasons behind farmhouse's massive comeback. It invokes sweet nostalgia and coziness. Other than that, it develops an inimitable atmosphere.
In addition, farmhouse style is typically characterized by neutral colors, rustic antiques, and natural elements. In case you are planning to upgrade your home, take a gander at these farmhouse living room ideas and pick the one you love.
Farmhouse Living Room Table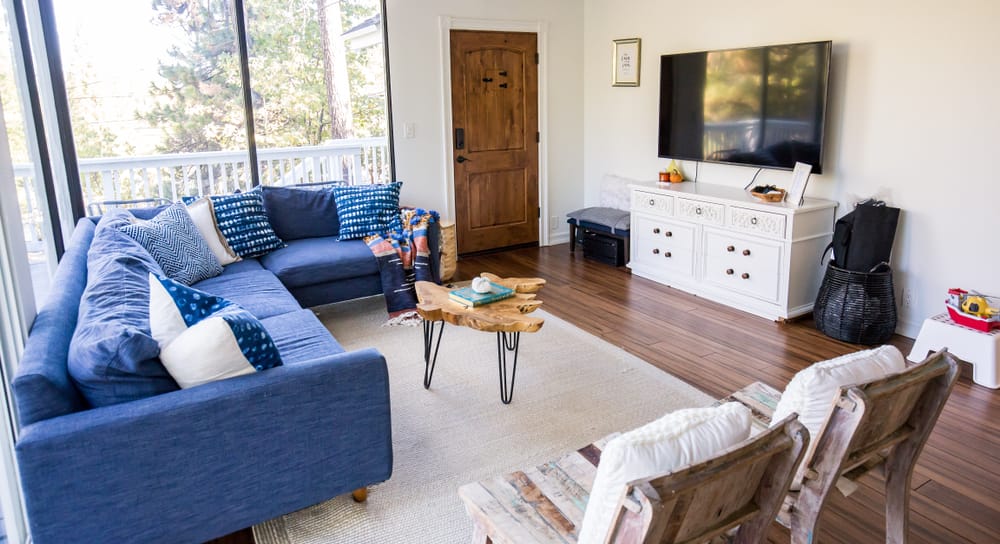 This lounge room undoubtedly boasts an open concept. Glass walls help make the entire area sunny, bright and visually expansive.
A wood slice coffee table with metal hairpin legs pairs wonderfully with the floor, door, and armless chairs. Blue sofa and throw pillows perk up space.
Grey Farmhouse Living Room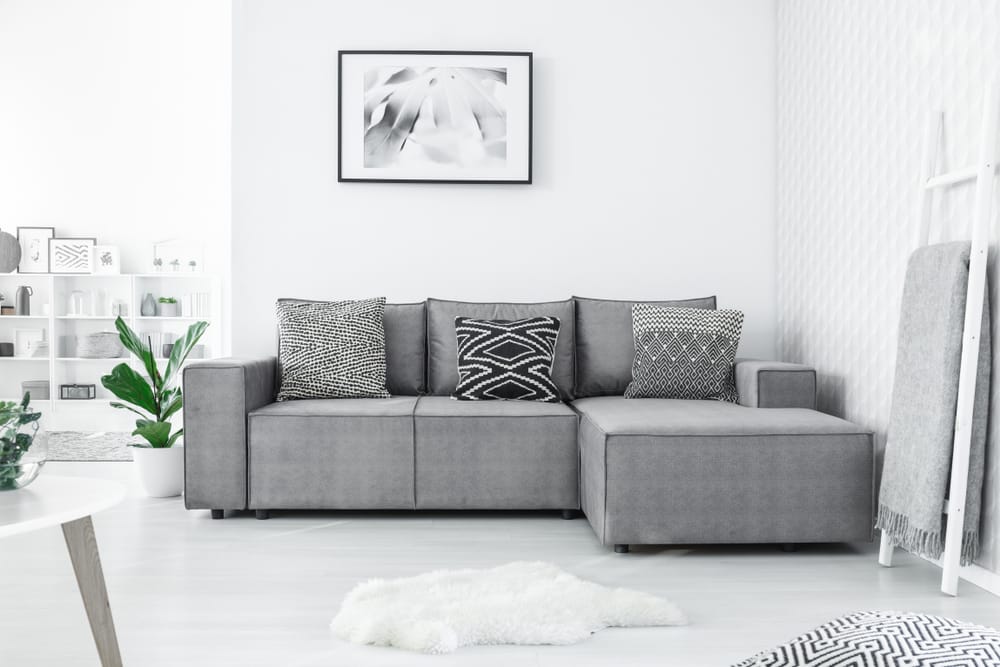 Living in a small house? This idea could be the best inspiration. Here, white and grey instantly create modern farmhouse flair.
A patterned rug and throw pillows successfully become the center of attention. White shag rug and grey blanket give the area different textures.
Invigorating Rustic Living Room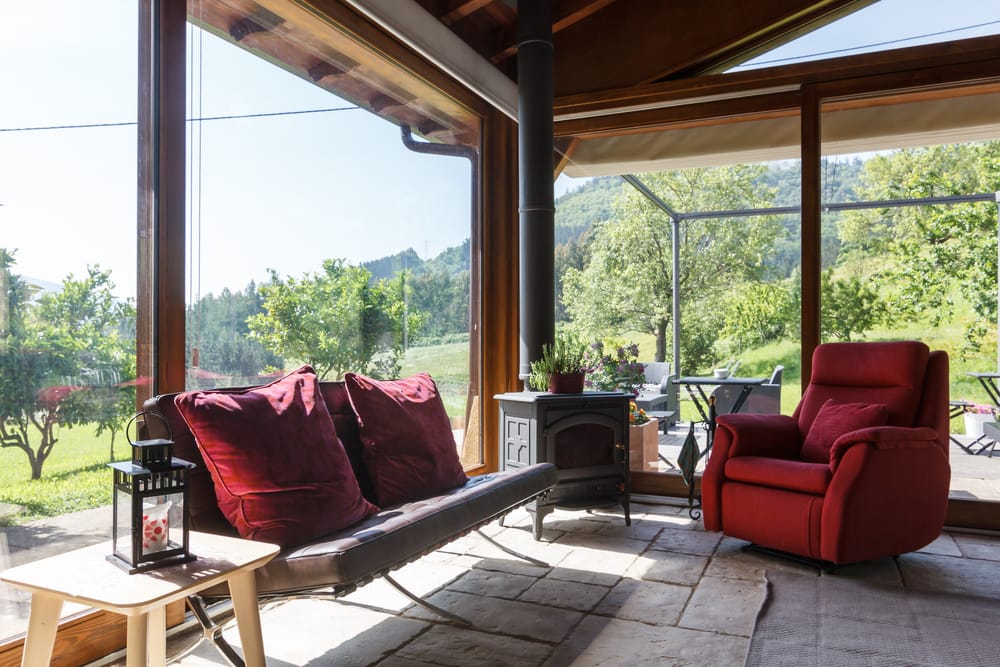 If your home is situated in the mountainous area, steal this idea. Glass walls will allow you to see panoramic views from your sitting room.
Slate stone tiles and wooden side table add a touch of nature to the space. Meanwhile, red sofa chair and throw pillows dramatize the scene.
Farmhouse Living Room Couch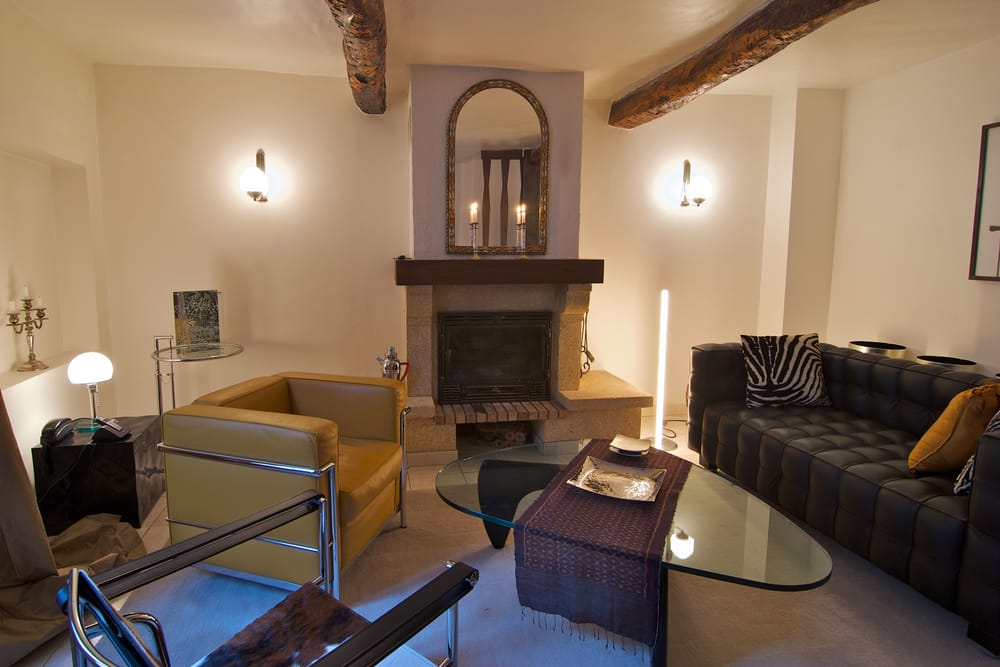 The black leather tufted couch is coupled with caramel chair and glass-top coffee table. It offers a polished farmhouse look.
Zebra print throw pillow embraces nature's wildness. Exposed wooden beams and fireplace inject warmth into the whole area.
Farmhouse Area Rug Ideas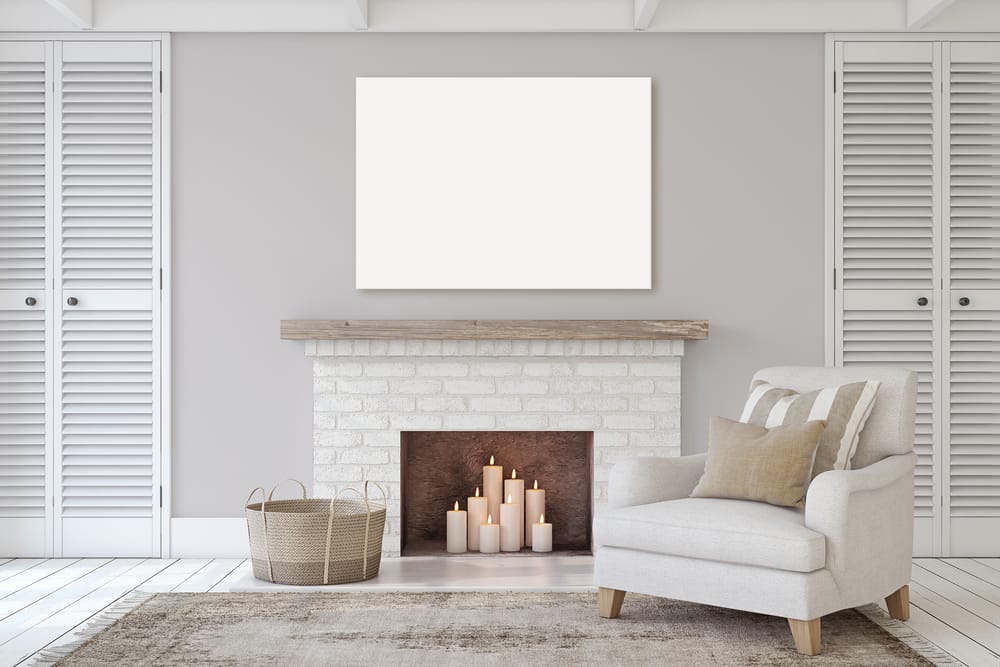 This lounge area is bright, serene, and utterly organized. White wall hanging, sofa chair, ceiling, and floor make the space feel larger than it is.
The fireplace is embellished with LED candles. Shabby chic area rug pampers your feet. Incredible!
Farmhouse Living Room Furniture Set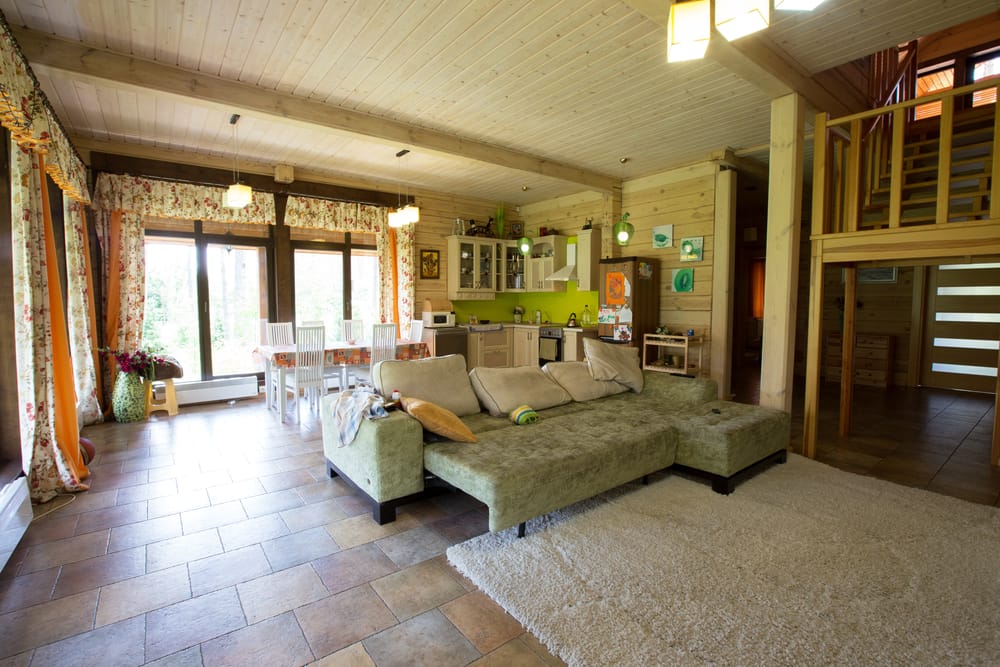 One of easy ways to infuse farmhouse style into your social space is layering it with various textures. They create a welcoming and intimate atmosphere.
Sage green furniture set, white shag rug, and floral drapes are featured here. Unfinished ceiling, wall, and ceiling beams let original features of wood remain.
Modern Rustic Farmhouse Living Room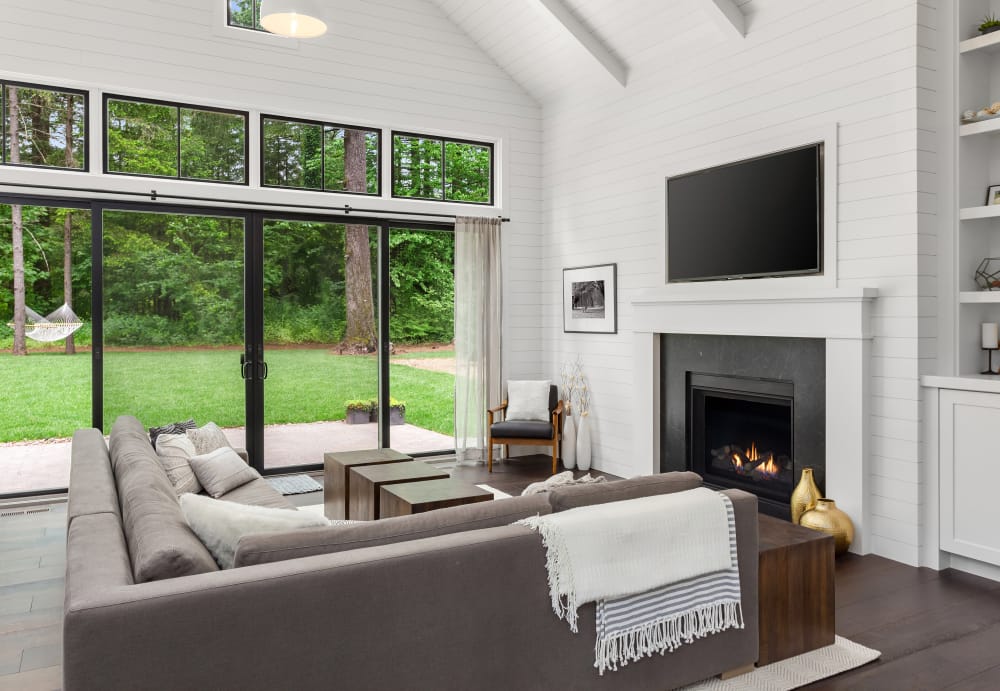 In this picture above, the white-painted vaulted ceiling and walls elicit openness. Glass windows and doors bring more sunlight into the room.
Taupe sectional sofa, wooden cube table, and dark floor result in an inviting farmhouse retreat. Golden units near fireplace ooze luxury.
Farmhouse Living Room Paint Colors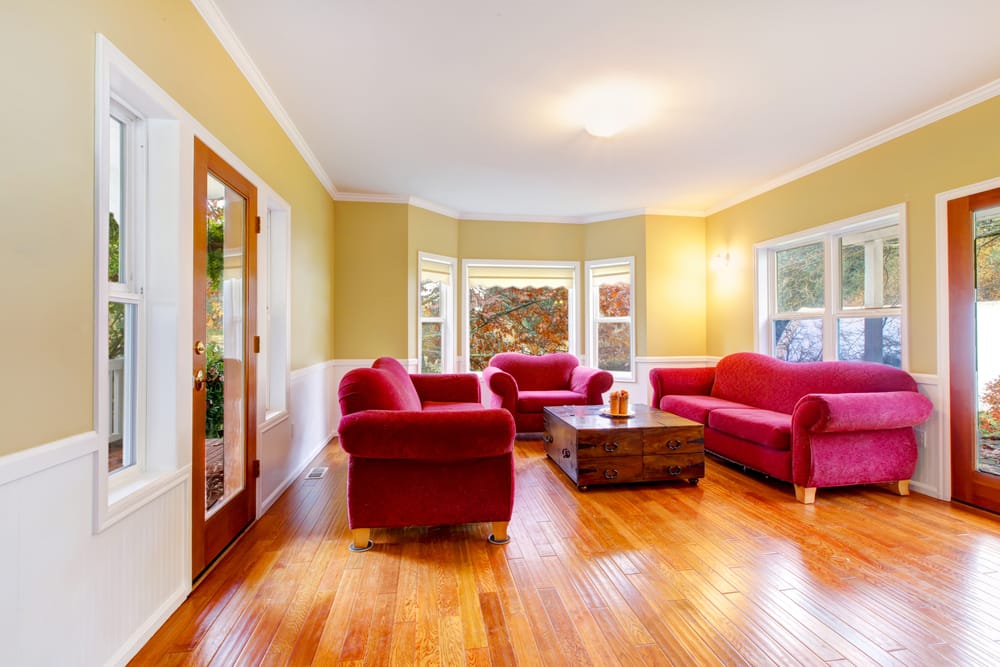 To give your area fresh update, paint the walls crisp white and daffodil yellow. Plus, install glass doors and windows to keep the space from looking dingy.
Hibiscus red sofas accentuate the room. The old-style wooden coffee table, floor, and frames of the door unify this lounge.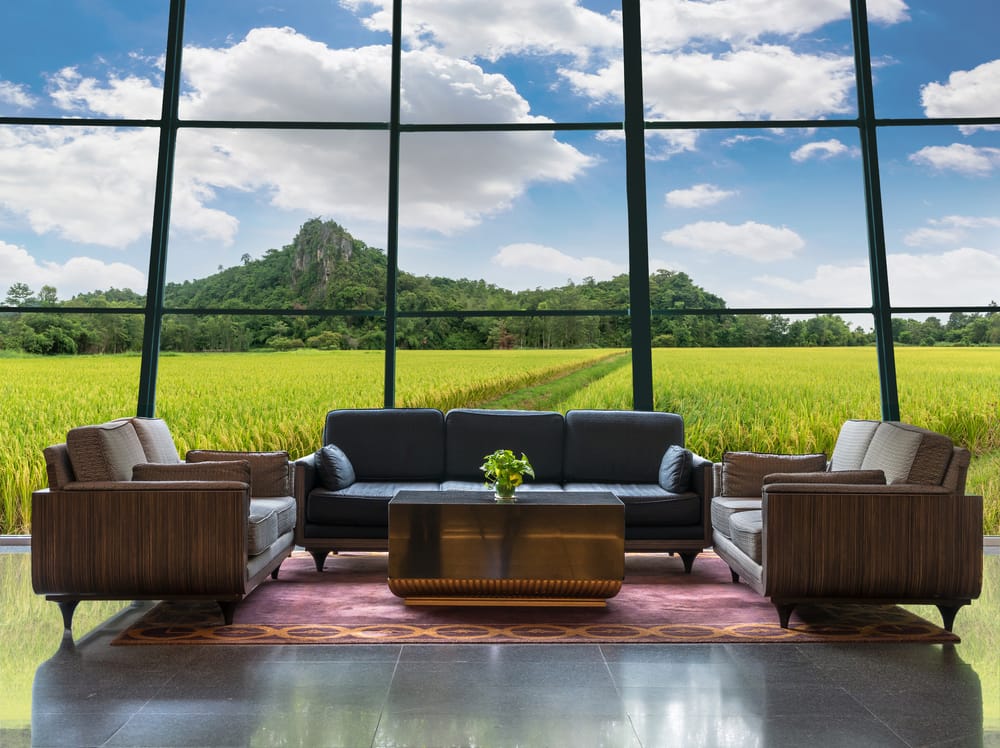 This sitting room definitely leaves me in awe. Floor-to-ceiling glass windows make the area well-lit and offer panoramic rice field views.
Black sofa and floor tiles introduce depth. Grape purple area rug, dark brown coffee table, and armchairs lend the area a rustic charm, but in a refined way.
Contemporary Farmhouse Decor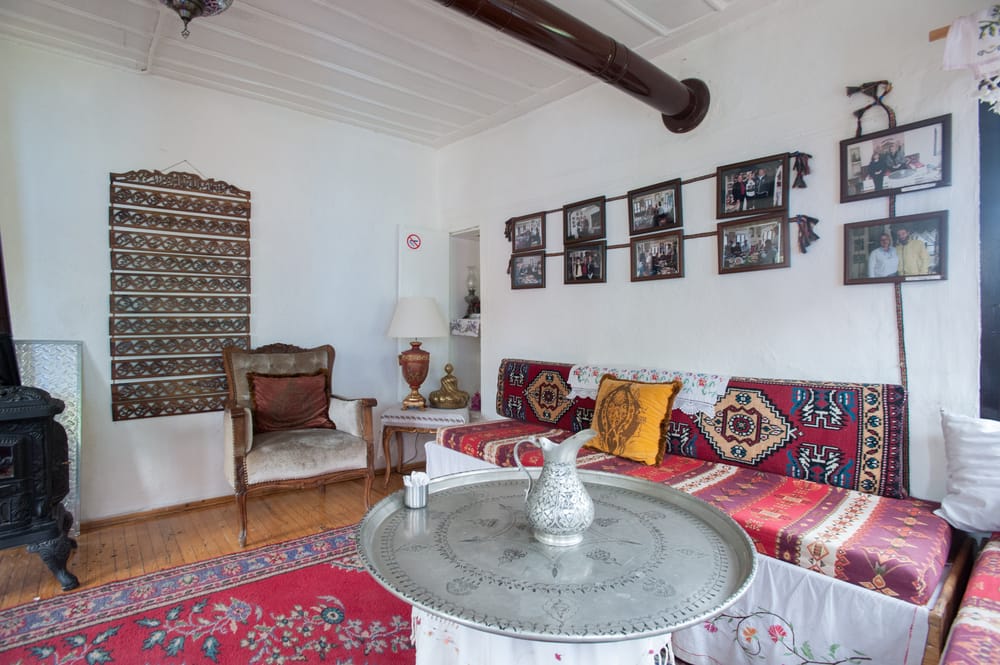 Here, the straight lines meet harmoniously with curved ones. Turkish rug, throw pillow, and daybed covers add bursts of energizing colors to the area.
Wall gallery showcases family photographs that decorate your living room. Silverware set on the table rival warm neutrals.
Farmhouse Living Room Curtains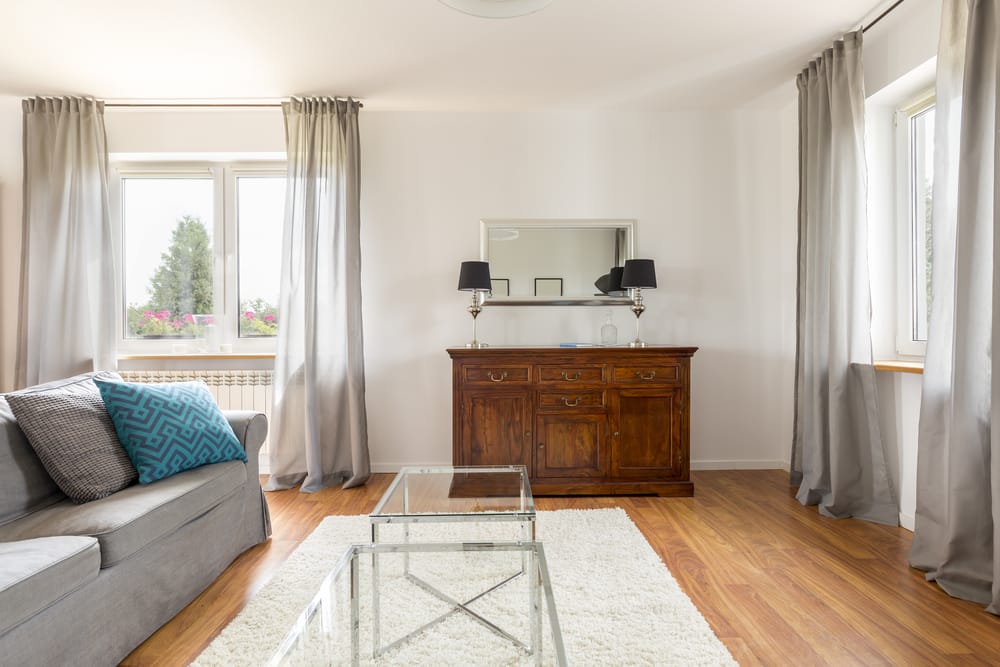 Generally, farmhouse lounge room includes neutral palettes. For instance, you could hang floor-to-ceiling light grey curtains.
Team the curtains with grey sofa. Wooden cabinet and floor lead to a casual look, while patterned blue throw pillow serves as a focal point.
Farmhouse Living Room on a Budget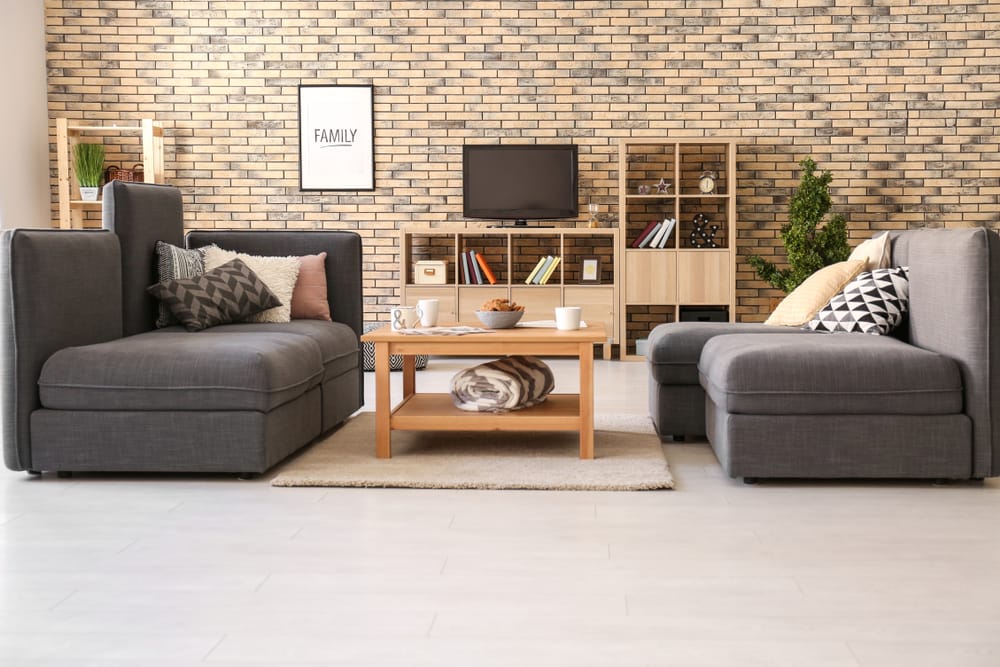 You cannot afford brick wall. So, why not dress your plain wall with brick-effect wallpaper? It seriously seems striking and minimizes your budget at once.
Moreover, wooden units and textured throw pillows create a pleasant atmosphere. Potted houseplants turn your room into a botanic retreat.
Dark Farmhouse Family Room Ideas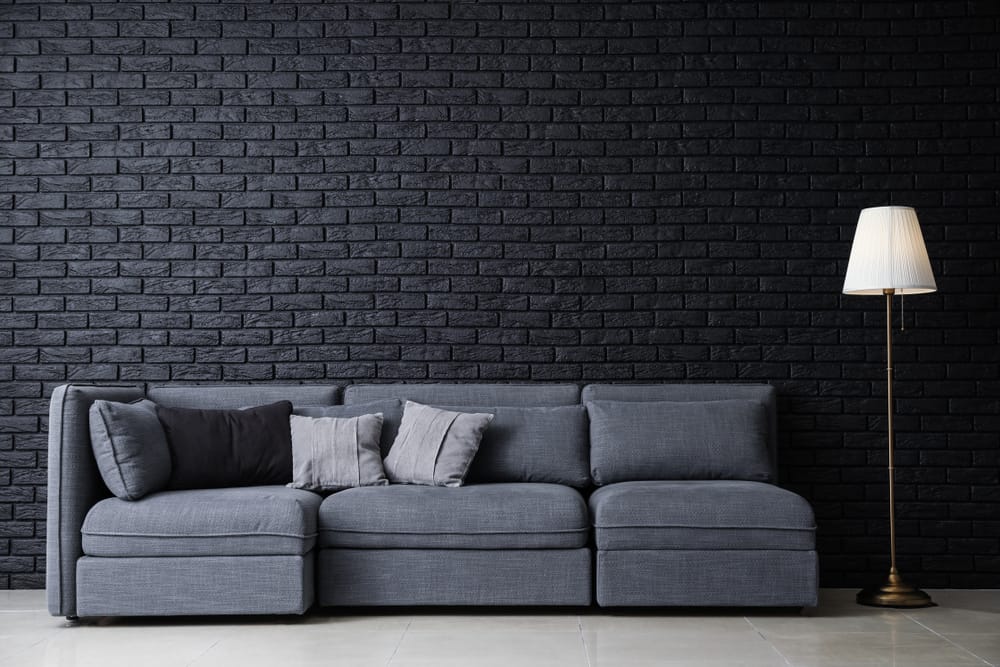 A lot of homeowners avoid dark tones as they make small space more confined. If you dwell in a big house, go for them.
Dark brick wall and throw pillow give the room a natural drama. They pair awesomely with grey sofa and let floor lamp pop.
Modern Farmhouse Decor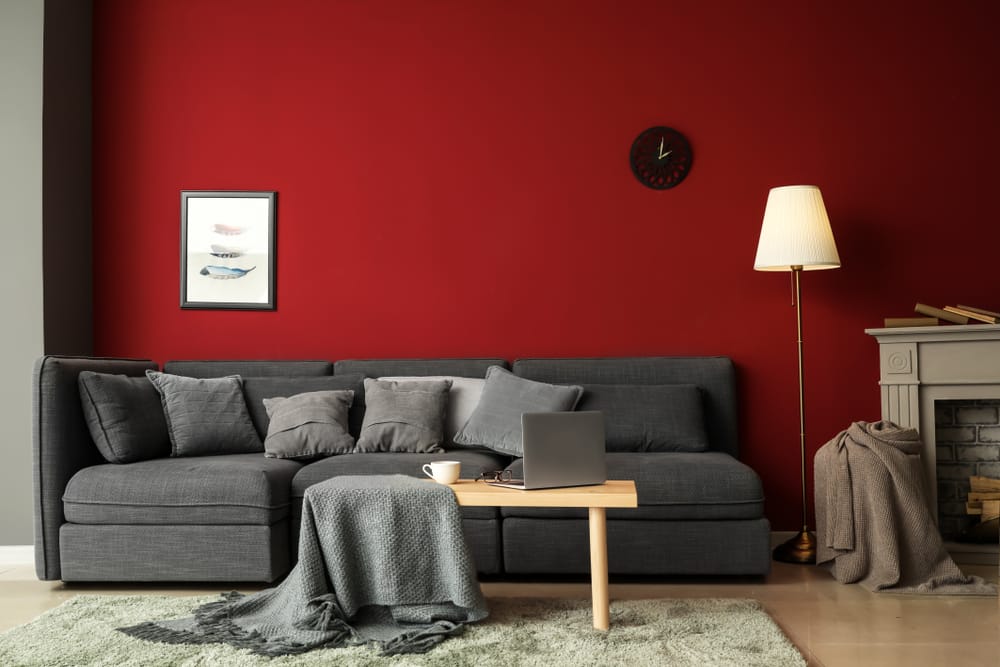 Here, red accent wall creates a daring statement. However, it does not clash with grey sofa and throw pillows.
Shag rug, fireplace, and blankets offer warmth especially during winter months. Round rattan wall clock and framed artwork are perfect decor elements.
Black and White Farmhouse Living Room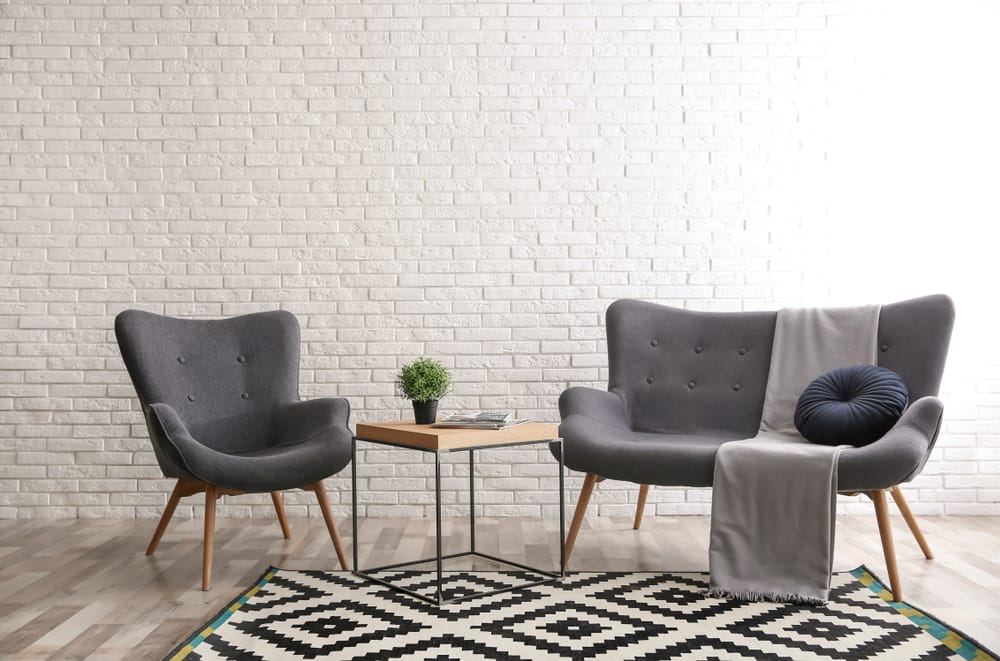 Don't have a large sitting room? No problem. Black and white colors are such great palettes to get a stylish farmhouse lounge.
On either side of minimalist coffee table, there are wingback chair and sofa. Lastly, white brick wall infuses rough texture.
Industrial Farmhouse Living Room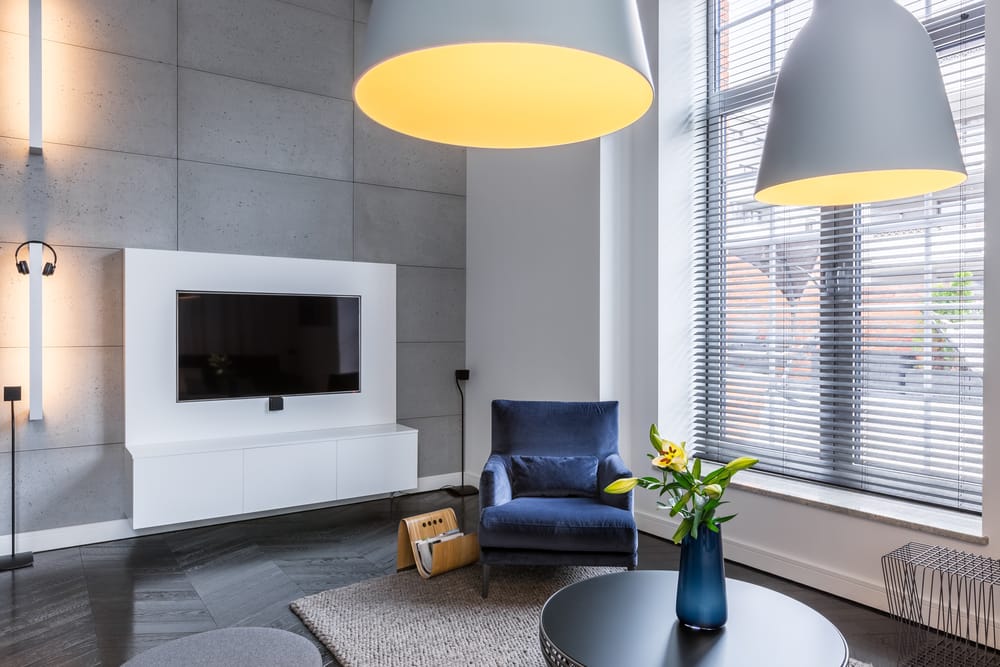 It is a sophisticated farmhouse sitting area with an industrial twist. Metal floor lamps and pendant lights set an industrial chic.
Grid concrete wall, rug, and velvet blue sofa show room's rich textures. Curvy wooden magazine holder evokes a warm spirit.
French Farmhouse Living Room Ideas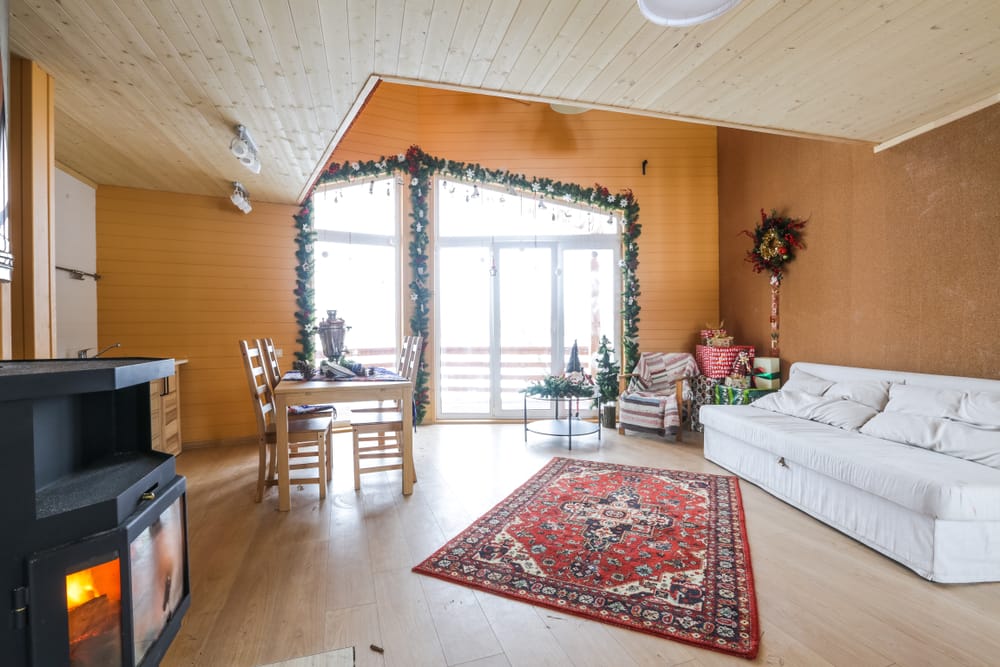 This cottage lounge is charming and homey, thanks to unfinished wooden floor and ceiling. The orange shiplap wall radiates vibrancy and warmth, while red French rug develops a country style.
Farmhouse Living Room in The Wooden House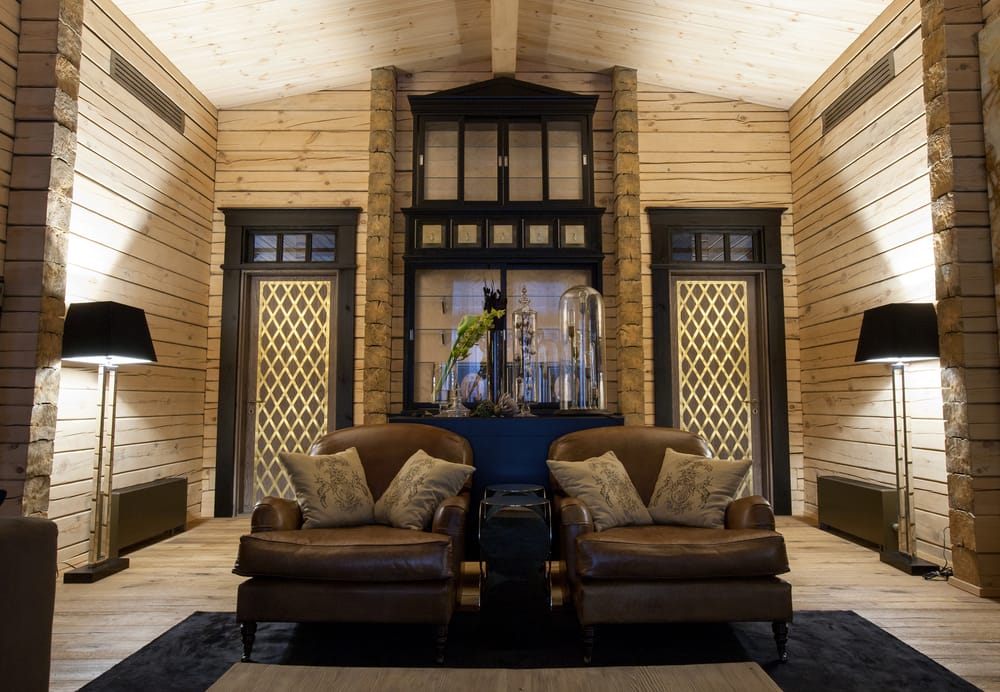 I personally would love to unwind my mind in this relaxing room. The deep colors produce a dramatic scene. Leather sofa chairs and throw pillows add a sense of heritage.
Farmhouse Living Room with Brown Couch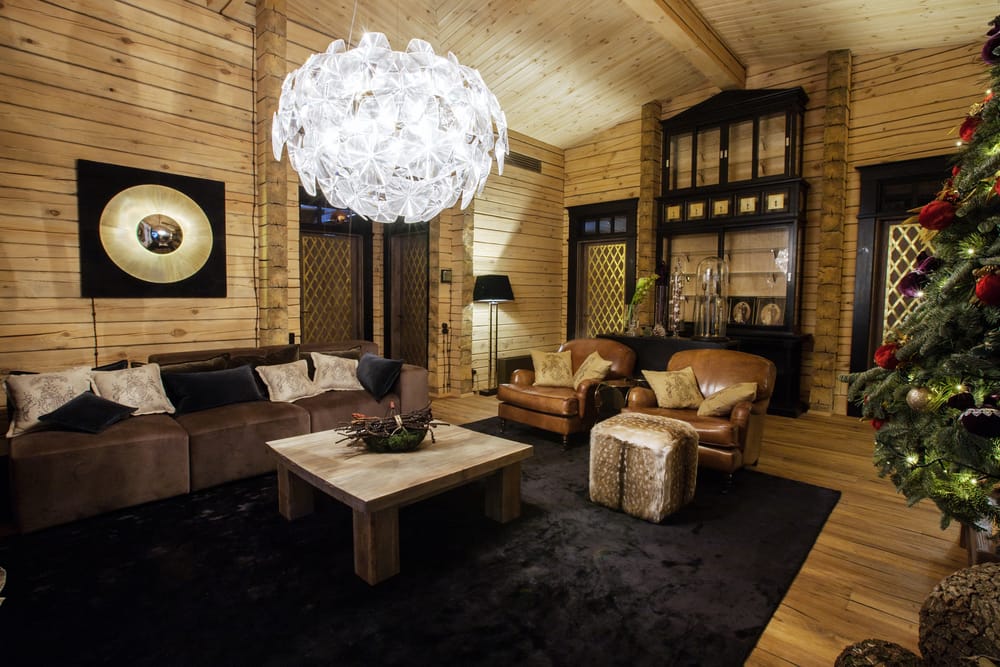 Unfinished wooden ceiling, floor, beams, and walls expose nature's rawness. Brown velvet couch and area rug offer ultimate comfort. Leather sofa chairs and deer hide cube stool generate an untamed look.
Classic Farmhouse Living Room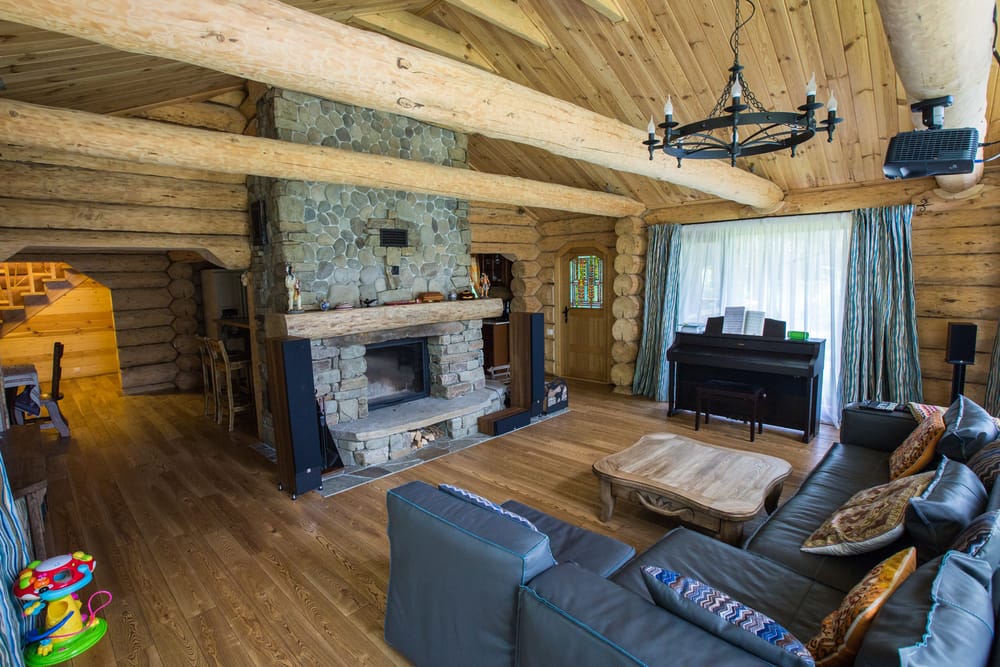 This traditional farmhouse sitting area employs vaulted ceiling. It delivers a magnificent allure, while navy sofa emboldens the scene. Stone fireplace provides rugged texture.
Simple Farmhouse Living Room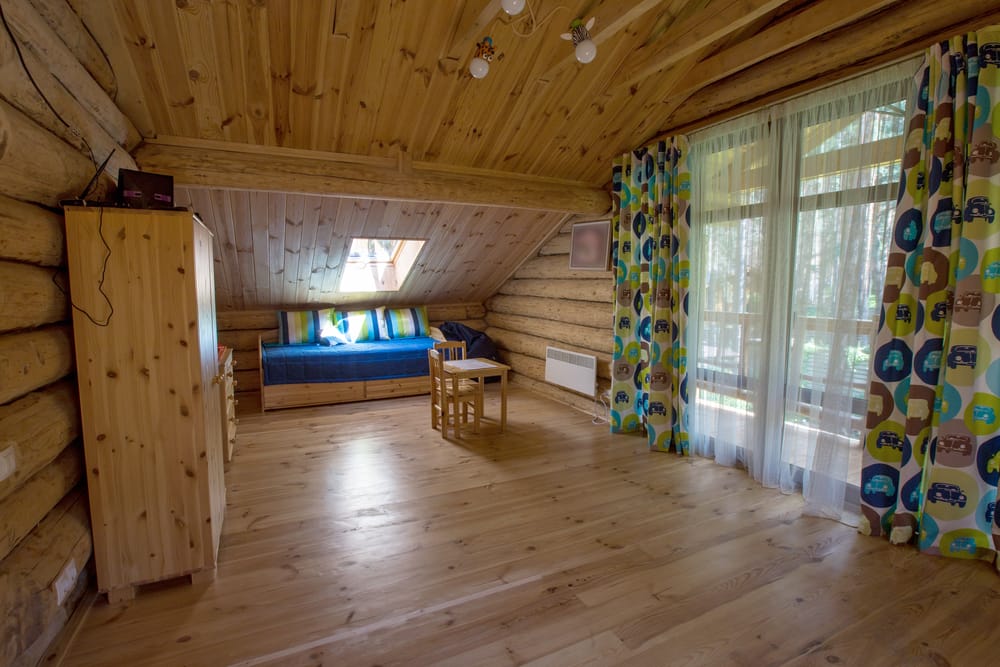 I'm swooning over this farmhouse lounge. It seems minimally cluttered and welcoming.
The attic window maximizes natural light. Meanwhile, colorful throw pillows and drapes tie the whole space together.
There you have it. Before using any of those farmhouse living room ideas, make sure you consider your budget, family's needs, and environment. So, you won't regret later.