If you love Asian culture and interior design, luck is certainly yours. In this article, we've outlined some magnificent Chinese home decorations. They will definitely "transport" your guests immediately to China.
Chinese people love integrating their culture into the home decor and furniture. Some use super bold ornaments, while others choose the subtle ones. That's the reason you should discover its fabulousness.
Below are pictures of striking living spaces with Chinese touches. The decorations are really popular and fairly familiar.
We guarantee they encourage you to see other beautiful Asian countries. Let's feast your eyes on them!
1. Chinese Home Decoration Items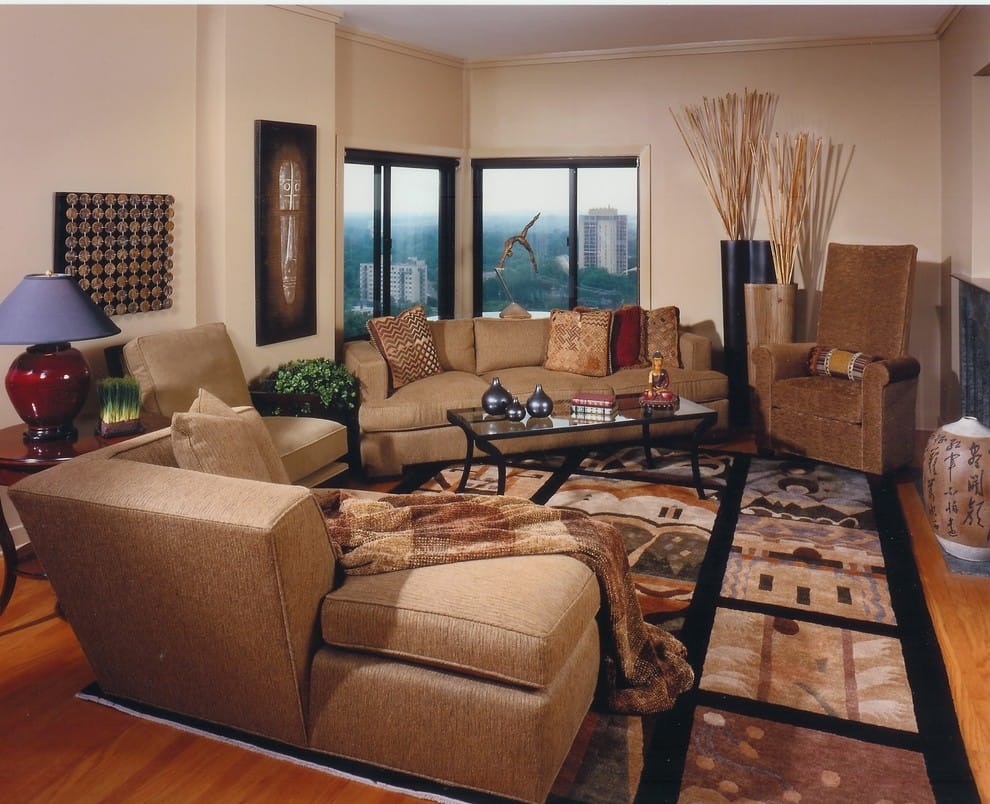 Pictured above is an Asian style living room. It is not only welcoming but also visually pleasing and serene. The home itself perches in the Lake Calhoun neighborhood in Minneapolis.
Furthermore, the artwork and Chinese red-colored table lamp liven up the whole living room.
The sofa and chairs lend the space a comfortable ambiance. Meanwhile, the windows provide outside views as well as improved lighting.
2. Chinese Home Decorations for White Living Room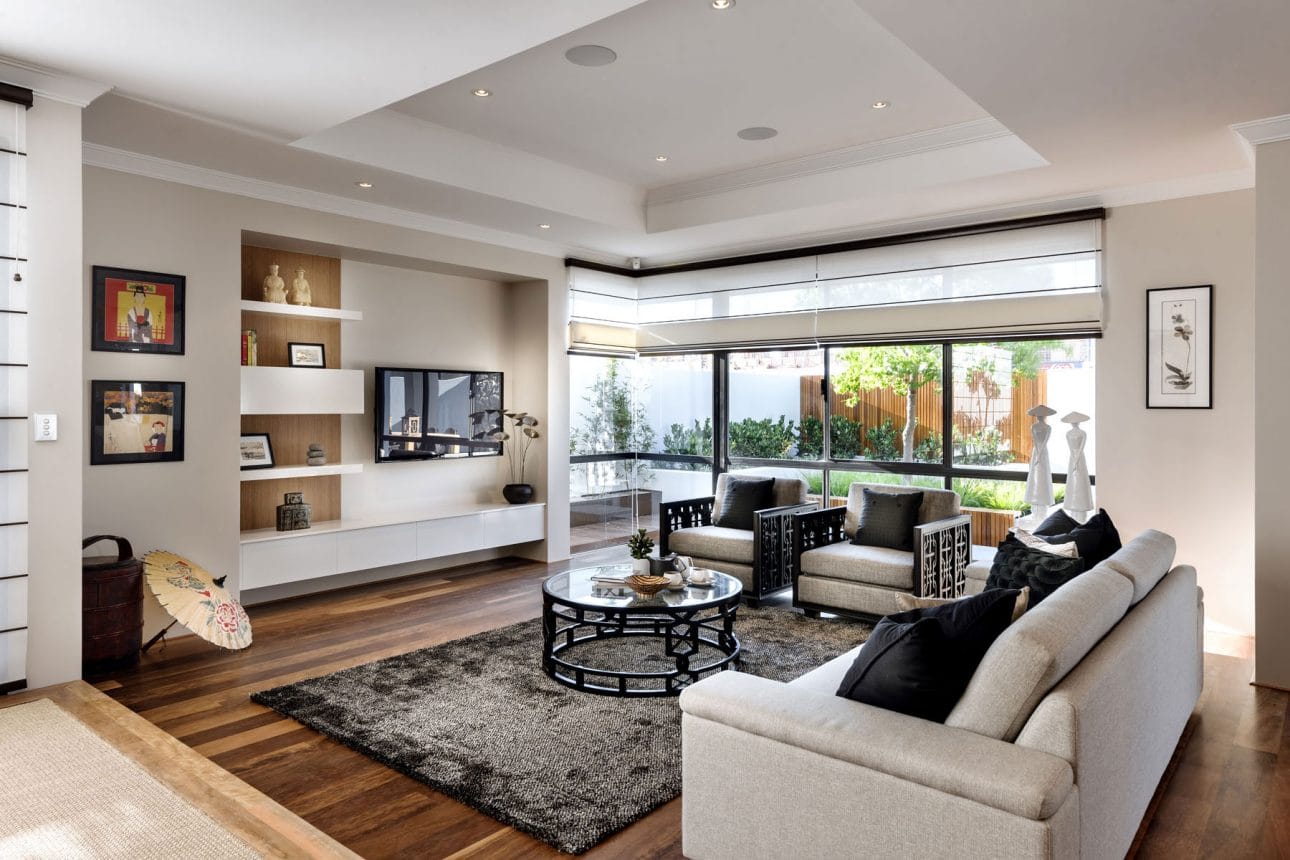 We find this seating area pretty. Don't you think the same? It also boasts a Chinese living room set. Two side tables carry ornate details to space. They pair perfectly with the round coffee table as well.
White ceiling and windows carve an airy ambiance. The gorgeous paper-wooden umbrella sits in the corner of the living room. According to Chinese people, it can repel bad luck. Sounds great, right?
3. Chinese Living Room Decor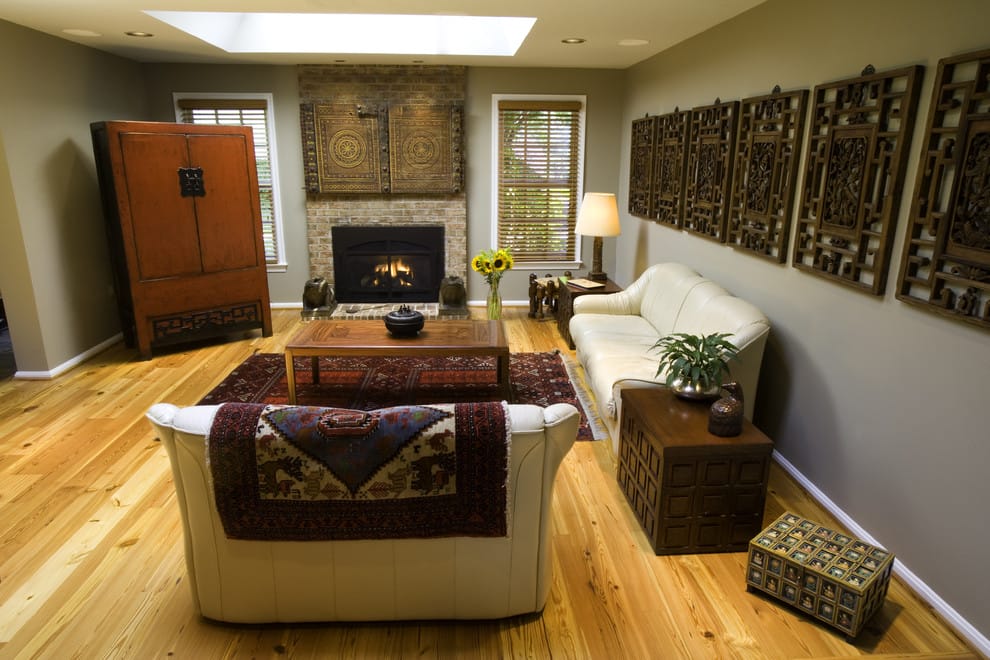 As you see, this living room features taupe walls. They create a tranquil vibe in an instant. Moreover, a skylight brings more sunlight into space. The wood floor and fireplace warm up the whole area.
Furthermore, the off-white sofas lend the space a modern flair. Meanwhile, wooden wall decorations and tables exude an Asian feel.
In addition, the antique Chinese armoire comes in red. The color itself screams good fortune and happiness.
4. Vintage Chinese Home Decorations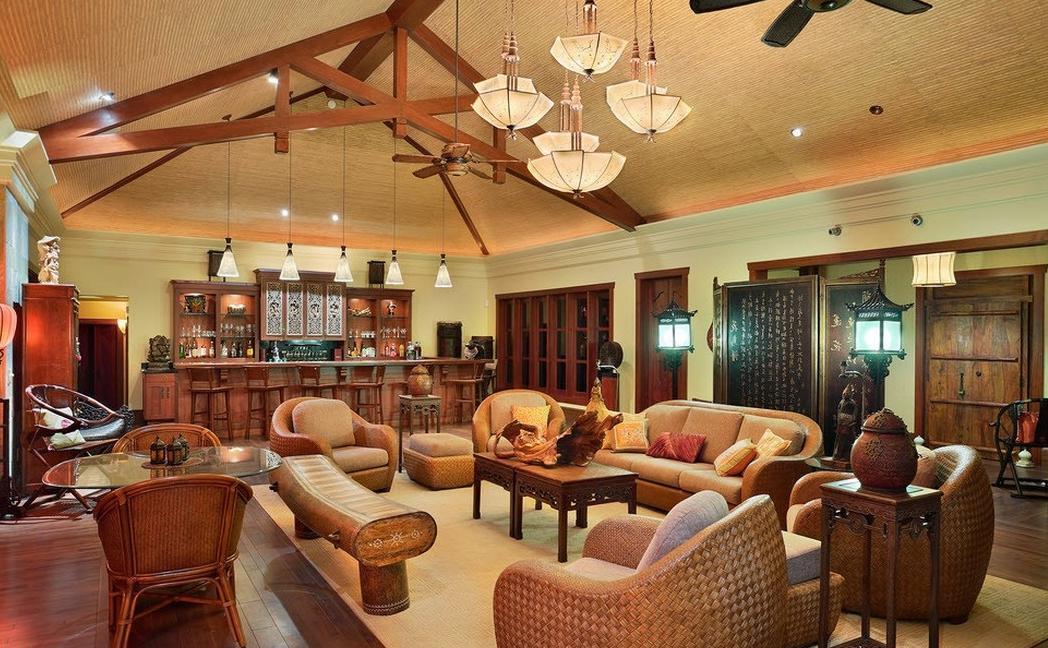 This living room is definitely the most marvelous part of the home in Makena Residence. It employs soft green walls. They instantly emanate a peaceful atmosphere, while the furniture units look neat and comfy.
Medium and wheat wood tones elicit a sense of tranquility. The umbrella chandelier steals everyone's attention.
Meanwhile, black pagoda floor lamps and wooden jars on tall side tables infuse an oriental ambiance into the interior.
5. Neutral Living Room with Chinese Home Decorations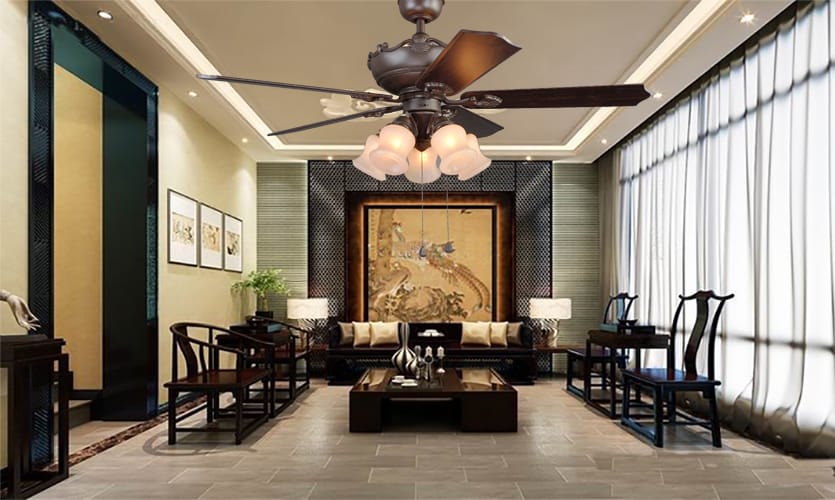 This is probably the most phenomenal Chinese style living rooms in Toronto. We also really love it. The neutral color scheme oozes serenity. Meanwhile, black sheer curtains deliver a bit of mystery to space quickly.
The black antique chairs give the living room Asian touches. They also complement rectangular modern sofa and coffee table.
Lastly, ceiling mural, huge painting, and framed artworks make fantastic Chinese home decorations.
6. Family Room with Chinese Home Decoration Art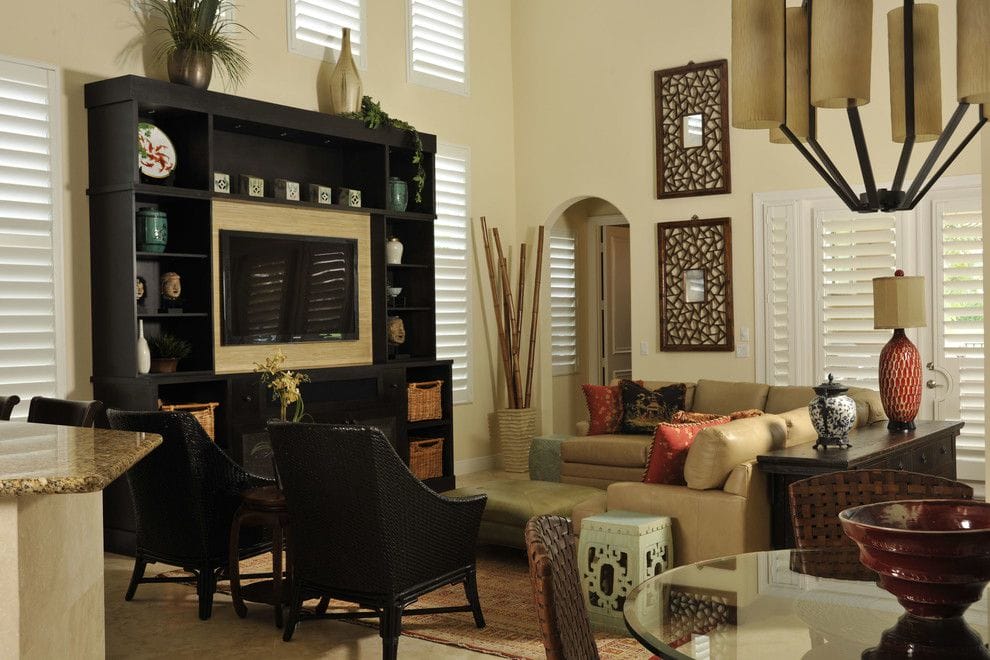 Talking about Chinese home decorations for family rooms, consider this idea. Here, space is just lovely. Cream yellow walls reinsure the interior with an inviting atmosphere. They brighten up the area in a flash as well.
Two black armchairs face the light brown sectional sofa. The cabinet holds wicker storage baskets and Chinese decorative pieces.
Wooden wall hangings, red table lamp, stool, and throw pillows make the family room homier.
7. Chinese Home Decorations for Formal Living Rooms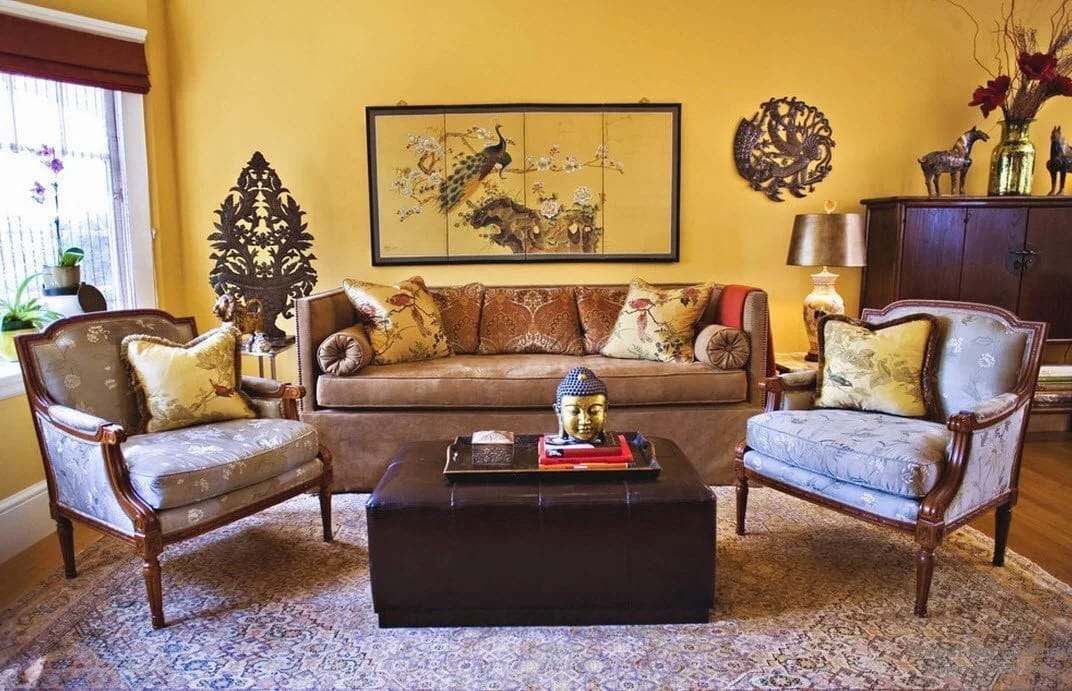 This living room sits in Noe Valley Apartment. It boasts warm banana-yellow walls. They act as a perfect background for brown sofa and taupe armchairs.
The color palette brings retro vibes to the living room. In addition, it infuses a light feeling into a more formal sitting area.
Moreover, carved wood decorations lend space visual interest. The gold Buddha head statue evokes a sense of peace, while black-framed artwork generates a cohesive look.
8. Small Living Room with Chinese Home Decorations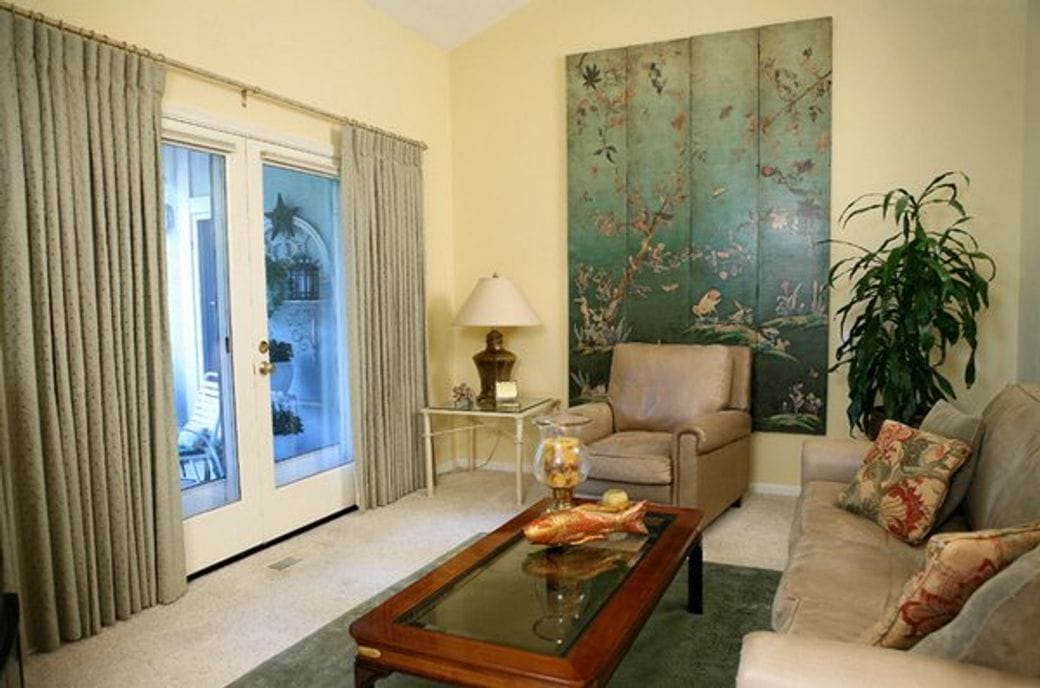 We think it is one of the most captivating Asian styles living rooms in San Fransisco.
The bright white ceiling and light yellow walls open up space. Meanwhile, the sofa and armchair deliver a cozy atmosphere to the interior.
Gray curtains dress up French doors. Furthermore, a wooden coffee table accommodates golden koi fish decor and glass vase. The oversized Chinoiserie screen carries an oriental feel to the living room.
9. Asian Living Room with Antique Decorations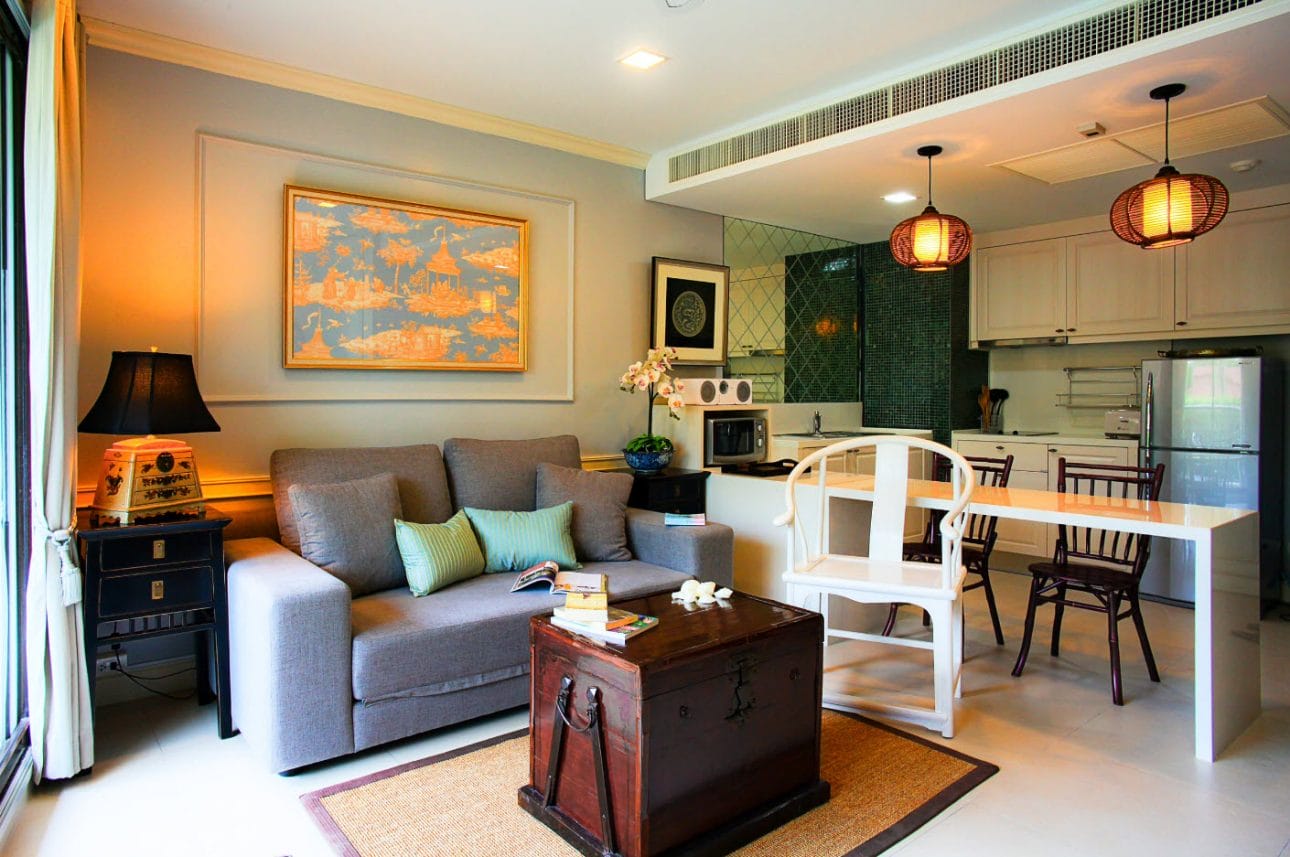 The polished concrete floor and gray walls make this space look peaceful. It also features a few antique elements such as light fixtures and tables. They carve an Asian feel and raise the living room's awesomeness at once.
The blue and green throw pillows stand out against a gray sofa. Meanwhile, yellow-framed artwork tastefully adorns the wall. Two lantern pendant lamps illuminate the room. They draw the focus upward as well.
10. Asian Inspired Living Room with Decorative Bells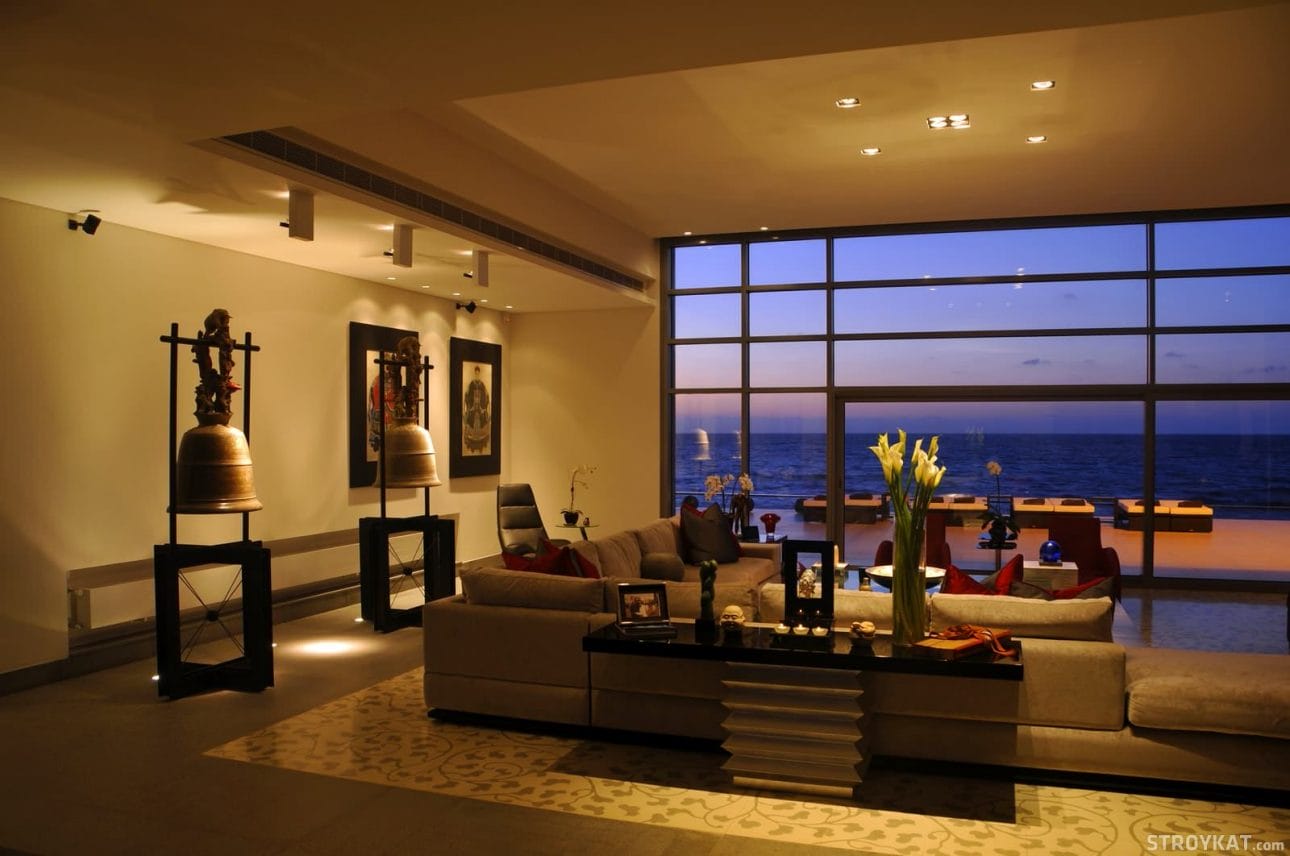 Well, we must admit this is probably the best Asian living room in Saudi Arabia. The color palette and lighting create an inviting look. Meanwhile, the window wall capture insanely stunning outdoor views.
Furthermore, brown and red throw pillows accompany the large sectional sofa. The artificial flowers jazz up the living room.
Two black-framed works of art embellish the white wall. There are also large golden bells by the living room walls. They make terrific Chinese home decorations.
11. Living Room with Chinese Prints
We like this Chinese living room design. The white ceiling and walls make the area airy as well as light. Moreover, the wood molding, doors, and tables ooze unmatched warmth. They evoke a sense of well-being too.
This living room may look basic due to the furniture units. However, the large prints and red pots inject Chinese touches into space. Meanwhile, the houseplants gussy up the whole area.
12. Chinese Home Decorations for Coastal Living Rooms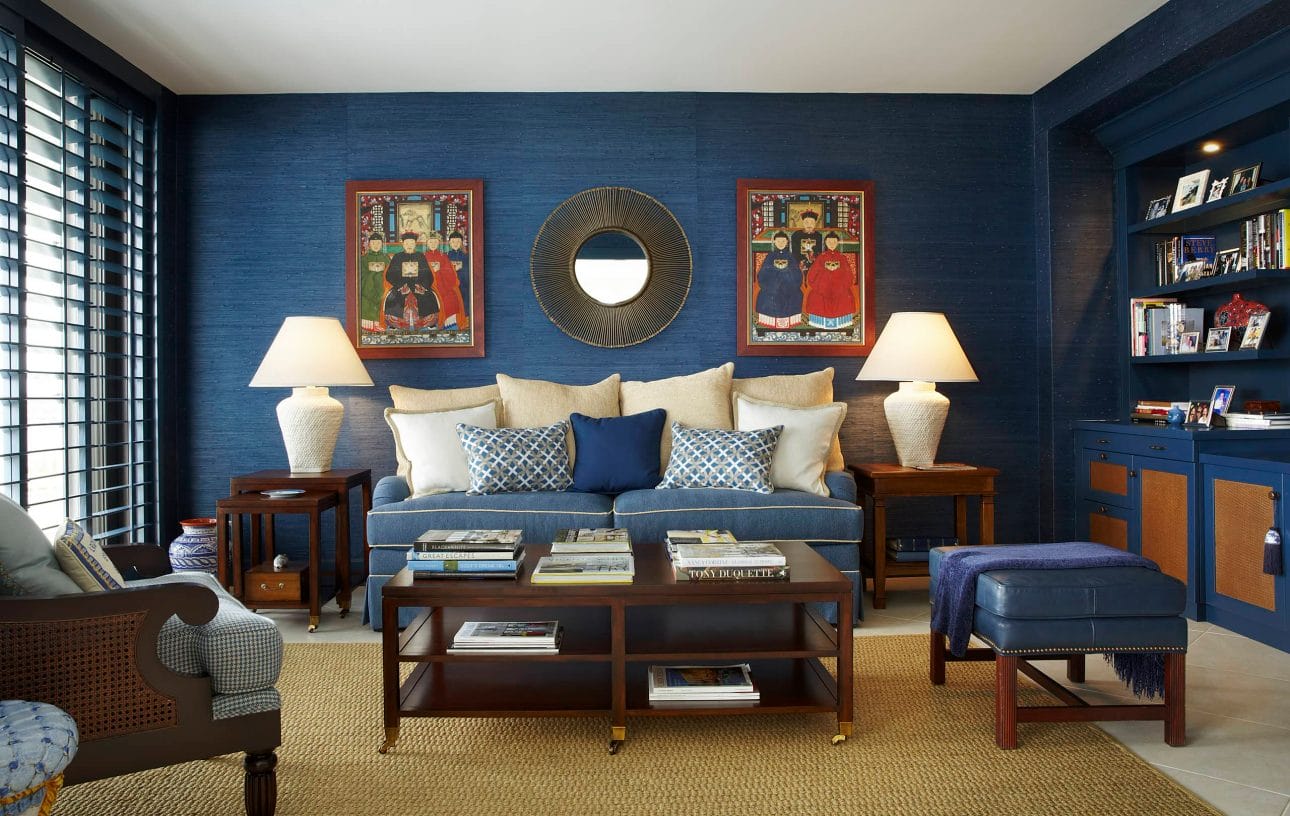 As the picture shows, this living room in Palm Beach Apartment is certainly casual yet chic. It also overlooks the beautiful ocean. That's the reason the homeowner included different seaside hues in her space.
Furthermore, this contemporary Chinese living room has a transitional flair.
Meanwhile, China's jar, wooden armchair, round mirror, and colorful wall hangings lend oriental touches to space. The built-in shelves house photos and books.
13. Contemporary Living Room with Chinese Home Decorations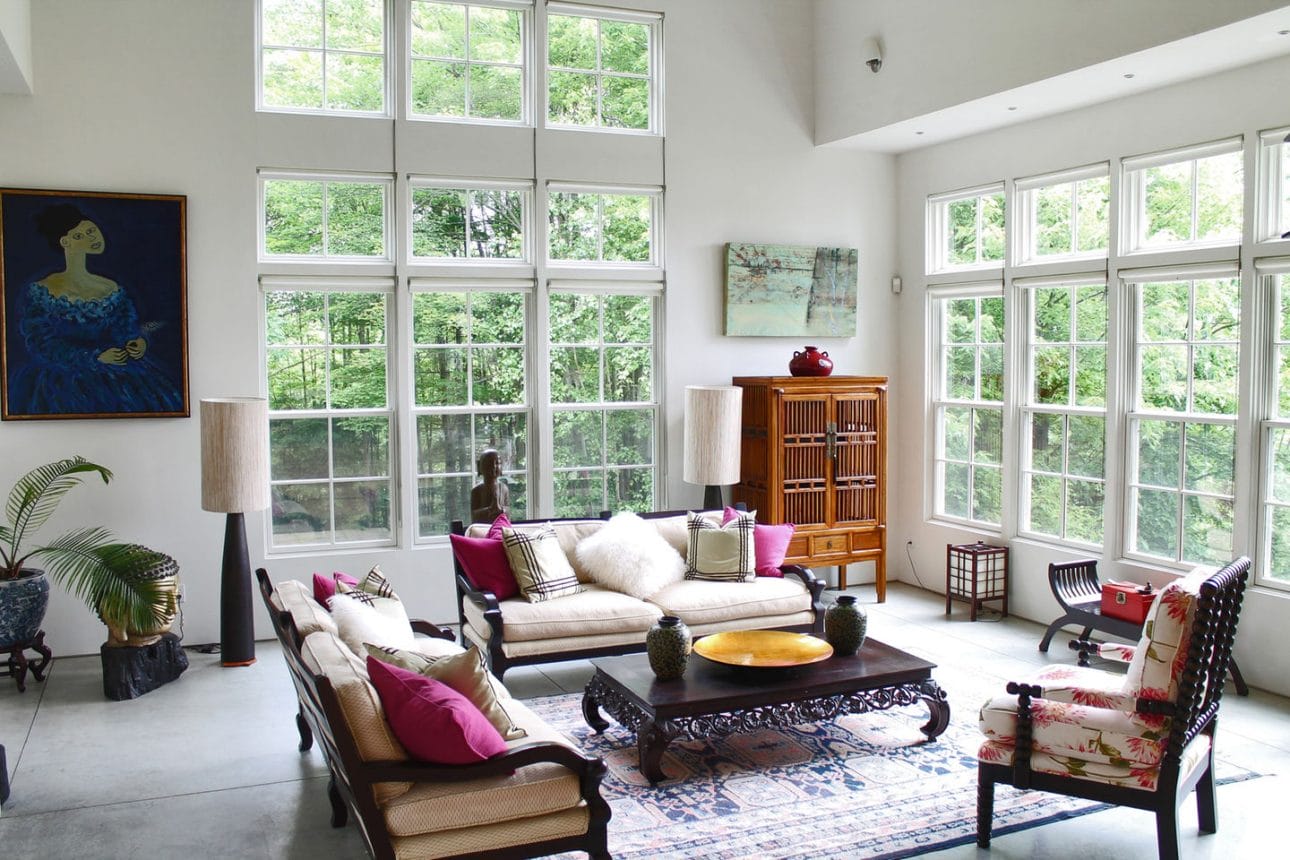 Looking for eclectic Asian style living rooms? Take inspiration from this contemporary interior. It features soaring walls and ceilings. They visually expand the area. The works of art instantly grab everyone's attention.
Moreover, you can rotate the wall art whenever boredom kicks in. Meanwhile, the large sash windows add natural light to the living room.
We also can't take our eyes off those Chinese living room chairs. The pot, gold Buddha head statue, and curved bench give the interior a strong Asian flavor. Lastly, pink throw pillows deliver instant cheer to space.
14. Modern Chinese Living Room
Without a doubt, this living room will stun everyone. The huge windows bring in fabulous outside views. Meanwhile, the wooden floor and accent wall carry a welcoming ambiance to the whole space.
Furthermore, the space boasts both a living room and a dining area. The framed artworks, area rug, and throw pillows come in red. They quickly enliven the interior.
The golden table lamps carve a luxurious look. Pendant light illuminates the dining area, while indoor plants lend the room a touch of nature.
15. Tropical Living Room with Chinese Home Decorations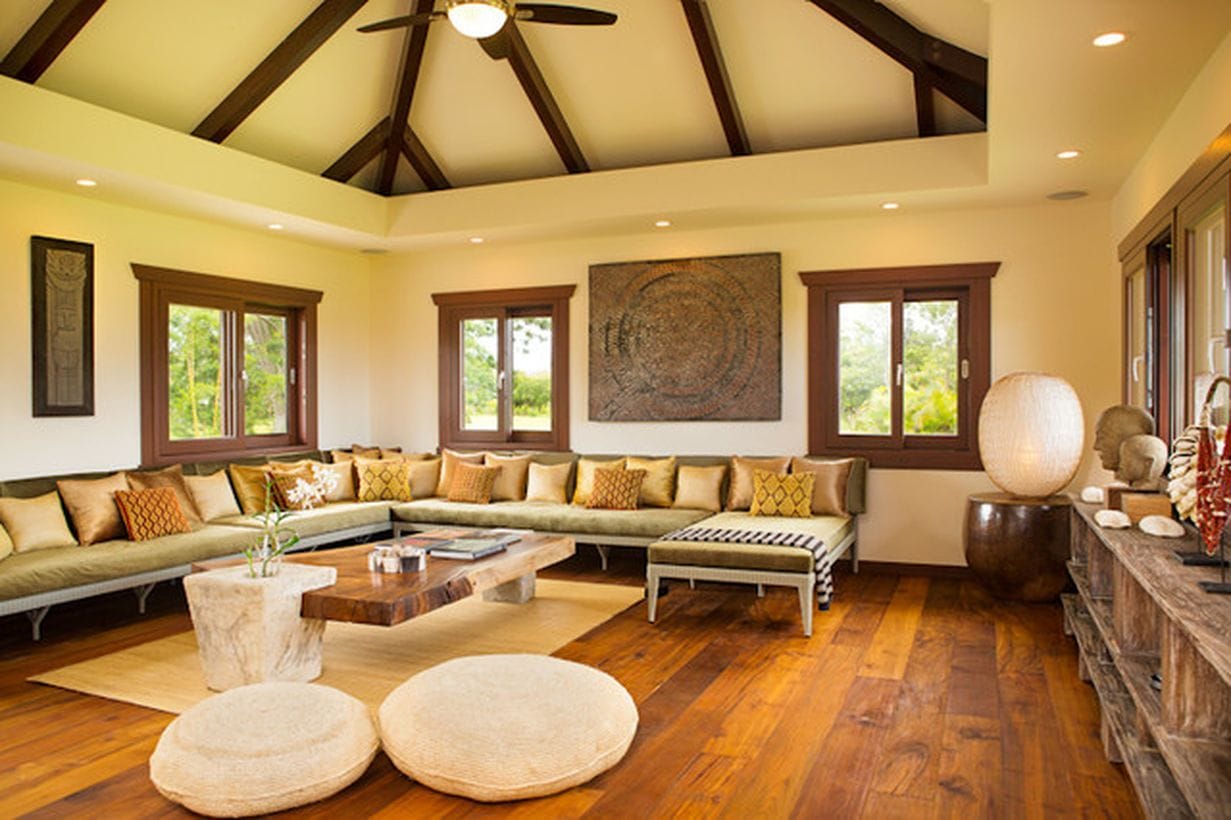 This tropical living room is undoubtedly beyond gorgeous. It overlooks wonderful Hanalei Bay. The dark-toned wood ceiling beams set a homey ambiance, while white walls scream cleanliness and airiness.
Moreover, the coffee table and sectional sofa infuse a modern vibe into space. The floor poufs carry convenience as well as comfort to the living room effortlessly.
Wood storage cubes give off a rustic flavor. The marble pot imbues the space with a glamorous feel. Lastly, wall hangings and big white paper lantern give the living room a Chinese twist.
16. Chinese Home Decorations for Large Living Rooms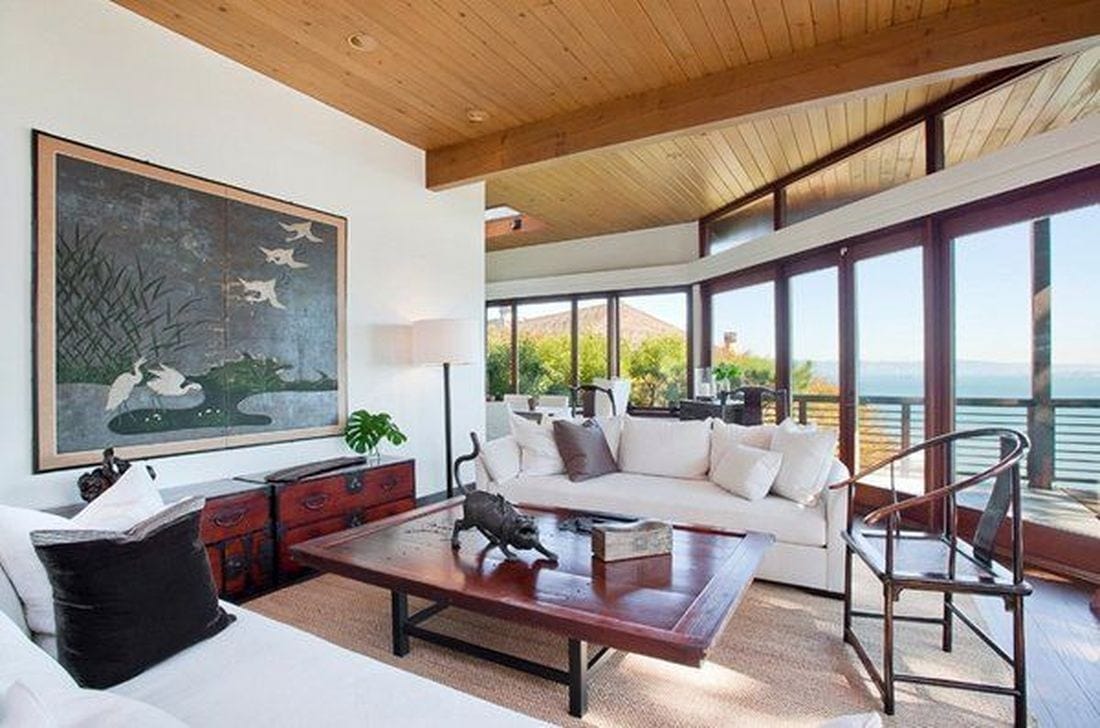 As you see, this living room in San Fransisco showcases a blend of Asian and contemporary design. The white wall and wooden ceiling create a marvelous contrast.
Moreover, two sofas face each other. They help spark conversation for sure.
The minimalist armchair carves a light feeling. Natural jute rug and houseplant bring nature indoors. Meanwhile, the oversized painting, black monkey table decor, and antique sideboards exude an Asian feel in no time.
17. Chic Chinese Home Decorations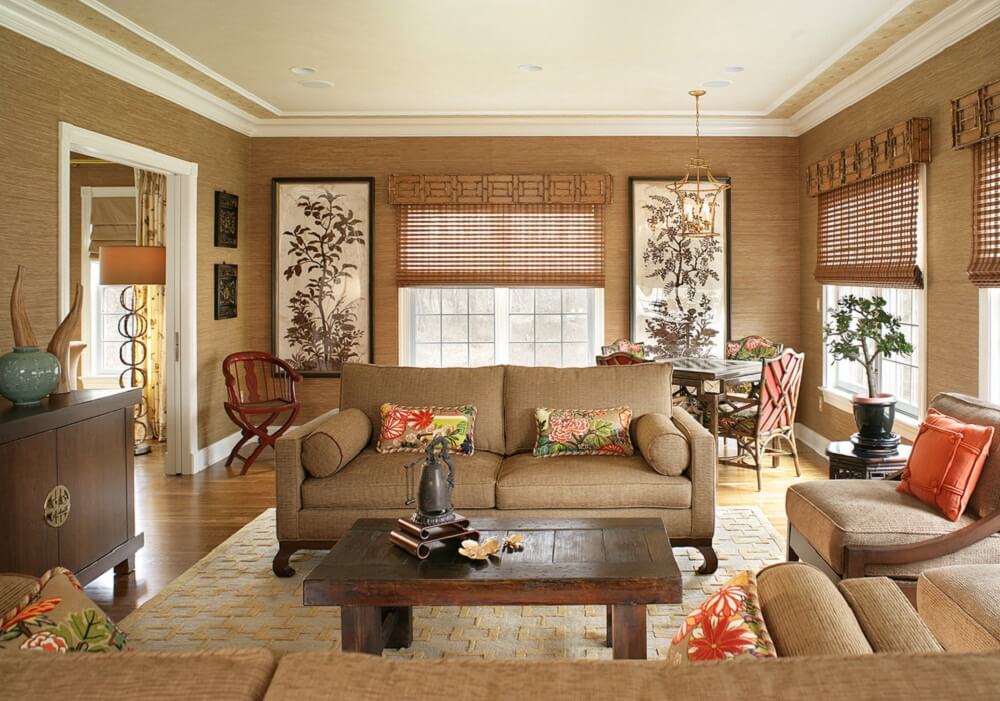 This living room serves as a cozy family gathering place. Furthermore, natural textures and materials convey a sense of serenity. Meanwhile, windows allow daylight to enter the indoor space.
The sideboard, bamboo window shades, and wall decorations infuse Asian touches into the living room. Colorful throw pillows pop against brown sofas and chairs. Both area rug and ceiling unify the interior.
18. Eclectic Asian Style Living Room Decor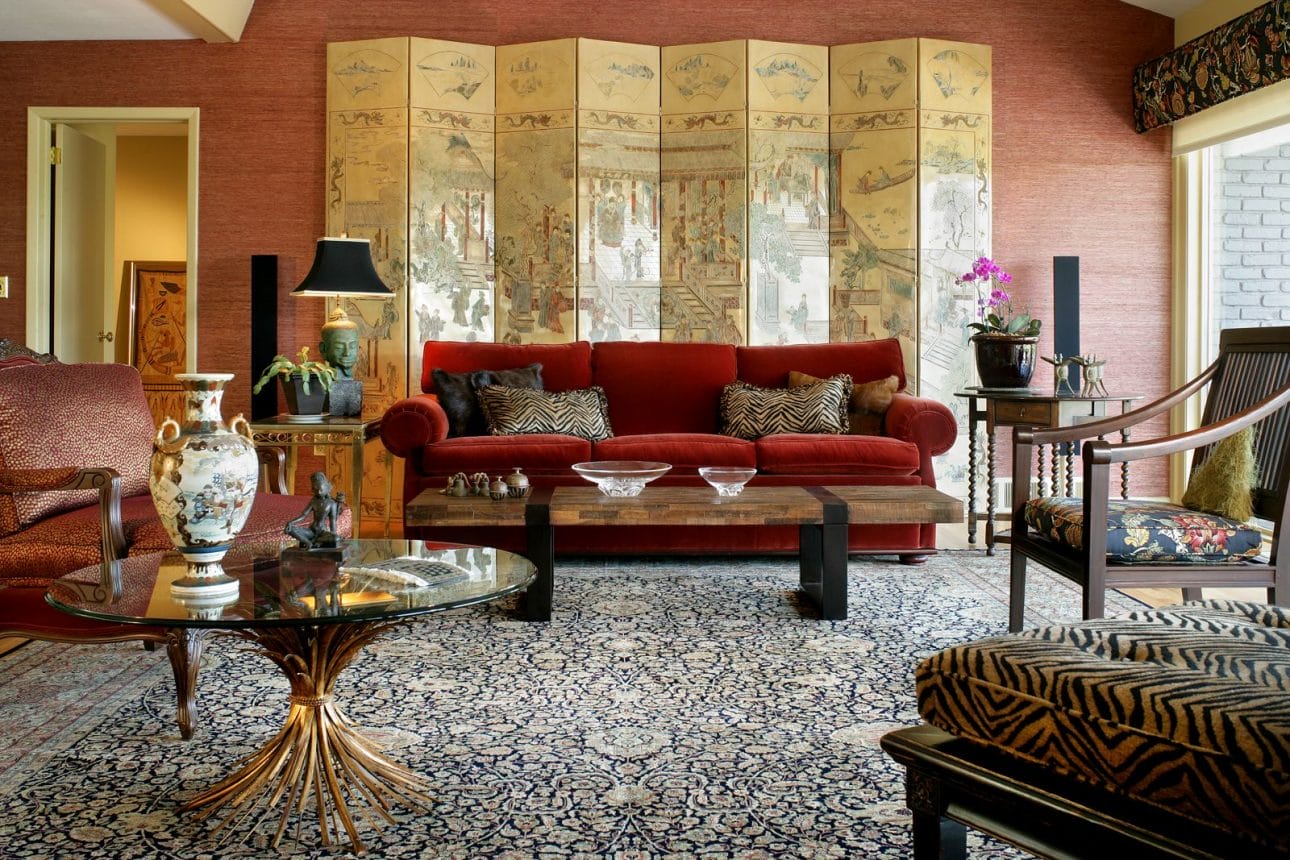 What's not to love about this Asian living room? It has an interesting Chinoiserie floor screen, sitting behind the sofa chair. The unit kind of depicts all the Chinese culture on just a small scale.
The red sofa chair brightens up the whole space. Furthermore, the color itself symbolizes prosperity and happiness.
In addition, the area carpet offers intricate details. It looks so lovely, while the golden round table carries a touch of luxury instantly to the living room.
19. Family Room with A Chinese Twist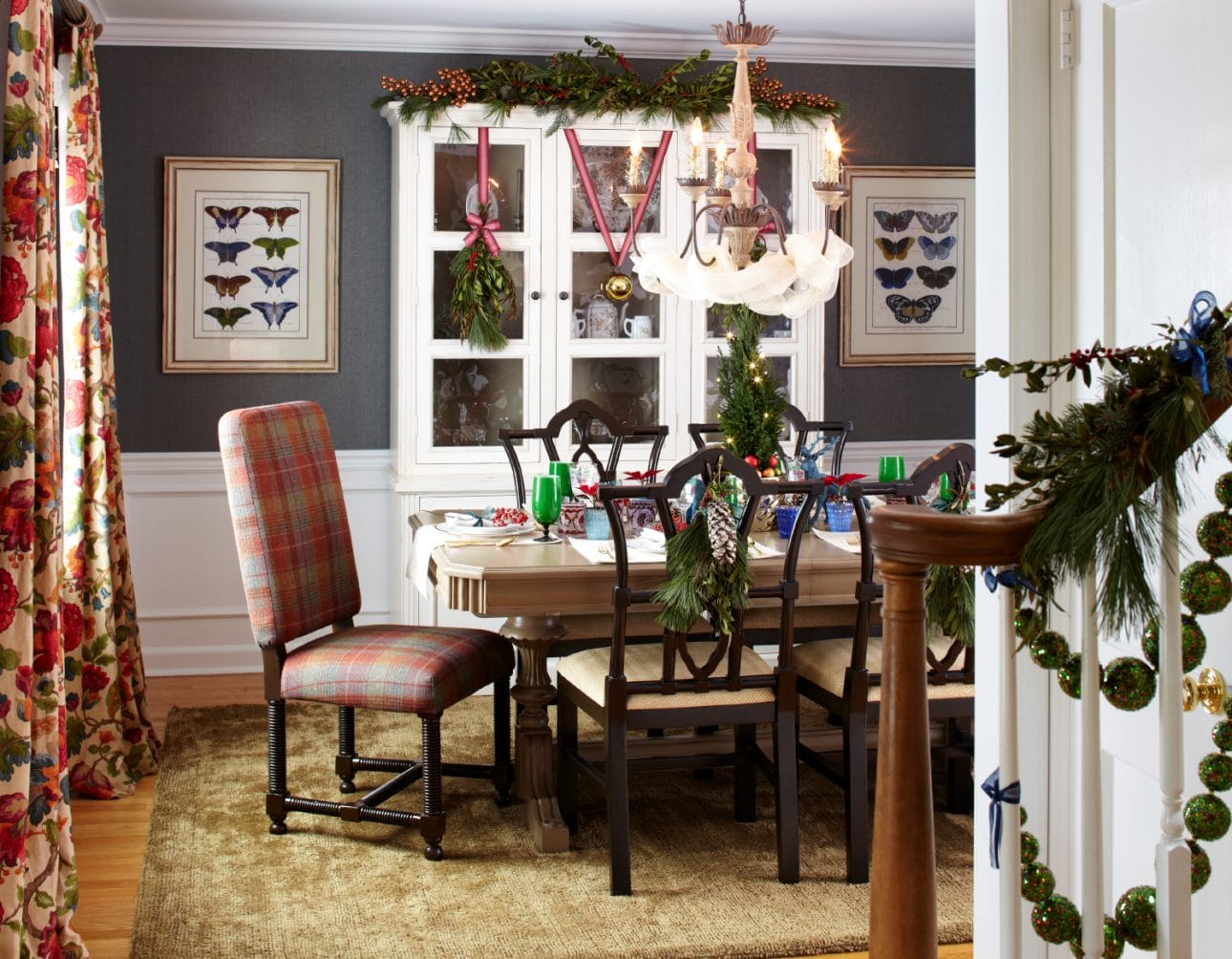 Speaking of Chinese home decorations, we suggest trying this idea. Here, white and gray come together in the family room. Those major players set a clean look as well as a tranquil atmosphere.
Mustard yellow area rug tops the floor. Furthermore, framed butterfly artworks catch the eye quickly, while floral curtains spruce the room up. Lastly, Asian accents go well with the black and plaid chairs.
20. Chinese Home Decorations for Hawaiian Retreat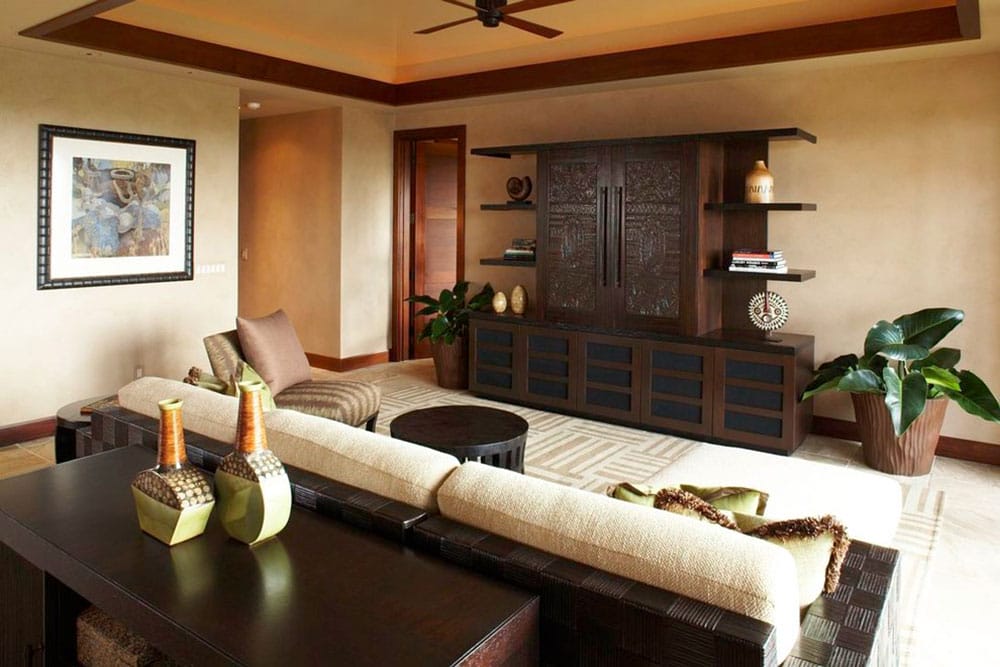 As the image shows, this family room looks truly great. Moreover, it boasts wooden doors. Meanwhile, the TV console is a spectacular complement to the living space. The open shelves hold decorative items and books.
The patterned area rug is so eye-pleasing. This family room includes Chinese vase home decoration too. Two potted indoor plants on both sides of the TV console lend well-being and beauty to space.
21. Red Chinese Home Decorations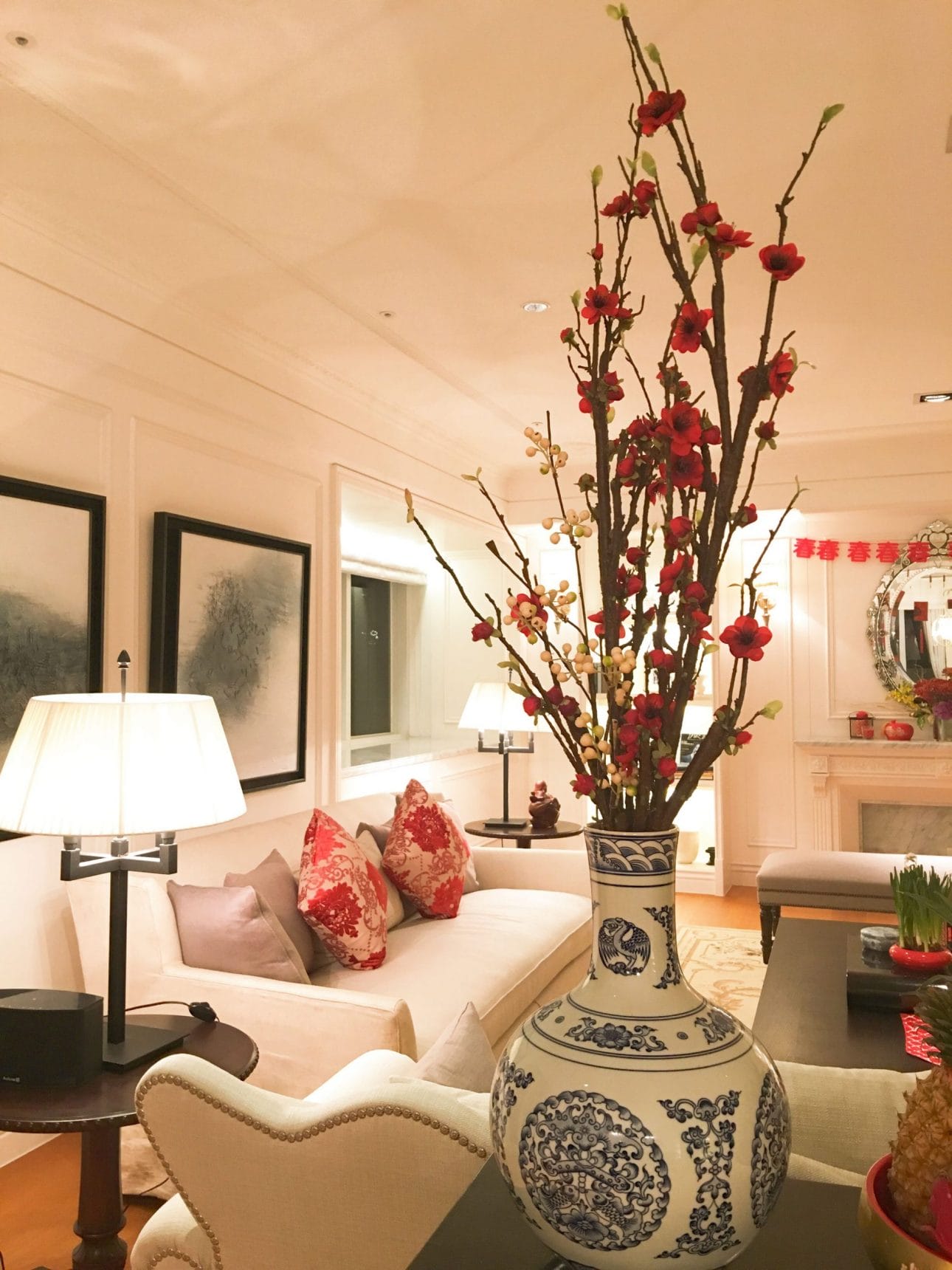 Here, the bright white ceiling and walls send out an airy feeling. They make this Asian living room feel more spacious as well.
Wood floor exhibits a welcoming ambiance instantly, while downlights illuminate the area at night.
Pot, bowl, garland, flowers, and throw pillows wear red. Those Chinese home decorations symbolize vitality as well as success.
The silver decorative mirror and porcelain vase inject a sumptuous feel into the living room.
22. Minimalist Chinese Style Living Room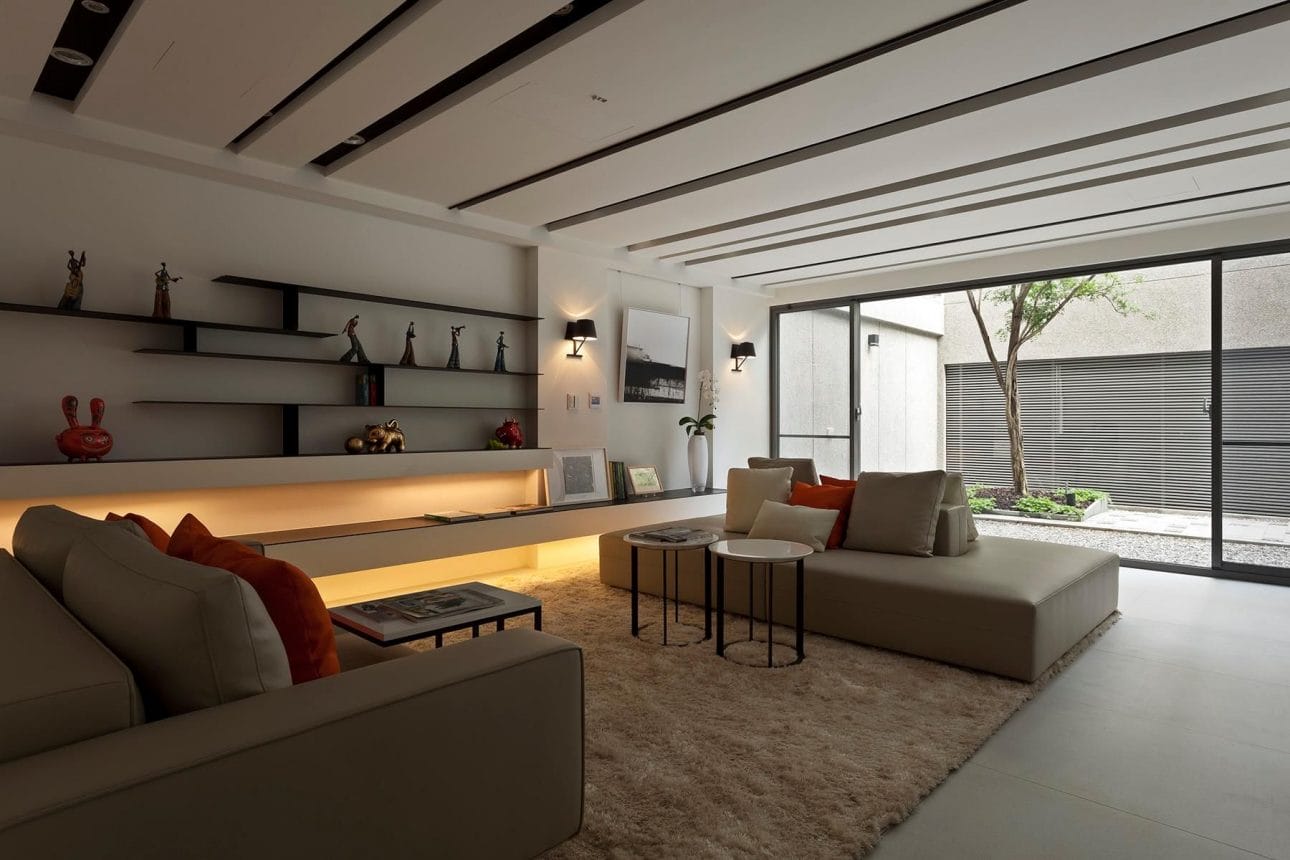 This living room showcases sharp edges and clean lines. They effortlessly give it minimalistic vibes. Meanwhile, huge windows develop great indoor-outdoor connections. The open shelves accommodate decorative items.
Moreover, sofas and sheepskin wool rug ooze comfort in an instant. The smart lighting carves a warm atmosphere. Lastly, both red and gold accents spice up the interior. They lend the room an oriental flair too.
23. Traditional Chinese Living Room Decorations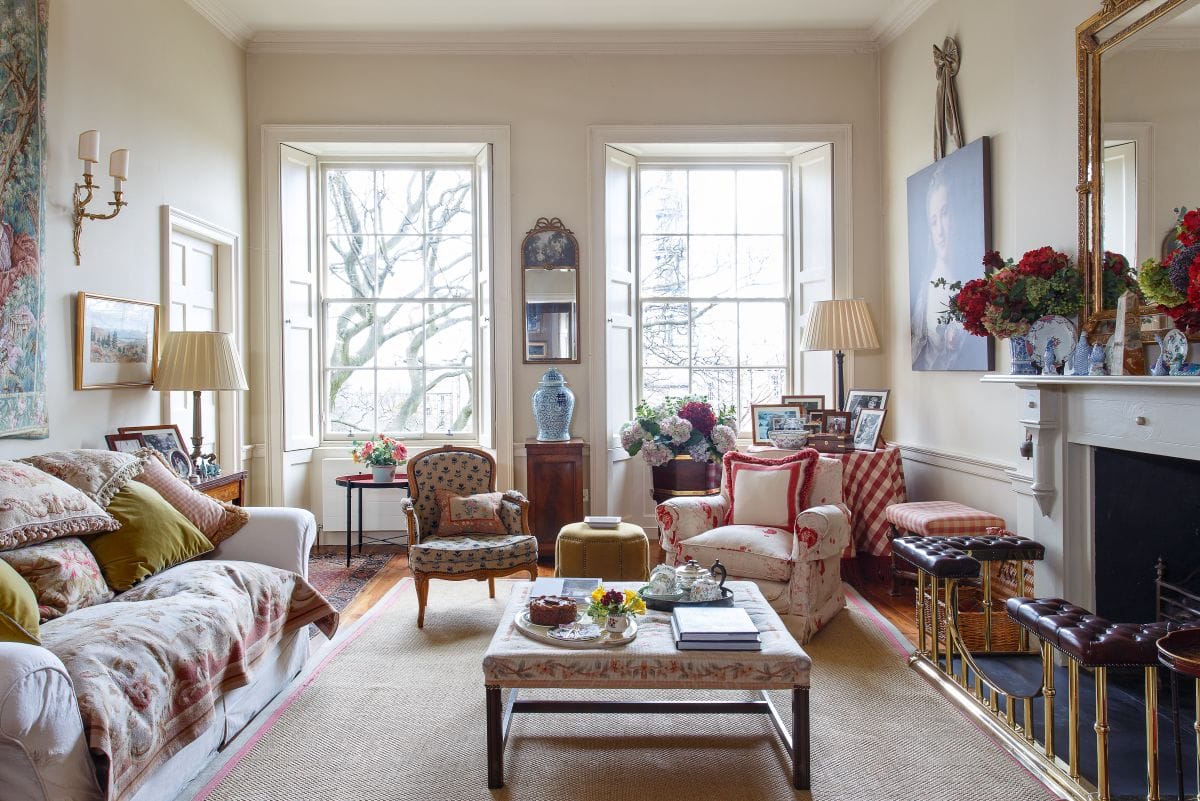 As you see, this living room is an excellent mix of Asian and French country designs. The fireplace, wall sconce, decorative mirror, painting, and table lamps deliver old-world charm to the interior.
Furthermore, the sash windows provide stunning outdoor scenery. They let in natural light as well. Wooden floor and side tables make the living room homier, while the off white walls create serene vibes.
Flowers add invigorating splashes of color to the room. The armchairs, coffee table, wall screen, and antique jar give the space a Chinese twist. Lastly, gold accents ooze unparalleled glamor.
24. Blue and White Chinese Room Decoration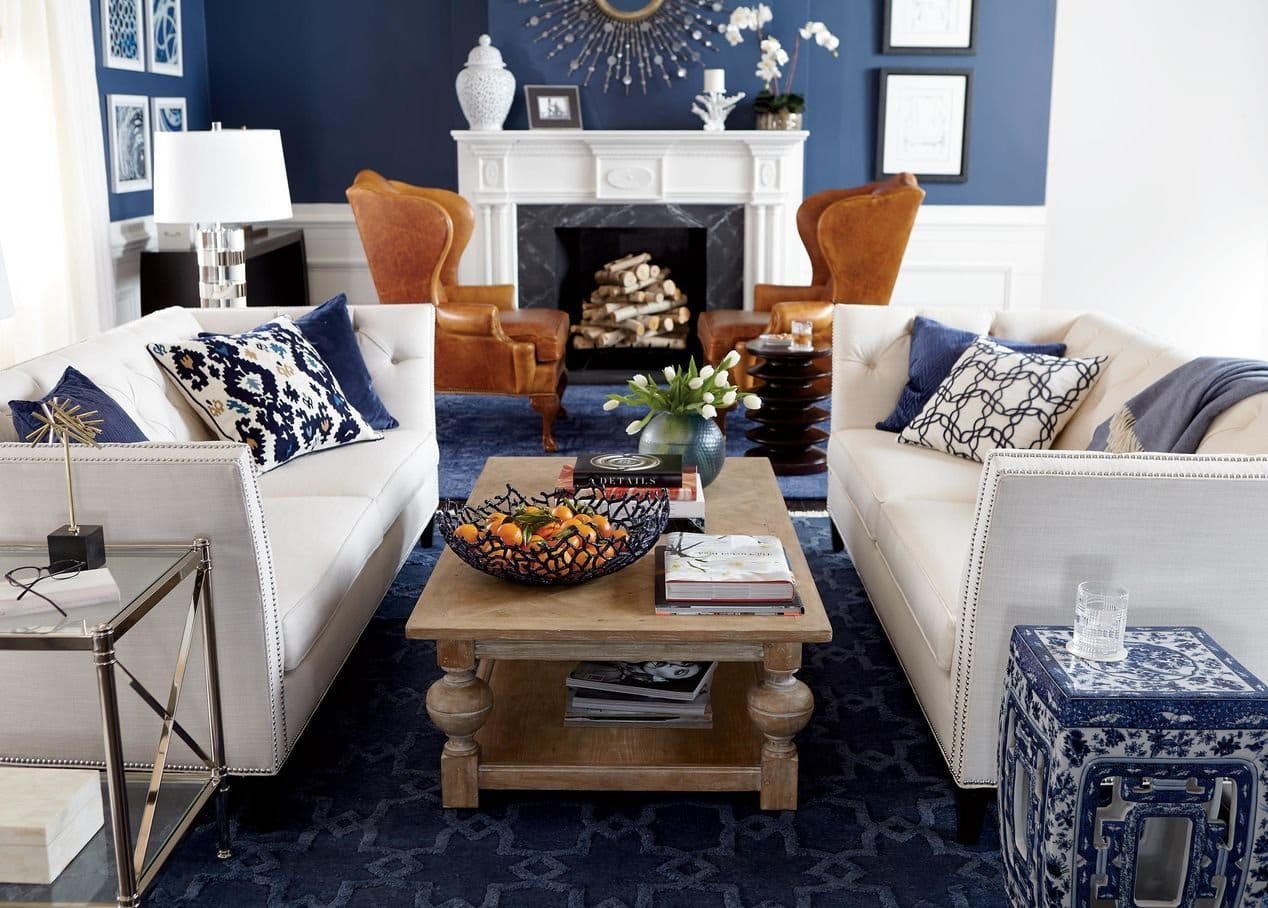 This is another cool living room with coastal colors. Pure white wainscotting, fireplace, and modern tufted sofas convey a sense of openness.
Meanwhile, the navy area rug, walls, and throw pillows generate a bold impression.
Wooden coffee table and firewood lend a rustic feel to the living room. The leather wingback armchairs and silver accents make the space look expensive.
Chinese garden stool and white jar inject Asian touches into the interior.
You certainly drooled over those Chinese home decorations. As the pictures show, they differ on ornaments like the elephants or Buddha statues for Thailand. Don't hesitate to incorporate them into your abode.