Drapes seem to be an essential element in all rooms, including dining. Apart from letting you adjust the incoming light and ambiance, dining room curtain ideas turn out to be the best option ​​to give personality to the space.
Moreover, it can significantly evoke the appetite and boost the mood of all those who spend time in that area. Therefore, it should be bright and appealing simultaneously as much as possible.
There are various prints, colors, sizes, and folds styles that you can choose from and alter to the final result you want.
And fortunately, this article also provides casual to formal dining room curtain ideas. So you don't need to be twisted to find inspiration.
Here, we provide many unique, adorable, and attractive dining room curtain ideas at once. So, read this article to the end!
1. Floral Printed Curtains for Bay Window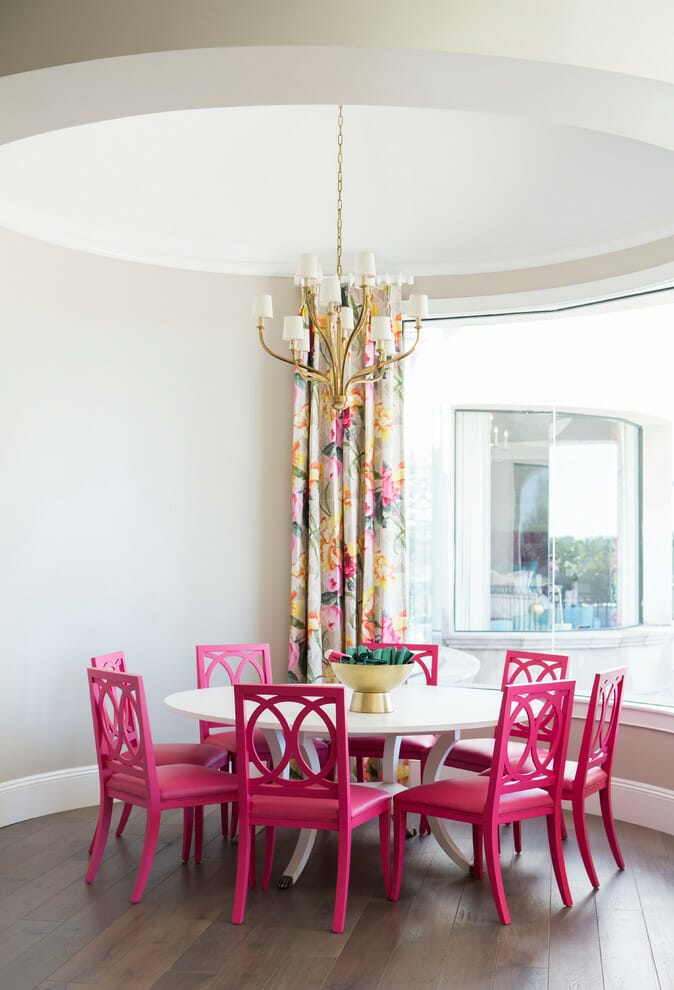 A frameless bay window in white can make your dining room look pale. That's why you should give it curtains with prints.
Of the many choices of motifs, those studded with flowers are the best for a more feminine finish. Make sure to pick one that matches the color of your furniture. Like the image above, magenta and white hues draw a great coherency.
You can also install a classic chandelier with golden branches as a final touch.
2. Farmhouse Dining Room Curtain Ideas in Blue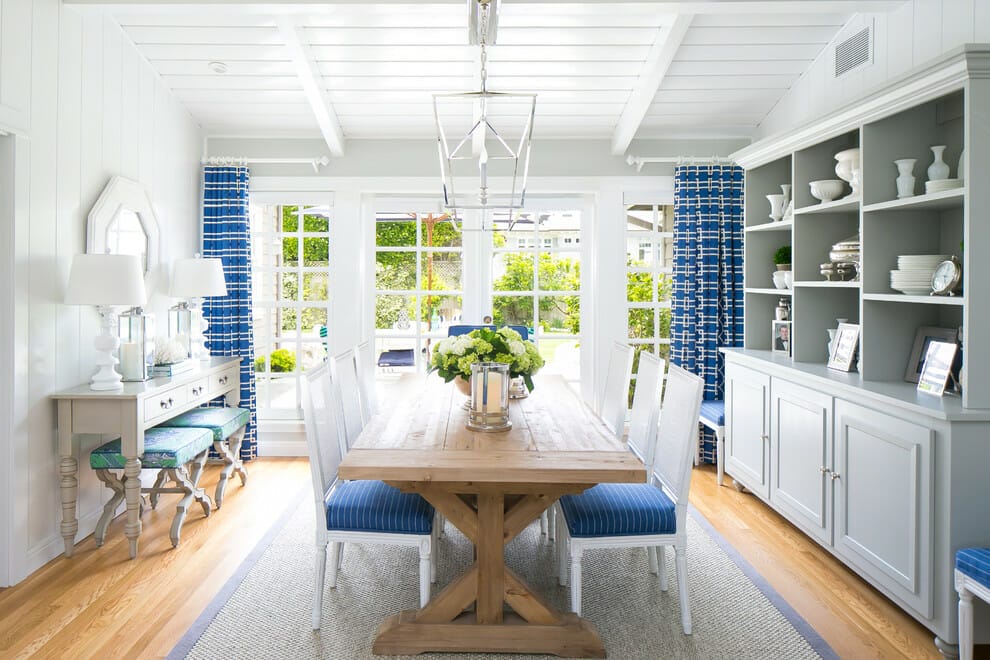 Imagine you have a modern farmhouse dining room and plans to make a statement at some point. Then considering a pop-up window treatment is worth a try.
Please go with blue curtains with white geometric accents to add characteristics to your predominantly plain interior setting. Next, set your dining chairs in a matching theme and hues.
Directly your farmhouse dining room will be even more frolicking.
3. Drapes in Contrasting Color Combination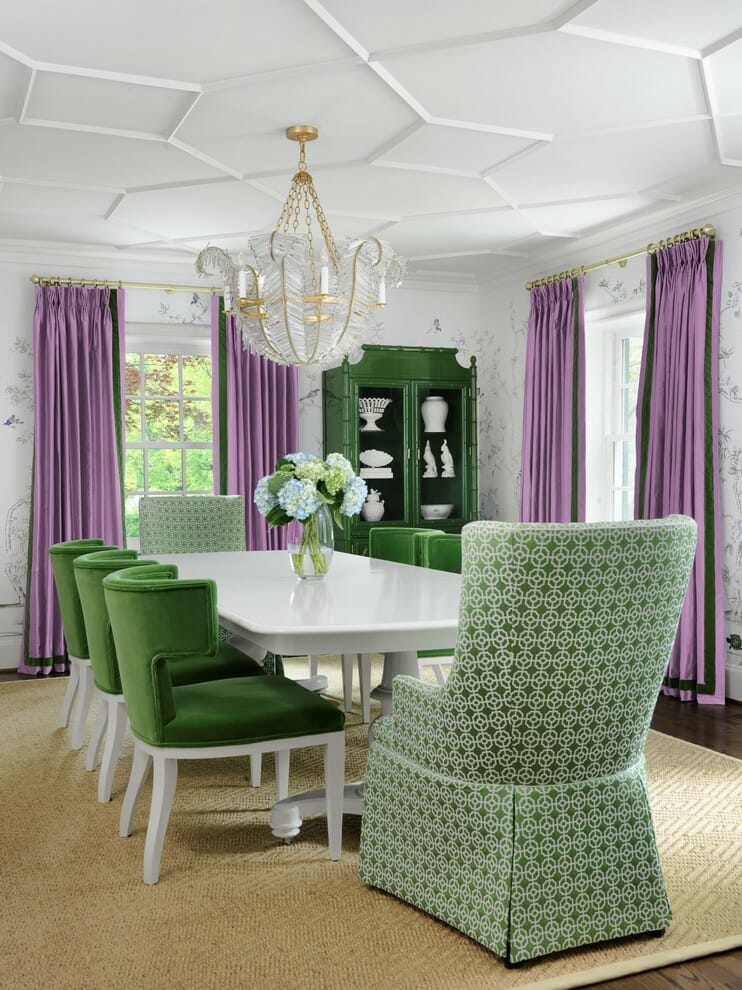 Unique and aggressive decorations displaying contrasting colors are sometimes not for everyone. But in this option, the color collisions will spoil the eyes no matter what. Even better, it gives an aesthetically pleasing personality to your home.
Look at the green dining chairs and display cabinets that match the lilac curtain with gold rods. Because it comes with a white background, everything still looks magically stunning.
4. Curtains that Match Some Element in Color and Pattern
Ensure all your interior arrangements are coherent by implementing the proper dining room curtain ideas.
One of them is by aligning the colors and motifs on your drapes with some elements in the area, such as window frames, chairs, and carpets.
Like the picture above, green curtains with blue patterned trim display a natural harmony that everyone won't forget.
5. Muted Prints for Better Ambiance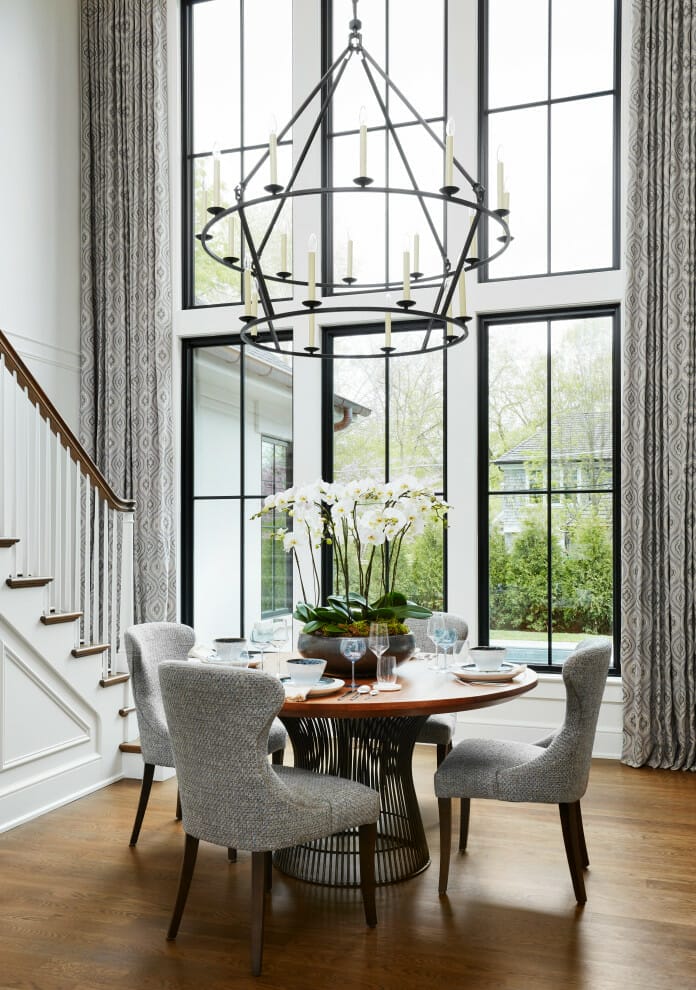 Create a superfine finish in your dining room with muted prints curtains.
These drapes have a common motif from the modern style if you look closer. Yes, those are geometric patterns. However, it no longer comes in bold colors.
Yet, don't think about it too much because the muted patterned curtains make your dining room look more comfortable, subtle, and aesthetically pleasing.
So that it doesn't dazzle your eyes and makes your mealtimes feel more relaxed.
6. Velvet Drapes in Coherence with Dining Upholstered Chairs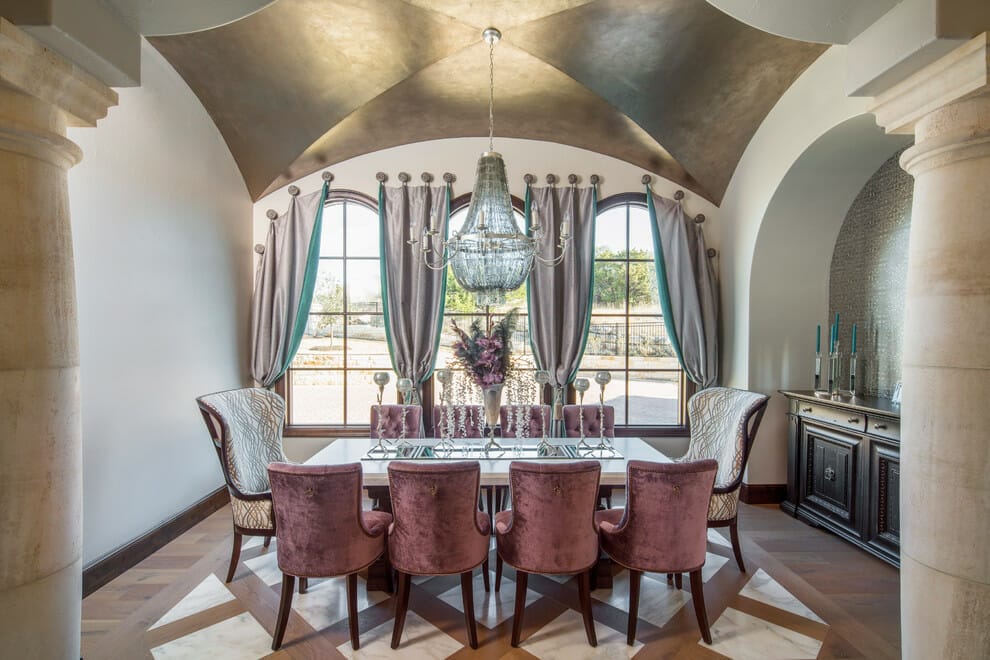 Dining room curtain ideas made of velvet undoubtedly showcase a strong sense of luxury. Moreover, it looks very suitable for your grand home.
As in the picture above, presenting a curtain with a color identical to the dining chair is critical.
Instead of draping the curtain in the standard way, it will be more adorable by fitting it to the curve of your top window frame.
7. Neutral Color to Spotlight the Dining Table Set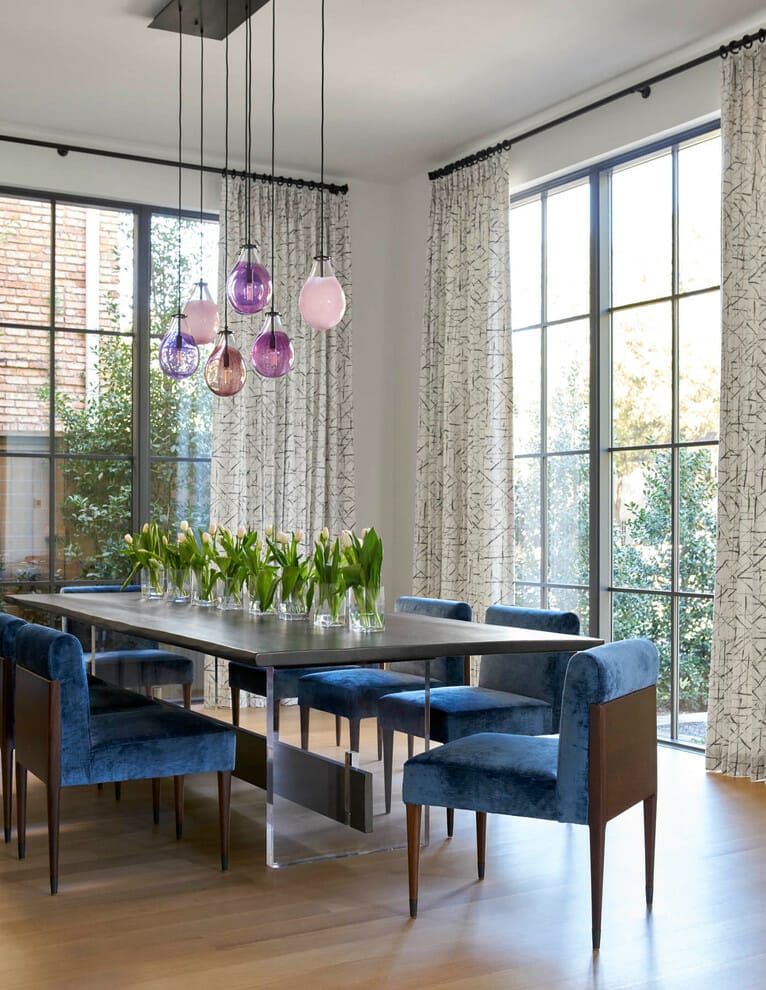 Designing the room is a personal decision. And suppose you prefer to spotlight the dining table set instead of the window treatment. In that case, make sure you choose a curtain with neutral and unobtrusive colors and motifs.
A set in broken white with an abstract motif in deep gray will be very suitable to state the existence of your dining table set in velvet blue. Simultaneously hanging light fixtures with colorful bulbs makes it more appealing.
8. Pastel-Tone Dining Room Curtain Ideas Among Bold Wall Painting
Setting an all-blue theme in a dining room is certainly not wrong. Yet, I must follow some terms and conditions. The most essential is that you should have a good mix of tones and don't make everything bold.
Suppose you have painted all the walls in deep blue or darker tones. So make sure your dining room curtain has lighter hues, for example, pastel blue drapes with a white pattern.
9. Spiral Motifs Curtains in Subtle Gray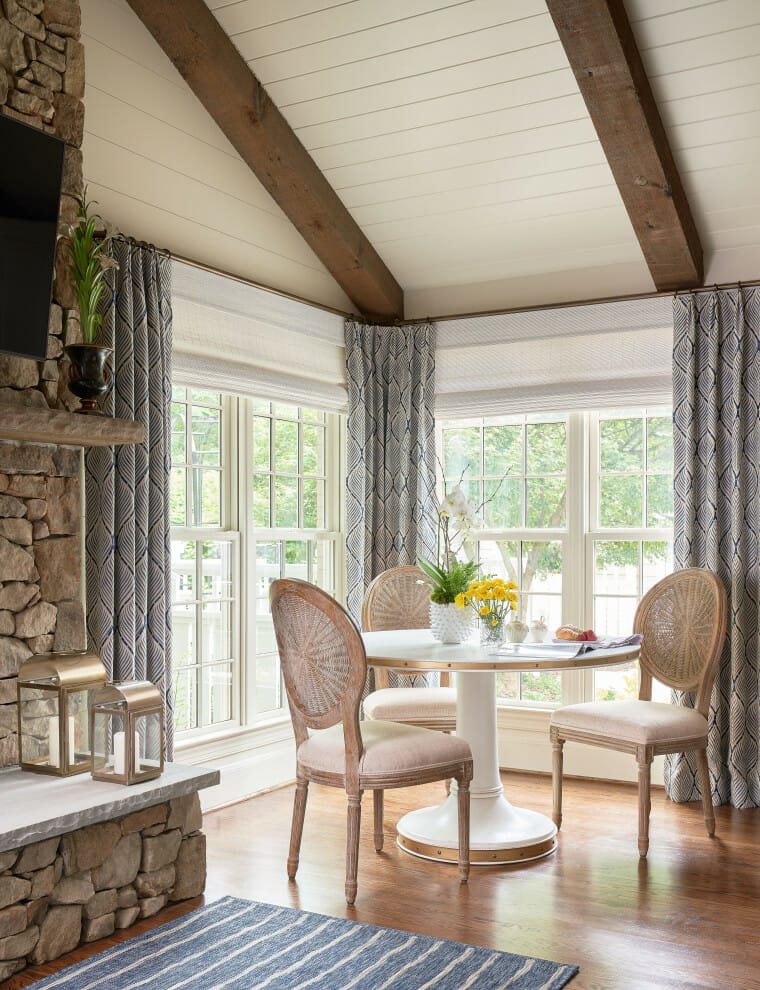 The spiral motif on the curtains will be enough to give character to your dining room which adopts a Mediterranean style.
Because all the furniture comes in earthy colors, make sure your drapes don't have a punchy hue. Merely give it a subtle pop of prints, like white and ash gray, and it's all perfect.
10. Broken White Drapery to Draw Minimalist Look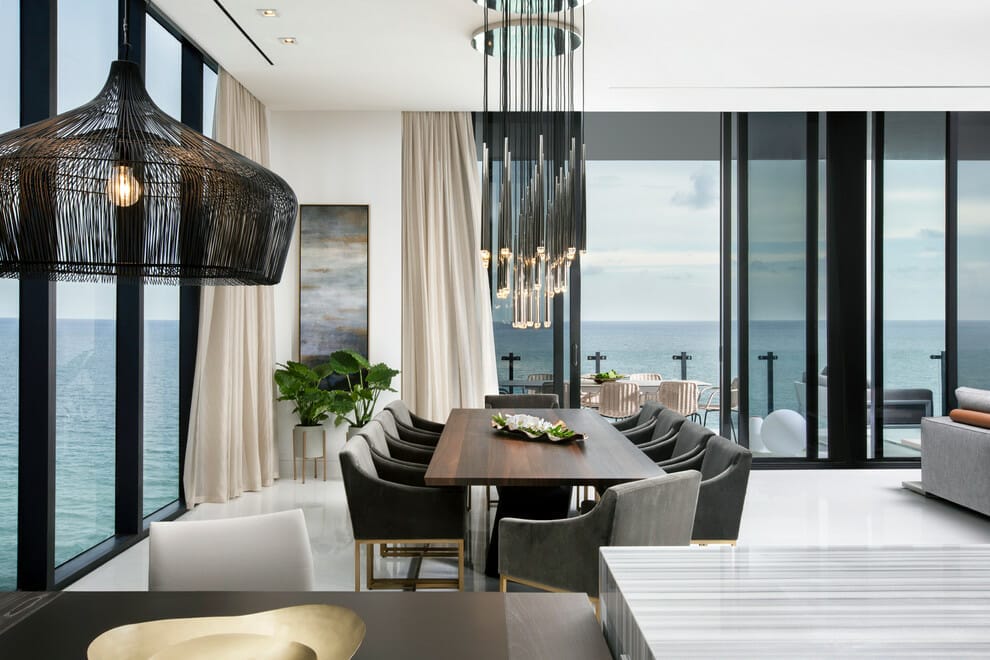 Why not snag the hiding rod and hang the curtains in plain white? Of course, these dining room curtain ideas will suit those more interested in a minimalistic finish.
There are no flagrant motifs, only a delicate drop cloth curtain to match the theme of the black and white dining room. It will soon help you to highlight all your distinctive light fixtures perfectly.
11. Classic Dining Room Curtain Ideas in Gray Color Palette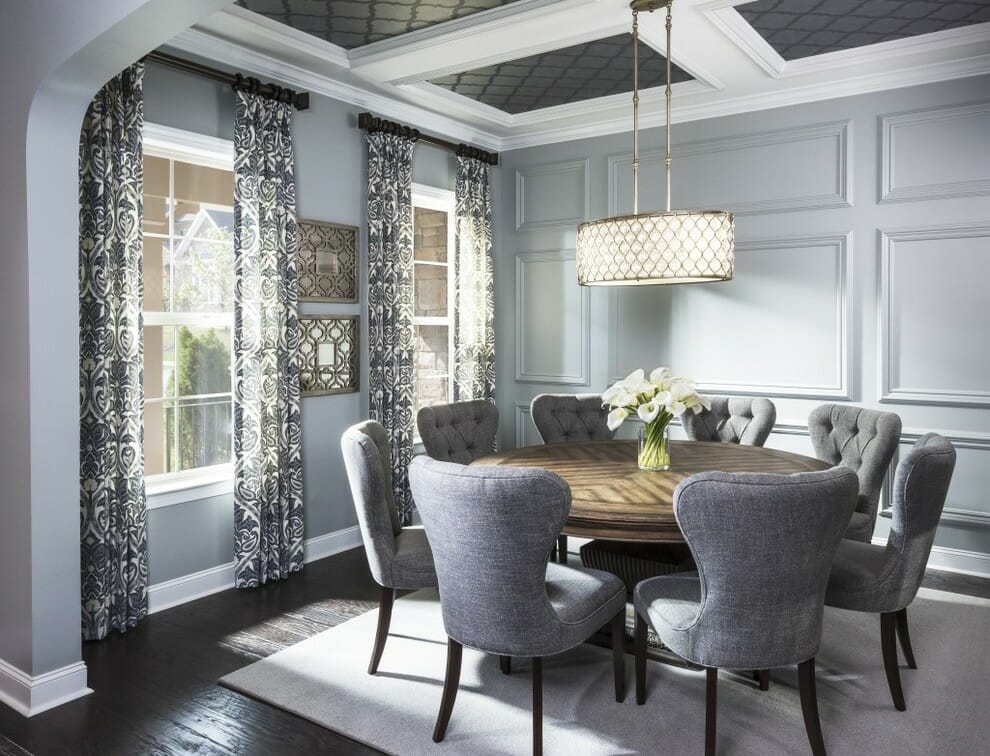 Draping dining curtains in subtle colors of gray will make your dining room cozier. Although it is not a bright tone, it doesn't mean it can't boost your mood while enjoying breakfast. On the contrary, it makes things much more peaceful.
Instead of just presenting a uniform gray tone, it's better to use a color palette to produce a final look that is coherent and not dull.
12. Curtain Rod in The Same Color and Material with The Window Frame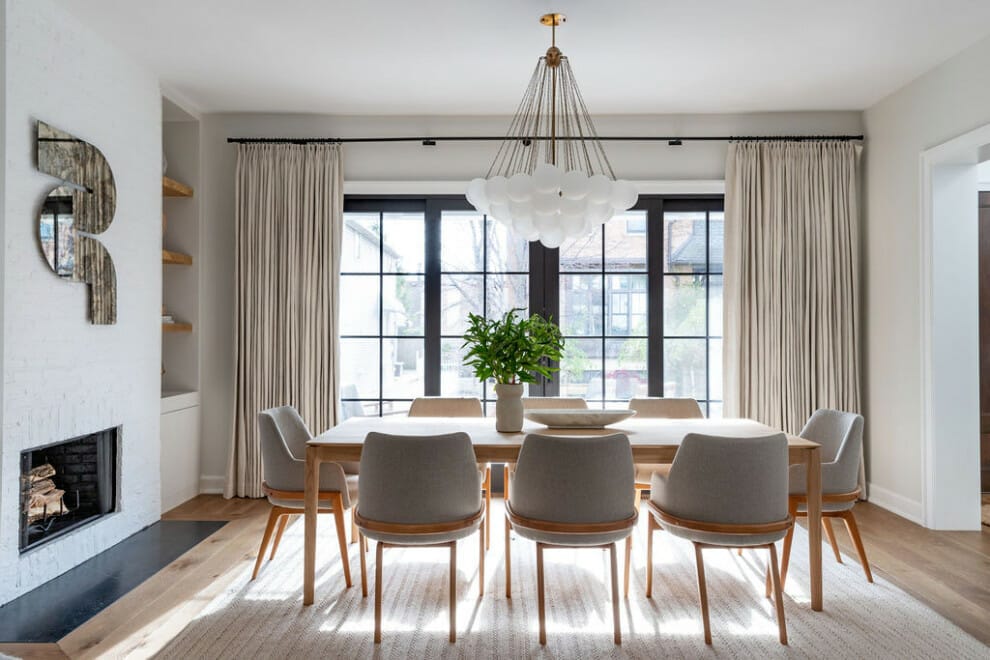 You can't just hang drapes with colors that match your dining table set. And if that has become your goal, then at least there must be one that makes it stand out.
Snag the curtain rod in black, and having the same material as your window frame will help make things look better.
Furthermore, this spot will also be an excellent focal point whether you decide to close or open the curtains for the day and night.
13. Sheer Curtains for Dining Room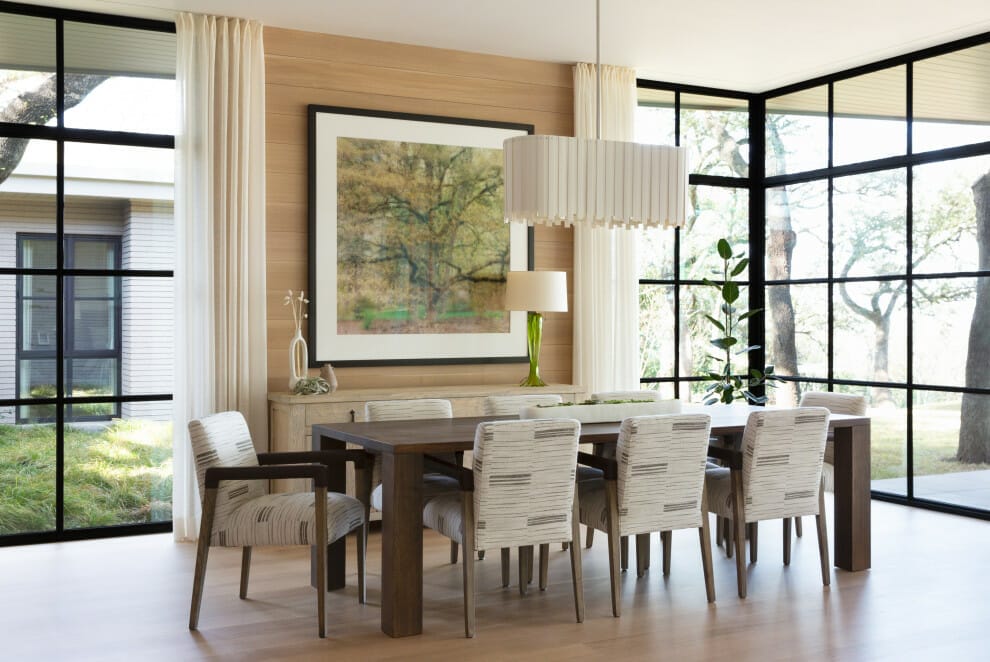 Dining room curtain ideas also appear with the option of using sheers. Its transparent finish makes your space look sleeker.
And because this type of curtain is quite plain without any prominent characteristics, install it on a glass partition or a window with a checkered frame as above. Furthermore, you can also consider hanging a great masterpiece to enliven your interior decoration.
14. Coastal Vibes with Patterned Curtain Reach Out the Glass Doors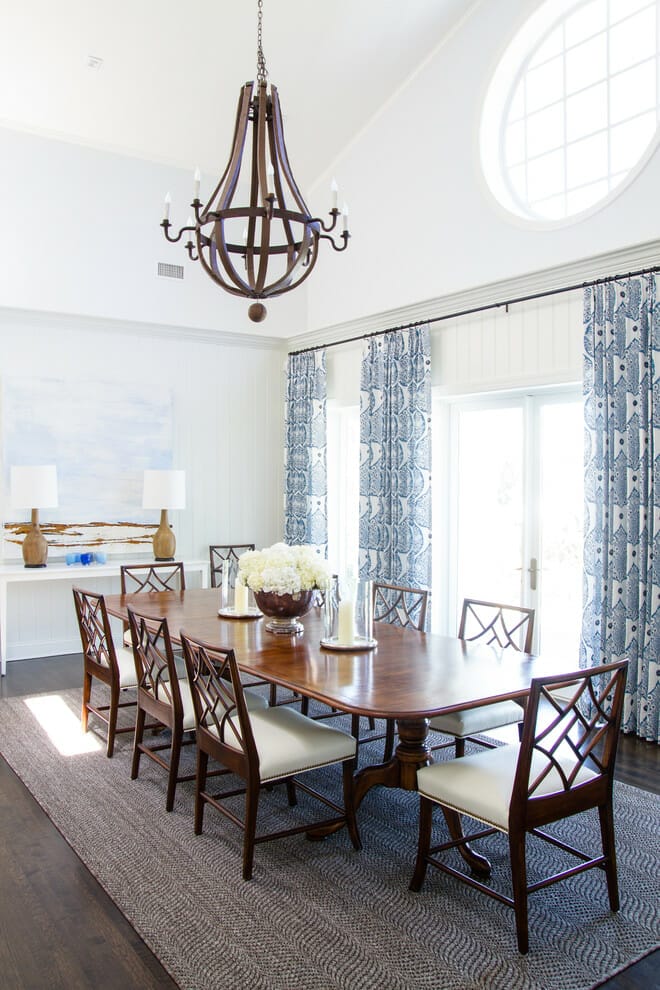 Even though we call it window treatment, the task can be beyond that. Curtains can also act as a cover for your glass door, though. As in the picture above, blue patterned drapes can go well with your medium-tone dining table set.
Through this concept, your all-white coastal theme will be more substantial. And it will be even more sensational to install the classic brass chandelier as above.
15. Checkered Pattern Curtains in Pastel Tones
There is nothing better than exploring all your creativity in implementing dining room curtain ideas.
In fact, everything will still be fine when you decide to hang checkered patterned drapes in a modern farmhouse or Mediterranean-style space.
Because every element in this dining room is quite characterful, you only need to provide curtains in pastel tones to balance the look.
16. Hide Up the Tranquil View Behind White Sheers
When you invite guests to enjoy a meal together, they often expect what is behind your dining room curtains. And, of course, as a homeowner, you do not want to disappoint anyone.
In addition to hanging an attractive curtain, you have considered the landscape that will be obtained when the curtain is raised.
Furthermore, you can also pick sheer instead of blackout curtains to provide a chic silhouette during the day.
17. Eclectic Dining Room Curtain Ideas in Dominantly Red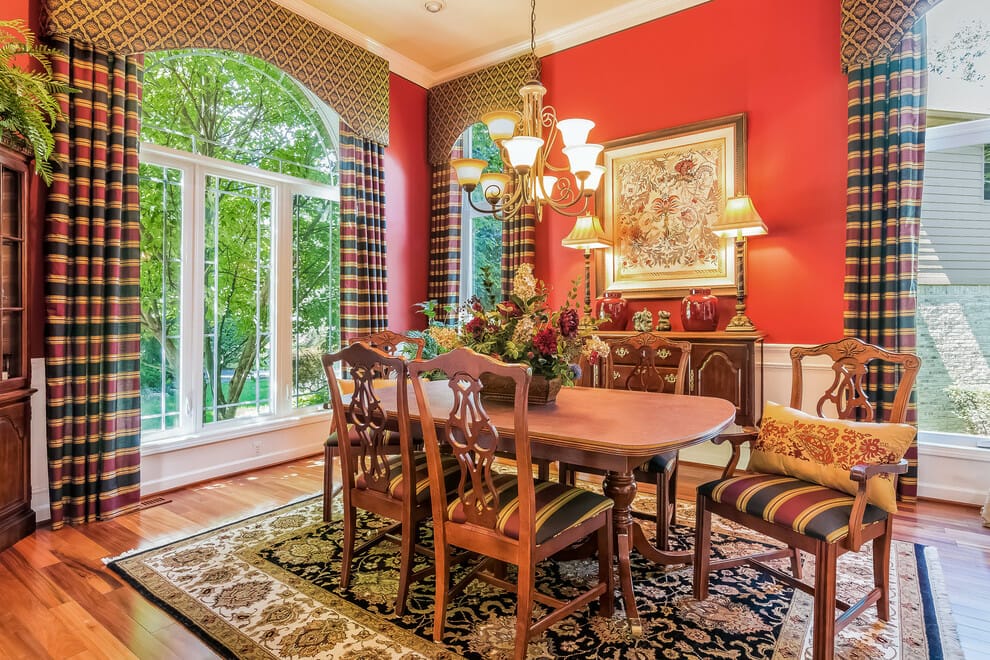 Red is believed to stimulate the appetite. Therefore, applying this color in your dining room and the kitchen is good.
Instead of going with just one tone, and you know it won't be exciting, make sure your curtains have a striking design to add drama to the room.
A set with vertical black, red, and gold lines is best. Furthermore, you can also uniform it with the motifs found on your dining chairs.
18. Silky Drapes in Yellow and Beige Singular Patterns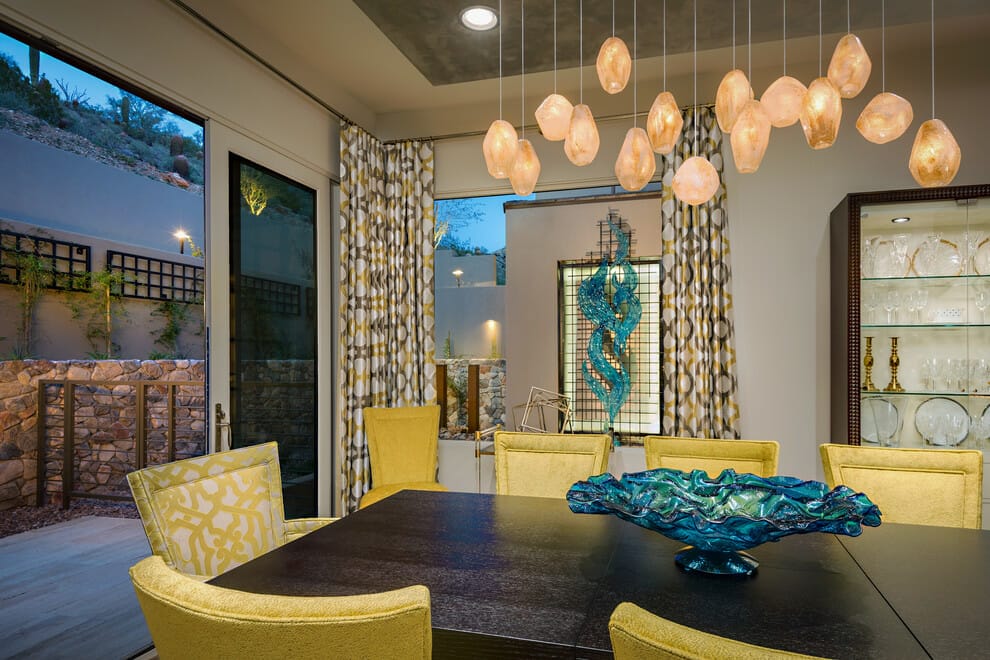 In modern or contemporary style homes, presenting a set of dining room curtains with singular motifs has become a standard method.
However, you can make it unique and still describe yourself by taking bright colors or adjusting them to your taste.
The combination of yellow, deep beige, and white on the curtains, will go well with a set of your yellow chairs.
Be sure to dampen the angst with a dark wood table. Next, place a unique fruit tray with blue glass for a pop-up color.
19. Magenta Flowery Drapes with Bamboo Rod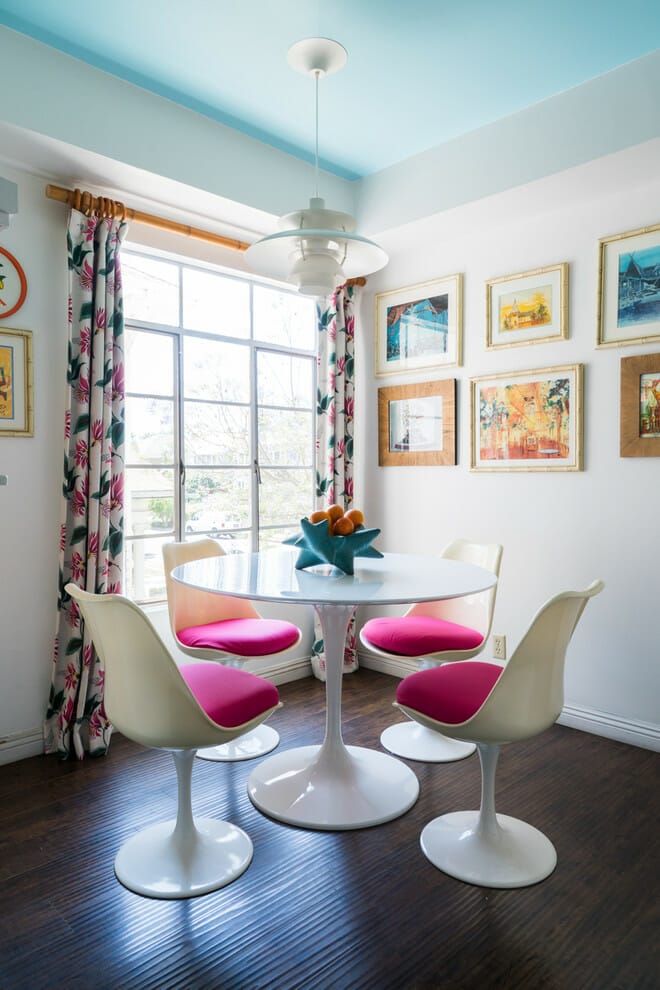 Dining room curtain ideas in color harmony with all interiors are the best. Examining the picture above, providing an artistic window treatment with floral patterned curtains in magenta, teal, and white will make your dining nook more visually aesthetic.
It goes hand in hand with how you present all the elements there, with a white round table, magenta chairs, and a centerpiece in teal green.
Furthermore, this will further exude personality with the presence of bamboo rods in a bright tone as above.
20. Royal Blue Velvet Curtains for Luxurious Finish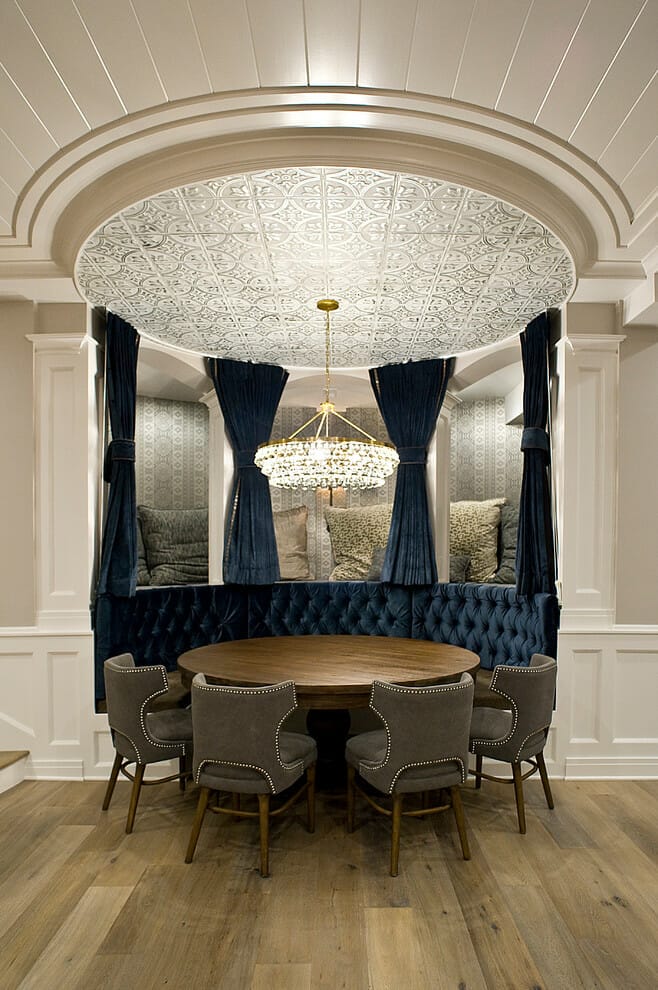 How long should curtain be in dining room? Although drapes come in many sizes, the best option is the one that can cover all window frames up to the floor. It is prioritized not to display an odd appearance in all rooms in your home.
However, if you install it for a specific spot on the wall above your dining nook, other than the window, then it can be in a shorter size. Or merely adjust it to your needs.
Furthermore, choosing velvet curtains in royal blue will make everything gorgeous to get a royal-like impression. Especially if it matches your tufted corner seatback.
21. Plain Beige Curtains to Balance the Interior Design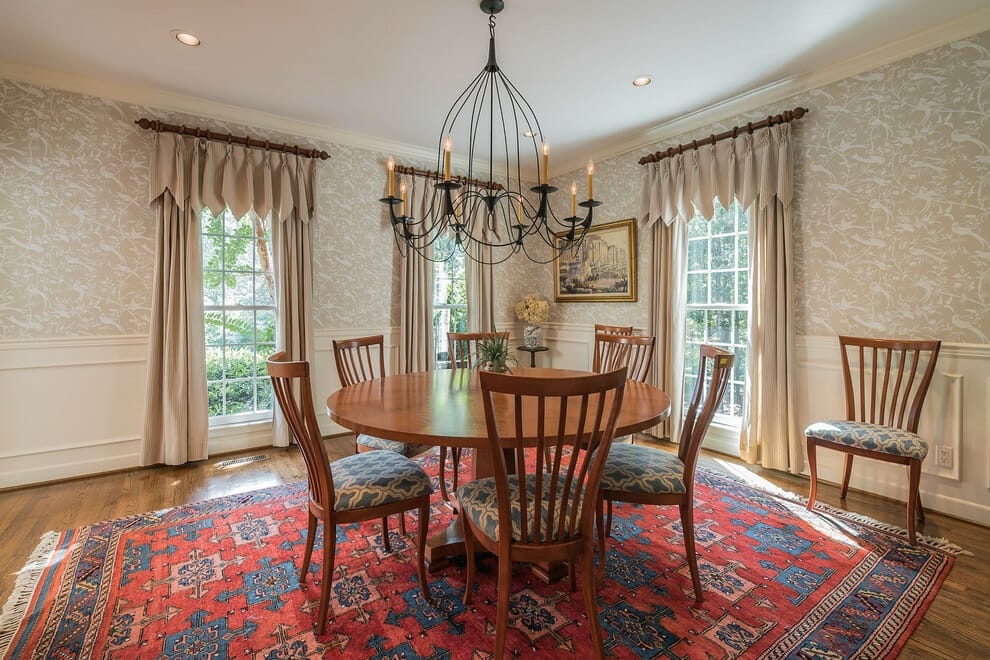 Traditional style dining rooms often have wallpapered walls and patterned rugs in striking colors, like this red carpet.
For that, it is better to implement dining room curtain ideas with neutral and plain tones. It is all done so that your space doesn't look cramped and overcrowded.
22. Modern Dining Room Curtain Ideas in Black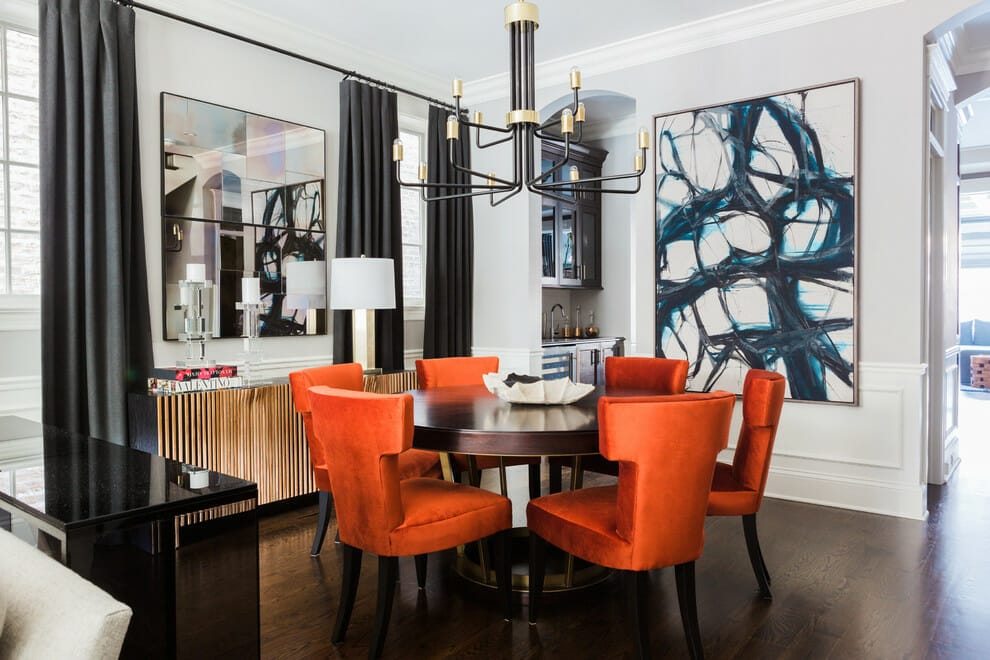 Primary colors like black will always match any dining room theme. Especially if it's a modern concept.
Since you've decided to go with black drapes, make sure some elements in the space are at least striking to give them a pop-up color.
Not only with orange dining chairs, but you can also even pick up any tone to make your dining room more cheerful.
Hanging a square mirror right in the middle of the two black curtains will make your dining room more multidimensional.
23. Match the Curtains' Tone with Flooring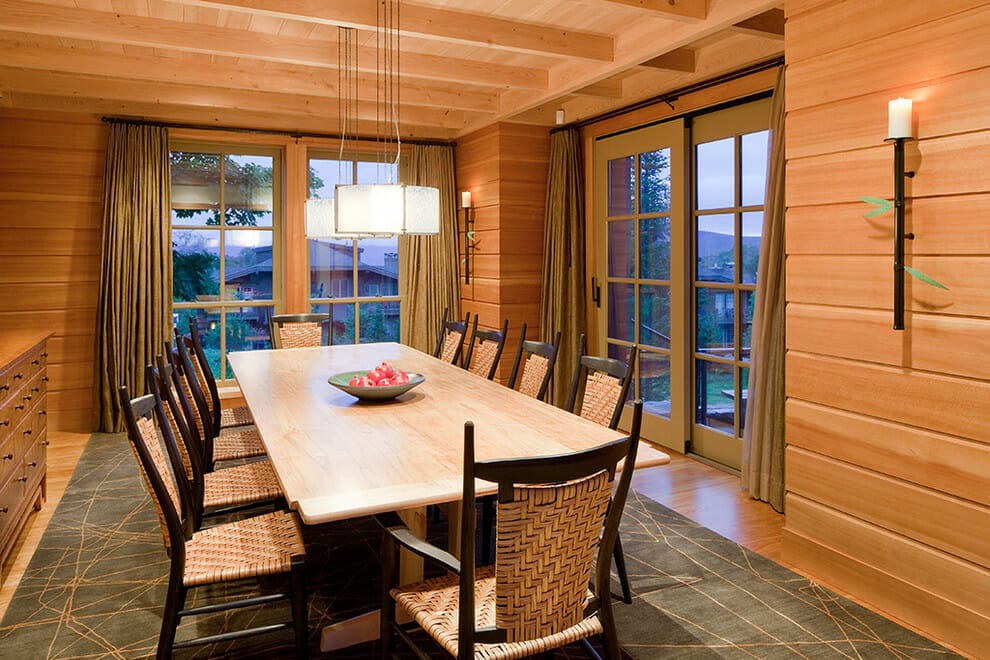 Japanese-style dining spaces often come with various elements made of wood. Whether it's wall paneling, ceiling, flooring, or other furniture.
To balance the look, it's a good idea to incorporate a touch of sage green into the space. Let's start with the curtains that match the color of your floor tiles, window, and door frames as above.
24. Liven Up the Atmosphere with Pattern Drapes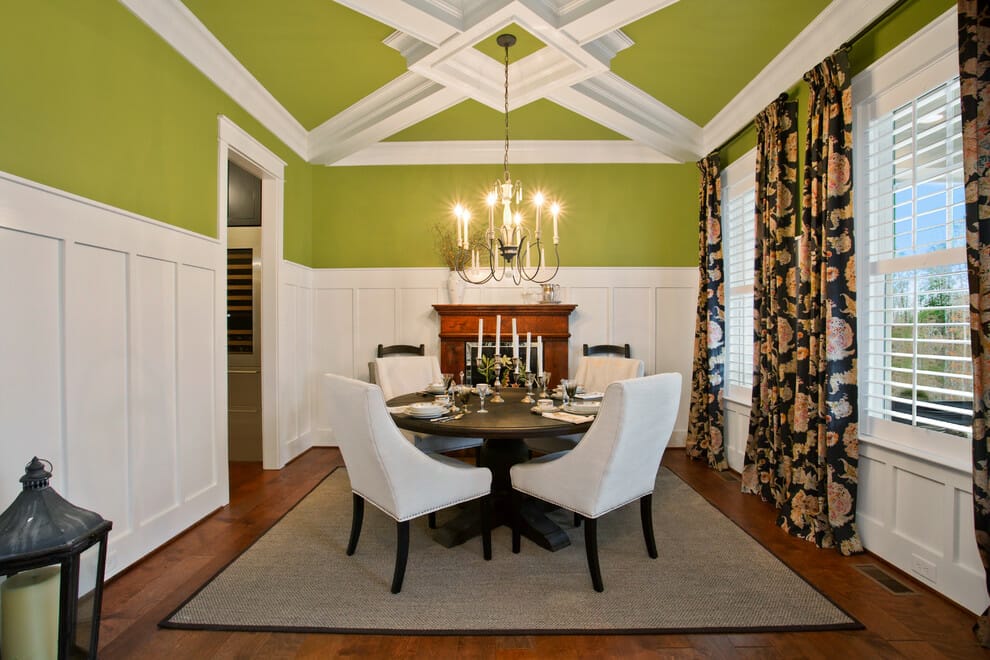 Green and white are already on your ceiling and wall. Thus, it's time to add a personality through dining room curtain ideas in black patterned ones.
These black curtains with light brown and green motifs will match all your interiors flawlessly, including the white window frames and the trellis behind them.
25. Duplicate the Antique Platters Motifs on Curtains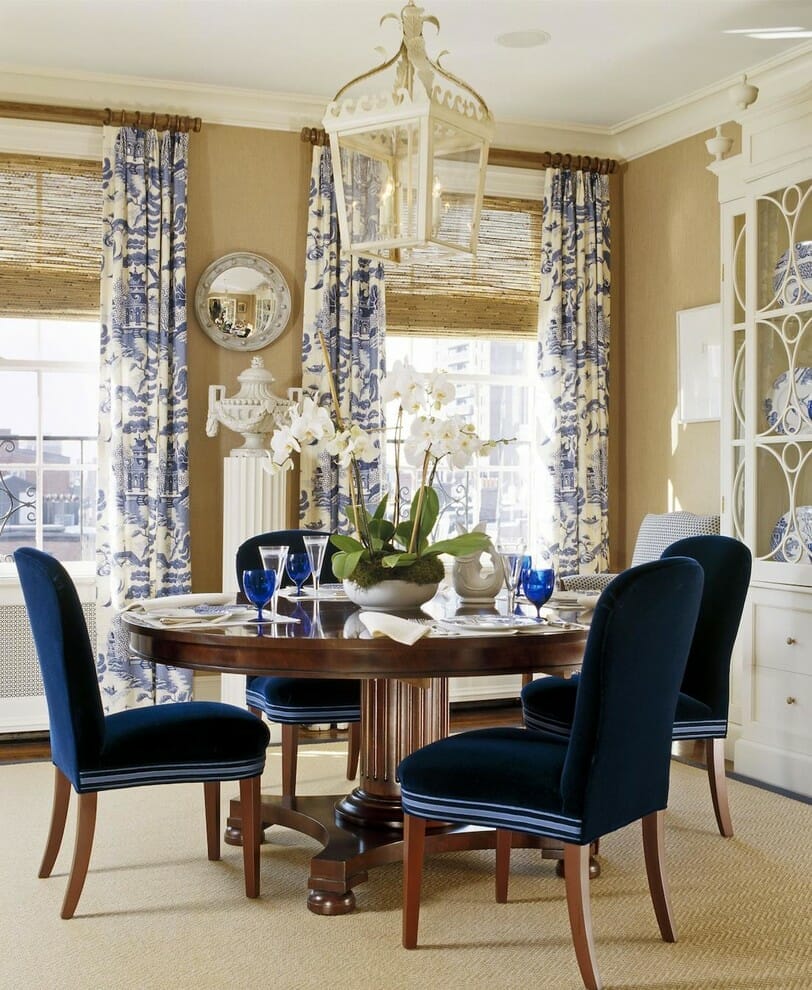 Maybe you have never thought of this concept before. But try to drape curtains with a similar pattern to your antique platters. Of course, with its identical white and blue colors.
Inherently, it will make your dining room look unique and characterful.
26. Light Blue Curtains with Golden Sunburst Mirror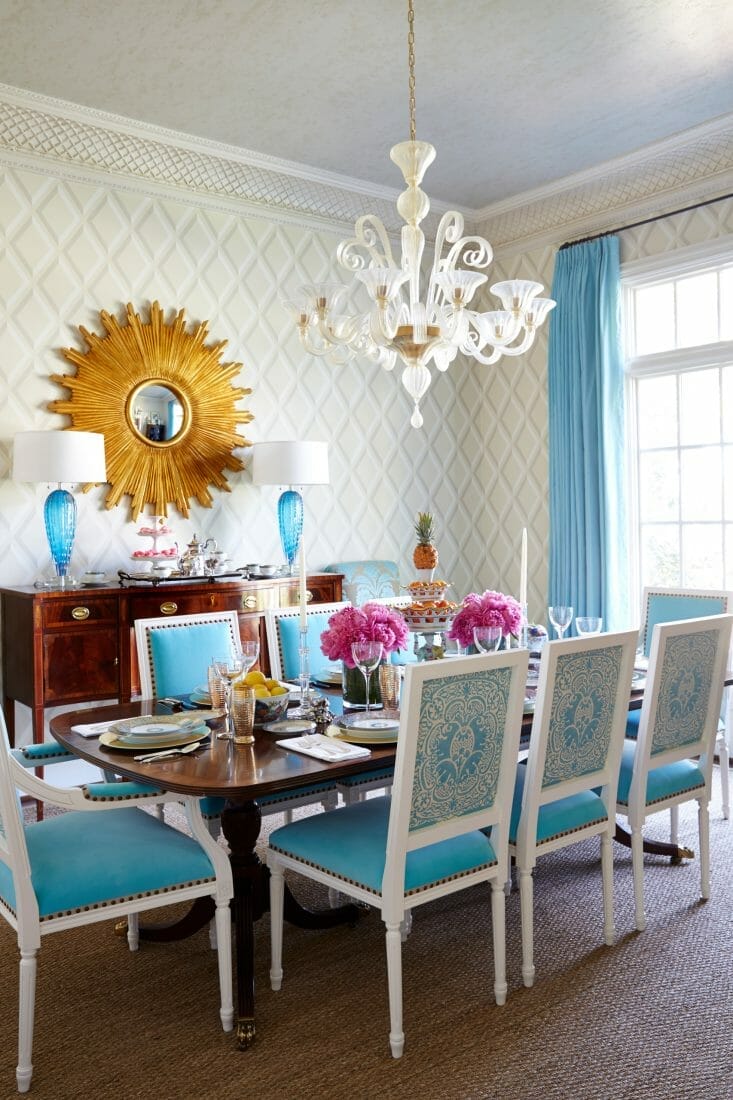 Brighten up your dining area by applying dining room curtain ideas in light blue.
Remember that no color seems old-fashioned. It all has a character in its own way. And the light blue curtains will be perfect for your coastal-themed dining room.
Strengthen the final look by mounting a round mirror with sunburst accents as above.
27. Curtain in Harmonious with The Room's Color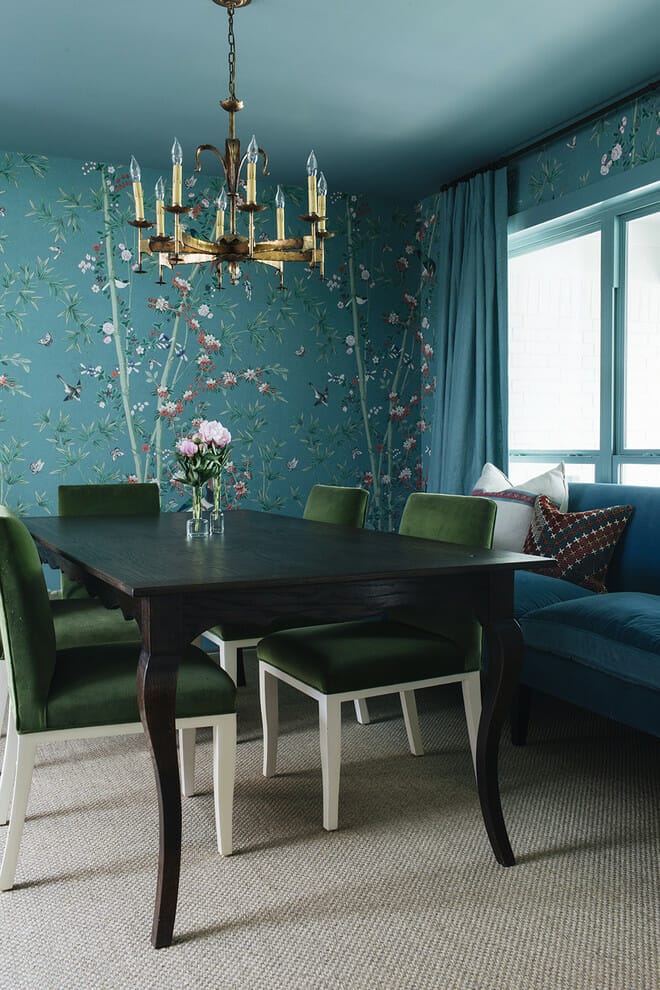 Do you want to present a dining room curtain that is the same color as the rest of the room's paint? Of course, it is not a big problem. Make sure they all have a balanced texture to avoid the room looking overwhelming.
If you have decided to wallpaper the walls, let your curtains go plain in the same color.
28. Emerald Velvet Curtains Among the Whites
Emerald is an alternative option to royal blue velvet curtains that you can have.
Presenting dining room curtain ideas in velvet undoubtedly will make everything elegant and luxurious at the same time.
It would even be the perfect pop-up color without many decorative elements whatsoever among whites.
29. Printed Curtains in Broken White and Pastel Blue Window's Frame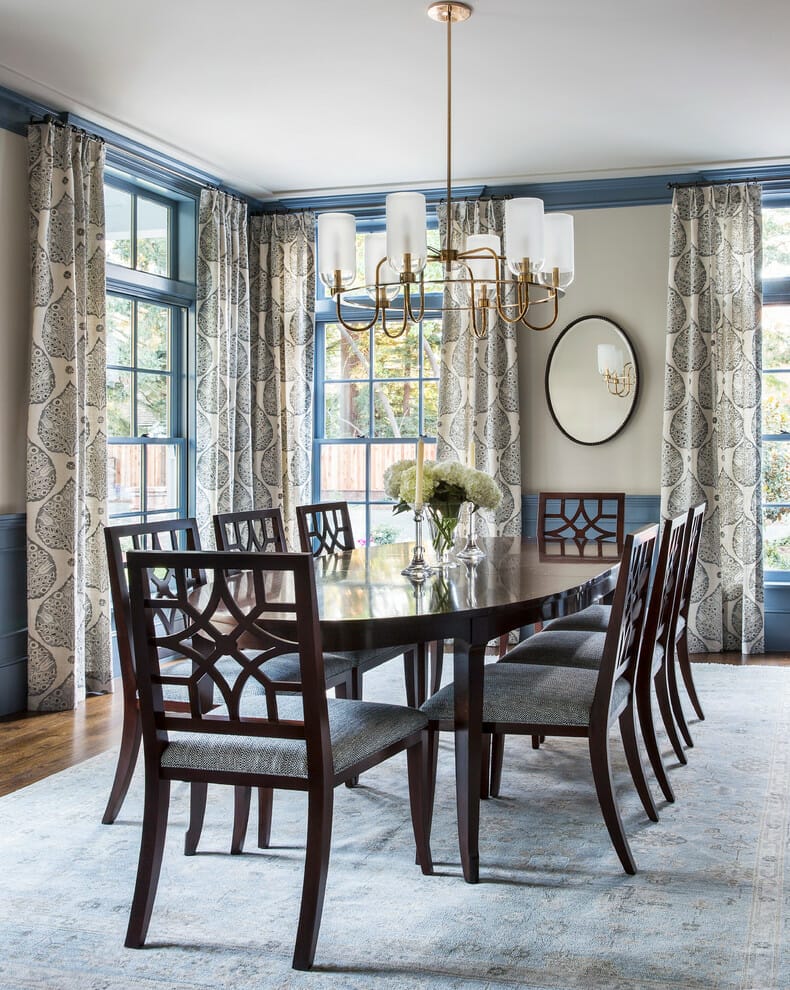 Suppose you already have a colored window frame. In that case, you can still drape the patterned curtain. However, make sure it has a white base with printed color motifs that match your window frame. It will be good in any way.
30. Charcoal Drapes, GoldenRod, and Tropical Interior Design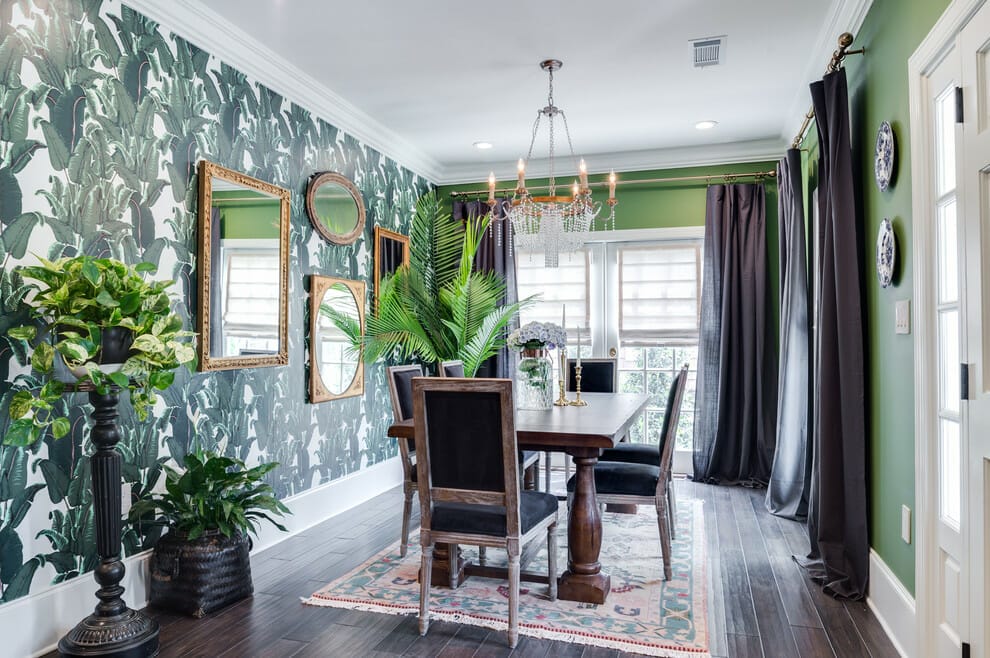 Tropical-style interior decor allows you to have a dining room curtain in any neutral color, including charcoal gray.
And since this color is dark enough, it goes along with the gold rod that harmonizes with the mirrors' frames across the room. Surprisingly, it will be the most remarkable dining room ever.
To drape dining room curtain ideas will always be respectable whether or not your space appears with windows.
Although it is often called a window treatment, it is suitable for giving texture to any spots that deserve to be accentuated.
After exploring the large selection of dining room curtain ideas, you should have nothing to worry about anymore. Go with the one that best reflects you, and get ready to charm all the guests!