Once planning to alter the dining hall, the soundest move to take is by selecting one of the best dining room rug ideas. And this article already collects the famous and timeless designs you can adopt.
No wonder picking the rugs for under dining table element will simultaneously be versatile and aesthetic.
Besides creating a warm, inviting ambiance, rugs can also draw a statement to the center of the space.
Furthermore, dining room rug ideas mostly come with tons of shapes, colors, and motifs options. And, you can freely pick whatever models follow your preference.
But how big should a rug be under a dining table? The most common answer is the larger one than your dining table set will be better.
However, suppose you want to go with the identical size to the table. That won't be a significant matter, though. As long as it can elevate your dine-in area plus is visually pleasing.
And without further ado, here are 29 lists of dining room rug ideas to steal your heart.
1. Classic Dining Room Rug Ideas to Draw Attention to your Bright Dining Table Set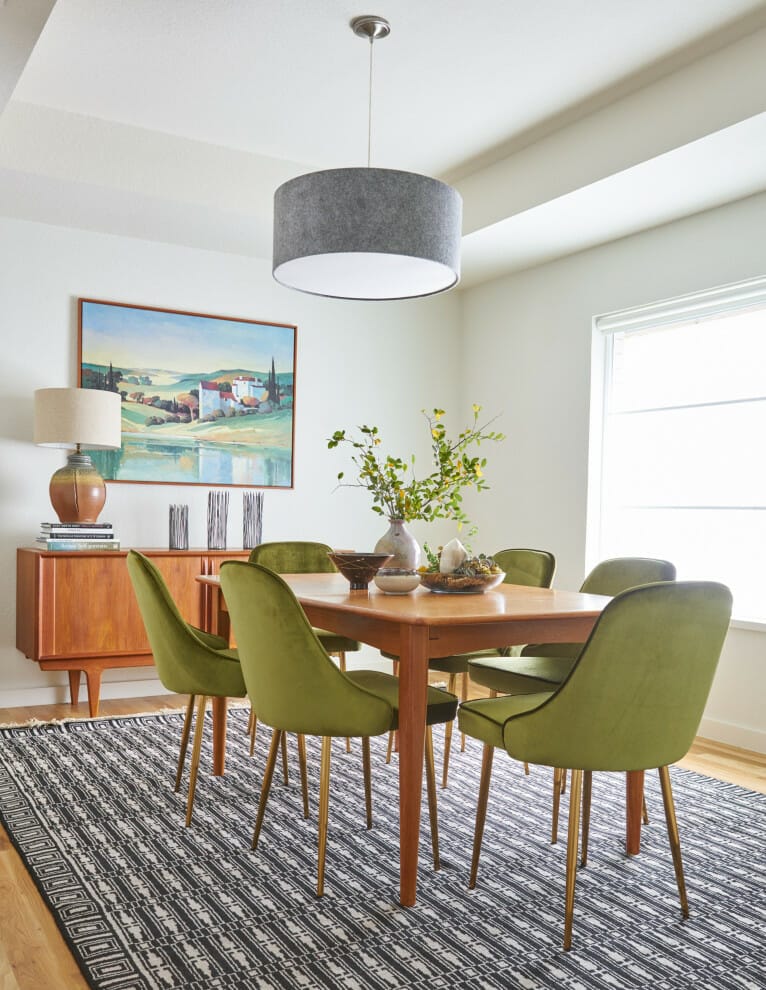 Look at the style of the dining room arrangement above. It's astounding without giving too much energy.
The furniture in a fresh green color, coupled with some natural touches of wood and a flower vase, has been perfectly accentuated by a classic rug.
The rug was patterned but enough to provide stats without exaggerating anything. The combination of black and white creates a solid yet balanced figure.
2. Black and White Stripes Rug Under a White Marble Dining Table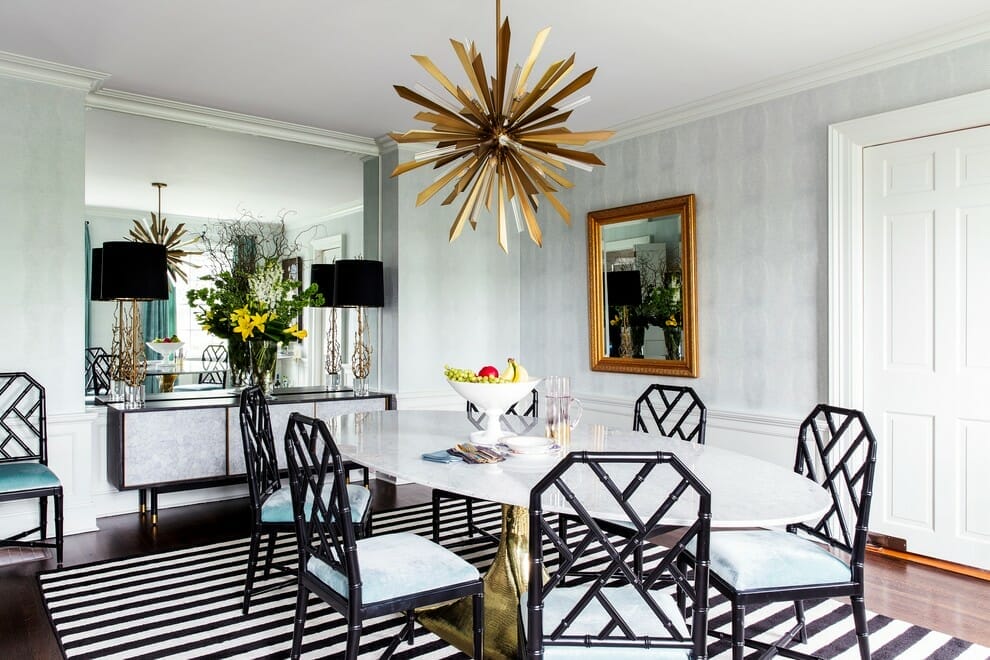 Go ahead in giving personality to your dining room. Give a bold pattern with black and white striped rug to kick up the luxury of the marble top.
Also, present some uniquely shaped and versatile units such as sunburst light fixtures and large mirrors that lead to windows. Later, it will give a remarkable multi-dimensional effect on the space.
3. Abstract Motif Rug Resembles Marble Tile Pattern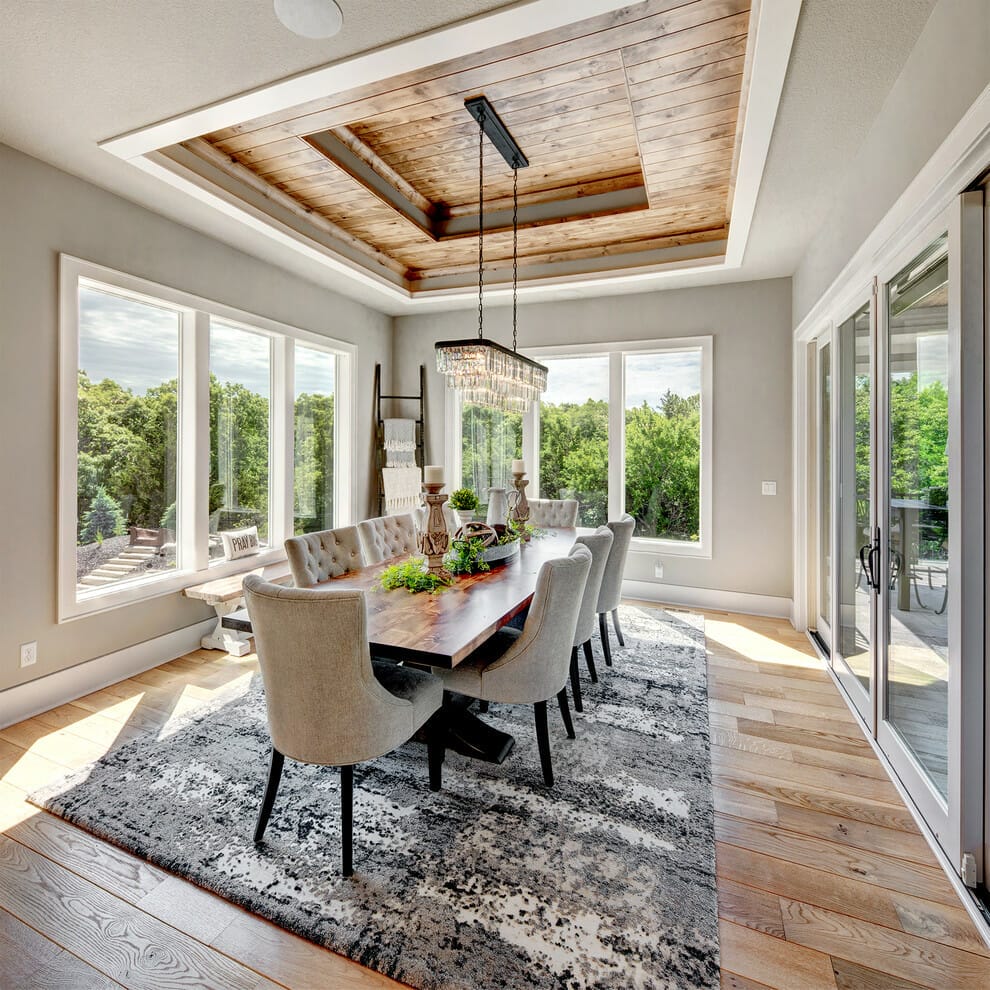 Marble tiles, indeed, look luxurious. It is undeniable because it also comes at a high price. But that doesn't mean you can't bring an accent similar to marble in the middle of your dining room.
The most economical way is to place a rug that resembles a marble motif in a dark color. These dining room rug ideas will be the most stunning work you've ever had.
4. Moroccan Rug in Royal Blue under The Red Chairs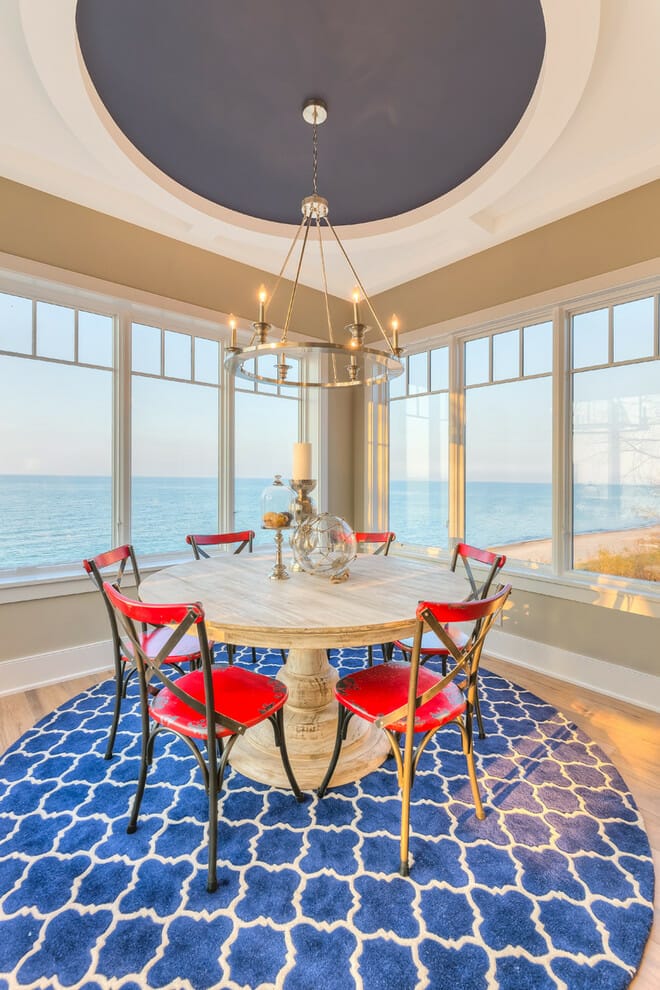 A round rug will go perfectly with your round dining table.
Instead of choosing the plain one, pick a rug with a Moroccan motif in royal blue. Instantly, it will make your red dining chairs more lit up than before.
Because the table and the whole room have come with wood and glass with their natural texture, you don't have to worry about the design going unsightly.
5. Asymmetrical Cowhide Rug for Cozy Dining Nook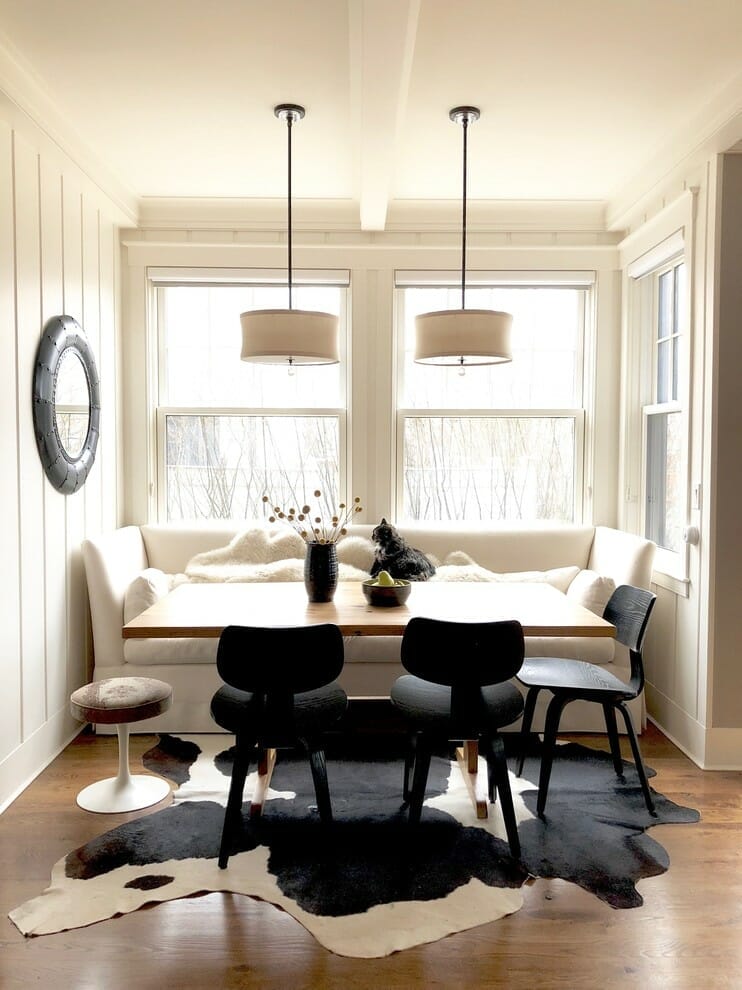 Assemble your dining nook into a comfy spot by adopting dining room rug ideas with neutral colors such as light beige and black throughout the room.
Your dining table set has come with plain hues, so make a statement by placing the cowhide rug right under the table.
Its curved shape will provide a unique and characterful focal point no matter what.
6. Bright Dining Room Rug Ideas with Light Gray Accented One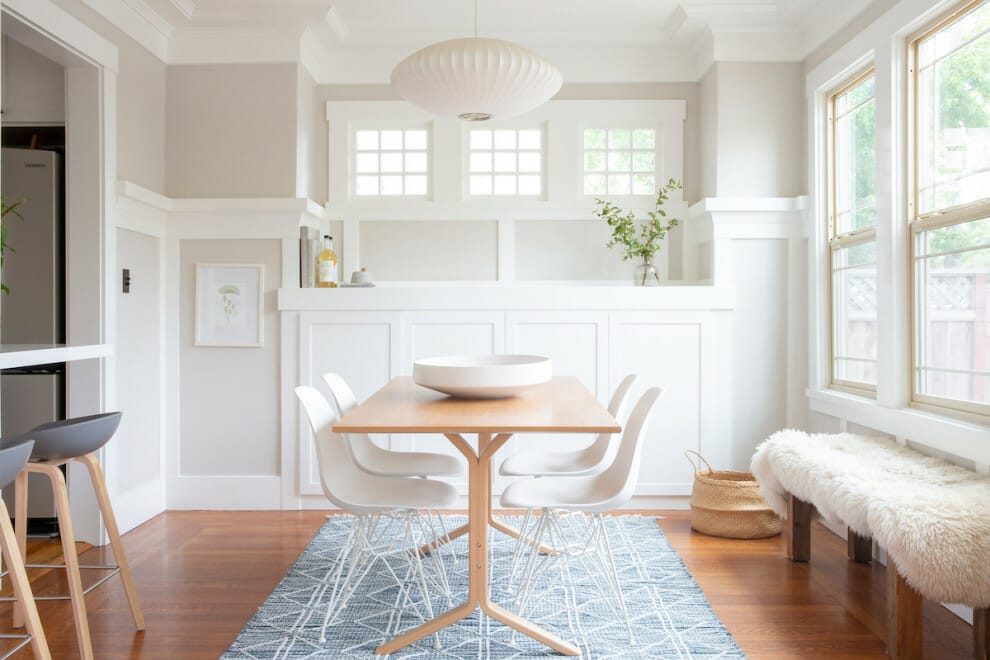 White walls and furniture mostly dominate the modern farmhouse style. For that, balance the interior appearance of your dining room with a light gray rug with a geometric motif for a pop-up color.
Apart from enhancing the room's ambiance, this rug is visually pleasing and can brighten up your dining hall.
7. Strong Distressed Motif Rug for Contemporary Home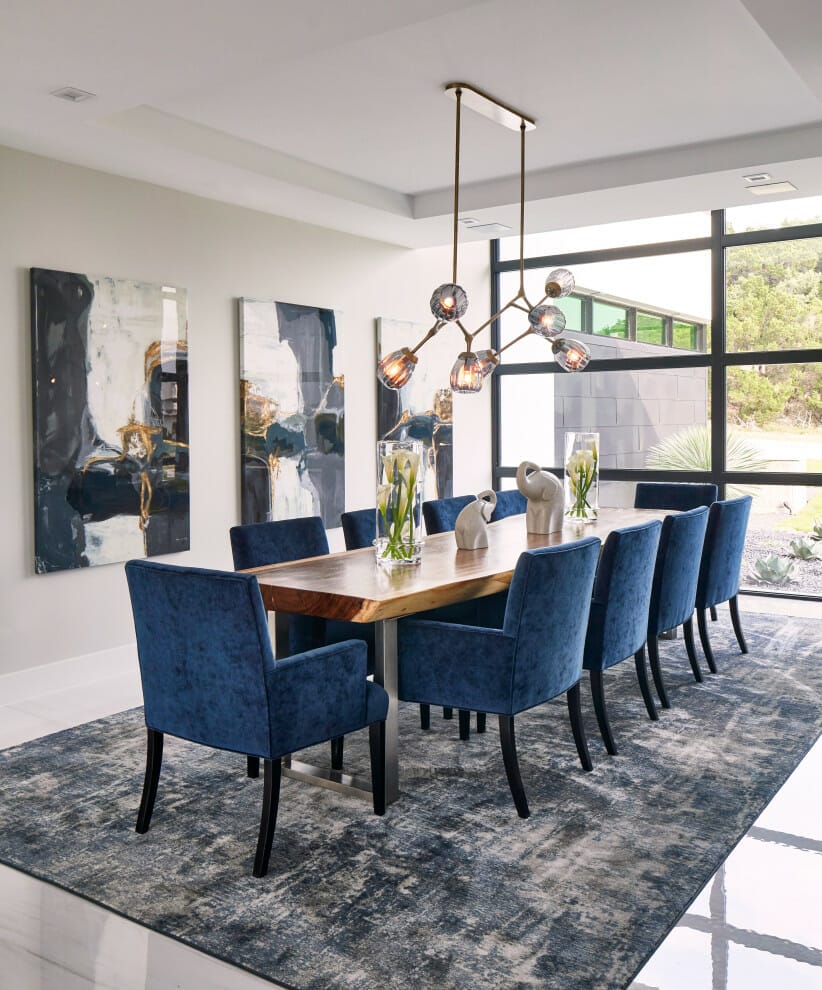 Elevate your contemporary interior design by putting a distressed patterned rug in dark tones.
Prioritize choosing hues that match all the elements you have so that the final result remains cohesive to one another.
For example, adopting a deep blue and charcoal distressed rug can support the luxuriousness of your upholstery.
8. Medium Round Rug with Chevron Accent and Yellow Nook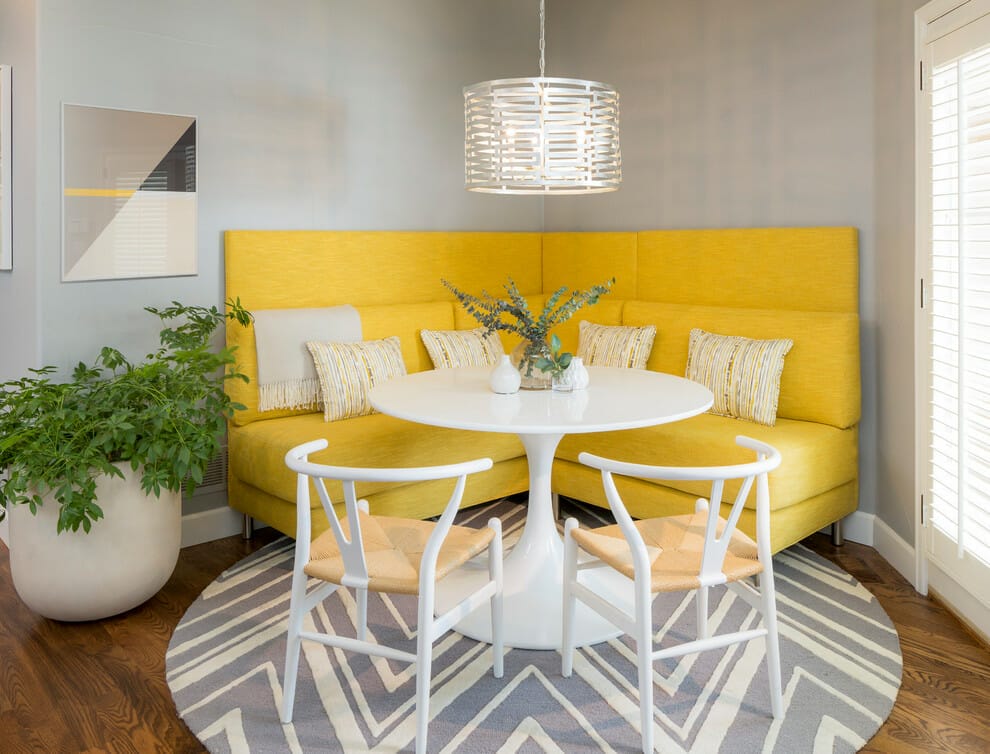 A bright-colored corner seat accompanies these dining room rug ideas to a round table.
Yellow will always be suitable to display a cheerful vibe in any space, including your dine-in area.
And to balance the punchy hue, set up a chevron-accented round rug with muted tones like gray and white. It is, indeed, the perfect harmony that will arouse your appetite and boost your mood every day.
9. Subtle Gray Cloudy Rug to State the Dine-in Area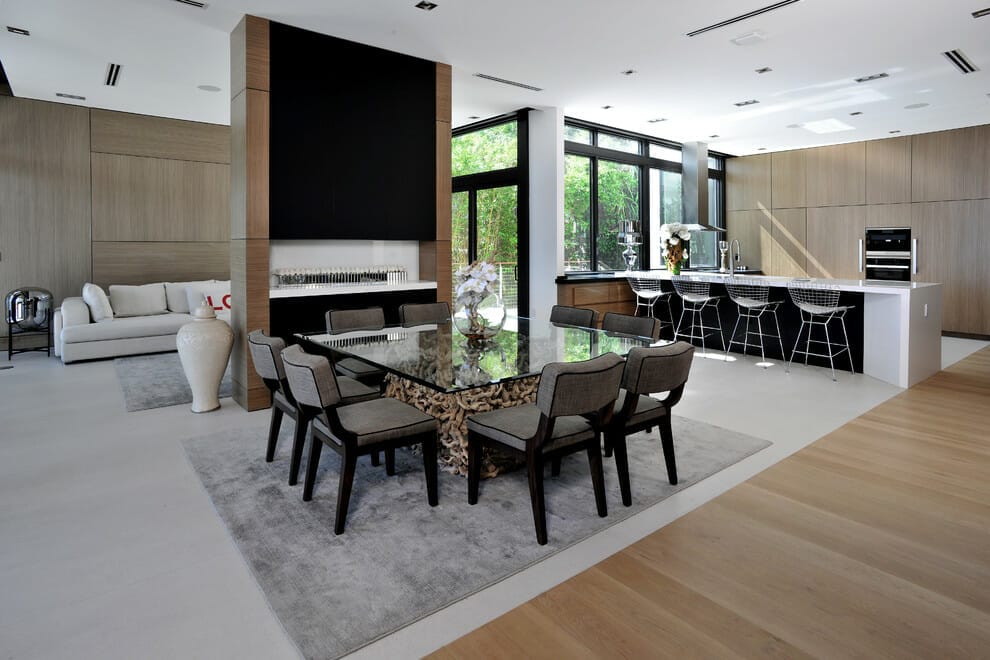 Homes with an open space style often only need a partition to separate one room from another. And suppose that's not enough for you.
So try to give a rug right under your dining table. You can also consider to uniform it with the carpet in your living room.
As in the picture above, smoke gray will be the ultimate option to create a space that looks more subtle and spacious at once.
10. Bohemian Rug in Pastel Tones
The following dining room rug ideas will be a little extra from the others. Here's a strategy to make it one of a kind that attracts many people's attention.
At first glance, this concept will seem eccentric and may only be suitable for some people. But that doesn't mean it's not trendy.
Nevertheless, presenting a boho rug in pastel tones will work well with a wall that already has a checkered pattern in bold color as above.
11. Jute Rug Dining Room for Solid Modern Rustic Vibes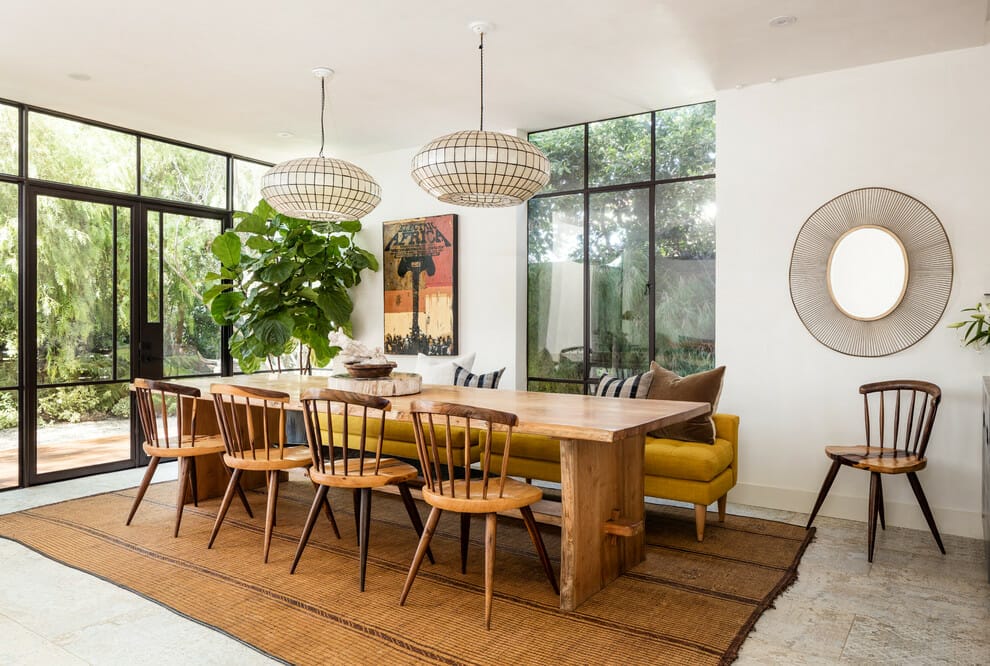 Nothing can beat the serenity provided by a modern rustic-style house. The existence of many natural elements in the dining room, including indoor plants, make this space a pity to leave.
Complete the tranquility of the rustic feel with a jute rug that is laid out right under your wooden dining set. And, be ready to astonish everyone who enters this room.
12. Light Beige Embossed Rug to Add Texture
It doesn't matter if you decide to style your entire dining room with subtle tones like a light beige. However, this hue alone is insufficient to keep it from appearing outdated and dull.
Therefore, please give it a little texture by placing an embossed rug under the dining table. Additionally, you can also add a light fixture with warm yellow illumination.
Surprisingly, these dining room rug ideas will make your dining space livelier and more comfortable.
13. Stripes Rug Matches the Window Shades Tone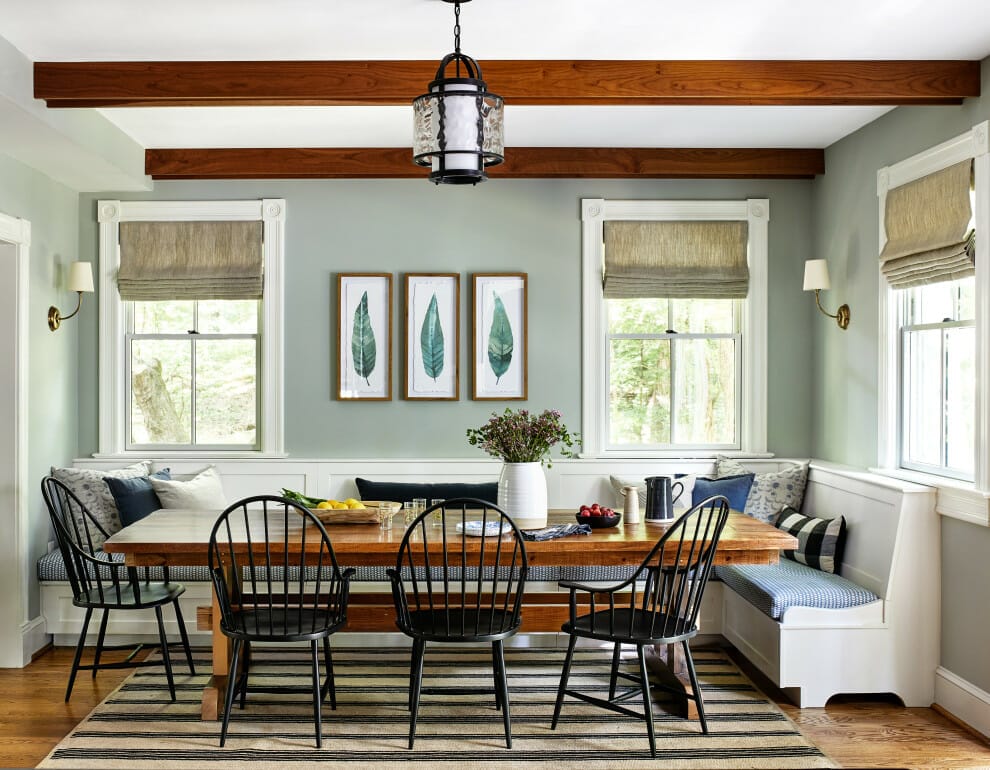 Stripes rug will never go unnoticed. Your dining room arrangement will not be overwhelming by making it come in a more muted color and matching your window shades.
Especially when you decide to give the entire wall a sage green. Indeed, everything is clearly in perfect harmony to create the cozy space you ever have.
14. Large Blue Geometric Accent Rug to Add Drama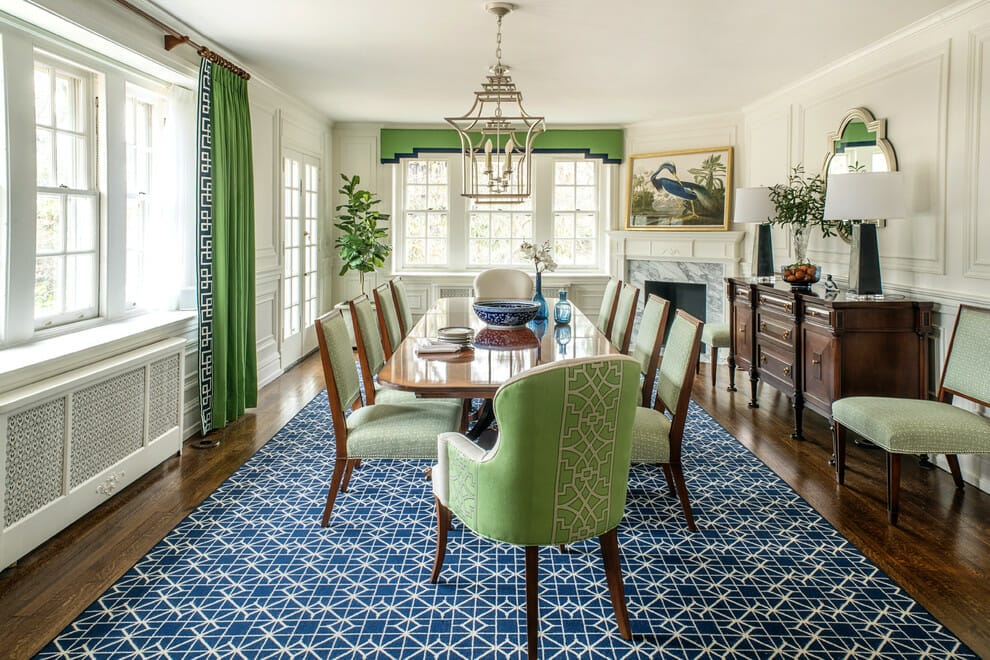 Enormous dining room rug ideas will suit anyone who has a great space.
Like the picture above, choosing to place a patterned rug beyond the actual dining area is nothing but smart. In fact, it gives the room a strong personality instead of a cramped feel.
Moreover, going with a deep blue rug will undoubtedly match your unique green curtains.
15. Modern Dining Room Rug Ideas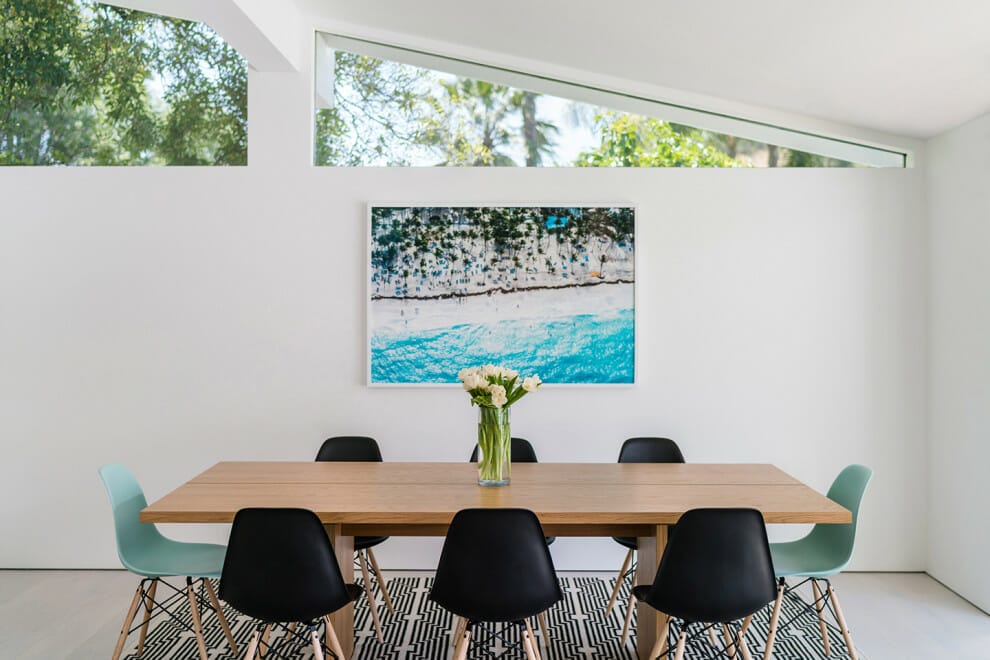 Modern minimalist nuance usually does not require many decorative elements to make everything stunning. And that is evidenced by the image above.
All you need is a geometric patterned rug or lines in black and white to get a similar look. Then set it under your rectangular dining.
And look, your modern dining table set is now perfectly highlighted. Additionally, you can mount a wall art if you want a more artistic finish.
16. Black and White Zig Zag Rug Among the Dark Flooring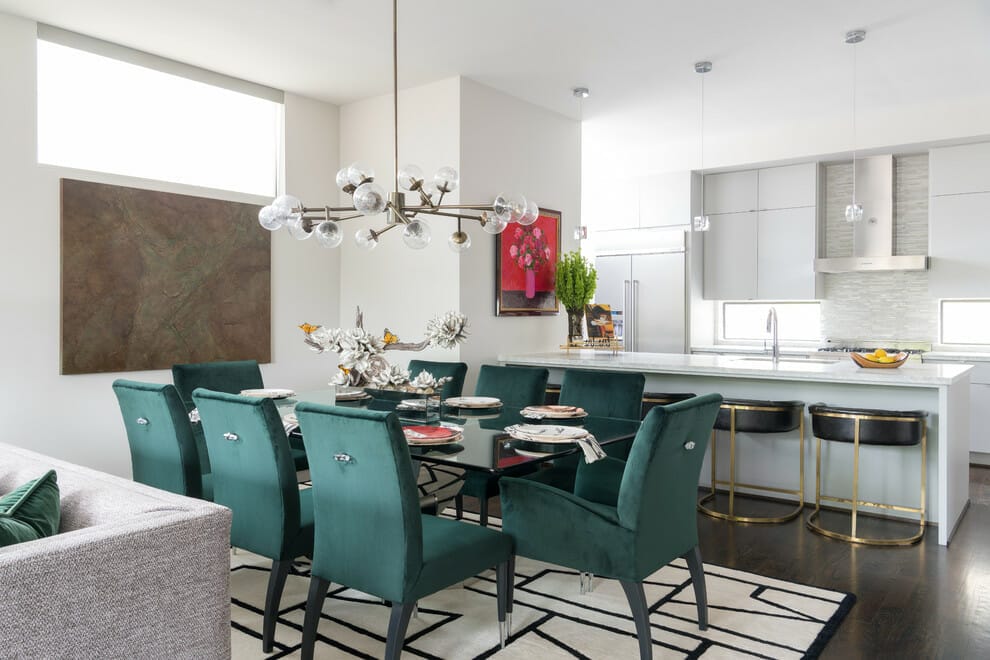 Like stripes, the zig-zag accent on the rug will also be caught faster by the eye.
Even when these come with subtle tones. Without requiring a lot of effort, presenting a zig-zag rug in the dining room means being ready to portray modernity with your emerald dining chairs.
17. Remi Printed Rug with Tassels
Actually, dining room rug ideas with the Remi print are not only suitable for coastal home styles. It is ideal for many interior designs, including classic, boho, Mediterranean, etc.
However, because the picture shows the serenity of the beachside, it is advisable to take a rug with a tassel.
Tassel does not have a function more than singly an aesthetic significance. However, this is worth taking to elevate your coastal-themed dining room.
18. Muted Checkered Patterned Rug in Front of The Giant Mirror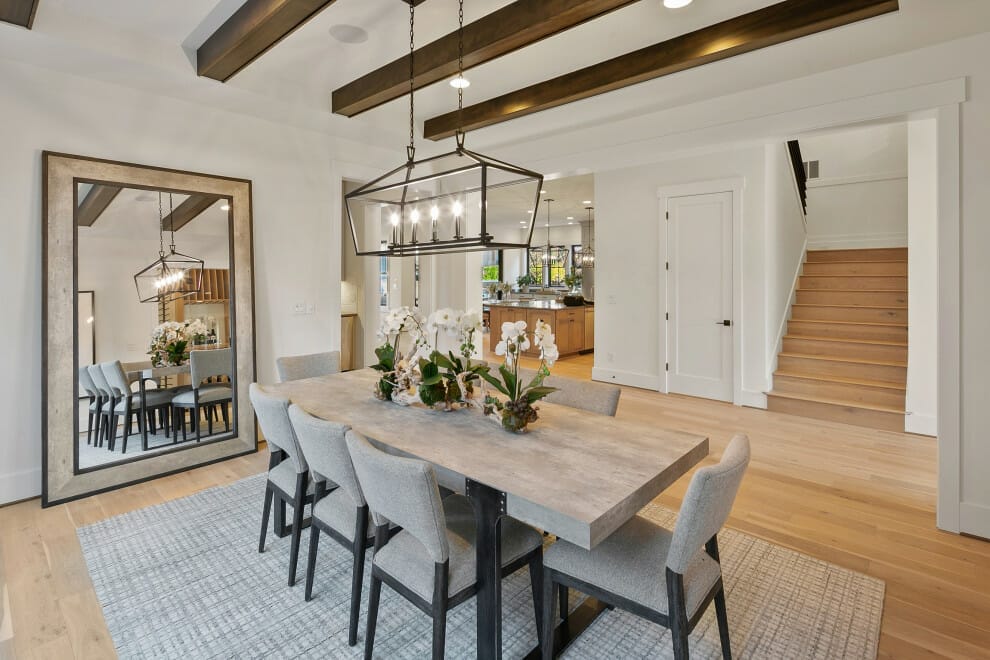 The muted checkered patterned rug might only be too simplistic. Especially if it appears in gray. Some visitors may find this too obsolete too.
But, don't worry, because it turns out you can transform this rug into a more attractive one.
It is not difficult other than just presenting a giant floor mirror, like in the picture above.
Lean the unit against the wall towards your dining table. Then now, you have made the presence of this classic rug even more impressive with its final double visualization.
19. Modern Farmhouse Dining Room Rug Ideas
Suppose your open space dining room is already filled with many things. In that case, never think of picking a dining rug with a flashy motif.
It's okay if it has texture. As long as the rug has a color that matches all the room elements, everything will always be pleasant to look at.
20. White and Blue Persian Rug for Large Dine-in Area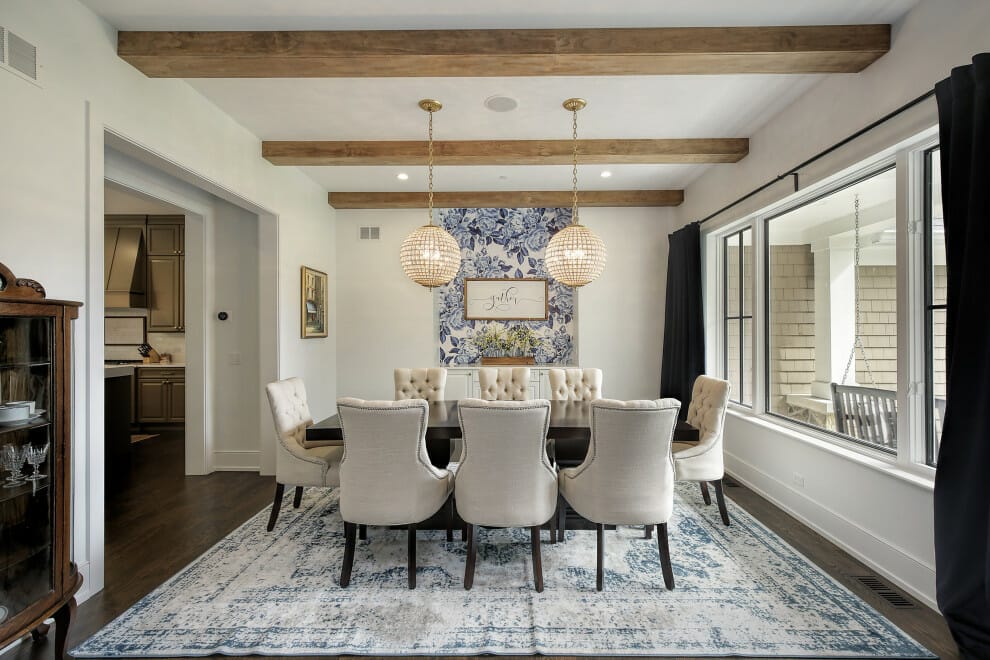 One of the dining rugs you should have is a Persian carpet with a faded motif in certain parts.
Instead of making it look worn, this rug really helps to highlight the existence of a patterned wall behind the dining table.
Look, the pattern of the rug, which has the same color as the accent wall, makes the atmosphere of your dining hall more balanced.
21. Basic Smoke Gray Rug to Highlight the Hardware Above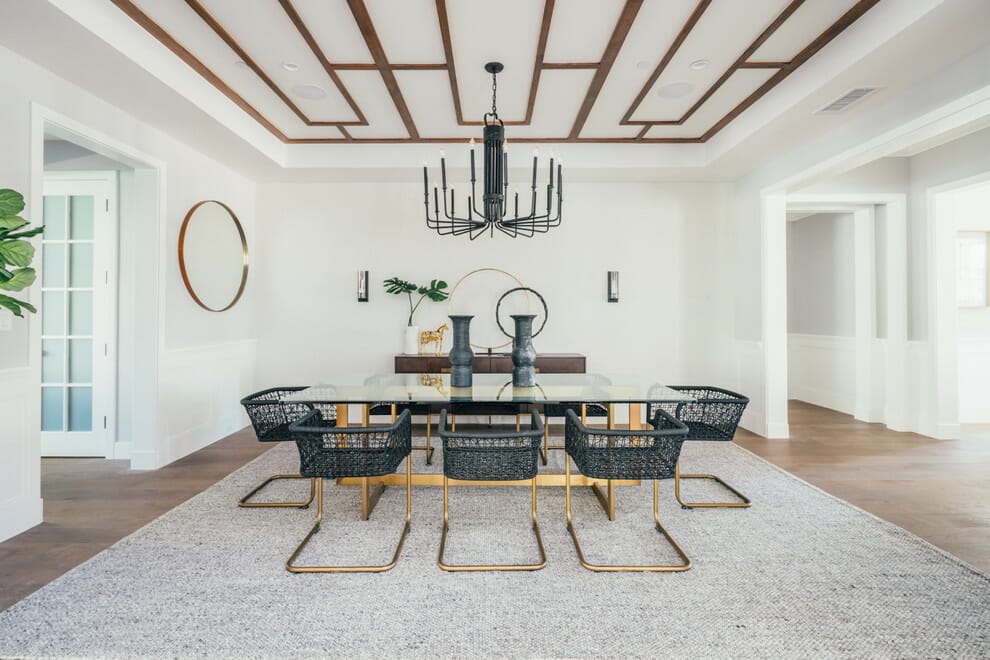 Suppose you already have an attractive ceiling and dining table set. You just need to go with basic dining room rug ideas.
The maze pattern that harmonizes with the brass legs of the chairs will be perfectly spotlighted with the smoke gray carpet. Not only for pleasing the eye, but the plain gray rug also makes the room look more spacious.
22. Round Rug in Identical Size with The Table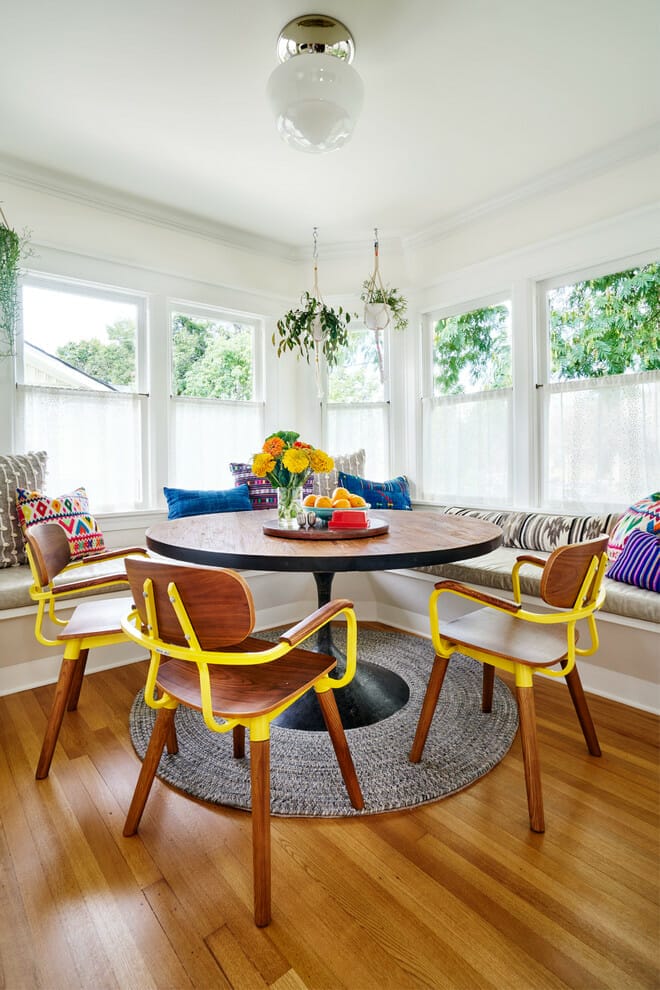 In other ideas, you have been led to choose a rug with a size that is wider than the table. However, you are allowed to take the same size as your round tableland in this option.
So, is that okay? Yes, absolutely. As long as it is not smaller, then this rug is still functional as it should be.
And because the dining room design has appeared with punchy colors and striking cushions. It would be better to go with a neutral-colored round rug.
23. Dark Gray Rug with Brown Classical Pattern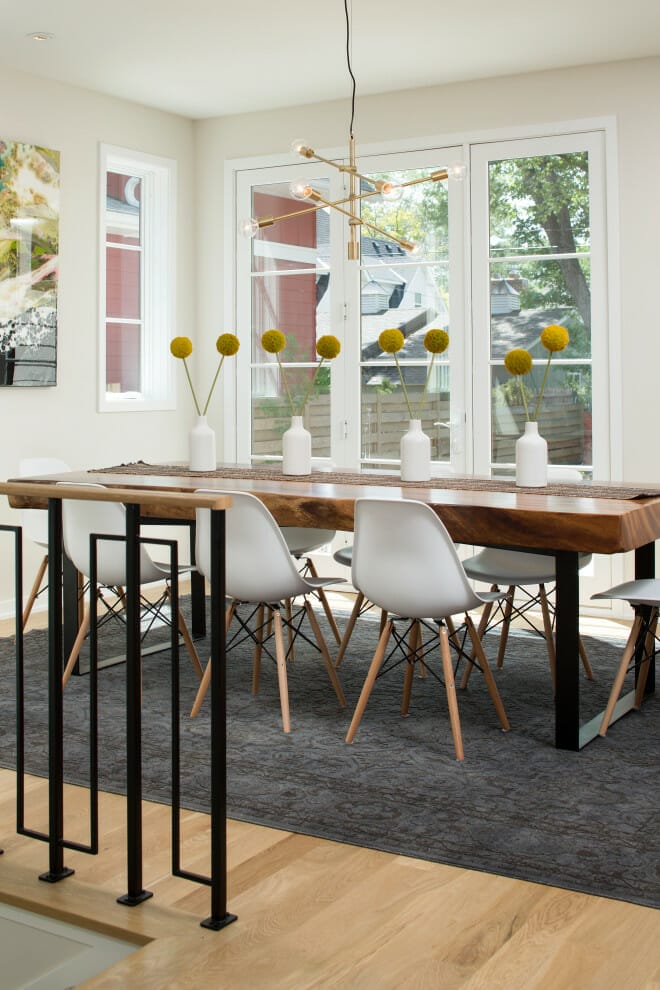 Again, gray occupies the most choice to be applied to dining room rug ideas. Undeniably, this color goes well with any interior decor. Let's say from rustic, traditional, to contemporary.
And in this idea, the classical rug complements the contemporary-style dining room. With colors that are pretty dark to the concept of the whole room, it strikes an outstanding balance.
Adding a pop-up color isn't a problem, whether in white hues, mustard, or earthy tones.
24. Austere Dining Room Rug Ideas with Giant Rhomb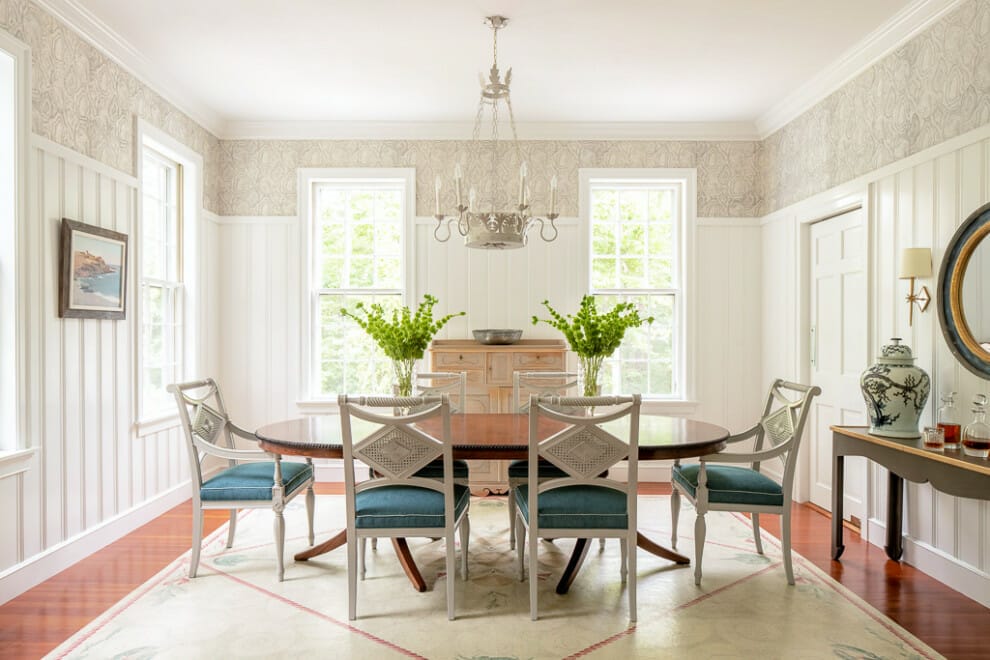 You want to achieve an understated style yet still have a terrific personality in the dining room. For this, you can set a cream-colored rug that has a giant rhomb in the middle.
Like the image above, the big rhomb in red still draws attention to the subtle décor themes.
Moreover, since this rug is placed on polished wood flooring, the small details on the carpet can still be well-spotlighted, though.
25. Navy Rug with Mustard Print Frame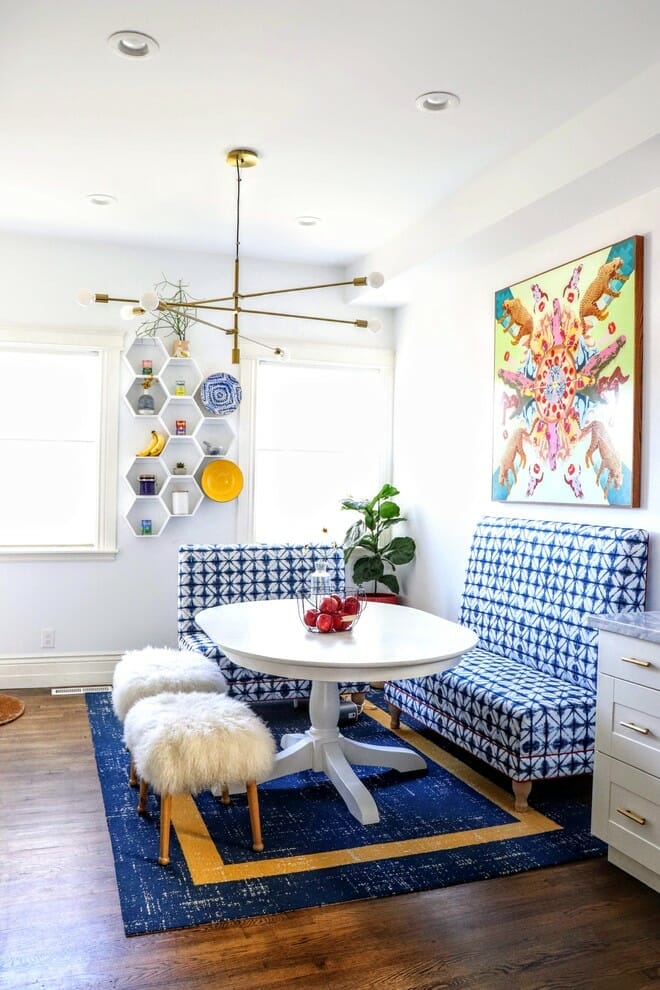 It's not a rule to have a round rug for a round table in the dining nook. Alternatively, you can also choose to go with a rectangular shaped carpet, though.
And suppose your dining chair already has a bold pattern, then make sure your rug comes in the plain with a matching color.
You can draw a distinctive personality through the mustard frame surrounding the rug.
26. Abstract Rug in The Same Color Scheme with The Chairs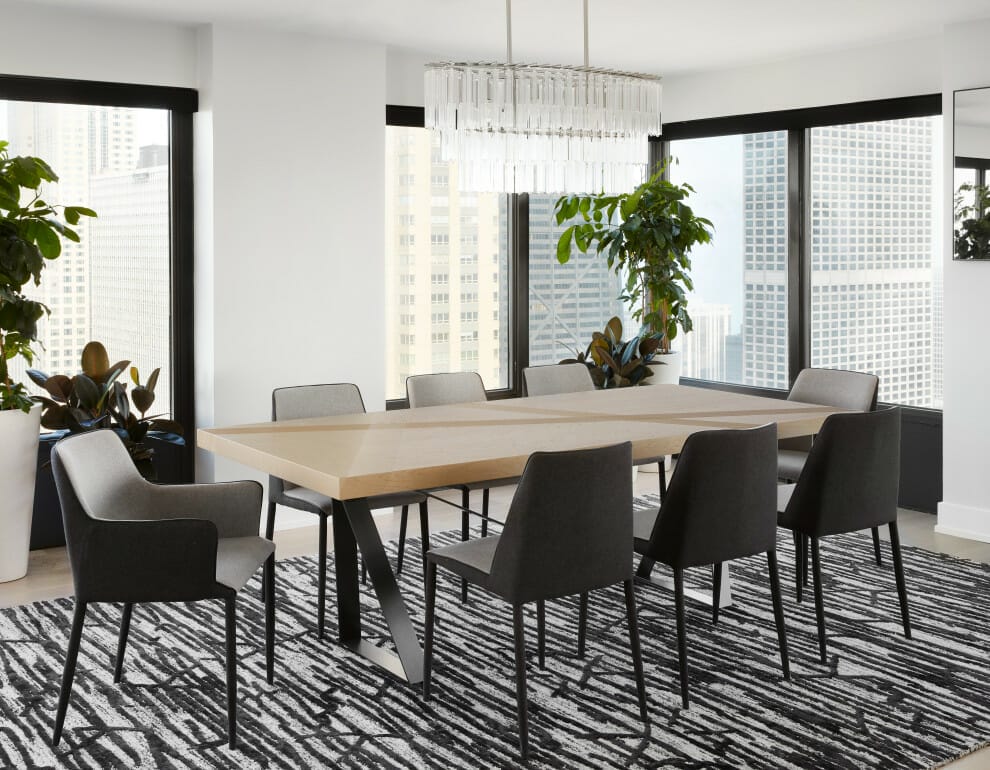 It is always better to adopt dining room rug ideas with a color scheme that matches the chairs.
With an irregular motif representing roots, this rug makes quite a complex scene on the floor. Thus, it is necessary to consider your tableland and ceiling in a lighter color so that everything is proportional.
27. Industrial Dining Room Rug Ideas in Light Gray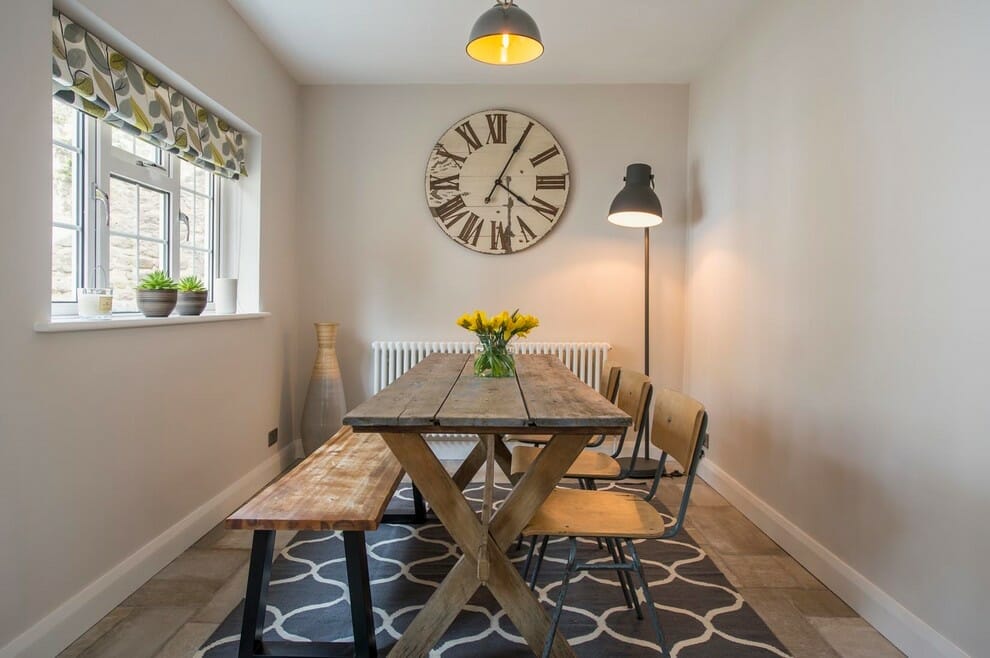 In the industrial-style dining room, all the robust furniture is the hallmark. And to reduce the stiffness, you should give a rug with subtle dyes, such as light gray, cream, or broken white, to make the room appear brighter.
28. Tiny Chevron Rug in Monochrome Scheme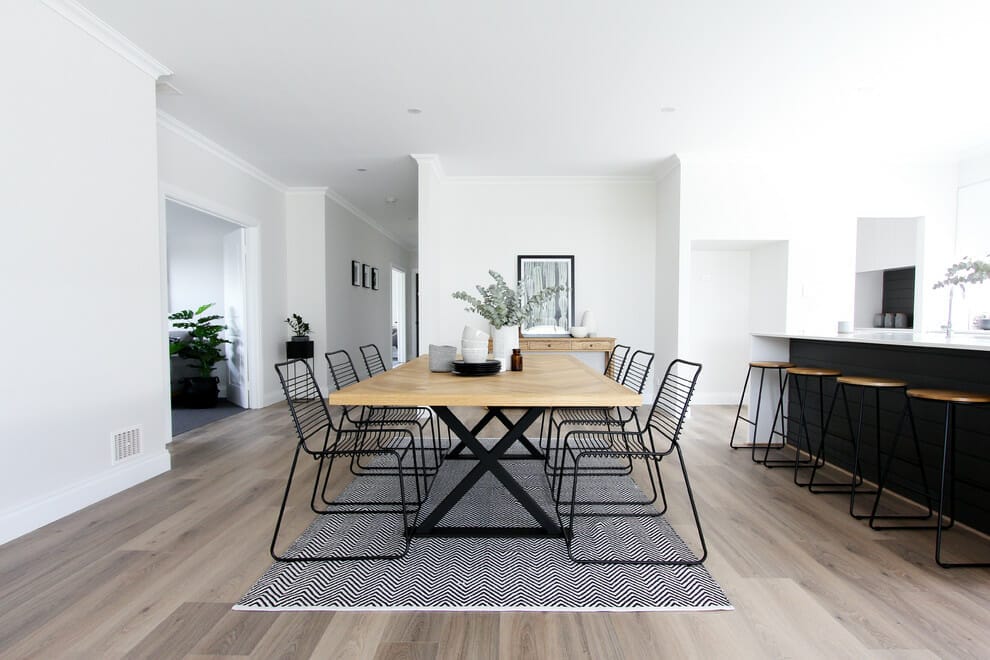 Tiny chevron accents on the rugs mostly look complicated and striking on the eyes, regardless of the color. Hence, adding drama to your simple dining table set using this rug is preferable.
Suppose your flooring is enough to provide an accent, then it's better to go with a neutral scheme like monochrome.
29. Modern Design with Colorful Honeycomb Rug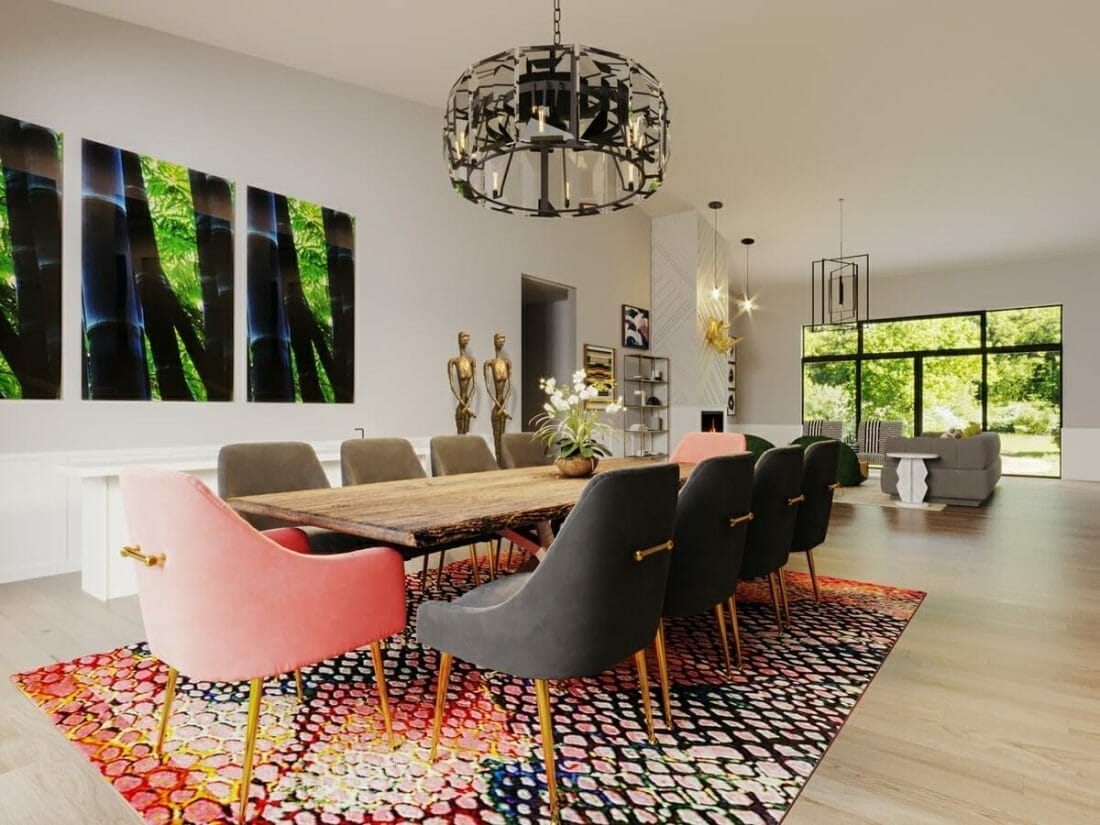 Last option, don't be afraid to add color to your dining rug. Because playing in the safe zone with only gray or other neutral hues can be tiresome.
Therefore, try to be more innovative by placing a colorful honeycomb rug like the picture above.
To hold everything in a cohesive state, keep your furniture in a simple form. Then let the gold accent on the rug highlight all the dining table sets.
The twenty-nine pictures of rugs under dining room tables above are here to inspire you. However, the final option to pick is still in your right hand.
Consider the best dining room rug ideas and prioritize its functionality over any aspect it can offer. After everything is clear, go ahead in renewing your dining hall!