Are you looking for driveway culvert ideas to make the most of your outdoor space? Then, you have landed in the right place.
Culvert is an important part of any driveway construction, especially if the building requires a crossing to a drainage ditch on your property.
Available in various sizes, culverts can be made of heavy gauge plastic, corrugated steel, or reinforced concrete.
To make your culvert appear more finished and eye-catching in your outdoor space, this article has collected a list of ideas to beautify this tunnel.
1. Driveway Culvert Ideas with Stacking Stones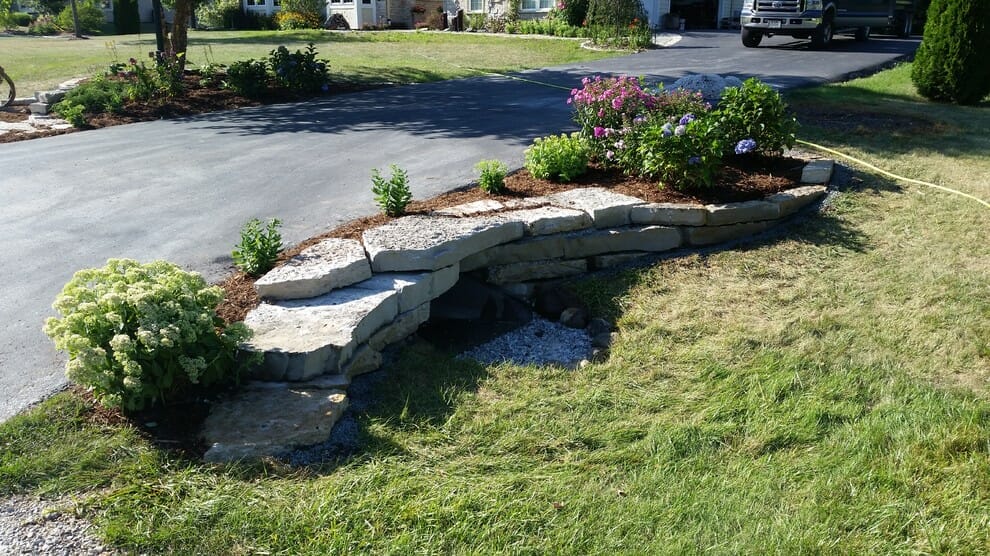 Finish your driveway culvert end with stacking stones for aesthetic and durability purposes. This design is perfect for a curved driveway with a medium slope.
For added beauty, you can create a small garden bed over the stone and grow some perennials or shrubs to soften the look. Trim the grass surrounding the culvert regularly to keep it charming.
2. Natural Beauty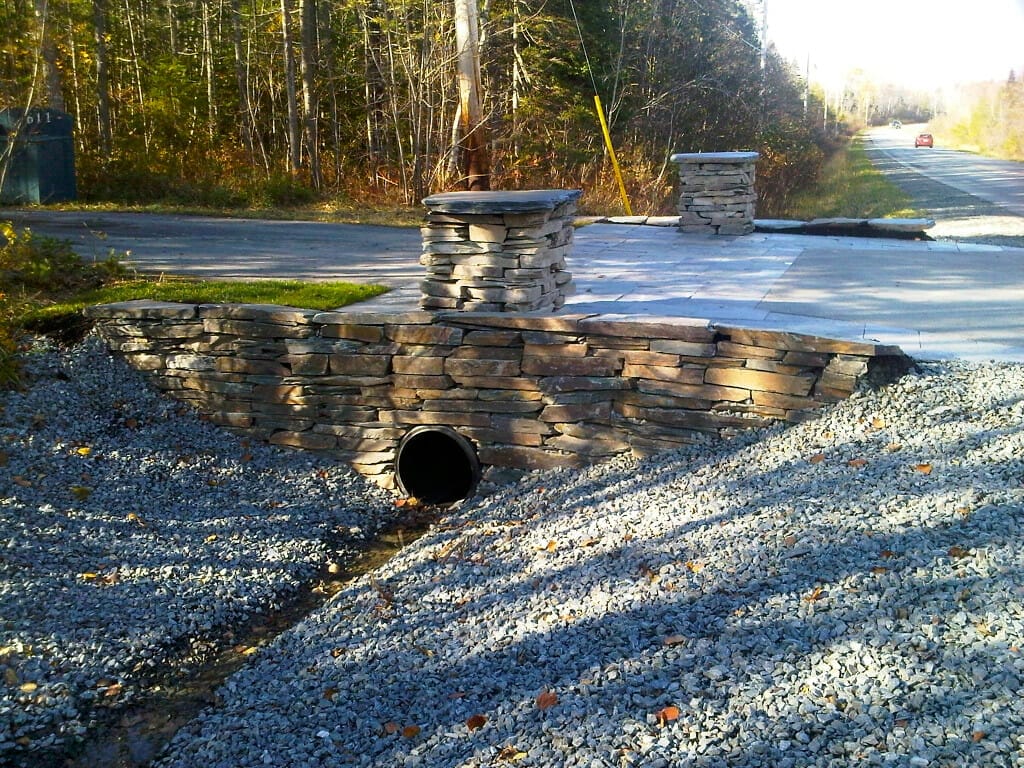 Avoid the culvert on your property from being an eyesore by landscaping its surrounding with stones.
This stone bridge has a natural vibe that matches its surrounding. To finish the look, a bunch of gravel covers the soil around the drainage.
Aside from the aesthetic purpose, the use of gravels here can prevent soil erosion that is more possible in slope areas.
3. More Finished Look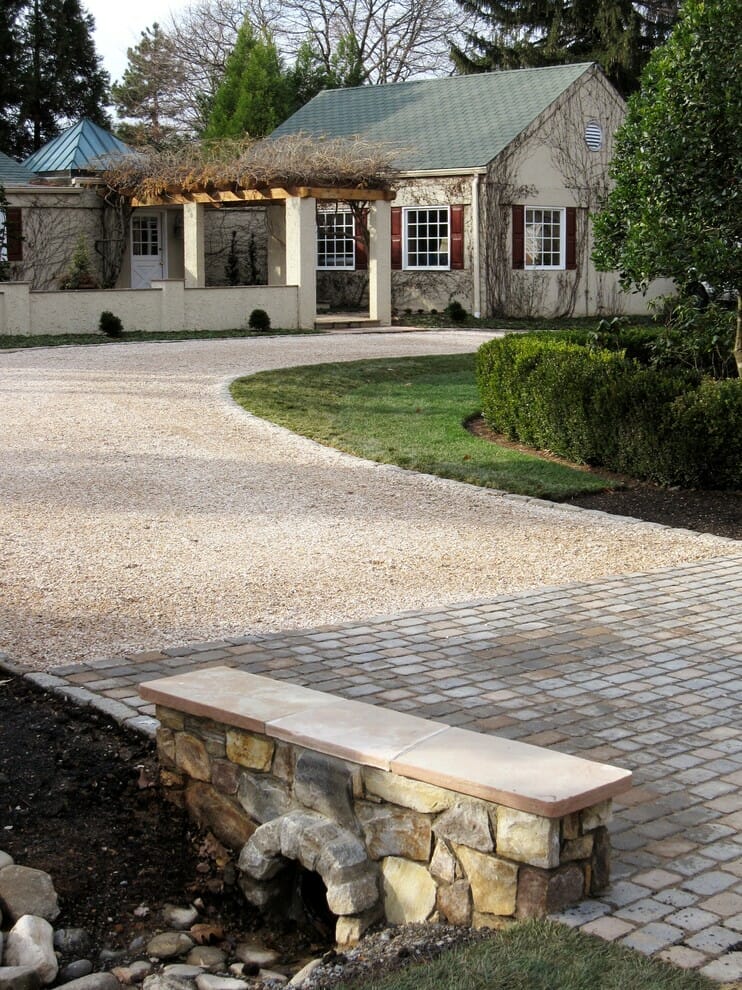 Different from the previous driveway culvert ideas, this one has a more finished appearance with the slab on top of the bridge.
The stones are carefully arranged to achieve such a neat look. The tones of the material used here match the paved driveway too.
4. Added Garden Lamp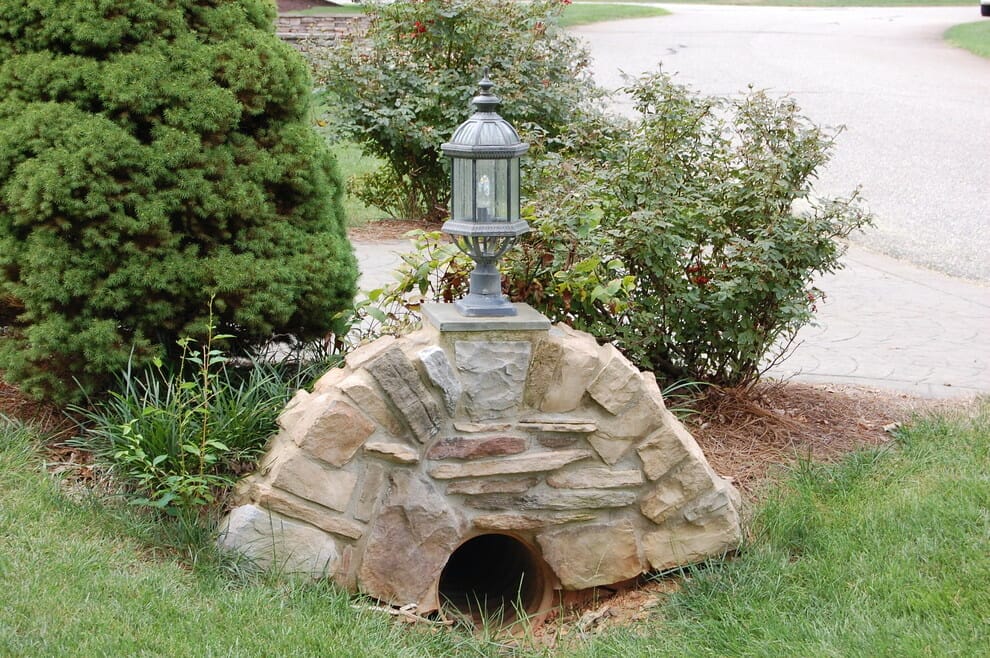 Make sure that the slope on your property is visible by installing a garden lamp around the area. You can position the light on top of the culvert end so that it can function properly.
You can opt for a solar-powered garden lamp to avoid the hassle of cable installation. When it comes to the design, a simple lighting fixture with a neutral color like this one will be perfect too.
5. Landscaping with Greeneries
Thick growing shrubs can create a charming natural barrier that blocks the view of your ugly culvert from the front yard.
Boxwood or other broad-leaved evergreen bush varieties make a great choice in this case. Although they may require more care, shrubs will provide you with long-lasting beauty.
If you purchase any variety of shrubs for the first time, make sure to decide the eventual shape and size of how it will grow in the future before buying.
6. Stones and Grasses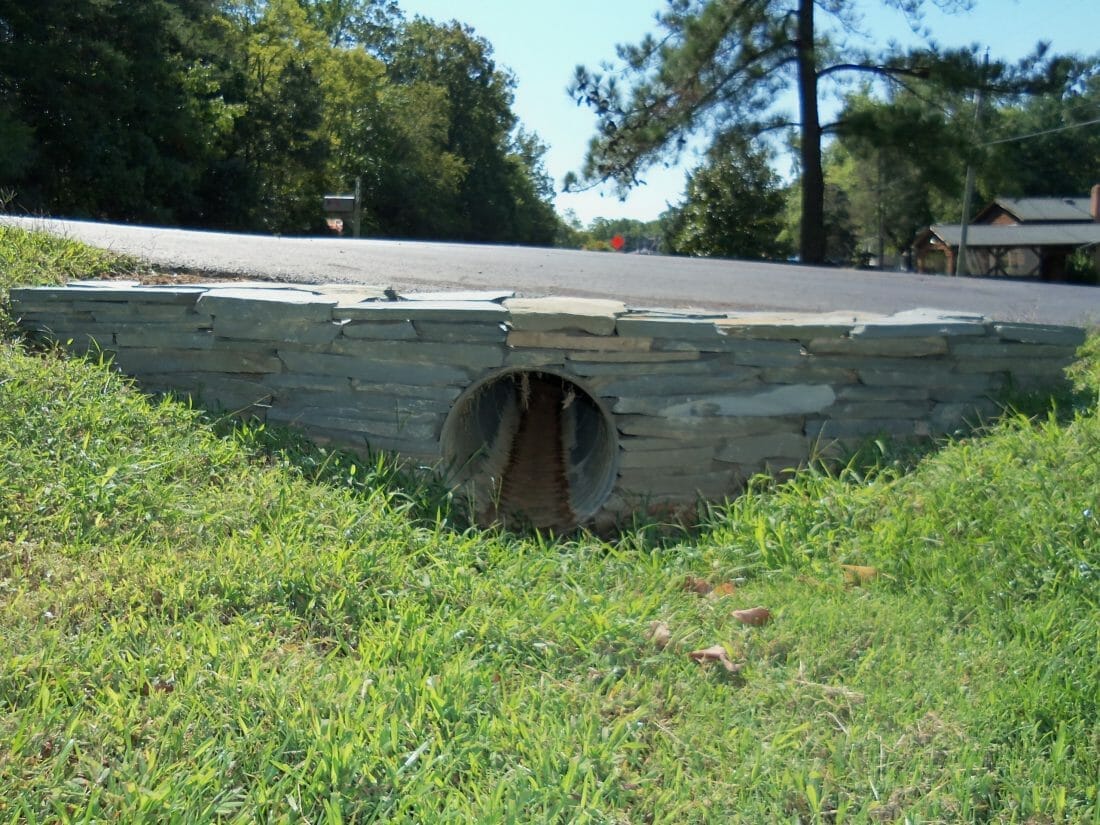 This is another one of driveway culvert ideas that look natural with the use of stone materials. Its messy arrangement is the reason why it appears natural.
The thick grass around the end of the culvert makes it look more meant to be as well. For a pop of color, you can consider incorporating some flowering plants in this area.
7. Simple Bed and Fence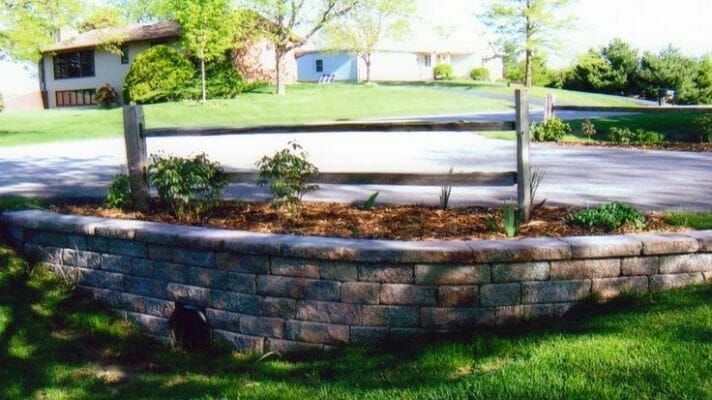 Build a simple wooden fence as a physical divider between the driveway and the flower bed. This makes a nice tool for growing trailing or creeping plants as well.
A stone retaining wall is used to finish the culvert end while keeping the flower bed there. Let turfgrass grow around the tunnel for a livelier look.
For the bed, switch the flower you plant depending on the season or grow everlasting varieties of petunias for added colors.
8. A Narrow Garden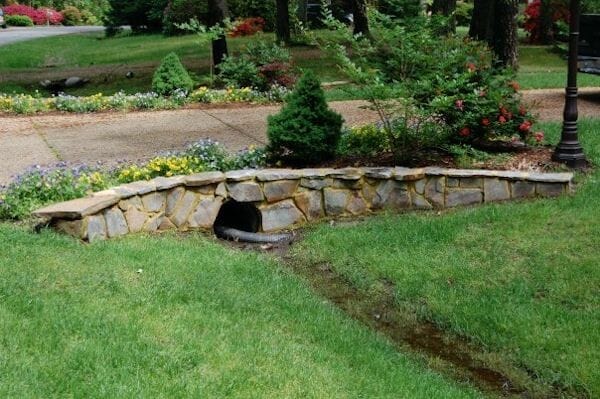 Once you have finished the culvert end by stacking stones in a beautiful design, use the soil above it to create a narrow garden that serves a variety of plants.
From boxwood to a small tree to different blooming shrubs, this small garden bed has everything needed to make your driveway look striking.
Mirror the arrangement of this narrow garden bed on the other side for added beauty.
9. A Lush Greenery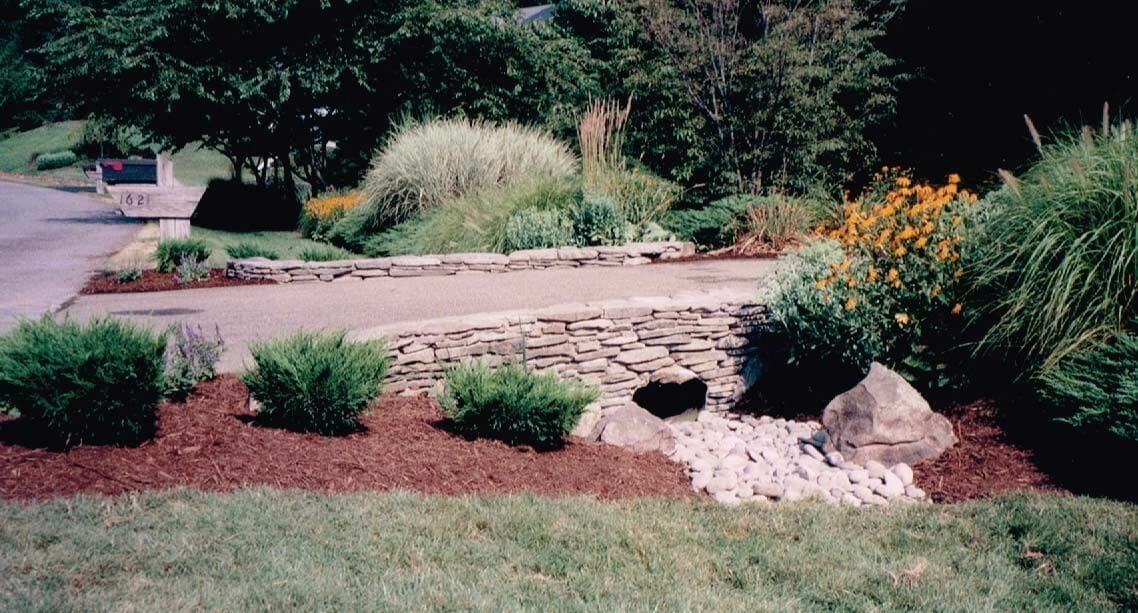 Greeneries always make a great decorative purpose in any place and your driveway is not an exception.
Complete your driveway culvert ideas with lush ferns and flowering shrubs. Instead of turfgrass, cover the soil around your plants with mulch for extra color and functional purposes.
Incorporate some large stones around the culvert end too for aesthetic appeal.
10. Easy Driveway Culvert Landscaping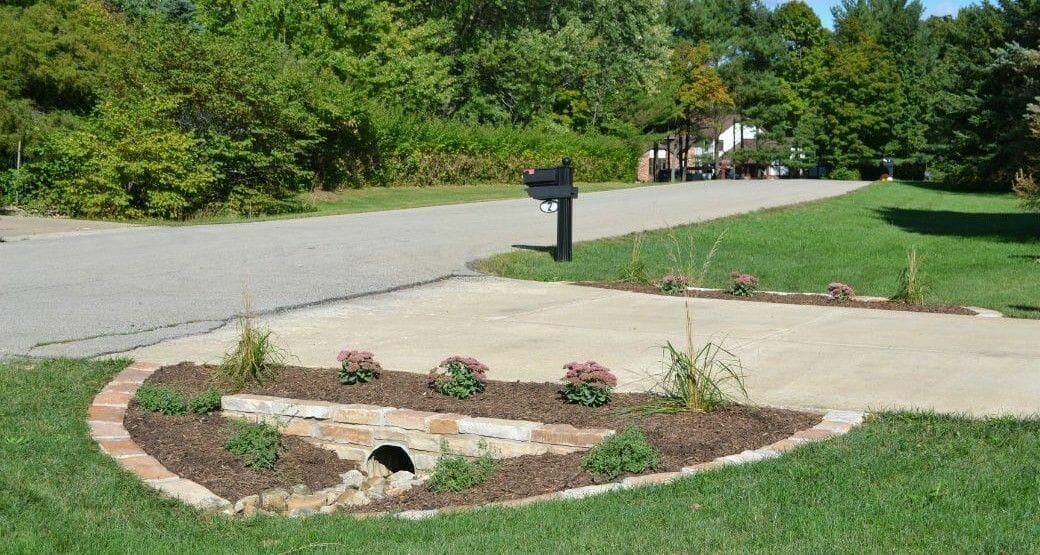 There is no need to complicate the landscape of your driveway culvert. With a simple landscaping idea that incorporates some plants, you can have a beautiful outdoor design.
This culvert end design has one of the simplest landscaping approaches with the use of exposed brick retaining wall and a garden bed surrounding it.
Separating the turfgrass area and the garden bed is a series of bricks that form a semicircle.
11. Another Beautiful Garden Bed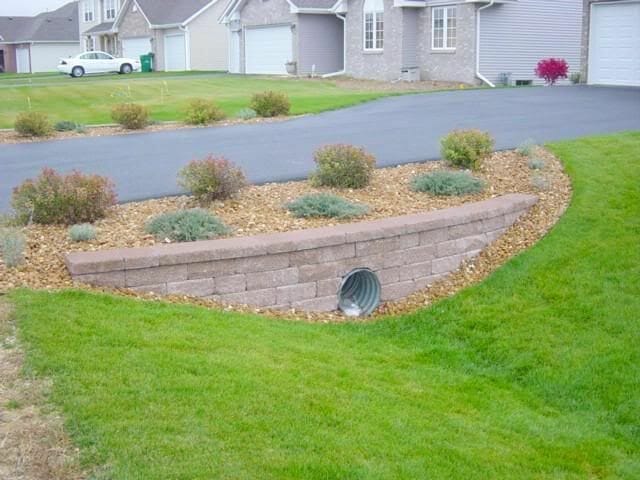 If you need another good approach to incorporate a small garden bed on the culvert end, this picture shows a beautiful example.
To keep the neat look, you may need to prune the groundcovers regularly and shape them into the desired design.
12. Natural Solution for Driveway Culvert Ideas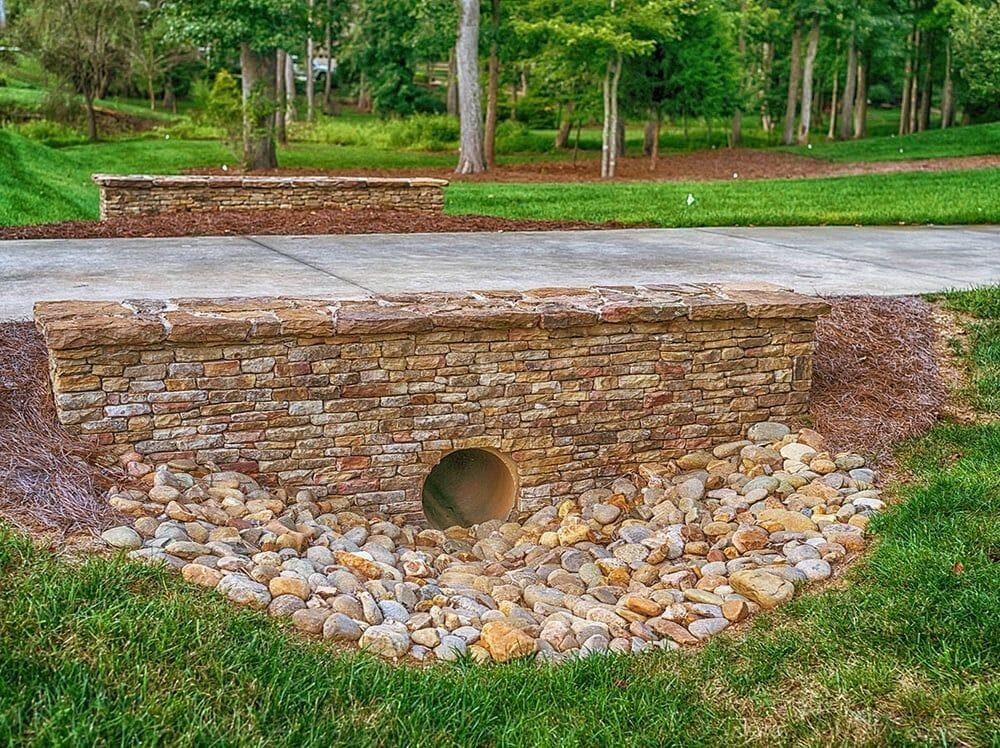 Dry stones are one of the most favorable retaining wall materials because they can give such a natural style to your outdoor space.
While they cannot control water flow better than the others, you may need to incorporate natural stones around the culvert end for functionality.
Besides, it will be a good choice to elevate the wall so that it is higher than the driveway surface for aesthetic purposes.
13. Small yet Mighty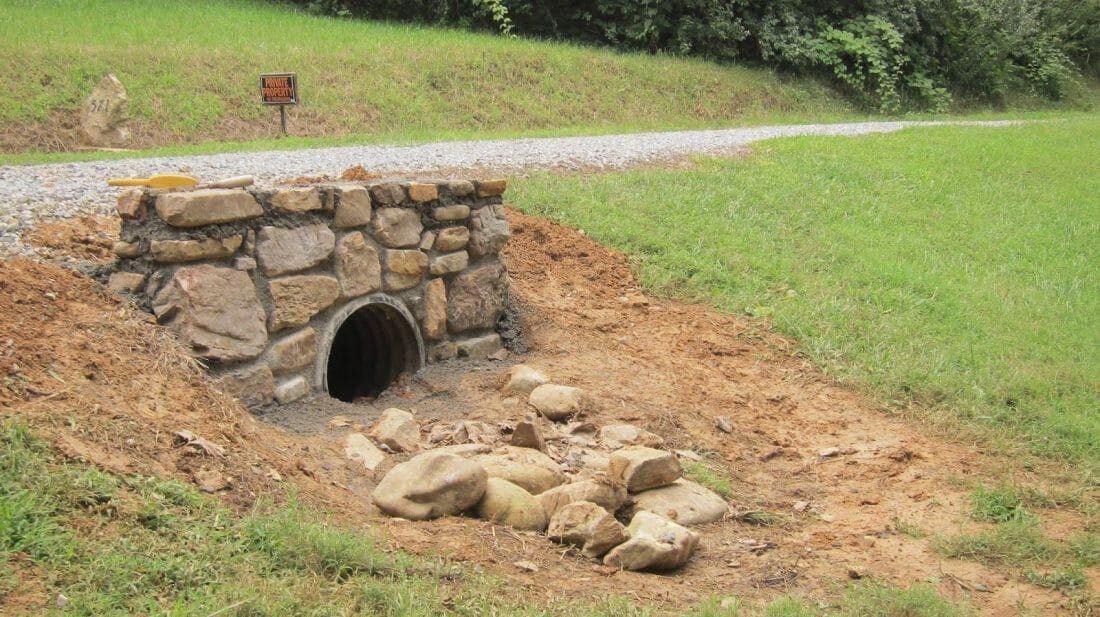 Stones with different sizes and shapes are used to build this small retaining wall, offering a natural look that you cannot get with the other materials.
Although this culvert end has a tiny retaining wall, it still gives the tunnel a more finished look and protective barrier.
14. Stacking Larger Stones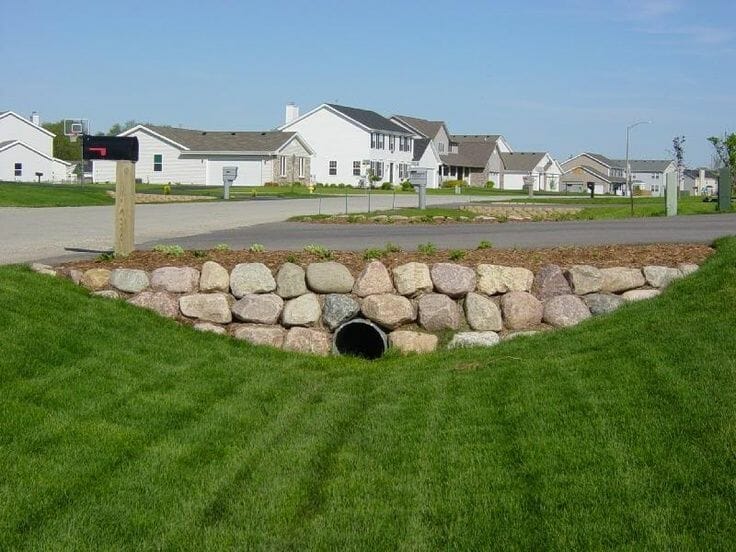 If you want to make a more natural look around the culvert end, go with this idea. It utilizes a bunch of larger stones that come in diverse colors and shapes.
The dissimilarity in the materials turns this retaining wall even meant to be. There is no track of the use of concrete casting to build the construction as well.
Hence, it is safe to say that the stones are simply stacked with soil to keep them in place. No wonder the wall turns out more natural than other driveway culvert ideas.
15. Eye-catching Culvert Ends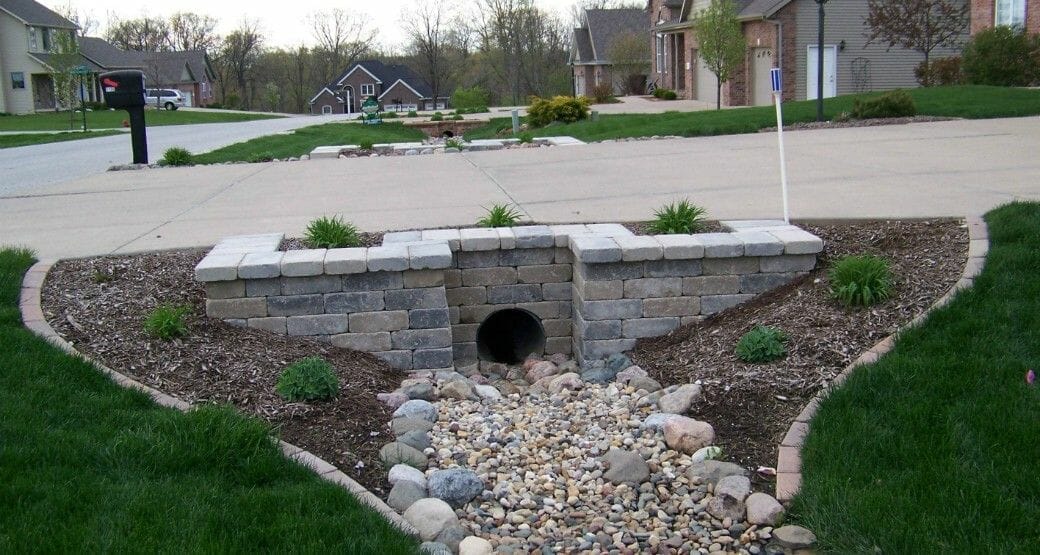 This is what you can expect from a culvert end design that is located in a front house driveway. From the retaining wall to the landscape, everything seems well-maintained.
The design of the retaining wall will remind you of the classical castle with its protruded construction and the culvert as the gate.
Meanwhile, a connecting structure of concrete blocks becomes a divider between the plant bed and the thick turfgrass for a statement.
16. A Beautiful Sloped Garden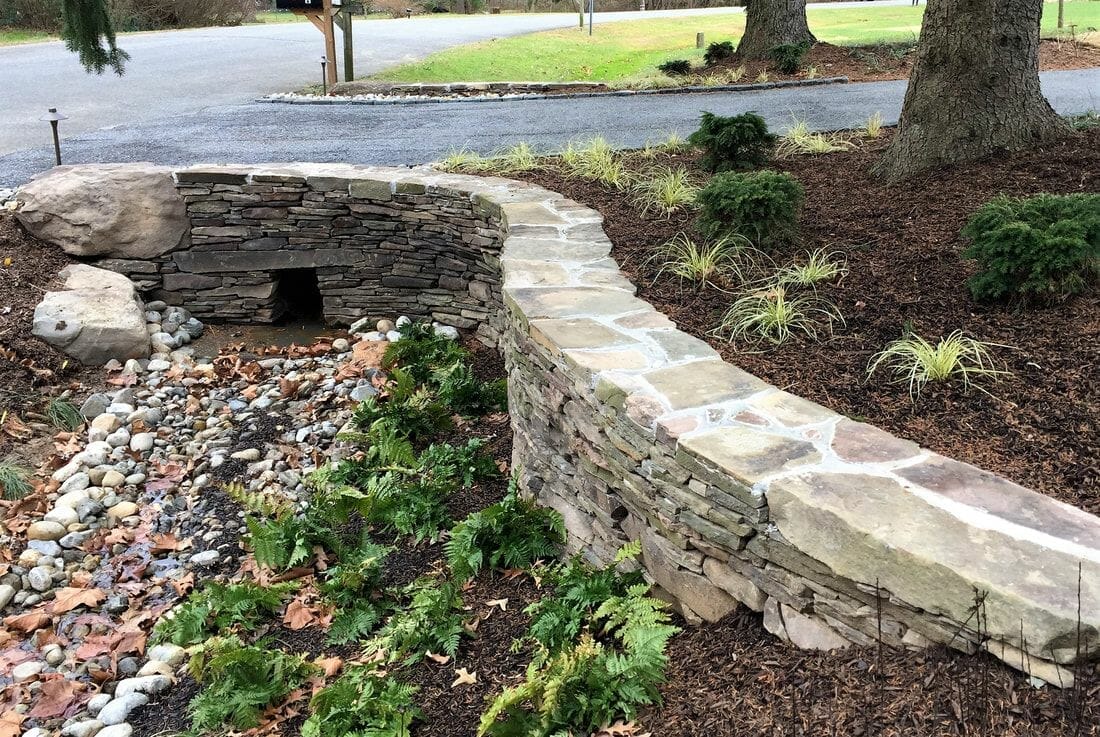 This culvert is under a driveway that crosses a sloped garden. For aesthetic appeal, the landscape design incorporates a stone retaining wall that doubles as a protector against soil erosion.
With a curvy design, the retaining wall gives the sloped garden a touch of beauty. Small variegated foliage plants align beside the top of the retaining wall, acting as a groundcover as they grow along with the green shrubs.
17. Uneven Top for a Style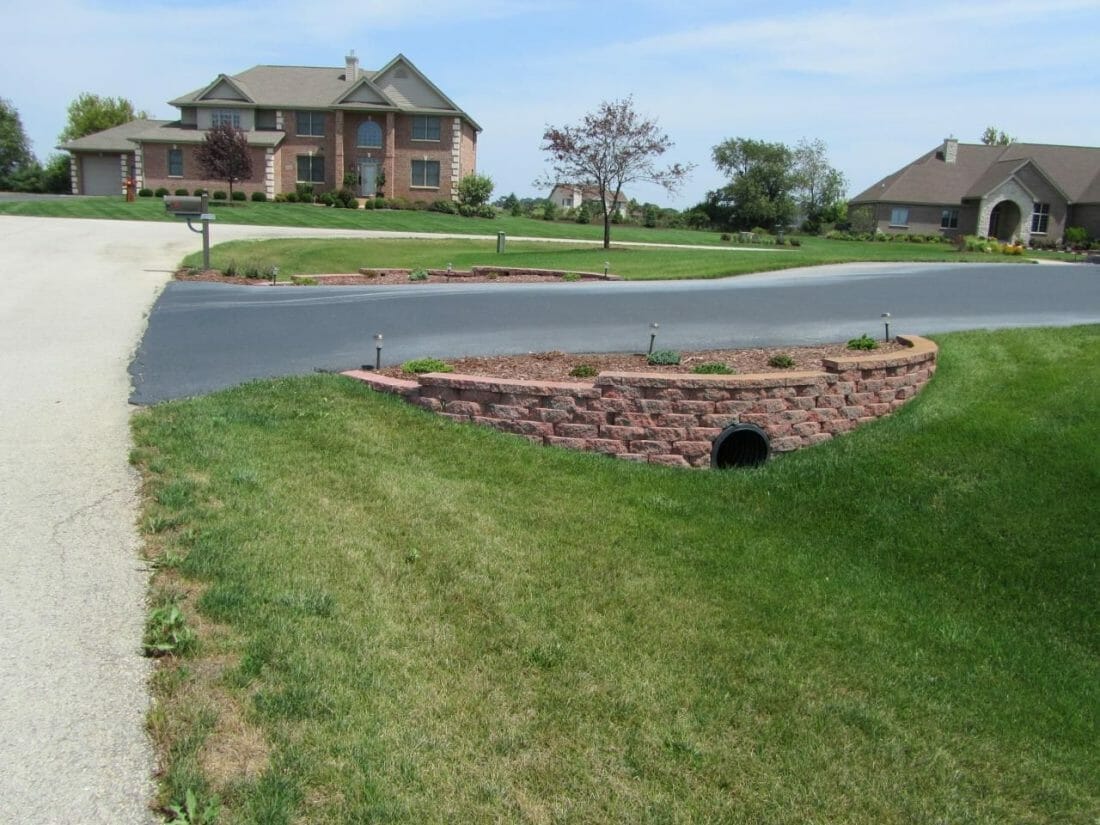 If you are looking for driveway culvert ideas with bricks, this one should be on the list. It is no secret that this material is also preferable due to its durability and flexibility.
Thanks to the use of bricks, this culvert retaining wall can suit any style of garden and landscape. You will love the uneven top design that makes it more interesting as well.
18. A Stream of Colored Gravels
Many landscaping ideas utilize colored gravels as one of the ways to beautify an outdoor area. If you are unsure how to use them, take a look at this driveway culvert idea.
While the culvert end does not feature a grand retaining wall, the stream of colored gravel makes the design more appealing. Their brown tones appear eye-catching against the wide green grass.
19. Thick Blooming Shrubs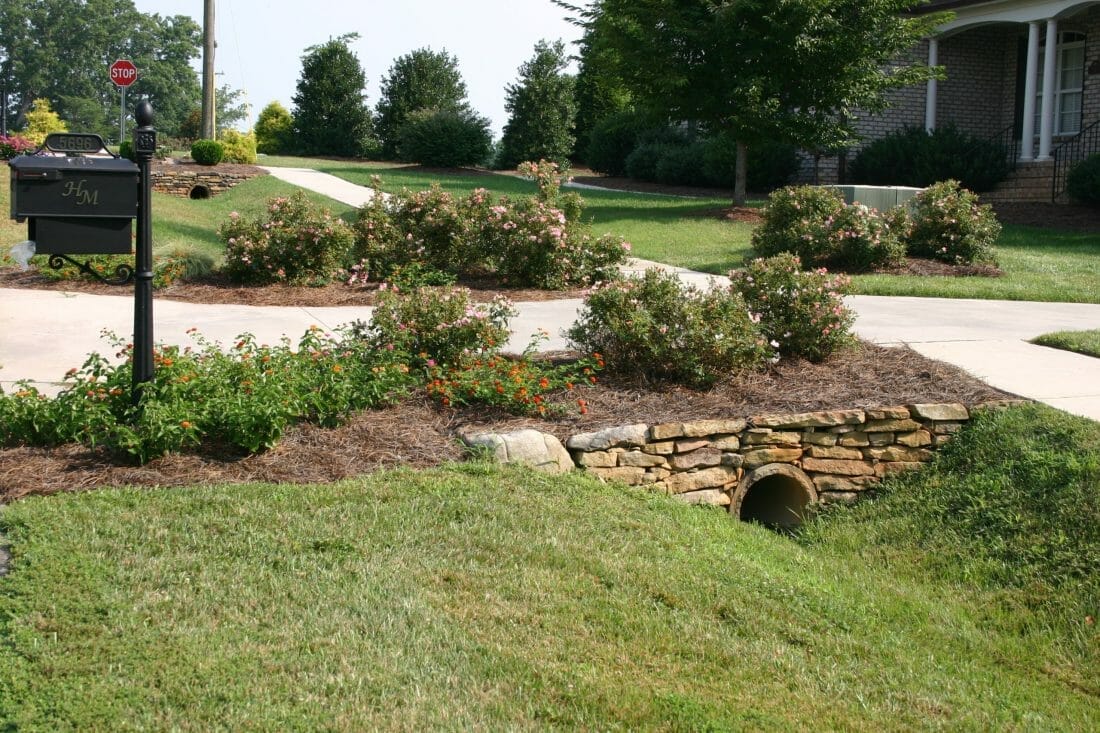 Create a low-growing hedge that can block the view of your culvert from the yard. Opt for shrubs that grow thickly or vines that double as groundcover for the best choice.
Go with blooming slow growers will make a great choice as well since they can provide your culvert landscape with additional colors.
Meanwhile, to finish the look of the culvert end, you can always count on some dry stones and stack them carefully.
20. Concrete Block with Curves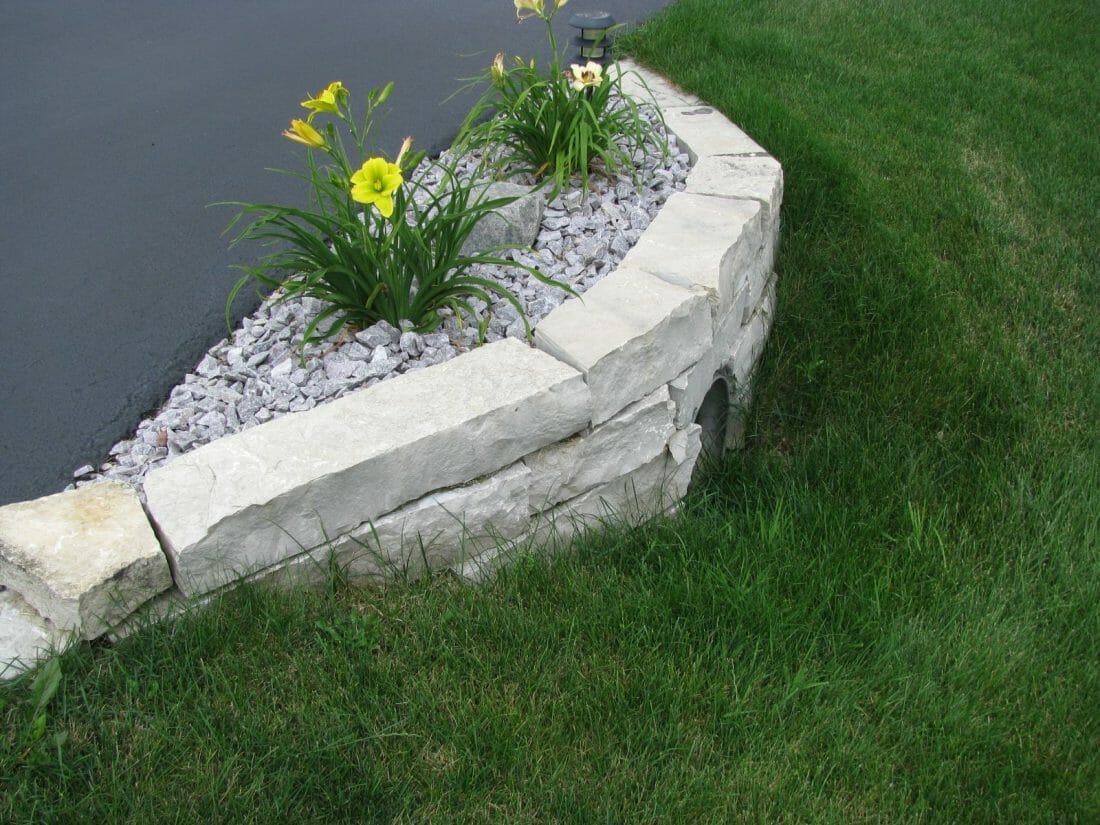 If you want to create curves, concrete blocks are indeed the best material. However, you should refrain from using them to build a retaining wall that is higher.
For a low-height finish like shown in this picture, using concrete blocks makes a great choice to create unique curves and a neutral statement against the lavish grass.
A pair of petunias sit on the white gravels over the culvert, offering a stunning addition to the landscape.
21. Stunning Black Mulch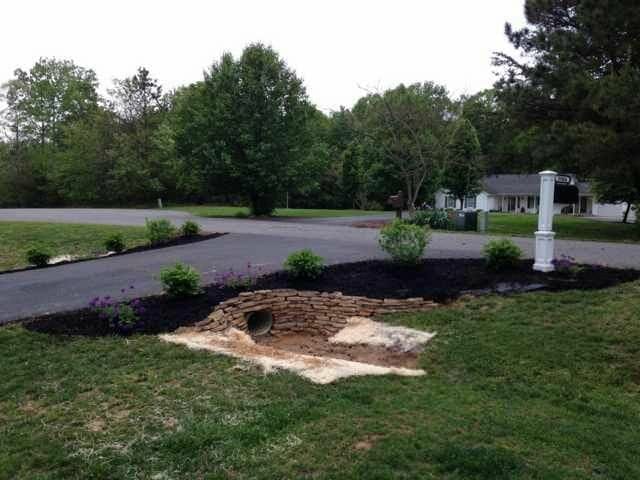 Black mulches can be a great landscaping idea with their dark tones. It makes a perfect option when you want to introduce a contrasting beauty in your garden.
This culvert design utilizes black mulches in the right way to create a statement in the landscape.
22. Upright Perennial Plants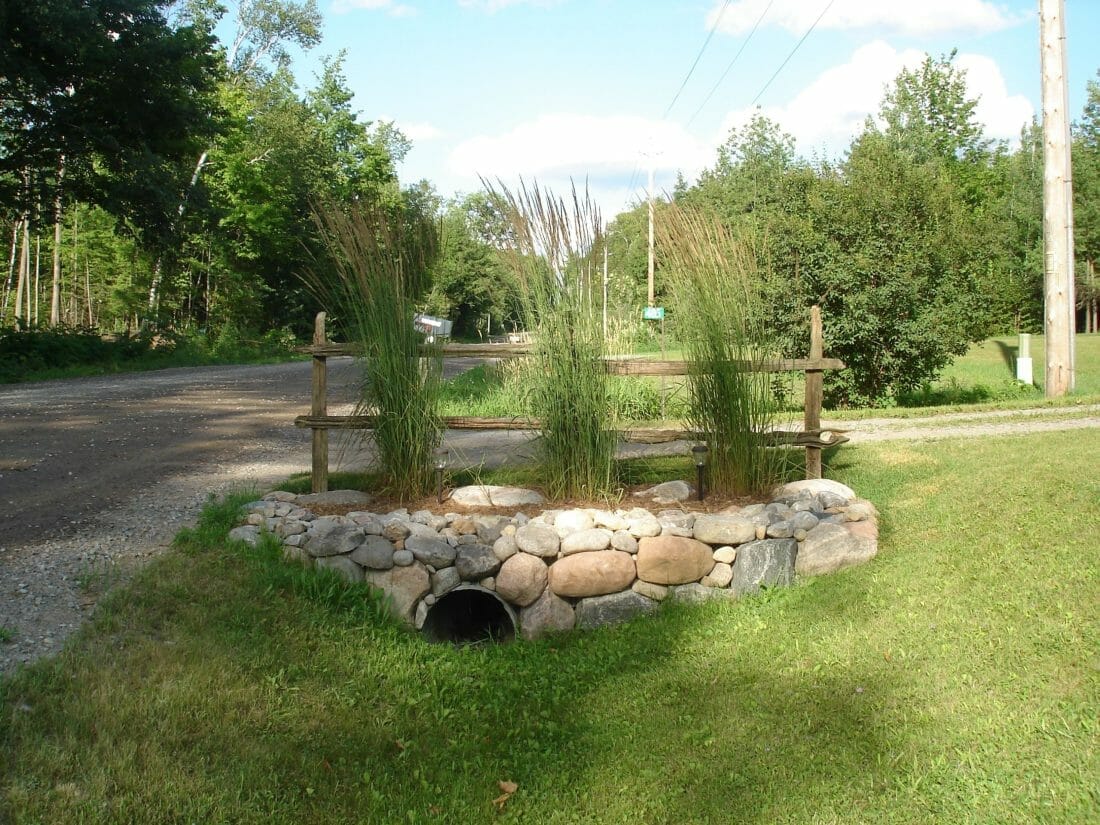 Introduce a sense of height in your culvert landscaping by growing upright perennial plants like cattails. They are sturdy and tall varieties that will beauty your garden bed for a long time.
To support their growing habit and a touch of nature, you can incorporate a DIY wood stick fence in the landscape.
23. Almost Unseen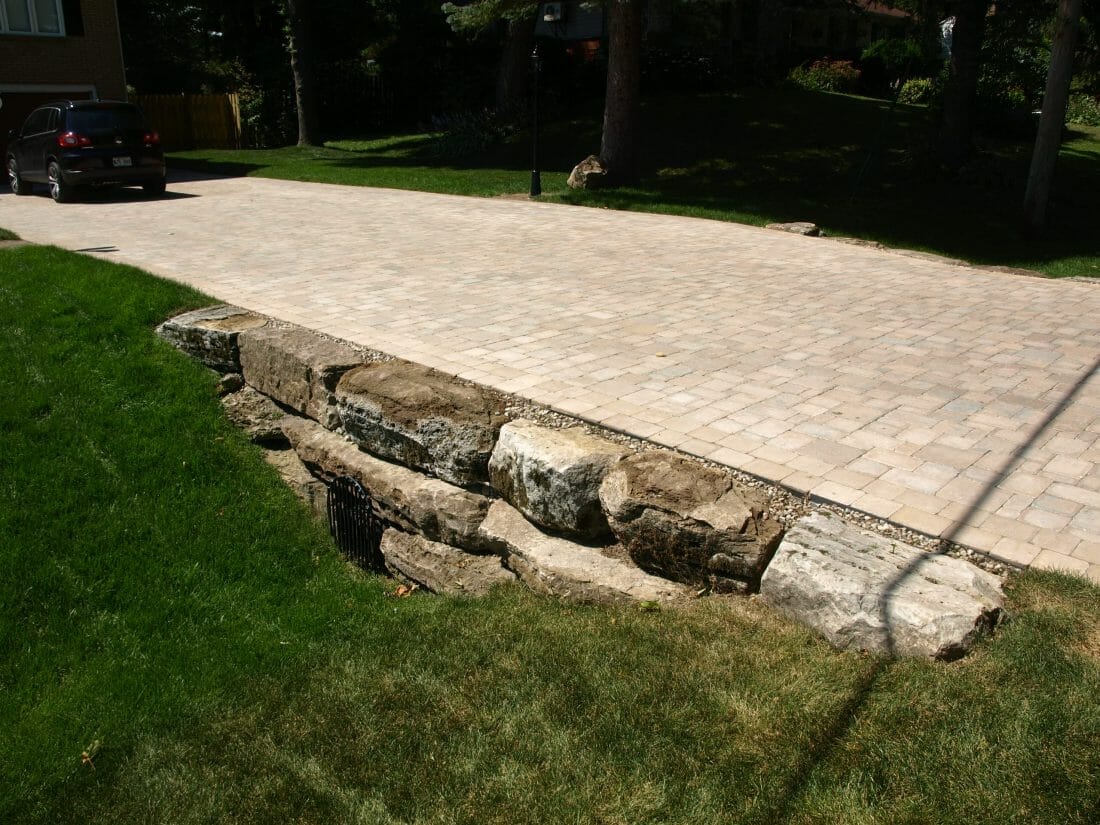 This idea makes that ugly culvert almost hidden with the bulky stone arrangement. Its size also offers an eye-catching statement against the concrete block driveway.
Meanwhile, the natural look of the stones will make this structure feel meant to be in your landscape.
24. Driveway Culvert Retaining Wall with Stones
Stones are indeed a popular retaining wall material in any landscape. They go well with any home and garden styles thanks to their natural beauty.
Besides, you can easily arrange them into a desired shape and top the finished construction with flat stones for an added surface.
25. Keep It Natural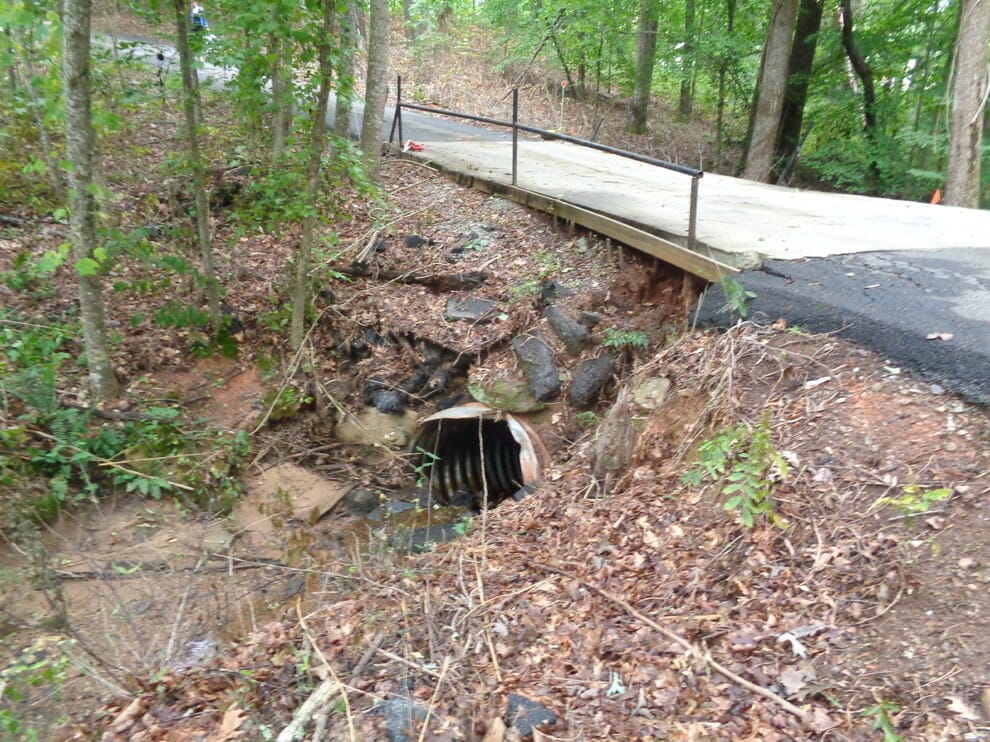 If you are okay with the natural look of your culvert end, maintaining the appearance that way should not be an issue.
However, you may still want to grow some trees around the structure to make sure that the soil will not slide overtime.
26. Poured Concrete Finish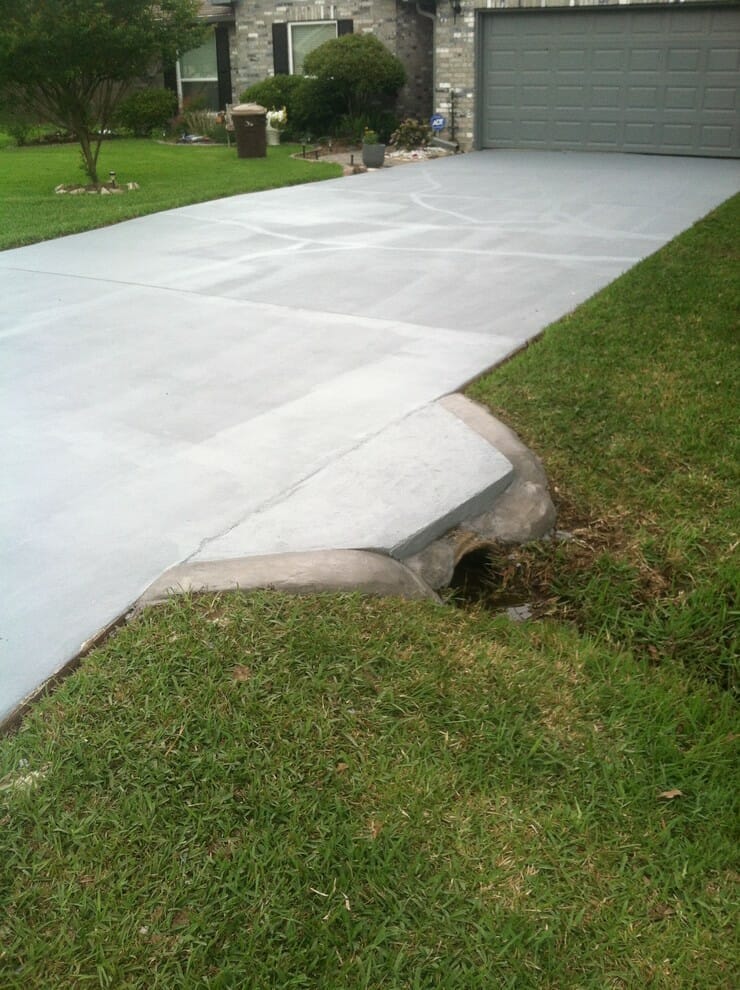 If you are looking for driveway culvert ideas that are more flexible than others, this one is the answer. Poured concrete allows you to have various design options without too much problem.
Besides, poured concrete is stronger than a block retaining wall. However, you should be aware that the material may crack in the future.
For a house with modern landscape, a culvert design with its smooth and sleek look will be perfect.
27. A Snow-Like Design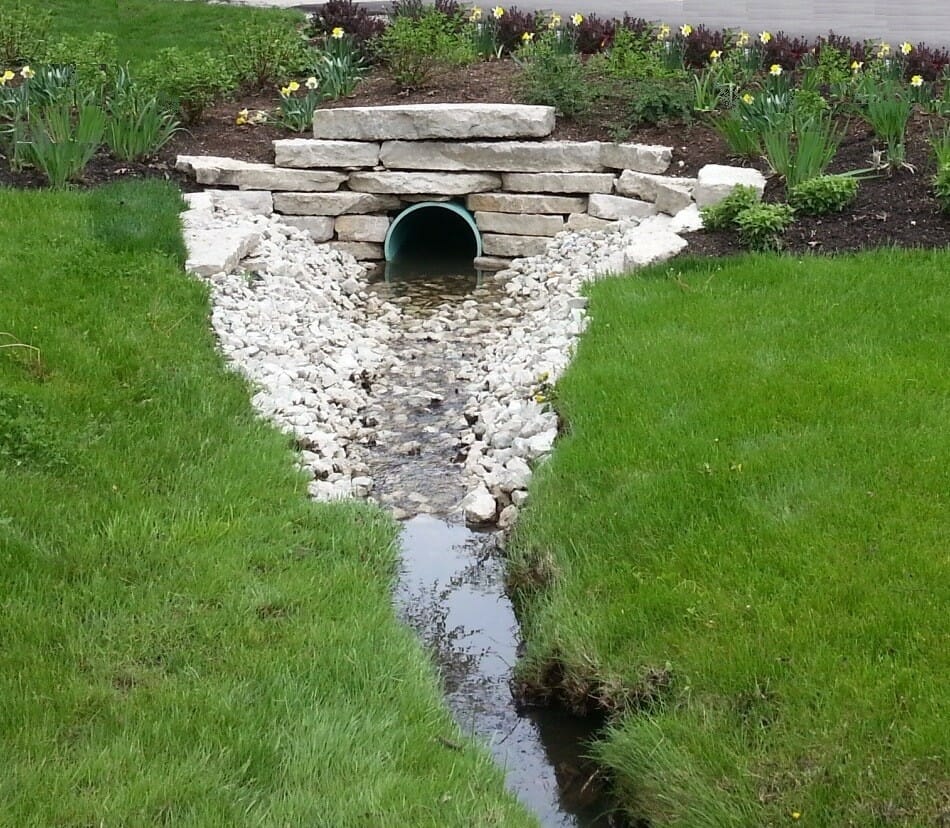 Landscaping an area around the culvert end can be difficult, but you can pull out a striking look by combining natural materials and plants.
With minimal uses of stones on the retaining wall and a narrow garden bed, this landscape is enough to encourage conversation.
28. A Grand Bridge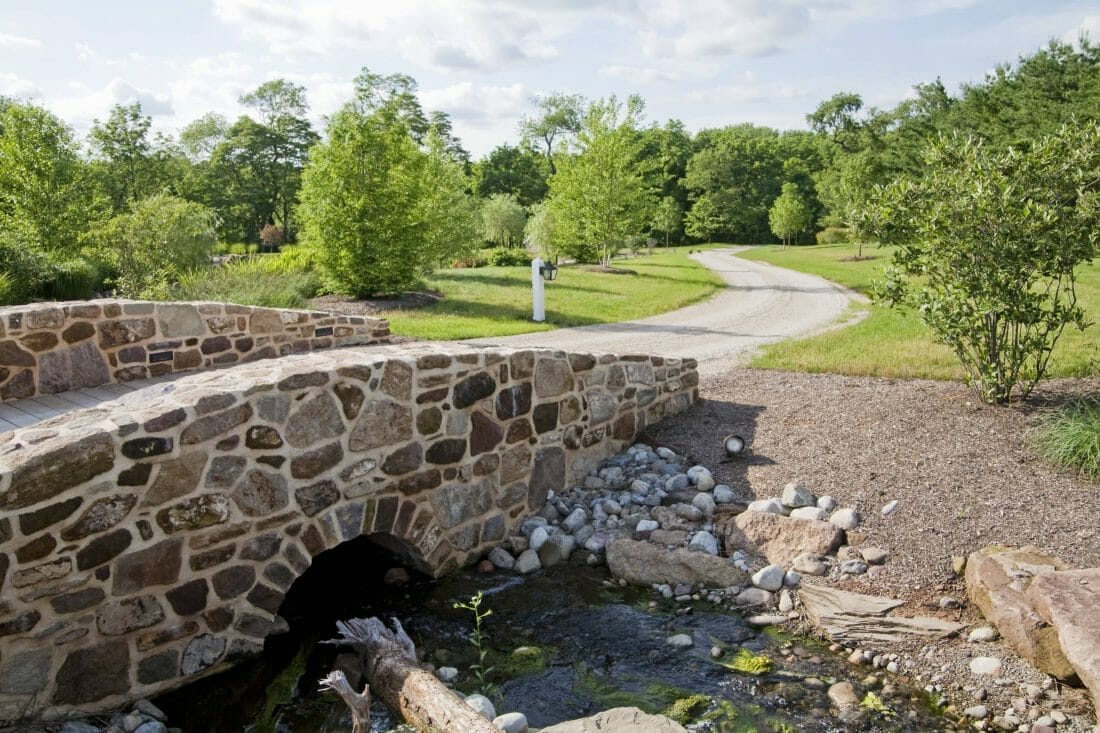 Instead of creating a simple retaining wall for the culvert end, you can build a bridge for a grand structure. Besides, this will allow a better water flow for a bigger tunnel.
Although it costs more than a simple culvert design, the durability of a proper stone bridge like this one will make the idea worthy.
29. Unique Tree Bed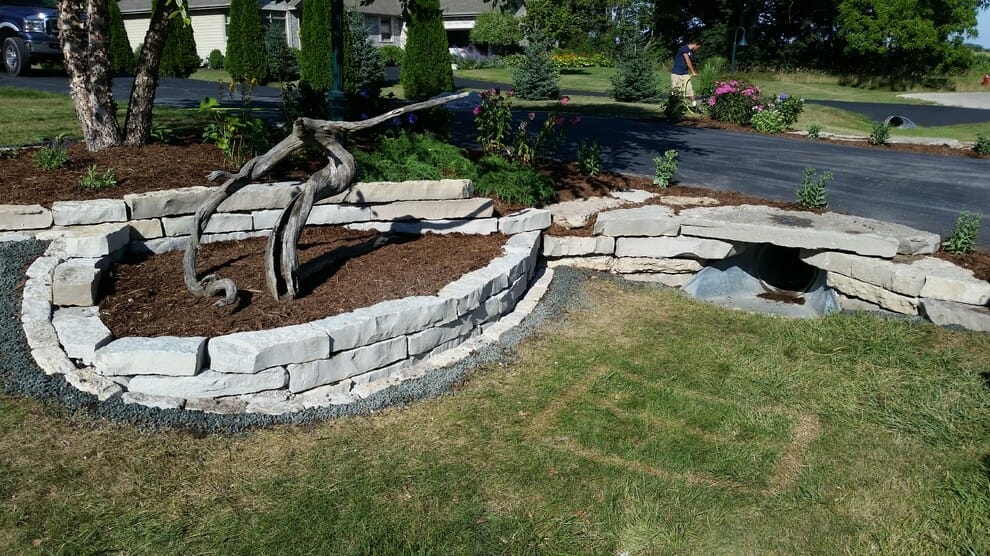 The first thing that will catch attention from this landscaping idea will be the elevated bed next to the culvert end.
This semicircle raised bed houses a tree without leaves that look unique. Greeneries around it lend lively color that makes the overall landscape appear more stunning.
30. Stones and Colored Gravels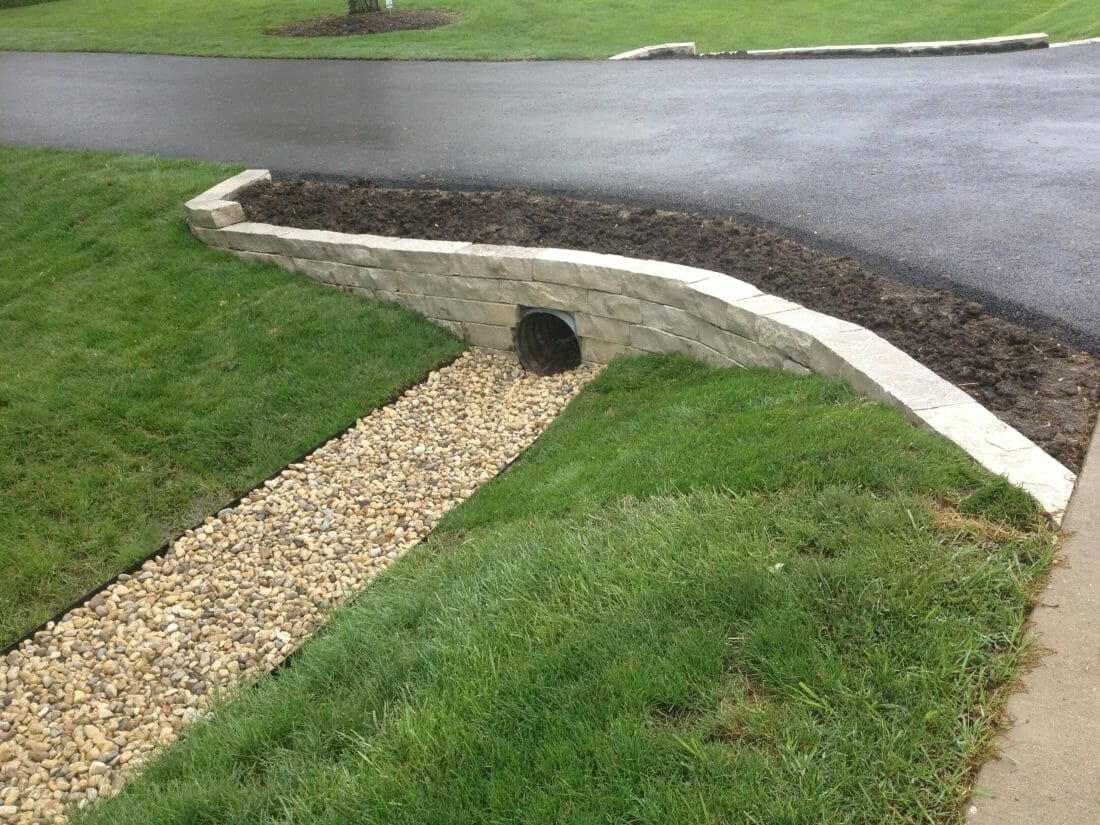 Lastly, if you are a fan of a neat landscaping design, try to steal the look of this driveway culvert idea. You can use the narrow bed over the structure to plant sturdy perennials, beautiful shrubs, flowering ferns, or any other varieties you like.
Now that you get to the end of the list, you must have found some driveway culvert ideas that catch your attention!