There are so many ways to decorate your home. However, half wall paneling ideas are particularly popular nowadays.
If you are unsure how to execute the trend, check out the following half-wall panel ideas and find one that meets your taste.
1. Elegant Classic Half Wood Paneling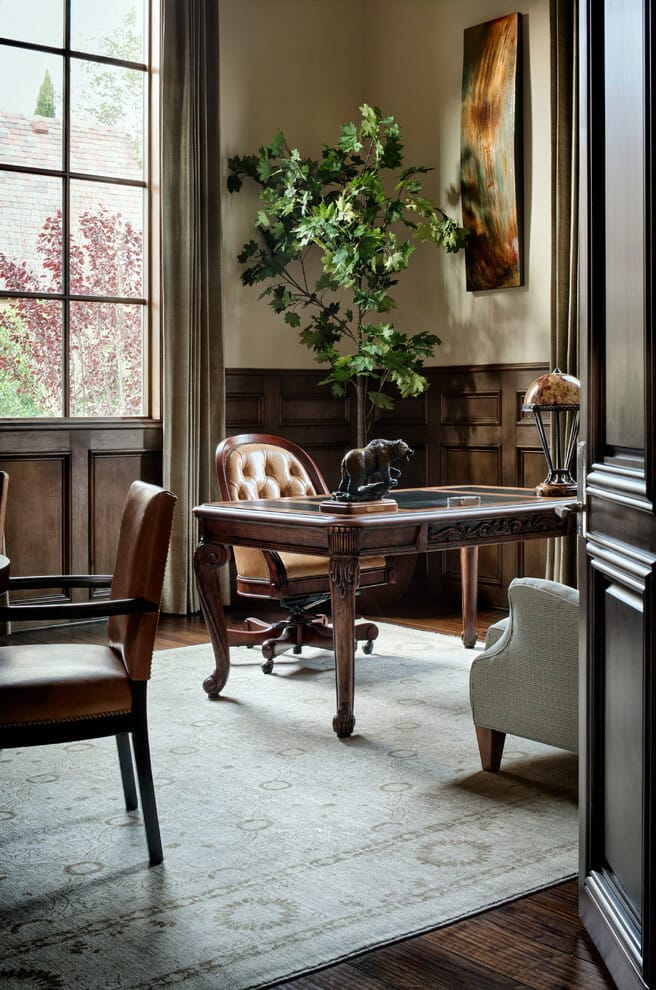 For the interior of your workroom, you may choose the classic concept. It has warm and firm vibes at the same time. You can install wooden paneling for this room. To make it look warmer, use cream or light brown wallpaper.
2. Half Wall Paneling Ideas for a Bathroom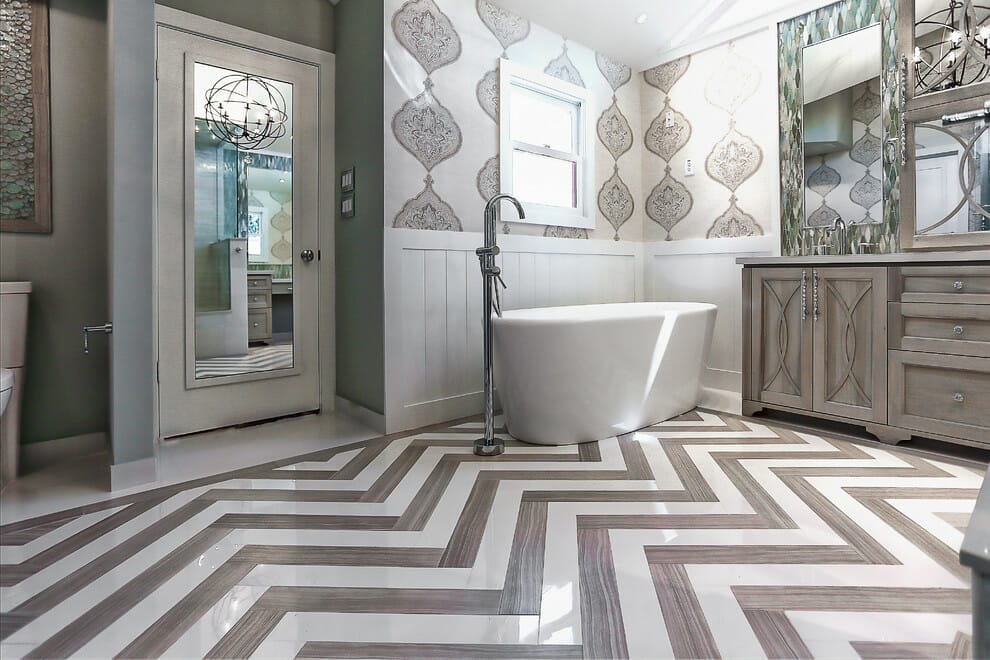 This idea comes with white wooden board paneling. It will be suitable with modern, minimalist, and elegant interior design.
You may install the wooden board paneling on the specific corner. For instance, you can install it for the wall near a bathtub.
3. Tongue and Groove Paneling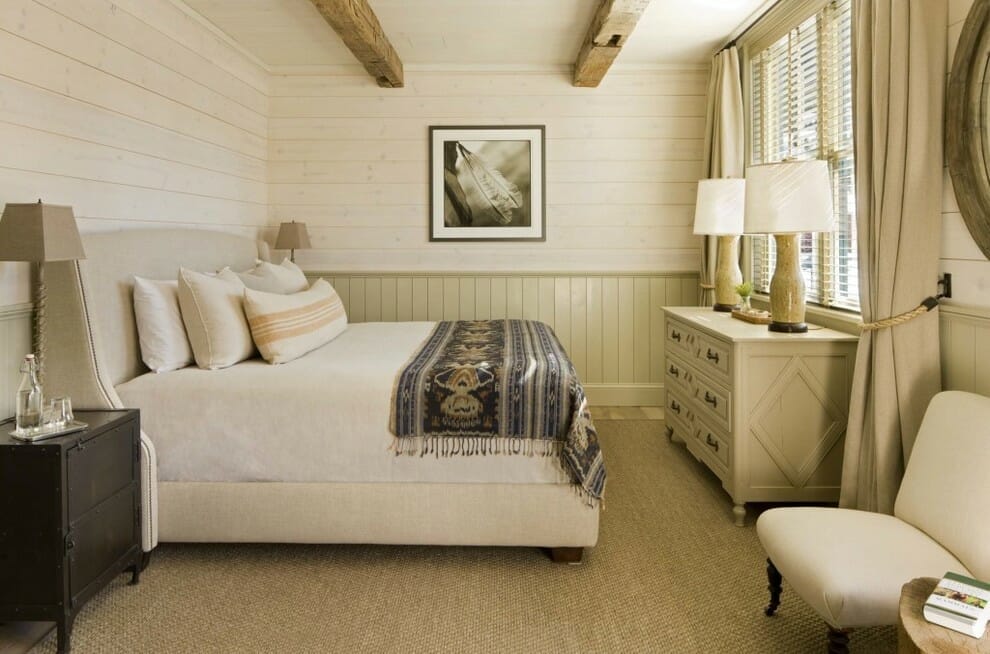 The neutral color is the best choice for any kind of concept. Moreover, it will be easier when you change the interior since the furniture that you have are neutral colors.
You can also install the paneling for your bedroom. Tongue and groove paneling is one of the best choices for a half wall paneling bedroom. Moreover, you can also install wallpaper on the half of it which has a texture like a wooden board.
4. Warm and Vintage Half Wall Paneling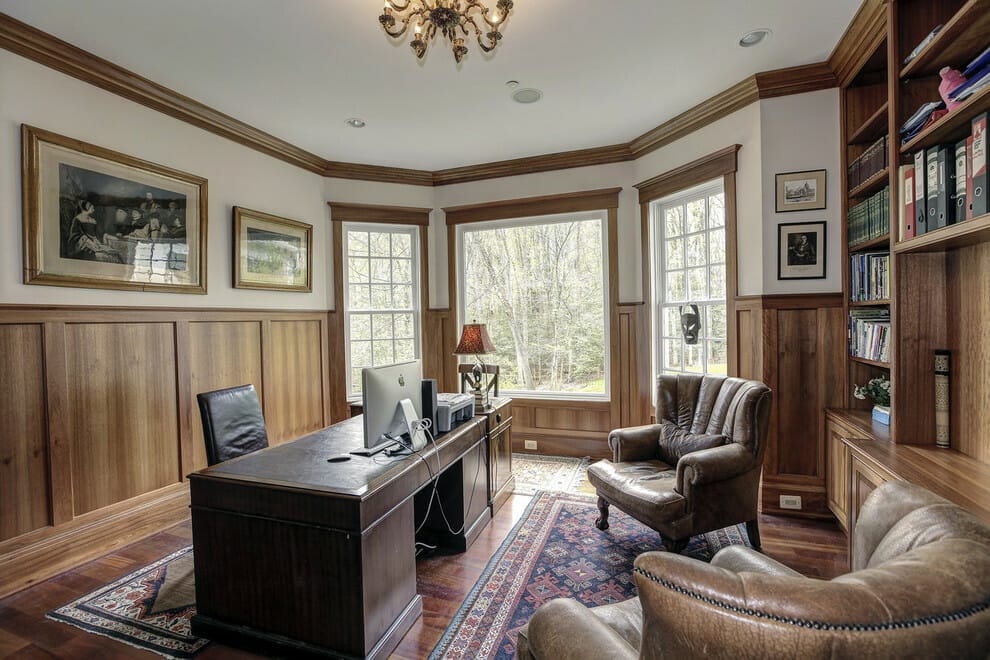 Vintage and classic are two of many concepts which are the best for the workroom. It will be dominated by wood furniture.
If you want to take this concept, steal the look of the wooden paneling in this home office. There are two choices which are the real wood and the textured paneling.
5. Colorful Tosca Half Paneling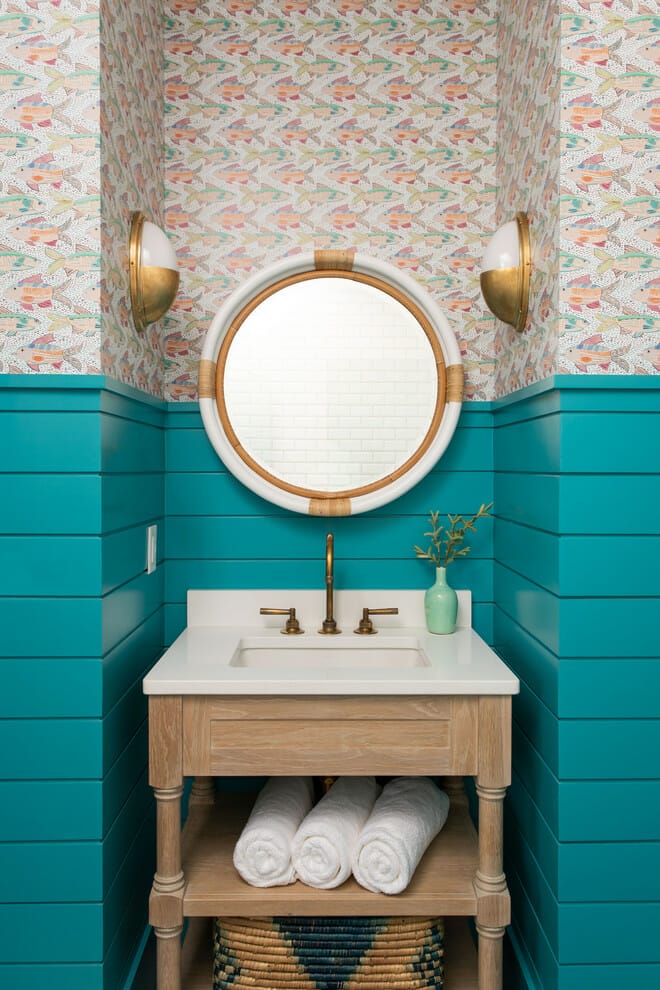 Do you like colorful concepts as well as vintage ones? You can go with this one of the best half wall paneling ideas.
You can focus the concept on a certain corner, such as your vanity in the bathroom. You can install any kind of half-wall paneling that you have and paint it with Tosca paint.
The upper half wall is the most important one to show the vintage side. Choose the shabby chic wallpaper which will match each other with your Tosca half-wall paneling.
6. Neutral Half Wall Paneling for Hallway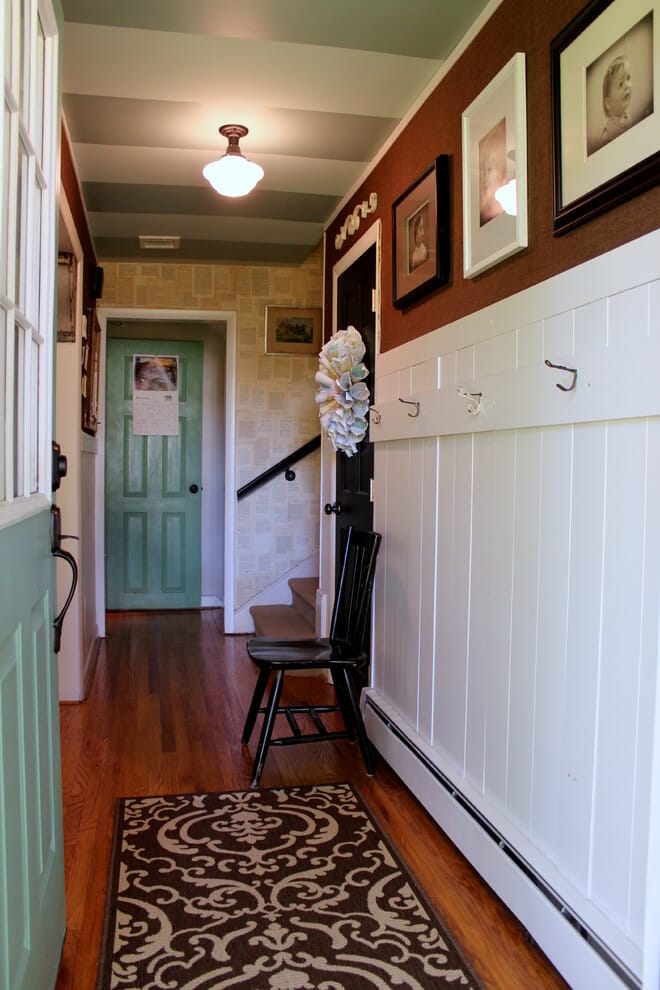 There are a lot of half wall paneling ideas for every corner of your home. The half wall paneling for your hallway is not a bad idea.
Since the hallway is not a focal point, you may choose the neutral. In that way, it will be easier for you to mix and match the concept without disassembling it.
The wall panel for your hallway might be higher than the half-wall panel for the other room. So, it will not make it look stuffy.
7. Half Wall Paneling for Monochrome Bathroom
Half-wall paneling is also the best choice for the bathroom even though it will be a little bit tricky. There are also many half wall paneling ideas for the bathroom, but you may choose the simple one.
The key is the color combination that you use for your bathroom. If you want a monochrome, it is better to have black half wall paneling. So, you can paint the upper side of the wall with all-white color.
This combination is the balance one since your bathroom will not get dark even though you only play with black and white colors.
8. Minimalist Half Wall Paneling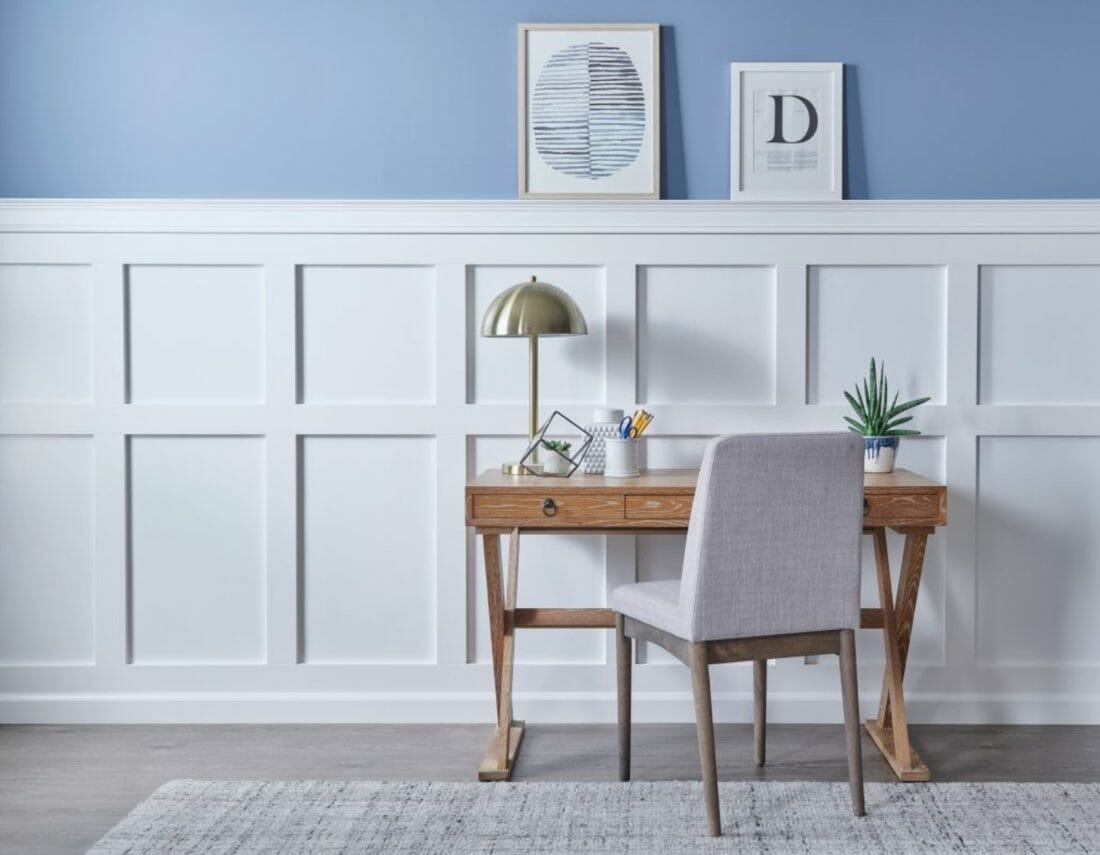 There is a half-wall paneling which is most suitable for any kind of minimalist concept. Each panel has more space, too. Moreover, you can also combine it with any colors and wallpaper that you like.
For the minimalist one, you can just use this wall paneling with pastel wallpaper. Simple but elegant is the key to this concept.
9. Half Wall Panels for Elongated Bathroom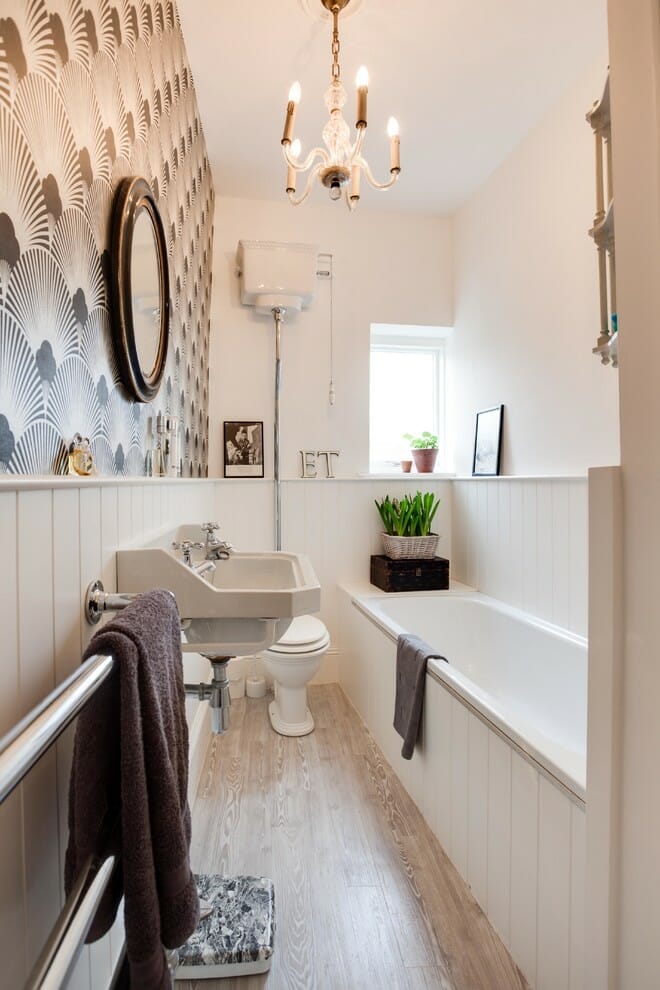 Nowadays, people like to build multiple bathrooms in their rooms. The function of each bathroom is also various. If you have an elongated space and want a specific corner for your bathtub, you can go with the concept as in the picture.
With the elongated bathroom, you have to choose the right interior design. From several half wall paneling ideas bathrooms, the white groove panels. is the answer. Because it will assist you to match the floors and wallpaper.
10. The Half Wall Paneling for a Small Corner at Your Home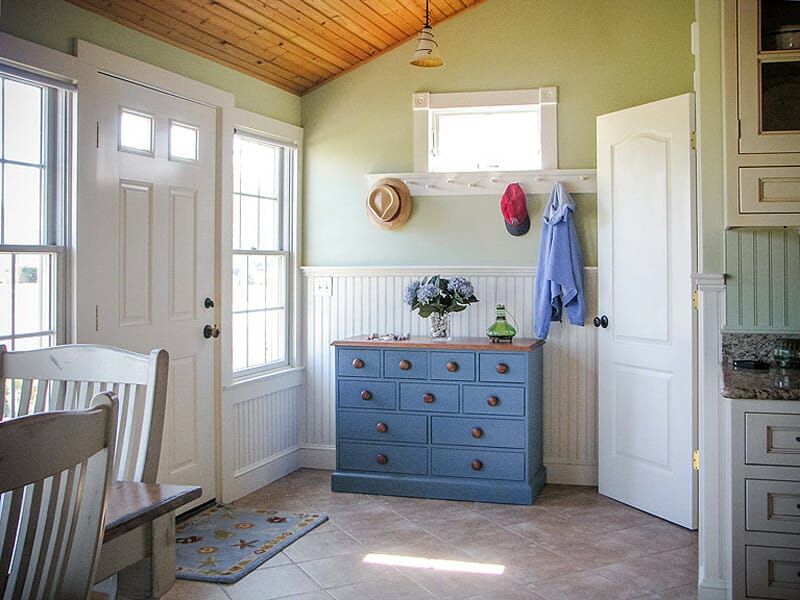 When you decide to have half-wall paneling at home, it does not always mean that you have to install it all-around your home. Just choose a specific corner that might be a focal point for your room.
The half-wall paneling will always come alone. You can combine it with outstanding furniture. As in the picture, it installed a white wall paneling combined with the sage green wall.
Nonetheless, you can notice that there is a vibrant cabinet. In this way, it will build a focal point at your home.
11. Mosaic and Woods Hal Wall Paneling Ideas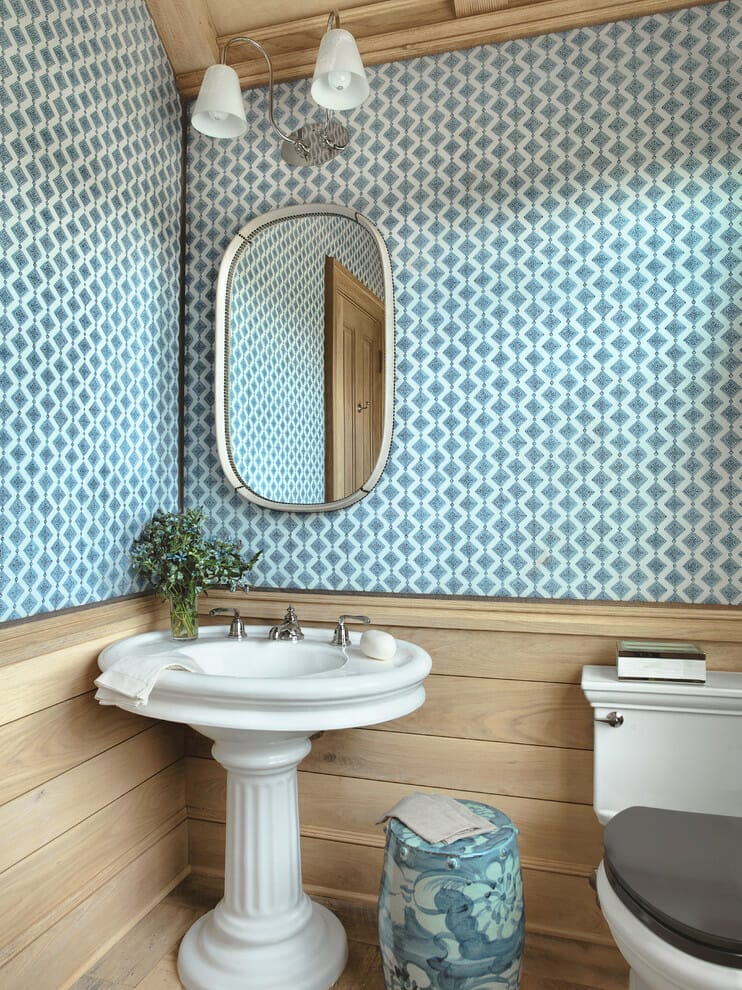 If most of the half-wall paneling has a vertical line, you can break it with the opposite line. Nowadays, you can easily find eccentric wall paneling.
Just install half wall paneling which has a horizontal line, then install mosaic tiles on the upper side. This combination looks odd but strangely satisfying.
12. Coffee Half Wall Paneling for Living Room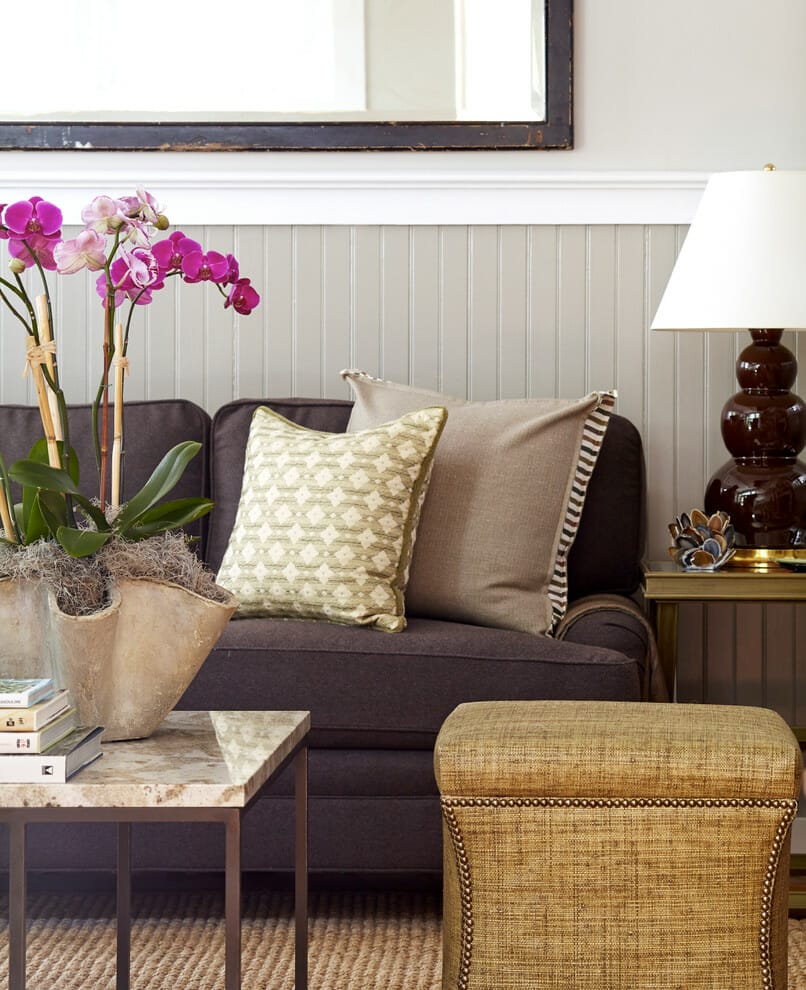 There are a lot of interior designs that can be found. Regardless, it is approvingly advised if you select the design based on personality.
As for the living room, you can choose the shade of coffee. If you like warm but light, this concept is what you are looking for.
The light brown or taupe half wall paneling should go with a cream or broken white wall. Then, you can combine it with the darker shade for the furniture.
13. Light Gray Half Wall Paneling Bathroom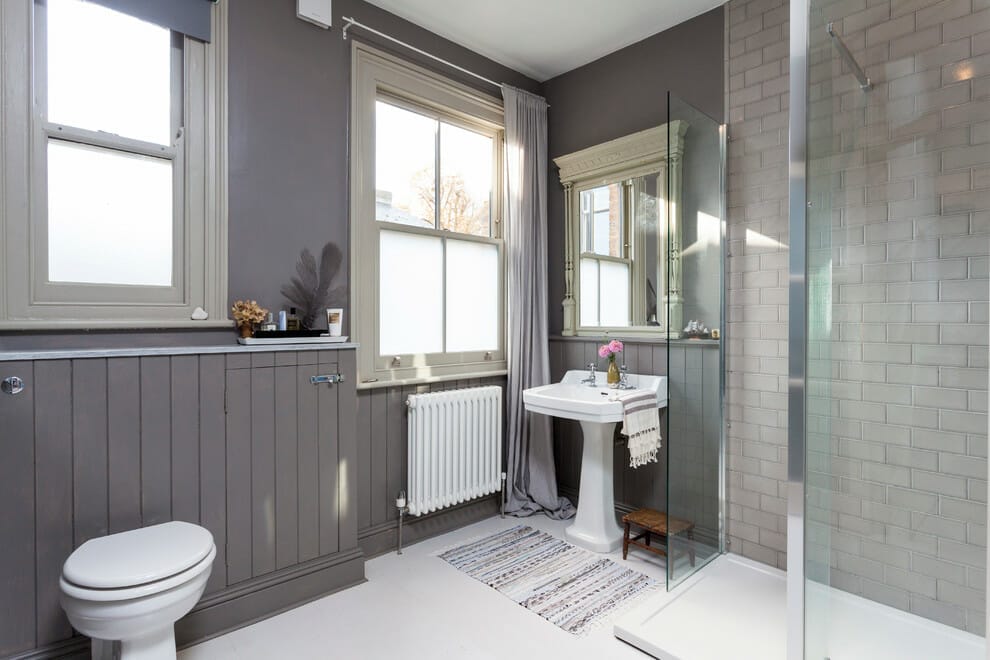 The wainscoting half wall paneling is the most recommended paneling for the bathroom. This type of paneling has the most manageable alternative.
It comes in individual frame and panel components. Then, you have to install it together which should be fitted to each other in groove or tongue style.
14. Half Wall Paneling Ideas for Dining Room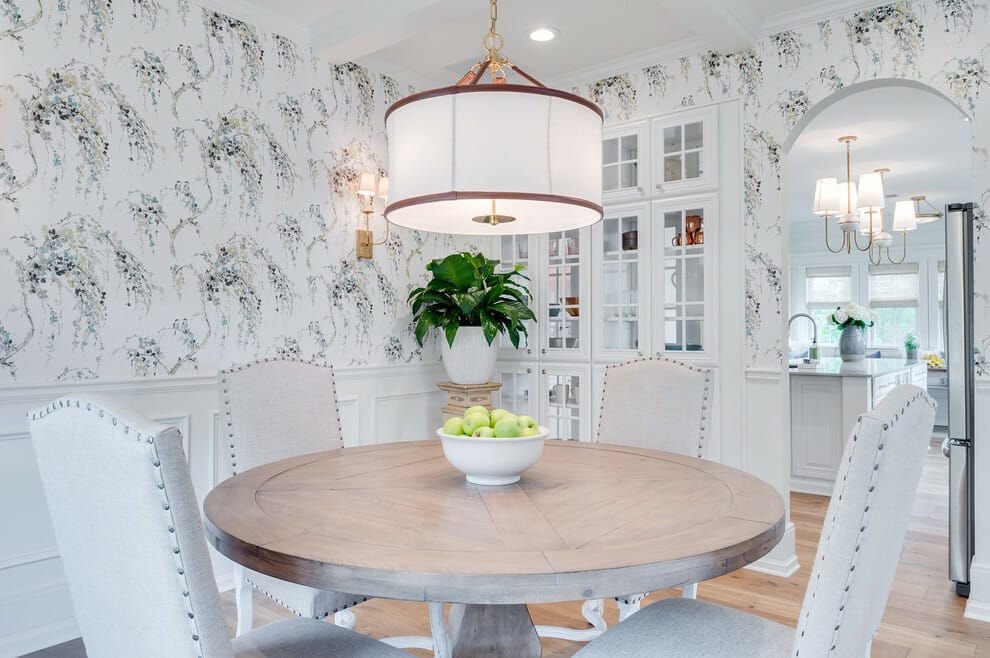 You can use a hardboard for your dining room's wall paneling. The material is firm enough and you can easily customize it.
Moreover, you can also add other materials like fibers as decoration. Just install the headboard as the base.
Then, install the fibers in line as you wish. After that, do not forget to paint it. You can add printed wallpaper as well.
15. Melamine Half Wall Panels and Tartan Wallpaper
If you like tartan, you can apply it to your wall in the bathroom. Since tartan is fully printed, you need to install it in half and leave the half side for wall panels. It will make your room look balanced.
For this concept, you can combine the tartan wallpaper with melamine wall paneling. The looks will be glossy and clean.
Moreover, you can easily combine it since most of the melamine panels have wooden prints.
16. Backward Wall Paneling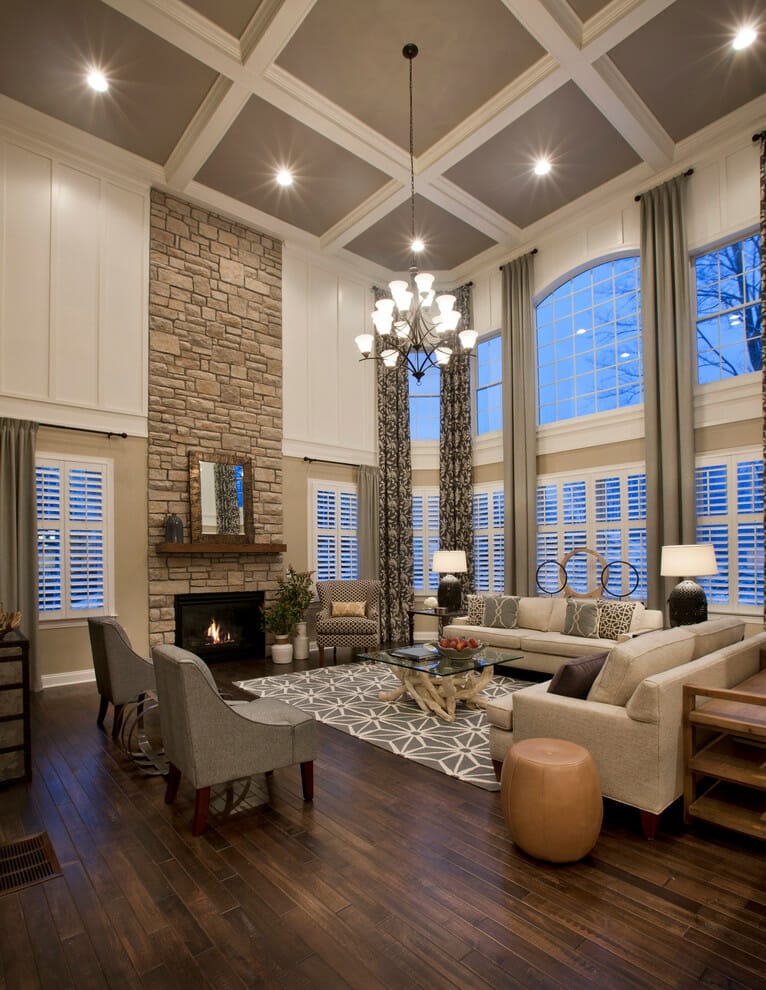 When you are looking for half wall paneling ideas, most of them are having wall panels that must be installed on the bottom side of the wall.
You can install it upside down. It means that you can install the half-wall paneling on the top side of your wall followed by wallpaper on the bottom side.
This concept will make your room more outstanding than others.
17. Half Wall Panels Partition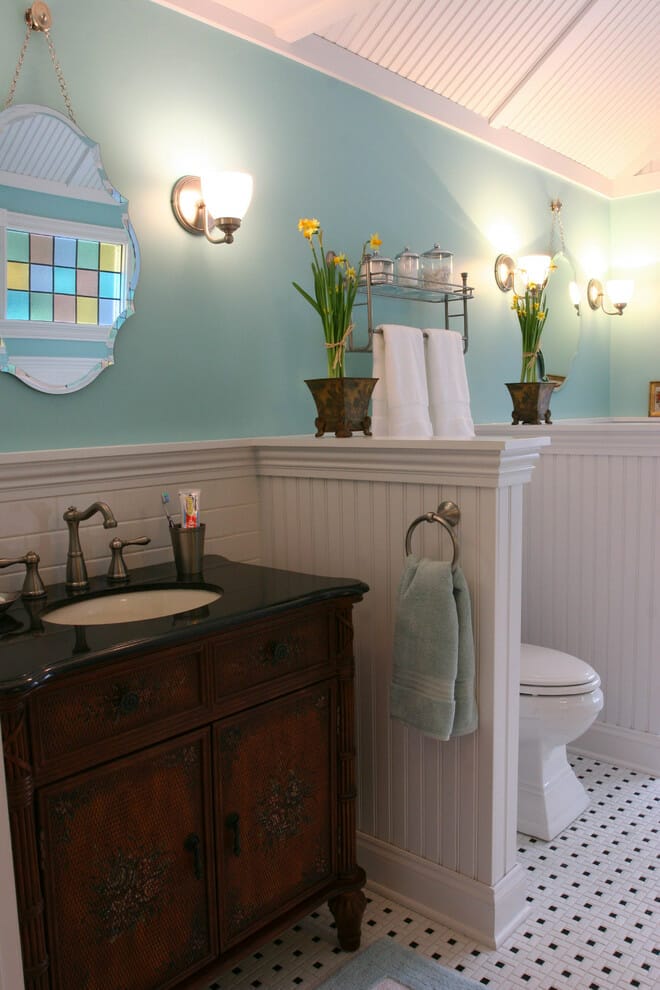 A half-wall panel is the most flexible one. You can lodge it as you please, like in the hallway, bathroom, bedroom, and many more.
Additionally, if you like to remodel your restroom, you may think of this concept. Thus, make a partition between the vanity or sink and the toilet.
Then, install the groove half wall paneling for all sides of your bathroom, including the partition.
18. Half Wall Paneling for Cabinet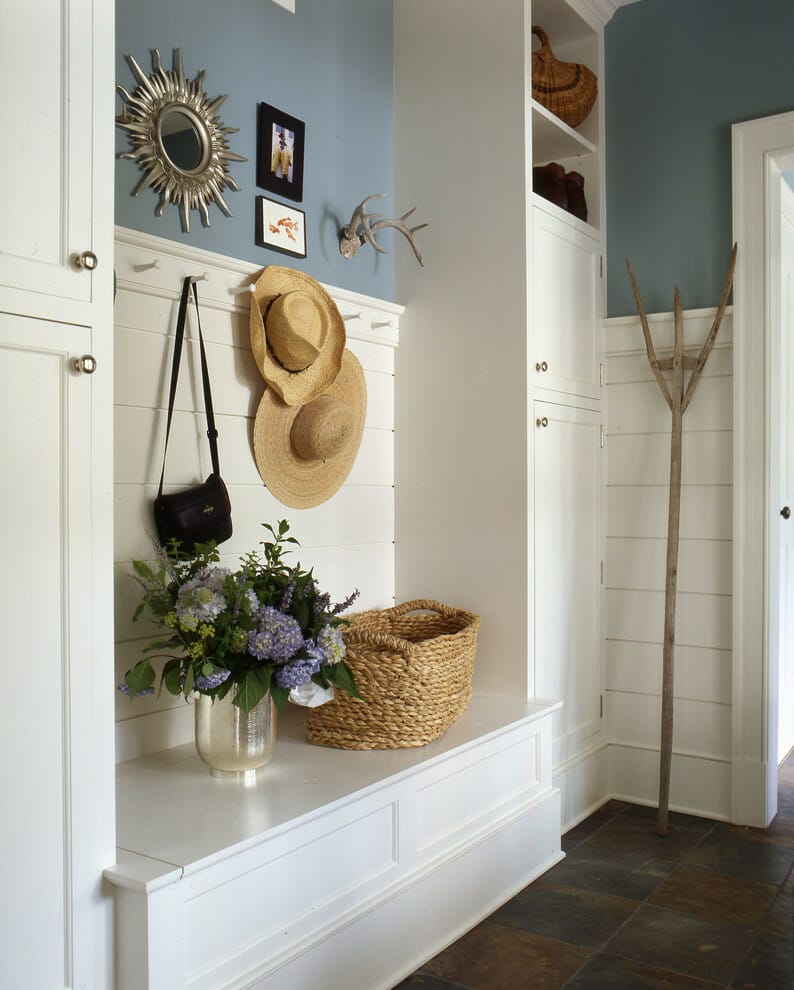 There are so many half wall paneling ideas that can be applied. If you have an open space cabinet and are not satisfied with the wall-only look, installing the wall paneling is the best way.
For this concept, it is recommended to choose tile board panels. It is more affordable than the actual tile and you can combine it along with your cabinet.
19. Half Wall Paneling for Bathtub
Most of the half wall paneling ideas are for a wall. However, you can also install it for your grounded bathtub.
First, you have to make sure that you installed the grounded bathtub in the corner of your bathroom. After that, install the wall paneling on the exposed side of your bathtub.
To blend it well, you have also installed the same panels around the wall.
20. DIY Half Wall Paneling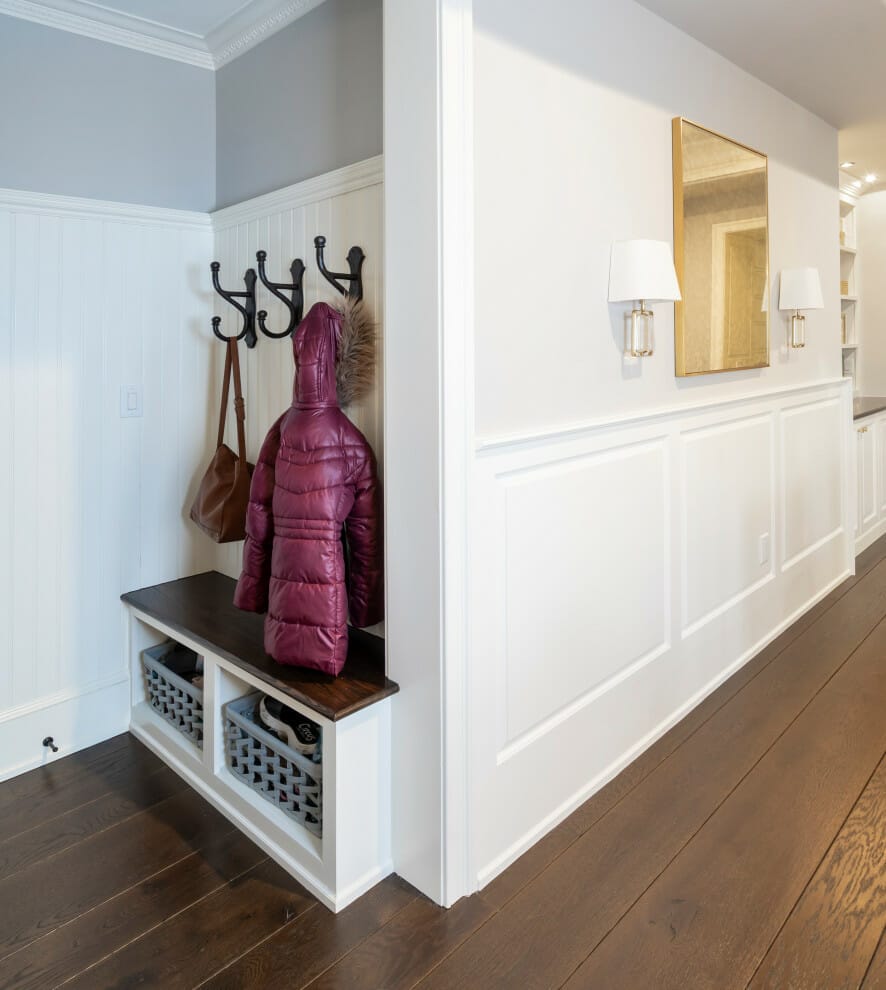 Nowadays, we can easily find wall paneling that can be installed instantly. However, the size and type are similar. Sometimes you need to repaint it as you wish.
If you think that there is no paneling in the market as you wish, you can make it yourself. The materials are also easy to find. You just need plywood or gypsum and wall paint.
After deciding the concept, select the most fitting material. Then, install the gypsum or plywood that has been prepared.
Make sure that they stick well on the wall and paint it all the side. Finally, you have the most affordable yet valuable half-wall paneling.
21. Dark Brown Half Wall panels with Pink Bathtub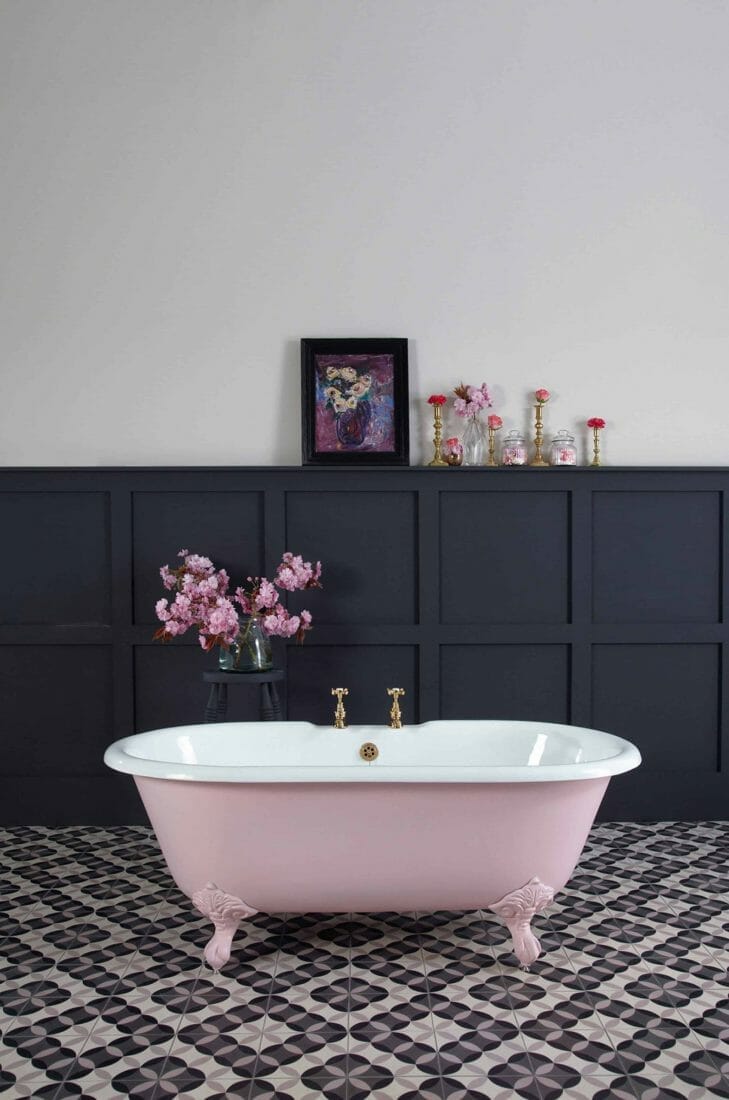 A pink bathtub might be outshining. However, it will be nothing when you place it in the wrong background. Thus, you have to get better half wall paneling ideas.
If you want to accentuate the bathtub, you have to tone it down all around. Opt for dark brown which will not overshadow the bathtub.
For the wall, install the half wall paneling in dark brown and tone up the upper side of the wall with broken white. In this way, your pinky bathtub will forever outshine.
22. Warm Work Corner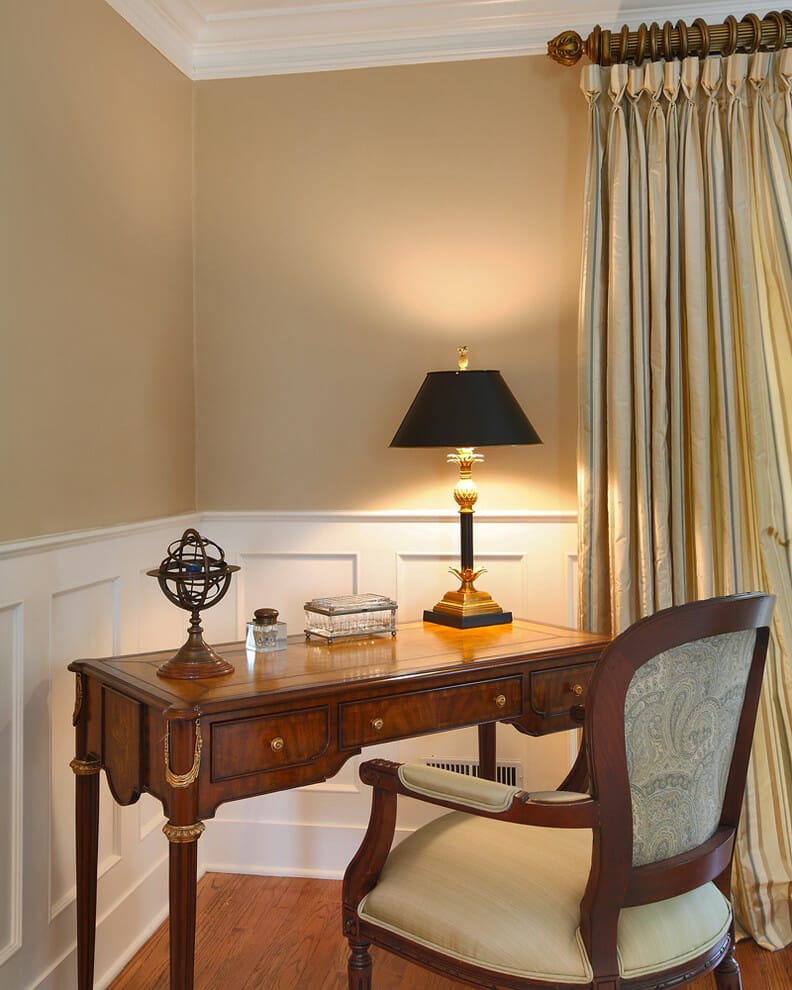 A bedroom is not always for a bed. There is some corner that might be shown in the bedroom. One of them is the thinking corner or work corner.
If you already installed the half wall paneling but do not want to cover it, just do not drag the table to the corner.
Change the position that will work for both sides, where the wall is not covered while you can work and think comfortably in the corner.
23. Edwardian Half Wall Paneling Ideas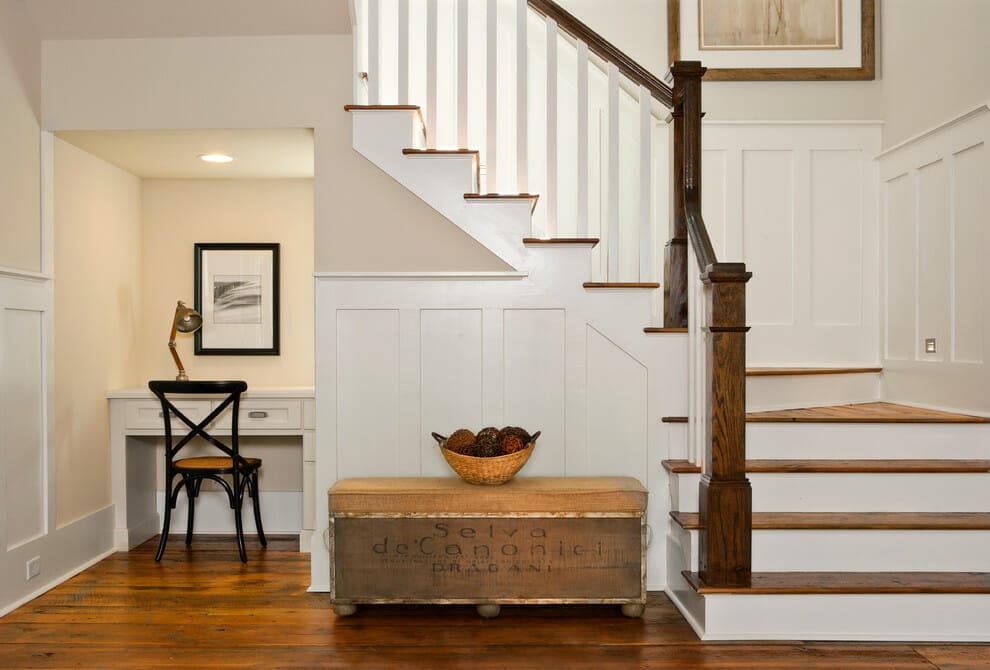 Besides grooved paneling, you can also choose the Edwardian half wall paneling. It works to make your hallway and stairs look calm and clean.
A point of this style is on the pop of white which comes into the space from one to another. Since it will be installed near and up to stairs, this style will make it less stuffy due to the many lines on this corner.
24. One Type Half Wall to the Floor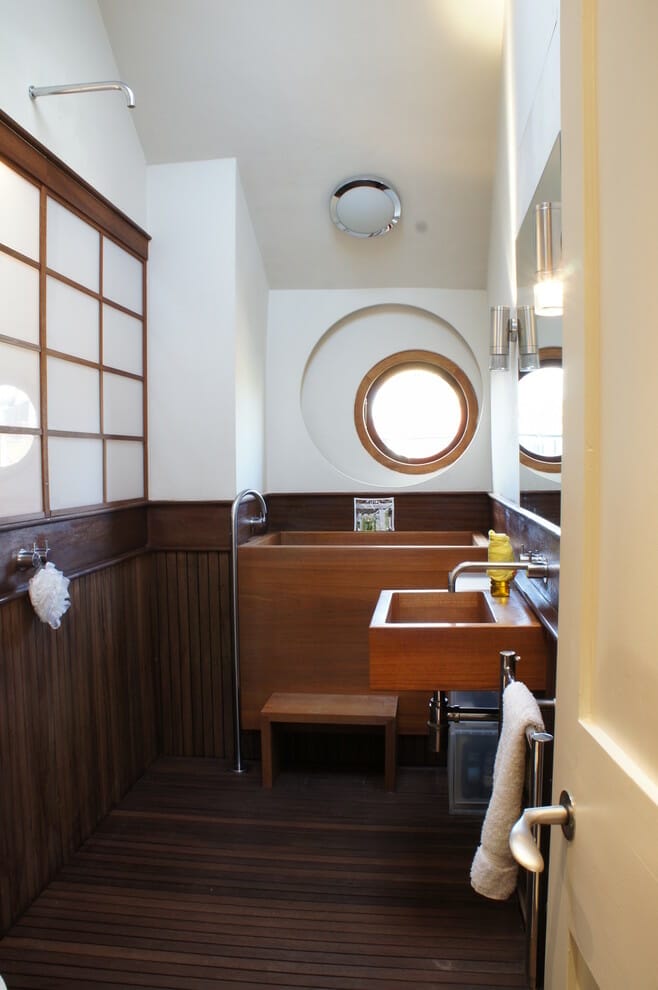 For the brilliant half wall paneling ideas, you may be interested in this style. As seen, the main point of this concept is no border.
However, there is no distinction between the floor and the half wall. Moreover, it looks attractive since it looks connected.
25. Wooden Half Wall Panel in Cozy Room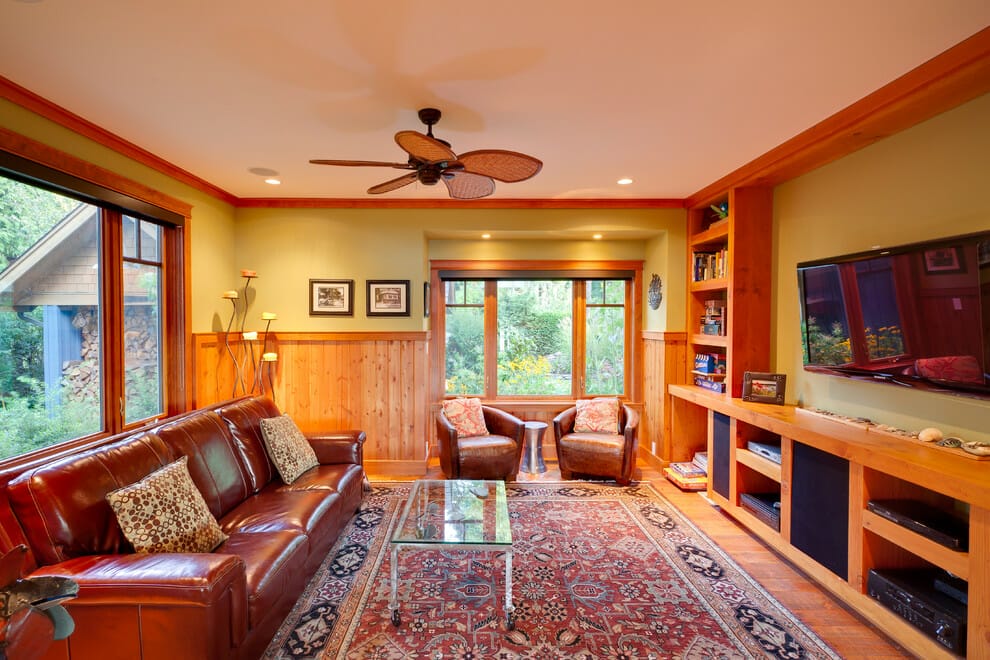 Old style does not always mean cannot be used. At some point, the old style will be timeless. If you have this concept, you can also get the best half wall paneling ideas.
The half wall paneling for this concept is grooved and tongue panels expose the texture of woods. It will work well with all things in the concept.
26. Dark Gray DIY Half Wall Paneling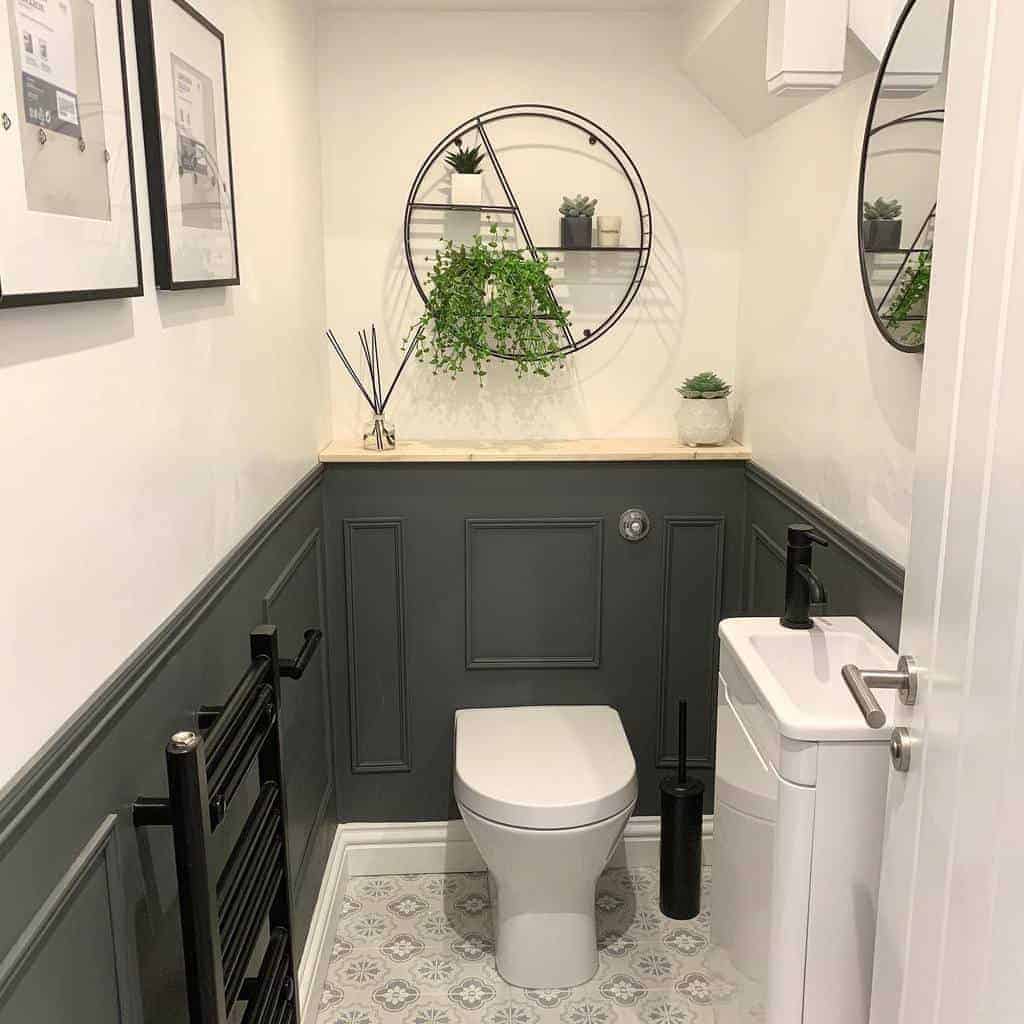 For the DIY half wall paneling ideas, you have to prepare a gypsum list in small size. Then, stick it on the wall together into a frame.
Do the same for all walls and finish them by painting. The best color is dark gray which is neither too dark nor light. Then, leave others in white color.
27. Board and Batten Half Wall Paneling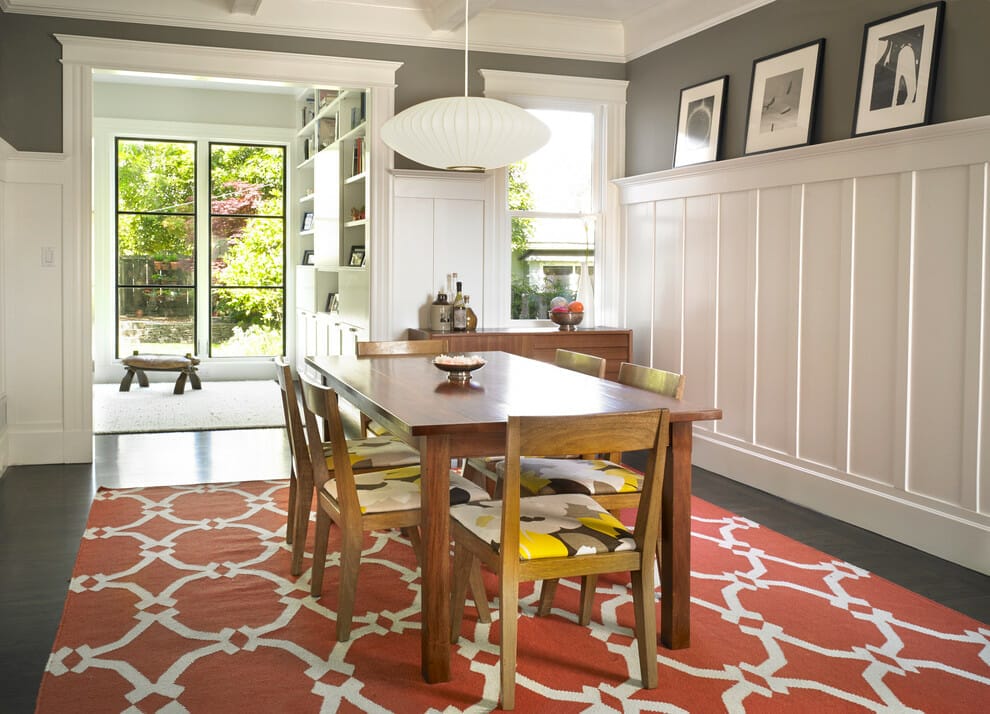 One of the most popular half wall paneling ideas is the board and batten. It is formed by wainscoting which is featured in wide wood. Usually, it has narrow or striped wooden stiles.
This style will be perfect for your dining room since you can cover it with glossy paint that will make it look more elegant.
28. Under the Window Paneling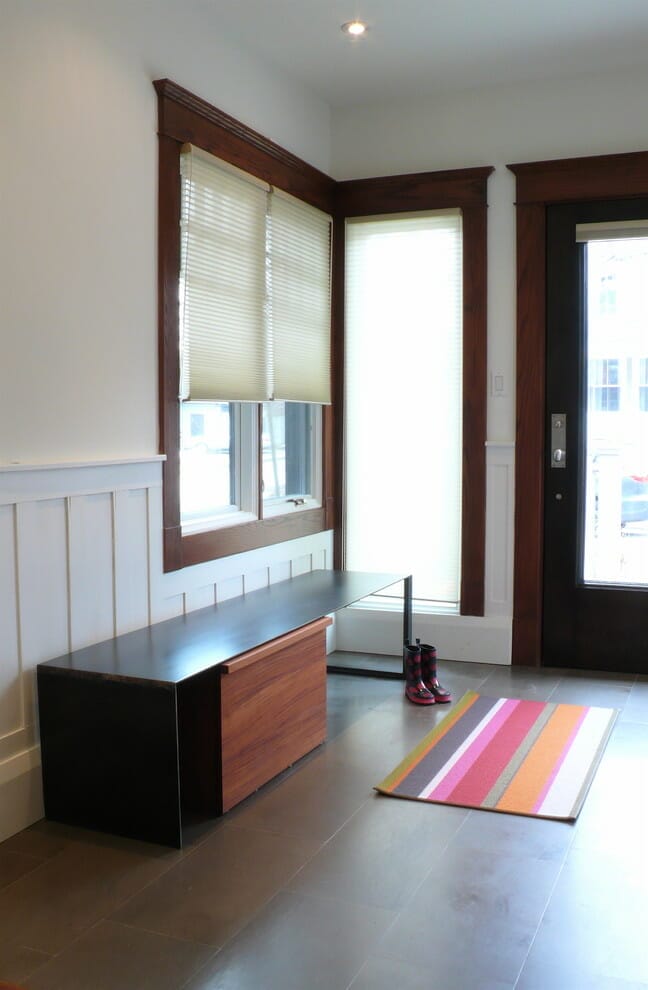 Lastly, although the concept is a half wall, you can install it following the shape that it needed. There is nothing wrong with installing the panel under the window. Just follow the shape and line and you will get your own half wall paneling ideas.