Morocco has become a crucible of drastically diverse cultures. No surprise Moroccan decorating style blends various nuances and traditions excellently. If you admire its splendid amalgamation, browse through these Moroccan dining room ideas.
A Moroccan style allows different elements to unite in an inimitable manner. Furthermore, it combines enduring beauty and exotic luxury. Without further ado, here are 30 swoon-worthy dining areas that transport you to Morocco instantly.
1. Eclectic Dining Room with Moroccan Touches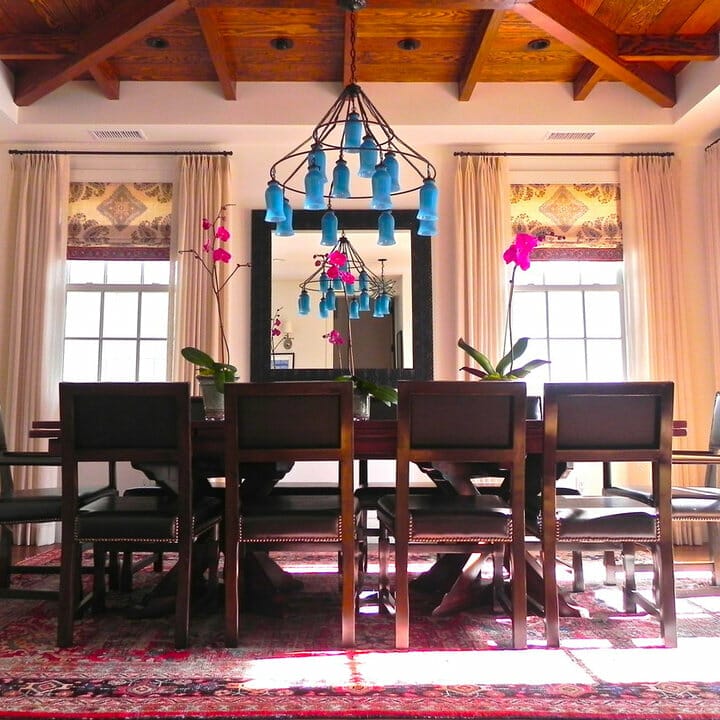 Bright white walls and cream ceiling-to-floor curtains lend the interior a Spanish flair. Moreover, the dining furniture items evoke contemporary vibes.
There's an enchanting rug and patterned window blinds that delightfully infuse a Moroccan flavor. In addition, wooden surfaces balance out the boldness of the blue pendant and purple blooms.
The square mirror and fabrics generate formal symmetry. Furthermore, black leather cushions offer timeless opulence as well as comfort.
2. Moroccan Dining Room Lighting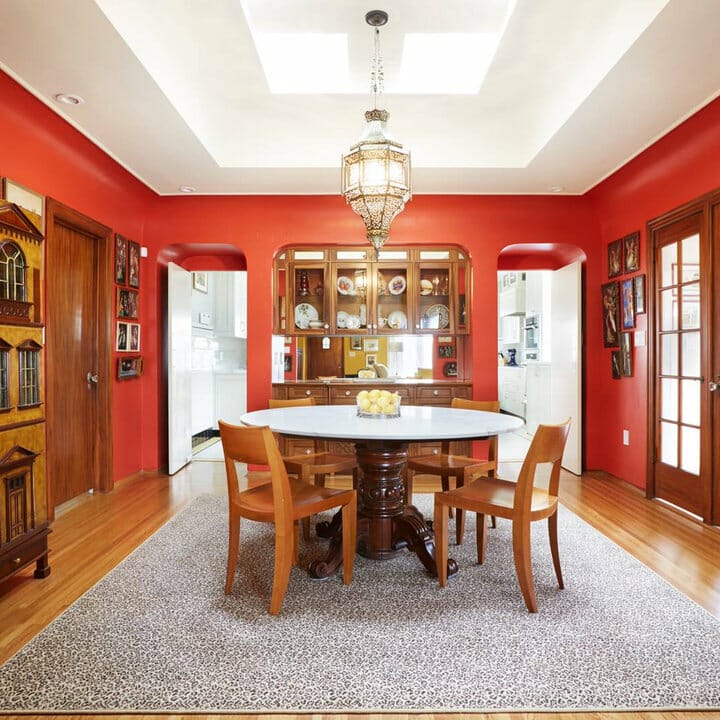 Here, archways make an outstanding entry to the Moroccan-Tuscan dining space. Furthermore, burnt red walls exude intimacy and warmth.
The stark white tray ceiling directs the eye to the ornate Moroccan pendant lamp. In addition, it emphasizes the marvelous pedestal dining table.
Wooden elements pair with red walls well. Moreover, the textured rug, white tabletop, and glass door lighten the ambiance.
3. Glamorous Moroccan-Themed Dining Room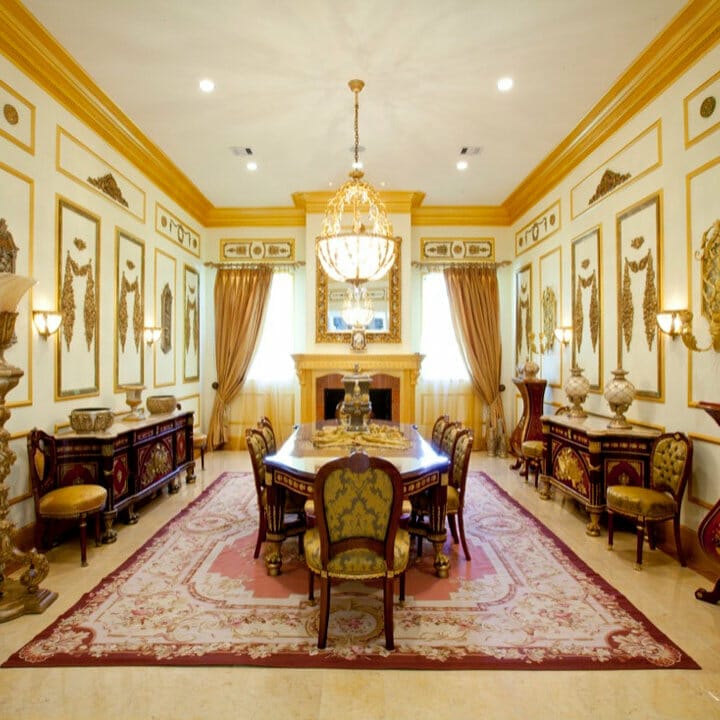 This dining space surely transports the dweller's family to lavish homes in Morocco. Not only is it opulent but also inviting and impressive.
The golden mirror, Moroccan dining room chandelier, trim details, cushions, and drapes evoke unparalleled glamor. Intricate wall ornaments, sideboards, and sconces ooze grandeur.
Apart from producing a welcoming vibe, the ornate red rug complements a Moroccan dining table and chairs. Lastly, cream and pure white balance out the glitz of golden elements.
4. French Country Meets Moroccan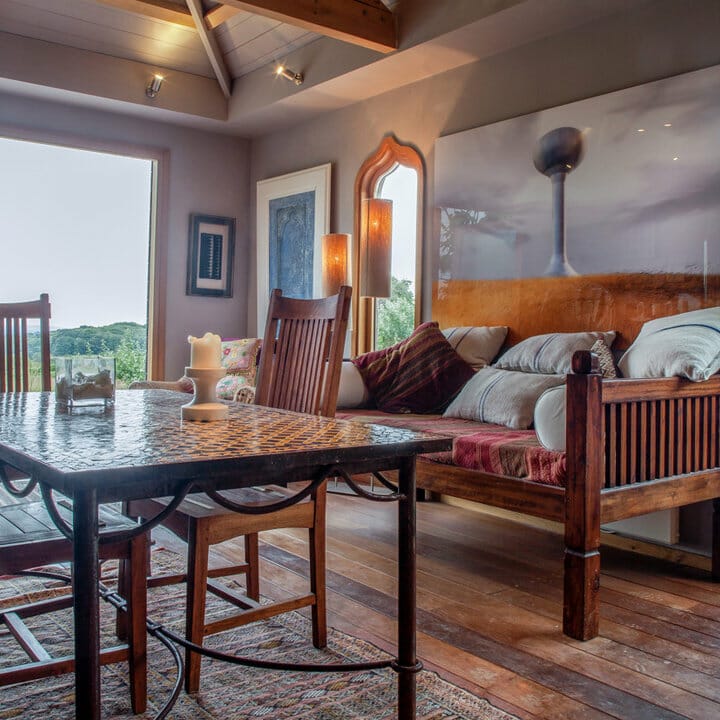 I admire this Moroccan dining room design. Not only does it have plenty of personalities, but also seems tranquil and homey.
The striped throw pillow, dining table, area rug, wooden archway, and seat cover give the dining area Moroccan touches. Furthermore, they produce interest while injecting some warmth.
On the other hand, the soft white candle holder, armchair, and wooden furniture pieces lend the dining space a French country flair. Additionally, ceiling beams, artworks, and light fixtures update the room.
5. Trendy and Terrific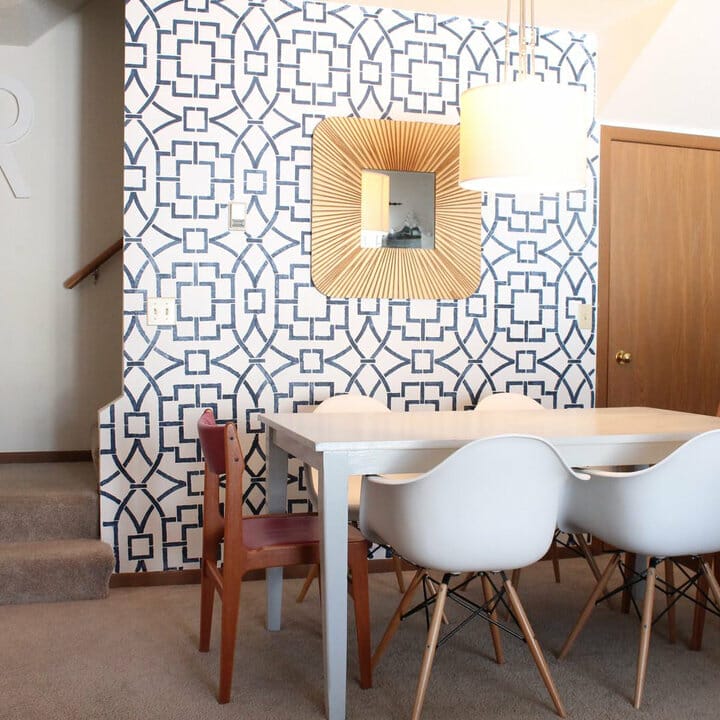 Speaking of Moroccan dining rooms, you don't have to splurge on a total revamp. Just consider making subtle but brilliant changes.
Here, the wall panel features indigenous and bold patterns. Furthermore, it suddenly lends the dining area a Moroccan twist. The unit lets the dweller obtain an exotic vibe without changing the existing interior design style.
The Moroccan-themed wall panel offers an endearing backdrop for the mirror. Meanwhile, the pendant and dining area furniture pieces emanate a mid-century modern ambiance.
6. Exquisite and Exotic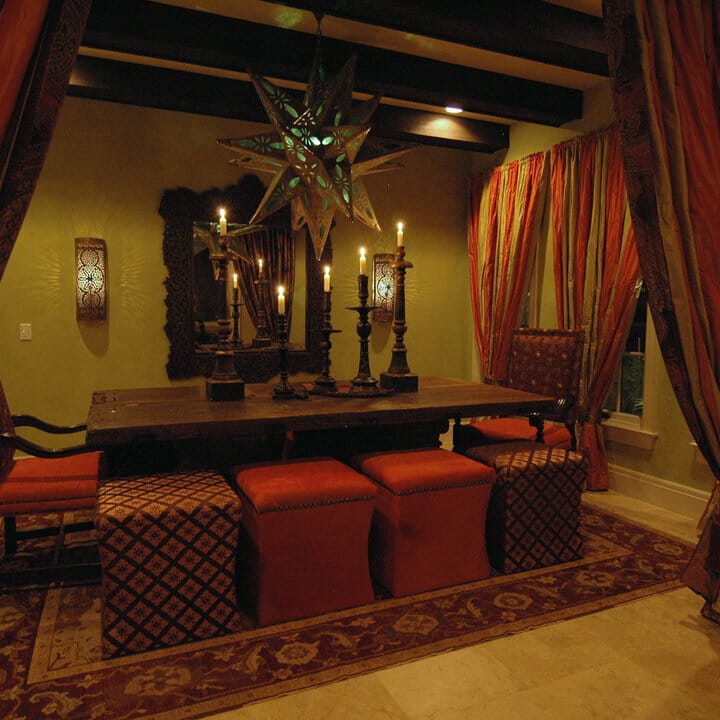 No classic Moroccan dining rooms are complete without plenty of colors as well as patterns. For a quick makeover, incorporate them into your culinary area.
This dining space, for example, employs bold striped drapes, ornate wall sconces, and patterned upholstered stools. Moreover, they infuse a strong Moroccan flavor.
The iconic Moroccan rug tops the floor. Additionally, it draws attention to hot red furniture units. Furthermore, earthy hues harmonize with wooden pieces. Lastly, the Moroccan star pendant lamp embraces a serene vibe.
7. Monochromatic Moroccan Dining Room Ideas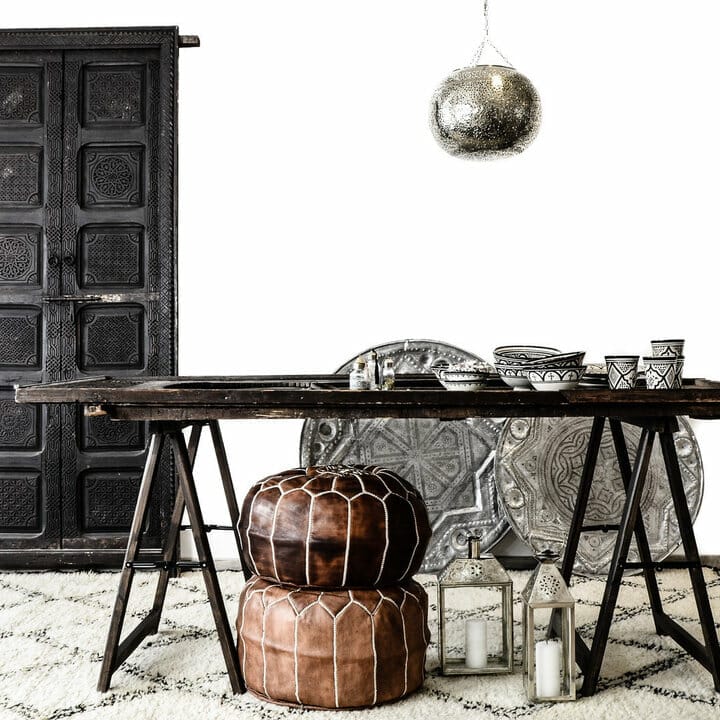 This dining area captivates my heart. The black distressed table and weathered panel send out a shabby chic aesthetic. They clash with the plain white backdrop drastically, too.
The silver pendant, lanterns, and vintage plates imbue the interior with Moroccan touches. In addition, they provide some glitz and luxury.
Stacked leather Moroccan poufs carve a homey ambiance. Moreover, monochromatic tableware items heighten the exotic atmosphere. Because of the geometric rug, the dining space seems more stylish.
8. Informal Moroccan Dining Room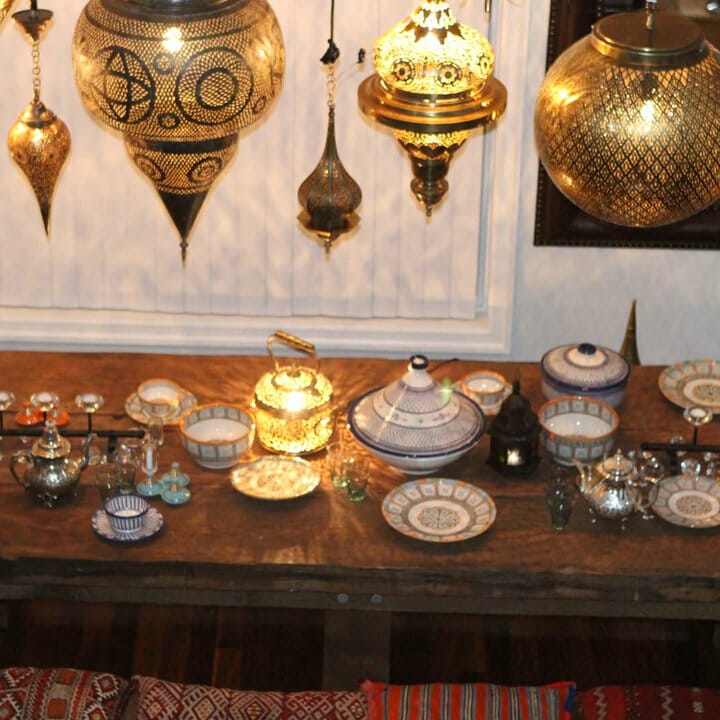 Talking about Moroccan interior design, some homeowners are into the casual and colorful dining setting. The inspiration comes from Bedouin tents.
As you see, the dining space boasts a long, rustic wooden table. Moreover, it accommodates glamorous silver teapots and elaborate tableware units.
Overhead are different shapes of golden Moroccan lanterns. They evoke an informal flair and a sumptuous vibe. Furthermore, decorative pillows ensure that the space doesn't lack characters.
9. Traditional Moroccan Dining Room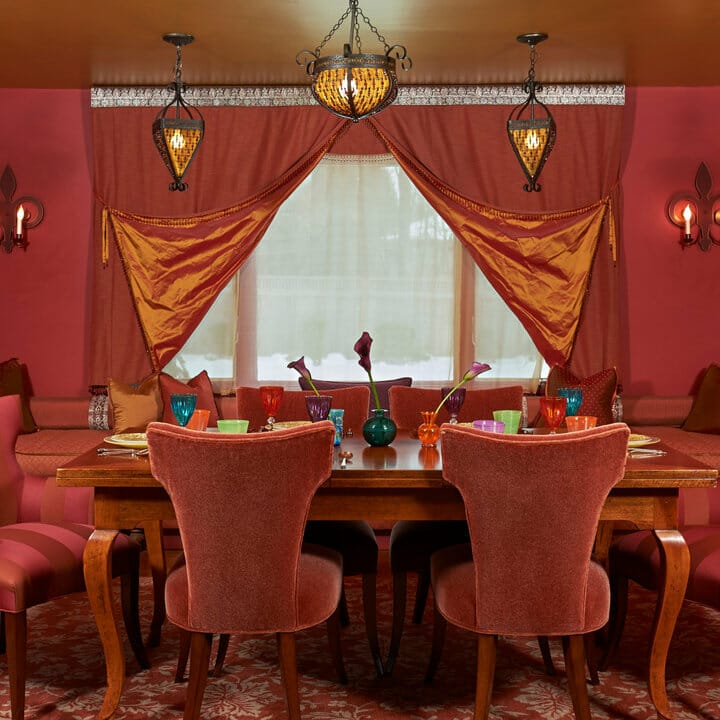 Here, the homeowner unabashedly decorated her dining area. She integrated lots of vivid hues into the interior.
Different orange and red shades make the scene super inviting as well as warm. Furthermore, unexpected bursts of blue, purple, green, and pink develop a cheerful ambiance.
The drapes, wall sconces, and pendants give the dining space formal symmetry. In addition, they produce Moroccan vibes.
10. Moroccan Ornaments for Modern Dining Rooms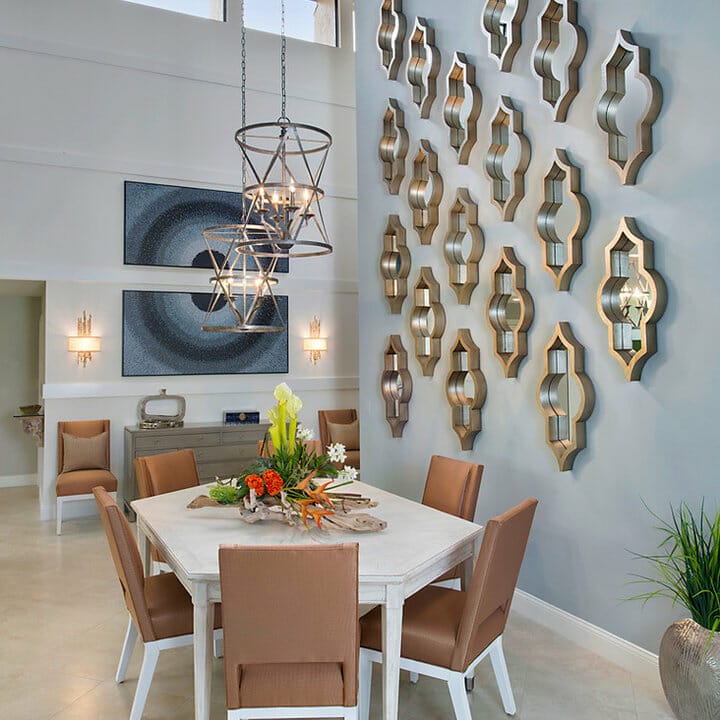 Light neutrals contribute to the dining area's airy feeling. Moreover, tan armless chairs give off homey and welcoming nuances.
The crisp white hexagon dining table imparts a modern vibe. In addition, it allows exuberant decorative pieces to steal the show.
Wall ornaments inject a Moroccan zest into the dining space. Also, they harmonize with stylish pendants and sconces magnificently.
11. Moroccan Dining Room Color Scheme
Muted red walls meet the bright white trim and panels in a contrasting manner. Furthermore, they lend the dining area an air of warmth.
Black-painted wooden dining furniture units emit visual drama. Moreover, they inject exquisite details into the interior. Warm white curtains protect furnishings from the sun.
Although there's no complete revamp, the dining space has a Moroccan flair. As you see, it employs an iconic floral area rug and a golden chandelier.
12. Moroccan Magic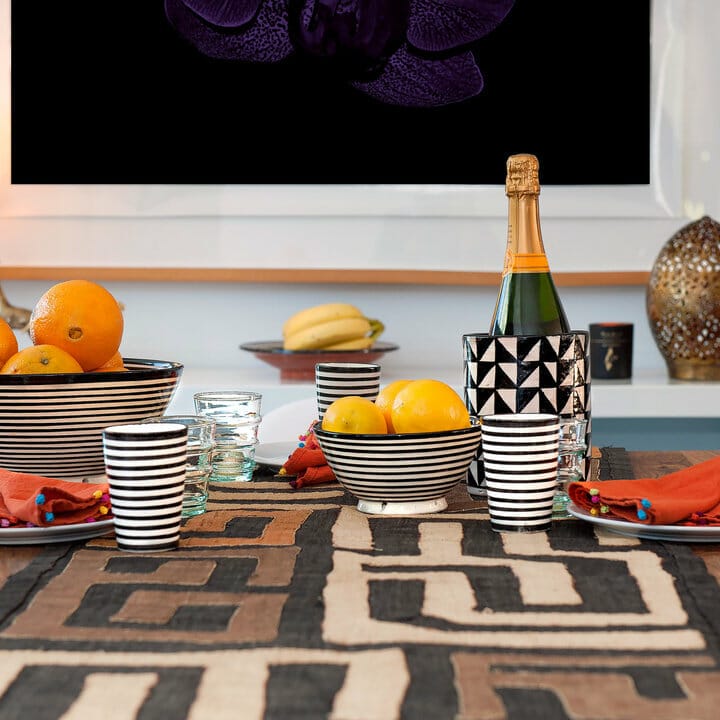 Not ready for a total interior renovation? If so, try making subtle but smart changes. Here, the intricate golden lantern infuses a Moroccan flavor. Moreover, it gives the dining space a hint of exotic luxury.
This modern dining room relies on bright white for clean and airy vibes. In addition, they highlight vivacious pieces.
The tableware units display horizontal stripes and geometric patterns. Apart from catching the eye, they inspire stylishness. Lastly, festive table napkins and real fruits enliven the dining area.
13. Mid-Century Modern Moroccan Dining Area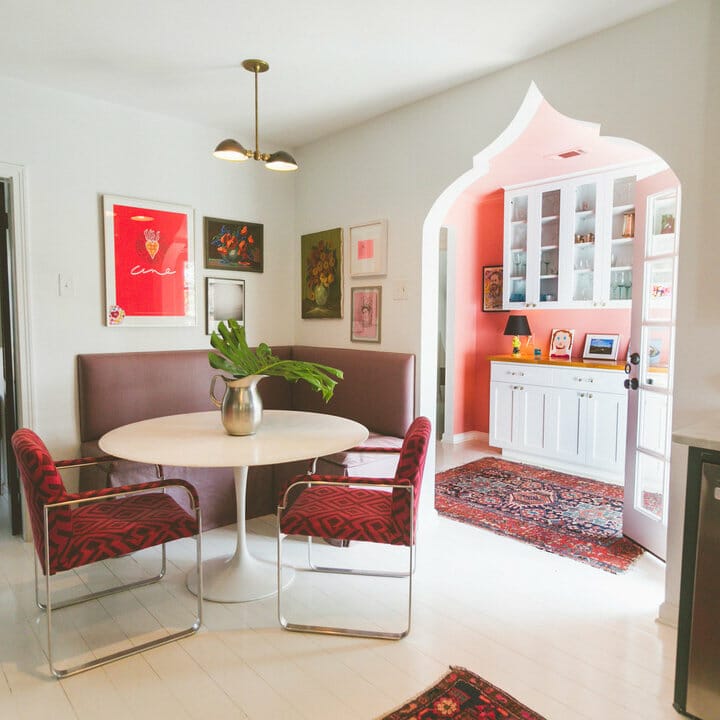 Due to the white plank flooring, ceiling, trim, and walls, this dining space seems bigger. Also, monochromatic and colorful artworks pop against the bland backdrop.
The metallic armchairs with geometric patterns generate a mid-century modern feel. Meanwhile, a couple of Moroccan dining room rugs jazz up the plain flooring. Moreover, the white tulip table holds a silver jug with a massive tropical leaf.
14. Moroccan Meets Restoration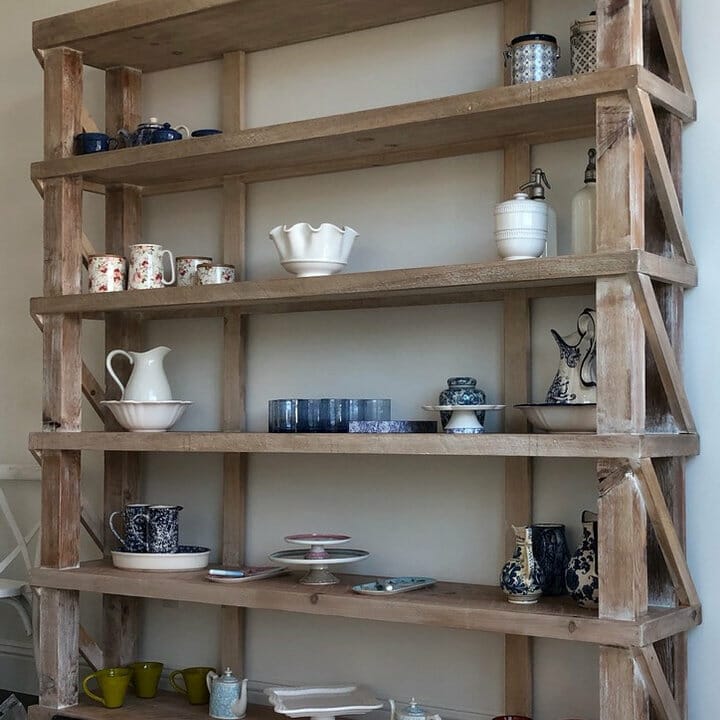 As I said before, you can bring a Moroccan feel to your dining space with clever changes. Just take cues from the photo above.
The warm white background develops a sense of tranquility. Moreover, it goes with the cross-back dining chair that produces a French country flavor.
There's a shabby chic wooden shelving unit in this restoration-style dining room. Furthermore, various tableware pieces nestle on it excellently while emanating Moroccan vibes.
15. Moroccan Dining Room with Decorative Shelves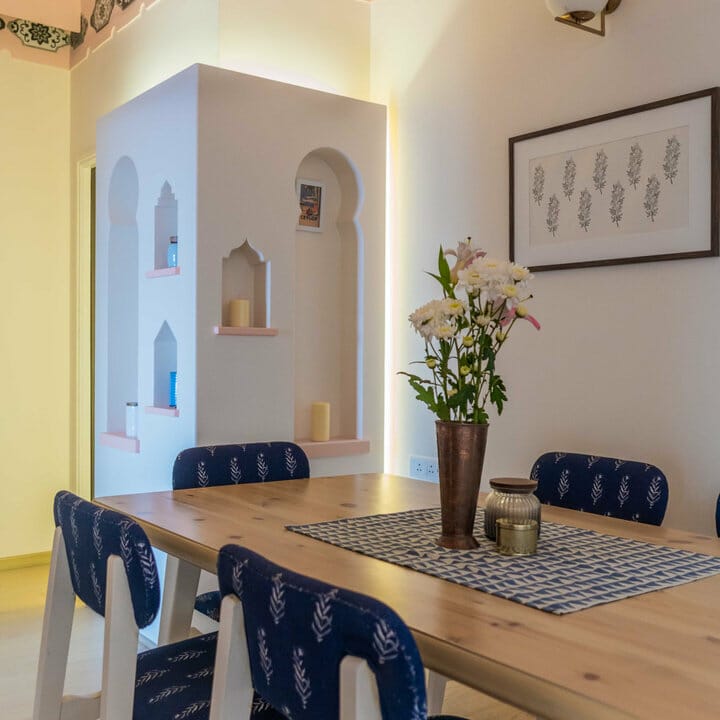 This Moroccan dining space is a true stunner. Not only do clean white walls enlarge the room but also embrace an airy nuance.
The wall panel features ornamental arched shelves. Furthermore, they lend the entire scene a trendy Moroccan vibe.
Aside from that, the copper vase and navy patterned seat cushions inject visual depth. Additionally, the blonde wooden flooring makes the family or visitors feel comfortable.
16. Apartment Dining Room with A Moroccan Flair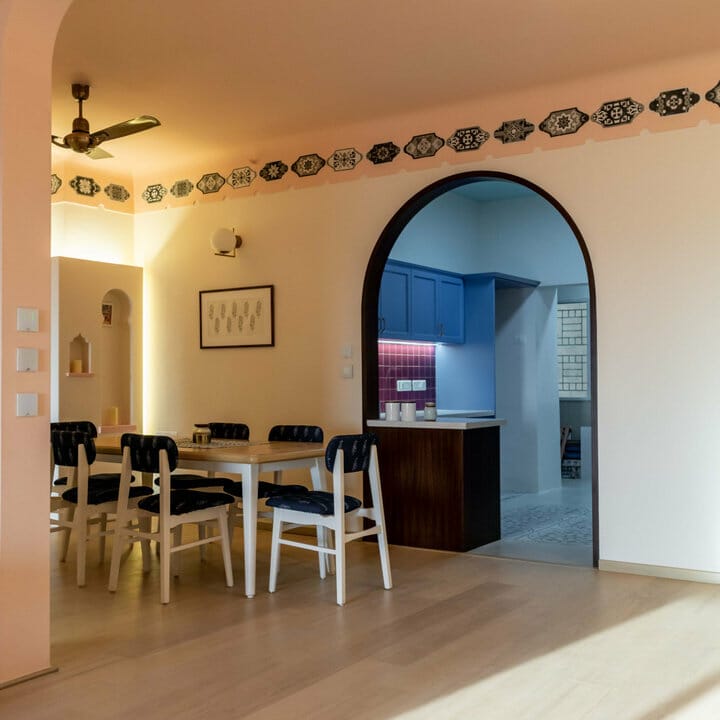 I can't help but drool over this Moroccan dining room. Blonde wooden materials go with beige and stark white perfectly.
The black arch, ornate wall ornaments, and arches infuse Moroccan touches. Due to them, the dining space doesn't feel basic.
Here, furniture pieces tie different hues together. Furthermore, the work of art with a black frame spruces the wall up. Additionally, the accent lighting exudes a relaxing ambiance while the ceiling fan maintains the dining area's airiness.
17. Contemporary Moroccan Dining Room
This dining room seems delightful and homey. As the photo shows, there are trendy, unpainted wooden furniture items that introduce a contemporary appeal.
Glass cabinet doors enable the dweller to see her tableware at any time. Moreover, the copper geometric pendant warms the dining space up while injecting a Moroccan zest. In addition, the cactus and leafy houseplant rejuvenate the scene.
18. Opulent and Ornate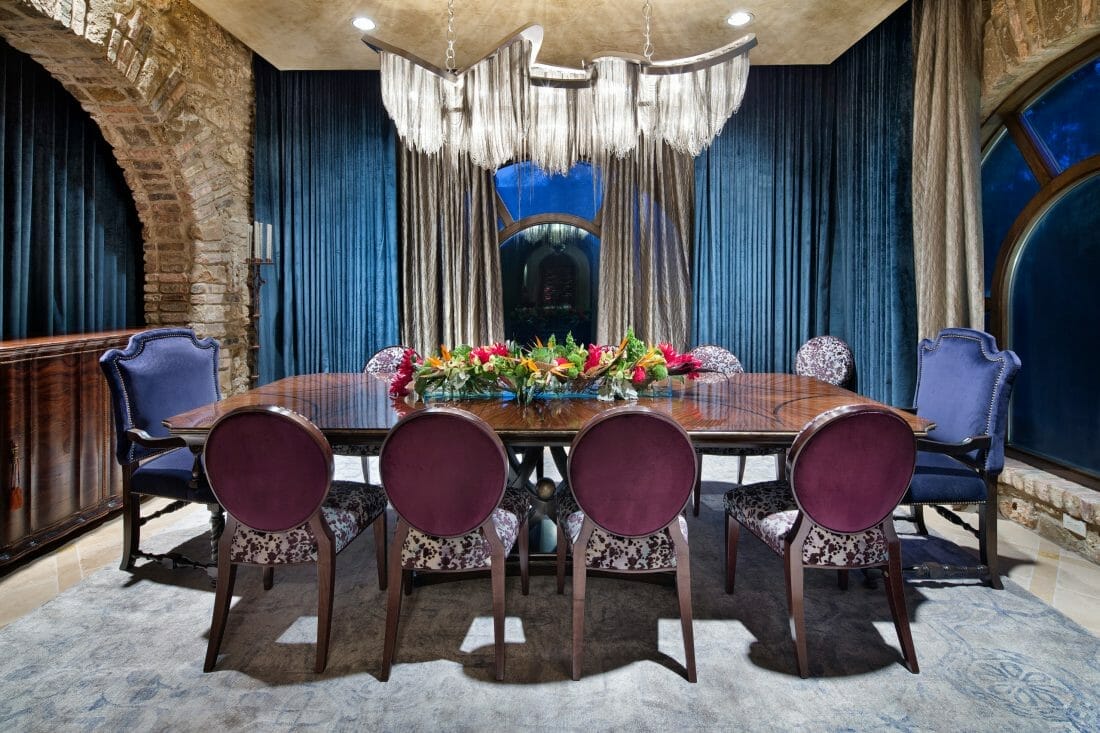 Both arched windows and rustic brick arches generate a fabulous entry to this culinary space. Moreover, the Moroccan dining room table, rug, and chairs prettify the interior.
Blue and purple accents lend the dining area some elegance as well as depth. Furthermore, the lavish chandelier and downlights make the interior seem stylish.
19. Moroccan Dining Room with A Boho Twist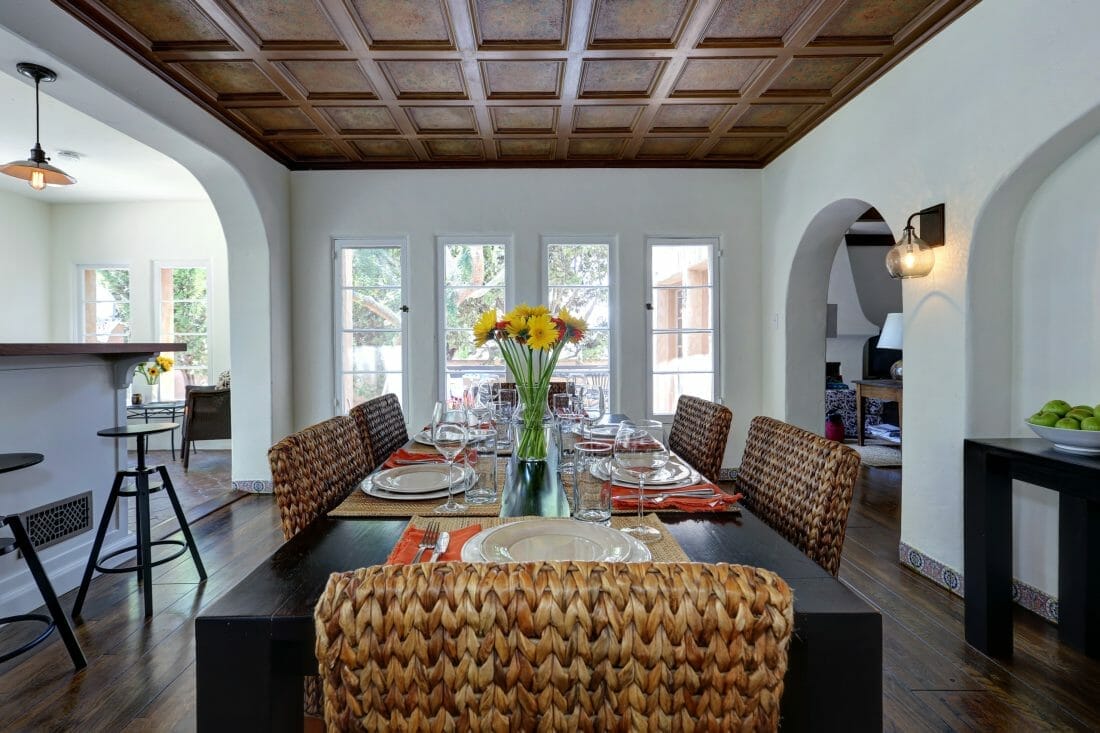 Crisp white walls and archways make the dining space feel larger. Furthermore, touches of yellow and orange heighten the Moroccan ambiance.
Black tables bring drama, so the interior doesn't seem bland. Moreover, wicker rectangular placemats and water hyacinth dining chairs lend the room a bohemian zest.
20. Modern Farmhouse Meets Moroccan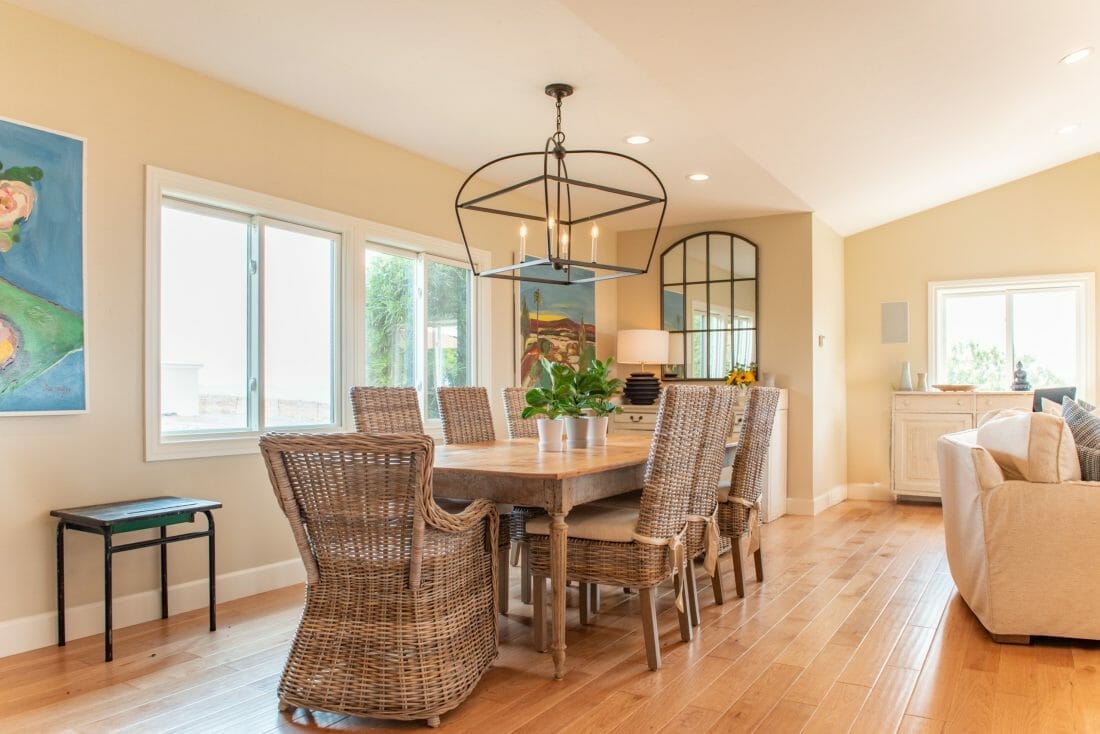 Who says you must splurge on a renovation? This modern farmhouse dining space seems remarkable due to the black metal chandelier and wicker chairs.
The arched window injects a Moroccan touch. Meanwhile, the greenery, yellow blooms, and paintings lighten the mood.
21. Minimalist Moroccan Dining Area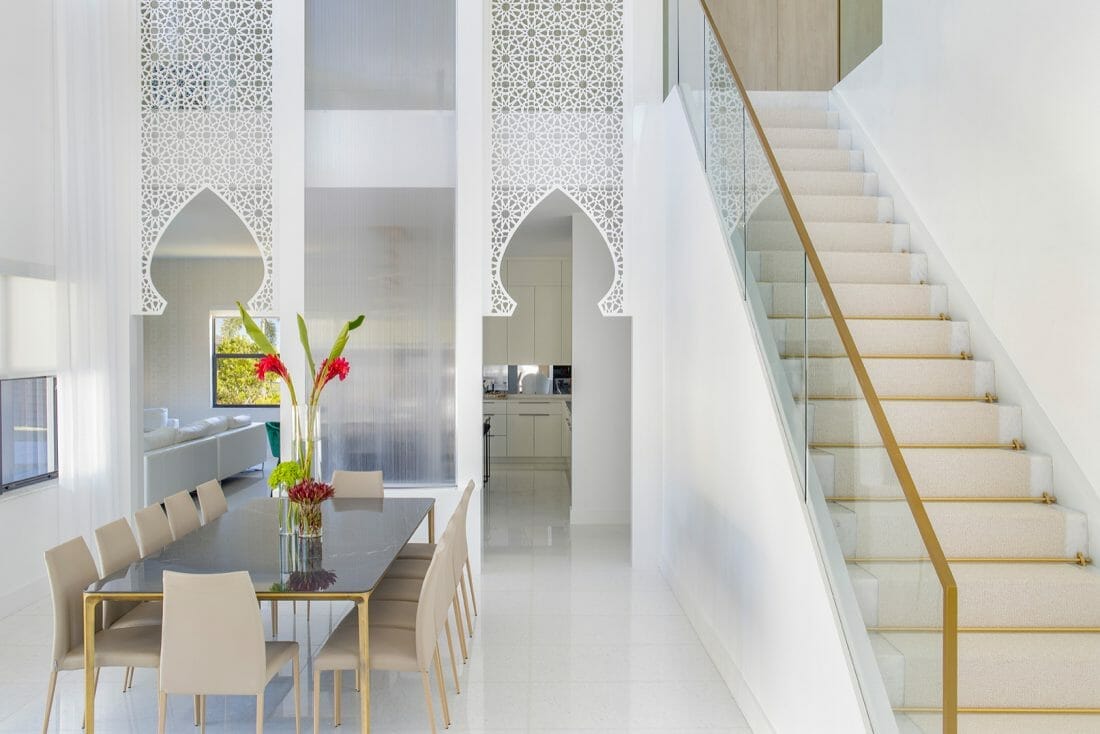 I love this minimalist dining space. Since the area relies on stark white, it appears bright, clean, and open. Moreover, striking Islamic wall panels jazz up the interior.
Brass accents effortlessly inspire glamor. Furthermore, tan dining chairs offer a peaceful setting, while organic elements enliven the dining area.
22. Superb and Stylish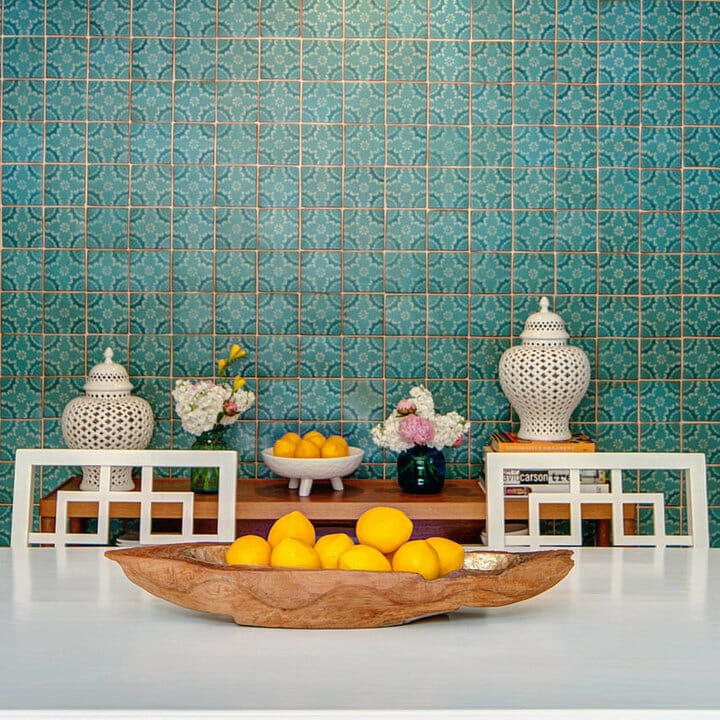 If you're into an outlandish decorating style, duplicate this look. Here, aqua blue patterned tiles lend the contemporary dining area Moroccan vibes.
White jars and dining chairs amplify the Moroccan ambiance. In addition, colorful blooms and lemons invigorate the interior.
23. Moroccan Dining Chairs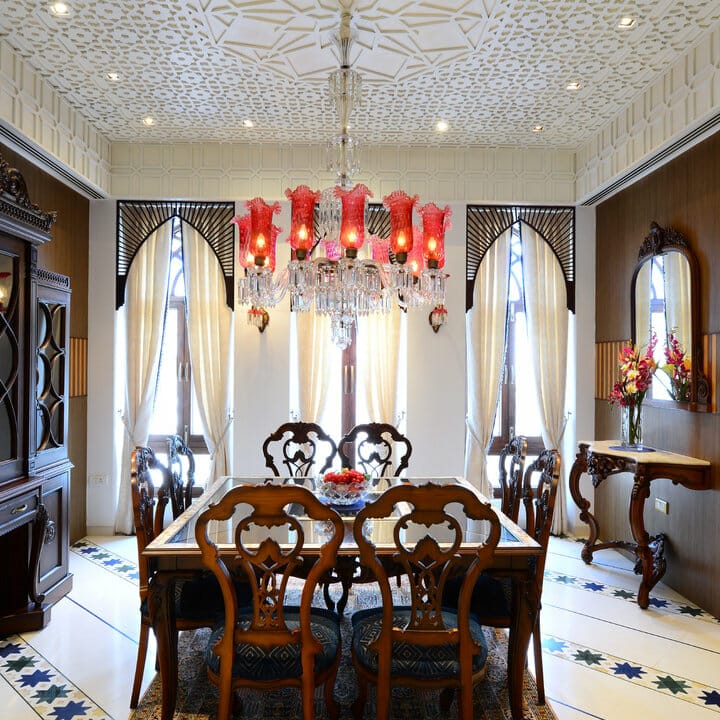 Mediterranean styles easily pair with Moroccan touches. Pure white walls and cream drapes provide a Spanish twist.
This space is rich in Moroccan flavors due to the flooring, rug, cabinet, ornate dining set, console table, and arches. Also, the red chandelier and flowers inject vivacious energy.
24. Elegant and Exotic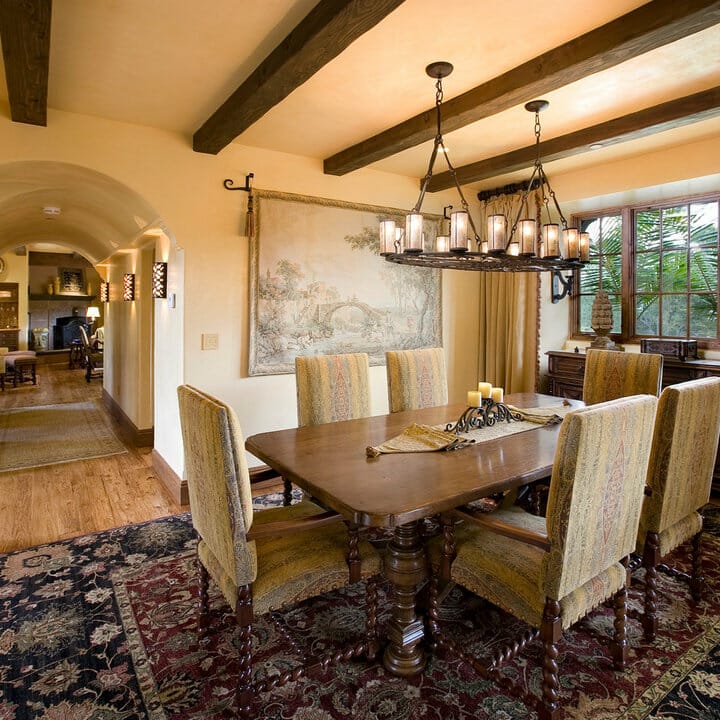 This dining space blends Moroccan and French country styles spectacularly. Not only is it serene and welcoming but also graceful.
The wall hanging, floral-themed rug, and wrought-iron candle holder send out a country appeal. Moreover, the chandelier and dining chair cushions develop Moroccan vibes.
25. Cheerful Moroccan Dining Room
Dining room furniture items and floor tiles inspire mid-century modernism. Meanwhile, natural wooden elements infuse some natural warmth.
The ceiling, floral upholstery, archways, and lanterns produce a Moroccan aesthetic. Teal blue velvet chairs and a colorful table runner behave as centerpieces.
26. Awesome Amalgamation
This dining area is nothing short of marvelous. The fruit painting, striped chairs, massive arched windows, and earth-toned walls infuse Tuscan flavors.
As you see, the dining space offers ample seating. Furthermore, the side table and intricately patterned rug embrace a Moroccan style.
27. Small Yet Sumptuous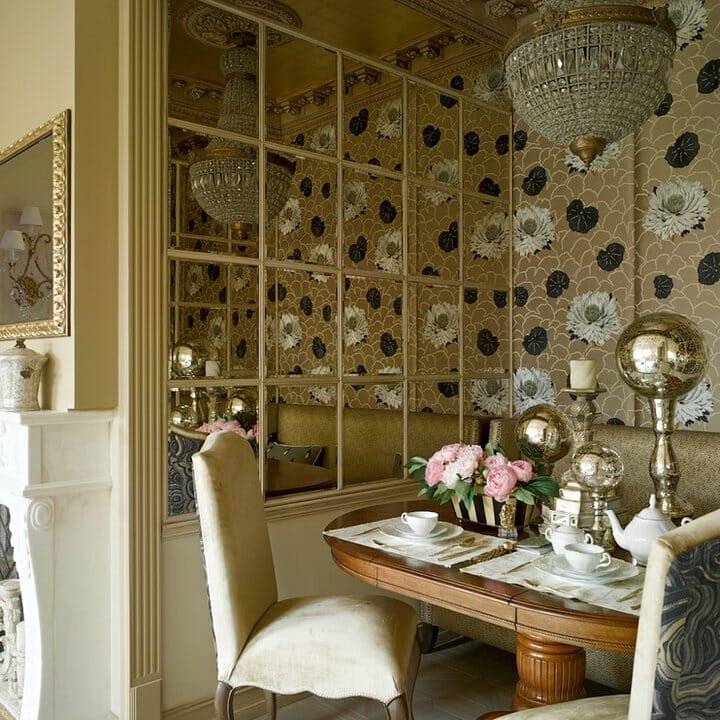 The dining banquette above provides ample inspiration. Here, the crystal chandelier and golden ornaments exude a distinct Moroccan flair.
There's a plush sofa and dining chairs in the room. The square mirror enlarges the area, while the wooden oval table and pink blooms bring Mother Nature's touches in.
28. Inviting and Incredible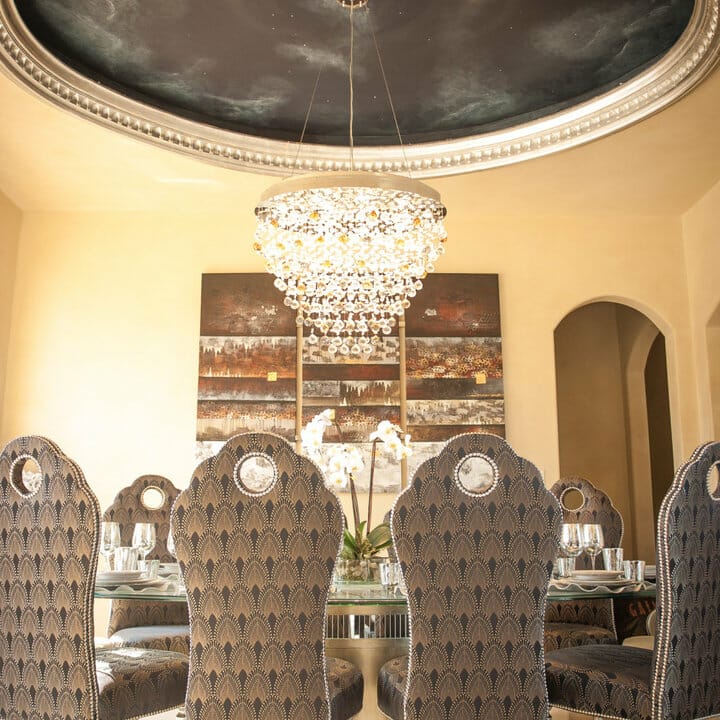 Warm hues balance out the coolness of silver and white. Moreover, arches lend the dining room a Mediterranean twist, while white orchids are a gorgeous complement to the interior.
The dramatic ceiling mural draws the eye. Furthermore, the crystal chandelier inspires opulence as well as elegance. Meanwhile, the patterned dining chairs offer Moroccan grandeur.
29. Plenty of Personalities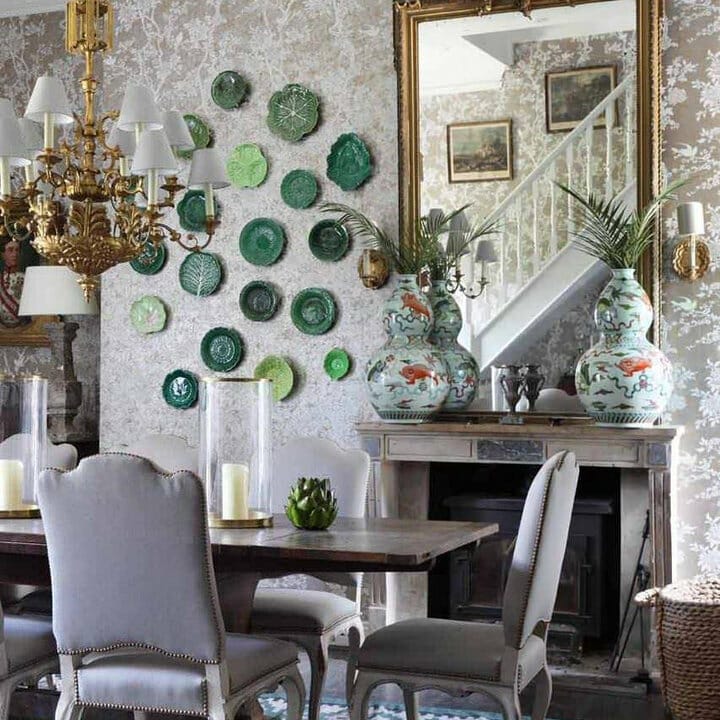 You don't have to alter your dining room's style to get some Moroccan vibes. Here, the golden mirror, chandelier, and sconces transport guests to a palatial home in Morocco.
The distressed fireplace lends the area a shabby chic twist. Furthermore, the floral wallpaper and gray dining chairs provide a French country feel. Different green shades bring the interior to life.
30. Captivating Moroccan Dining Room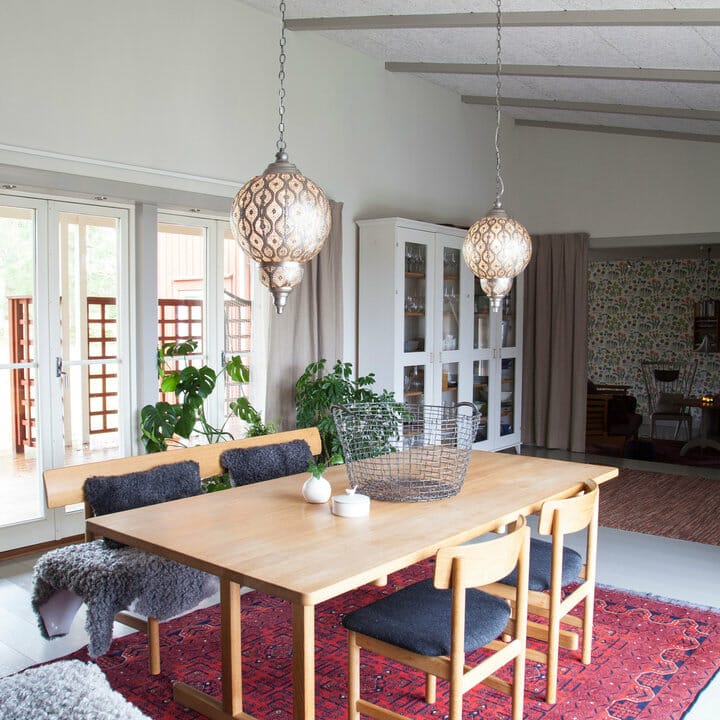 This casual dining space predominantly wears taupe, gray, and white. Moreover, the bold rug and silver lanterns lend it a Moroccan zest.
The blonde wooden dining table and chairs give the dining area a light feeling. Cushions and fluffy rugs offer comfort. Lastly, a couple of tropical houseplants introduce a lively look.
In conclusion, Moroccan dining rooms are inclusive since they go with other decorating styles, from French country to modern. Whether you opt for drastic or subtle changes, always consider your needs and budget.