Apart from being charming, rustic decor provides unmatched elegance. No surprise, the style easily wins the hearts of dwellers. If you want a toasty and inviting sleepy space, steal any of the rustic master bedroom ideas below.
In addition to cozy colors, rustic master sleeping areas typically boast humble fabrics and reclaimed wooden pieces. Furthermore, a predominantly neutral scheme lends rustic bedrooms a peaceful vibe.
Rustic decor doesn't have any rigid direction. Whether you adore something modern or primitive, take cues from these marvelous examples.
1. Rustic Master Bedroom Decor Ideas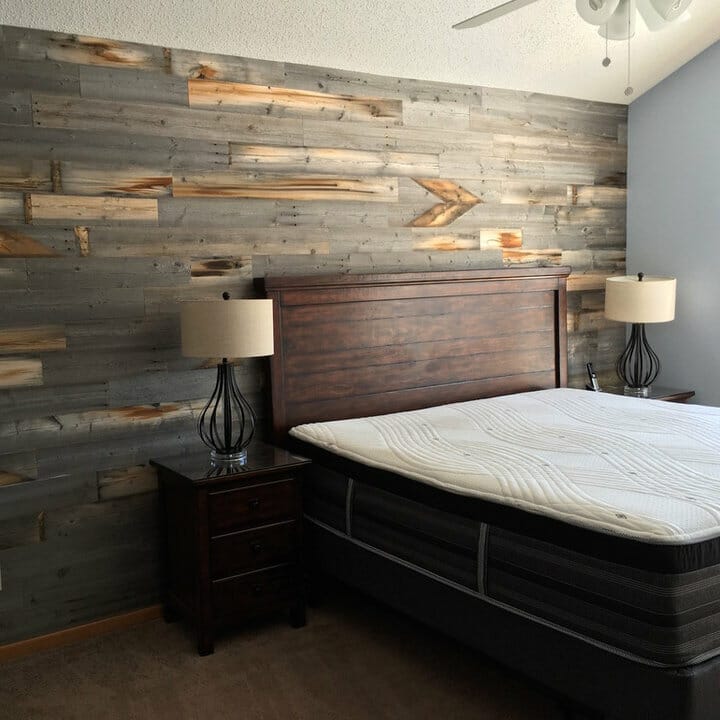 Here, the accent wall displays blonde and gray reclaimed wood planks. Furthermore, they infuse a rustic flavor while developing visual cohesion.
The rich brown wooden headboard, black nightstands, and burlap table lamps give the master sleepy space symmetrical balance. Also, they offer unparalleled intimacy.
Due to the gray rug and textured white ceiling, this master bedroom becomes richer in textures. Moreover, the simple bedding carves a comfortable ambiance.
2. Rustic Country Master Bedroom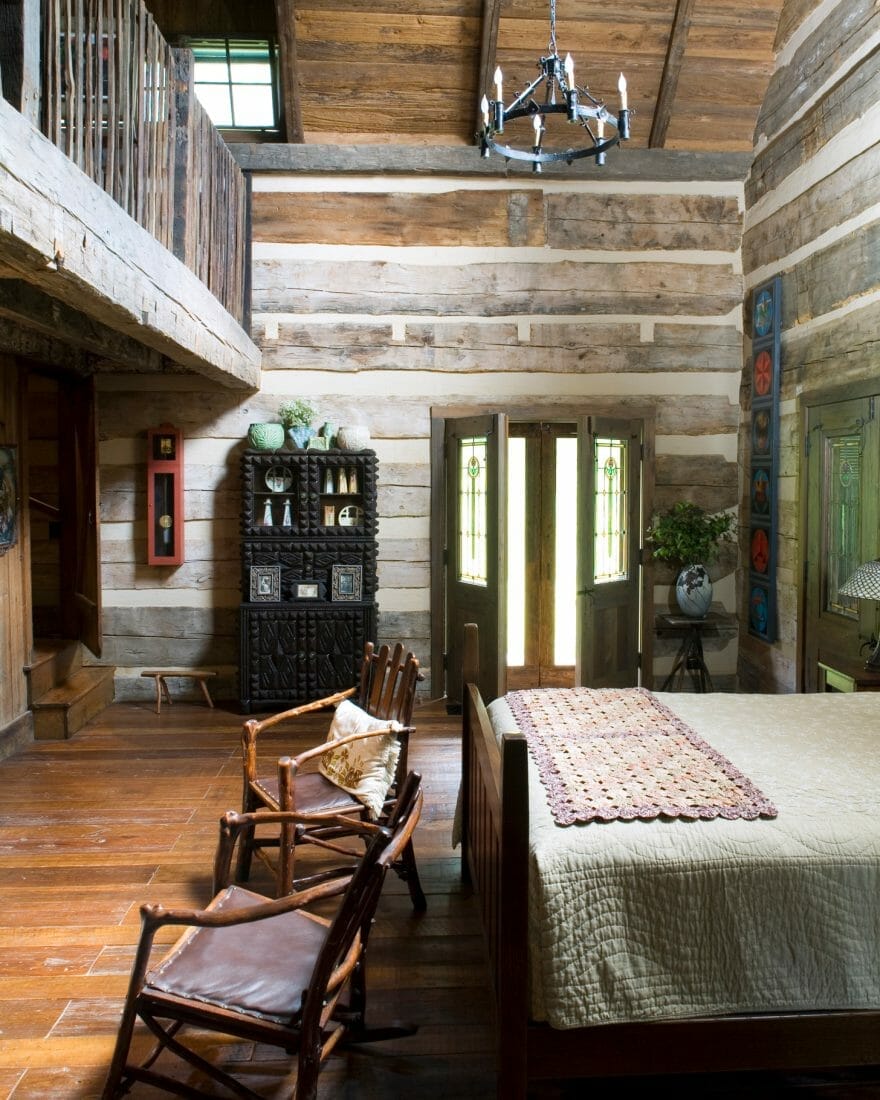 Reclaimed wood walls produce a sense of humbleness. Meanwhile, the wrought-iron chandelier lends the master bedroom proper lighting and rustic elegance.
Speaking of rustic master bedroom furniture items, this interior features a tree branch stool and armchairs. Moreover, they mingle with the warm-toned hardwood floor.
The black armoire, dark blue artwork, and burnt orange cabinet complement reclaimed walls. Furthermore, the ivory bedding, brown leather upholstery, and country fabrics inject layers of softness.
3. Modern Rustic Master Bedroom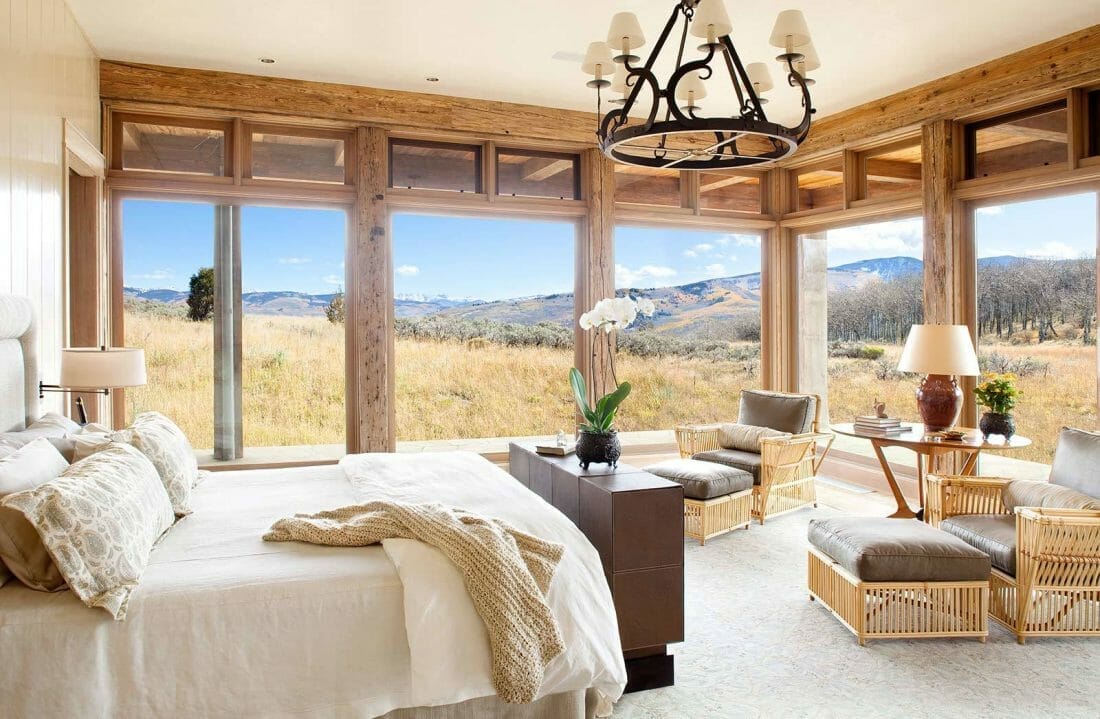 Thick, bare wooden window frames deliver primitive warmth to the master bedroom. Moreover, pure and soft whites send out a soothing scene.
The dark brown sideboard, rattan furniture pieces, and seat cushions maintain the sleepy space's modern feel. Additionally, the rug, bedding, and throw blanket embrace a cozy feeling.
Overhead is an iron chandelier that provides a classic zest. Furthermore, windows bring fabulous scenery to the bedroom, while plants accompany rustic elements.
4. Rustic Master Bedroom Paint Colors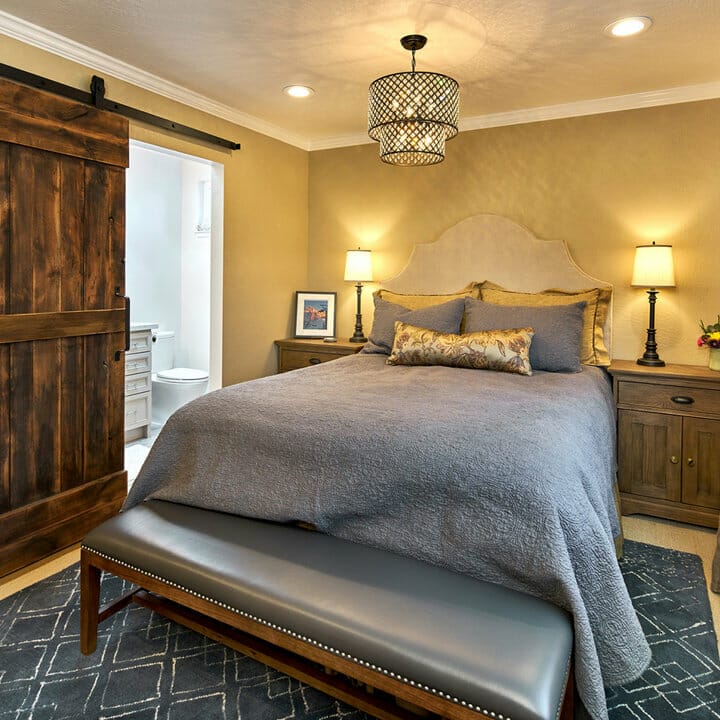 This master sleeping space relies on beige, gray, and muted yellow for a restful atmosphere. Moreover, the sliding barn door separates it from the bright, tiny bathroom while oozing plenty of rustic warmth.
Classic table lamps and unpainted wooden nightstands flank the solid headboard. In addition, they introduce symmetrical balance.
The gray leather bench and silk pillowcase infuse glamor. Furthermore, the geometric rug and patterned pendant take center stage. Also, the artwork and blooms embellish the bedroom.
5. Rustic But Remarkable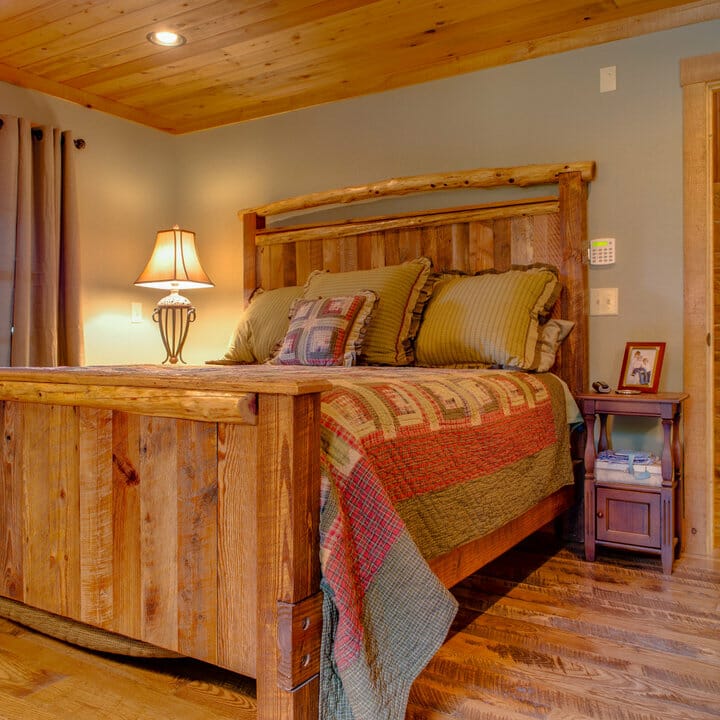 Need master bedroom ideas? Duplicate the look of this sizable sleeping area. Pastel gray walls clash beautifully with tan curtains.
The wooden flooring, ceiling, and bed frame infuse a rustic atmosphere. They display raw yet ravishing nature's beauty, too.
Reddish-brown wooden nightstands absorb the coldness of the gray backdrop. Piles of pillows provide striking patterns and relaxing colors while adding comfort. Meanwhile, the family photo and table lamp round out the space.
6. Trendy and Rustic Master Bedroom Ideas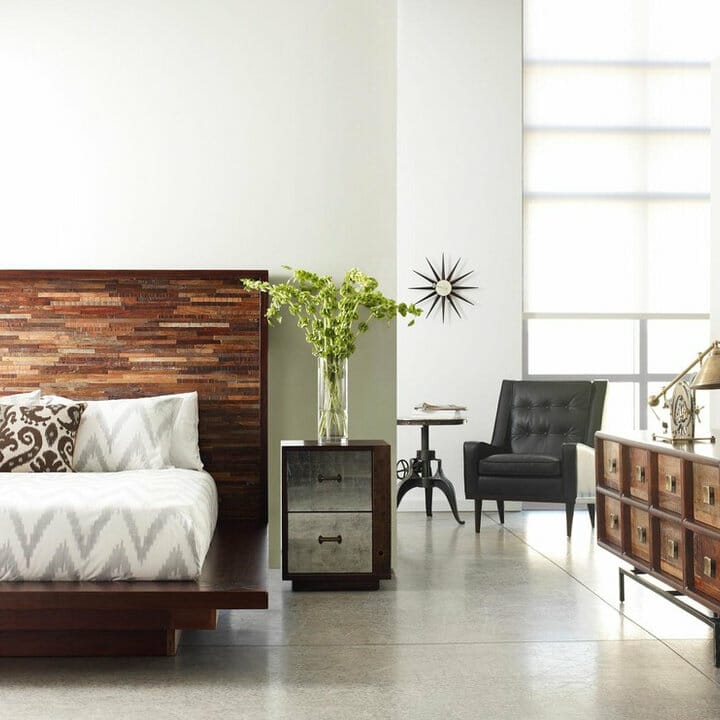 White and gray can make any sleeping space chilly. However, if you integrate warm-toned wooden units into it, the interior becomes downright welcoming.
Here, the sleek bed employs thin, multi-tonal reclaimed wooden pieces. In addition to introducing a snuggly ambiance, it highlights the bedding with different delightful patterns.
The stylish metallic nightstand mingles with the bed perfectly. Moreover, the greenery and cylindrical glass vase soften hard edges. Black elements ooze drama, while the dresser, lamp, and pedestal table lend the master bedroom a steampunk flair.
7. Casual Rustic Master Bedroom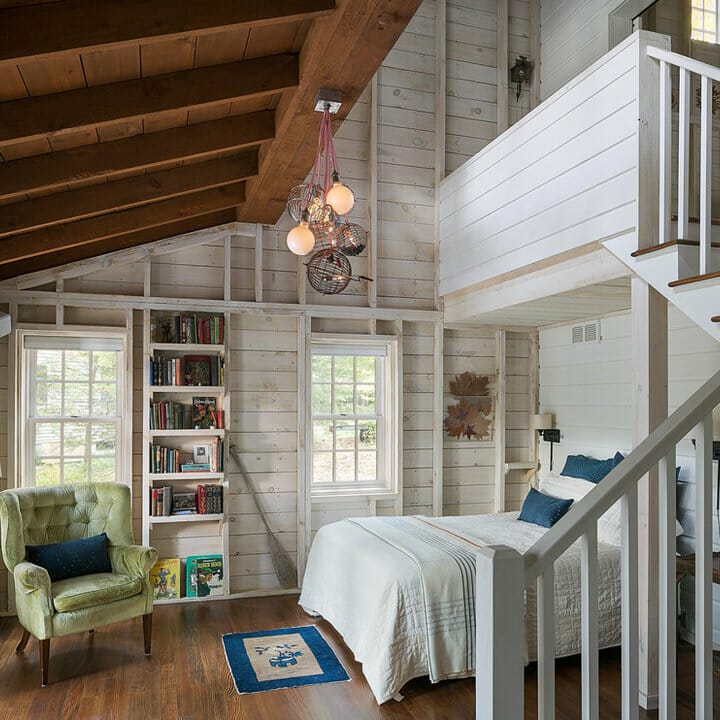 Cool- and warm-toned whites develop an airy look. Furthermore, horizontal paneled walls do not only carve visual interest but also widen the master bedroom visually.
The built-in shelving houses different genres of books. Additionally, the striped blanket, oar, and dried maple leaves inject outdoorsy vibes.
Due to the hardwood flooring and wooden rafters, the bedroom seems homey. Moreover, the green velvet sofa chair, navy rug, and pillows invigorate the scene. Lastly, a mix of light fixtures produces a laid-back atmosphere.
8. Rustic Meets English Country
This master sleeping area enjoys assorted cozy textures via the bare wooden bed, ceiling, and jute area rug. Moreover, creamy-white walls ensure that the bedroom appears serene.
Windows with white and black frames allow the dweller to view the outdoors. In addition, the table lamp injects an air of elegance.
The red gingham bedding set generates an English country appeal. Furthermore, the landscape pillow and winter artwork spruce the master bedroom up.
9. Rustic Master Bedroom Bedding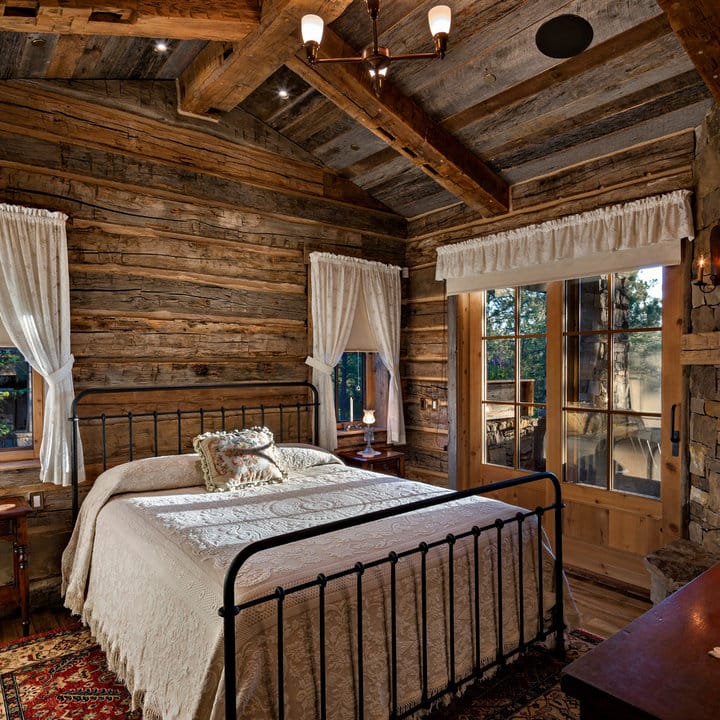 Repurposed wood ceiling beams and walls deliver a rustic ambiance to this master bedroom. In addition, the wrought-iron bed, wooden nightstands, and short curtains maintain the interior's formal balance.
Classic floral fabrics lend the space a sense of softness. Moreover, they complement the charming country area rug atop the flooring.
Due to the exposed stone fireplace, the sleeping area feels cozy. Meanwhile, the copper chandelier, downlights, and table lamps illuminate the room.
10. Rustic Master Bedroom with Fireplace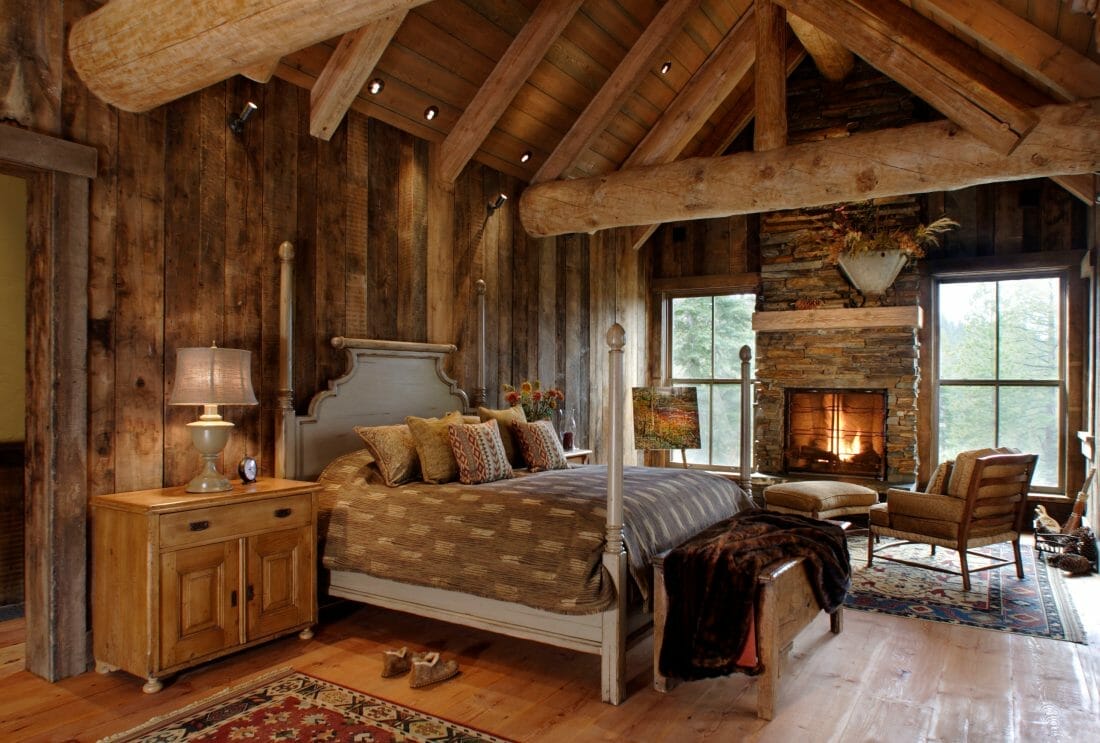 Here, the master bedroom becomes a rustic retreat. As you see, it employs vertical paneled walls with reclaimed wooden planks.
The rough stone fireplace, wooden flooring, and log beams reinforce the rustic ambiance. Meanwhile, patterned area rugs are both bodacious and comfy.
There's also a gray, distressed four-poster bed with attractive bedding. Lastly, the painting, dried fall leaves, and bold blooms jazz the bedroom up.
11. Loads of Rustic Elegance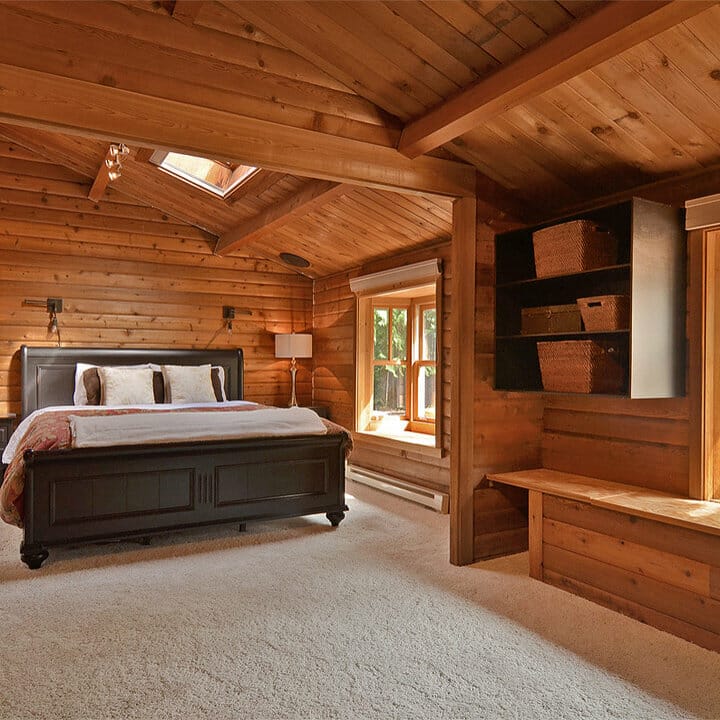 This master bedroom employs bare wooden planks on the ceiling, bench, and walls. Apart from exuding a rustic feel, they set a toasty scene.
The deep gray bed and nightstands imbue the sleeping area with drama. Furthermore, they carve a classy and formal look.
Due to the carpet and layered bedding, the interior becomes welcoming. Also, cool-toned metal pieces balance wooden planks, while jute baskets produce extra touches of textures.
12. Rustic Master Bedroom with Splashes of Color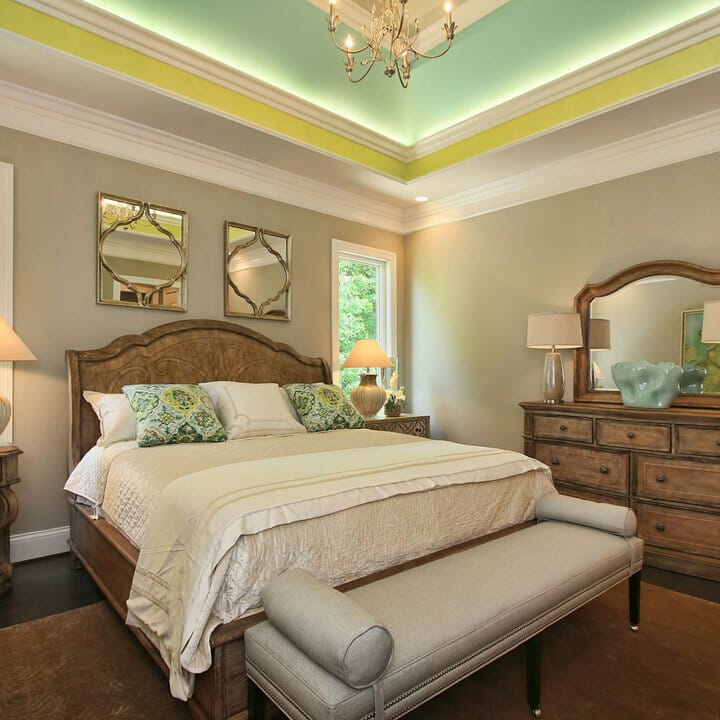 Due to soft gray walls, this master bedroom becomes a restful retreat. Moreover, the weathered wood dresser and bed contribute to the interior's rustic appeal.
The white bedding, lampshades, and moldings brighten the sleeping space up. Furthermore, the carved wooden nightstands and ornate mirrors provide Moroccan elegance as well as formal symmetry.
The brown rug and light gray upholstered bench introduce a comfortable ambiance. In addition, intricate patterns and invigorating colors liven the scene up.
13. Rustic Attic Master Bedroom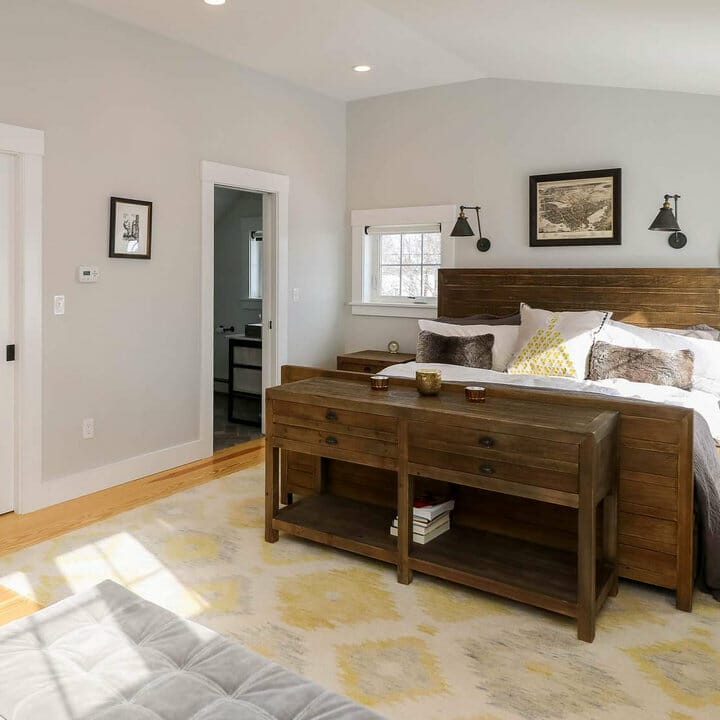 The rich wood dresser, bed, and nightstands lend this attic master bedroom organic warmth. Also, they develop a rustic atmosphere.
Pale gray and stark white clash with the warm-toned wooden flooring. Meanwhile, black artwork frames give off a sleek touch.
Industrial wall lamps emphasize the rustic headboard at night. They send out an air of drama, too. Moreover, pastel yellow accents on the pillow and area rug generate a cheerful mood.
14. Outstanding Rustic Master Bedroom Decor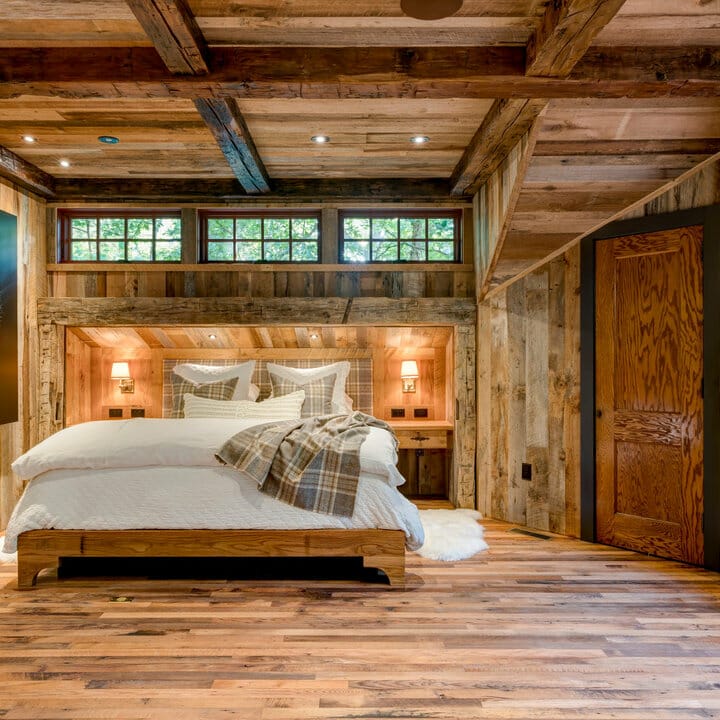 This is one of the incredible rustic bedroom pictures. Not only does the sleeping space seem snuggly, but also carries loads of characters.
Reclaimed wood dominates the interior. The material appears on the bed, ceiling, beams, and walls. Moreover, they represent primitive elegance and warmth.
The bedroom door becomes a focal point since it displays impressive wood grains. Furthermore, plaid patterns and sconces generate an English cottage feel.
15. Outdoorsy Oasis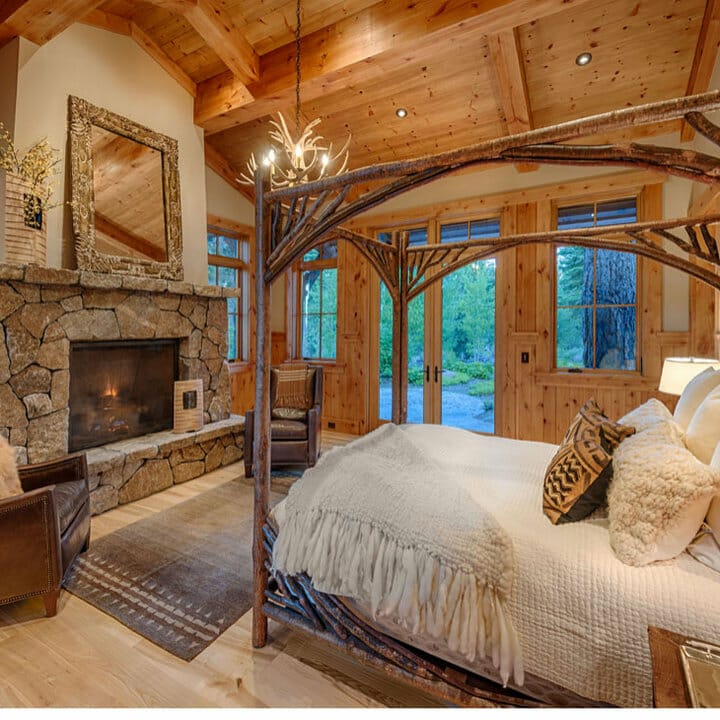 Speaking of beautiful rustic bedrooms, this sleeping area is worth duplicating. The flagstone fireplace, deer antler chandelier, and bland wooden flooring bring the outdoors in. Meanwhile, the four-posted bed with tree branches heightens the natural ambiance.
Rich brown leather armchairs infuse touches of opulence. Patterned pillows unify different neutral tones in the master bedroom.
Windows and French doors keep the rustic sleeping space bright. In addition, the wool blanket and pillows lend the scene utmost comfort.
16. Graceful Rustic Master Bedroom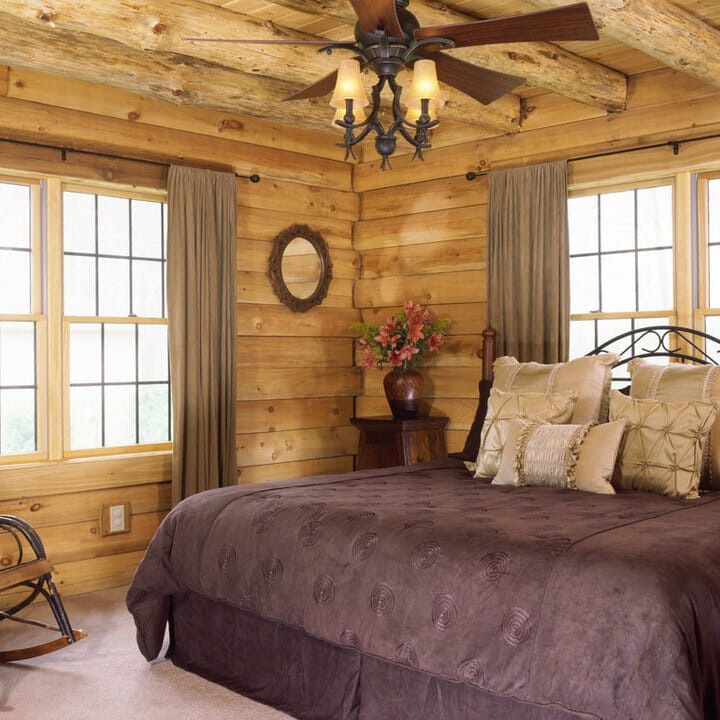 Since the homeowner wanted to bring outside elements in, she incorporated wood logs into her master bedroom. They adorn the ceiling and walls while radiating natural warmth.
The pale taupe carpet and windows lighten up the sleeping area. Moreover, the deep brown bedding calls attention to sumptuous silky pillows.
Due to the elaborate mirror and iron ceiling fan, the master bedroom is full of classic charms. The rocking chair produces a laid-back ambiance, while blooms add some life.
17. Refined Rustic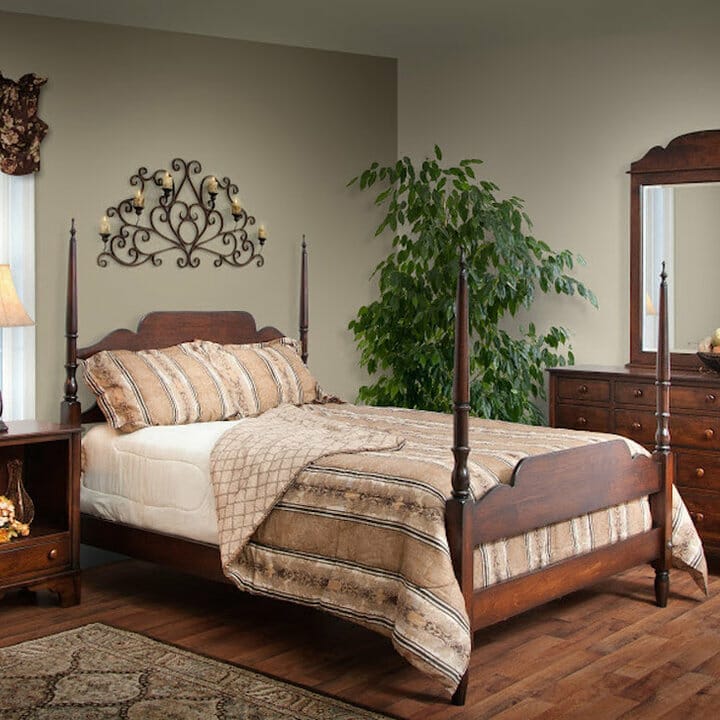 The rich-toned wooden four-poster bed, dresser, and nightstand warm the master bedroom up. In addition, they inject a refined rustic flair.
Over the headboard is an exquisite iron wall sconce with candles. Moreover, floral patterns on the bedding, rug, and window shades beautify the interior. Lastly, because of the greenery, the master bedroom doesn't seem lackluster.
18. Rustic Master Bedroom with A Sign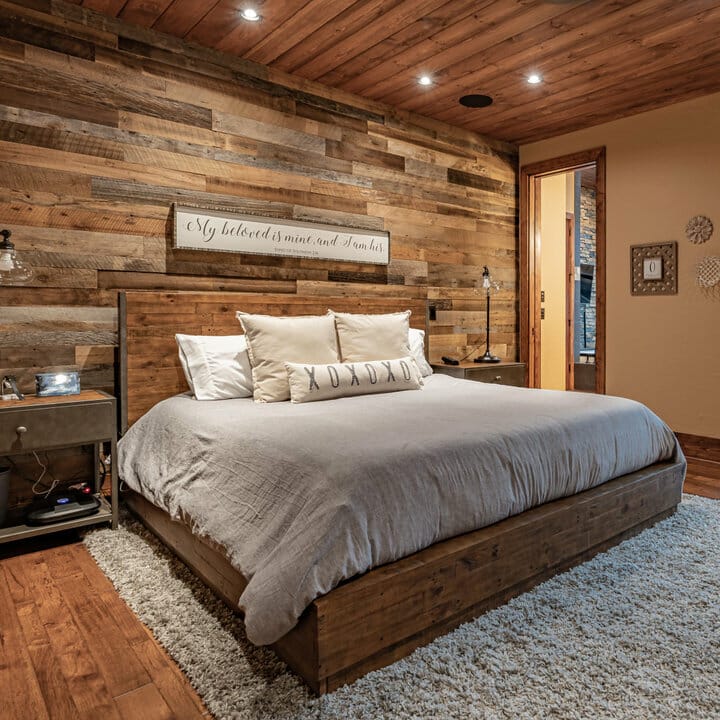 No rustic master bedrooms are complete without humble fabrics. This sleeping space, for example, boasts a linen bed cover with fringes. Furthermore, there are different sizes of neutral-toned pillows for a cozy feeling.
This cottage-style sleeping area looks appealing because of reclaimed wood panels in varying tones and lengths. Apart from adding a rustic charm, they accentuate the vintage bedroom sign.
The beige wall lets chic ornaments pose as centerpieces. Moreover, the gray shag rug, lamps, and metal nightstands give off a balanced appearance.
19. Rustic Grandeur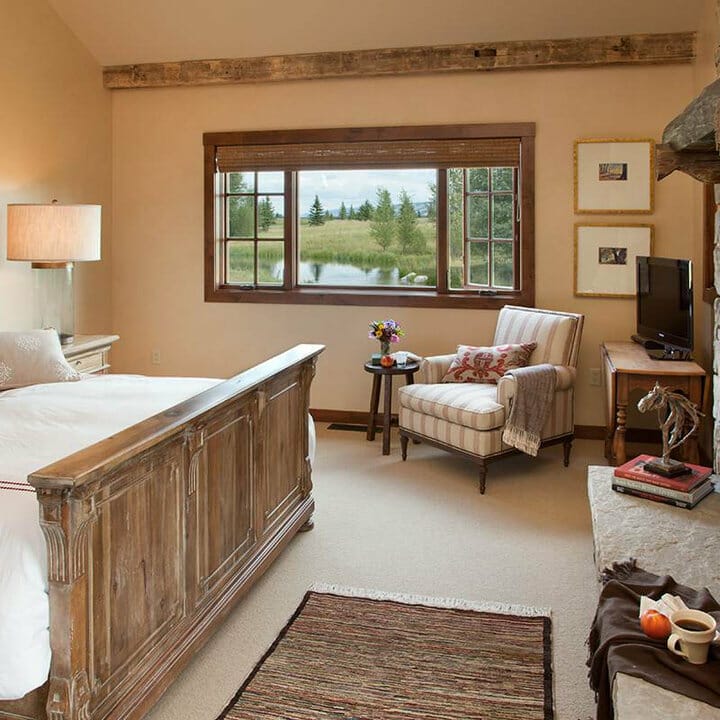 This master bedroom becomes a crucible of rich textures. The weathered wood bed, rugged stone fireplace, and burlap lampshade nod to the rustic style.
The reclaimed wood decorative beam, bare wooden furniture, window frames, and jute cord frames heighten the natural vibe. Lastly, the striped chair, red patterned pillow, and table lamp generate an English cottage look.
20. Rustic Master Bedroom with A Vaulted Ceiling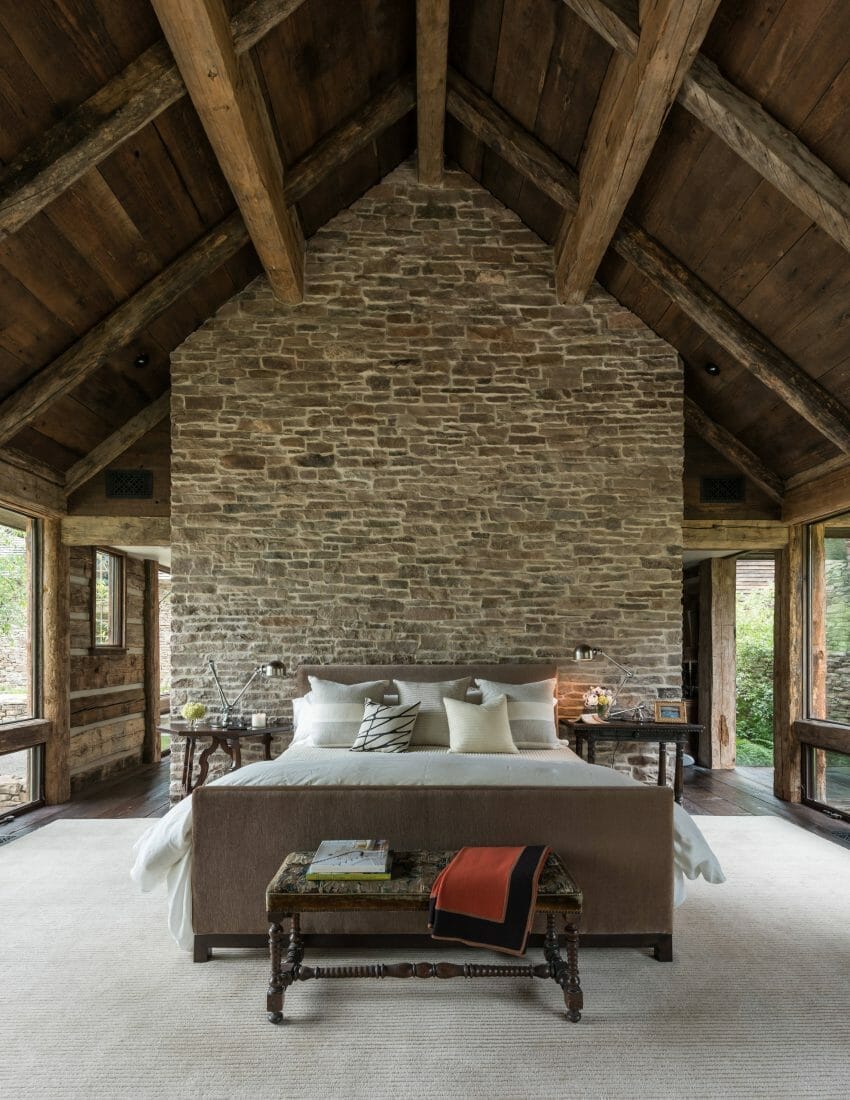 The statement brick wall, weathered wood beams, and log pillars evoke a rustic aesthetic. Moreover, the wooden flooring, vaulted ceiling, and window frames deliver extra touches of nature.
As you see, the minimalist bed lives delightfully with the antique upholstered bench. Also, the orange blanket injects more warmth. Furthermore, mismatched classic nightstands send out a laid-back feeling.
21. French Country Meets Rustic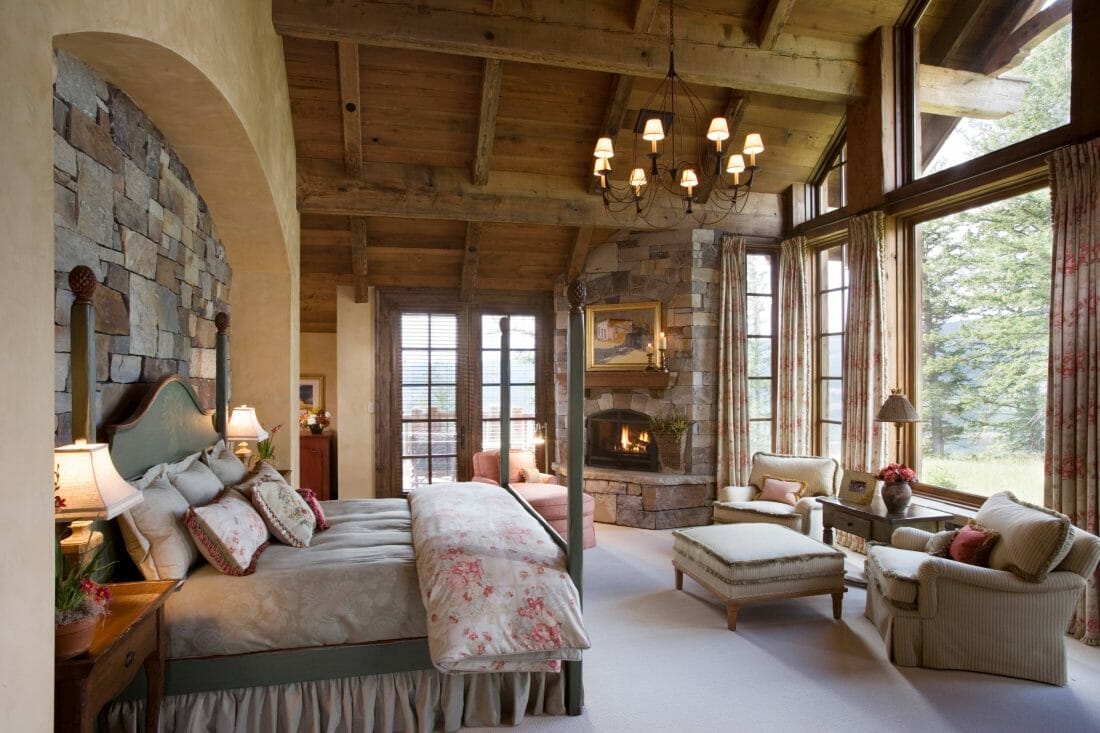 This master bedroom is super admirable. The stone accent wall and fireplace carve a rustic appeal. Furthermore, the floral bedding and curtains balance their roughness out.
Unpainted wooden planks introduce an architectural interest overhead. Moreover, the four-poster bed, iron chandelier, striped sofa chairs, table lamps exude elegance.
22. Expansive and Exquisite
Gray walls and rich brown wooden pieces develop a drool-worthy juxtaposition. Meanwhile, the floral bedding, rug, and textured blankets instill a cozy atmosphere.
The untreated wooden door, flooring, and ceiling preserve the bedroom's rustic aesthetic. Lastly, table lamps take center stage. Because of nightstands, the sleeping space doesn't seem too matchy-matchy.
23. Salvage Sanctuary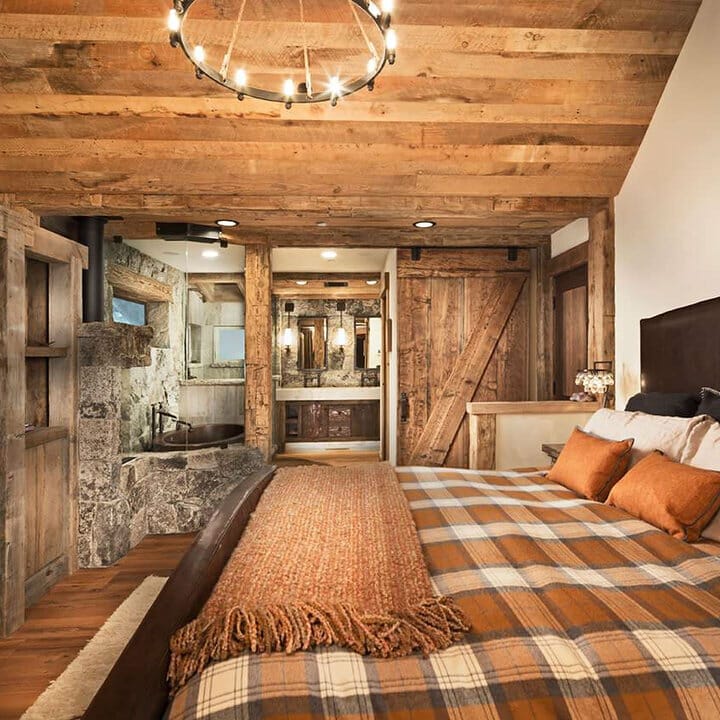 Repurposed wooden planks and metal pieces make for a rustic sleeping space. Also, the rugged stone wall and backsplash transport the dweller to the outdoors.
Downlights, sconces, and white-painted surfaces keep the interior bright. Moreover, the textured bedding oozes countryside coziness.
24. Rustic Master Bedroom with Massive Windows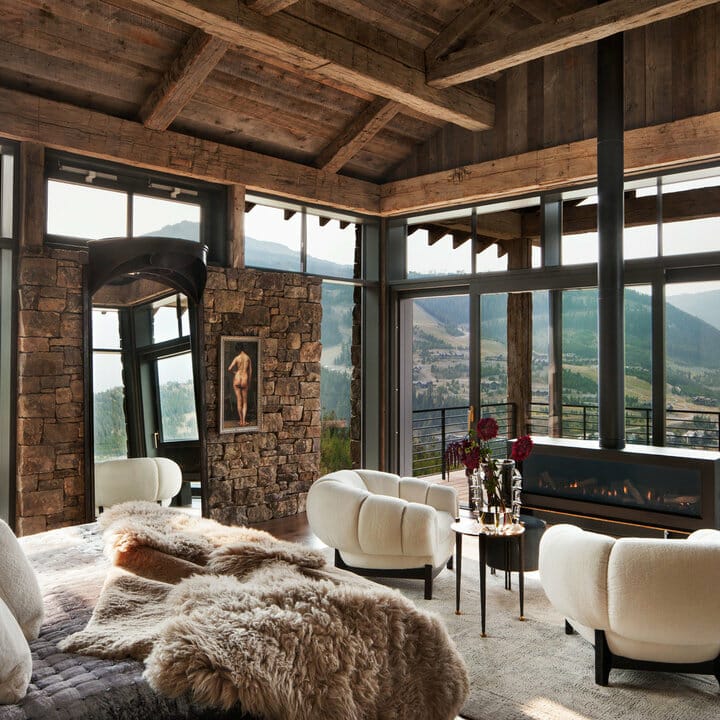 This master bedroom truly enjoys nature's textures. It has a rugged stone wall, a weathered wood ceiling, and exposed beams.
The fireplace and deep red blooms impart a toasty mood, while windows capture mountainous views. Lastly, fluffy blankets and plush sofa chairs represent maximum comfort.
25. Snuggly and Splendid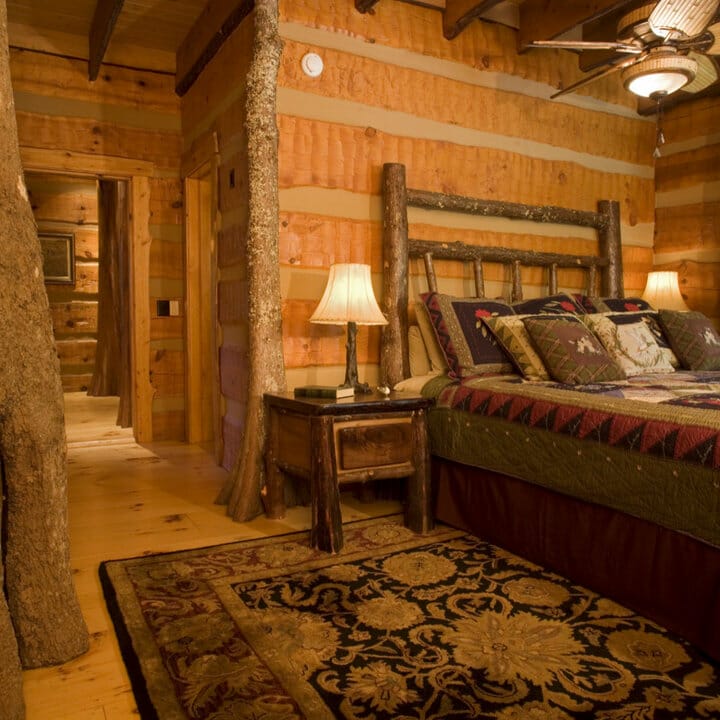 Love the outdoors? If so, copy this rustic master bedroom's look. Here, the dweller incorporated tree logs and branches into her interior.
Wide, blonde wooden planks and gray walls make swoon-worthy, alternating stripes. Moreover, the country rug, table lamps, and nightstands embrace rustic flavors.
26. Rustic Master Bedroom with Carved Details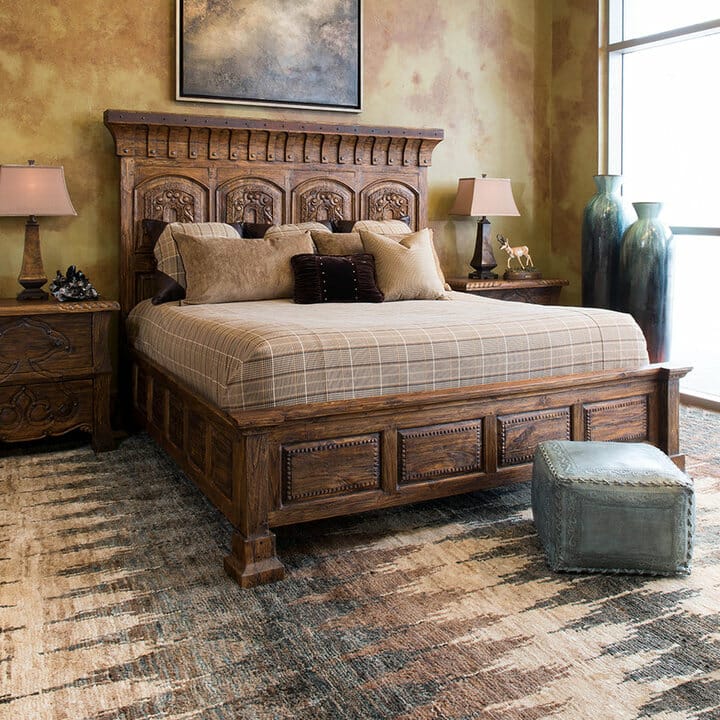 Here, bedroom walls are relaxing as well as eye-pleasing. Moreover, the carved wooden bed and nightstands infuse an air of elegance.
Mismatched ornaments and different sizes of porcelain jugs prevent the master bedroom from being too formal. Furthermore, the multi-tonal rug brings the scene together.
27. Humble Hideaway
Who says rustic must be muted? This master bedroom employs cottage-style bedding with touches of white, red, and blue for a cheerful mood.
Blonde wood dominates the bedroom, from the nightstand to the ceiling. Overhead are rustic log beams with thick rope. Also, a variety of classic and whimsical light fixtures illuminates the space.
28. Modern Rustic Bedroom Wall Decor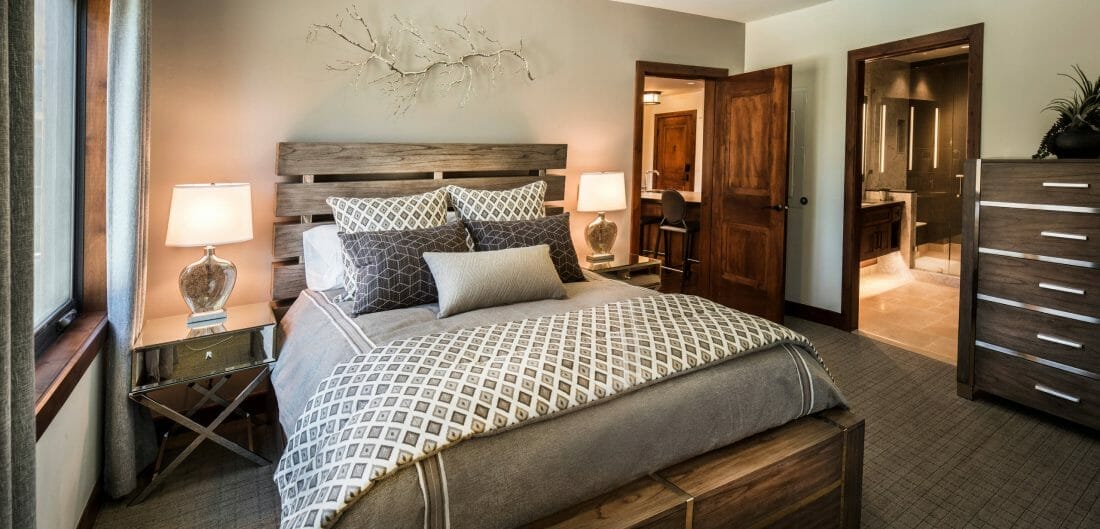 The weathered wood pallet headboard infuses a distinctive rustic flavor. Meanwhile, the deep-toned wooden dresser, door, trim details, and window frames embrace a toasty nuance.
Due to the geometric bedding and sleek bed, the room becomes super stylish. Silver lamps and nightstands inspire lavishness. Furthermore, the whitewashed tree branch embellishes the soft gray wall.
In short, a rustic decorating style has no strict rules. That's why it's trending. If you're into it, implement any of the rustic master bedroom ideas above. Regardless of the direction, the result must be both inviting and admirable.