Since many homeowners focus their attention on living areas, dining spaces become neglected. If you want enjoyable mealtimes, duplicate any of the cozy dining rooms below. Moreover, it's time to make your interior more welcoming and comfortable.
Creating a cozy dining space is not that challenging. Homeowners only need to alter ornaments, room configurations, furniture shapes, and color schemes. By changing them, dwellers can give their dining spaces a new life. So let's browse through these photos!
1. Cozy Dining Room Decor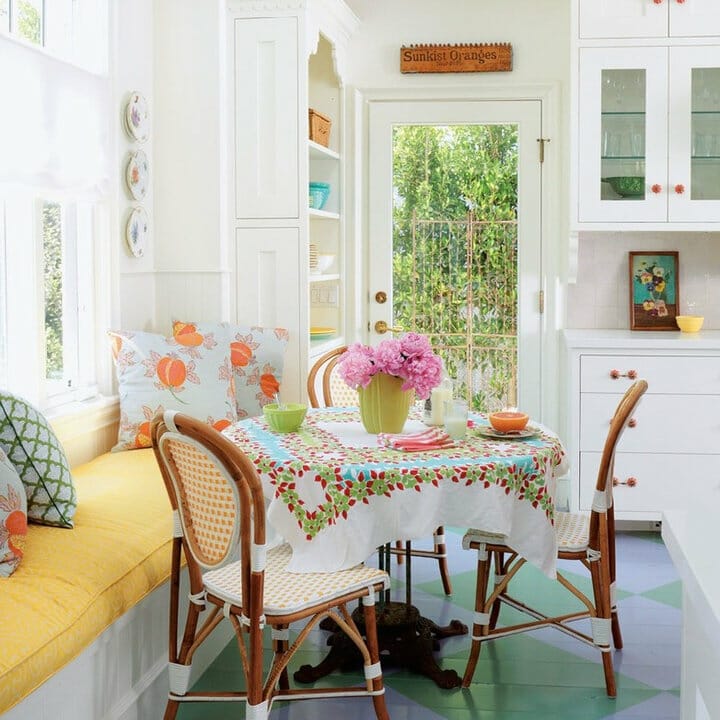 Pure white paint keeps this tiny dining area airy and bright. Furthermore, the glass door and windows let an abundance of sunlight in.
Here, the sunny spot boasts a window seat with yellow patterned upholstery. Moreover, for a cozy look, the homeowner mixed and matched patterns.
The colorful tablecloth, flower painting, decorative plates, and pink blooms quickly exude an English cottage ambiance. Rattan dining chairs send out a casual feel, while the arabesque throw pillow provides an exotic twist.
2. Cozy Modern Dining Room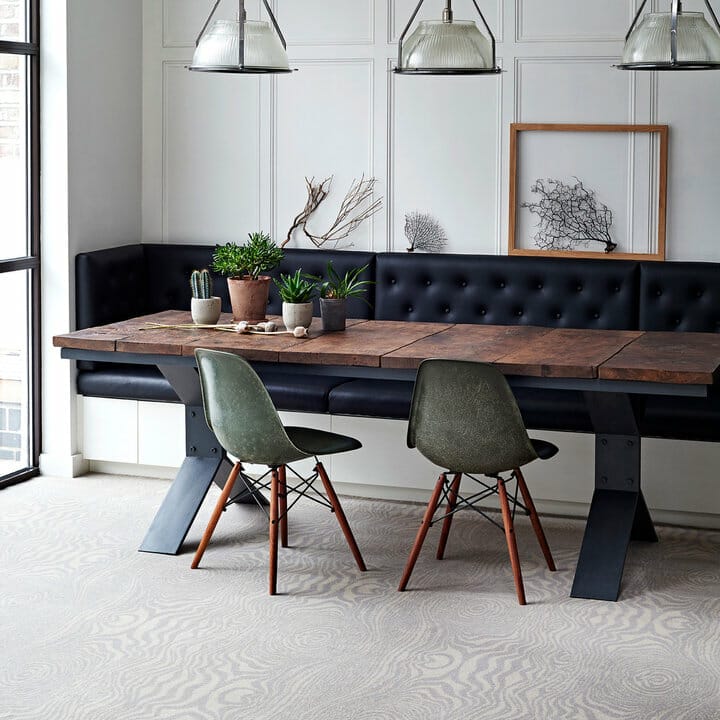 This dining area is sleek and splendid. Additionally, the white wall panel and baseboard open up the entire interior. Meanwhile, black leather tufted seat cushions infuse drama while softening the room.
A pair of two chairs carve a mid-century modern aesthetic. Furthermore, it has a long wood dining table that employs black metal legs.
Metal and glass pendants highlight the dining table. Rich wooden elements balance cool tones out. Moreover, houseplants and minimalist artworks inject characters while harmonizing with the mid-century modern aesthetic.
3. Cozy Farmhouse Dining Area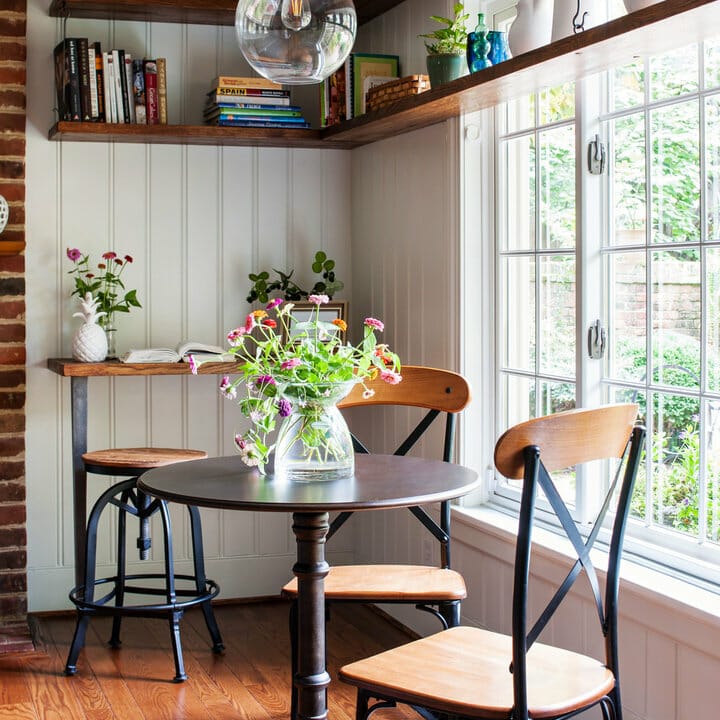 Need small cozy dining room ideas? If so, this design is for you. Due to the white-painted wainscoting and windows, the interior feels more expansive.
The dining area boasts a stool and two X-back chairs. Moreover, they lend it a farmhouse appeal while introducing visual cohesion.
Because of red bricks and wooden elements, the dining room suddenly seems intimate as well as cozy. Meanwhile, real plants and blooms produce an organic look.
4. Cozy Dining Room Decorating Ideas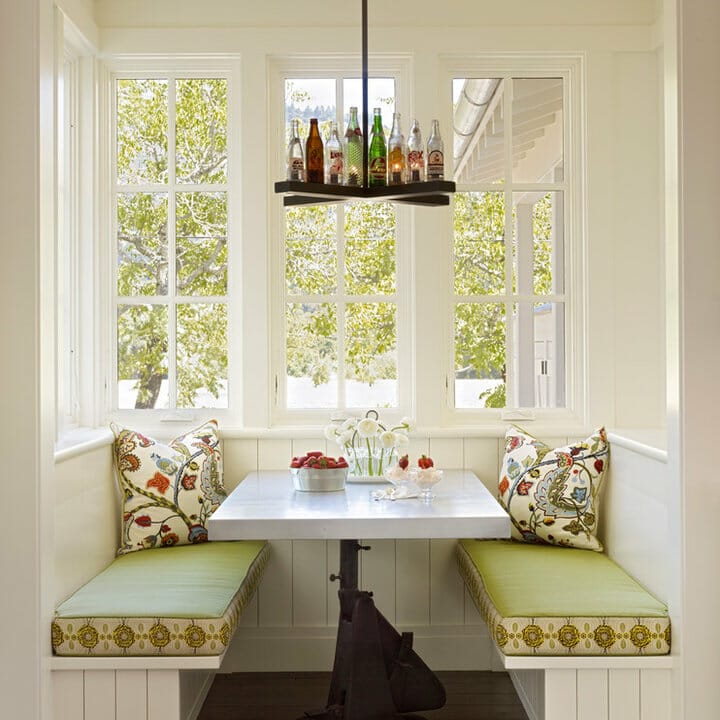 Speaking of tiny cozy dining rooms, a soft white color palette is the way to go. Apart from enlarging the area, it represents peacefulness and airiness.
The square dining table accompanies vertical lines while updating the dining area. Moreover, the black light fixture holds bottles for visual interest.
Due to the rich floor color, the dining room doesn't become chilly. Furthermore, eye-pleasing patterns lend the interior an air of coziness.
5. Cozy Dining Room Chairs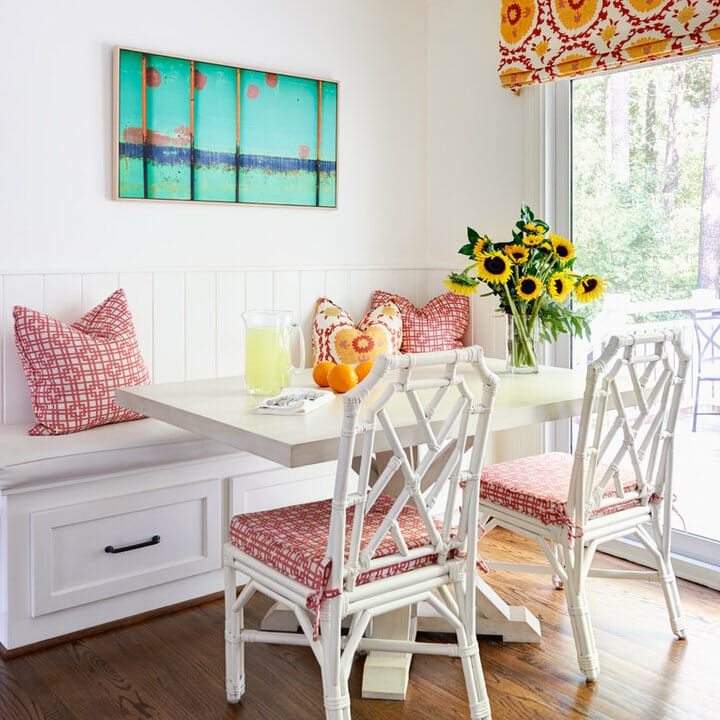 Although this casual dining area is small, it doesn't seem restricted. As the picture shows, the room relies on crisp white for an airy vibe.
The plain white backdrop accentuates the predominantly turquoise artwork. Furthermore, the built-in cushioned bench has drawers with iron handles.
Because of natural wood grains, the dining room appears more inviting and attractive. Moreover, red patterned fabrics and sunflowers develop a cozy appeal. Lastly, the statement window shade and pillow unify the interior.
6. Cozy Dining Rooms for Log Cabins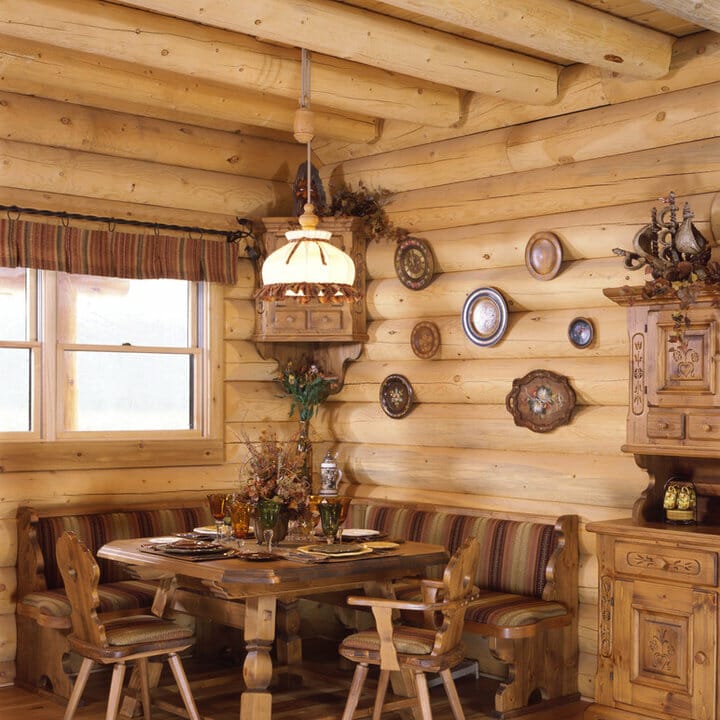 This rustic dining space belongs to a log cabin house. Furthermore, it boasts blonde wooden logs that embellish the ceiling and walls. They evoke a sense of primitive warmth suddenly.
The wooden corner bench, table, and armchairs impart a welcoming nuance. Additionally, ornamental plates and carved cabinets send out a classic flair.
Moreover, the window covering and seat cushions boast stripes that supply earthy tones. They produce a cozy feeling and a visual interest.
7. Bright and Cozy Dining Rooms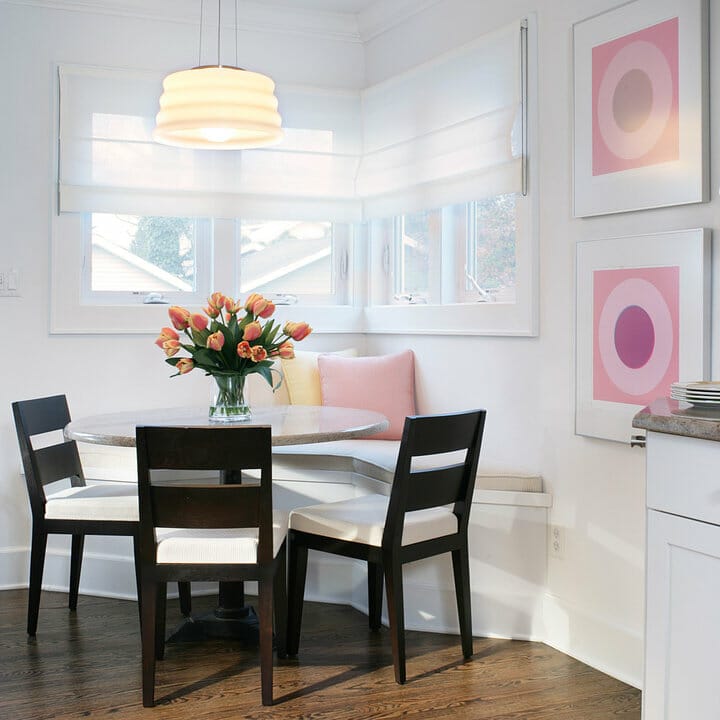 Speaking of cozy dining rooms, try making the most of your dining space. Here, the room features a corner window seat with a creamy-white cushion. Moreover, it allows the dweller to use the area during the daytime.
Three rich-toned wooden chairs surround the pedestal table. They introduce a homey look, too. Furthermore, comfy, handmade elements balance out sleek units.
Fabulous wood grains represent nature's beauty. Lastly, the artworks and pillows supply pretty pastel hues that keep blandness at bay.
8. Minimalist Yet Cozy Dining Rooms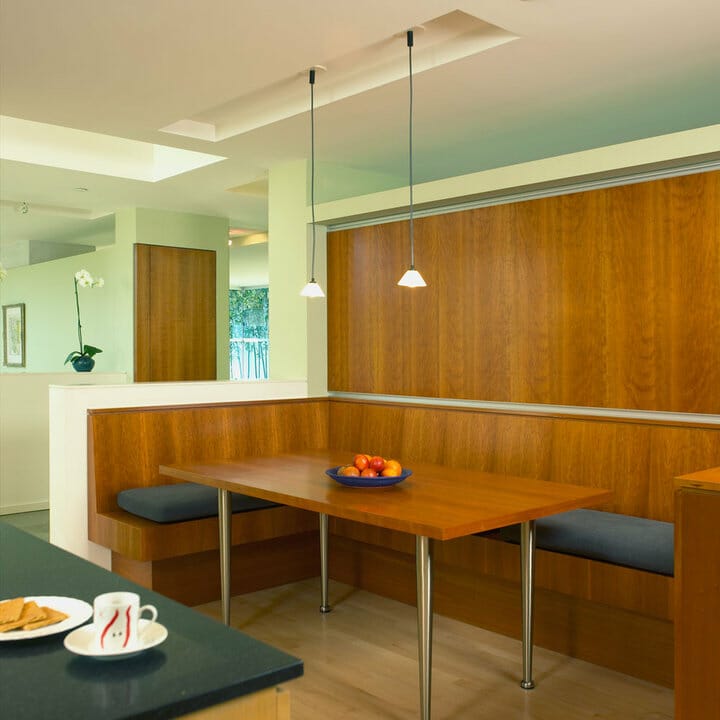 Who says minimalist dining areas can't be cozy and homey? Just take inspiration from this stylish and welcoming culinary space.
The wooden paneling, dining table, and corner bench embrace strict lines. Apart from providing a minimalist aesthetic, they inspire warmth and intimacy.
Since the wooden elements come in light and medium tones, the space doesn't feel monotonous. Moreover, the gray seat cushion develops a cozy atmosphere, while metallic furniture legs and pendants maintain the dining room's balanced look.
9. Eclectic and Cozy Dining Space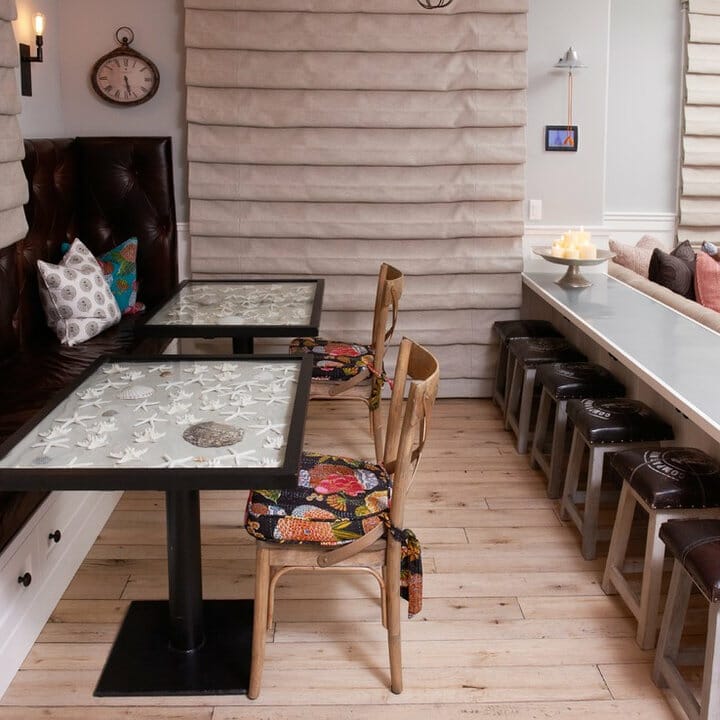 Despite its tiny size, this dining area offers ample seating. The gray table and walls offset the taupe wall panel and window coverings.
Raw wooden planks and dining chairs provide a rustic feel. Moreover, seaside ornaments adorn black tables with glass tops. Also, there are vintage items in the dining area.
The deep brown leather upholstery infuses the interior with warmth, opulence, and coziness. Lastly, patterned pillows and chair cushions evoke an air of eclecticism.
10. Cozy Farmhouse Dining Room
The white paint, gray fabrics, and windows keep the dining space airy. Meanwhile, the wooden rafter, pendant light, table, flooring, and bench carve an intimate look.
A couple of red distressed dining chairs inject a shabby chic appeal and a warm feeling. Furthermore, the country rug, patterned pillow, and upholstery exude coziness.
The deep gray blanket and black metal elements create visual depth. Moreover, pops of blue, coral, bright yellow, and green generate happy energy.
11. Modern English Country Dining Room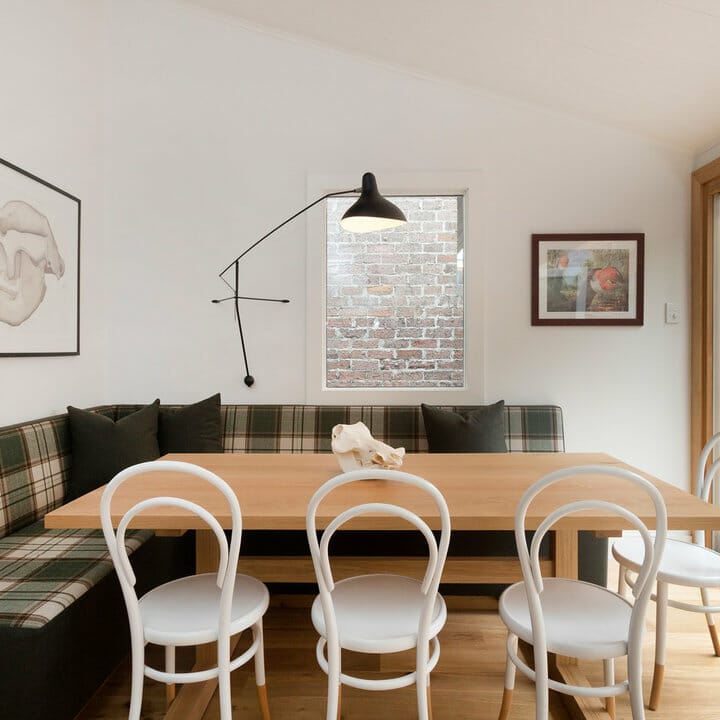 This is one of the remarkable images of cozy dining rooms. The slanted ceiling, walls, and curvy armless chairs wear bright white. Also, they contribute to the whole interior's open and airy feeling.
The bare wooden trim, flooring, dining table, and chair legs balance the stark white's coldness out. Furthermore, the black wall lamp, artwork frames, and throw pillows infuse some depth.
On the other side, the upholstered banquette develops an English country feel and a cozy appeal. Moreover, the resin animal skull and monochromatic artwork produce outdoorsy vibes.
12. Casual and Cozy Dining Rooms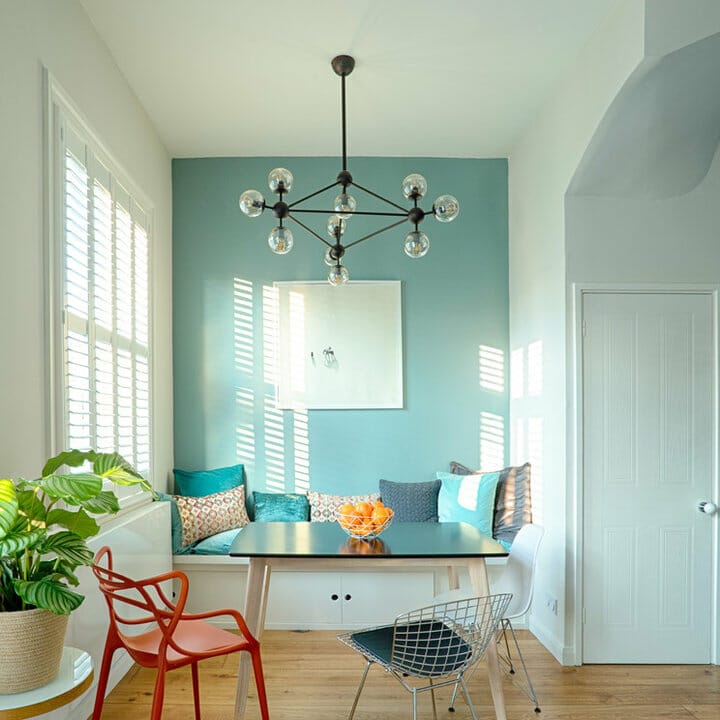 Talking about cozy dining rooms, consider playing with exuberant colors and eye-catching patterns. Not only do they carve an appealing look but also introduce a fun ambiance.
Here, the built-in seat boasts sleek cabinets with cutout pulls. Moreover, the cushion and loads of throw pillows inspire pure coziness. Lastly, the lighting, planter, and chairs produce an eclectic aesthetic.
13. Industrial Modern Meets Traditional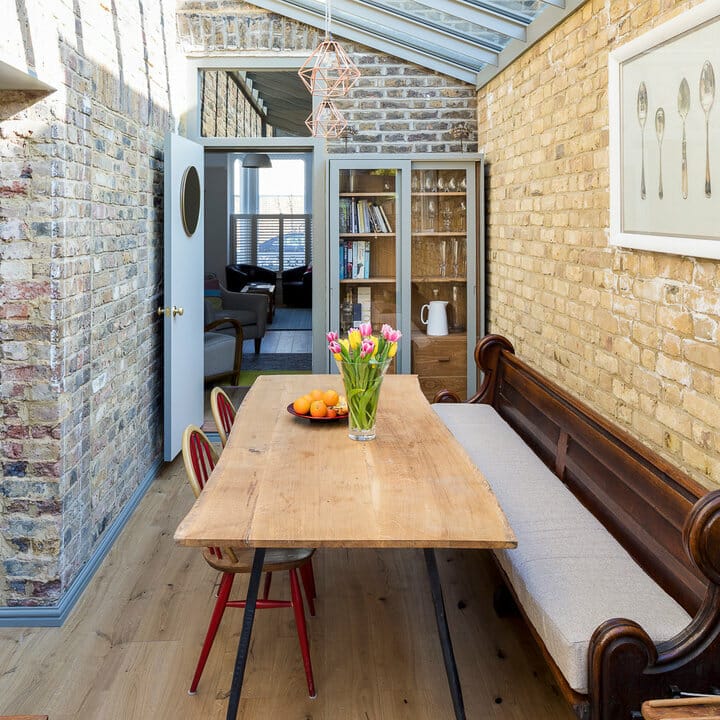 This is one of the fabulous and cozy dining rooms. The glass-front cabinet wears pastel gray, so it matches the door and trims details excellently. Also, the item offers character while accommodating a vintage jug, books, and drinking glasses.
Bare wooden elements and exposed bricks develop rustic vibes. Moreover, the light gray seat cushion complements the classic bench while infusing a cozy atmosphere.
The artwork and geometric pendants make the dining area more trendy. Lastly, red, green, pink, and yellow accents invigorate the interior.
14. Cozy Dining Rooms for Split-Level Homes
Pure white paint brightens the dining area up. Because of the natural wooden flooring, the room doesn't feel cold.
Black pieces deliver sophistication and drama to the dining area. Furthermore, solid seat cushions and vibrant throw pillows make the interior feel super cozy.
The minimalist artworks and acrylic chairs prevent the room from becoming stuffy. In addition, the red vase and roses balance out the metallic pendant.
15. Cozy Neutral Dining Room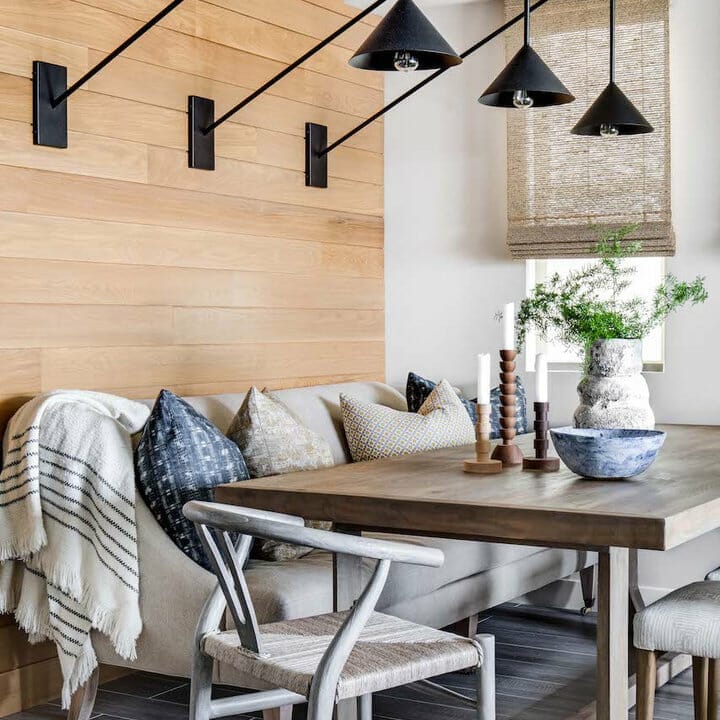 Different gray shades effortlessly lend the dining space dimension and unmatched sophistication. Furthermore, the wooden wall panel, table, and candle holders inspire intimacy.
The textured window shade, throw blanket, and statement pillows emanate a cozy ambiance. Conical wall lamps provide drama and proper illumination. Moreover, the blue marble bowl, distressed stone vase, and greenery carve a serene look.
16. Cheerful and Cozy Dining Rooms
The dweller converted her sunny spot into a cozy dining room. Furthermore, she furnished it with a built-in bench and sleek table with a wooden top.
White paint appears on the beadboard paneling, bench, pendant, and trim for a bright ambiance. Also, wood and cream impart a welcoming nuance, while colorful ornaments infuse playful touches.
17. Informal Modern Farmhouse Dining Area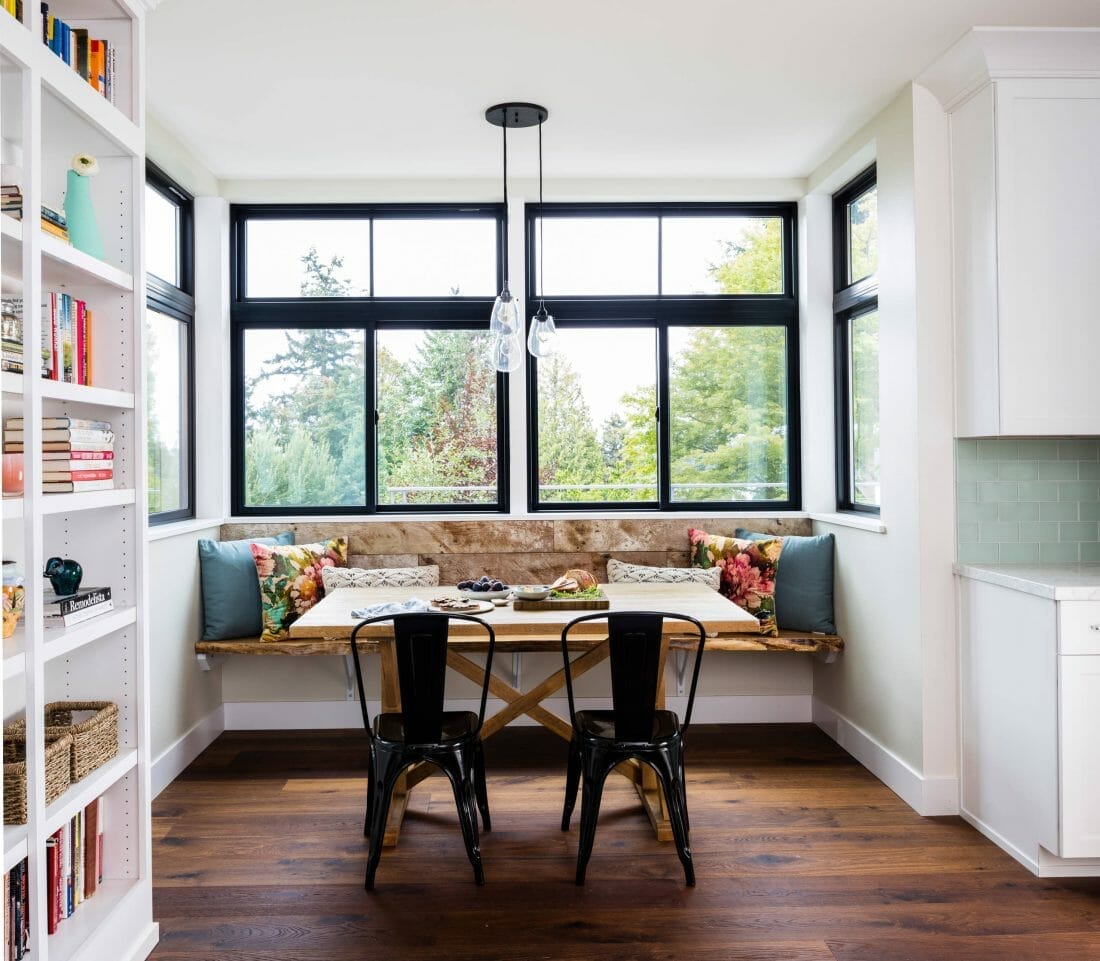 Black trim details and metal chairs introduce a dramatic statement. Meanwhile, the rich wood flooring and brown marble backdrop exude natural warmth.
Ivory walls, windows, and industrial pendants keep the dining space bright. Due to fabulous throw pillows and wicker storage baskets, the interior appears cozy. Also, bursts of invigorating color enliven the scene.
18. Cozy Dining Room Lighting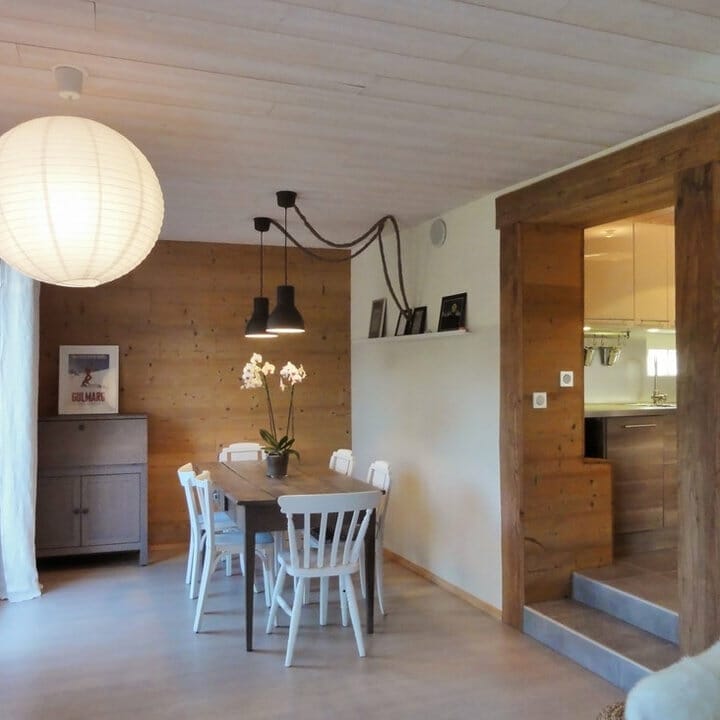 The white wall, farmhouse dining chairs, and curtains make the dining space seem larger. Moreover, the gray flooring and cabinet deliver a subtle contrast to the interior.
Because of the wooden wall panel, table, and trim, this dining area feels homey as well as cozy. Furthermore, the statement Japanese paper lantern and black industrial pendants illuminate the space.
19. Elegant and Cozy Dining Rooms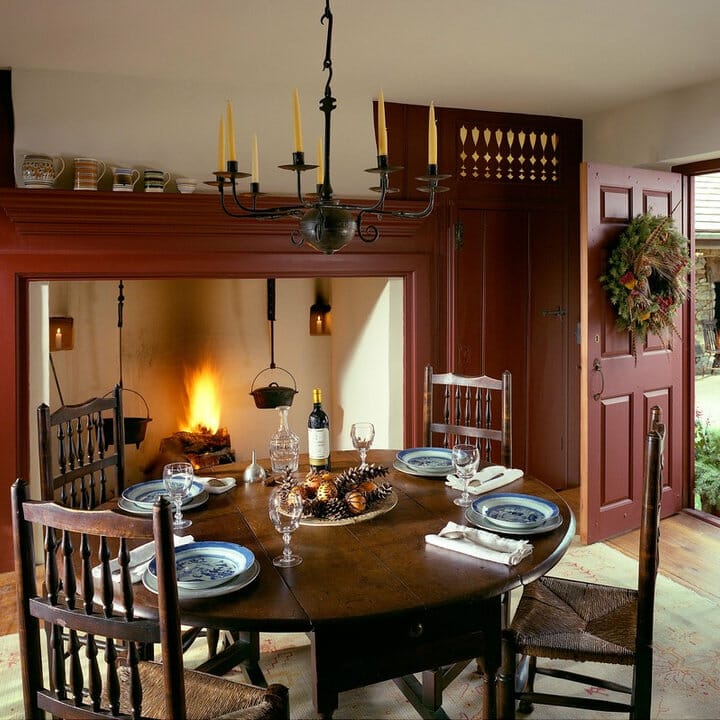 If you want fireside dinners, this is one of the cozy dining rooms to copy. The bonfire and flaming candles send out a relaxing glow.
The area rug, wreath, table, jute chairs, and burnt red wooden surfaces make the scene inviting. Moreover, the traditional chandelier represents serious elegance.
20. Chic and Cozy Dining Rooms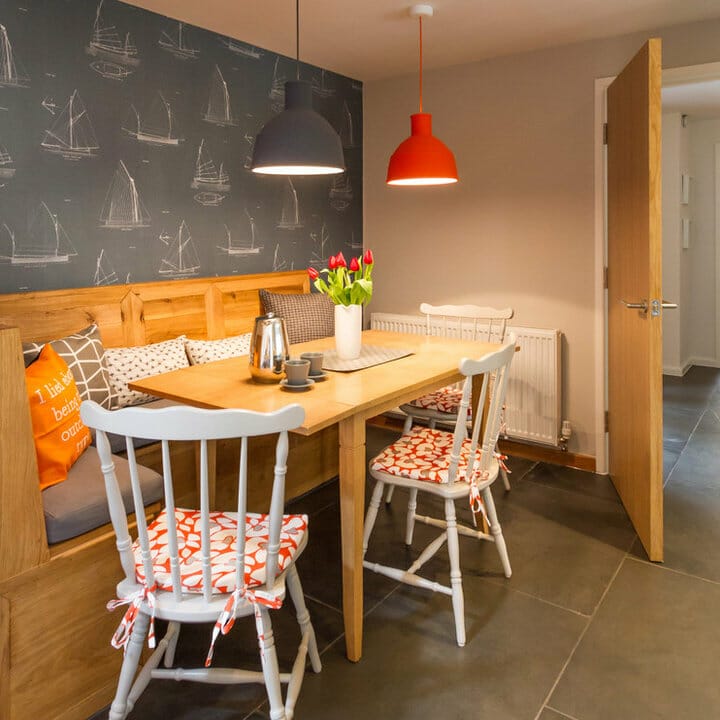 This is another modern farmhouse dining space. The blonde wooden furniture and door balance out the gray and crisp white's coldness.
Various marvelous patterns provide a cozy appeal. Moreover, orange and red elements produce timeless warmth. Lastly, mismatched pendants develop a balanced look.
21. White and Gray Farmhouse Dining Area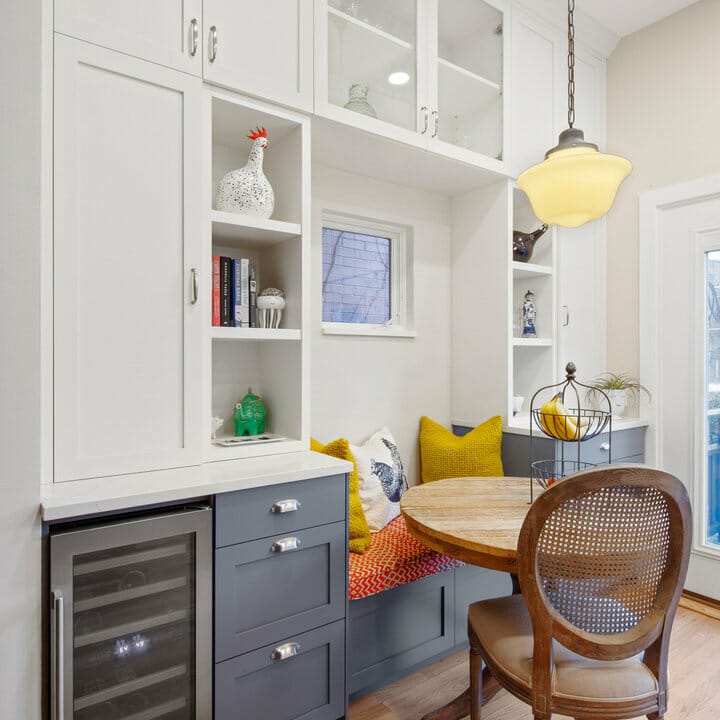 I admire the splendid contrast between lower and upper cabinets. In addition, the dining chair, pedestal table, and flooring display raw nature's beauty.
The tiered metal fruit basket, pendant light, and rooster-themed ornaments carve farmhouse vibes. Due to pops of yellow and orange, the dining area seems snuggly.
22. Cozy Dining Room Colors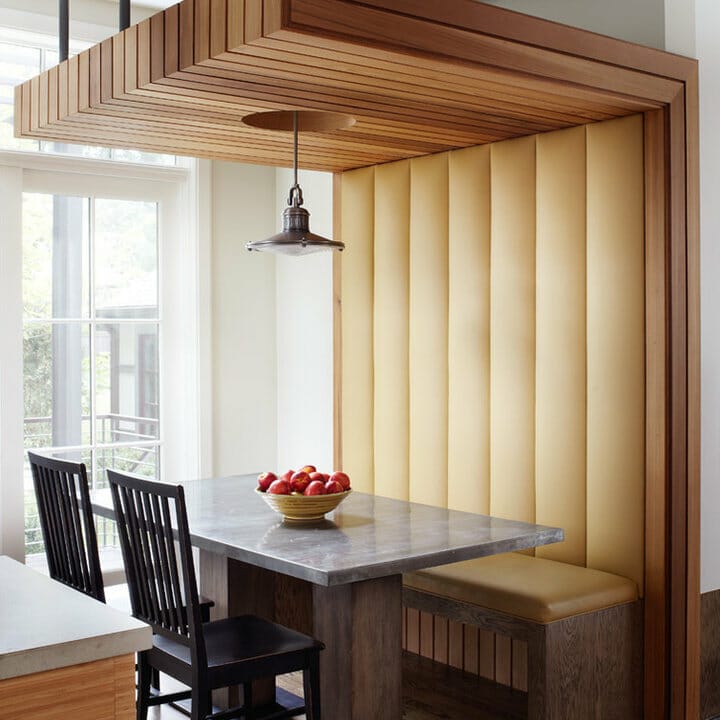 This dining area is simple yet snug. Furthermore, it mostly relies on cream, soft white, and deep brown for a welcoming feel.
Windows let in sunlight to balance black chairs' drama out. Also, vertical stripes of the upholstery and wooden panel enliven the boxy dining room.
23. Cozy Dining Room Sets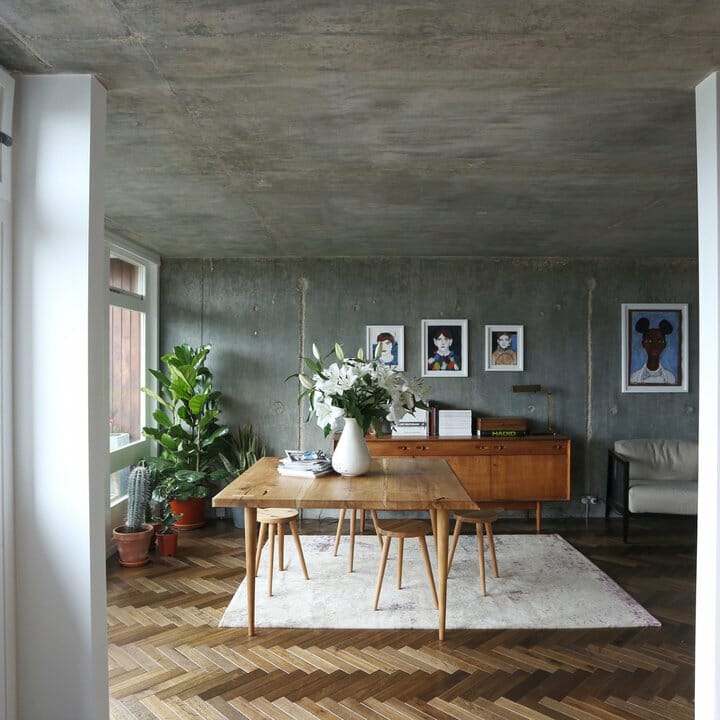 When it comes to cozy dining rooms, wood is your friend. Here, the herringbone wooden floor, dresser, and dining set absorb the chilliness of concrete surfaces.
The distressed rug and terracotta pots make the scene feel so cozy. Moreover, the statement greenery and massive white blooms bring organic elements in.
24. Cozy Indoor-Outdoor Dining Room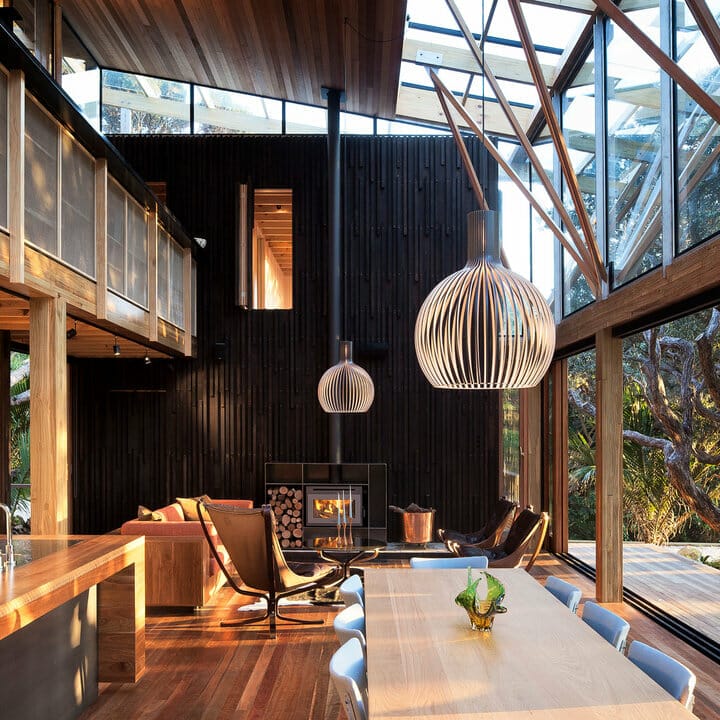 The dweller furnished his open-concept dining space with a bare wooden table and curved chairs. Moreover, contemporary pendants steal the show.
Due to the fireplace and medium-toned wooden surfaces, the dining area appears cozy. Furthermore, the green glass unit infuses a touch of color.
25. Cozy Yet Captivating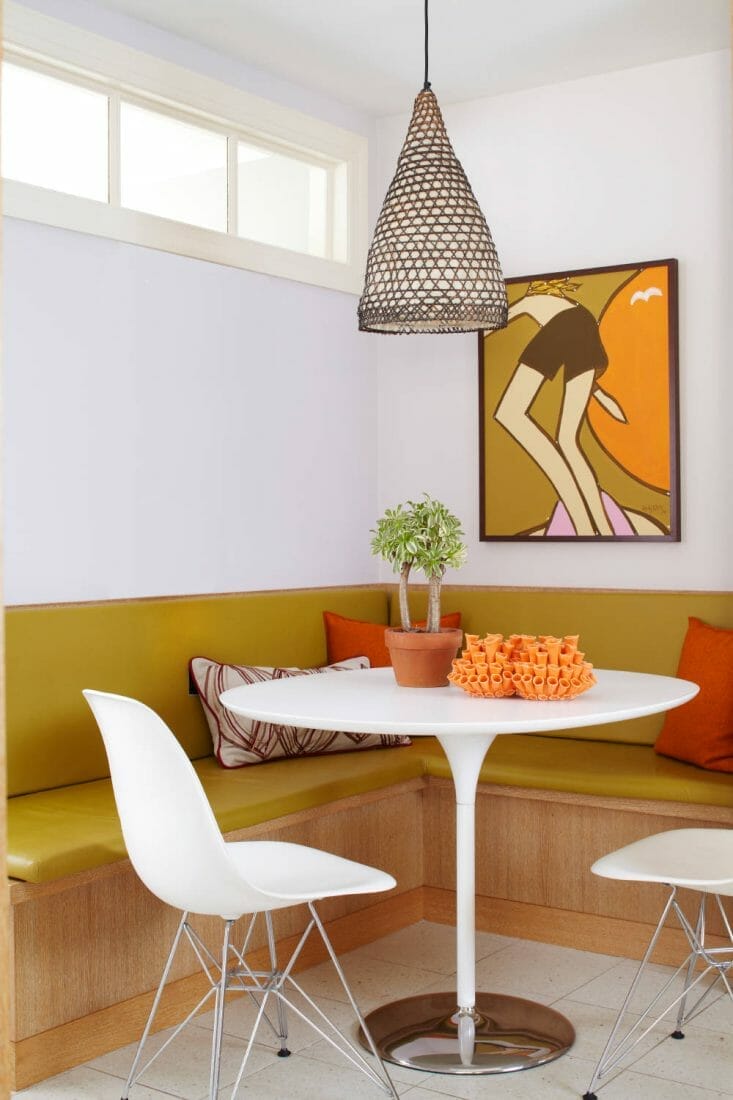 Speaking of cozy dining rooms, try using wood and white since they make a timeless decorating combo. Additionally, windows help you have an airy interior.
Burnt orange, mustard yellow, deep red, and brown lend warmth to the area. Lastly, the tulip table, pendant, and dining chairs develop a mid-century modern flavor.
26. Cozy Dining Room with A View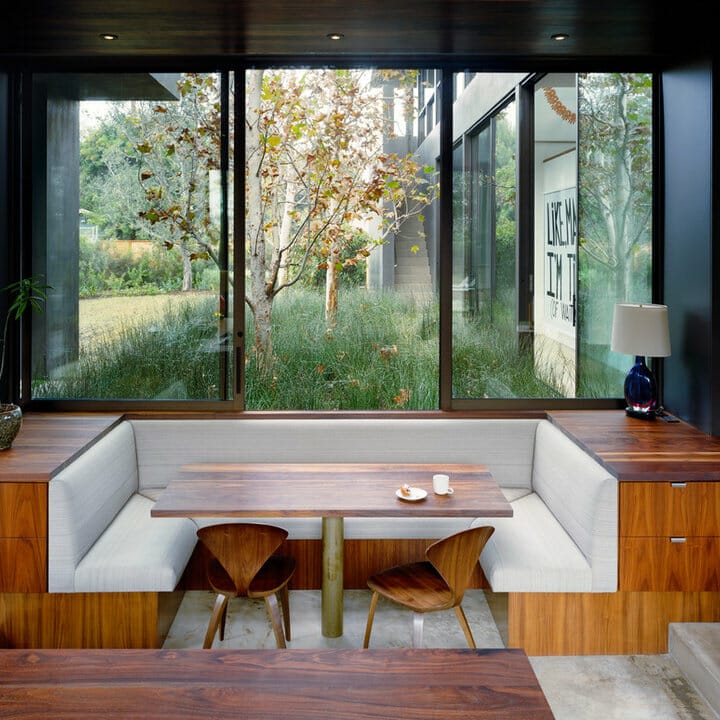 Massive windows let guests view the outside scenery. Furthermore, the built-in bench and dining table embrace a minimalist vibe.
The table lamp and dining chairs generate a retro appeal. Because of the gray upholstery and concrete floor, the space doesn't feel overdone with wooden furniture pieces.
27. Trendy and Cozy Dining Rooms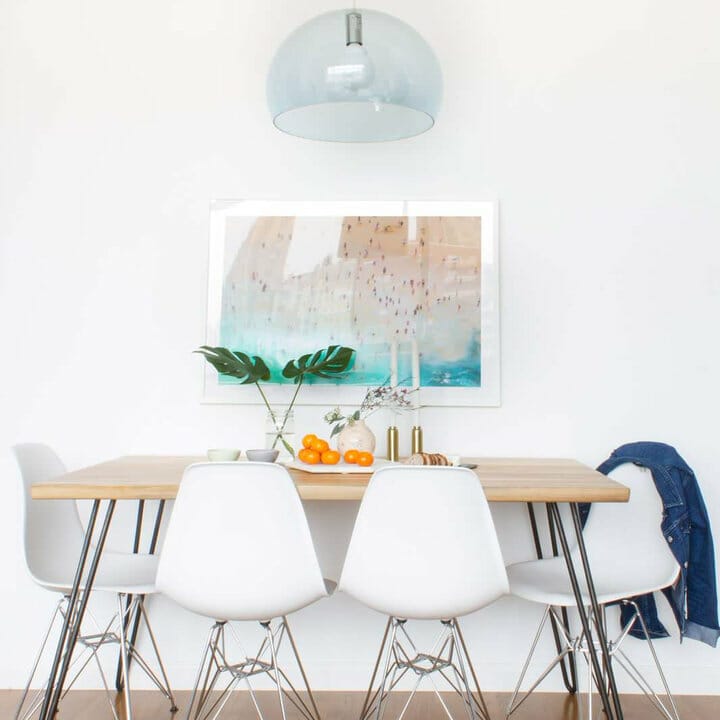 The white mid-century modern dining chairs inspire stylishness. Moreover, the wooden flooring and tabletop ensure that the room doesn't become cold.
Because of the beach painting and monstera leaves, the dining area seems vivacious. Lastly, orange and golden pieces radiate warmth.
28. Simple Yet Spectacular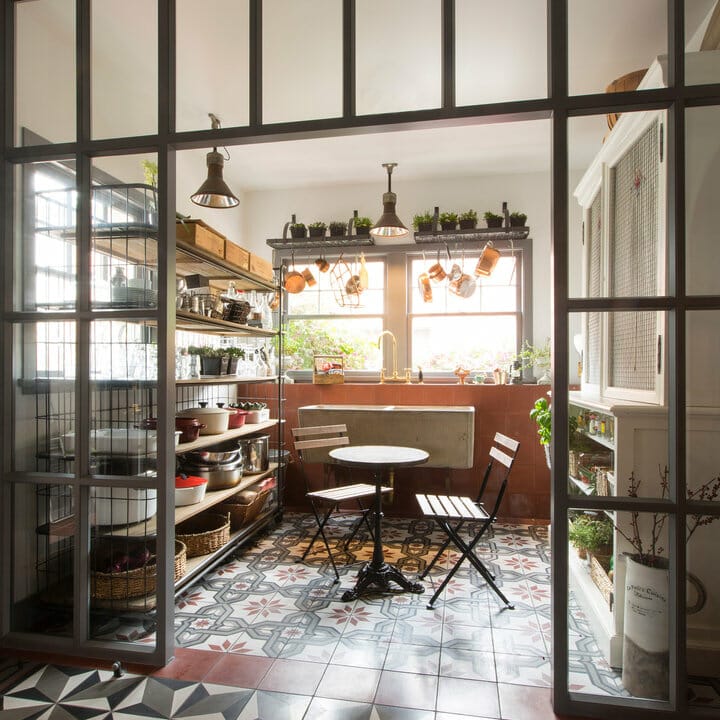 White paint covers the ceiling and walls in this eclectic dining area. Furthermore, windows keep the whole scene airy.
Wicker baskets, red cooking pots, and brown tiles exude warmth. Meanwhile, silver and black iron accents produce a balanced look. Moreover, different patterns give off a cozy appeal.
29. Coastal Coziness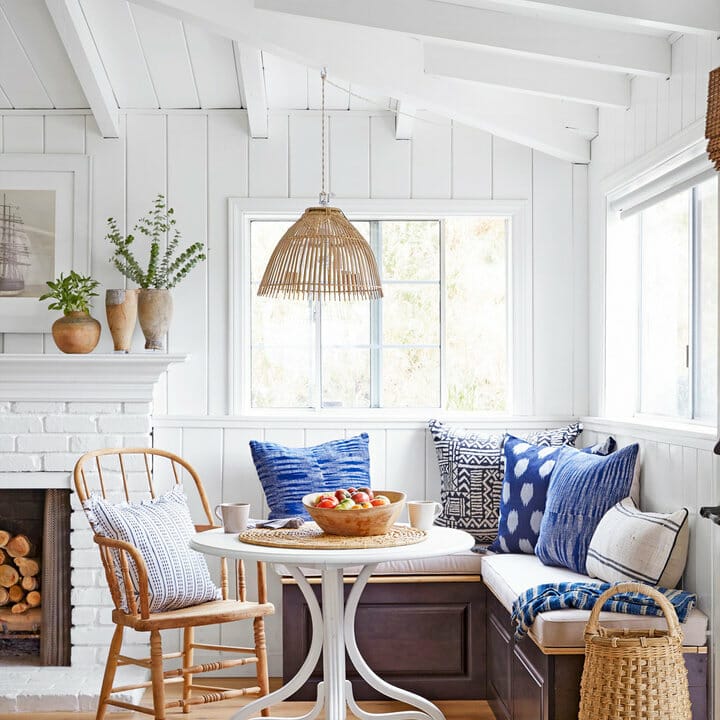 Pure white becomes a major player in this dining space. It appears on almost any surface, from ceiling to pedestal table. Moreover, wicker, greenery, and wood introduce a natural look.
The fireplace and ceiling beams lend the room an architectural interest. Additionally, the blanket and pillows supply white and blue for seaside vibes.
You can copy any of those cozy dining rooms. They prove snuggly dining areas don't have to break homeowners' banks. After scrolling through my collection, there must be an idea that tugs at your heart. Happy decorating!