Delicate hues are not only livable but also stylish and timeless. Furthermore, they typically infuse interiors with fresh and welcoming energy. If you plan on bringing them to your seating space, read up on my fascinating pastel living room ideas.
Pastel colors can upgrade any living room. Although those hues are soft, they offer loads of variety. Moreover, you can use them to introduce a visual contrast or brighten up the space. Here are 27 sitting areas that look outstanding in pastels.
1. Gorgeous Pastel Colors for Apartment Living Rooms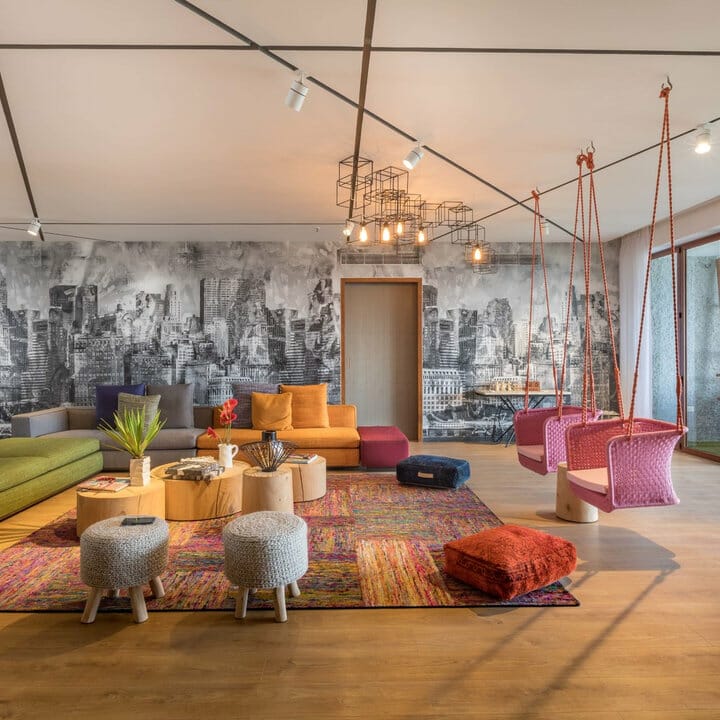 Some dwellers aren't into pastel-painted walls. If you're one of them, try investing in pastel living room furniture pieces.
Here, the stool, sofas, square poufs, throw pillows, and swing chairs supply various pastel hues. In addition, they lend the apartment living room a dynamic look.
The cityscape wallpaper and light fixtures develop urban vibes. Moreover, they balance the intensity of pastel furniture units out.
Cylindrical wooden coffee tables and indoor plants infuse natural elements. The colorful rug beautifies the floor while providing comfort and visual cohesion.
2. Pastel Blue Living Room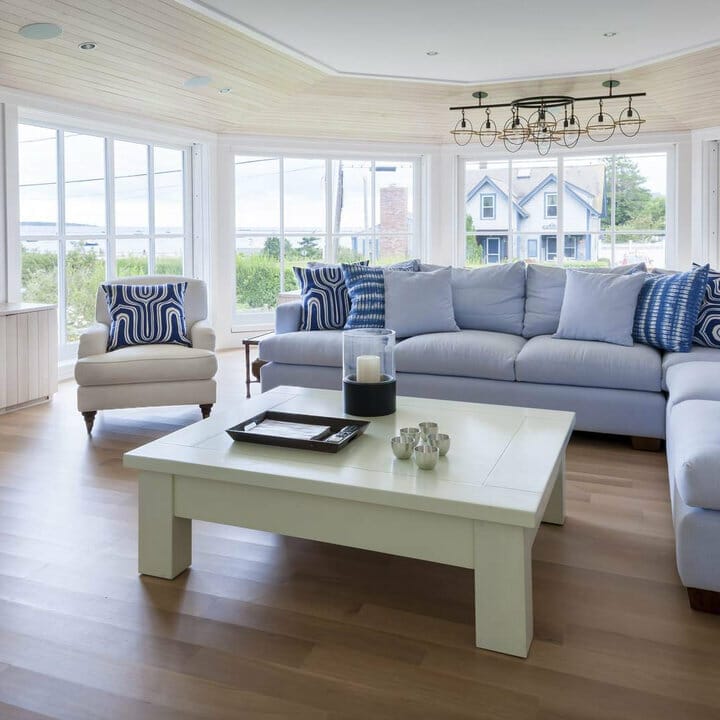 The soft white coffee table and cream beadboard ceiling planks soften the mood. Also, bright white trim details, windows, and sideboards maintain the living room's airiness.
Here, the pastel cornflower blue sofa and throw pillows freshen the interior while generating peaceful vibes. Furthermore, they accompany azure blue and navy patterned pillows.
The pale taupe sofa chair gives the area more seating. Additionally, the wooden floor absorbs the intricacy of patterns on statement pillows. Moreover, black accents via the ceiling light, candle holder, and tray inject drama.
3. Traditional Pastel Living Room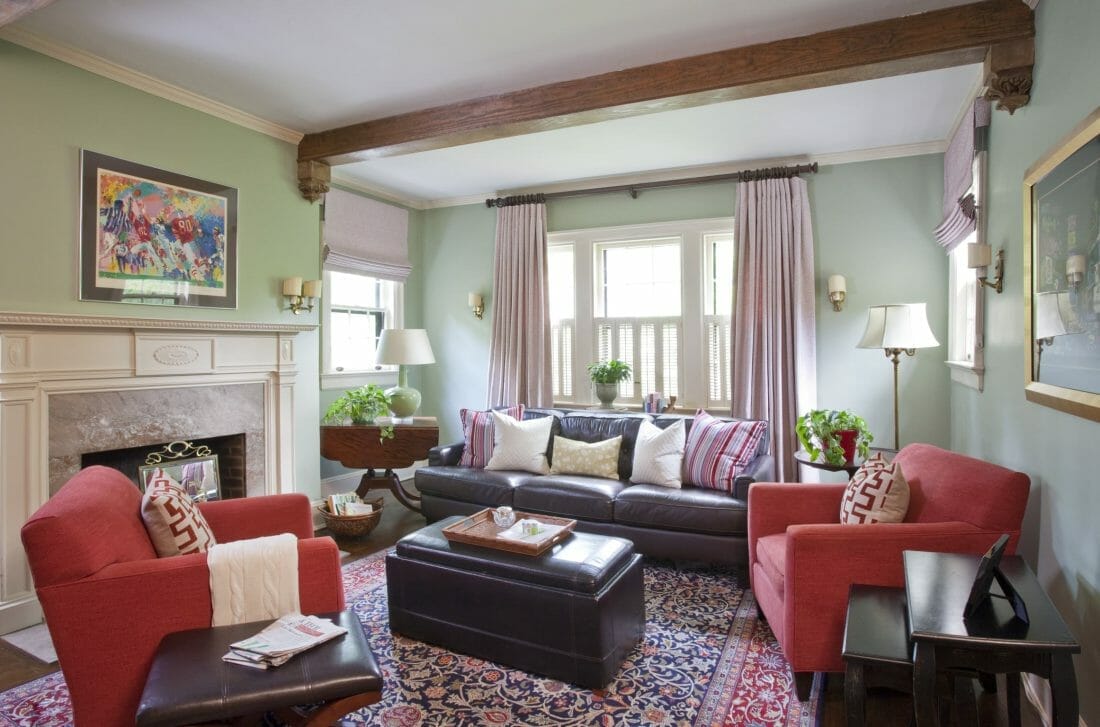 Speaking of pastel living room paint colors, consider sage green. Here, this faded shade adorns the walls and soothes the senses. It quickly carves a very relaxing scene, too.
Pastel sage green walls go with the wooden ceiling beam and creamy-white surfaces delightfully. Moreover, pale pink curtains evoke an air of femininity.
Black leather furniture pieces and brass accents make the interior seem classy. Furthermore, the floral rug and different kinds of light fixtures inject a French country flair.
Apart from warming the interior up, soft red armchairs also hold two-tone throw pillows. Lastly, wooden units and houseplants produce a natural look.
4. Retro Living Room with Pastel Colors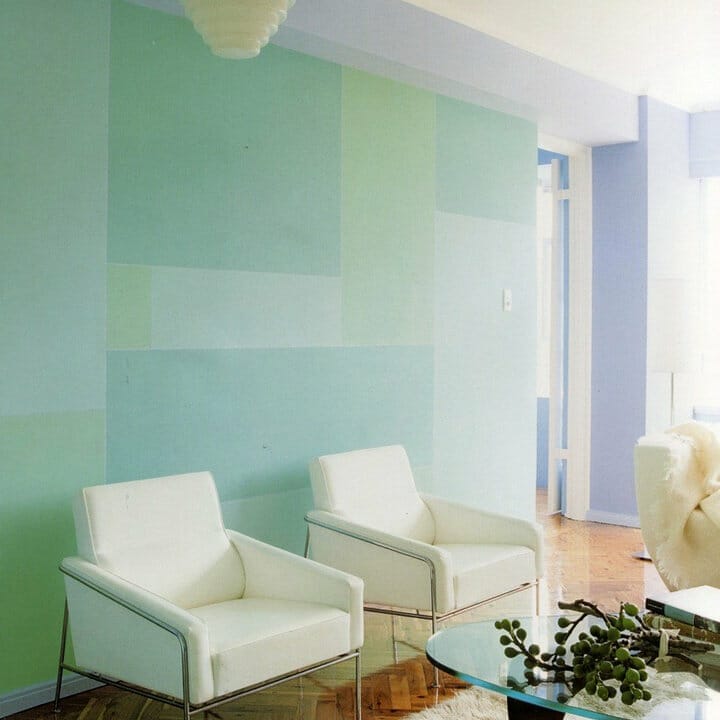 As you see, the color-blocked wall of this living room wears pastel tones. In addition to creating a statement, it jazzes up the simple interior.
Different shades of pastel purple inspire calmness. The warm white ceiling light and upholstered armchairs make the room seem brighter. Due to them, the entire seating space has an airy personality.
The triangular coffee table and sleek metal chair frames evoke a retro appeal. Moreover, the ornament embraces a rustic feel.
Because of the throw blanket and shag rug, the living room becomes welcoming. Also, the herringbone wooden flooring keeps the neutral interior from feeling overwhelmed.
5. Contemporary Pastel Living Room
Pastels dominate this welcoming living room. Here, muted tan walls and sleek beige furniture pieces emanate an air of serenity. Moreover, they keep the entire interior from looking too stark.
The white ceiling, trim, and shutters inspire openness. Underfoot is a cool gray area rug. Apart from making the living room visually balanced, it offers unmatched comfort.
Silver accents send out a feeling of glamor, while cascade glass pendants exude a contemporary aesthetic. Lastly, the tall plant and soft white blooms enliven the living room with pastel neutrals.
6. Pastel Living Room Rug Ideas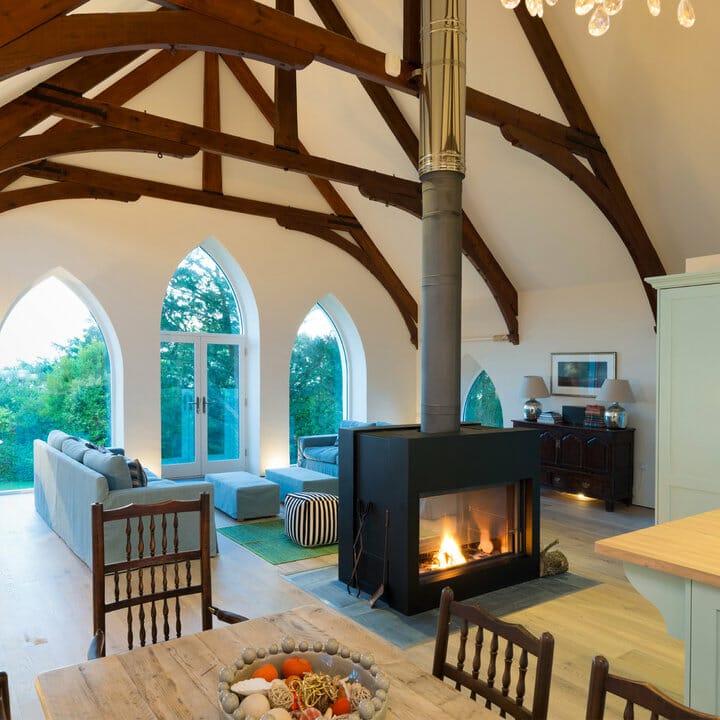 This living room boasts solid area rugs that wear pastel gray and green. Not only do they infuse a cozy atmosphere but also spruce the light-toned wooden floor up.
Pastel blue-gray furniture items make the interior seem elegant and relaxing. Meanwhile, the flooring and tables show off blonde wooden surfaces to balance out their coldness.
Vaulted ceiling beams and arched windows emit a traditional appeal. Furthermore, the warm wooden sideboard, framed artwork, and metallic table lamps create formal symmetry. In addition, the black fireplace generates visual depth while offering a toasty scene.
7. Pastel Living Room Decor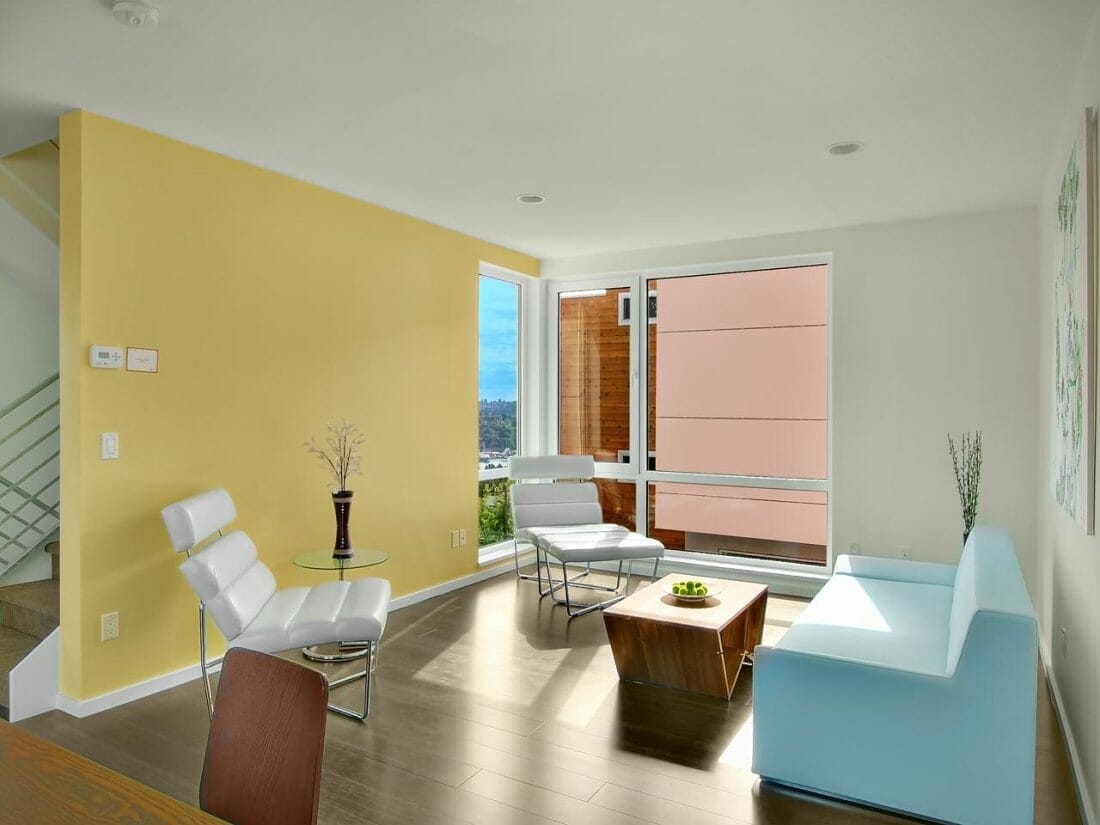 I admire the jaw-dropping juxtaposition between pastel gray and yellow walls. Because of them, the interior seems excellently balanced.
The minimalist white ceiling and expansive windows keep the sitting area open. There's also a pastel blue sofa that lends the room calm and fresh vibes.
Here, the sleek wooden coffee table gives the interior warmth and style. Moreover, it displays charming wood grains.
A couple of metallic and white armless chairs flank the glass side table. They offset the pastel yellow backdrop, too. Furthermore, the laminate floor emanates a comfortable vibe. Lastly, the wall decor and dried flowers inject textures that provide personality.
8. Ethereal and Enchanting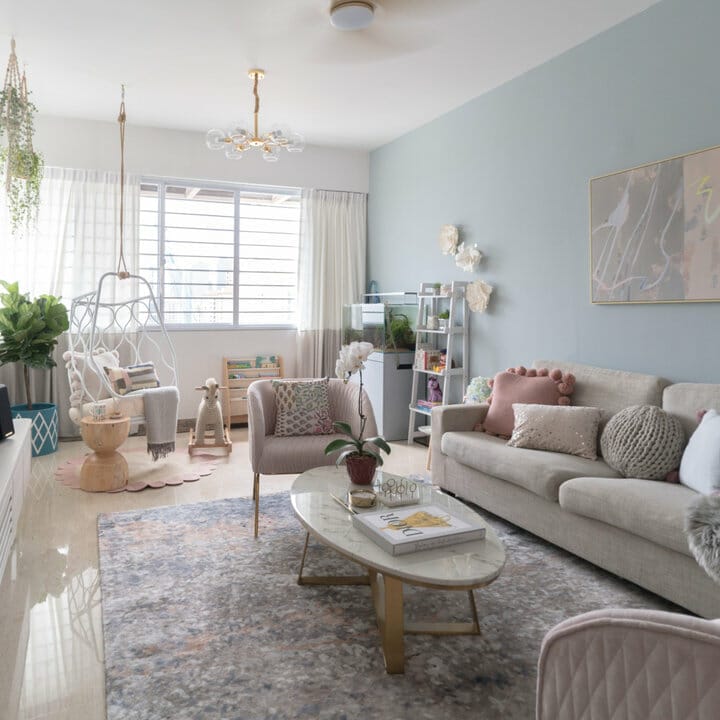 The accent wall and sofa supply pastel gray shades. Apart from making the living room slightly dynamic, they develop a soothing scene.
White appears on the ladder bookshelf, ceiling, trim, furniture items, and curtains. Due to them, the interior gets brighter.
The swing chair, greenery, and raw wooden pieces add a boho touch. Moreover, the oval marble tabletop and golden elements exude lavishness. Pastel blue and pink generate a sense of balance, while paper blooms and patterns carve a whimsical flavor.
9. Pastel Living Room with Antique Pieces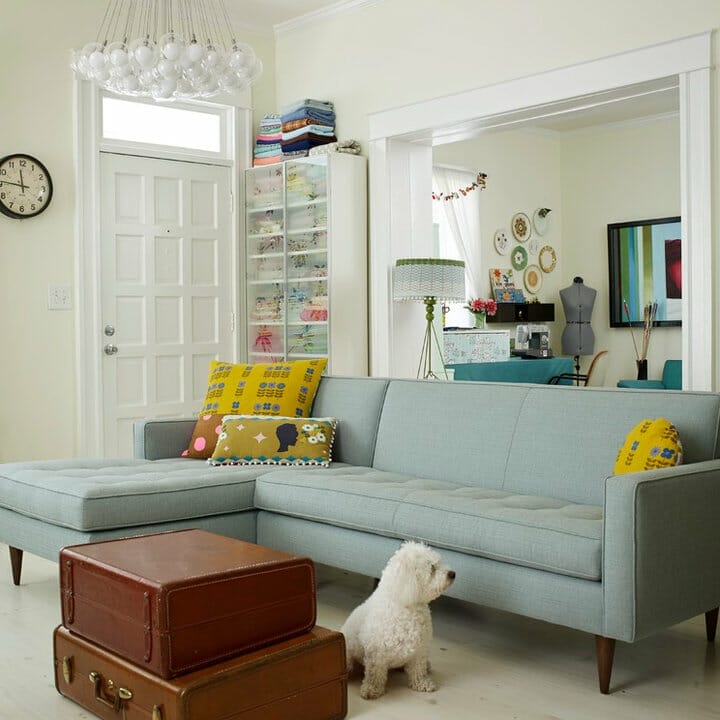 The homeowner decorated this seating space with an emphasis on pastel neutrals. Here, creamy-white and muted bluish-gray lend the interior a visual balance.
In this sitting area, stacked antique trunks behave as a coffee table. Moreover, they impart homey and welcoming vibes while infusing a sense of depth.
The pastel gray tufted sofa highlights captivating yellow throw pillows. Lastly, the antique floor lamp and decorative plates round out the interior.
10. Pastel Living Room Accessories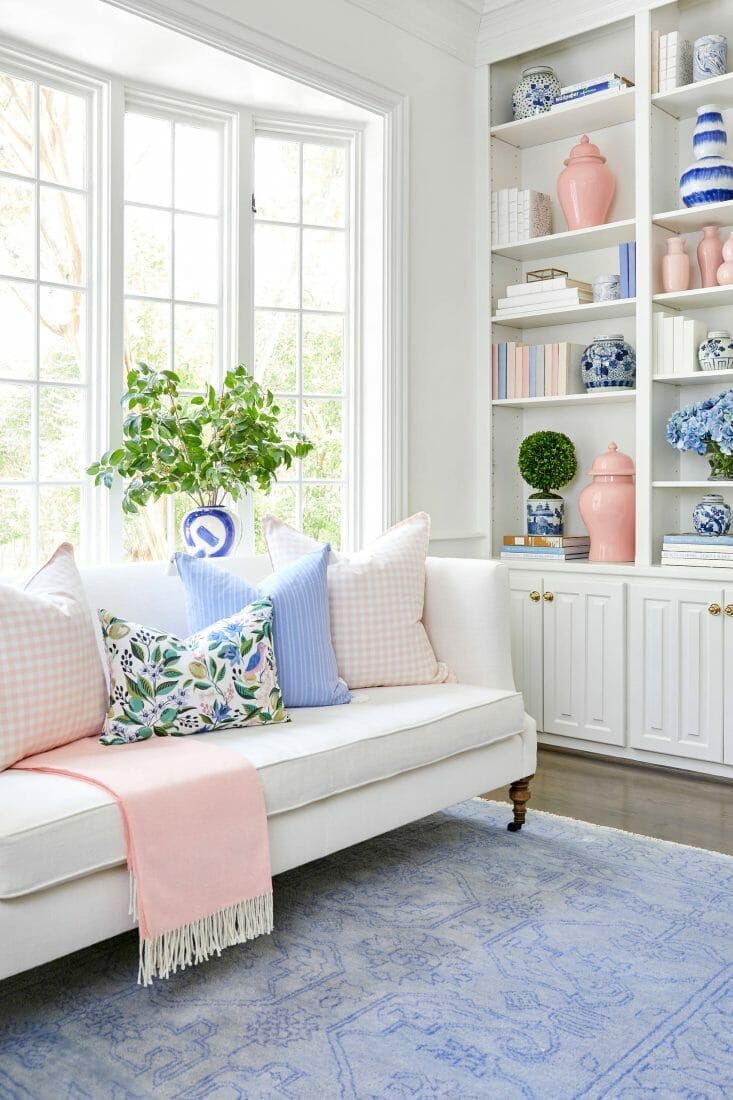 It's hard not to adore this living room. The white sofa, trim, bow window, and recessed shelving open the interior up. Furthermore, they inspire serious cleanliness as well as airiness.
The pastel pink accessories give the living room touches of elegance and romance. Moreover, blue accents on the rug, pottery, pillows, and book covers balance their feminine appeal out. Additionally, houseplants and delicate flowers bring the interior to life.
11. Pastel Sage and White Living Room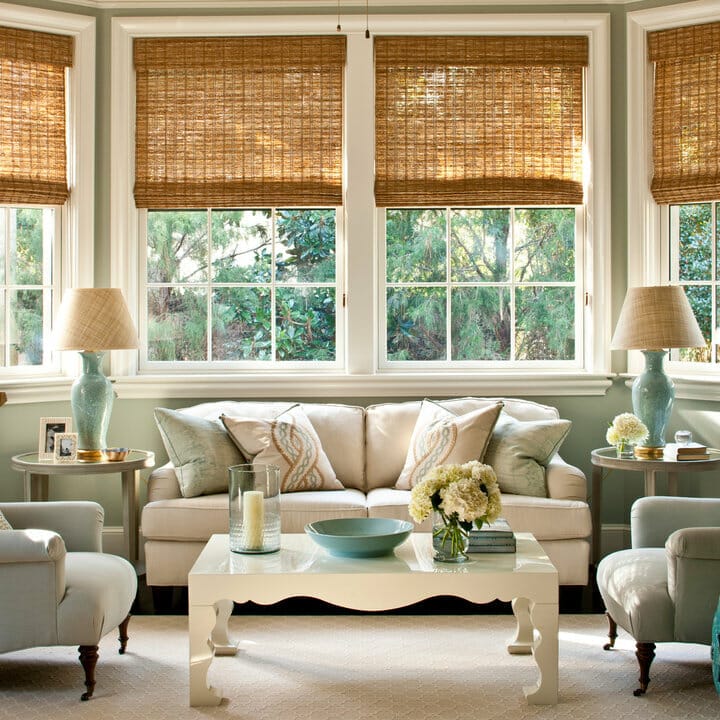 Need pastel living room ideas? Try this scheme. Here, muted sage green wall calms the nerves. In addition, they're a soft contrast to the stark white baseboard and trim.
The pastel ivory sofa and gray chairs complement the sage wall. Furthermore, the blue bowl and table lamps inject this French country living room with a fresh look. Lastly, rattan blinds and jute lampshades lend the interior a coastal touch.
12. Pastel Pink and Blue Living Room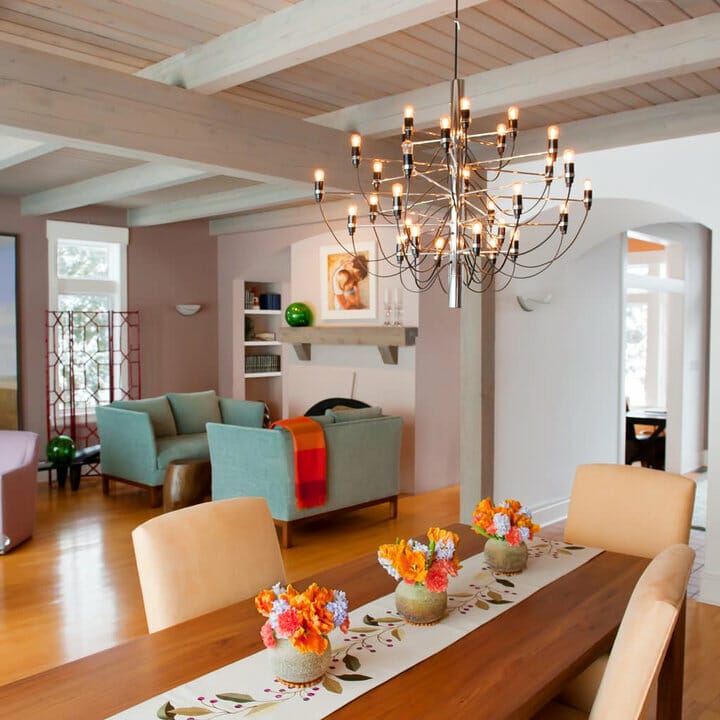 I admire this pastel pink living room. Here, the walls supply pale and muted pinks. Moreover,  they make the interior seem graceful.
The pastel blue sofas face each other. In addition, they clash with pink walls beautifully while offering a balanced look.
Splashes of red and orange give the open-concept seating space a warm feeling. Meanwhile, the wooden shelf, flooring, and whitewashed ceiling beams tone metallic green accents down.
13. Gray and Pastel Living Room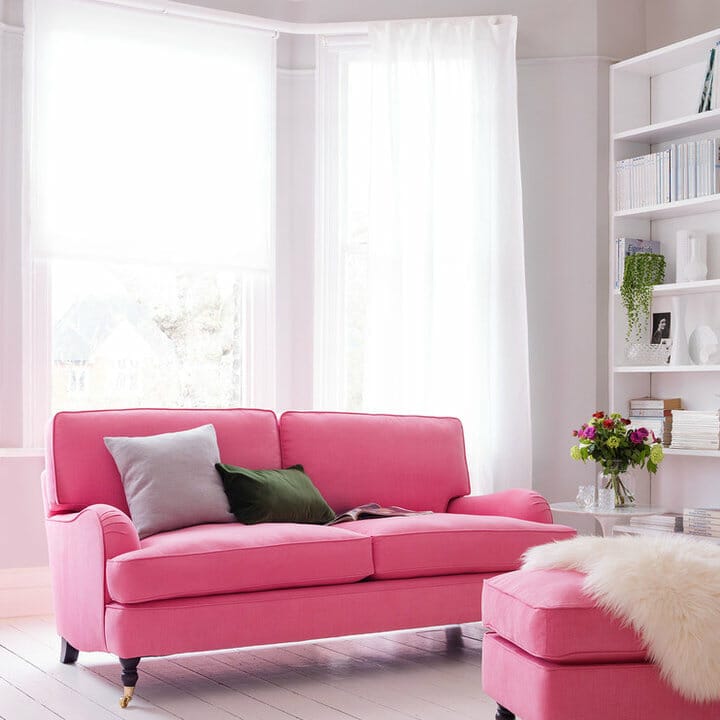 Pastel gray walls produce soothing yet sophisticated energy. Furthermore, they pair with sheer curtains and bright white shelves that house books as well as minimalist ornaments.
Underfoot are pastel gray-painted wooden planks. Moreover, the pastel pink stool and sofa perk the interior up.
The sleek pedestal table accommodates a clear glass vase with vivid blooms. Lastly, deep green and gray throw pillows develop cohesion.
14. Eclectic Pastel Living Room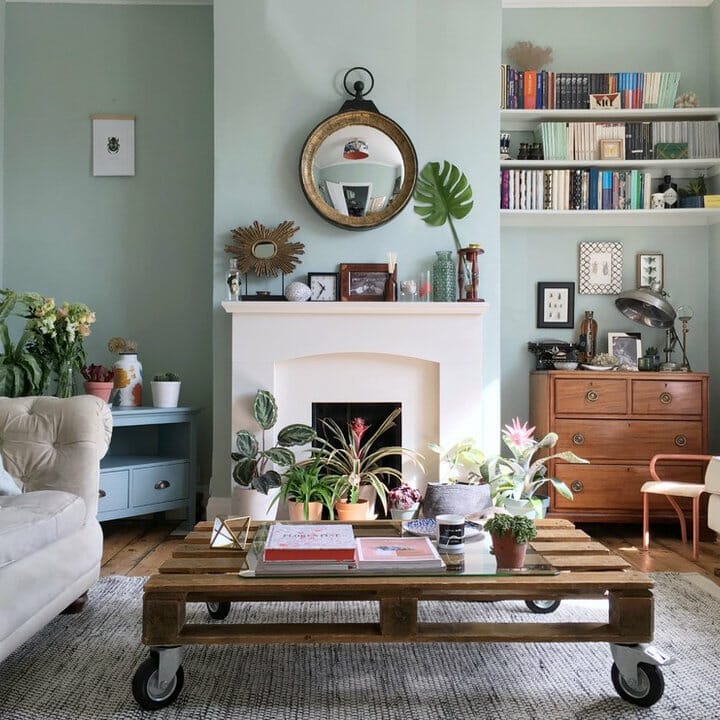 This living room has an abundance of characters. As you see, it boasts a framed family photo, retro mirrors, and artworks.
Pastel mint green walls provide a calm and fresh ambiance at once. Furthermore, the white decorative fireplace subtly contrasts with them.
The wooden dresser, pallet coffee table, and lush plants embrace an outdoorsy vibe. Touches of pastel peach and blue make the interior more alluring.
15. Pretty in Pastels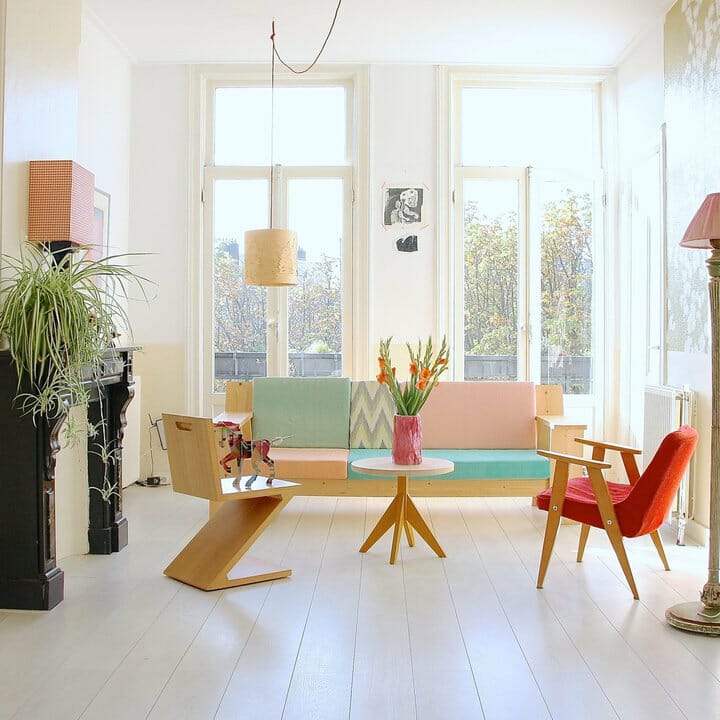 Although the walls of this retro living room wear neutrals, they seem attractive. In addition, the soft white floor and trim send out a clean atmosphere.
The armchair, tall floor lamp, vase, and sofa lend the living room captivating shots of pastel hues. Moreover, blonde wooden elements show off nature's true beauty.
In addition, the ornate black decorative fireplace infuses a classic appeal and a touch of drama. Lastly, orange blooms and minimalist houseplants blend with the chic decor.
16. Airy and Aesthetically Pleasing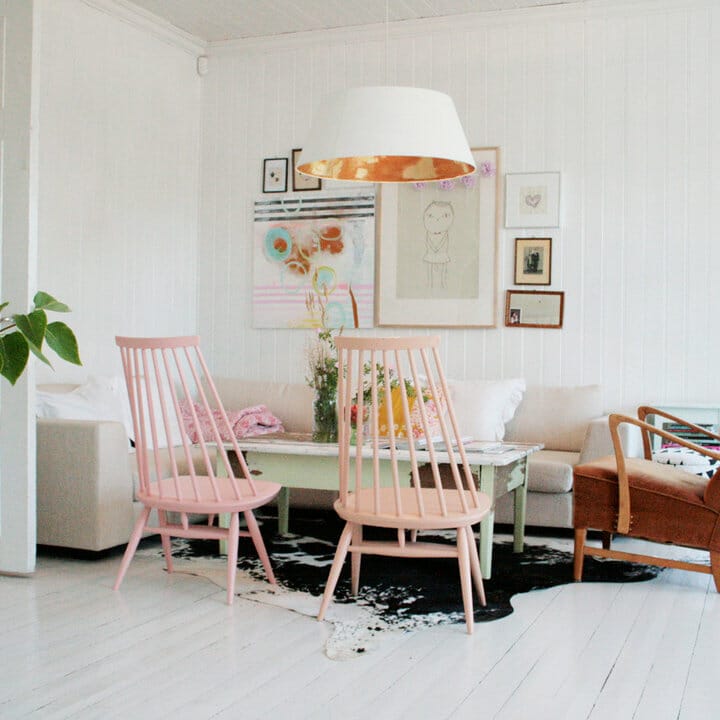 Talking about pastel living rooms, pink is your friend for certain. Scandinavian chairs supply different tones of pastel pink. Due to them, the space doesn't feel sterile.
White beadboard walls evoke pure airiness, while the brown armchair absorbs their coldness. Additionally, pastel mint green, yellow, and blue beige spice the interior up. Moreover, the cowhide rug and distressed coffee table add farmhouse touches.
17. Cheery Pastel Living Room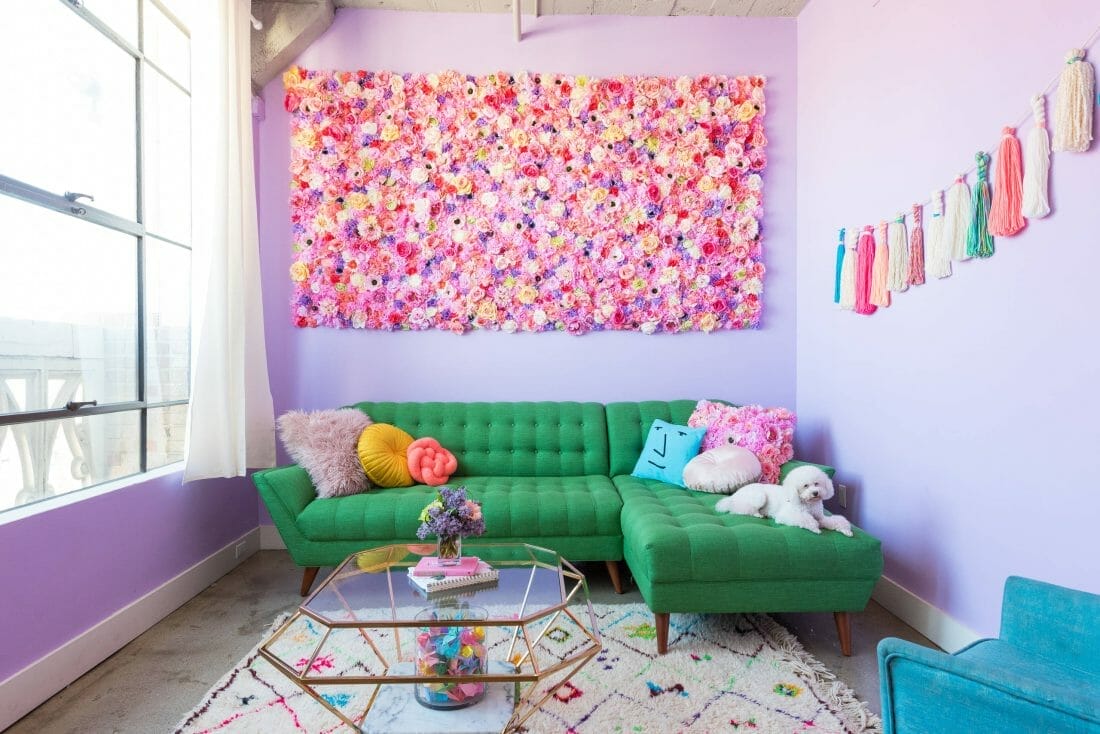 Pastel lilac walls accentuate the colorful yarn tassel garland and fake flower panel. Also, they bring a strong feminine appeal to the interior.
The faded forest green sofa holds striking and whimsical throw pillows. Furthermore, the armchair gives the area an extra splash of pastel color. Meanwhile, the geometric rug and brass coffee table modernize the room.
18. Terrific Trio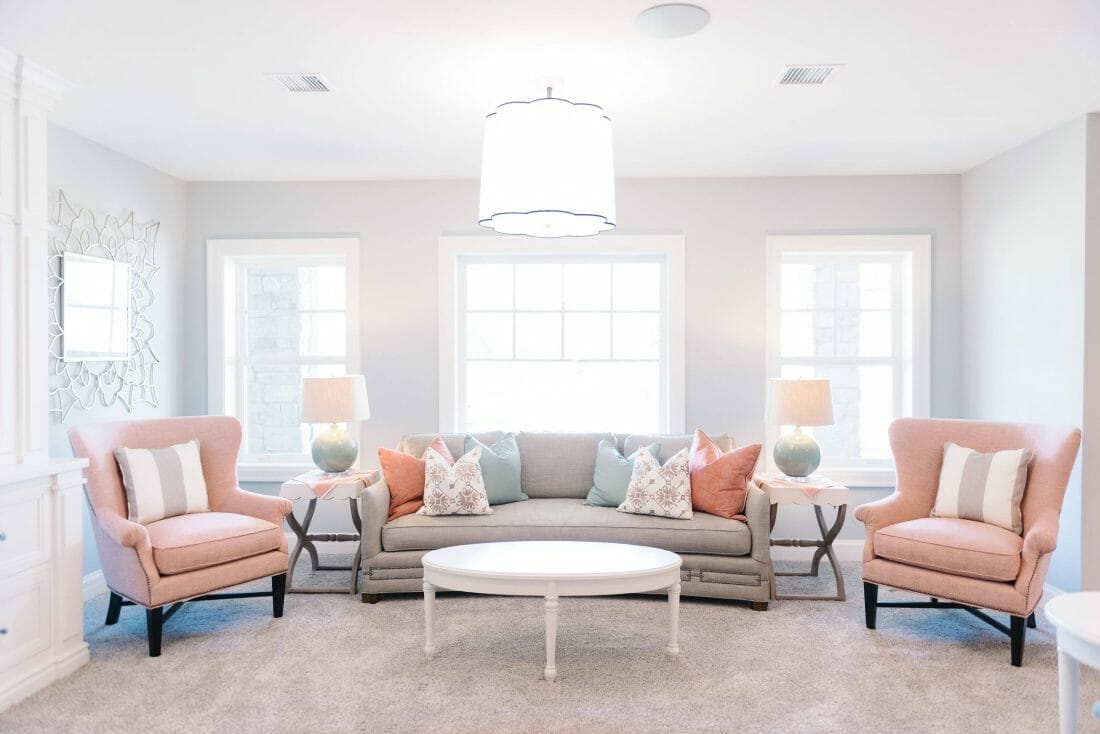 Pastel gray shades dominate this retro sitting area. Furthermore, they appear on the carpet, sleek sofa, and walls. Also, the furniture configuration generates formal balance.
Because of pink wingback chairs, side tables, and pillows, this living room doesn't seem basic. Furthermore, pastel blue accents keep the interior airy.
19. Simple Yet Splendid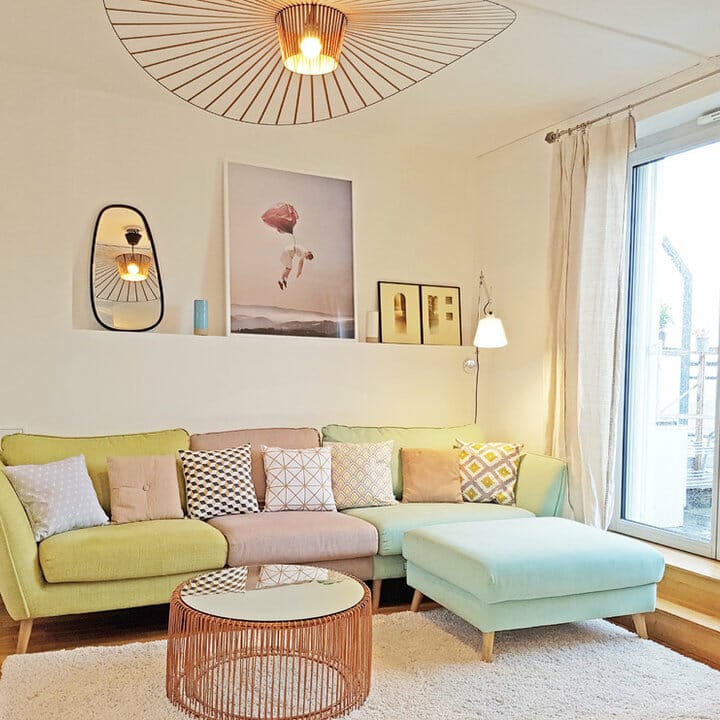 The warm white-painted ceiling and walls of the sitting area produce a seamless look. Due to the mirrored tabletop and retro mirror, the interior feels bigger.
Here, the upholstered furniture pieces supply pastel blue, sage, taupe, and lime green. Apart from energizing the scene, they also call attention to pillows.
20. Scandinavian-Style Pastel Living Room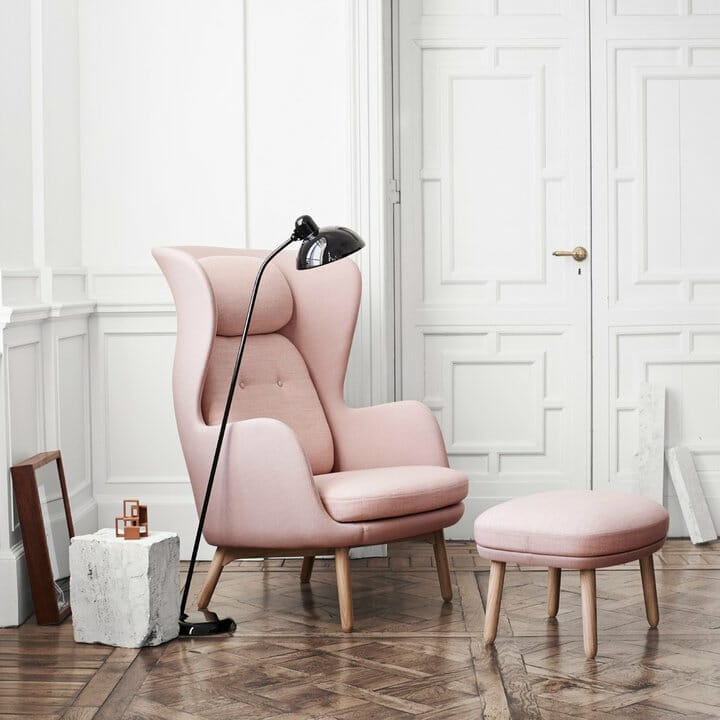 Doors and wall panels wear stark white. Moreover, they infuse the Nordic-style living room with plenty of dimension and character.
The white background emphasizes the pastel pink stool and wingback chair. Furthermore, the black floor lamp offers drama. Meanwhile, the square rugged stone and wooden elements provide natural vibes.
21. Modern Boho Pastel Living Room
Pastel gray walls lend this living room warm and cool tones. Furthermore, pale blue and mint green contribute to the interior's fresh look.
The rattan swing chair, blankets, and raw wooden accents embrace a bohemian appeal. Also, the floor lamp, shelves, and furniture units develop a modern aesthetic.
22. Classy and Captivating
This living room has seaside and traditional flavors at once. Furthermore, pastel cream and sand soothe the mind. Black and dark brown infuse a sense of depth.
The painting, patterned ottoman, and pillows display pastel shades. Lastly, the floral rug blends soft pastel tones.
23. Pastel Living Room with A Coffered Ceiling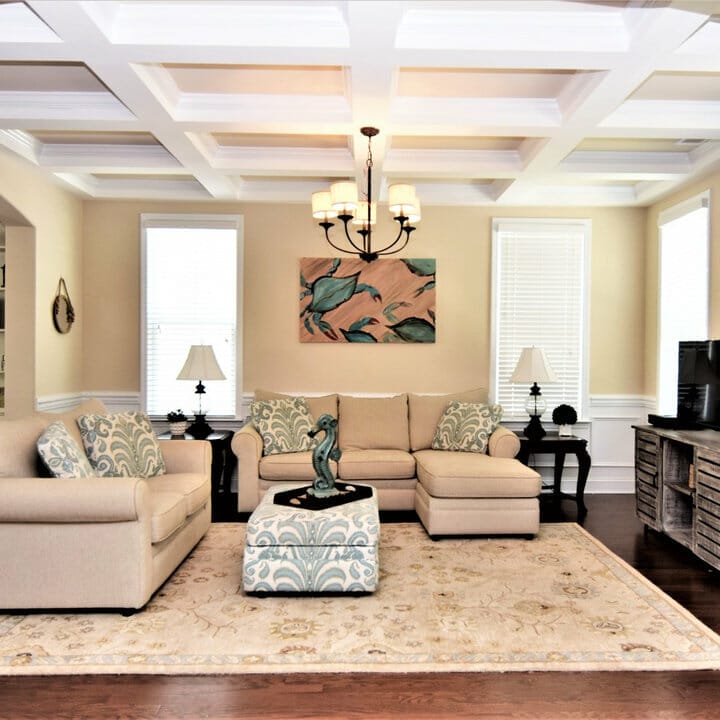 Without a doubt, this living room reminds guests of their beach vacations. As you see, it employs pastel sand, sky blue, and stark white.
The coffered ceiling, rug, and light fixtures inspire grandeur. Meanwhile, the distressed white TV stand emanates a rustic charm.
24. Go All Out
Are you a lover of pastels? If so, this pastel living room idea is worth trying. Green, blue, and pink sends out cheerful nuances.
The stool, side tables, lights, and artwork give off an eclectic look. Furthermore, the shag rug and striped ottoman unify the interior, while white and brown absorb their vibrancy.
25. Summer-Inspired Living Room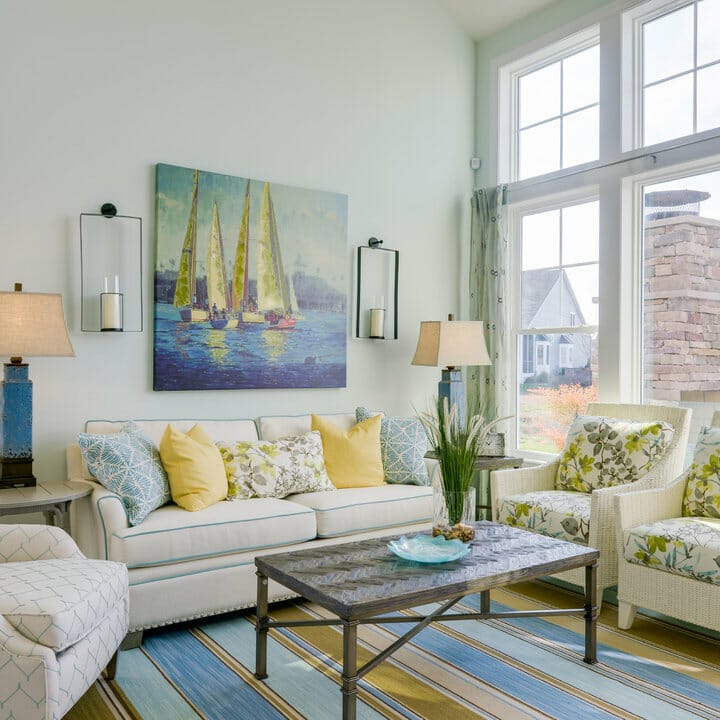 Pale sky blue walls and white furniture pieces freshen the sitting area up. Also, there are pastel yellow pillows that carve a summer feeling.
The painting, sofa, iron candle holders, and lamps produce formal balance. Furthermore, floral patterns and pastel stripes draw the eye.
26. Vintage Living Room with Pastels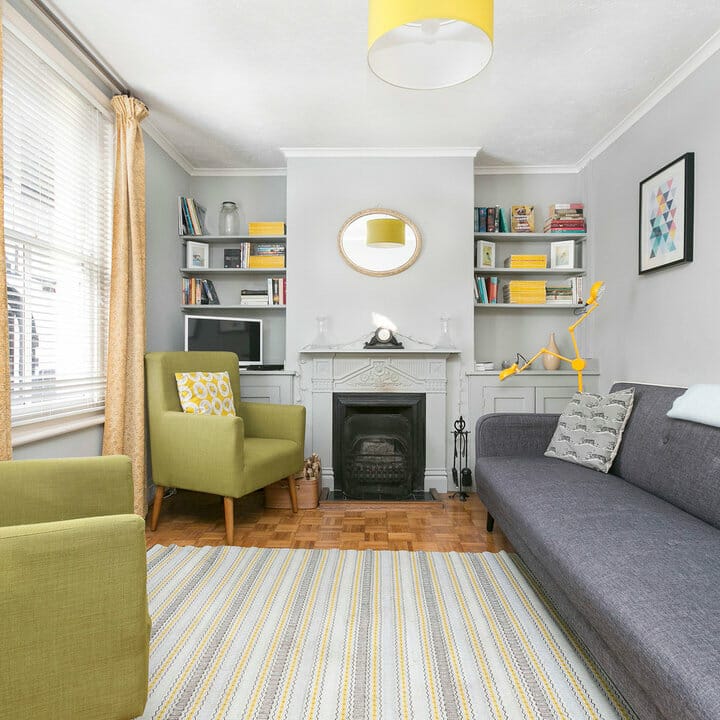 Icy walls and open shelves keep the whole scene airy. Pastel green and yellow introduce an eye-catching juxtaposition in the living room.
The gray sofa and black iron accents give the interior some depth. Wood materials instill a welcoming air. Due to the statement rug and pillow, the room doesn't seem incohesive.
27. Plenty of Pastels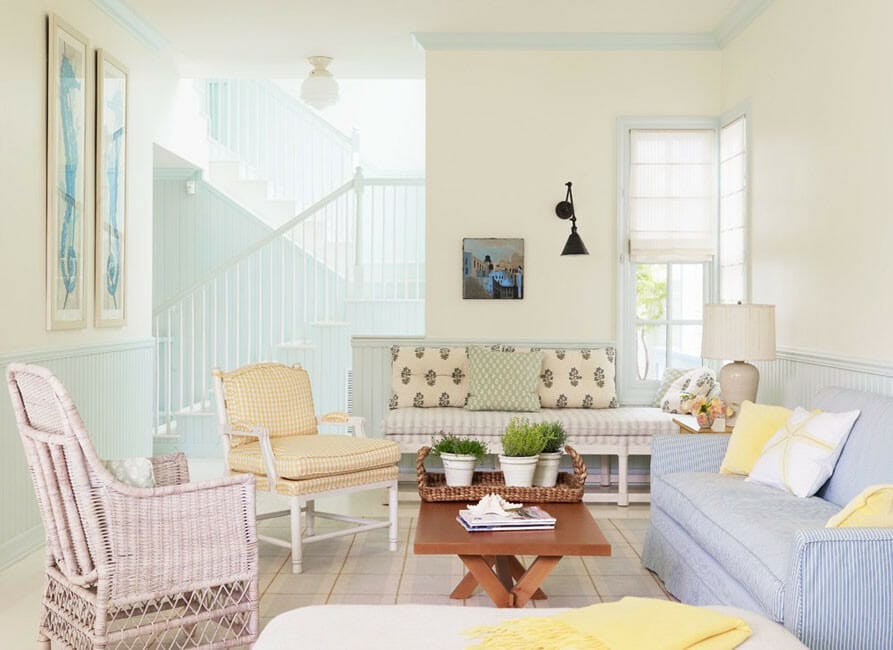 The rope tray, pastel pink wicker chair, and seahorse artworks develop seaside vibes. In addition, pale blue beadboard panels embrace a breezy ambiance.
Here, the blanket, striped sofa, seat cushions, and pillows provide splashes of pastels. Lastly, neutrals balance them out.
Pastel living rooms never cease to wow guests. If you love them, integrate delicate tones into yours. Not only are they versatile, but also impress visitors. So pick the palette that suits your decorating style.