Most of the time, men's bedroom is always synonymous with blandness. That's wrong. It can be striking, cool, and sexy. Here, I present you some men's sleepy spaces that are far from boring and cluttered.
Whether you are fond of light colors or dark ones, this list includes everything for you. Other than that, you will find different design styles, ranging from minimalist to rustic. Without further ado, explore my ideas below.
1. Male Bedroom Color Schemes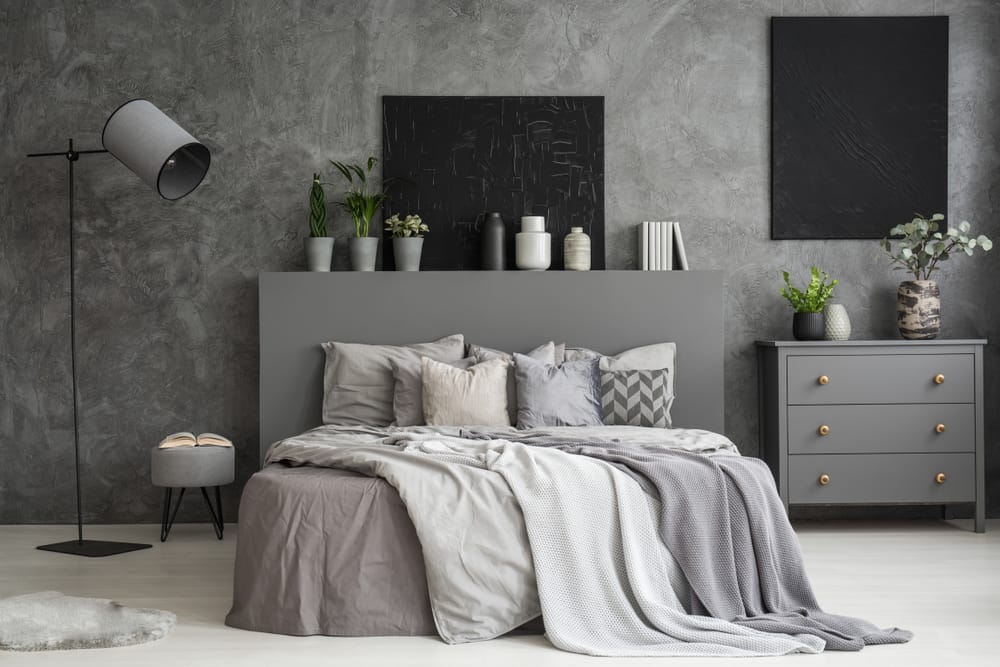 Various shades of gray are shining through this male bedroom. They evoke sophistication and masculinity.
Two black paintings above the bed give the space a touch of drama. Soft textures and potted plants spruce the things up.
2. Bachelor Bedroom Ideas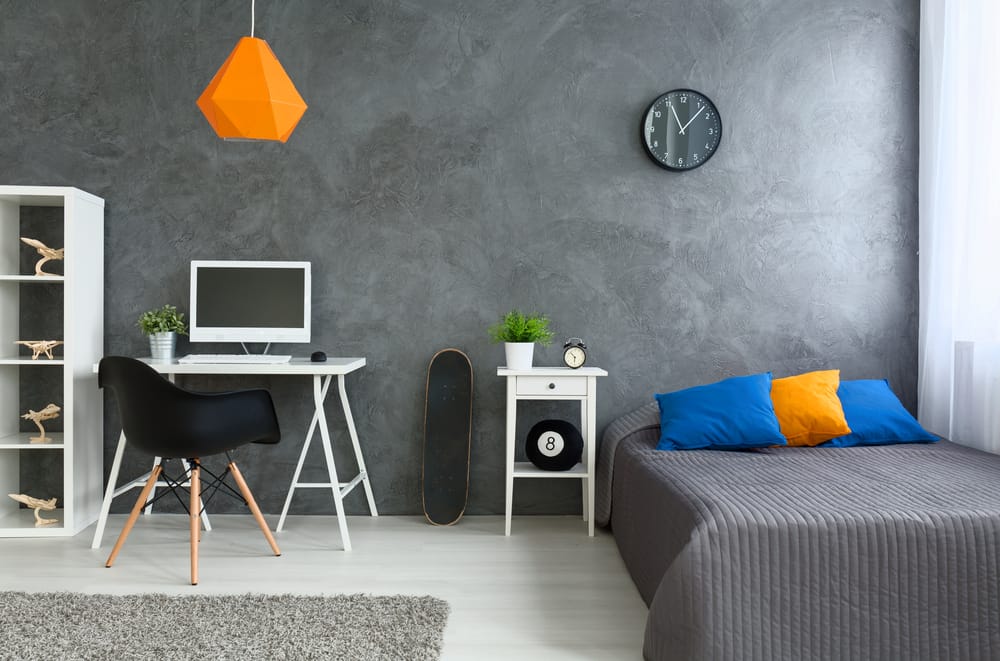 In this bachelor pad sleeping zone, the furniture units convey a sense of airiness and simplicity. Concrete walls add rugged texture to the room.
A gray shag rug provides comfort underfoot. The bursts of blue, orange and green keep the space from becoming too dull.
3. Black Bedroom Sets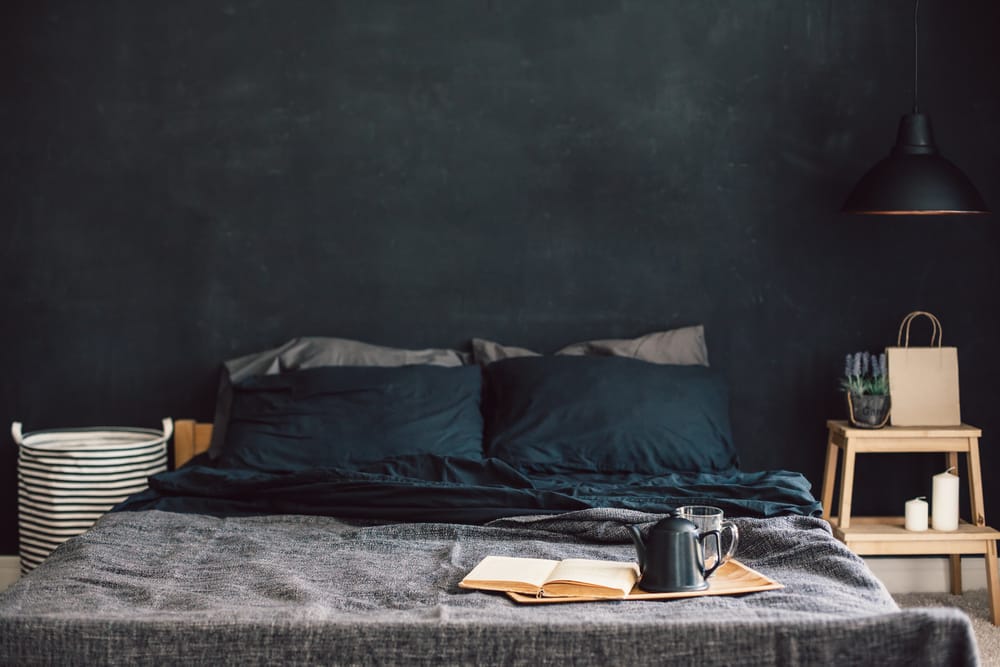 Black wall, pendant light, jug, and pillows generate an enigmatic look. The gray blanket and pillows raise the masculine vibe.
Wood accents warm up the space. A black-and-white striped laundry bag steals the show. Book on the bed promotes a morning reading habit.
4. Men's Bedroom Wall Decor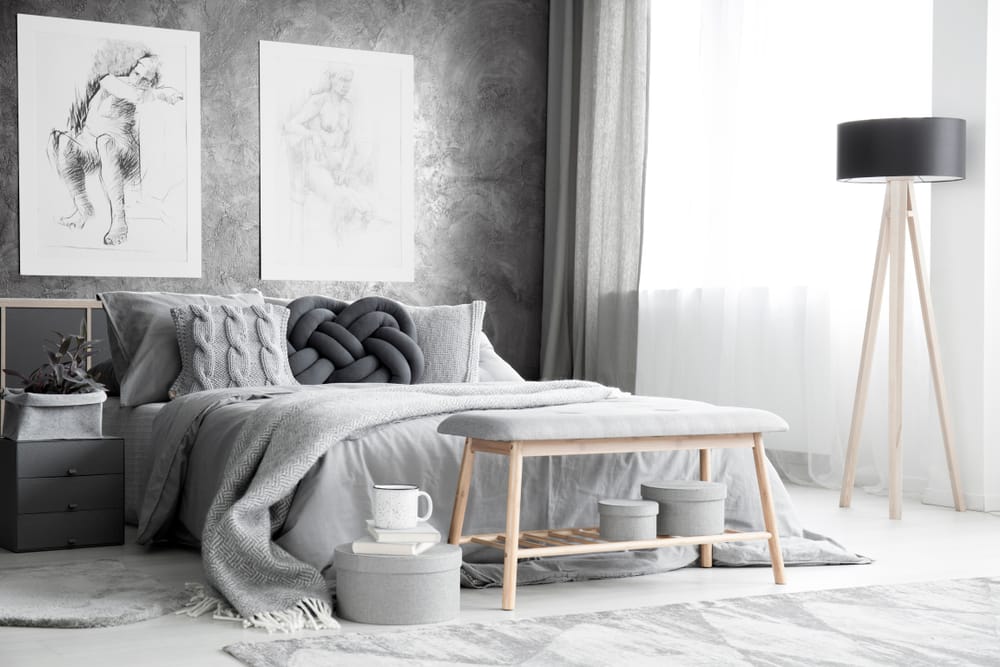 Here is a male bedchamber with concrete wall and chest of drawers. An upholstered bench at the foot of the bed makes for a cozy sitting area.
Unfinished wood elements show the homeowner's desire to live the outdoor life. Charcoal sketches fascinatingly decorate the area.
5. Men's Bedroom Ideas Pinterest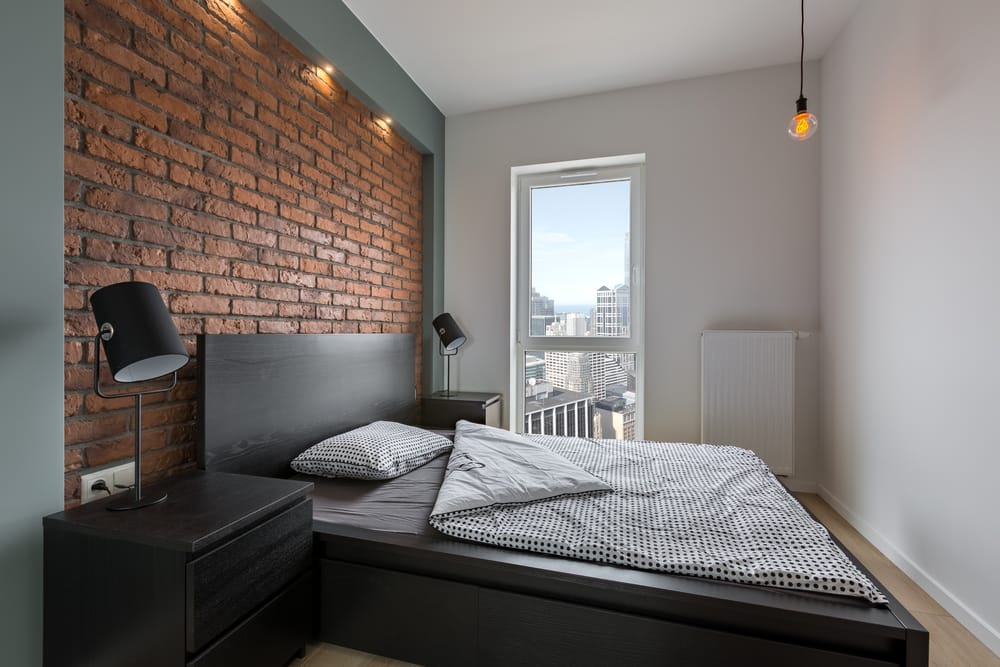 As seen in the image above, the red brick wall lends the resting space character and rough texture. It also serves as a focal point.
Black furniture units exude a state of strength and stability. The light fixtures scream modern industrial flair.
6. 20 Year Old Male Bedroom Ideas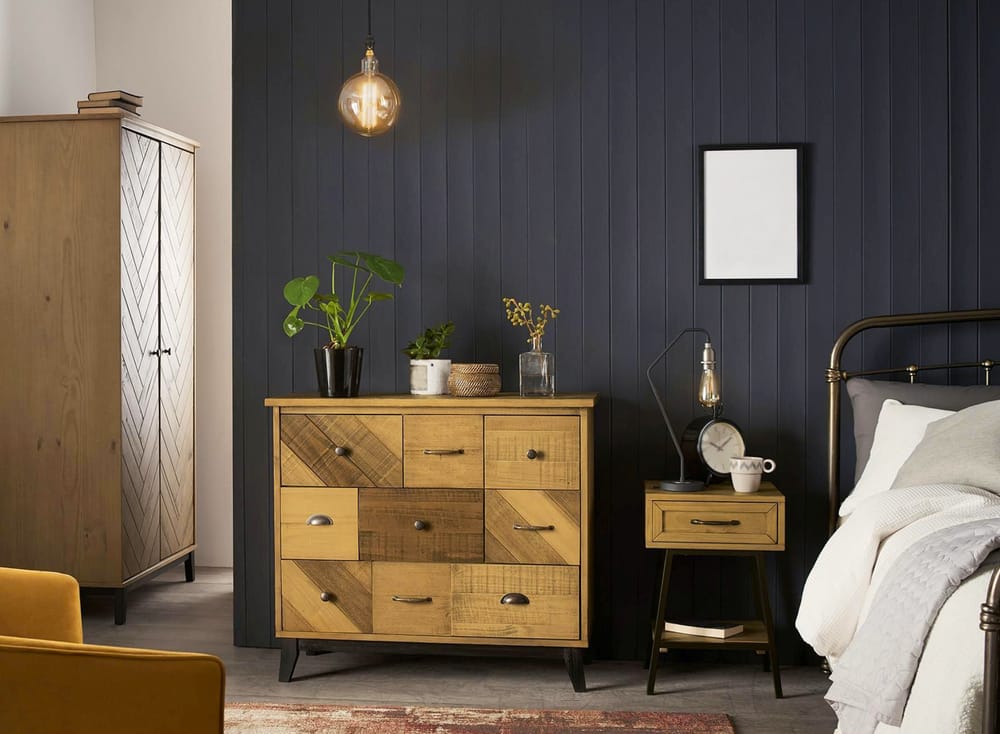 Deep navy beadboard panel delivers charm and depth to the man's bedroom. Wooden wardrobe, sideboard, and nightstand expose nature's rawness.
The antique iron bed, alarm clock, and table lamp offer an eclectic touch. Plants and flowers breathe new life into the space.
7. Cool Room Colors for Guys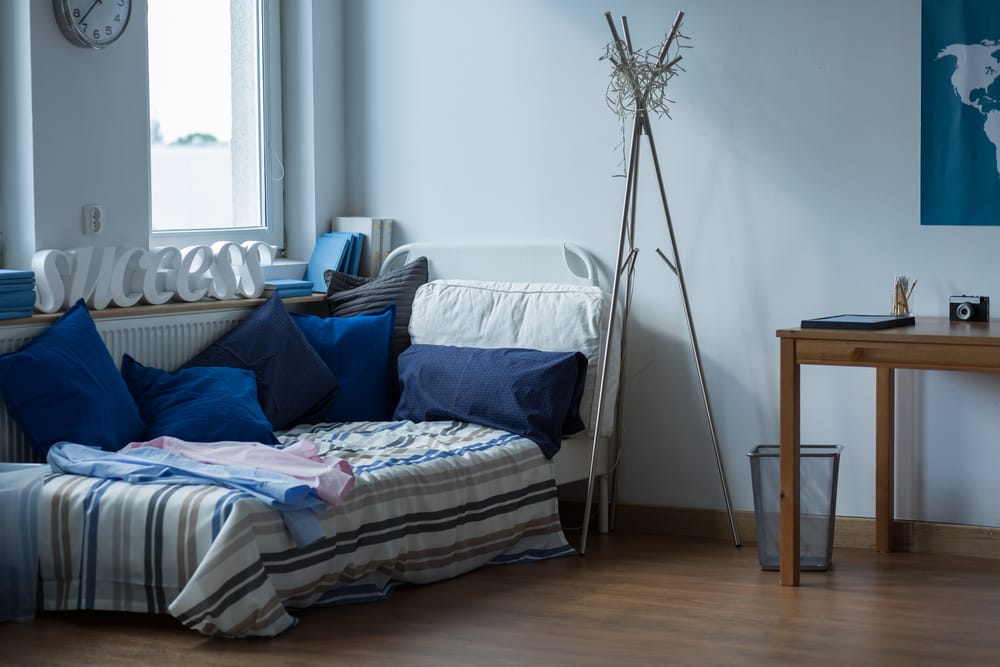 White base exhibits a clean and airy environment. Meanwhile, light, medium, and dark blues introduce a fun yet manly setting.
Wood floor and desk take the chill off metal coat rack. Success sign in white turns any guy into a goal achiever.
8. Men's Bedroom Guide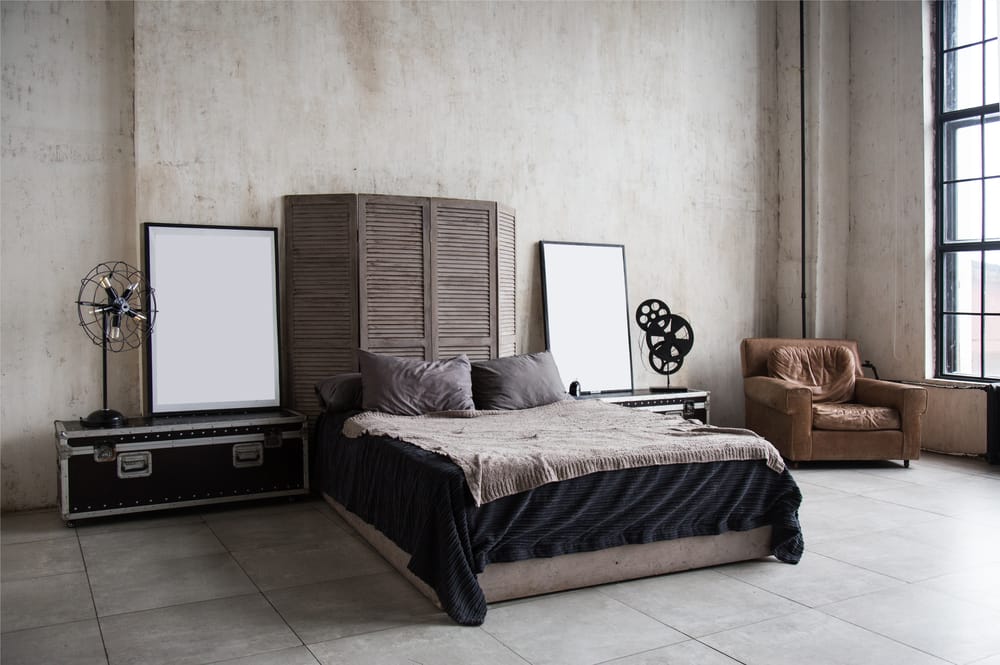 Polished concrete floor tiles add an element of nature. Whitewashed wall brings a shabby-chic style to the room.
Vintage trunks act as the nightstands. Reclaimed shutters are used in place of the headboard. Windows allow the sunlight to enter the bedchamber.
9. Men's Bedroom Colors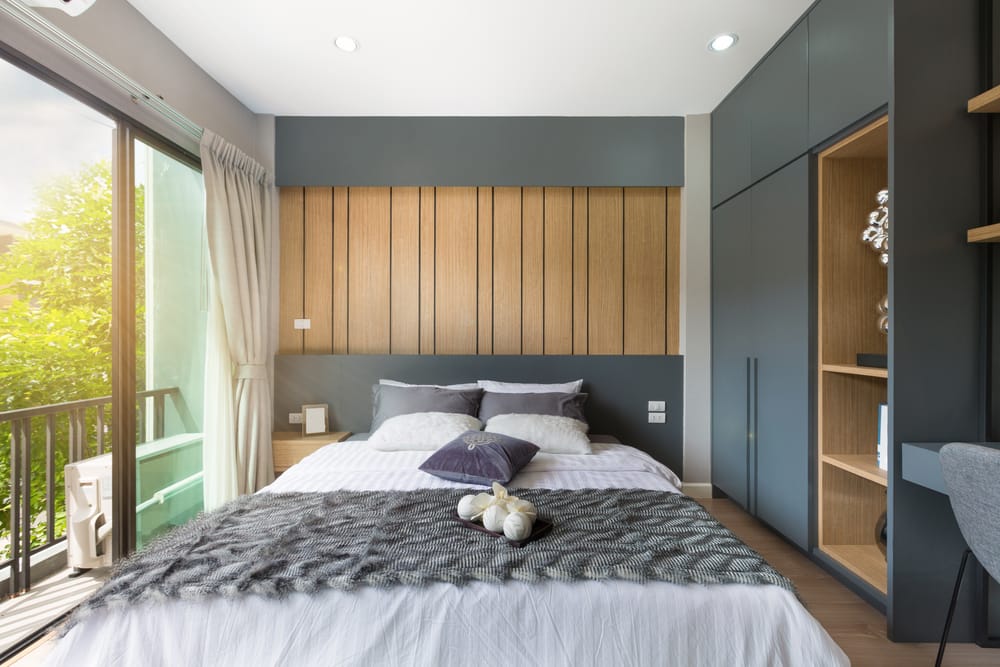 Undeniably, this guy's bedroom is stylish. All it takes are sleek nightstands, built-in closet, and wood accents.
Neutral colors generate a relaxed feel. Bed runner, throws, and curtains cozy up the space. Lastly, walls of window let daylight into the room. They create the perception of freedom too.
10. Men's Bedroom Decorating Ideas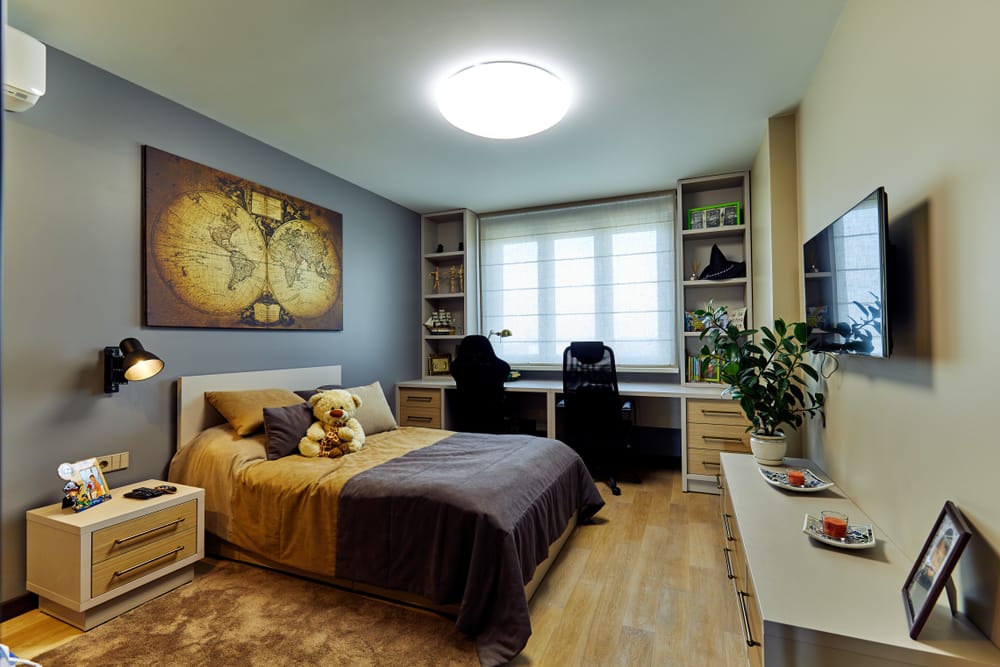 If your young men are travel enthusiasts, give this idea a shot. First of all, paint the walls in contrasting shades like gray and cream.
Furnish the bedroom with wooden bed, desk, long cabinet, wall shelving units, and side tables. Hang up a world map wall decor to channel their adventures sides.
11. Masculine Colors for Bachelor Pad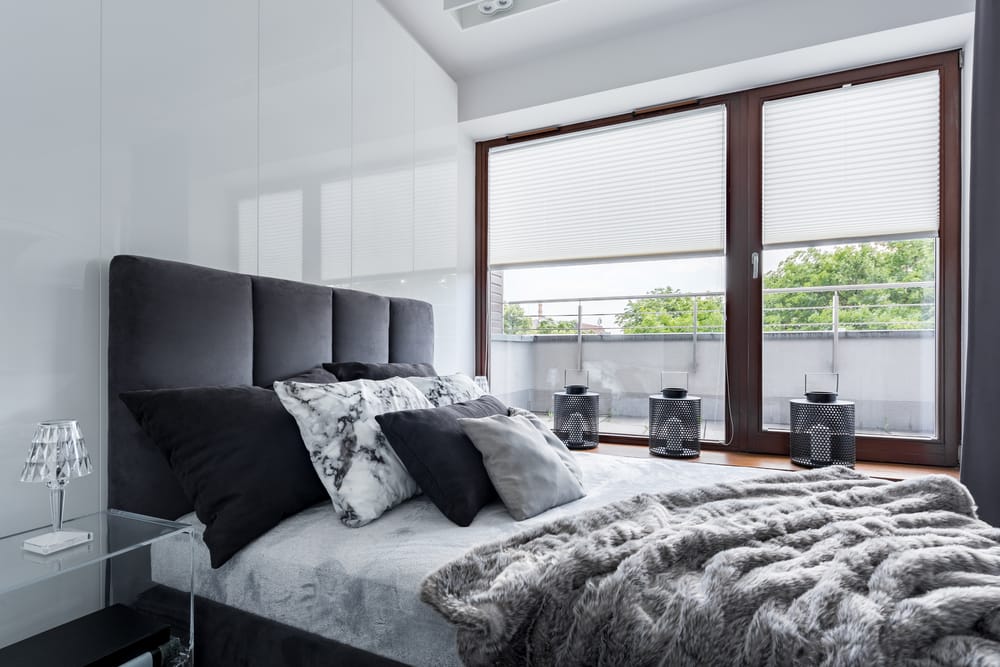 As you can see, black upholstered headboard and throws add a bit of mystery. Huge glass wall and window keep the space sunny.
Glossy white wall, acrylic nightstand and table lamp preserve a clean environment. Velvet bed, faux fur blanket, and marble throw pillows instill a sumptuous air.
12. Men's Bedroom Ideas Gray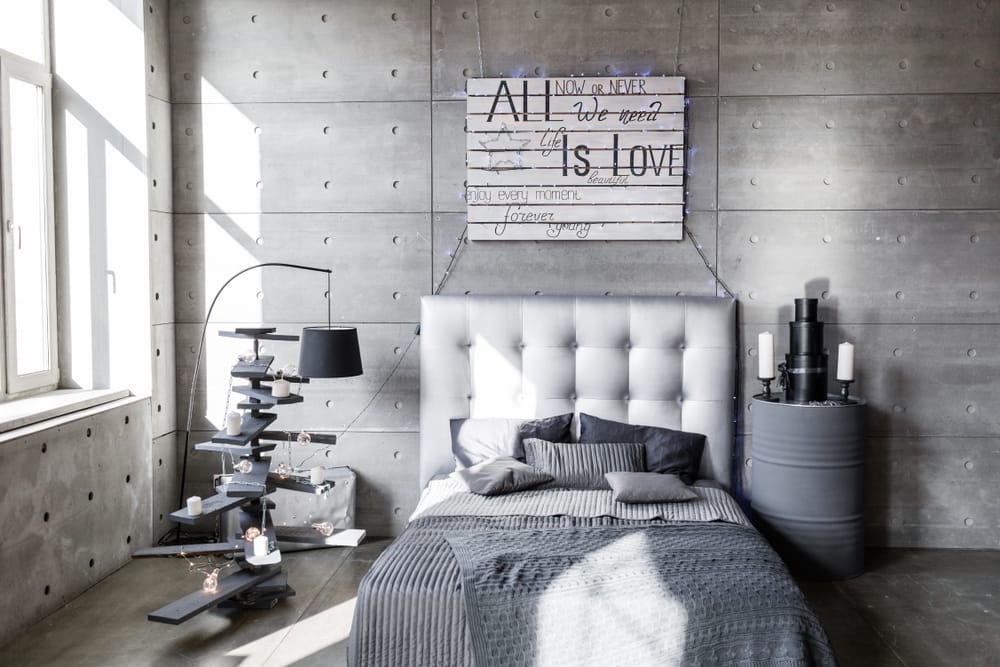 The homeowner dressed his bedroom in tones of gray. They do not only lend the space masculine sensibilities, but also dimension and harmony.
Concrete pegboard tiles line the walls. DIY wooden Christmas tree and sign make the area more appealing.
13. Men's Bedroom Designs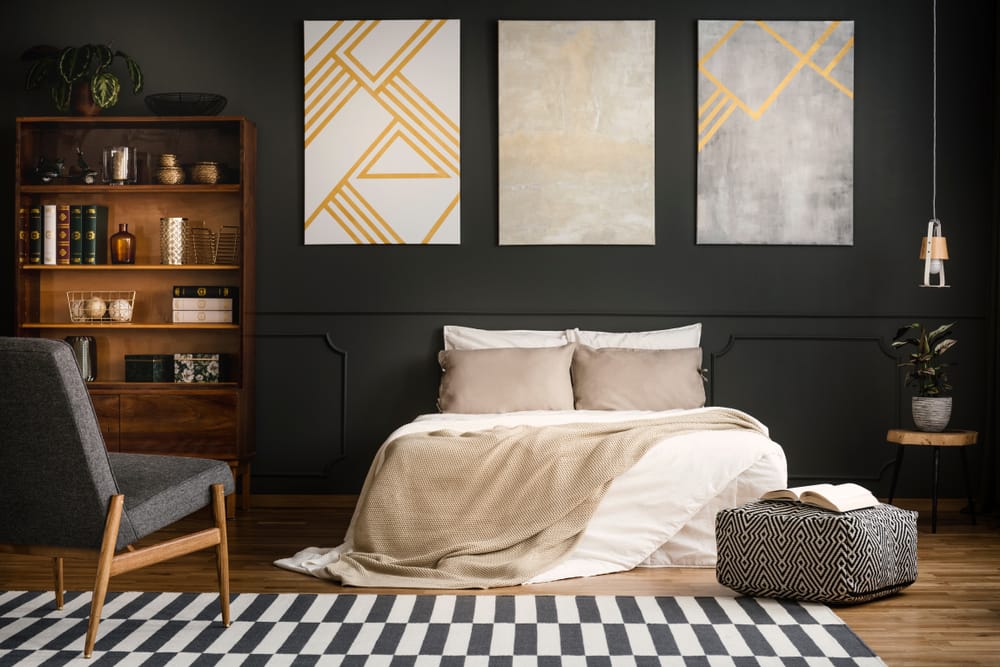 This modern male bedroom's wall is covered in black panel. It allows the works of art to stand out. The low hanging pendant light emits a bright glow at night.
A freestanding open cabinet with shelves display books and ornamental pieces. Checkered rug and patterned square stool make a bold statement.
14. Men's Bedroom Lighting Ideas

During the day, this masculine bedchamber bathes in sunlight. After the sun goes down, industrial pendant lights illuminate the space.
White corrugated metal panel contrasts marvelously with gray concrete wall and patterned chair. A sizeable moon wall art is the showstopper.
15. Men's Bedroom Ideas for Apartment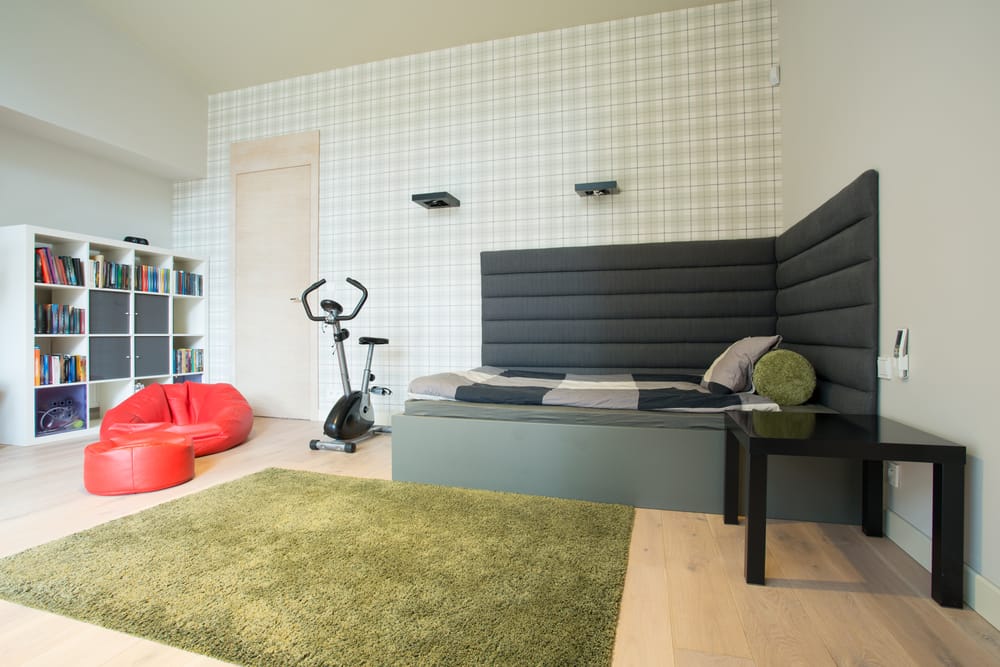 Dwelling in an apartment? This idea would be a nice inspiration. Here, light gray and white set a quiet atmosphere.
Wrought iron bed, desk, and shelving unit evoke the manly vibe. Shots of blue and green break up the neutrals. Houseplants and artworks enliven the area.
16. Men's Bedroom Wallpaper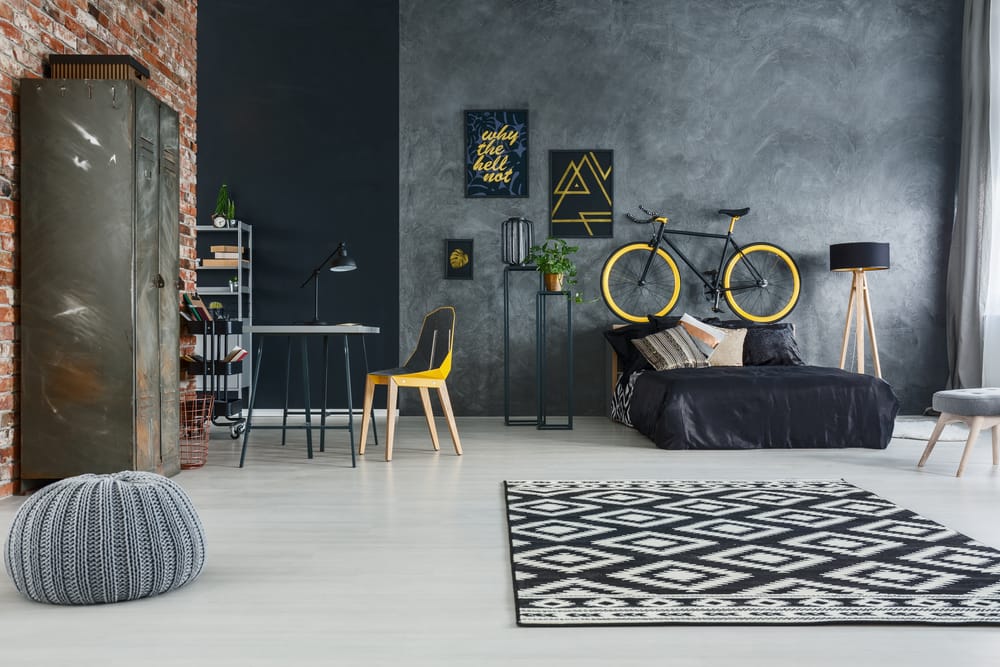 The neutral plaid wallpaper looks so pleasing. It offers a masculine look to the gentleman's sleeping space in no time.
Black corner headboard is a contrast to the light walls. Storage cubes, red bean bag chair and table create a cozy reading nook.
17. Men's Home Office Desk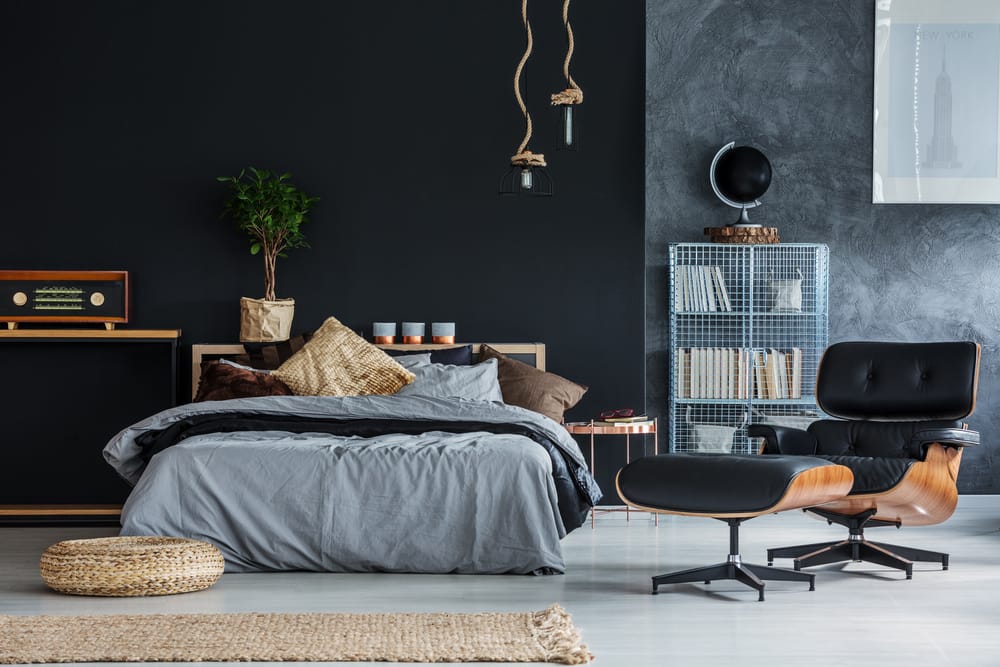 Concrete and brick walls add some rawness to the resting space. Gray pouf, geometric rug, and black bed linens elicit comfort.
Hanging bicycle over bed and artworks help pull the bedroom together. Metal units impart a sense of toughness. Yellow accents emanate a happy ambience.
18. Men's Bedroom Accessories

This bedroom employs saturated colors. They lead to the robust look of the sleeping space.
Jute rug and wicker accessories offer textural contrasts to the light gray wood floor. Pops of copper infuse luxe into the zone.
19. Men's Bedroom Ideas on a Budget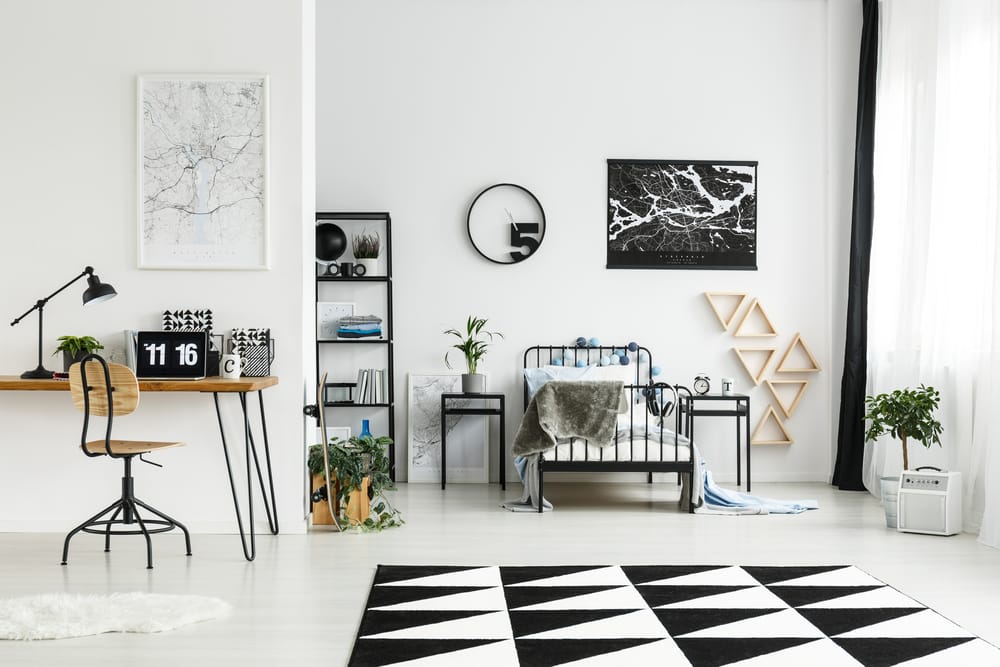 If you are on a tight budget, paint your walls white. Then, furnish the room with functional and sleek units.
Some wall art and potted plants keep the sleeping space from being lifeless. Geometric patterns magnify the masculine atmosphere.
20. Men's Small Bedroom Ideas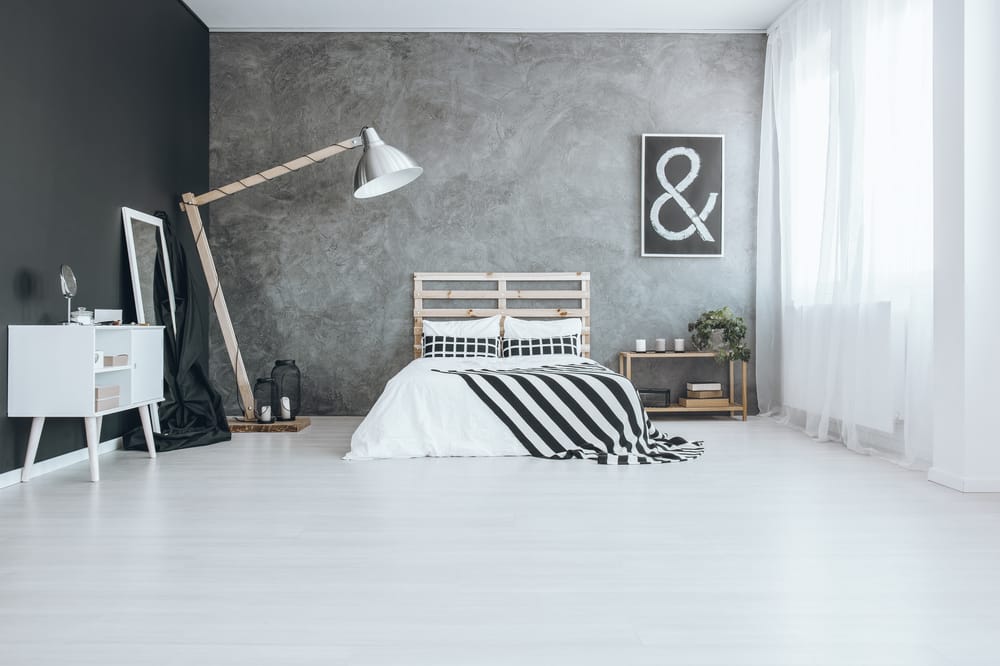 White ceiling, sideboard, and bedding expand the small male bedroom visually. Black accent wall generates a bold mood.
The oversized metal floor, concrete accent wall, unfinished wood bed frame and side table inject rustic industrial charm. Meanwhile, white curtains provide privacy.
Basically, men's bedroom defines the homeowner's lifestyle and personality. That's the reason you must opt for the design consciously.