Teenagers typically deal with busy social and school schedules. Furthermore, they need serene and inviting retreats that let them do their activities. If you have a teenager or two, take these cute room ideas for teens into consideration.
Bedrooms for teenagers should be cozy and stress-free. That way, teens can socialize with their friends and get their to-do lists done. However, designing a functional yet chic sleeping area for teenage kids seems intimidating.
For some decor inspiration, just dive into my ideas below. Whether you plan on doing a quick teen's bedroom makeover or creating a social setting, this article has got you covered.
1. Cute Room Ideas for Teenage Girls with Wall Decals
Need some cute room themes for teenage girls? If yes, you can't forget the woodland. Here, woodland wall decals elevate the interior. Also, they carry an element of whimsy.
The stuffed monkey and woodland comforter don't look out of whack in this teenage girl's bedroom. Moreover, the white ceiling and modern four-poster bed keep the space airy.
Pink graphic accents produce a girly flair. Curtains lend the interior an upscale look, while soft textiles boost the cozy factor in seconds.
2. Cute Room Ideas for Teens with Boho Accents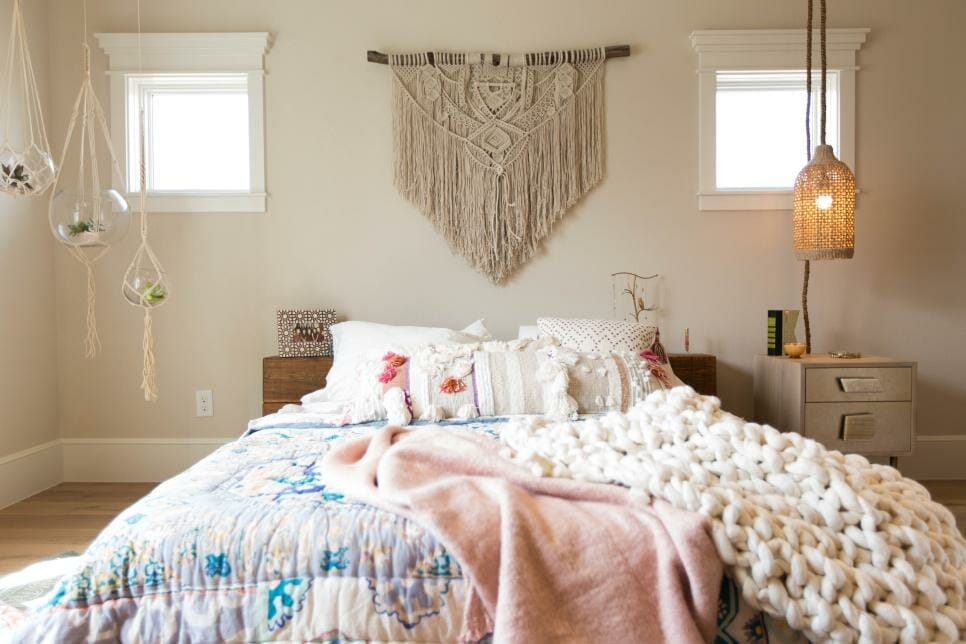 Speaking of cute bedroom ideas for teenage girls, take cues from this modern boho room. The macrame wall decor and plant hangers generate an authentic bohemian feel. Meanwhile, the wicker pendant imparts a relaxing vibe.
The wooden bed and nightstand offer some Scandinavian beauty. Furthermore, cream bedroom walls pose as a minimalist but calm background. Additionally, pillows and blankets introduce a lived-in look.
3. Large Teenage Girl Bedroom Ideas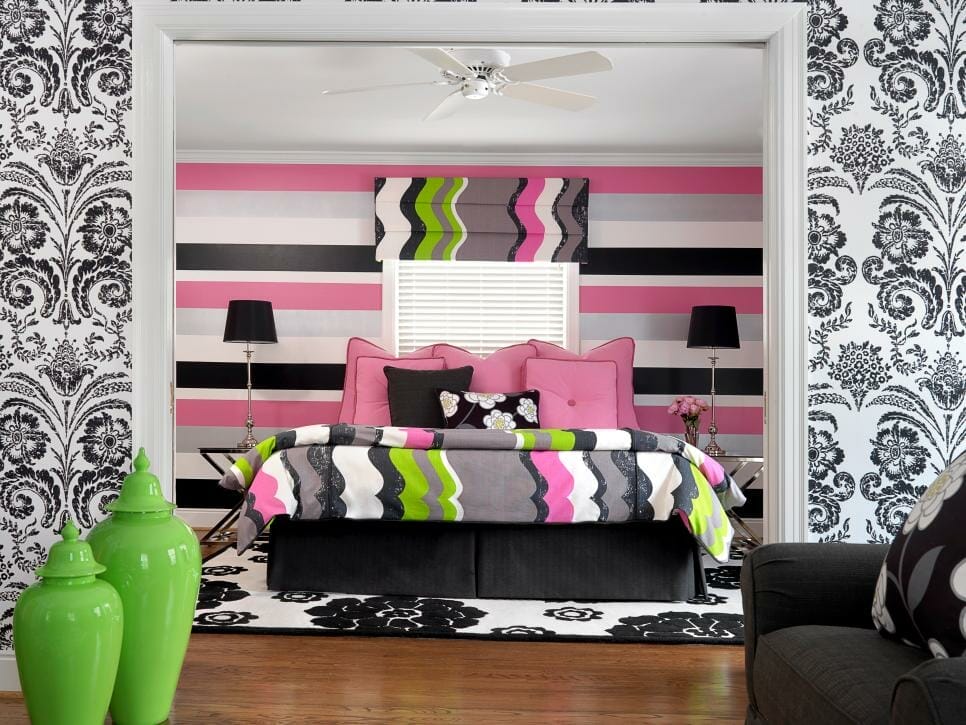 If your teenage girl isn't a minimalist, why not embrace maximalism in her bedroom? This sleeping area is like a glam retreat. It boasts intricate patterns in classic colors. Furthermore, they add some character while being easy on the eyes.
Black table lamps and pink pillows create symmetry. Moreover, the horizontal striped wall emphasizes them. Dark furniture pieces imbue drama.
The multicolored window valance and comforter deliver visual cohesion. Thanks to the wooden floor, this teen girl's bedroom feels welcoming.
4. Nice Room Ideas for Teenage Girls with Tropical Touches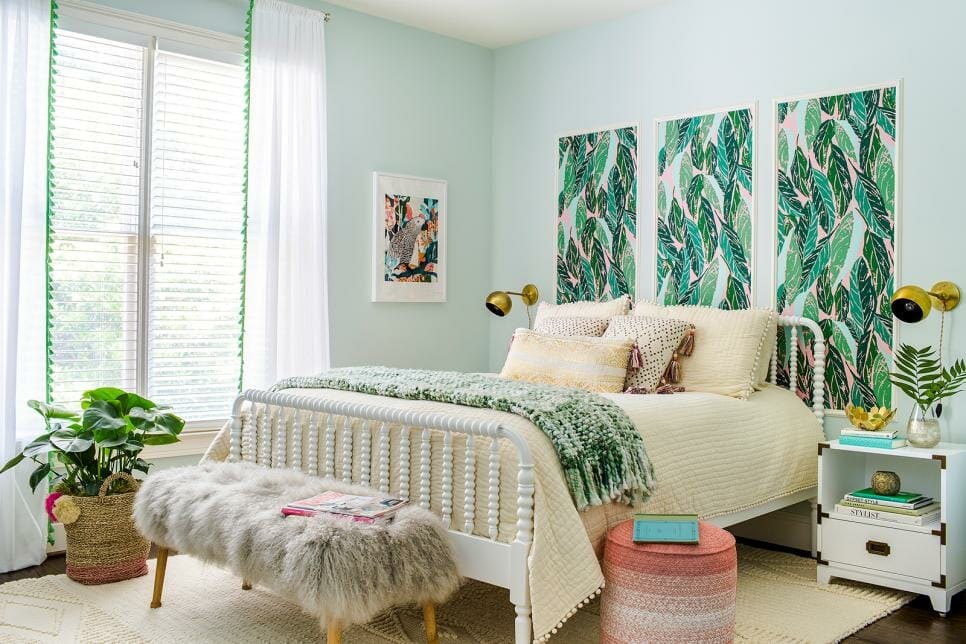 Need cute room decorations for teenage girls? Take a gander at this space. The bird and botanical artworks with white frames develop a tropical ambiance.
Crisp white and powder blue elements lighten up the teen girl's bedroom. Meanwhile, the bed and nightstands instantly scream vintage.
The fun ottoman, bench, and pillows capture a cozy ambiance. Green accents bring the bedroom together, while splashes of gold depict glamor.
5. Modern Yet Cute Room Ideas for Teens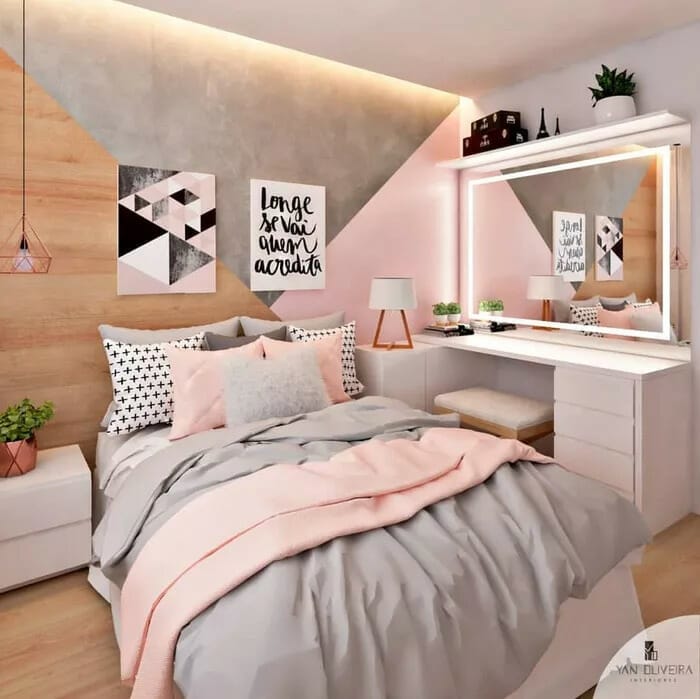 If your teen is into modern teenage girl bedroom ideas, emulate this look. Geometric features carry a stylish appeal to the tiny space.
The half-paneled accent wall and pale wood flooring represent seamlessness. They enlarge this teenage girl's room, too. Moreover, the accent lighting produces a homey scene.
Moreover, the sleek pendant draws attention to the trendy copper planter. Furthermore, the dressing table serves double duty. It holds a chic table lamp and tiny pots.
6. Cute Room Ideas for Teens with Loft Beds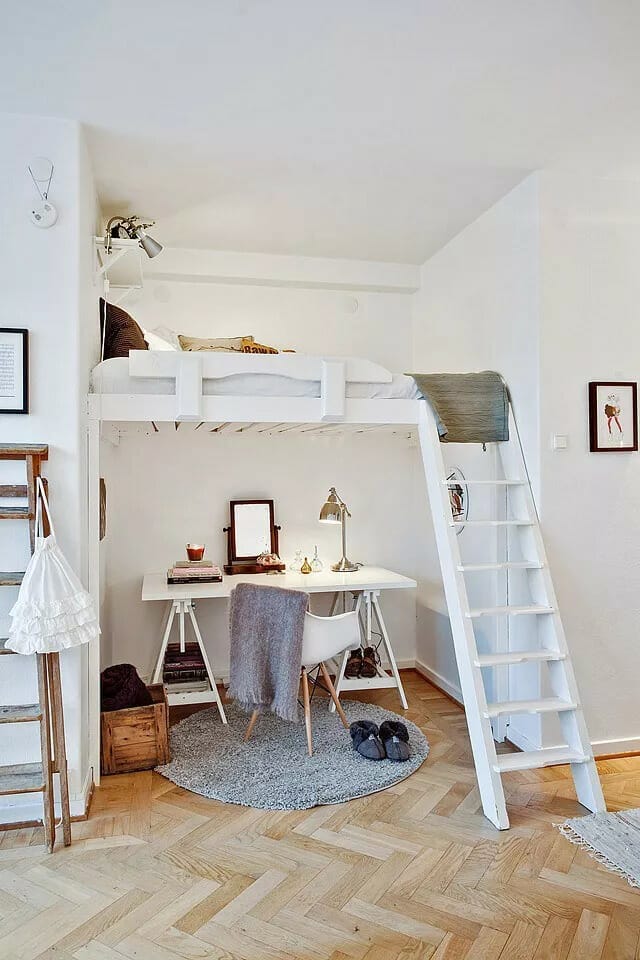 No cute room ideas for teens are complete without loft beds. Undeniably, they allow parents to design personal spaces for their teenage kids.
This built-in loft bed boasts a dedicated study space underneath. It doesn't require any extra floor space. Furthermore, the white ladder, desk, and armchair generate an airy, seamless look.
The wooden ladder provides some hanging space. Meanwhile, the flooring and crate temper cold-toned gray rugs of different shapes.
7. Cute Teenage Room Ideas with String Lights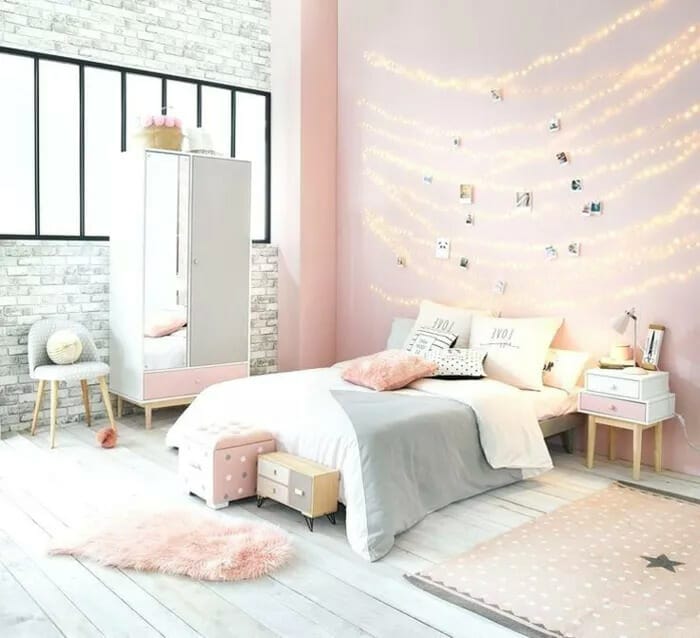 Here, the subtle pink wall emphasizes delicate string lights. Moreover, they instill a whimsical atmosphere while accommodating memorable photos.
Furniture pieces scream mid-century modern due to their tapered legs. The fake brick wall, metal window frame, and task lamp fill the teenage girl's room with an industrial aesthetic.
The mirrored cupboard helps the space feel more expansive. In addition, rugs, upholstered seats, and blankets keep things cozy.
8. Coastal and Cute Room Ideas for Teens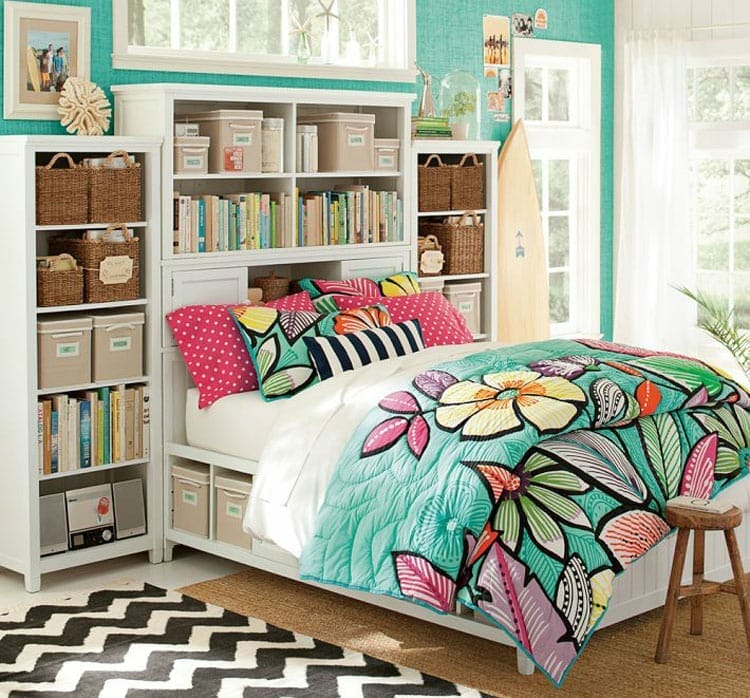 Talking about trendy teenage room decor essentials, consider integrating punchy pillows. They infuse tons of characters without emptying the wallet and overwhelming the space.
The turquoise grasscloth wallpaper, blonde wood surfboard, and wicker baskets capture coastal vibes. Meanwhile, the wooden stool and textured rugs improve the cozy factor here.
In this teenage girl's room, the headboard becomes a bookcase. Apart from being space-saving, it ensures the scene remains airy.
9. Gray Meets Pink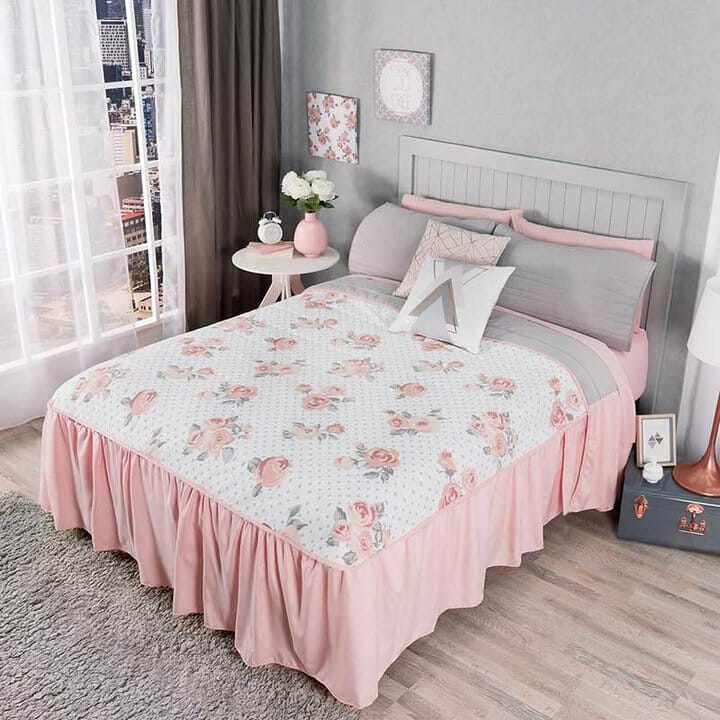 Speaking of cute room ideas for teens, don't be afraid to couple pink with gray. This color combo will keep the interior from seeming overly cutesy.
Muted brown curtains invite warmth and depth into this teenage girl's bedroom. Meanwhile, the bedding, floral wall art, and creamy-white blooms produce a feeling of continuity.
The task lamp, circular table, and pink vase soften the look. Moreover, the rug and sheer curtains complement the cozy bedding.
10. Teenage Girl Bedroom Ideas for Small Rooms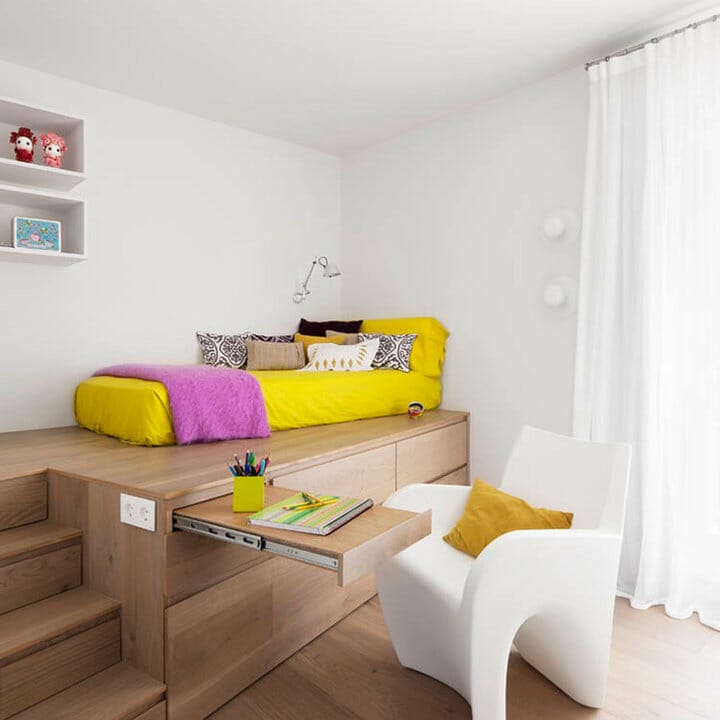 Some bedrooms for teens are tiny. That's why homeowners should be mindful of the furniture items they incorporate into such spaces.
This raw wood bed doubles as a storage unit. Furthermore, it comes with a hidden minimalist desk and drawers. They add function without consuming additional floor space.
The white desk chair, rectangular shelves, and wall lights provide a clean look. They let some exuberant accents shine, too.
11. Modern Teenage Girl Bedroom Ideas with String Bulbs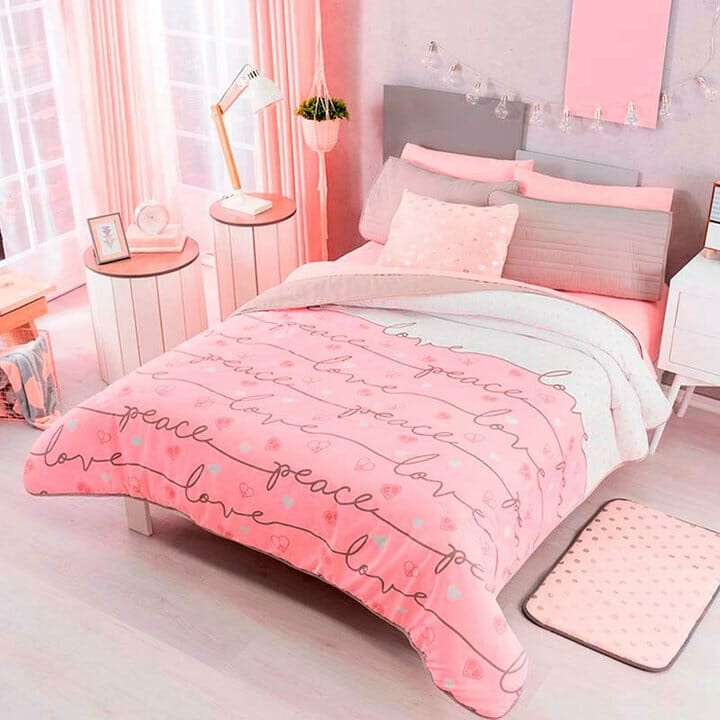 If you admire cute room ideas for teens, luck is yours. This interior is undeniably equal parts trendy and adorable. Cylindrical bedside tables add height and function.
Soft pink elements speak of femininity. Meanwhile, string bulbs and gray accents give this teen girl's bedroom visual balance.
Here, the pink wire basket houses fun throw blankets. Moreover, the bedding reminds any teen girl of peace and love, two crucial things in life.
12. Cute Room Ideas for Teens with Benches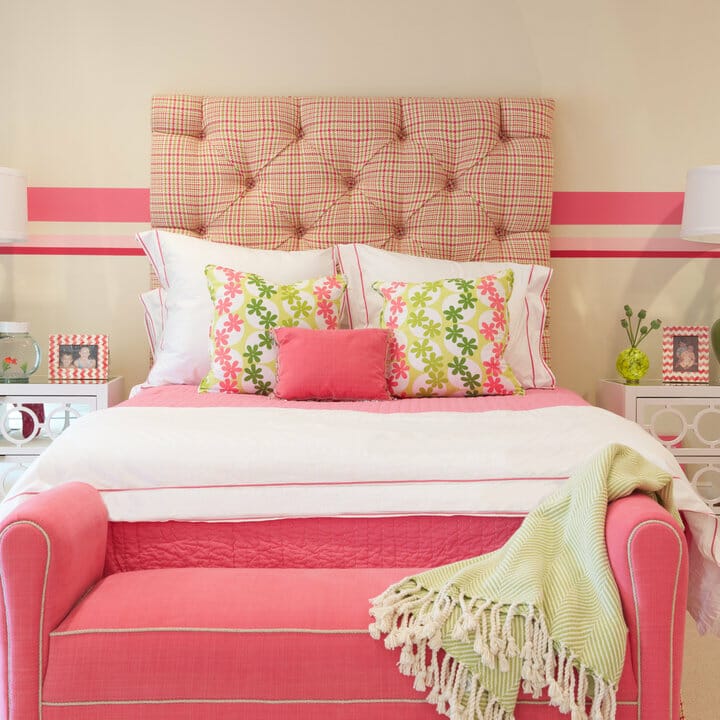 The beige backdrop emphasizes horizontal stripes of different pink shades. Not only do they develop some interest but also lead the eye to the striking headboard and pillows.
Mirrored nightstands expand the bedroom while featuring cute circular details. Furthermore, chevron picture frames are tiny yet terrific.
The pink bench at the bed's foot inspires femininity and comfort. Meanwhile, the subtle green-and-white chevron throw blanket complements it well.
13. Cute Room Ideas for Teens with Geometric Decor Pieces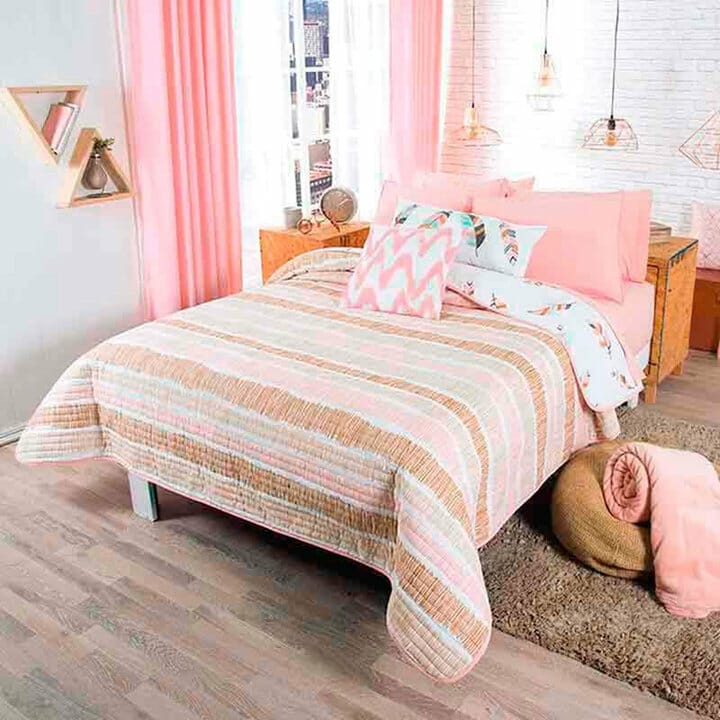 I adore how cozy this teenage girl's bedroom is. Pink curtains and sleeping pillows offer a girly feel while softening the look.
The fake white brick wallpaper draws attention to geometric pendants. Moreover, triangular shelves complement the otherwise dull wall and embrace modernity.
Here, the window and simple white textiles depict openness. Furthermore, the brown rug and pouf make for snuggly floor seating.
14. Eclectic Room Ideas for Teenagers
If you're into something eclectic, this is one of the cute room ideas for teens to replicate. Muted navy walls temper the hot pink four-poster bed. They carry depth without making the interior seem drab.
The zebra rug, printed bedding, and vintage furniture pieces portray eclecticism. Meanwhile, the weathered star pendant becomes a charmer. Because of the dark wood bench and sheer orange curtains, the teen's apartment bedroom gets homey.
15. Cute Room Ideas for Teens with Rustic Accents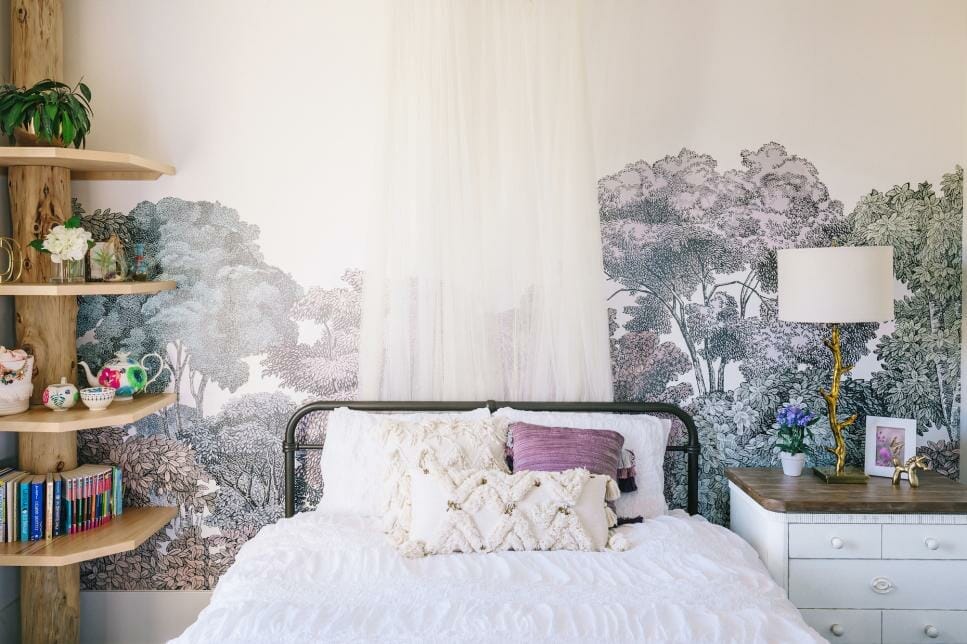 This teenage girl's room is worth swooning over. The woodland wallpaper fits in with the sheer curtains and textured pillows.
Splashes of purple produce a feminine flair. Furthermore, the corner tree bookshelf infuses a rustic feel. Meanwhile, metallic and girly ornaments finish things off.
16. Narrow Yet Charming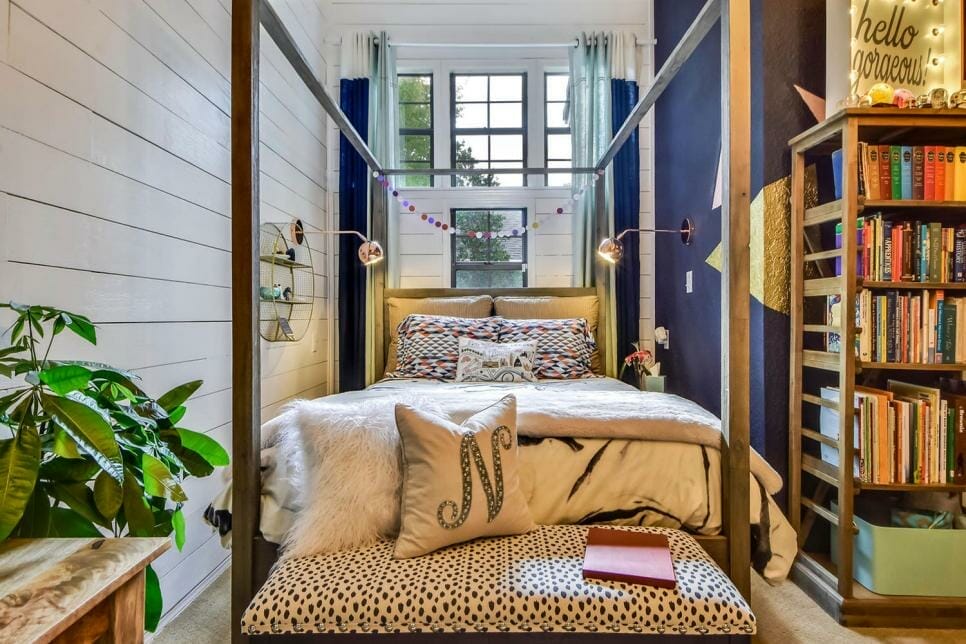 There are plenty of cute room ideas for teens. However, this one is ideally suited to any tight space. Industrial-style windows and shiplap walls lighten up things here.
The garland, greenery, and pillows provide tons of personality. Furthermore, the printed bench makes the area feel cozier. Meanwhile, varying blue shades create dimension.
17. Touches of Whimsy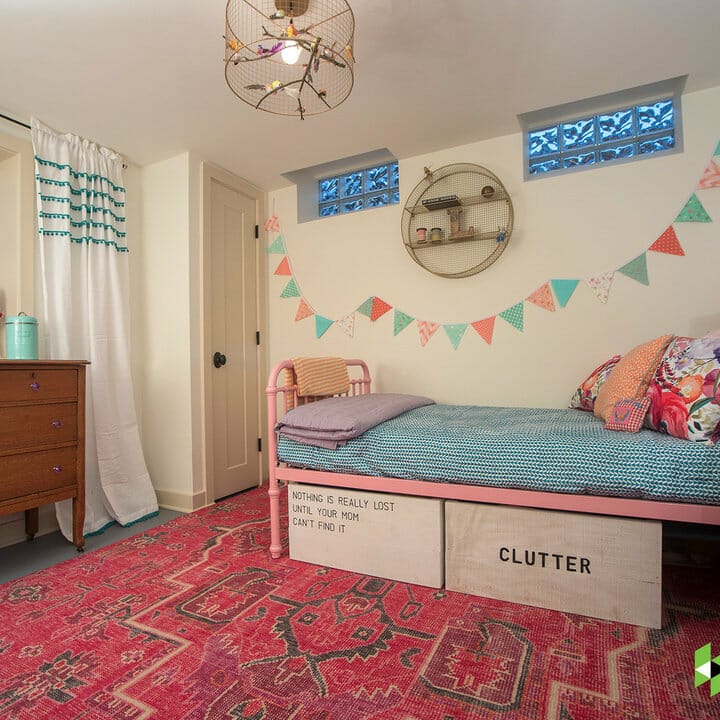 The pastel pink bed and soft white walls carry a magnificent juxtaposition. Meanwhile, the massive red rug and wooden sideboard convey warmth.
Storage boxes underneath the bed ditch the clutter. Wire decor pieces carve a vintage feel. The paper bunting, curtain, and floral-themed pillows infuse a whimsical atmosphere.
18. Teen Girl's Bedroom with a Bubble Chair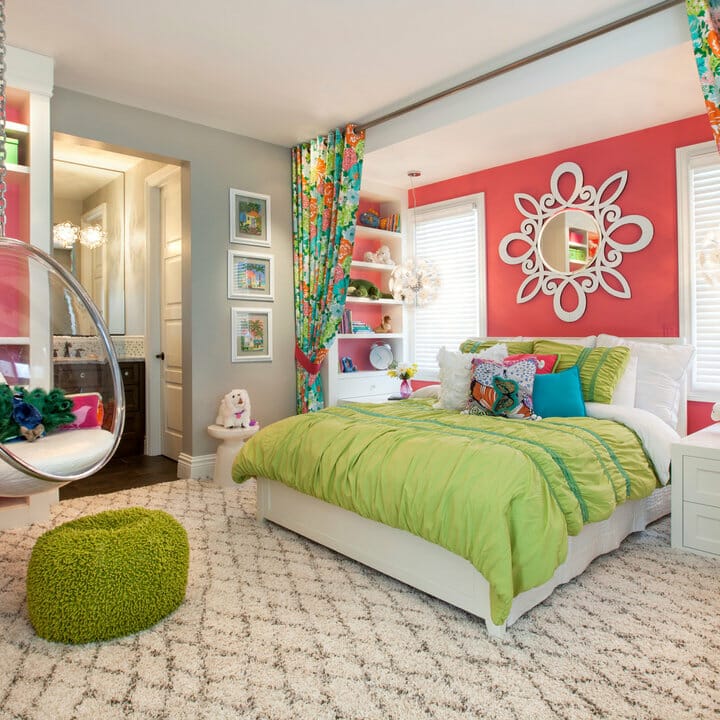 This bedroom doubles as a teen hangout. White and bed are dominant here. They let accents of coral, blue, pink, and lime green sing.
The decorative mirror, fun pillows, and curtains add tons of visual appeal. Meanwhile, the pouf and hanging bubble chair make for a whimsical but welcoming hangout space.
19. Cute Room Ideas for Teens with Metallic Details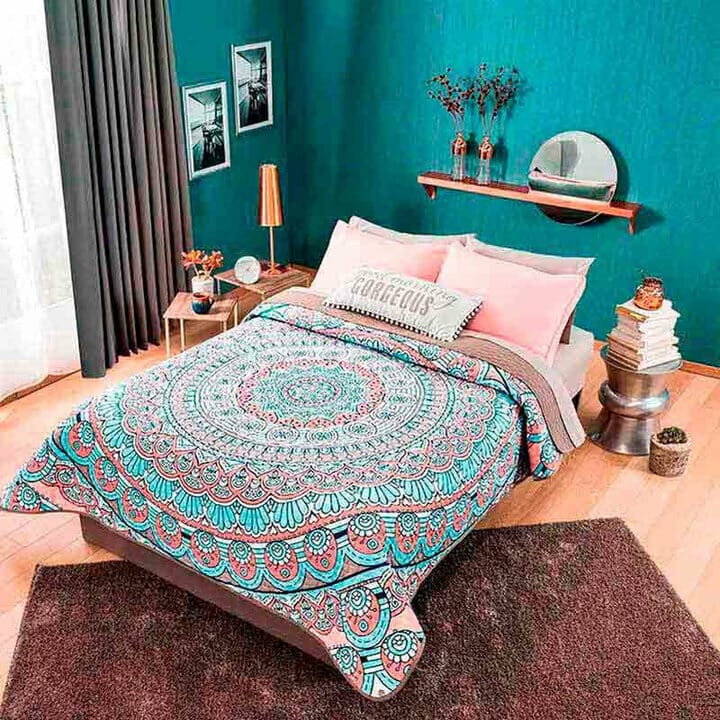 Teal walls generate a massive visual impact. They emphasize varying kinds of decor pieces as well. Meanwhile, pale wood surfaces invite subtle warmth.
The silver side table and patterned comforter offer a global feel. Moreover, gold and copper accents enhance the glam factor.
20. White and Pink Bedrooms for Teen Girls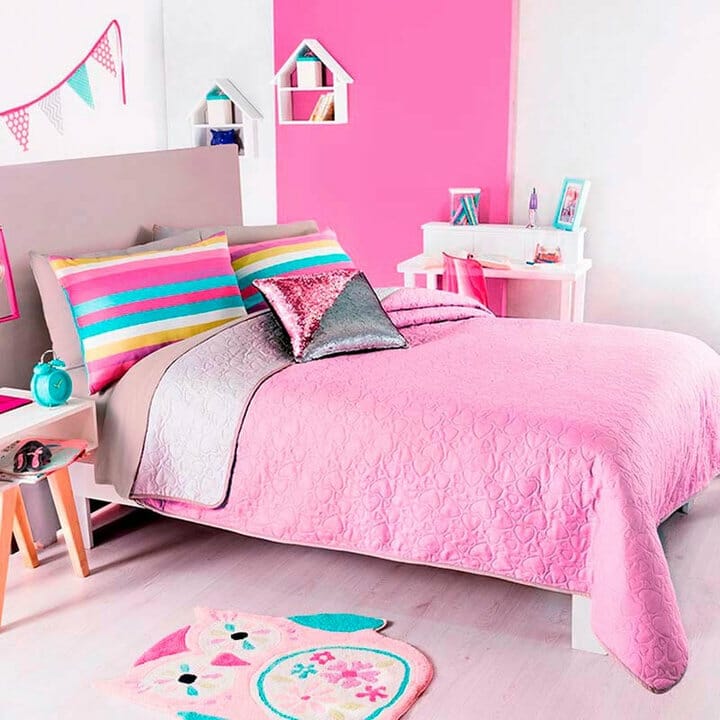 Different pink shades adorn this teenage girl's bedroom. Furthermore, they scream feminine while adding a sense of dynamism.
The paper bunting, cute owl rug, striped pillows, and house-shaped shelves titivate the space. Additionally, crisp white and raw wood elements stop things from being over-the-top.
21. Pink and Navy Teen Girl Bedroom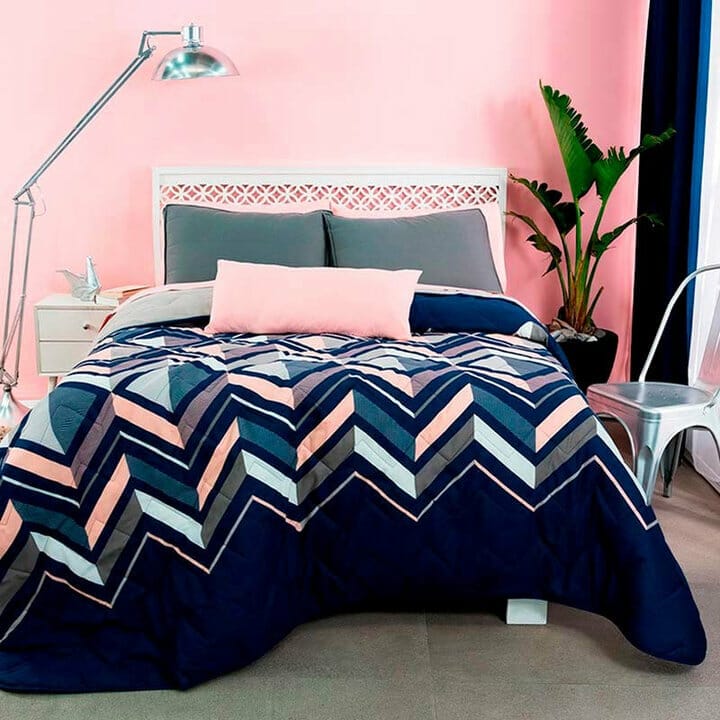 Here, the pink focal wall and pillows emanate girliness. Meanwhile, navy curtains and metal furnishings balance them out.
The statement houseplant and patterned headboard elevate the teen girl's room. Furthermore, the chevron comforter carves a modern, cohesive atmosphere.
22. All-Pink Rooms for Teen Girls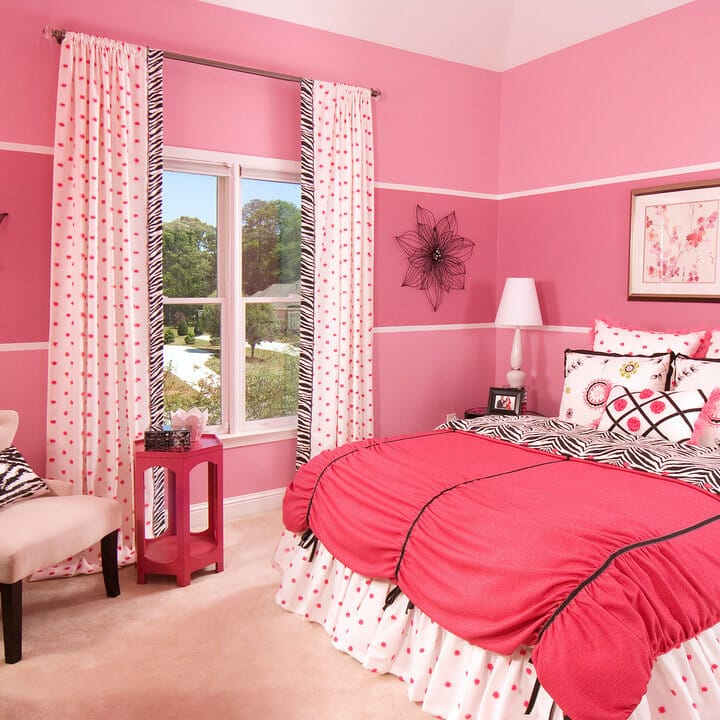 Talking about cute room ideas for teens, try integrating shades of pink. They're ideal for any teenage girl's sleeping area.
Pink striped walls get more appealing due to thin white stripes. The homeowner married them with soft and fun textiles. Meanwhile, the chair lets the teen girl enjoy surrounding views comfortably.
23. Cute Room Ideas for Teens with Open Shelving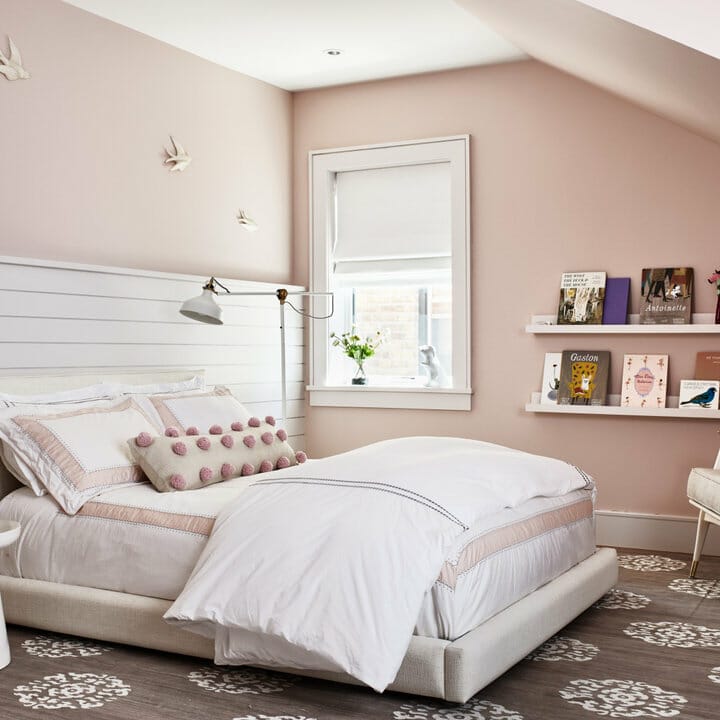 This attic room seems clutter-free, thanks to streamlined shelves. The white shiplap wall panel complements them fantastically.
The muted pink bedding and walls soothe the soul while embracing femininity. Furthermore, the printed rug and simple ornaments ensure the room doesn't feel too cutesy.
24. The More Colorful, the Better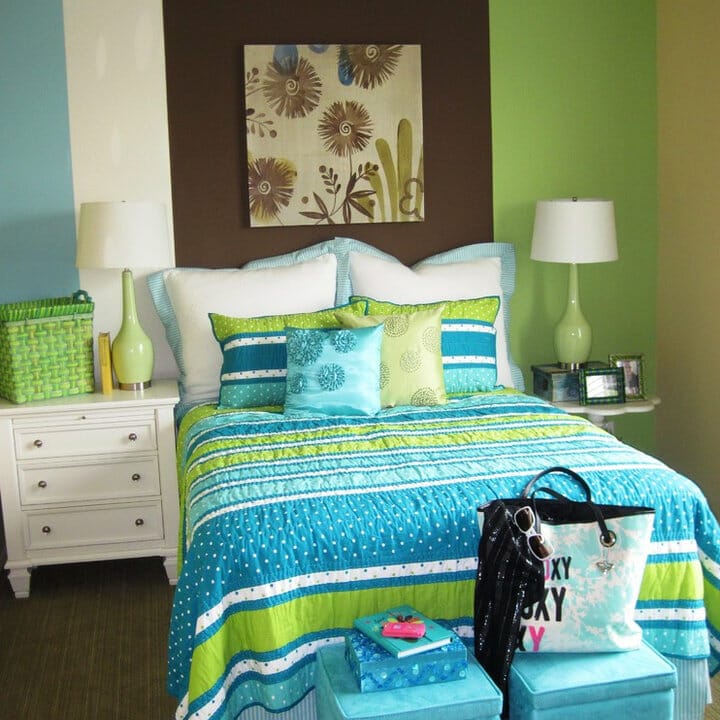 White and pale blue sleeping pillows highlight the decorative ones. Meanwhile, vertical striped walls represent visual cohesion.
Two bright blue storage ottomans provide playful seating. Here, the nightstand and flower side table instill a casual ambiance.
25. Nothing Wrong with Neutrals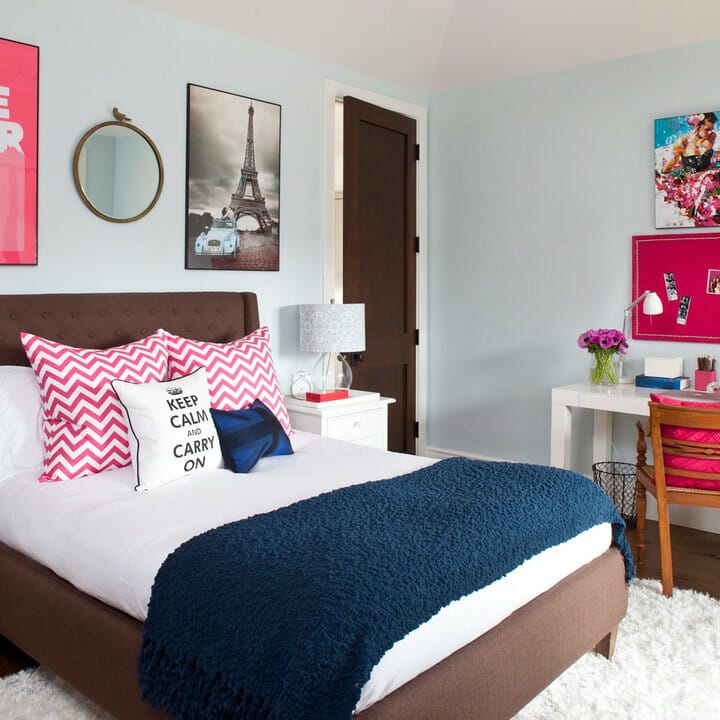 This teenage girl's room primarily wears dark brown, light gray, and pure white. They also allow simplicity to rule in the sleeping space.
Bold pink accent pieces impart a girly appeal. Furthermore, navy elements tone them down. Meanwhile, the wall art, mirror, and glass task lamps complete the room.
26. Glam and Cute Room Ideas for Teens
Soft blue walls and white furnishings produce an airy feel. They enable bold pink accents and playful patterns to grab attention.
Due to mirrored nightstands, the teen girl bedroom seems luxe. Moreover, various objects on an open shelf personalize the interior.
27. Turquoise Meets White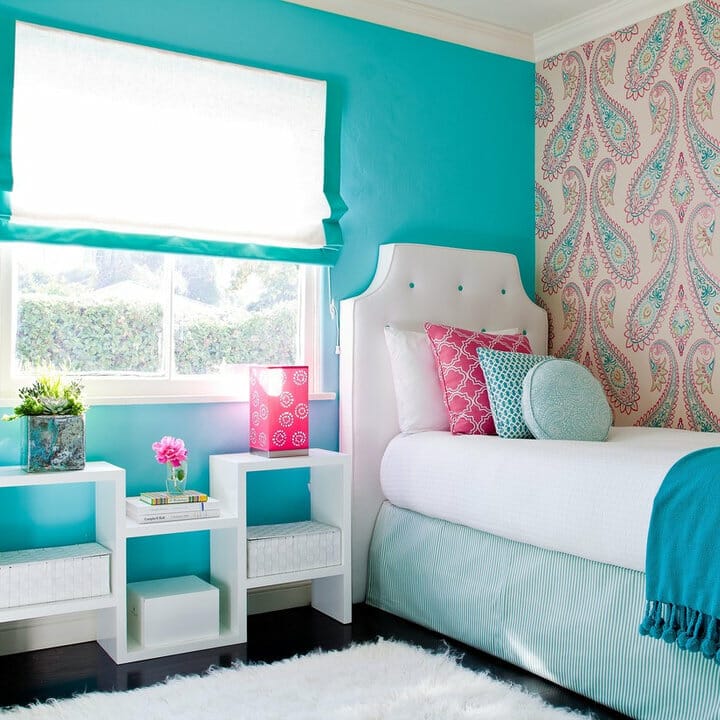 Teenage girls' bedrooms aren't just about pinks. You can include bright colors like crisp white and turquoise too. They lighten up the scene in an instant.
The cube shelving unit holds different objects, from the metallic succulent planter to storage boxes. Moreover, the printed wallpaper and pillows improve the wow factor.
28. Double Duty
Although this teen girl's bedroom features no artwork, it still seems appealing. The bedding does not only offer some comfort but also draws attention.
The pink headboard and storage boxes carve a girly ambiance. Furthermore, the white bed includes an integrated bookcase to save floor space.
29. All About Textures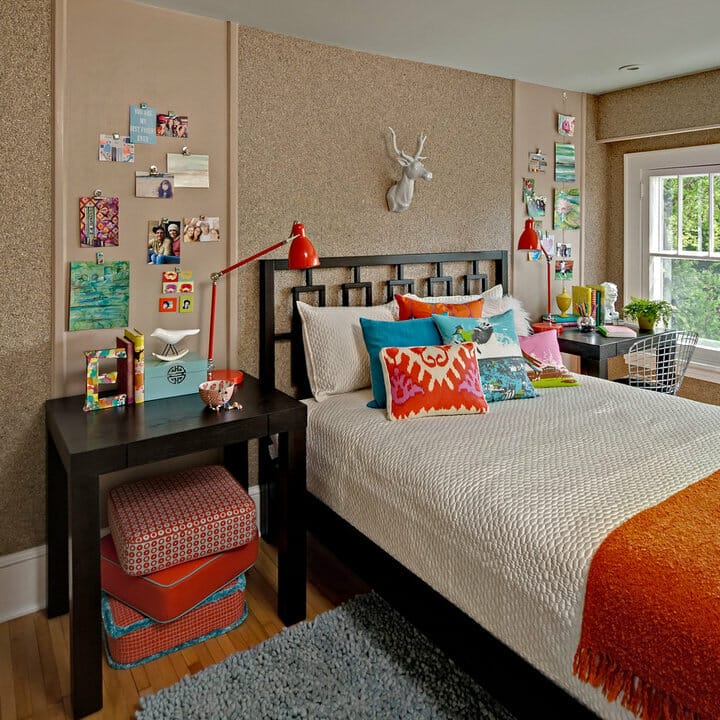 Need cute room ideas for teens with floor seating? If so, steal this look. Square cushions let the teenage girl create a cozy social setting.
Wall panels highlight artworks and memorable photos. Moreover, pillows and table decorations capture an eclectic look. Orange, wood, and sand-colored surfaces warm things up.
30. Transitional Teen Girl Bedroom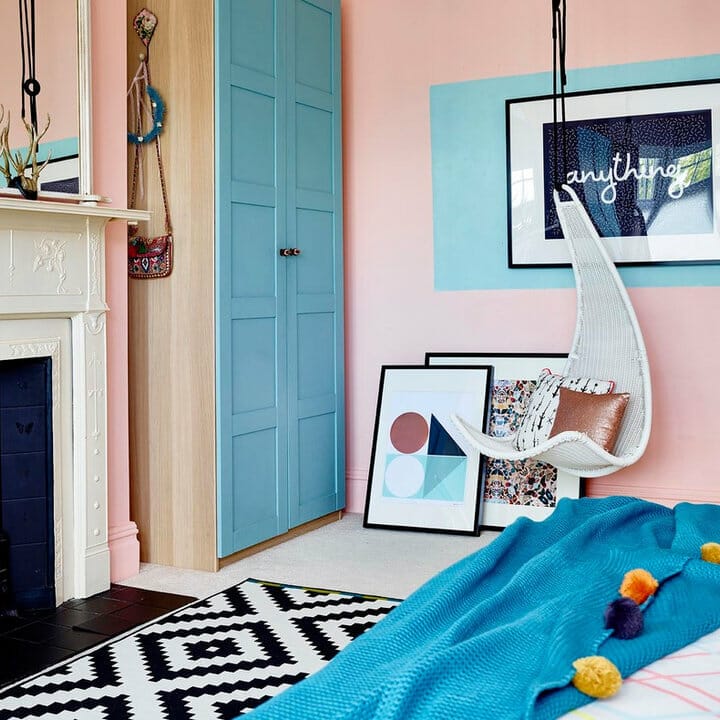 White and black produce a huge contrast. Meanwhile, pink and blue spruce up the scene while keeping things balanced.
The geometric rug and framed art invite a modern flair. Furthermore, the hanging swing chair makes the teen girl feel relaxed. Bursts of rose gold, orange, and yellow complete the area.
Designing sleeping spaces for teenagers seems tricky. However, those cute room ideas for teens undoubtedly come to the rescue. They let parents create chic but practical interiors. Pick the design that meets your teenage kid's aspirations.