You do not have to visit South Pacific countries for unwinding. Just apply any of these charming tropical garden ideas. They will certainly make your basic daily life feel like an incredibly luxurious vacation.
Currently, many gardeners grow some tropical plants to create a lavish resort-like appearance. You might have dreamed of having your sanctuary. Why not turn it into reality?
Speaking of a resort-like garden, most people just focus on the tropical look. However, it is essentially all about developing that relaxing ambiance. Today, you're going to discover some staycation oasis designs.
The feeling of rejuvenation and tranquility is the tropical garden's true soul. That means you can apply this design style to any climate. No matter the region, here are our tips for building a relaxing sanctuary.
1. Tropical Garden Ideas with Pools and Palms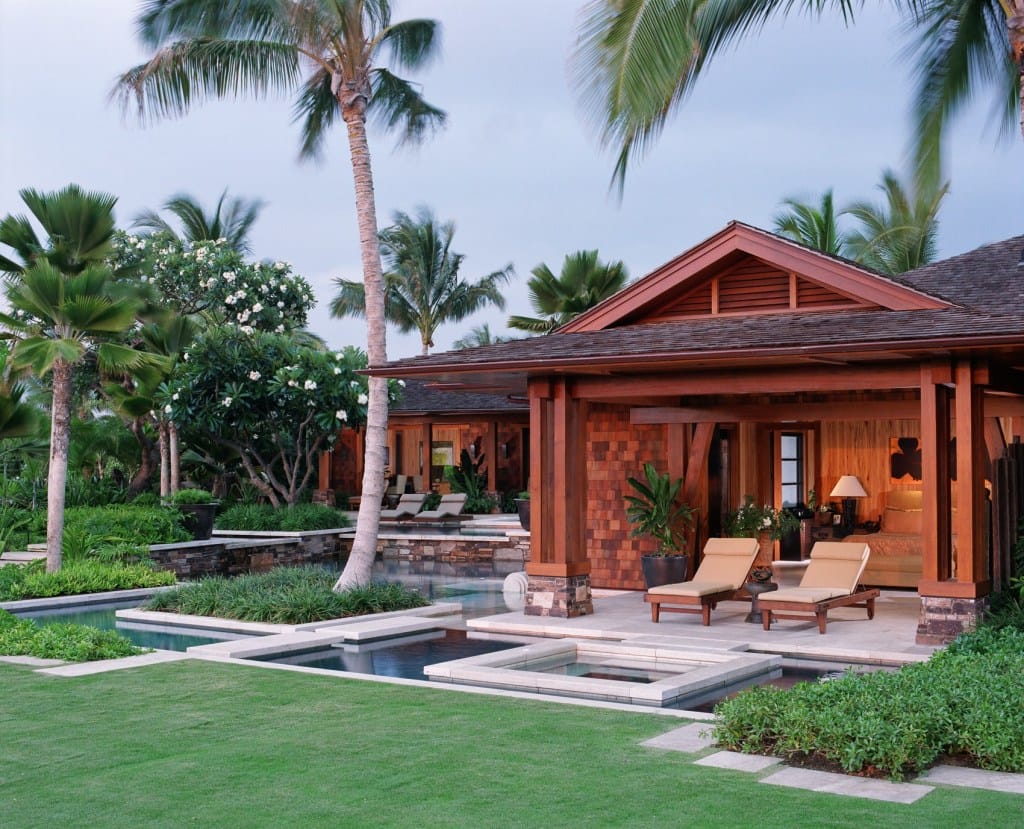 This photo is somehow calming. The backyard garden features straight garden beds. Slow-growing shrubs and green grass contrast wonderfully with them. Meanwhile, the formal stone pathway oozes a modern appeal.
Furthermore, frangipani trees and luscious palms generate a tropical look effortlessly. The wooden lounge chairs produce a laid-back ambiance. They complete the luxury resort-style as well.
This tropical garden also boasts small pools. They convey a massive sense of relaxation. At night, the light gleams as well as glints on the water seem so magical.
2. Rustic and Glamorous Tropical Garden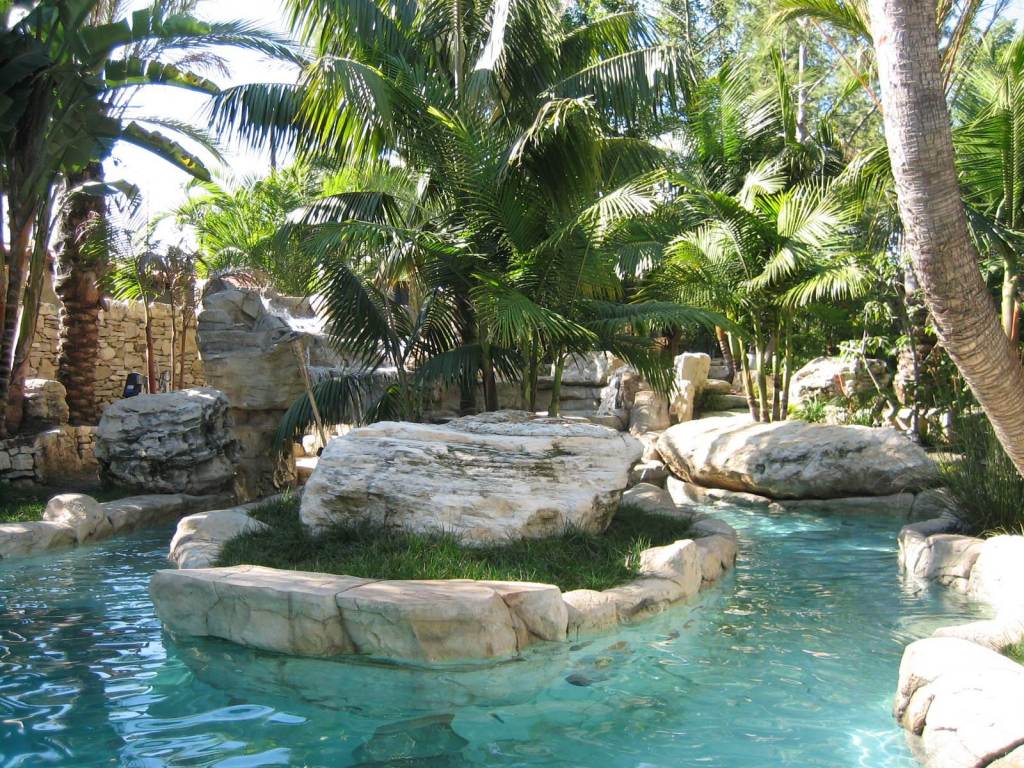 Talking about tropical garden ideas, you can't forget the lively leaves. In this case, the large banana and coconut trees create a mesmerizing textural contrast. They quickly transform the space into an urban rainforest, too.
Most tropical inspired gardens hugely rely on lavish foliage to develop a visual interest year-round. Moreover, the leaves of the plants should have different shapes, textures, and sizes.
We recommend growing the plants in groups of three or five. This will make a major difference to your garden's feel. Small and large stones carve a natural appearance.
No tropical garden is complete without a water feature. We suggest building a pool or two for a soothing atmosphere.
3. Modern Tropical Garden Ideas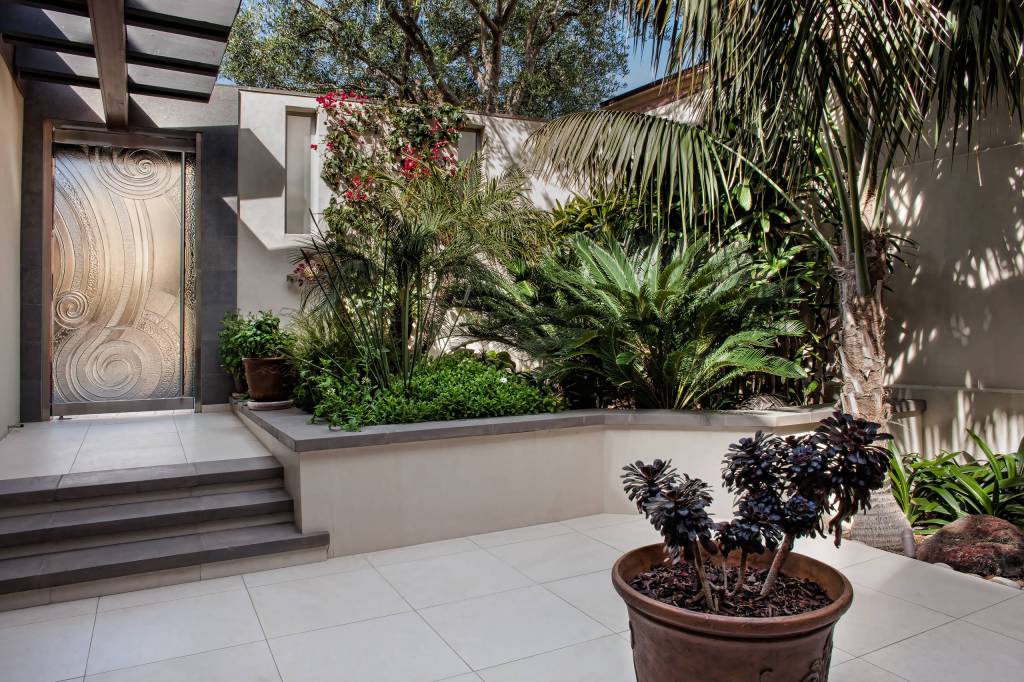 Speaking of tropical garden ideas, you should consider dense planting. We recommend growing your plants on different levels. In this example, there are ground covers, palms, and low shrubs.
The plants with green foliage are a wonderful contrast to the concrete walls. Meanwhile, red flowers give the tropical garden the perfect accent.
Moreover, this space employs a concrete path and a garden raised bed. They deliver a modern vibe to the backyard.
4. Tropical Front Yard Garden Ideas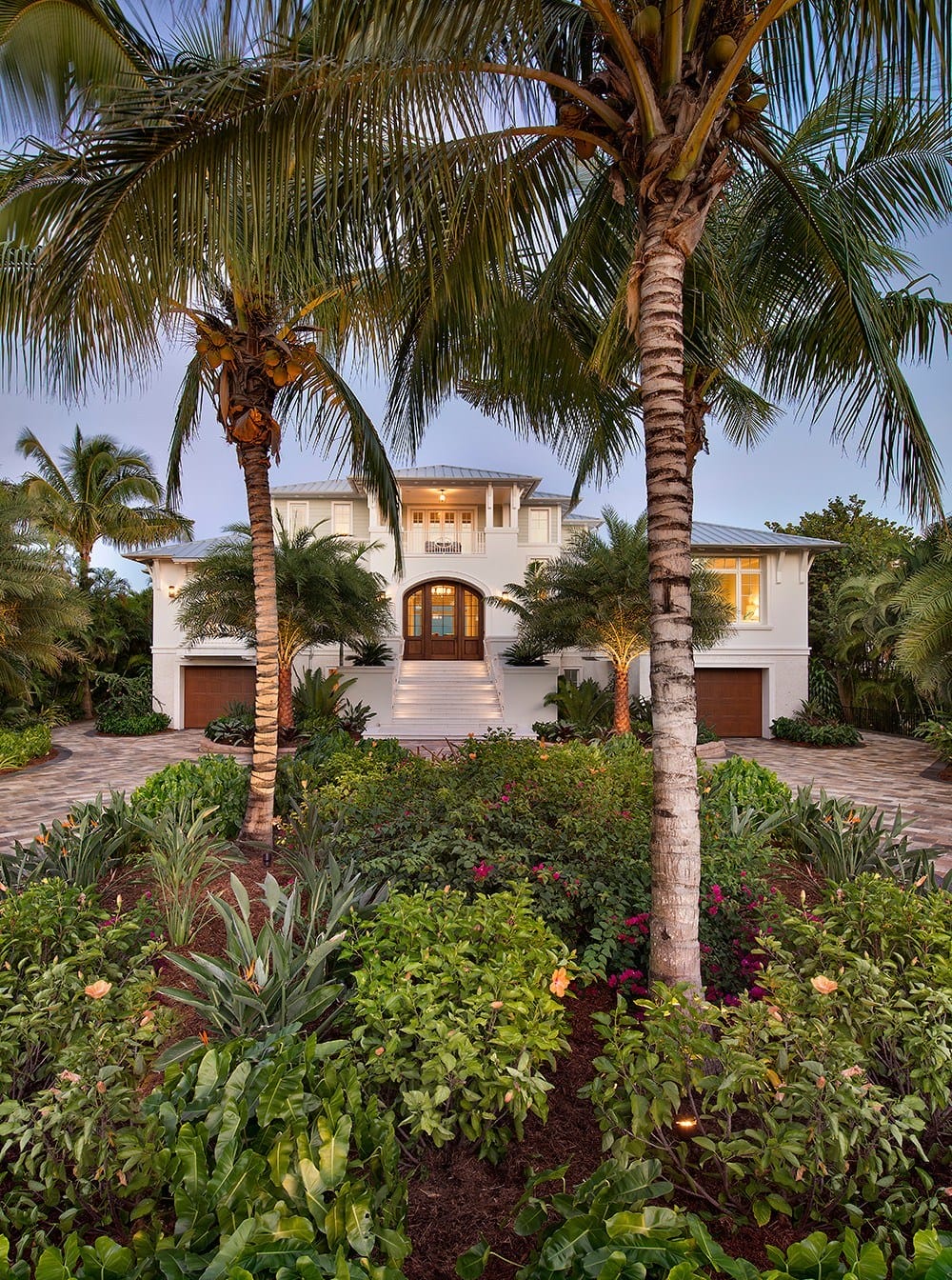 Searching for tropical garden ideas? Steal this look. You should hire a landscape designer to create your front yard oasis. This avoids any potential problems and offers a super alluring result.
Furthermore, the garden boasts coconut trees and palms. In no time, they emanate a resort-like atmosphere.
Moreover, those beauties assert a sense of grandeur. The stone driveway is an amazing contrast to the 'jungle' plantings.
Generally, tropical gardens sport vibrant colors. Flowers and plants tend toward the bolder colors. They remind you of rainforest birds.
Here, the garden boasts Hawaiian hibiscus, caladiums, and bird of paradise plants. They brighten it up in a jiffy. Meanwhile, the hot pink flowers lend some extra vibrancy to the landscape.
5. Tropical Garden with A Simple Stone Pathway
A tropical garden's main feature is luxurious foliage in various green shades. The leaves should be lush, lively, and flamboyant. People usually grow leafy plants with contrasting textures, sizes, and shapes.
This garden sports ground covers, towering palm trees, and plants of different heights. Their red, green, and silver leaves create instant drama.
Meanwhile, the formal stepping stone pathway makes the area look sophisticated.
6. Tropical Garden Ideas with Outdoor Chairs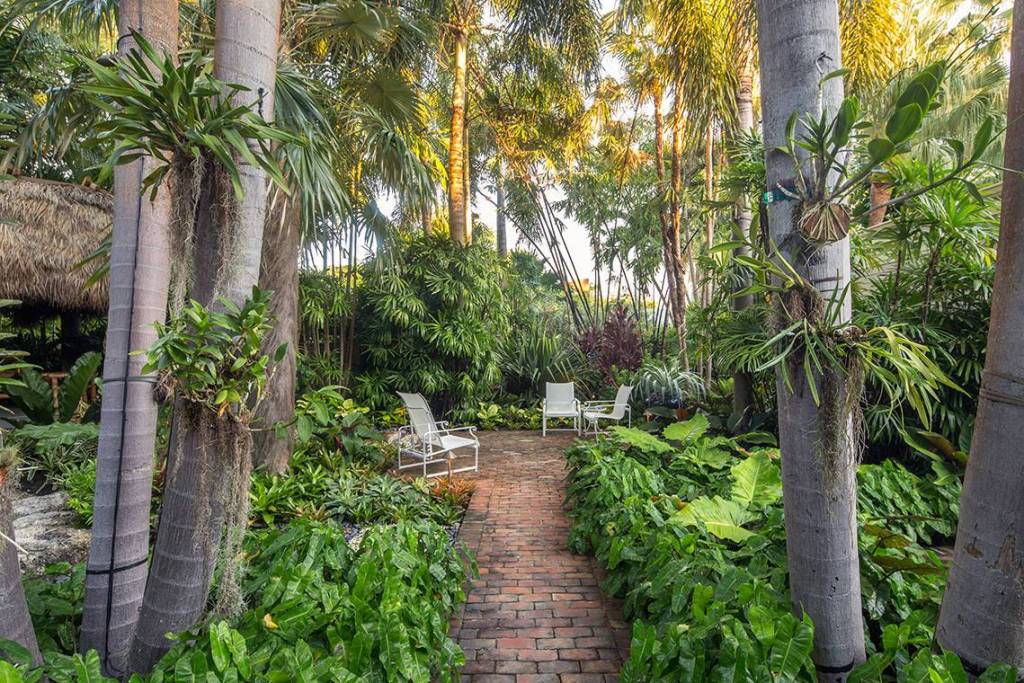 The unruly leaves of palm trees gorgeously flank a brick walkway. They all produce a visual interest. Meanwhile, other tropical plants evoke rejuvenation and serenity at once.
Furthermore, the homeowner attached her orchids to palm tree trunks. They make her guests feel like they're in a tropical rainforest.
The garden features three bright white outdoor chairs. They are a perfect spot to enjoy lush plants while chatting with friends or family.
7. Tropical Garden with A Casual Stone Path
You should know that first impressions matter, so your garden entry is truly crucial. Do not hesitate to play with guests' perceptions. It will lend the outdoor space a touch of fun.
Here, the large stone pathway carries texture to the tropical garden. Moreover, it sends out a casual and comfortable atmosphere.
Two stone stools accompany a rustic stepping stone walkway. Lastly, the groundcovers and ornamental plants liven up the yard.
8. Indoor Tropical Garden Ideas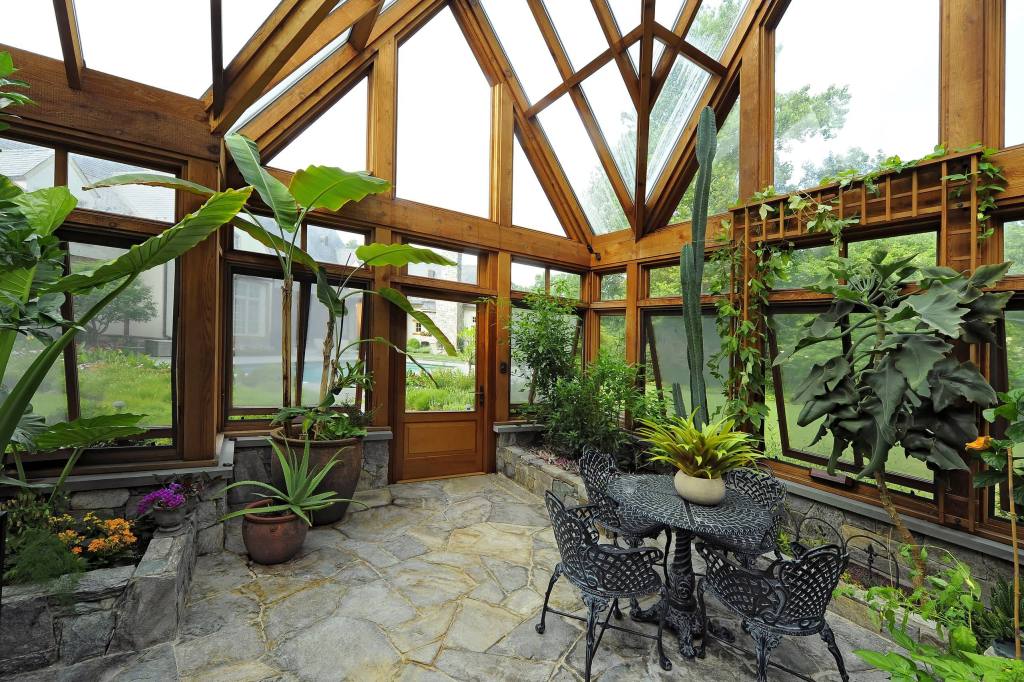 If you are not into outdoor gardens, give this wonderful idea a shot. Here, the greenhouse features a wooden frame. It is certainly a perfect environment for growing charming tropical plants in colder climates.
The terracotta pots hold aloe vera and banana trees. Meanwhile, the raised beds accommodate tall and flowering plants.
Moreover, the wooden trellis supports the climbing plants nicely. The black pedestal table and chairs sit on the flagstone floor. They make for a comfy conversation area.
9. Modern Subtropical Garden with A Pond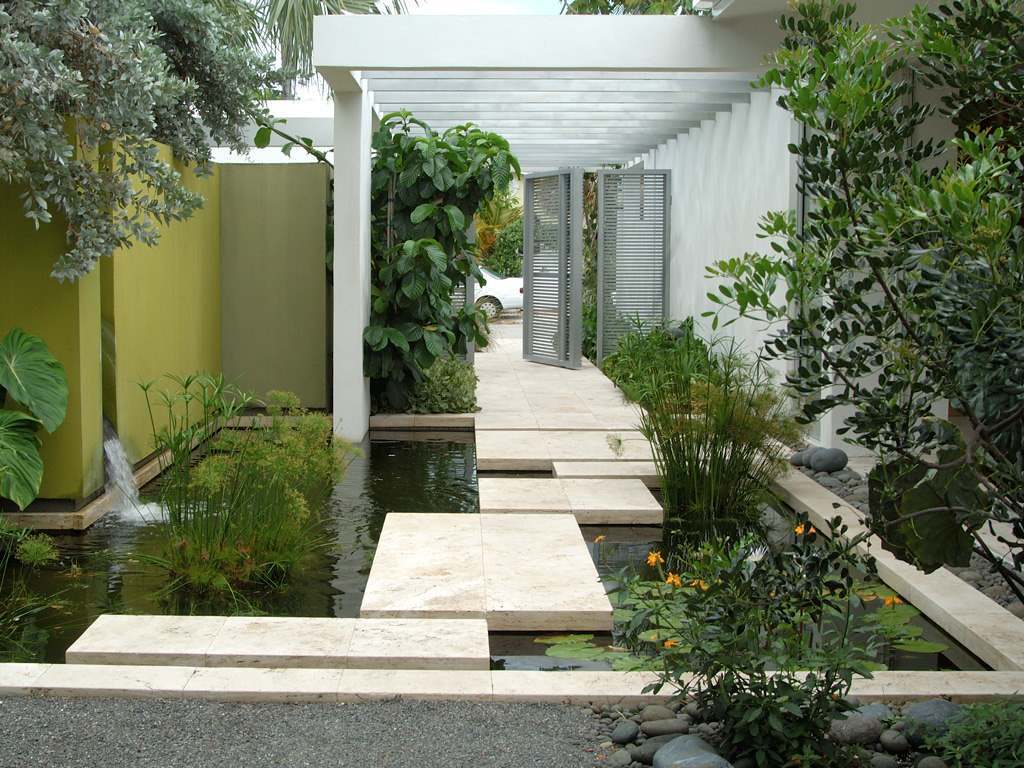 Searching for subtropical garden ideas? Apply this design. The linear roof, pathways, and pillars make the backyard trendy. River rocks in varying gray shades infuse the space with an element of nature.
Furthermore, the homeowner celebrates the water. The pond and waterfall generate an ambient sound effect. It rejuvenates the senses in no time. Bold green plants have varying heights. They quickly impart a subtropical flair.
10. Small Tropical Garden Ideas
If your space is truly limited, looking for dwarf specimens is an excellent choice. These beauties can adorn any tiny gardens and courtyards.
This garden features raised beds of different sizes. They house ornamental grasses, bamboo trees, and bananas. The contrasting foliage steals the show.
Moreover, the long planter box holds moss and succulents. Lastly, the Balinese lantern and dark wooden armchairs emphasize the tropical theme.
11. Beautiful Tropical Garden with A Wooden Path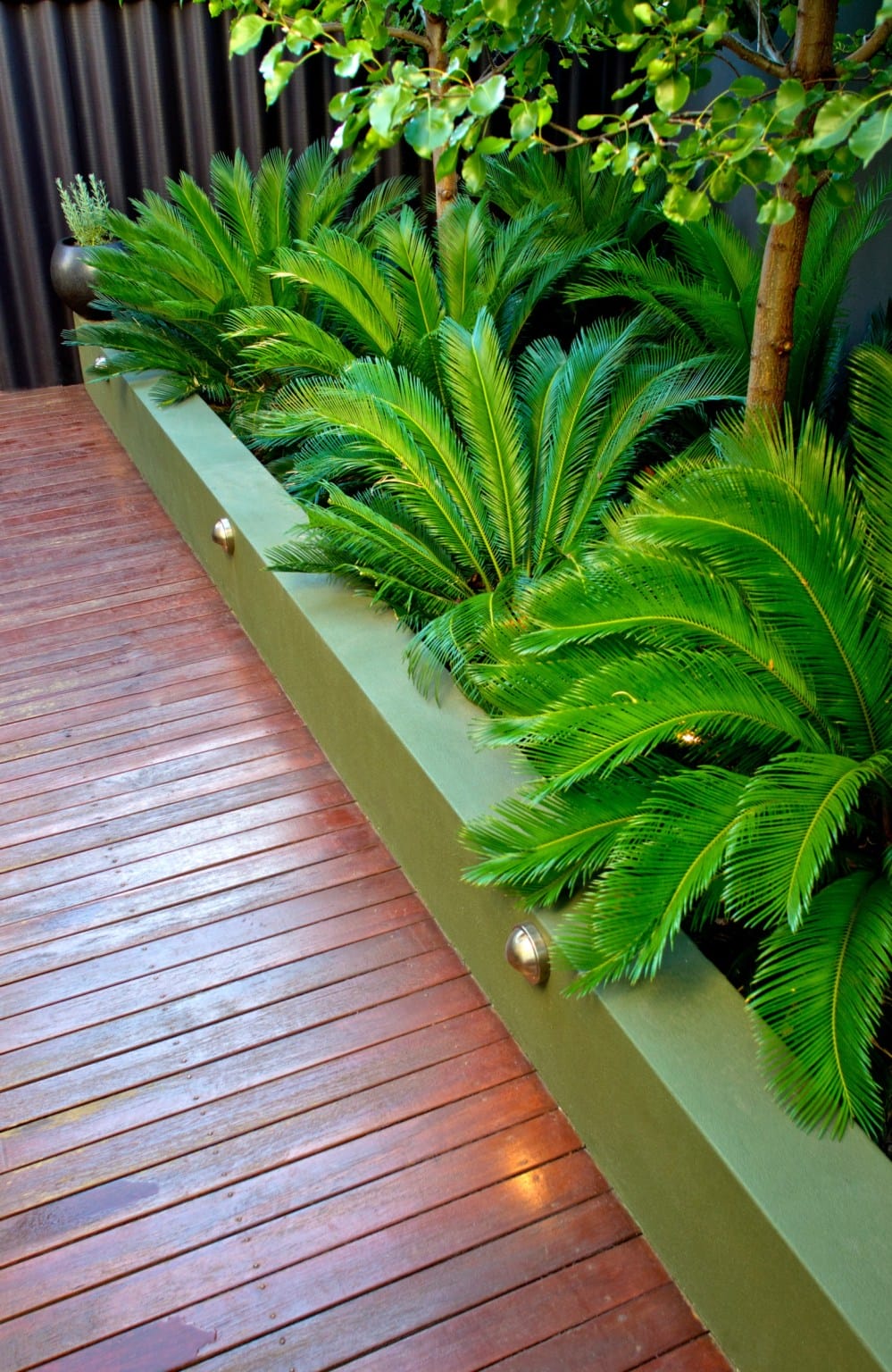 This is one of the fabulous tropical garden ideas. The raised bed contains densely planted leafy trees and plants.
They certainly will transport all your visitors to a rainforest. These beauties also capture wonderful relaxation and serenity.
We recommend painting your raised garden bed muted green. The color will definitely go well with the tropical plants. Then, install a dark-toned wooden walkway. It effortlessly gives off a welcoming atmosphere.
12. Lively and Relaxing Tropical Garden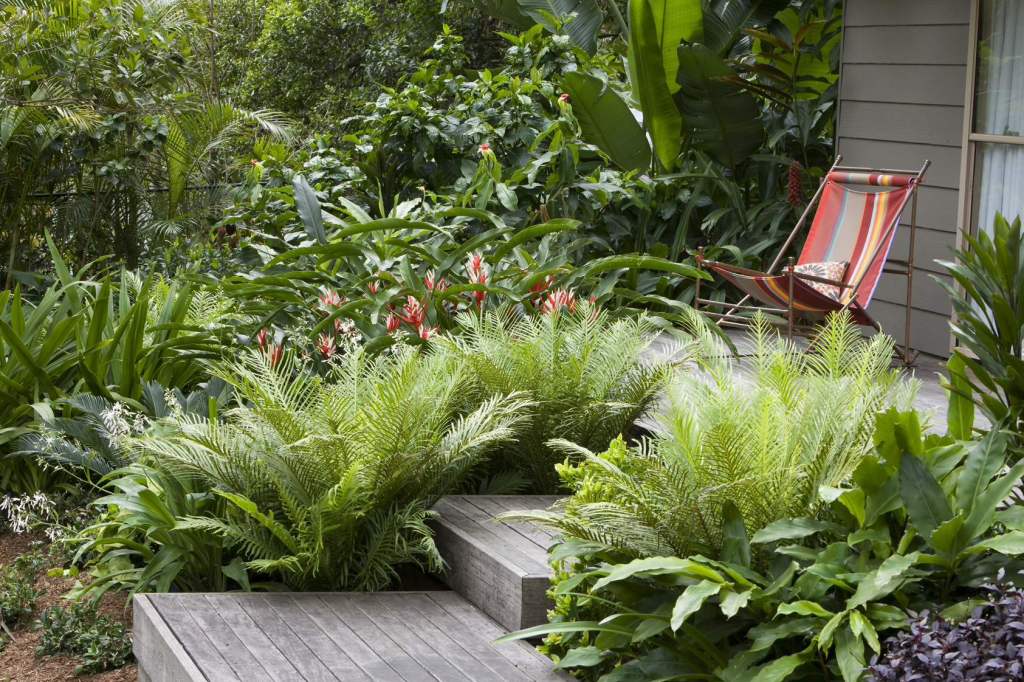 Searching for lush tropical garden ideas? Steal this look. This backyard oasis is full of plants with lavish leaves.
They will inject a wow factor into any landscape. The units are a stunning contrast to the weathered wood deck and steps.
Here, some plants feature long thin fronds. Meanwhile, the others bear broad leaves.
Moreover, the pink and orange flowers warm the tropical garden up. Lastly, the colorful throw pillow and cloth chair quickly enliven the yard.
13. Tropical Garden with A Curvy Bench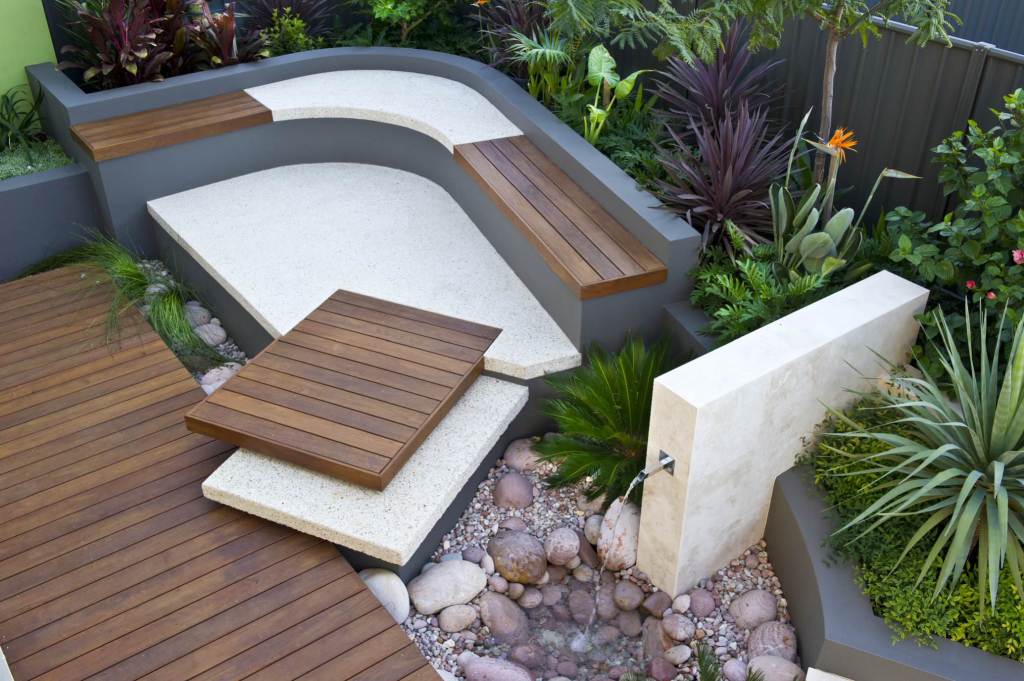 Make sure you grow plants with red, green, and deep purple leaves. They will deliver interest as well as drama to your tropical garden.
Furthermore, incorporate straight garden beds for a stylish look. Then, install the wooden walkways to make your yard more inviting. Building a curvy bench is important since it helps soften things up.
Moreover, we suggest adding a tiny water fountain in your garden. It will soothe the mind in an instant. Use small and medium-sized river rocks for a gorgeous natural appearance.
14. Tropical Backyard Garden with A Retaining Wall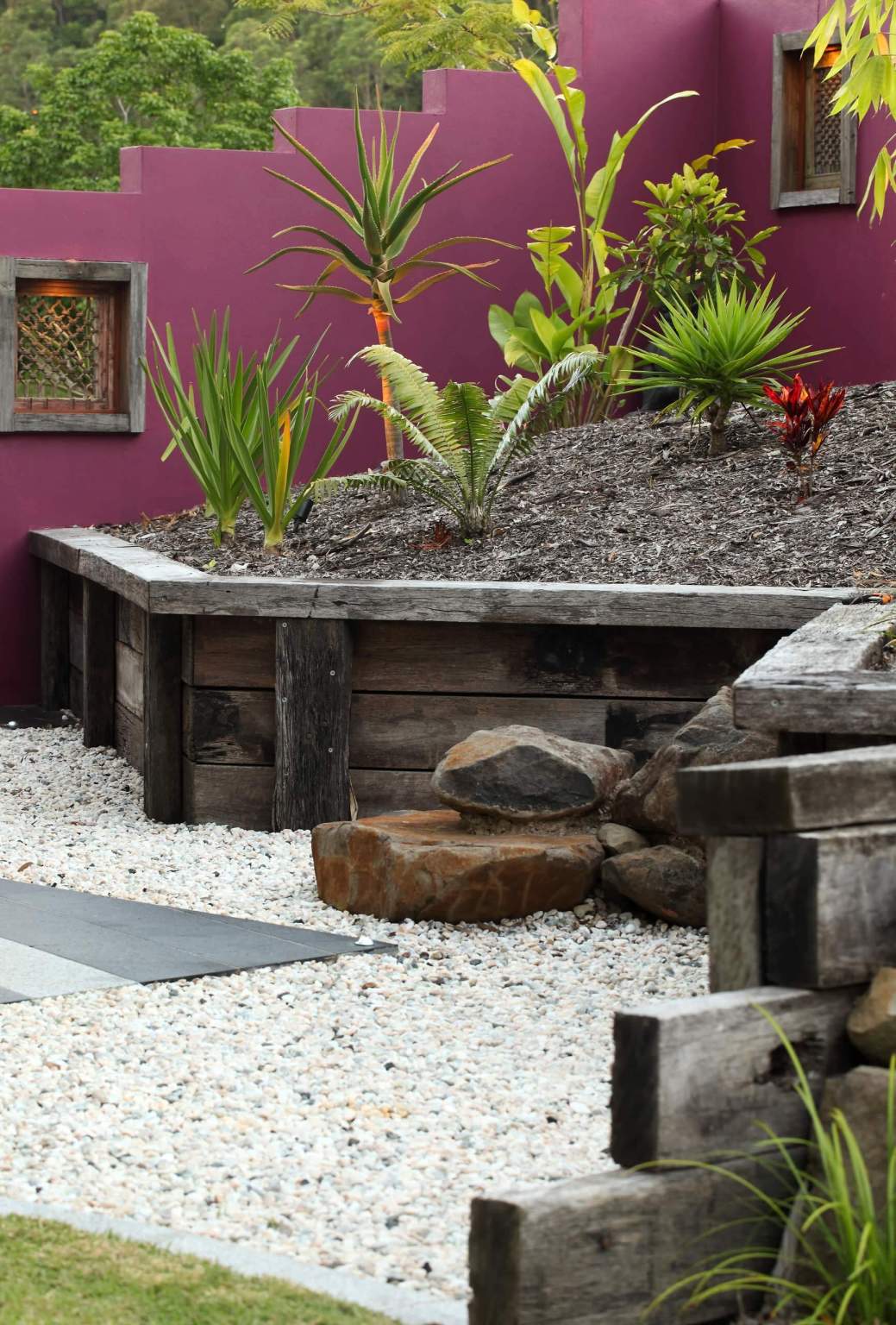 Just because your area has a colder climate, doesn't mean having a tropical garden is impossible. Just integrate some cold hardy plants into your yard. They offer colorful foliage and set a rejuvenating ambiance.
The purple painted walls provide a bold background for tropical plants. Meanwhile, weathered wood retaining wall and field stones develop a rustic charm. White and pale gray river rocks lighten up the backyard.
15. Tropical Garden Ideas with An Outdoor Kitchen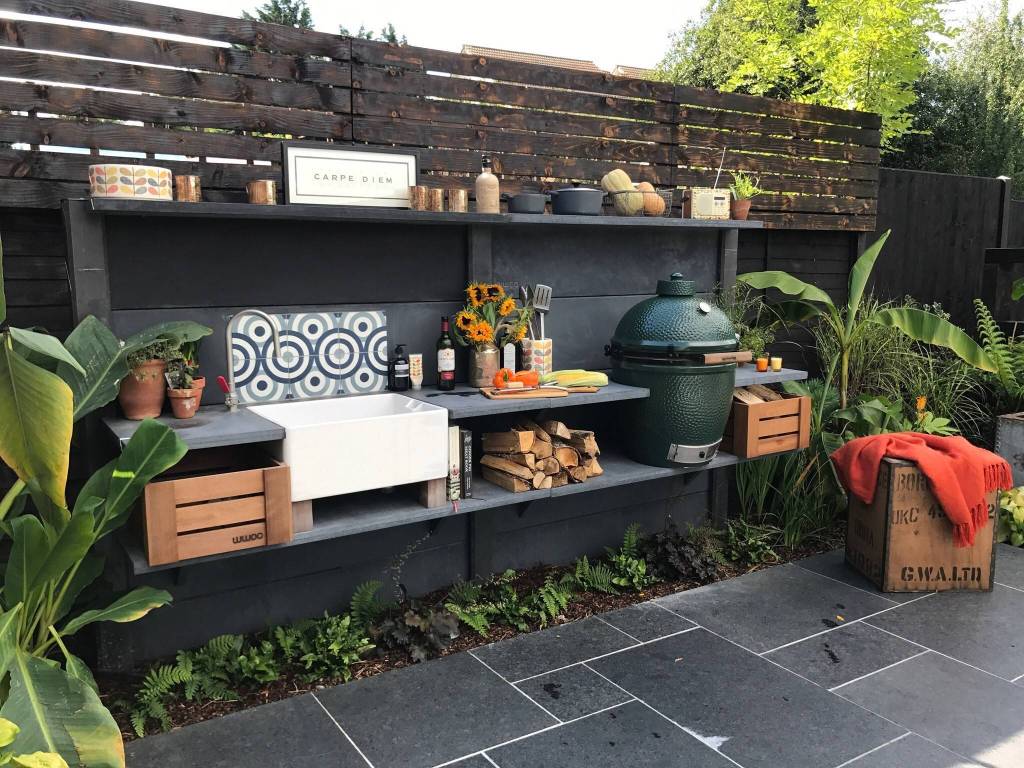 When thinking of tropical garden ideas, creating contrasts is the key. As you see, this backyard features dwarf banana trees with large leaves. They are a lovely contrast to the ferns' lacy appearance.
Black stone tiles and privacy walls bring dimension to this tropical garden. Terracotta pots, firewood, and wooden crates warm the yard up.
The barbecue pit allows you to throw an outdoor dinner party. Meanwhile, orange and yellow accents lend the garden some extra cheer.
16. Water Fountains for A Tropical Garden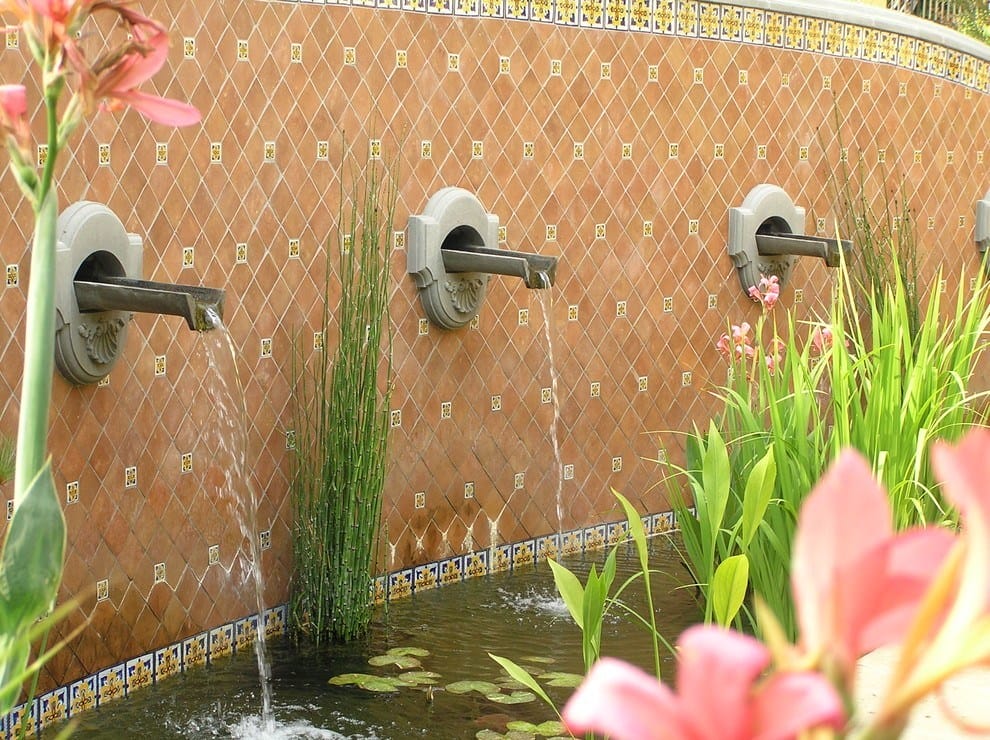 This tropical garden boasts several rustling fountains. They provide a peaceful sound and sight of falling water. Moreover, the units transform the backyard into a staycation oasis in no time.
Moreover, the pond looks stunning, thanks to the lush greenery. Both the canna lilies and water bamboo plants lend the tropical garden so much beauty. Lastly, patterned tiles make the entire space more attractive.
17. Tropical Garden Ideas with Bamboo Trees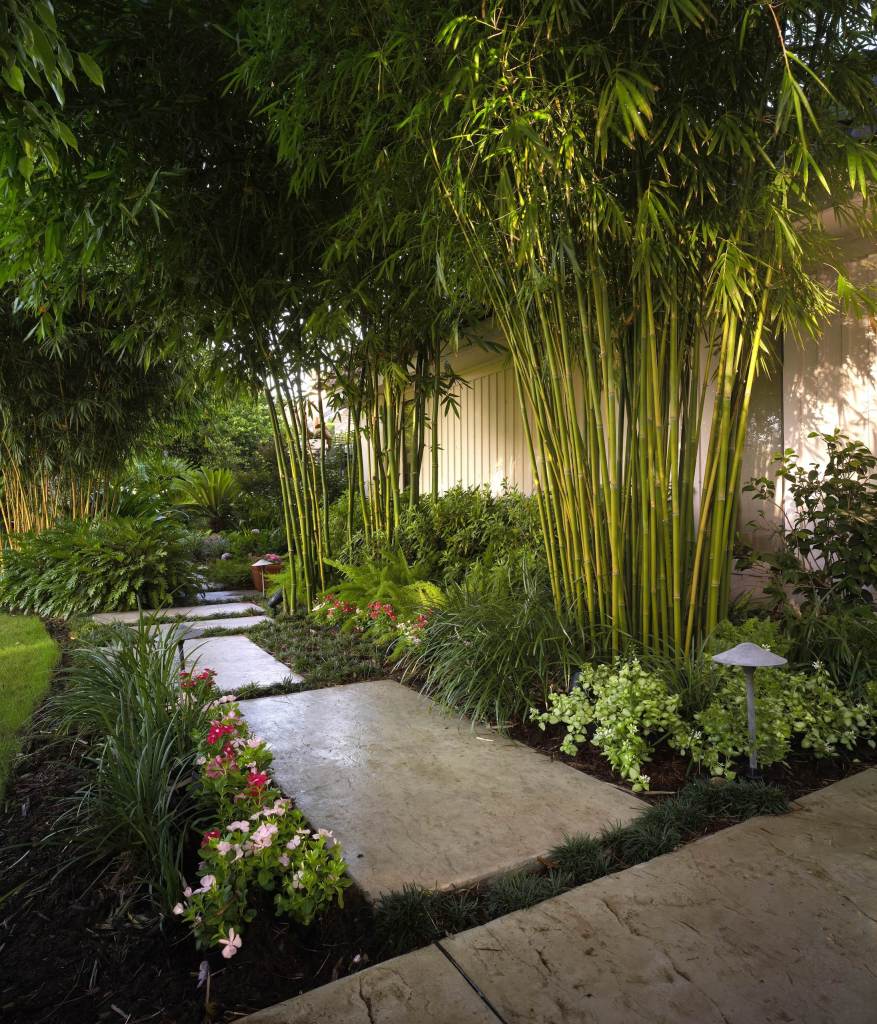 Low shrubs and colorful flowering plants line a formal walkway. Meanwhile, the ground covers fill space between stone slabs. They lend the tropical garden dimension and bold color.
Furthermore, tall bamboo trees instill a relaxing and serene ambiance. They carry a tropical atmosphere to the garden as well.
Bamboos offer the rustle of lush leaves in the wind. Additionally, they furnish the backyard garden with dense green screens. These trees help protect your privacy.
18. Balinese Style Garden Ideas with Tropical Plants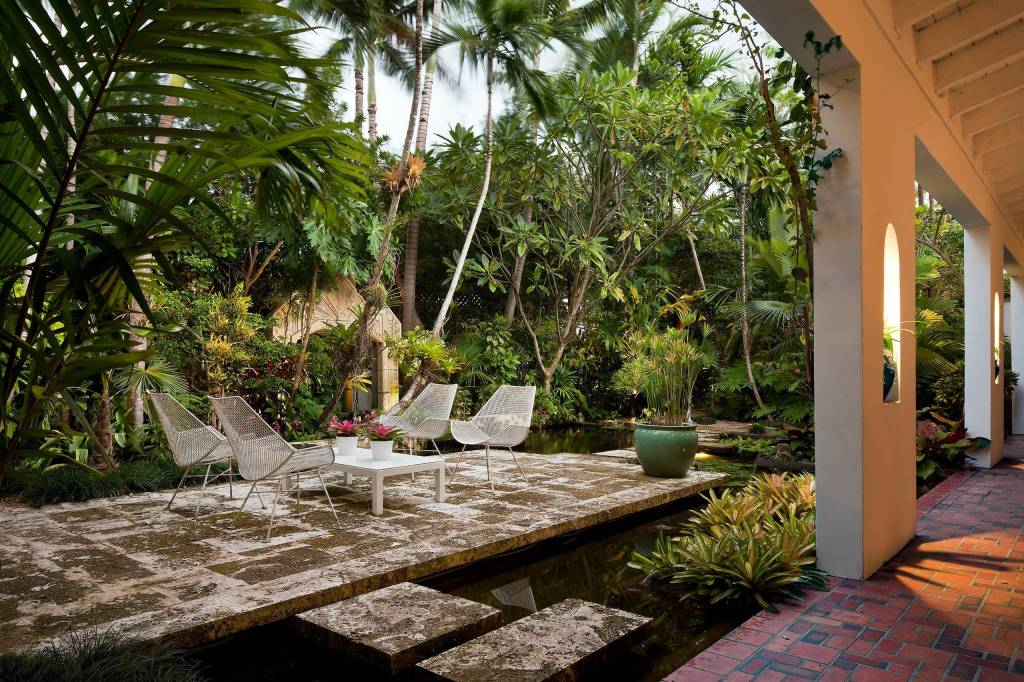 This backyard garden boasts a cozy seating area. The white table and chairs let the potted pink plants catch the eye. Moreover, the mossy green deck and pathway make your guests feel like they're in an Indonesian rainforest.
Frangipani trees, palms, and small tropical plants convey tranquility. The tiny pond channels your inner peace. Meanwhile, an ornate garden gate exudes Balinese vibes.
19. Minimalist Tropical Garden Ideas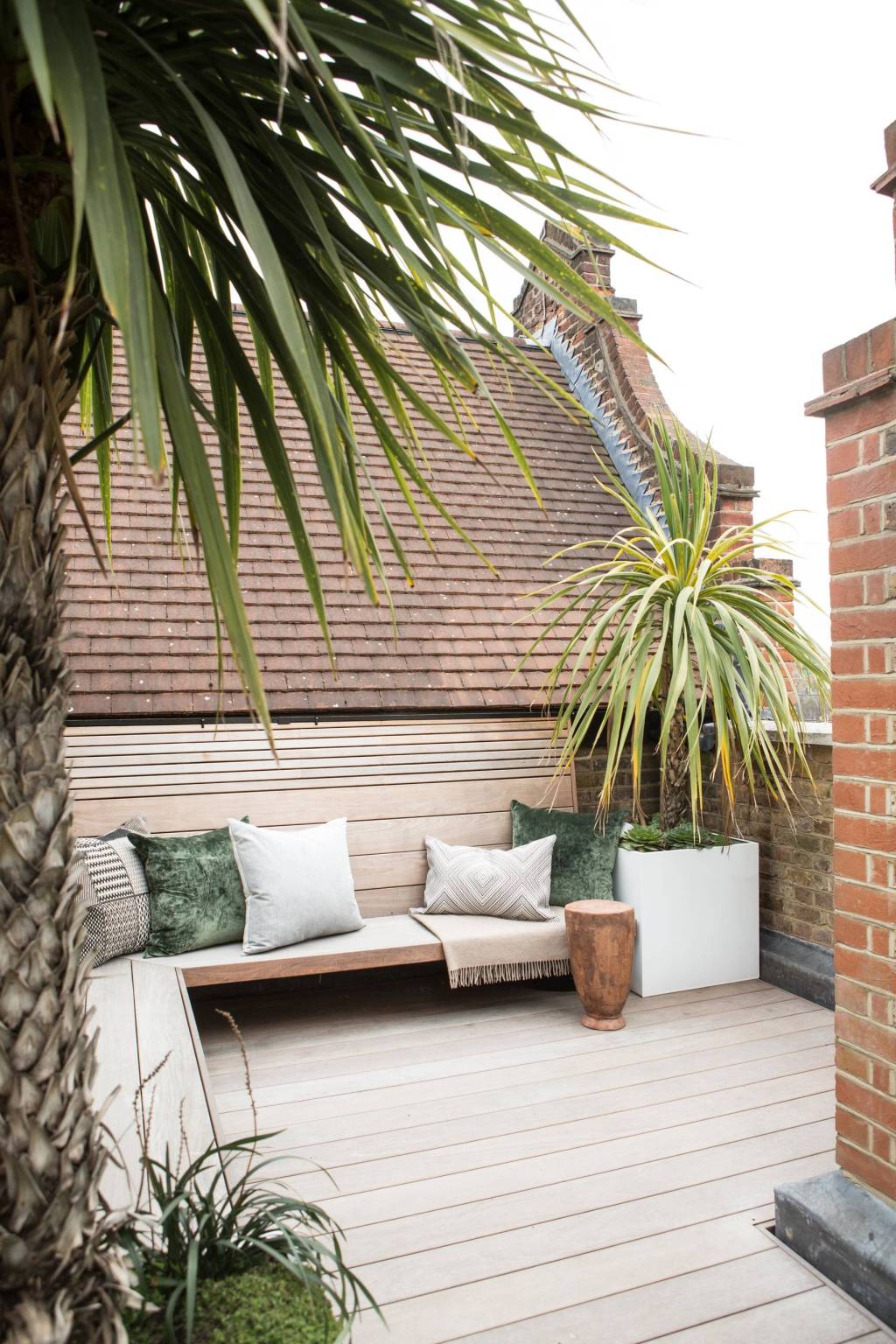 There's no such thing as a maintenance-free tropical garden. During wet periods, the exotic plants will grow like crazy. Since the area needs a lot of attention, we recommend keeping it to a minimum.
This garden only features potted ornamental grass, ground covers, and a couple of palm trees. They still deliver a tropical flair to the whole space. Dark green velvet throw pillows blend into the plants.
20. Tropical Garden with Rattan Chairs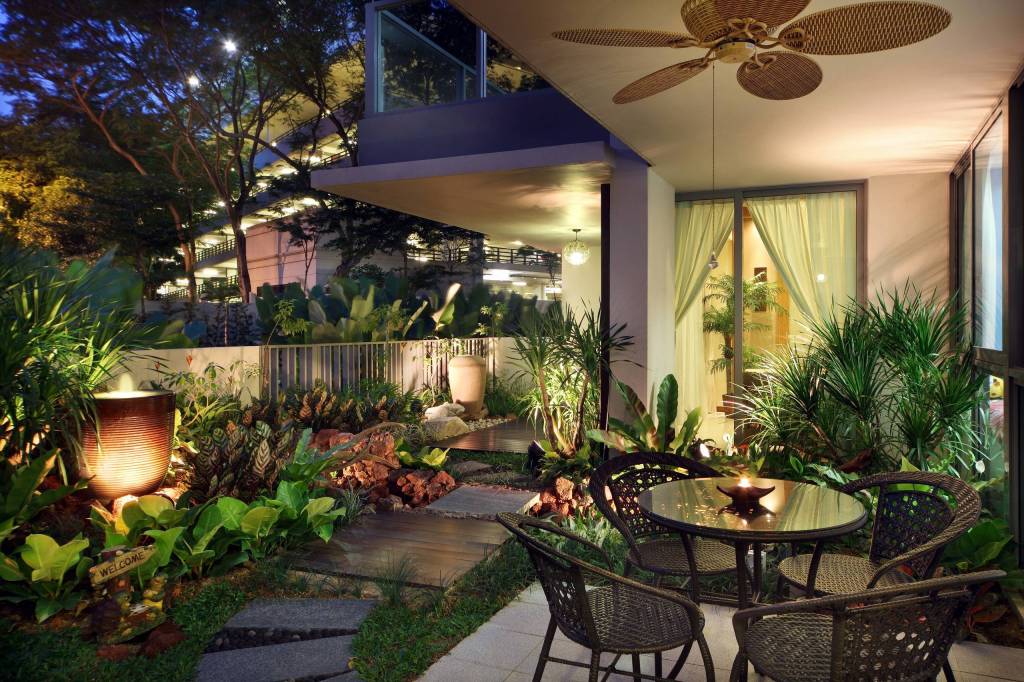 This is definitely one of the stunning tropical garden ideas. The green grasses flank a stone and wooden pathway. They evoke a rustic flavor, too. Meanwhile, the plants with vibrant leaves gussy the whole backyard up.
Water fountains convey a sense of peacefulness. The garden light fixtures illuminate the space and produce a relaxing mood. Lastly, the rattan furniture and ceiling fan infuse the backyard with a casual, cozy ambiance.
21. Welcoming Tropical Garden Ideas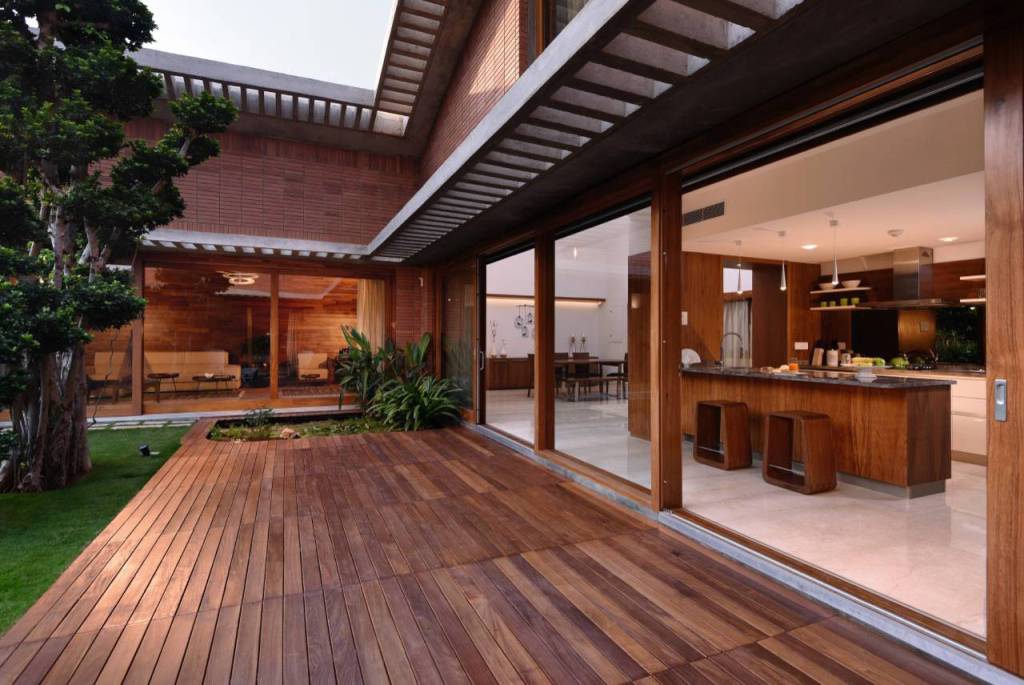 As we stated earlier, tropical gardens emphasize the contrasts. That's why you should experiment with different colors, shapes, and textures.
Here, the backyard boasts a well-maintained lawn featuring sculptural trees and grass.
The focal points and wooden deck make up the backyard garden's structure. They also connect the outdoor areas with the indoor kitchen. Meanwhile, the small pond carves a soothing mood.
22. Sumptuous Tropical Garden with A Tiki Hut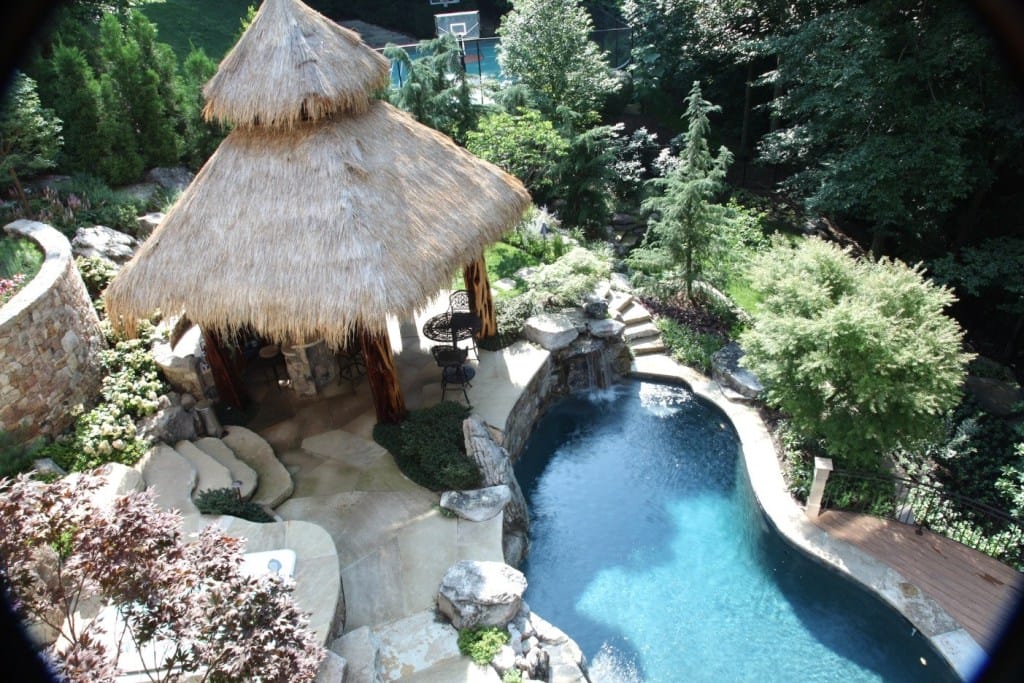 If you have a big budget, consider consulting a professional landscaper. She or he can make make your dream staycation oasis a reality.
The swimming pool, tiki hut, and plants lend the garden a glamorous tropical feel. Meanwhile, the natural stone stairs add a natural aesthetic to the landscape.
23. Tropical Garden Ideas with Ample Seating Space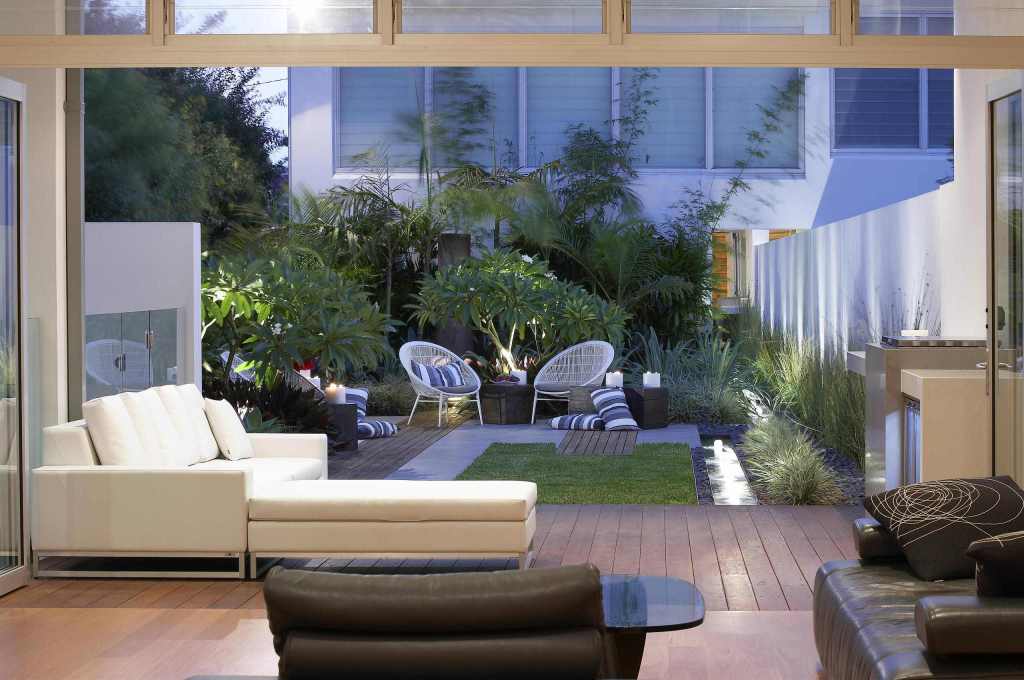 Don't you love this stylish backyard? It boasts a lush tropical garden with tall palms, frangipani trees, and ornamental grasses.
The linear pathways bring an urban flavor to the garden. Chairs and sofas provide plenty of seating space. Meanwhile, the lights accentuate the small sculptural trees.
24. Tropical Garden with A Dining Area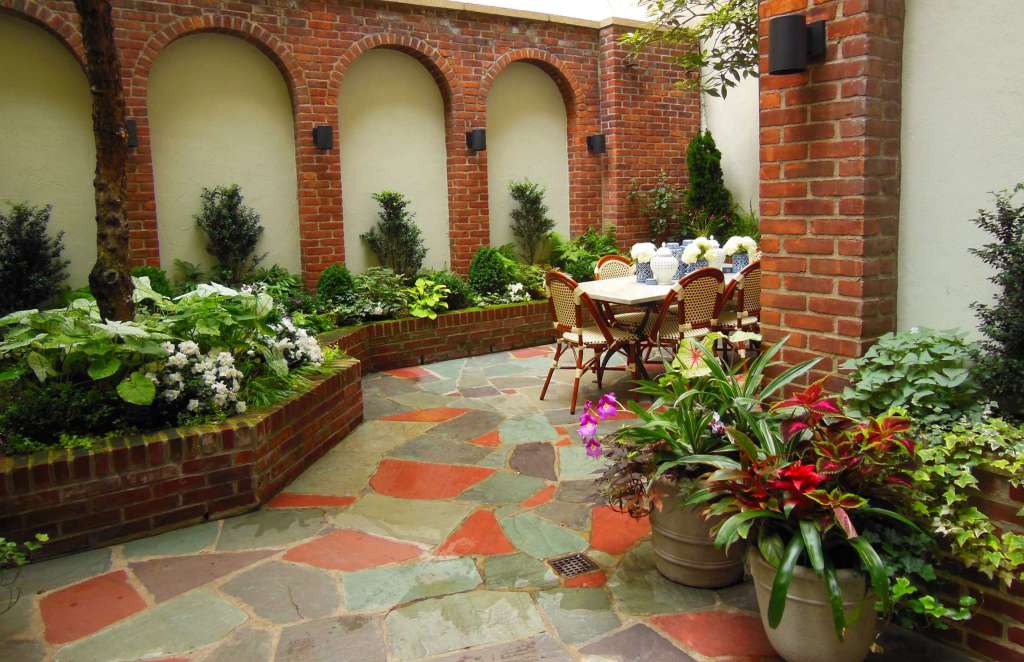 The brick pillars, arches, and raised beds ooze warmth. In addition, they contrast with the white walls really well. Vase flowers and vintage jars add elegance to the outdoor dining area.
Crazy paving wears gray, pastel blue, and hot orange. They give the backyard garden a fun atmosphere. Meanwhile, the small trees and tropical plants jazz the entire area up.
Spending time among plants has a wonderful impact on human well-being. It helps lower stress and sharpens your focus. By trying those tropical garden ideas, you can build a calming staycation oasis at home.
Your garden deserves spectacular landscaping to please your eyes and boost your mood. Therefore, you better read on to find 22 tropical backyard ideas that can bring in good vibes to your home.
25. Colorful and Dense Tropical Backyard Idea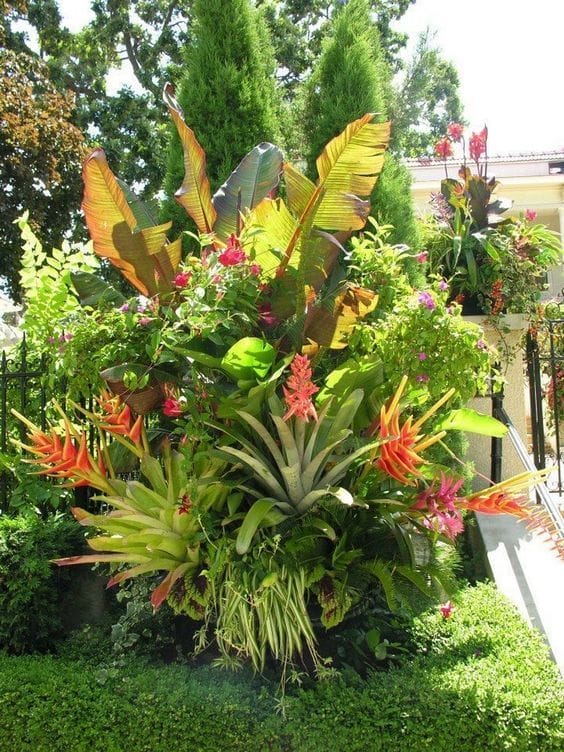 Tropical plants are renowned for their exotic flowers with unusual shapes, and large foliage. In their natural habitat, they tend to grow densely, which becomes a hallmark of this type of garden.
You can create a spectacular tropical garden even if you are short on space. Just use your imagination and grow various kinds of plants that feature large foliage and colorful flowers close together.
This tropical backyard shows you that small space cannot hinder you from carving out spectacular landscaping. The key is you have to pay careful attention to the height and color.
In this picture, the red banana becomes the center of the arrangement because it is rather tall and has large green-red leaves.
Add some exotic touch with heliconias since they have unique yellow-orange flowers. For the base, you can find coleus plants, agave attenuate, and dracaena.
26. Accentuate the Focal Point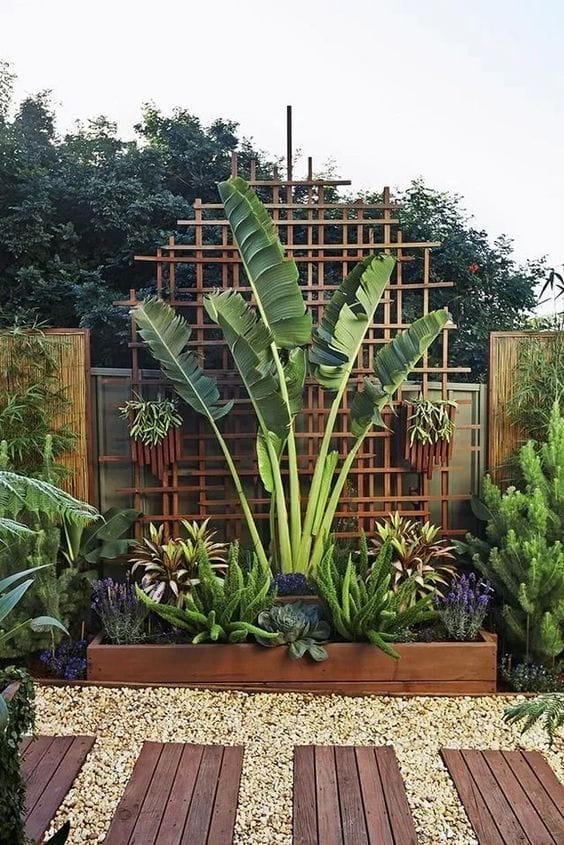 Every garden requires an epic focal point, such as a water feature, a statue, or a tree.
Just like a focal point in a bedroom or living room, it has to be able to draw the eyes instantly. Therefore, it deserves accentuation.
This garden can be a brilliant tropical backyard idea, especially if you are a busy person who does not have much time to do the maintenance.
Instead of a lawn that requires you to mow it regularly, you can use fine gravel to cover the ground.
Right in the middle is a raised bed that holds a banana tree that looks significantly higher than the succulents and salvia bumbleblues surrounding it.
As the focal point, you can accentuate it with a bamboo trellis to carve out a little bit of Japanese style. Try flanking the banana tree with two built-in containers that host staghorn fern.
27. Epic Composition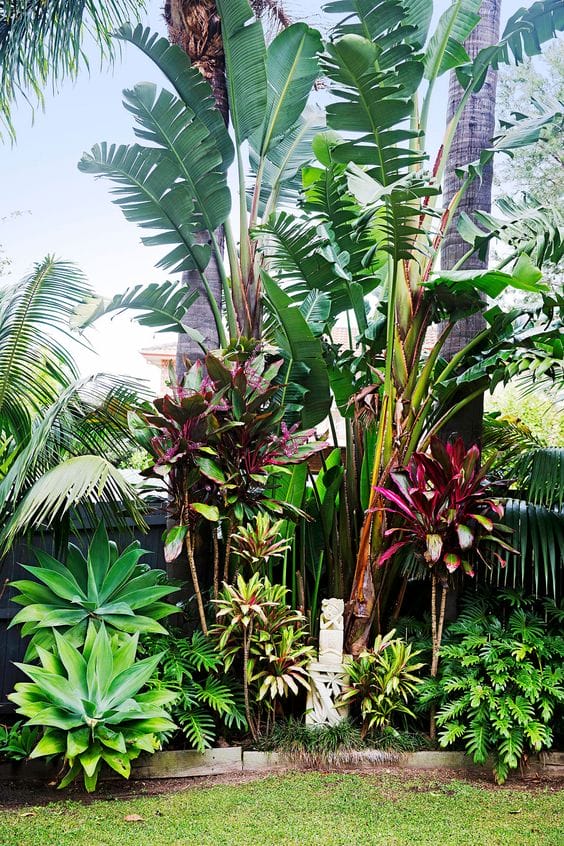 Improving your backyard landscaping is not just about tossing any plant as you please without arranging them properly. With a nice composition, you can create a breathtaking view.
You can arrange your tropical plants according to their height, which is typically found in any garden. Place the tallest one in the middle, and surround it with other varieties that are relatively shorter.
This tropical garden features banana trees in the middle of the bed. The reddish color of To plants adds a nuance to the arrangement. To round out the look, ferns and succulents are added.
28. Intriguing Border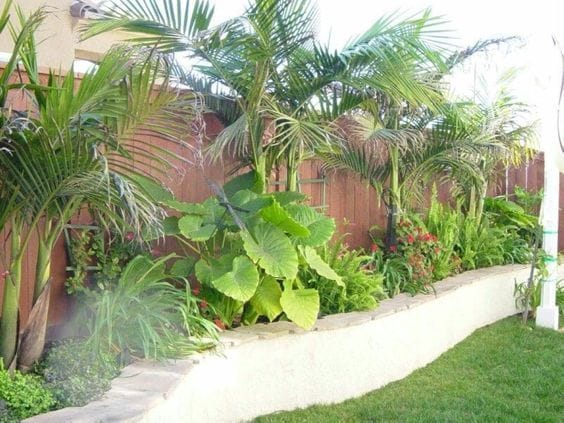 If you want to get the ultimate comfort and privacy in your backyard, you can install afence around it. It is an effective way to drive away a peeping Tom or nosey neighbors.
However, looking at the fence when relaxing on a Patio is not a good idea. Therefore, you need something that can spruce up your fence.
Some tropical plants, such as bamboos, palms, and banana trees, can make a great privacy screen while offering spectacular landscaping. Besides, they can be an excellent match for any type of fence.
In this backyard, you can find a raised bed that goes along the fence. Some tropical plants, like palms and elephant ears, grow in it and jazz up the wooden planks immensely.
29. Soothing Pathway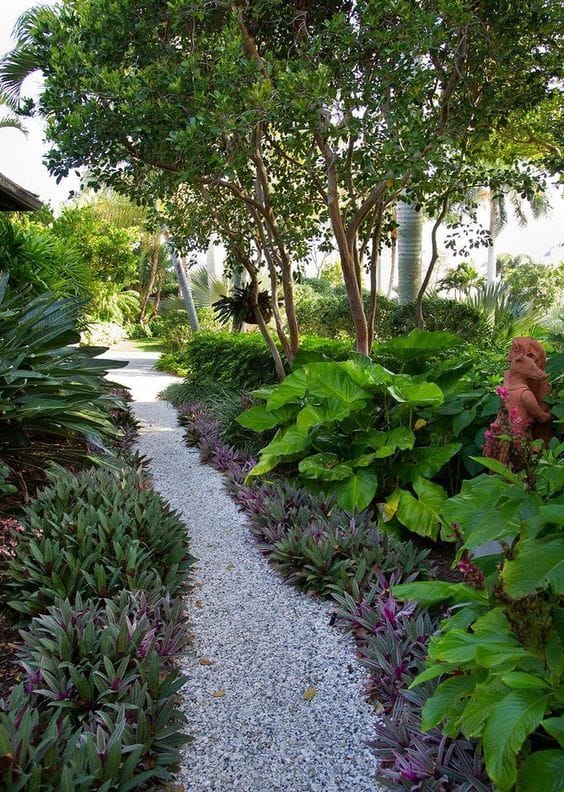 This tropical backyard idea will awe everybody who sees it. The dense plants emulate rain forest nicely, creating a soothing ambiance. To make the landscaping more epic, consider installing a pathway.
You can use pavers, wood planks, or concrete to make the pathway. But if you have a limited budget and time, you can always use fine gravel.
This tropical garden looks wonderful with a pathway that escorts you to the door. Purple hearts flank it nicely on both sides, which improves the landscaping immensely.
30. Tropical Backyard Ideas for a Large Garden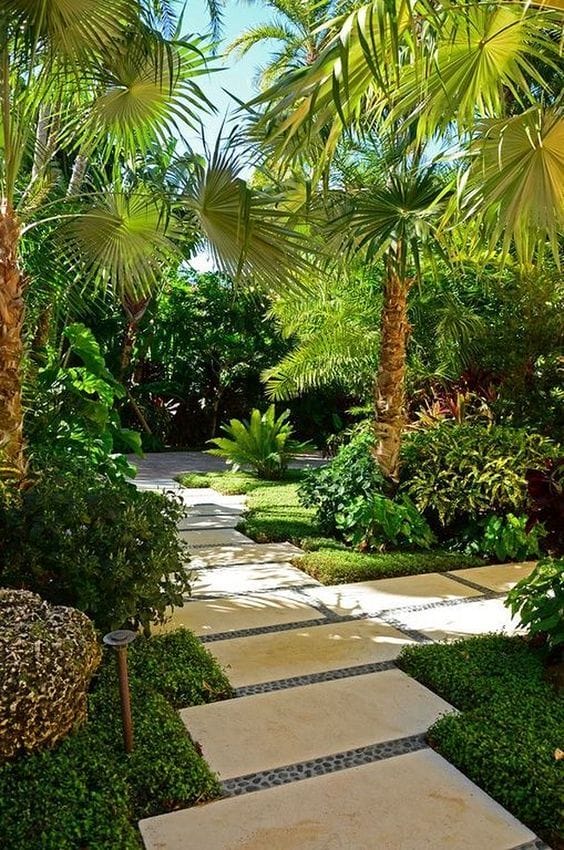 This spacious backyard offers you a fun trip because you can see many things here. It has several flowerbeds. Each of them has a tall palm tree as the focal point with some ferns and caladium that cover the base.
Concrete makes a great pathway that guides your step when you are wandering around this garden.
To perfect this tropical backyard idea, try adding one or two LED garden torches or spotlights in each bed to highlight the palm tree.
31. Warm and Intimate Conversation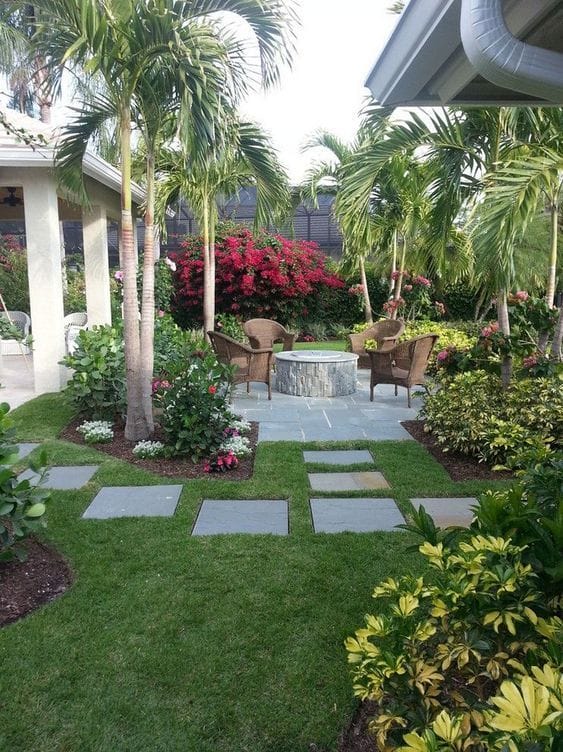 Making a patio in the backyard has always been a great idea to enjoy leisure time.
It is like a multipurpose outdoor living area in which you can do various kinds of things from catching up with your family or throwing a barbeque party.
This garden shows you that a patio is a perfect addition to a tropical backyard. It has a built-in fireplace in the middle with four rattan chairs sitting around it. Palm trees surround this hardscape, anchoring it in place.
You can try incorporating this kind of patio into your tropical backyard ideas because it can help you stay warm when you feel like to enjoying a beautiful night.
32. Semi-Outdoor Tropical Garden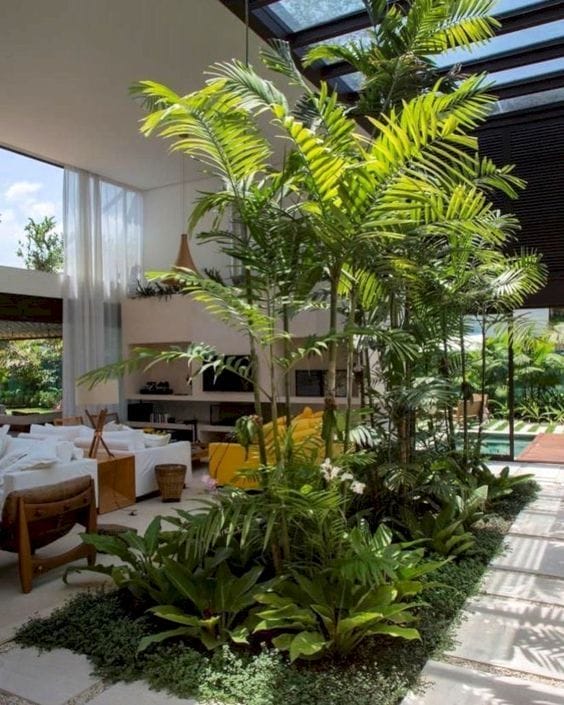 This semi-outdoor garden will definitely steal anyone's focus. Instead of growing the plants in the backyard, you bring them in your pool cabana.
As you can see, this pool cabana features a garden bed to grow plants. The palms look outstanding among the furniture and interior design.
Instead of mulch, you can use ferns and moneywort to cover the ground while adding a lively lift to
space.
To make the palms and ferns thrive well, install a polycarbonate or fiberglass roof to allow your plants to get sufficient light.
33. Minimalist Tropical Backyard Ideas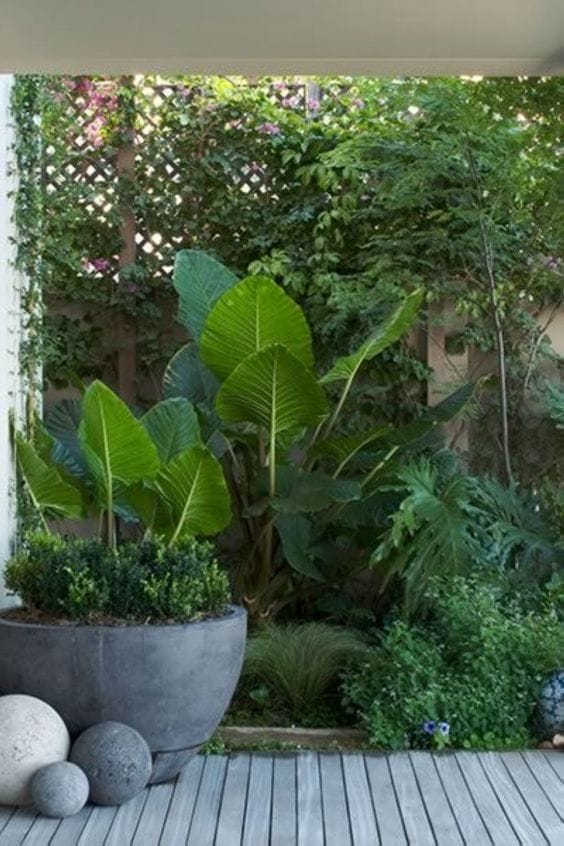 Combining tropical and modern flair is not a bad idea. It is worth a try because the combination may turn out well.
This tropical backyard idea is an epic amalgamation of those two styles. The use of a concrete container that features clean-lined edges embodies modern flair immensely.
Since modern style lies on minimalism and simplicity, you need to opt for green tropical plants with large foliage, such as monster, philodendron, alocasia, or Schefflera.
They feature oversized leaves that have simple shapes.
34. Add Some Boulders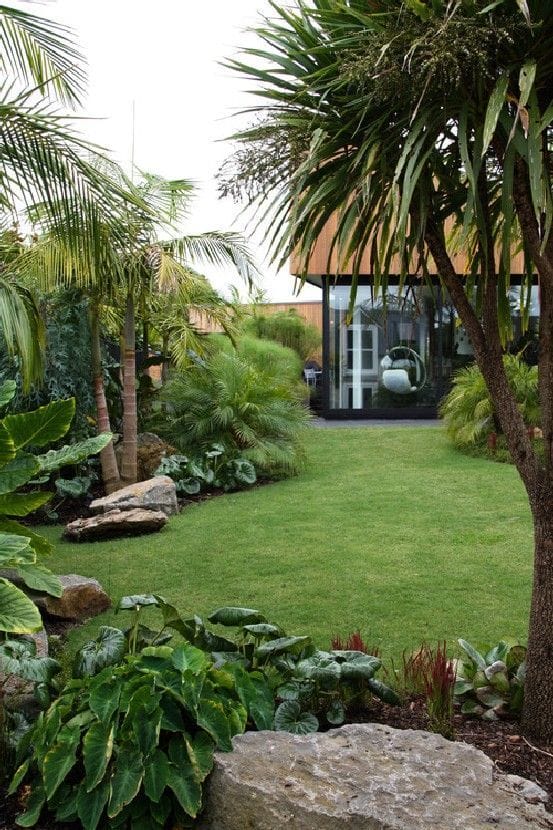 Apparently, plants are not the only thing that can improve your backyard landscaping. Adding some boulders can emulate the natural habitat of the rain forest.
This backyard has a lawn that is surrounded by flowerbeds. Some boulders anchor each of them, accentuating the exotic landscaping created by the palms and alocasias.
35. Stay Organized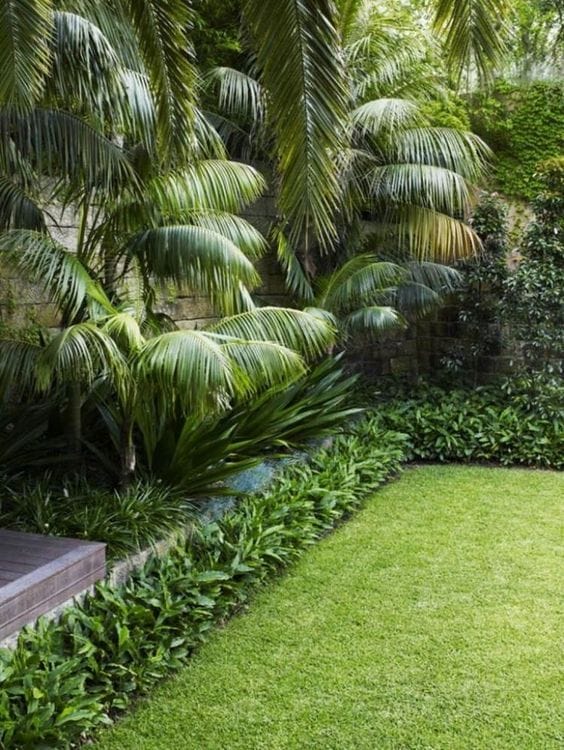 Although the main concept of a tropical garden is lush and dense vegetation, it does not mean you can toss everything in your backyard.
Well, you might grow a lot of plants, but it will end up creating a haphazard look, which soon becomes an eyesore.
The key to improving your garden landscaping with tropical backyard ideas is by keeping things organized.
Green, manicured lawn covers the ground nicely. Ferns grown around it make a good transitional border that connects the turf and raised bed.
Palms grow along the fence. They not only offer exquisite landscaping but also privacy screens for peace of mind.
36. Go Vertical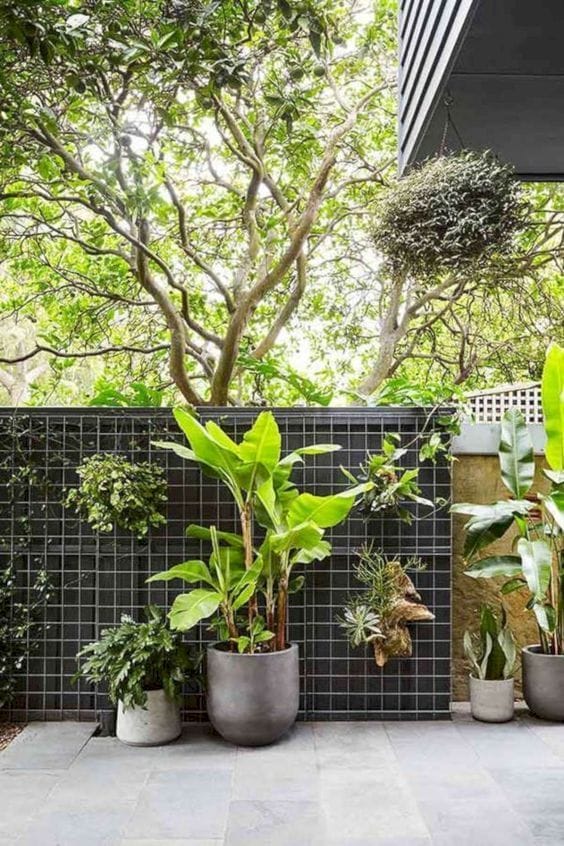 Some tropical gardens require a spacious backyard to grow several large plants, like banana trees, palms, or bamboos. It will be a bit challenging for the people who dwell in urban areas, which usually have limited space.
Do not let limited space hinder you from carving out a beautiful garden. This tropical backyard idea is worth a try.
If your backyard is full of hardscape, you can try growing a banana tree, fiddle-leaf fig, or mass cane in a container. Take this idea to the next level by hanging wire mesh on a board to hold some staghound ferns or orchids.
37. Mini Rain Forest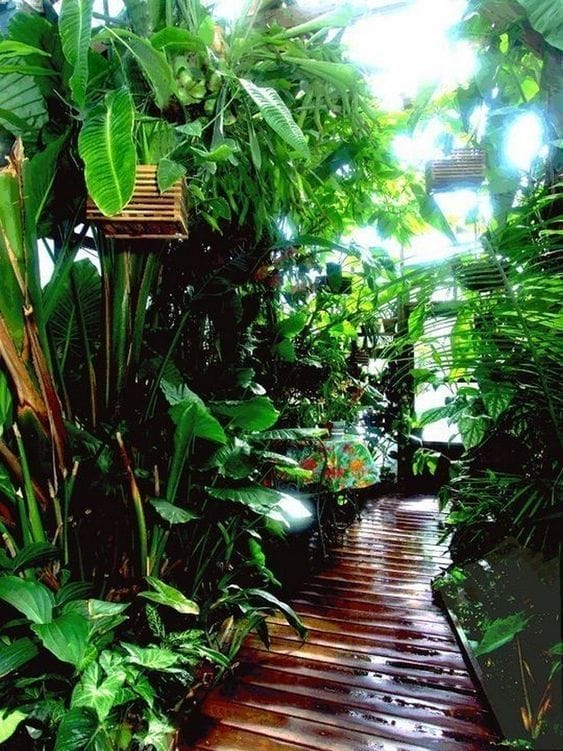 This backyard emulates a rain forest immensely. The wooden pathway will be your tour guide to the wonderful scenery of lush and green plants.
When you have a trip in this backyard, you will only see green plants with large foliage, such as alocasia, bird of paradise, elephant ear, heliconias.
38. Incorporate a Splash of Red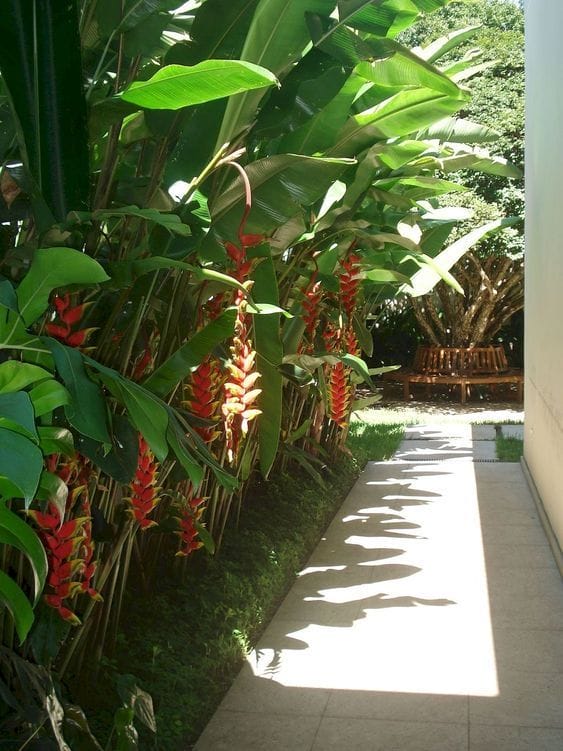 The typical characteristic of tropical landscaping is the dense vegetation with oversized, green foliage. But it does not mean you cannot add some splash of colors. In fact, several varieties bear unique and vibrant flowers.
This backyard features heliconias that grow along the pathway. They look great with large green leaves that can block the view. Therefore, they can be a great choice for a privacy screen.
The most wonderful and conspicuous thing in heliconias is the unique flowers that resemble a lobster claw. They also come in vivid red and yellow tones that add pops of colors among the greenery.
39. Highlight with Lighting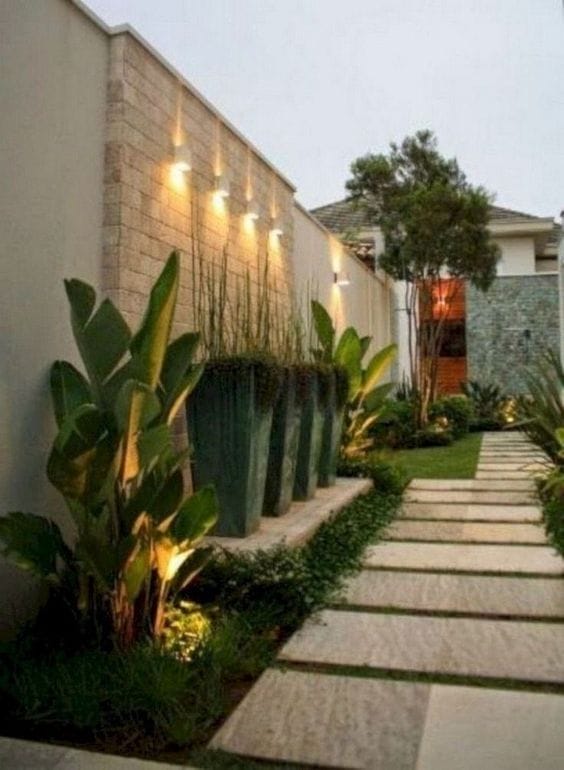 To be frank, your backyard will stay the same through the days and nights. So, how do you enjoy the exquisite view when it is getting dark. Therefore, you need to install some lighting.
Lighting not only sheds some light on the space but also improves the landscaping throughout the night.
Tossing some LED lights in your backyard might be a good idea. But arranging the meticulously can help you create a stunning view.
Look around your garden and think about what areas you want to highlight. Place a spotlight under a banana tree, a palm, or a bamboo tree to accentuate it.
With the appropriate lighting, you can create a more dramatic look in your backyard.
40. Large Foliage along the Pathway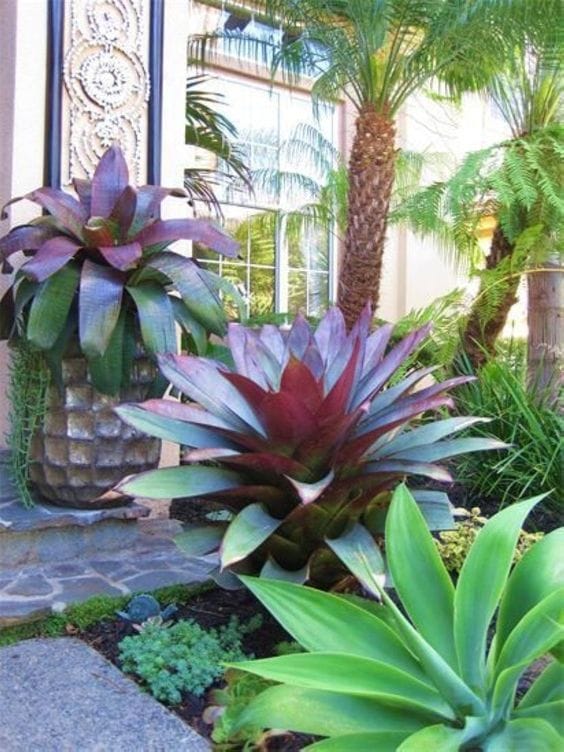 The pathway usually escorts you to the back door. Therefore, it deserves accentuation. Flanking it with large-foliage plants, like agave, can be your safe bet. You can also try ferns or succulents to highlight it.
41. Low-Maintenance Tropical Backyard Idea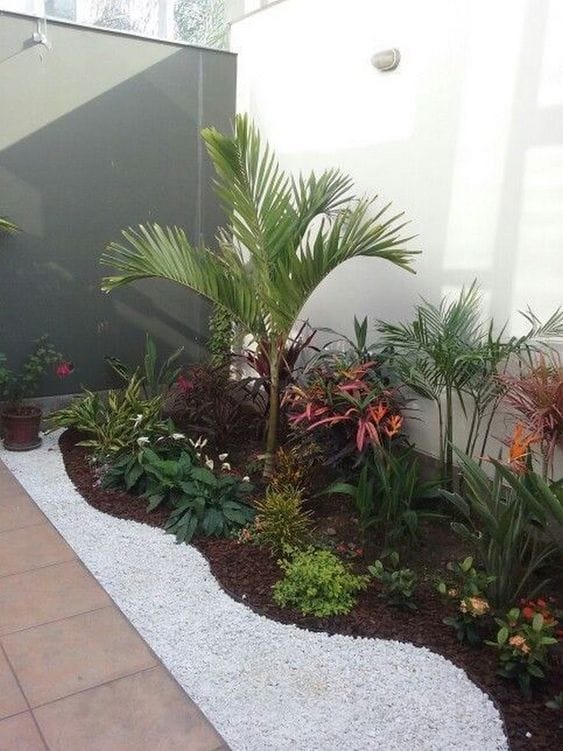 Looking at the backyard landscaping while adoring it is a nice thing to do. However, the pain occurs when comes to do the regular maintenance, such as water the plants, get rid of the weed and mow the lawn.
If you love the spectacular scenery but loathe the complicated maintenance, try opting for this tropical backyard idea.
Make sure that your backyard consists of more hardscape so that you have sufficient space to grow plants. Cover the ground with mulch because it not only helps you retain moisture but also keep the weed at bay.
Grow a palm, a dragon tree, or a banana tree as the centerpiece, and place some canna lilies around it. You can also add coleus to cover some parts of the ground.
42. Invest in a Patio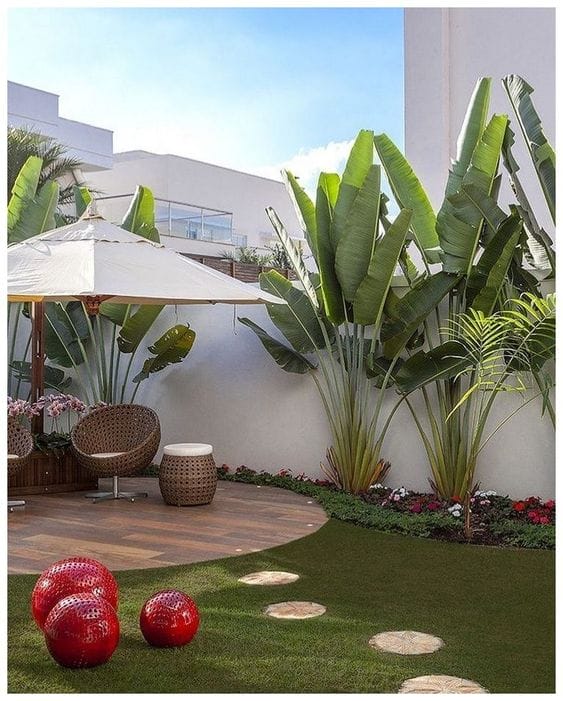 To round out your tropical backyard idea, try making a patio. It does not have to be a spacious one. A small patio that accommodates two or three people will be enough.
Consider installing recessed LED light around the patio, and invest in a shade that will protect you from the glaring sun.
43. Lost in Love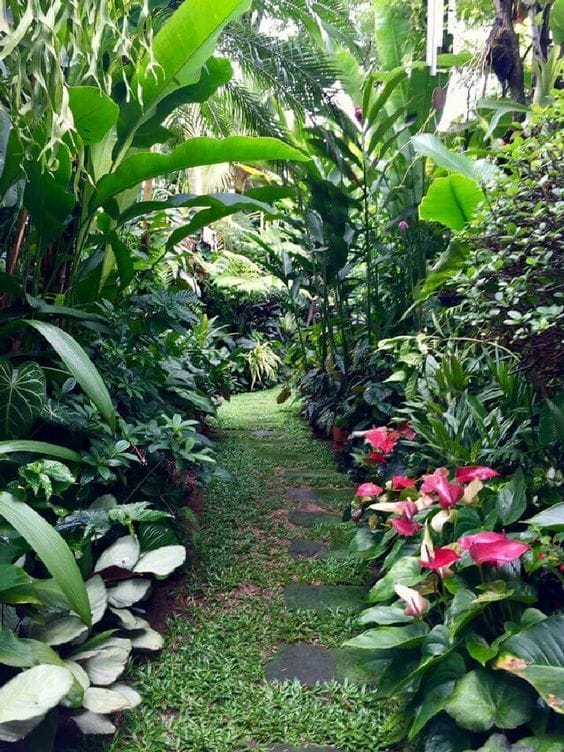 This tropical backyard idea will make you feel like you are walking in a jungle. It emulates the natural rain forest nicely.
To get this look, try laying stepping stones in an unorganized arrangement to imitate the natural look. Let the grass grow around them.
Grow some tropical plants along the pathway, the more the merrier. Consider planting anthurium or bird of paradise for a more exotic look.
44. Everything is Green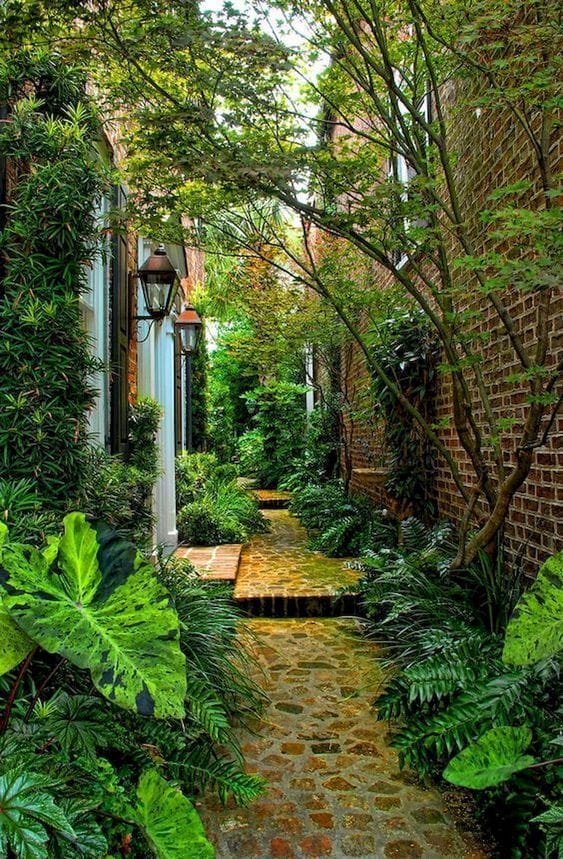 This backyard looks rustic with ferns and elephant ears that grow along a brick wall.
The pathway is made of some pieces of bricks arranged in a mosaic style, which pays tribute to the past.
45. Classic Container in Tropical Backyard Ideas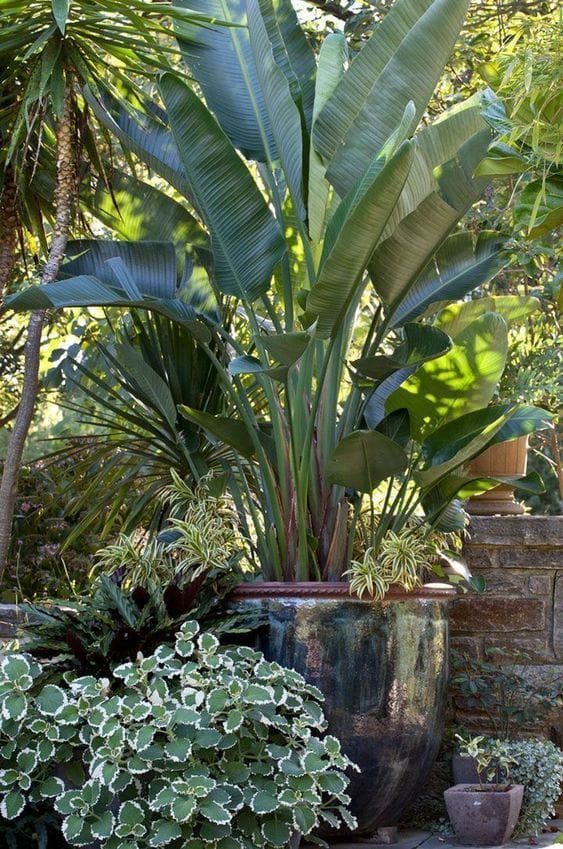 Apparently, a container is not only beneficial for those who live in a home with limited space. It can also embellish your garden nicely, just like what you can see in this tropical backyard idea.
This tropical backyard looks stunning with a sleek container. The design adds an ancient look to the garden.
To make it become an antique centerpiece, grow a relatively tall plant in it. A banana tree or a palm would be your top-notch choice.
46. Add More Shades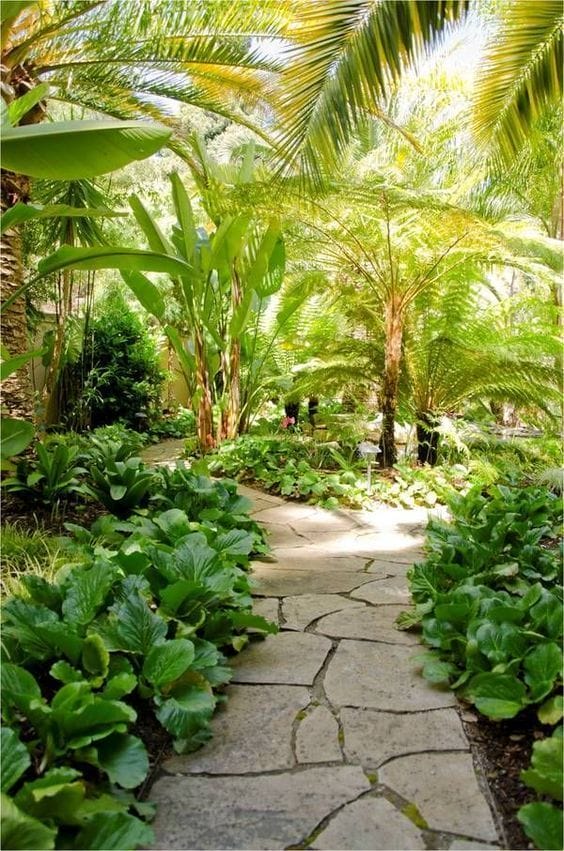 A spacious backyard is an excellent place to blow off steam. You can arrange it meticulously to form a private mini-park. Do not forget to grow more palms to provide shade during the day.
Tropical backyard ideas will improve the landscaping of your garden. Although it is not the first thing that passersby come across, you still deserve a pleasing view to release stress.