You might have spotted shallow plant-edged and stone-lined trenches in people's homes. Those are stream beds or in other names, dry creek bed landscaping.
They can serve practical and aesthetic purposes. Moreover, dry creek bed landscaping helps liven up your outdoor area.
The dry river bed is certainly more than a splendid addition to any outdoor landscape.
Constructing one in areas where you have difficulty in growing plants is a brilliant choice for sure.
People normally use a dry creek bed to make a stream illusion since it can duplicate water movement.
The display is also not only an appealing collection of stones and rocks. Additionally, the feature can overcome erosion and drainage issues.
1. Gorgeous Dry Creek Bed Landscaping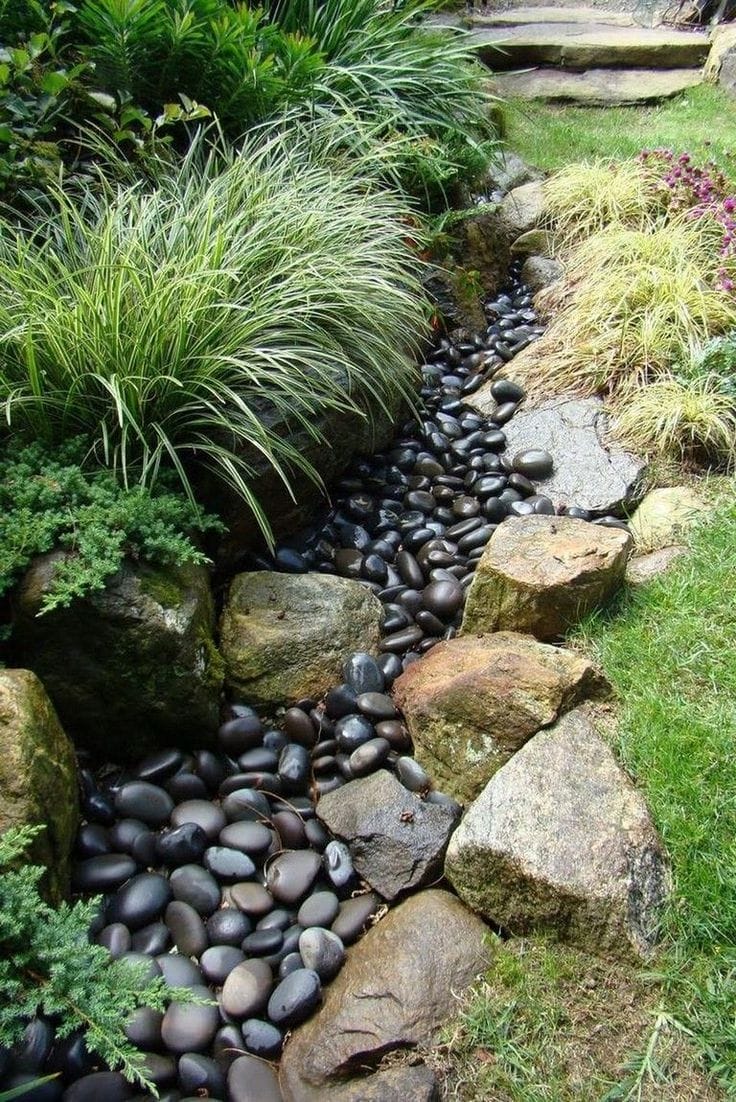 This dry river bed is so cool. It serves as an excellent border to the plant or flower beds. Moreover, the stone feature has a shallow yet smooth appearance.
If you love to linger in the backyard instead of upgrading the whole view, this display is the best option indeed.
As the image shows, it makes one side more attractive and appreciable.
Furthermore, this stone feature boasts smooth, black river stones. They are not only trendy and slick but also look particularly awesome when wet.
2. Different Types of Stones for Dry Creek Bed Landscaping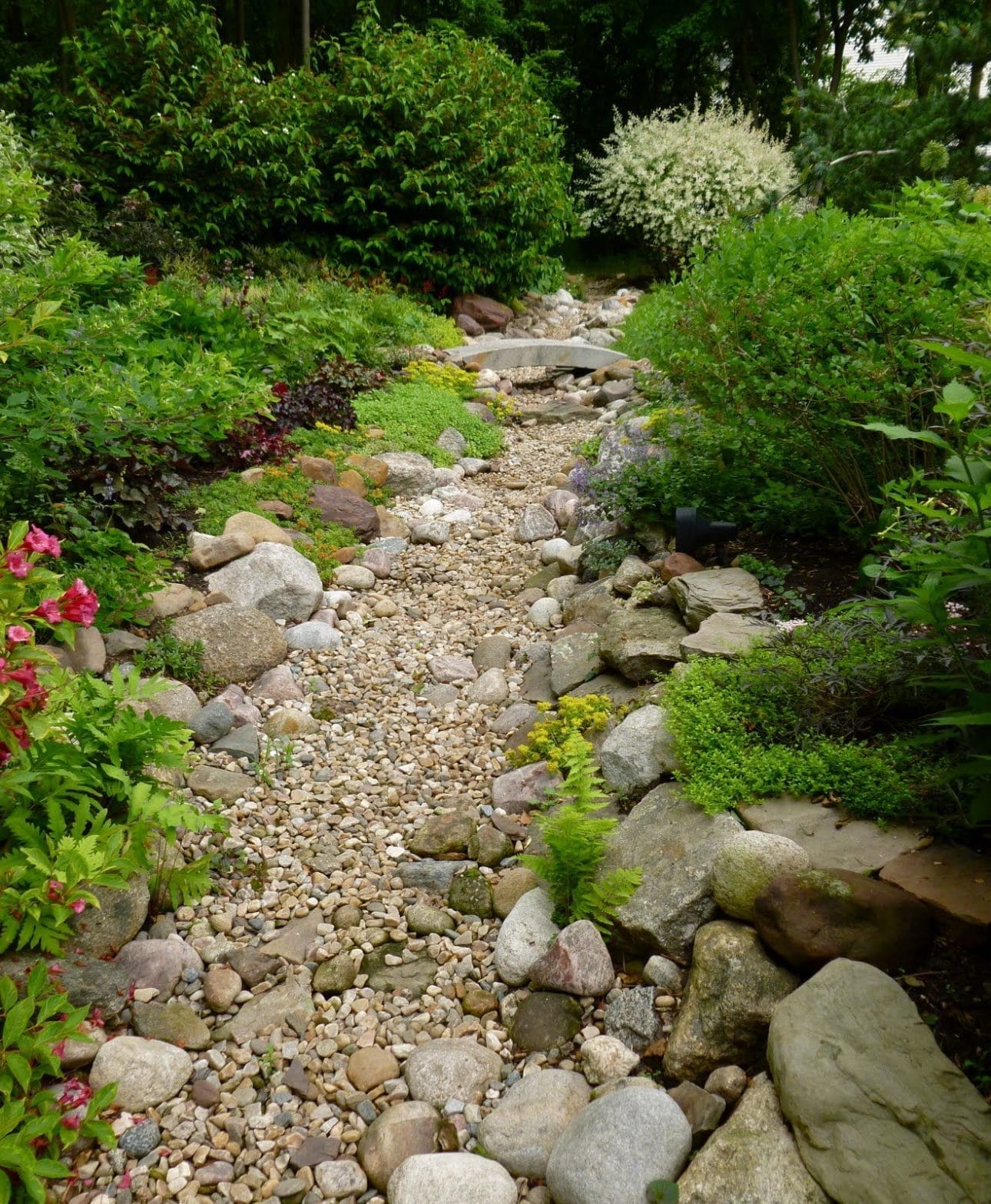 Most dry river beds appear the same. However, you could give yours a unique feel.
For example, use various types of stones. Furthermore, their different textures, sizes, and colors impact your creek's appeal.
In this case, the dry river bed lends the outdoor area a somewhat uneven and rough look.
Additionally, the feature seems that it takes the aesthetic vibe away and blends more seamlessly into the surrounding environment.
The small and large stones along with jagged rocks develop a visual interest. Meanwhile, lush plants strikingly line the beds.
3. A Simple Stone Walking Path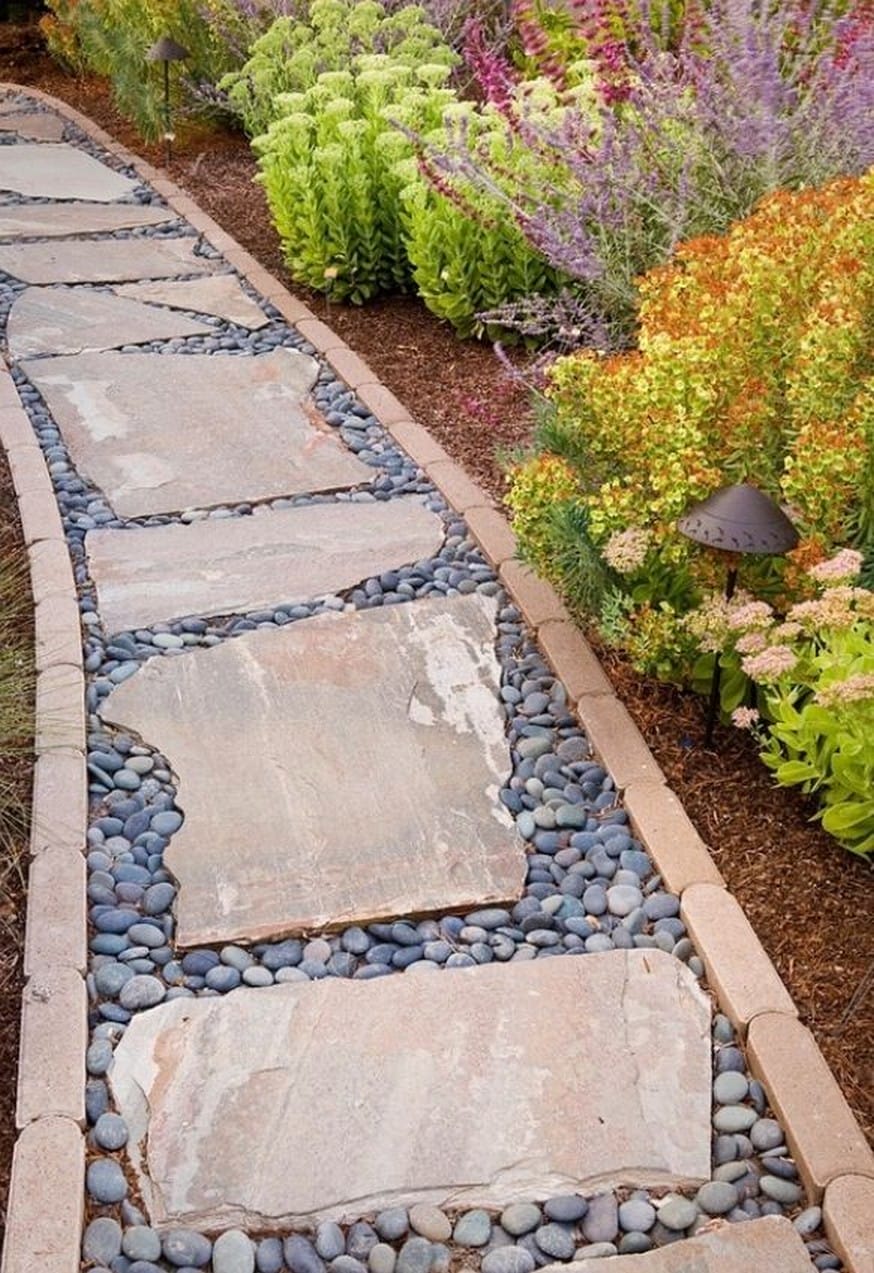 Searching for dry creek bed landscaping ideas along road? If so, give this garden feature a chance.
In this example, it serves almost as a nice stone pavement's extension.
Furthermore, this dry creek bed is a perfect mix of enhancing functionality and aesthetics.
In addition to ensuring great water drainage, it protects any landscape from high foot traffic.
The plants and grasses line both sides of the dry river bed. They evoke a sense of lusciousness in a narrow space.
This design shows that you can transform a small area into an outdoor oasis with a little bit of creativity.
4. Using Dry Creek Bed Landscaping for Drainage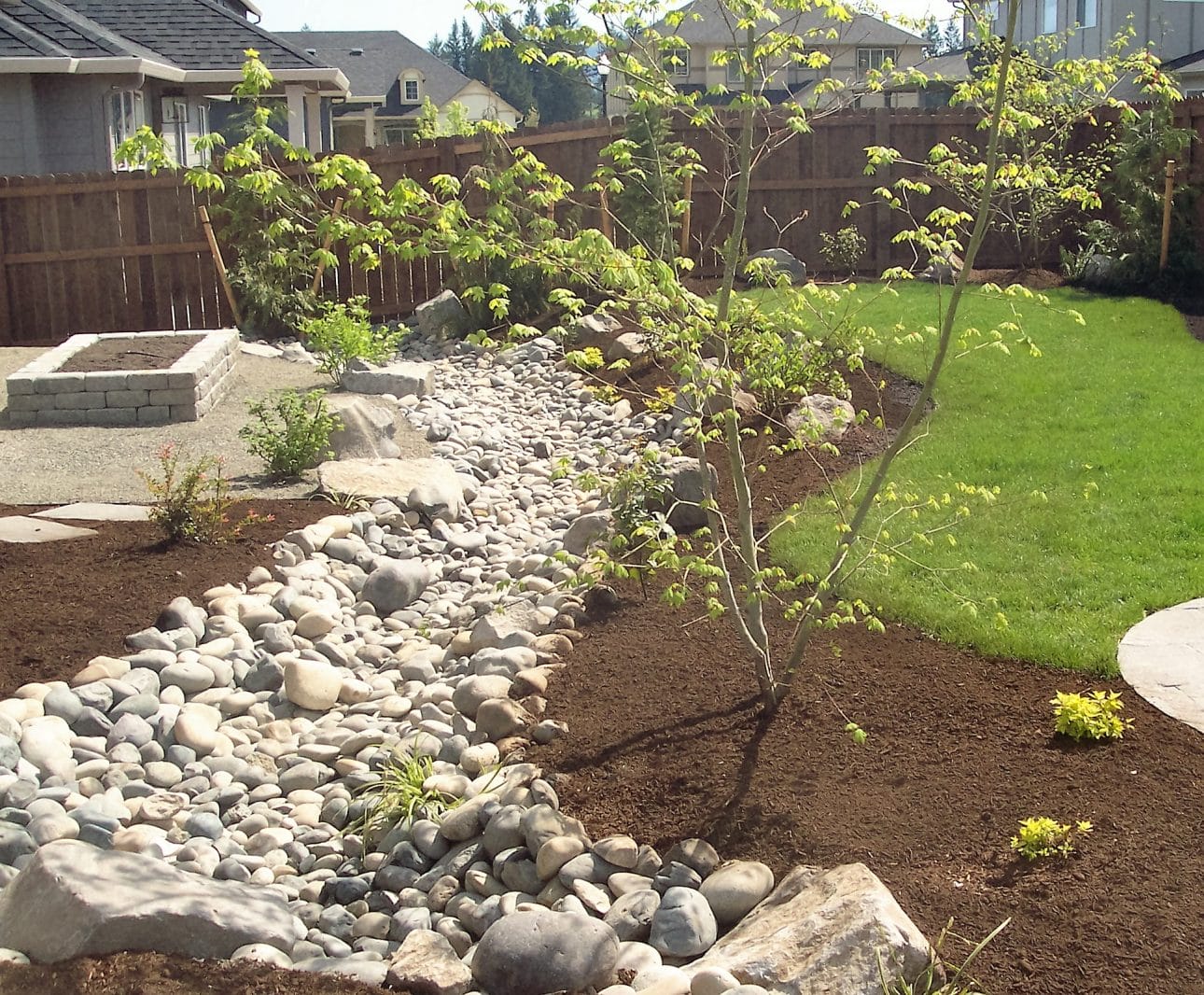 As we stated before, the dry river bed does not only offer the elegance of flowing water but also serves functional purposes.
This shallow trench is a great solution to manage the rainwater flow across your yard.
To create a well-manicured yard, you must overcome water problems first. The rainwater requires its way out.
Without effective drainage systems, it probably will begin gathering in the landscape or garden's corner.
Excessive collection of rainwater can affect your plants' growth adversely. This also will damage the land.
If you have no drainage method for the yard, draining the garden manually is not a good choice, plus it isn't always doable.
Sometimes, you can even be able to build an artificial water drainage system.
However, in other cases, it is certainly hard to create one in your existing and growing landscape.
Furthermore, a dry river bed is such a natural solution to provide a way for rainwater.
Firstly, you better start to determine the water source. Then, dig a shallow trench so it starts to flow away.
The dry creek bed landscaping for water drainage typically features a slope.
Moreover, the display may need professional help, so it can offer effective functions.
5. Stack and Slope
Talking about amazing dry creek bed landscaping ideas, you should consider building this stone display. It will surely look fabulous at your yard's edge.
Furthermore, the project is easy to do. In this example, the design is immaculate. The dry river bed itself serves as a rustic yet appealing walking path.
To build this dry creek bed, you need some small round stones and large flat rocks. Find a sloped area in the landscape and then run with it.
First of all, stack the large flat rocks carefully in a line. After that, use small round stones to construct a border. It separates the plant bed from the walkway.
The flat rocks work as steps. They provide a simple slope for the rainwater to pass through.
Meanwhile, the round stones round dry creek bed out. This design can work both on a small or large scale.
6. Dry River Drainage Canal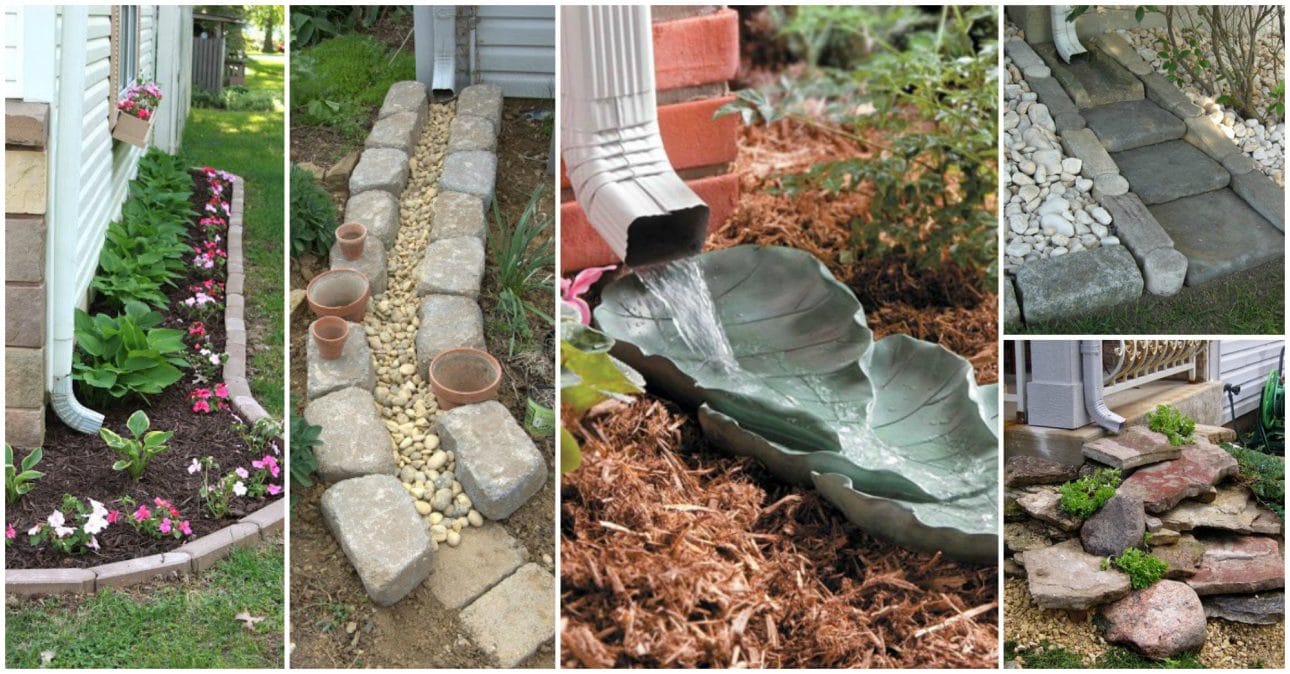 Unlike previous dry creek bed landscaping ideas, here we see narrower river beds.
The homeowners constructed them straight out of their properties. That way, the water filters into the soil well.
Moreover, these examples prove that you can do dry creek bed landscaping in so small space.
Simply dig a shallow and narrow trough. Then, fill it with round stones. Finally, use bricks or flat rocks to trim yours.
These narrow river beds are a perfect complement to urban houses with tiny backyards.
Building a beautiful large dry river bed is probably not possible. However, you can always get creative.
Just set up adorable drainage canals such as these for your eaves trough drains.
7. Drainage Dry Creek Bed Landscaping with Plants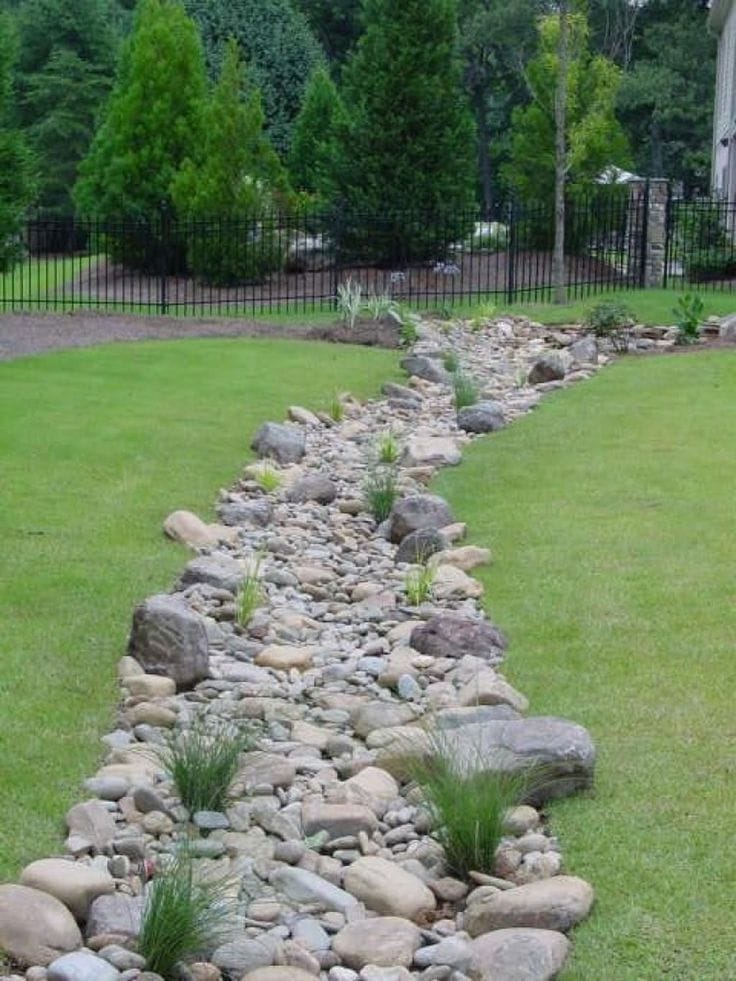 Here, the dry creek bed passes through the backyard. The large rocks cover its border to make sure the rainwater flows away in one direction.
Furthermore, this is one of the most terrific dry creek bed landscaping ideas. Its design employs simple stones, but it looks stunning.
The stones have different forms, dimensions, and shades. Moreover, the dry river bed gives the outdoor space a visual appeal.
Both grasses and plants lend a pure and clean sight to the landscape. Meanwhile, the large rocks and small stones contrast delightfully with them.
8. Dry Creek Bed Landscaping with A Rock Bridge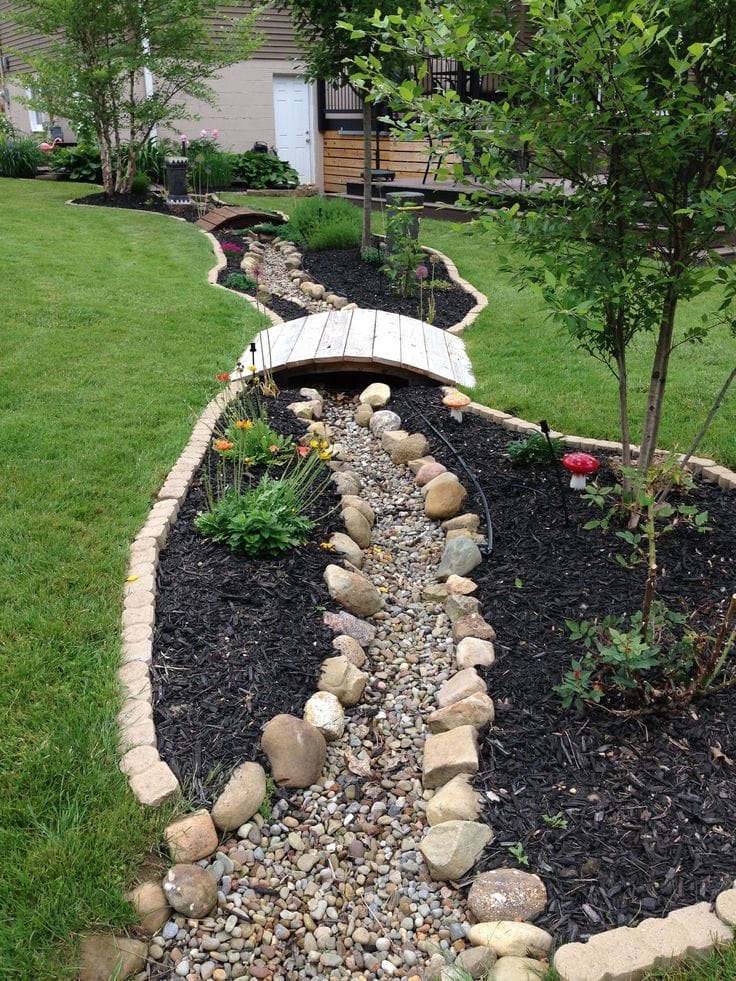 Searching for dry river bed decorating ideas? If yes, try this design. As the image shows, the creek nicely winds through small shrubs.
Moreover, this garden feature is tidy and terrific at the same time. Additionally, it features river stones in various shades. They make for a simple walkway.
The natural bridge spruces up the dry river bed. To build it, you should find a perfect large rock first. Furthermore, vibrant flowers catch the eye in no time.
9. Dry River Bed Landscaping Plants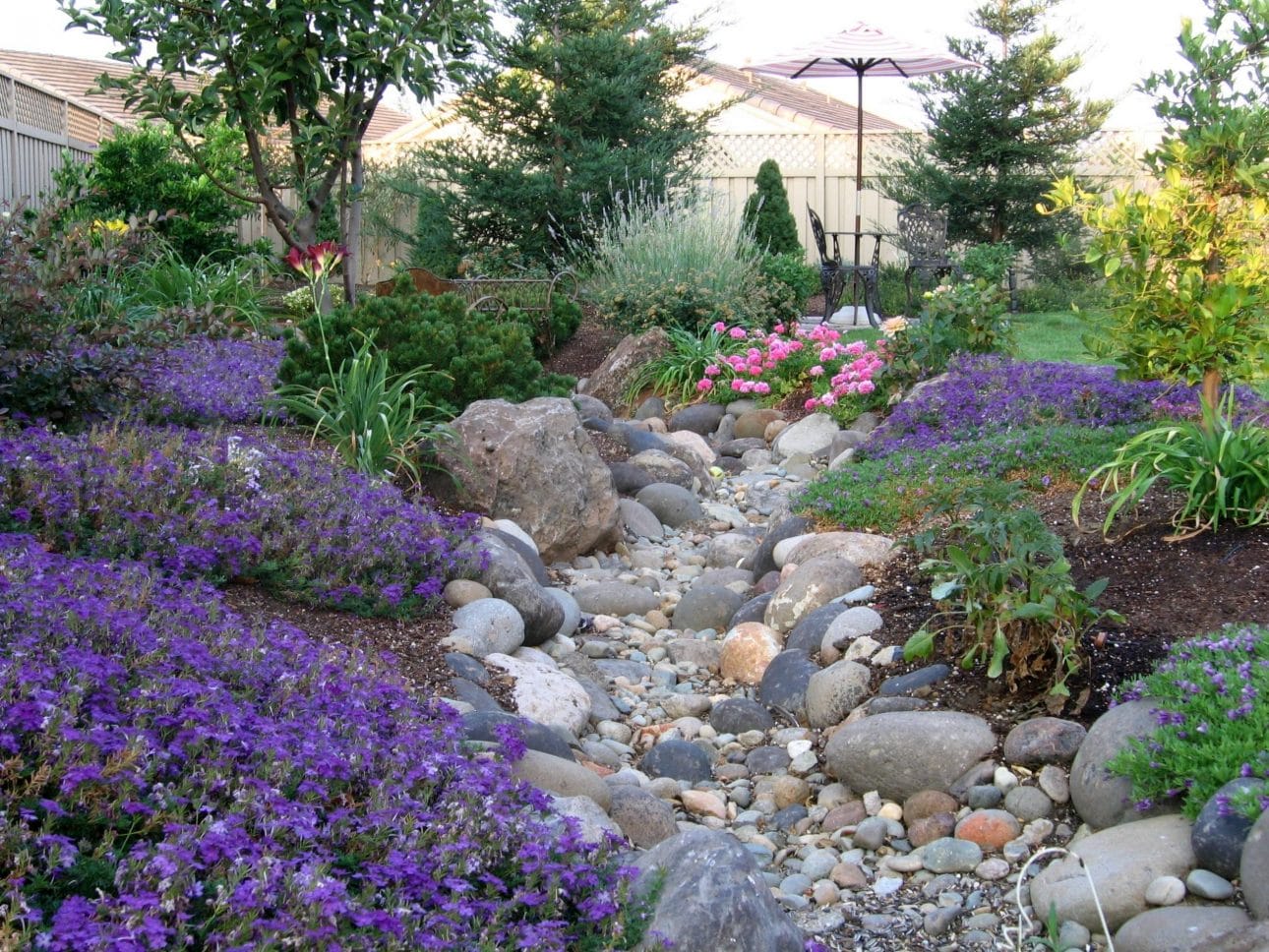 This dry creek bed shows the growth of plants at very random intervals. The garden feature also keeps the landscape's natural look intact.
In this case, hens and chicks make an excellent landscape arrangement. Moreover, they provide some visual effects.
The hens and chicks make the dry creek bed look more visually pleasing. In addition, they convert the area into a backyard oasis.
10. Rocks and Perennials for Dry Creek Bed Landscaping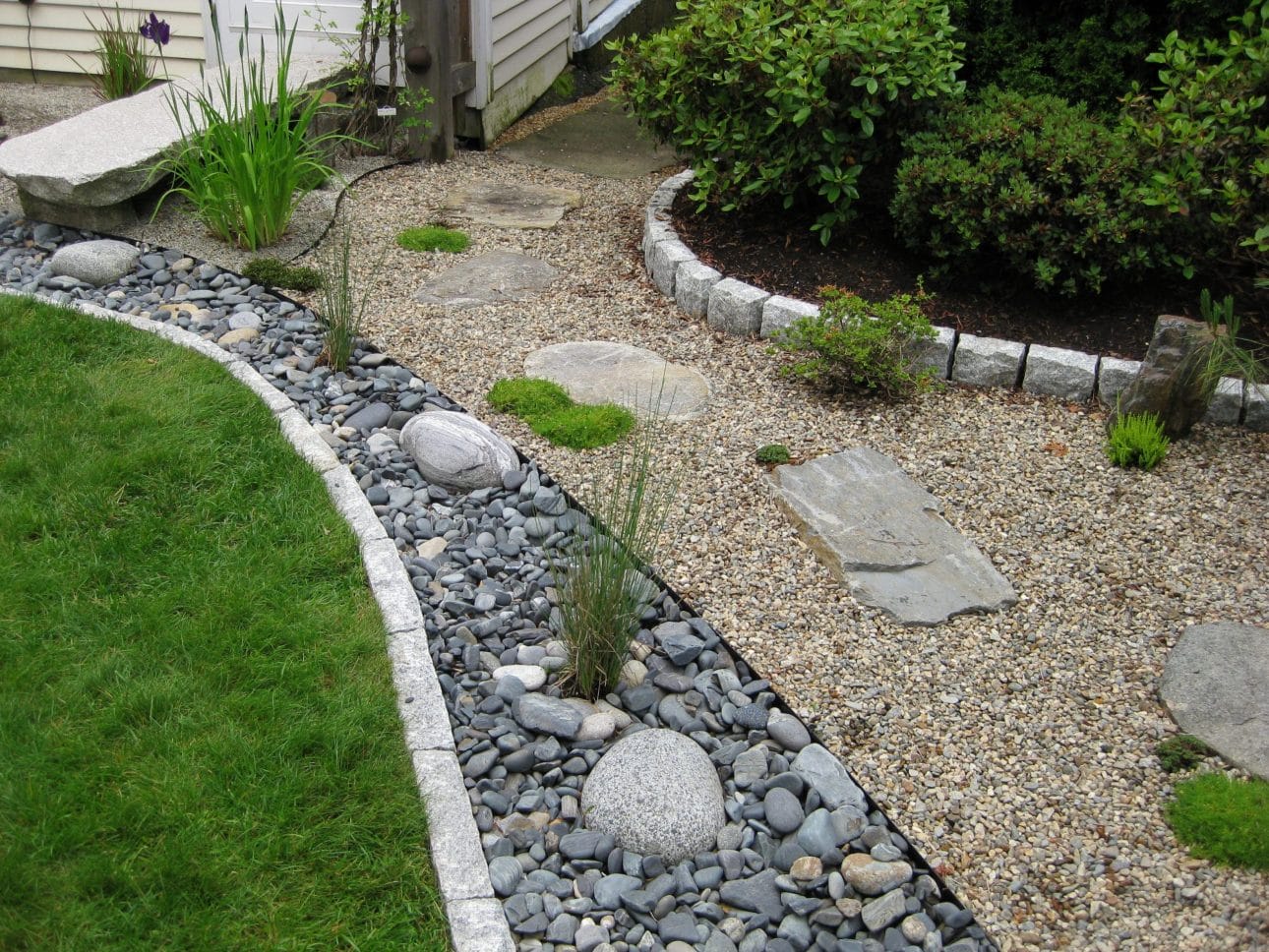 Whether you construct a dry river bed for practical or aesthetic purposes, consider adding more dimensions to yours.
We strongly recommend planting the creek. Firstly, plan everything out meticulously. Then, dig the trench and fill it with rocks, stones, and perennials.
The plants lend your landscape a splash of color. Don't worry, they will thrive well due to constant rainwater flow underneath.
11. Dry River Bed with A Chair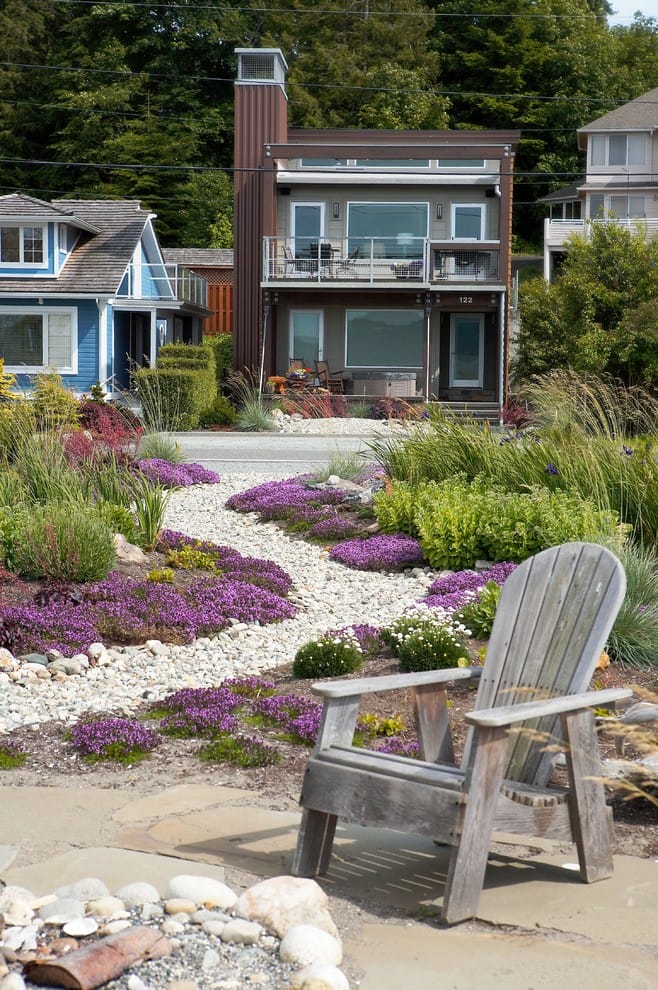 This dry creek bed is so gorgeous. The light-colored stone walking path leads the way delightfully to the sitting area.
Furthermore, purple perennial flowers line it marvelously.
Both ornamental kinds of grass and purple flowers give the outdoor area a visual interest.
Meanwhile, the weathered wood Adirondack chair allows you to enjoy clear summer skies with your favorite beverage in hand.
12. Helping Your Surrounding Nature Out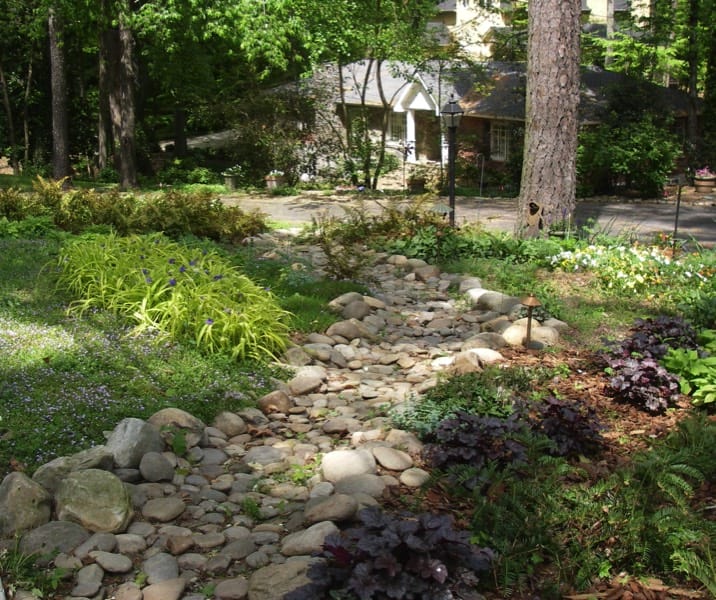 If you live in a treed area with moist mucky trails, implement this dry creek bed landscaping idea.
First of all, clear some room between the trees. After that, dig the shallow trench. Lastly, use rocks to fill it.
This dry creek river ensures good water drainage. It also makes the trails around the property a little drier.
The rock feature and ferns add character to the outdoor space. More importantly, this idea is effortless than any other project.
13. A More Natural Dry Creek Bed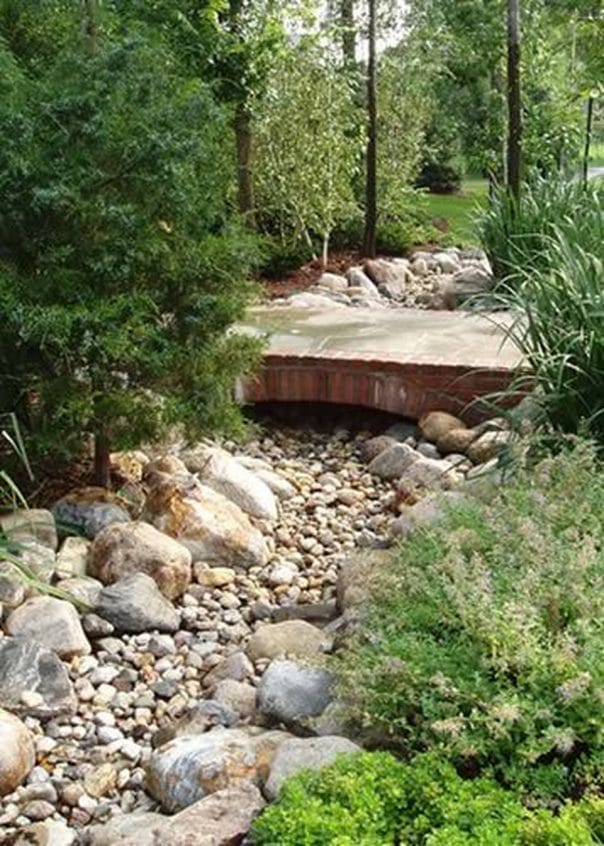 Simple is better. That applies to this dry creek bed landscaping.
The feature has a quite traditional look. However, the large rock boundary evokes a mountainous vibe in a flash.
Furthermore, this dry river bed helps frame the plant beds. We suggest growing plants that are indigenous to your area.
That greenery assists you create a nature-inspired garden feature.
14. Rocks, Greenery, and A Wooden Bridge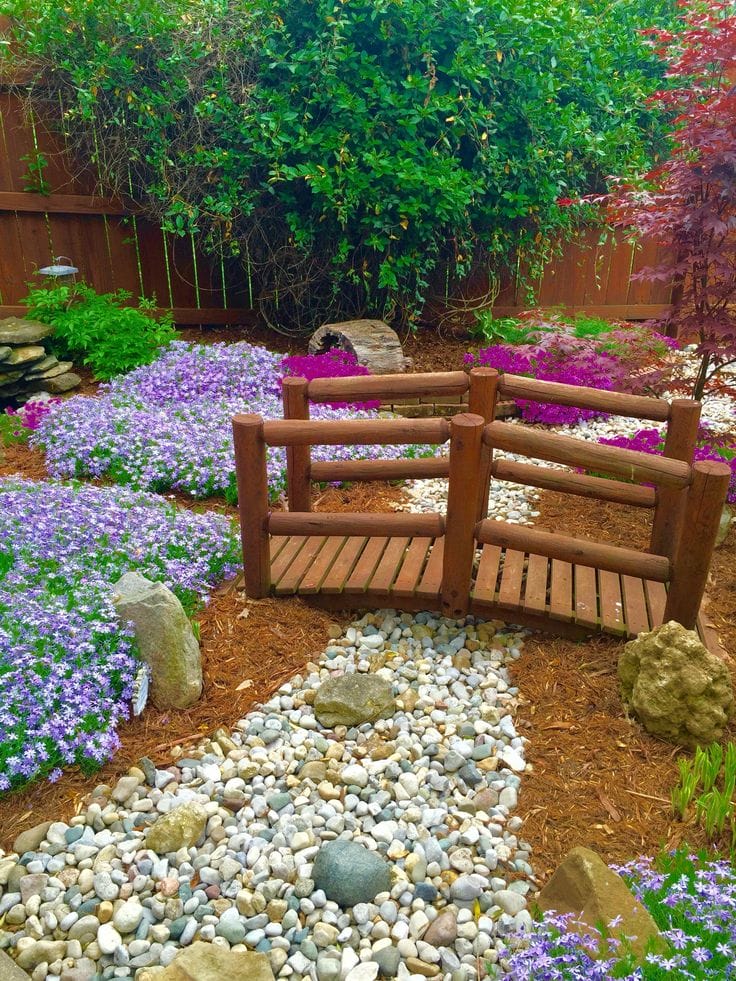 In this example, the small rocks line the basic dry river bed. There are also rough boulders nestle in it.
Meanwhile, the lush trees and grasses jazz up the otherwise plain outdoor area.
Moreover, the wooden bridge over the dry creek bed breaks up the rock walkway. It connects two different areas as well.
Undoubtedly, this idea is not a small project, but completely achievable.
15. Large Dry Creek Bed Garden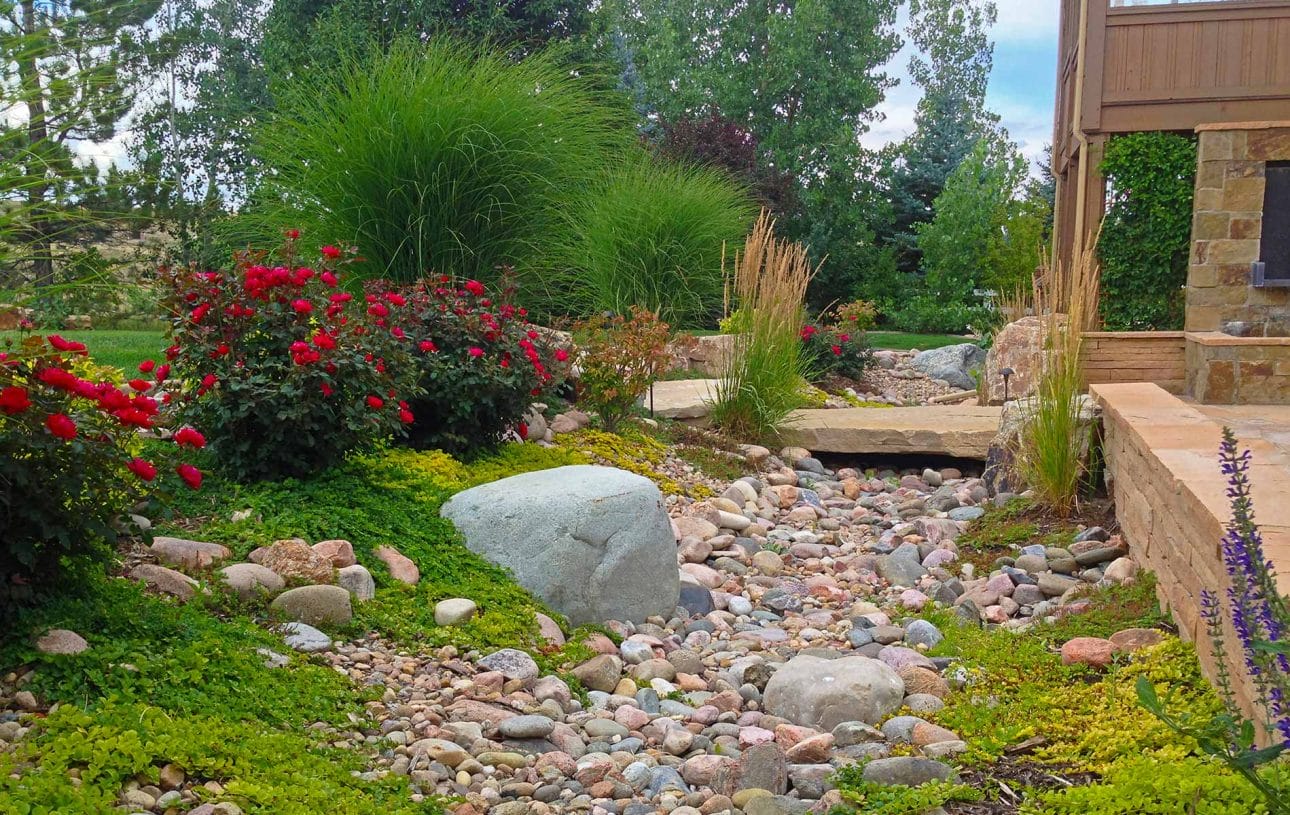 If you have a spacious empty backyard, apply this design. Here, the wide dry creek bed makes up its amazing garden with lush plants, light-colored stones, trees, and shrubs.
The large dry river bed provides an extra pathway. It also helps filter water away from the house and makes you look much cooler than your neighbors.
Moreover, the stones in earthy tones send out an inviting ambiance.
16.How to Make Dry Creek Bed Landscaping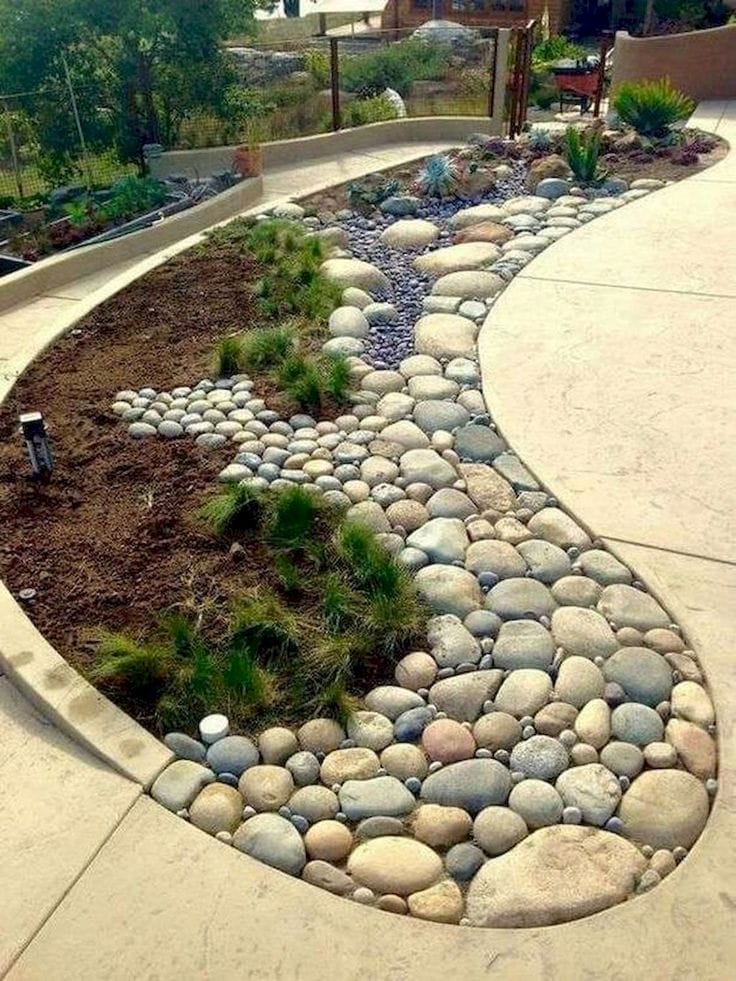 Constructing a dry creek bed yourself needs is hard labor yet totally doable.
Based on the depth, length, and width of the feature you want, consider hiring a drainage expert because the project is not that easy.
When you begin digging shallowly, it can require lots of effort. Bear in mind that some spots are more difficult to dig out.
Moreover, lining up grass mounds along your creek's border may help reduce the depth you need to dig.
Make sure the available rocks and stones are enough to fill the whole dry river bed. This is a labor-intensive process.
If you particularly construct the dry creek bed for drainage, test the feature before finalizing it. The water must run down it quickly.
Do not forget to re-check the dry river bed. If you find some areas where the water movement is not smooth, improve them. Once everything is great, adorn the feature.
17. Japanese Style Dry Creek Bed Landscaping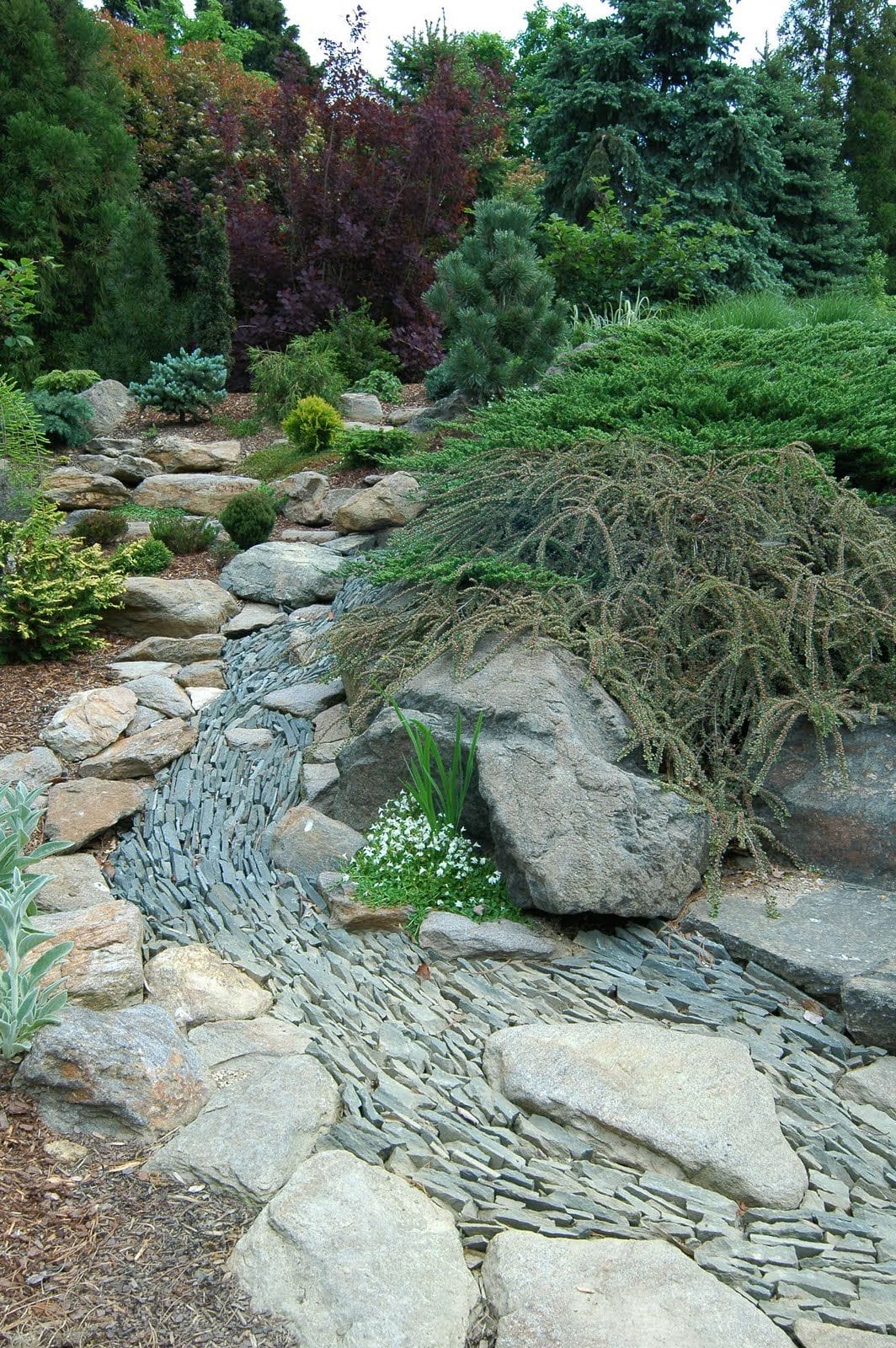 Are you a do-it-yourselfer? If yes, this is one of the DIY dry creek bed landscaping ideas to try.
The project is trouble-free. It only needs two things: a bit of free time and gray flat rocks or slates.
Clear the dry river bed space and fill the trench with stones first. Then, use fabric to line it.
Next, turn the rocks on their sides and cover the area in a neat line form. Here, slate water makes the outdoor feature visually appealing.
18. Dry River Bed Landscaping with A Fountain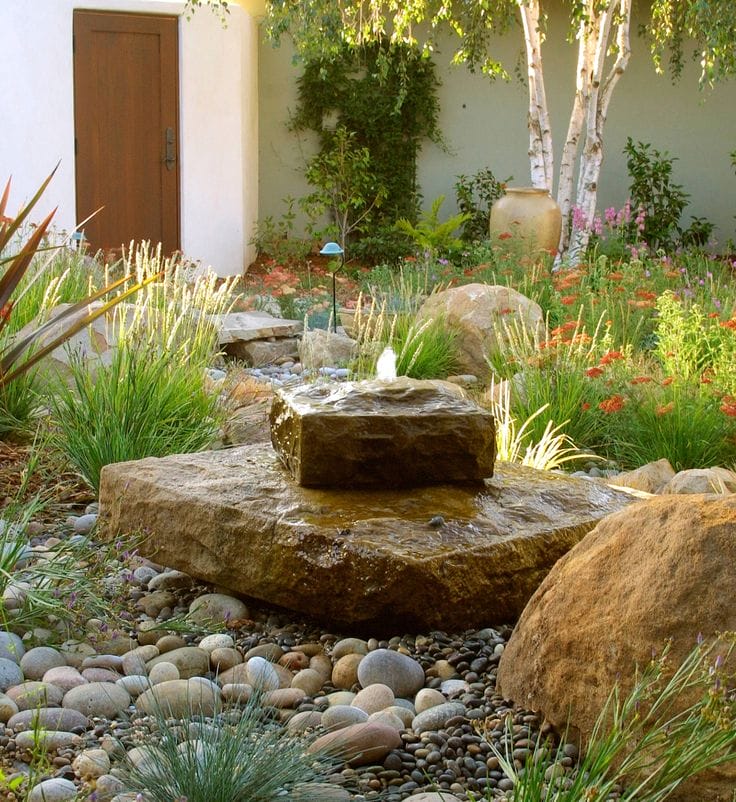 Transform your front yard into a garden oasis. It would look even more attractive when you build a rock fountain.
First of all, plan as well as design the dry river bed. After that, construct a rock fountain. It carves a more tranquil outdoor environment.
Moreover, the unit is pretty simple to install.
19. Colored Glass for Dry Creek Bed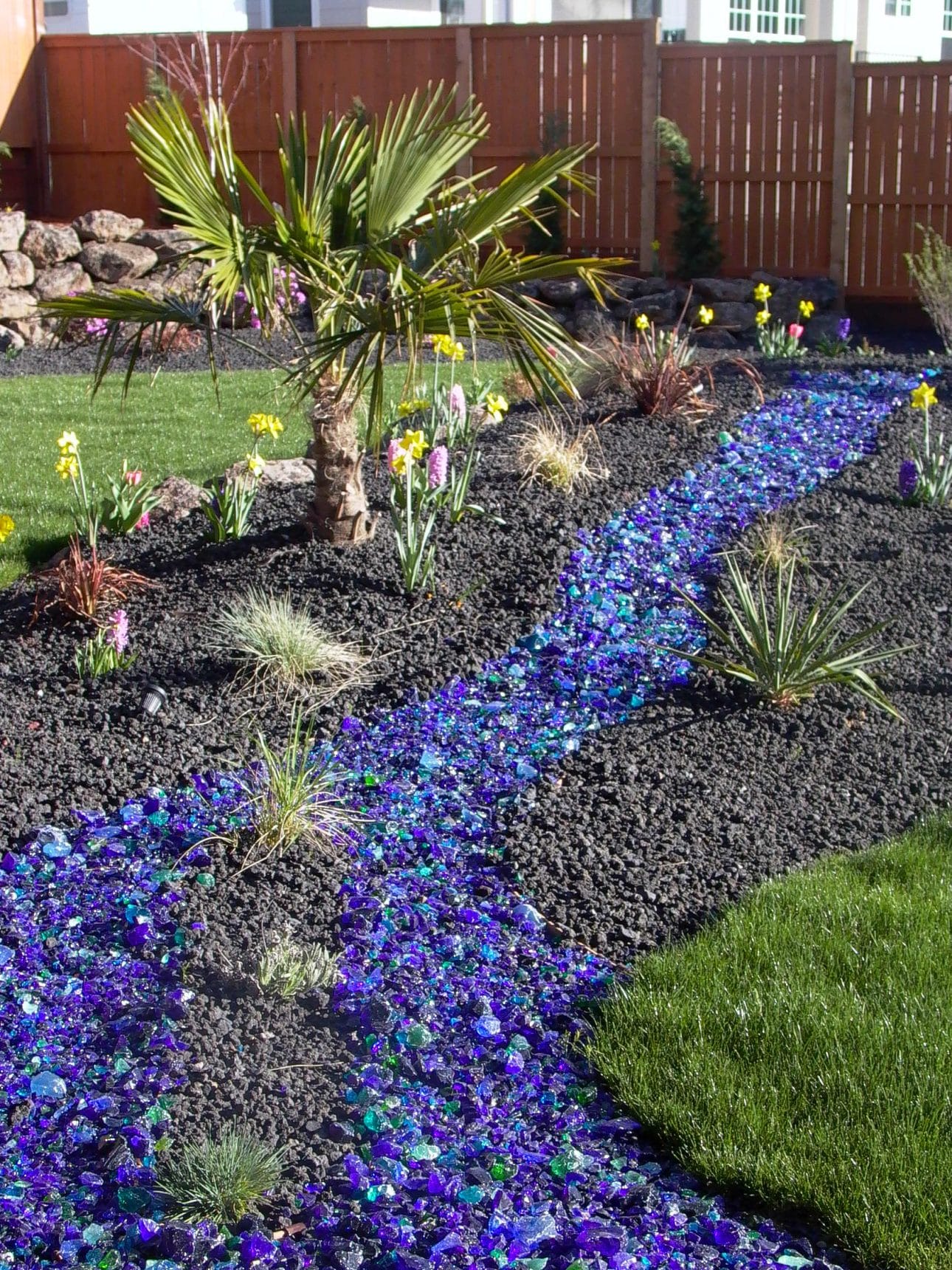 This picture shows that you can personalize your dry river bed with beautifully colored glass or stones.
Use bricks, gray gravel, or rocks to border the plant bed. Then, fill it with ornamental plants.
Make sure you leave some room for colored glass or stones. They perk up the area instantly. Furthermore, there are loads of shades that you can find in stores.
20. Dry River Bed with Garden Friends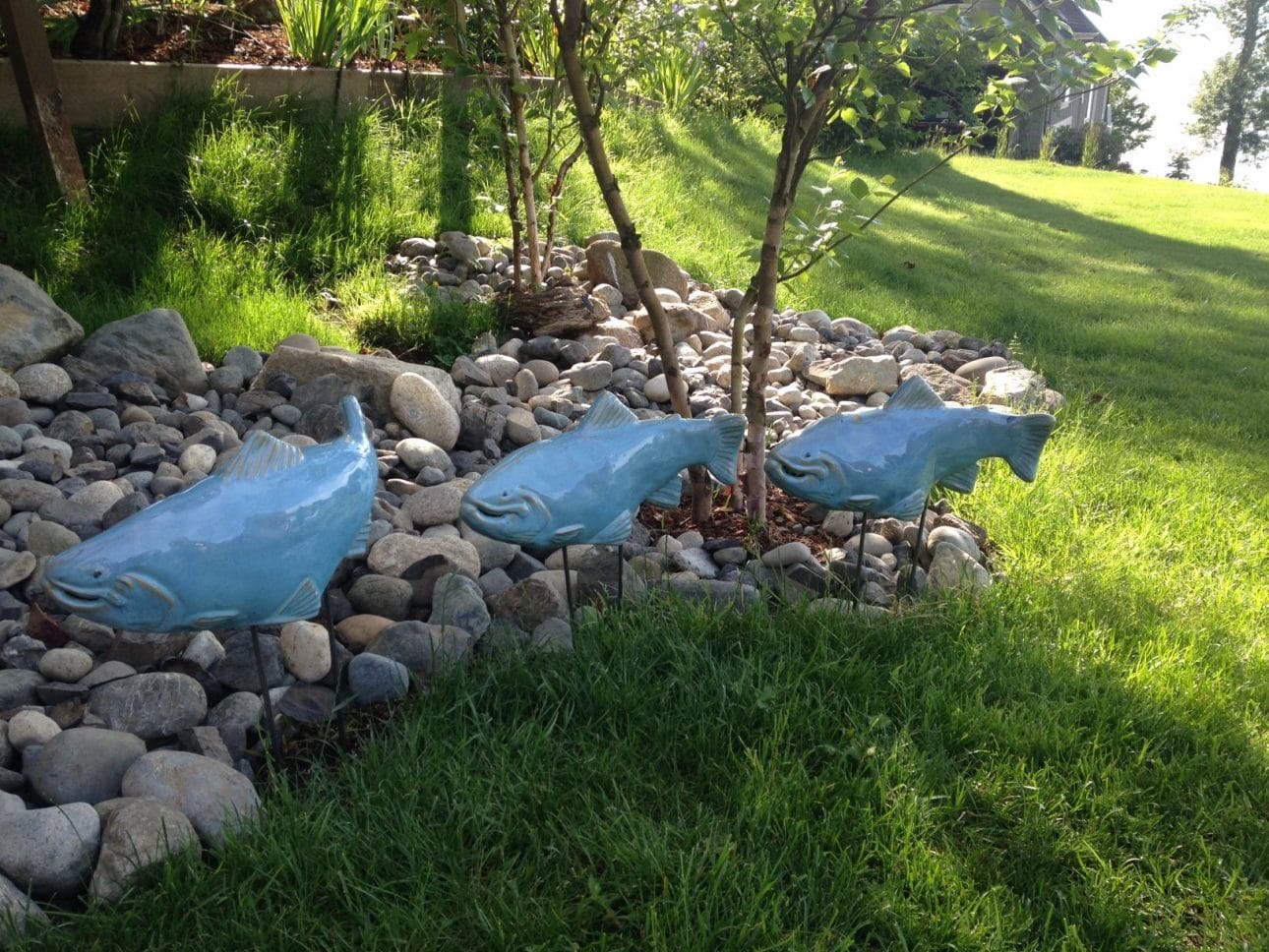 Speaking of dry creek bed landscaping ideas, do not limit yourself to stones, grass, plants, rocks, and mulch.
You can have fun and give the feature character with faux frogs, little gnomes, or a few blue ceramic fish.
So, we've come to an end. Those are selections of wonderful dry creek bed landscaping ideas.
Anyone certainly can create an amazing dry creek bed landscaping with a bit of time as well as minimal budget.