Lately, the rise of remote working requires you to pay more attention to your working space at home. Besides considering the interior design, you may need some home office shelving ideas to help organize your goods efficiently.
That way, you can do anything there without bothering with all the scattered books or documents.
Indeed, the shelves' presence makes it easier for you to organize your work-related items. Furthermore, you can also use it to display various ornaments to beautify your working area. Isn't it quite multifunctional?
What's more, it would be best if you also minded whether the shelf is space-saving or not.
Therefore, below we provide 29 inspiring home office shelving ideas that can turn your working space into both the comfy and elegant one.
1. Wide L-Shaped Shelves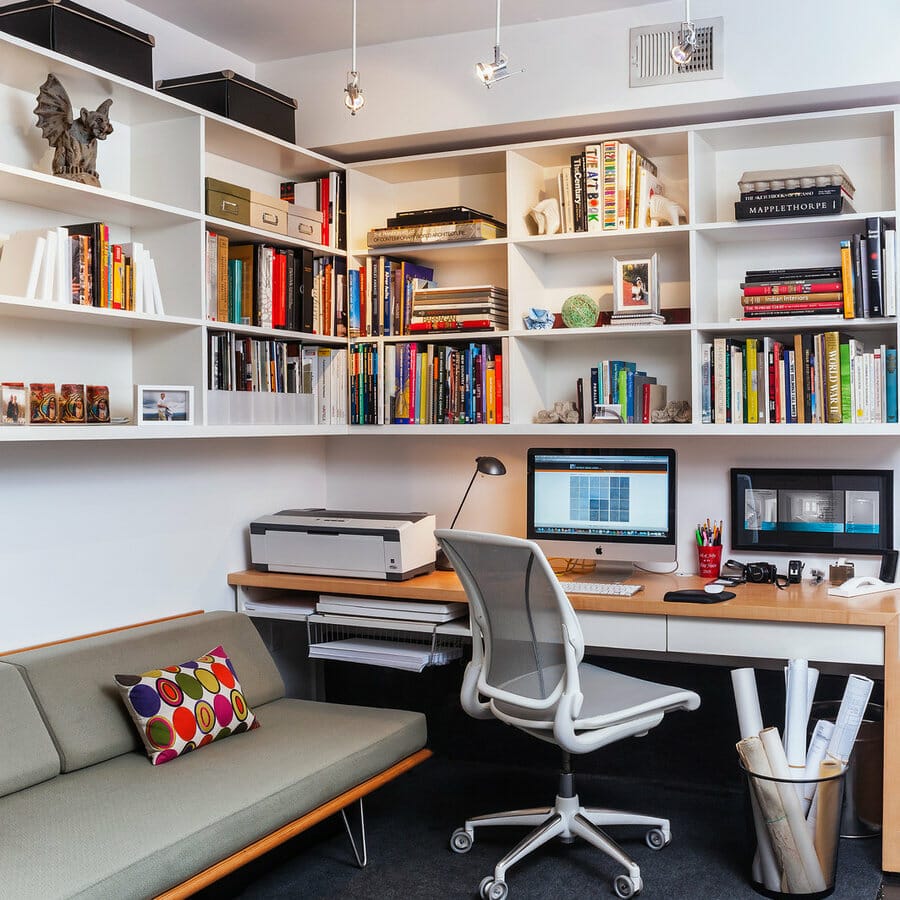 If you are looking for small home office shelving ideas, then choosing to mount wide L-shaped shelves on the wall is the smartest choice.
This shelf will fit many of your books as well as some beautiful ornaments in it. As the shelving comes around the wall, it would also help you save floor space in your small workplace.
2. Built-in Home Office Shelving Ideas
The built-in shelves in white will be able to make your home office look neater, especially when you set a minimal arrangement of books on the top of it. Additionally, it will also make your work corner look wider.
3. Free-standing Shelving with Wire and Planks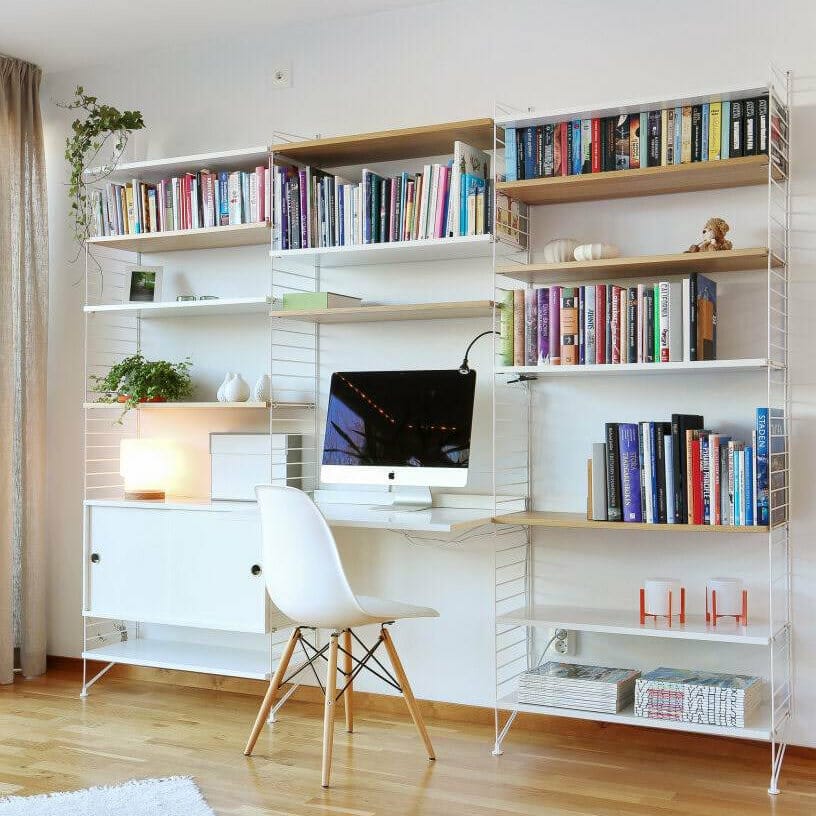 Apart from the built-in and wall-mounted office shelves design, you can also use industrial concepts in your working site.
One way is to arrange some free-standing shelves made of a combination of wire as well as wood like the one above.
But be sure to choose the most robust material so that the shelves can support a series of books and other accessories well.
4. Industrial Home Office Shelving Ideas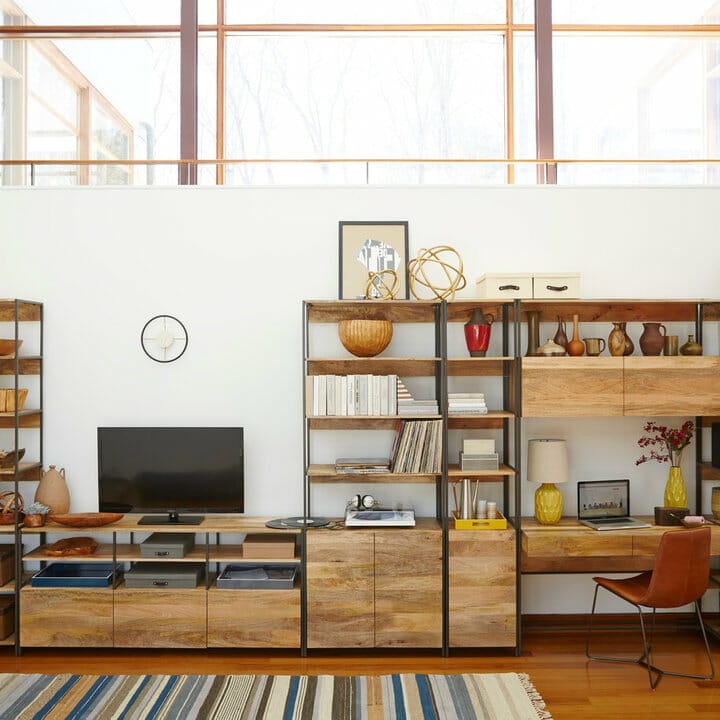 No wonder that the free-standing shelves for office are the simplest yet robust ones.
However, as it usually comes with a comprehensive design, these shelves will suit a large working area. In addition, if you desire the timeless style, picking the industrial concept with rustic ornaments is perfect.
5. Floating Board Shelving
A sturdy look of polished board floating racks that come among white walls is the best combination ever. Therefore, this contemporary style, indeed, will be perfect with any interior design.
6. Leveled Home Office Shelving System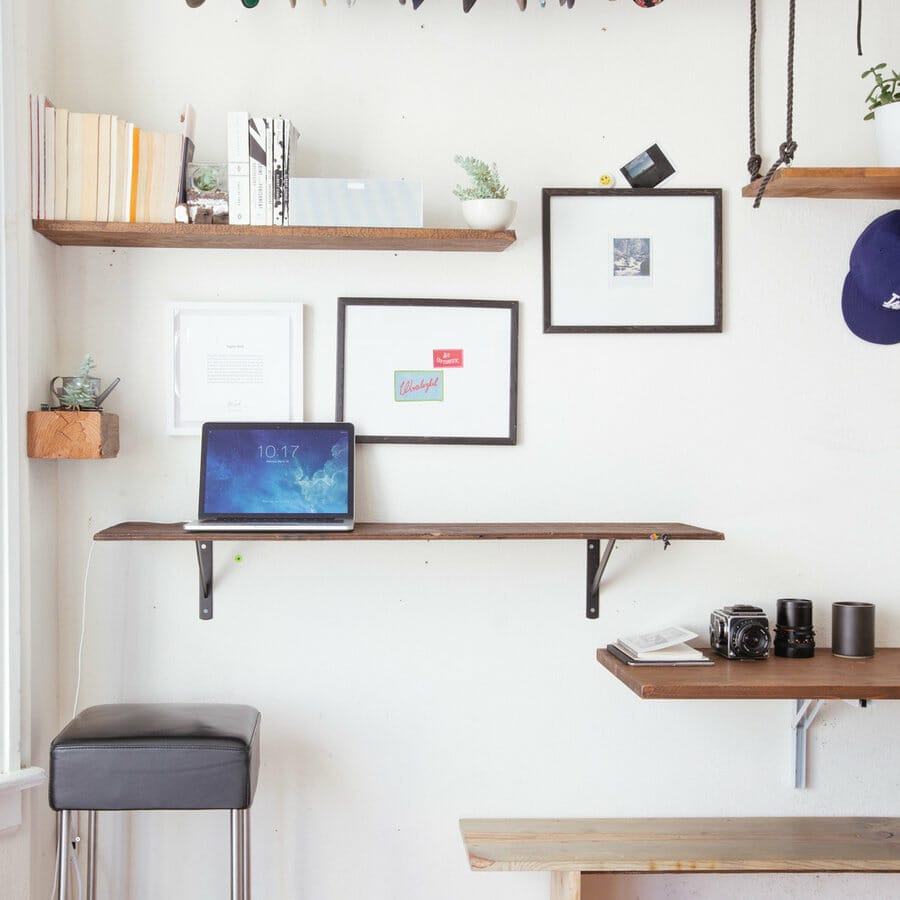 Of the many home office shelving ideas, installing multilevel shelves will make your working corner look more artistic.
That is why, a shelf arrangement like the one above is suitable for you who work in the creative field and have a passion for the arts.
Apart from being book storage, you can also use it for displaying various decorative ornaments that you have.
7. Farmhouse Style in Misty Grey
Instead of displaying furniture in harsh colors, you can also give a paintbrush with shades of gray on the standing shelves in your workspace.
In addition, to make good use of every corner of your house, try to have twin shelves of different sizes as above.
8. Doorless Cupboard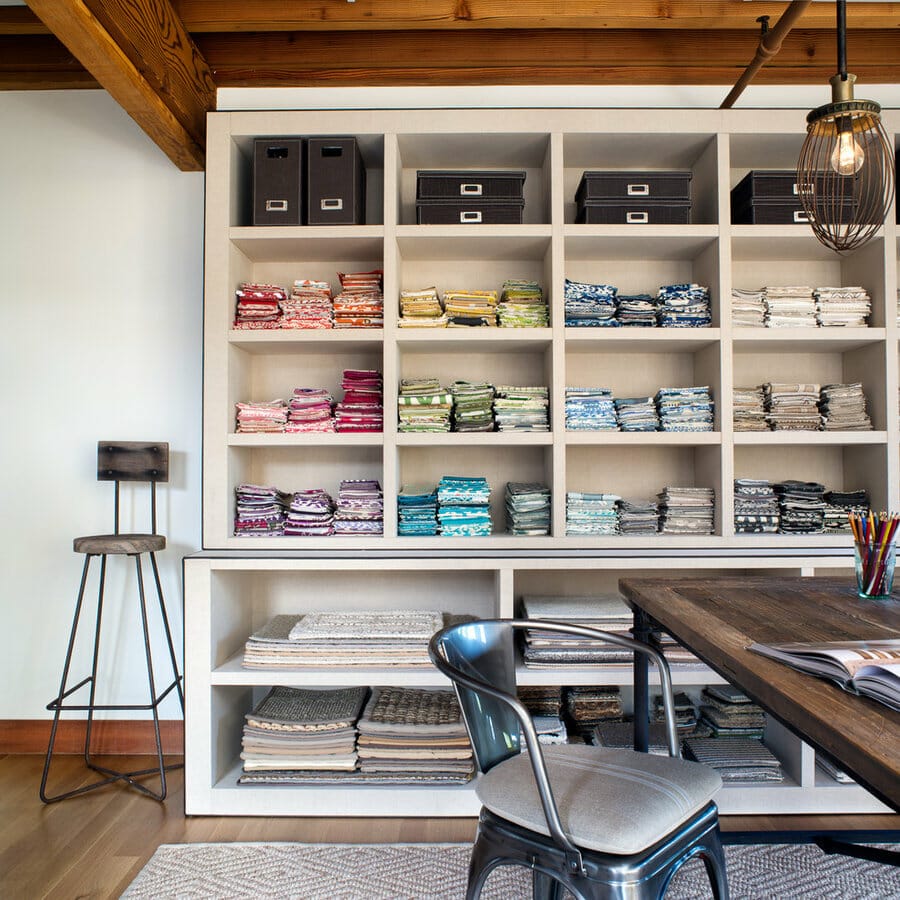 Supposed you feel bothered by having a cupboard in your workplace, then choosing one with a doorless walk-in shelf is the best.
As the furniture above comes with many shelves in different sizes, you will also find all the items you need in one place easily. To maintain the aesthetic aspect, you can also arrange your goods according to the order of each color.
9. Small Floating Racks in One Side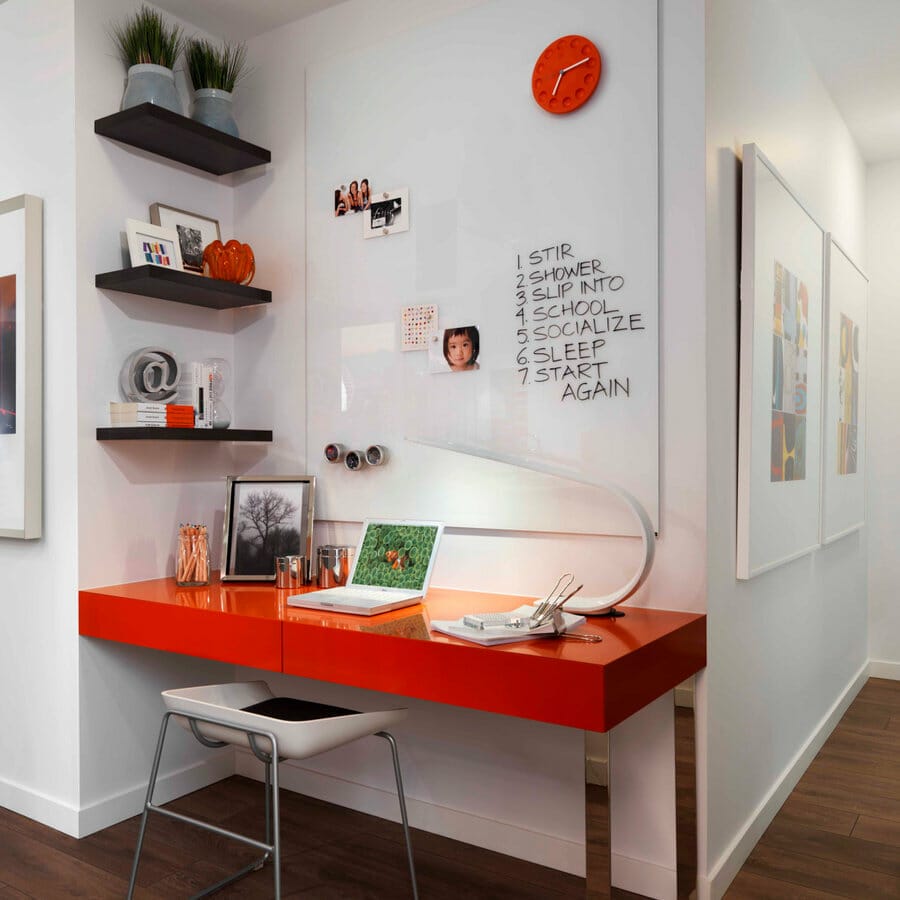 The installation of shelves in the working corner is not only suitable for people who have a lot of things.
Even for you who don't have many books, arranging a small shelf at one side on the wall is also helpful for displaying all the cute knick-knacks you have.
Besides, you can also put greeneries up there to provide freshness to your working spot.
10. Multileveled All-time Wooden Shelving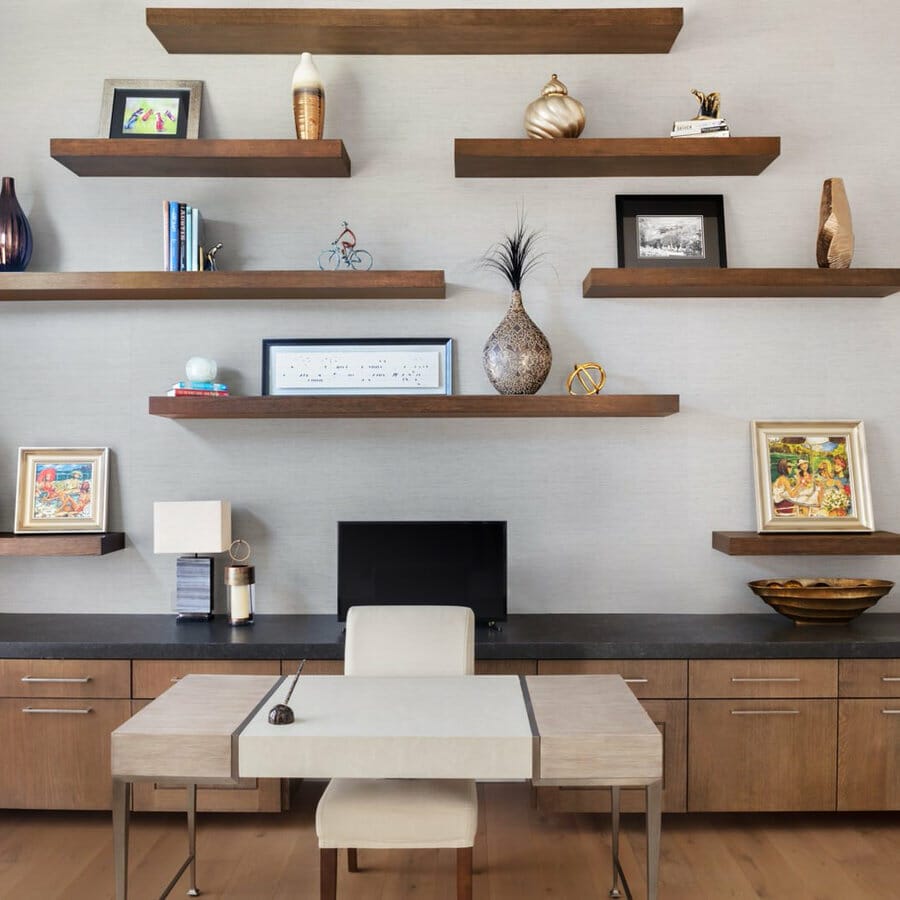 There are a lot of home office shelving ideas that recommend wood as the primary material for choosing shelves. It is because wooden planks or board furniture is the safest model that fits all interior designs.
Suppose you are a person who gets bored quickly and likes to change ornamental displays every season. Then, choosing floating board shelves with multilevel installation will give you more advantages.
11. Rustic Shelving feat Modern Wall Tiling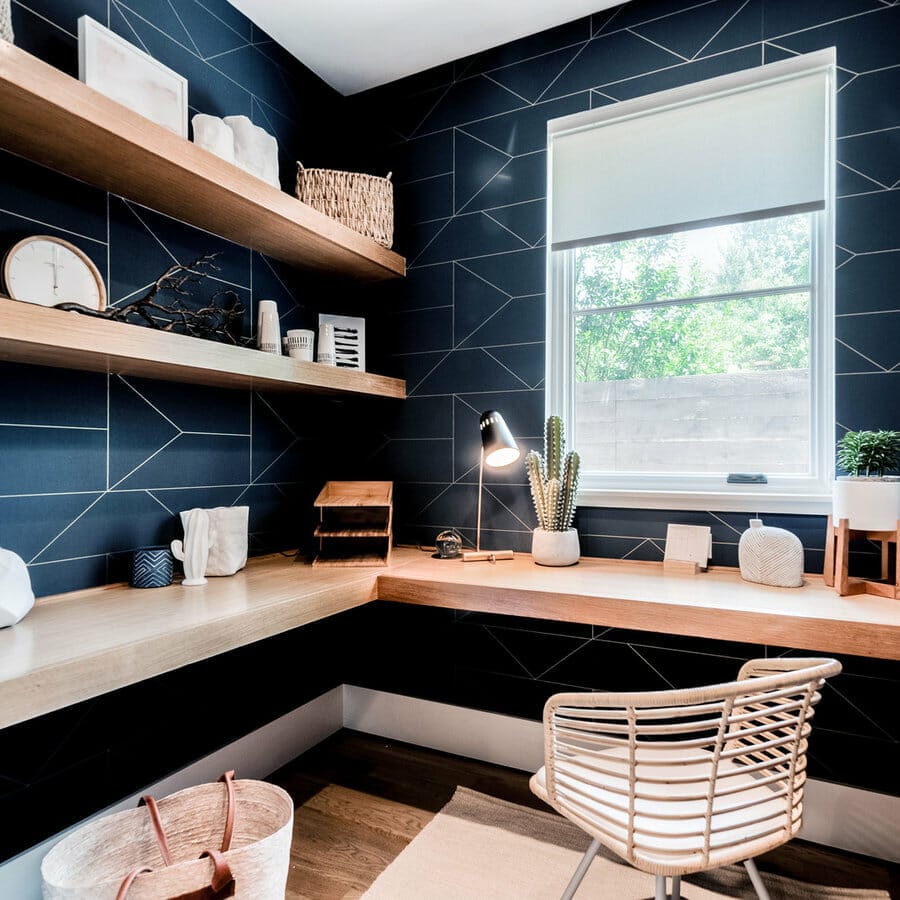 Combining rustic style with modern interior design for your workspace is a wise option. Moreover, a darker tile colors will successfully display the floating wooden shelves' natural charm.
Suppose your work spot is small. It's good only to install the shelf on one side of the wall. At the same time, you can leave the other side empty.
Also, adding a built-in L-shaped desk will help you make the workspace look more spacious.
12. Minimalist Built-in Shelving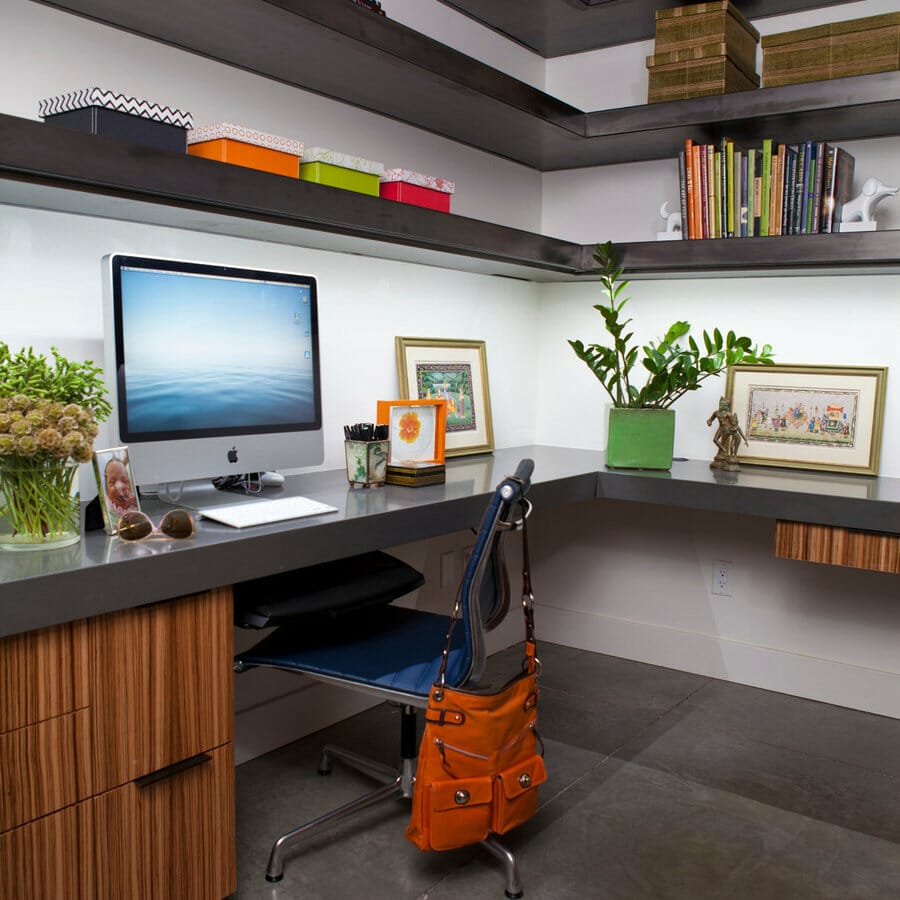 Many home office shelving ideas introduce you to minimalist styles. Usually, primary colors such as black, white, and gray are the key to this theme.
As the shelf design above shows, installing multiple levels of built-in shelves surrounding a part of the wall in an L shape will help you save space.
You also need to provide a ladder to reach the books stored on the top shelf to make it easier.
13. All White Racks
Choosing a white design is not wrong instead of using other more complex home office shelving ideas. Indeed, it is simple yet modern enough to have.
In addition to making your workplace look cleaner, choosing a compact hanging rack model can also make your workspace look spacious from any point of view.
14. Classic Built-in Home Office Shelves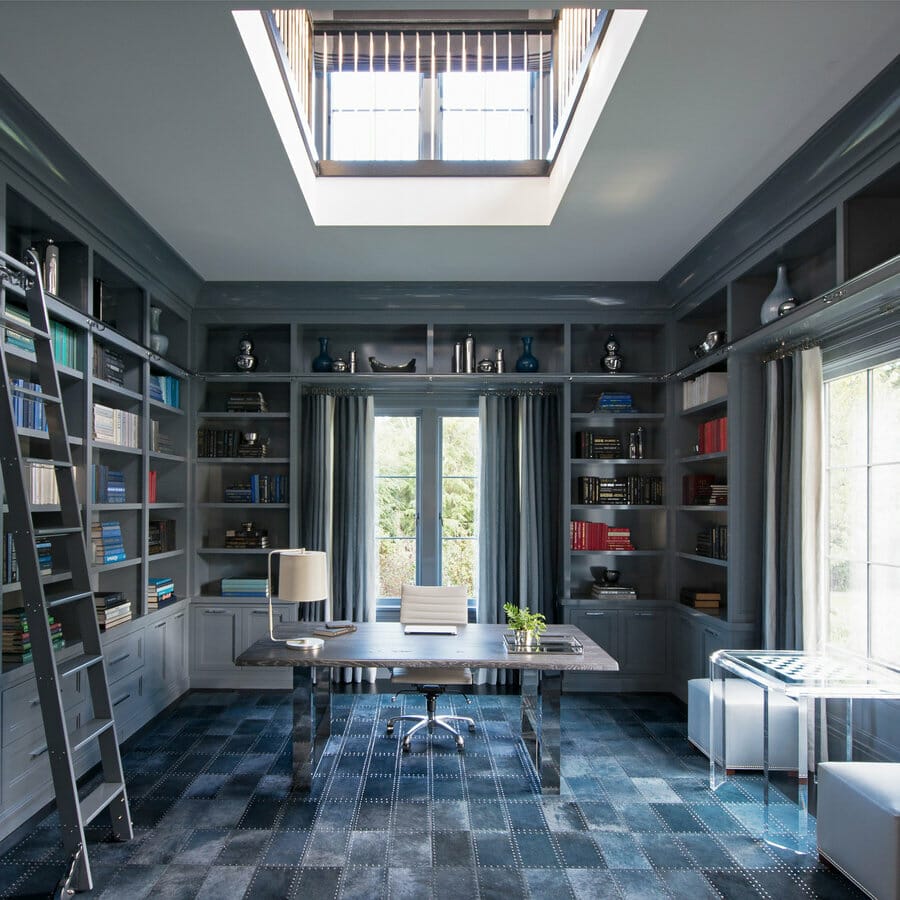 Once you have an expansive workplace, making classic-style built-in shelves like this is not an obstacle. By allowing the bookshelves to attach to the entire wall, you save more on the floor space.
Moreover, you don't need to hesitate to make the shelves soar to the ceiling because there is a ladder that you can use anytime.
15. Small Shelving on The Blackboard
Having a minimal workspace doesn't stop you from having decorative, inspiring shelves. You can even install mini floating racks on the blackboard you usually use to write down your to-do lists.
Instead of filling it full with books set vertically, it's better to stack your books horizontally on the other side of your to-do list. That way, it will still clearly catch the eye.
16. Hide It Anyway
This design is the most unique and space-savvy of the several home office shelving ideas mentioned before. It will keep your home tidy at all times.
You merely need a few meters of space that juts in, attaching the built-in shelves and desk in it, then providing doors on both sides. That way, everything will be neat in an instant as soon as you close the doors.
17. Creamy Curvy Corner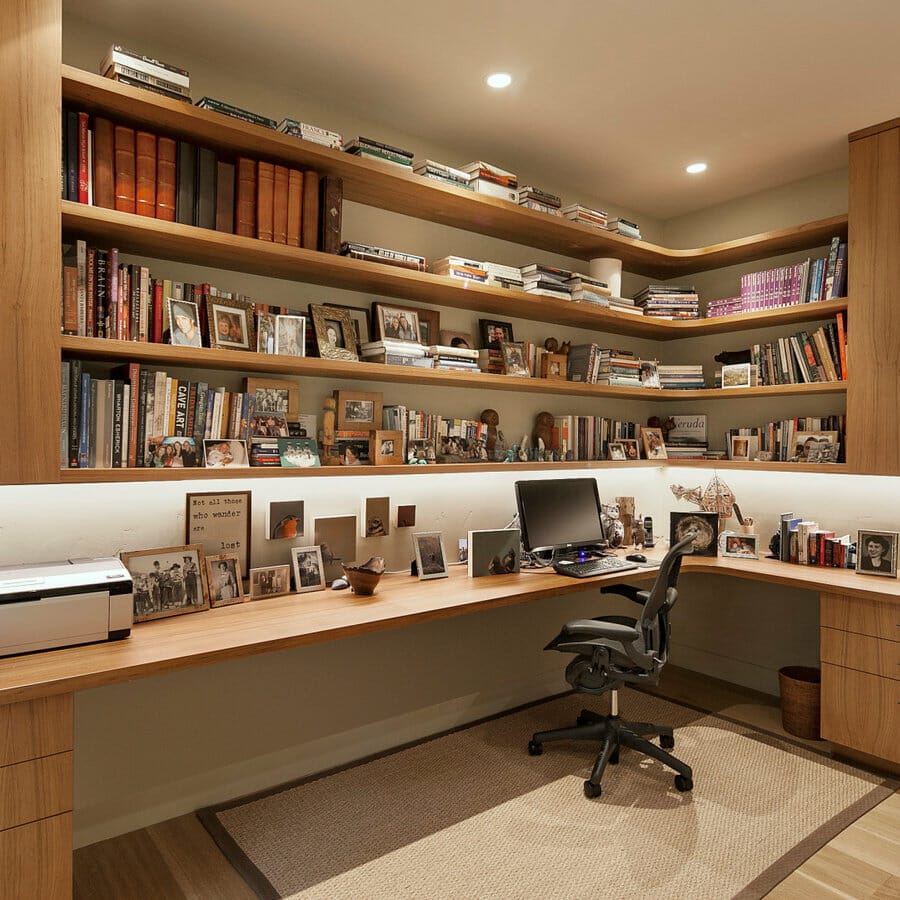 The following home office shelving ideas introduce you to the L shelf model with curvy corners. Instead of making it pointy, the curved corner of the shelves will make your workspace look more refined and elegant.
The combination of all the furniture in a creamy and earthy tone turns this room more relaxing than it should be.
18. Luxurious Built-in Shelving System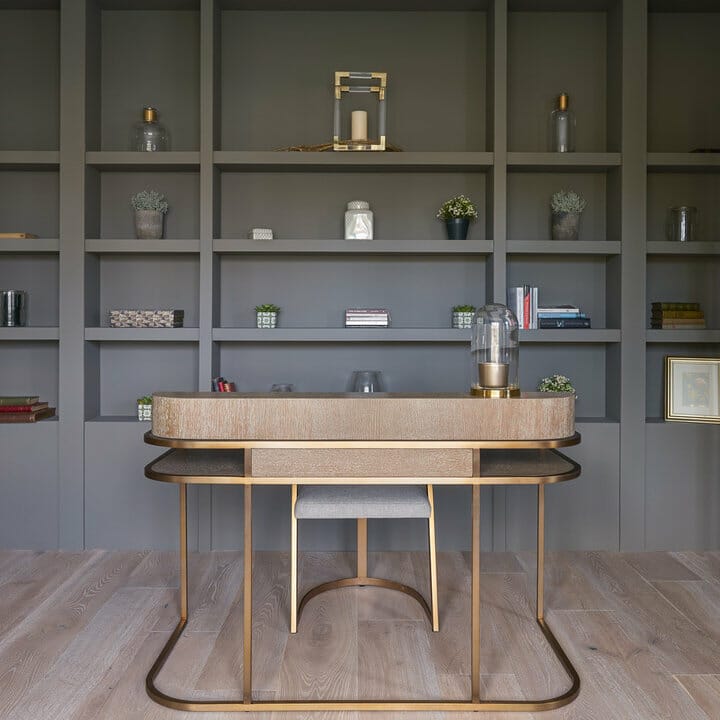 Are you looking for home office shelving ideas with a luxurious theme? Here is the answer.
You do not need to use expensive materials to create a shelf like above. Stick to this compact and charming built-in concept.
You need to paint the wall with solid colors, like grey, to make it more interesting. Then add some decorative items in gold to give off a luxurious ambiance on your home office shelf.
19. Waist-high Shelf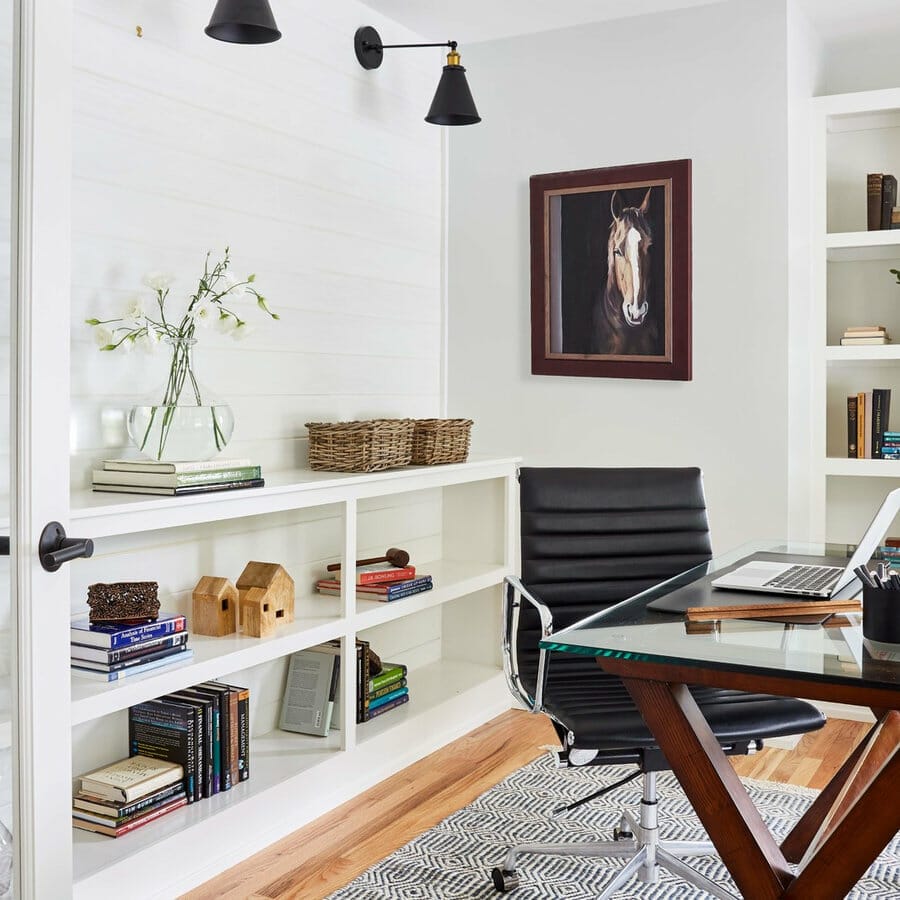 One of the most straightforward home shelving ideas is arranging a set of waist-high shelves in your workspace.
The white color helps you to highlight all the items stored in it. Alternatively, you can also go with other colors according to your preferences. Indeed, this kind of shelving system suits your modern home.
20. Custom Shelf-Desk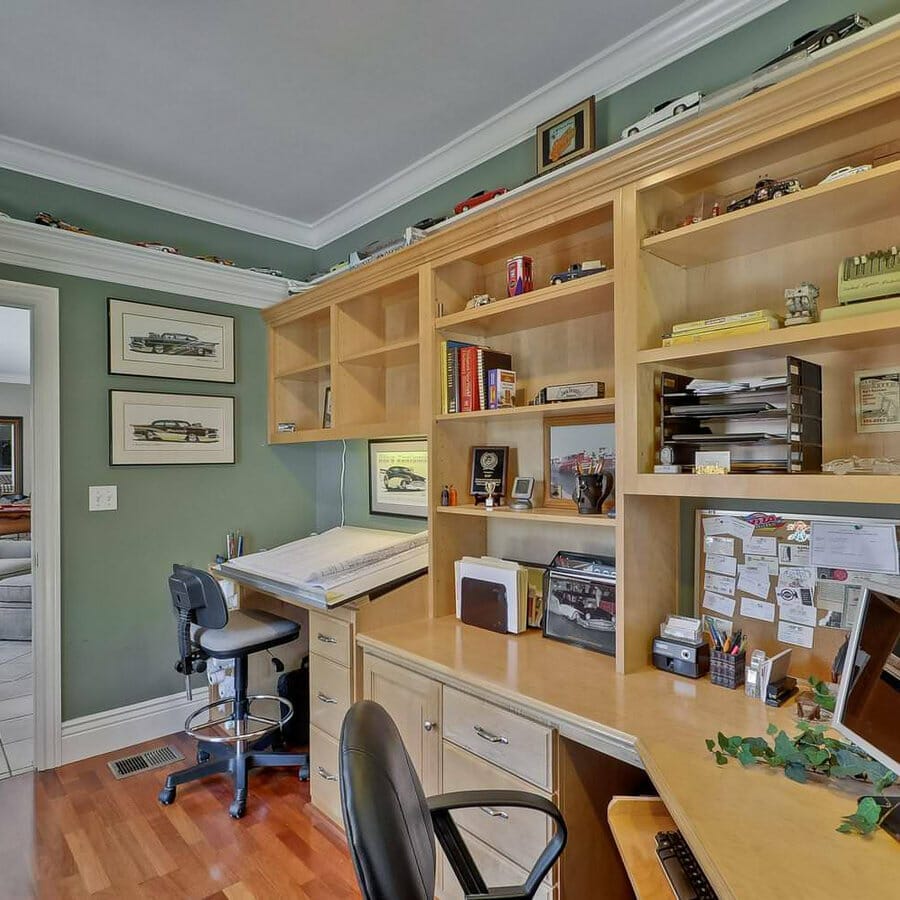 Have you ever been confused about finding good home office shelving ideas for a workspace of two people? Choosing a free-standing shelf, indeed, is not a good choice.
Providing the desks and cupboards at once only makes the room so crowded.
As an alternative, create custom shelving already attached to the twin workbenches. That way, your small workspace will look more expansive, and you will be comfortable working there anytime with anyone.
21. Simple Robust Shelf in Brown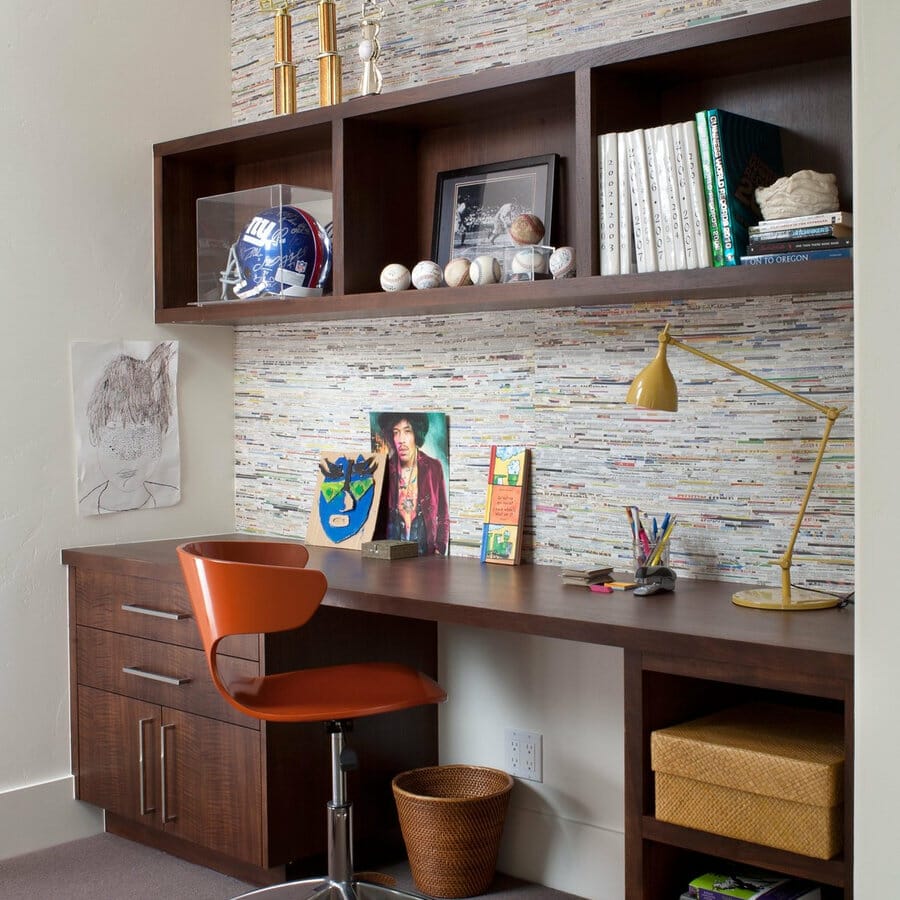 Suppose you don't want a lot of stuff stored in your workspace. These simple wall-mounted shelves for home office come for you.
By only having three spaces to store documents and books, this shelving system will certainly not make it challenging to find the items you need.
You can consider pairing it with a desk and chair in a matching color for a soothing, earthy feel.
22. Wide Open Built-in Shelves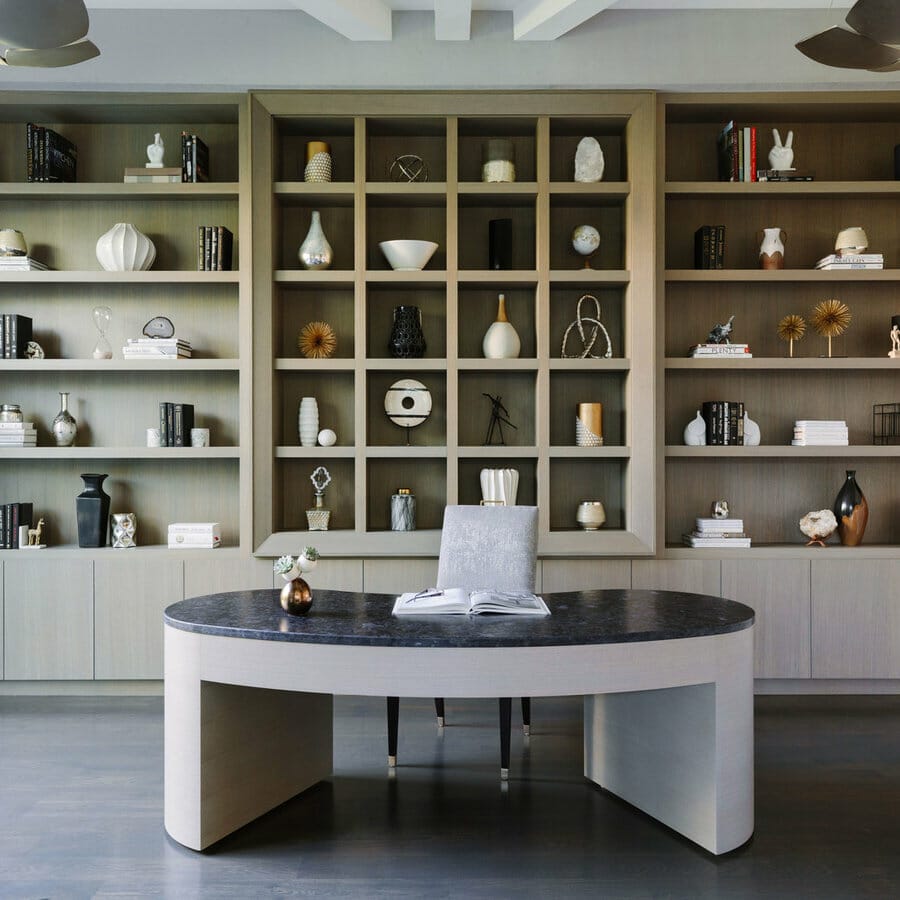 If you like to collect antiques, there is no need to be confused about storing the goods. You can even freely display it in your workspace, right behind your desk.
By carrying out the wide-open built-in concept, these kinds of home office shelving ideas can load a lot of stuff without worrying about your workspace getting crowded.
23. Rugged Style Shelving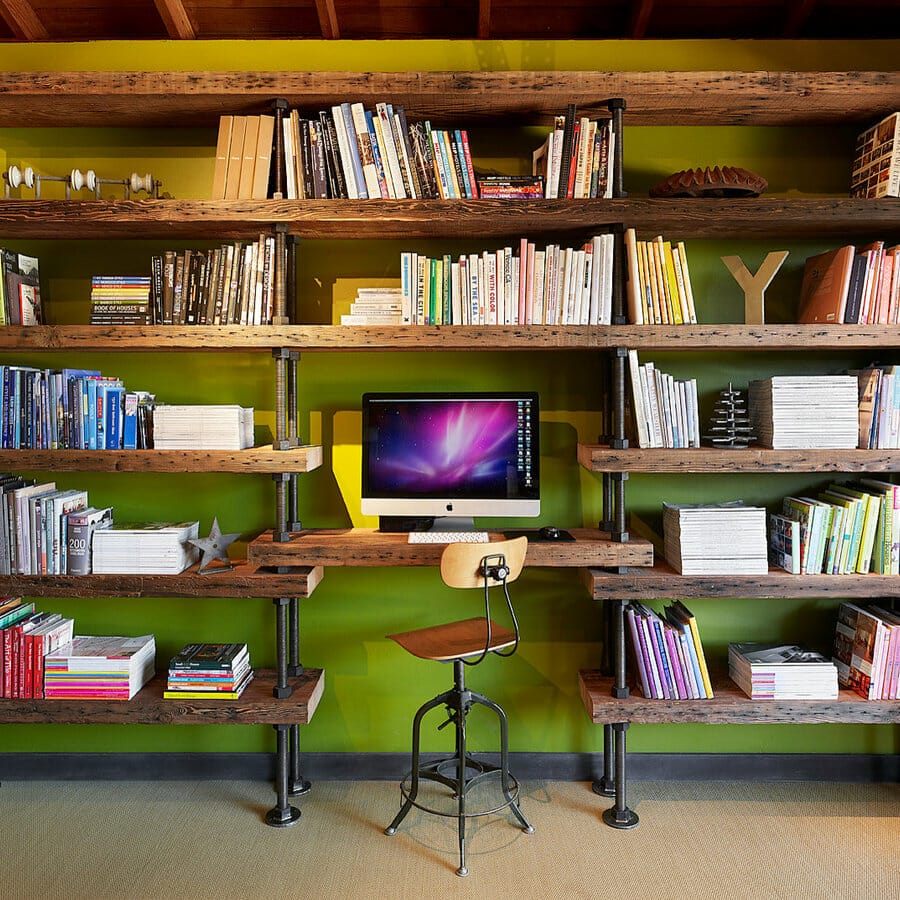 You can strengthen the rugged industrial atmosphere in your workplace by presenting free-standing shelves made of a combination of thick textured wooded boards and metal legs.
However, before applying these kinds of home office shelving ideas, you have to make sure that your workspace is large enough to accommodate this furniture.
Because neither, this concept will only make your working area look stuffy.
24. Cool Grey Shelf with Warm Light Underneath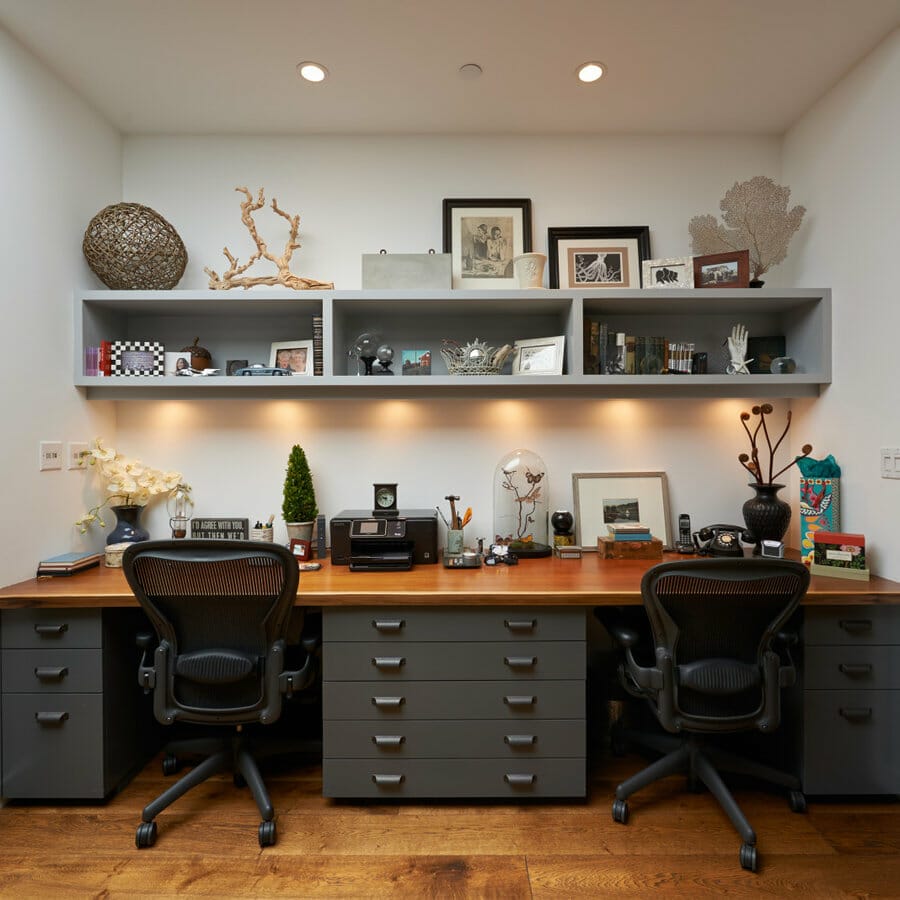 You can turn a minimalist shelf design into a more elegant one by installing some lights with warm colors underneath.
Providing lights under the shelf is an exciting innovation. Besides being useful as lighting while working, it can also highlight all the decorative ornaments underneath.
25. Two Level Hanging Wooden Planks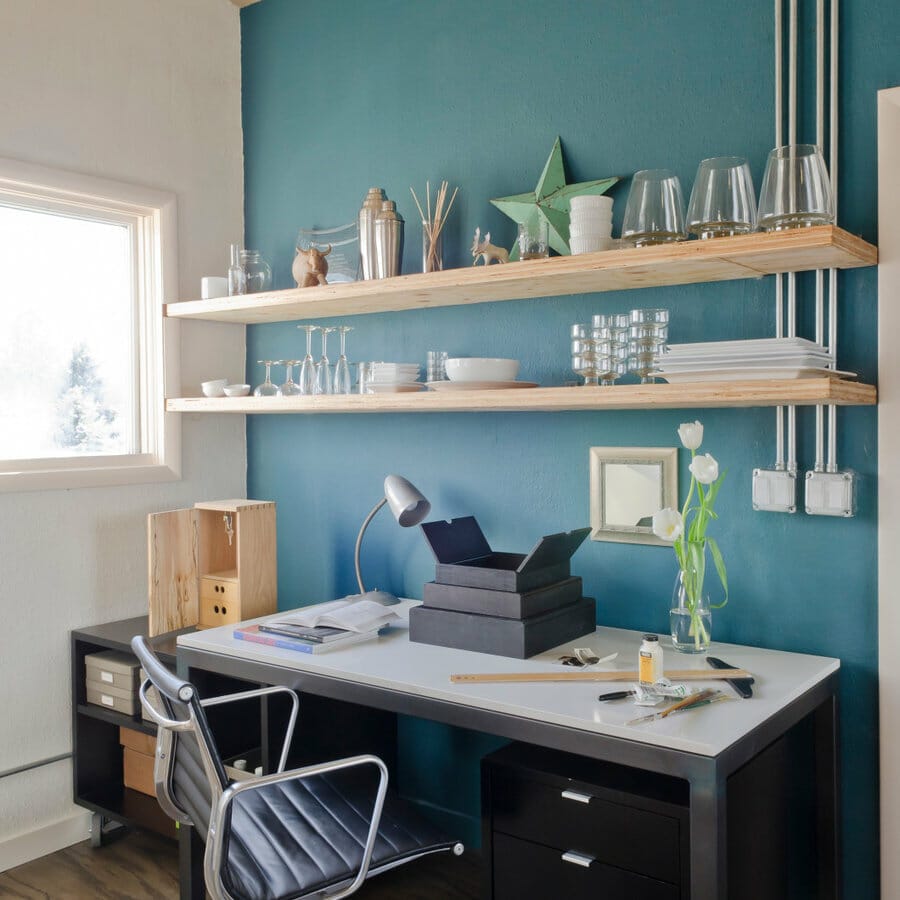 Home office shelving ideas don't always lead you to buy new furniture. Alternatively, you can also go by doing a one-day DIY.
Only by utilizing the wooden planks that you find in your barn, then give it a little final touch. And, now you can create coastal-style floating shelves that are very affordable. Don't you want to try?
26. Multi Size Cabinets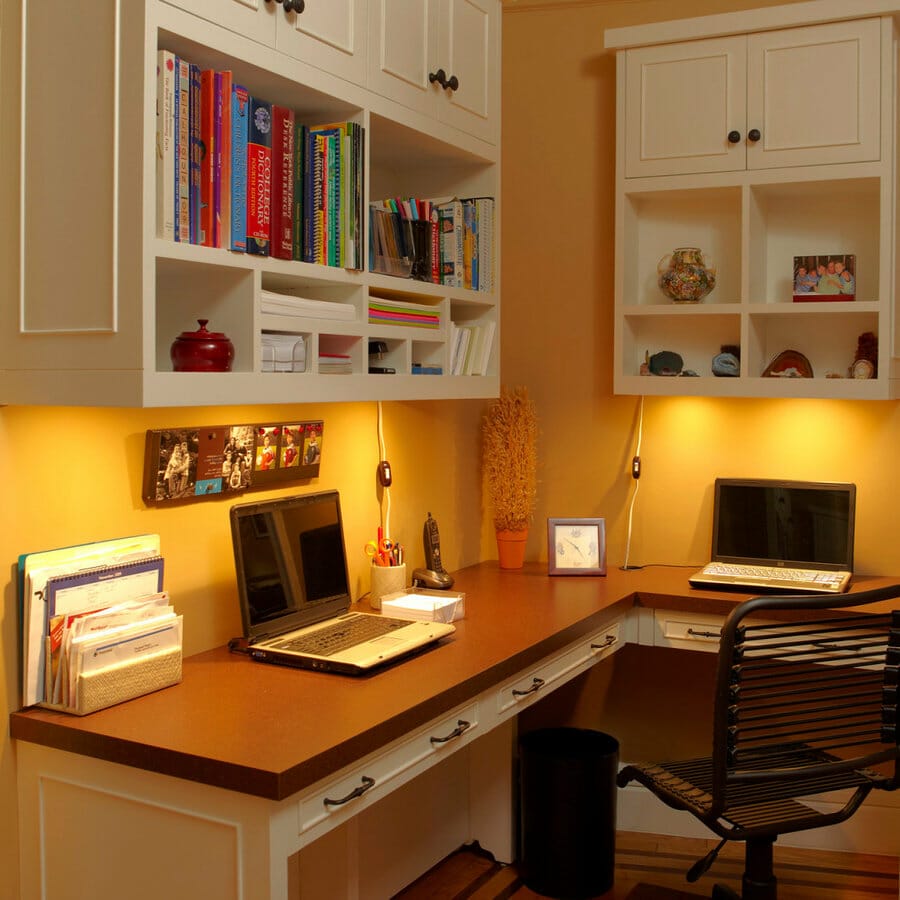 Many kinds of home office shelving ideas provide various models you can choose from your preferences. And one of them is this cabinet.
In addition, the selection of cabinets is perfect for you who desire some closed personal storage in your shelving system.
Besides helping display your books openly, the existence of a cabinet with two doors allows you to store personal items safely.
27. Three Level Shelving from Hardwood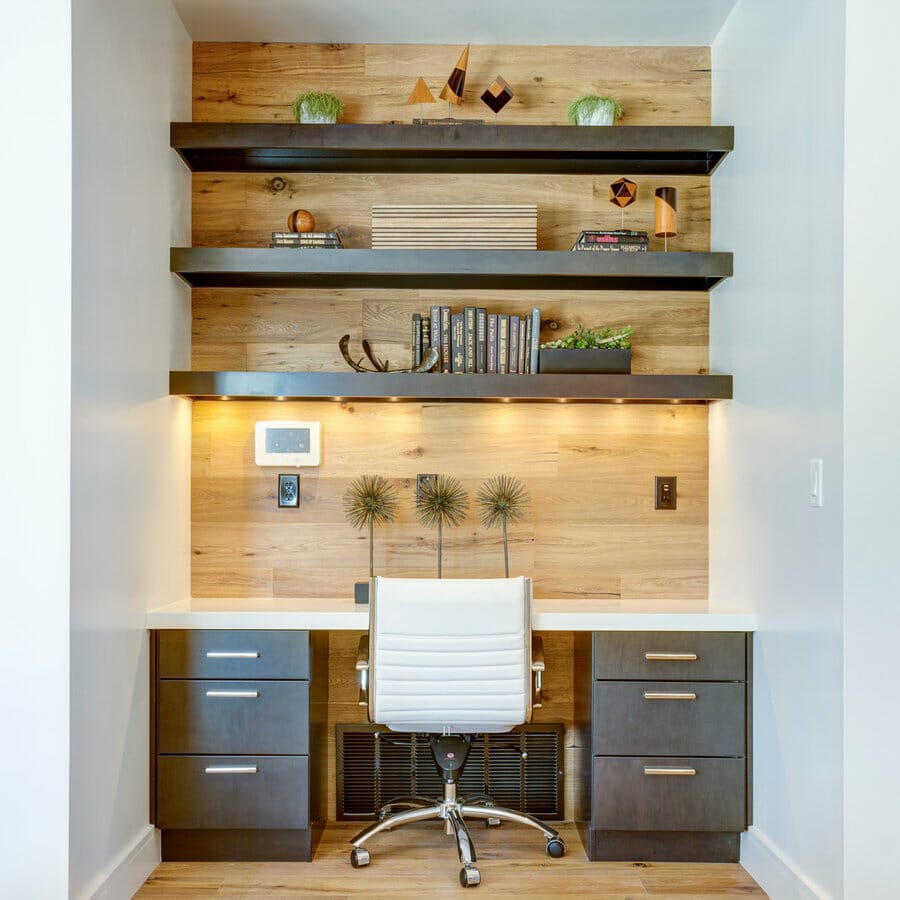 Choosing hardwood as the primary material for your home office shelves is never wrong. Its sturdy shape can store your belongings safely on it.
Although sometimes, to give a cozier impression, a few people decide to install lighting underneath.
28. Custom Freestyle Shelves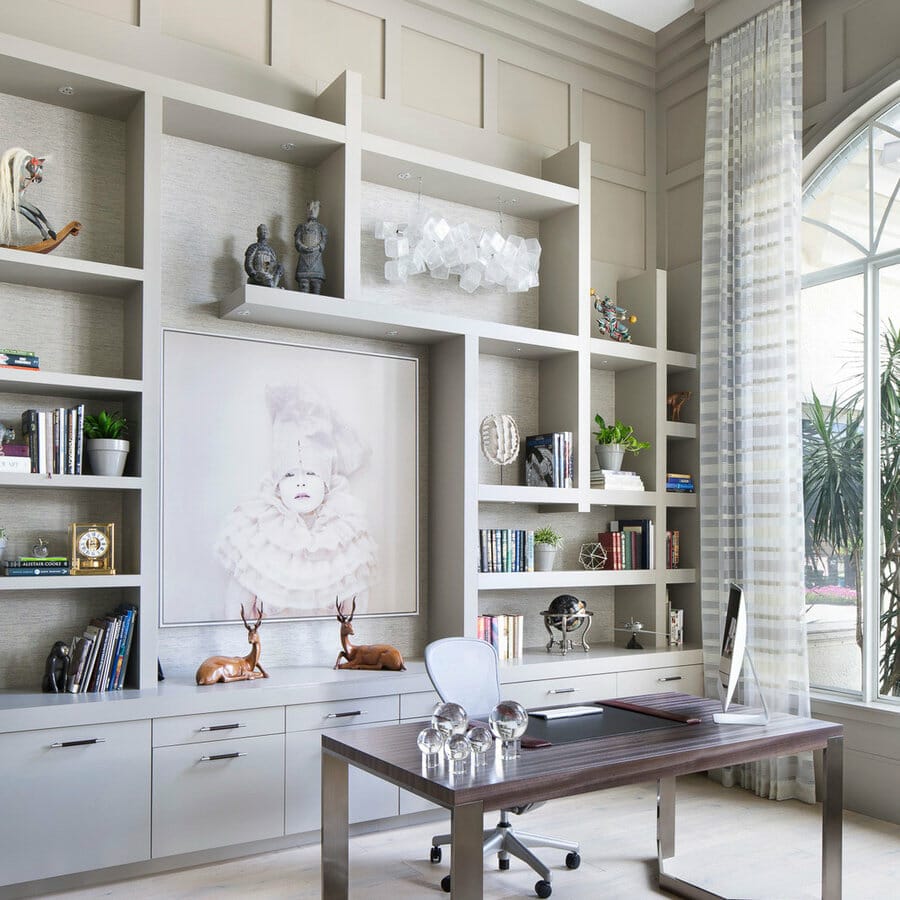 Suppose you are a free-spirited person; custom home office shelving ideas are the best steps, especially if you have a vast working area.
The choice of white color with a random model like above will make your workspace look more spacious and artistic at once. Further, once you let the middle part be left empty, hanging large wall art in it will be incredible!
29. Large Oak Home Office Shelves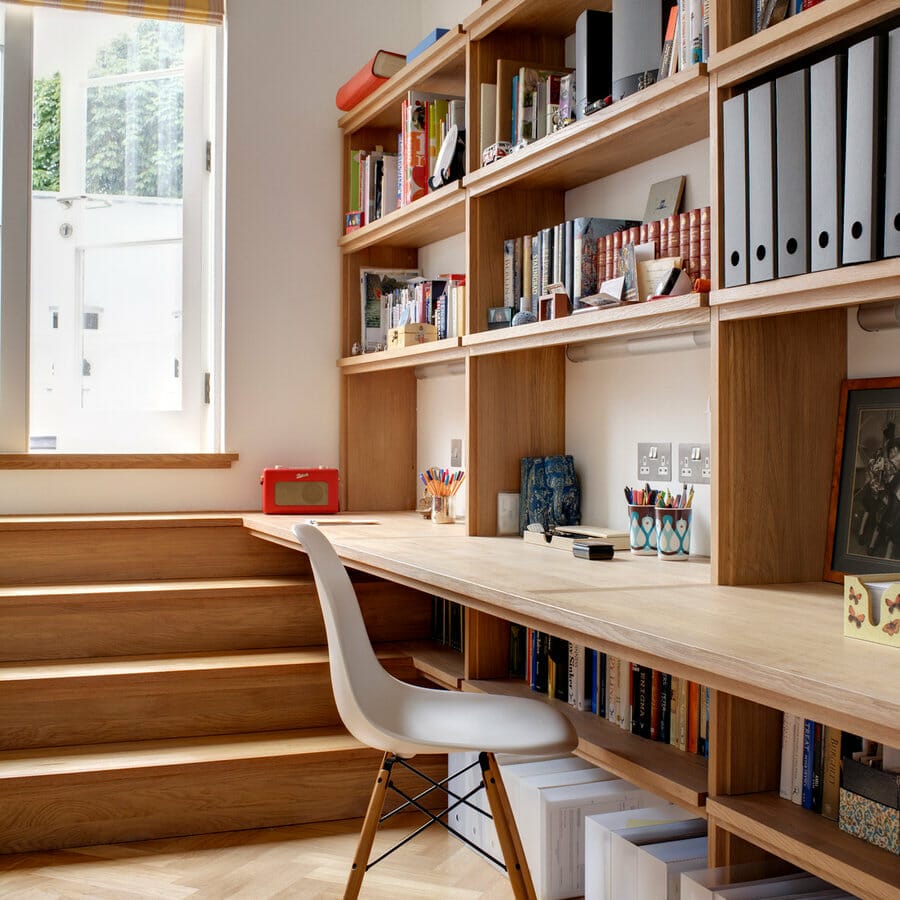 Talking about home office shelving ideas will never meet an end. In addition to considering the function and form that space-savvy, material selection is also essential to mind.
Like this last design of shelves for the office, the choice of the oak wood will make the furniture in your working space more durable. Even you installed the racks close to the window and let the sun expose them all day.
After all, a well-organized and comfortable workplace will keep you in a good mood while working. So, among the home office shelving ideas mentioned above, have you found one that inspired you already?