Not all homes have plenty of space. That's why many people set up their offices in uncomfortable places, like the living room or a basement. If you work remotely, take a look at our ravishing backyard office ideas.
Creating an office in your backyard is an excellent option. This certainly frees up precious floor space. Moreover, it will definitely improve home value. The outbuilding can be an awesome focal point of the yard, too.
Backyard work sheds are a fabulous alternative to small home offices. There are many different sizes and designs available. You surely can find the right one for your outdoor space.
Before you start building, plan everything out meticulously. A backyard shed may need some phone calls and footwork. Familiarize yourself with your city's guidelines. This helps avoid big issues later.
Choose a spot in the backyard where there's ample of space for your shed. Be sure it doesn't compromise its integrity and the future landscape. Avoid building an office near the septic system. Remove large tree roots from that area, too.
Furthermore, a backyard office should be a great attribute to your home. Make sure it doesn't impede on outside views from interior windows.
If you plan on creating a garden office, we have some amazing designs to have a look at. Here are 24 gorgeous examples of backyard offices. We guarantee they will take any simple work sheds to the next level.
1. Black and Wood Backyard Office Ideas

In this example, the writer's shed boasts unfinished pine plywood and black painted cedar. These two materials make up the office's interior as well as exterior. They produce a marvelous contrast, too.
Furthermore, the office sits on a concrete backyard plinth. The windowed door, skylight, and window add daylight to it. They also make the writer's shed feel brighter and more open at once.
The homeowner kept mess to a minimum. This backyard office only features simple framed artworks and books on the floor. Meanwhile, the Scandinavian chair and floating desk lend the space a super stylish look.
2. Modern Backyard Shed Office Ideas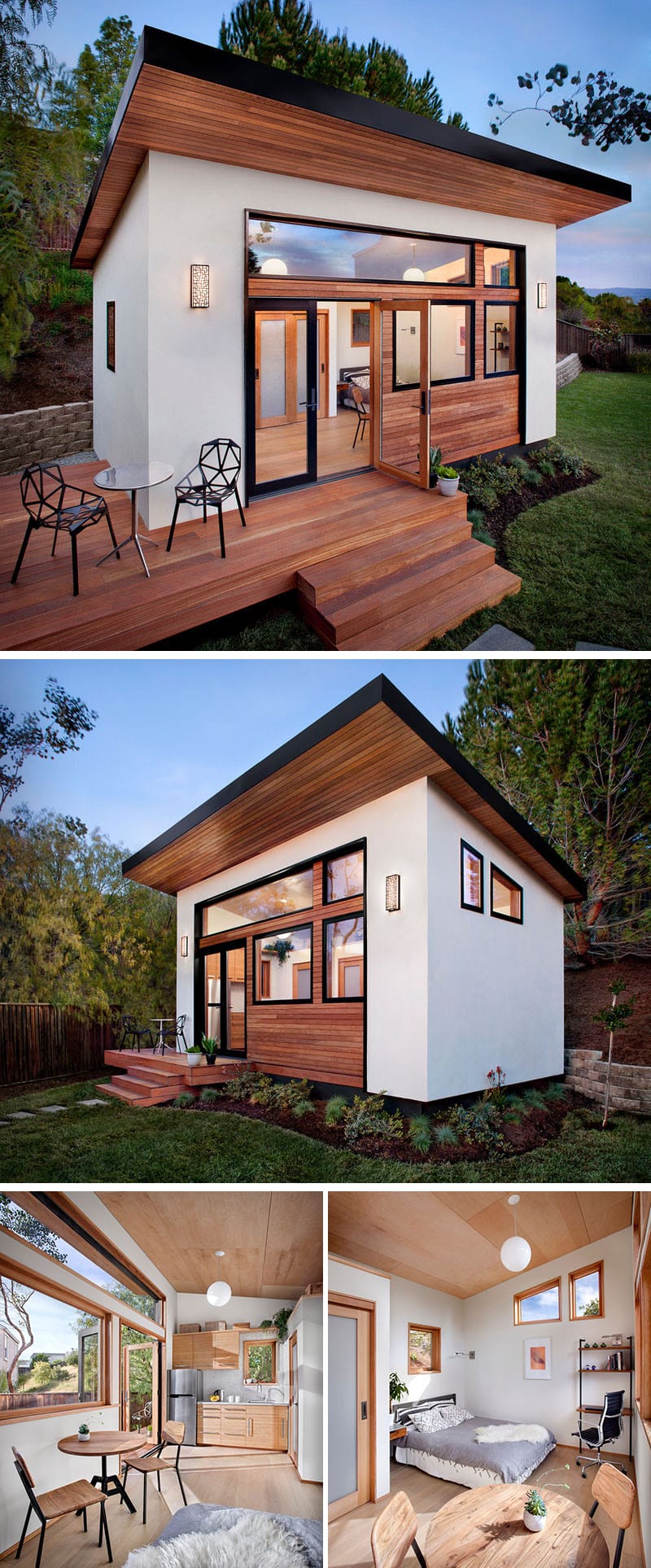 Talking about backyard office ideas, there are many design styles and choices of sheds to select from. Some people keep the outbuilding and home's style similar. This will give the property a cohesive look.
Furthermore, the shed's material may affect your choice. The backyard office kit allows you to construct the unit yourself.
Another option is going for the pre-fab one. Manufacturers typically made sheds from either metal or wood.
Here, the prefabricated shed makes for a tiny guest house. It has a bathroom, sleeping area, kitchen, and dining spot. The workspace itself features a rolling office chair and an industrial desk shelf unit.
3. Tiny Backyard Studio with An Office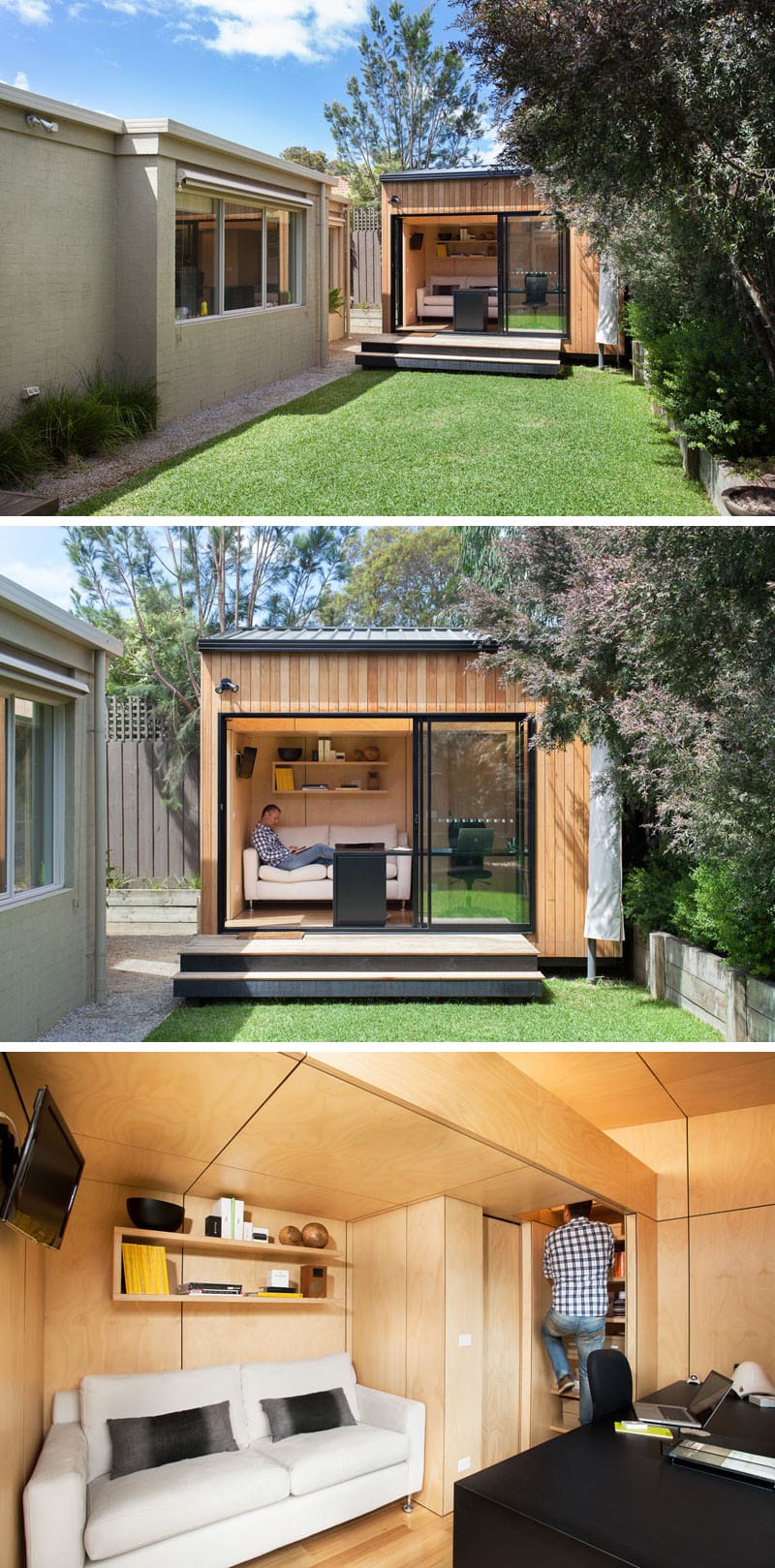 If your backyard isn't spacious, build a multi-functional structure like this one. Here, the small studio can accommodate a loft bedroom and a compact couch. There is also a cozy workspace.
Moreover, the office sports a black desk and chair. They effortlessly lend the interior a dose of drama.
In addition, those pieces contrast with the blonde wood floor and walls. The open shelving displays ornamental items and books.
The backyard office is complete with a white couch and black throw pillows. They make for a snuggly seating area. Well, this studio is an outstanding personal hideout.
4. Stylish Backyard Office Ideas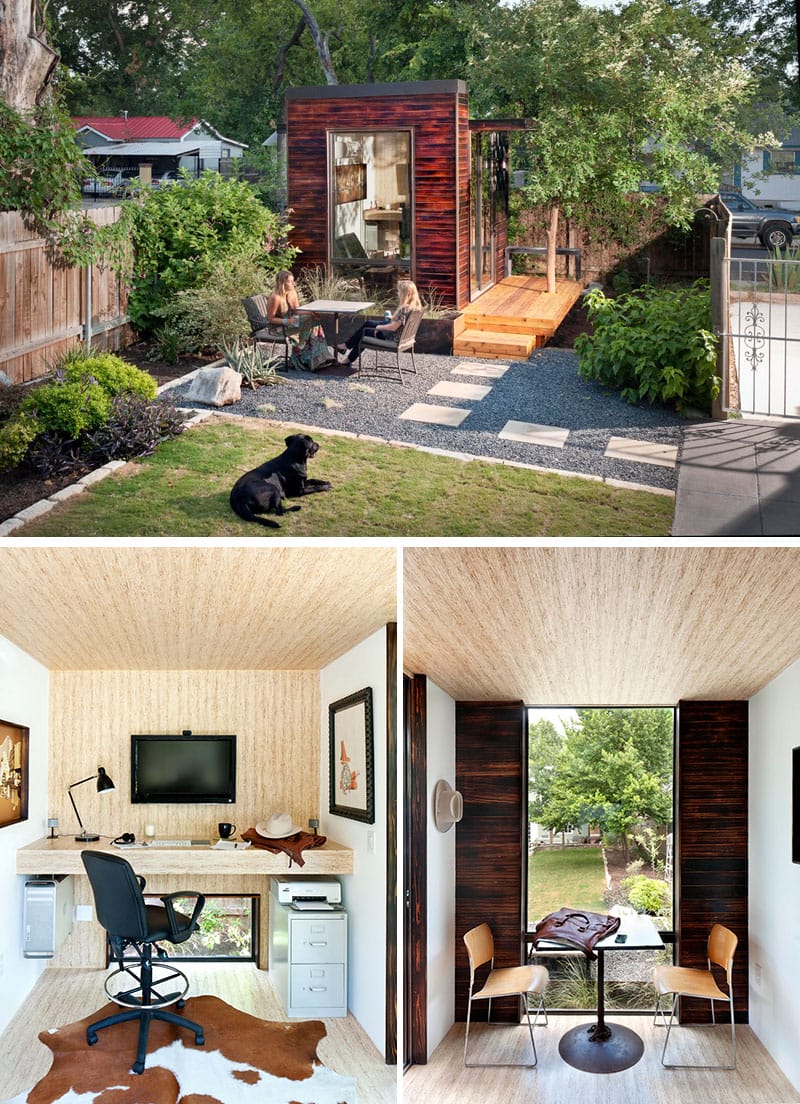 The owner has a modern home. That's why she constructed an office in the same style. Both house and outbuilding carve a cohesive look. Moreover, the backyard features a nice chatting spot.
Furthermore, the homeowner tucked his studio office into the backyard's back corner. The charred wood siding covers it nicely and makes the space truly welcoming.
This backyard office boasts a rolling chair, an industrial table lamp, and a wood floating desk. The artworks keep the white walls from being stark.
Meanwhile, the cowhide rug provides ultimate comfort. Lastly, windows open up space.
5. Sculptural Backyard Office Ideas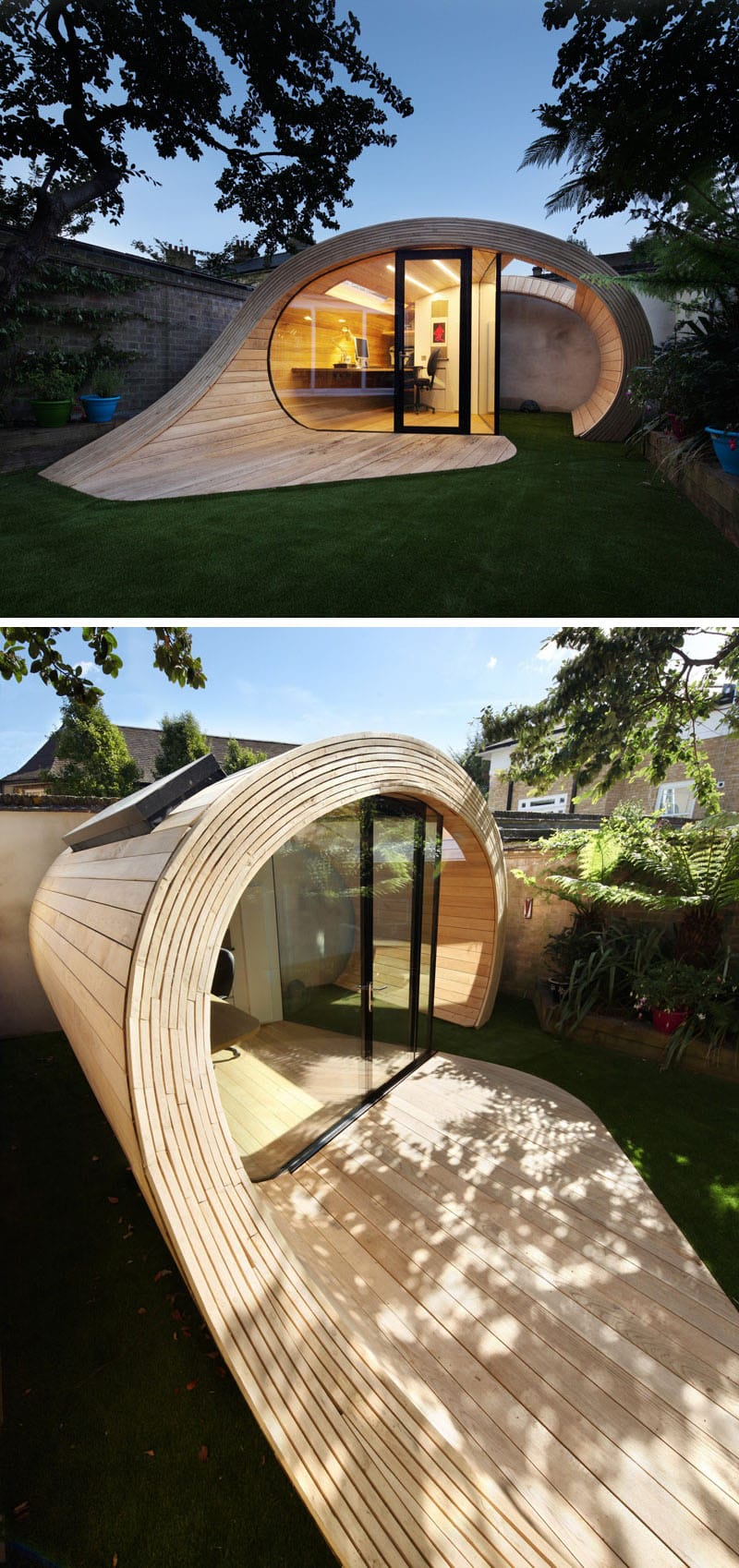 We can't stop adoring this outbuilding. Its sculptural structure is truly terrific, thanks to blonde wood panels.
They curve beautifully around each other for creating an office. The backyard shed can house extra garden things as well.
Windows keep this small backyard office ventilated and airy. Meanwhile, the black door frame is a spectacular contrast to the wood panels.
Moreover, the workspace features a wheeled chair and a wall-hung desk. They inject this office with a modern vibe. Lastly, open shelves on the wall showcase decorations and send out an open feeling.
6. Backyard Office Ideas with Cork Cladding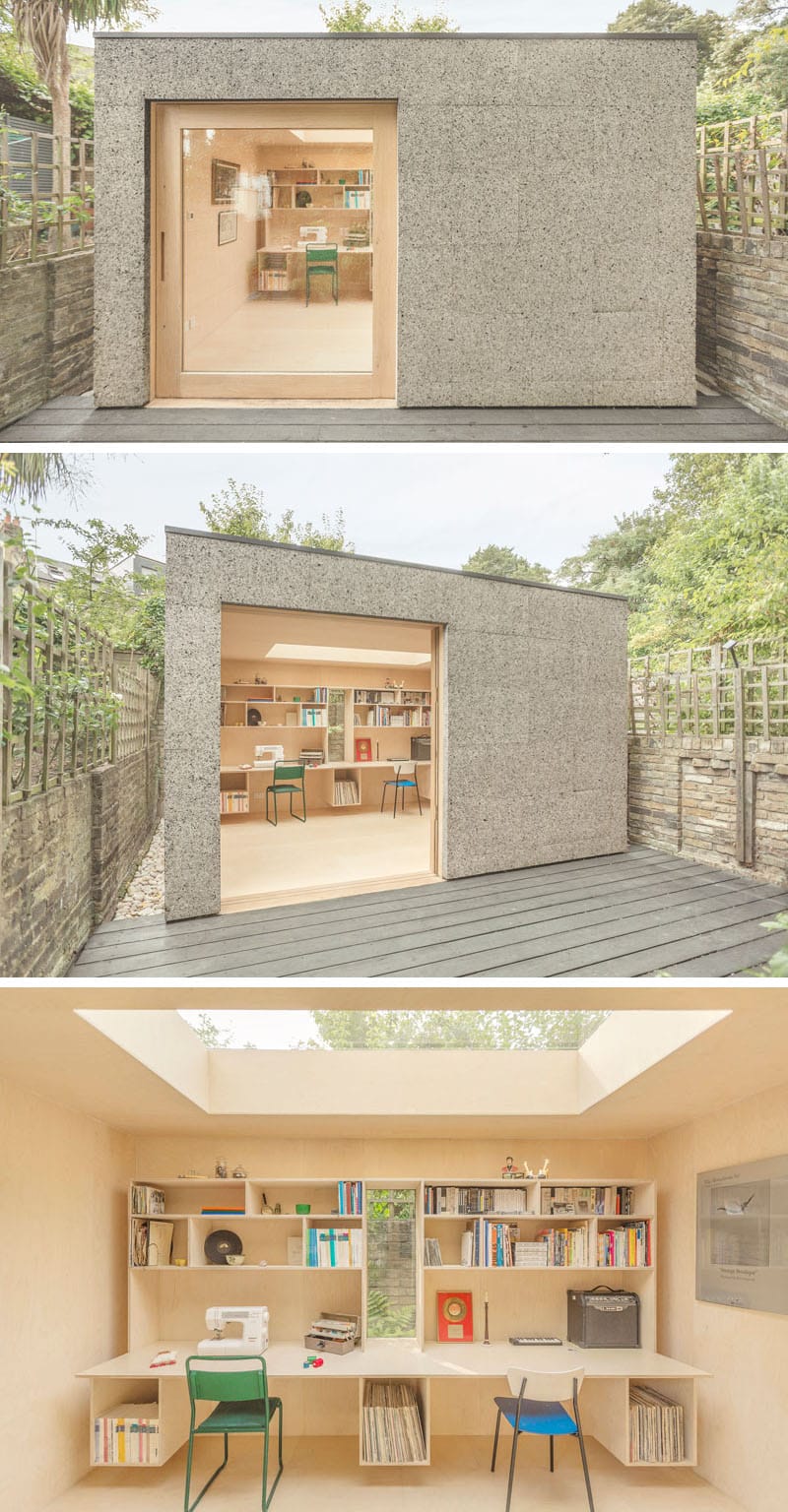 Speaking of delightful backyard office ideas, steal this look. Cork cladding wraps the garden shed's exterior.
The element also helps insulate an outbuilding and lower the impact on your landscape. It protects against the bad elements, too.
Moreover, this backyard office studio boasts a skylight. Here, it sits in the middle of the outbuilding's roof. Additionally, the unit brings ventilation, warmth, and daylight to the area.
The workspace features two armless chairs. They let you and your spouse work remotely in a comfortable way. Meanwhile, the bookshelves hold books, office supplies, and ornamental pieces.
7. Backyard Studio Office with A Green Roof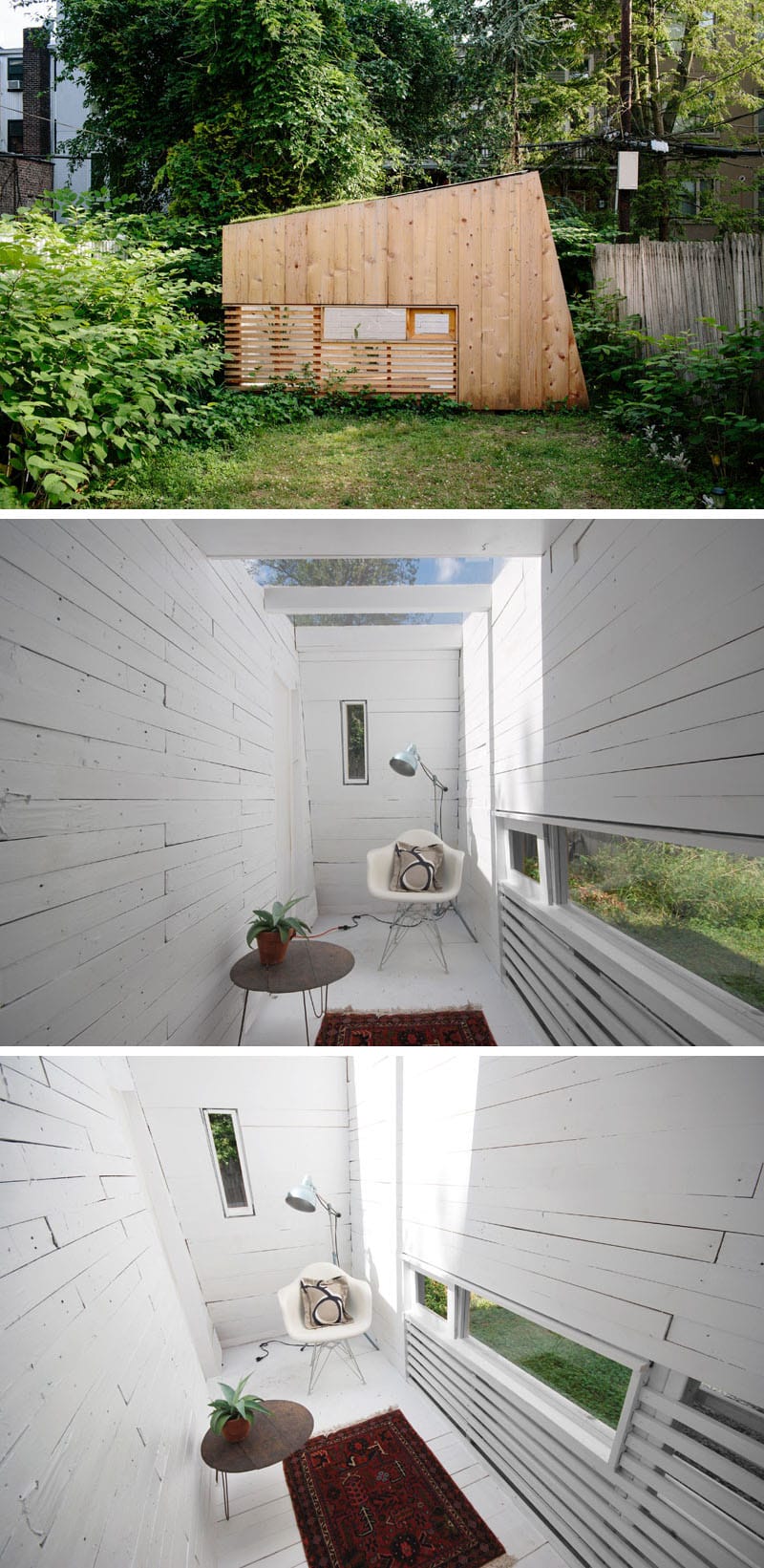 A shed should meld well with the home's style as well as look. For instance, a modern house might inspire a stylish outbuilding. Meanwhile, a rustic backyard office could be an ideal style for a countryside-inspired log cabin.
This Brooklyn townhouse has a blonde wood studio office in a backyard. It boasts a skylight and a small living roof.
They make the workspace feel brighter. The units also let the shed have a stronger connection with the surrounding nature.
Furthermore, the homeowner painted the interior walls crisp white. Then, he added a metal floor lamp and Scandinavian furniture pieces to his office studio. Houseplant and red rug perk up the otherwise bland room.
8. Prefab Backyard Office Ideas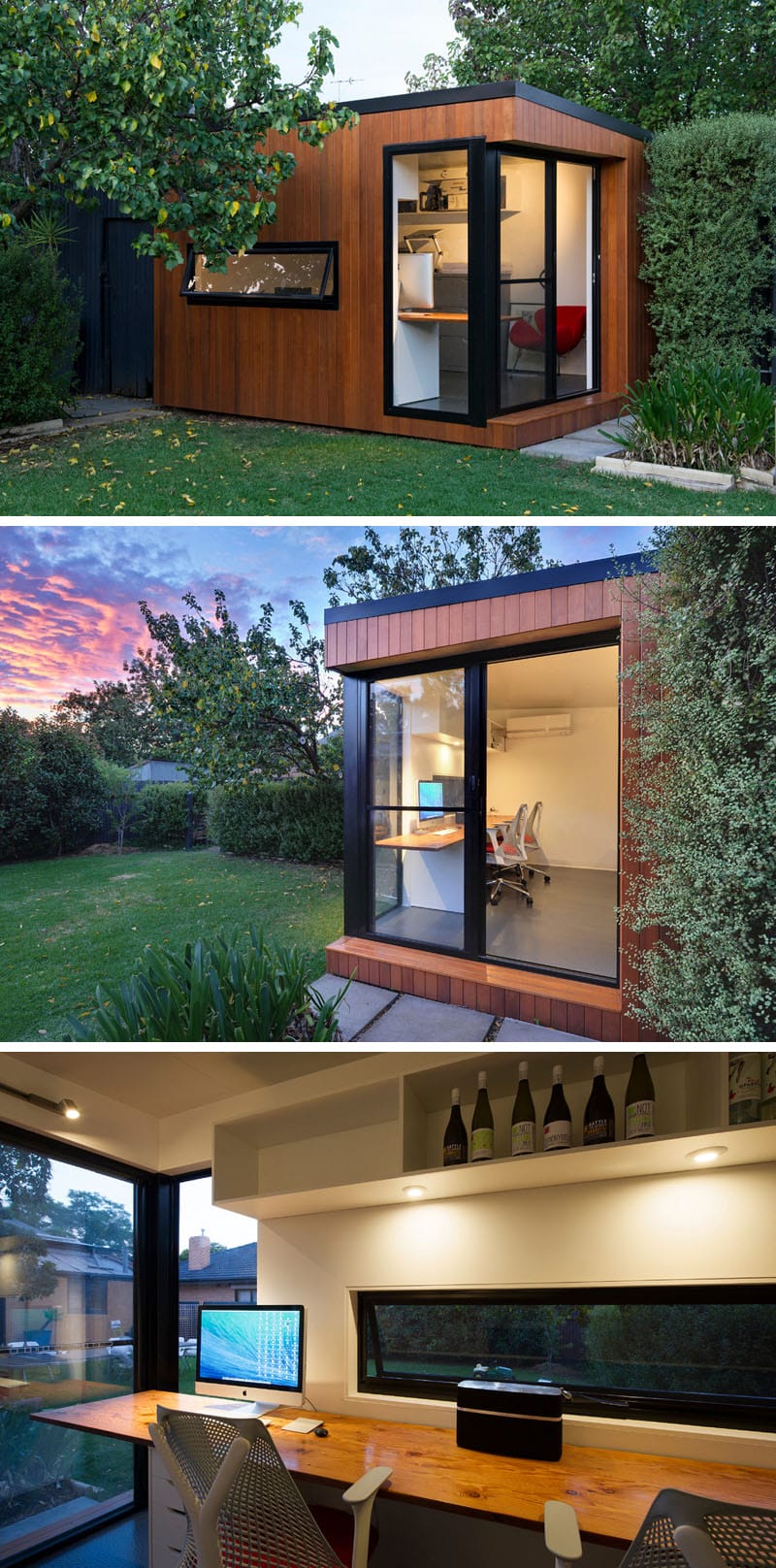 Some people have dedicated rooms within their homes. Meanwhile, others are into backyard office sheds. They offer detached workspaces away from the unwanted distractions.
In this example, the homeowner opted for a prefabricated office shed. Medium-toned wood cladding evokes a warm vibe. Meanwhile, the black trim tastefully surrounds the sliding door as well as windows.
The office sports a wooden floating desk. Two rolling chairs keep you and your partner from fighting over workspace. Meanwhile, the downlights under open shelving provide extra illumination.
9. Dark and Sophisticated Backyard Office Ideas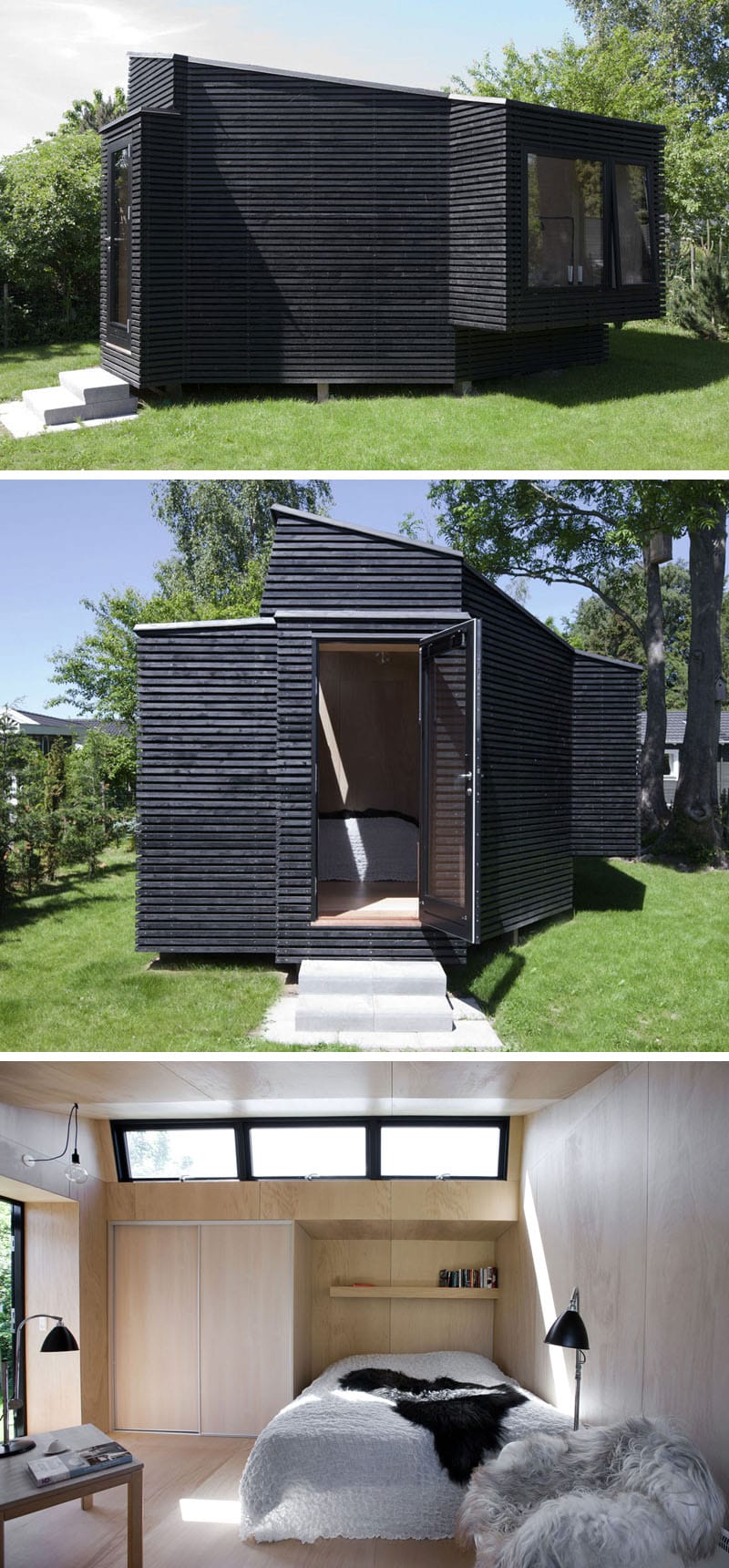 Having a backyard workspace is truly a positive thing. It certainly can boost your productivity. In this case, the modern office belongs to the tiny guest house.
Moreover, this outbuilding is the perfect size for the homeowner's visiting family member or friend. The windowed door and clerestory windows keep the small space naturally bright. They also ensure good ventilation, too.
Black timber covers the backyard shed. It quickly injects the landscape with dimension as well as drama. Meanwhile, the bedroom and closet space allows your family or friend to stay a bit longer.
10. Backyard Writer's Office Studio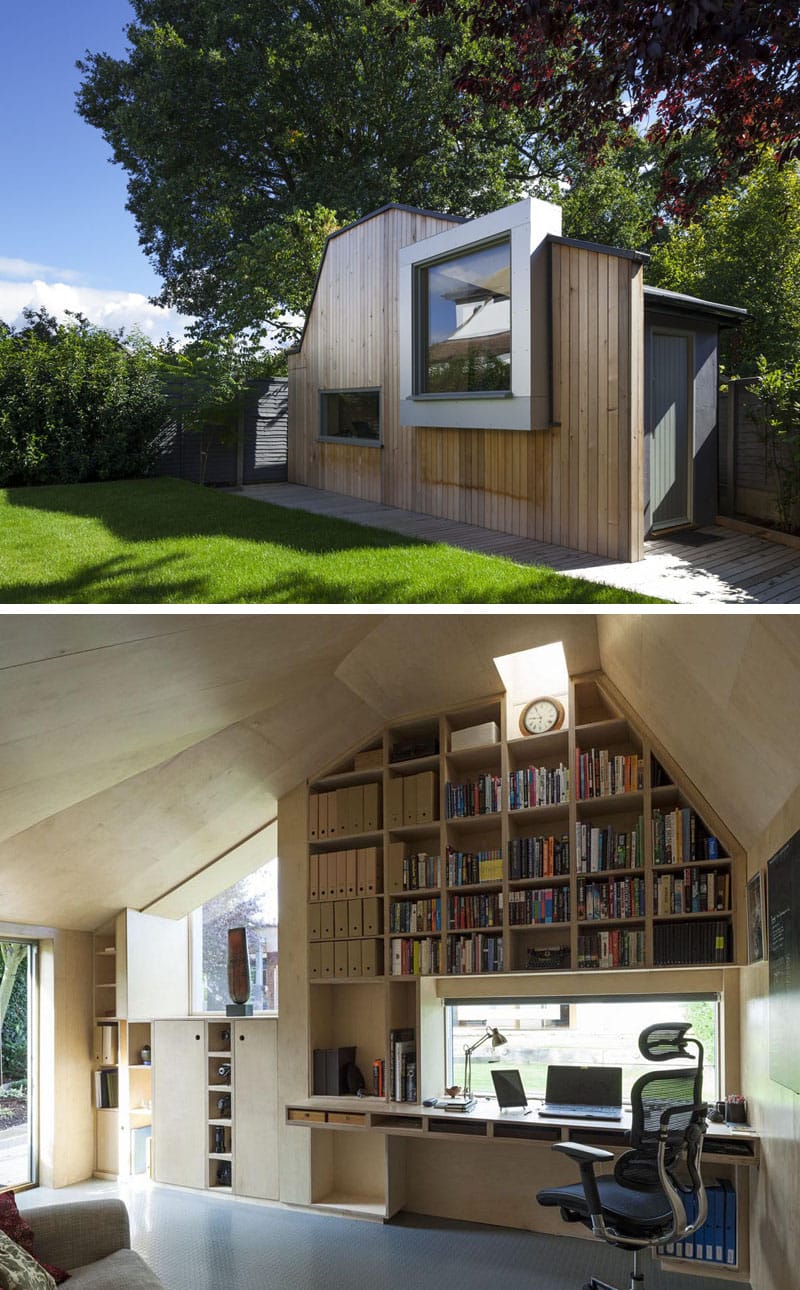 Before the makeover, this backyard featured an old boring garden shed. The homeowner constructed a modern office to replace it. The studio serves as her writing place for working and unwinding.
This writing shed boasts an unfinished wood cladding. It instantly delivers style to the backyard. The space keeps all the distractions at bay, so she can work from home efficiently.
Furthermore, this writing hut is the best office any writer could ask for. It includes a comfy chair, a cozy floating desk, and a sofa. The open shelving displays lots of inspirational books.
11. Backyard Office Ideas with A Play Area for Children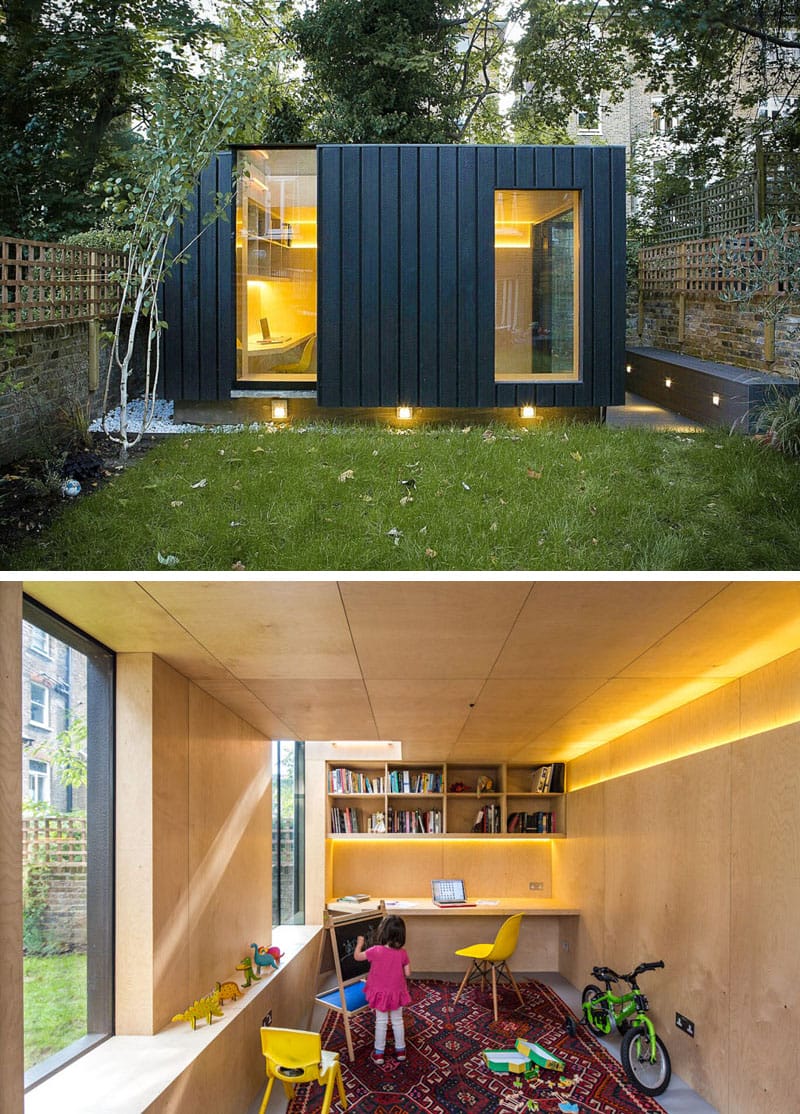 Looking for terrific backyard office ideas? If so, try implementing this design. This modern studio is a magnificent addition to the landscape. The charred cedar cladding wraps it stunningly and offers sophisticated drama.
Furthermore, the office boasts a yellow Scandinavian chair and a floating desk. The open cubbies accommodate small ornaments and books.
Besides an office, this studio features a kids' play area and a yoga studio. The yellow child-size chair and colorful toys evoke cheerfulness. Lastly, a red patterned rug spices the light gray floor up.
12. Multi-functional Backyard Shed with An Office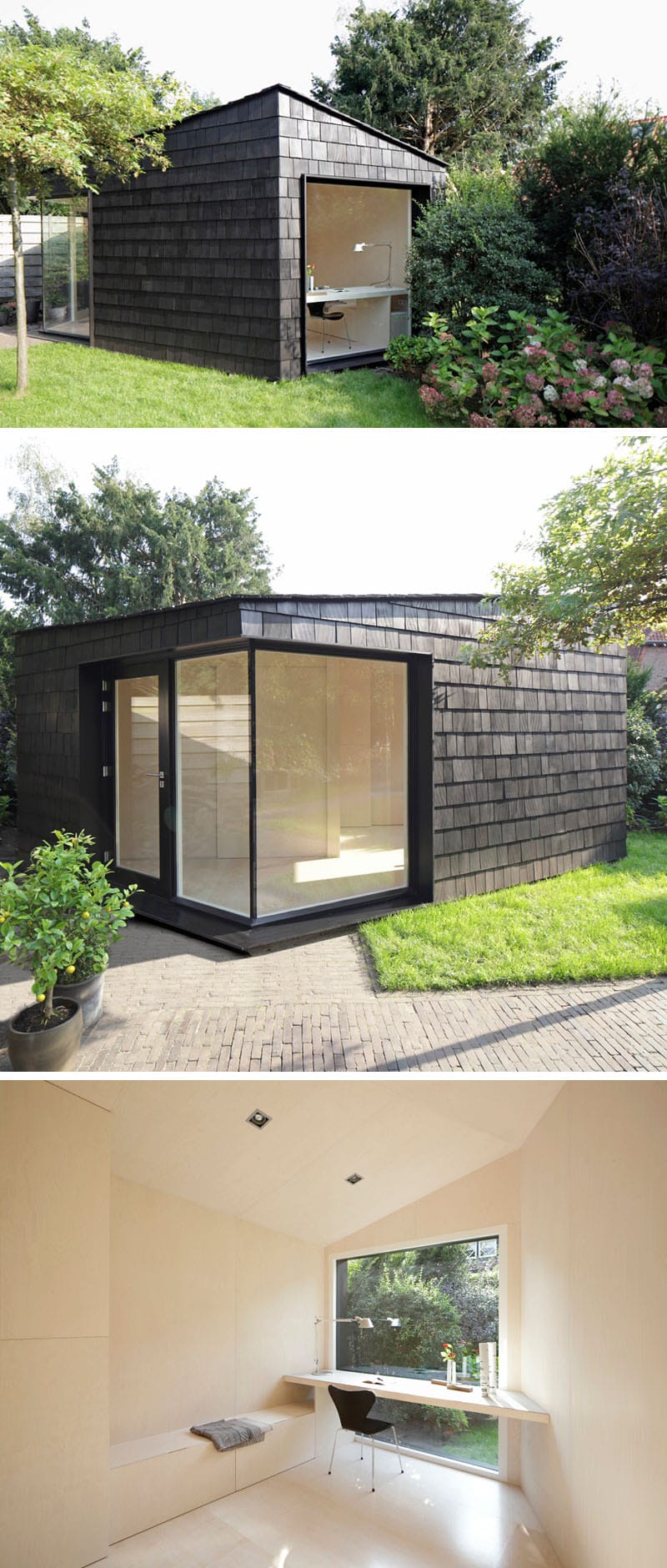 When it comes to backyard office ideas, you should consider your needs. As the photo shows, the homeowner detached the workspace from her home. The shed serves as a stylish and multi-functional space, too.
This backyard shed offers storage space for garden tools and bikes. Moreover, it features a temporary guest bedroom. The black cedar shingles wrap the exterior walls nicely.
Pure white ceiling and pale cream walls make the private office feel brighter. Meanwhile, the huge window captures jaw-dropping views.
13. Backyard Office Pod with Outdoor Chairs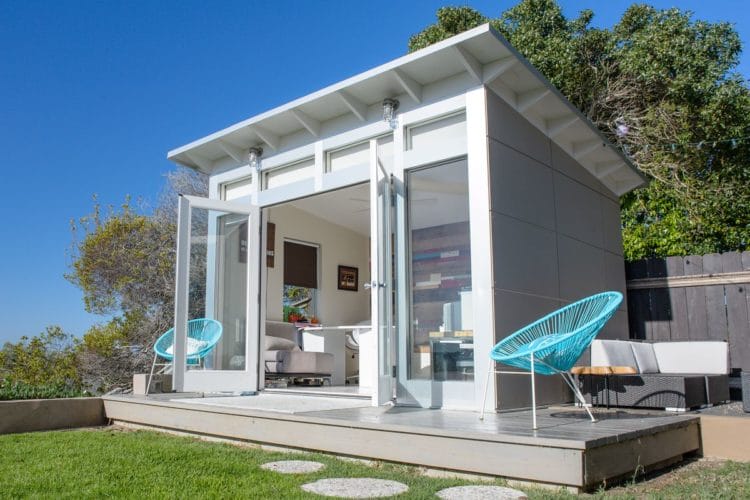 This is one of captivating backyard office ideas. As you see, the outbuilding has a modern flair to it. Moreover, the light neutral color palette makes a tiny shed feel both more open and bigger.
The modern office includes a wall-hung table and an ultra-comfy desk chair. It helps the homeowner overcome remote work dilemmas. Lastly, two bright blue chairs liven the backyard shed up.
14. Rustic Backyard Office Ideas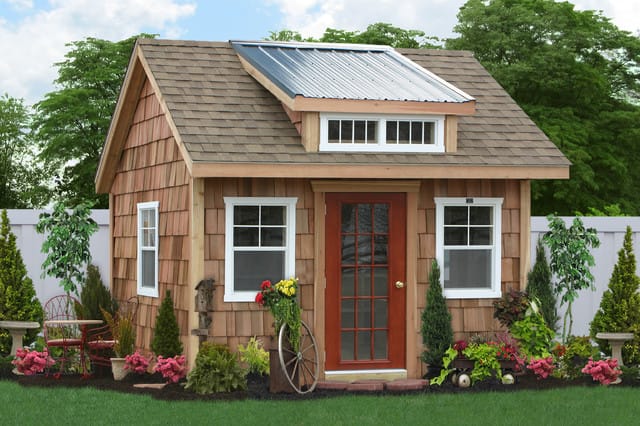 Do you have a country style home? If yes, then this is one of marvelous backyard office ideas to try.
Here, the tiny garden shed's exterior walls sport wood shingles. They contrast with the pure white window frames gorgeously.
The spinning wheel is such a cool primitive decor. It adorns a yard office and exudes a countryside vibe. Red geometric chairs give off a modern flavor. Meanwhile, plants and flowers lend the landscape pops of color.
15. All-Black Backyard Office Shed
We admire this small but super functional yard office. It is a comfortable place to work remotely.
There are no distractions that can kill your productivity. Furthermore, the shed lets you stay close to the home's happenings.
Moreover, the black outbuilding boasts a step and a deck. A great number of windows keeps it from being confined and dingy. Lastly, red wicker chairs carry drama to the backyard office shed.
16. Backyard Office Ideas with A Stone Walkway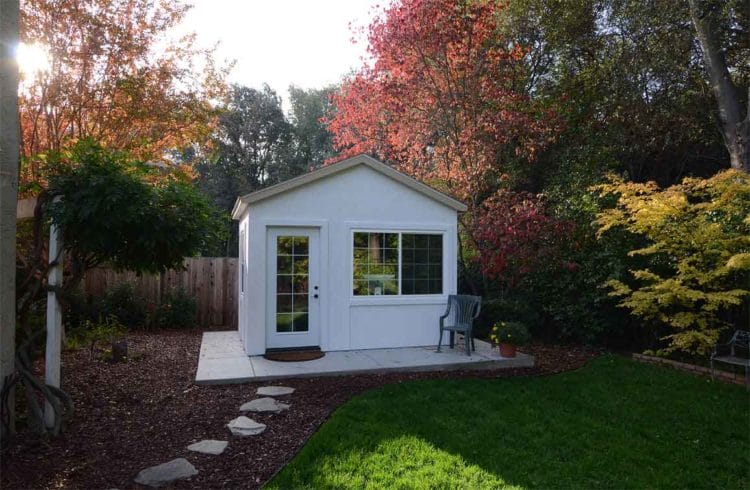 Create an enjoyable working environment by building this tiny yard office. The white color scheme effortlessly keeps it naturally bright. Meanwhile, the windows bring ample sunlight into the room.
The rough stone walkway lends the standalone office texture. It carves a relaxed, natural appearance, too. Lastly, the landscaping, chair, and small deck give the backyard interesting design elements.
17. Backyard Office Shed with An Adirondack Chair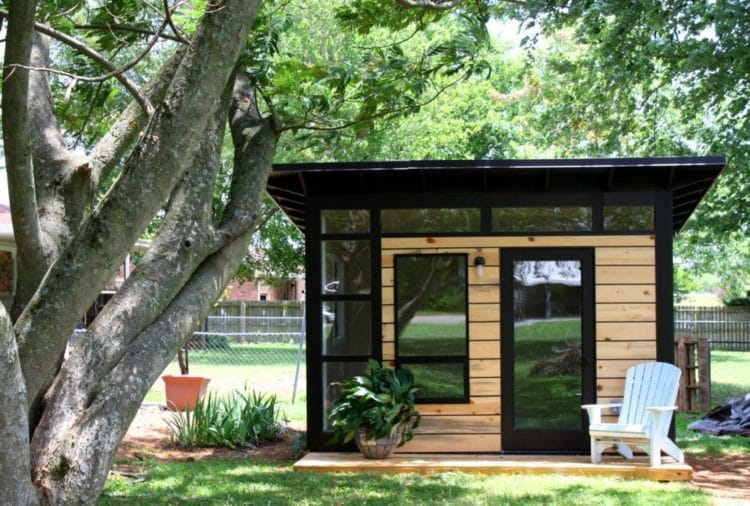 We love this garden shed. It allows you to work, meditate, and relax without the home office's distractions. Windows keep the small workplace feeling airy. Blonde wood deck and cladding ooze rustic charm.
Black roof, door, and window frames contrast with the light wood siding. Meanwhile, the white Adirondack chair sends out a casual island ambiance. The plant titivates the yard office deck.
18. Gray Backyard Office Ideas
Searching for mesmerizing backyard office ideas? If so, you should apply this design. The gray garden shed features a light wood siding, a tiered deck, and a sliding door.
Furthermore, this backyard office features a living wall. It quickly makes the outbuilding feel more connected to surrounding nature.
19. Tropical Backyard Office Design Ideas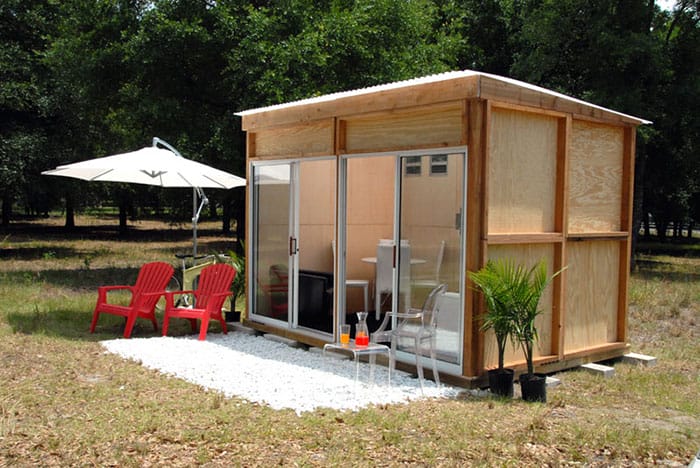 This office studio carries a modern vibe to the backyard. The sliding glass doors double as windows. They ensure great ventilation. Meanwhile, blonde pine plywood makes up the shed's interior and exterior.
Red Adirondack chairs and freestanding patio umbrella set a relaxing tropical ambiance. The acrylic furniture pieces give the yard a touch of luxury. White river rocks and potted palm trees complete the look.
20. Backyard Office Ideas with Ornamental Grasses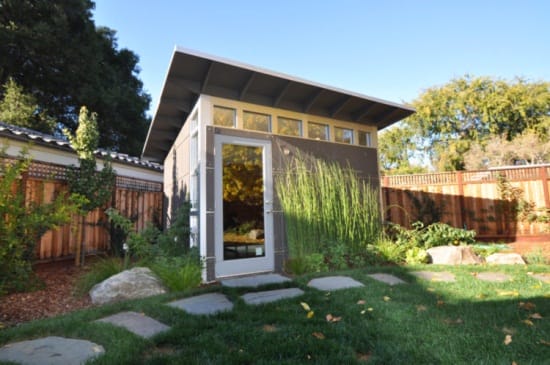 This backyard shed brings the homeowner closer to surrounding nature. Additionally, it takes her away from the workplace distractions.
Moreover, this office shed magnificently resides in the backyard. The fiber cement siding and streamlined roof develop an urban feel. Meanwhile, the windows keep the space well-ventilated.
The stone walkway pairs with the backyard office very well. It evokes a rustic appeal, too. Lastly, tall ornamental grasses make the shed more lively.
We hope you felt incredibly inspired after reading our backyard office ideas. Distractions can reduce your productivity. Creating an outbuilding is really important. It would be a perfect secluded spot for working remotely.