A towel is one of the essential items that you should provide in your bathroom. But, the messy, wet towels will only make it unsightly. Therefore, you need towel storage ideas that suitable for your toilet immediately.
By choosing the right towel storage ideas, you will not only get towels that are always dry and fresh but also find that your bathroom is well-arranged and no longer stuffy.
As a bonus, it will also impress your guest in a significant way. So, without further ado, let's check some of our ideas below.
The Proper Ways to Store Towels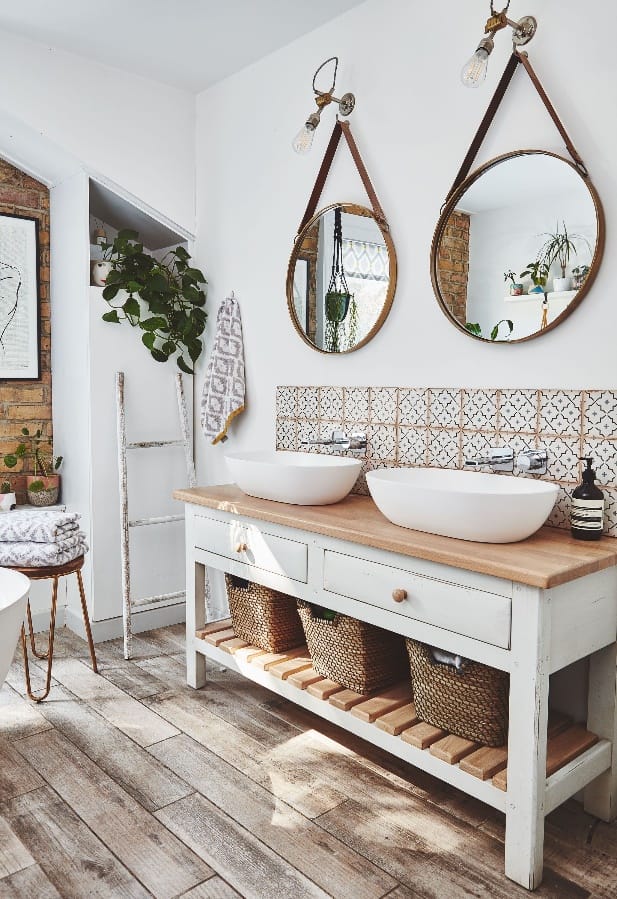 Consciously, most people will wonder, "What is the best way to store towels?"
While some others focused on the question, "how do you organize towels in a small bathroom?" It happens because no one wants to provide smelly towels that aren't guest-friendly.
If you are one of them, you don't need to worry. This article will give you some smart towel storage ideas that you can apply correctly in your bathroom.
But first, to find out the best towel storage ideas, you need to pay attention to how spacious your bathroom is and which space is free to use, be it on the wall or floor.
Furthermore, you also have to think carefully about the towel storage's material that you will choose. Ensure that the item can absorb water well so that your towels are free from moisture and mold.
After understanding all these circumstances, you can freely choose the appropriate towel storage unit that is multifunctional and gives an aesthetic impression to everyone who comes in.
Therefore, we provide eighteen towel storage ideas that you can use as a reference.
1. Keep Your Towels Dry with Character Towel Ring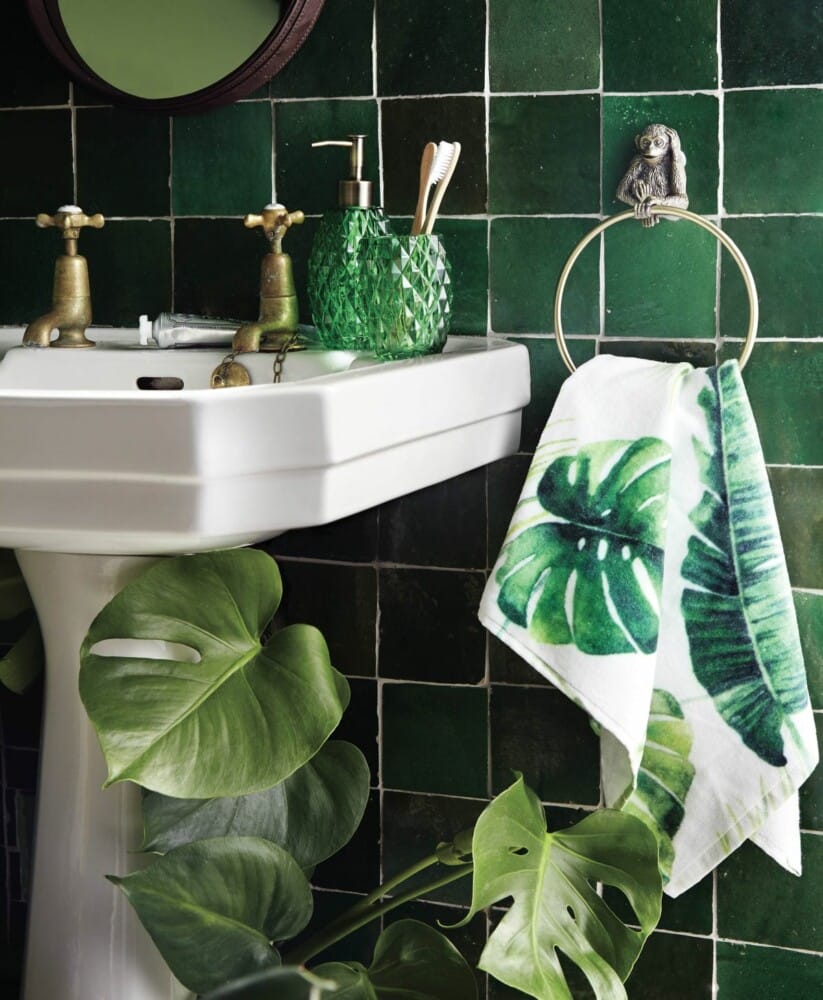 Suppose you ask, "how do you store face towels?" then the best solution comes with this cute towel ring. Through this item, you can ensure that your face and hand towels will stay dry and fresh between uses.
There are various kinds of designs that you can choose according to your preferences, from modern to the classic style.
As for those of you who have a tropical bathroom concept like the one above, it's better to choose a design with an animal character as a unique and playful focal point.
2. Perfect Towel Storage Ideas for Small Bathroom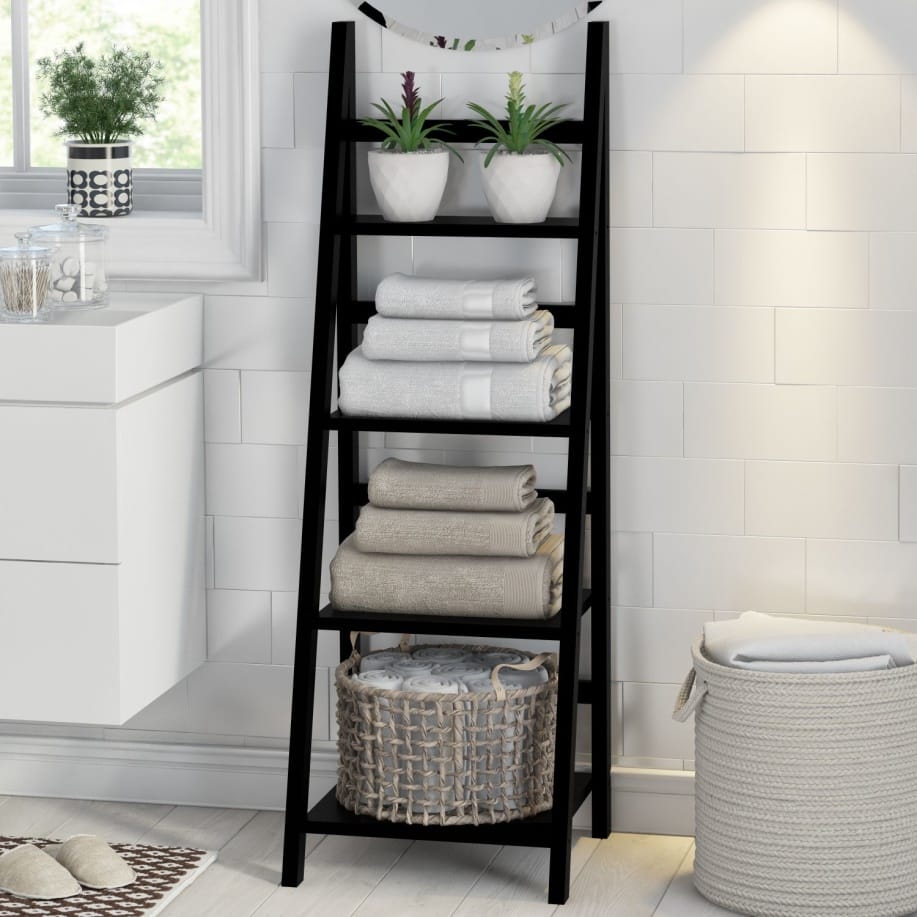 Ladder storage is one of the best towel rack ideas for small bathrooms that you can have. Aside from its compact, robust, and flexible design, this furniture is also multifunctional.
You can organize your towels by merely folding them neatly or rolling them up then storing them in a wicker basket.
Further, to enhance your bathroom's aesthetic aspect, you can also arrange some ornamental plants at the top of the racks.
3. Use a Wooden Stool to make Your Toilet Looks Spacious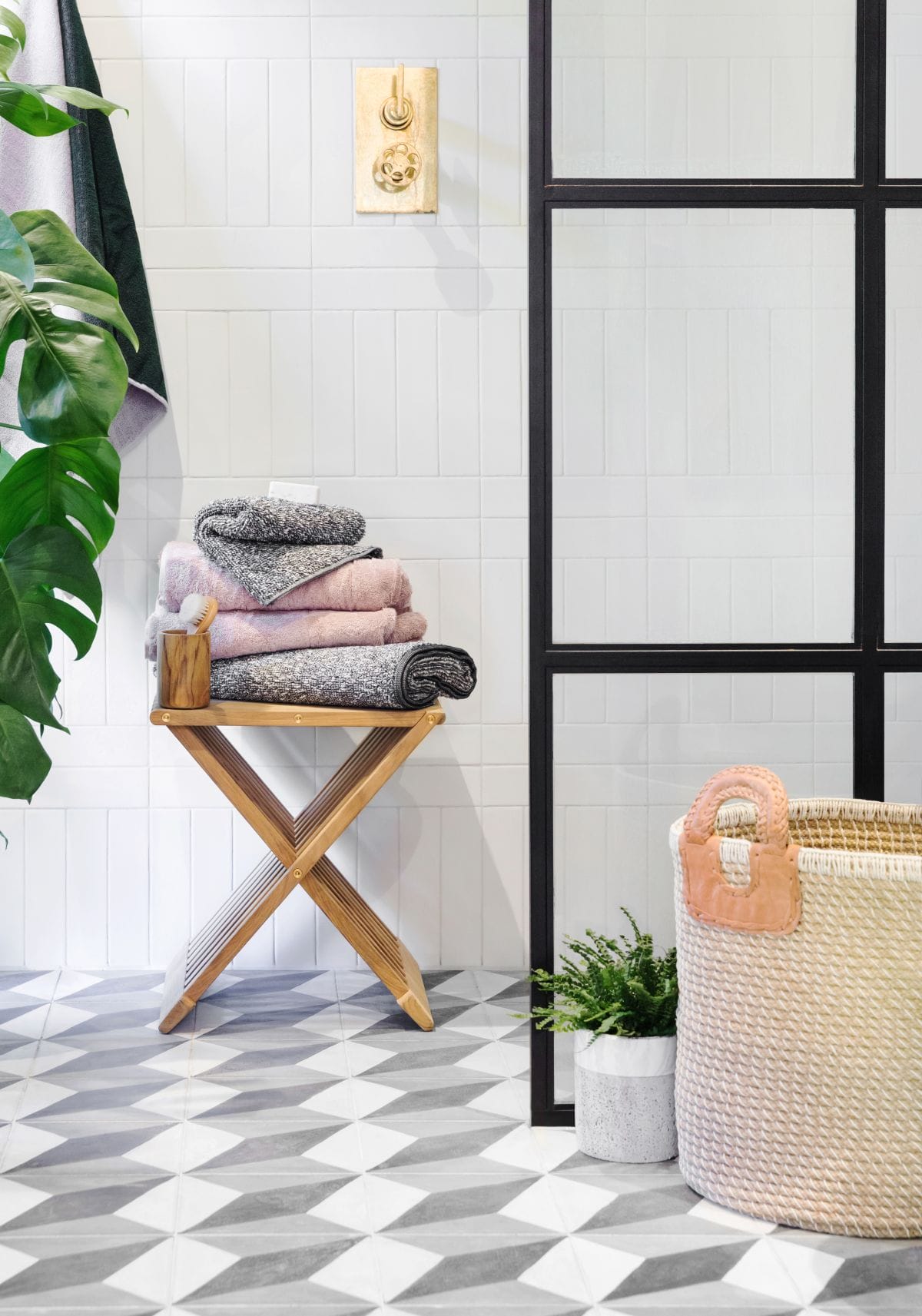 Who would have thought that a wooden stool could also be one of the best-recommended towel storage ideas?
With its various designs, either one that can be folded or have a fixed frame, stools are the right solution for those of you who have a small bathroom.
Just stack your fresh towels up on this item, and let the guests use it right away. However, please don't put a wet towel on it, as that will make this drying cloth even smellier.
4. All-Purpose Wooden Chair to Save the Space
The next towel storage ideas come with this versatile wooden chair.
In this furniture, you can put your fresh towels neatly on the shelf under the chair seat, while for the wet ones; merely hang them on the back of the chair.
Very innovative, isn't it? By having this item, now you can own one piece of furniture with two different functions at once. And of course, it doesn't take up a lot of space in your bathroom!
5. Beautiful Olive Wood Bowl for Towels Display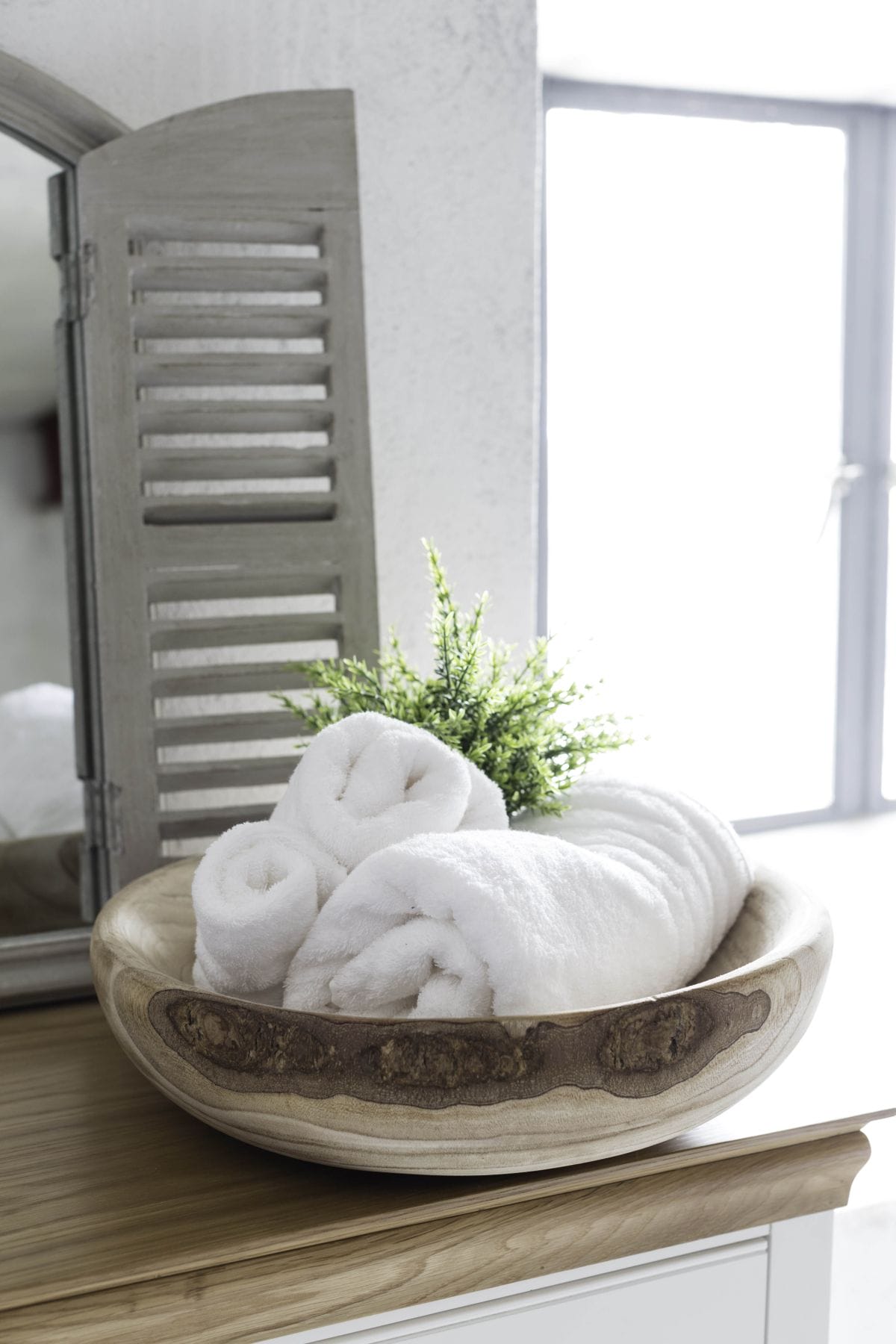 Suppose you want to bring a luxurious spa atmosphere in your bathroom, you can consider using a wooden bowl for your towels storage.
It would be best if you rolled up the towels you have and then placed them on this medium olive wood bowl. Further, to reinforce the earthy impression, add some greeneries or ornamental plants to your toilet.
6. Simple yet Trendy Towel Stand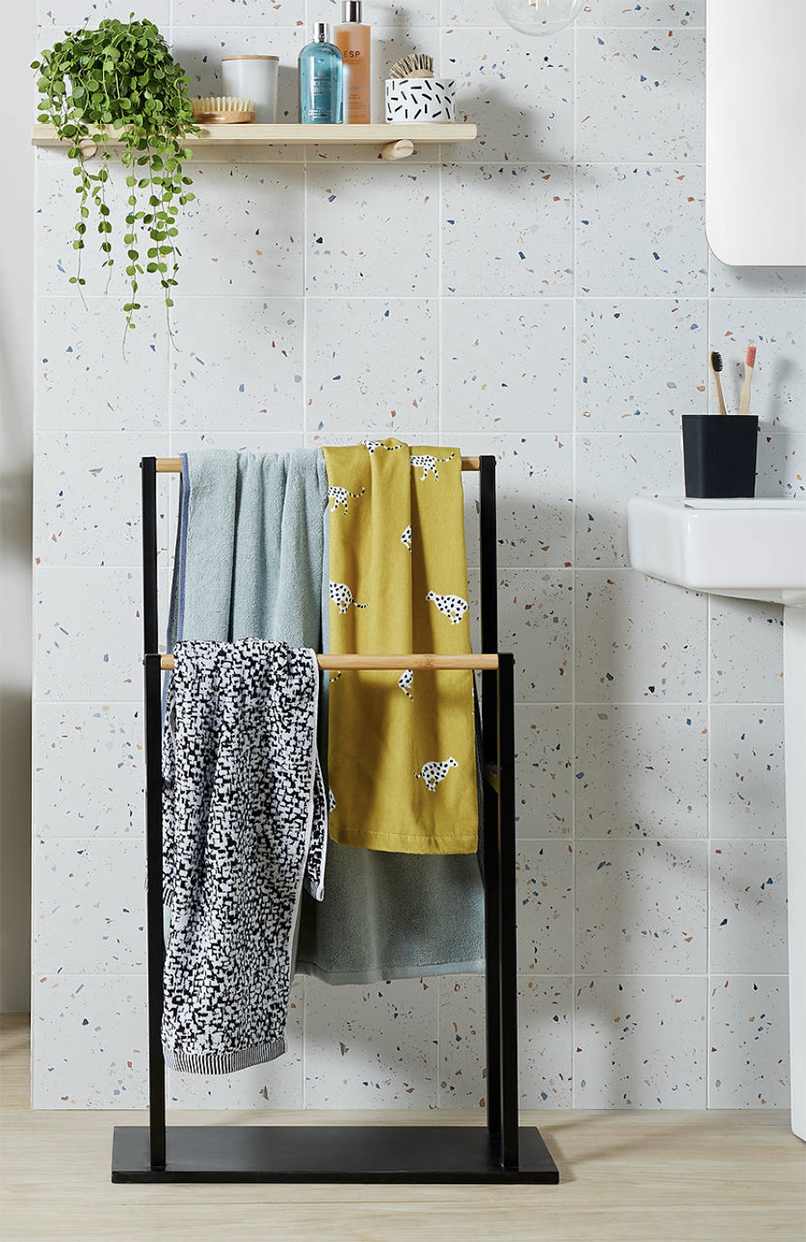 If you want a simple yet trendy look for your toilet and still have free space on the floor, try choosing a standing towel hanger like this one. There are various models that you can match to your interior design perfectly.
For a robust contemporary vibe, you can use a freestanding steel rail. Meanwhile, if you prefer a traditional style, you can choose one made of dark wood.
7. Minimalist Towel Storage Unit Under Your Sink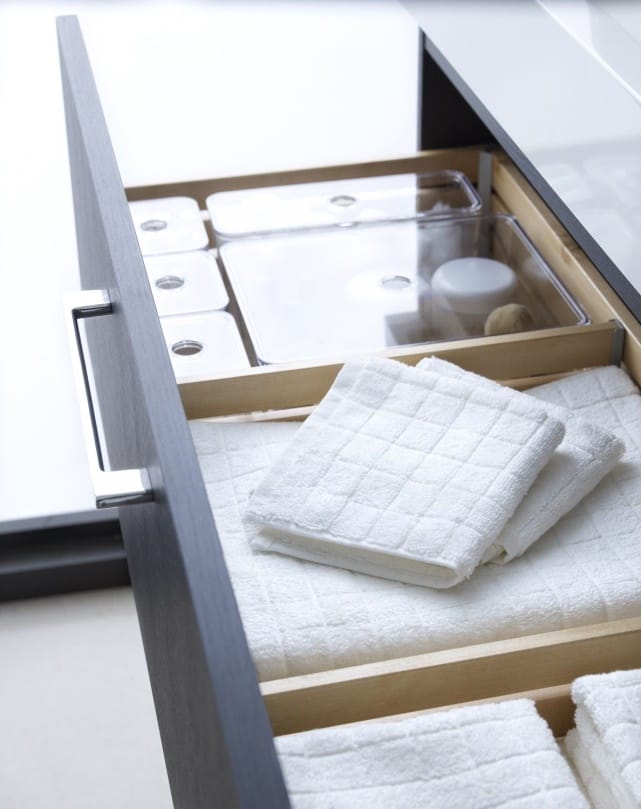 Installing under-sink storage is one step to create a bathroom with a perfect modern minimalist vibe.
Moreover, this is one of the many towel storage ideas believed to be practical and saves very much space, especially for small bathrooms.
Instead of choosing one that has a cabinet, it's better to pick a design with a drawer underneath. It will make it easier for you to find the towels you need in only one way.
8. A Towel Storage Basket to Keep Your Towels Fresh Every Time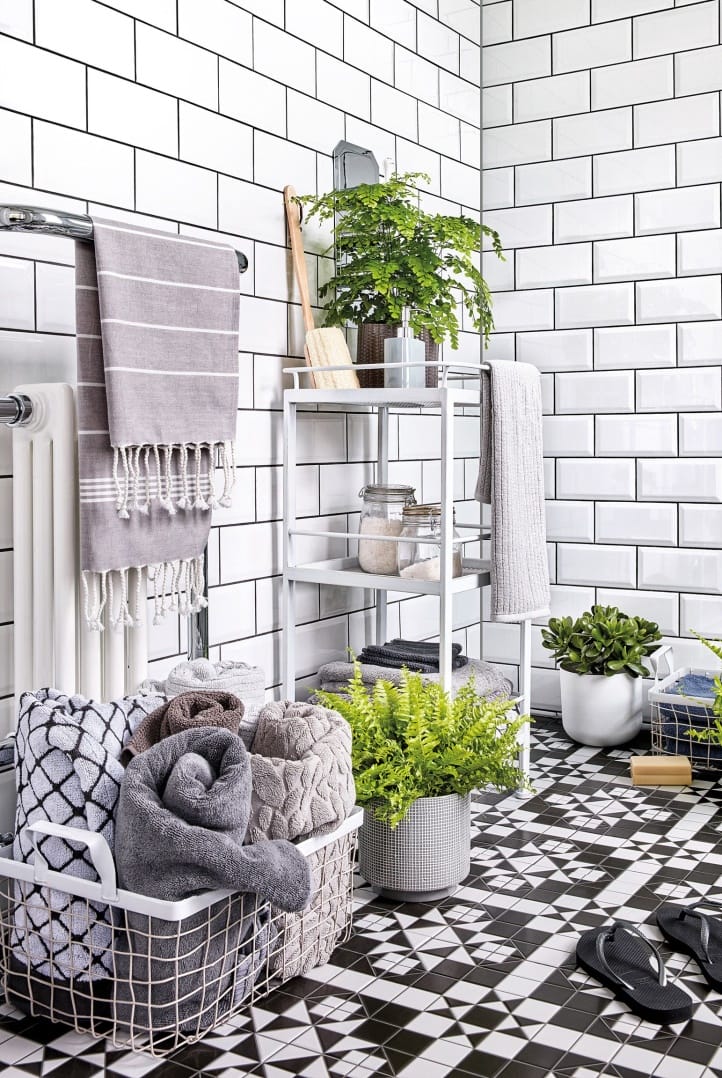 Of the many ways to store towels, the critical point you must remember is always keeping them dry and fresh. To make it happen, you should consider using a wire basket as your storage option.
Please avoid storing them in a concrete and synthetic place because it will only make your towels soggy and infested with lots of molds.
9. Three-Arm Towel Holder for Wall Space Saving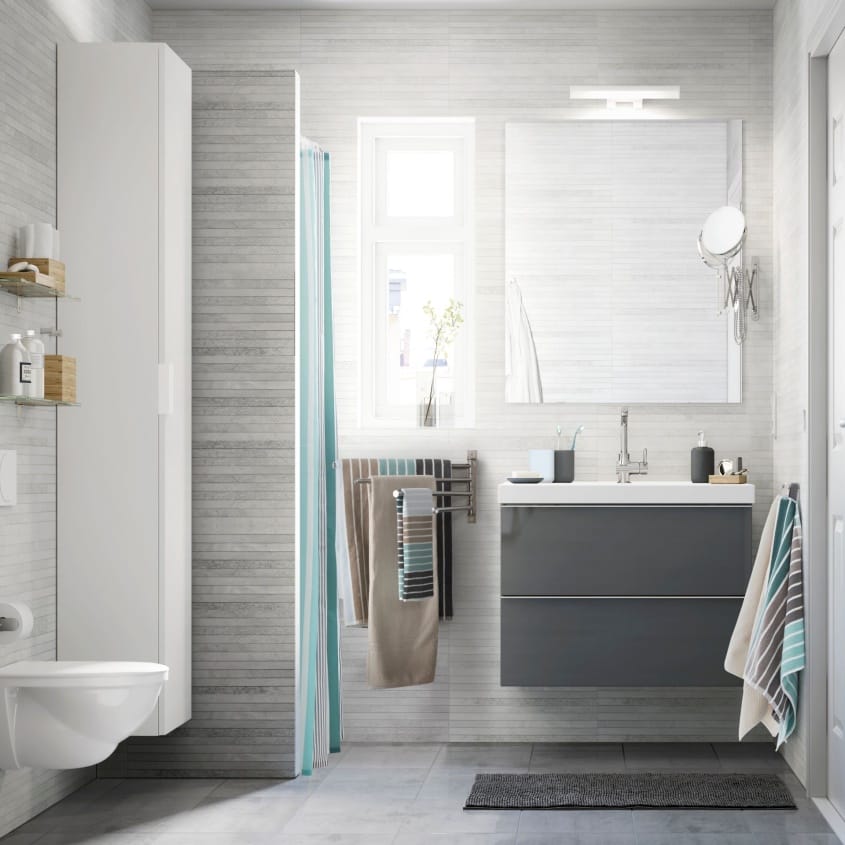 You don't need to worry anymore about where to hang wet towels in small bathroom because this three-arm towel holder provides the most effective answer to your problem.
Apart from its ability to be swiveled to the right and left, the length of each arm of this item can also be adjusted according to your needs.
That way, you can easily store the bath, face, and hands towels in one easy-to-reach spot without worrying about making your bathroom looks stuffy.
10. Wire Wall Racks as The Stunning Industrial Towel Storage Ideas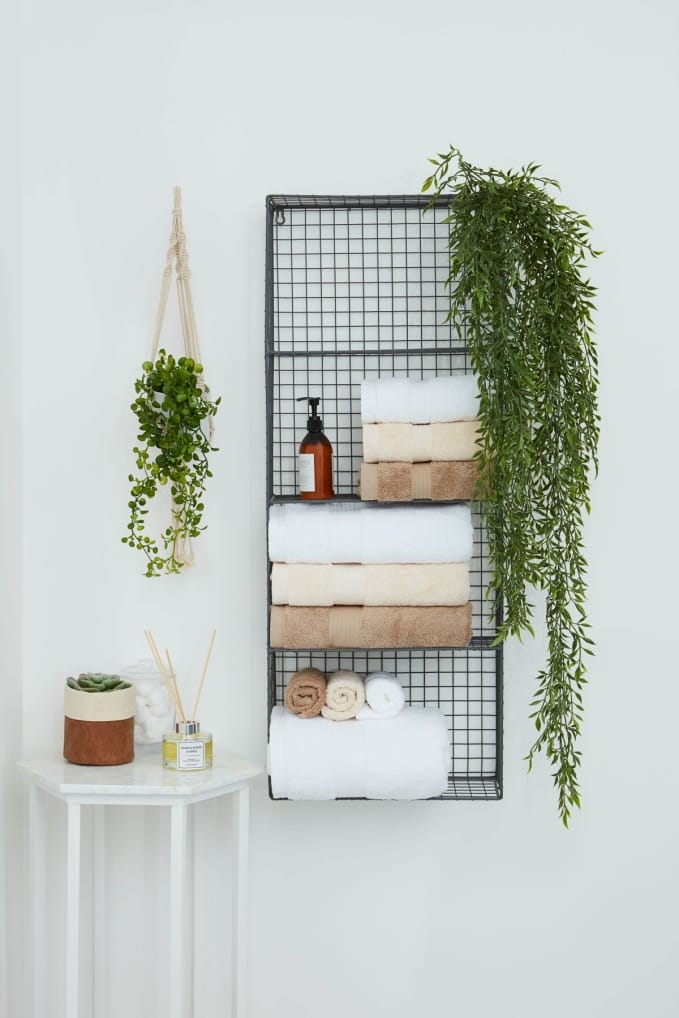 Instead of using a towel storage box, you better install a wire wall rack as a keeping area for your towels. Besides space-saving, this furniture is also very multifunctional.
You can arrange some toiletries and decorative plants to add an aesthetic and natural impression to your shower space.
Moreover, this item will also give an eye-catching industrial look for your bathroom that will be loved by many guests.
11. Set The Towel Rail Over The Radiator for Quick Drying Process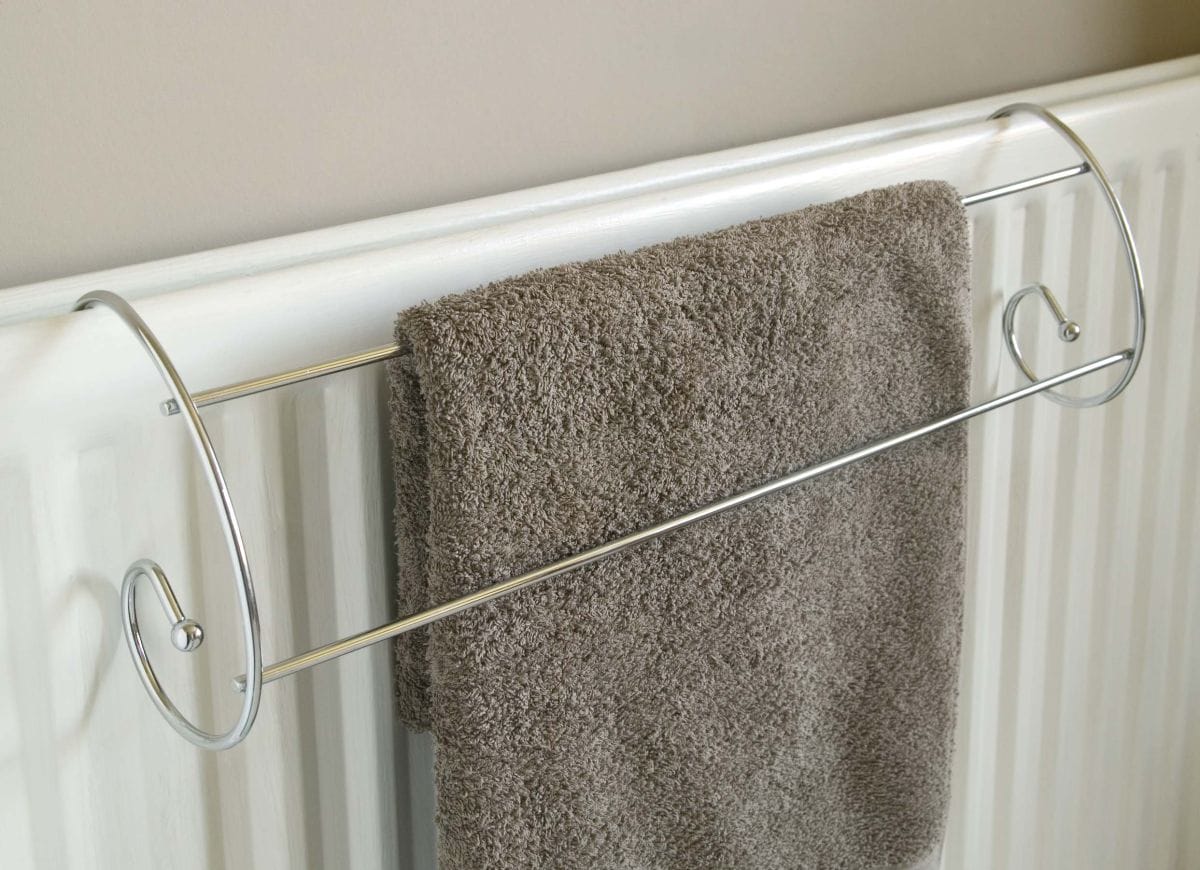 Leaving your wet towels hanging close to the wall won't make them dry quickly. On the contrary, it can make them soggier and damage the painted space behind.
Therefore, it would be best to find other towel storage ideas that can solve those problems simultaneously.
One way is purchasing a radiator towel rail, which can speed up your towels' drying process. Alternatively, you can merely buy a hook and then place it over the radiator in your bathroom.
12. Vintage Peg Hooks on Wallboard to Display Your Colorful Towels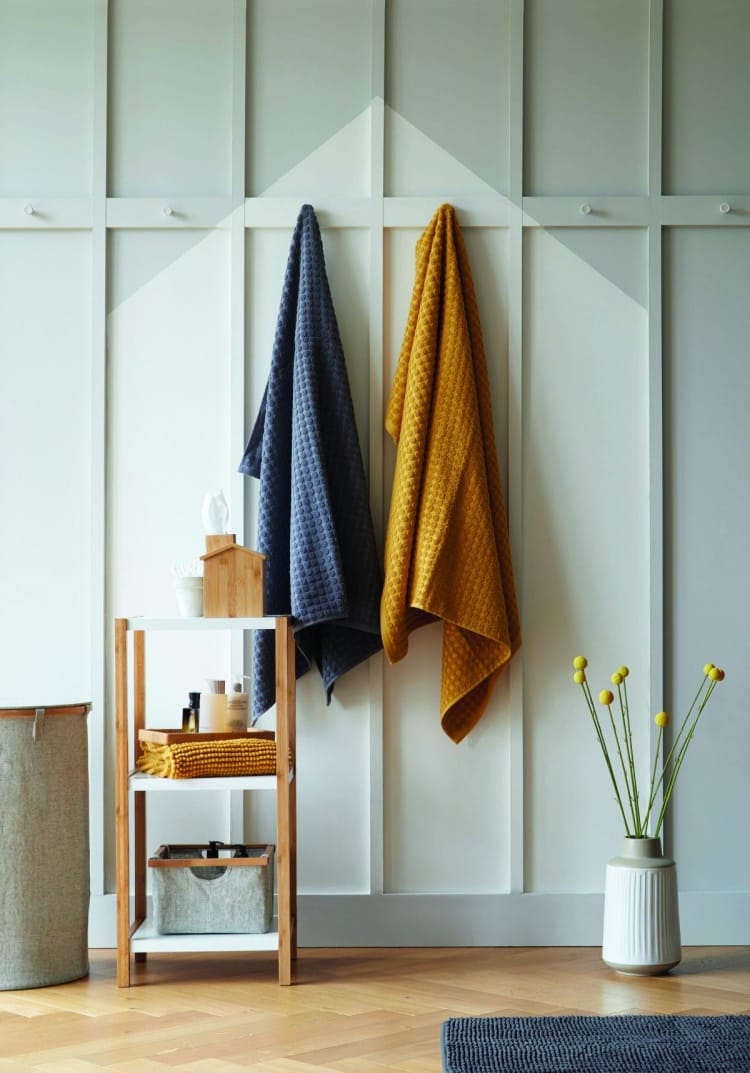 Suppose there is space in your bathroom wall that is covered with wallboard. In that case, you might consider attaching some vintage peg hooks on it as display hangers for your colorful towels.
That way, you can prevent the wet towel from sticking directly to the partition.
To get more impressive towel storage ideas that can be loved by many people, you can try to do paint blocking with neutral colors like white or cream.
After that, you can immediately hang your colorful towels there. Interesting right?
13. Classic Oak Ladder Towel Racks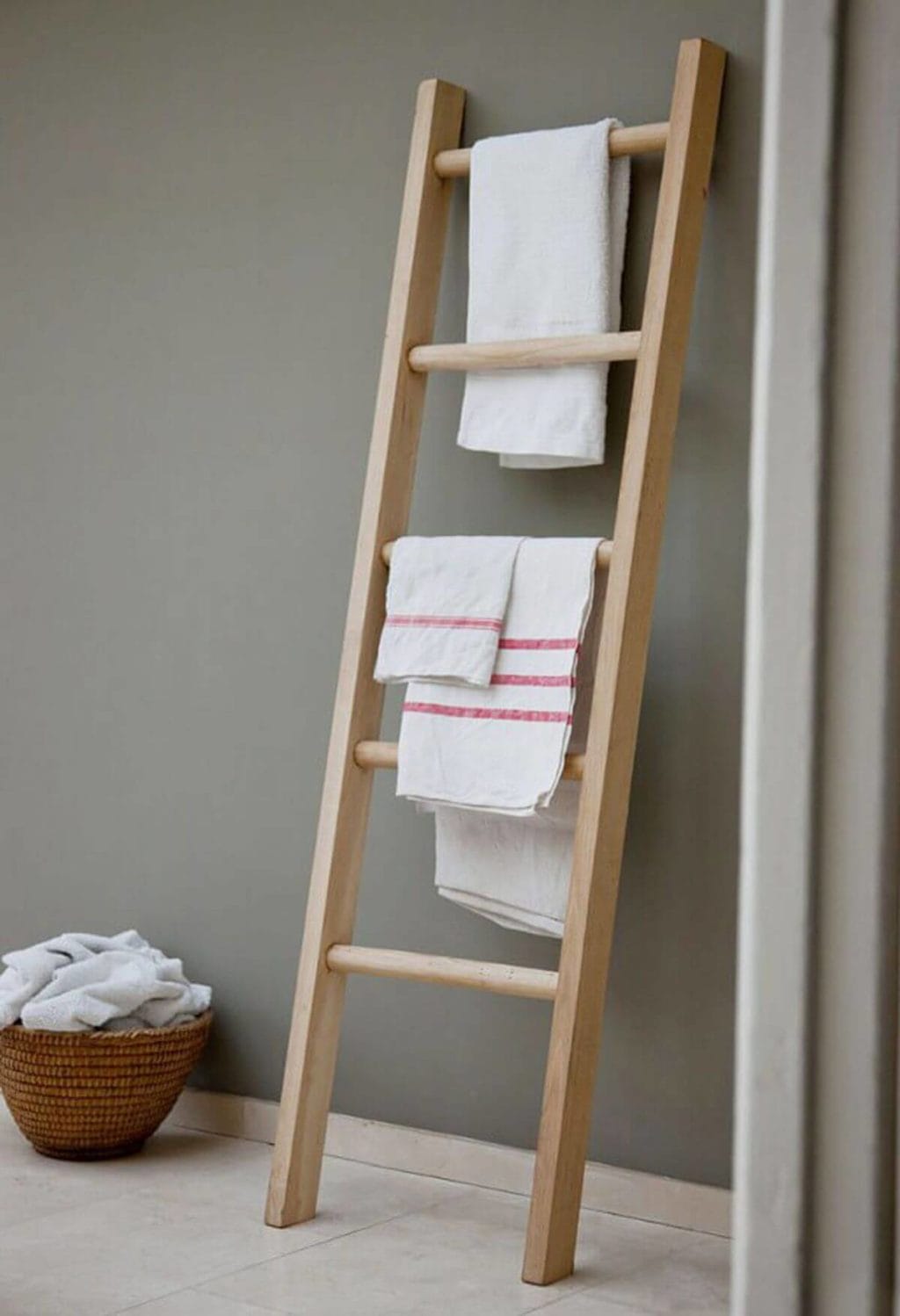 A ladder is the most suitable item for applying various towel storage ideas in a small bathroom. Its trendy and straightforward design with various styles, from traditional to modern, makes this furniture never outdated.
If you are a rustic design lover, then this oak ladder will be an exciting choice that you can use to store your towels. Just lean it against the wall, and everything will be neatly arranged.
14. A Rustic Side Table as The Alternative Towel Storage Ideas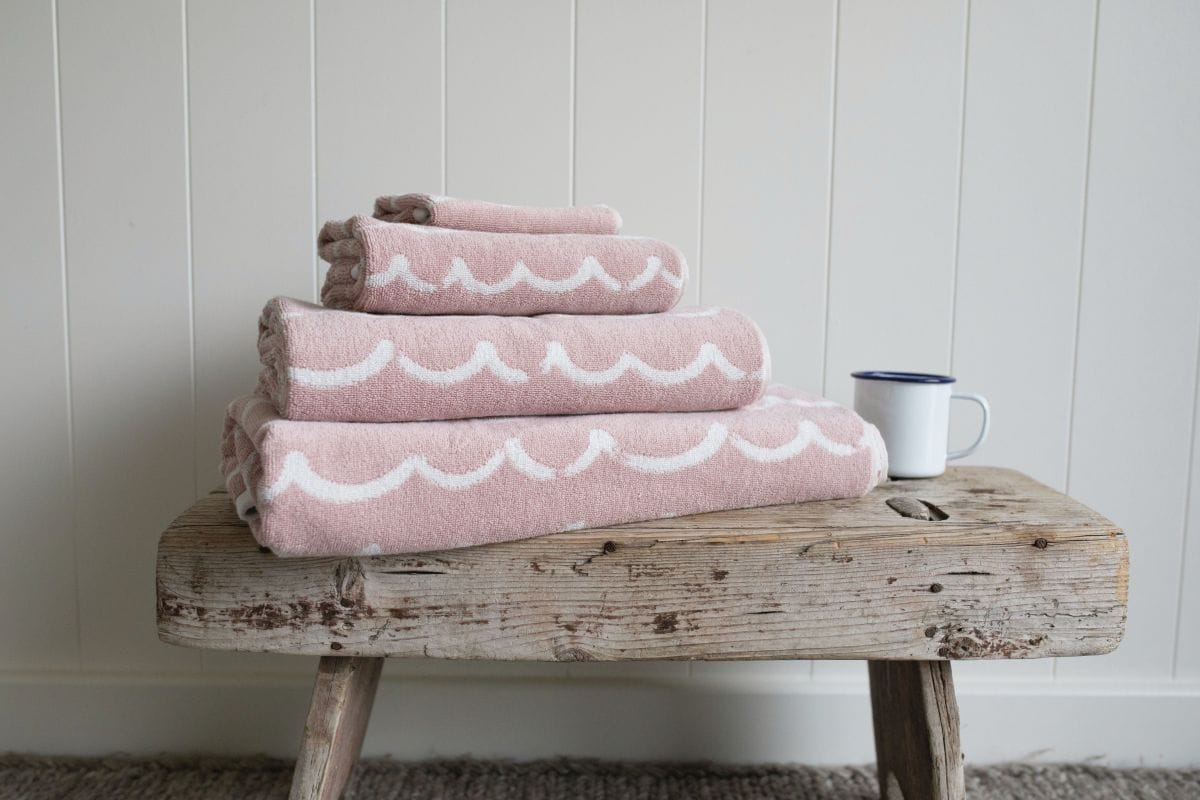 The towel storage ideas also come with alternative styles. One of them is by utilizing your side table as the place where you can keep your towels neatly.
This method is most suitable for those who don't have many towels in the bathroom. By using this side table, you will save space and also your expenses at the same time. Creative and effective.
15. Shabby Chic Towel Storage Ideas from Painted Fruit Crates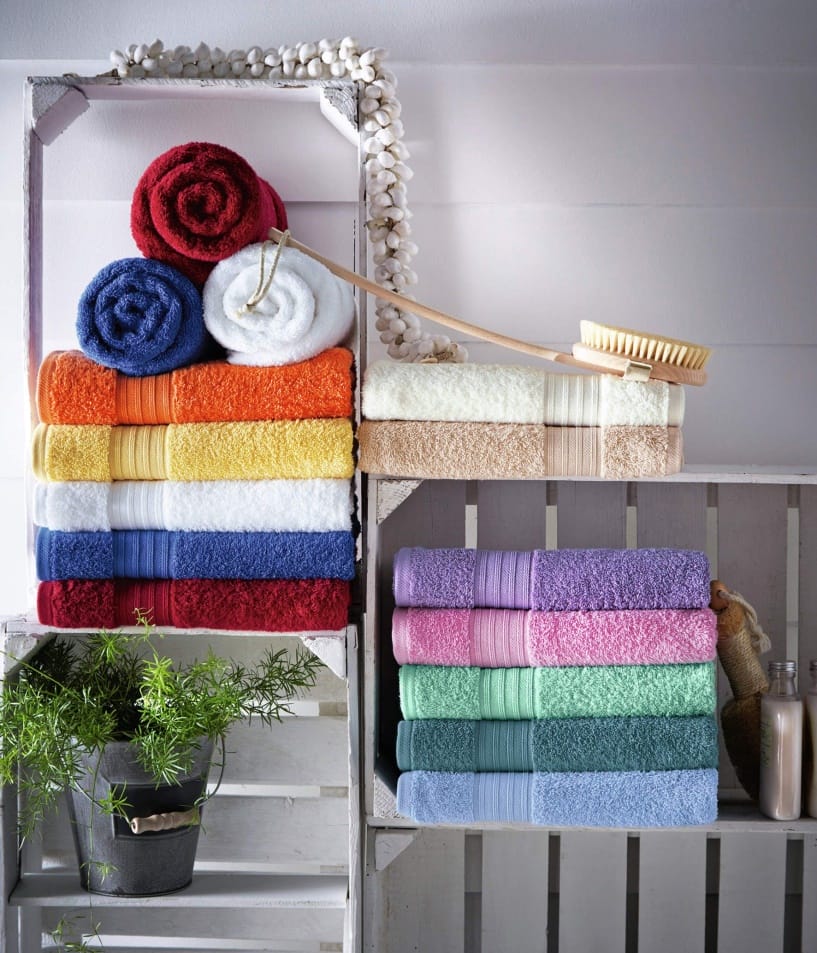 One of the many towel storage ideas suitable for displaying your colorful towels is by upcycling the fruit crates you have at home. The method is relatively easy.
You only need to paint all the boxes with the color you like and then stack them together into a storage shelf like the picture above.
To make it more attractive and tidier, you can consider to fold and roll your towels up. Then stack them in order from the lightest tone to the darkest color.
Moreover, you can also arrange several decorative items such as flowers, greeneries, or toiletries on the shelf's empty parts.
As an alternative option, if you don't have enough time to create one yourself, you can purchase a similar item on Etsy.
16. Synthetic Polymer Laundry Basket to Let Your Towels Easily Breathing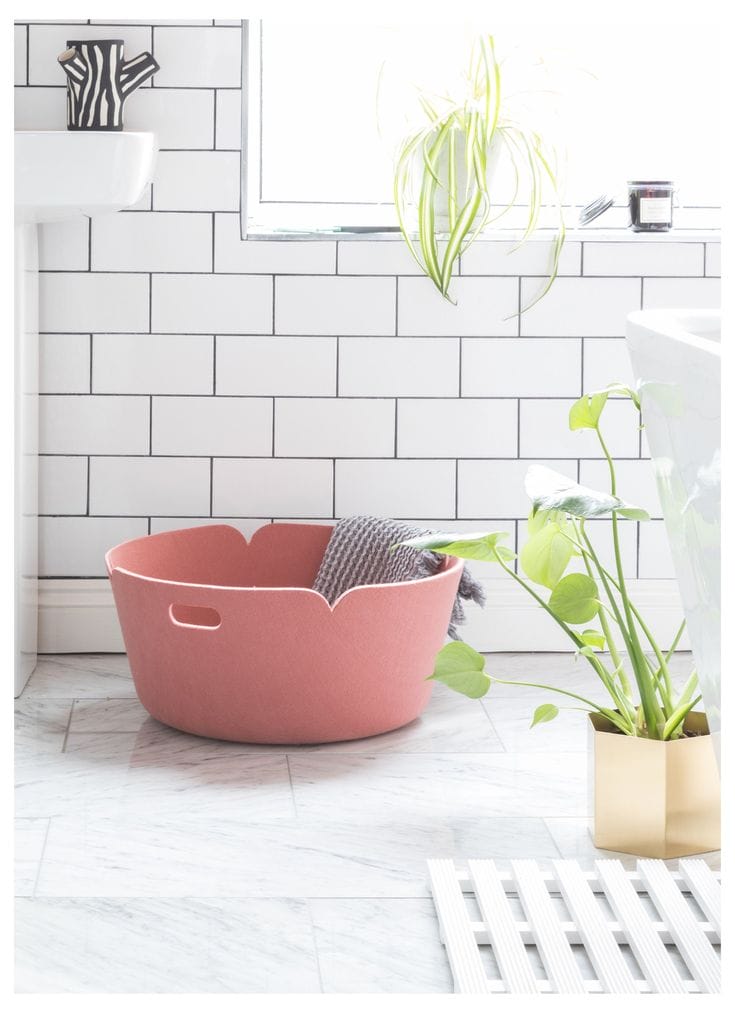 There are tons of innovative towel storage ideas suitable for use in a bathroom with a lot of free space on the wall. However, what about a toilet that has more empty spots on the floor?
The best solution for this situation is by utilizing a unique and eye-catching laundry basket like the one above. As has been said before, storing towels in synthetic storage will only make them even soggy.
However, this will not happen if you choose a laundry basket with good water-absorbing material such as wool and synthetic polymers.
If you decide to use this item as a storage area for your towels, make sure you roll the towels up instead of folding them and stack them one another. That way, they will be more comfortable to breathe and always fresh.
17. Pick Wicker Towel Storage Basket to Strengthen the Earthy Vibes in Your Bathroom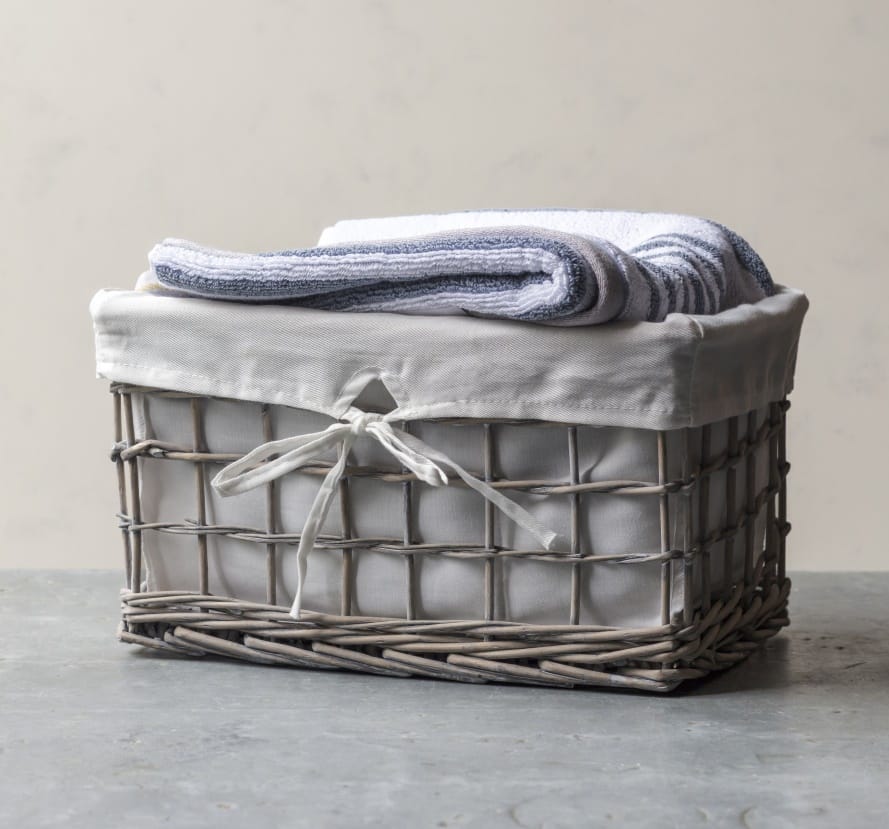 Wicker baskets are indeed an all-time interesting multifunctional item that you can put anywhere, be it in the kitchen, entrance hall, and even your bathroom.
As towel storage, this thing can absorb water and dry the towels well.
However, for a wicker basket covered with cloth as above, it will only be suitable for dry towels that are still fresh. Make sure not to keep your wet towel in it either.
18. An Over Door Hanger for Easy to Find the Towels You Need
The last item that can be the best reference to complete your towel storage ideas is the door hanger.
Usually, the main problem in using hanging racks with a design like this is the drilling hole step that you can't miss to make this furniture stays in place.
However, with an over door hanger like the one above, you no longer need to bother installing screws. Merely hanging it on the top of the door, and this item is ready to be used as towel storage.
Besides space-saving, using an over door towel hanger can also make it easier for you to find the towels you need without making a mess.
Final Thought
Those are the eighteen best towel storage ideas that can inspire you.
Several aspects, such as how wide your bathroom is, the storage's material, multifunctionality, and aesthetic value, are the essential points that needed to be considered carefully.
That way, you will get the tidy, clean, and guest-friendly bathroom desired by many people. Further, you will also have towels that are far from smelly, moisture, and molds.
From the eighteen towel storage ideas above, have you found the one that suits your needs? If so, you can redecorate your bathroom right away!