Most home-owners just focus on the interior of their houses. However, you shouldn't overlook the exterior for a harmonious home design. That's why we've compiled some spectacular corner yard landscaping ideas.
Speaking of landscaping, generally, people only put flowers and plants into consideration. We suggest taking a holistic approach. You need to include other elements like patio, fence, seating, walls, water features, and sculptures.
Regardless of your backyard's size, you surely can make it more delightful and practical. Here are ways to maximize space in any yard corners. Without further ado, check these marvelous ideas out.
1.  Corner Yard Landscaping Ideas with Decorative Tree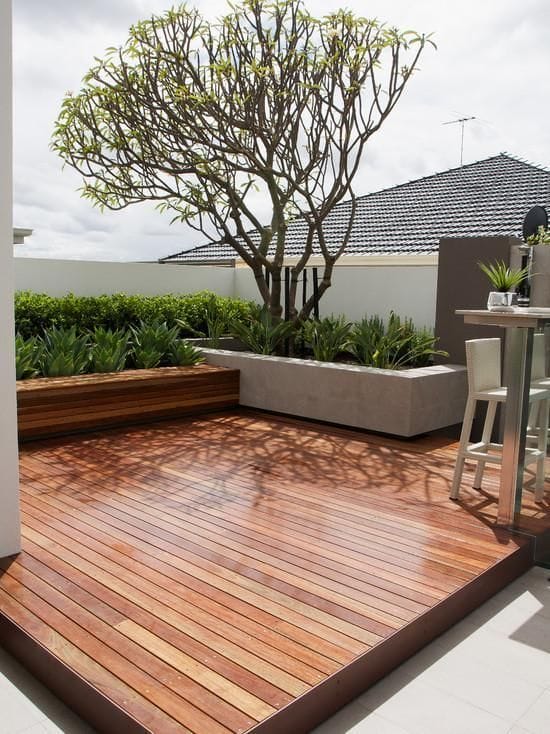 If you want a long-lasting corner backyard decor, plan everything meticulously. Before making plans, know your landscape first.
In this example, the small patio has a clean design. It features a concrete retaining wall and minimalist wooden bench as well. They lend the outdoor area a modern vibe.
Moreover, plants make the sitting area more lively and stunning. Meanwhile, the tall ornamental tree serves as a statement piece. It also will effortlessly soften the seating spot where two sharp lines meet.
2. Corner Yard Garden Ideas with Fountain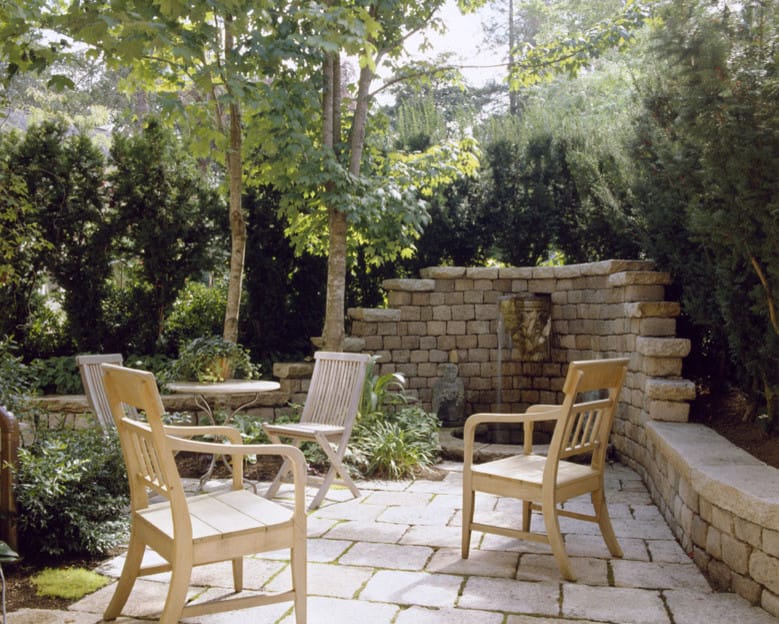 Talking about corner yard landscaping ideas, don't limit yourself to only grasses and flowers. Consider other great elements such as water features, be it a pond or a fountain.
Here, the backyard garden boasts a fountain. Since the feature is not large, it doesn't dominate the tiny outdoor space. Furthermore, the unit will call your visitors' attention to the outer edges of the yard.
There is also a simple yet cozy sitting area in this backyard garden. The unfinished wood chairs go well with the natural stone pond. Meanwhile, trees and small plants spruce up the yard instantly.
3. Planters for Deck Corner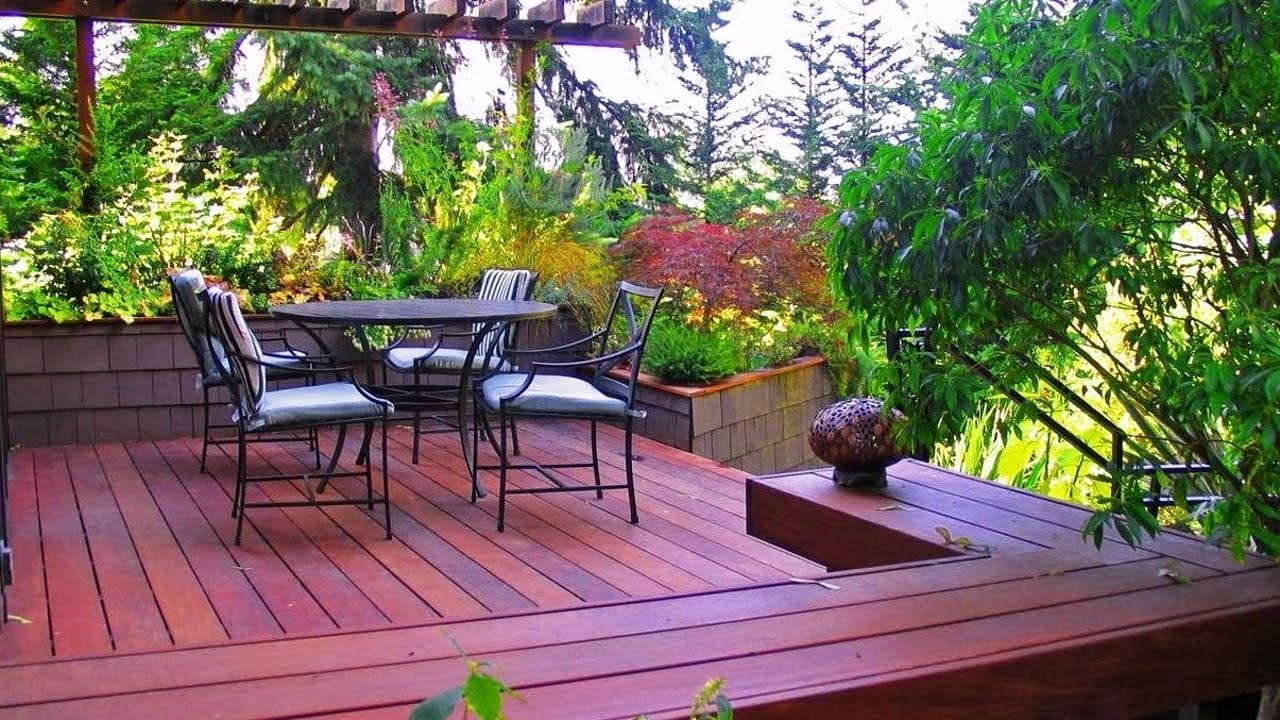 Searching for fabulous pictures of corner yard landscaping? If so, take inspiration from this deck. It has a truly harmonious decor, thanks to natural colors as well as materials. They make space stand out too.
The red-toned wooden deck sets a warm atmosphere. In addition, the small wood roof over it offers a visual appeal. Meanwhile, the sitting area in the deck corner carves an intimate ambiance effortlessly.
Furthermore, the box planters beautifully wrap the deck corner. They give shade and architecture to the area.
The flowers and plants in the box planters provide additional privacy. Moreover, they inject pops of color and pleasant fragrances into the yard.
4. Backyard Garden with A Fireplace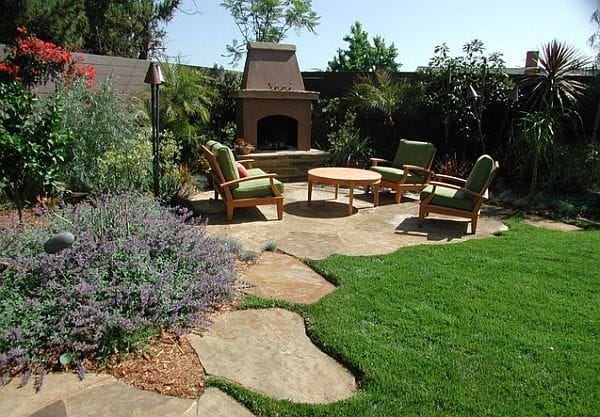 This is one of the corner yard landscaping ideas you should implement. Here, the fire feature helps bring out the often-ignored backyard corners' full potential.
Instead of building a fire pit in the backyard's middle area, you should construct an outdoor fireplace in its corner. It delivers an inviting vibe to space. The feature develops emotional intimacy too.
Without a doubt, the outdoor fireplace is an outstanding feature, particularly during colder months. The lush grass and flowers liven up the backyard, while the stone walking path evokes a sense of mystery.
5. Asian-Inspired Corner Yard Landscaping Ideas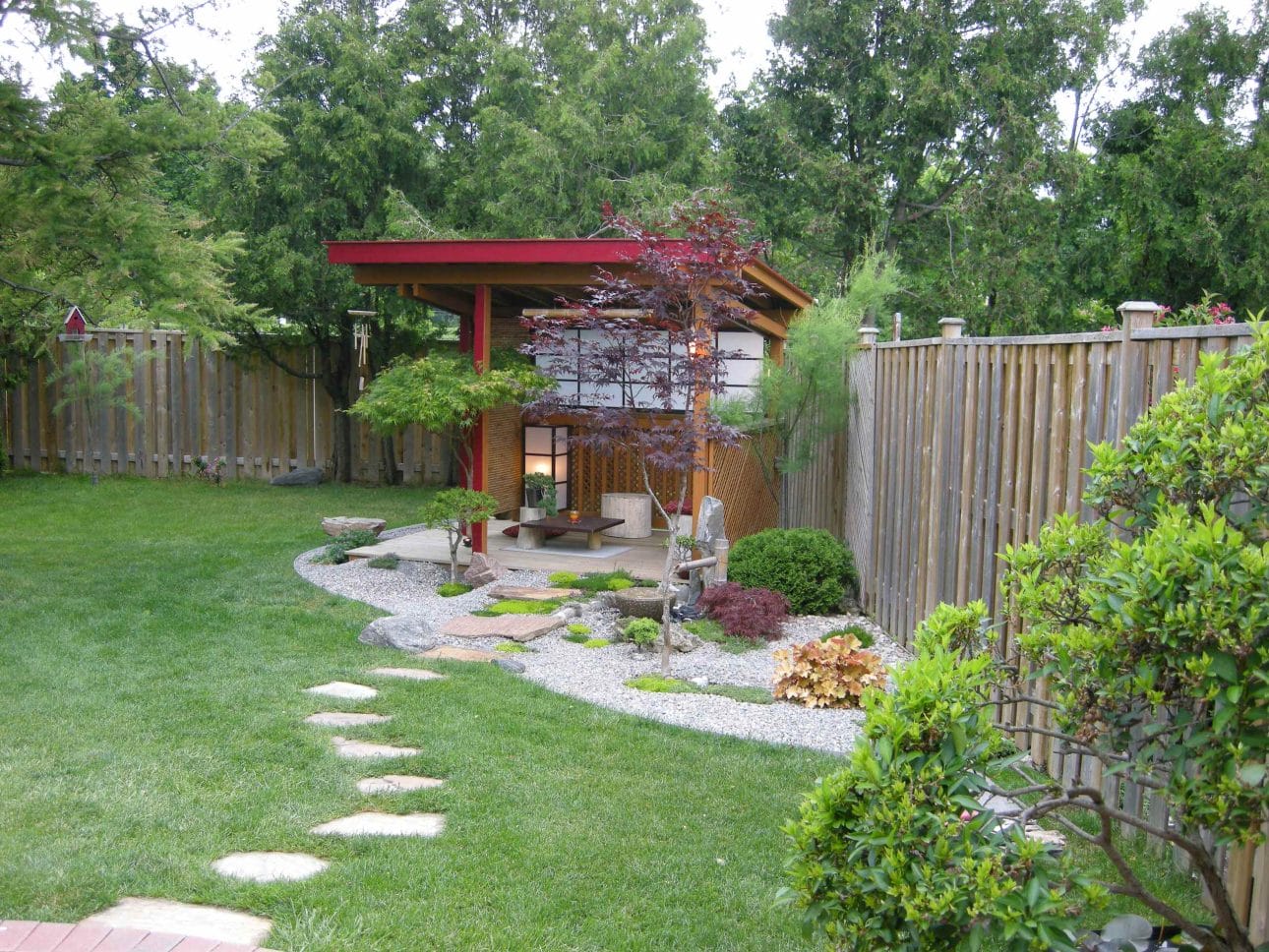 As we stated before, corner yard landscaping ideas are not just about vegetation. Remember, fence, seating, and pathway are integral parts of the landscape too. Another option is incorporating an outbuilding into your backyard.
Here, the pavilion nestles in the corner of the Japanese-style backyard garden. Its simple design screams tranquility. This minimalist feature also lends a harmonious look to the outdoor space.
Furthermore, splashes of red perk up the backyard. The stone pathway and gravels are so attractive. They blend into the landscape really well. Meanwhile, a wooden fence keeps the area hidden from the neighbors' curious eyes.
6. Backyard Corner with An Architectural Tree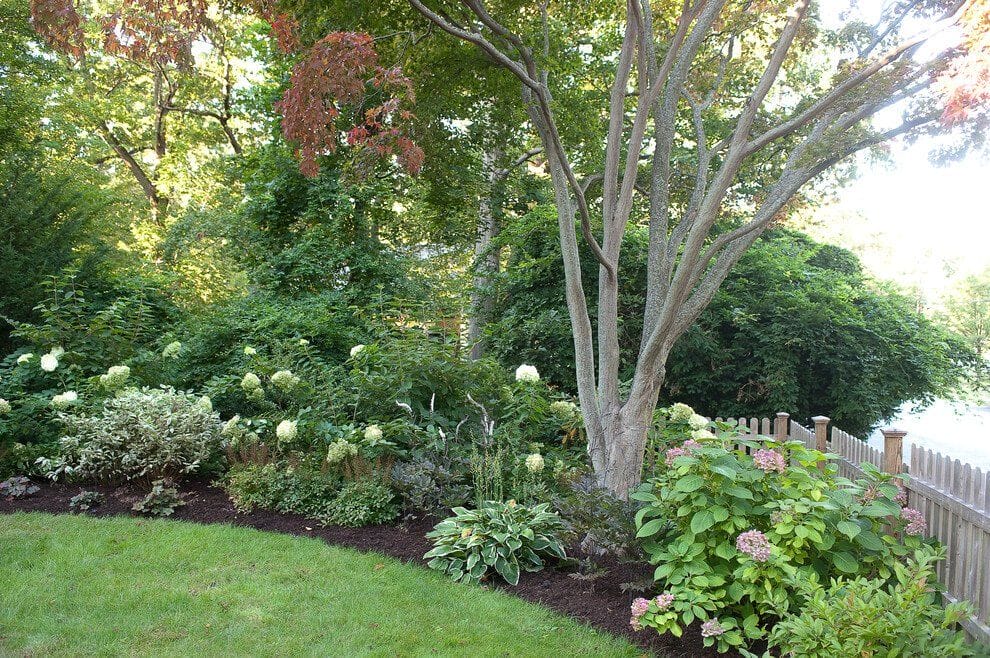 This border garden features a tall tree. It works as a backyard corner focal point due to its sculptural form. Additionally, the unit makes the outdoor space aesthetically pleasing.
Moreover, this is one of the most magnificent corner yard landscaping ideas. The grass vibrant color will invade the garden every spring. Meanwhile, flowering plants generate splendid arrangements.
Both plants and grass need lots of maintenance as well as attention. If you want to grow them around the sculptural tree, bear this in your mind.
7. Corner Yard Landscaping Ideas with Climbing Wall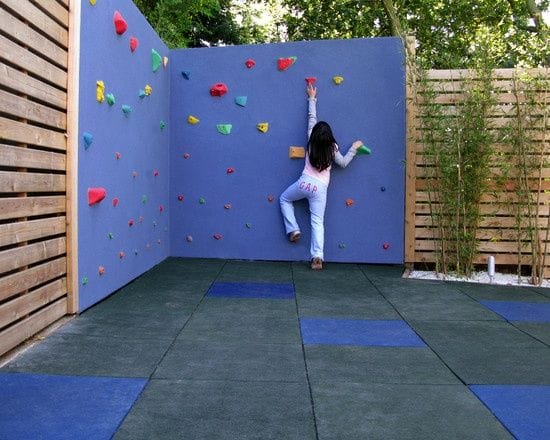 Every backyard element is a vital part of your landscape. That's the reason you shouldn't be afraid to play with different shapes, colors, and textures. Here, the space includes a wooden fence and a climbing wall.
The climbing wall in the backyard corner allows your children to have fun. Moreover, the height reduces potential falls. There is a rubber mat underneath it to ensures kids' safety.
Colorful rocks send out a happy mood. A high wooden fence adds privacy to the backyard. It also doubles as nice support for the climbing wall. Meanwhile, bamboo trees and white gravel raise the yard's beauty.
8. Corner Backyard Seating with Lanterns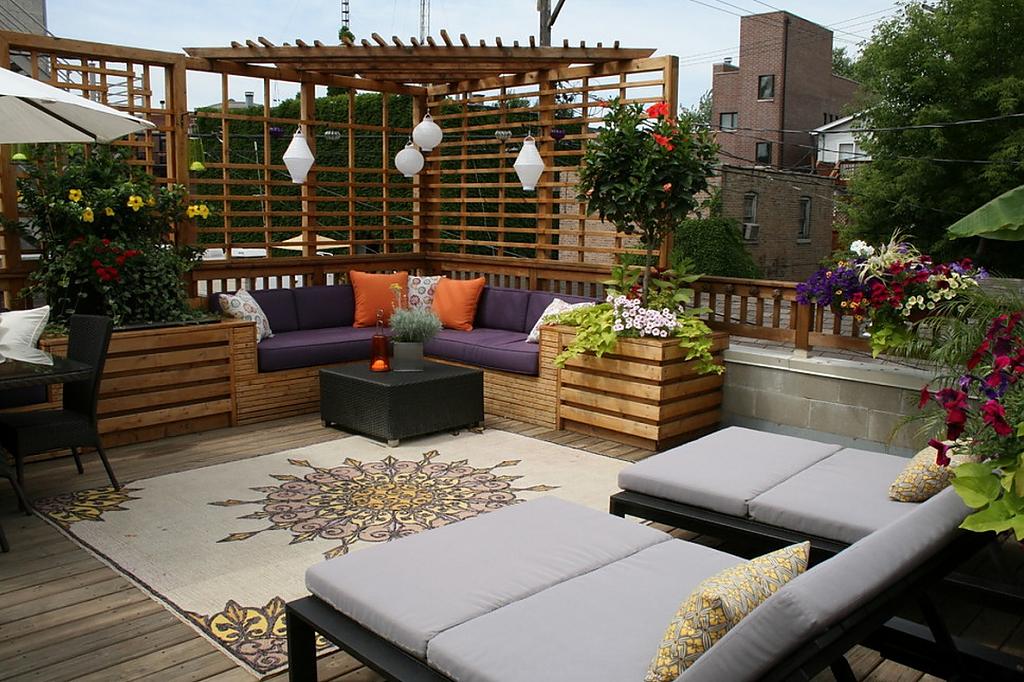 Looking for unique corner yard landscaping ideas? If so, this one certainly deserves a try. As the picture shows, the backyard employs lounging and seating areas. They lend functionality to space.
The wooden pergola roof emphasizes the sitting area. Meanwhile, white paper lanterns overhead reinsure the space with a cozy ambiance at night. They also infuse a festival vibe into the yard.
You could also install battery-powered string lights. Furthermore, we recommend adding an area rug, cushions, and blankets to the outdoor living room. In no time, they will produce a snuggly atmosphere.
9. Corner Yard Landscaping Ideas with Fire Pit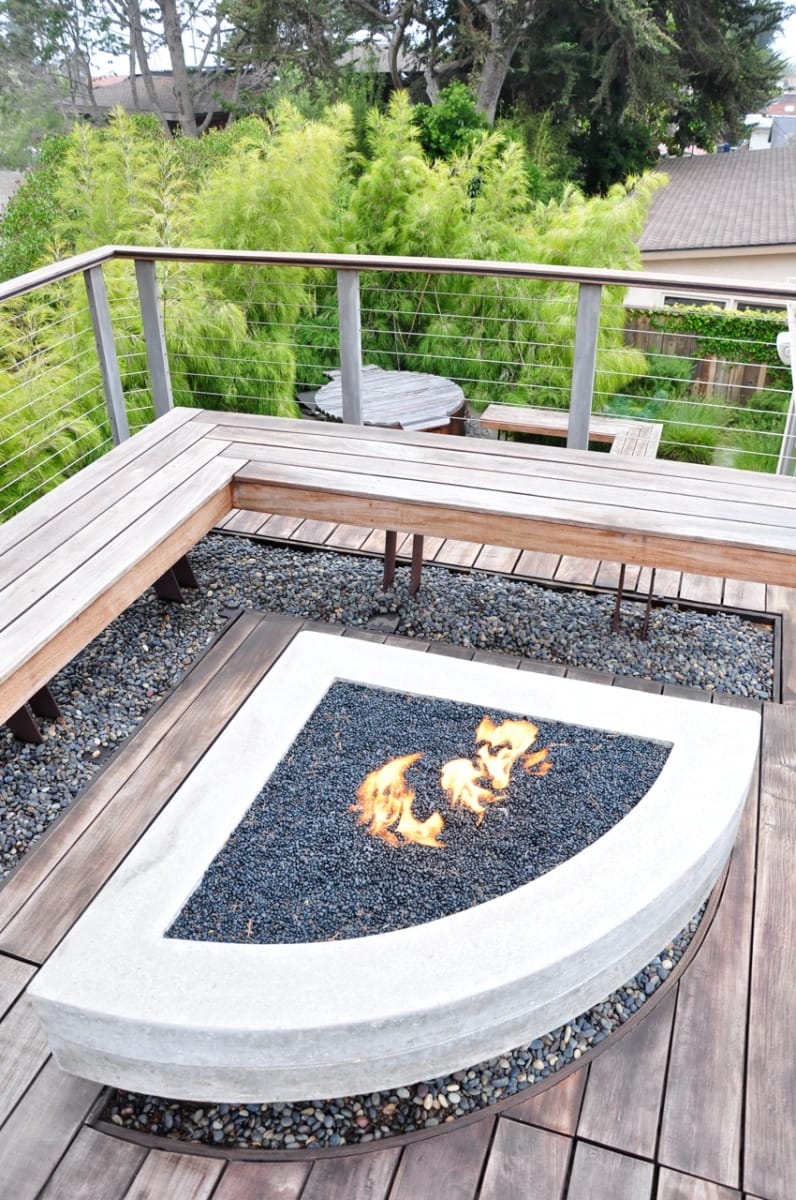 If you have a large yard, consider building an elevated deck. Then, create an outdoor seating area in the corner. Do not forget to install a fire pit. The unit helps the landscape reach its full potential.
The fire pit will certainly warm up space on chilly nights. Furthermore, it is such a fantastic feature for your home. In addition, the feature draws attention quickly because of its interesting shape.
Both wooden bench and railing showcase their timeless beauty. They also exhibit a modern feel in an instant. The decorative stones create a cohesive look and offer more lovely details.
10. Backyard Garden with A Pond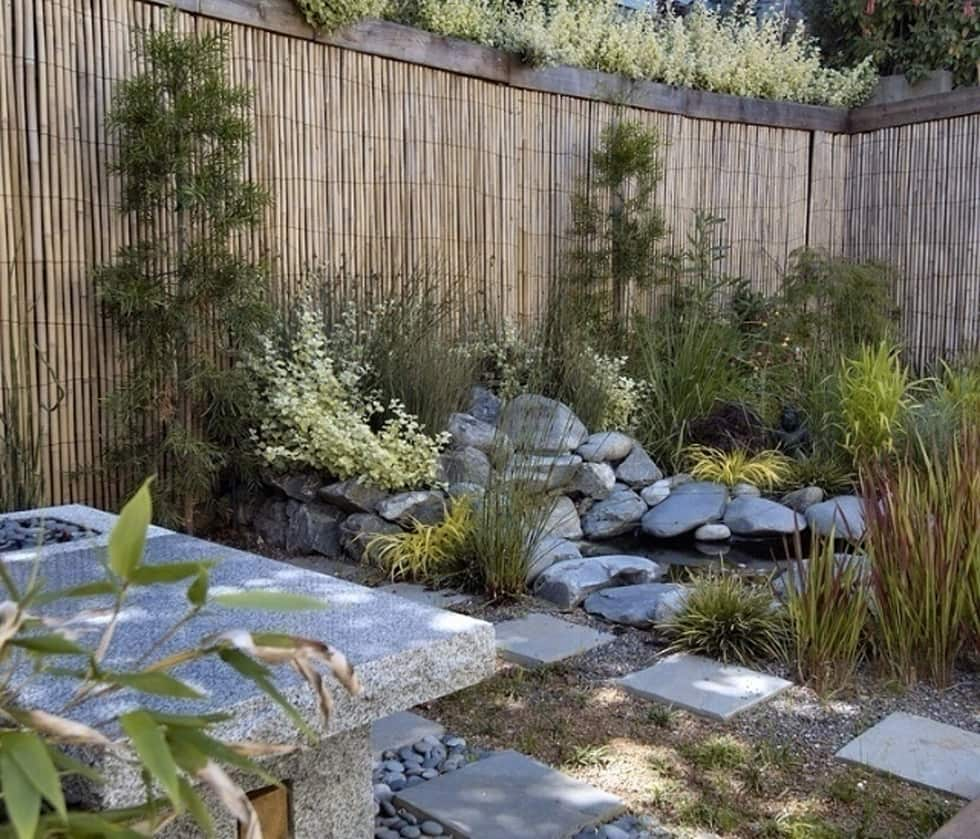 Whether you have a spacious backyard or the small one, try this design. Constructing a pond is an awesome idea. This also helps make the most of the yard corners.
If your outdoor space is limited, we suggest building a mini pond. It surely won't overwhelm the already small backyard. Additionally, this water feature will beckon your guests to the yard's perimeter.
The pond and bamboo fence lends the backyard a zen-like atmosphere. Meanwhile, plants, stone pathways, and rocks develop a unified look.
11. Cutting into Yard Deck's Corner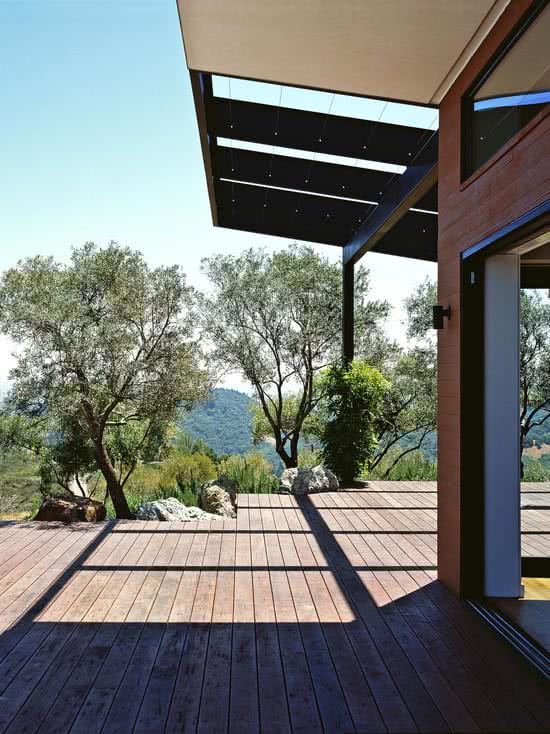 Talking about corner yard landscaping ideas, careful planning is very important for certain. You should observe every small aspect of the landscape before changing them.
In this case, the homeowner did smart moves. He trimmed the corner of the deck. This undoubtedly makes the sightlines more attractive. It creates a better connection between the surrounding nature and man-made work as well.
Moreover, the outdoor space has a harmonious appearance, thanks to the minimalist deck design. The wood decking boards are simple yet striking. Well, this area is perfect for sitting back and enjoying the jaw-dropping views.
12. Corner Yard Landscaping Ideas with Bench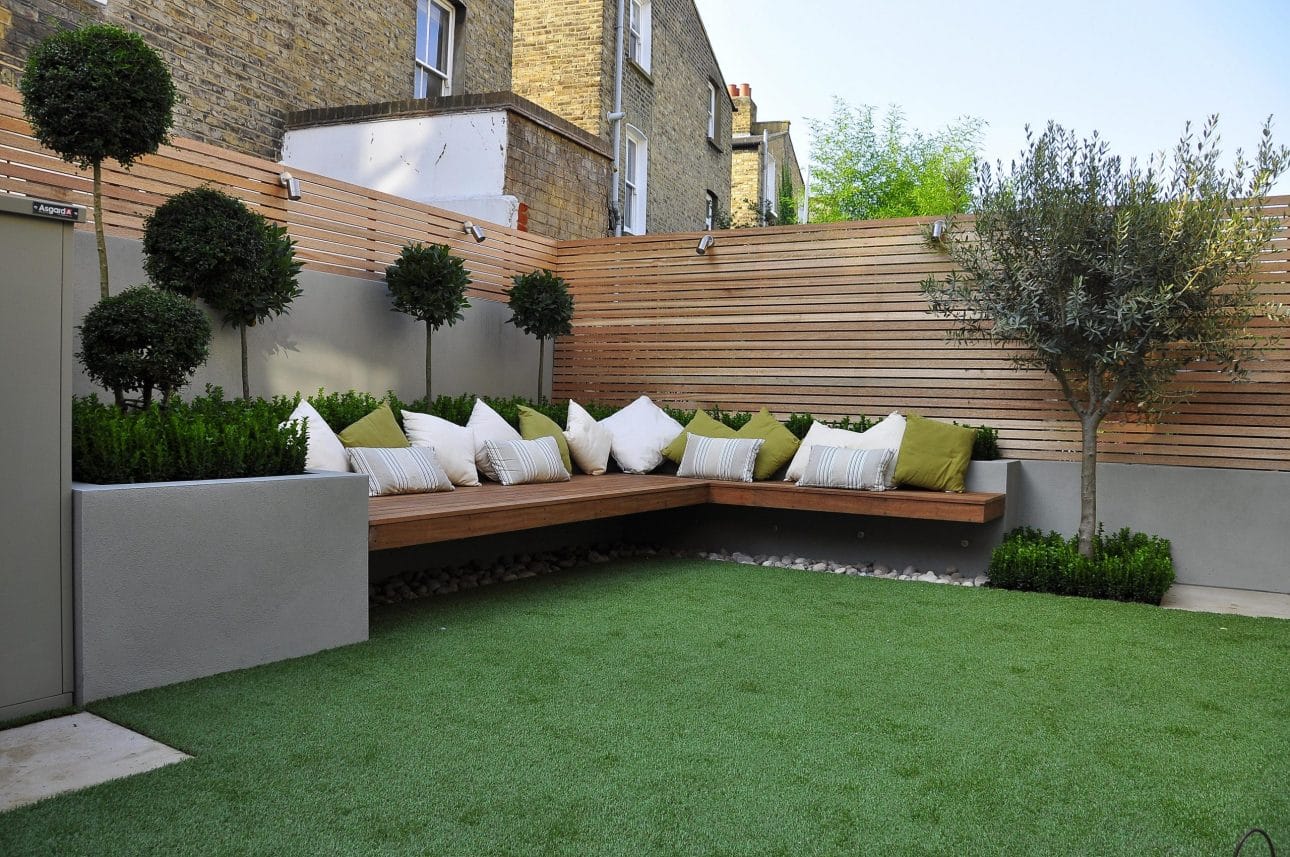 Normally, sunlight falls in specific areas. This can offer a nice clue. You can easily find the ideal spot for the backyard seating area. Just be sure your patio doesn't get excessive sun exposure.
Building a sitting area in a more private spot like a yard corner is a great option. You can either construct a built-in bench or include a sectional sofa in your outdoor space. The furniture will mark the perimeter of the living room.
The colorful throw pillows on the corner bench jazz up the backyard. Meanwhile, a fire pit is certainly a wonderful bonus, especially on cold autumn evenings.
13. Corner Lot Landscaping Designs with Lights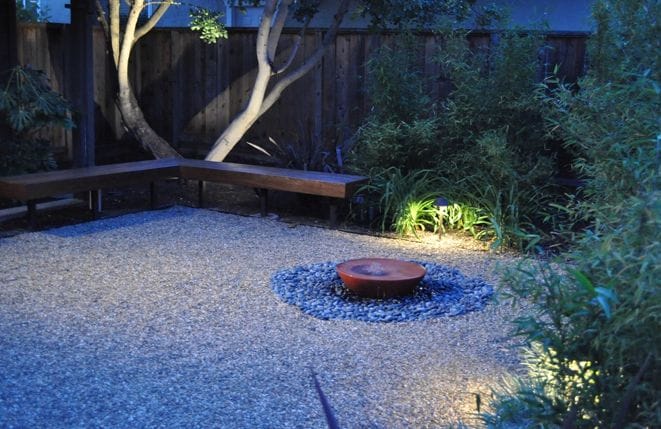 Sometimes, simple design is much more amazing than a complex creation. If you are the one who embraces minimalism, steal this look. Without a doubt, it is one of the best corner yard landscaping ideas.
Since sharp edges and hard lines dominate the outdoor space, add an ornamental tree in the yard corner to soften the scene. Then, light it up at night. Illuminating its sculptural form can produce nighttime drama.
The wooden fence keeps out the prying eyes, while plants bring life to the backyard. Moreover, stones and gravel evoke a cohesive feel.
14. Corner Yard Landscaping Ideas with Trellis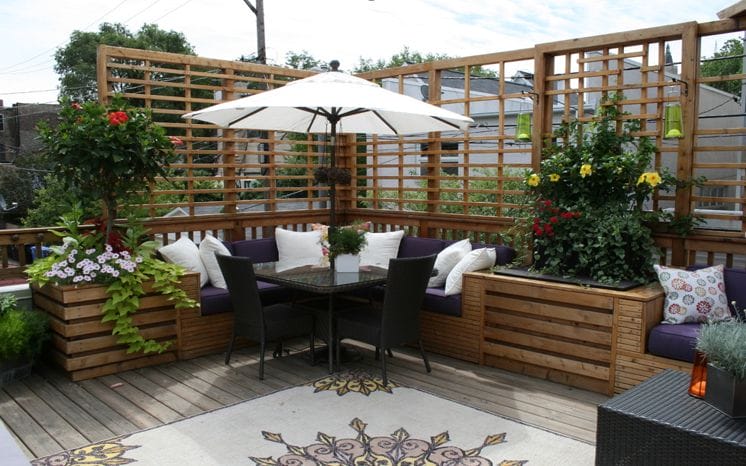 Searching for front yard corner landscaping ideas? If so, then apply this design. Here, the deck boasts a wooden trellis. This vertical garden structure provides whole privacy from the nosy neighbors.
We suggest growing Chilean jasmine, sweet potato vines, and wisteria on your trellis. These climbing plants normally have a quite long lifespan.
The wooden bench and flowers add natural beauty to the sitting area. Meanwhile, the deck umbrella protects you and visitors from the glaring sun. An outdoor area rug lends the outdoor living room visual interest.
15. Different Materials in the Backyard Corner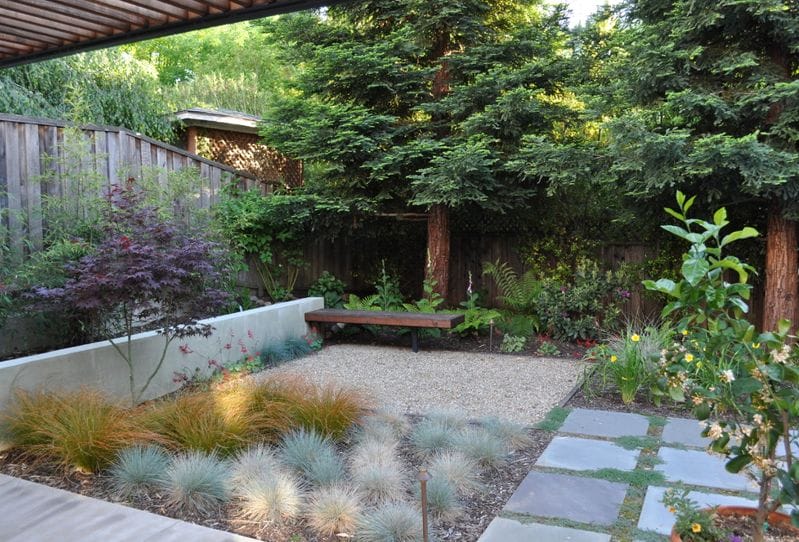 Speaking of corner yard landscaping ideas, don't hesitate to mix materials. In this example, the backyard features a concrete retaining wall and wood bench. They fit into the geometric garden perfectly.
The ornamental grasses are so gorgeous. Despite having small sizes, they make a big impact. Light-toned gravel allows the pieces to shine. Meanwhile, the flowers and plants lend the backyard garden vivid splashes of color.
Stone pathways infuse a modern flair into the garden. The wooden fence keeps your bad neighbors from snooping. It also goes well with other minimalist forms in the yard.
16. Corner Lot Landscaping Ideas for Privacy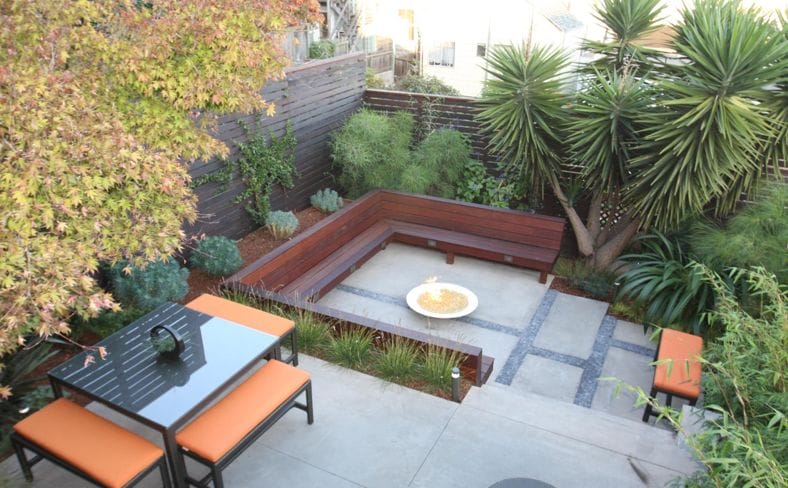 We know you are very concerned about privacy. Then, this is one of the corner yard landscaping ideas to try. Here, the backyard employs a high wooden fence. It blocks out your neighbors. The feature can hold your plants too.
Furthermore, the seating area looks so welcoming. It boasts a U-shaped wooden bench to emphasize the yard corner. Meanwhile, the fire pit cozies up space and sparks intimacy at once.
The stone patios and stairs unify two outdoor sitting areas. Metal benches with orange seat cushions carve an industrial charm and a fun ambiance. The ornamental tree, grass, and other plants add natural elements to space.
17. Corner Yard Landscaping Ideas with Sculpture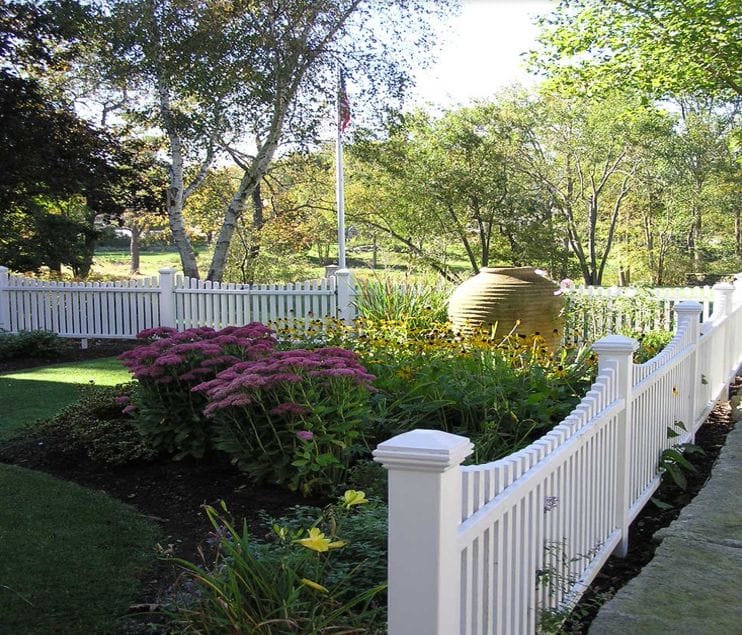 You can create a marvelous composition using a sculpture. In this case, the giant clay vessel is the backyard's sculptural focal point. It instantly draws attention to the corner.
Moreover, the border garden nicely surrounds the huge clay vessel. The plants and colorful flowers make this backyard garden more mesmerizing. However, they require lots of care.
The white picket fence produces a clean look. It contrasts tastefully with vibrant flowers and plants as well.
18. Corner Garden with Tiered Planting Beds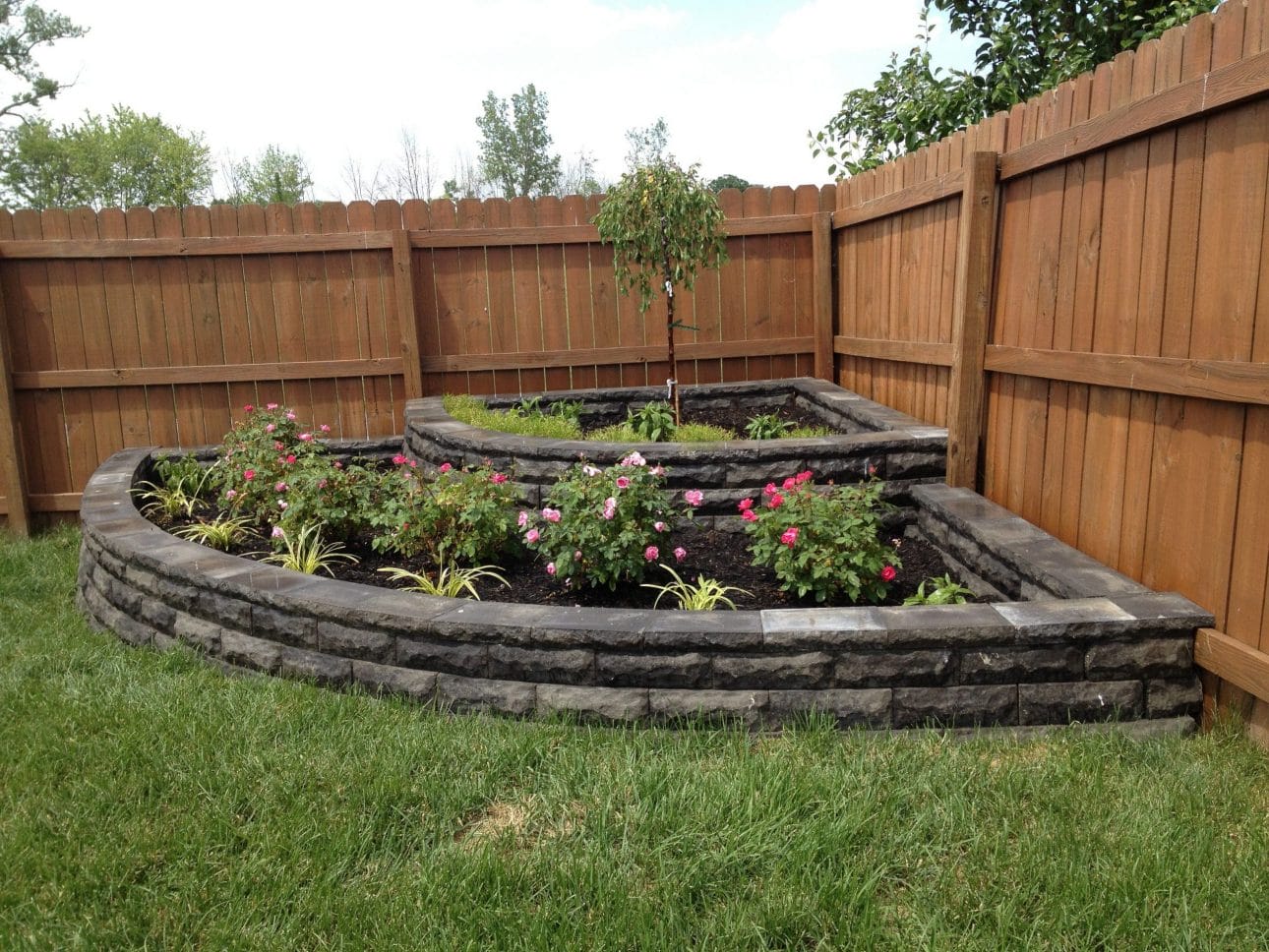 Looking for practical corner yard landscaping ideas? Give this backyard design a chance. Here, the tiered stone planting beds are a perfect complement to the garden. They showcase their natural beauty.
Moreover, stone garden beds serve ornamental purposes. They accommodate small shrubs on the top tier and flowers on the bottom.
19. Rock Waterfall for Corner Garden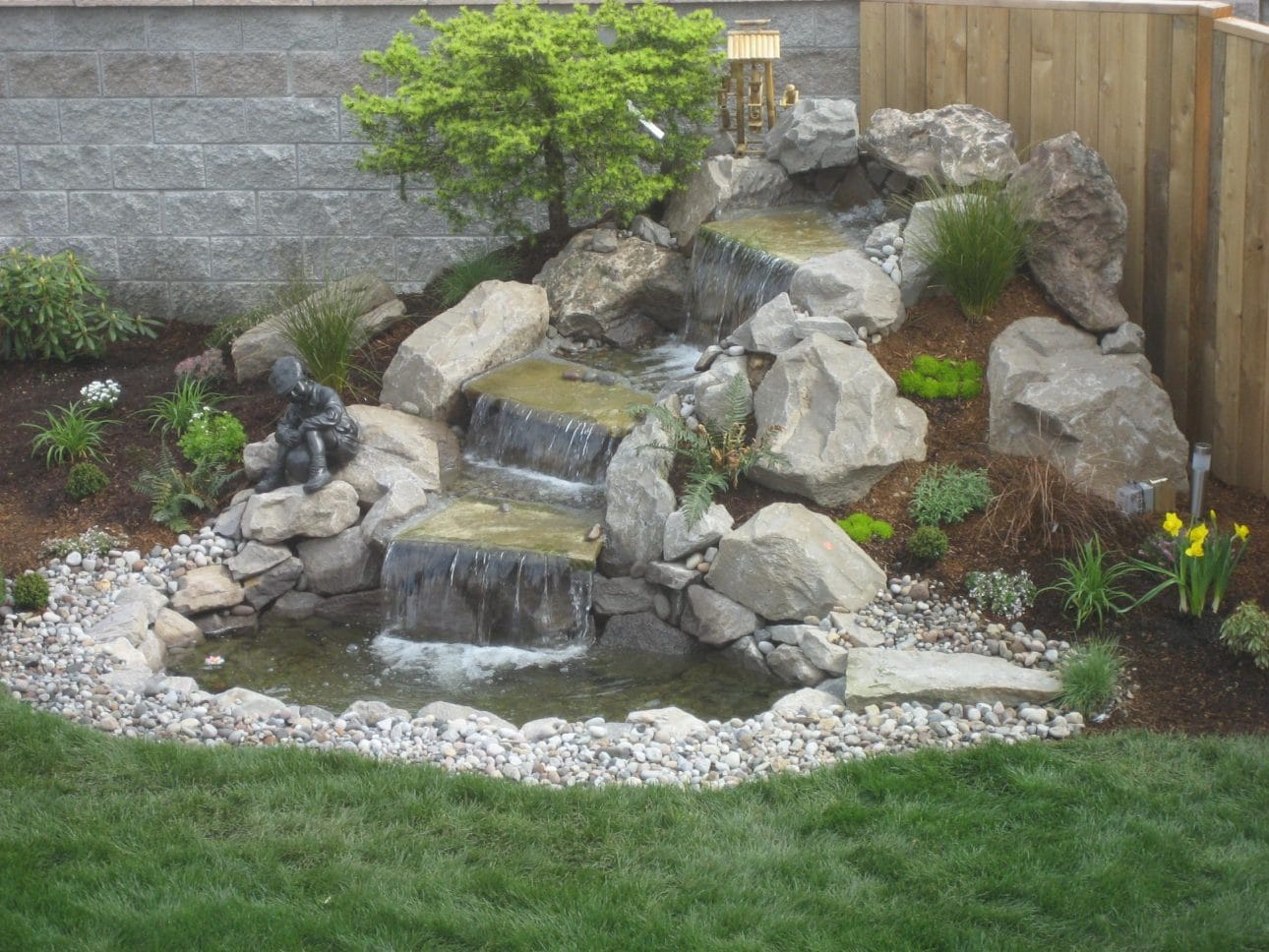 As you see, this waterfall features boulders and river rocks. It gracefully ends in the small pond. The unit is not only a stunning addition to the corner garden but also creates a moment of serenity.
Moreover, stone and wooden fences provide a terrific background for the garden waterfall. The small statue and wood decoration round out the water feature. Meanwhile, grass and flowers convey a sense of harmony.
20. Corner Yard Landscaping Ideas with Adirondack Chairs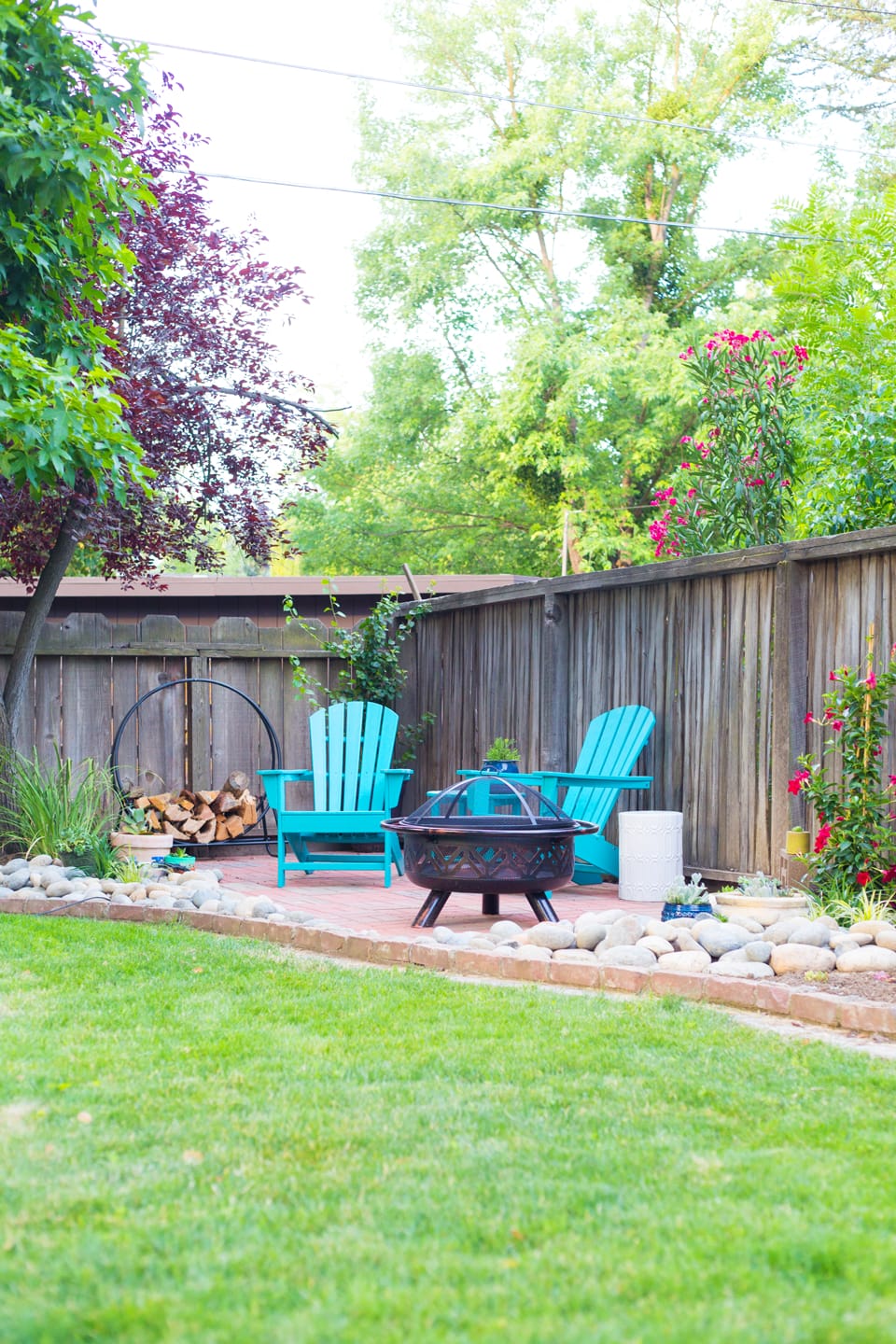 Yard corner is a perfect spot for any outdoor seating area. In this example, it boasts two bright blue Adirondack chairs. They offer timeless charm and casual comfort at once.
The homeowner also mixed natural materials. She integrated stones, wooden fence, and firewood in her landscape.
Red bricks and a fire pit make the outdoor sitting area more inviting. Tall trees, grass, and vivid flowers are a pretty finishing touch to the garden.
When it comes to the corner yard landscaping ideas, the sky is the limit. You can do many things with backyard corners. Implement any of those to make your home exterior more enchanting.