Most people believe that giving curtain to window office is the best move. Because it makes your working area becomes more private in any way. Therefore, we offer you these office curtain ideas with special characters that will bring out your personality at once.
Further, the proper installation of office curtain ideas can also help you filter the sunlight that enters your workspace.
So, you can still work productively during the day or night without being disturbed by sun exposure. In fact, of all the window treatments you know, there are also types of shades that can protect you from UV rays.
So, without further ado, here are twenty-nine office curtain ideas to inspire you!
1. Modern Office Curtain Ideas with Vitrage Around and Giraffe Floor Lamp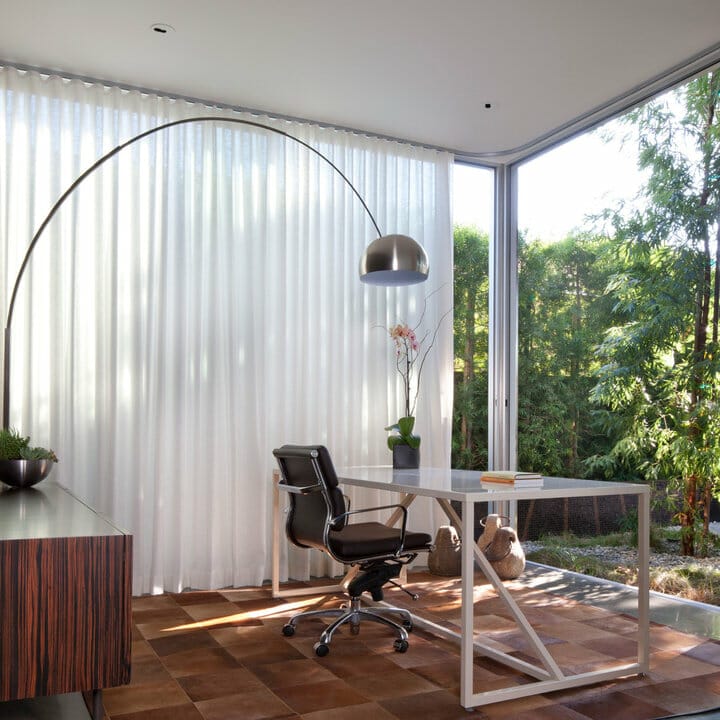 The first design on office curtain ideas let you go with a sleek vibe of window treatment but still look modern using a plain white vitrage curtain. It seems sheer yet can keep your personal space private for a moment.
With the entire window that you have, the vitrage curtain can reflect the items inside the home office into a silhouette.
To add more personality to your working area, you can present an impressive focal point with a giraffe floor lamp.
2. Two Layers Office Window Treatments with Sheer and Black Out Curtains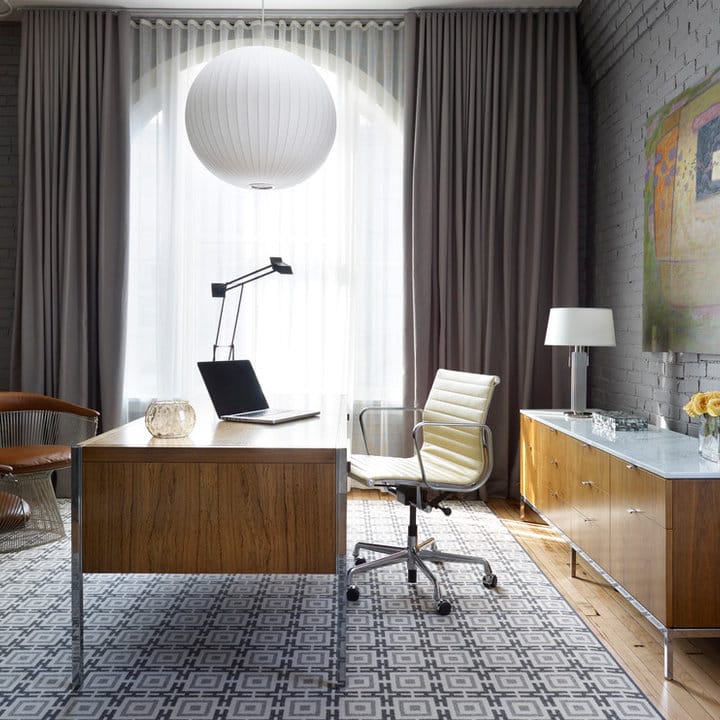 Only installing a sheer on a window may feel unsafe for some people. Therefore, come blackout curtains that can help you stay away from the prying eyes of strangers outside the window while you work at night.
And when daylight comes, you can cleave apart that heavy curtains wholly or halfway to adjust the light come in.
3. Extra Long Curtains for High Ceiling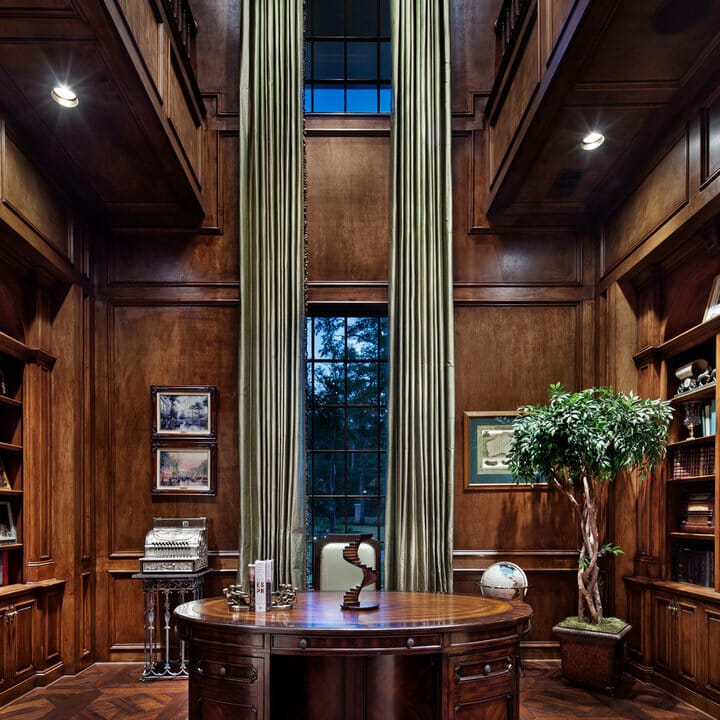 Did you feel confused about providing curtains for two windows located parallelly on two different floors? So, here comes the solution. Today you can even customize drapery of 300 cm in size!
Office window decor ideas like these can give you a solution to provide an elegant drapery for a home office with high ceilings and still save on a budget.
4. Filter The Soft Light Using Window Sheers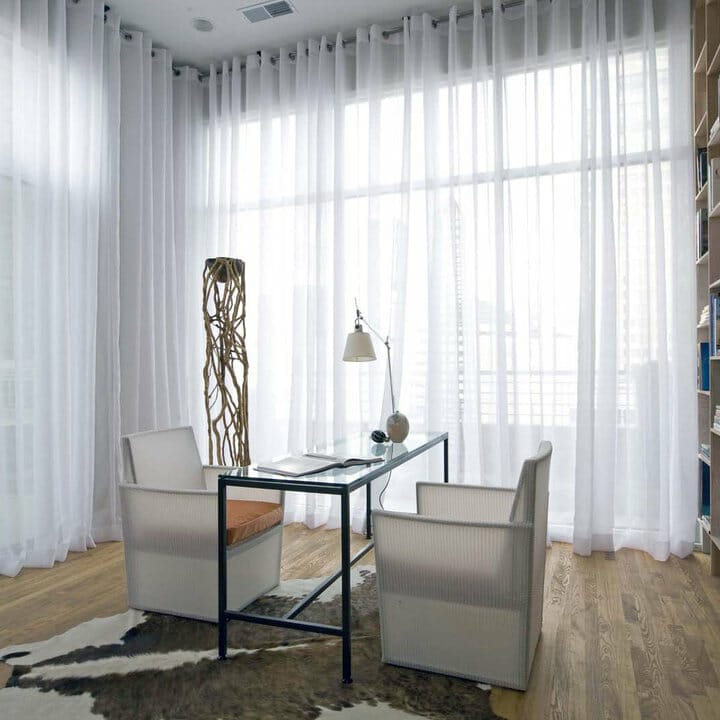 Using sheers as your window covering will never make you feel outdated.
On the contrary, office curtain ideas have recently emerged a minimalist design by simply installing this only item in a home office. And everyone knows that this model is popular enough to follow.
However, leaving one focal point around the sheer is a must so that your workspace can get enough sunlight and still maintain its aesthetic value at once.
5. Elegant Ripple Fold Drapery in Cream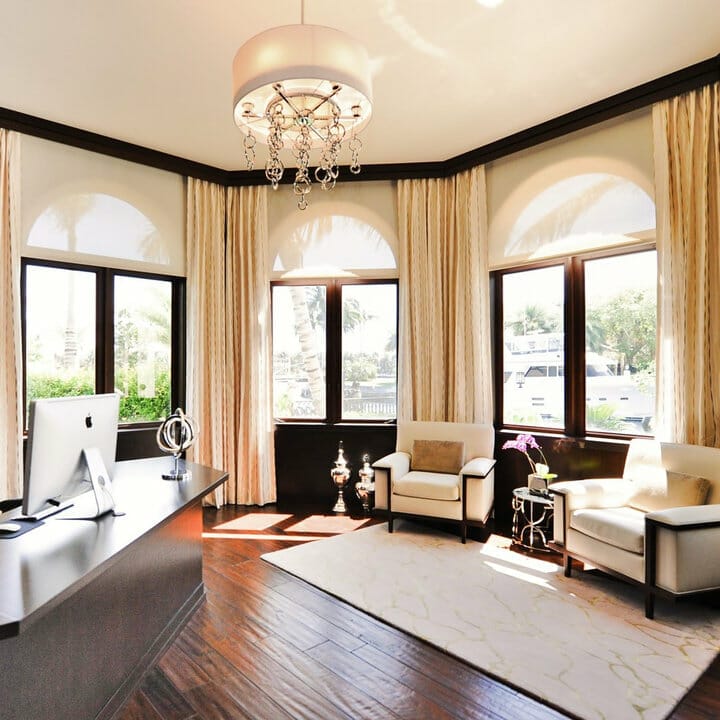 Fold drapery is the best answer for classic designs lovers. With not too much ornament in it, these kinds of office curtain ideas can make your working area look more comprehensive than ever. Plus, by choosing cream colors, your workspace will be much brighter.
Further, you can install a solar shade before the curtains to filter the light entering through the ventilation holes above the shutters.
6. Earthy Toned and Flower-Patterned Curtains to Welcome Autumn Light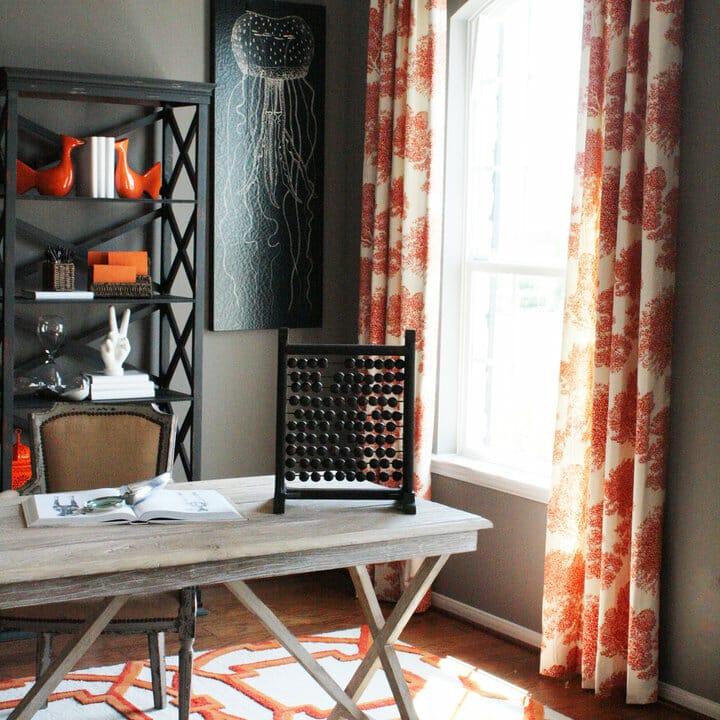 Suppose you are the type of person who gets bored quickly. Changing your window treatment every season is the best idea you can take.
That way, the atmosphere of your workspace is not monotonous at all times.
To welcome the upcoming autumn, you can install cubicle drapes with repeated accents of orange flowers like above. Alternatively, you can also go with another motif that brings a peaceful earthy tone.
7. Classic Silk Mediterranean Office Curtain Ideas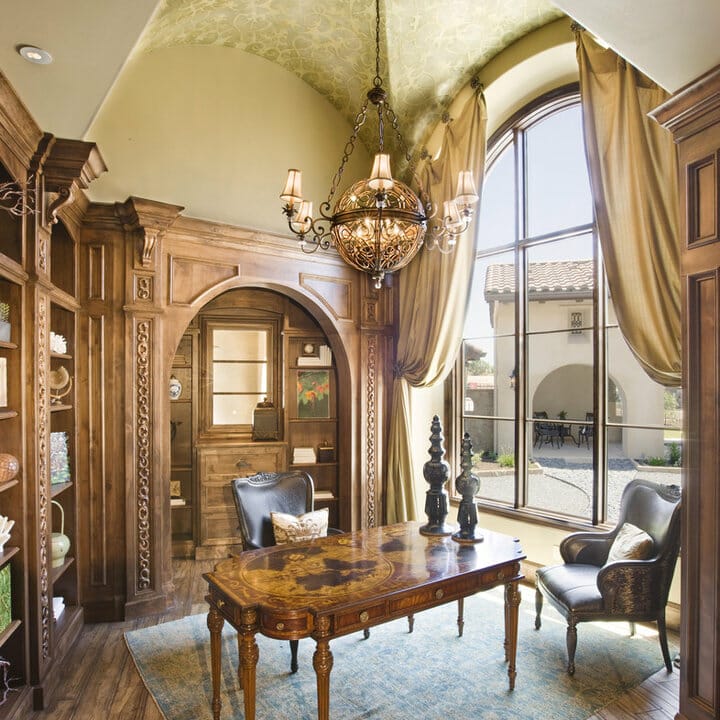 Who said that all draperies are heavy? This silk blackout curtain is an exception. Instead of having a textured and thick design, this window covering comes with a soft and slippery surface.
These kinds of office curtain ideas mostly look great in large working areas which carry a classic and luxurious theme. Have you intended to try it?
8. Plain Tailored Pleat Drapes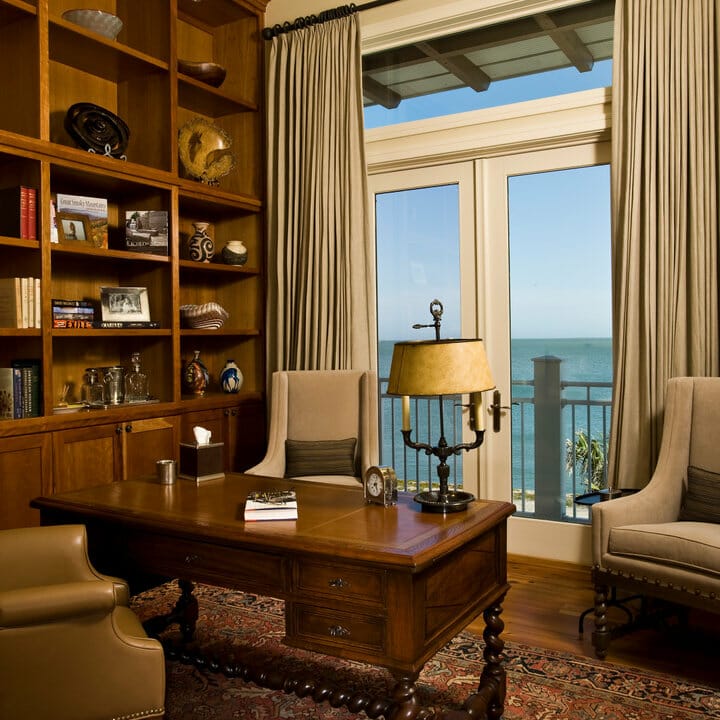 Again, carrying a classic design, but want a more minimalist look? Tailored pleat drapes are the most perfect to choose.
Warm colors of drapes such as beige or sand beige can blend elegantly with your white window shutters.
The selection of office curtain ideas like this will be suitable for you who work professionally in more formal fields such as company managers and so on.
9. Embossed Vintage Window Curtains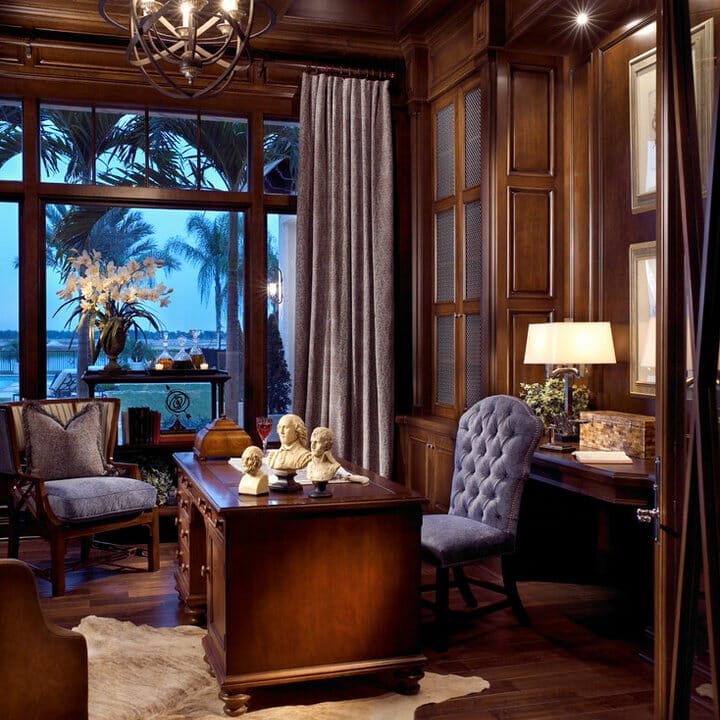 It's a different story when you prefer vintage style instead of modern. The selection of office curtains with embossed will further strengthen the atmosphere in your workspace than the plain ones.
In addition to pairing curtains with a similar theme to your vintage interior, you can also add some other window treatments in the form of artificial flower decorations.
10. Black and White Trellis Patterned Drapes with Window Shutter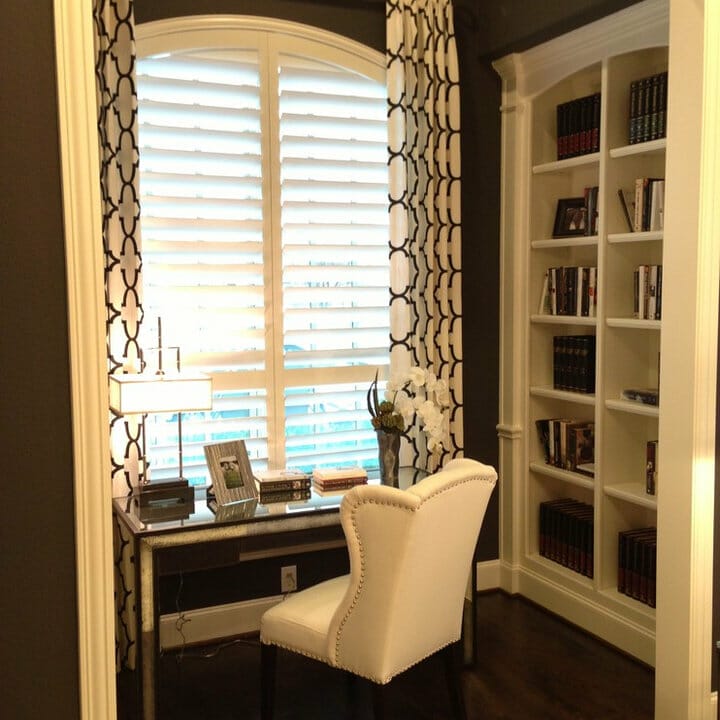 Generally, workspaces that carry a modern theme use more glass windows. However, some choose to come with wooden shutters. By giving it white paint, the minimalist modern feel can still emerge as it should.
Especially when you pair it with cotton curtains with a trellis motif, you will soon achieve all the simplicity you desire.
11. Printed Pattern Curtains with White Venetian Blinds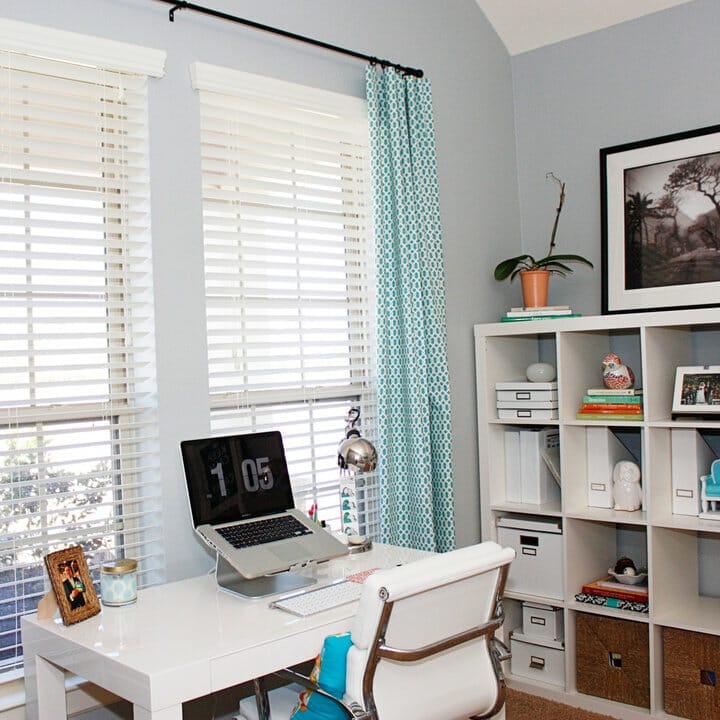 The workspace is not only where you work on all your reports every week. But it's also a place where you find inspiration, especially when working in a creative field.
Therefore, the selection of bright office curtain ideas is more recommended. You can go with a blue mixed printed pattern or your other favorite office curtain color.
Further, to add a texture to your windows and adjust the light coming in, you should install adjustable aluminum Venetian blinds.
12. Two-Tone Vertical Striped Curtains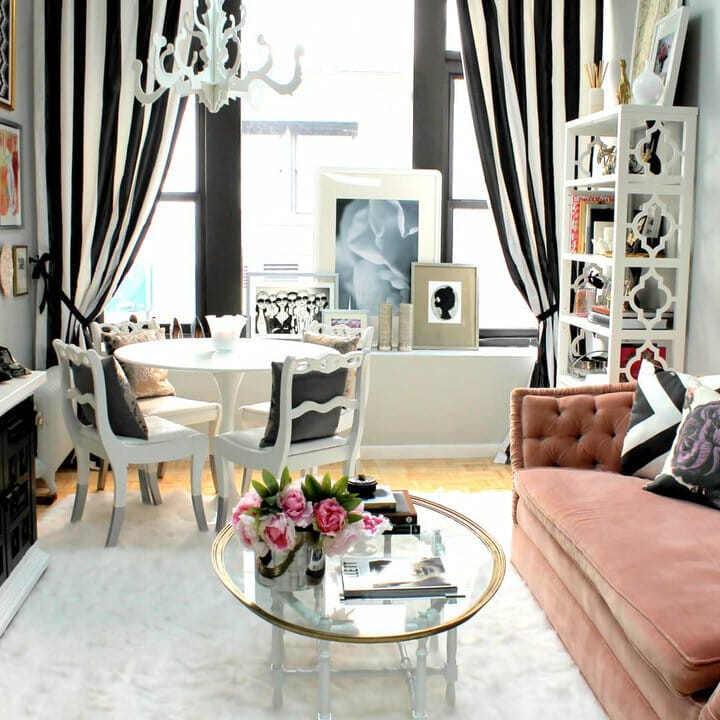 White and black come again to re-decorate your workspace. Choosing office curtain ideas with vertical stripes design will make your future work area appear more comprehensive than before.
Avoid choosing a horizontal broad stripes motif because it will only make your workspace more crowded.
13. Country Style Lace Sheer
If you're okay with transparent window coverings, then choosing one with lace isn't a big deal either.
Like the presence of many sheers made from vitrage, lace can also filter the sunlight that enters your room. Next, you can add solar shades before the curtains to protect you from UV rays exposure.
14. Strengthen The Industrial Vibes with Goblet Drapery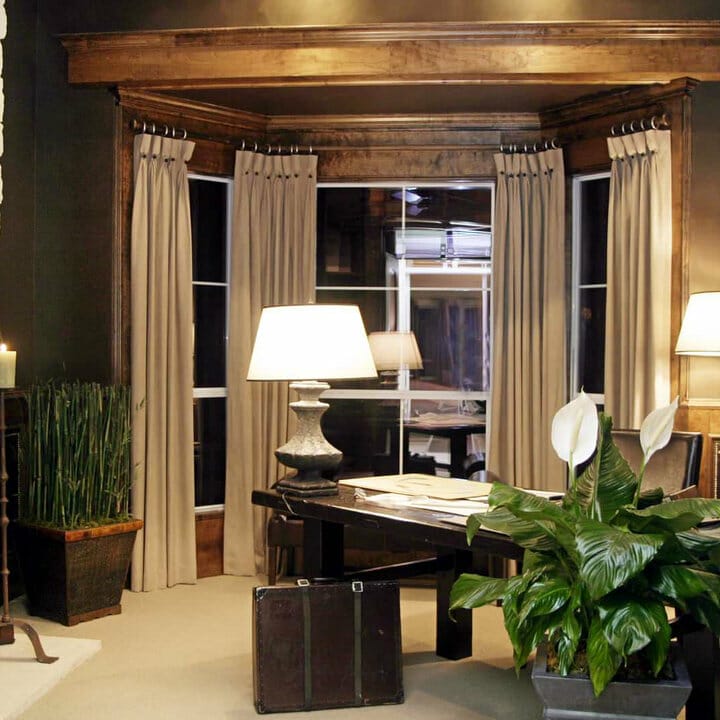 The aesthetic value of a curtain lies in its material, colors, and the accent of certain stitches at the top of it.
As in the picture above, the goblet-shaped handcrafted pleats at the top part can highlight your window treatment perfectly. So, even if you have a plain design, this goblet accent can transform your drapes into attractive ones.
15. Autumn Trees Printed on Your Office Window Coverings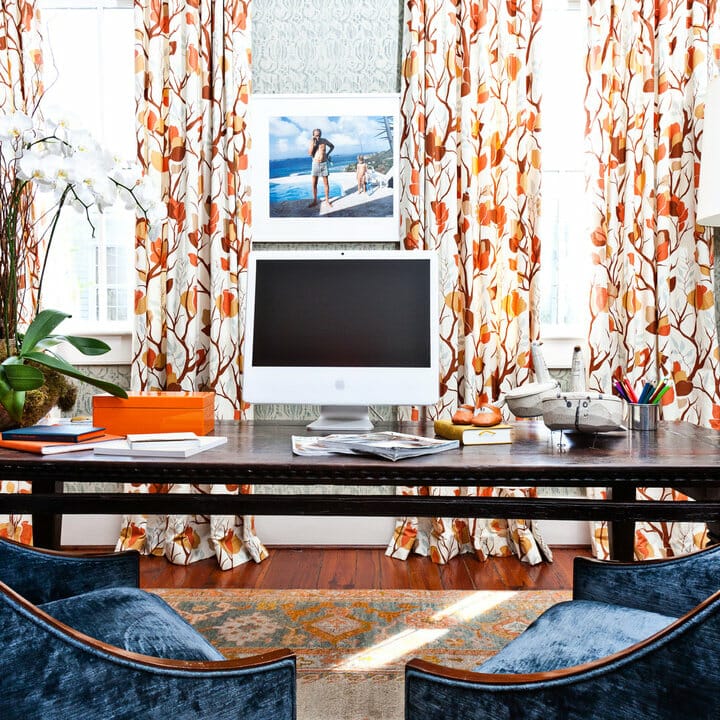 Many autumn-themed office curtain ideas are suitable for your contemporary working area. With a white base and a printed pattern in the form of yellowed leaves, your workspace now becomes more colorful.
16. Linen Stripes Rod Pocket Drapes
You can apply office curtain ideas with rod pocket models in your workspace to get a more relaxed atmosphere.
Although it looks more informal, using a rod pocket curtain made of linen can still provide privacy and personality that suits anyone's preferences.
17. Get Private and Catch the Sunlight with Half Curtain Design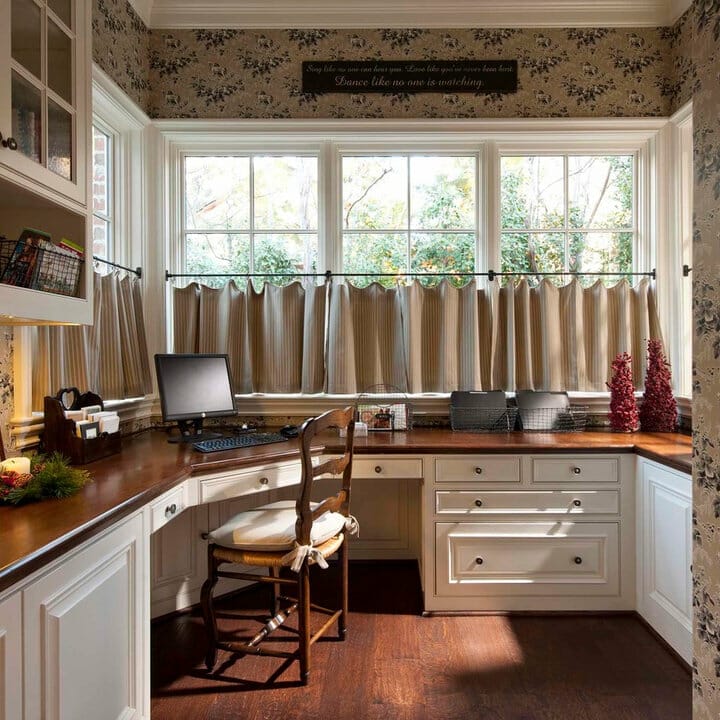 There is one more way to make you get enough light and secure privacy for your working area, namely by installing a half curtain on the entire window in the room. Therefore, you don't need a double layer anymore.
Even at night, you can still see the starlight or moonlight while working until late by using these kinds of office curtain ideas.
18. Always Fresh with Green Leaves Pattern Curtain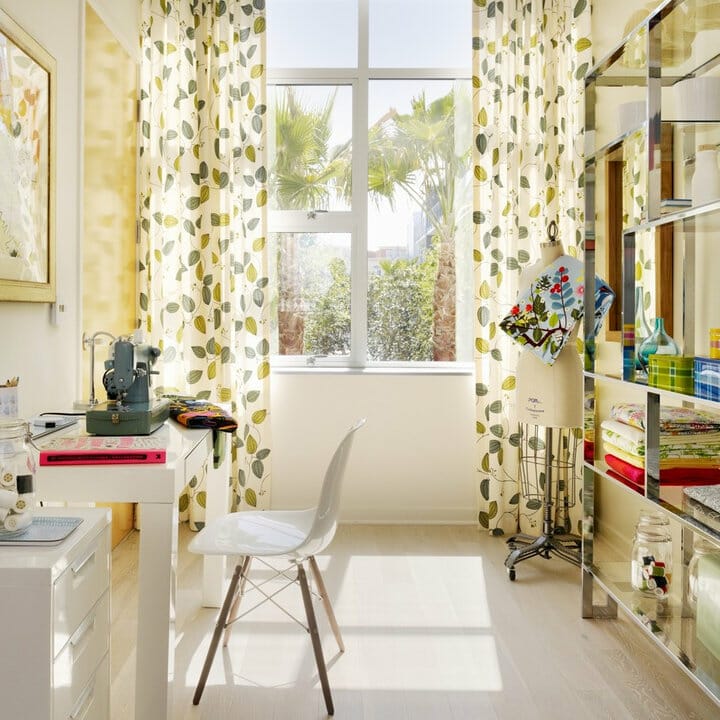 Working in fields that require high accuracy, such as sewing, embroidery, and so on, requires you to have a workspace with maximum lighting.
Applying office curtain ideas with a white base and bright motifs like green along with yellow makes you quickly find a working area with enough lighting, whether during the day or night.
Furthermore, soon you will get an attractive window treatment simultaneously.
19. Linen Curtain with Earthy Color Palette
Choosing office window curtains with three colors at once is not a sin. Indeed, picking a tone that matches the room will make your workspace more relaxing and comfortable.
But it would be best to avoid choosing curtains with three colors that are too flashy. Instead of making you more productive, it will just make an eyesore.
20. Chevron Drapes in Retro Style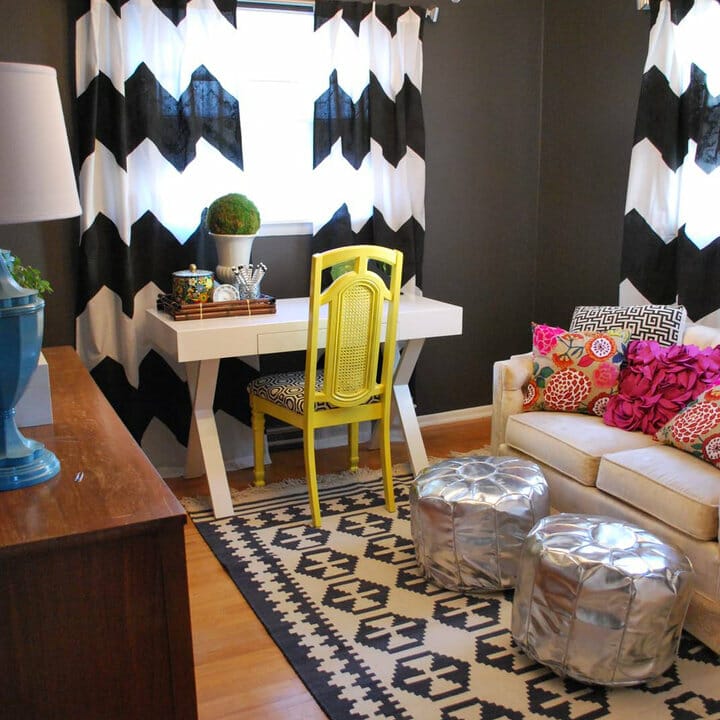 Retro-style enthusiasts will always dare to mix and match various motifs. If you like challenges and novelties in your workspace, then try following these office curtain ideas.
Without the need to match the motifs between one piece of furniture to another, you can freely choose the pattern for your window treatment based on your preferences.
Picking up chevron details in black and white like the one above is also worth trying.
21. Light Taupe Embossed Drapery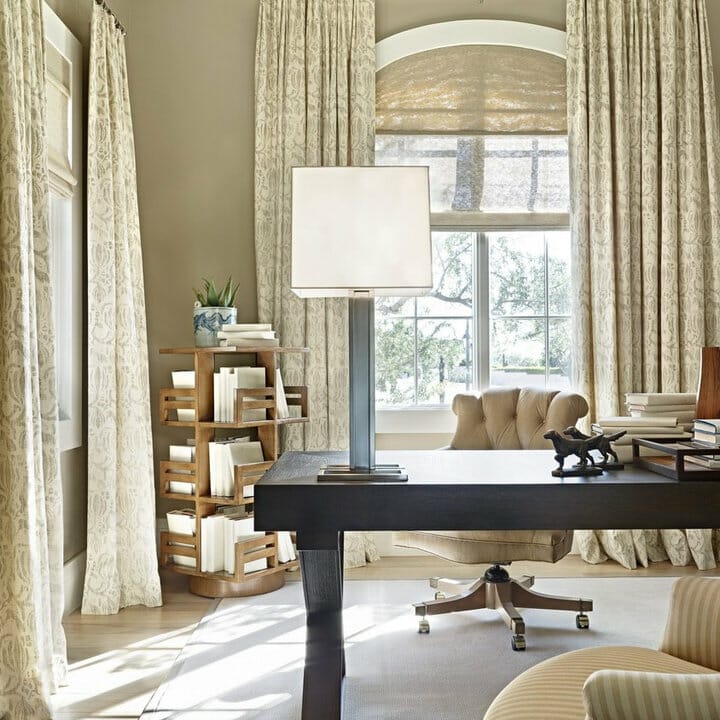 Sufficient light during the day and night is the key to your comfort while working in your workspace.
In addition to making the room bright and spacious, the selection of proper curtains, either classic or modern, with bright colors and tiny patterns, can improve your mood better.
22. Roman Window Shades with Tassel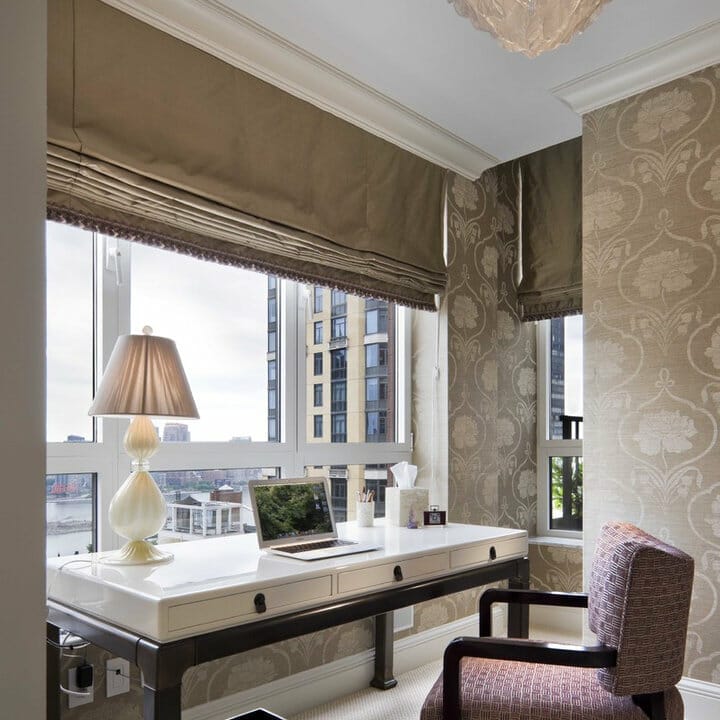 Suppose you are bored with office curtain ideas using drapery. In that case, you can try to use Roman shades.
Simply, take one with a tassel at the bottom to give a boho feel to your working area.
23. Modern Patterned Roman Blind in Olive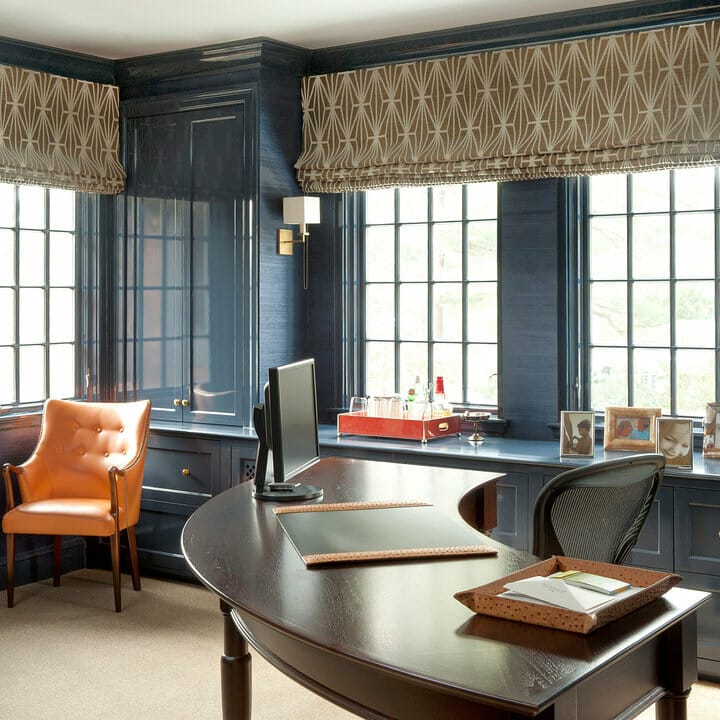 Besides coming in plain, Roman shades also provide you with a choice of various motifs.
Moreover, it is perfect for your workspace where all the furniture is plain and dark in color. As a result, these shades provide an attractive focal point.
24. Horizontal Striped Grommet Blackout Curtain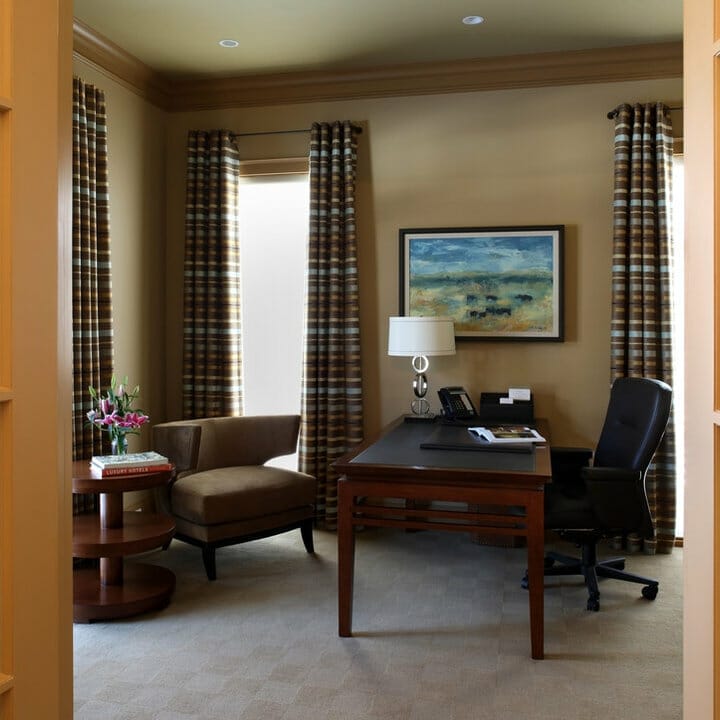 There are many types of curtains for offices that you can choose for your workspace. One of them is this grommet drapery.
This blackout curtain is popular in modern homes with minimalist vibes. It is because this drapery also brings simplicity and elegance.
Besides, having the metal ring within the fabric makes running the curtains through the rod easier.
25. Minimalist Ripple Fold Drapes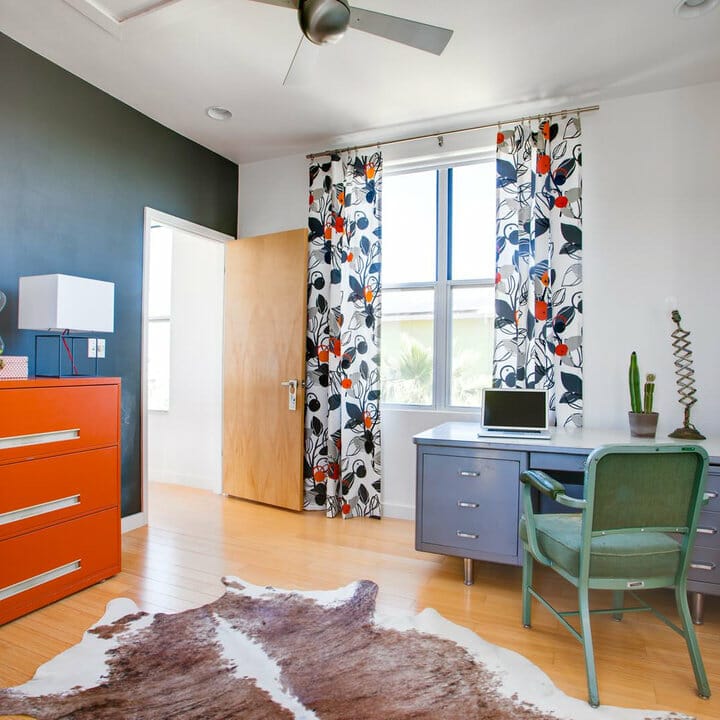 You can say that ripple fold drapes are also popular among minimalist-themed home offices. Just as the name suggests, this curtain does not have protruding pleats like other types of drapery.
Instead, it features more simple, flowy, and elegant waves. Additionally, to strengthen the aesthetics aspect, you can choose one with some patterns.
26. Broken White Cubicle Drapes with Dark Wood Blinds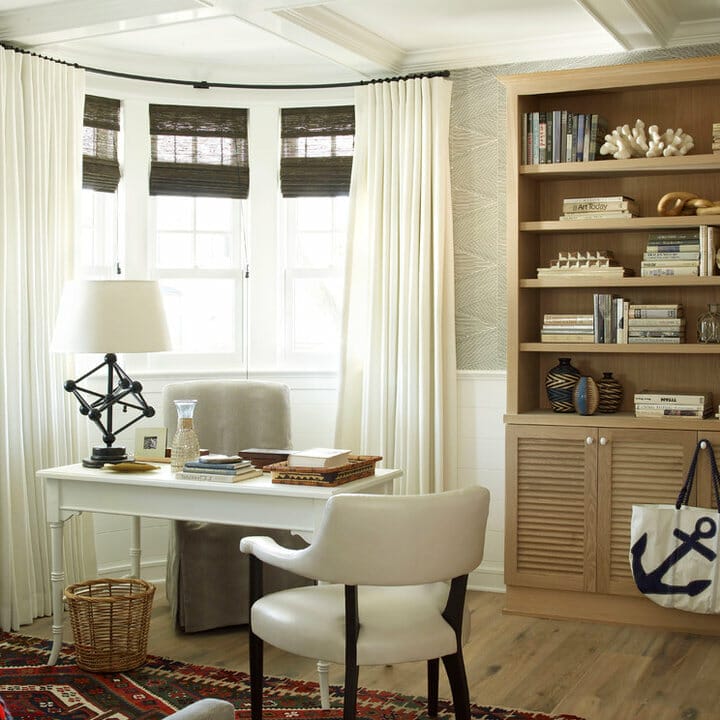 Pure white curtains are not always the first choice.
You can also choose a cubicle drapery with a broken white color to get a warmer impression of your home office.
In addition, you can also add dark wood blinds on your windows to strengthen the farmhouse feel inside.
27. Simple Sleek White Window Covering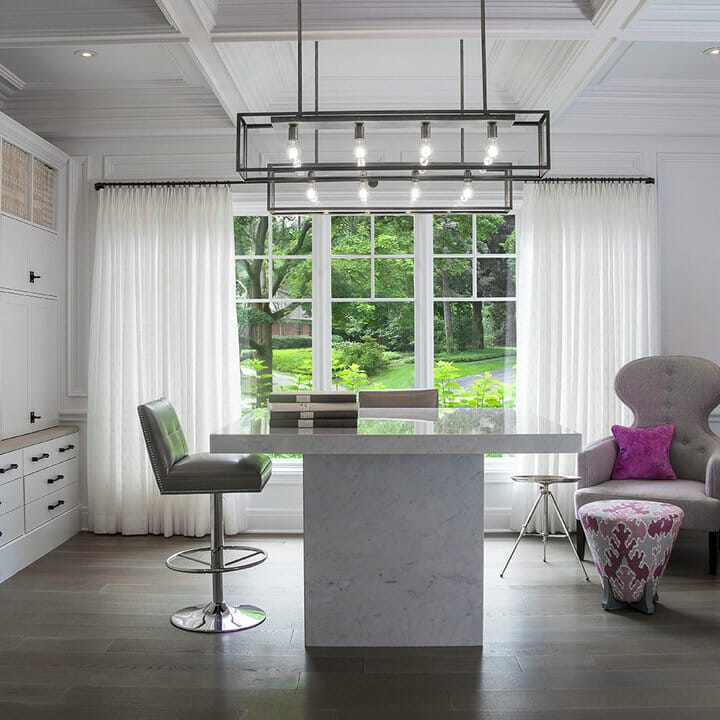 Office curtain ideas that carry a pure white theme will never meet an end, whether it's for modern, contemporary, or industrial interiors.
Most people choose this color to give a remarkable impression in the home office. Plus, white can blend with the greenish outside the window perfectly.
28. Plantation Shutter and White Curtain Combination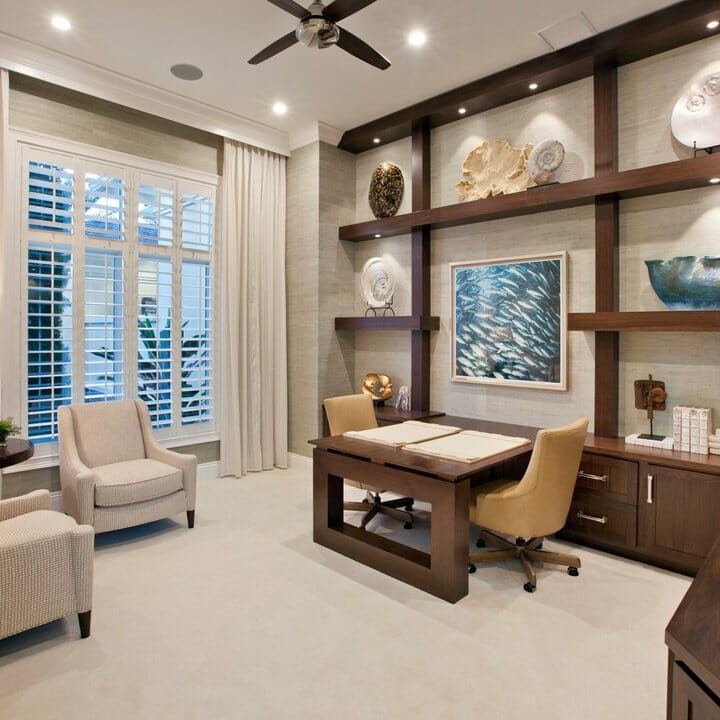 To provide more security on your expansive windows, you can also add a plantation shutter before your curtains.
Generally, these plantation shutters come in many colors, but choosing white is also suitable. It is because white can match every color of your window curtains.
29. Blackout Curtains with Window Solar Shades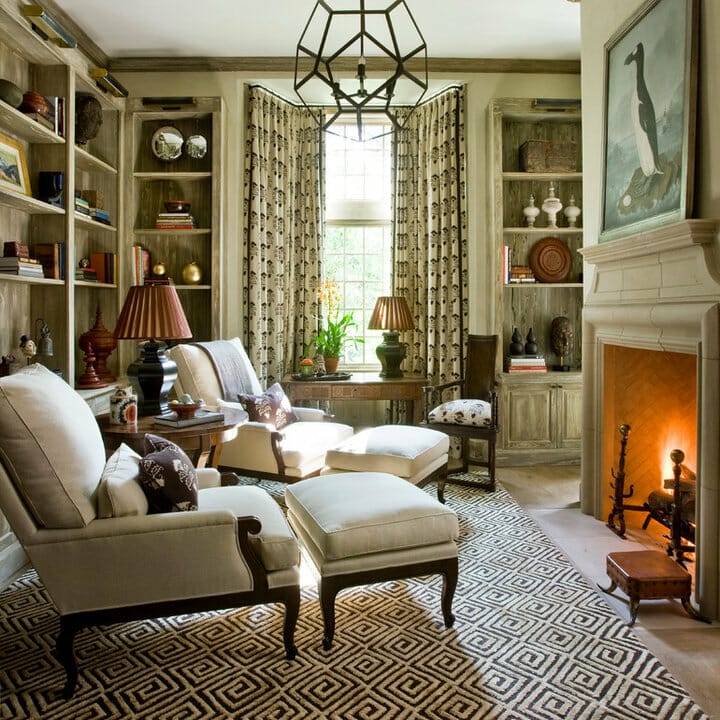 The presence of adjustable solar shades makes it easier for you to filter the sunlight entering your workspace. When you open your drapery wide, you can still enjoy the warmth of the sun without worrying about the blinding light. And your skin will stay safe from exposure to UV rays.
As explained before, it's all the same whether you go with only linen curtains, drapery, shades, or blinds. The most crucial point is that the window coverings can protect you from the sun's harmful rays.
And of course, without losing light during work and how you stay safe at night by providing privacy with blackout curtains.
Well, from all the office curtain ideas above, now is the time for you to choose the one that suits your preferences and needs.