It is common that a neat and clean work spot dramatically affects the mood during working hours. However, sometimes you find it challenging to keep desks clutter-free once you have a narrow workspace. That's why you need to look for small desk organizer ideas occasionally.
A person's productivity is not only influenced by how aesthetic the desk is. But also, how functional the furniture is to store many things inside and save space.
Thus, here come the twenty-nine designs of small desk organizer ideas you can follow. And of course, these arrangements will be able to help you deal with a messy workplace soon. So, get inspired!
1. Long Desk with Built-in Shelving and Two Mini Drawers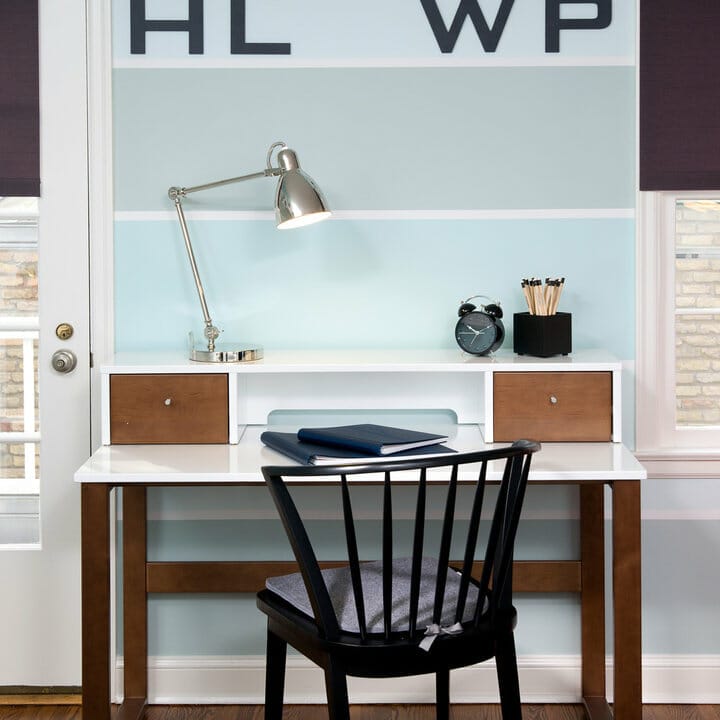 Having a narrow workspace should make you selective in storing your work needs. Instead of keeping them all, you have to be firm in sorting out which items you need and which ones you don't.
Another critical point, it is better for you to choose the long desk instead of the wide one. Also, it would be great to pick a desk that has built-in shelves and mini drawers.
That way, you can put a task light on it without compromising your working spot.
2. Vertical Lift Up Door Wall Cabinet and Pull-Out Table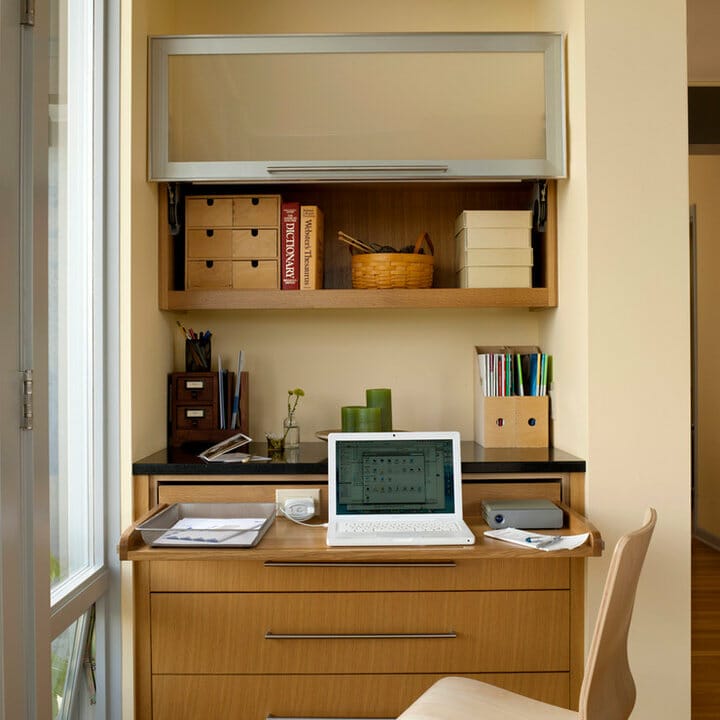 Most small desk organizer ideas recommend you to choose a cabinet with lift-up doors. A cover like this is considered more superficial and doesn't make it cramped when it's in an open position.
In addition, a desk with a pull-out style can also help you cope with a small workspace. Even you can store your laptop there safely from the open area.
3. Small Filing Cabinet as a Printer Stand Under the Desk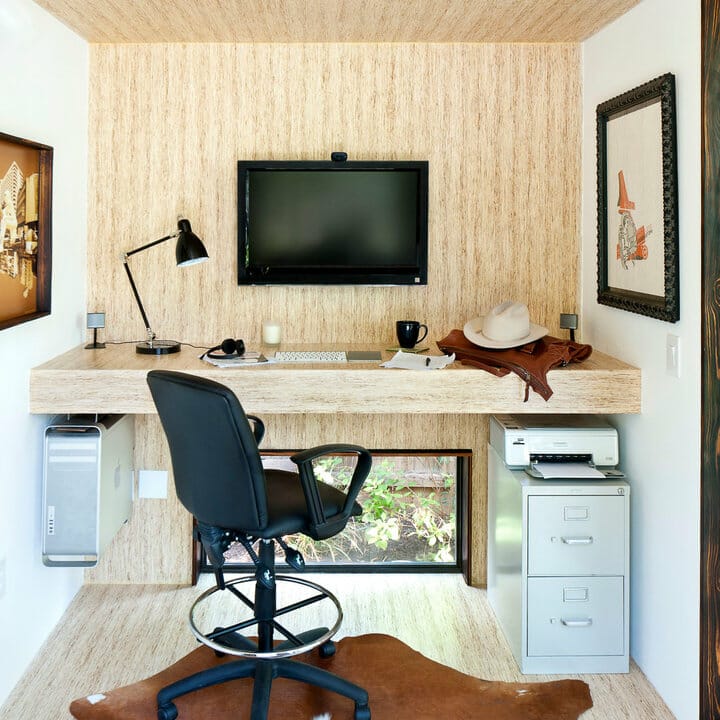 Sometimes having a small workplace expects you to be more creative in dealing with it.
In this case, you may try to install your computer monitor on the wall instead of letting it stuck on the small working table.
Next is to utilize a filing cabinet to become a printer stand. Then cleverly store it under the desk to make it more space-savvy.
For another option, it would be best to use carts with wheels anyway so that the printer stand is easier to move.
4. Deep Built-in Shelving with Baskets
The small desk organizer ideas generally cannot be separated from the use of shelving and baskets.
By combining these two items, you will be more organized in storing your work essentials. Even, you can also put a label on each basket. That way, it will be easier for you to find what you need.
Once you move all your books, stationery, documents, etc., in those baskets, now your work desk becomes free from clutter and fresher with only greenery on it.
5. Computer Desk Set with Vertical and Horizontal Shelves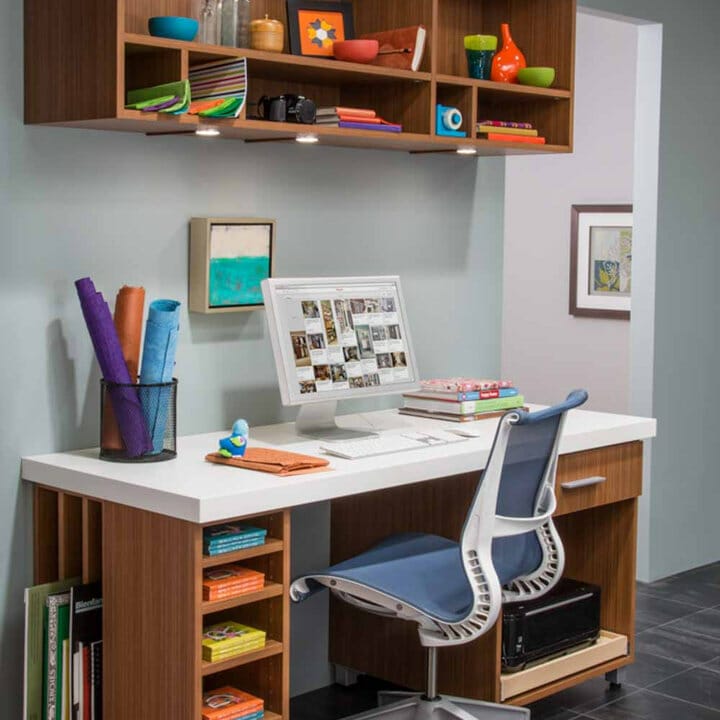 Having a multi-purpose table is a blessing. It is because you can efficiently work with your computer and store documents, papers, and even printers in only one piece of furniture.
Furthermore, by providing vertical and horizontal shelves simultaneously, you can organize all your printing needs in it based on type, size, and urgency. So, you no longer need to move in and out to finish one work.
6. Tall Slim Bookcase and Desk Organizer in Aquamarine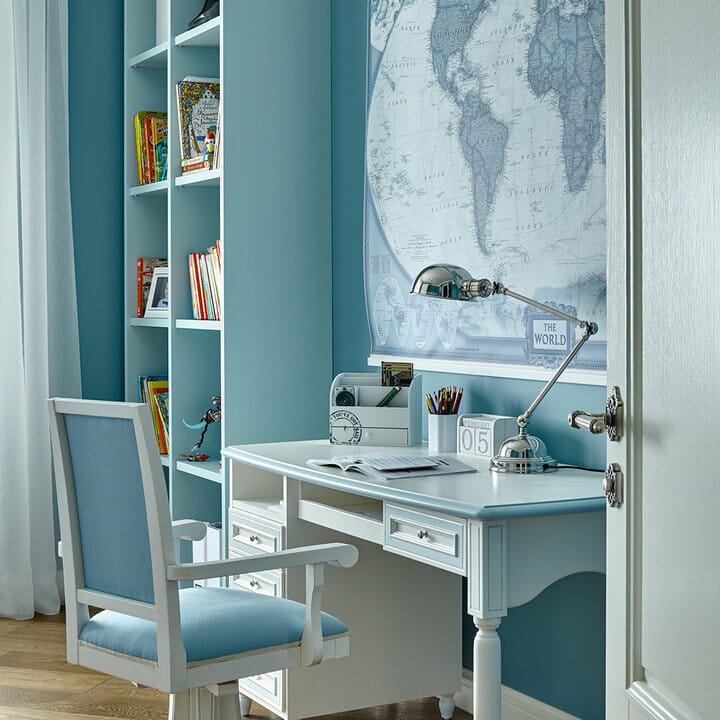 Other small desk organizer ideas take you to the use of a bookcase that soars to the ceiling. The selection of this furniture is not without meaning.
Many people believe that a tall shelving system will make your small workspace more spacious.
Moreover, you can conveniently provide several desk organizers with matching colors to keep your knick-knacks safe.
7. Best Small Desk Organizer Ideas with Built-in Table and Leveled Shelving
The built-in desk is the best option you can choose to save your workplace space. Since the table has no legs, it is easier for you to put the storage box underneath.
What's more, the floating shelves over the table are pretty helpful to keep your desk away from scattered books.
8. White Built-in Shelves and Cabinets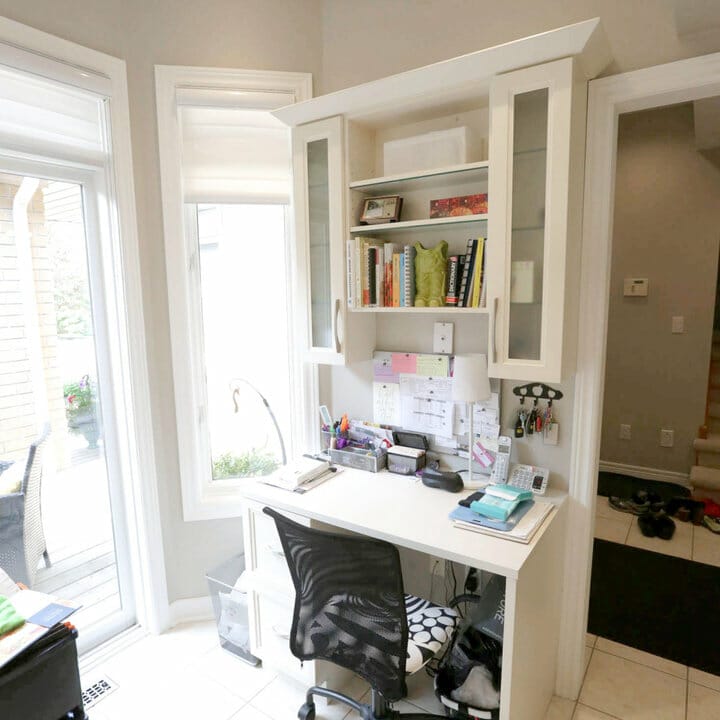 You can achieve the best home office organization once you successfully manage everything you have in order.
For example, set the books neatly on the shelf, tack all the notes appropriately on the to-do list board, and put the keys safely on the wall key holder.
Also, suppose you plan to display decorative ornaments over the desk. It's perfect to choose the built-in cabinet with glass doors on both sides of the shelf.
9. Utilizing The Storage Boxes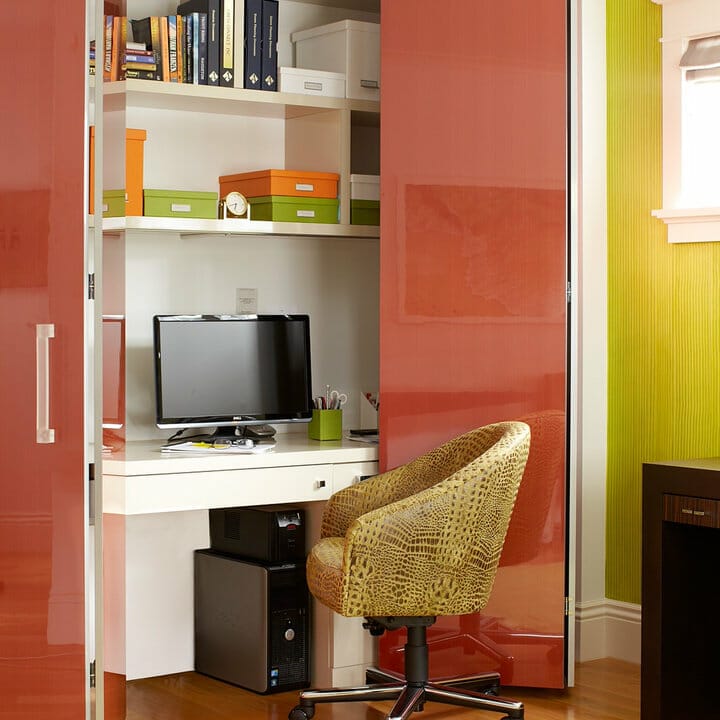 Storing all stationery, printing papers, and crafting essentials will look neater when you keep them in a different storage box.
Then, you can put a label on each box so that it is easy to find every time you need them. And, look, now your desk is so much tidier.
10. Pull-Out Tray with Divider and Mini Storage Spot Underneath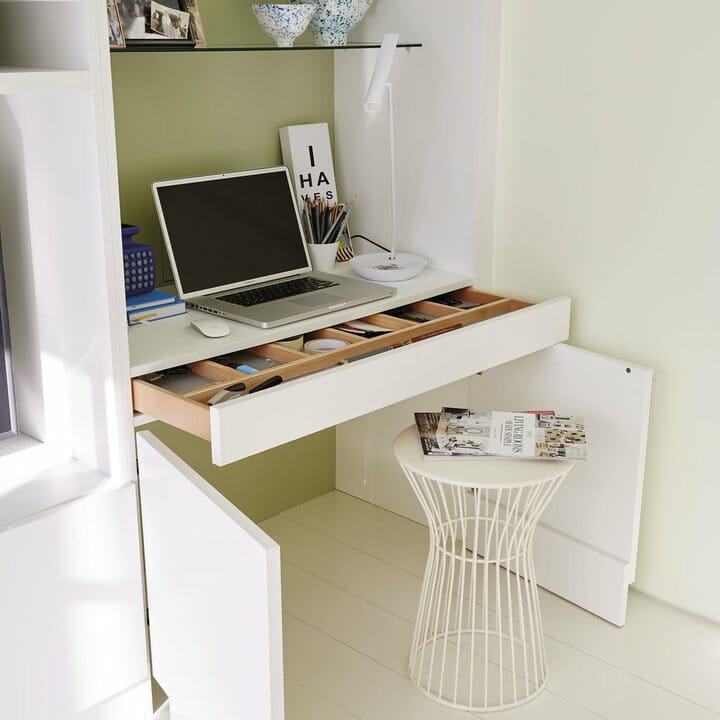 Some people like to keep their working needs in a drawer because it feels more straightforward. However, have you ever thought that putting them all together will only make it hard for you to find them?
Therefore, providing a divider inside the drawers is very important. Moreover, you can also install the doors under your desk that helps you hide the stool when it is not in use.
11. Roll Storage Racks and Drop-Down Door Cabinet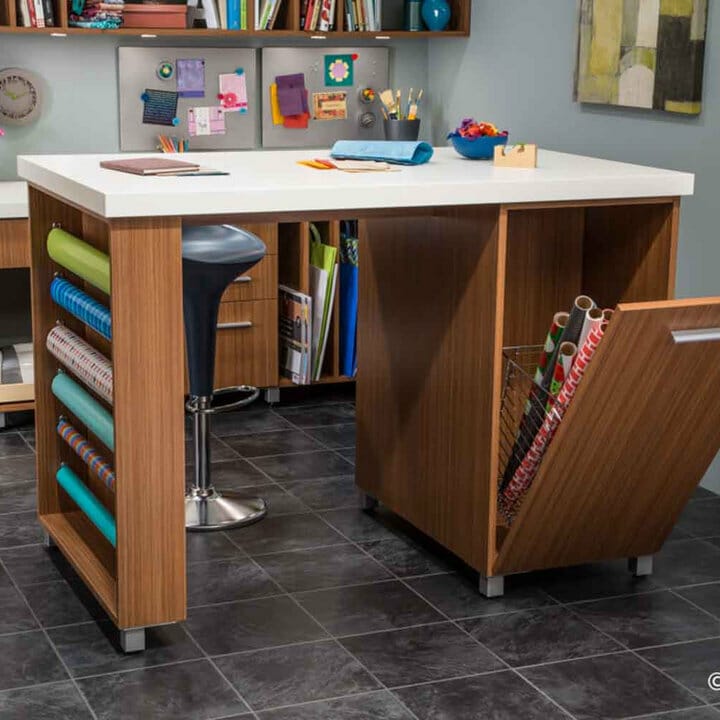 The following small desk organizer ideas introduce you to one of the many multifunctional furniture you must have. It is a sturdy table with storage on the right and bottom sides.
This working desk comes with a rolling rack and a wire basket inside the cabinet. By utilizing these two storages, you no longer need to spend much space keeping all your crafting essentials.
12. Smart Small Desk Organizer Ideas with Mezzanine Design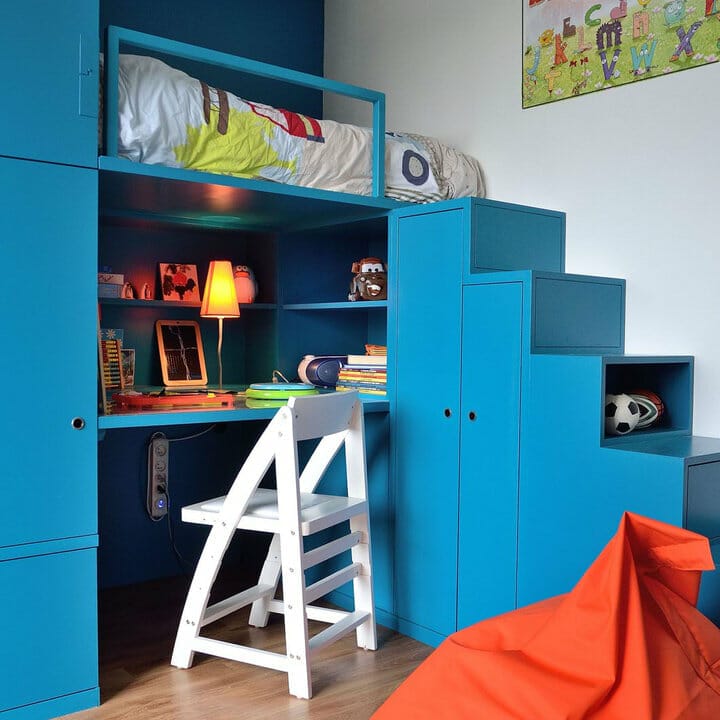 Many people think that applying a mezzanine design in a small bedroom will make this room stuffy. Factually, you can save more space by arranging furniture like this.
Everything will become more concise by setting up a complete workplace with an entire book storage area under your bed.
Even you can provide additional storage space under the stairs. That's how you can keep your bedroom free from messiness.
13. Home Office Cabinet Set and Window Sill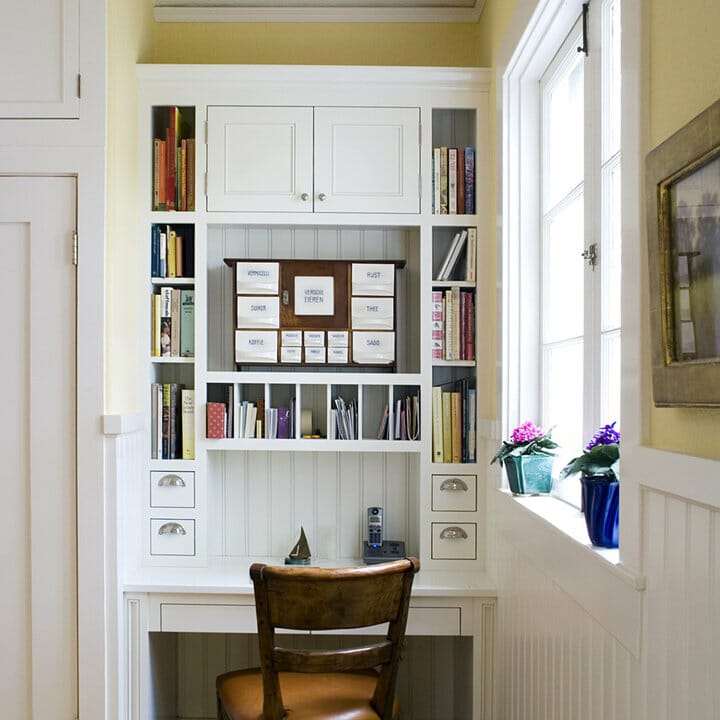 The installation of a built-in cabinet set is the perfect option, among other small desk organizer ideas.
As this furniture has a compact and high design, it can accommodate a lot of stuff orderly even though the space is relatively narrow.
Moreover, just like other organizing systems, labeling makes things easy to find.
In addition, you can also use the window sill as a place to put greenery or other decorative ornaments. That way, your working desk will always be tidy and relaxing every time.
14. Shelf Under the Desk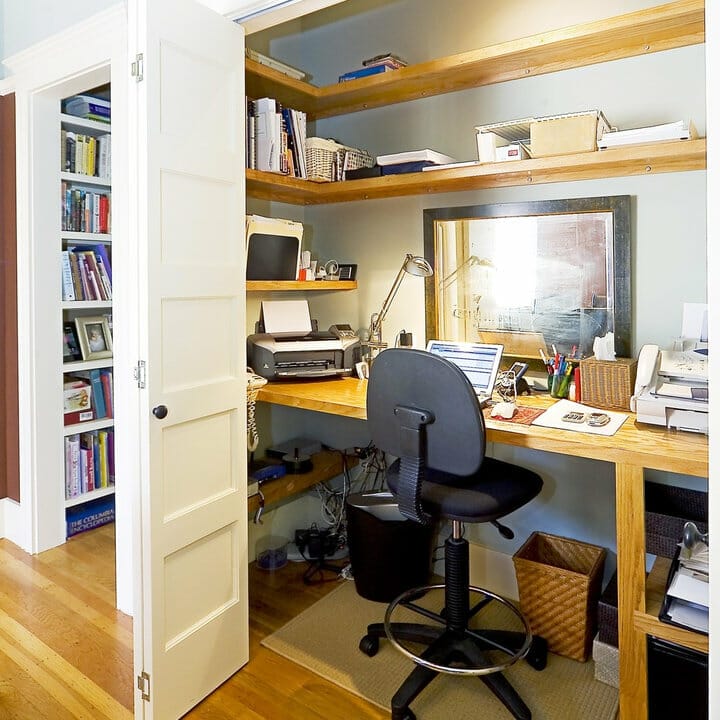 Cable storing systems are a common issue faced by many people. Keeping it in a drawer may be effective for some others.
However, there is an alternative path that you can take. You can do it by providing a specific small wooden shelf under the desk to store all your electrical wires.
So, it no longer makes your drawers messy, caused by lots of twists here and there.
15. Desk Set and File Storage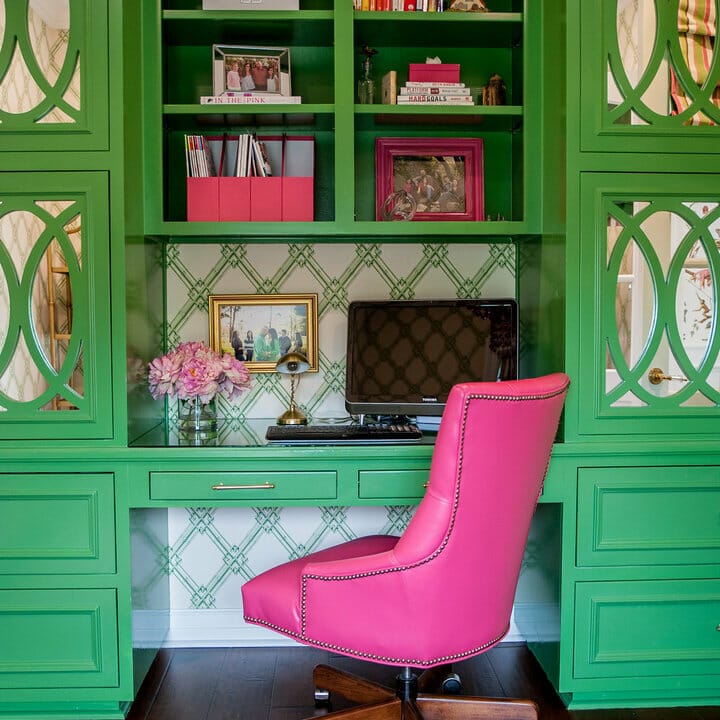 Similar to boxes, filing storage is also essential for you to have on your working desk.
Instead of leaving all your documents stacked on the table, it's good to arrange them vertically in filing racks and classify them by type.
16. Wall Mounted Shelving with Chalkboard Backdrop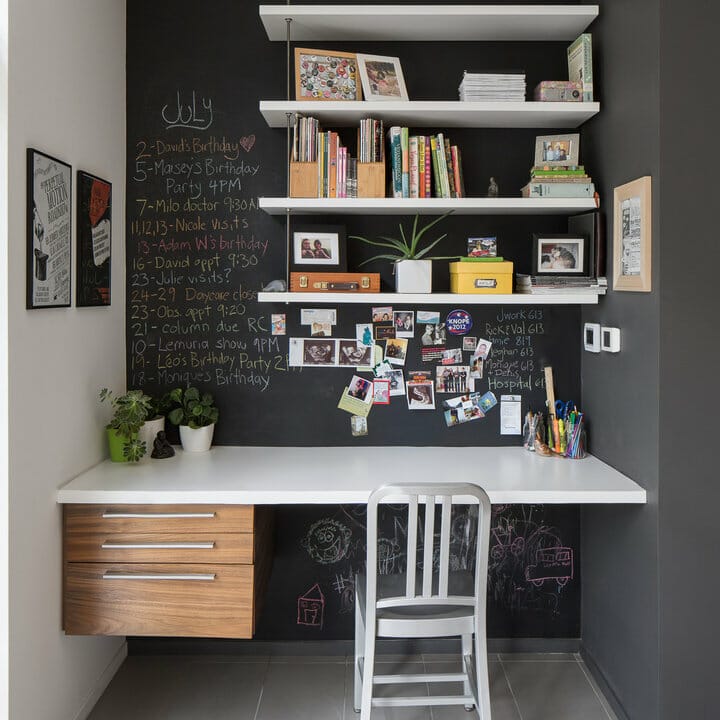 Sometimes, the sticky notes stuck to the wall can damage the paint underneath. And, once it comes too much, it can make your workplace look untidy.
Therefore, try to provide a chalkboard backdrop on the wall. So you can write down your to-do list directly there without leaving a lot of sticky notes scattered around.
17. Attic Workplace with Minimalist Desk Organization Ideas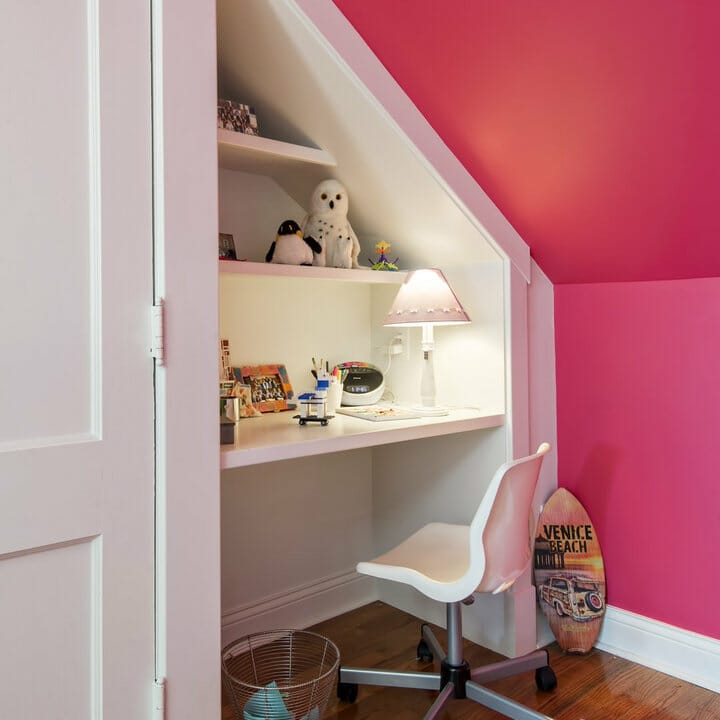 Many small desk organizer ideas carry a minimalist vibe, one of which is the Attic Workplace.
By not placing excessive items on your desk and shelves, you will soon achieve all your dreams of getting a well-organized working area. Instead, you can put other work equipment on the shelves on the other side of the room.
18. Wide Open Modern White Desk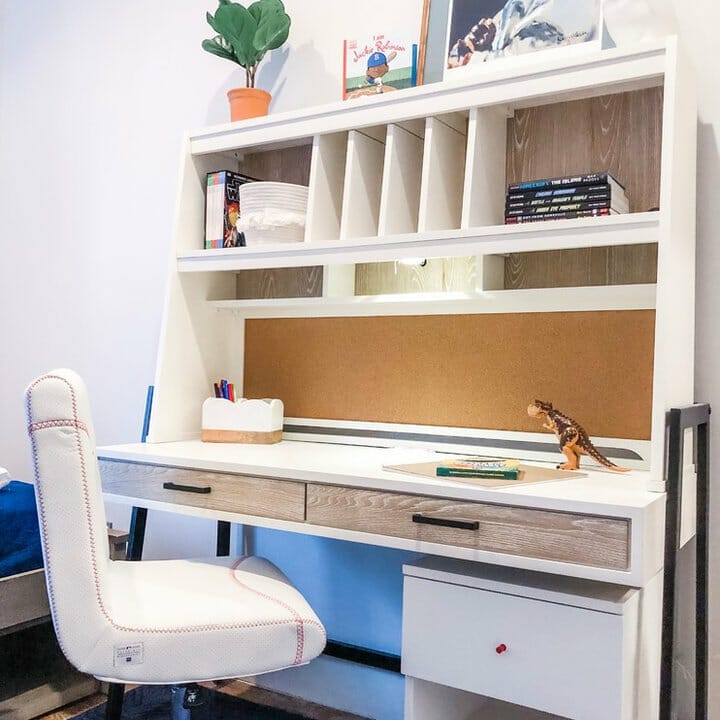 As many people already know, modern-style furniture seems more compact in terms of shape when compared to classic ones. They have lots of doorless storage, making things easy to put and display orderly.
What is more is, the slim table legs of the modern desk can eliminate the stuffy feeling in your tiny workspace.
19. Floating Desk and Built-in Shelving System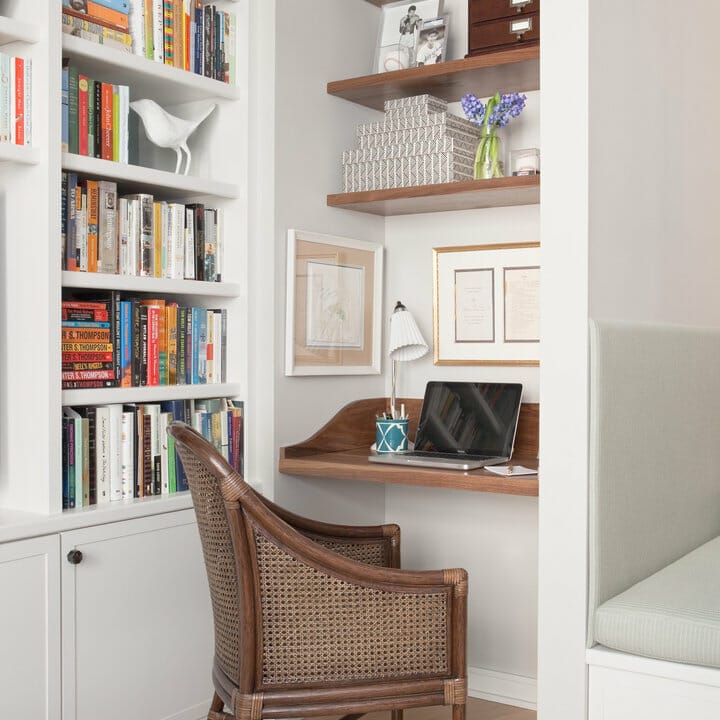 Having a tiny workspace does not prevent you from having a lot of books nearby. These small desk organizer ideas introduce you to a strategy to keep them within reach while you work.
That is by making built-in tall shelving next to the working table. Meanwhile, you can install several shelving systems over your floating desk for only storing decorative ornaments that can boost your mood and productivity.
20. Desk Organizer Set with Mini Drawers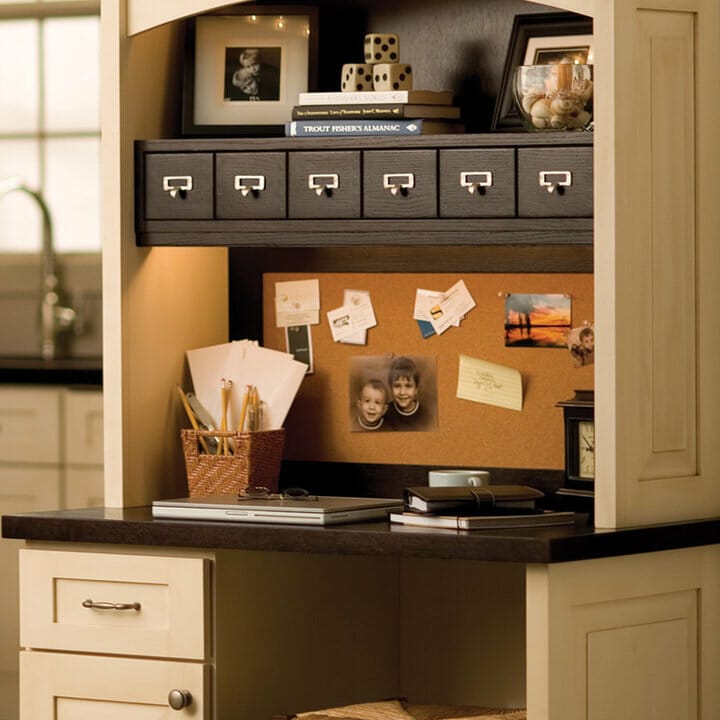 Like other small desk organizer ideas, having drawers near is very useful. Whether it's big or the small one, it will be able to help you keep accessories that might be lost if stored in an open area.
21. Under Desk Storage Ideas with Cupboard and Drawers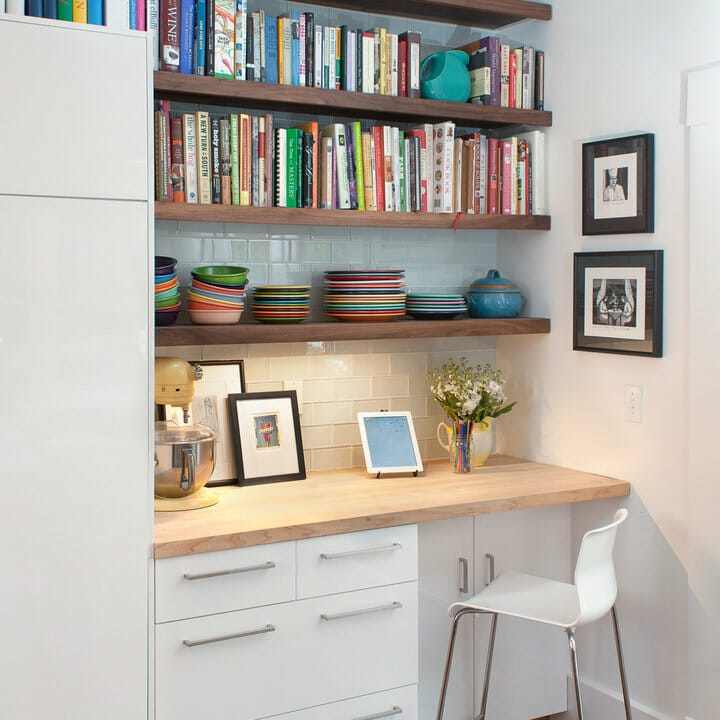 Who says floating tables don't let you have covered storage underneath? Many small desk organizer ideas have developed minimalist working desks with several drawers and cupboards.
Undoubtedly, it will be helpful for everyone who needs some space to keep anything unseen.
22. L-Shaped Built-in Shelving and Holders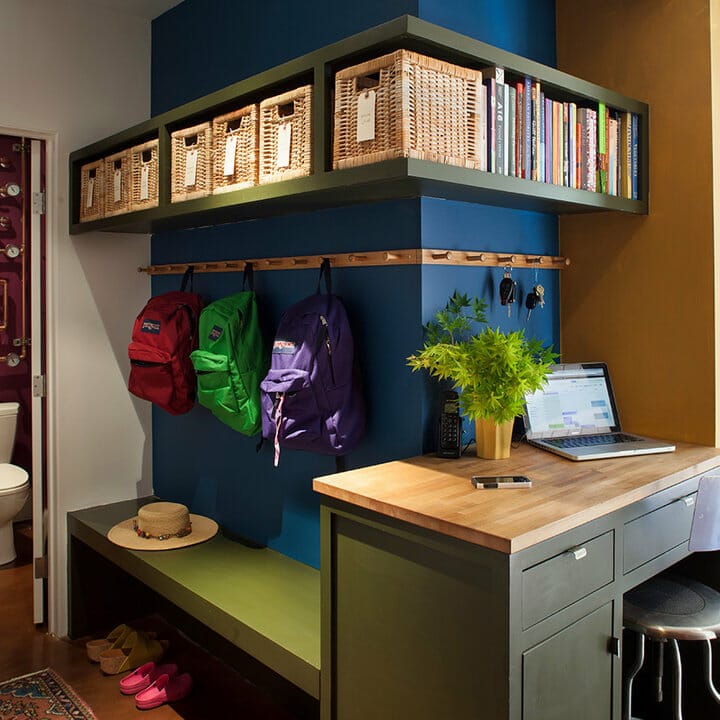 Having a work spot in the corner is not an obstacle to having a well-organized desk. You can conveniently install built-in shelving on the wall that resembles the letter L as the storage area.
Apart from that, you can also put several baskets on it to keep all your work equipment neatly arranged and securely organized.
Furthermore, providing multiple holders is also helpful for storing things used more frequently, such as bags and keys.
23. White Wall Hanging Racks and Quartet Drawers Teak Desk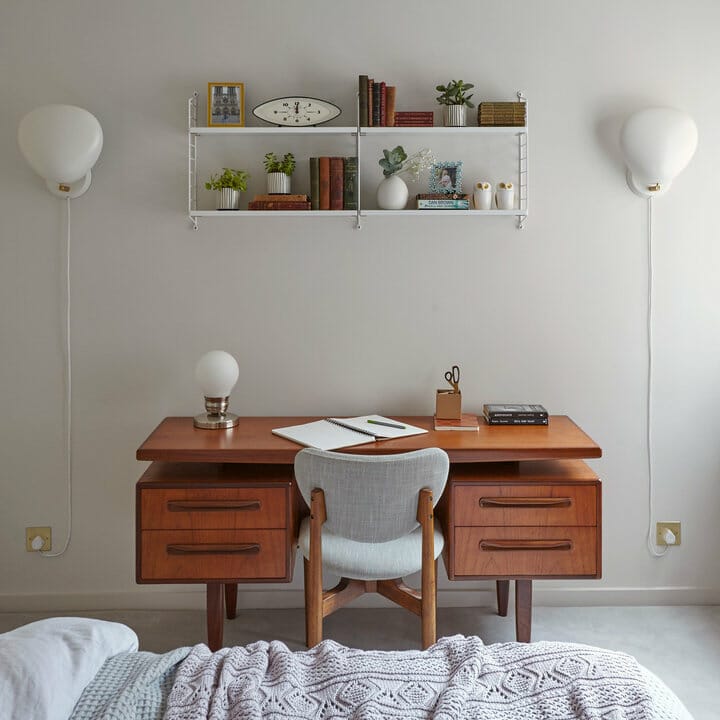 A tidy desk is a key to all your productivity. Therefore, it is essential to have a table with many drawers, at least four.
That way, you will only find a task lamp and some other writing equipment on your working spot. Then, let the hanging wire rack take over the storage function for the rest.
24. Loft Bed and Desk Organizer Underneath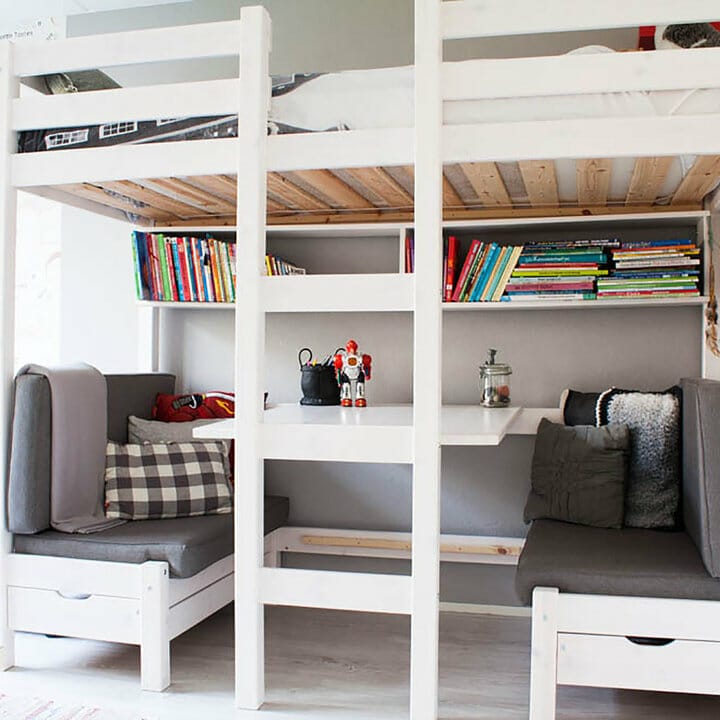 Again, the small desk organizer ideas led you to the decision to have a complete workplace with book storage under the bed.
However, you don't have to worry about making your bedroom look stuffy, as this strategy helps you save floor space instead.
But please note that you have sorted all the books according to your needs before putting them there.
25. Wall Mounted Desk Set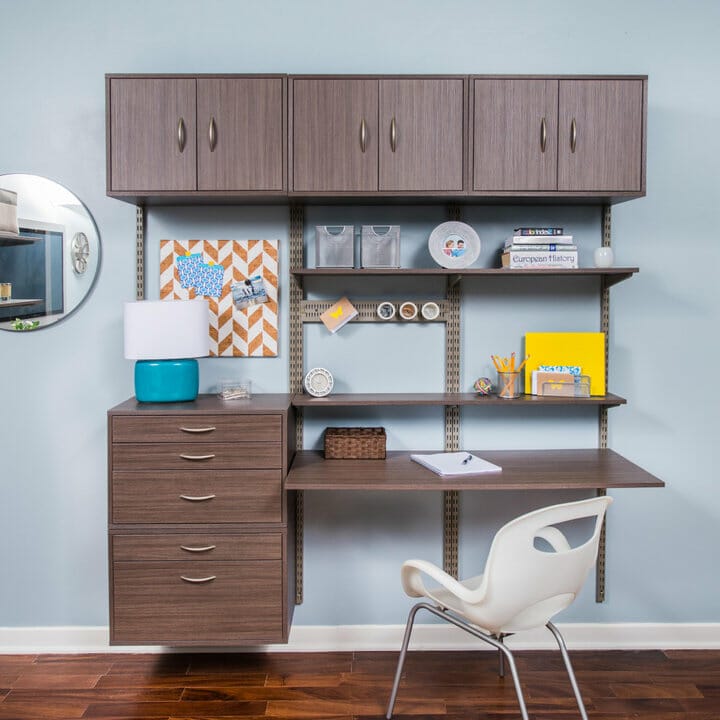 This legless workbench didn't come to you just for aesthetic purposes. Instead, it provides more function by providing a table, shelves, drawers, and key holders in one unit.
Plus, there's an empty area on the floor that you can use at any time for extra storage.
26. Curvy Corners Floating Desk and Shelf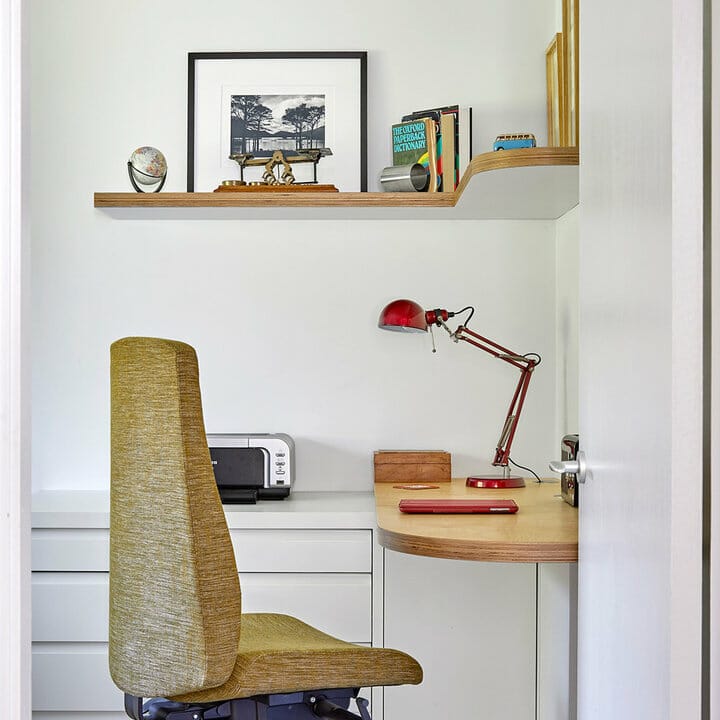 Not inferior to the other small desk organizer ideas mentioned above, this curvy corner desk can also provide comfort for you while working.
There is no need to be confused about storing all the books, stationery, and other ornaments because this furniture comes in a set with a multi-purpose corner shelf.
27. Classic Multifunctional Desk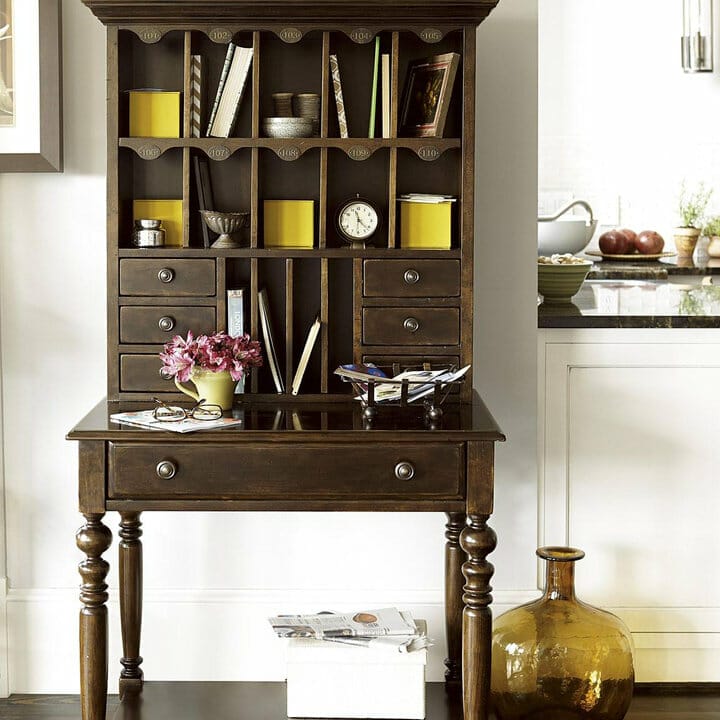 There is nothing wrong with choosing classic themed furniture to complement your workspace. After all, many small desk organizer ideas also recommend this style.
However, it would be better to choose a simple design and doesn't take up too much space as the furniture in this picture. The presence of many drawers and shelves is effective enough to prevent your desk from the clutters.
28. "Hide Them Over" Desk Organizer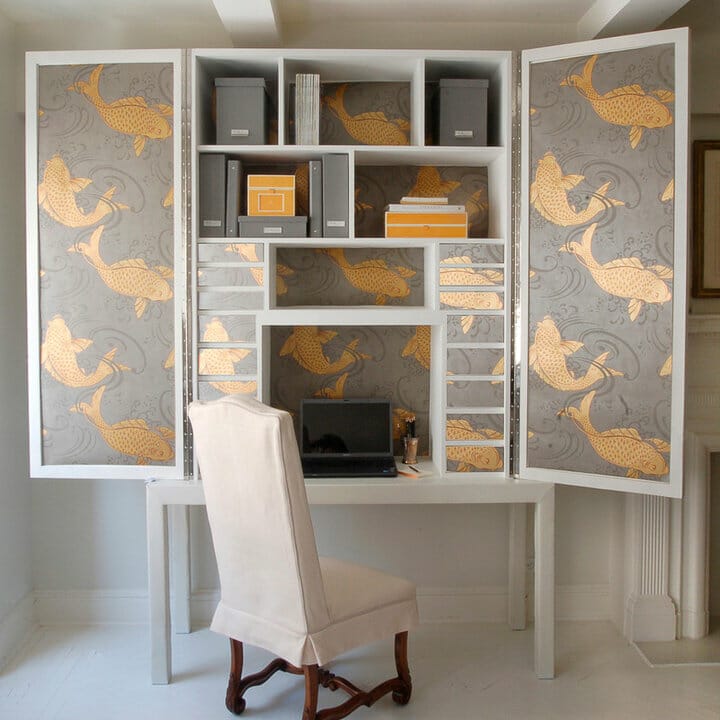 This option is arguably the most unique among other small desk organizer ideas discussed in this article.
Besides providing many drawers to store tons of working essentials, this desk also has two doors that can eliminate all the clutter on it at once. Wouldn't you like to have this one?
29. Industrial Working Desk with Shelves Between Its Legs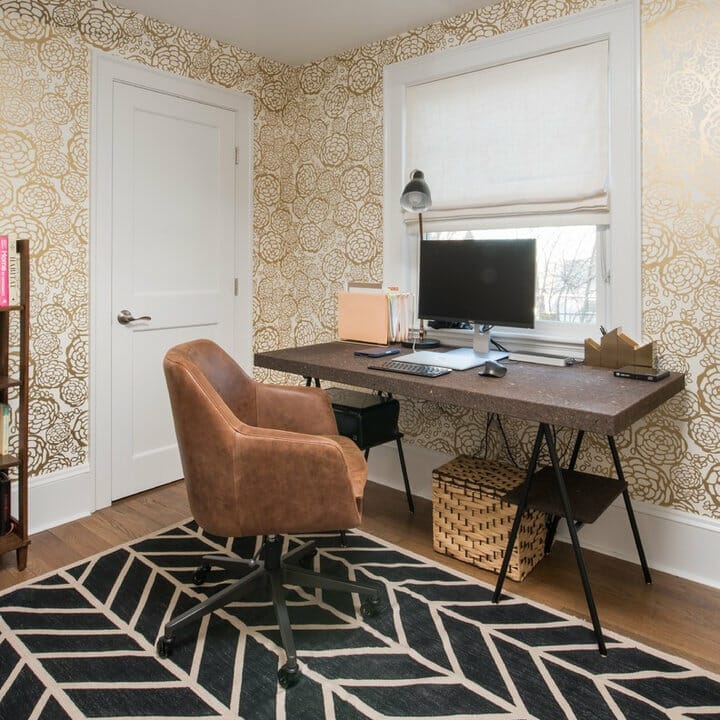 The last recommendation of innovative small desk organizer ideas that you can choose is a table with shelves between its legs.
It is the best solution to keep your printer and other hardware safe but still not out of reach. You know that putting it on the table will only take up a lot of your workspace.
And now, it is time for you to consider what strategy to use for keeping your desk clutter-free.
Hopefully, after knowing all these small desk organizer ideas, it will be easier to organize your benchwork later. Because after all, a neat and clean workplace will be more pleasing to the eye and bring a good mood every day.