The color of the living room influences emotions. That's why you must put it into consideration. If your favorite color is blue, you are in luck. I featured these incredible blue living room ideas.
You won't go wrong with blue. This color is totally versatile and goes well with any style. Not to mention, shades of blue give your room different vibes. Most importantly, they won't make you feel blue.
Blue Living Room Walls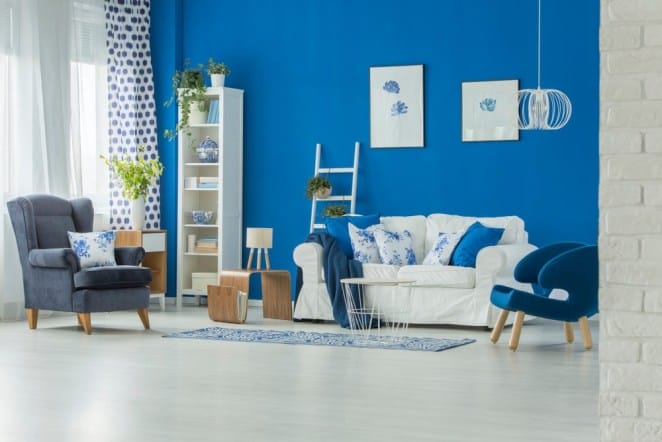 One of the easy ways to refresh your sitting room is painting the walls blue. Here, sapphire blue walls convey energy and liveliness.
White sofa, coffee table, pendant light, rack, curtains, and shelves open up space. Meanwhile, potted indoor plants create an organic setting.
Light Blue Couch Living Room Ideas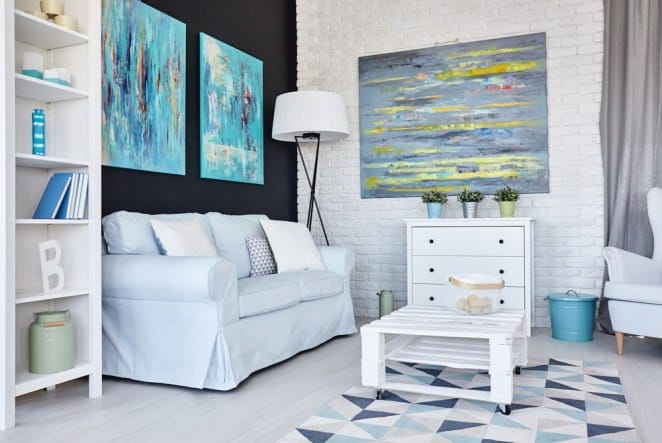 In this picture, light blue couch and wingback chair evoke a serene ambiance. A geometric area rug and throw pillow draw the eye.
Blue paintings add visual interest to the area. Plus, teal and Carolina blue units tie the space together.
Blue Wood Furniture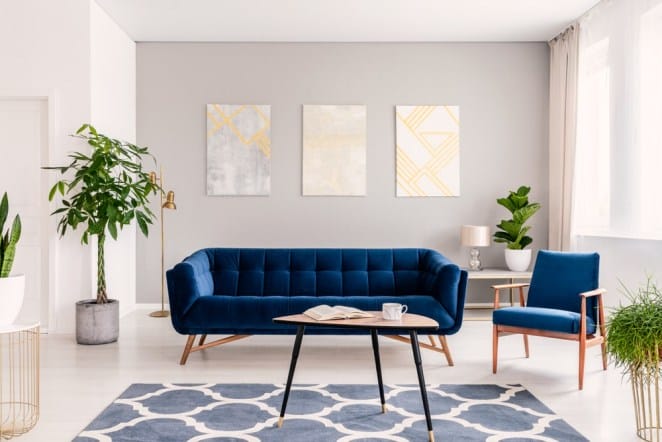 Since the room is predominantly neutral, do not hesitate to fill it with Yale blue wood furniture. Both sofa and armchair take the center stage.
Arabesque rug and hanging artworks keep the area from being stark. Lastly, the gold floor lamp promotes a luxurious air.
Blue and Gray Living Room Combination
Blue and gray are a perfect pairing. This picture above is the real example. Layers of textures make the space cozy and welcoming.
Maritime and turquoise blue throw pillows pop against pastel gray sofa. Azure 3-panel shutter screen acts as a room divider.
Blue Living Room Color Schemes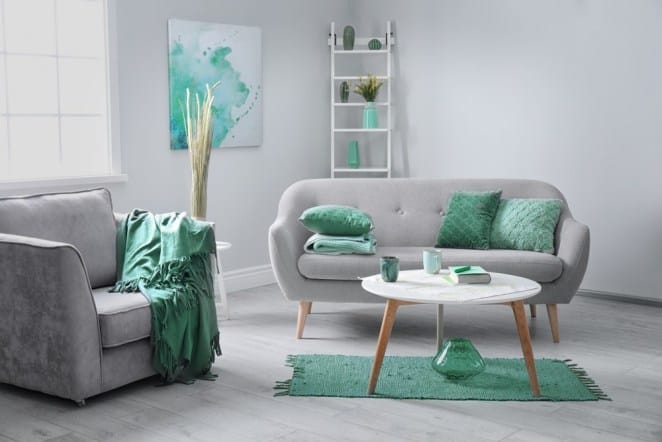 As you can see, light gray floor, sofa, and armchair carve a modern flair. Wooden hairpin legs produce warmth.
The homeowner also used teal blue as one of her living room color schemes. This shade injects happy vibes into the whole area.
Navy Blue Living Room Ideas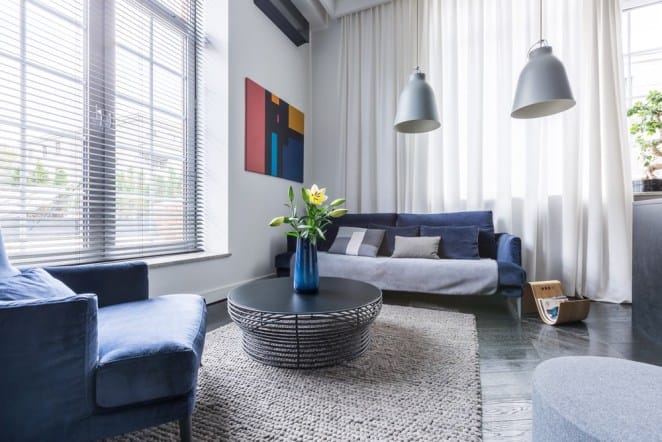 This sitting room seems so rejuvenating, thanks to navy blue sofa, armchair and vase. The white wall serves as a great backdrop for colorful artwork.
Large glass windows let sunlight get into space. A couple of gray pendant lights develop an industrial appeal.
Blue Accent Wall Living Room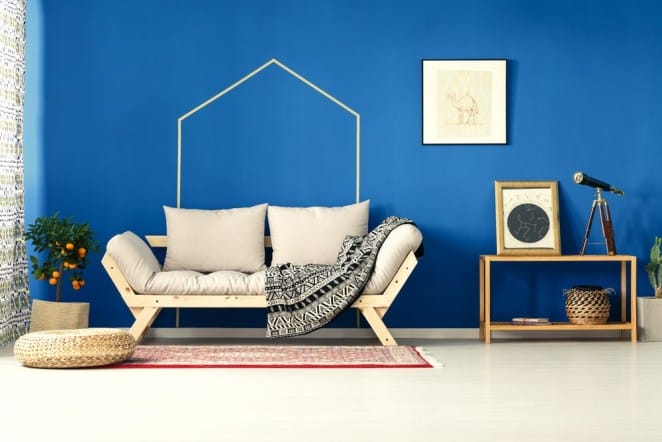 Don't like multiple blues in one room? Try this idea at home. Cobalt blue accent wall brightens up the space.
Unfinished wood thunderbird sofa, minimalist table, and round rattan pouf embrace nature's beauty. An artificial orange tree completes the scene.
Navy Blue Furniture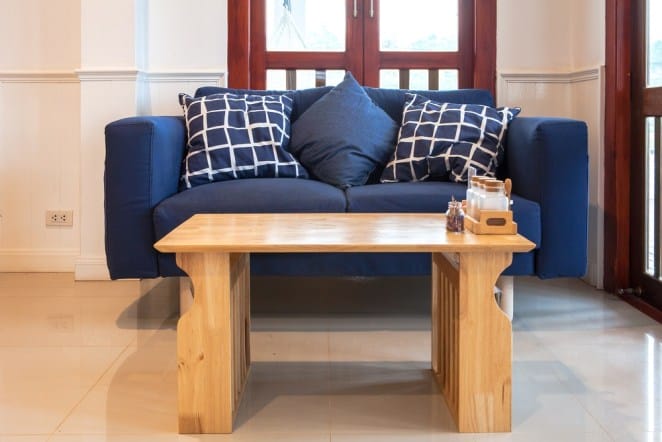 This living room is spotlessly clean yet inviting. The navy blue sectional sofa adds a sense of boldness and pairs well with two-tone grid throw pillows.
Stained wooden table and cream floor tiles, both tone down the navy furniture. Dark-toned wooden frames of the doors contrast strikingly with white walls.
Dark Blue Living Room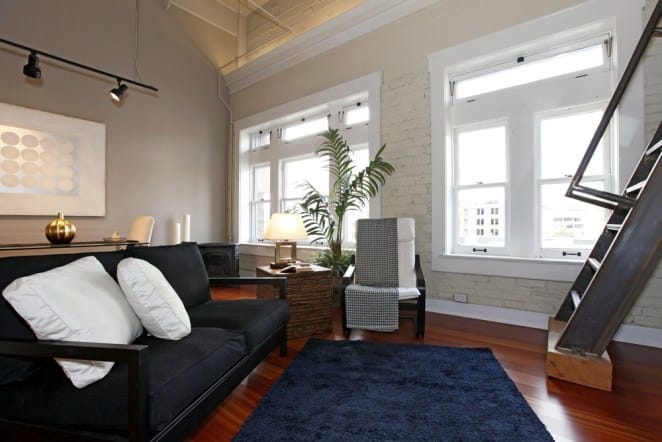 Some of you probably avoid dark blue due to its gloomy effect. When cleverly used, the deep blue shade lends your space how cocoon feel.
For sure, you must keep the ceiling, walls, windows, and artworks subdued. Install a track light fixture to set an industrial flavor.
Blue Living Room Decorating Ideas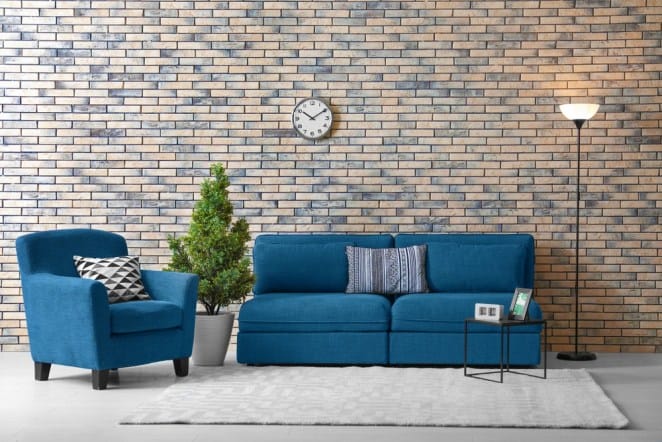 In this photo above, light gray floor and rug allow Yale blue sofa as well as armchair to steal the attention. Patterned throw pillows generate a playful aura.
Nordic wall clock and potted greenery decorate the space. Brick effect wallpaper, black metal floor lamp, and coffee table contribute to room's industrial style.
Blue Window Curtains
None of furniture in your sitting room is blue. Do not worry. You could hang blue curtains to add texture. Moreover, put blue and yellow throw pillows on L-shaped sofa.
Complement your seating with rolling coffee table. Well, I wish this space was part of my house.
Light Blue Living Room Ideas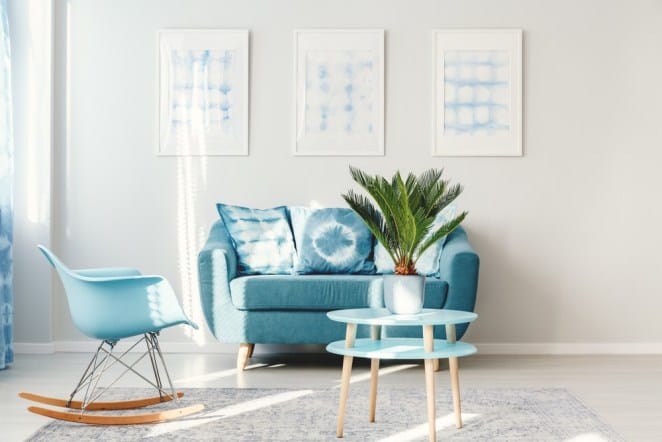 If you happen to have small living room, this idea could be a wonderful inspiration. White foundation expands the space.
Light blue rocking chair, sofa, double-decker coffee table, and curtains keep the entire area bright as well as calm. Palm tree titivates the room.
Navy and Blush Living Room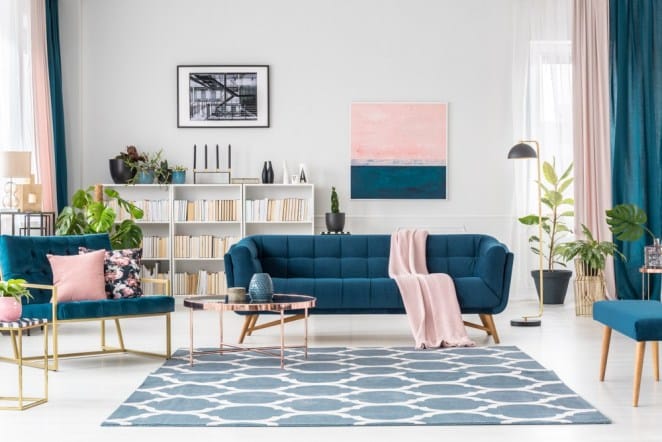 Perhaps, you never imagine that pink and inky blue marry together. As the image shows, the end result is a stylish and romantic lounge room.
White base lets pink and navy blue stuff stand out. Copper and brass coffee tables offer a touch of opulence.
Sky Blue Living Room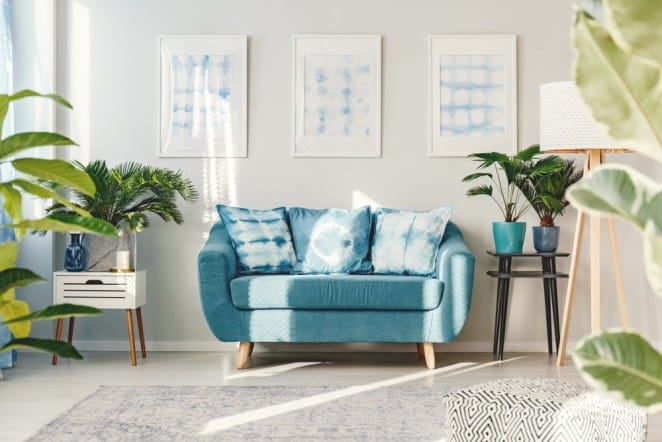 Here, I have a tiny lounge room that is soothing and elegant. The brilliant use of soft blue and white keeps the area from feeling dreary.
Patterned round pouf and throw pillows are a feast for the eyes. Potted houseplants on side tables turn your area into an urban jungle.
Blue Paint Wall Combinations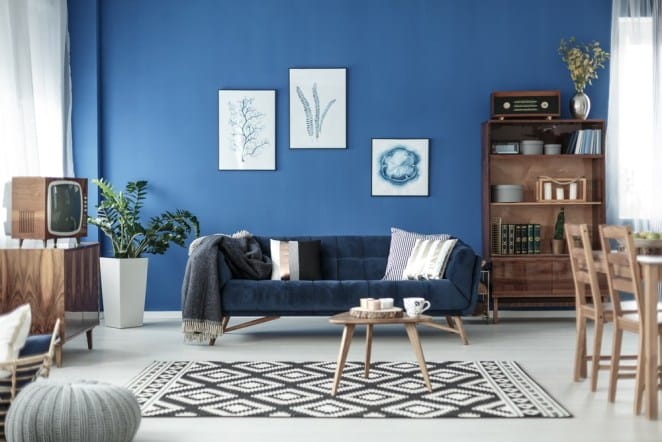 This sitting area features Egyptian blue accent wall and denim velvet sofa. They amazingly spruce up the room.
Crisp white planter pot, wood plank floor, and curtains produce a clean setting. A collection of retro items give the area strong personality.
Blue Living Room Furniture Ideas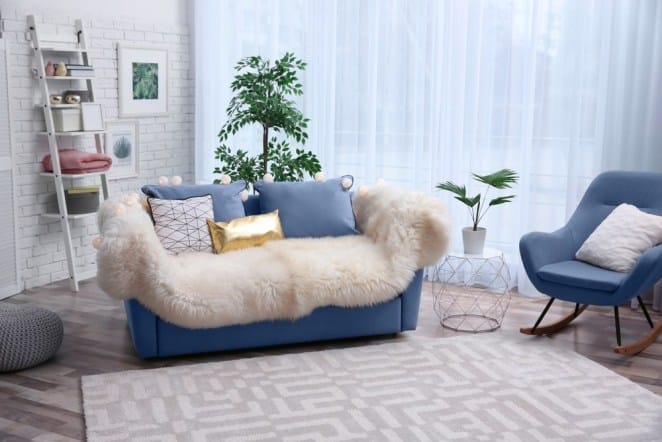 Cornflower blue sofa and rocking chair do an excellent job in refresh the lounge room. A gold pillow brings a dash of glam.
Rug, faux fur throw blanket, and curtains boost up the coziness. Leaning ladder rack holds blanket decorative pieces.
Beige Blue and Yellow Living Room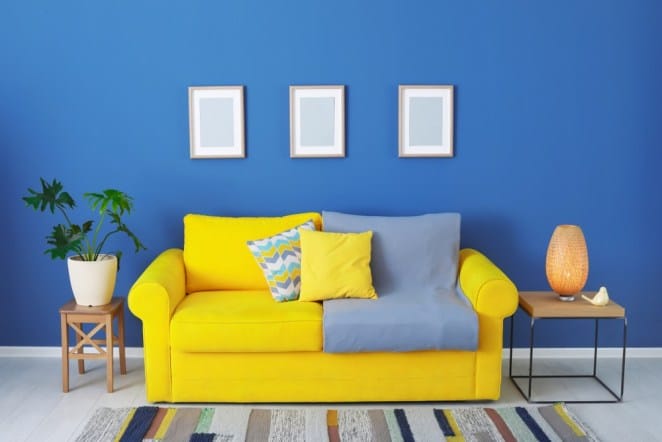 Yellow sofa and throw pillow do not clash with sapphire blue wall. That's because blue and yellow are the dynamic duo.
Beige blue blanket softens the look. In addition, colorful rug and throw pillow perk up the entire area.
Blue and Orange Color Scheme for Living Room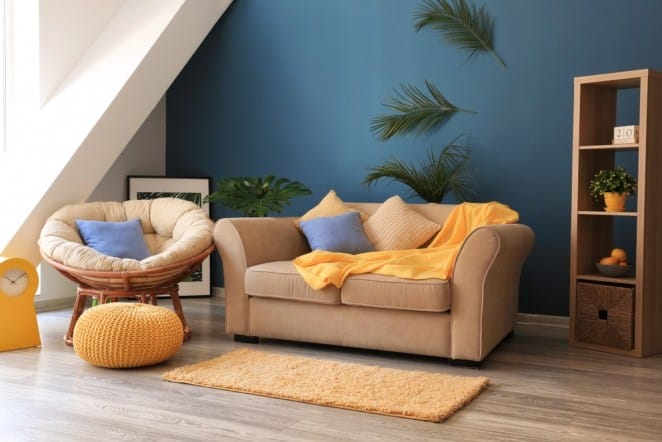 The palm leaves decal meets Prussian blue wall in harmony. Wooden shelving units and floor offer a rustic charm.
Cornflower blue throw pillows team up nicely with orange-colored items. What a cheerful space!
Navy Blue Living Room Decor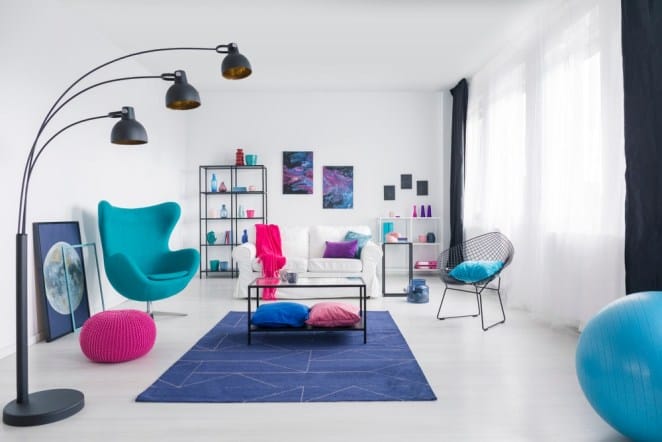 There is a lot of stuff in this sitting room, yet it is minimally cluttered. It is due to white interior.
Galaxy paintings on the wall steal the spotlight in a jiffy. Navy rug, pink pouf, and purple throw pillow make the room feel coordinated.
Blue and White Family Rooms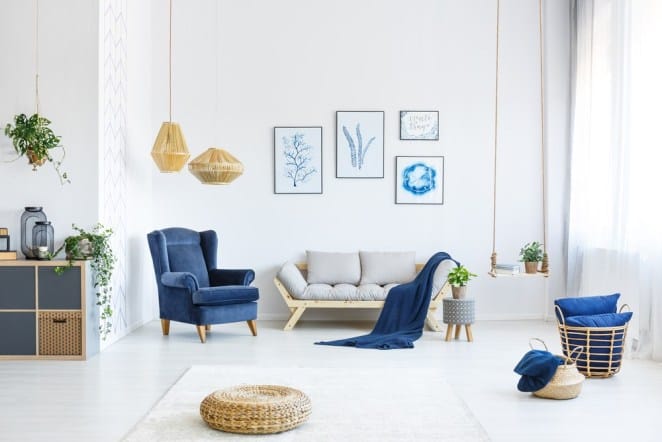 In no time, this white and navy blue living room reminds your family of beach vacation. It also boasts an airy concept.
Wicker pendant lights, rattan basket, and pouf exhibit mesmerizing nature's rawness. Lastly, plants beautify the zone.
So, those are my blue living room ideas to inspire you. I am sure you already found the right hue of blue.
Living Room Navy Blue Walls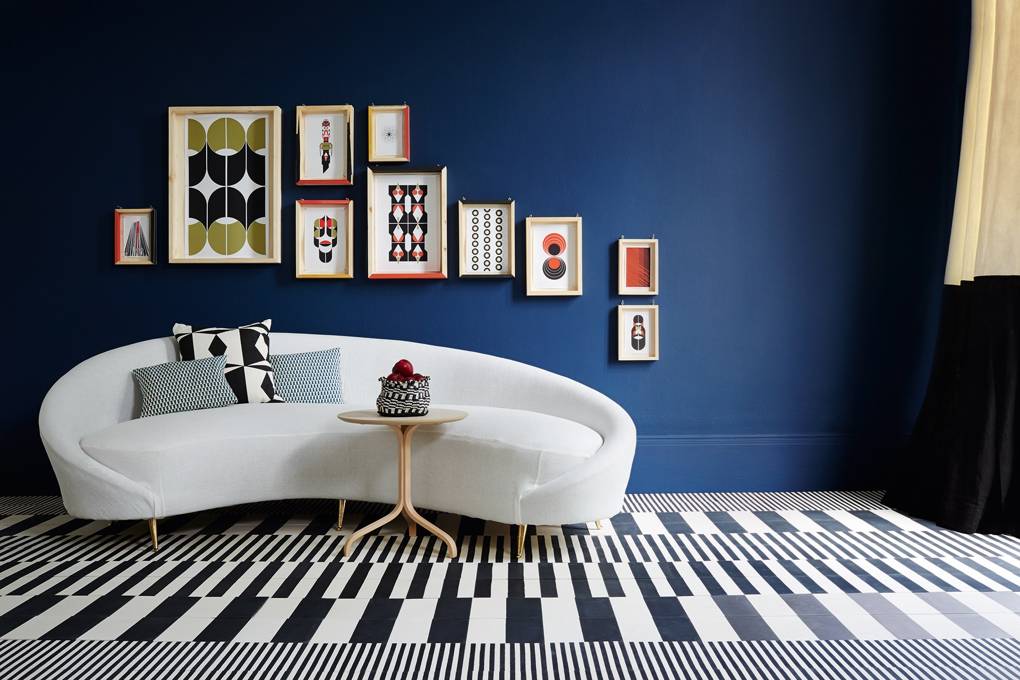 The combination of black and white can be boring. But with a few colorful accents, the room becomes more lively than ever before!
Living Room Soft Blue Walls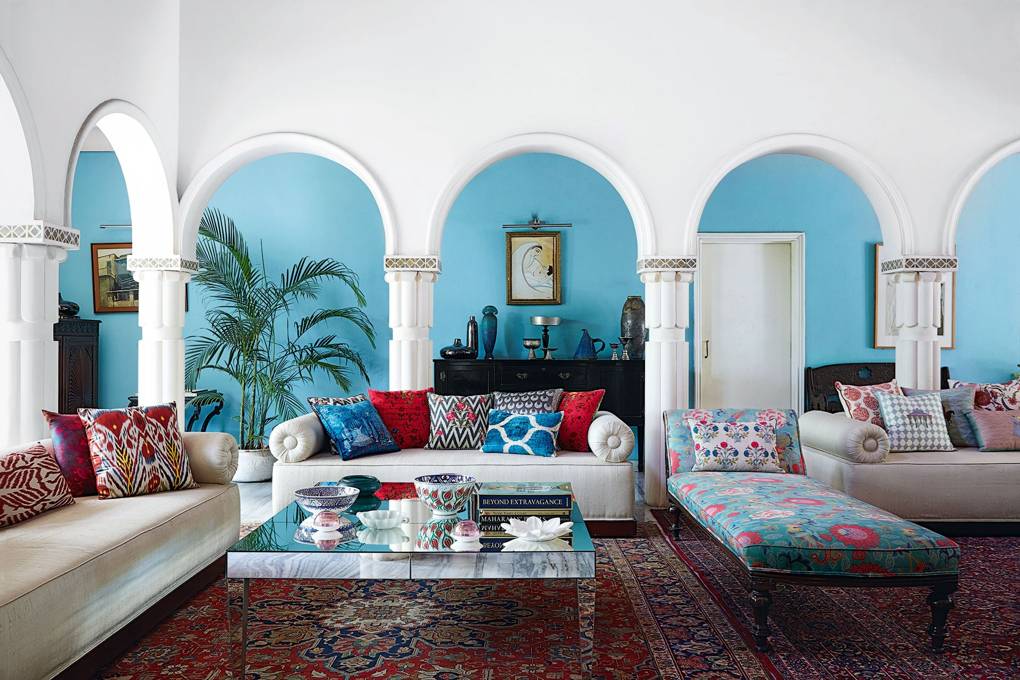 The welcoming room has comfy, inviting sofas piled high with pillows. These cushions are a combination of old designs and pieces from last season's Silk Road-inspired Samarqand collection.
Blue Sofas in Large Living Room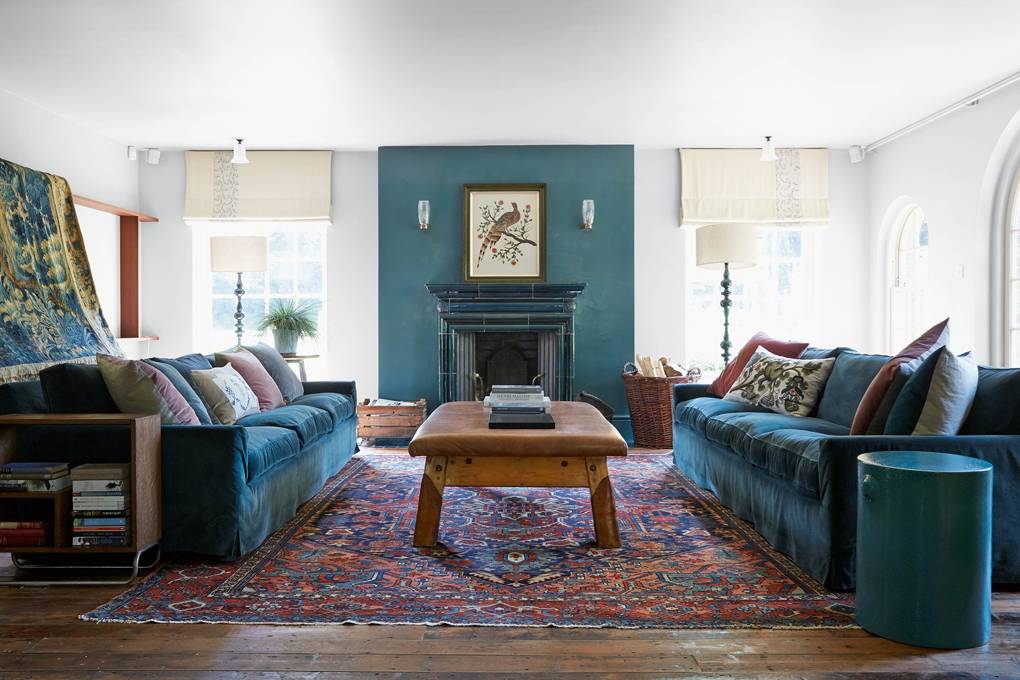 Blue Shape Living Room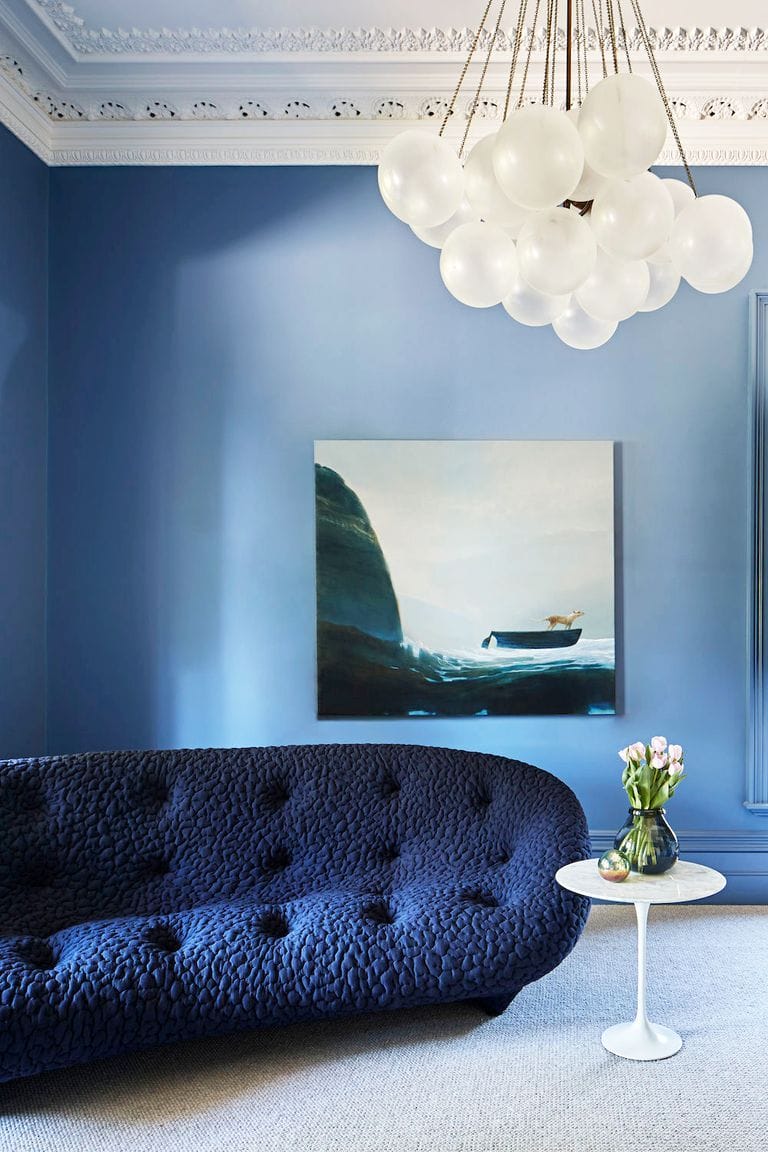 A blue room is the perfect place to go if you want a change of scenery, but don't have time for any outside activities. The soothing color will allow your mind and body to relax while also being able to explore its architectural features thanks in part due no distracting colors.
Beach Themed Blue Living Room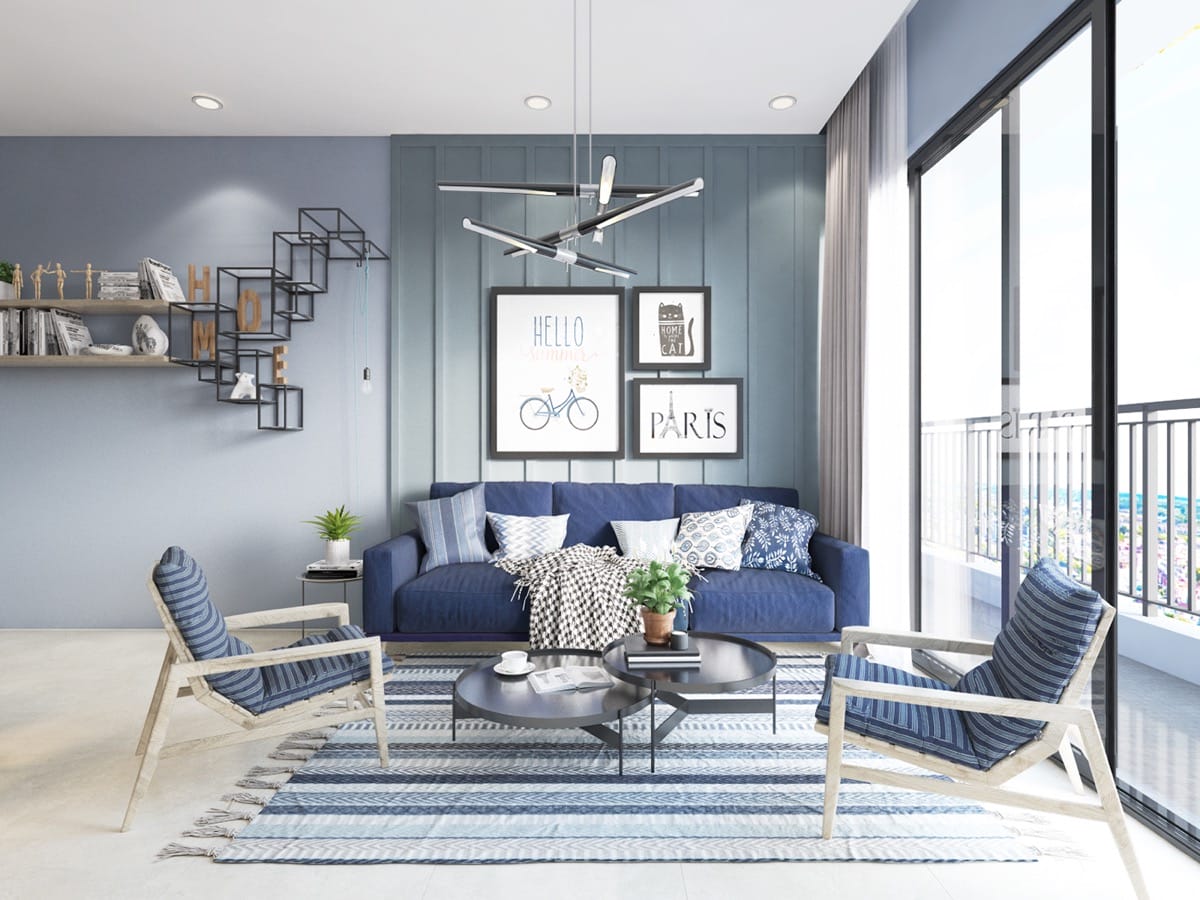 A blue living room is given a coastal look. Striped chairs that recline low like traditional deck chairs, and a tasseled area rug on pale flooring evoke the feeling of laying out at the beach with an airy vibe reminiscent of being in your own patio or lounge chair.
Blue panels covering one wall mimic those used to decorate beach huts for sun protection during hot summer days as well as provide inspiration for decoration ideas such as jars filled with seashells by windowsills overlooking natural landscapes outside which are quintessential elements of any tropical vacation getaway destination!
Aqua Blue Sofa Living Room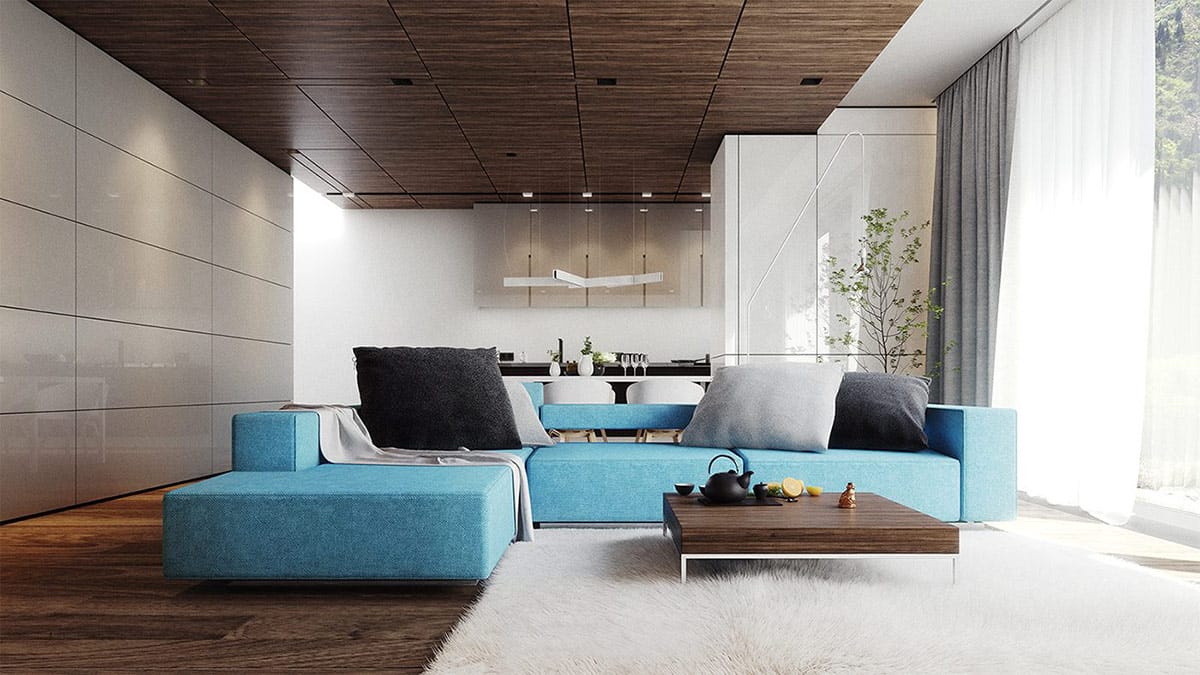 You'll feel like you're sitting on a cloud when this Aqua blue sofa is the centerpiece of your living room. The way its hue has been broken up by huge pillows in pale colors that match the overall decor, and black ones to accompany those found throughout the kitchen makes it truly unique!
Sky Blue Paint Living Room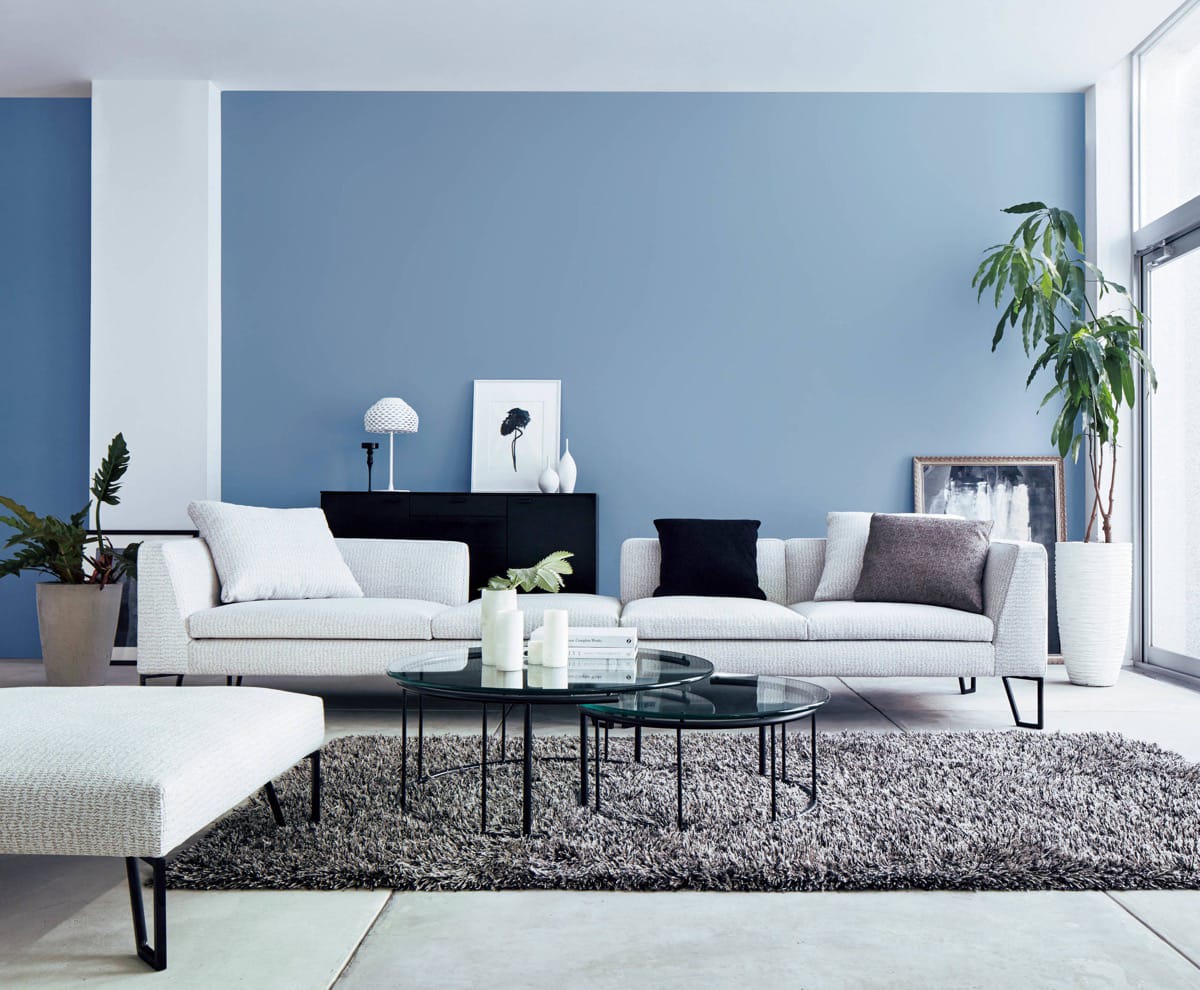 This sky blue paint is perhaps the most relaxing of all. The color paired with white walls, flooring and furniture makes for a fresh yet uncomplicated look in this blue living room space.
Dark Blue Decor Living Room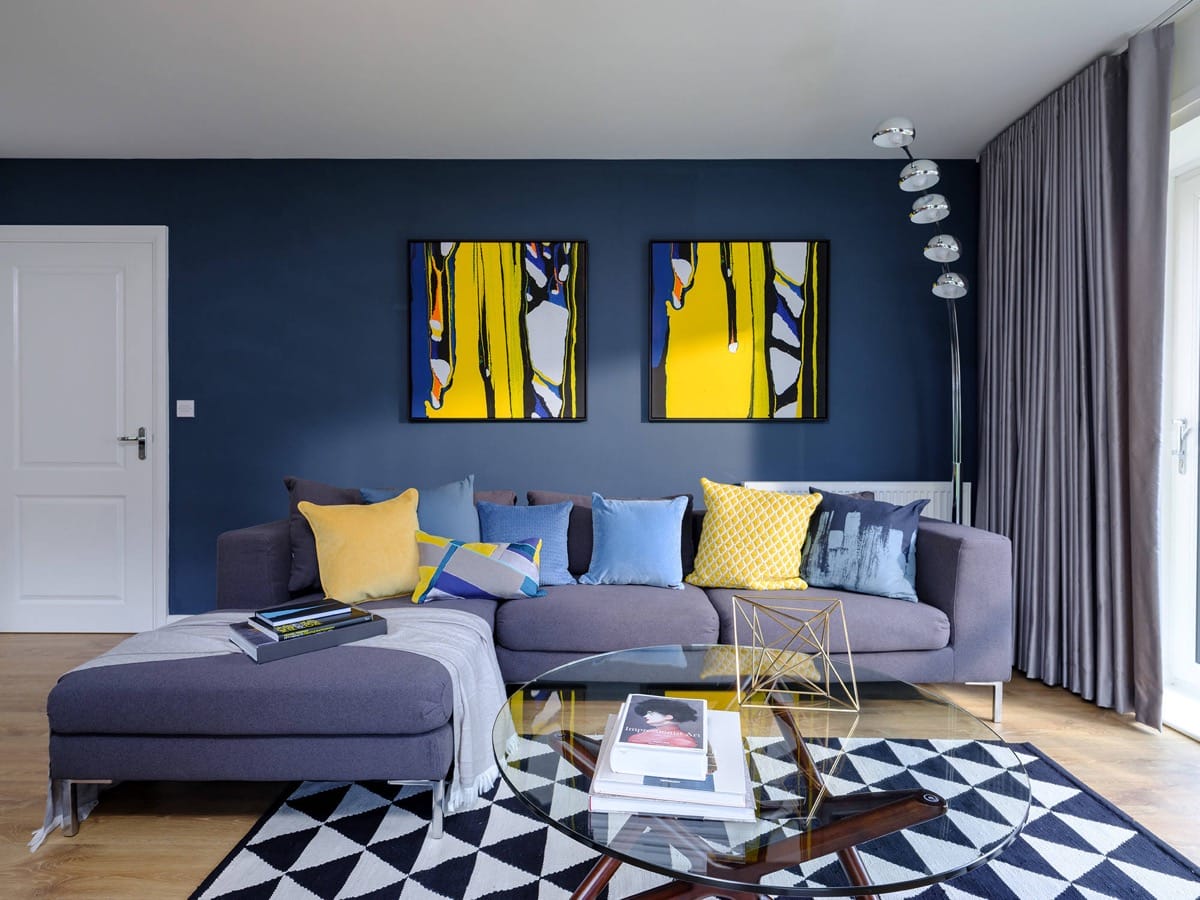 The contrast of dark blue with sunshine yellow accents and graphic prints creates a pop art feel in the room. High-contrast colors are reminiscent of those found on mixing boards, which is fitting given that this area doubles as an office space during the day.
Immersive Blue Living Room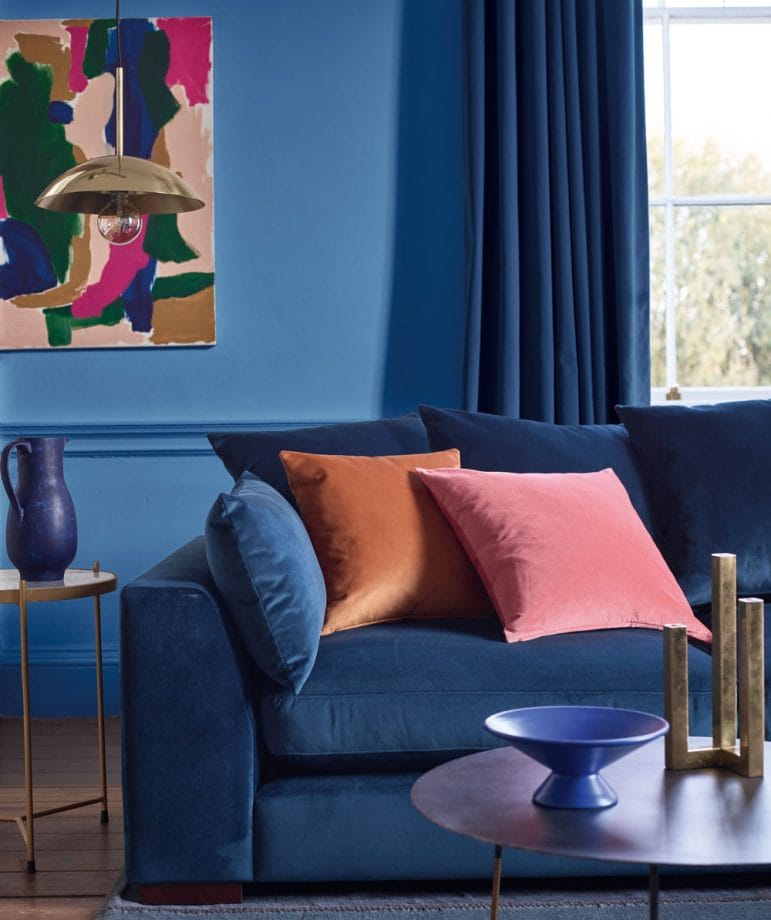 For an elegant look, go for deep tones of blue on the walls that will envelop your space in a rich and cozy feel. The darker the colour, the richer it looks with skirting and woodwork painted to match. Velvet sofas not only create luxe vibes but also give some depth when you need texture too – curtains can do this job just as well!
Midnight Blue Living Room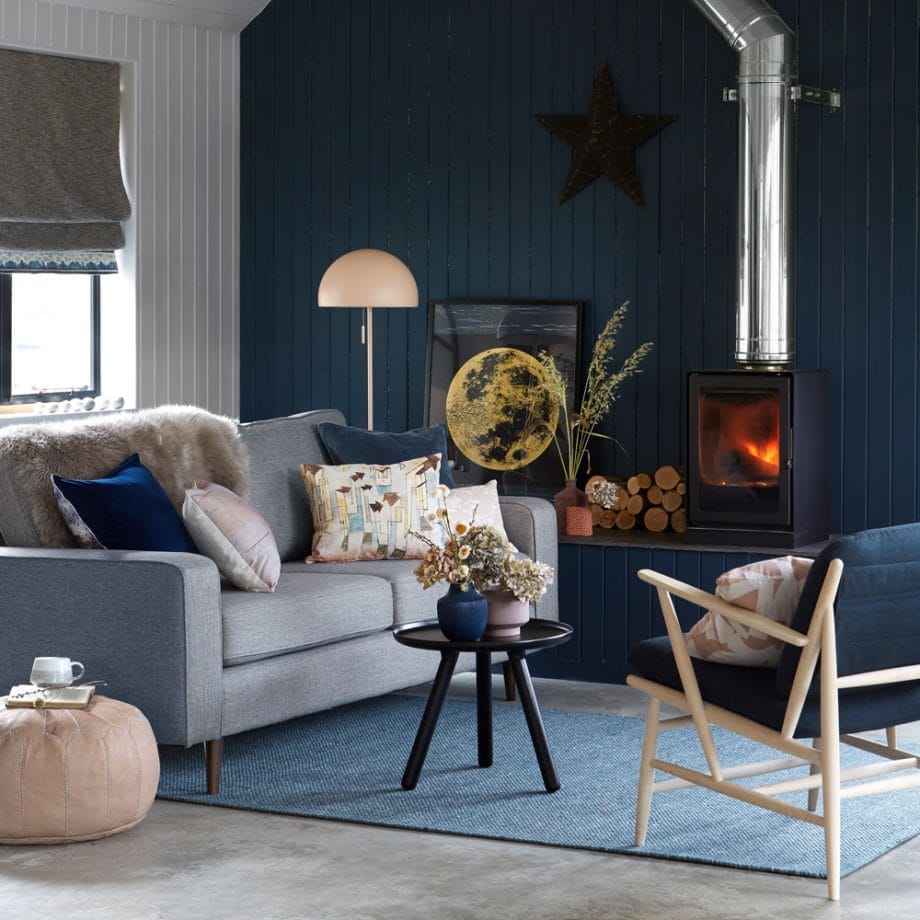 The darkest shades of blue create a warm and inviting look in your home. This can be seen here with the dark colors, wood furniture, tongue-and-groove paneling all contrasting against the deep hue. The light greys offer an equally attractive contrast for this cosy room that will make you want to curl up on one of those plush sofas or beds; they're perfect bedfellows!