Windows are one of the most crucial elements in the kitchen. They provide more sunlight as well as keep the room fresh. If your culinary-space needs an improvement, browse through my kitchen window ideas.
Here, you will find different types of window. Other than that, I rounded up some eye-pleasing window treatments to define your abode. Without further ado, let's dive into these! I guarantee you will admire all of them.
1. Modern Kitchen Windows
In this Scandinavian-style kitchen, you can spot black concrete countertop and streamlined white cabinets. They pair delightfully with modern appliances.
Tilt and turn windows are left undressed to maximize existing daylight in the space. Their white frames continue the monochrome color palette.
2. Country Kitchen Window Treatments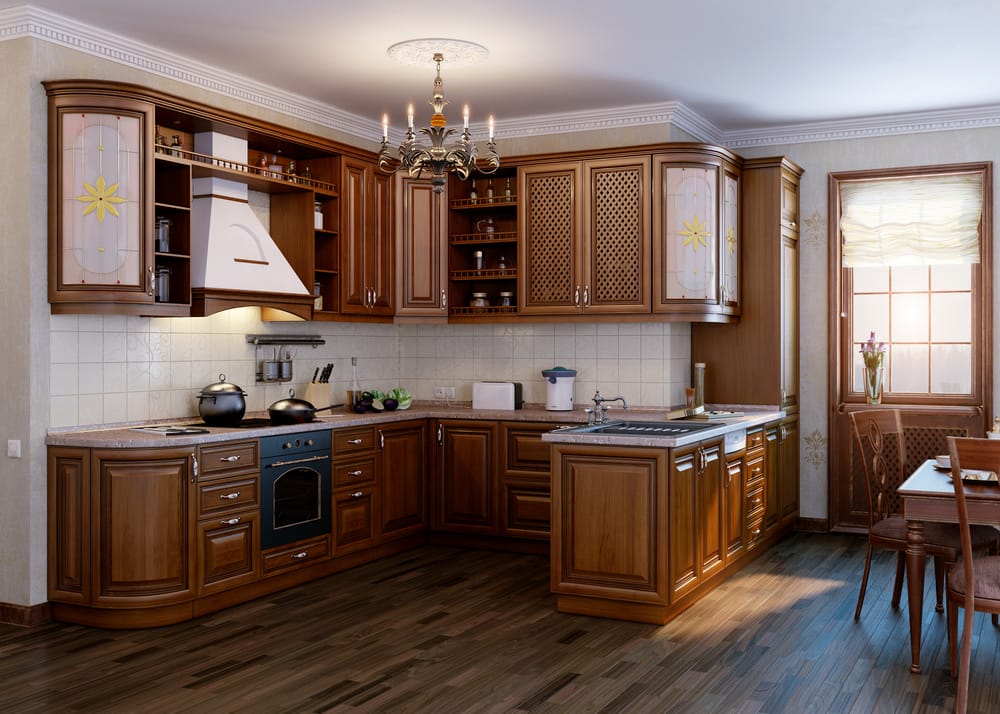 Frosted transom window oozes vintage charm. It offers privacy and lets in more sunlight at once. Sheer white shade boosts up the room's elegance.
Wood floor and carved cabinets lend the country kitchen a homey ambiance. Meanwhile, an antique chandelier poses as a showstopper.
3. Kitchen Windows over Sink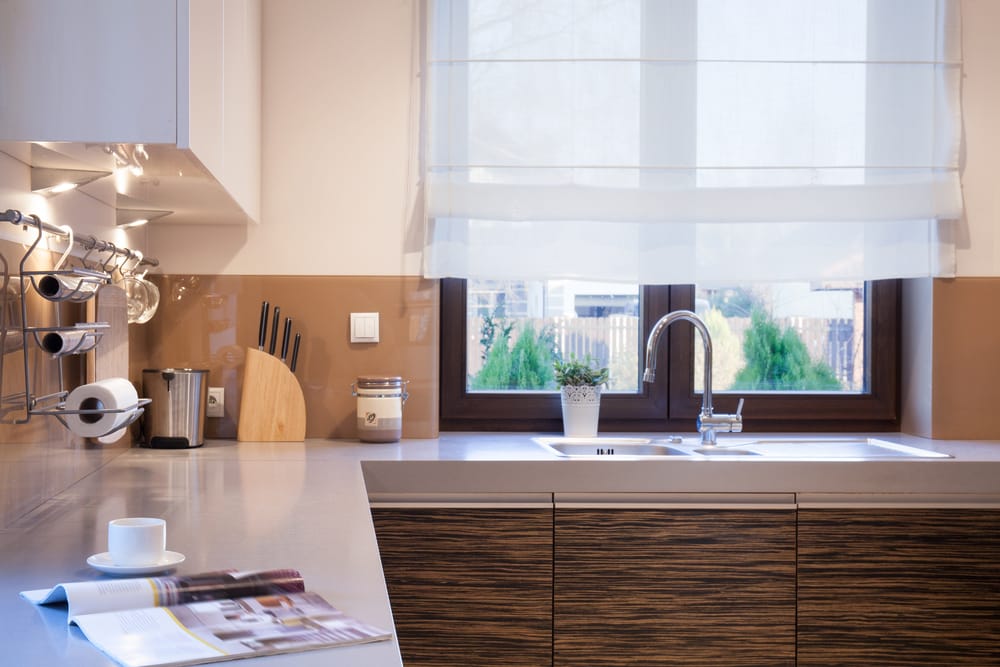 This cooking zone is utterly stylish, thanks to gleaming surfaces and sharp lines. Woodgrain lower cabinets draw the eye. Two-tone walls create a coordinated look.
Hinged windows above sink connect the indoor space to the outdoors. The white shade is used to control the amount of sunlight in the room.
4. Kitchen Sink Window Treatment Ideas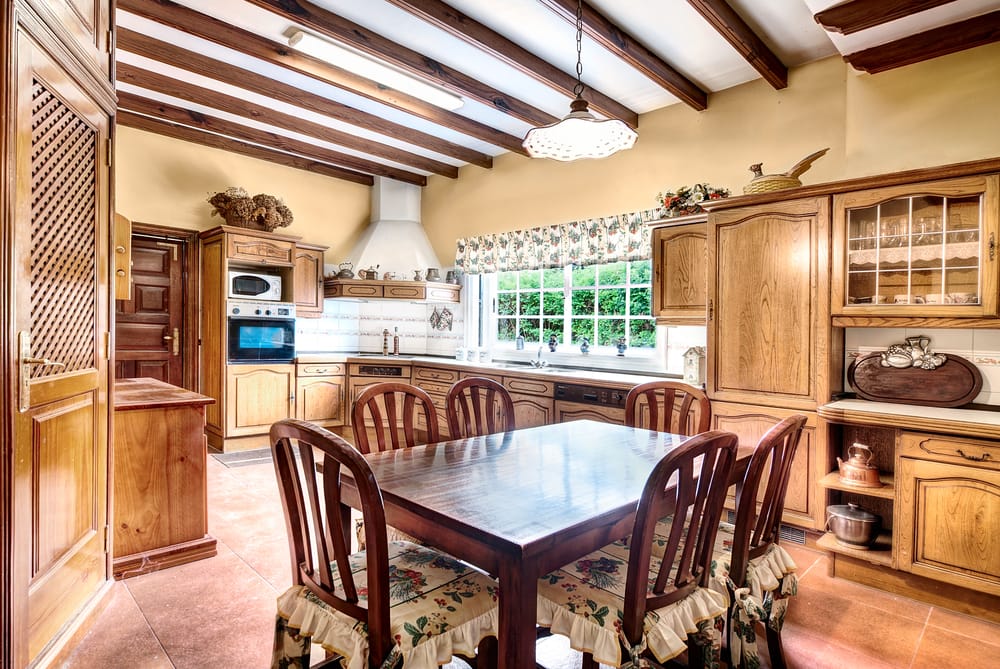 Exposed ceiling and wood cabinets reveal nature's beauty. Travertine floor tiles, Windsor cherry wood chairs, and vintage pendant light are the epitome of French country design.
There are transom windows over sink. Pretty floral blinds complement the non-operating windows well. Both window blinds and chair pads unify the area.
5. Kitchen Shutters
Earth tones and wood finishes convey a sense of warmth. A Tiffany ceiling light emphasizes the dining room, while others illuminate the food preparation area.
The plantation shutters are not just practical, but also permit you to control privacy and noise. Plus, they do not require high maintenance.
6. Small Kitchen Windows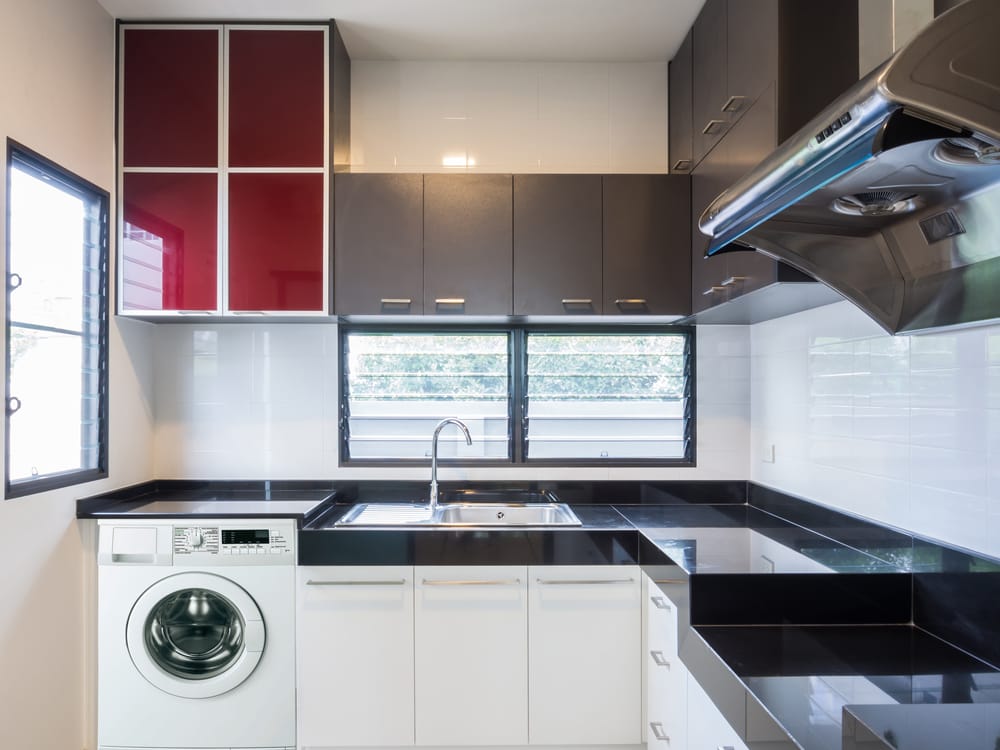 This culinary space employs Jalousie windows. They match amazingly with the modern interior of the kitchen. Additionally, they give the room unrestricted views and great ventilation.
Shiny black countertop contrasts strikingly with white lower cabinets. Red upper cabinetry injects more energy into space.
7. Casement Window Styles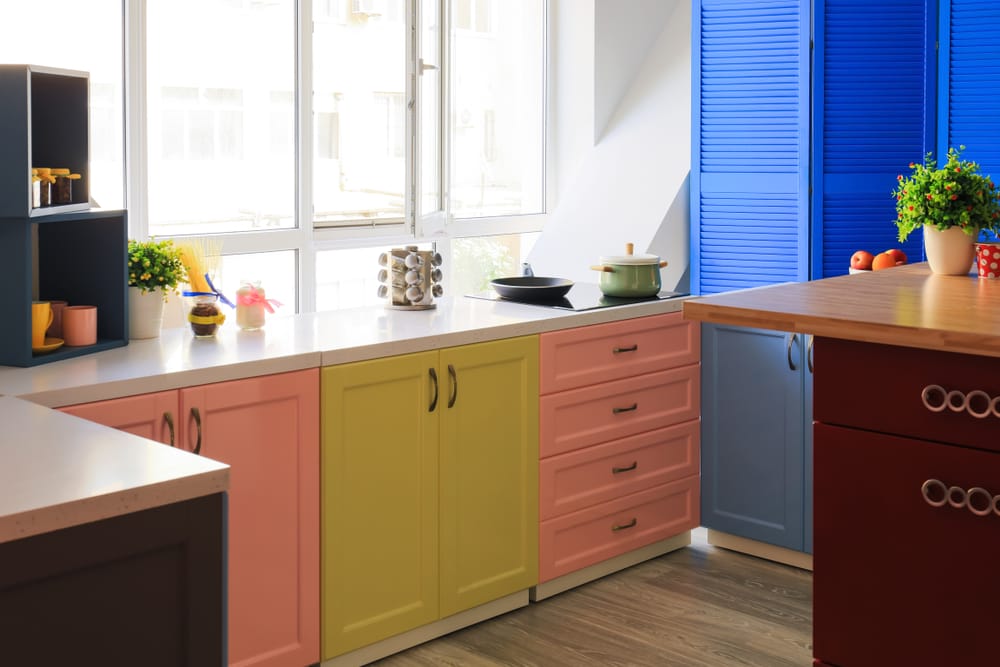 The inward opening casement windows increase ventilation. Meanwhile, double-hung windows produce an open, airy setting.
Cabinets are painted pastel yellow and coral. They generate a soft yet dynamic look. Blue repurposed shutters work as a cool room divider.
8. Kitchen Window Curtains Amazon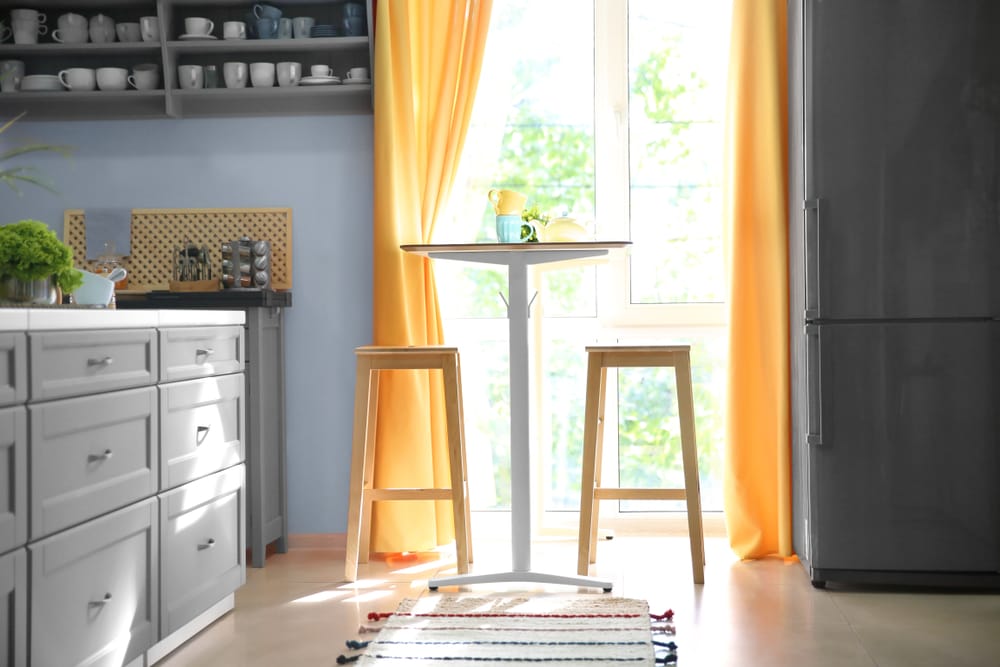 I love how simple this kitchen is. Even, the eating nook is just filled with two unfinished wood stools and a modern pedestal table.
Light blue wall balances out the gray refrigerator. Orange curtains from Amazon evoke a feeling of freshness. They accentuate the room too.
9. Types of Window Architecture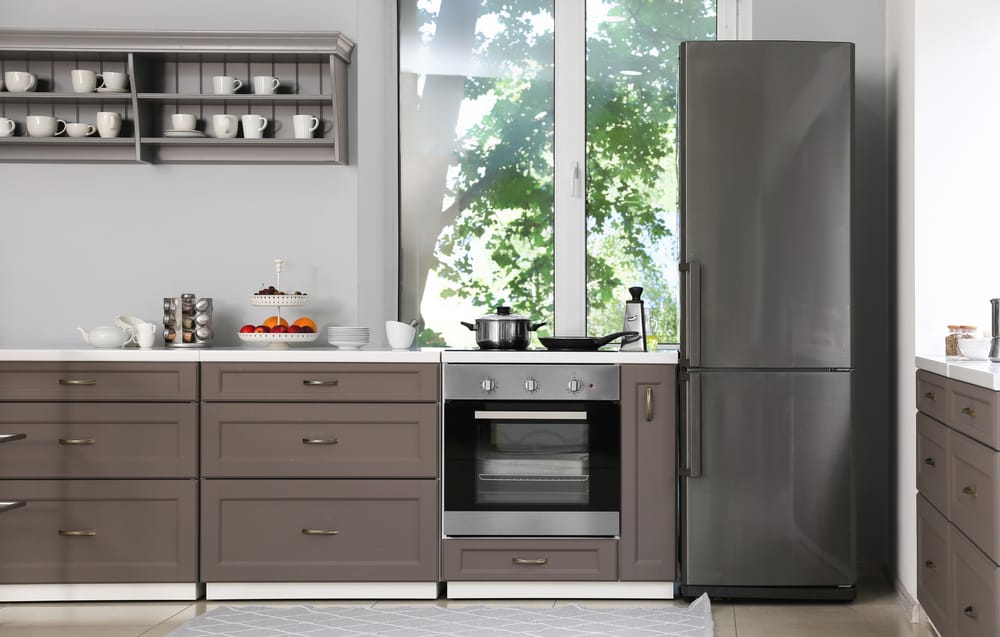 Light gray wall and open shelves develop a sophisticated cooking area. Taupe lower cabinets exude an air of elegance.
Moreover, this light-filled room features casement windows. They allow the homeowner to enjoy the impressive outside views from inside.
10. Blinds for Kitchen Window over Sink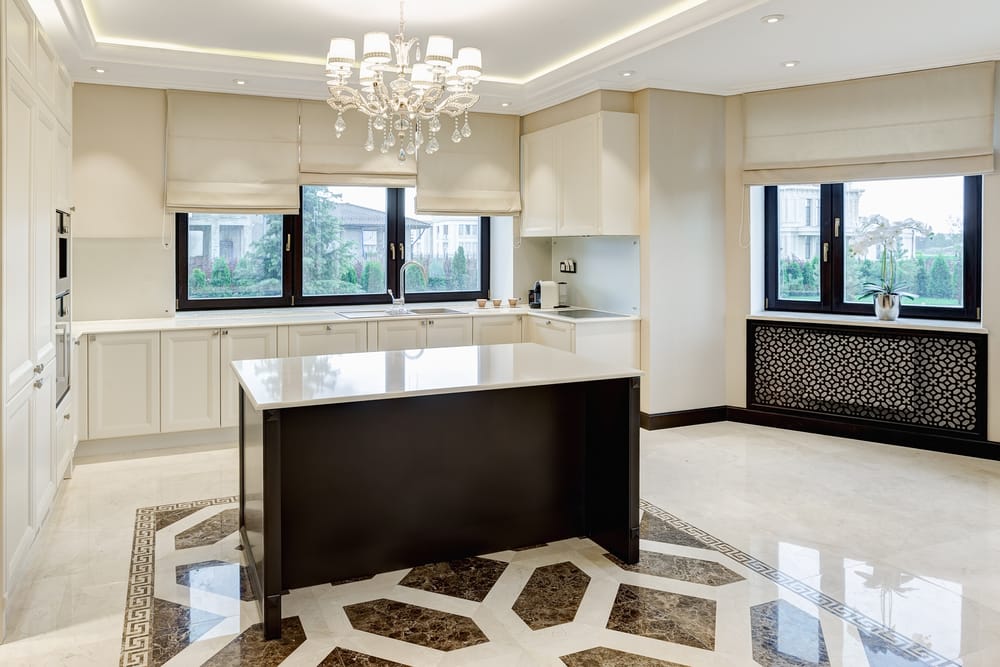 The neutral-toned kitchen doesn't have to be plain. Here, the patterned floor tiles steal the show. Along with floral laser cut metal panel, they turn the space into an artsy zone.
Black-framed Bermuda and double casement windows above sink are adorned with beige roller blinds. They withstand moisture very well. Lastly, a crystal chandelier radiates timeless luxury.
11. Lighting over Kitchen Sink with Window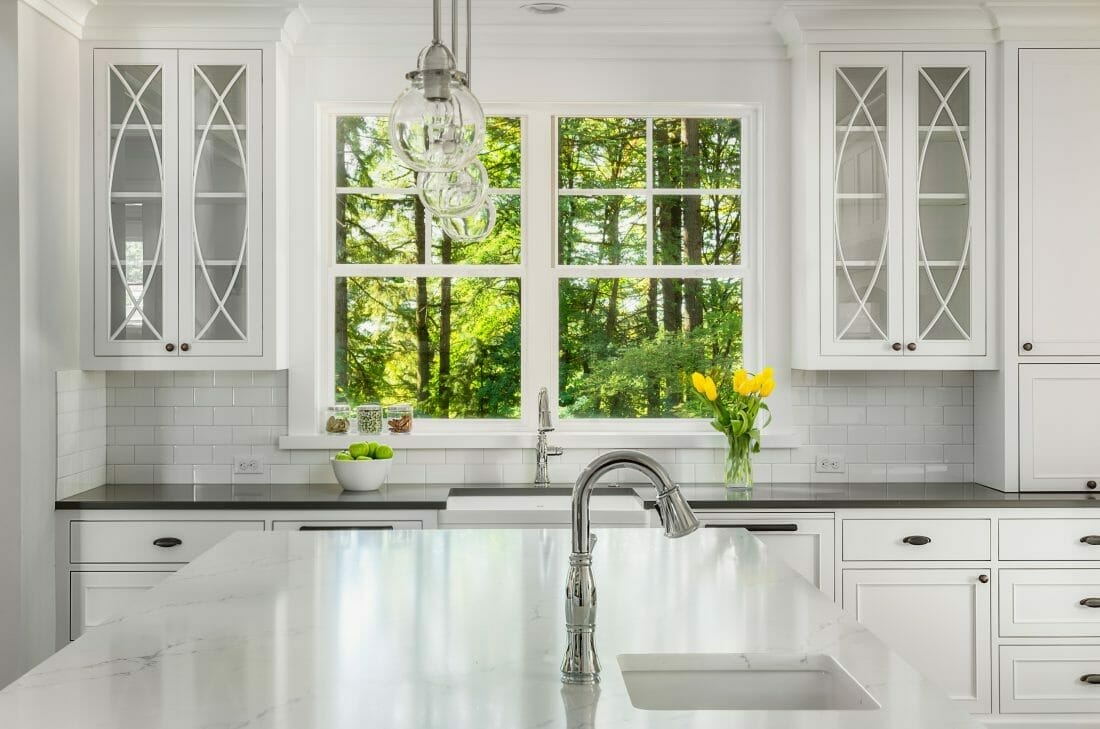 White ceiling, walls, and glass-faced cabinets create the impression of bigger space. Marble countertop carves an upscale cooking area.
Sunlight shines into the kitchen through windows. A recessed downlight illuminates the sink during evening hours. Meanwhile, glass pendants amplify light.
12. Best Window over Kitchen Sink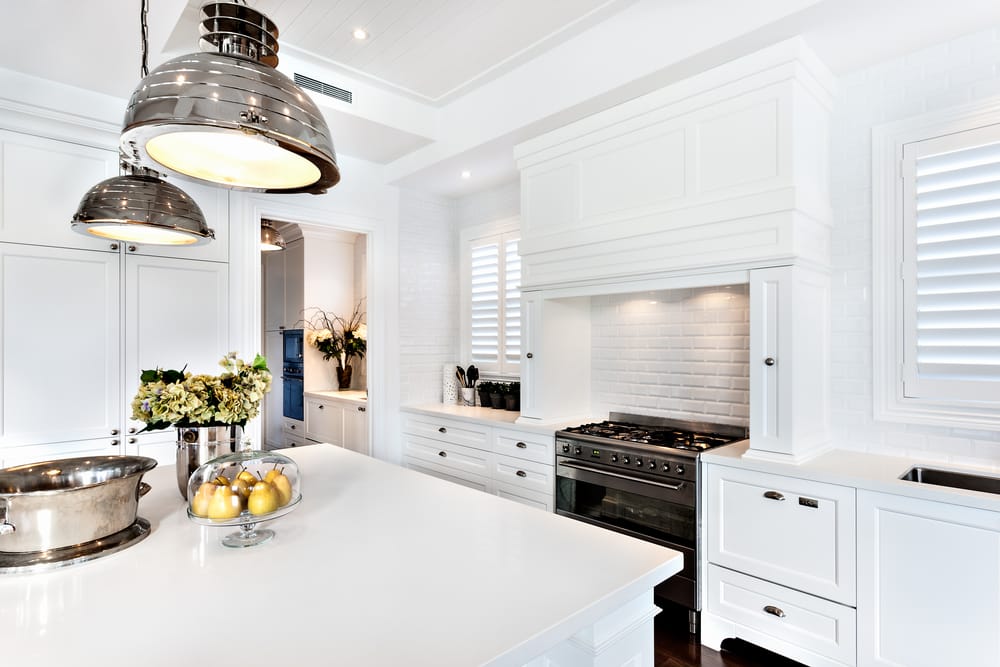 The dweller painted his ceiling, backsplash, island range hood, walls, and cabinets white. They make the petite kitchen feel more expansive.
Robust window shutters over sink are a perfect addition to the space. Not only are they adjustable, but also provide energy efficiency and sunlight control.
13. Kitchen Bay Window over Sink Cost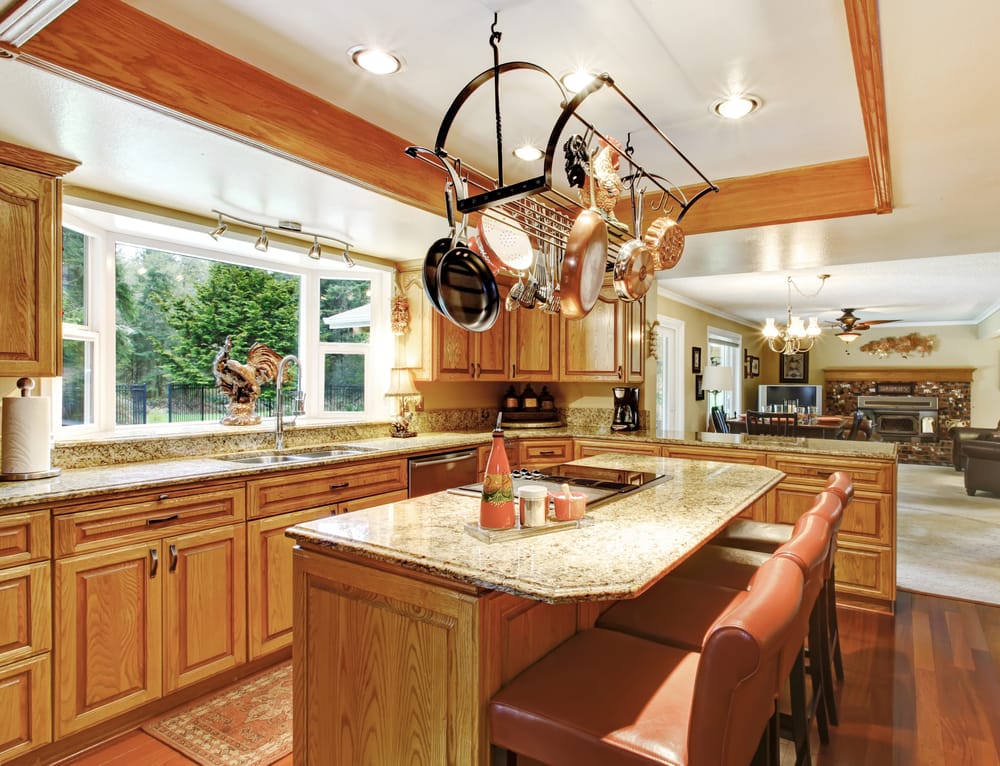 Peach dining chairs and wood cabinets exhibit an intimate atmosphere. Brown marble countertops exemplify enduring opulence.
A bay window over sink costs around $300. It brings an abundance of daylight into the room. Plus, it connects the indoors and outdoors.
14. Pictures of Wood Blind on Windows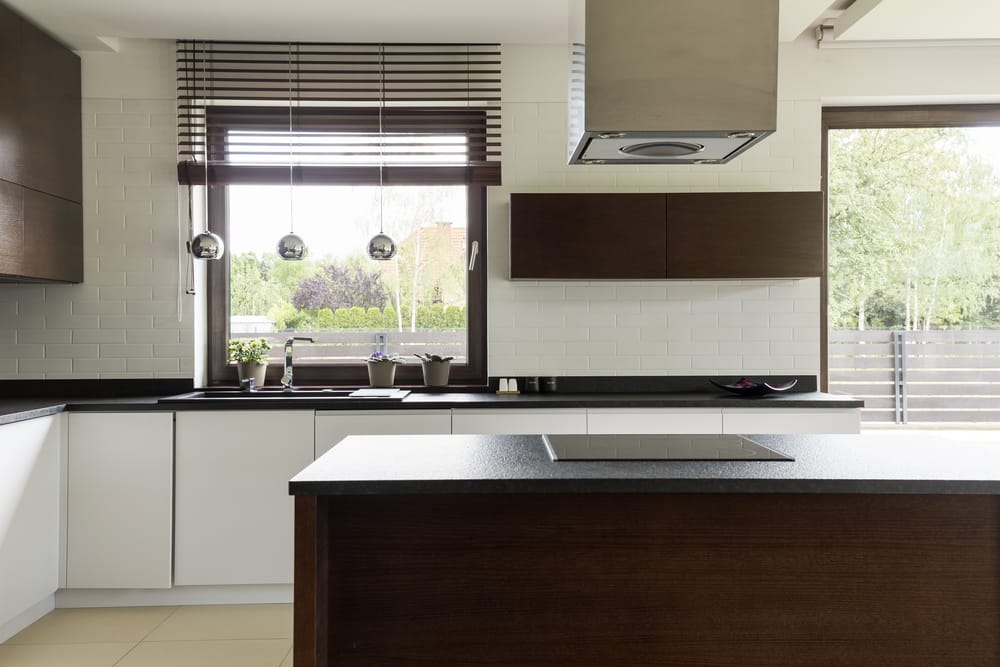 Sleek furniture units and neutral colors scream a modern interior. The subway is beautifully clad in white brick-like tiles.
The large windows allow for enticing garden views. Roll-up wood blind comes with hook fasteners. It lends the space rich warmth.
15. Large Kitchen Window Ideas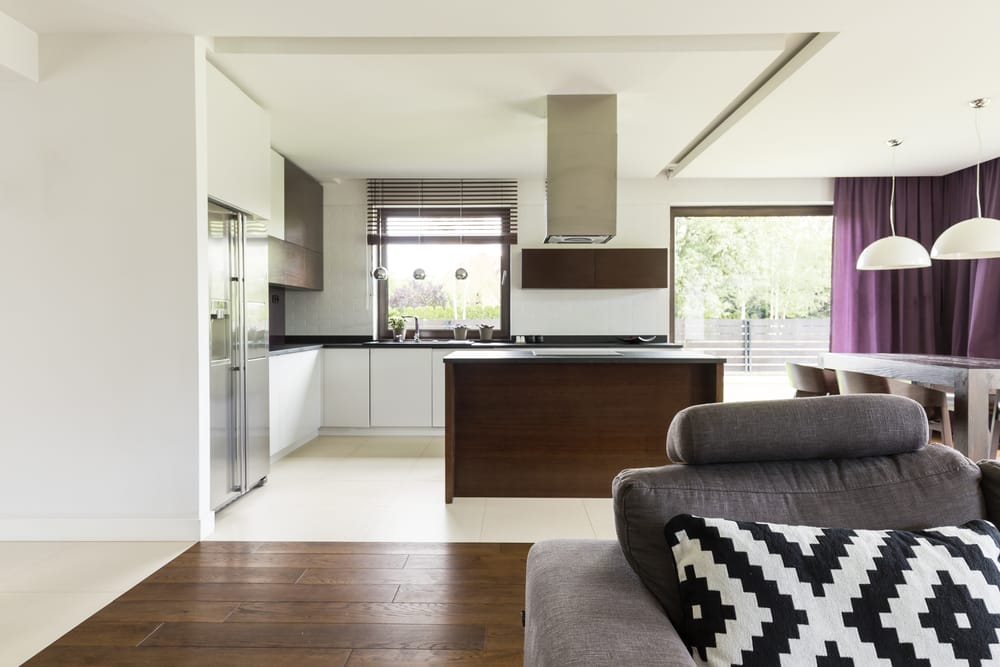 Here, I show you an ultra-modern kitchen boasting stationary windows. They offer breathtaking outside views and bring in more sunlight.
Purple linen curtains stately compliment high ceiling. They double as a space divider. Two oversized dome pendants draw the eye up.
16. Kitchen Window Dressing Ideas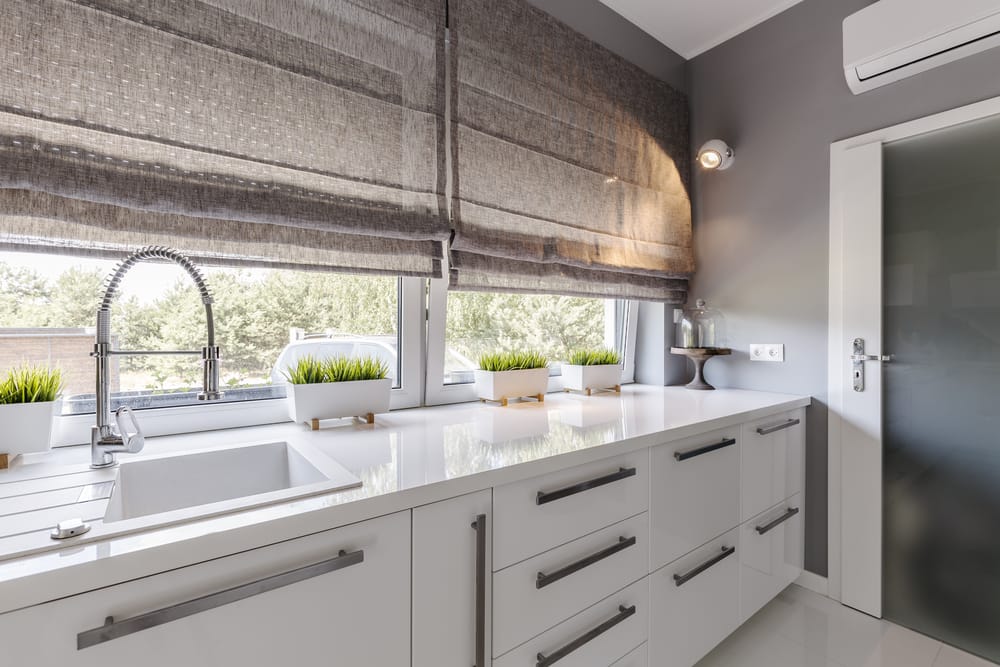 Big tilt & turn windows keep this culinary space sunny and breezy. They provide efficiency and ventilation flexibility too.
Taupe roller shades block heat without obstructing outdoor view. Lastly, potted houseplants add some life to the scene.
17. Kitchen Window Size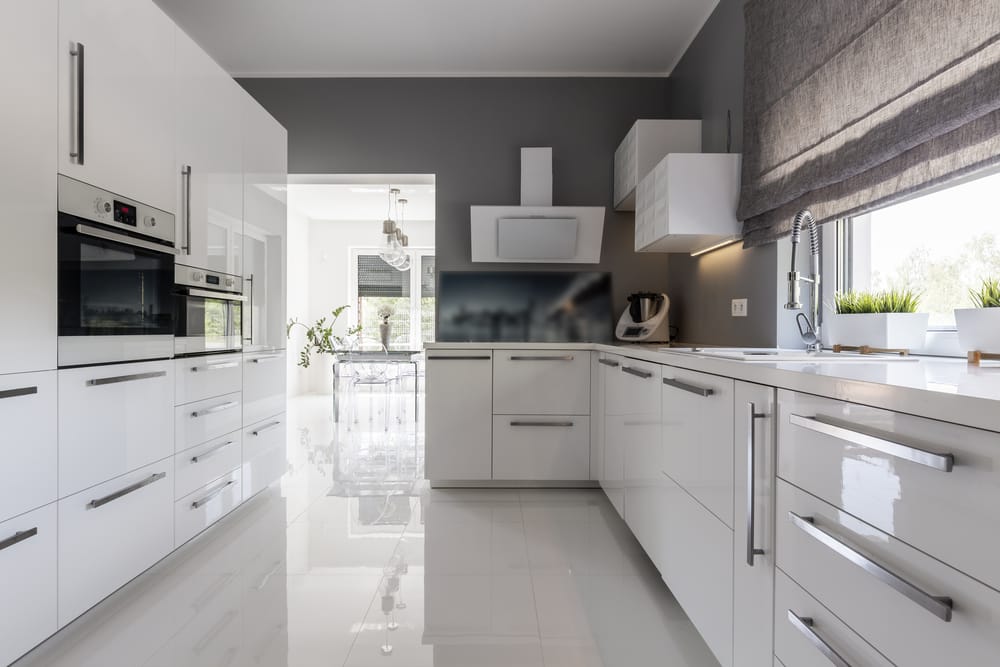 This monochrome kitchen is fashionable. Take a look at those metallic drawer pulls, sleek cabinetry, and high-end appliances.
Oversized windows allow natural light to enter the room all day long. Linen shades dress the windows stunningly.
18. Kitchen Window Decor Ideas
As you can see, double casement windows are a perfect fit for this small modern kitchen. They bring the outdoors and plenty of daylight in.
Sage green backsplash and pale yellow cabinets add pop of subtle colors to the room. Dried flower stems in vase decorate the windowsill.
19. Sliding Window Design Photos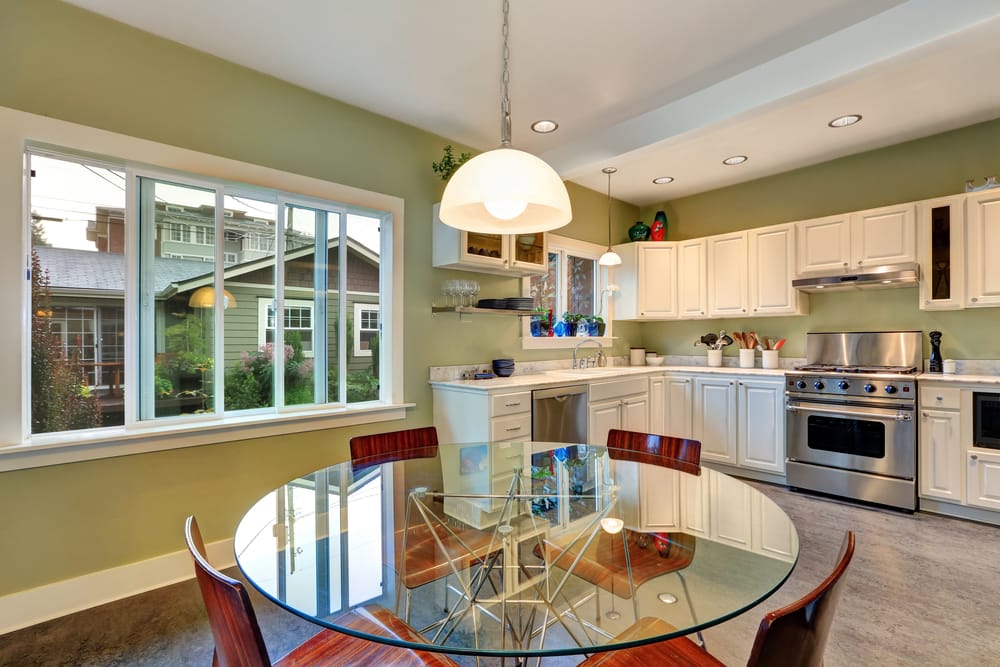 Whether your kitchen is small or big, you never go wrong with slider windows. They save space and give an easy access to the outdoors.
Green walls transform the bare kitchen into a jazzed up room. Wooden dining chairs rival the metallic appliances.
20. Double Hung Window over Kitchen Sink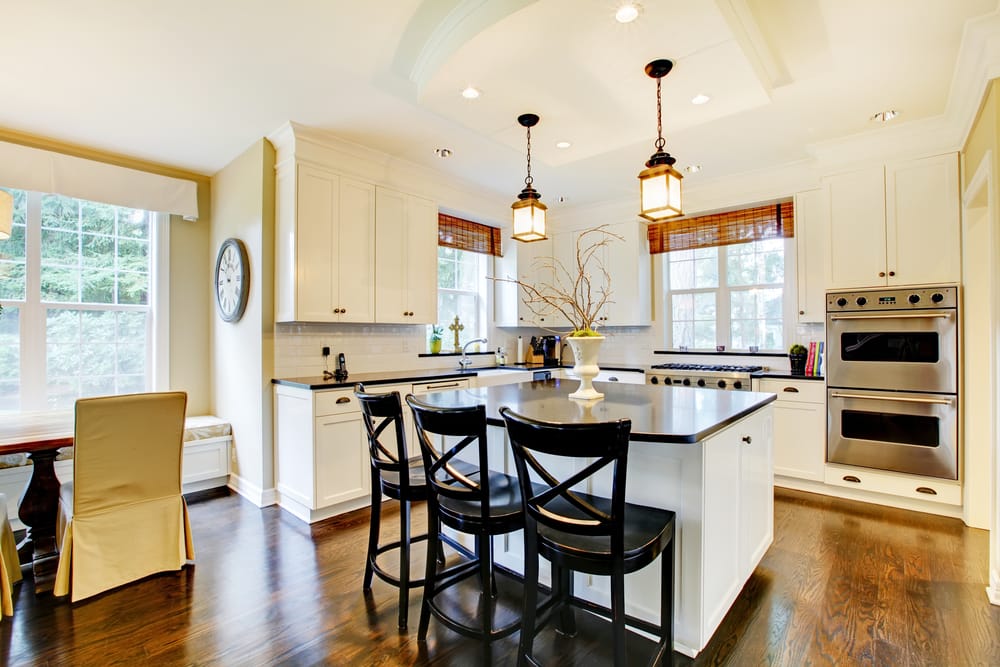 White island, cabinets, and wood floor create an inviting kitchen. Black countertops and farmhouse-style chairs inject depth into the area. Lantern pendant lights take center stage.
Double hung windows over sink and stove allow in the cool air. Dark orange plaid shades lend the room a classic edge.
I really hope you get inspired to upgrade the kitchen. Feel free to customize any kitchen window to meet your family's needs and personal taste.