Having a designated area to organize belonging and clothing is crucial. Not only does it keep the space clutter-free, but also protects the units from dirt. If you want to store your things properly, take a gander at my walk-in closet ideas.
Before diving into walk-in closet designs, you should pick the right style and shape. Then, learn about generating space. Typically, the layout features basic components such as dressing bench, island, mirror, peninsula, and chandelier.
1. Luxury Walk-In Closet Ideas with Seating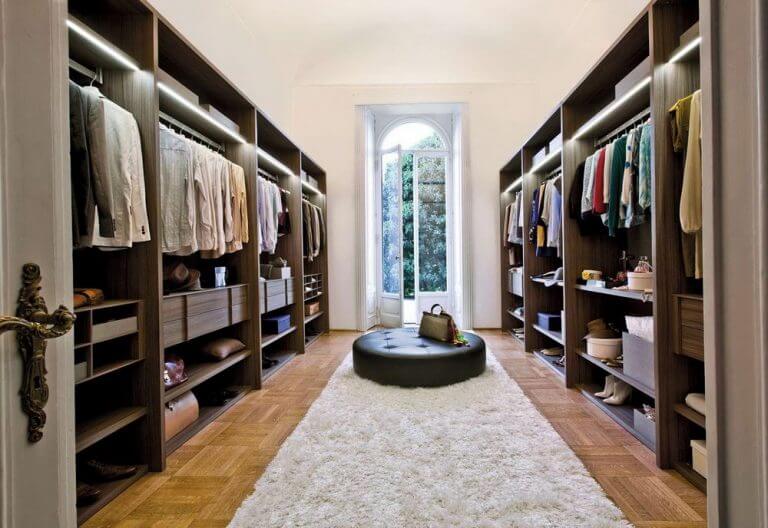 If your walk-in closet is spacious, opt for the U shape. Incorporate seating into the space to add function and style. This lets you rest, lay out clothes, and put shoes on. Here, the black round bench contrasts dramatically with a long white shag rug.
White color scheme and glass doors keep the closet airy as well as sunny. Meanwhile, LED strip lights under top shelves offer garments a spotlight.
2. Walk In Closet IKEA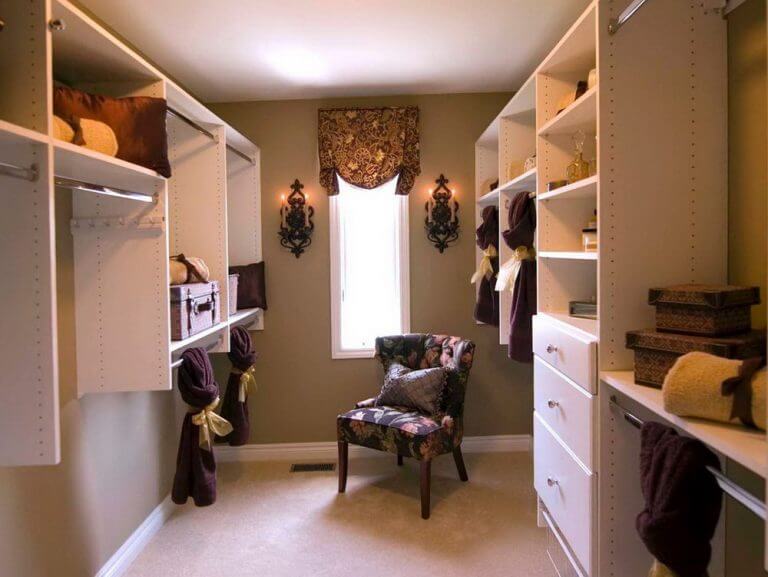 Small space? No problem. You can still create a delightful walk-in closet with a brilliant IKEA hack. As seen in the picture, the room boasts hanging rods, shelves, and a chest of three drawers.
Home windows and crisp white furniture units develop a light feeling. Warm neutrals set an inviting mood. Black metal wall sconces, floral curved back chair, and patterned short curtain represent vintage style.
3. Modern Walk In Closet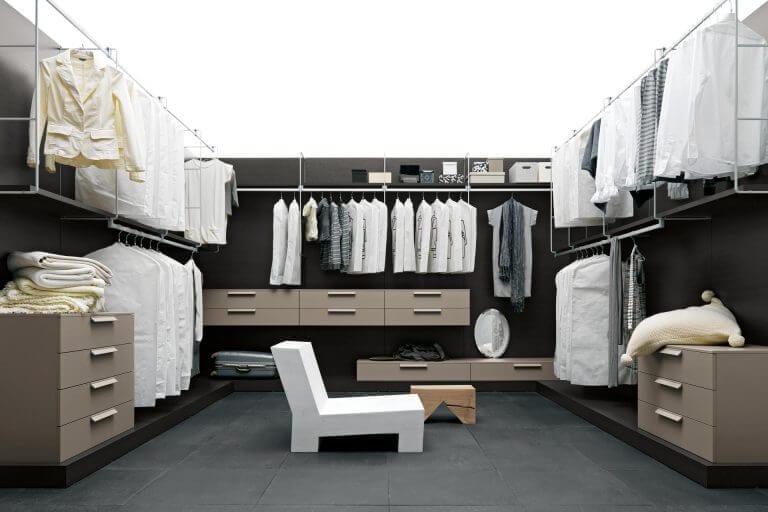 Unlike previous examples, this walk-in closet has no exterior sidings. That's why it looks cozy and airy. The black laminated wood backing boards and flooring bring some visual depth to the room.
Sharp corners and straight lines instantly give the space a modern feel. Drawers hide accessories from view. The open-type cabinetry displays neutral-colored clothing while hanging poles were attached underneath the black shelves.
4. Large Walk In Closet Design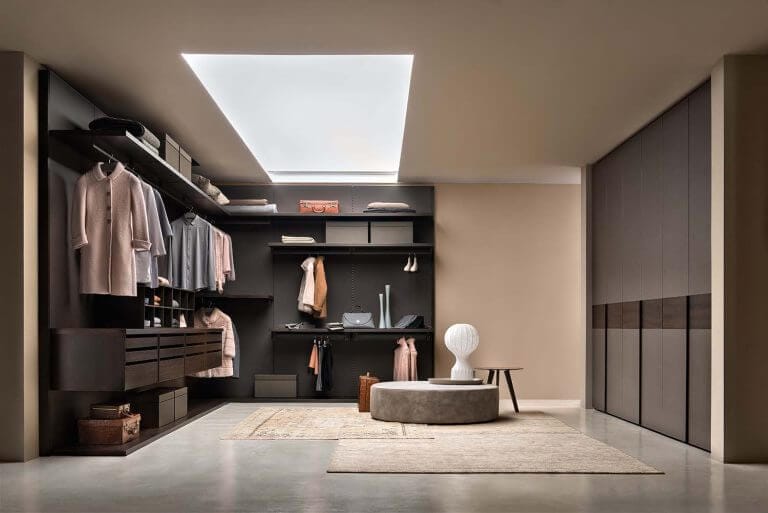 This impressive walk-in closet employs shelves and modular cabinets. Boxes act as movable storage pieces. The black backing boards allow pastel clothes and other items to shine.
Skylight prevents the closet from becoming too dingy. Polished concrete floor and area rugs pamper feet. In addition, Beige walls produce a serene environment in a flash. Moreover, Three-foot stool and velvet round ottoman enable you to try on your shoes.
5. Walk-In Wardrobe Lighting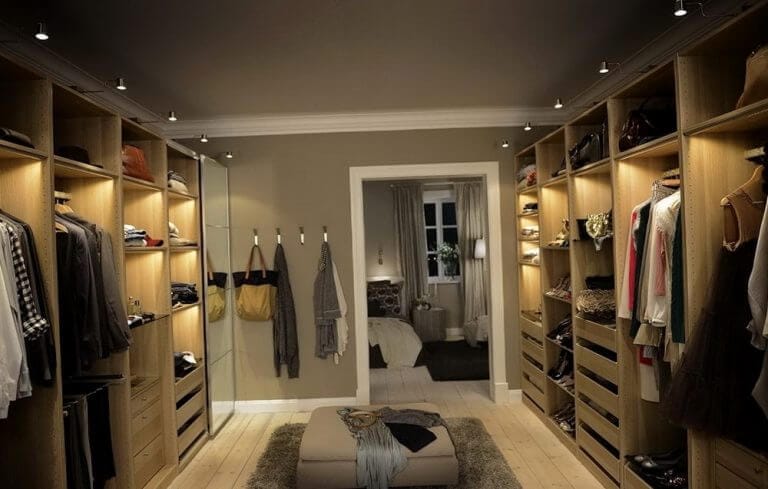 Wood drawers, shelves, and floors do not only add warmth to this walk-in closet but also offer nature's raw beauty. Taupe ceiling and walls contrast stunningly with pure white trim.
Wall racks hold bathrobes, towels, and bags. Shag rug and square ottoman lend the space instant comfort. Downlights provide proper illumination after dark. On the other hand, The LED lights elegantly accentuate clothes and accessories.
6. Minimalist Walk-In Closet Ideas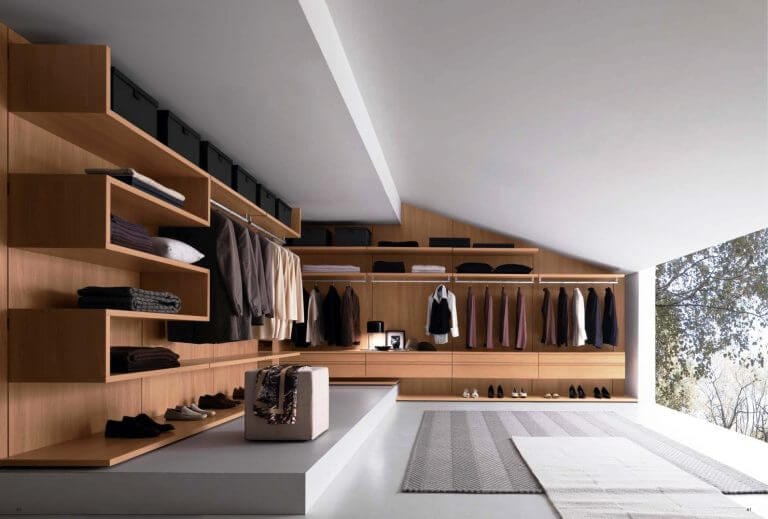 Are you a minimalist? If yes, apply this walk-in closet idea. Here, light gray and crisp white conveys a feeling of cleanliness. Modular shelves and hardware-free cabinets generate a sleek appearance.
Since this closet has a minimalist design, it offers a straightforward organization as well as storage. Wood units warm up the interior dominated by cool tones. The portable bench helps you reach the items on the upper racks.
7. Walk-In Closet Ideas for Men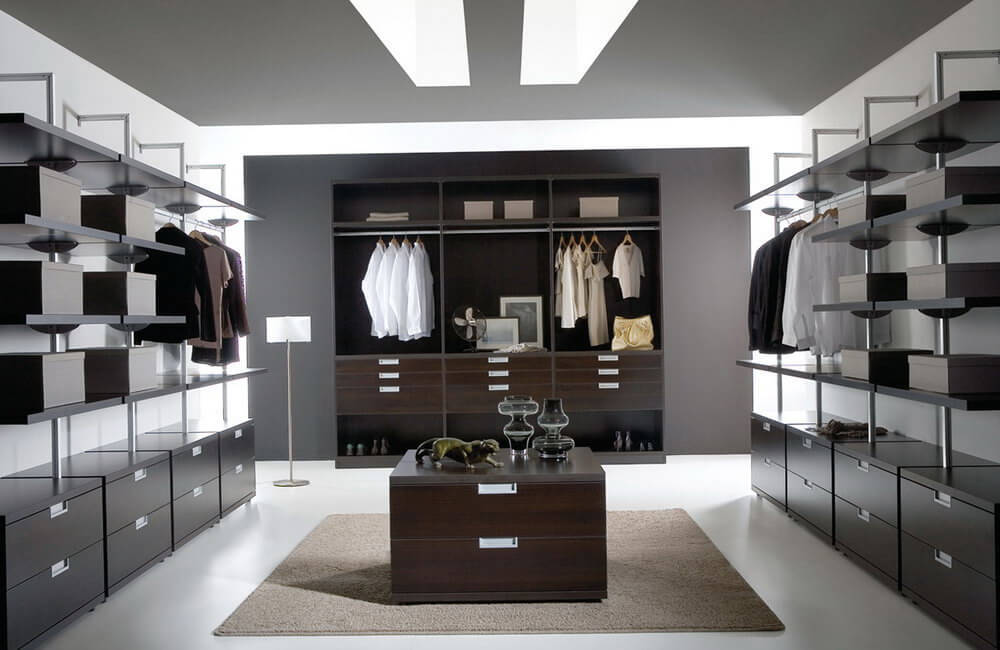 This walk-in closet is predominantly white. The color scheme makes the space bright and open. Gray and black add a masculine vibe to the room in no time. Skylights let plenty of sunlight shine through.
The closet combines open shelving and hanging rods with enclosed storage. Men suits and chrome poles inject more masculinity into the room. Dark wood center island carves a welcoming atmosphere.
8. Walk-In Closet Ideas with Carpet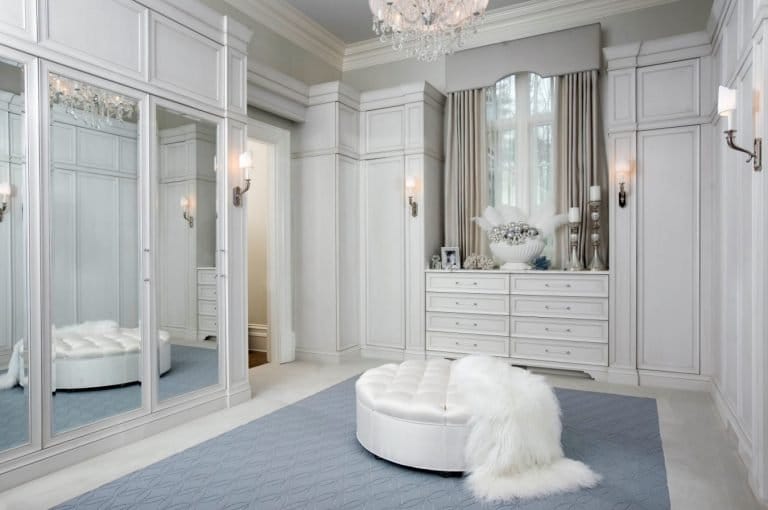 Different shades of gray bring a diverse feel and sophistication to this walk-in closet. Mirrors reflect the light and trick the eye into thinking the room is bigger. The cabinets keep clothes in place.
Candleholders and decorative items sit on the dresser table. Crystal chandelier casts a superior glow, while the wall sconces ooze vintage appeal. In addition, white round ottoman and blanket look elegant against the gray carpet.
9. Walk-In Closet Design with Shoe and Bag Racks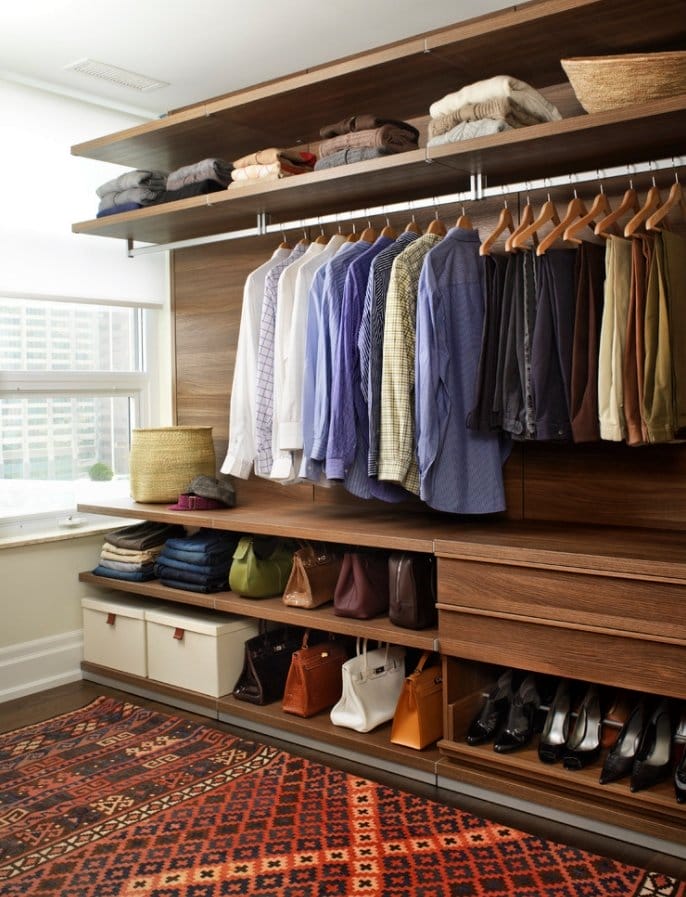 I admire this streamlined walk-in closet. Wood shelves are used as racks for folded clothing, bags, and shoes. They allow the products to be centerpieces. Storage baskets and boxes keep small personal items out of sight.
The hanging rods hold some wood hangers. Patterned area rug infuses the room with life and comfort. In addition, windows and crisp whites elicit a feeling of airiness.
10. Walk-In Closet Ideas with Creative Display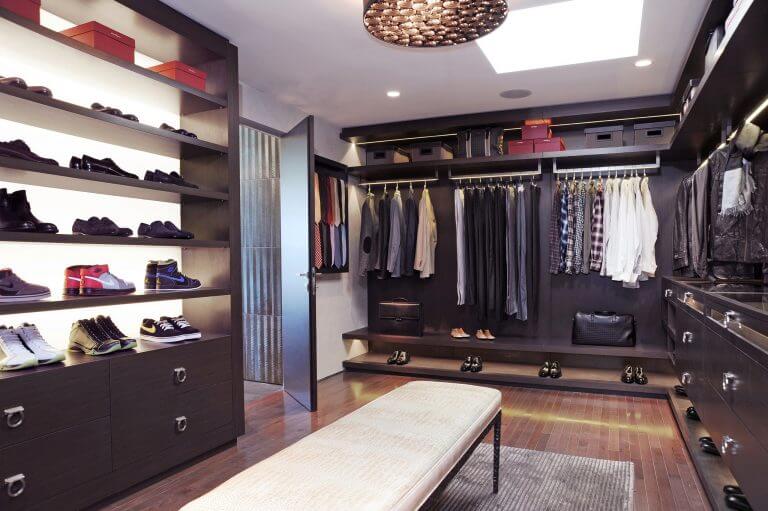 This walk-in closet is both stylish and glamorous. The brilliant object displays grab the attention in no time. Without a doubt, the homeowner got the inspiration from fashion boutiques.
Black furniture units are in high contrast to pure white ceiling and walls. Pops of red spice up the area. Light fixtures provide appropriate illumination, while a long bench gives a cozy location to try different shoes on.
11. Wood Walk-In Closet Design with Island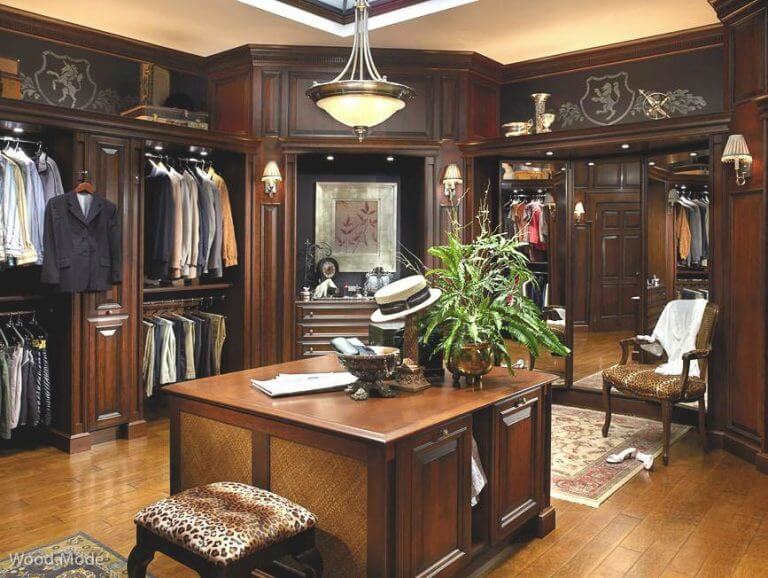 The dark-toned wood cabinetry sets a welcoming ambiance. Hanging metal rods showcase black and pastel-colored clothing. Meanwhile, the dresser works as the home for little private items.
Wall sconces and pendant light lend the interior classic aesthetic. Leopard chair cushions, patterned rugs, and indoor plants bring some visual appeal to the scene. Moreover, the island provides extra storage space.
12. Walk-In Closet Ideas with Lots of Mirrors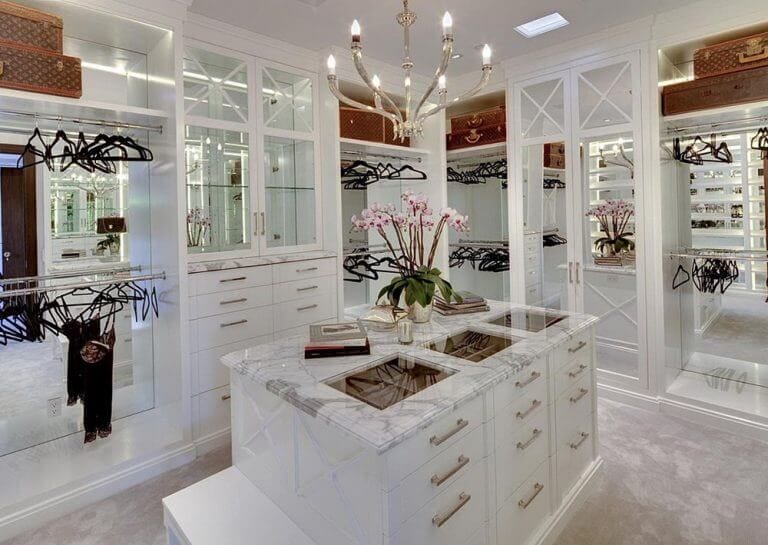 If you have limited room, don't despair. Use this walk-in closet as inspiration. The white color palette makes it appear larger. Mirrors create a fabulous visual effect and highlight black hangers at once.
The center island comes with a built-in bench and drawers. Marble accents add a touch of luxury to the interior in an instant. Meanwhile, chandelier lights up the whole area.
13. Walk-In Closet Designs for A Master Bedroom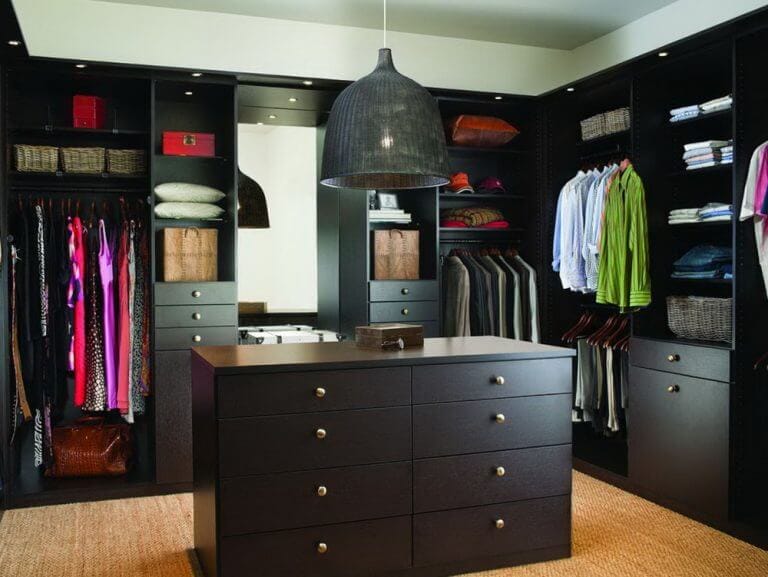 This walk-in closet features matte black cabinets and a rectangle-shaped island. They develop a seamless appearance and reinsure the space with drama. Drawer fronts as well as slab doors capture modern style.
Moreover, the room has an artful organization. Vivid clothing and storage boxes pop against the dark backdrop. Black rattan pendant light and jute rug bring natural textures indoors. Puck lighting keeps the closet from being drab.
Wanna explore more bedroom ideas?
14. Women's Walk-In Closet Design with Customized Cabinets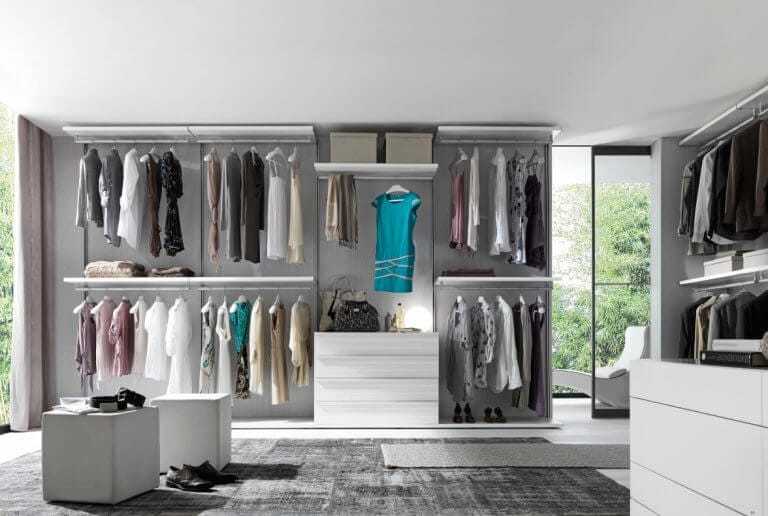 Who states the gray color scheme is only for men's closet? Since the homeowner chose light and medium tones, the room feels relaxing. Walls of the window allow ample sunlight to enter.
Dresses and clothes catch the eye, thanks to the muted backdrop. In addition, square ottomans inject a modern vibe and cozy ambiance into the whole scene.
15. Kids Bedroom Walk-In Closet Ideas DIY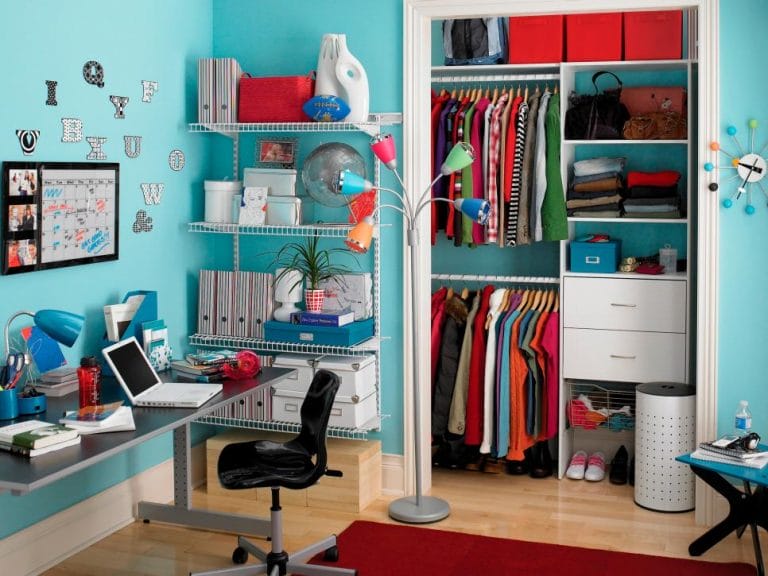 This kid's bedroom boasts blue walls. In a flash, they carry fun appeal and life to space. White trim contrasts produce a fresh look. Light-toned wood flooring carves a homey feeling.
Furthermore, the DIY white walk-in closet accommodates vibrant hanging and folded clothes. The drawers and storage boxes are used to stash away knick-knacks. Meanwhile, the metal rack above the shoes holds children's socks.
16. Walk-In Closet Design with Clear Glass Racks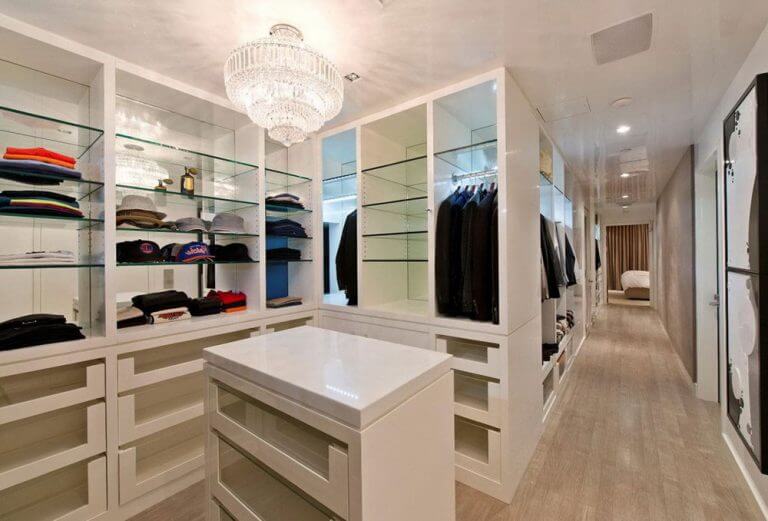 White ceiling, cabinetry, and center island make these walk-in closet ideas more spacious than it is. Timber flooring infuses the room with warmth. Crystal chandelier offers proper lighting and grandeur.
Modular wardrobe adds contemporary charm to the interior. Glass shelves work as racks for folded clothes and hats. The acrylic encounters let you discover the products easily without examining your cabinet.
17. Walk-In Closet Ideas Pinterest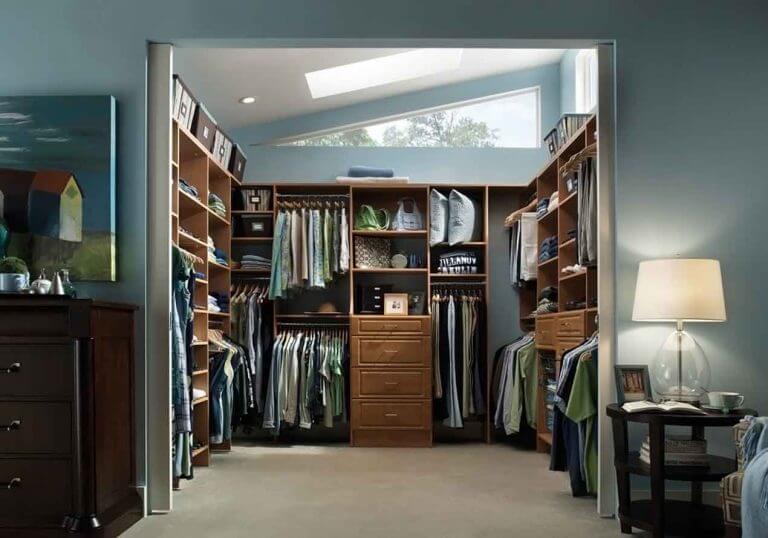 Needless to say, this walk-in closet is owned by a man. The modular cabinetry generates a masculine vibe. The subdued blue walls and wood cabinets introduce an appealing contrast. Additionally, Storage boxes nestle on top of the cabinetry.
The open shelves showcase clothes and pillows. Metal rods and hangers protect clothing from wrinkles. Drawers keep ties, socks, and pocketbooks safely, while downlight illuminates the space at night.
18. Opulent Walk-In Closet Design with Vanity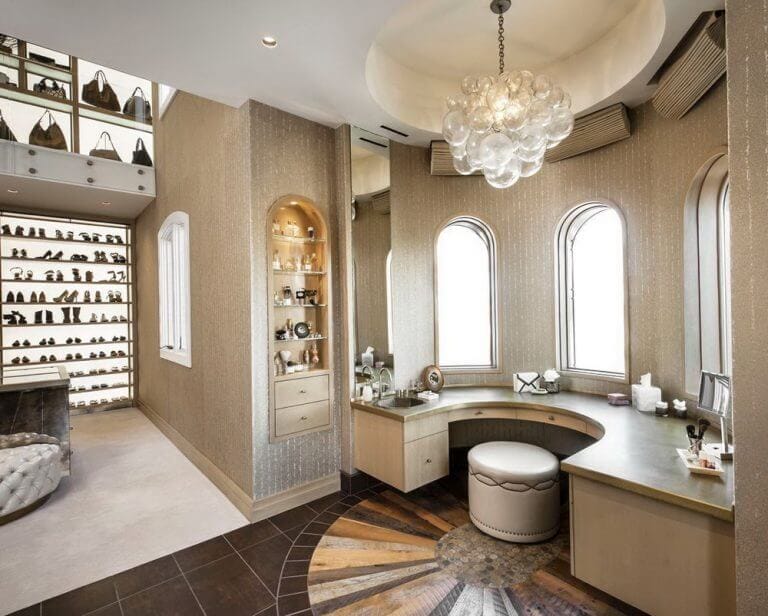 This walk-in closet is huge. It divides clothes in different areas. Additionally, there are dedicated shelves for bags, makeup products, and shoes. The neutral color scheme sends out a soothing ambiance and lets things stand out.
The tray ceiling matches the shape of the round stool and wood flooring. Bubble pendant light, tufted ottoman, and arched windows give off elegance. Raised vanity cabinets deliver a contemporary appeal to the room.
19. Walk-In Closet with Bench and Island
Wood shelves and cabinets carry a stunning shine to the walk-in closet. They emanate a welcoming atmosphere as well. Long dressing island and built-in bench feature drawers for keeping accessories and small bags.
Clear glass inserts enable you to find the clothes with ease. The standing mirror looks marvelous on the island. Striped bench cushion steals the show. Moreover, Pendants and downlights lend the closet a soft glow. Views from windows please the eye.
20. Walk-In Closet with Bathroom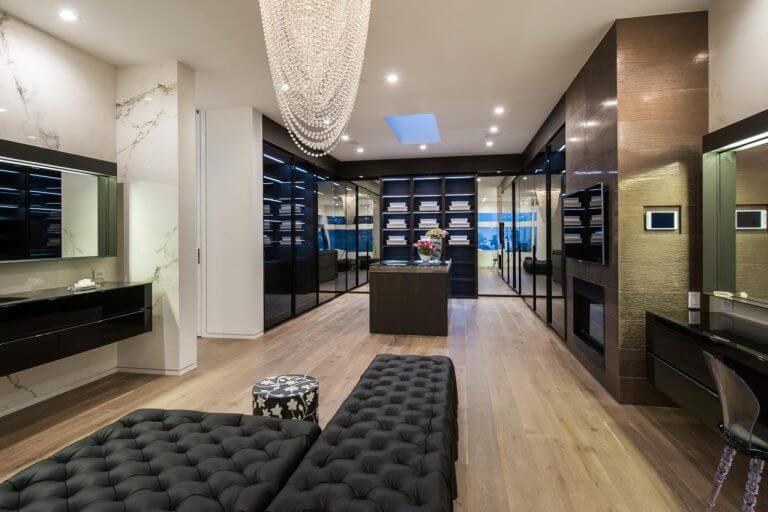 If you are not space-challenged, build a walk-in closet with a bathroom. It should feature floor-to-ceiling cabinets for a grand appearance. A crystal chandelier and marble walls infuse glamor into the area. Mirrors enhance the room's brightness.
Black vanities and dark brown center island assert a sense of sophistication. A tufted bench, chair, and floral stool provide ample seating area. In addition, the unfinished timber flooring commemorates nature's rawness.
21. Walk-In Closet with Plenty of Storage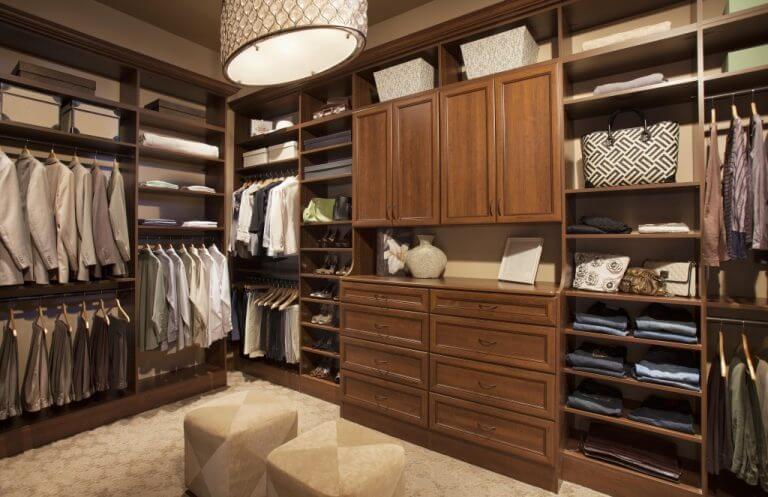 Taupe ceiling and beige walls impart a feeling of serenity. Wood cabinets include drawers and open shelves. Not only do they warm up the whole room, but also keep the space mess-free.
Floor covering, cylinder pendant light, and square ottomans produce a focal point. Furthermore, the decorations were put on top of the drawers. They complete the walk-in closet perfectly.
22. Monochrome Walk-In Closet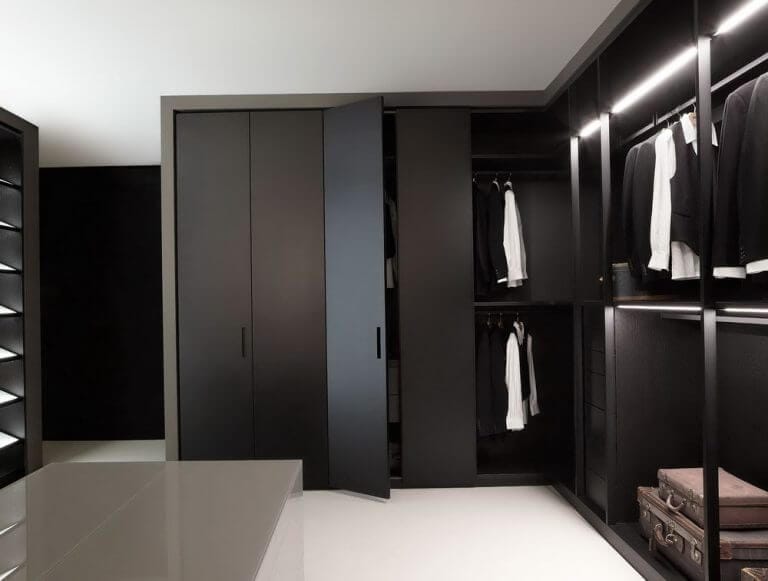 In case your closet room is not so large, try this idea. The walk-in closet maximizes the whole walls and utilizes them as cabinets. Black furniture units create a dramatic effect.
White flooring and ceiling with fluorescent lights prevent the closet from feeling too gloomy. As a result, vintage suitcases and gray island offer manly appeal.
23. Walk-In Closet with Slanted Ceiling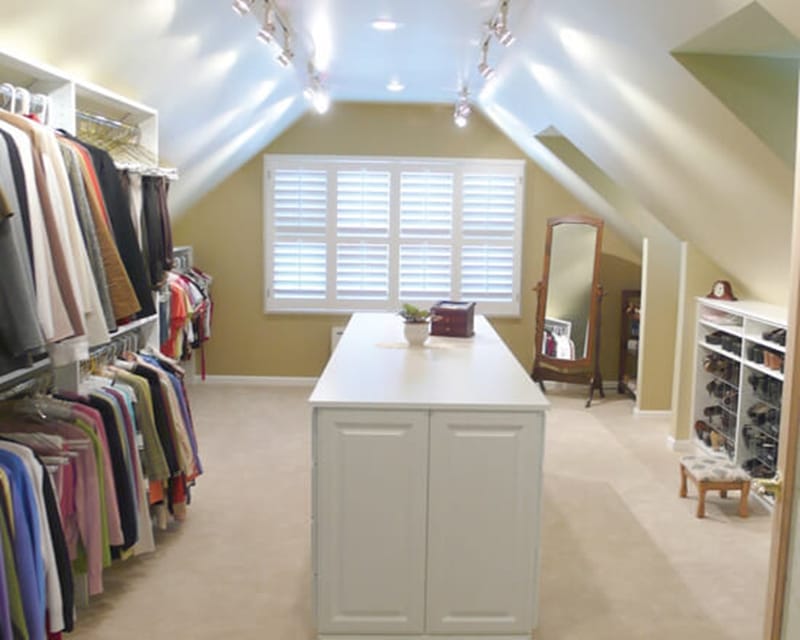 Warm neutrals set a peaceful mood. Meanwhile, window shutters filter sunlight and protect clothes from fading.
The hanging metal poles, shoe racks, wood standing mirror, and white island represent contemporary style. Metal track lights help the homeowner deal with the sloped ceiling.
24. His and Hers Walk-In Closet Ideas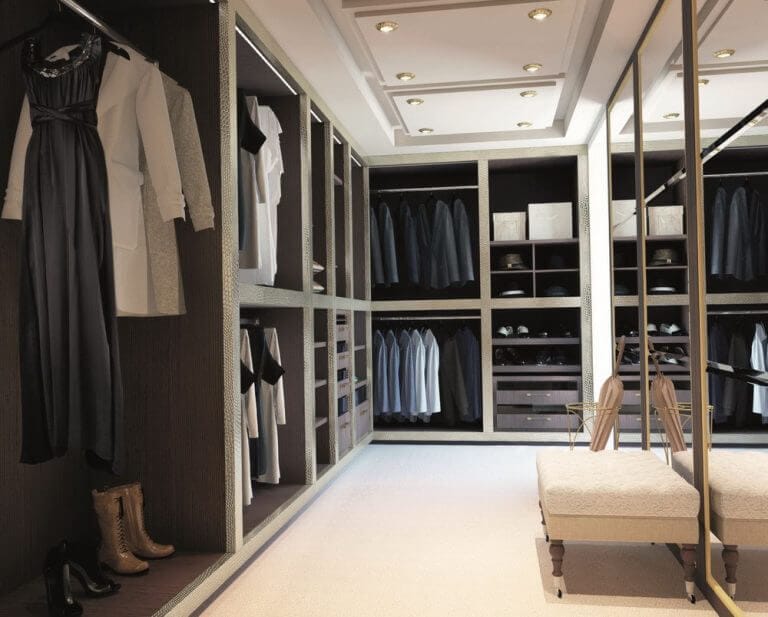 This walk-in closet is large. It features an open-type wardrobe for both men's and women's clothes. The intimate items were stowed in the drawers.
Mirrors and downlights make the room bright. Meanwhile, the vintage bench gives you space to rest after trying your clothing and shoes on.
25. Narrow Closet Design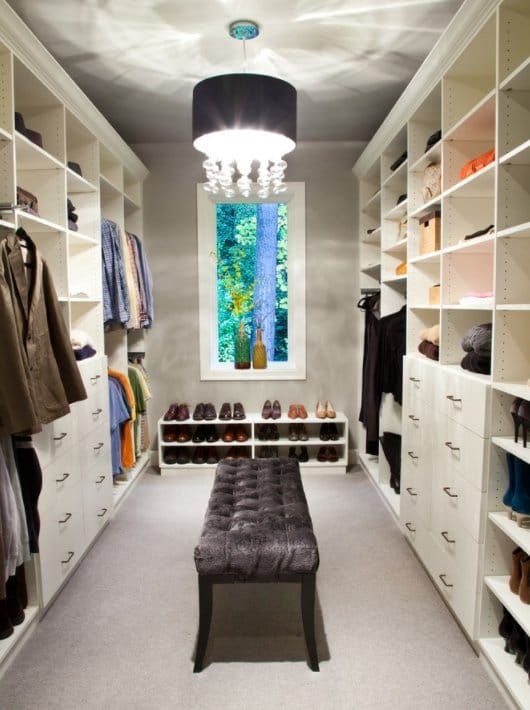 Your space is at a premium? Steal the look of this tiny walk-in closet. White cabinets and shoe racks open up the room.
The dark suede clothing bench is a splendid contrast to white and light closet colors. As a result, it generates a lavish look, too.
26. Wood and White Walk-In Closet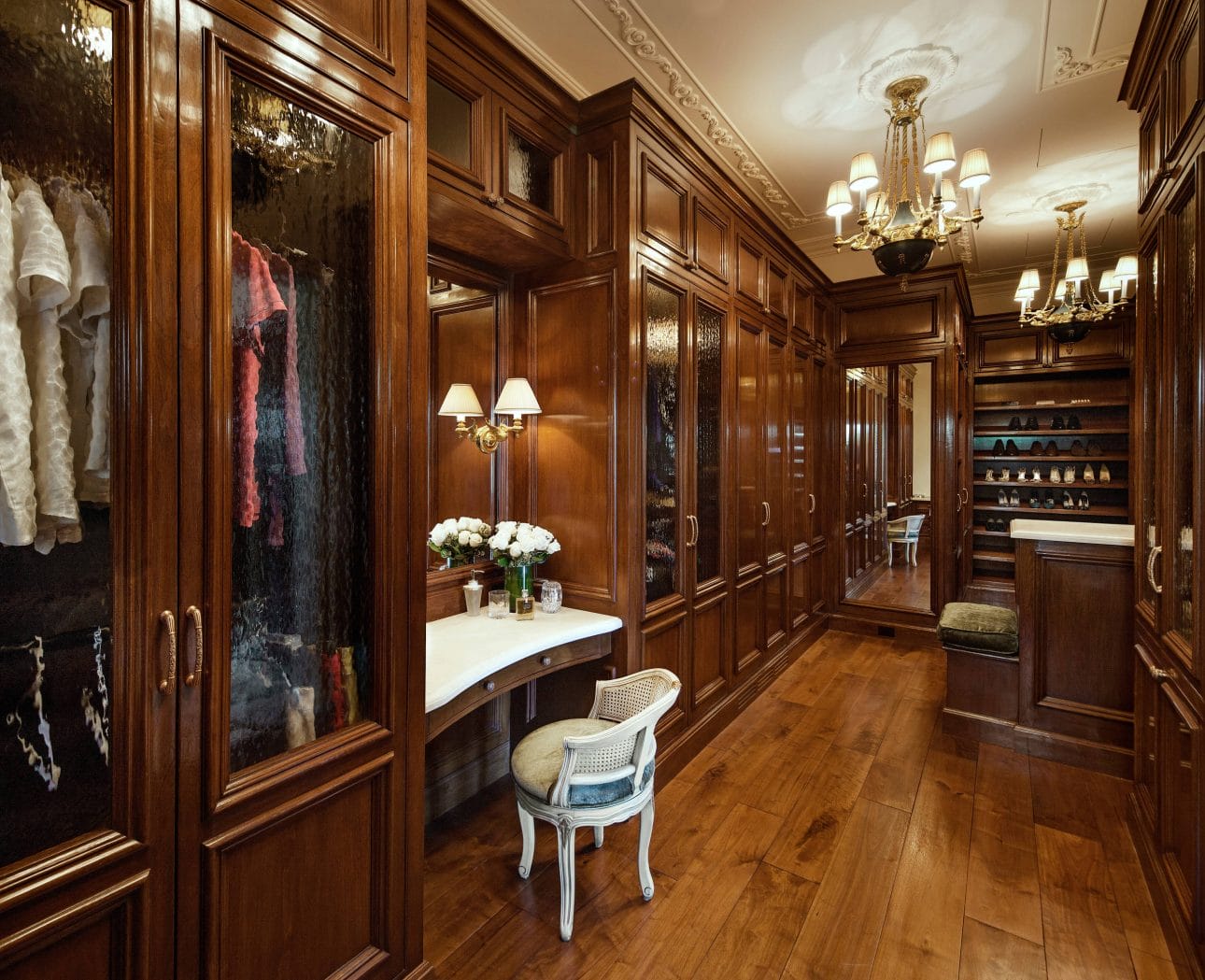 Polished wooden cabinets add natural elegance and warmth to the closet. White ceiling and countertops exhibit a clean ambiance.
Chandeliers and wall sconces light up the room. The long island includes upholstered seating. Meanwhile, flowers adorn the space.
27. Classy Wood Cabinets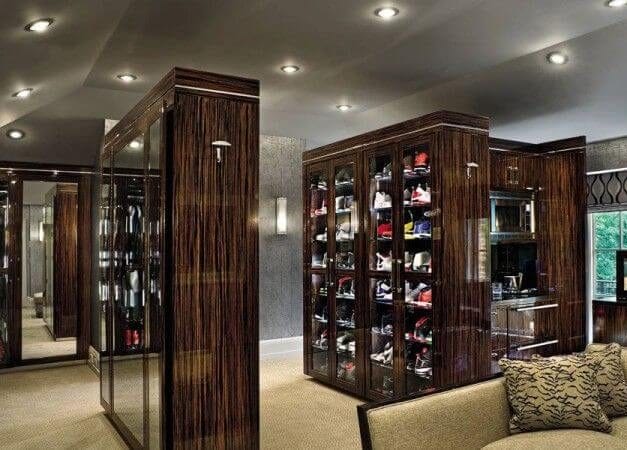 This walk-in closet is mostly gray. The downlights and wall sconces keep the space well lit. Carpet gives off a cozy feeling.
Wood cabinets offer mesmerizing grains. Moreover, the glass inserts allow you to see the shoes and other stuff stored inside with ease.
28. White-Toned Walk-In Closet
No doubt, white is a perfect color for your walk-in closet. It symbolizes cleanliness, elegance, sophistication, and freshness.
The coffered ceiling, crystal chandelier, columns, and gold accents exude a sense of luxury. In addition, white shag rug and center island top the laminate wood flooring.
29. Straight Walk-In Wardrobe Design
Wood flooring and cabinetry imbue the straight walk-in closet with warmth. Blue-painted glass inserts introduce a terrific contrast.
The open shelves and hanging racks are utilized to store frequently used products. Meanwhile, antique vase acts as a charmer. It is perfectly in sync with the color palette of the closet.
30. Walk-In Closet with Marble Island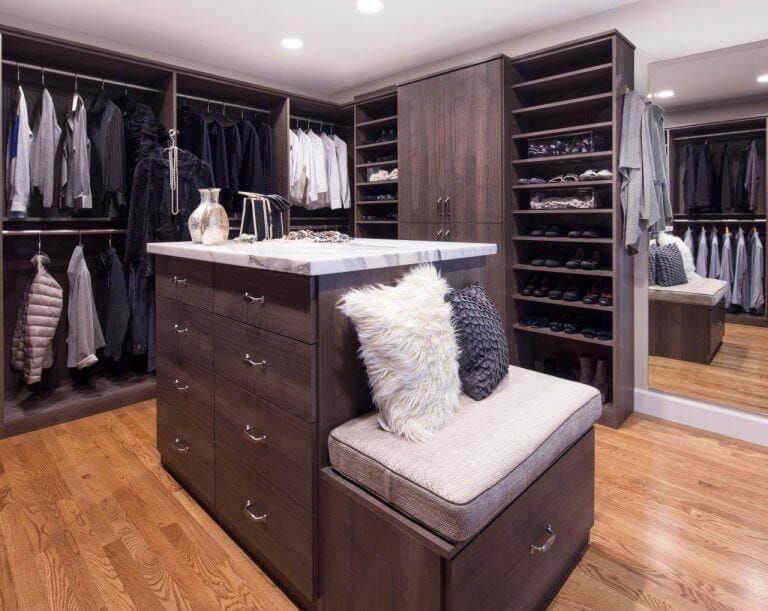 I love the way the homeowner displayed her things in this closet. The hanging metal racks hold clothes, while open shelves accommodate shoes. Mannequin's hand is utilized to showcase jewelry.
Different tones of wood bring visual interest to the room. Marble island top and metallic accents create a high-end look.
You can use those walk-in closet ideas as home decorating inspiration. Choose the design that fits your budget, personal preference, and storage needs. Let's make outfit magic happen!