Big trees lend any landscape beauty and shade. However, their heavy branches and roots can hinder the health of other plants. If you have trees in your yard, take a cue from the landscape tree ring ideas below.
You can improve the areas around the trees, whether they are mature or not. With these ideas, you can take such spots from dismal to delightful.
1. Landscape Tree Ring Ideas with Lighting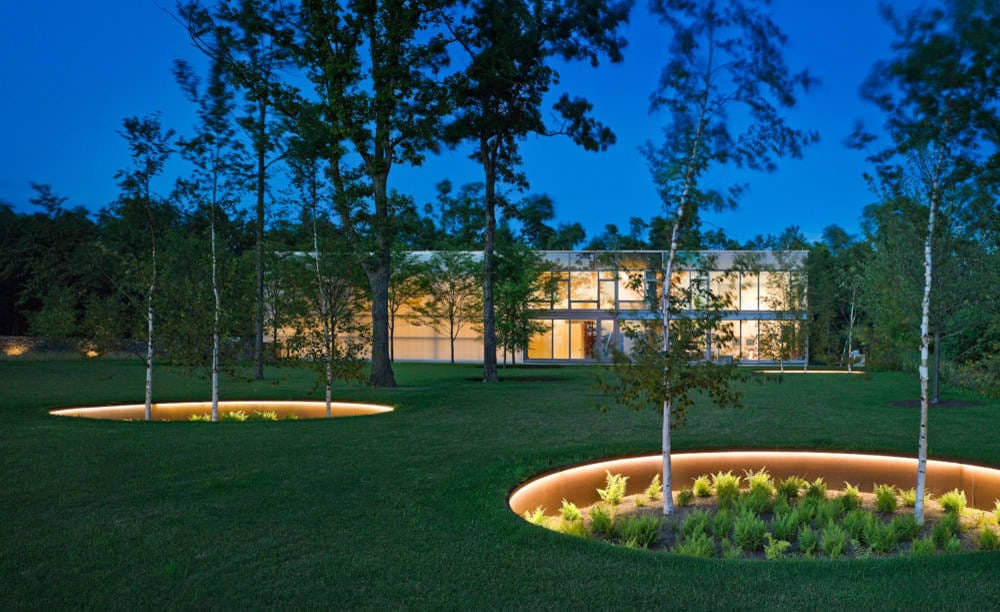 Do not overlook the nighttime scene in your yard. After landscaping the spots around trees, you should install a few accent lights.
That way, they will not be in the dark when the night arrives.
Landscape lights help homeowners make the most of their yard designs. In addition, they can illuminate the trees softly while introducing a new design element.
Be sure to pick low-voltage or solar lights.
Here, minimalist round tree rings in the yard go excellently with skinny trees featuring white barks. Meanwhile, the landscape lights call attention to adjacent small shrubs.
2. Square Tree Ring Ideas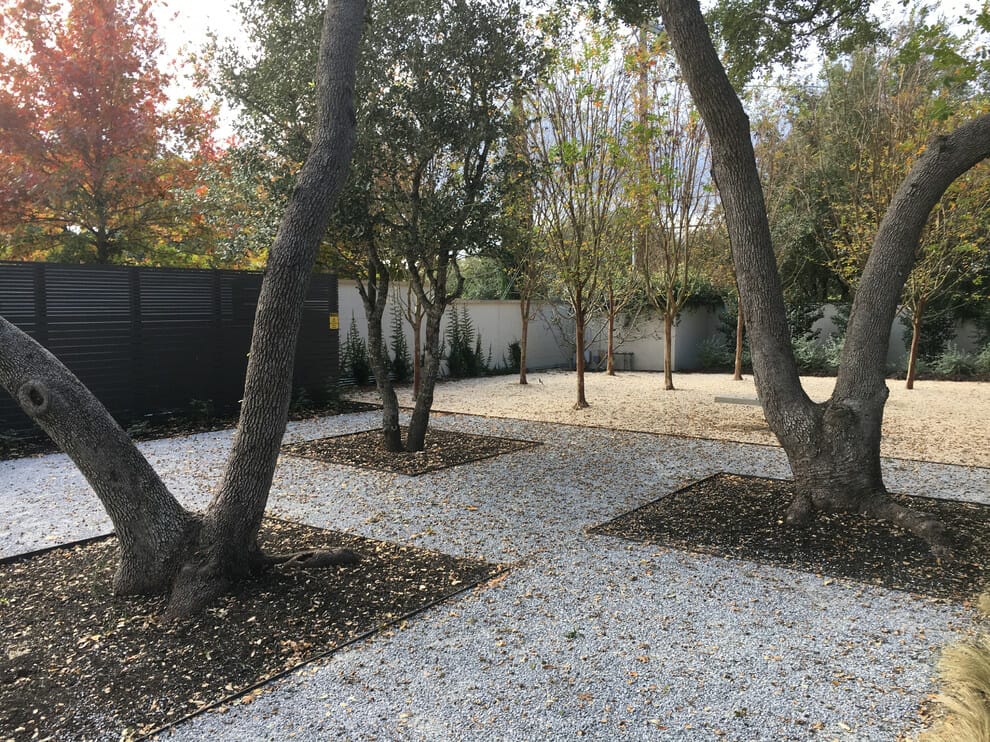 Talking about landscape tree ring ideas, you should understand the roots of your trees well. While some trees have deep roots, others produce roots that are right below the surface.
Since a few roots of the large trees appear above the ground, do not add new plants around them. Just keep things simple.
You can use tree ring edging to distinguish the soil from the gravel neatly.
In this picture, the black metal landscape edging makes for stylish square tree rings. They match the slatted fence panel while highlighting big trees.
3. Landscape Tree Ring Ideas with Flowers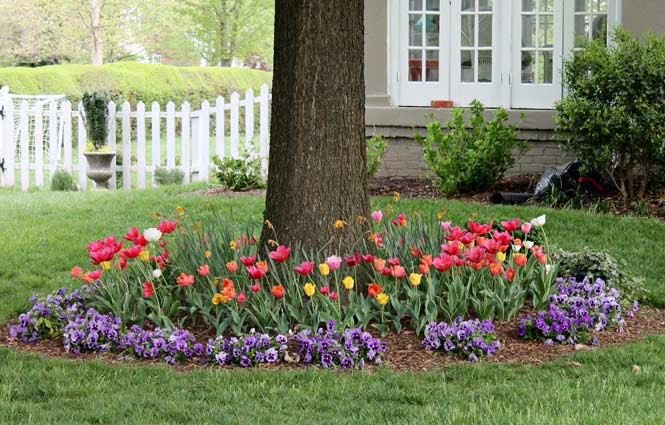 Some trees permit sunlight through their large branches, while others do not. Before selecting plants, you must know the amount of shade beneath your trees at varying times of the day.
Here, garden tulips elegantly lend the landscape a riot of color.
They thrive beneath a giant tree. Meanwhile, purple pansies make the tree ring design much more attractive.
Thanks to cheerful flowers, the area around the massive tree does not seem desolate anymore.
Furthermore, the commercial mulch retains soil moisture, so you needn't water it constantly.
4. Stone Tree Rings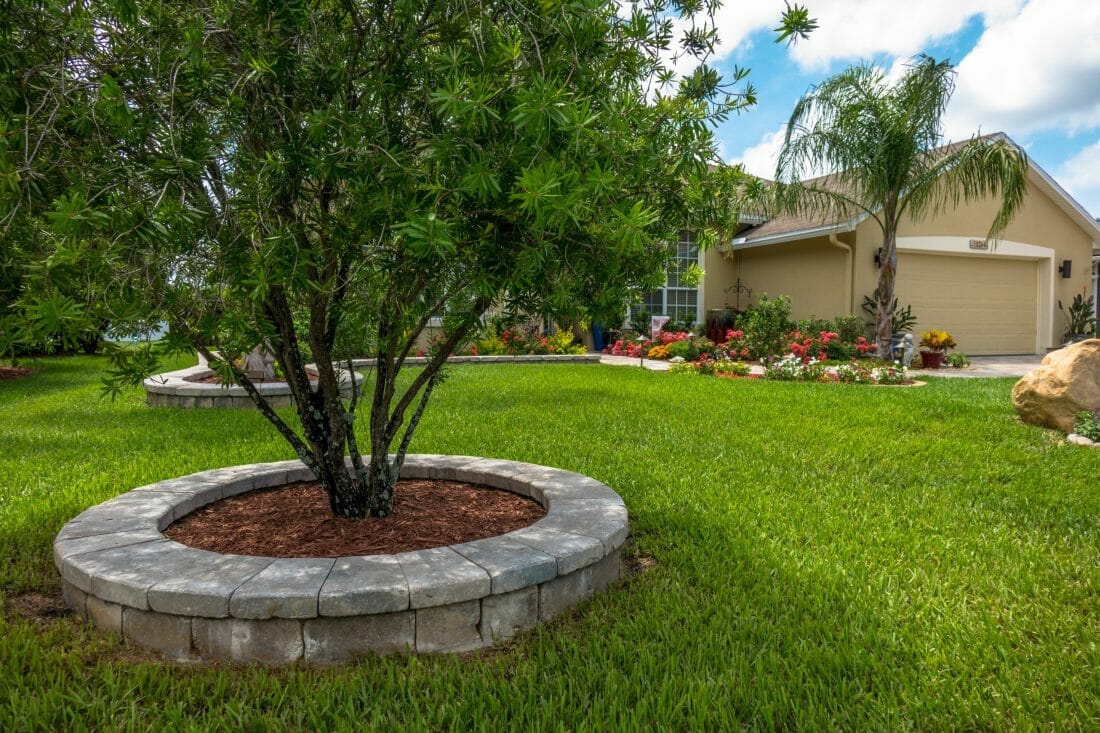 In this photo, round stone tree rings double as raised borders around trees. Moreover, the homeowner does not use them as garden beds.
With the help of commercial mulch, the front yard garden stays hydrated.
Stones accentuate ornamental trees in the yard. In addition, they accompany the boulder that exactly matches the house façade.
The homeowner also uses them to demarcate the lawn from the mulch.
5. Backyard Landscaping Ideas with Rustic Tree Edging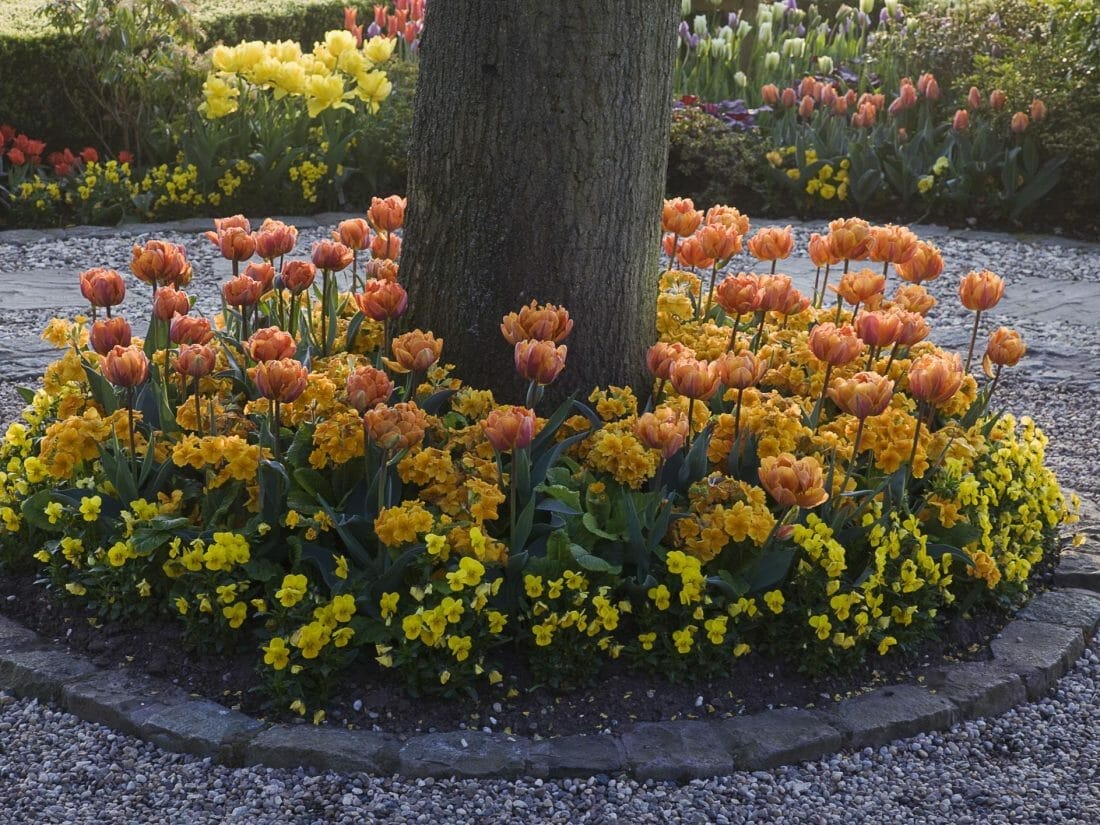 The area around the tree does not have to be lifeless. Construct a border of stones to keep your backyard garden shipshape.
I admire the circular tree border design. Since it appears rustic, it mingles with the gravel and stepping stones well.
The simple masonry tree edging draws attention to flowering plants. As you see, coral, yellow, and orange flowers spruce up the otherwise bleak spot.
6. Brick Tree Ring Ideas for Sloped Yards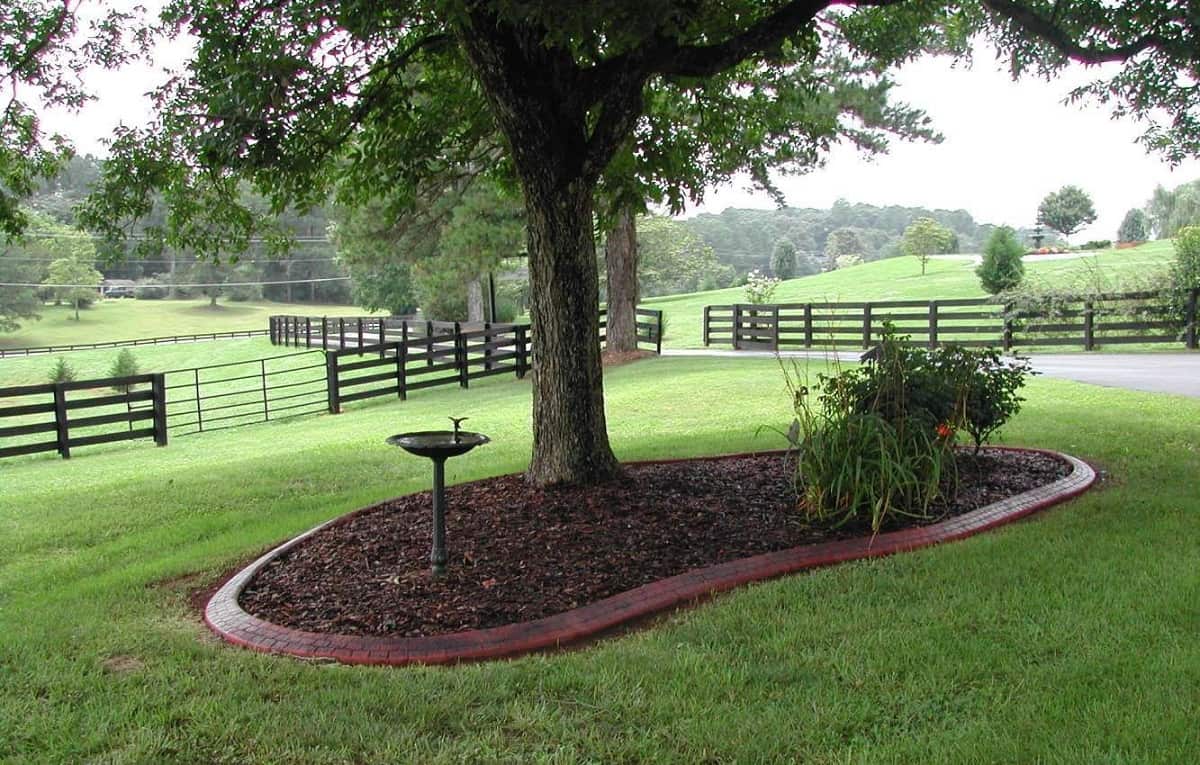 Tree rings do not need to be circular. Likewise, this tree ring looks truly incredible despite its odd shape.
Moreover, there is a spectacular arrangement of red bricks that marvelously separates the lawn from the commercial mulch.
The ornamental grass and bush thrive under the tree branches' perimeter. Furthermore, the mulch minimizes soil moisture loss.
In addition to plants, the under-tree landscaping includes a birdbath. It acts as a relaxing design element while attracting beautiful birds.
7. Landscape Tree Ring Ideas with a Birdhouse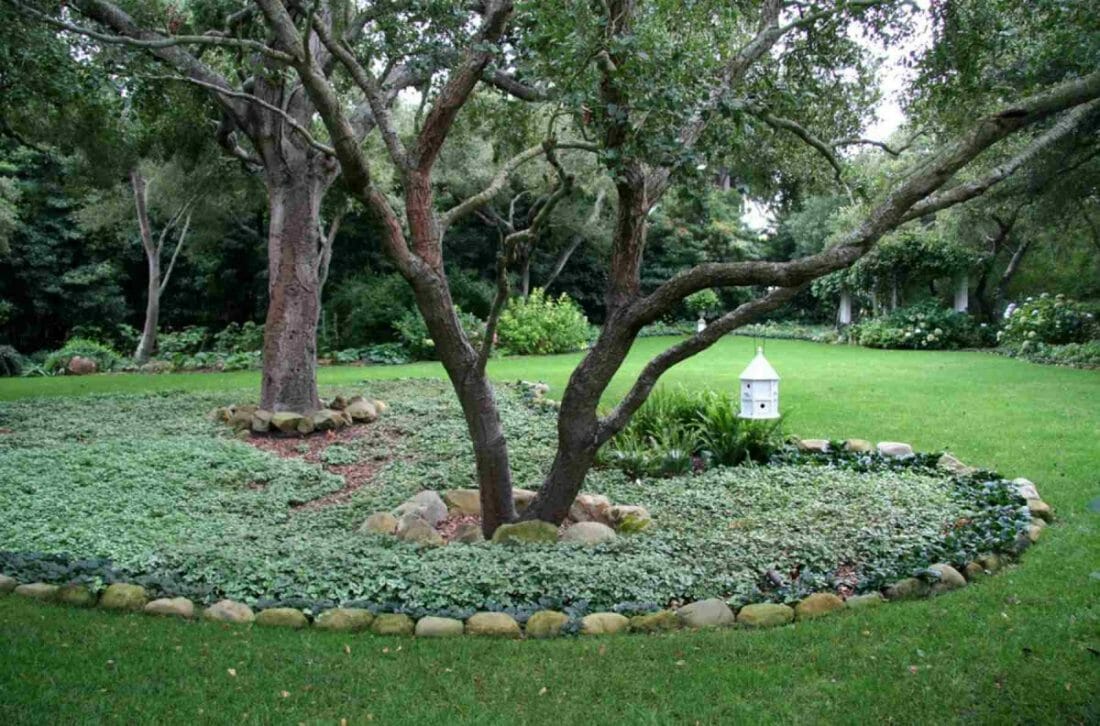 If you need landscape tree ring ideas, replicate this garden. There are stones around two big trees. Not only do they make for rustic round tree rings, but also draw attention to majestic trees.
Ground cover plants make the areas around mature trees more lively. Furthermore, they ensure weeds do not take over the gorgeous garden.
In addition to small circular tree rings, the homeowner built an oddly shaped yet bigger larger ring. As you see, the mossy stones generate a smooth transition.
Meanwhile, a white birdhouse hanging from the bough adds a cute flair.
8. Tree Ring with Hostas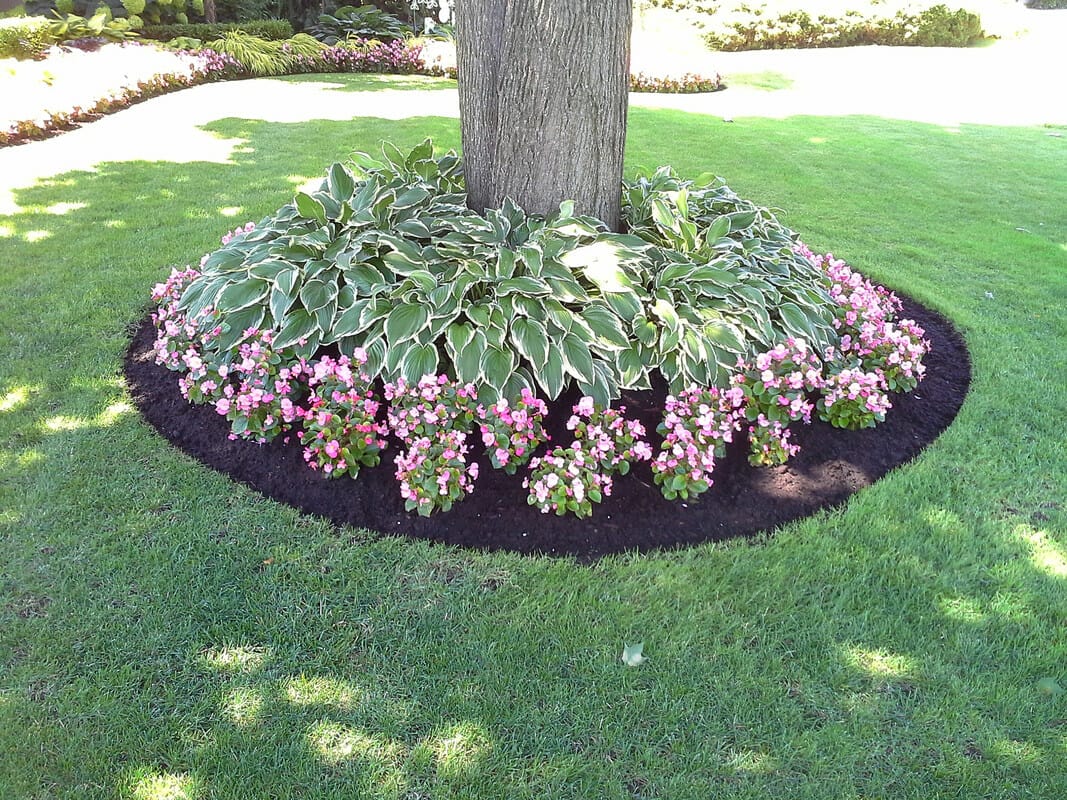 When it comes to landscape tree ring ideas, you need to be selective. Try choosing plants that are adapted for certain light conditions under your trees.
If you plan to grow garden plants near the tree trunk, opt for hostas and ferns because they are deep-shade plants.
Just in case your yard begs for an extra pop of color, integrate plants with bright flowers. Make sure they match the existing landscape.
This idea is suited to people who love caring for plants. Moreover, the circular tree ring perfectly distinguishes the lawn from garden plants.
9. Semi-Circular Landscape Tree Ring Ideas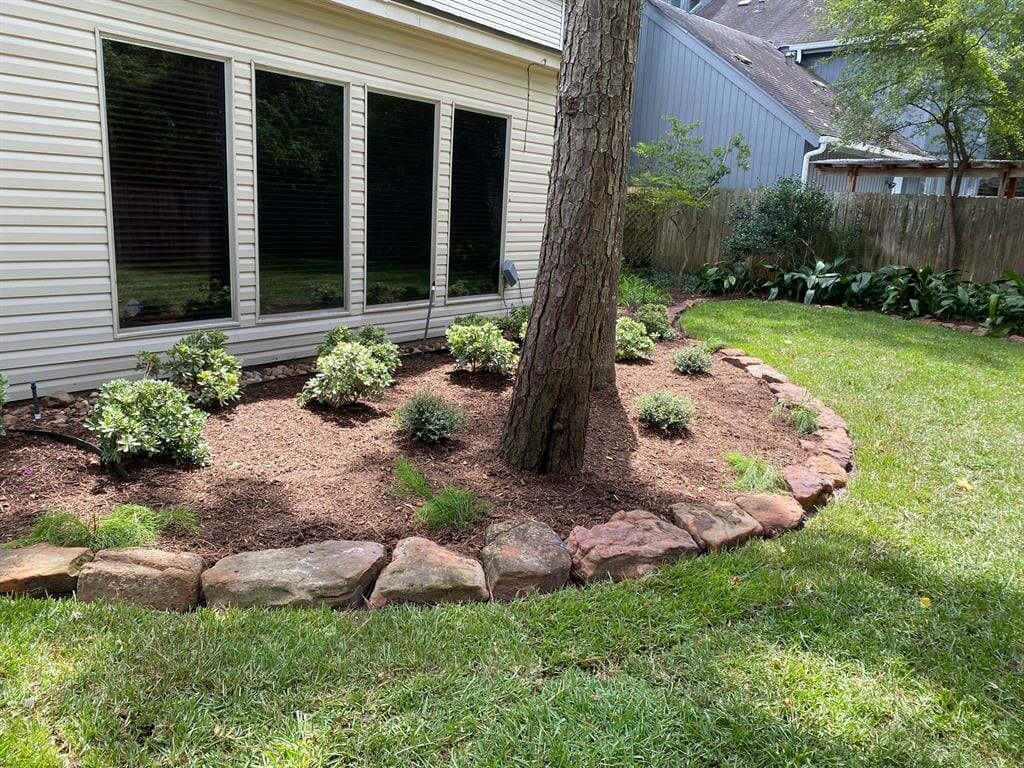 Who says tree rings have to be round? This semi-circular tree ring is equally magnificent. It boasts rocks that develop some rustic beauty too.
The rocks ensure the are around the statement tree looks shipshape. Meanwhile, the mulch conserves soil moisture, so you can save both water and time.
You can spot ornamental grasses and low-growing shrubs near the trunk of the big tree. Apart from adding texture, they deliver a breath of fresh air to the landscape.
10. Embrace Minimalism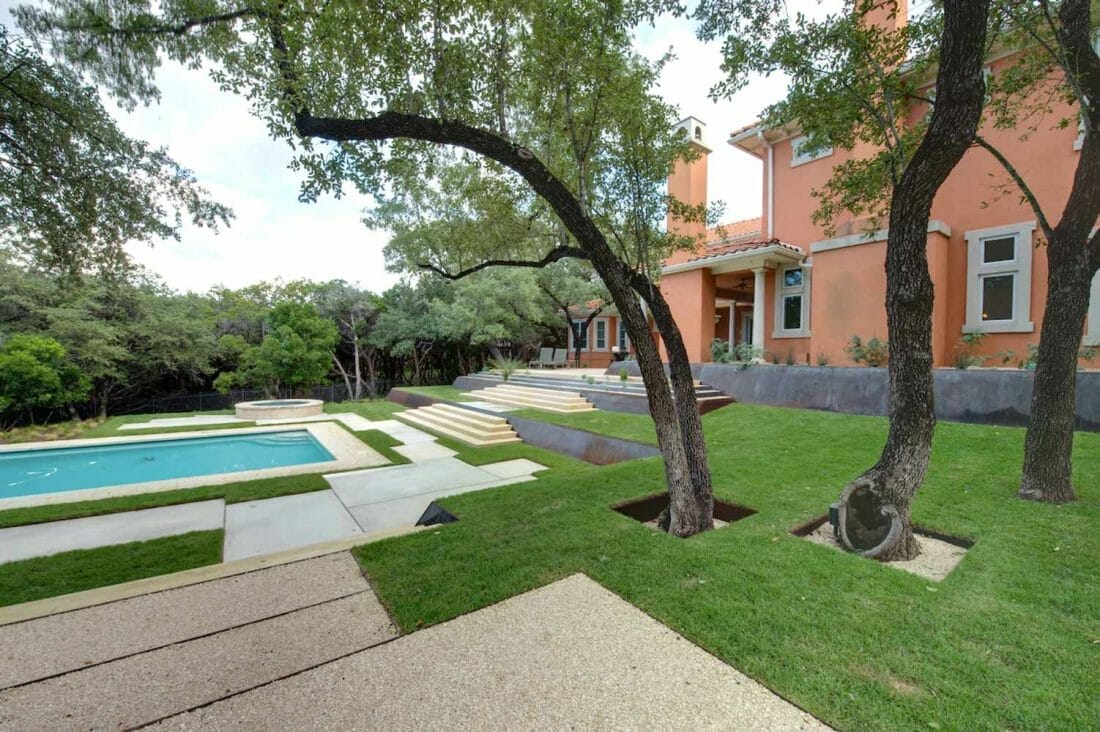 Searching for minimalist landscape tree ring ideas? If so, duplicate this yard. The homeowner kept things to a minimum in his backyard.
Square and rectangular tree rings accentuate massive trees. In addition, they have sleek lines, so they can live with large concrete pavers and steps harmoniously.
The homeowner intentionally maintained the soil level at the trees' trunks. That way, they will not be prone to insect infestation.
11. Landscape Ideas for Artificial Trees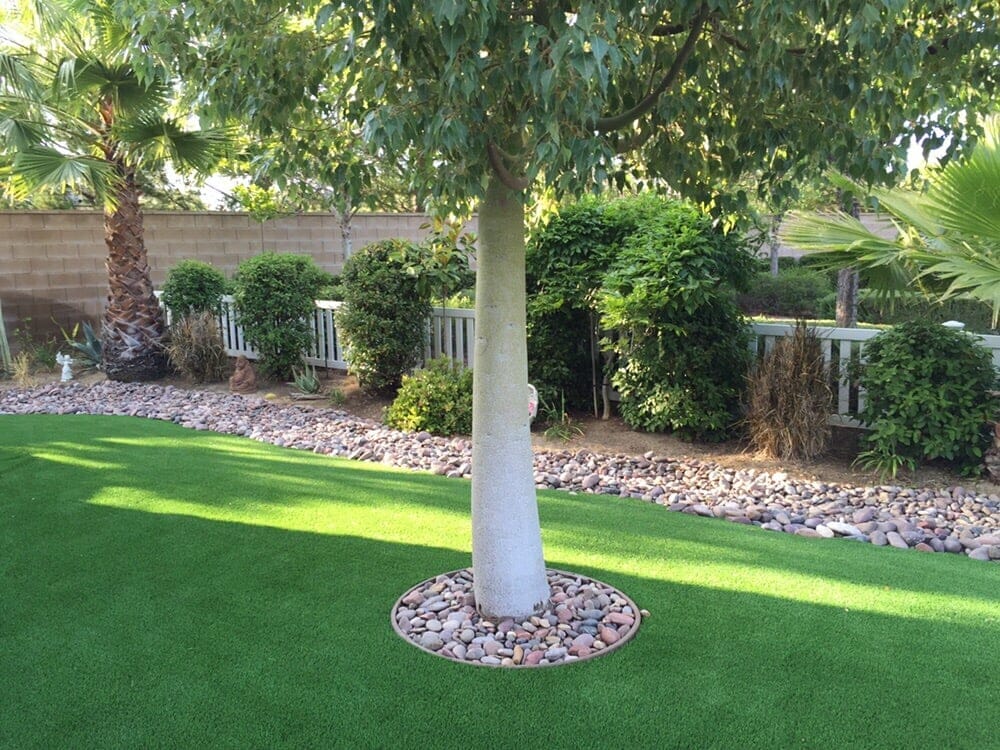 Despite the existence of artificial turf, this yard will be the envy of your neighborhood. The fake turf lends the landscape a contemporary vibe.
Colorful pebbles separate the fake lawn from real ornamental plants. Furthermore, tiny garden statues generate an aesthetic flair.
The circular commercial edging is small but sturdy. Additionally, it prevents pebbles of varying colors from tumbling out on the artificial turf.
12. Landscape Tree Ring Ideas with a Bench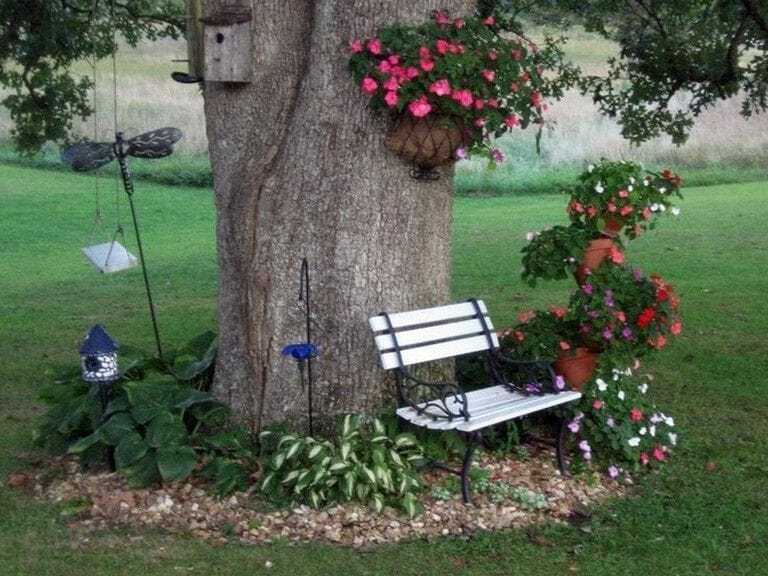 This yard teaches you to not fight mama nature. You just need to make the garden bed larger and incorporate more plants to match the current landscape.
The under-tree landscaping includes a vintage black and white bench. It enables you to enjoy an incredible book or sip afternoon tea.
Moreover, the coconut liner planter holds a gorgeous flowering plant.
With the vertical flower garden and plants, the tree ring seems astonishing. Meanwhile, the birdhouse, dragonfly garden art, outdoor light, and swing complete the yard.
13. The More Diverse, the Better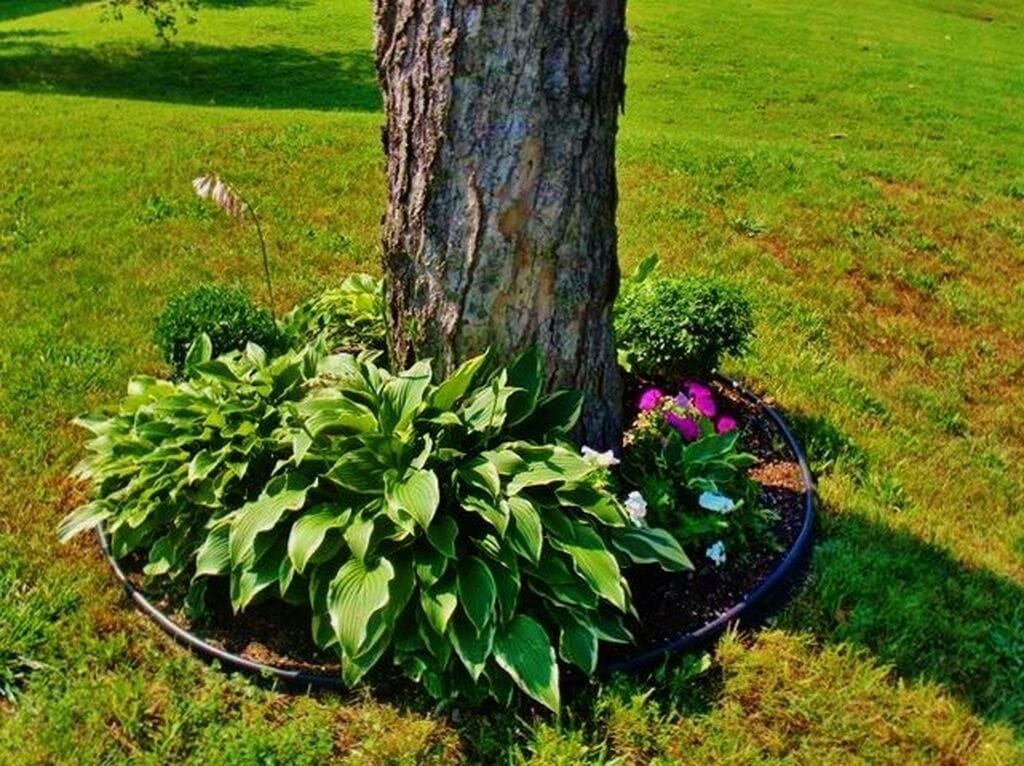 Landscape tree ring ideas can feature different design elements. This yard, for example, has a circular tree ring with varying plants, from hostas to shrubs.
The metal edging is sturdy and trendy while becoming a terrific border. Meanwhile, landscape plants provide texture and color.
Hostas grow well near the big trunk since they are shade-loving plants. Furthermore, they give the landscape a bit of variety while spicing up the commercial edging.
14. Retaining Wall Landscape Tree Ring Ideas
Steep yards are susceptible to soil erosion and water runoff. If your yard is hilly, take advantage of it by constructing a retaining wall.
The natural stone retaining wall makes the sloped property more functional. In this picture, it works as a semi-circular tree ring as well.
Flowering plants perk up the rustic retaining wall. Moreover, well-placed landscape lights brighten the tree and dainty plants when the night comes.
15. Landscape Tree Ring Ideas with a Deck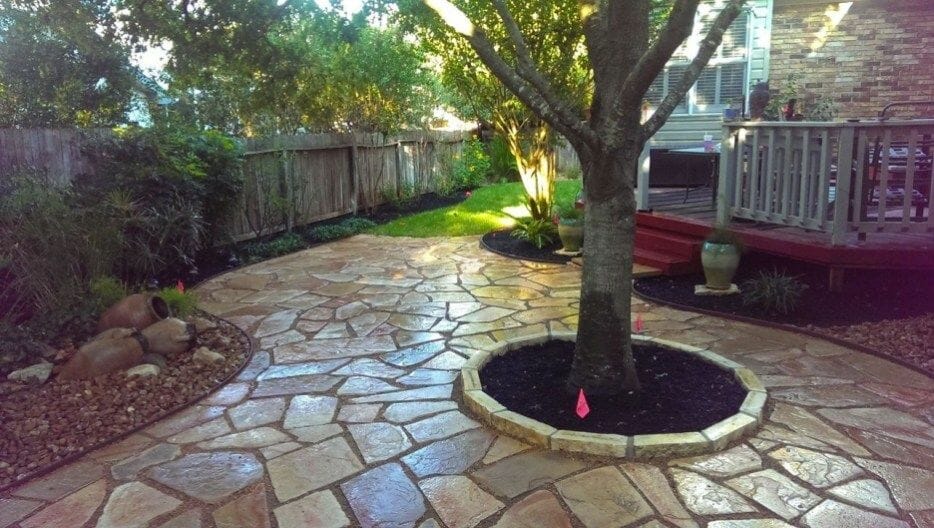 As you see, the deck offers attractive landscaping. Meanwhile, the big tree gives the entertaining area some shade. When creating construction plans, consider incorporating the existing tree.
The tree ring features natural stone bricks. In addition to highlighting the showstopping tree, it goes excellently with the nearby flagstone paving.
The curved masonry edging lends the landscape another design element. Furthermore, terracotta pots, stones, and ornamental plants add wow factors.
16. Tree Ring with Rocks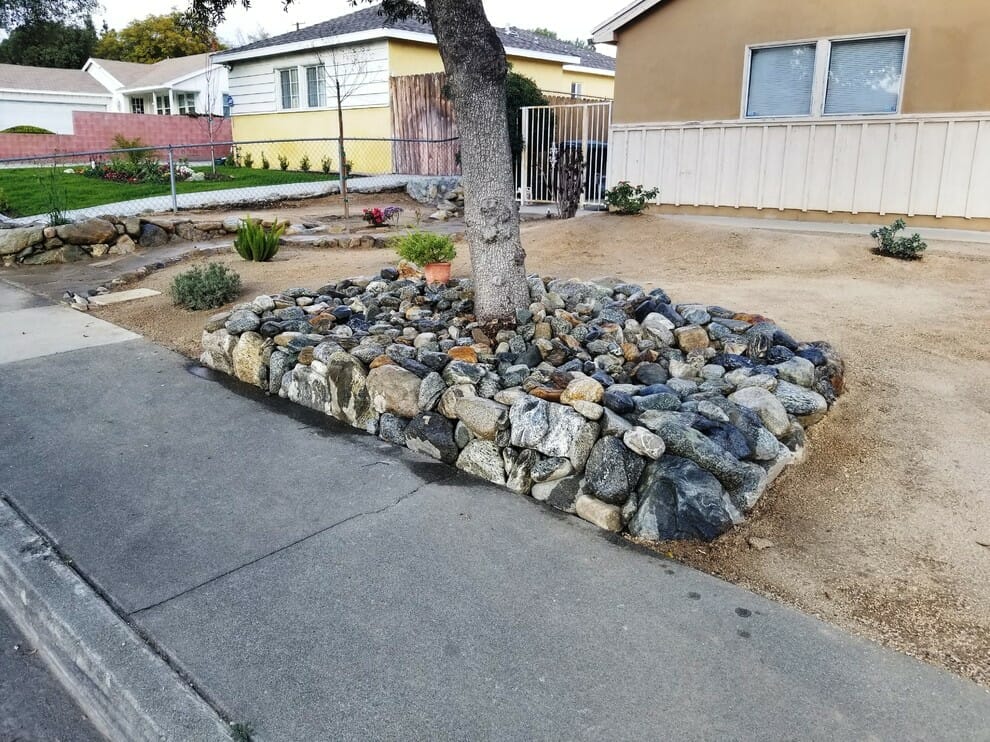 Landscape plants are surely amazing around the tree's base. However, they do need occasional trimming. In addition, you must fertilize them regularly.
If you are not one of those with green thumbs, use rocks of varying sizes as a terrific alternative to garden plants.
Just add a pile of rocks to the base of your tree.
The rock tree ring offers a natural vibe to the landscape. Furthermore, grow different garden plants around it in-ground and in pots.
17. Landscape Tree Ring Ideas with Pavers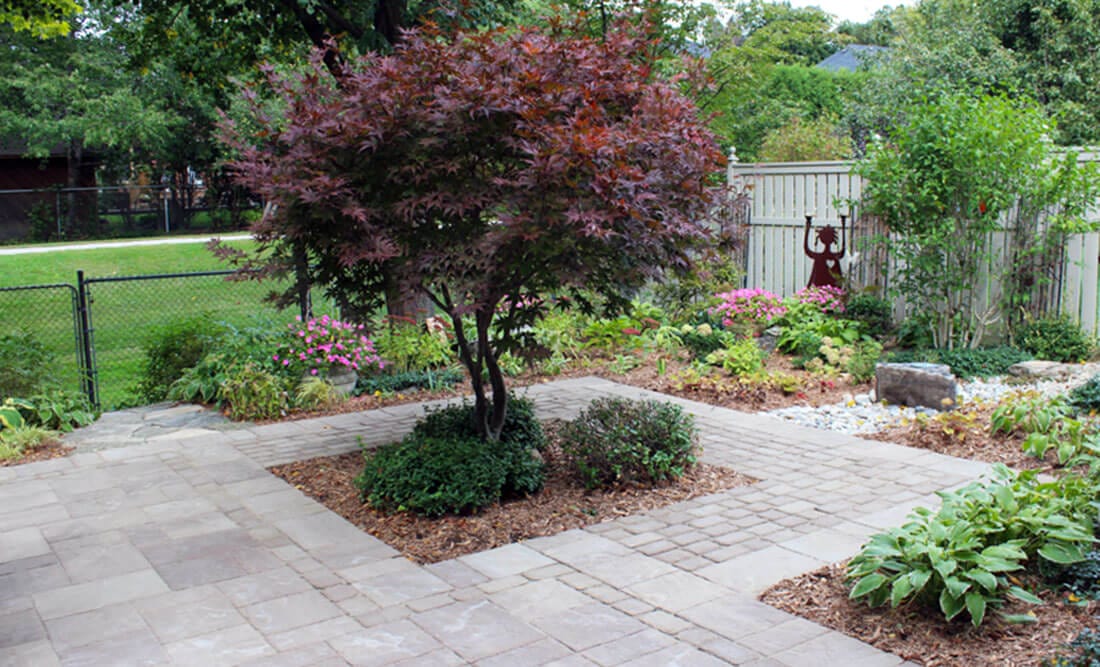 The 'Crimson King' maple tree poses as a statement tree here. It produces deep purple leaves that deliver drama to any landscape.
A few shrubs thrive under the 'Crimson King' maple tree since it allows sunlight through its branches. Meanwhile, the mulch holds moisture while highlighting them.
Pavers of varying sizes make for a rectangular tree ring. Moreover, diverse landscape plants provide a riot of brilliant colors instantly.
18. Sloped But Splendid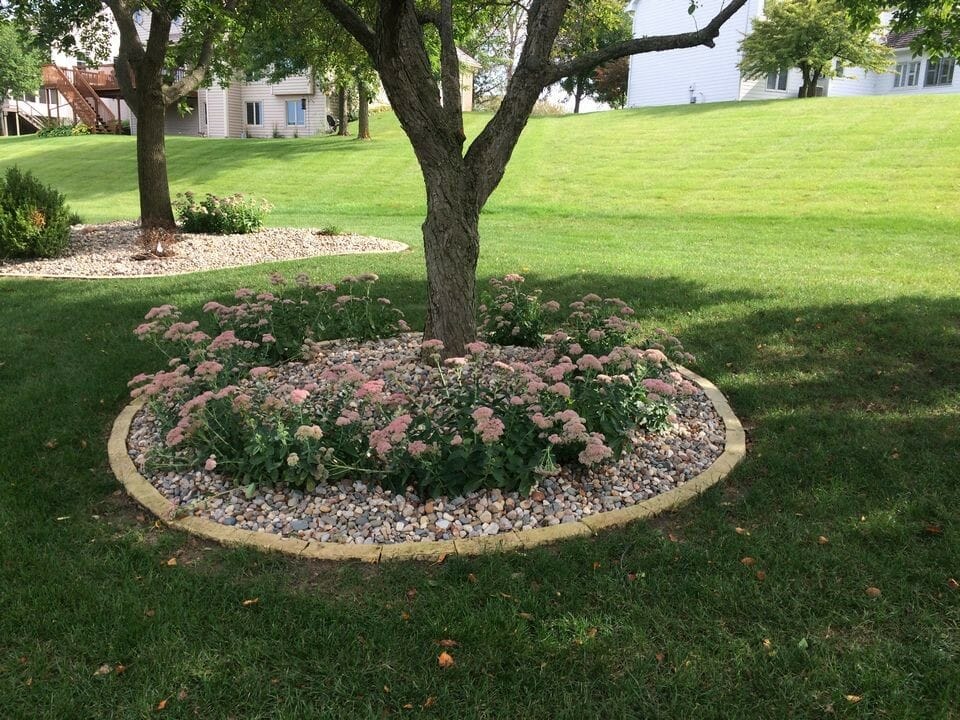 Without a doubt, landscape tree ring ideas let property owners be creative. In this sloped yard, the two tree rings aren't alike.
As you see, the circular tree ring features colorful gravel and stone bricks. There are also landscape plants with delicate pink blooms that liven up the area around the big tree.
The oddly-shaped tree ring boasts masonry edging. However, unlike the circular one, it accommodates a shrub and dwarf grass.
19. Two-Tone Tree Ring Flower Bed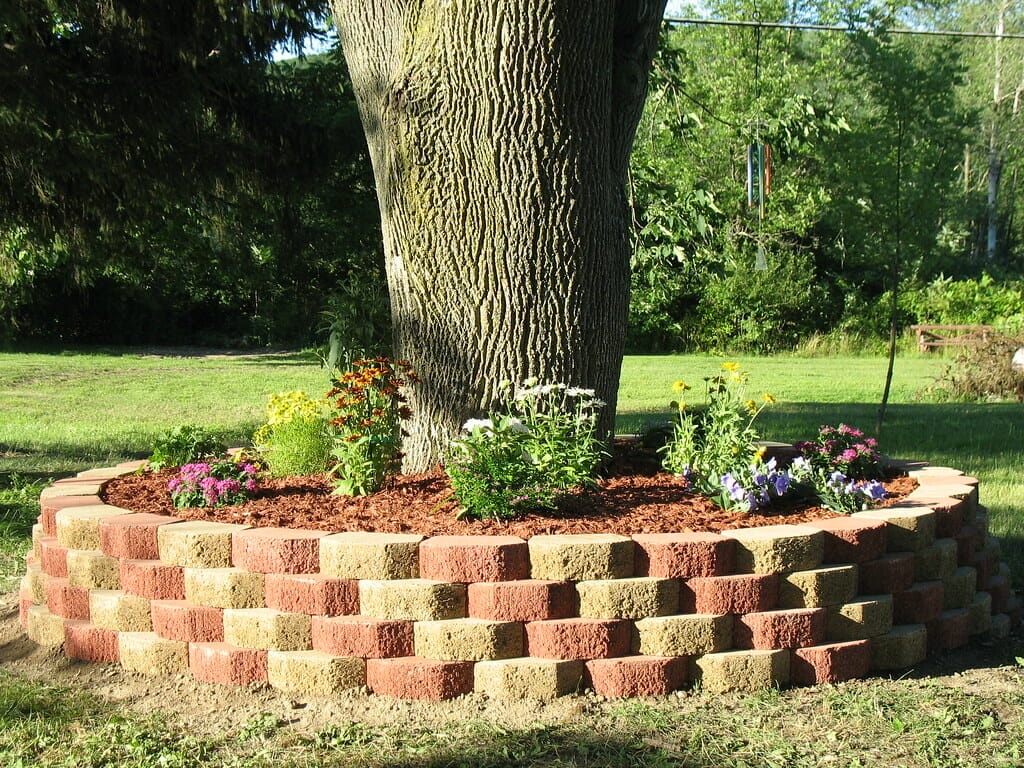 If you are into concrete tree rings, copy this landscape. Muted red and yellow concrete blocks lend the yard subtle touches of color.
The tree ring flower bed calls attention to the humongous tree.
Adjacent flowering plants bring the otherwise barren spot to life, while the mulch conserves soil moisture.
20. Landscape Tree Ring Ideas with Whimsical Lights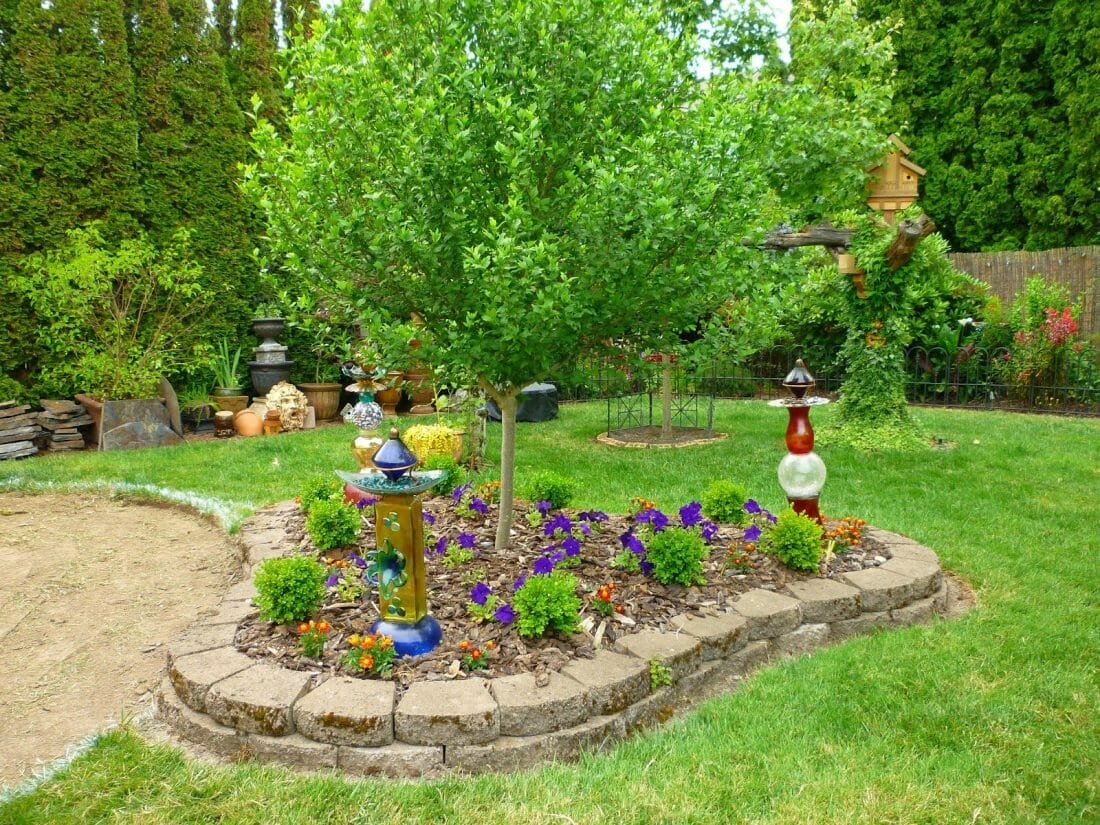 This backyard garden is nothing short of artistic. The landscape lights offer whimsical vibes while illuminating the plants.
Stone pavers make for a one-of-a-kind tree ring. Moreover, dwarf shrubs and vibrant flowers improve the rustic tree ring's attractiveness.
21. Concrete Edging As a Tree Ring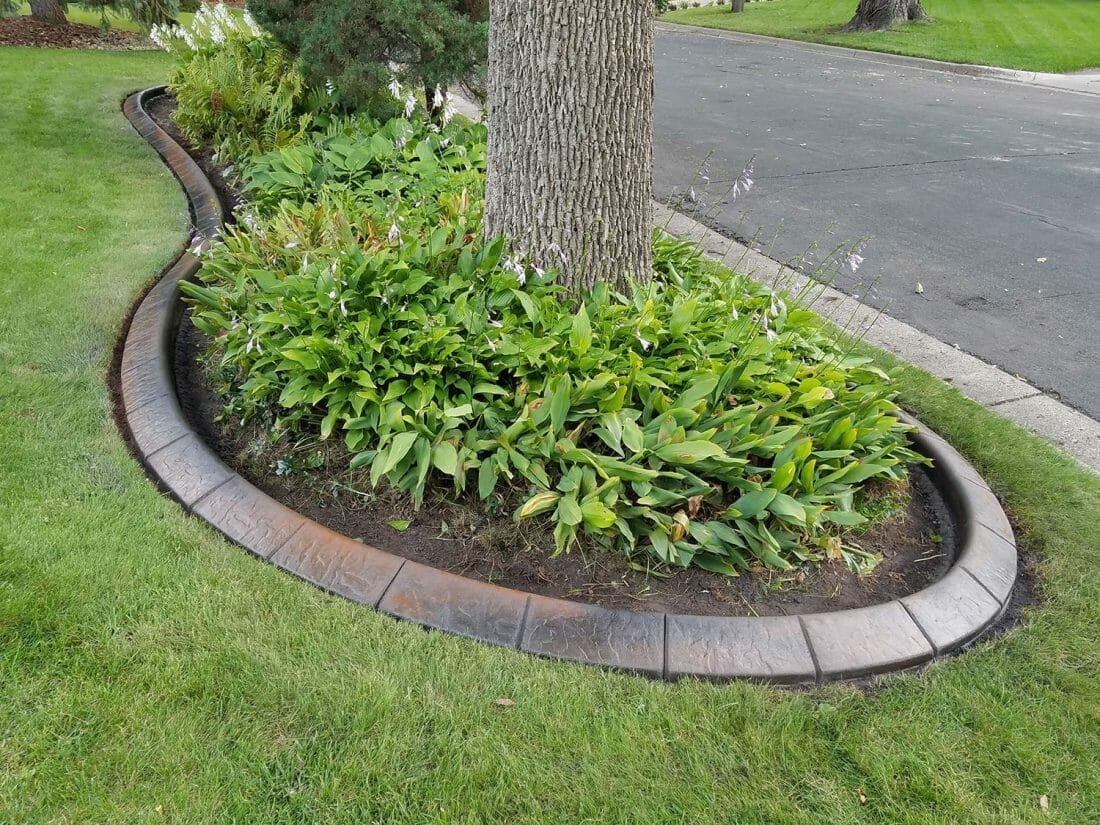 With tons of landscape tree ring ideas, you should not only think about round tree rings. This curved concrete edging doubles as a tree ring.
The tree ring generates a visual demarcation between the lawn and landscape plants. Speaking of under-tree landscaping, you can spot various pretty plants near the trunk.
22. Landscape Tree Ring Ideas with a Raised Flower Bed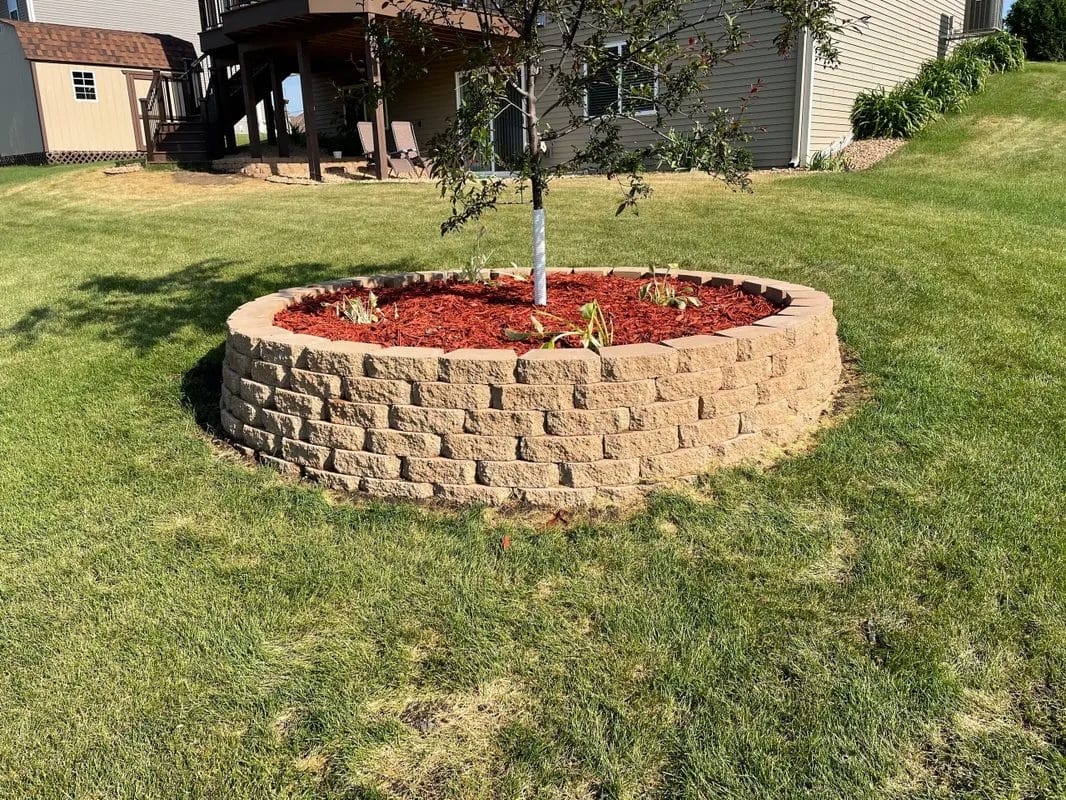 If raised garden beds are right up your alley, then replicate this landscape. Stacks of concrete blocks give the tree ring visual height and texture.
The round tree ring guides the eye to the ornamental tree and adjacent dwarf plants. Massive thanks to the red mulch, you can save some water.
23. Tiered Tree Ring
Here, the residential landscape features a tiered tree ring made of thin stone bricks. Furthermore, it contains commercial mulch that retains moisture.
The circular tiered tree ring lets the big tree be a showstopper. Meanwhile, flowering shrubs jazz up the tree ring that also acts as a raised garden bed.
24. Garden Beds with a Tree Ring
The lower rock garden bed becomes a tree ring. In addition, it accommodates tiny plants. Meanwhile, the upper one features deep purple-leaved shrubs.
There are other landscape plants introducing pops of color. Moreover, the outdoor light illuminates them.
25. Tree Rings for Outdoor Seating Areas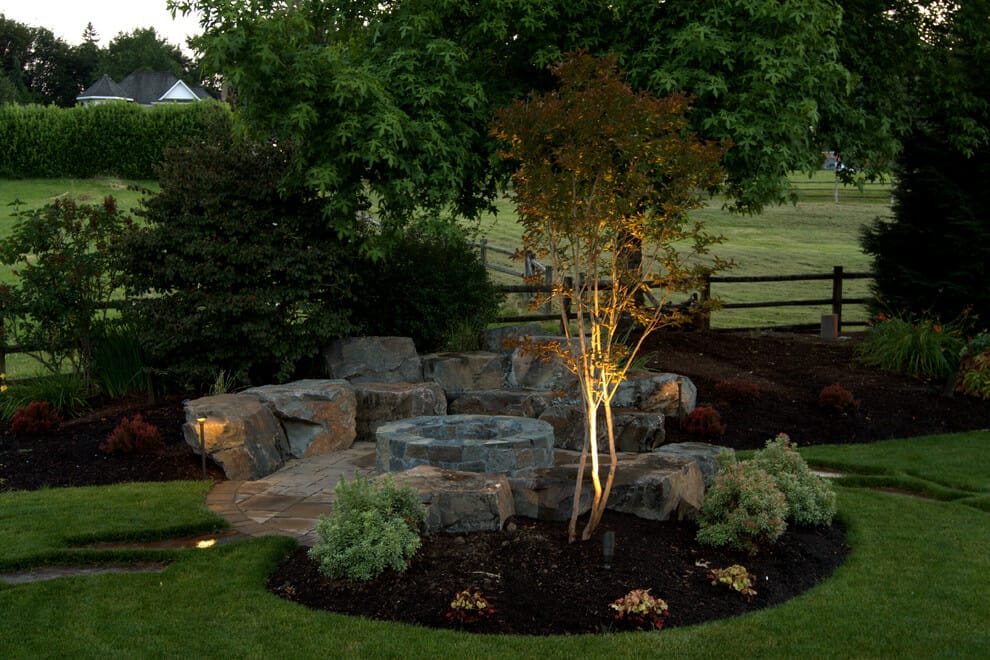 The tree belongs to an outdoor entertaining area. Moreover, there are shrubs and landscape lights, so the tree ring gets more appealing.
In addition to the tree ring, the landscape also boasts a luscious lawn. The stone bench and fire pit complete the entertaining area perfectly.
26. Inexpensive Tree Ring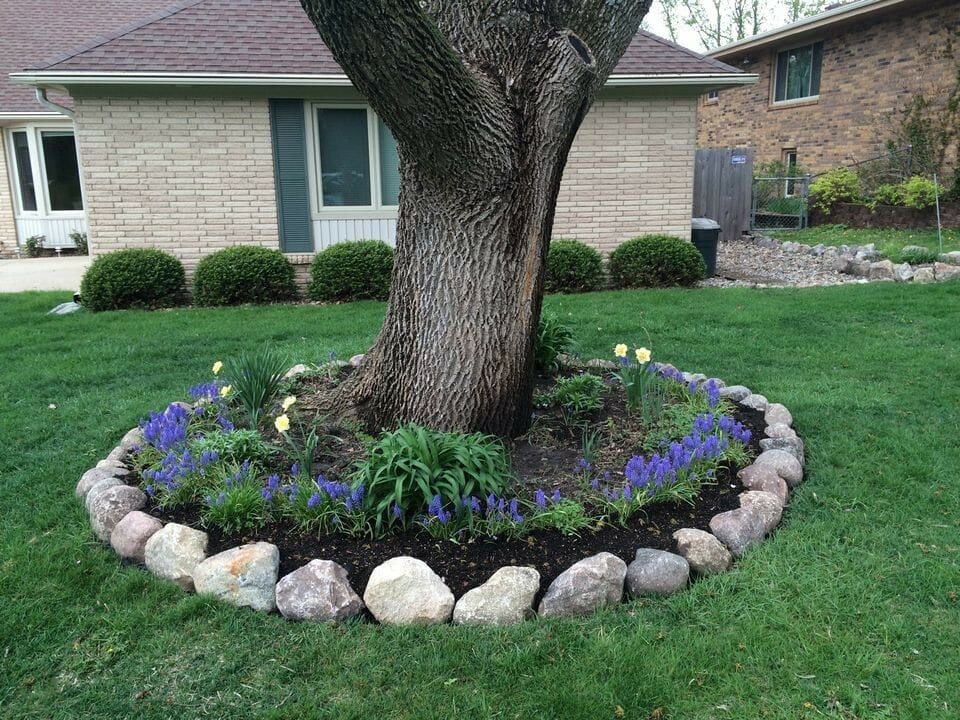 This rustic tree ring may be cheap, but it is functional and marvelous. Also, the arrangement of rocks here is admirable.
Bright blue and subtle yellow flowers enhance the appearance of the tree ring. They soften the adjacent rocks instantly.
27. Tree Ring with Stone Bricks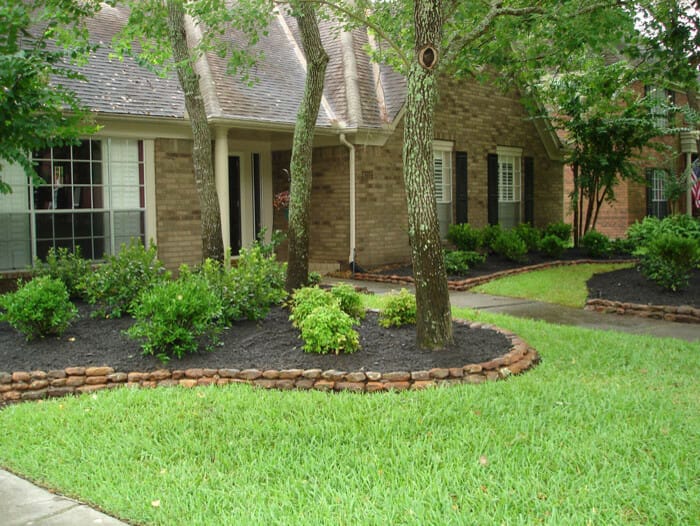 As you see, this country house boasts a pretty expansive yard. There are a few brick-style stone tree rings to keep things shipshape.
Furthermore, they separate big trees and shrubs from the lawn and walkways.
28. Beg for Bricks
If your home exterior showcases bricks, try this idea. The garden bed and tree ring boast bricks, so they perfectly match the house façade.
Trees, vibrant shrubs, and grasses please the eye while spicing up garden beds.
Landscaping around trees seems intimidating. However, with those landscape tree ring ideas, you can titivate the yard while keeping your massive trees healthy. Just choose design elements that fit your needs.