People can grow flowers in many ways as there are various methods. Using raised planters is one of them. Theoretically, the plants grow in enclosures made of concrete, rock, or wood higher than the surrounding soil. Factually, raised flower bed ideas are widely varying.
The ideas also introduce the usage of metal, bricks, movable castors, quirky shapes, additional features, and many more.
All of them are executable as long as your love for gardening conquers the obstacle factors. Otherwise, you could always purchase or get them done by professionals.
Among the ample inspirations out there, you will find twenty-nine raised flower bed ideas on this page. Some of them are on a budget, while the rest needs advanced calculation.
However, do not be too worried. Once they stand, it will be affordable to maintain and beneficial.
1. Transitional Landscape Using Wood Panels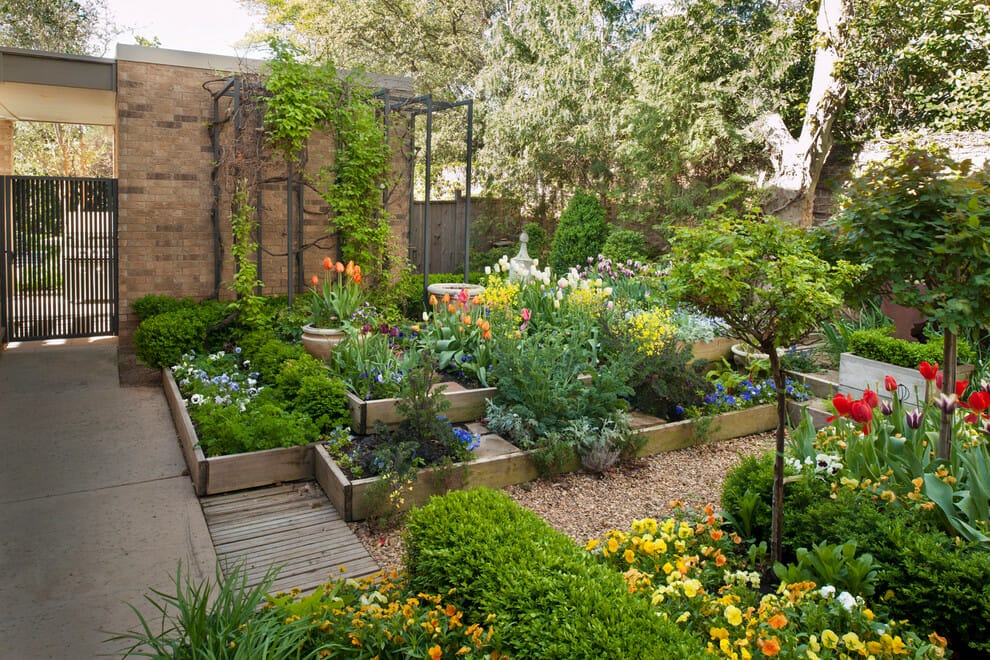 Oklahoma City has this design idea for you. It is a transitional courtyard with an attractive landscape.
The above raised flower bed ideas are using wood panels enclosure in the middle make harmony with some ceramic planters in between, green creepers on the trellis, plus surrounded bushes and tall trees.
2. Raised Flower Bed Idea for Front of House Using Weathering Steel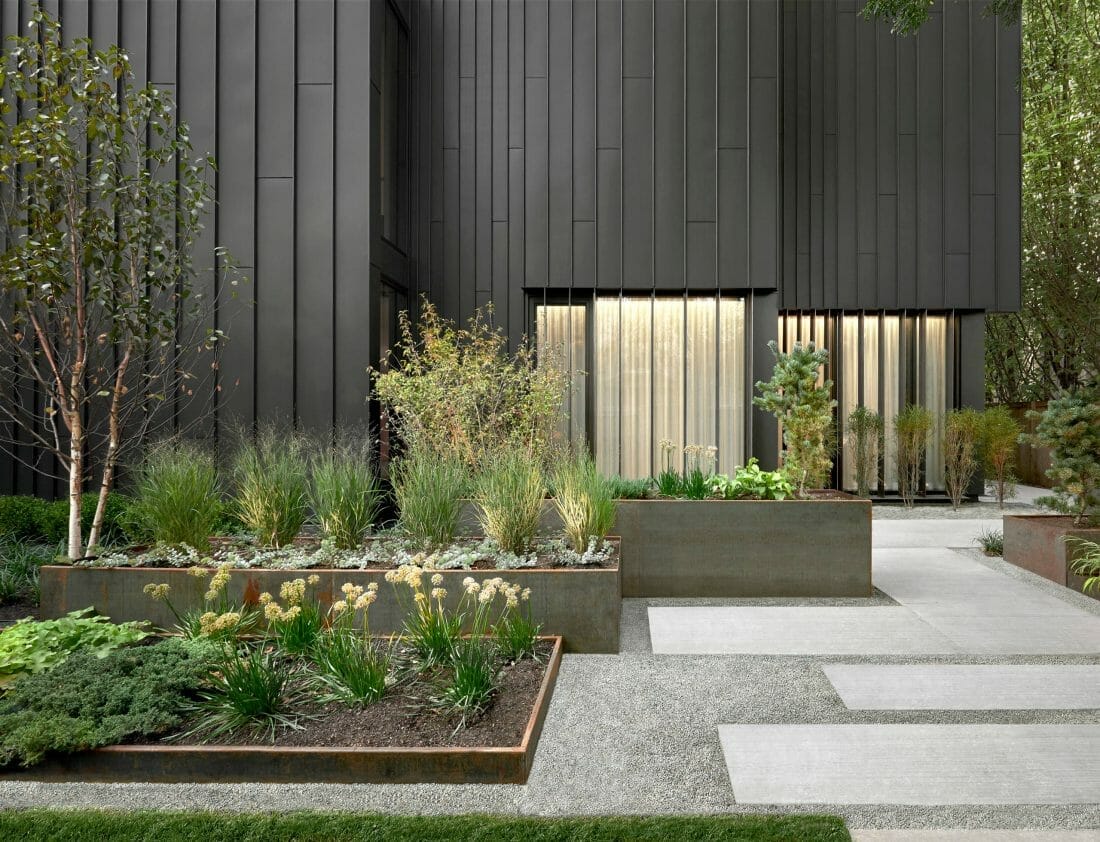 This contemporary landscape uses weathering steel, known more as Corten steel, as the planters. The usual material has been through a weathering process to get its final form, but these receive a reddish oxidization process. Thus, a different color at the top edge is visible, resembling wood sidings.
Moreover, this full-sun landscaping gives you a raised flower bed idea for the house front. It makes an impression of a level raised garden using planters with height differences.
3. Cedar Raised Garden Bed Plan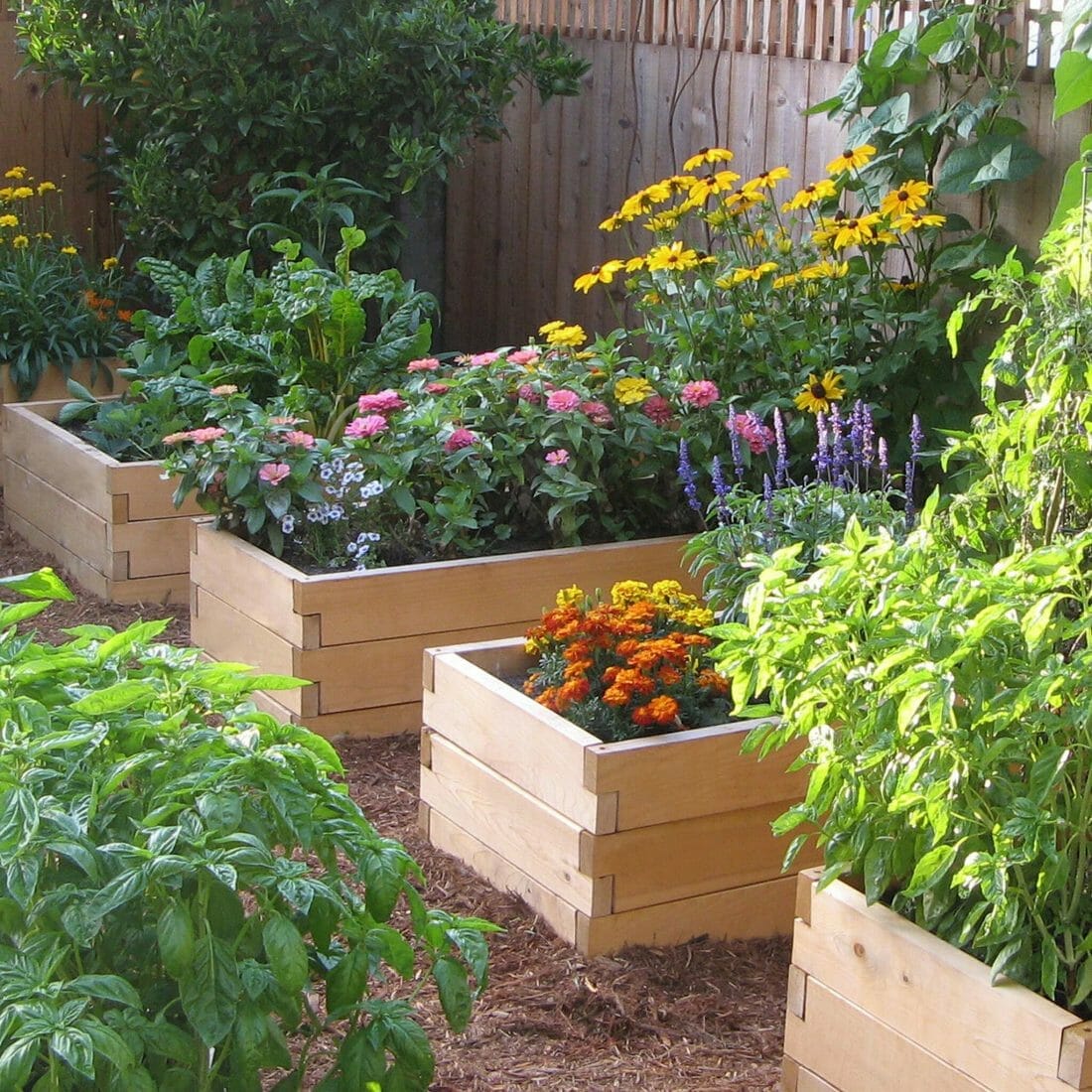 You are seeing raised flower bed ideas using natural cedar planters. These planters, available for purchase online, are bottomless ones.
This mechanism lets the soil on the boxes get in touch directly with the ground below. It then leads the plants' roots to reach deeper nutrients.
They are customizable in various dimensions, from 2 to 4 feet wide, 2 to 20 feet long, and 5.5 to 33 inches high. However, there will be many more comfortable options if you are crafty enough to make one yourself.
4. Rooftop Raised Flower Bed Idea with Movable Castors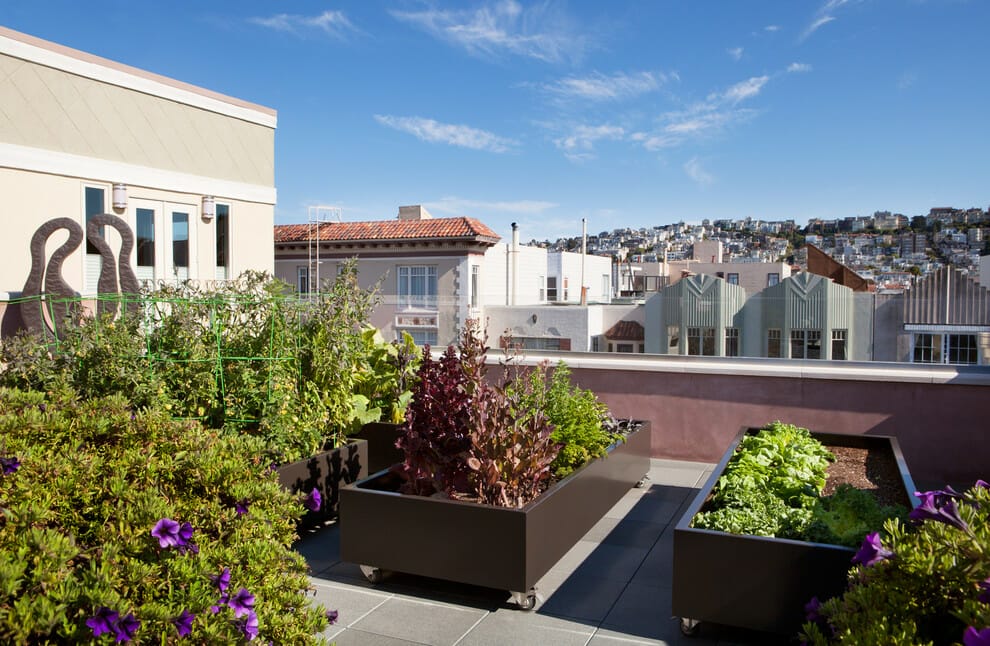 Raised flower bed ideas are handy for rooftop gardening. You require planters to make the garden happen, as it will be nearly impossible to have some soil on the ground.
Do not go with the usual containers but pick ones with castors instead. That way, you could place and replace which plants do and do not require full-sun exposure without much effort.
5. Raised Flower Bed Idea with Stone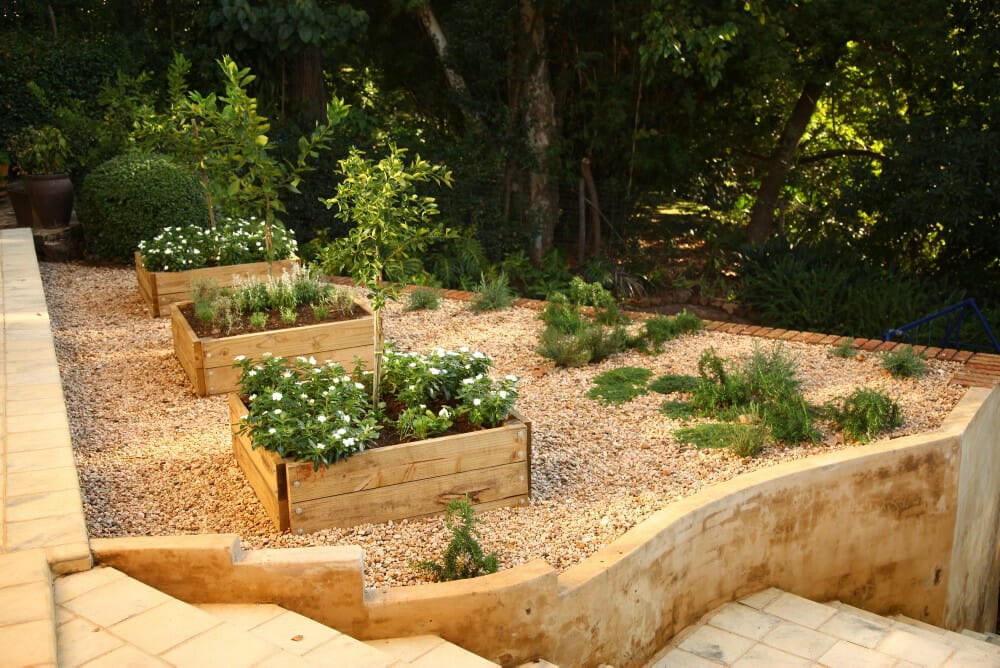 River stones or gravels are adaptive to nearly all landscaping concepts. They give an impression of wildlife in this case. Moreover, this landscape uses wooden flower boxes, adding a more natural touch to the entire view.
Here is an additional tip. If you see wild lives burst to the open scene between the rocks, remove some and let the others live. Allow them to be the extra element for your natural garden.
6. Traditional Landscape for Summer House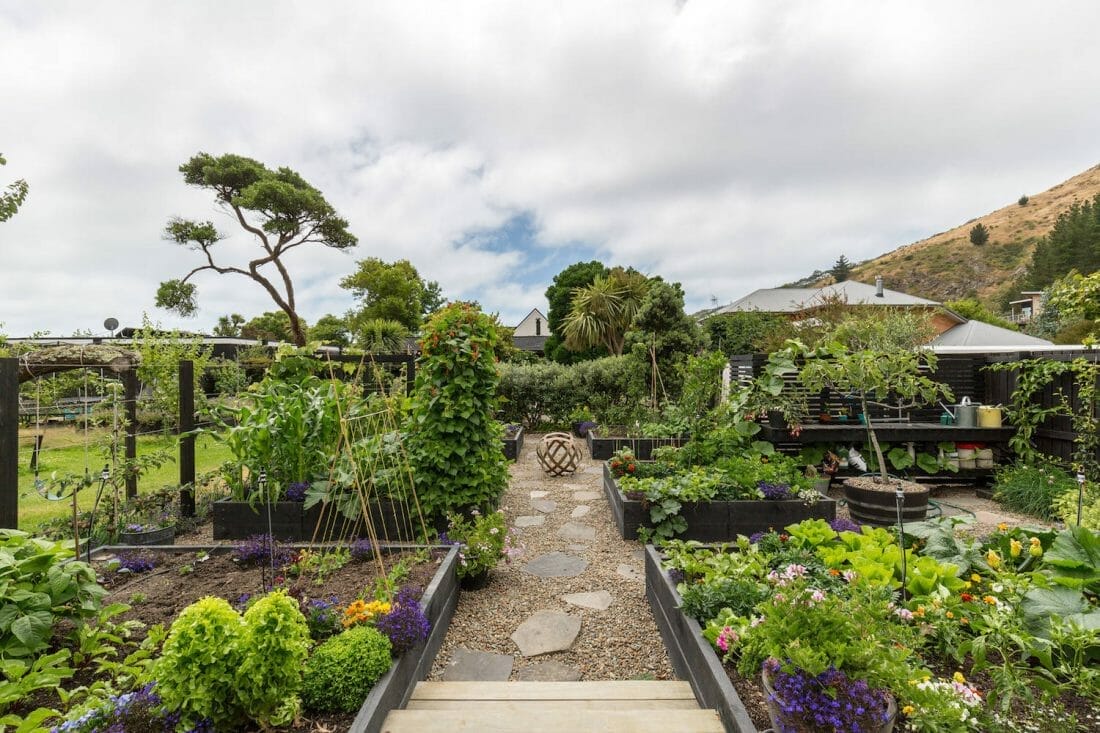 This traditional landscape is a project done by a professional for a summer house in Christchurch, South Island, New Zealand.
The landscaper uses black to be the lead color. You could see it on the raised planters, corner potting shelves, and fence posts.
It also involves rocks as stepping stones and gravels. It lives up to complete garden name since all kinds of plants seemingly grow here. There are shrubs, trees, berries, vines, flower plants, and whatnot.
7. Raised Flower Bed Idea Alongside a Fence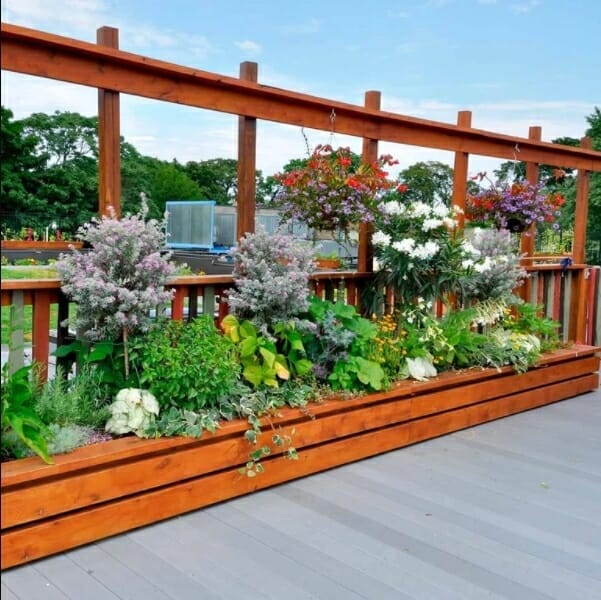 The next raised flower bed ideas consists of plants with multiple heights and colors. By arranging the container alongside the fence, you get to hang some potted plants between the tallest ones, and an even more captivating combination is obtainable.
However, it is recommendable to do on the yard edge or the deck side.
8. Garden Centerpiece Level Raised Flower Bed Idea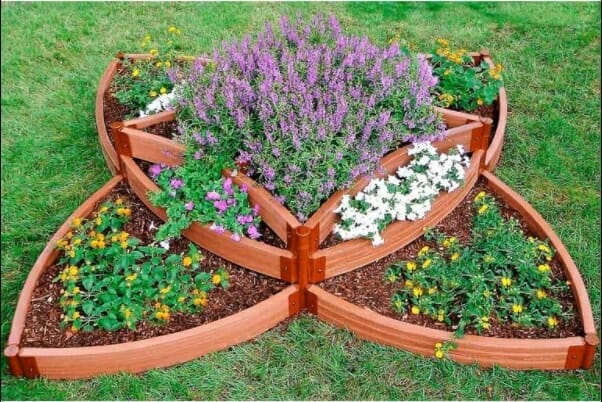 If you are looking for a garden centerpiece, this level-raised bed could be an option. It is available for online purchase in which every pack consists of sixteen curved edgings and joints, some hardware, plus manual instruction.
Since these raised flower bed ideas use a hard-to-get timber wood grain composite, you could make a similar product with different bendable materials, like rubber, metal, or plastic. However, you might lose the eco-friendly quality and the effortless assembly.
9. Waist High Raised Garden Bed Plans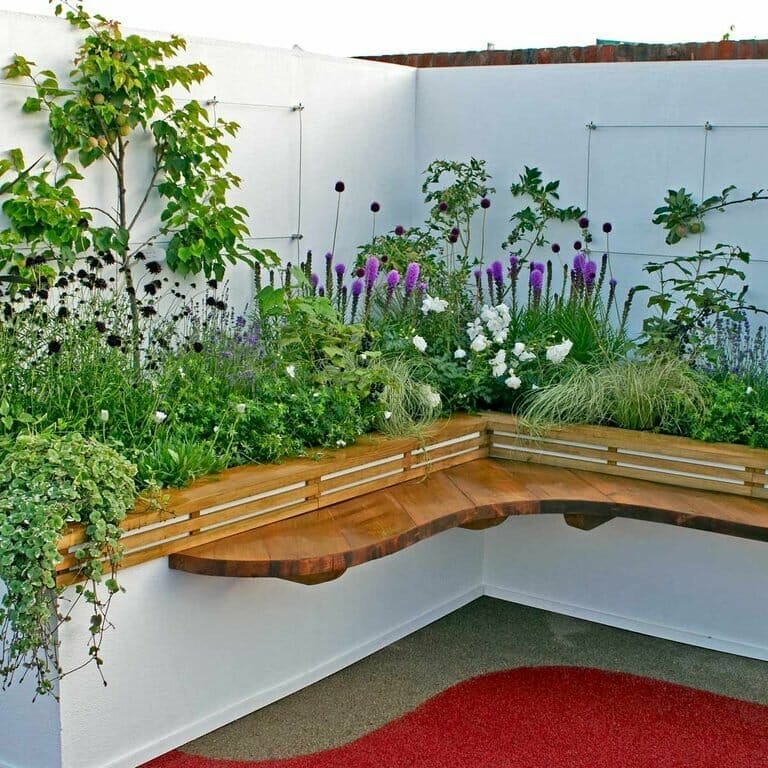 A waist-high raised bed is so helpful for people with physical discomfort, like knee or back pains. You do not need to bend down or even squat when gardening.
Another name to this scheme is the counter-high garden, giving you an extra idea to install a functional counter table, as seen in the picture.
You create a gathering spot that way. The future view of you sipping your afternoon tea or chitchatting with a company or some while admiring the plants at that corner is imaginable enough.
10. Tiered Raised Flower Bed Idea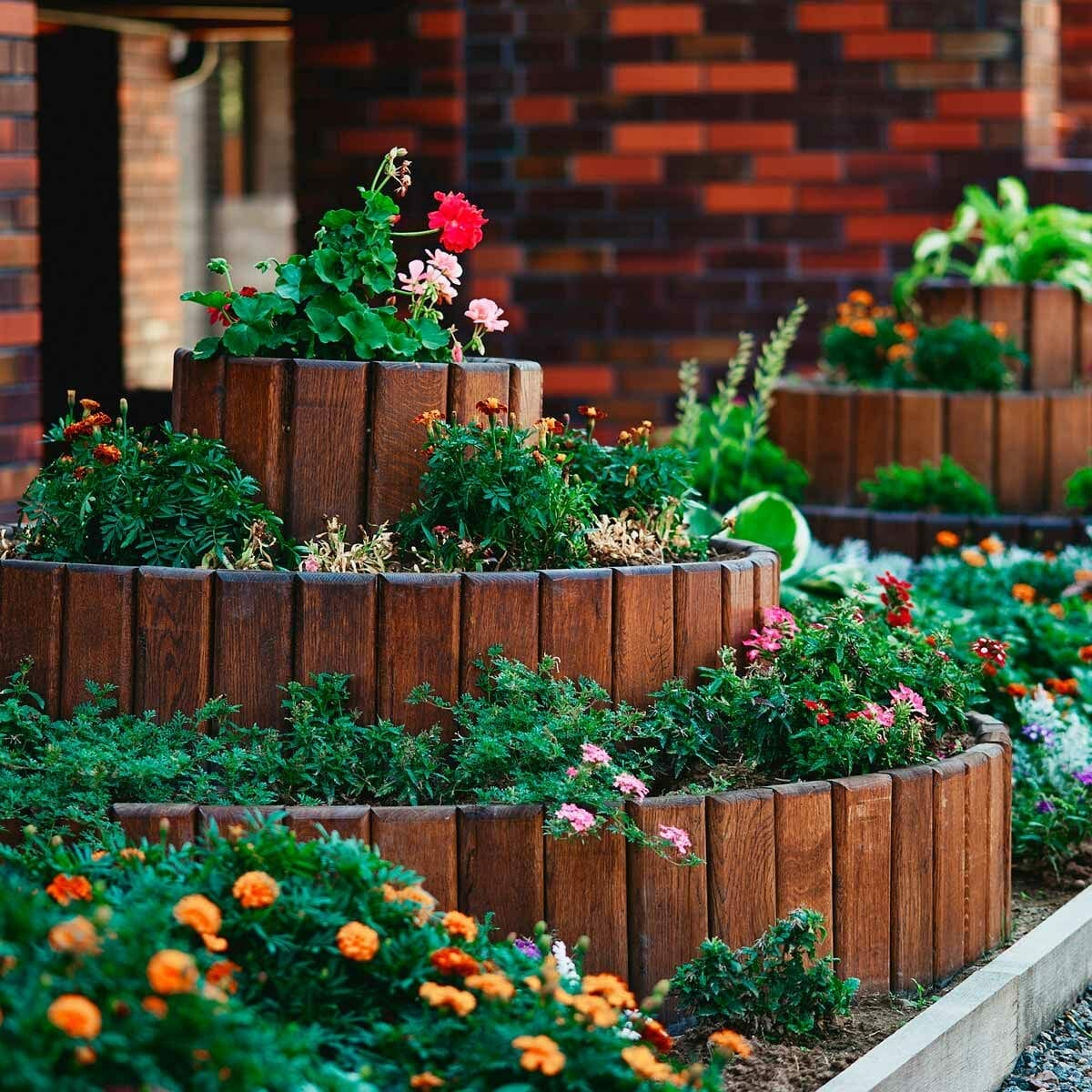 A well-known DIY site states that this kind of garden arrangement is one of the best raised flower bed ideas for the house front.
It is for houses with limited courtyard space, gardeners with flexibility issues, and plain gardens that need a focal point.
11. Violaceous Raised Garden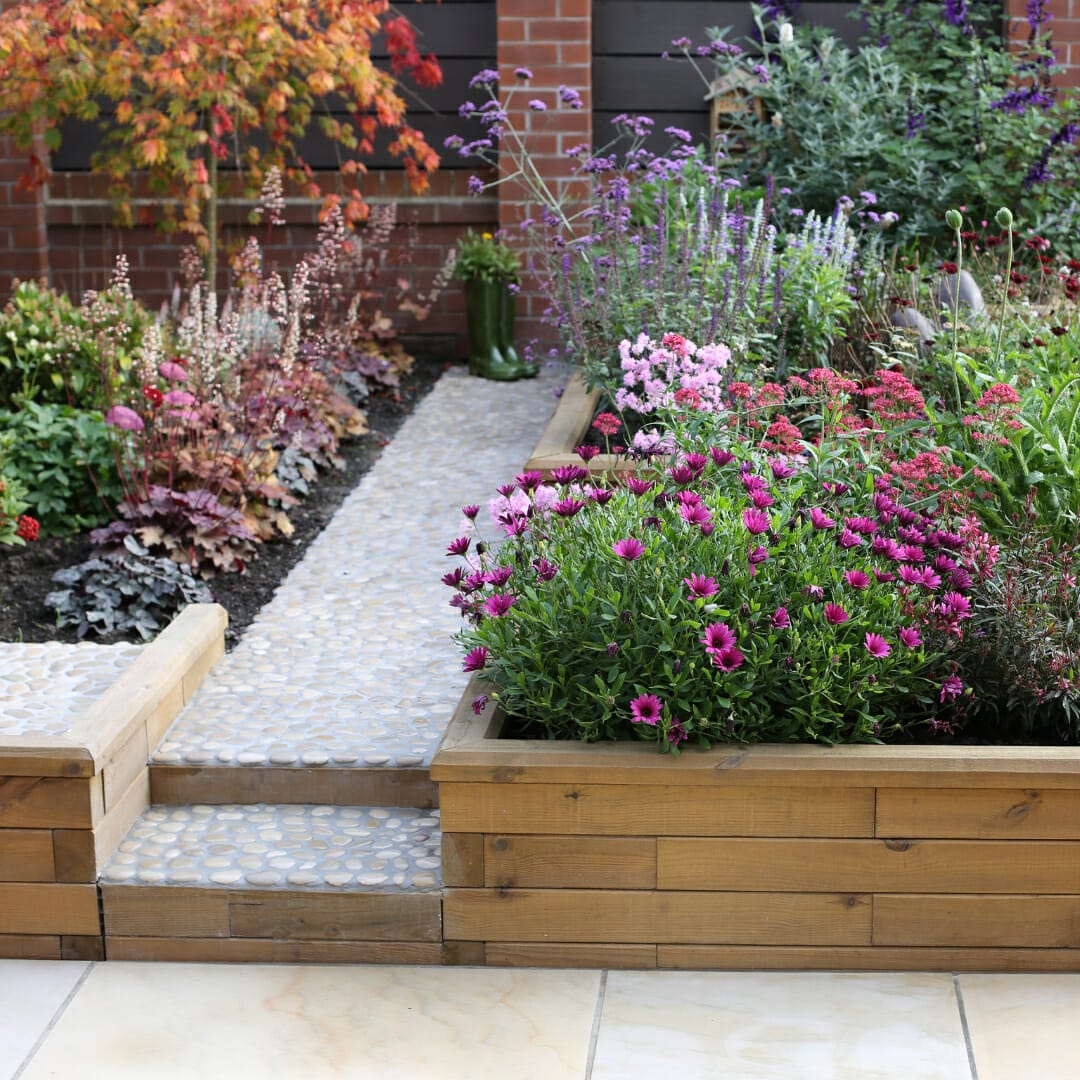 Raised flower bed ideas also include some shade. Therefore, this violaceous garden is present for you. Various options of purple plants are available.
Several choices are visible in the picture, like sage, verbena, coral bells, cape marguerite, aster, and opium poppy.
12. Wood Elevated Planter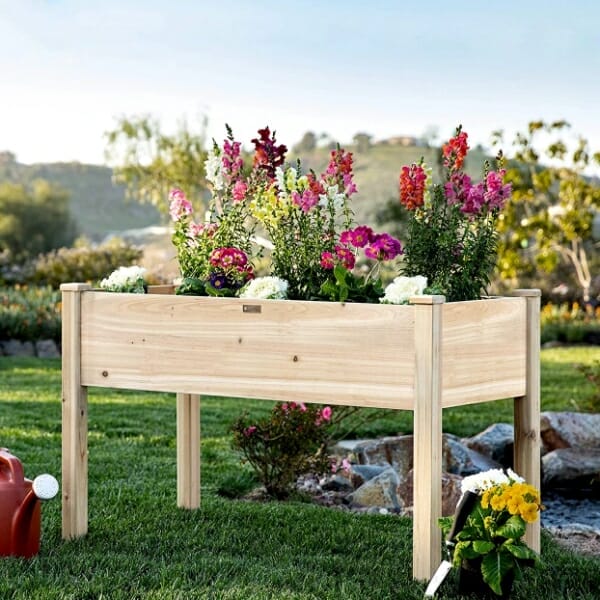 Elevated planter is another option for gardeners to have a lovely gardening time without the need to bend down. The top choices are cedar and fir wood because both are weather-resist and rust-resist.
These planters are purchasable, but you can always build ones for the sake of the size convenience. If you decide to create them, do not forget to add drainage holes and note that the ideal height is 30 inches or 76 cm. Lower or higher measurements than the standard could lead to discomfort.
13. Shapeable Metal Raised Beds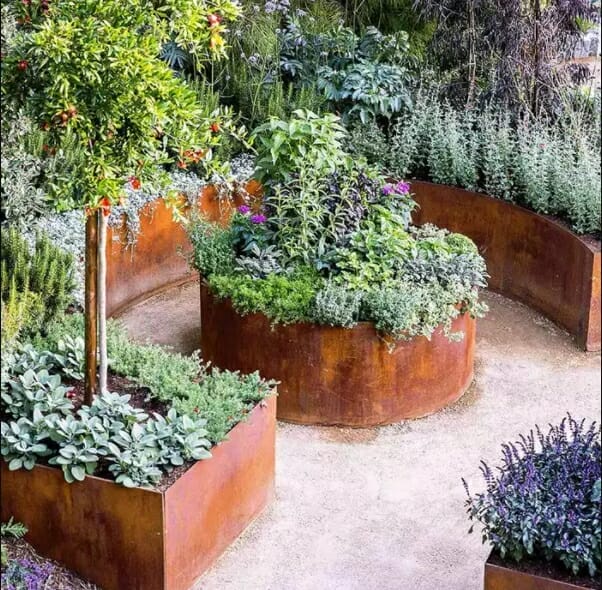 Metal is a bendable material, as stated previously. You could build any shape of a raised bed with it, but the advantage is beyond that.
When winter ends, the soil needs time to absorb the surrounding heat, and the planting season could only start after it is warm.
Moreover, metal raised beds will make sure that the sun heat is retainable within the soil so that the planting time could start sooner.
Furthermore, Mediterranean plants, such as dwarves and lavenders, could benefit from this material the most, as they require a large amount of heat to grow.
14. Triangular Pyramid Raised Bed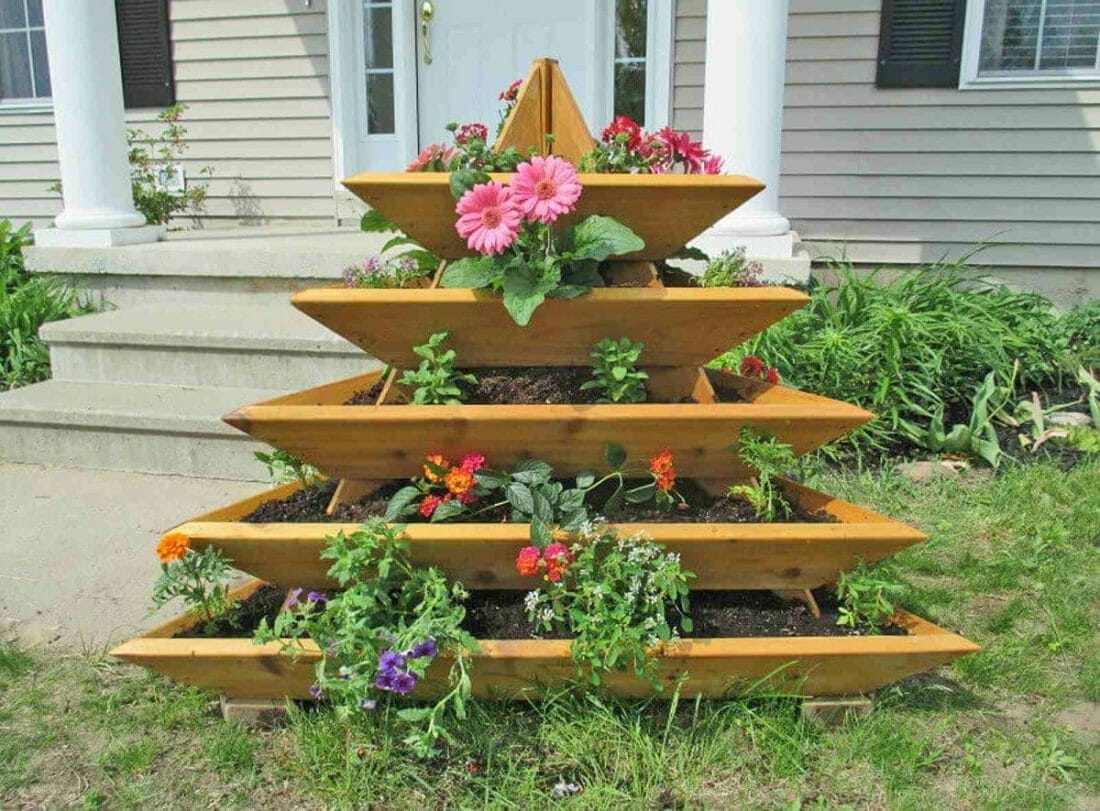 This picture tells you that raised flower bed ideas are limitless. A well-known home and garden blog is the source of this triangular pyramid planter.
It pursues the look of a pine tree with growing out flowers covering the entire wood frame. Get perennials grown on it, and you will have an additional garden decoration for the whole year.
15. Liveried Raised Bed Layout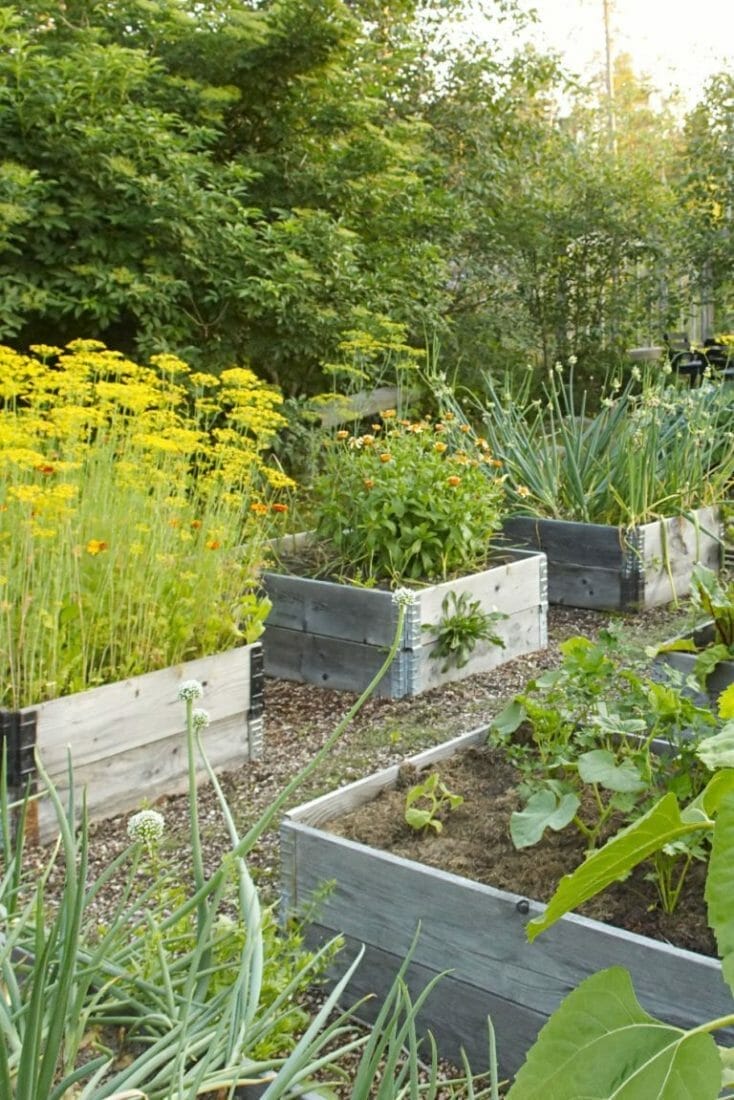 Rectangular raised planters are classic yet classy. With these planters, growing flowers and other decorative plants is recommendable.
Certainly, this is one of the raised flower bed ideas that will never go wrong.
16. Persian Buttercup Sort-Out Box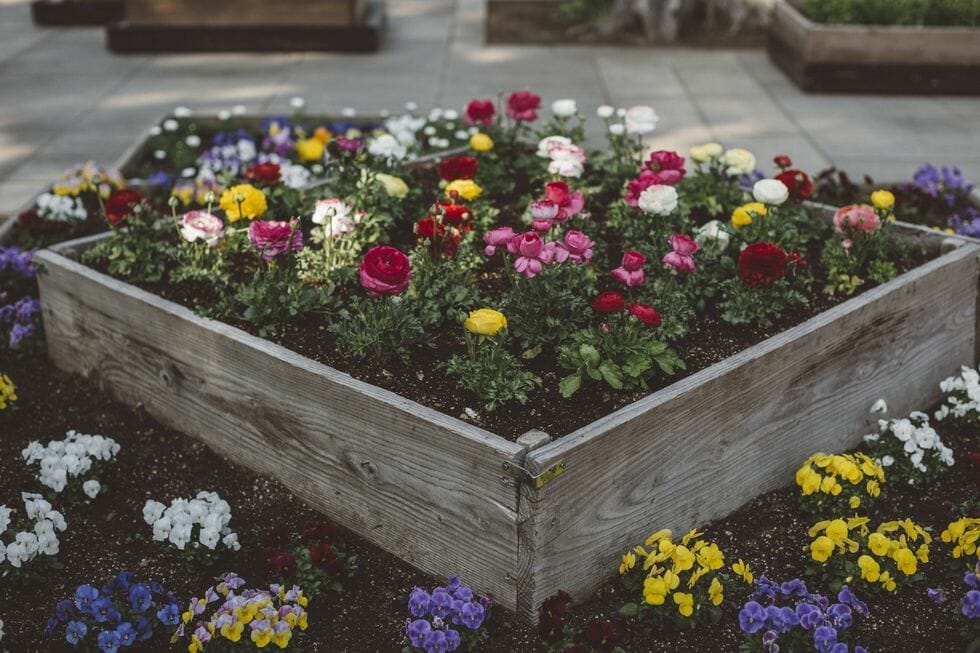 The perk of raised beds gardening is that you could sort out to grow several different types of plants separately at a time, especially for Persian buttercups, as seen in the picture.
Speaking of herbaceous perennials setting, it appears that some outdoor mini LED garden lights could bring its beauty to another level. You could also set them up in other small to medium-sized raised bed settings.
17. Contemporary Patio Raised Flower Bed Ideas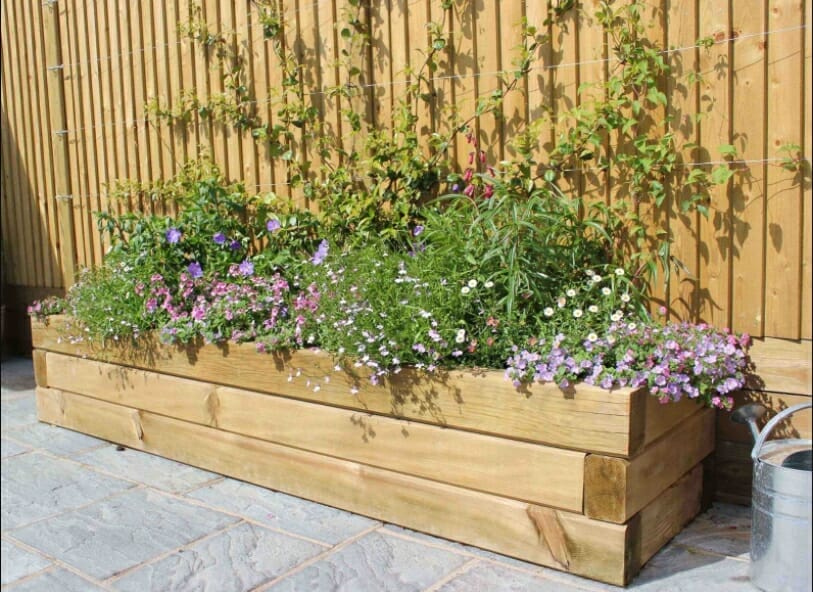 This planter fits your contemporary patio setting as it has such a design. It is a purchasable product, coming in a natural timber finish.
Hence, the intention is to give you some freedom to stain or paint in any way you want. Nonetheless, it is doable within the DIY-project scale.
18. Potager, the Best-Suited Design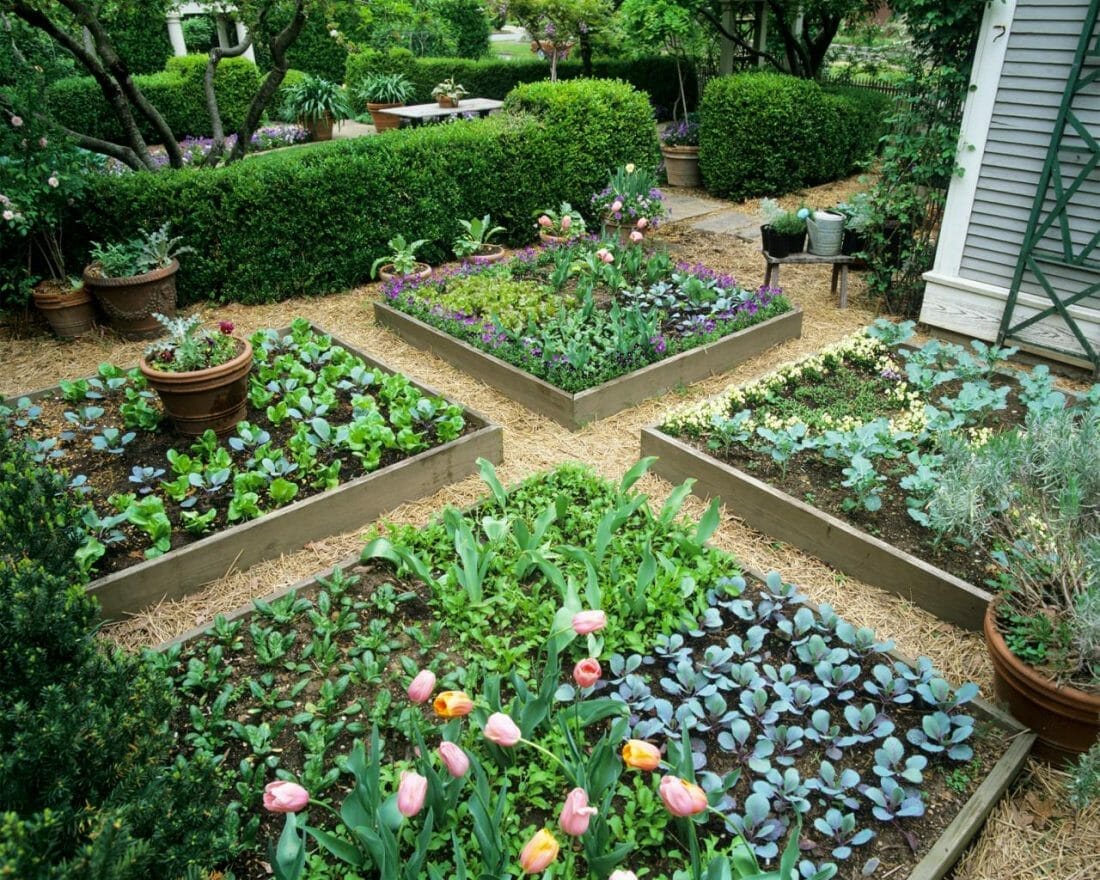 Gardeners call this kind of gardening design by potager or kitchen garden. It displays an order of neatly arranged raised beds setting.
Ideally, it uses lumber with rot resistance as the enclosures to guarantee successful growing years. Indeed, potager design supports the idea of well-assorted plants raised beds can provide.
19. Attention-Drawer Raised Bed Landscape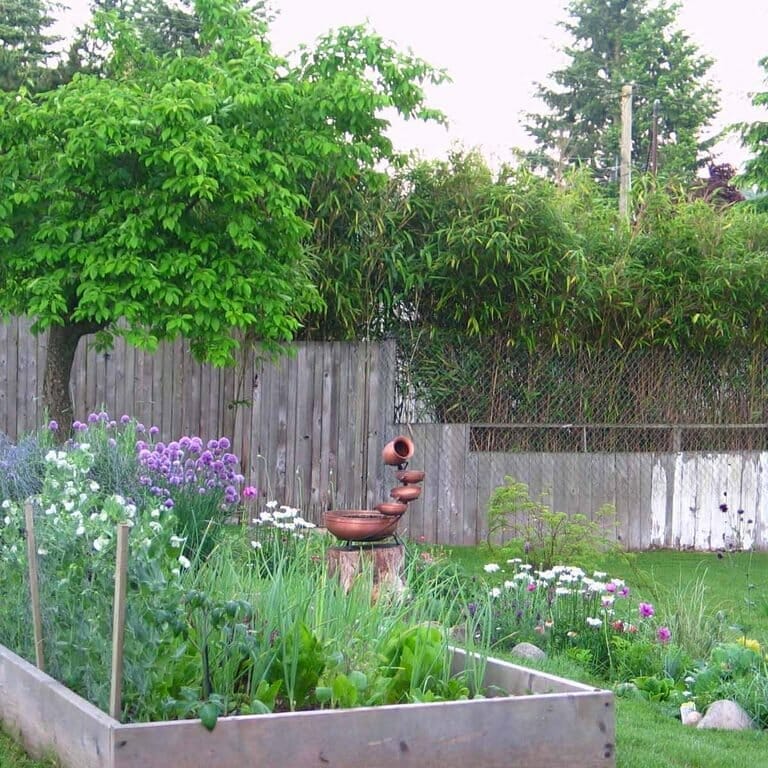 Adding a water feature to your raised bed garden landscape is a clever move. It serves as a focal point to draw attention from everyone.
Also, pick a color in a different spectrum from the entire scene to make it stands out more.
20. A Home for Many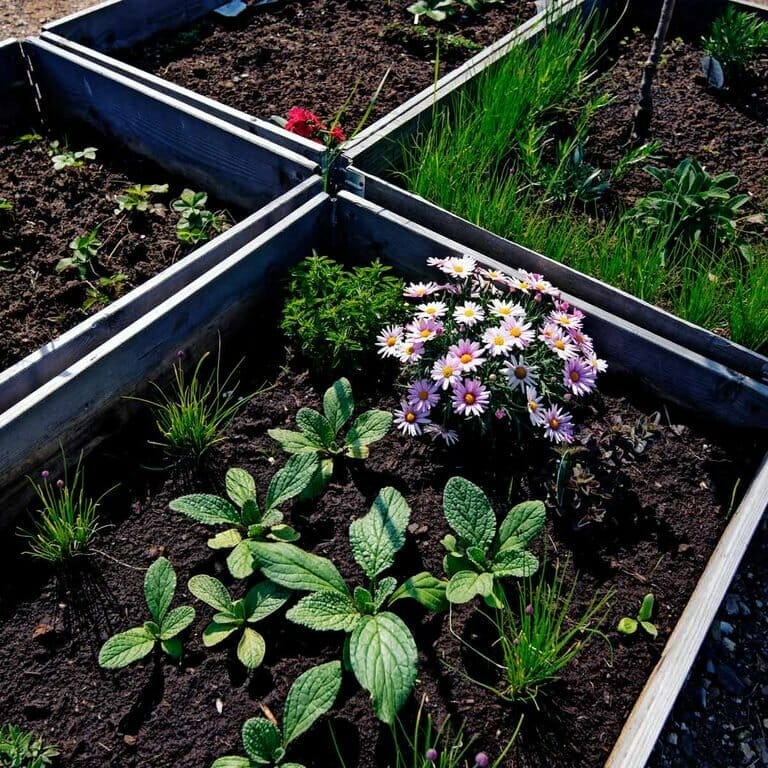 Marguerite daisy, borage, and chives appear to be possible to thrive together in a box. The raised beds' matter is they provide the best area for full-sun requiring plants.
That is why various plant types of similar natural lighting requirements could grow in harmony.
21. Brick Raised Flower Bed Ideas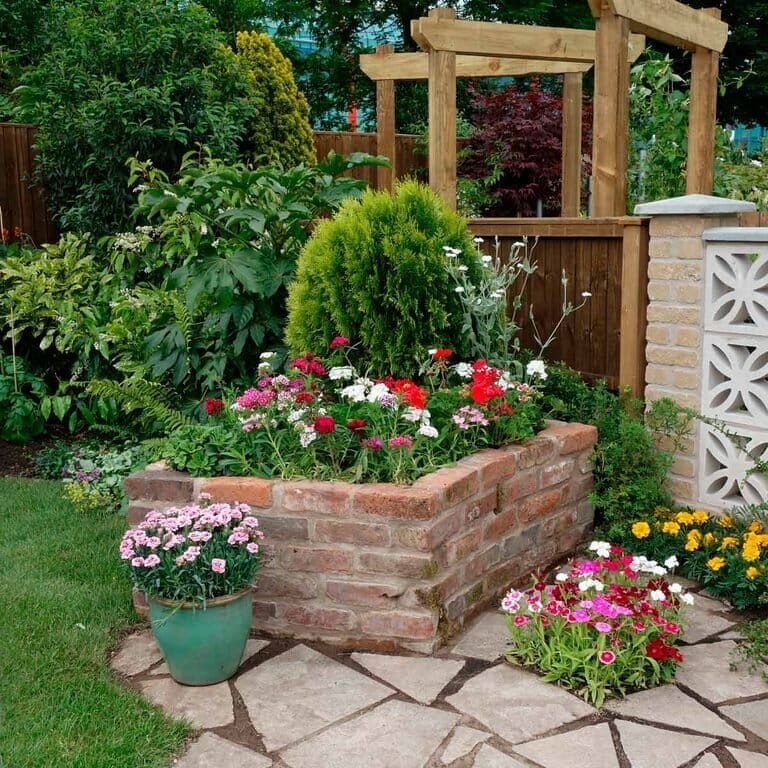 As it is strong, brick offers protection as a raised bed enclosure. Therefore, flower plants as fragile as dianthus types, like china pink and sweet William, will find their best home with such materials.
You should also consider this material to build your raised bed, and it is better to let have it unfinished to level up the beauty of the flowers.
22. Uniformed Setting for Color Contrasting Duo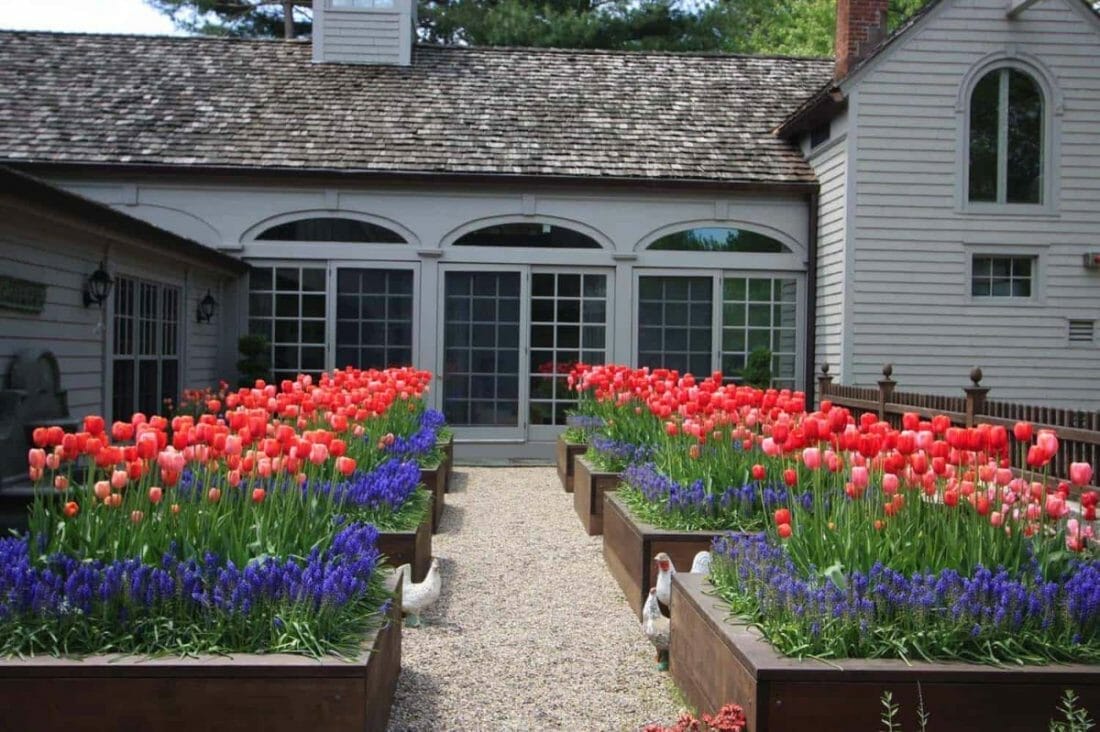 Sometimes, having fewer but striking types of plants gives more impact to your raised bed garden. The key to an impactful courtyard view is contrasting the colors.
Here, you see red and pink tulips grow tall in the middle of the blue hyacinth barricade. All of the raised beds secure the growth of both plant types, giving a pleasant uniformed scene.
23. Blue and White Raised Flower Bed Ideas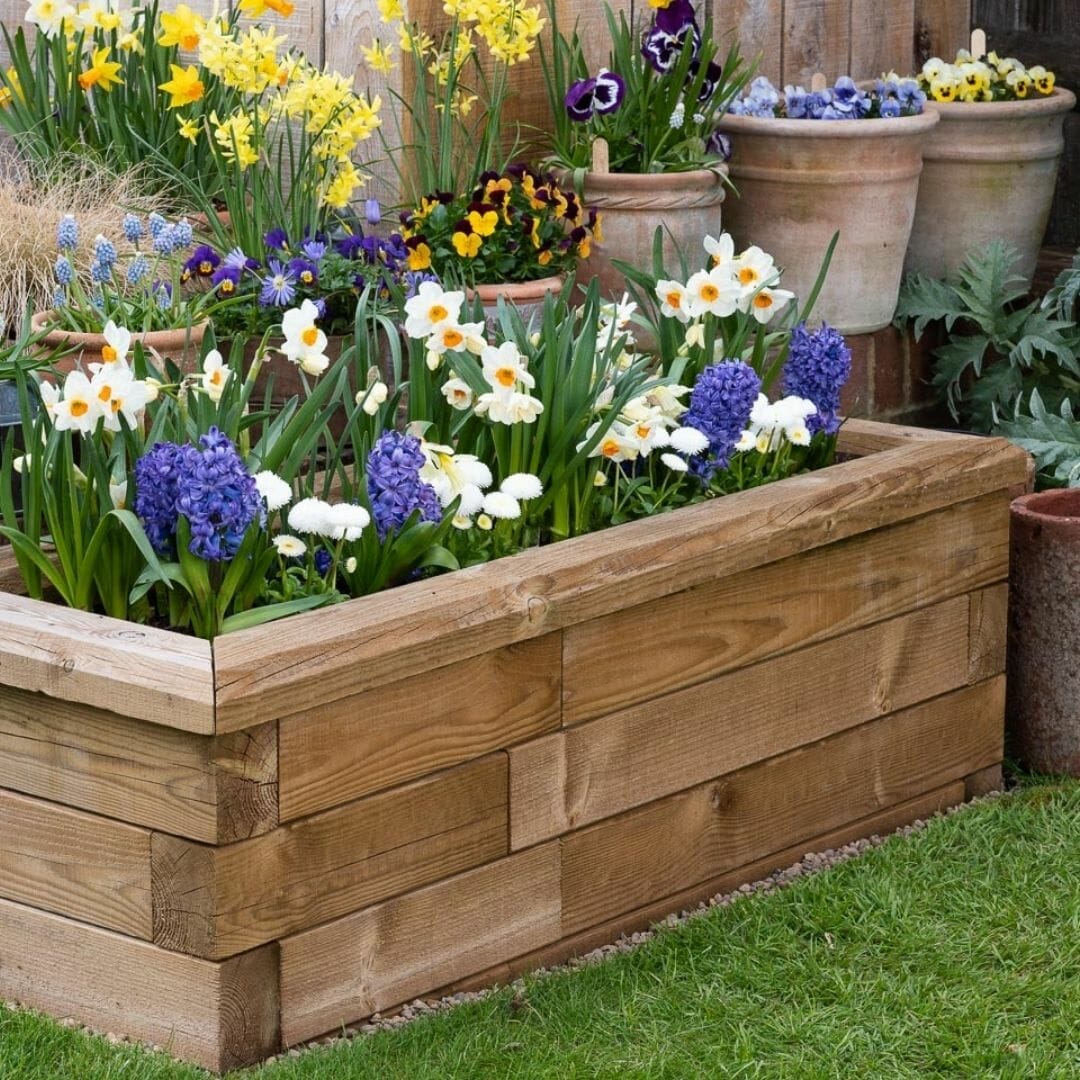 The choice of bunch-flowered daffodils here is satisfying as their color accentuates hyacinth. Yet, their presence stands out due to their height and the yellow feature at the center.
All of them happen to grow inside a Lego-like wooden raised planter.
24. Raised Ascending Planting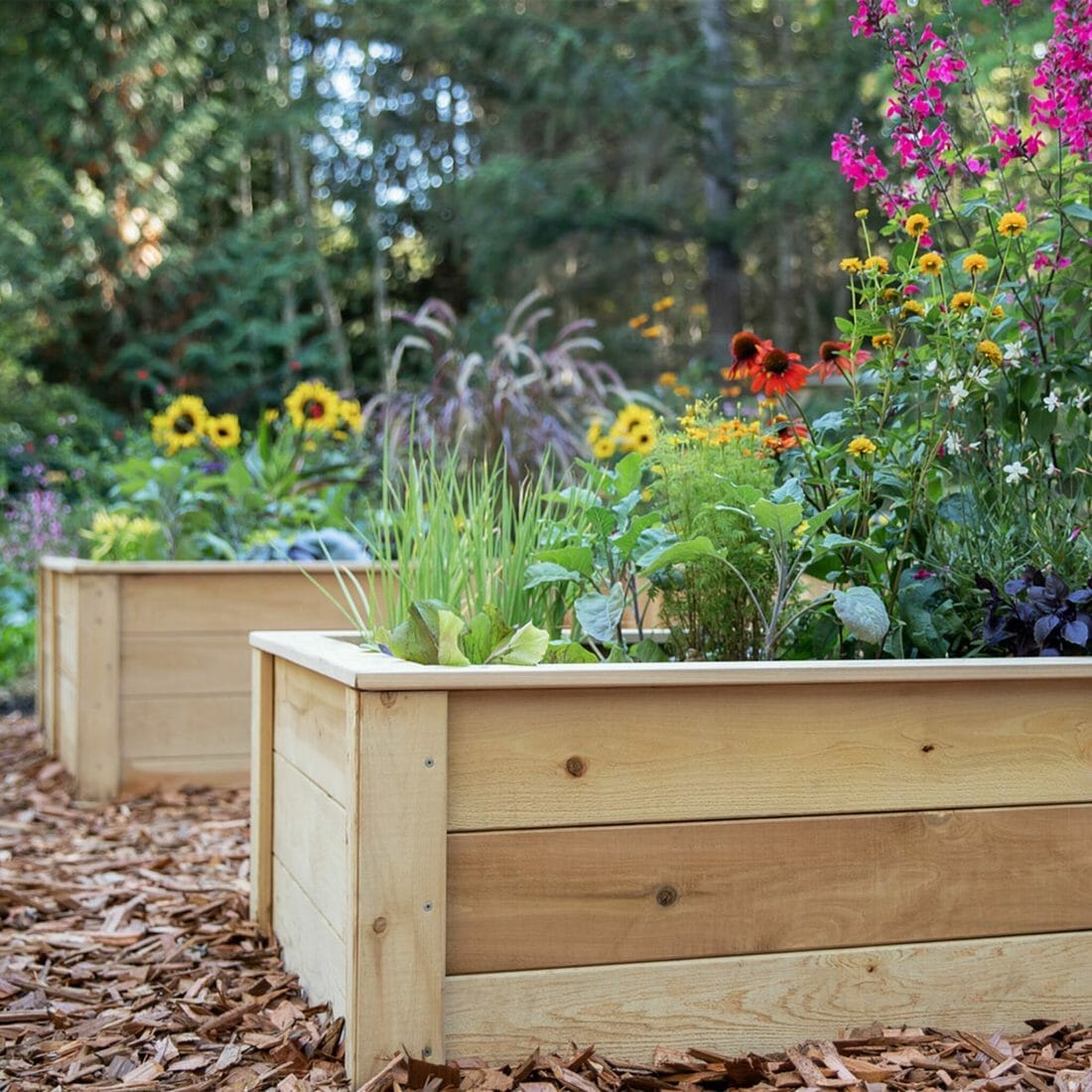 This is one of the raised flower bed ideas that offer you an ascending planting idea. Do you realize the order from chives to purple coneflower to sage?
It has the beauty of its own whether such a direction is on purpose or not.
25. Purple-Full Vertical Planks Raised Box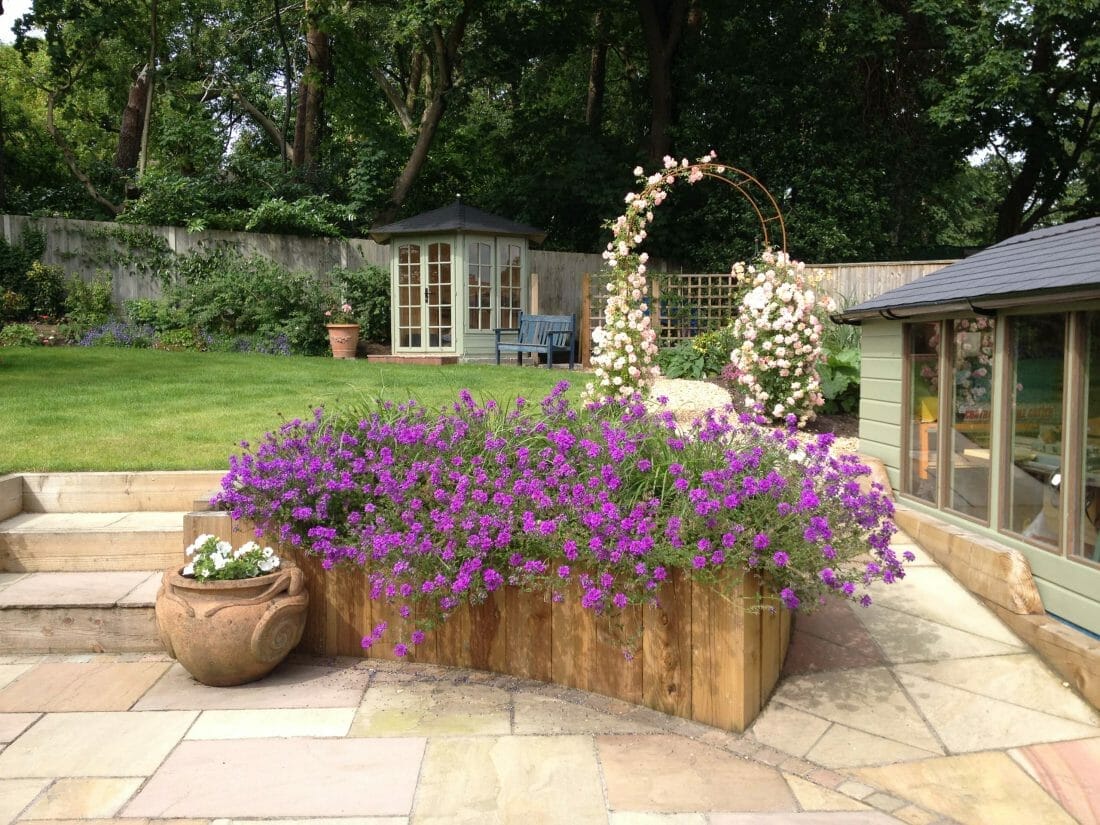 The indicator of nice weather is not only the mood of the sky, but it is also the happy look of the surrounding plants.
Having purple plants, be it petunia or verbena, solely color the entire garden from their box without moving will be a healing treatment to your sulky mind.
26. Side Yard Raised Garden Idea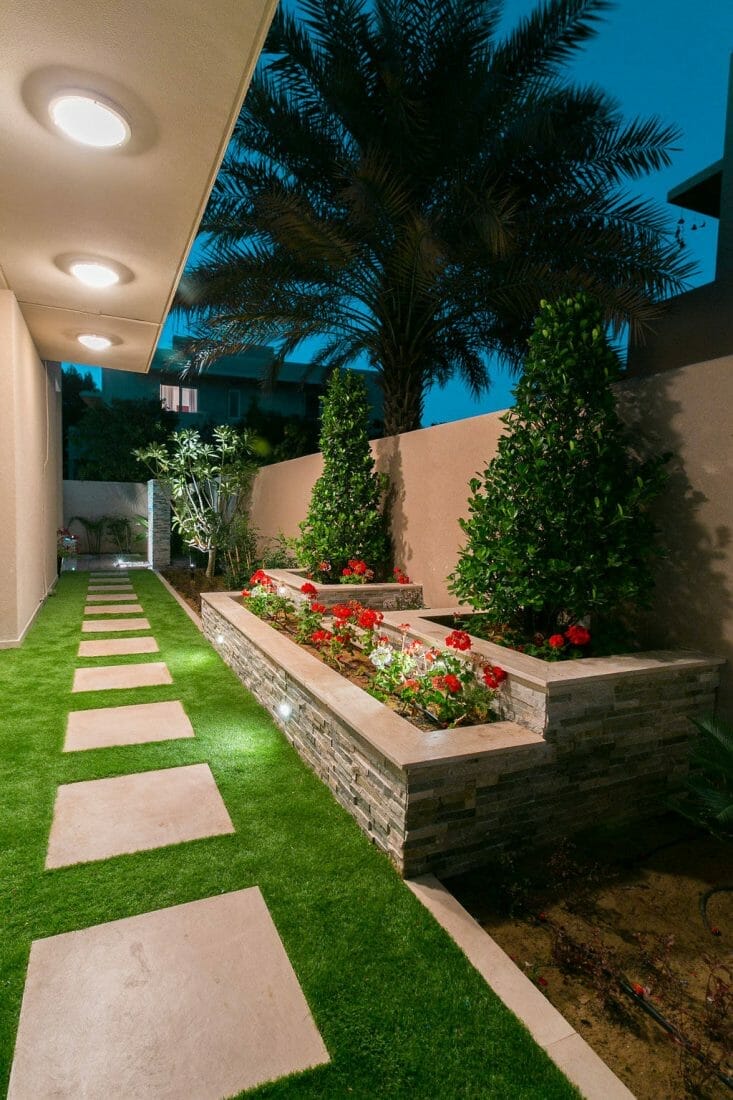 This side yard is one of the raised flower bed ideas that are executable. Using cladding stones as the planters, make a level-raised garden consisting of tall green trees and colorful flower plants.
You could choose from bay leaf, Eagleston hollies, or even pyramid ligustrum for the trees. Meanwhile, the options for red perennials are azalea, sedums, succulents, hot paprika coreopsis, or else.
27. Concrete Tall Raised Bed
This front yard garden gives you several raised flower bed ideas. It involves a concrete enclosure to equate the front steps material.
You know that it will be the first thing to welcome you home, so let either Limonium arboreum or sea lavenders do the honor.
28. Yellow to Green Raised Garden with an L-Shaped Bench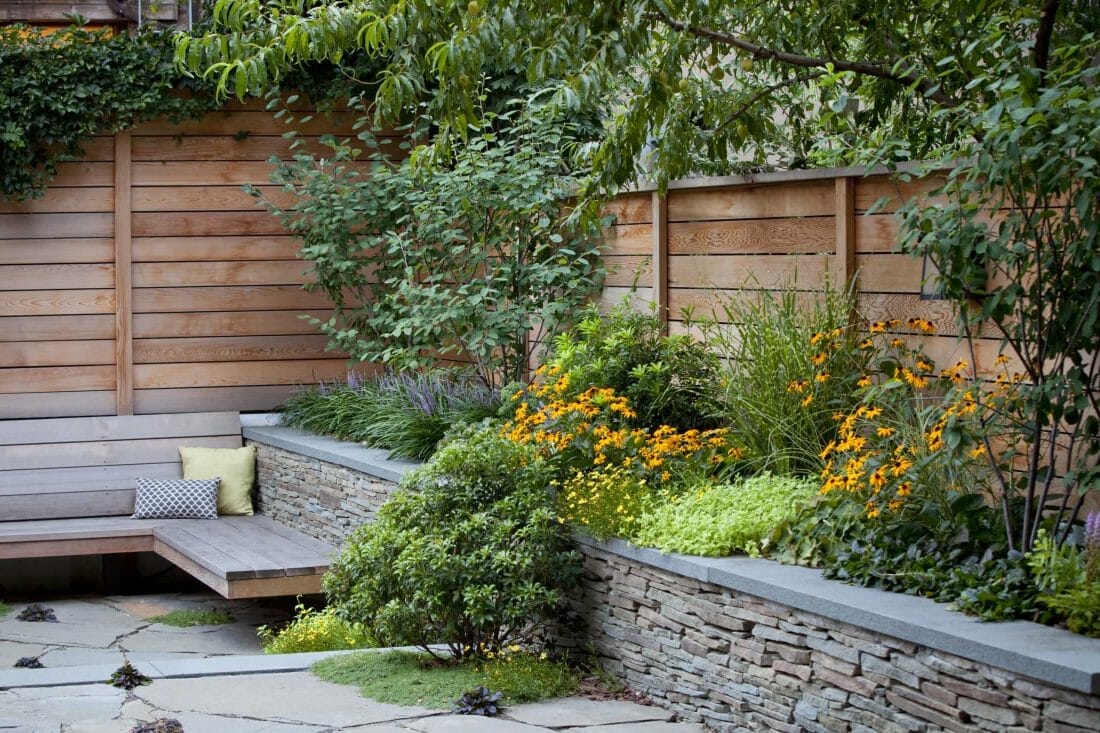 Optimize your courtyard or rooftop function with a raised bed and a bench. That way, you could leisurely reap what you laboriously sow.
Moreover, the deal is to grow yellow-to-green plants using a stone-raised bed and build an L-shaped seating close to the garden.
29. Well-Designed Private Farm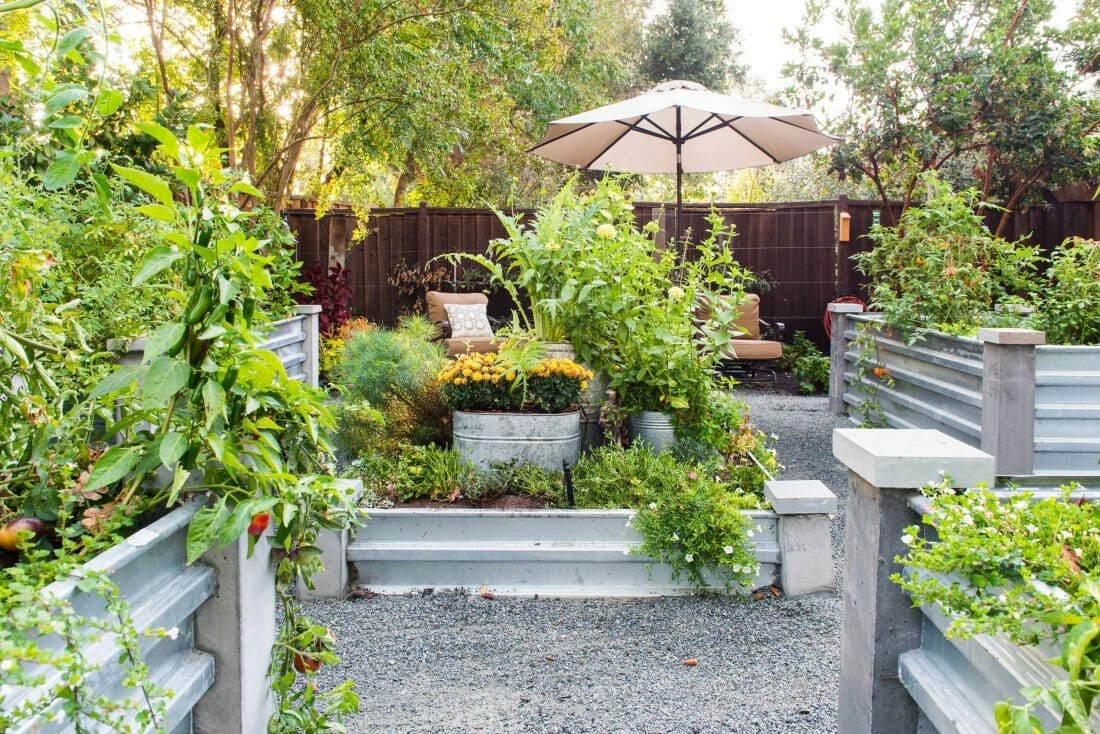 It becomes a trend for citizens to retreat to countryside farms for healing. Instead of following the current tendency, you could create a new one with this privilege.
Certainly, building this well-arranged raised garden using galvanized steels would not be an effortless job. Yet, the result of this one of the raised flower bed ideas will wow you.
People say raised flower bed ideas are worthy for beginners. They are mostly inexpensive, super functional in barricading themselves from pests, and aesthetically pleasing. You could execute some points for your DIY projects next.